These 20+ Cute and Easy DIY Halloween costumes for kids don't require a ton of time and materials.
When it comes to being a parent and Halloween, I'm always looking for Cute and Easy DIY Halloween costumes for kids. Thankfully, we've been able to create lots of easy DIY handmade costumes for our kids.
All of these are easy to make, so you don't have to worry about investing a lot of time in making them. Of course, I love how cute they are too! Take a look and tell me what your favorite one is.
Nothing can beat a special handmade Halloween costume for kids.
There is something special and sentimental about making your own handmade costume.
Sure you probably could buy one for similar price, especially if you take into account your time, but your kids will look back fondly on those Halloween photos and there's no price that can replace those sentiments.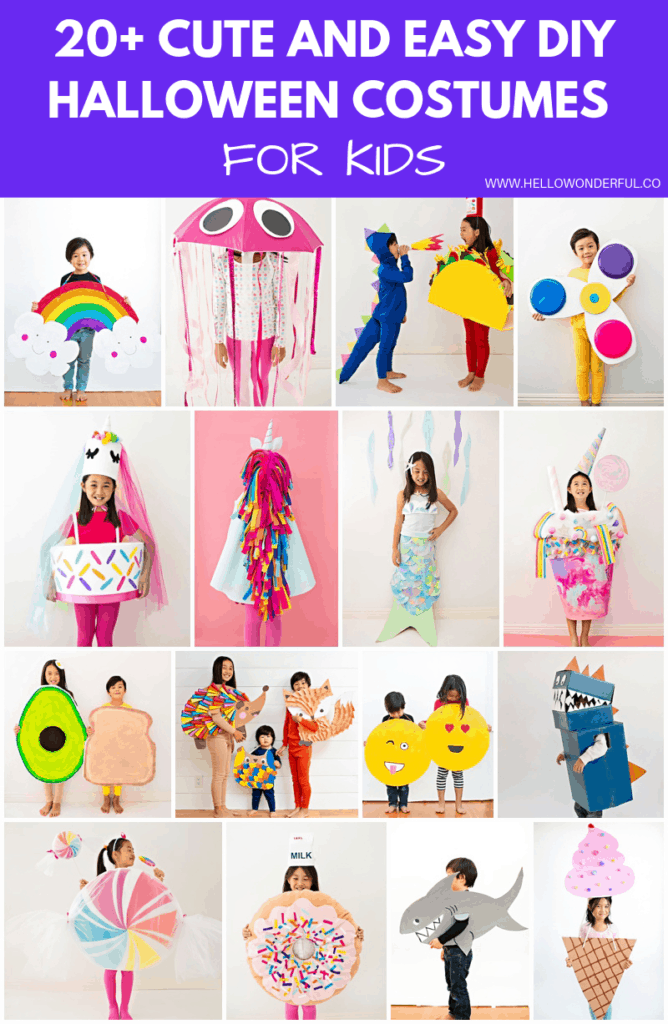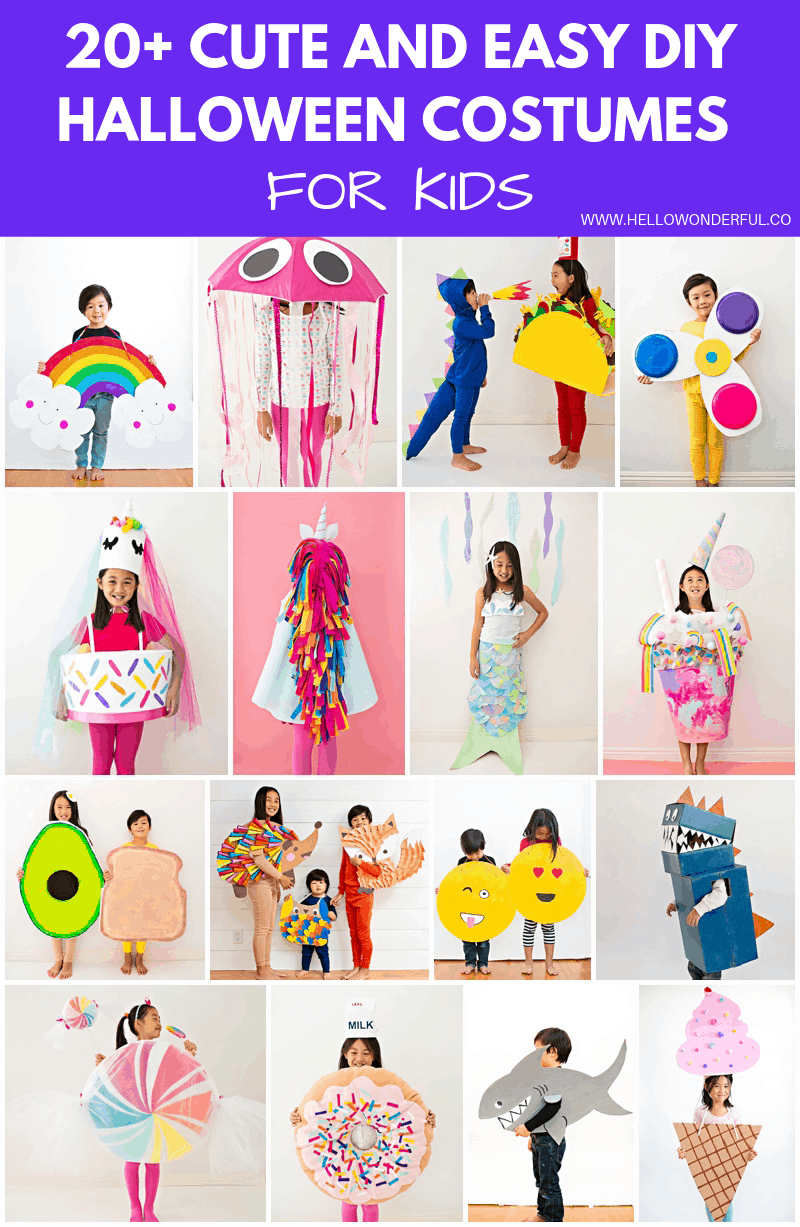 DIY COOKIE MONSTER COSTUME
If your kids are a fan of Cookie Monster they will love dressing up a this lovable blue cookie loving character from the iconic Sesame Street series! Make some cardboard cookies for him to complete the look. The best part about this costume is that it's no-sew! Get the Cookie Monster Costume tutorial.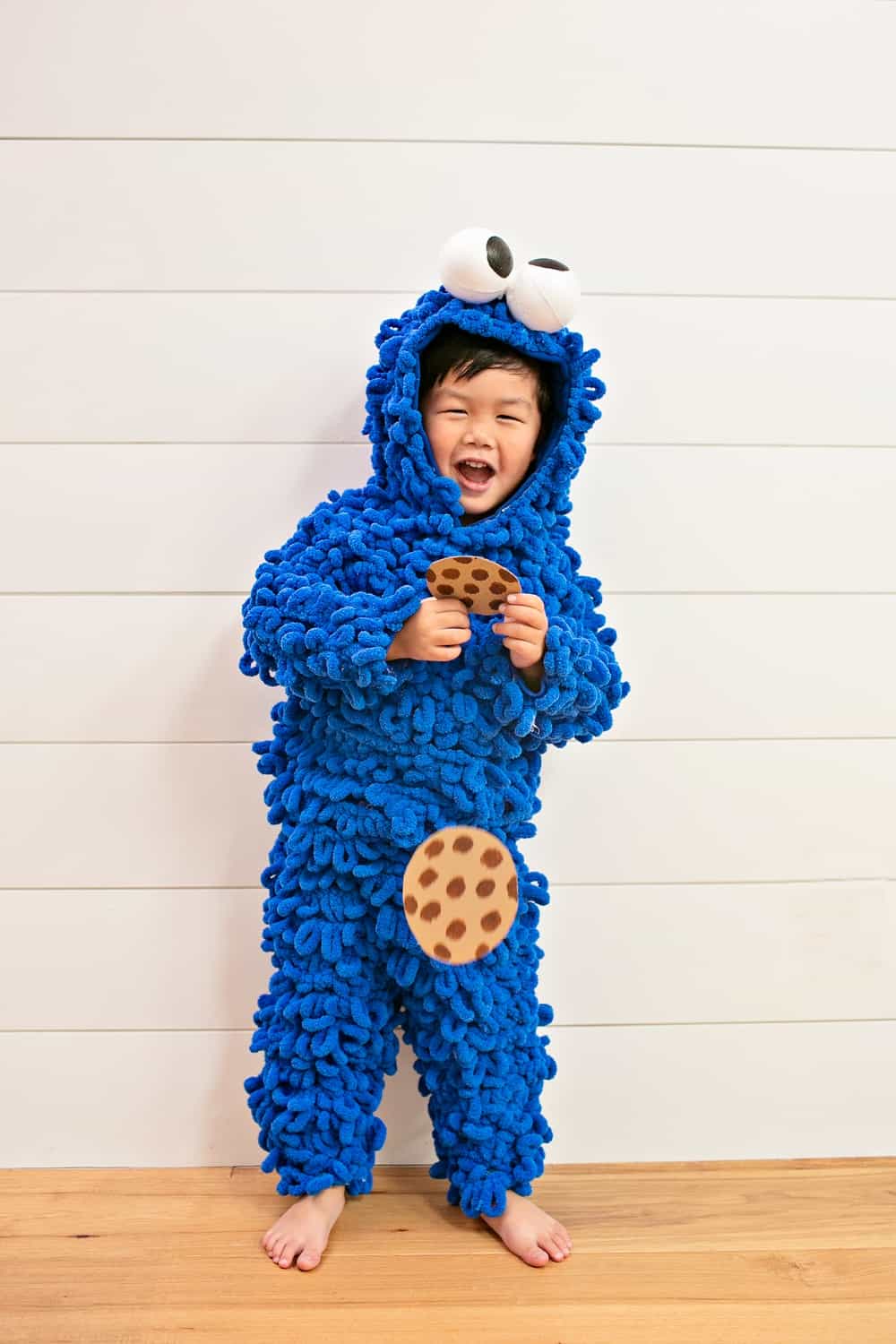 DIY POP IT COSTUME
Capture your kids as this year's hottest trendy sensory toy the Pop It! We made a rainbow version because of course 🙂 But you can make it any size, shape and color! Get the Pop It Costume tutorial.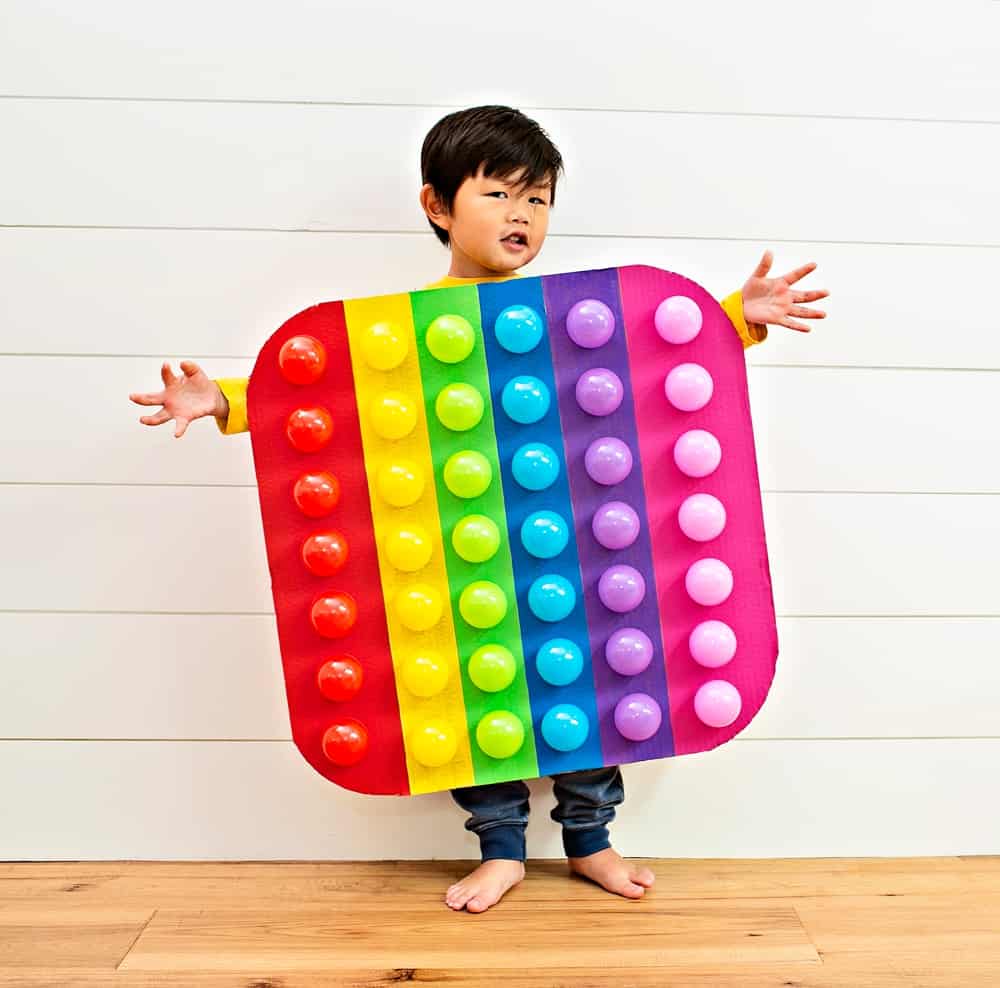 DIY WOODLAND ANIMAL COSTUMES FOR KIDS
Your kids will rock Halloween this year with these cute DIY Woodland Animal Costumes for kids! Best part? They're made of just paper and cardboard so are affordable AND adorable! Look right below for the tutorials for each animal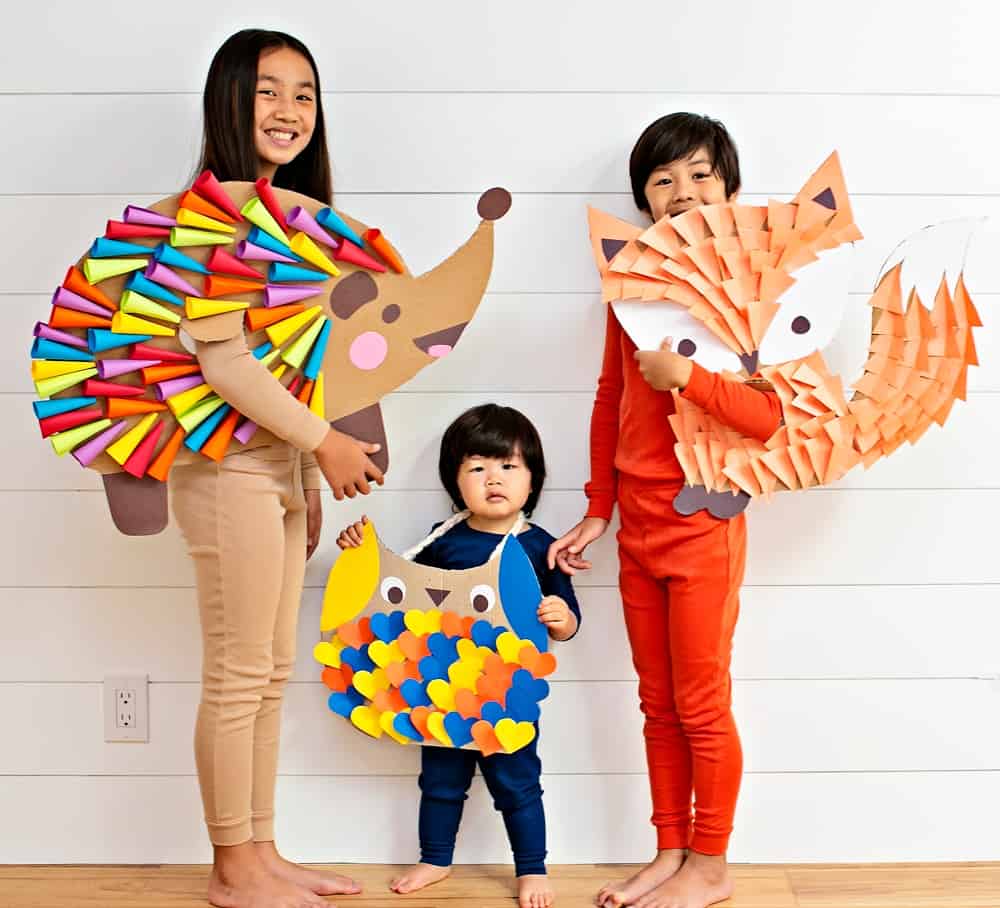 DIY FOX COSTUME FOR KIDS
This cute cardboard fox costume will make this forest critter a crowd-favorite on trick or treat day! Oversized head and tail add to the cuteness.
DIY RAINBOW HEDGEHOG COSTUME FOR KIDS
Cute and colorful, who doesn't like a good rainbow? Especially when it's on this sweet hedgehog costume for kids! Rolled colored paper make fun but not pokey quills.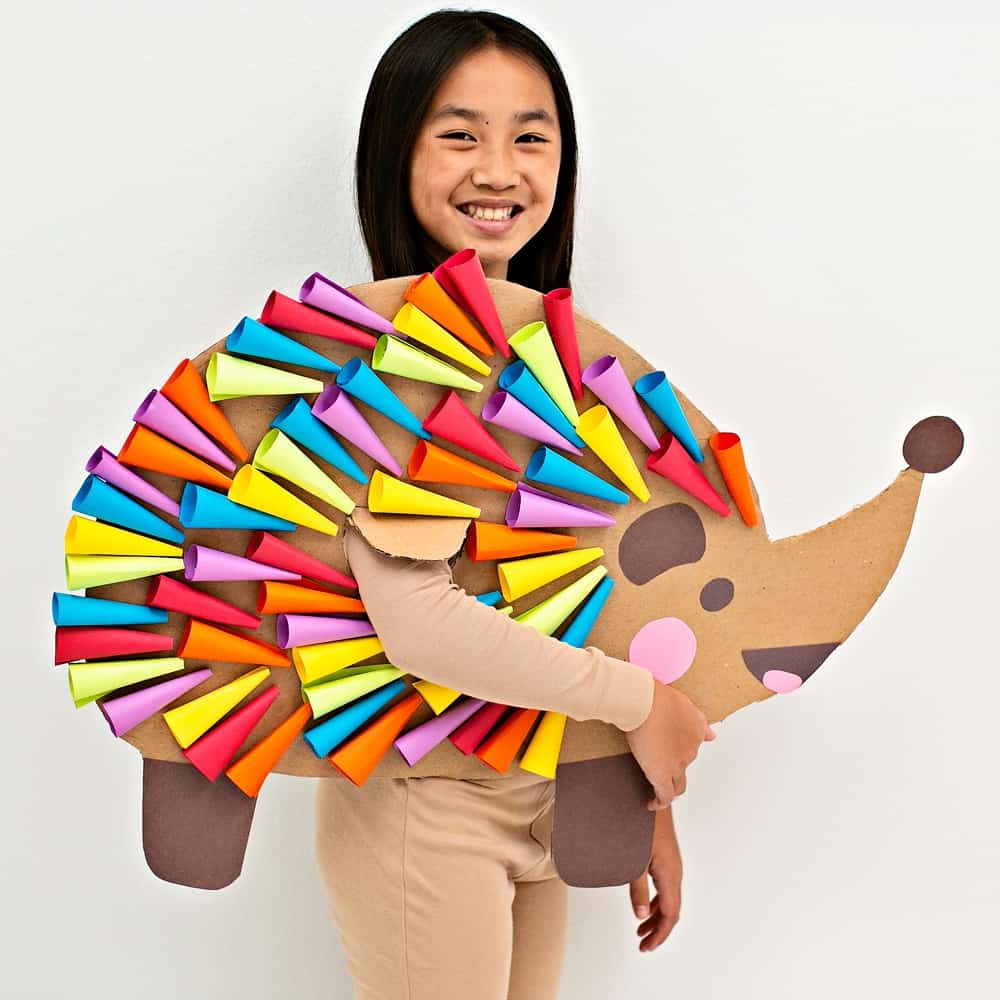 DIY OWL COSTUME FOR KIDS
Saving the cutest critter for last, HOO can resist a this irresistible cardboard owl costume with fluttery heart feathers? Add a soft braided chain around the neck so it's comfy for little ones.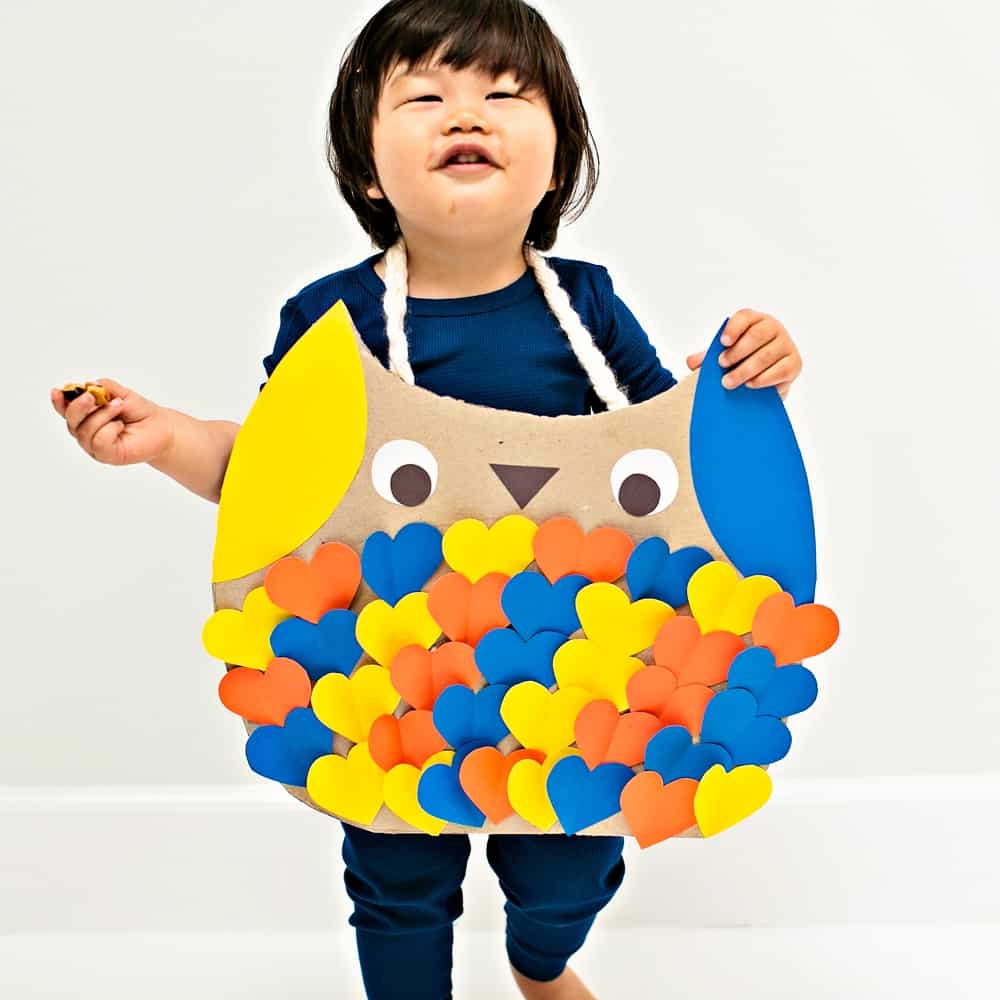 DIY PIZZA COSTUME
Turn your kids into their favorite food with this easy recycled cardboard no-sew handmade Pizza Costume!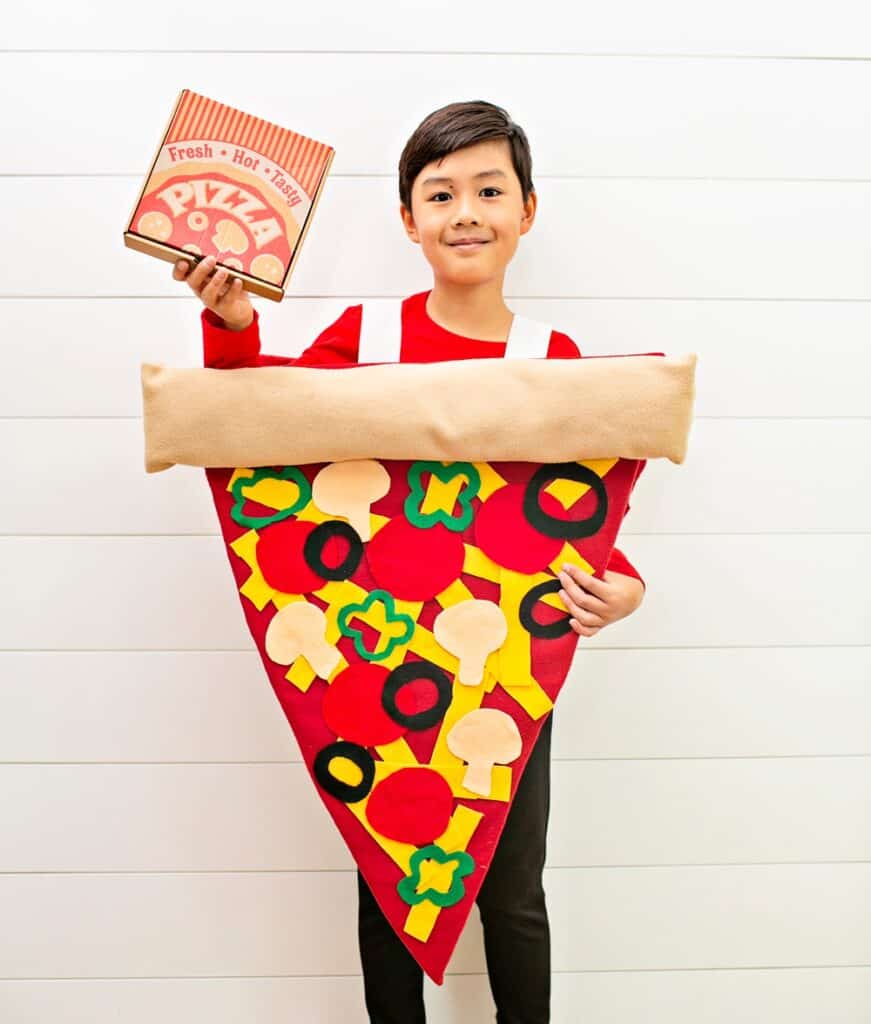 DIY COOKIE MONSTER COSTUME
C is for…the best cookie monster costume ever! Check out how yarn and a basic hoodie sweatpants ensemble can turn your little ones into their favorite loveable Sesame Street character.
DIY HAND SANITIZER COSTUME
2020's hit costume will always be as memorable as this historic pandemic year. Plus this clever DIY Hand Sanitizer Costume will remind kids to keep their hands clean while trick or treating. What's great about this costume is that it's also an awesome Recycle and Play project!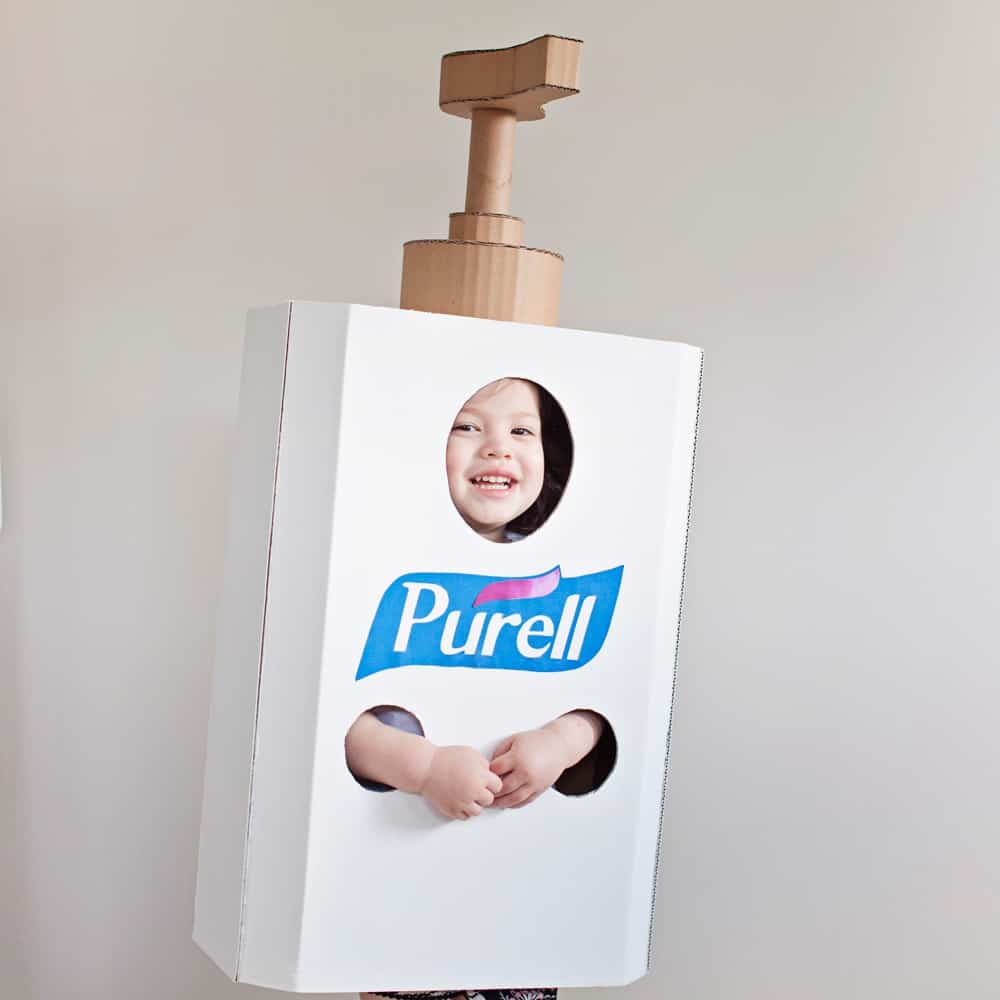 DIY TOILET PAPER COSTUME
Another brilliant costume to go with the hand sanitizer, this was also very fitting for the start of the pandemic year, but hey toilet paper will always be in season, right? Get the tutorial DIY Toilet Paper Costume.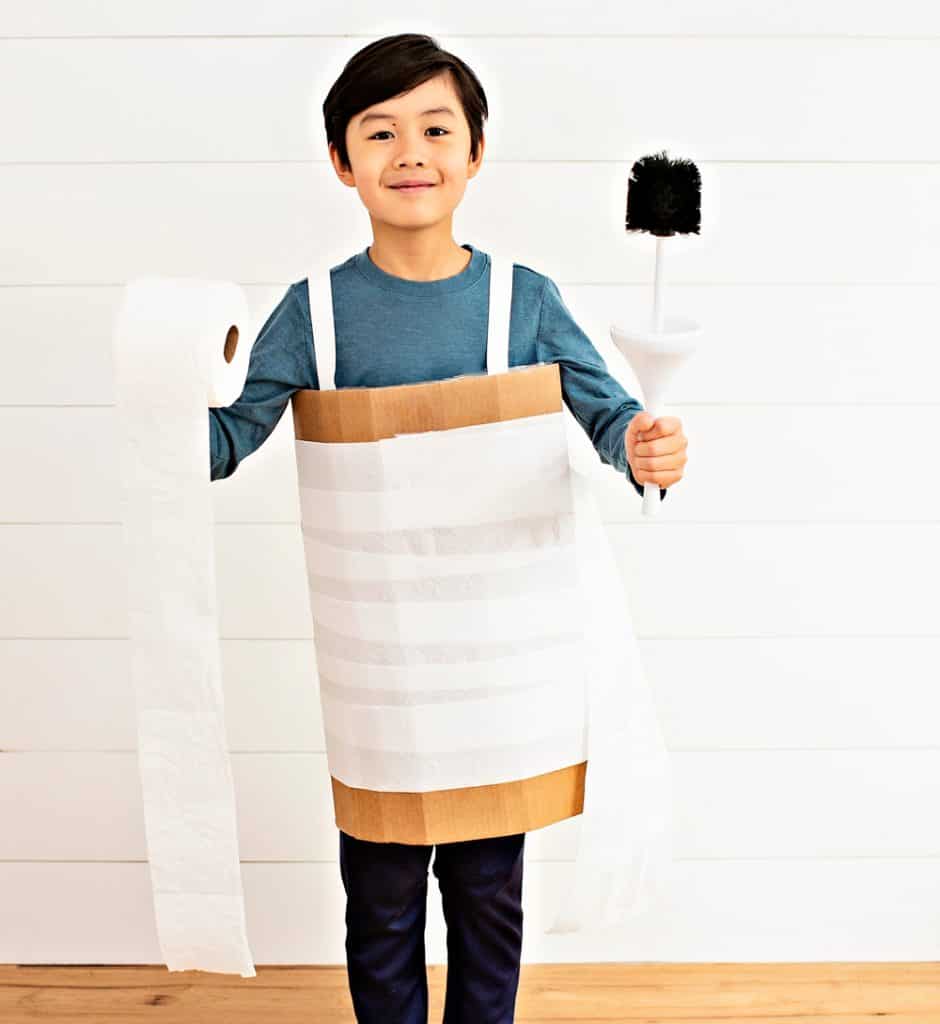 DIY NO-SEW FELT DONUT COSTUME FOR KIDS
Nothing can be sweeter than this adorable DIY No-Sew Felt Donut costume for kids, that requires no sewing! The frosting and colorful sprinkles add make it so cute! You can easily change the color of the felt to make it a chocolate donut, a pink donut, or even make the the sprinkles on the donut different colors.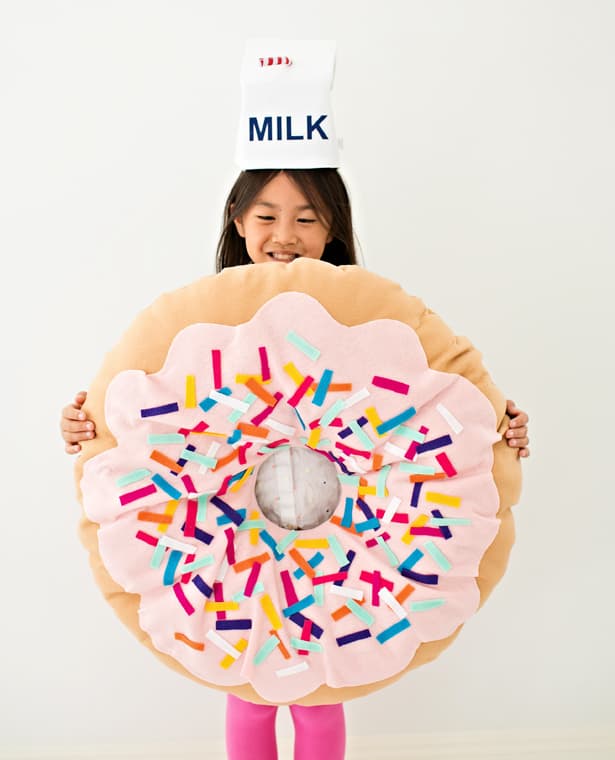 EASY DIY JELLYFISH HALLOWEEN COSTUME FOR KIDS
This Easy DIY Jellyfish Halloween Costume for Kids is such an easy and fun one to do, plus you can do it in lots of different colors! I love how fun it is. Just looking at it makes you smile. This is one of those easy Halloween costumes for kids that you'll love making.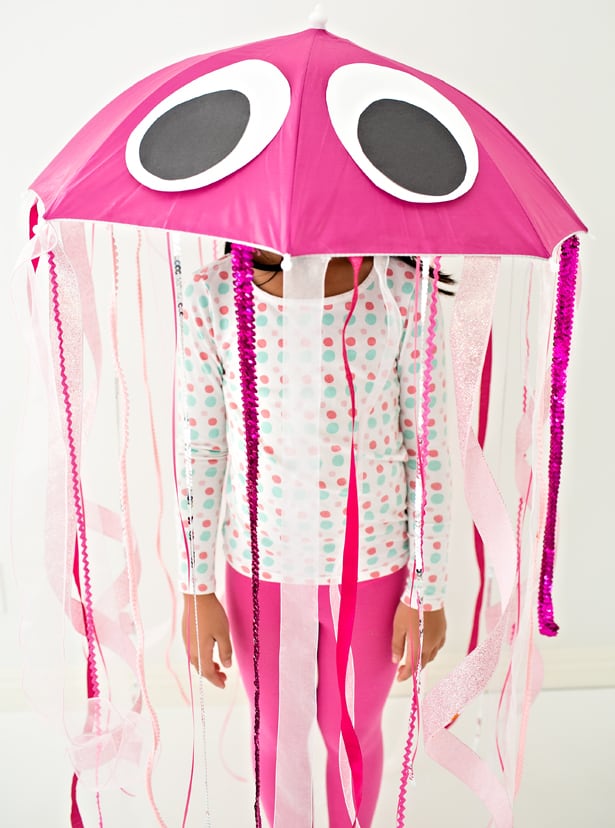 DIY NO-SEW FELT RAINBOW UNICORN COSTUME FOR KIDS
Look! It's a No-sew Felt Rainbow Unicorn costume. It encompasses everything colorful and joyful about being a unicorn. You'll find yourself smiling the whole time you make this Halloween costume. It's so magical!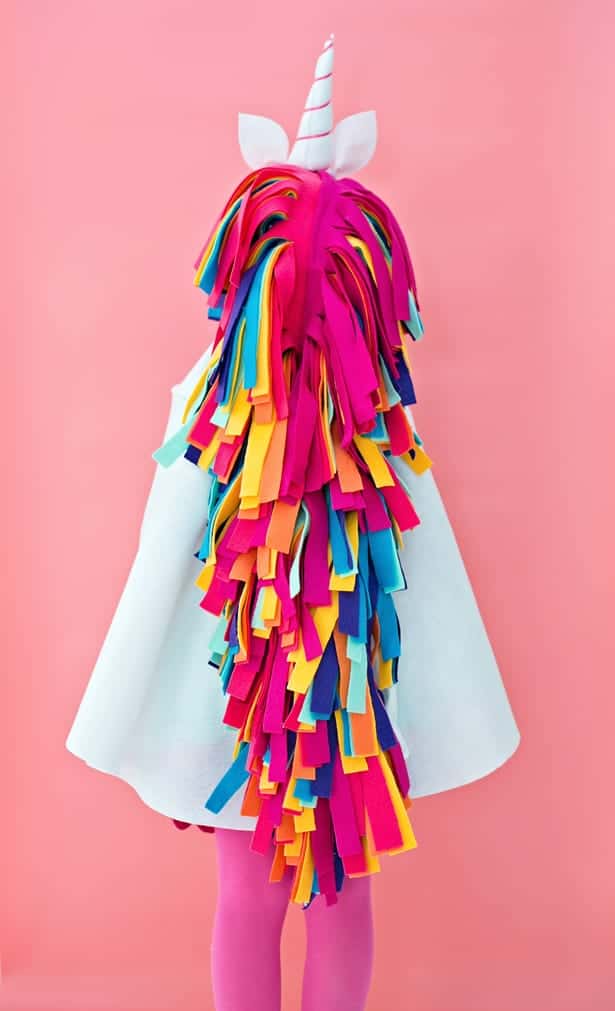 DRAGONS LOVE TACOS DIY HALLOWEEN COSTUMES FOR KIDS
It's a dragon. It's a taco. It's a Dragons love tacos Halloween costume! You've never seen such a fierce and adorable dragon coming your way, the while it's on a hunt for tacos. Everyone loves tacos, including dragons! Based on one of our favorite books.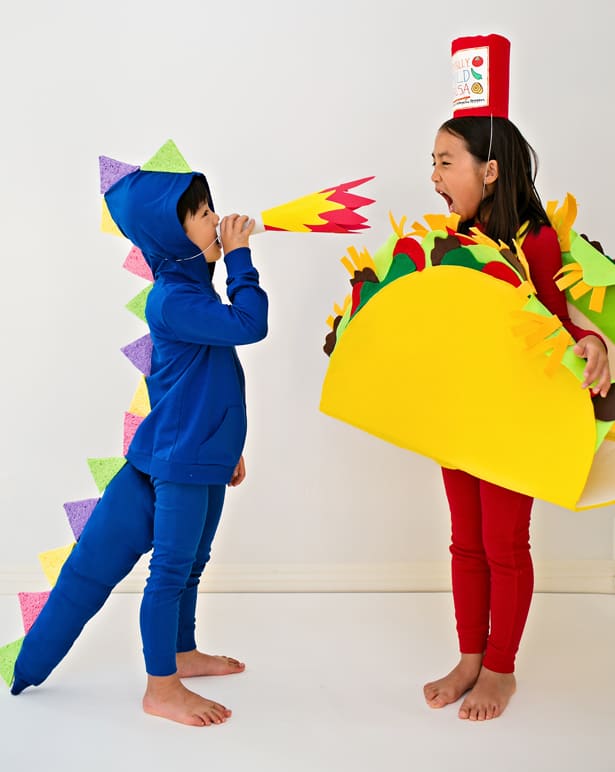 AMAZING DIY COTTON CANDY COSTUME FOR KIDS
Life is so sweet by design, and this Cotton Candy Costume for kids is amazing cute and sweet. You'll love how easy this one is to make, and love how adorable this will look on your kids. It's so easy to change up the color schemes too!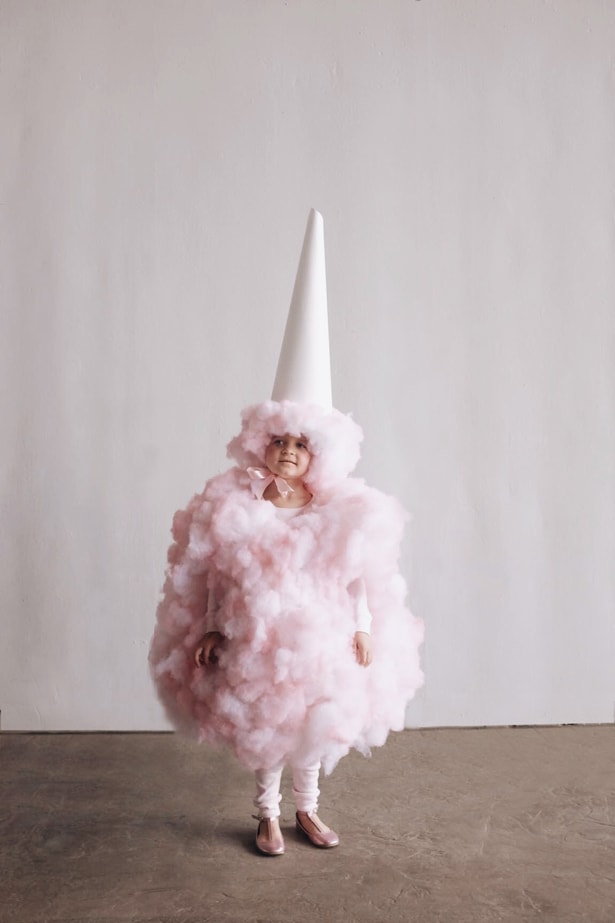 DIY UNICORN CAKE COSTUME
Speaking of something sweet, take a look at this adorable Unicorn Cake Costume! You don't have to worry about getting messy in trying to create a fancy type of icing for the cake costume. This is another easy kids costume you can make that you can change up the color scheme without any issues.
DIY BALLOON COSTUMES
These cute balloon costumes will make your next Halloween costume pop with fun and giggles! Check out the unicorn, hot air balloon and llama balloon costume tutorials!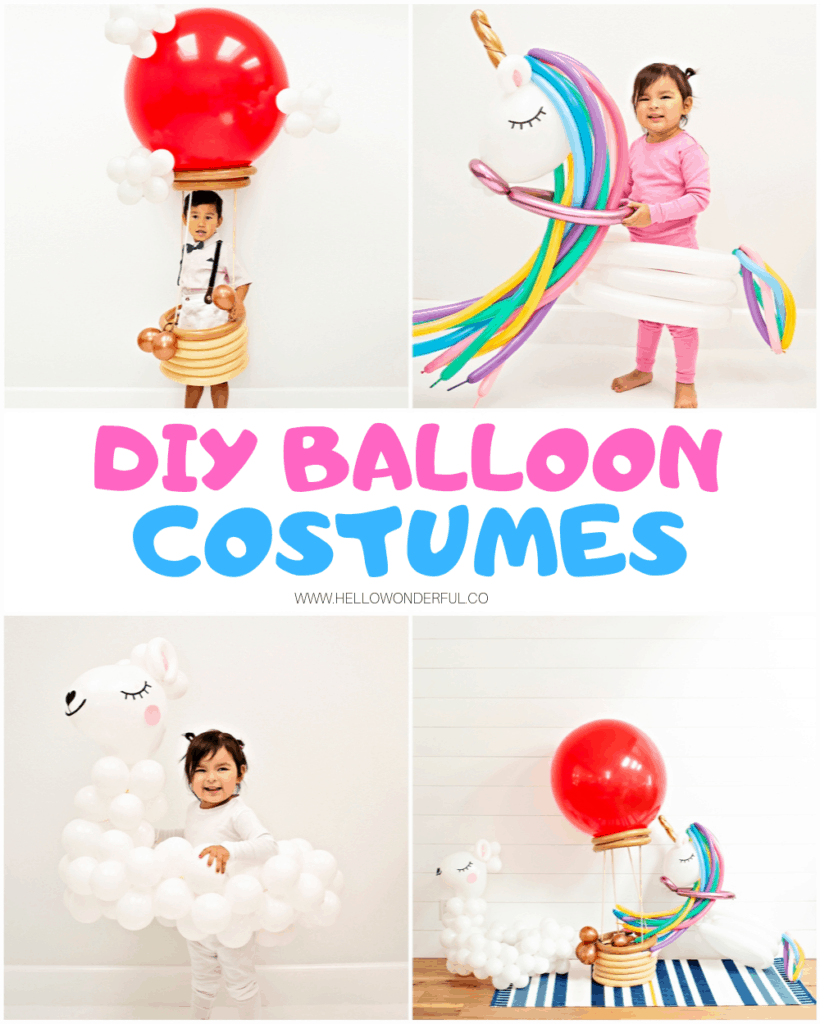 DIY UNICORN CAKE COSTUME
Unicorns will always be magical and popular characters with kids! This unicorn cake "tops the cake" with its gorgeous rainbow tulle and rainbow flowers! Get the DIY Unicorn Cake Costume tutorial.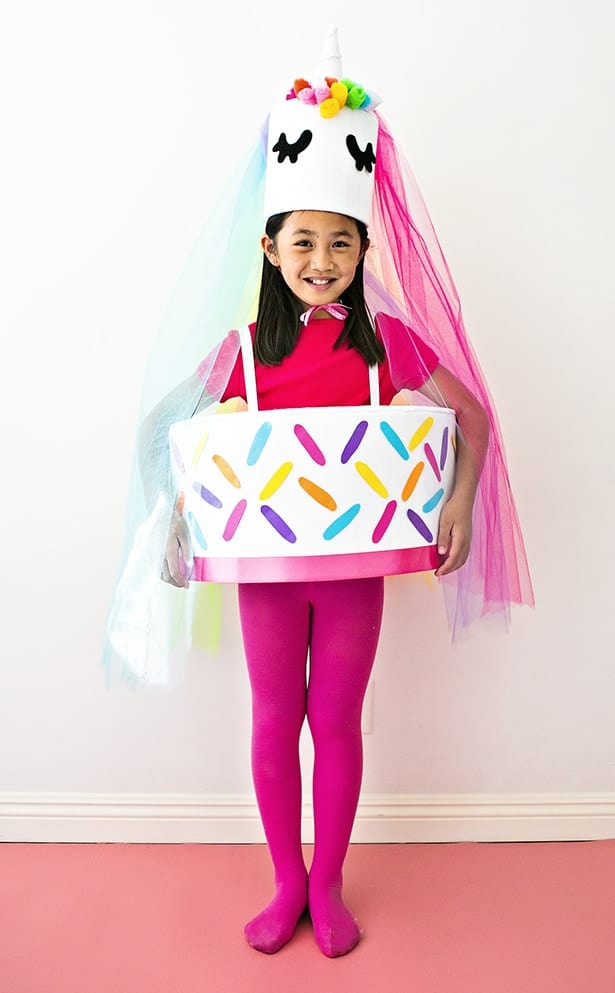 DIY MERMAID COSTUME MADE WITH COFFEE FILTERS
A mermaid costume made of coffee filters? Yes. That's correct, plus it's so easy to do…which is why I had to share it with you. The coffee filters are treated with a watercolor technique that I show you how to do, so you can easily change the colors and have fun with it.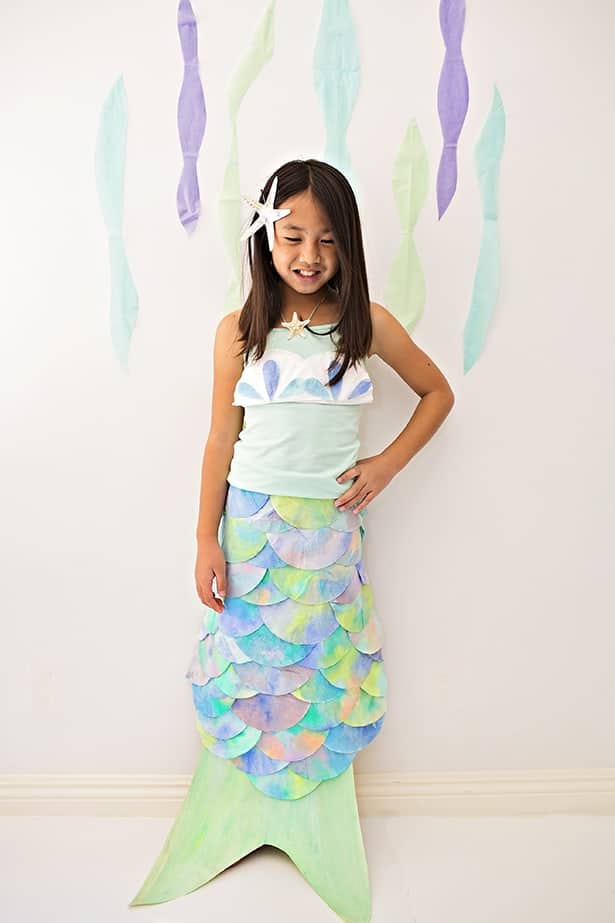 DIY UNICORN CANDY MILKSHAKE COSTUME
Stop worrying about making your kid milkshakes to drink, when you can turn them into literal unicorn milkshakes with this super easy DIY Unicorn milkshake costume! This is one loads of fun, and you can't help but to smile when you see it.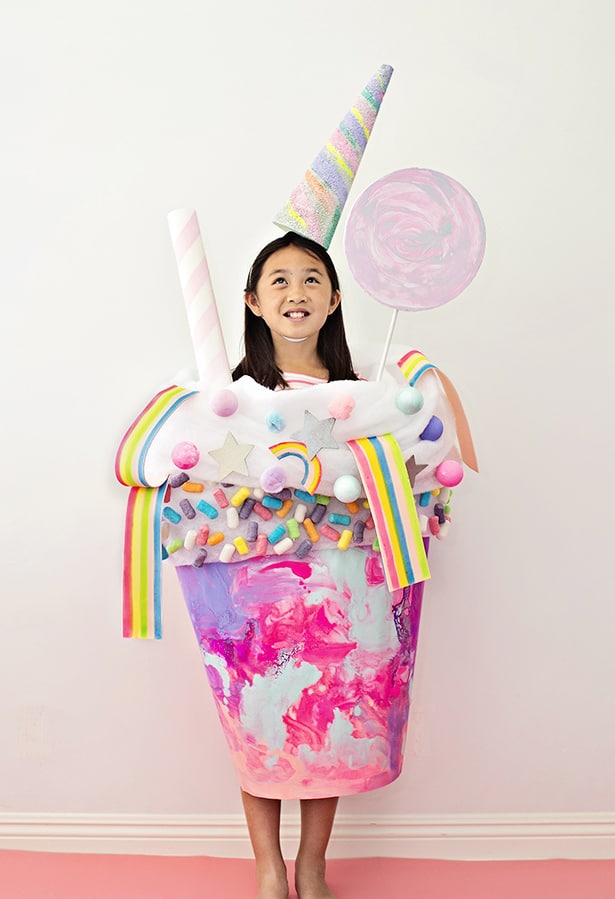 DIY GIANT FIDGET SPINNER CARDBOARD COSTUME
You can turn your kid into a walking fidget spinner that actually works! I love this upcycled DIY Fidget spinner kids costume so much. You don't have to worry about this driving you too crazy since it doesn't make noises. However, your kid (and other kids) might love it a little too much!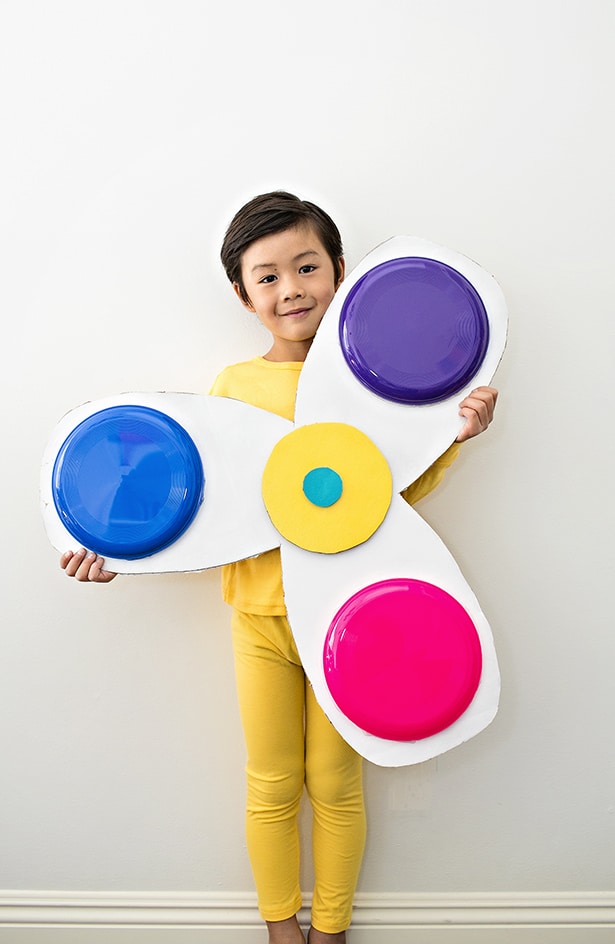 DIY NO SEW CANDY COSTUME
Super sweet minus all those empty calories and sugary cavities, this colorful handmade candy costume is impressive but yet requires absolutely no sewing!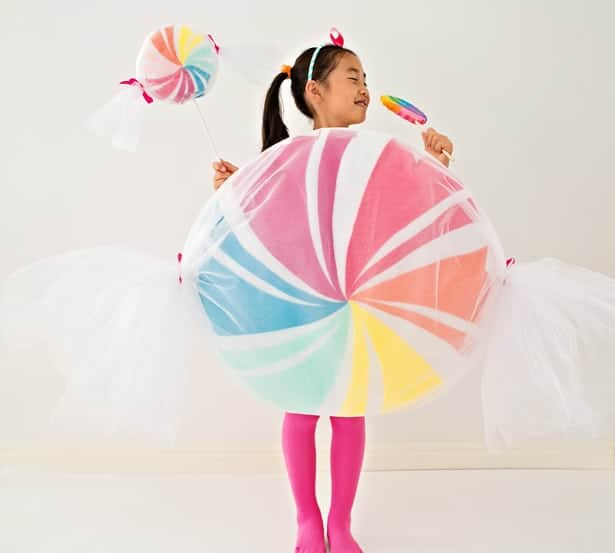 DIY FAMILY AVOCADO TOAST COSTUMES
This easy DIY Halloween costume is so much fun because it involves the WHOLE family. This family avocado toast costumes post is just what you need in your kids life! You can mix and match pairings and if you have more than 4 in your family, why not add bacon and coffee to make it a breakfast theme! P.S. if you're pregnant like I was in this pic, the avocado pit is the perfect costume for baby 🙂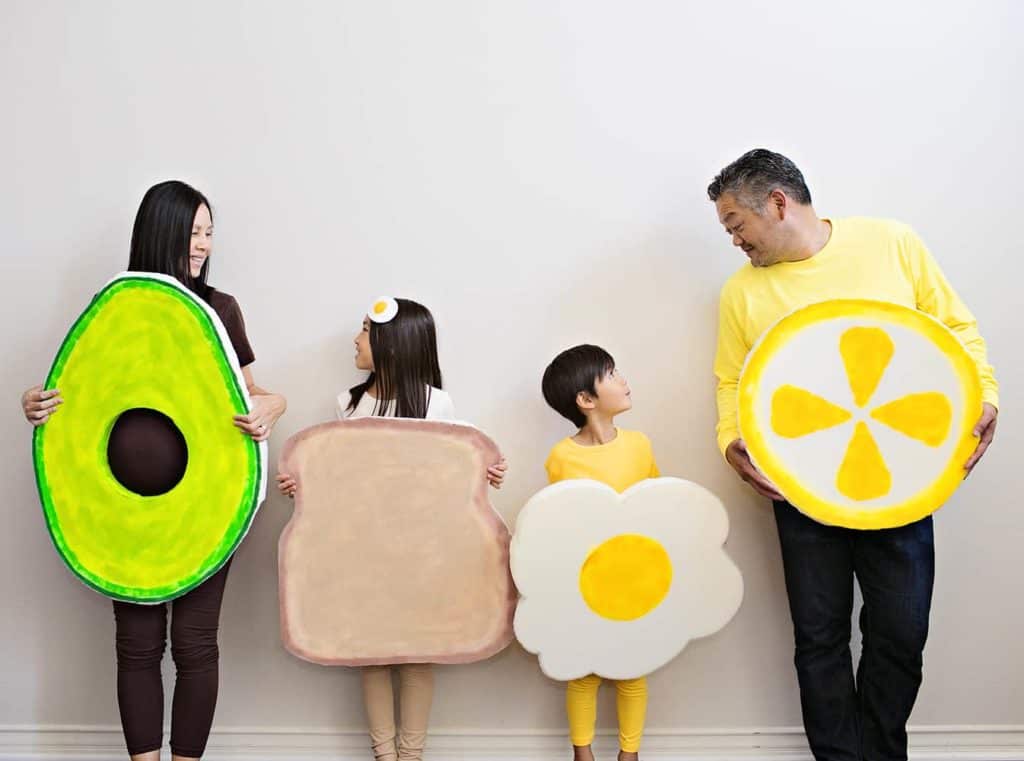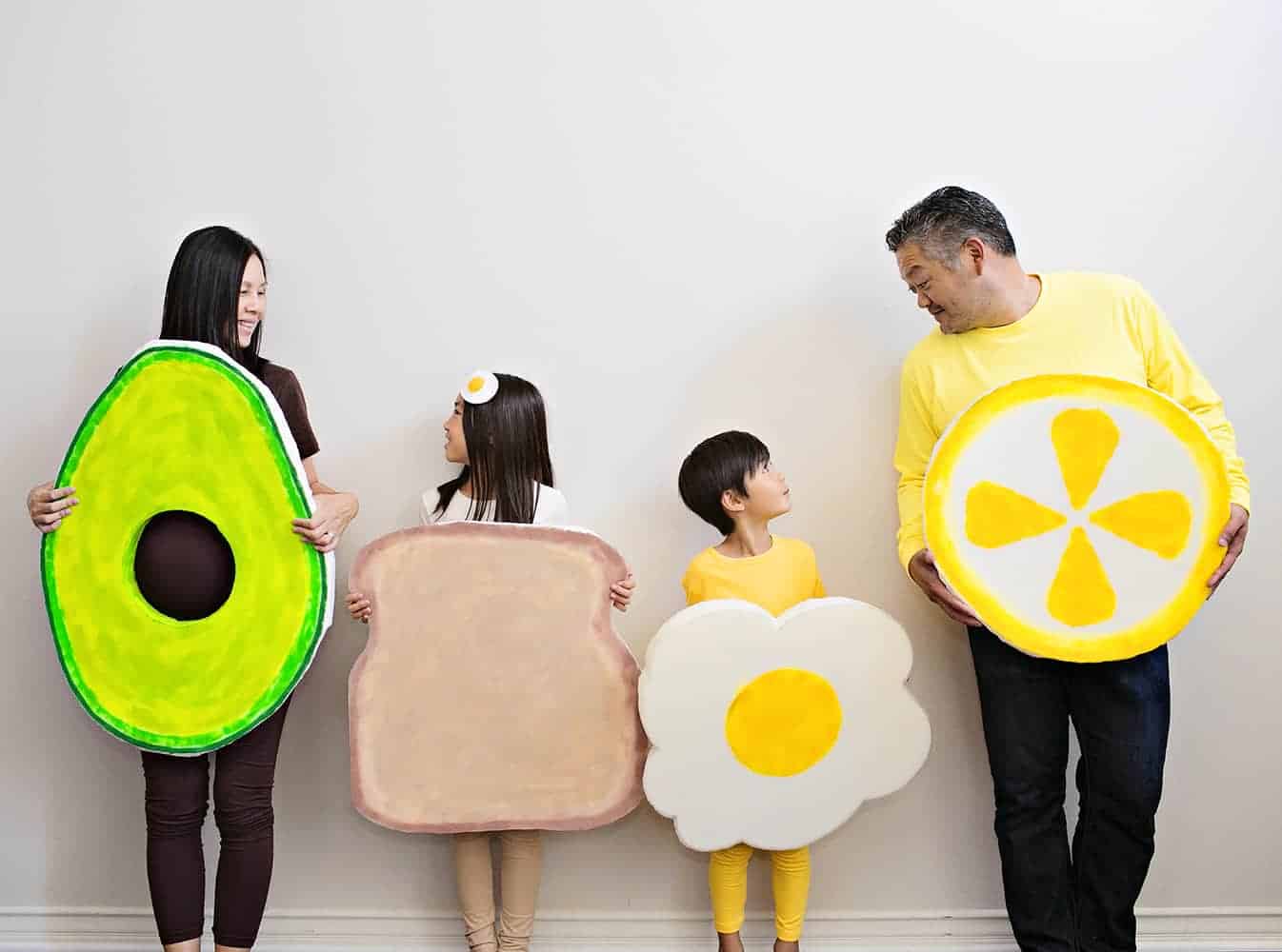 DIY HAPPY CARDBOARD RAINBOW COSTUME FOR KIDS
Looking for an easy DIY Halloween kids costume that will make you smile from ear to ear? Then you NEED to make this adorable Cardboard Rainbow costume! You don't have to be Leprechaun to be at the end of this magical rainbow.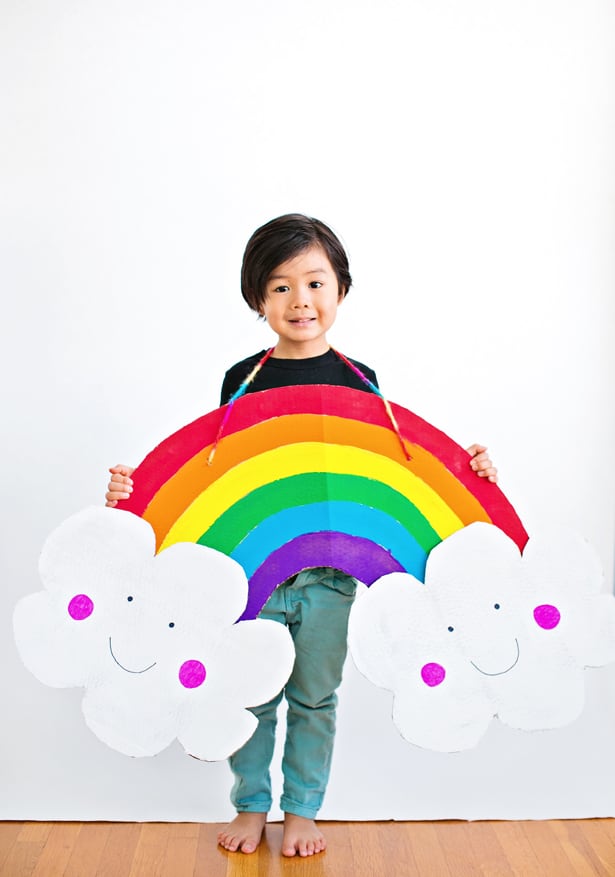 EASY SHARK CARDBOARD COSTUME FOR KIDS
This Shark Cardboard costume comes at a great time when Baby shark is such a big hit. If you want, you can even make it a double side one by simply making a mirror image of it on another piece of cardboard. This is sure to be the friendliest shark out there!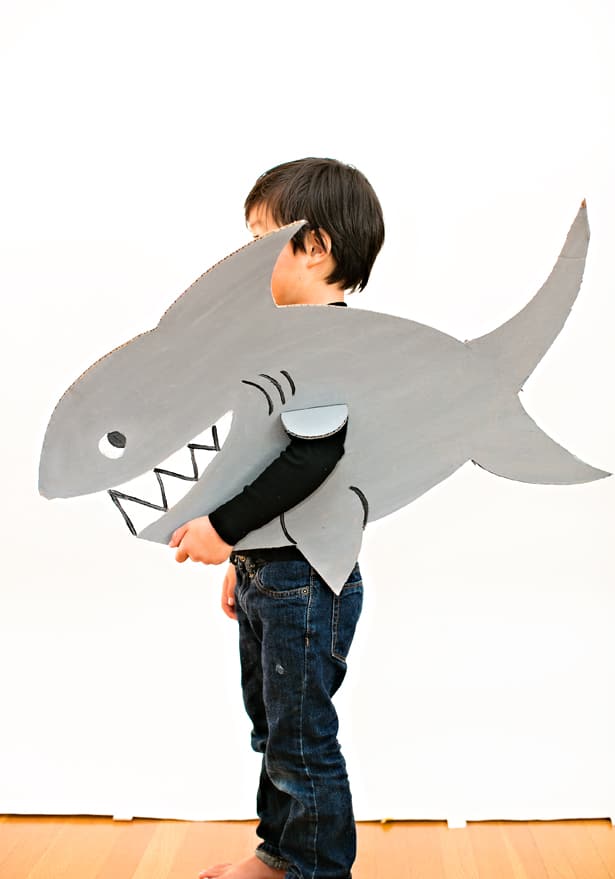 EASY DIY CARDBOARD EMOJI COSTUME
Why send an emoji via text, when you can make your kids these super easy cardboard emoji costumes?! Easy to make, and love the different faces that you can create with them.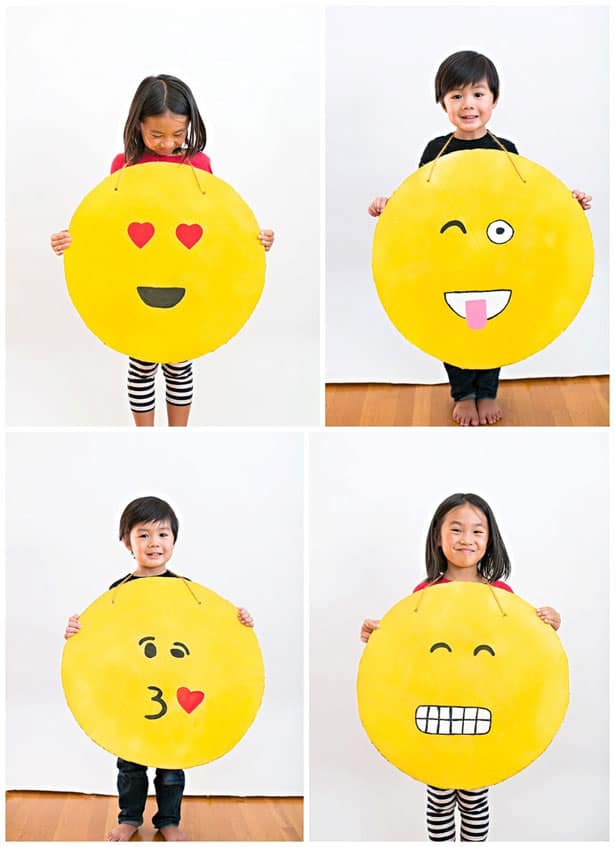 EASY OCTOPUS CARDBOARD COSTUME FOR KIDS
I shared a project with you about being a shark, but how making a Cardboard octopus costume? This is such a great one to make, and it's a great upcycle project! You can have so much fun in truly making this your own.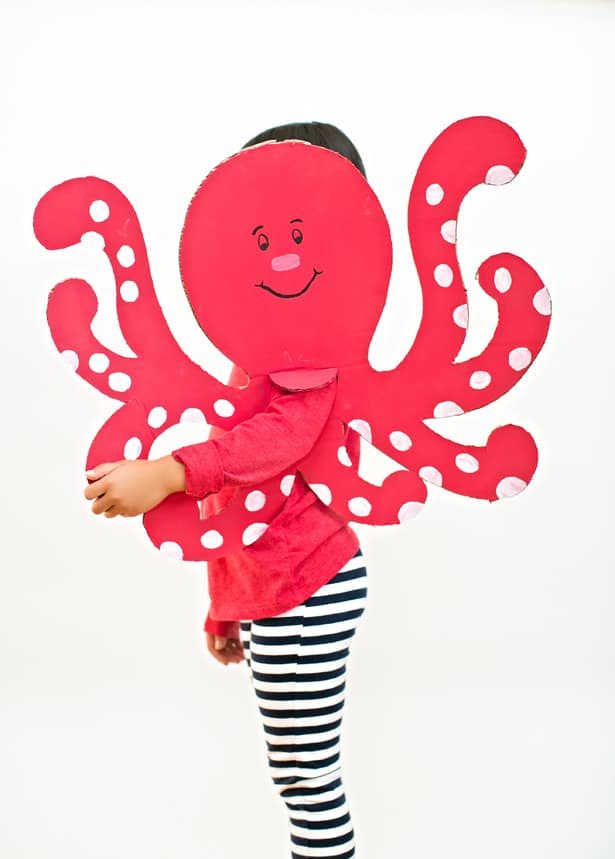 THE CUTEST CARDBOARD ICE CREAM COSTUME FOR KIDS
You scream. I scream. We all scream for this cute and easy to make ice cream costume! Don't want this magical purple ice cream? No problem! You can easily change it to vanilla, chocolate, or even a light color.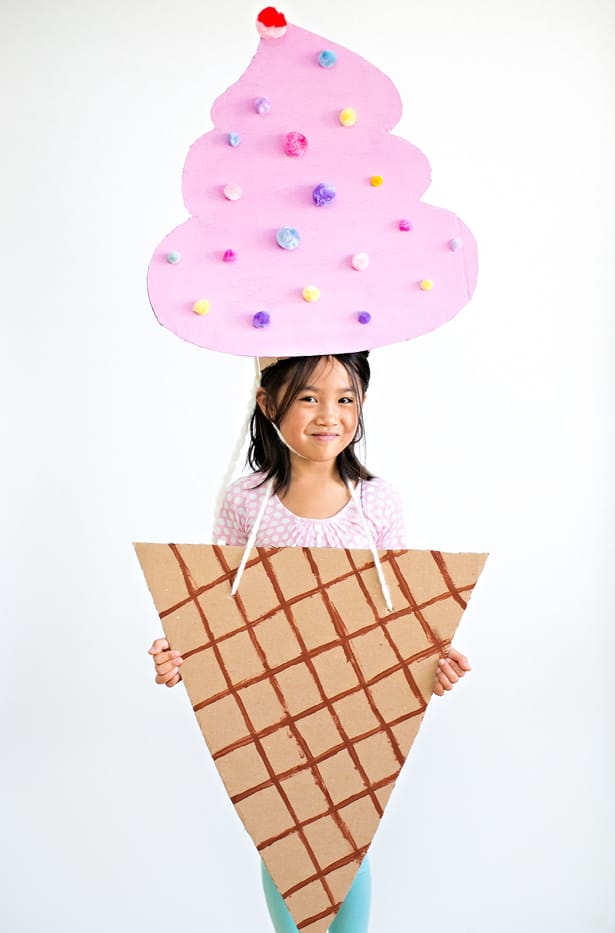 PANTONE COLOR CHIPS: EASY DIY HALLOWEEN COSTUME
Are you looking for a last minute and easy to make Halloween costume? Then make this Pantone color chip costume. It's so witty, and it will be envy all people walking by. It'll look like they walk right out of a paint shop!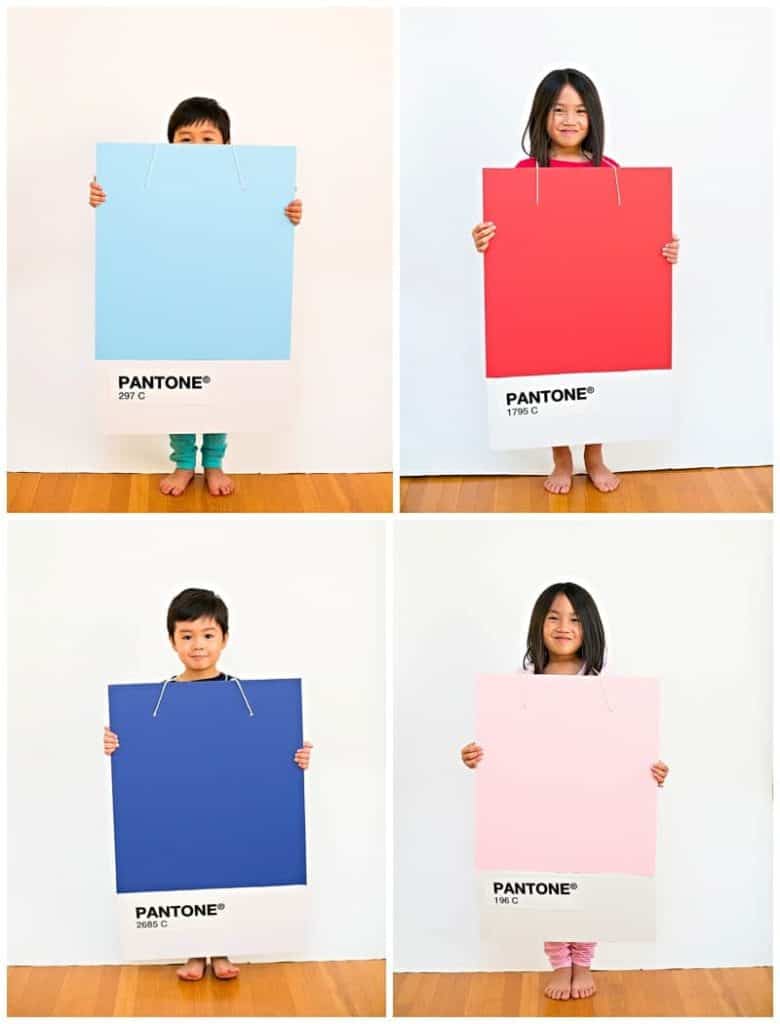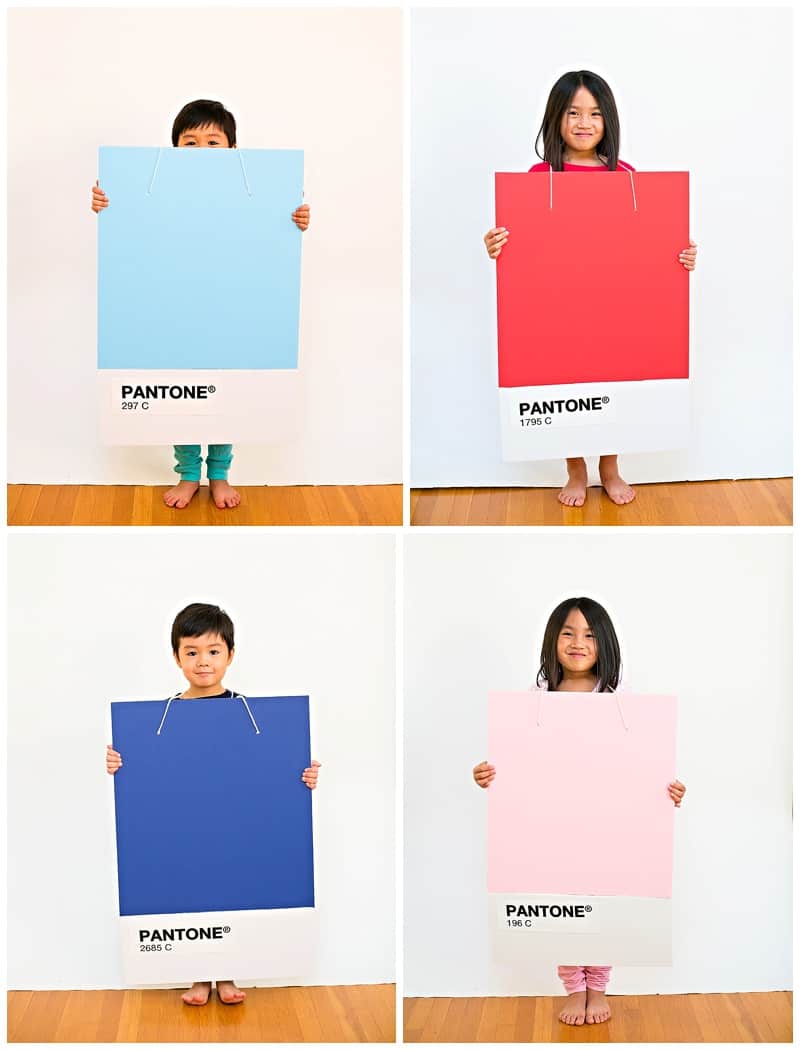 DIY CARDBOARD DINOSAUR COSTUME
Who doesn't want to be a dinosaur? Dinosaurs are awesome! That's what my son told me he wanted to be, so I went straight to designing a DIY Cardboard Dinosaur costume! I love that this goes beyond Halloween, and I know that he'll wear it (and he has worn it) more than once.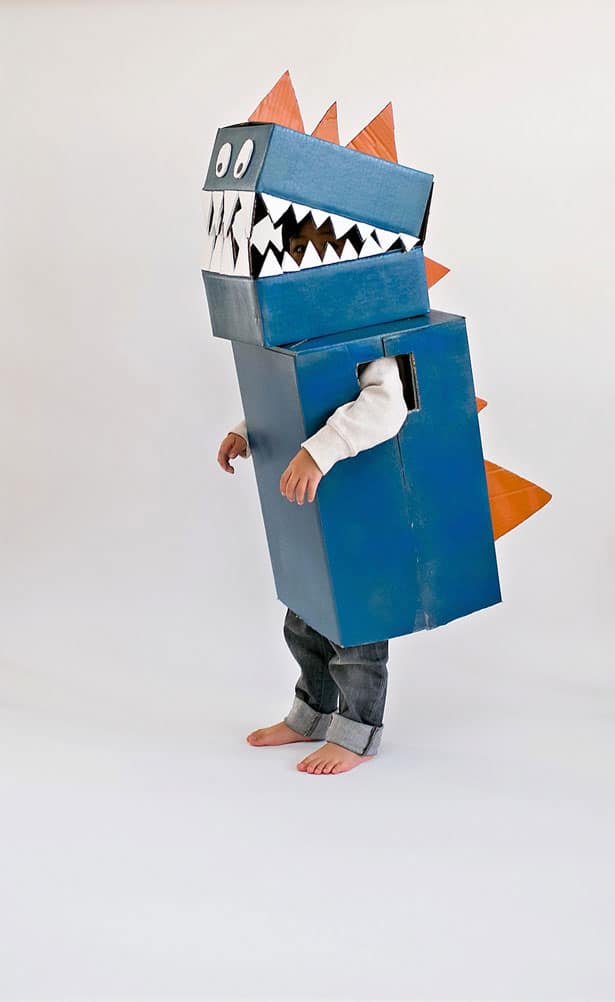 POLAR BEAR COSTUME DIY
My DIY Polar Bear Costume is on the top of the "Easiest" on the list to make, and it's also insanely adorable. This costume was inspired by a polar bear costume which is sold in a shop in Germany. We did do our own face to it with a pretty clever craft hack, I'm proud of, that requires no sewing!
DIY TEAPOT COSTUME
This adorable DIY Teapot costume is perfect because you can just plop your baby inside and go off trick or treating!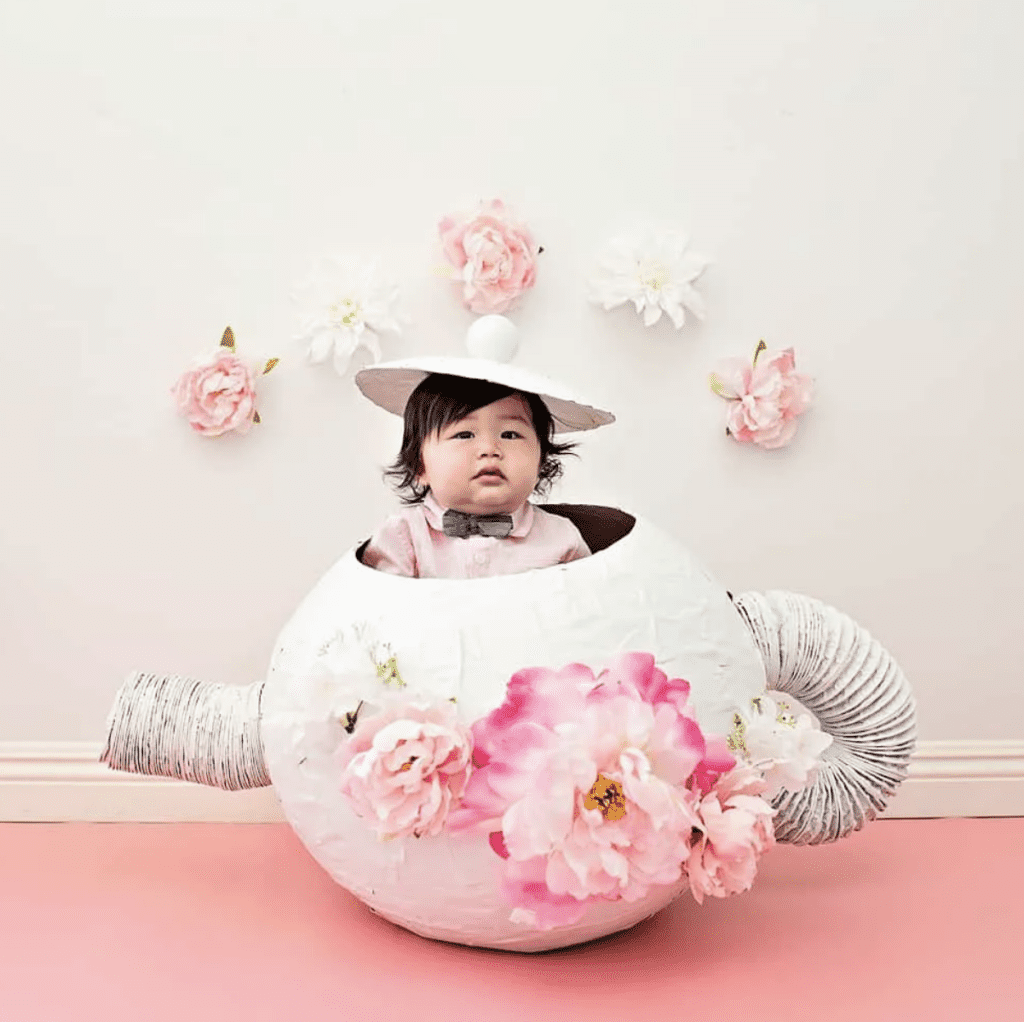 DIY Spider Costume
This cute spider costume is not spooky at all and goes with the song Itsy Bitsy Spider. Perfect Halloween baby costume!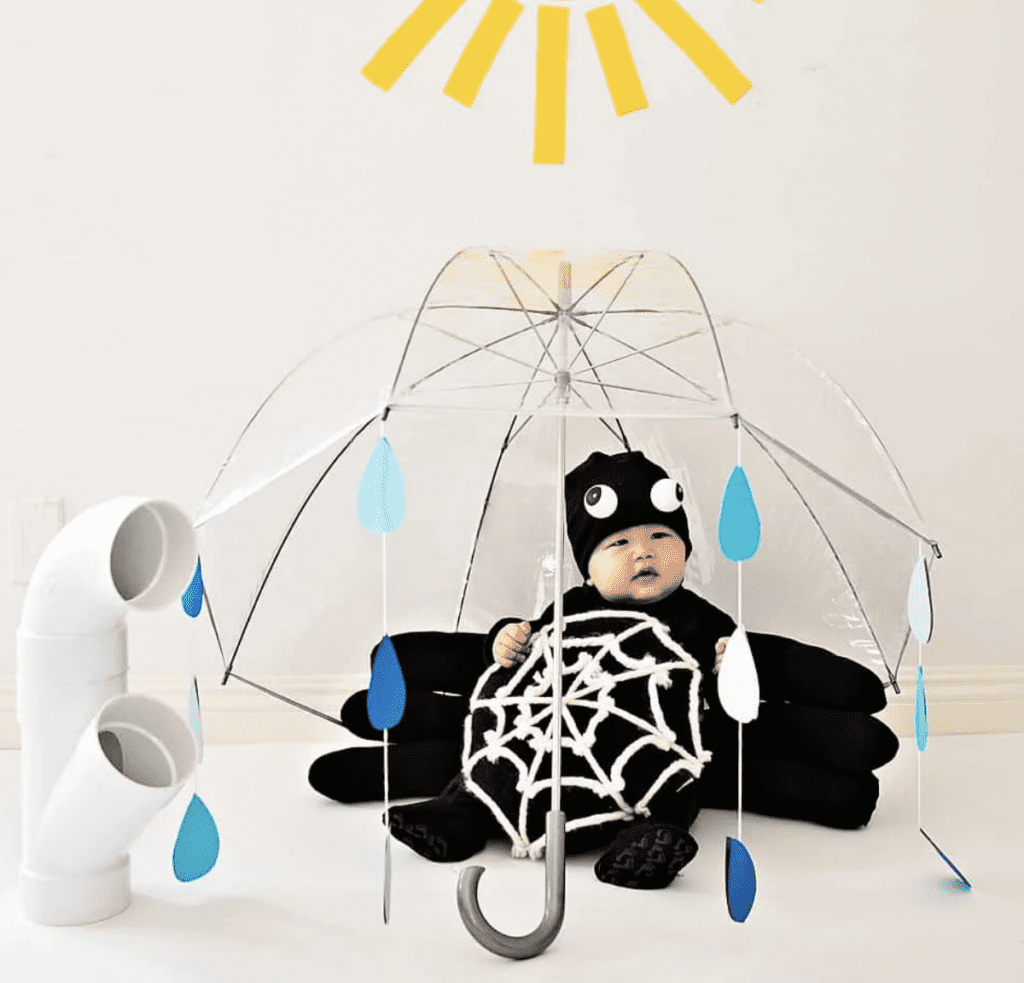 DIY Star Costume
Twinkle twinkle little star how I wonder where you are..this favorite nursery song will delight your baby and so why not dress him or her up as a star this Halloween season? Get the DIY Star costume.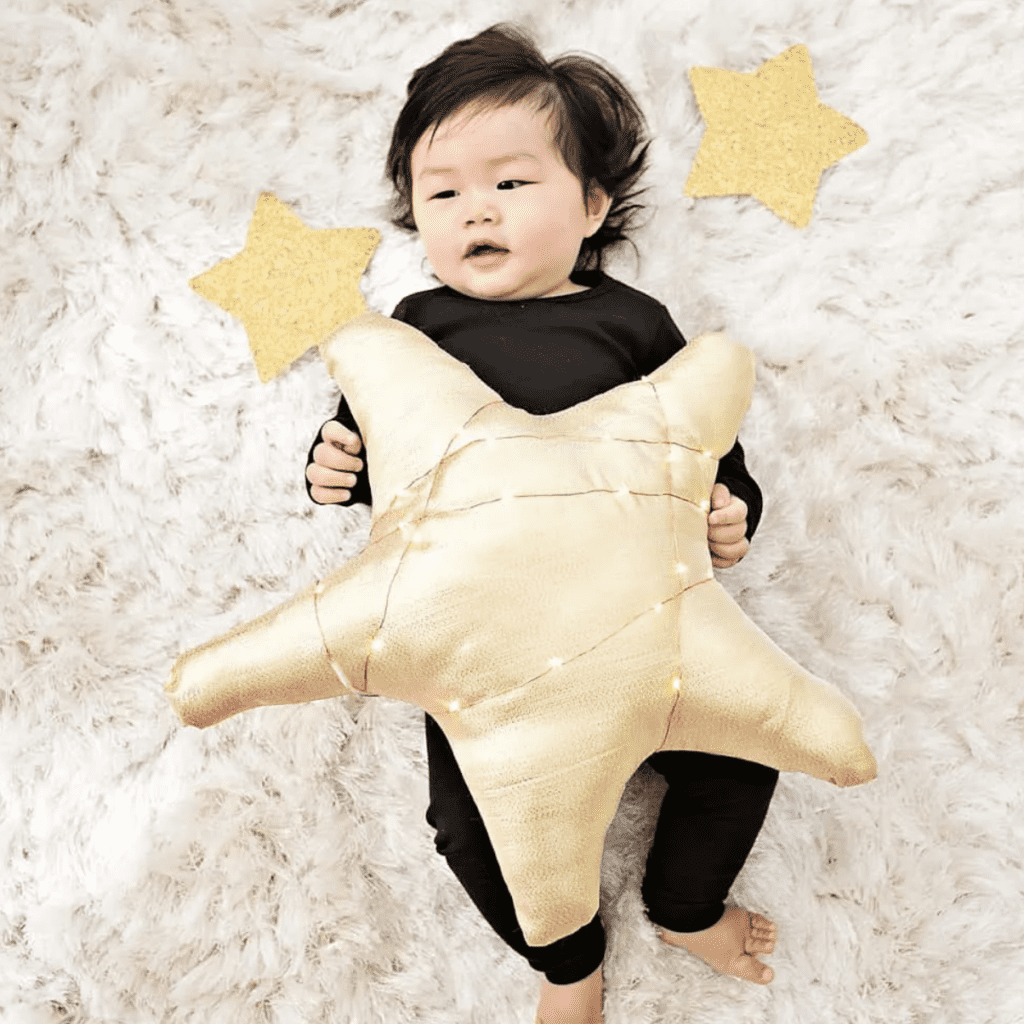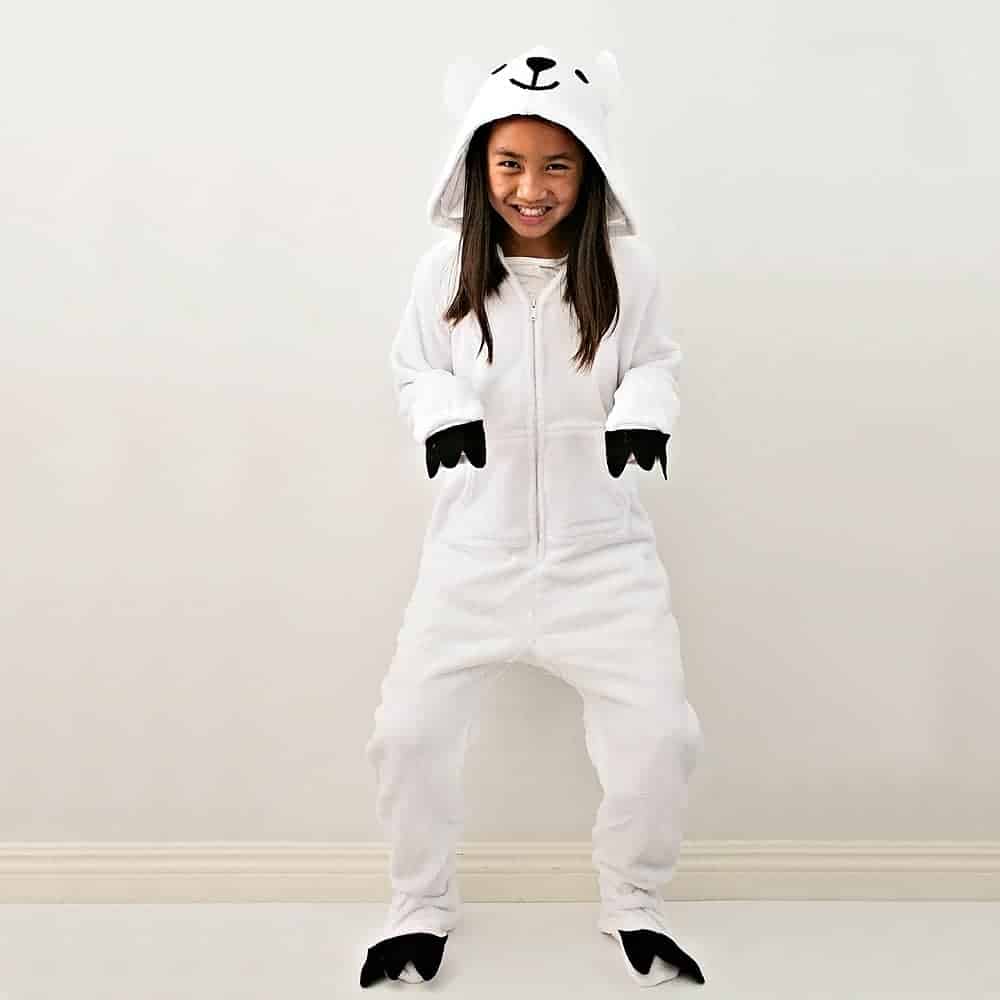 MAKE AN EASY PAPER HALLOWEEN SKELETON COSTUME
Here's a fun and silly Halloween skeleton costume you can make for the kids out of paper! This paper Halloween skeleton costume is a cinch to make, and will no time at all to make – those are my favorite types of costumes to make.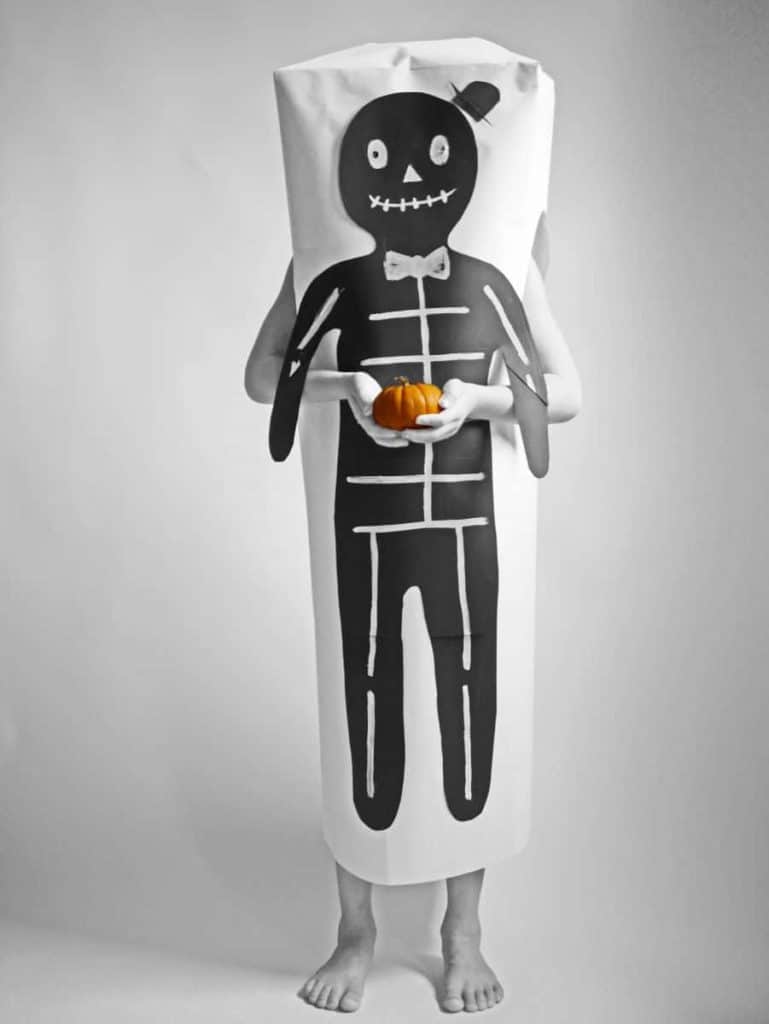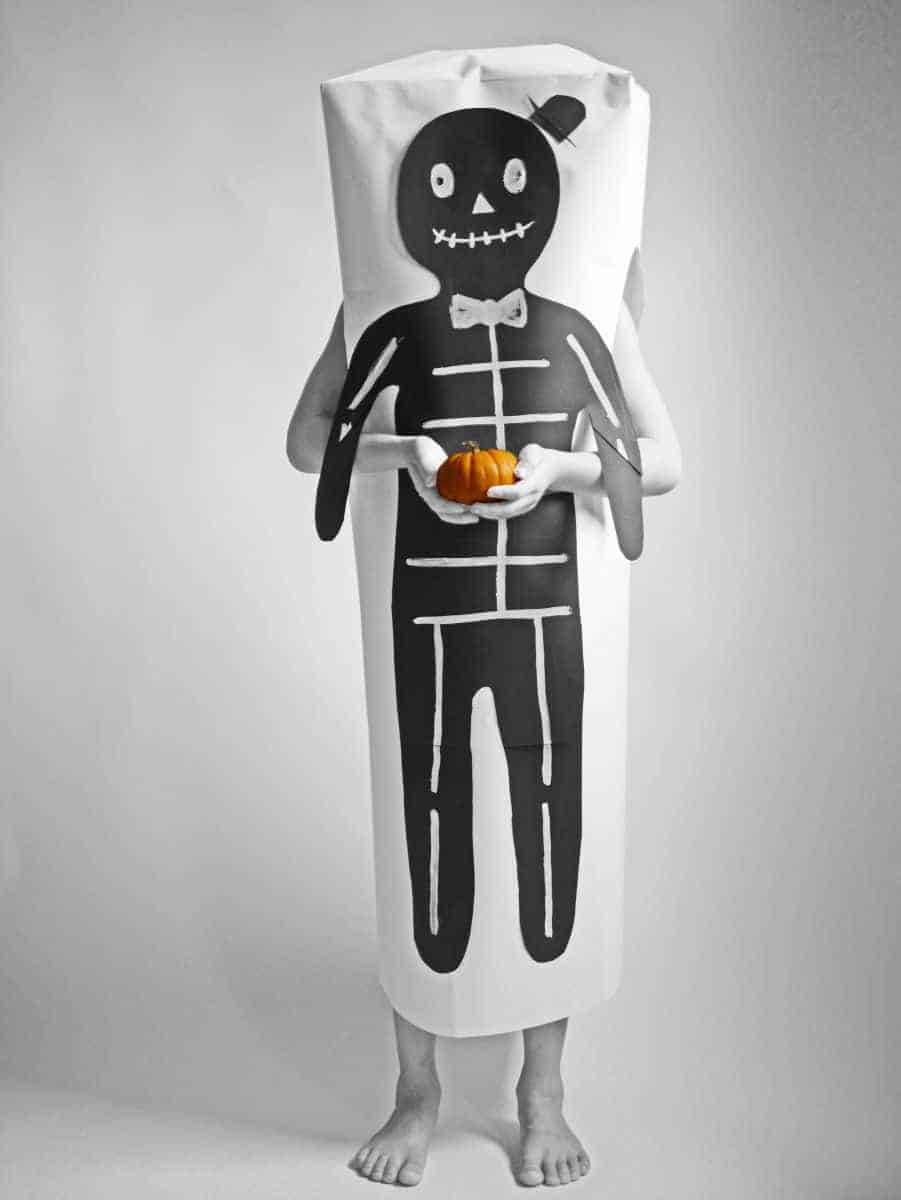 DIY RAINBOW BIRD WING COSTUME
I love this Rainbow Bird Wing costume is so much. It's so colorful, and it's one of those costumes that will be used beyond Halloween. You can have your kid help cut out the feathers with you, and you create an amazing bonding time with them.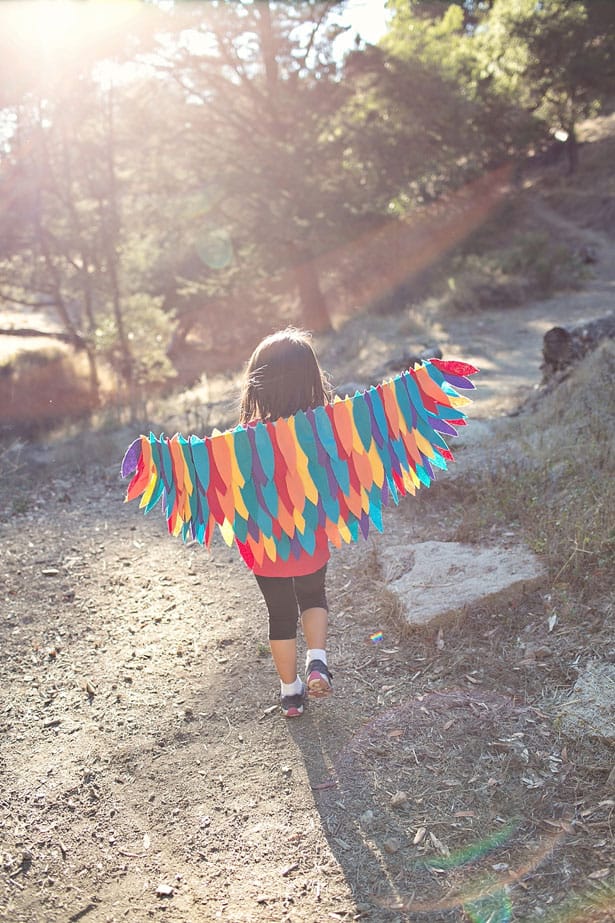 With all of these suggestions for easy DIY Halloween costumes for kids, I'm sure that you'll be able to find something that helps save you time, that won't take a lot products to make, and something that you and your kid(s) will remember a long time.