Follow us on Instagram for more fun ideas for kids!
Make this DIY Cardboard Owl Costume for kids as part of an enchanting woodland themed Halloween costume ensemble.
This cute DIY Cardboard Owl costume for kids is the final costume of our 3 part Woodland Animal Halloween themed costumes this year!
How many years in a row have you bought a store-bought Halloween costume and were just less than enthused about the options that were there? If that's the case, you're not alone.
This is just one of the reasons why we started making our own handmade Halloween costumes for kids. Not only is it cost-efficient, but it's honestly just a lot more fun as well.
This DIY Cardboard Owl Costume For Kids is so adorable for younger children and is actually aimed more towards that age group. However, if your older child really wanted something like this, you could alter it a bit to make it happen!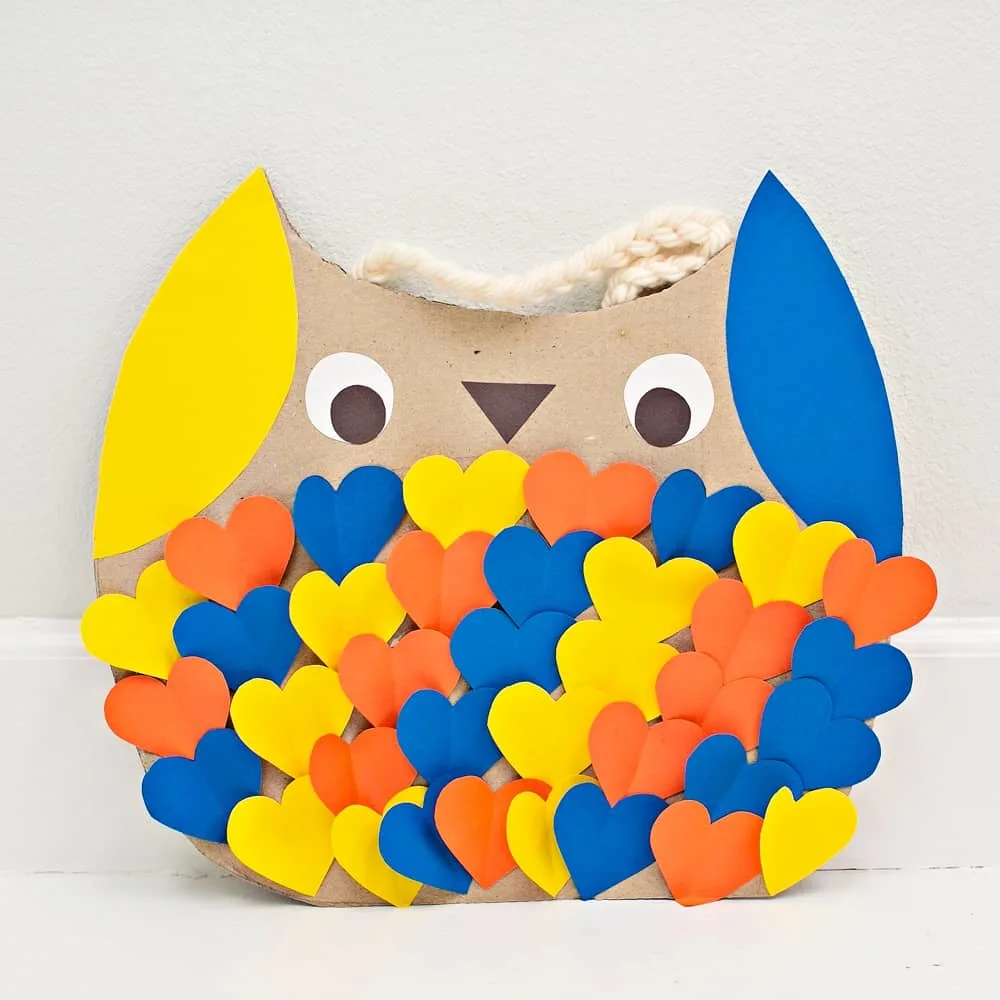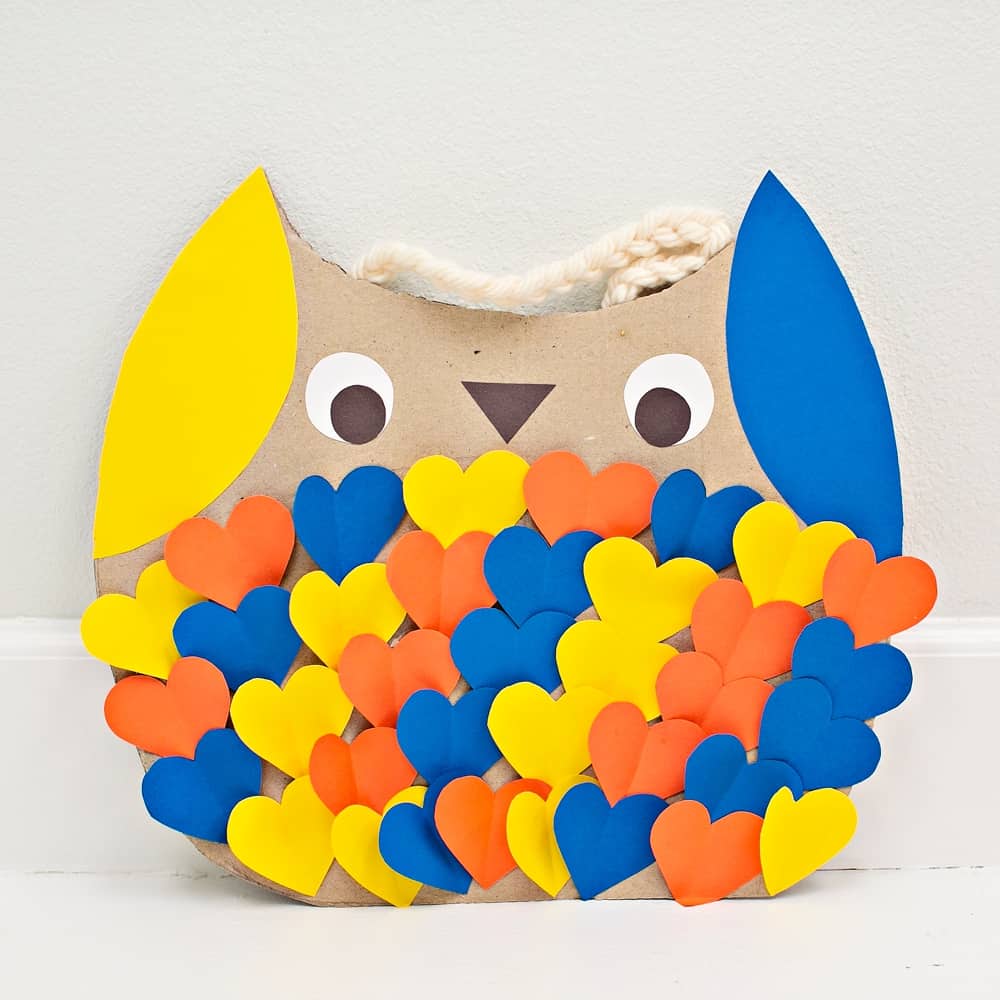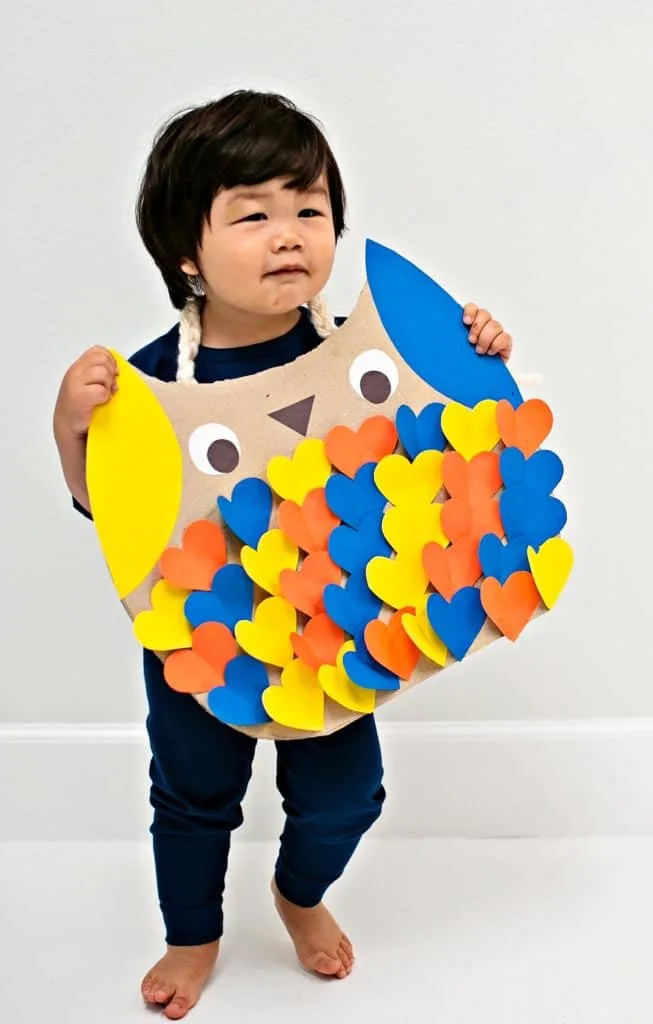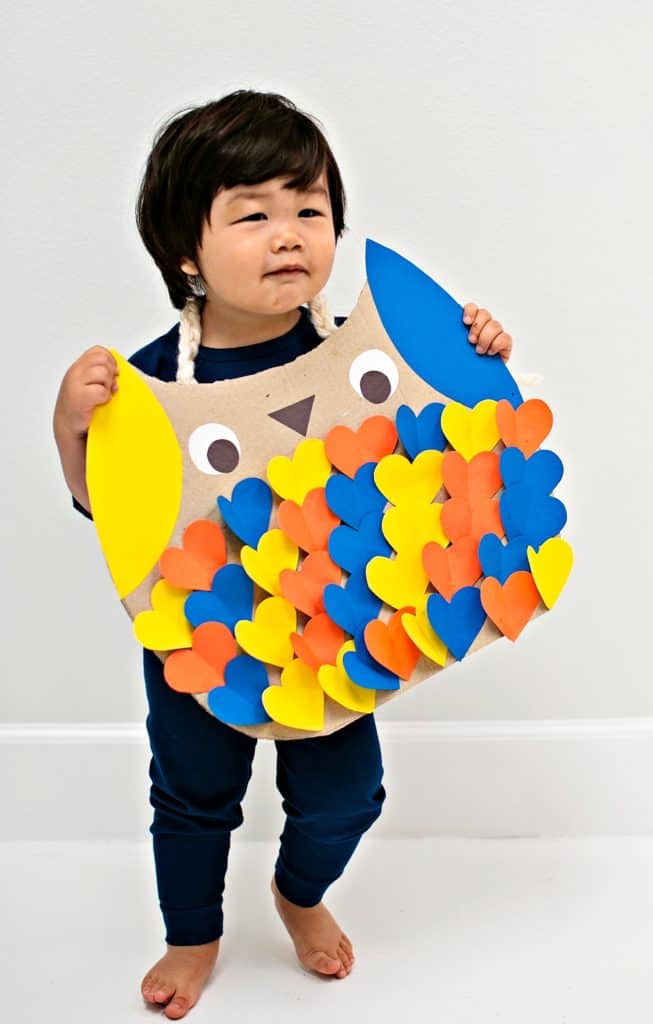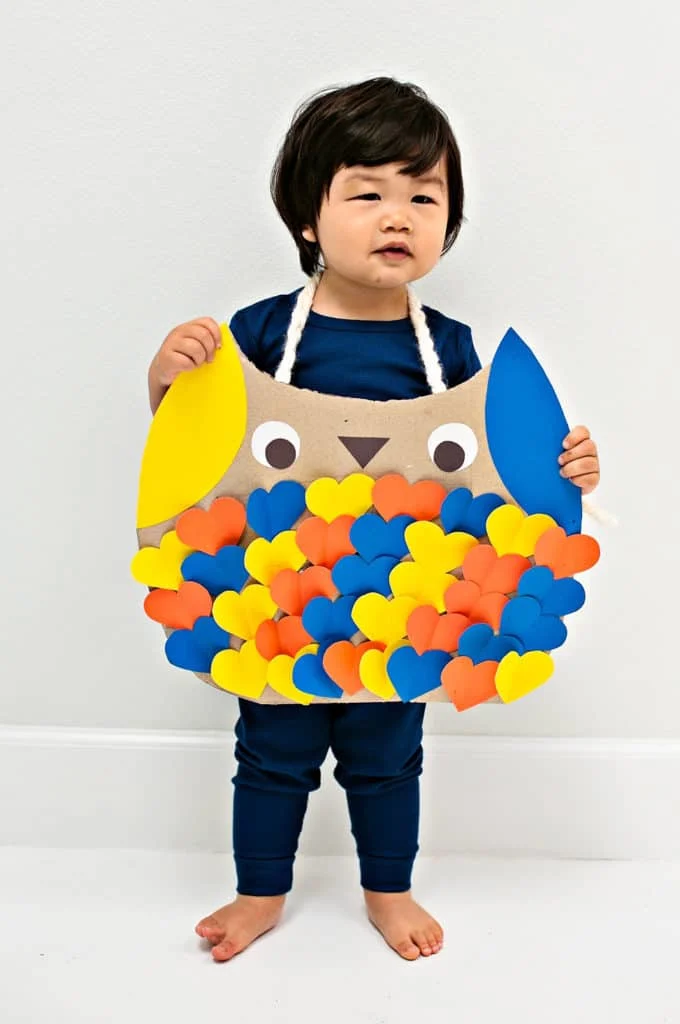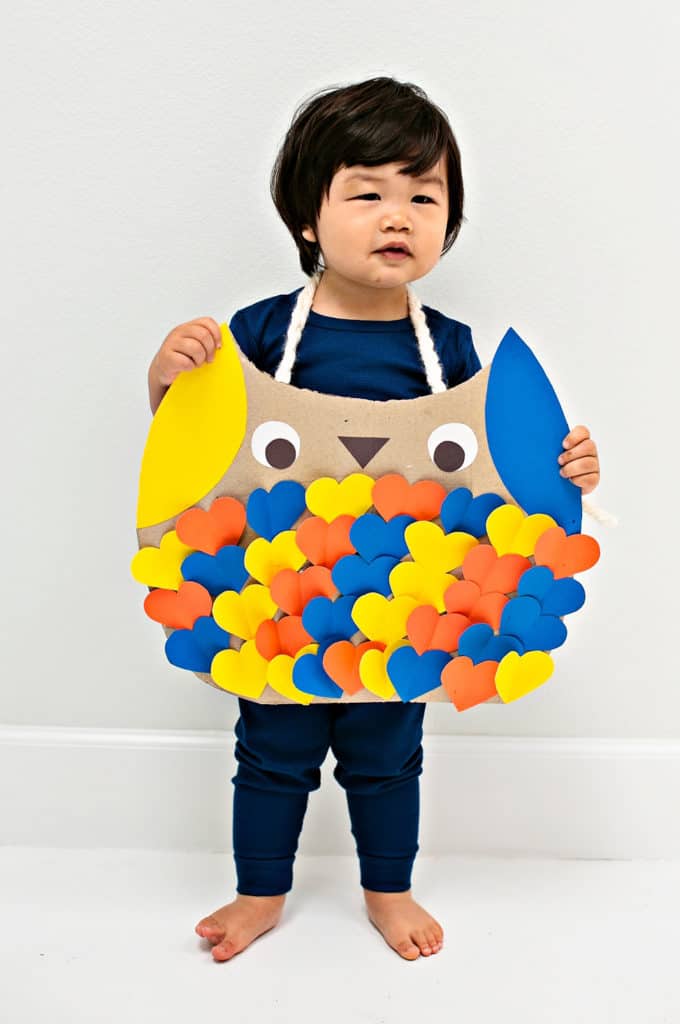 What are the owl feathers made of?
They're actually just paper hearts that are folded. How cute is that?! Let your child help in cutting out the hearts so that they'll feel included and a part of the cardboard costume creating team!
If they are too young to cut they can just practice folding hearts!
Do you recommend adult supervision for this costume craft?
I do. I actually always recommend that there be some sort of adult present whenever anyone is doing any type of activity or craft. That way, the adult can react quickly if help needs to happen and it also creates a bonding atmosphere for the parent and the child.
So many times we all get distracted by so many other things that we never really stop and realize what we're missing literally happening right in front of us.
If your child wants to create this costume, sit down and make it together. It's certain to be a memory that neither of you will forget anytime soon.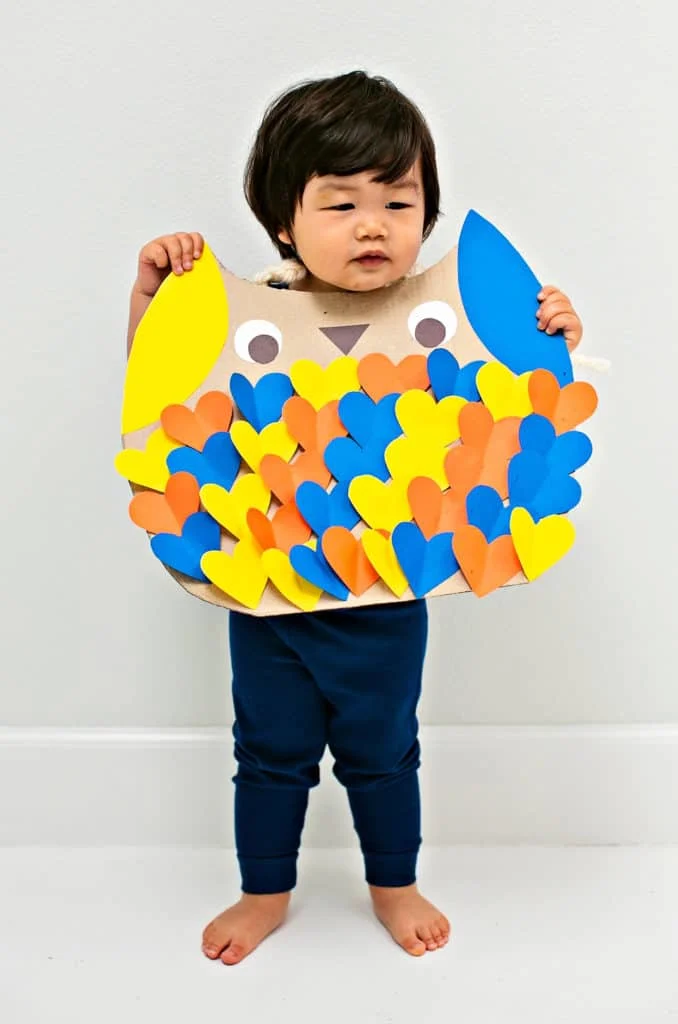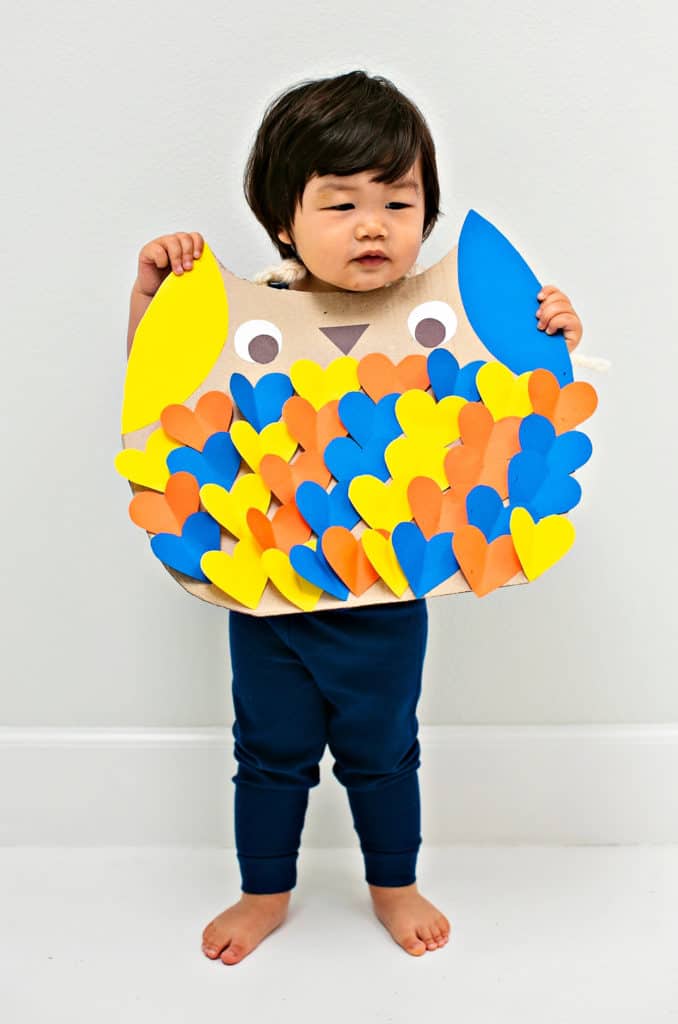 Adapt this cute owl costume to make it toddler friendly.
As you can see we created this soft braided yarn loop for my toddler boy so it would be a comfortable costume. Our other cardboard woodland animals the fox and hedgehog are made with an arm hole for older kids.
Of course knowing toddlers, an arm hole wouldn't last a hot second before the costume being flung to the wall!
The beauty of this costume is that you can create a string or arm cut-out depending on the age of your child. We wanted to show it both ways.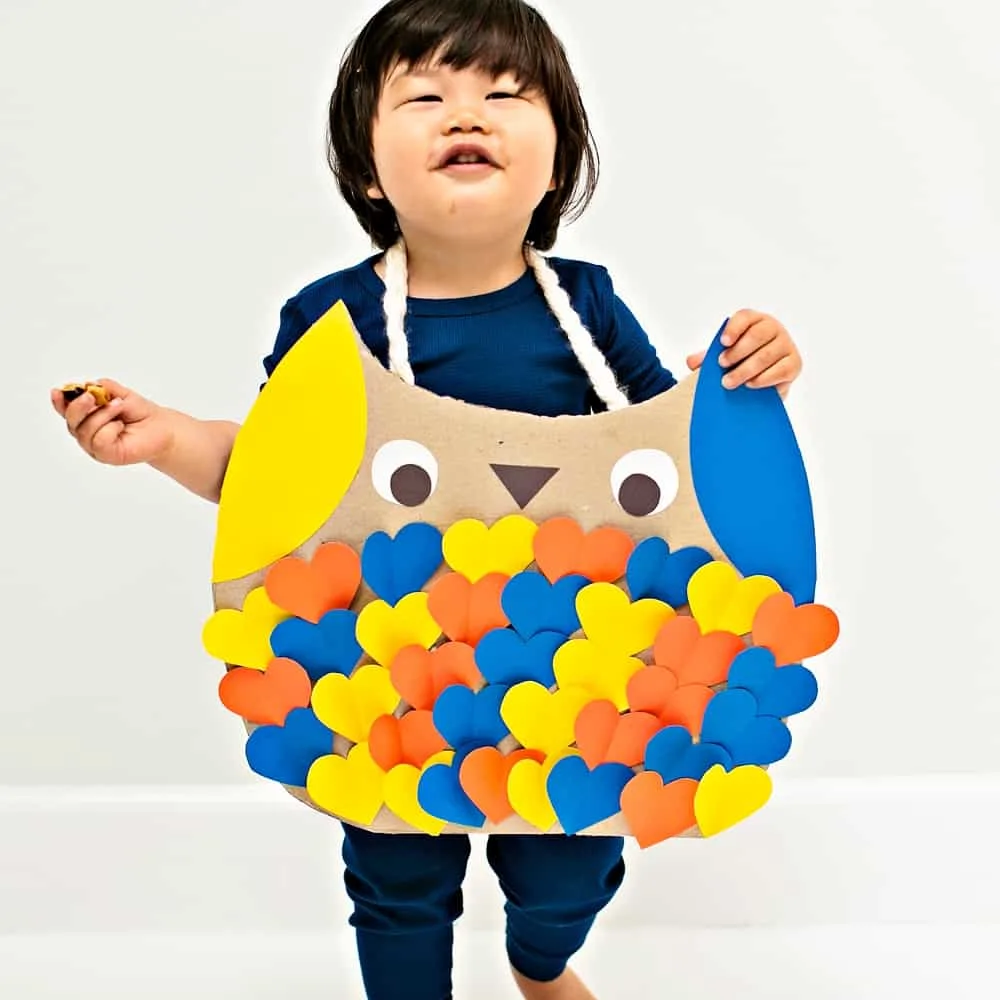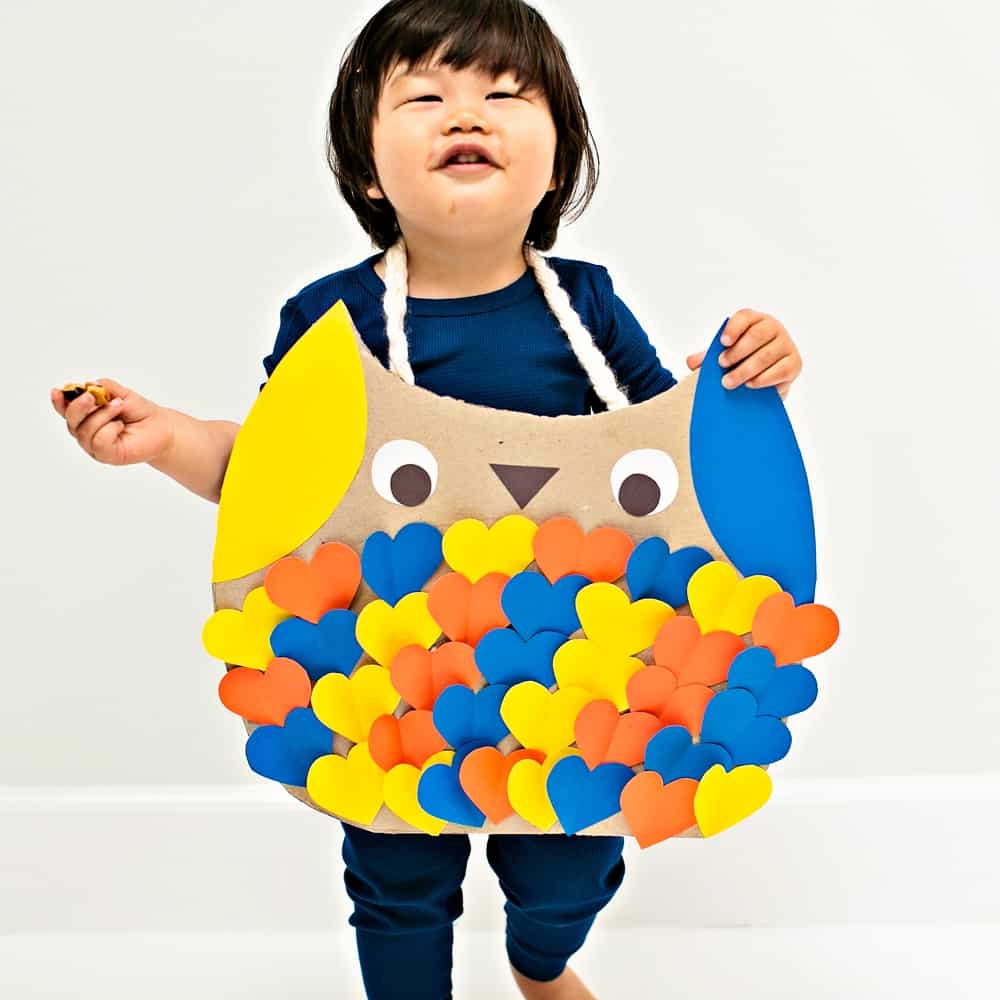 How to create this DIY Cardboard Owl Costume For Kids
I really love using cardboard to create. Not only is it fun to repurpose items and use them for something else, but it teaches the kids that very important message as well.
The first thing that you need to do is get your cardboard cut into the shape of an owl. Once you do that, the hard part of this DIY costume is over!
Next, take colored paper (we used yellow, blue and orange but you can do any colors!) and cut out hearts and then fold them in half.
Add them to the body of the owl so it looks like it's covered completely in feathers.
Last, but not least, braid thick yarn and use strong tape to secure to the back of the cardboard. Then simply place over your child's head to keep the costume in place. Stay away from the neck area and make certain that you don't tie it too tight. This way, the owl won't escape during all the fun trick or treating that's happening.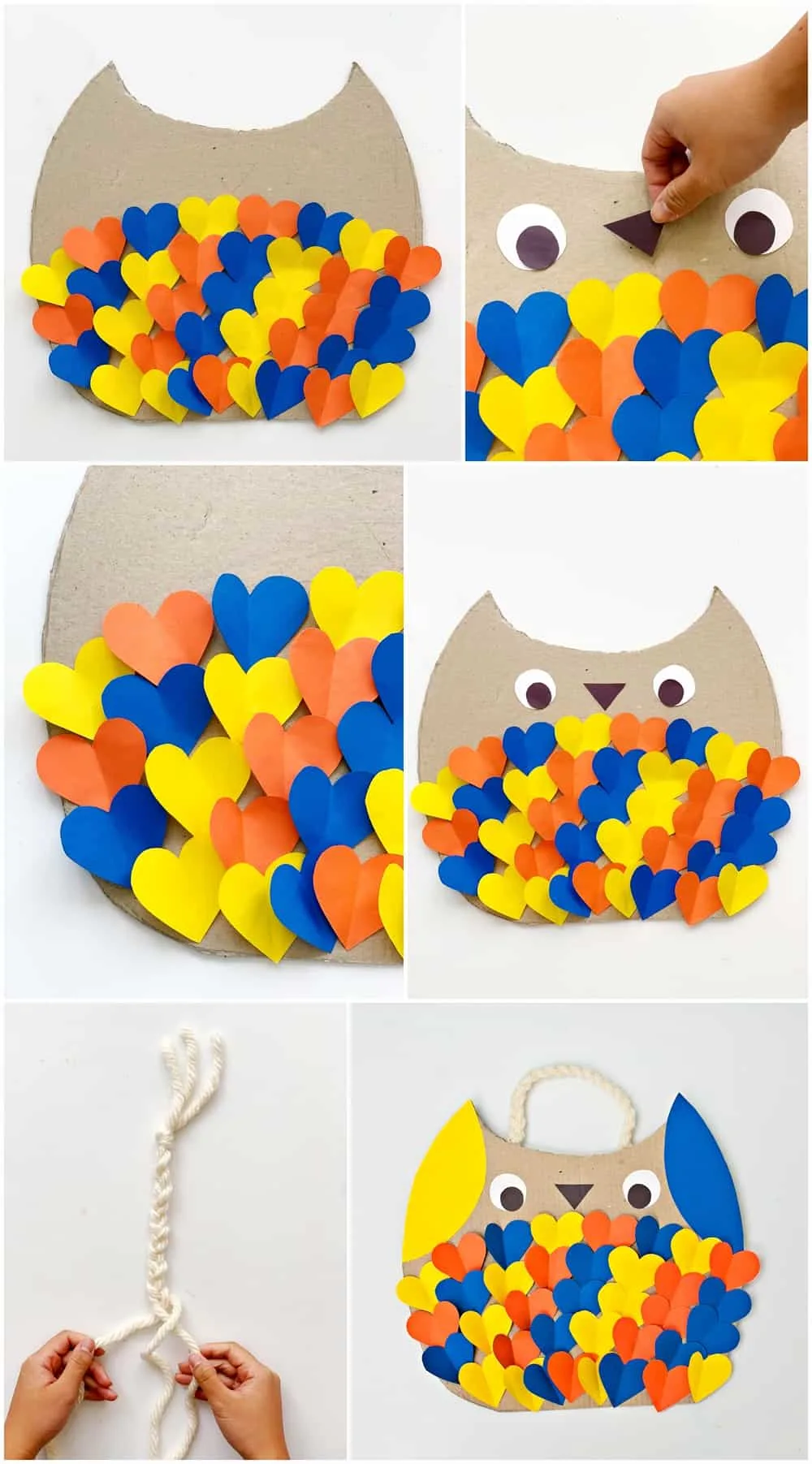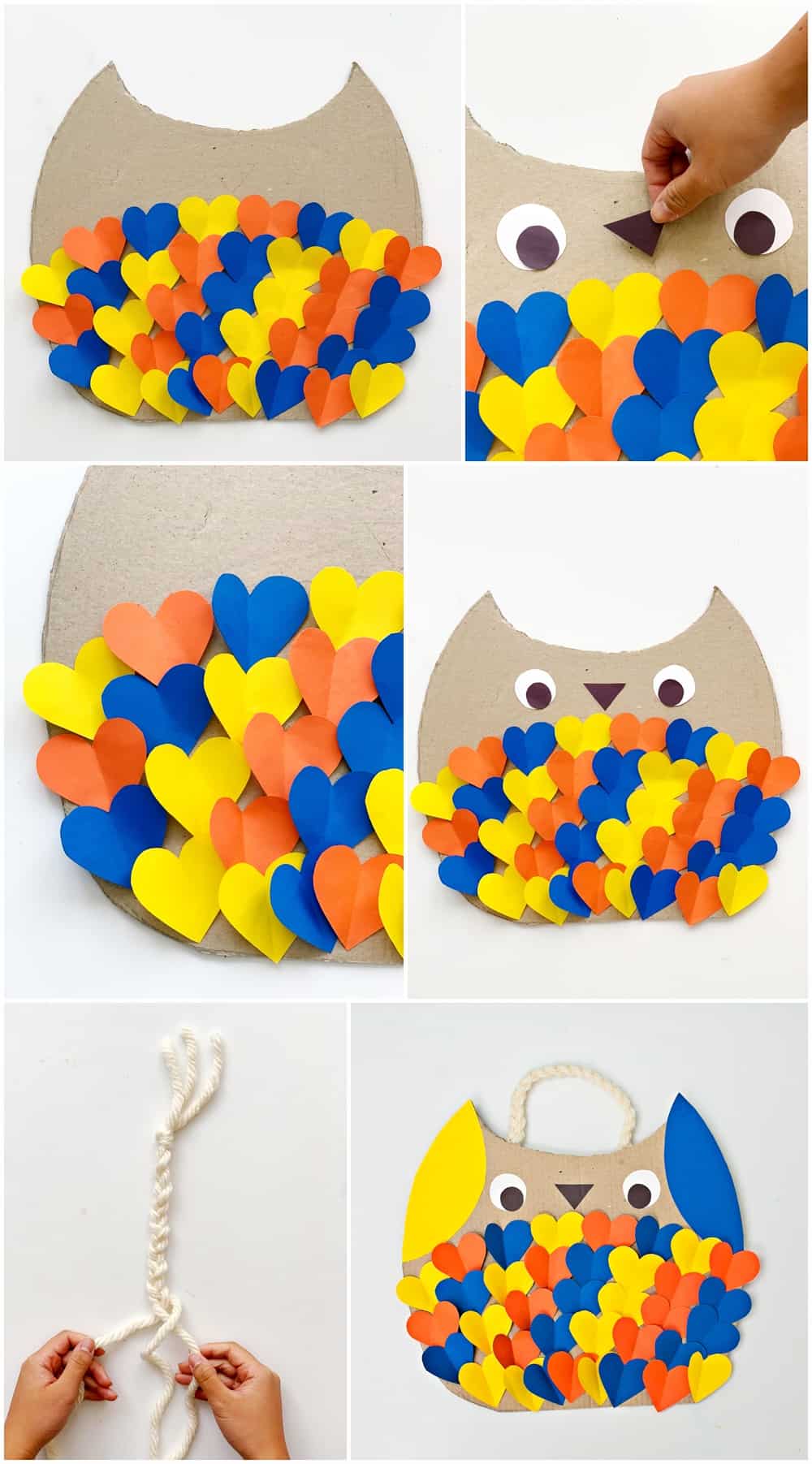 DIY Cardboard Owl Costume For Kids – Materials:
Cardboard
Yarn
Colored paper (to make the feathers), black/white paper for face features
Hot glue gun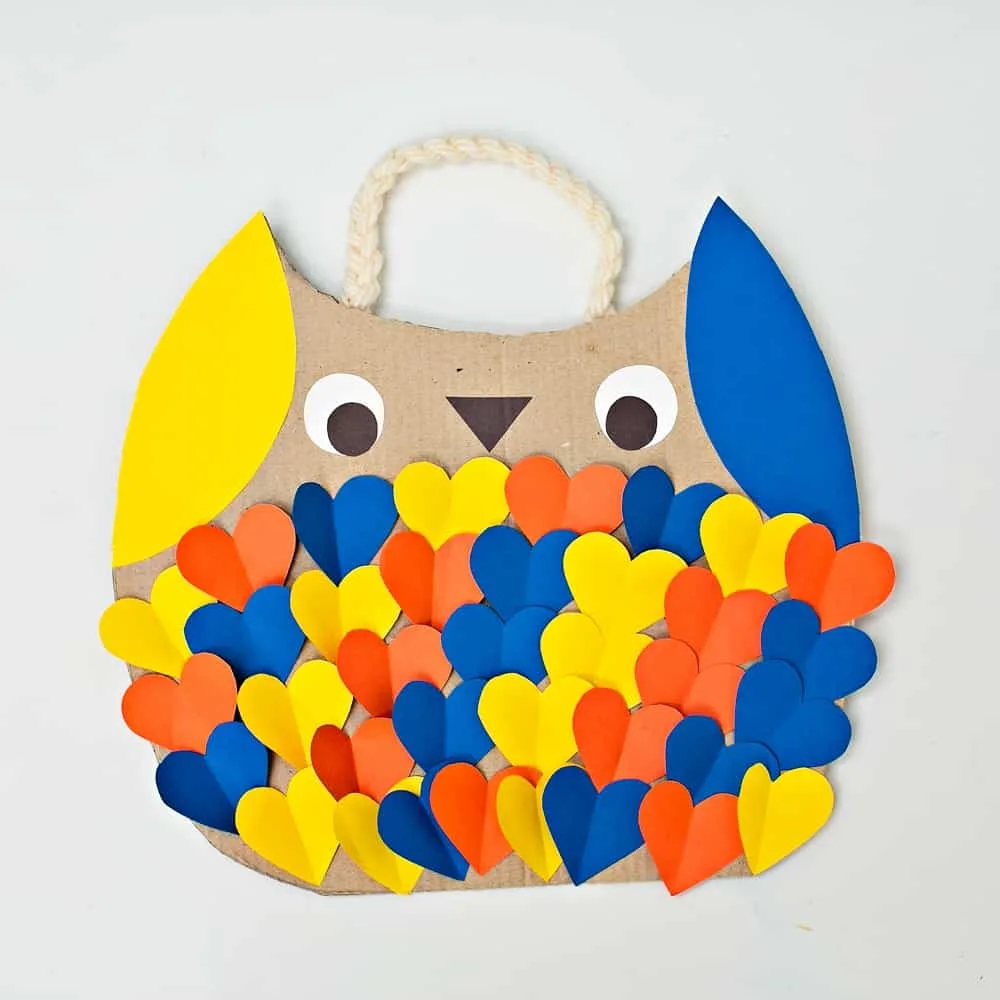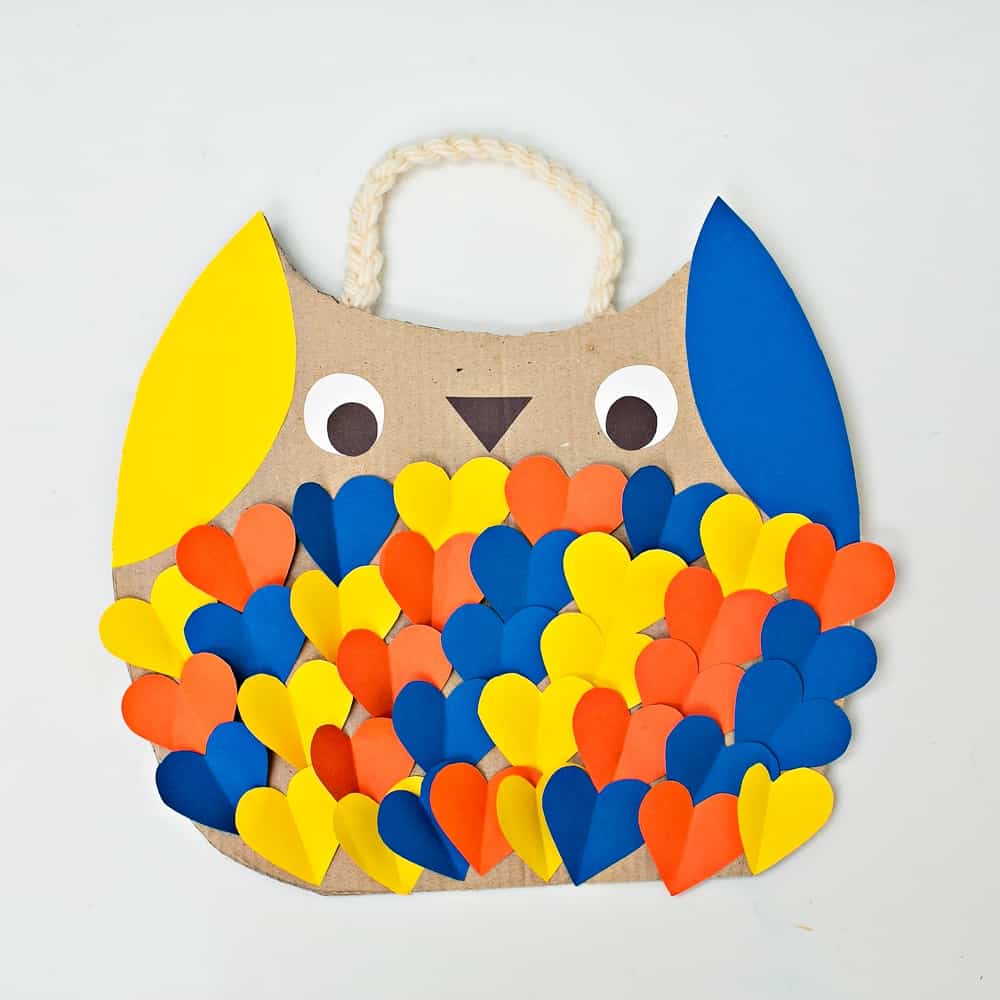 Yield: cardboard costume
DIY CARDBOARD OWL COSTUME FOR KIDS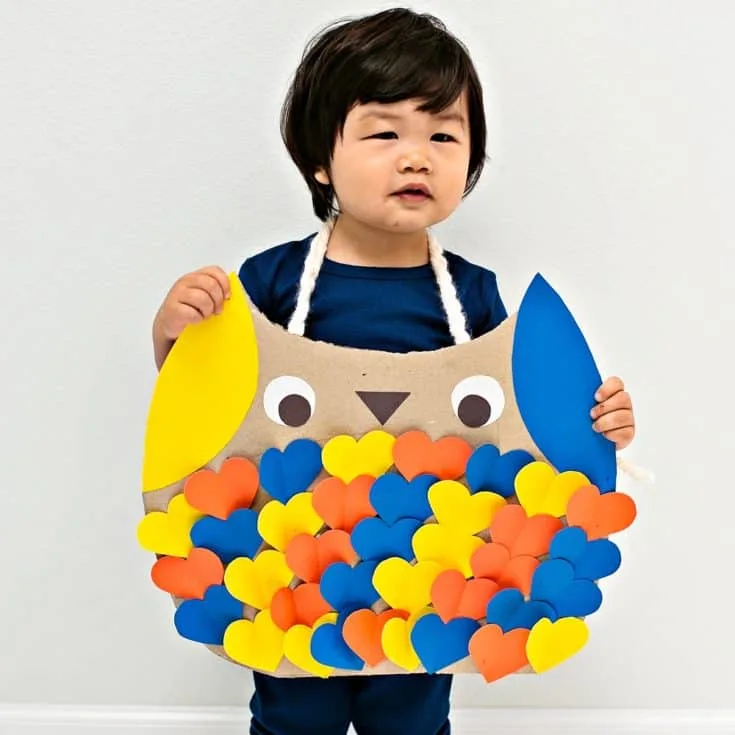 This DIY Cardboard Owl Costume makes a cute and easy Halloween costume for kids. All you need is cardboard and paper to make this costume in no time!
Materials
Cardboard
Yarn
Colored paper (to make the feathers), black/white paper for face features
Hot glue gun
Instructions
1. Grab a piece of flat cardboard and loosely sketch an owl shape onto it. The size really depends on your child so measure appropriately.
2. Outline an area for the face and feathers (body).
3. Draw a heart shape you can use as a template onto cardstock. Cut that out and trace many heart shapes out of colored paper of your choice. Fold hearts in half.
4. Cut out features for owl such as as eyes, side feathers, nose as shown. You can really give it any expression you want!
5. Braid a length of thick yarn that can go comfortably around the owl. Secure with strong tape to the back of the cardboard.
6. Finish the costume by hot gluing the face features and heart feathers on the cardboard.
If you love this fun DIY Cardboard Owl Costume For Kids make certain to check out these other fun cardboard costumes as well: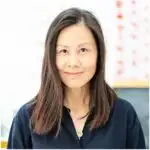 Agnes Hsu is a mom of three and has been inspiring parents and kids to get creative with easy activities and family friendly recipes for over 10 years. She shares her love for creative play and kids food to her 2MM+ followers online. Agnes' commitment to playful learning and kindness has not only raised funds for charity but also earned features in prestigious nationwide publications.