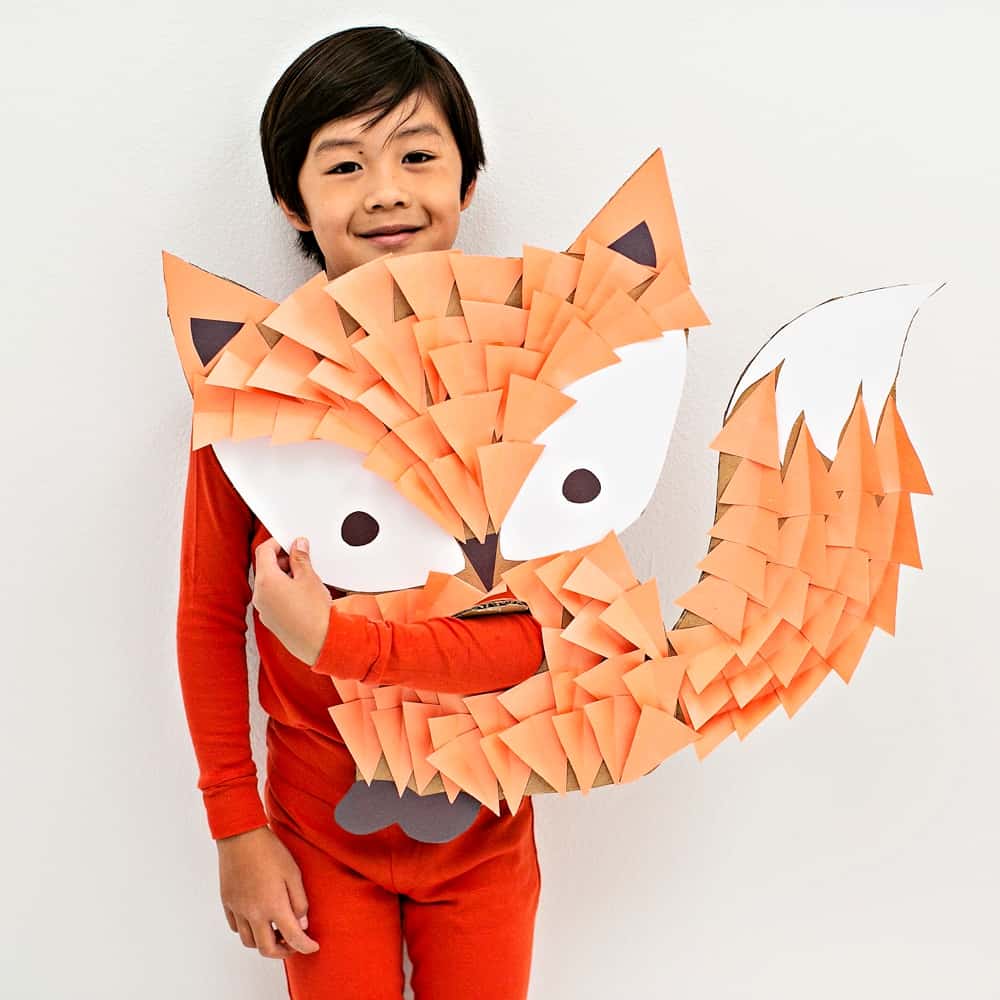 Follow us on
Instagram
for more fun ideas for kids!
Make this DIY Cardboard Fox Costume for kids as part of an enchanting woodland themed Halloween costume ensemble.
This cute DIY Cardboard Fox costume for kids is one of our woodland animal themed DIY Halloween costumes this year!
We cannot wait for Halloween to get here. Seriously cannot wait. We "might" have already gotten a jump on our homemade Halloween costumes this year and can I just say that I'm already obsessed?
Every year I do my best to create an awesome homemade Halloween costume and this year, we've branched out to include a DIY Cardboard Fox to our ever-growing list of homemade costumes. This is part of our Woodland Animal costume theme!
This DIY Cardboard Fox Costume For Kids is not only adorable, but it's really quite simple to make.
After many years of looking at all the overpriced costumes in the store, I knew that making my own would be a much less stressful, and more affordable, solution. Besides, homemade costumes are 100% unique as well!
Halloween costumes are meant to be different which is exactly what I hope this handmade Halloween costume accomplishes for you and your child.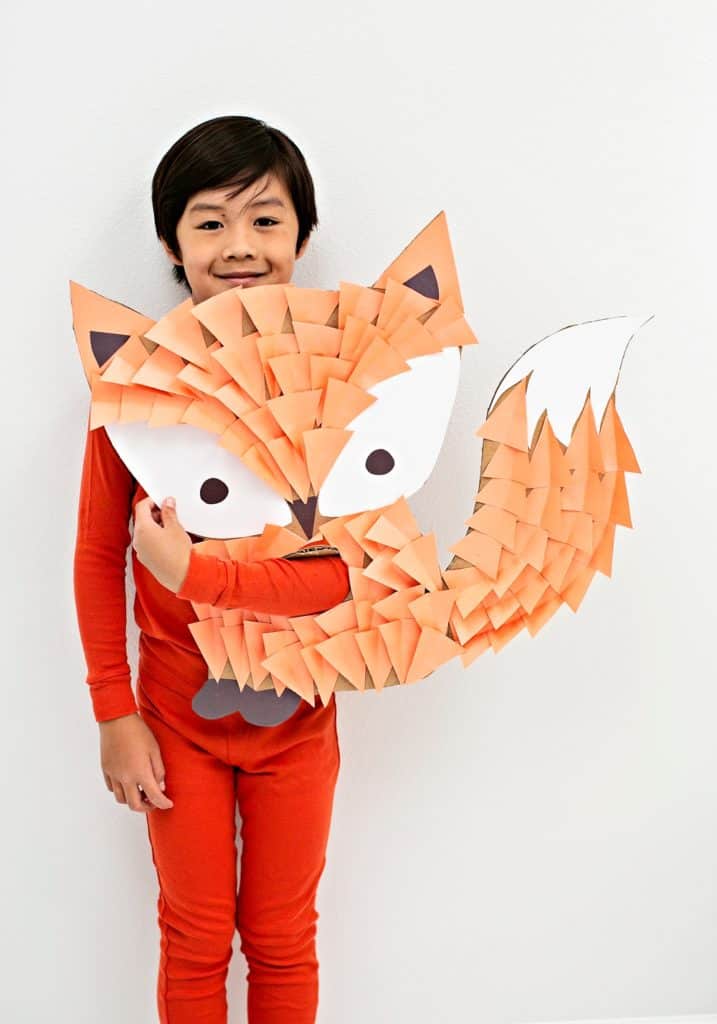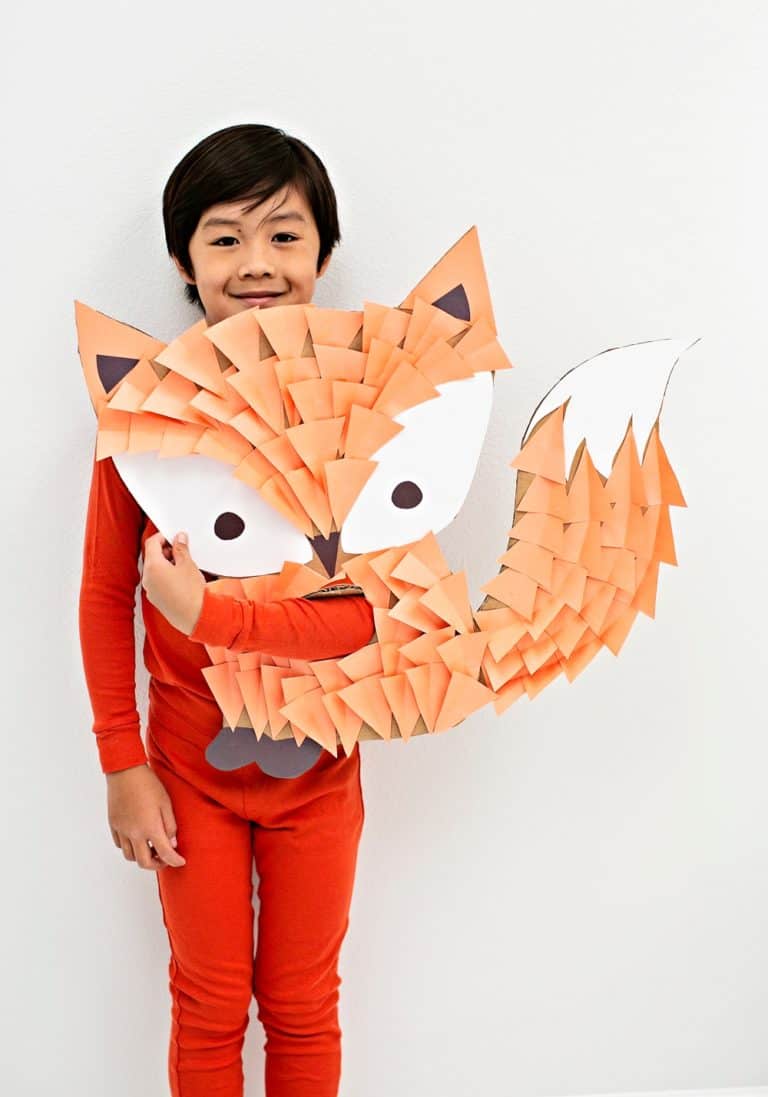 How long does this DIY Cardboard Fox Costume For Kids take to make?
This is the beautiful part of this homemade costume. You can literally create this entire costume in less than an hour. And if you have your children help you make it, it'll just be that much more quickly. It's just cardboard and paper!
How do you make the fox fur?
All you really need for the fur is to make long paper triangles. Kids can help cut and fold them easily!
You can use glue dots or double stick tape if you have kids help, but it probably won't last as long as hot glue. That's what we prefer and of course adult supervision is required for that. However, my daughter learned using a low temp hot glue gun so I'd recommend that if your child is older.
How to create DIY Cardboard Fox Costume For Kids
Once you've realized that creating a homemade fox costume isn't going to be all that difficult, it's time to get creating. Gather up the supplies needed from the list below and get ready to make some Halloween costume magic.
Trace our a shape of a fox on the cardboard and then cut out that shape. (Look online and do your best on creating a fox shape – as long as you're close, you're good!)
Once it's cut out, it's time to start adding on the triangles, aka the "fur". Do this all over the body of the fox.
Make certain that you cut out a little place for an armhole so your child will have a way to hold on to their costume. If you're worried that the armhole isn't going to be a good idea on its own, you can always add a simple piece of string so that it ties around your child and the DIY fox costume as well. This is handy during trick or treating.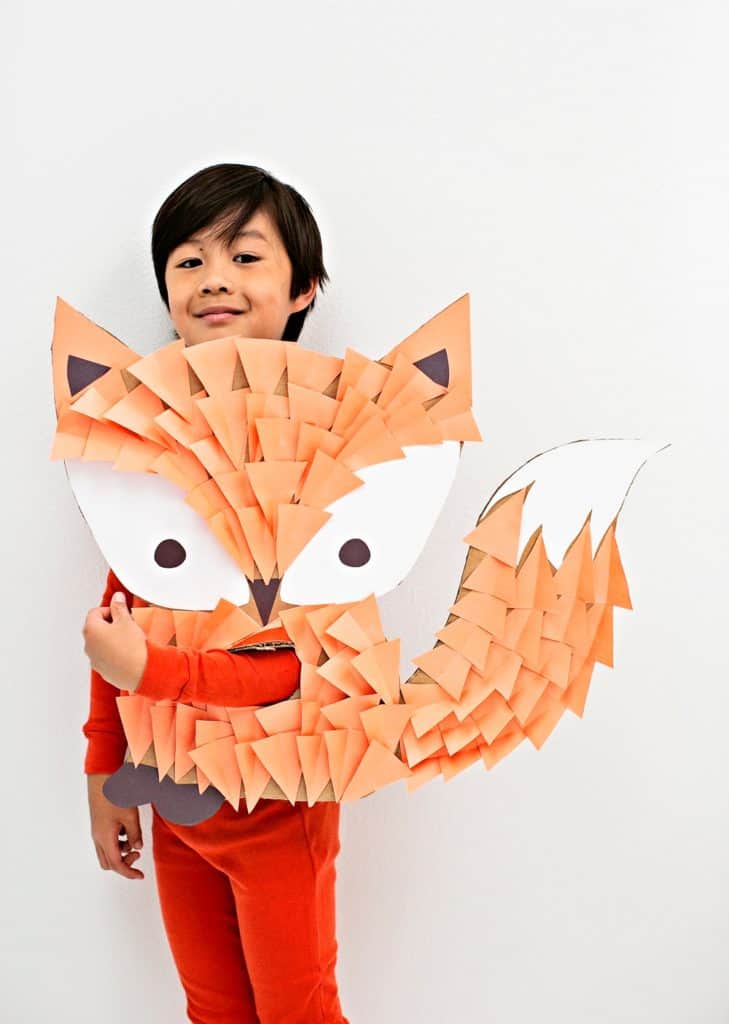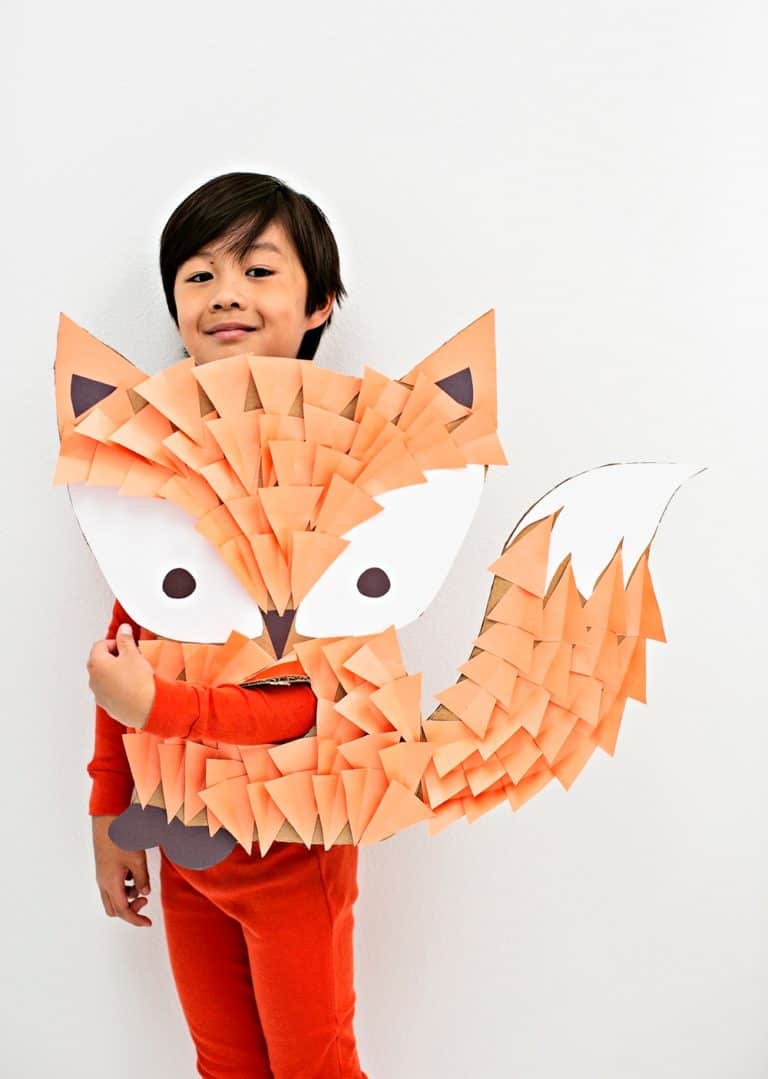 DIY Cardboard Fox Costume For Kids – Materials:
Cardboard

String

Brown/Orange/White Construction Paper

Hot glue gun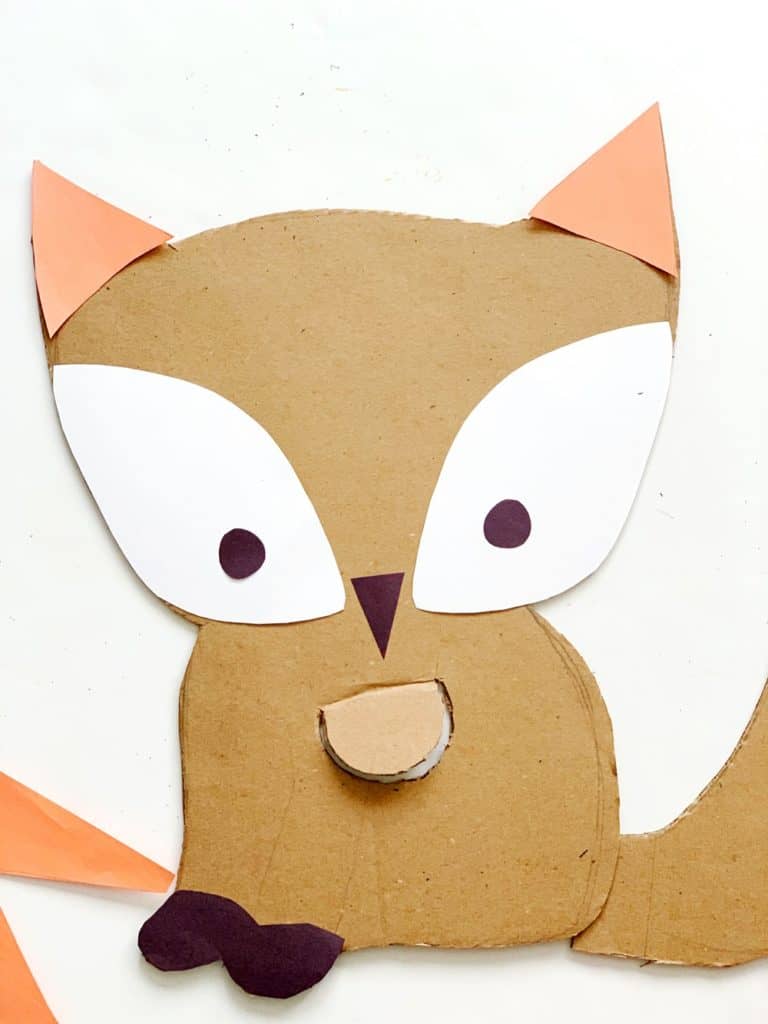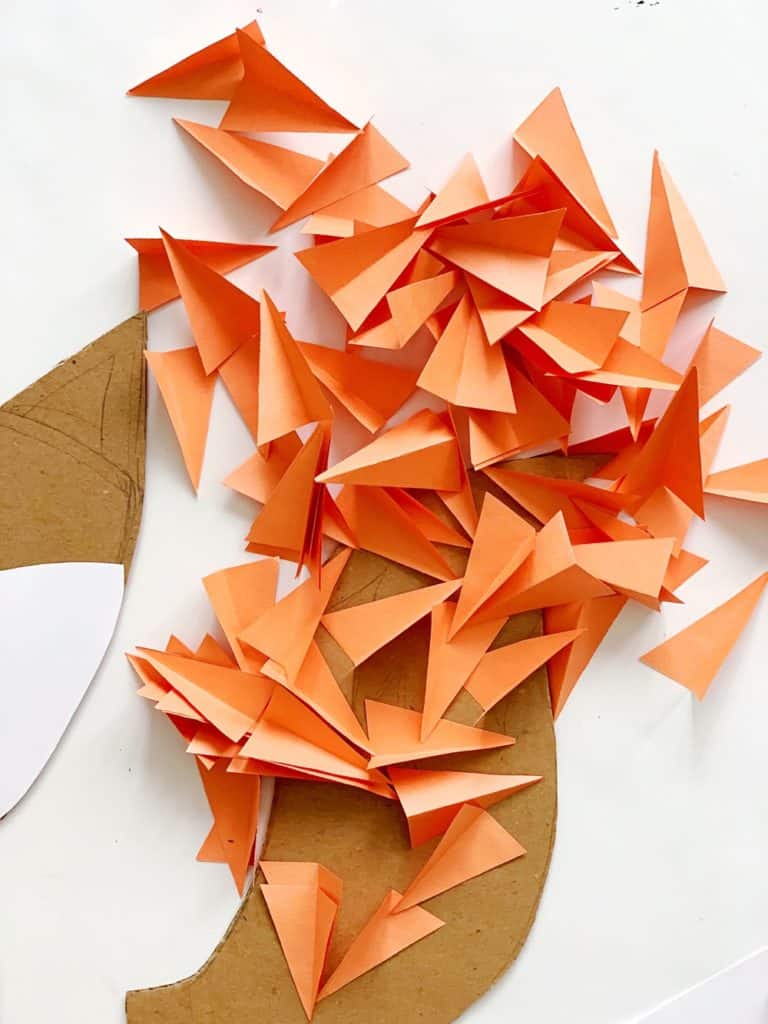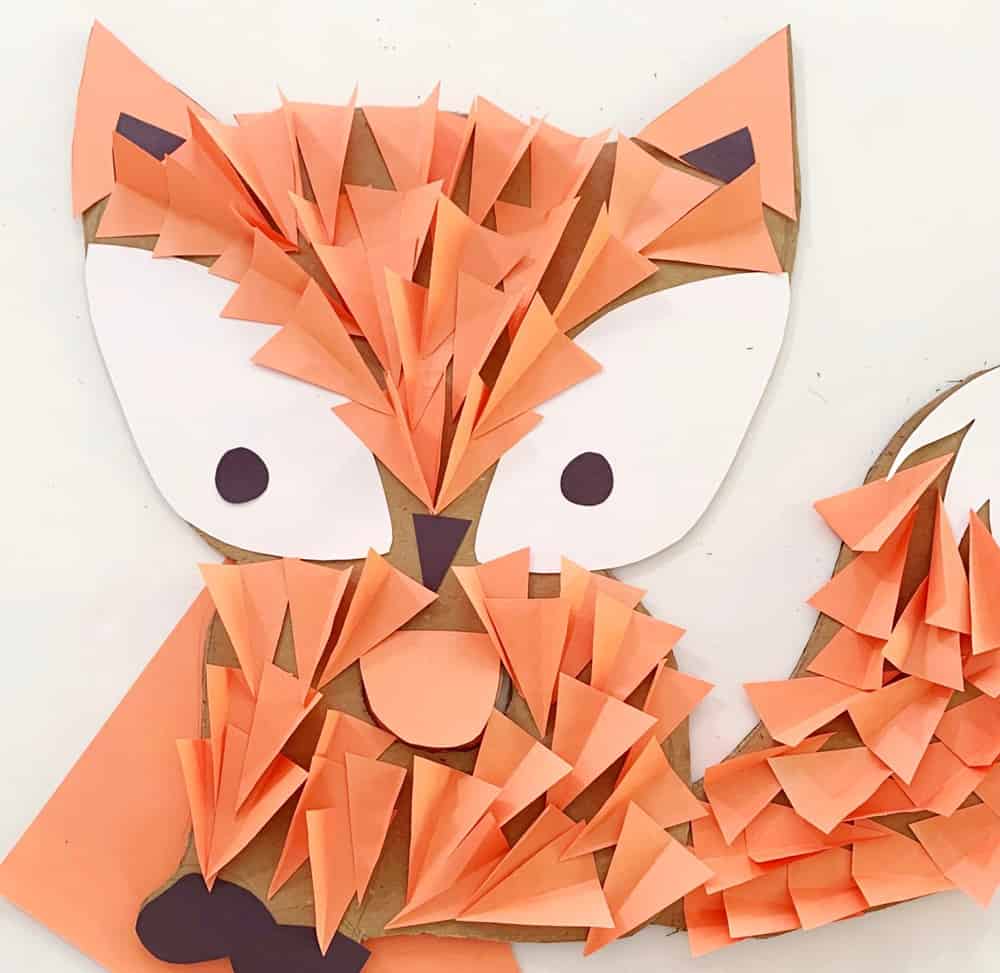 Yield: DIY Fox Costume
DIY CARDBOARD FOX COSTUME FOR KIDS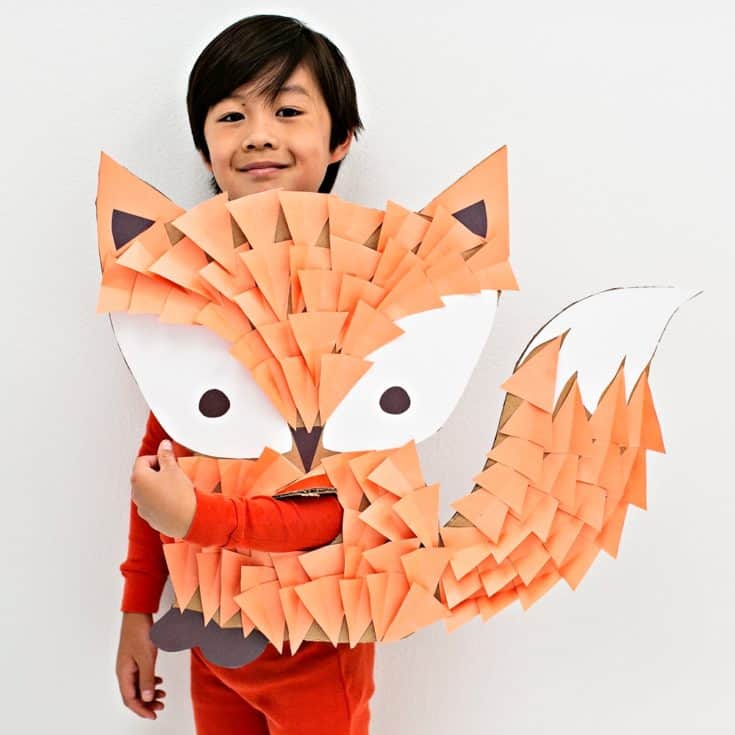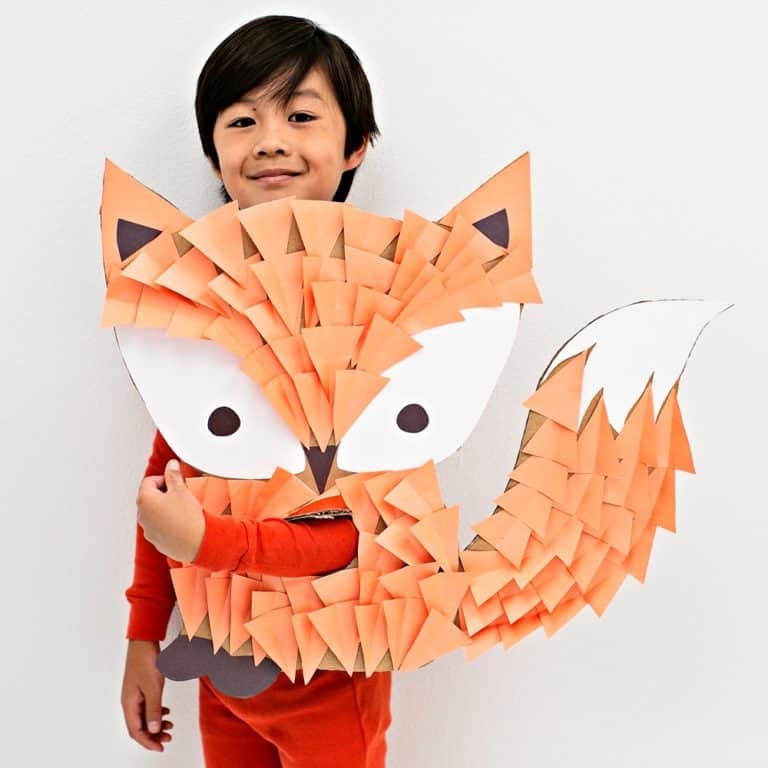 Materials
Cardboard
String
Brown/Orange/White Construction Paper
Hot glue gun
Instructions
1. Grab a piece of flat cardboard and loosely sketch a fox shape onto it. The size really depends on your child so measure appropriately. Sketch the tail separately so you can glue it on to be more secured vs. it being part of body.
2. Outline an area for the face.
3. Draw a long paper triangle shape you can use as a template onto cardstock. Cut that out and trace many triangle shapes out of orange paper. Fold them in half.
4. Cut out features for the inner ears, white part of face, white part of tail, nose and eyes as shown. You can really give it any expression you want!
5. Before glueing any paper parts on, you'll want to carve a semi-circle for the arm cut out in the center of the fox. That will be your child's arm so make sure the semi-circle is large enough!
6. Finish the costume by gluing on the paper fur and face details.
If you love this fun DIY Cardboard Fox Costume For Kids make certain to check out these other fun cardboard costumes as well:
________________________________________