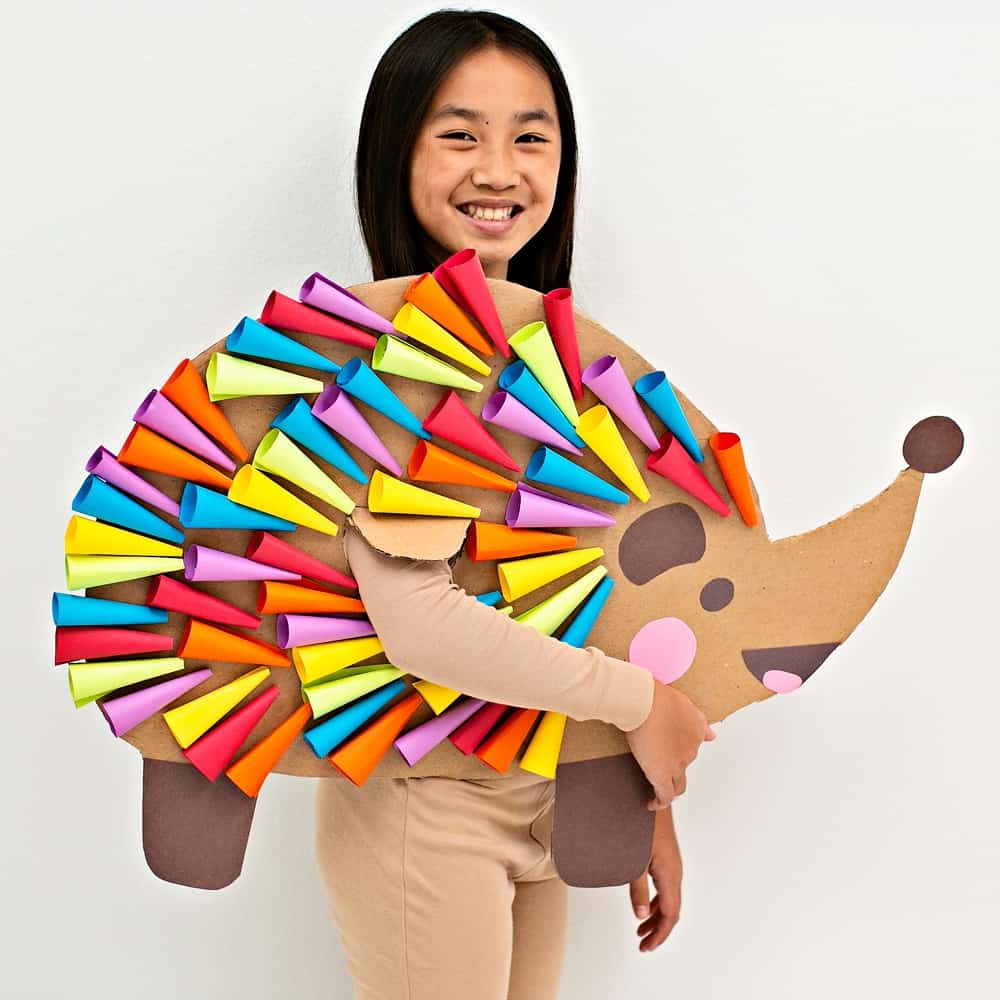 Follow us on
Instagram
for more fun ideas for kids!
Make this DIY Cardboard Rainbow Hedgehog Costume for kids as part of an enchanting woodland themed Halloween costume ensemble.
This cute DIY Cardboard Rainbow Hedgehog costume for kids is one of our woodland animal themed DIY Halloween costumes this year!
To say we're a bit obsessed with creating our own DIY Halloween costumes for kids is an understatement.
And even more than that, we love using plain old cardboard to turn it into something beautiful and fun. Why spend your one night a year dressing up like everyone else when you don't have to?
This DIY Cardboard Rainbow Hedgehog Costume For Kids is not only crazy simple to make, but it also allows for the kids to join in on the creative fun as well. I can't tell you how many memories we've made creating our own homemade Halloween costumes…and this hedgehog one is seriously one of my new favorites!
I hope that this creative Halloween costume using cardboard shows you and your children that you can repurpose simple cardboard and turn it into a totally awesome DIY costume!
What age is this handmade Halloween costume for?
Who says there ever has to be an age limit when it comes to dressing up for Halloween? If your child happens to be a little bit older and a larger height compared to your younger child, all you need is just a little bit bigger piece of cardboard. Where there's a will, there's a way!
This why we particularly love making this type of easy cardboard cut-out costume. It's versatile, easy and you can virtually make up any creatures or animals! Like the matching Woodland cardboard fox and owl costumes we made.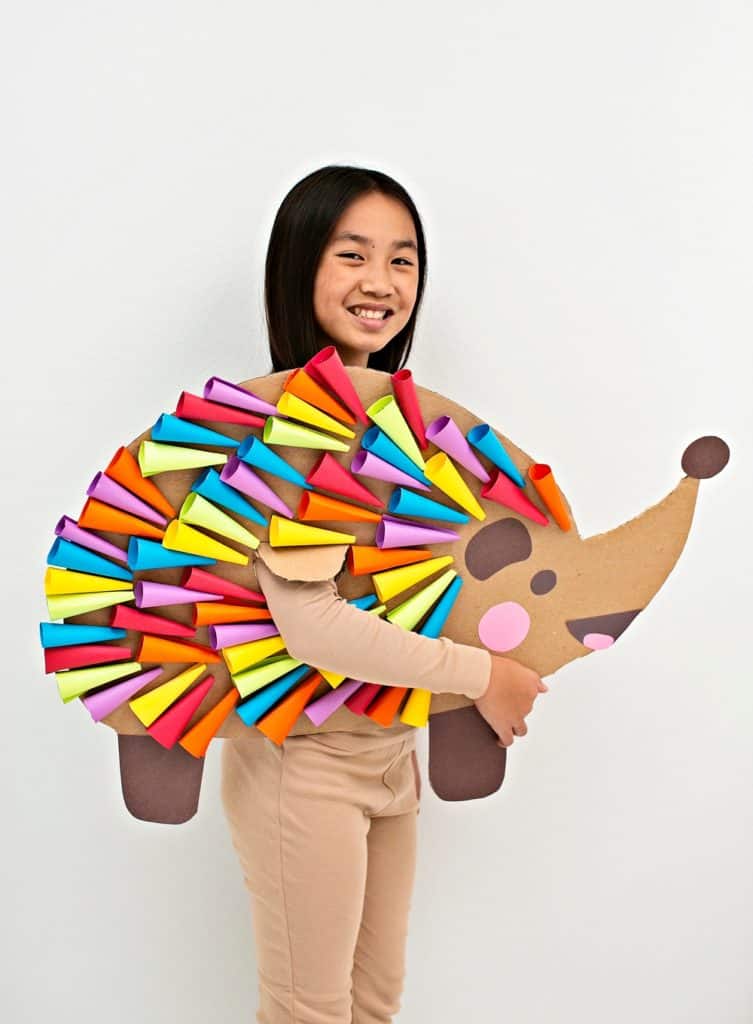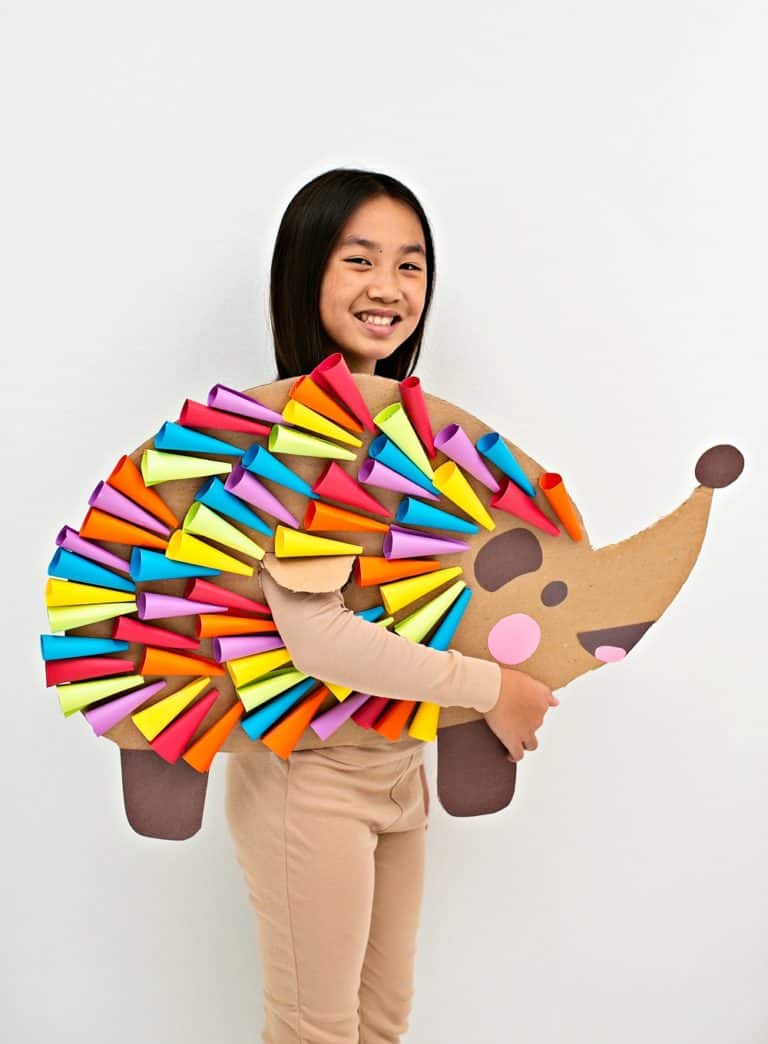 Can kids help make this homemade Halloween costume?
With any craft, I always recommend that an adult is supervising. This is because there is cutting, taping, gluing or something else always happening that could use a second set of eyes.
Plus, why think of it like supervision? Instead of sitting on the sidelines, hop right in there and get involved in making the costume with your child. It's such a perfect way to bond and have fun.
Kids can easily help with rolling up the paper cones, practice simple scissor skills and help glue paper features like eyes and cheeks!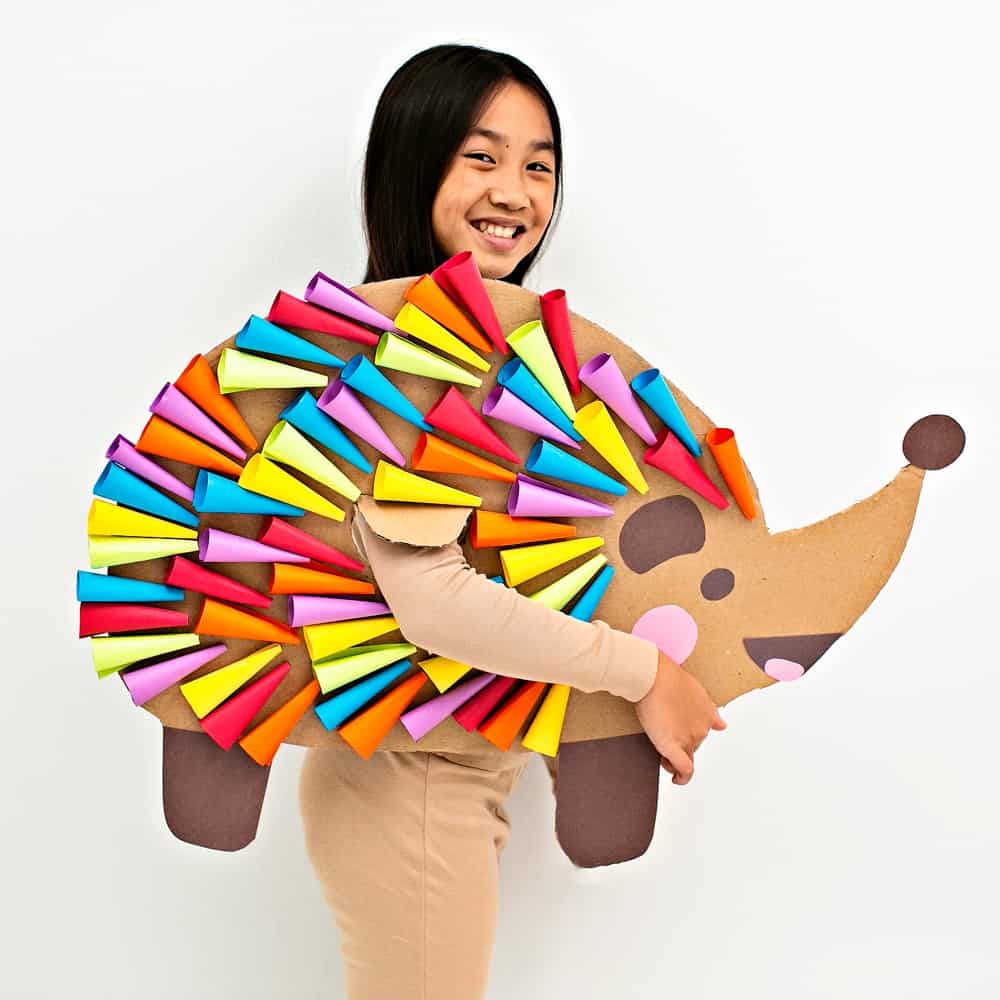 How to create this DIY Cardboard Rainbow Hedgehog Costume For Kids
First off, can we all just agree how adorable this DIY costume is? I mean…I've made a lot of cardboard costumes, but this one is up there on my list! I love the bright colors and who knew that hedgehogs could seriously be so adorable?
The best part about this costume is that it's really simple to make. You just need a few simple supplies, a little bit of time and that's honestly about it.
Since it's entirely made out of cardboard, all you need to do is cut out a shape that resembles a hedgehog. The quills that you see are just rainbow paper cones that we rolled and we made certain that we made a handy arm cutout so that the costume can be held into as well.
If you don't want to bother with an arm cutout or are looking for an extra layer or having it stay on your child (during trick or treating), you could always add a string around their waist as well.
DIY Cardboard Rainbow Hedgehog Costume – Materials:
Cardboard
Different colors of construction or colored paper
Stapler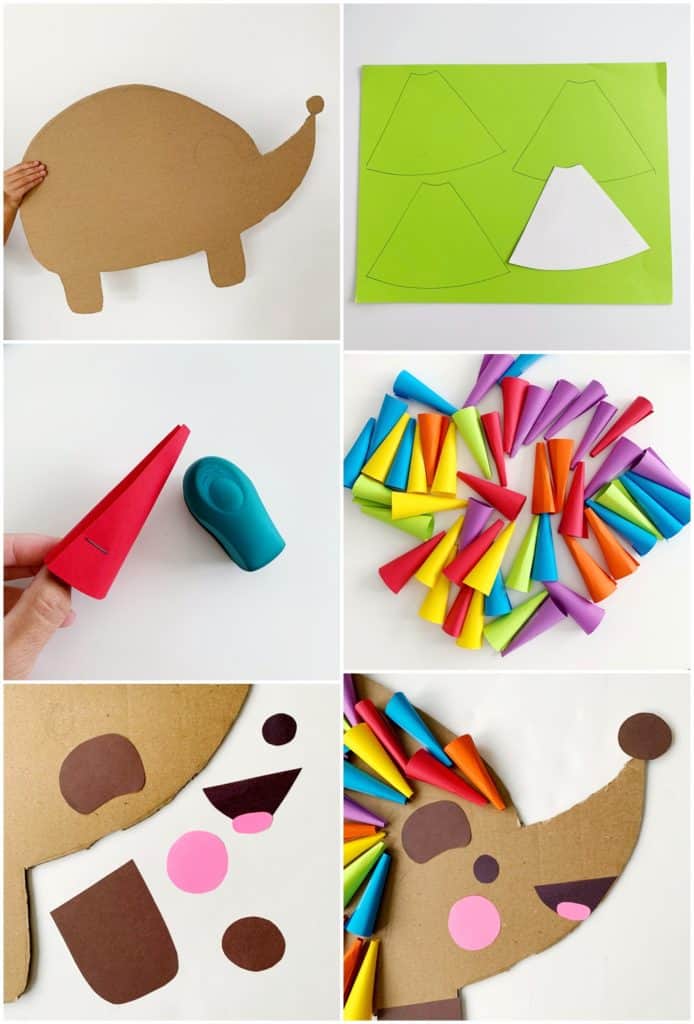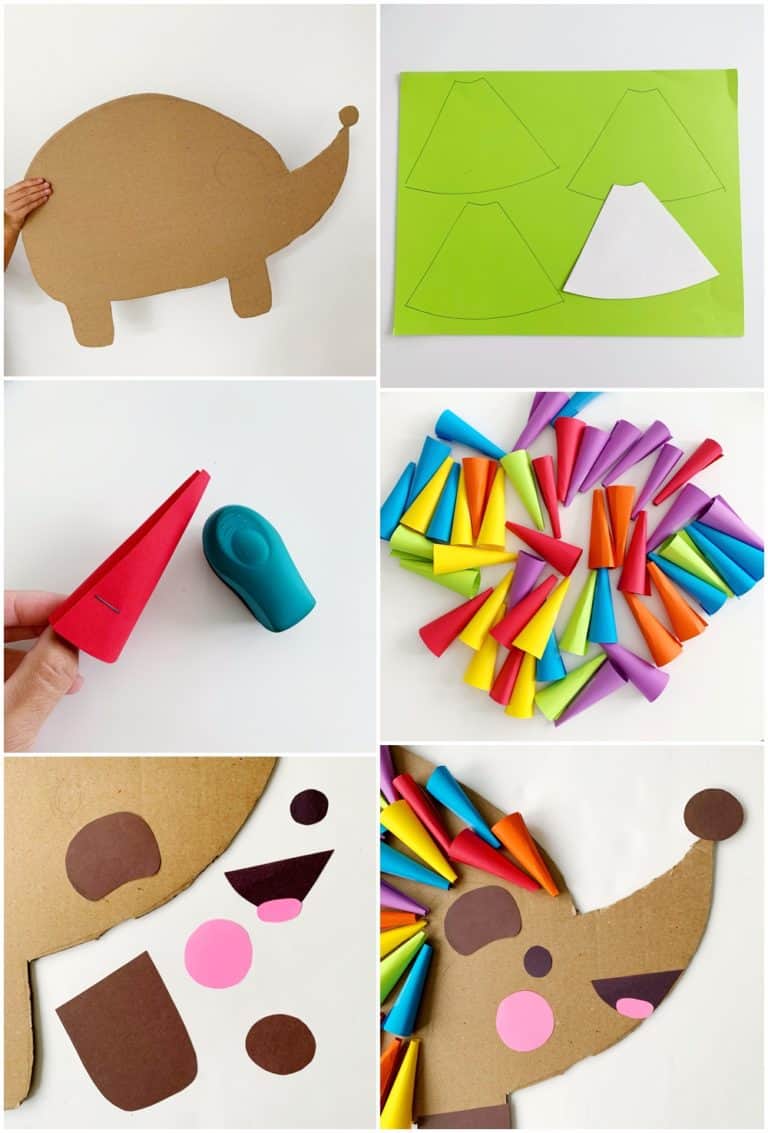 Yield: DIY Hedgehog Costume
DIY CARDBOARD RAINBOW HEDGEHOG COSTUME FOR KIDS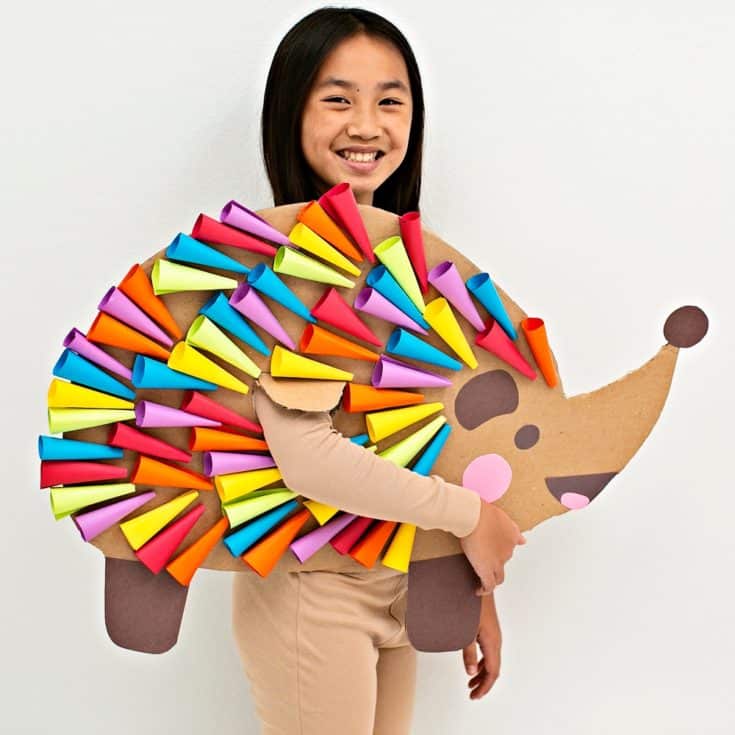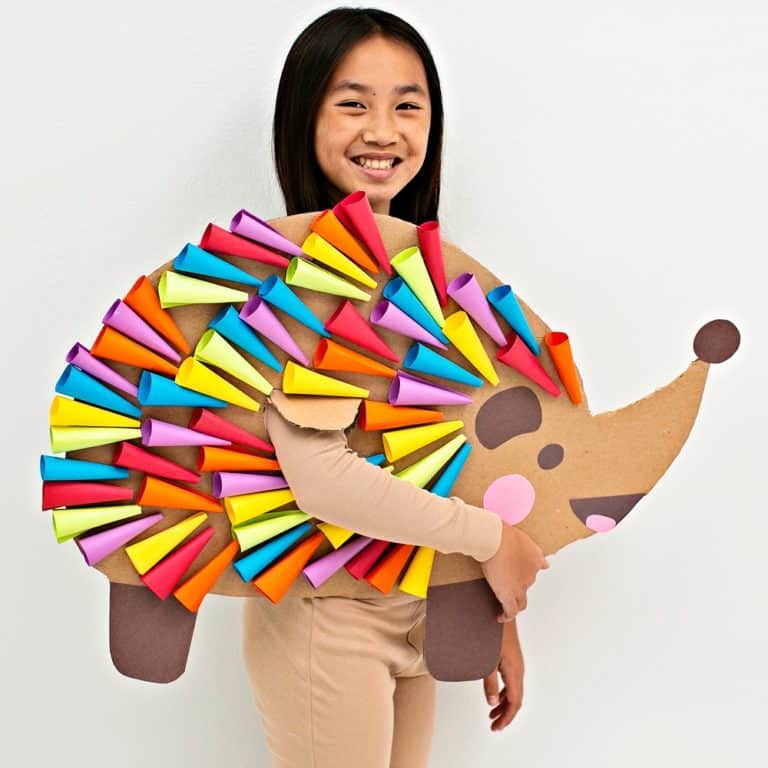 DIY Cardboard Rainbow Hedgehog Costume For Kids. Cute and easy Halloween costume for kids.
Instructions
1. Grab a piece of flat cardboard and loosely sketch a hedgehog shape onto it. The size really depends on your child so measure appropriately.
2. Outline an area for the quills and face.
3. Draw a flat cone shape you can use as a template onto cardstock. Cut that out and trace many cone shapes out of rainbow paper. Roll them and staple shut.
4. Cut out features for the hedgehog feet, face, nose, cheeks, eyes as shown. You can really give it any expression you want!
5. Before glueing any paper parts on, you'll want to carve a semi-circle for the arm cut out in the center of the hedgehog. That will be your child's arm so make sure the semi-circle is large enough!
6. Finish the costume by hot gluing the quills and face features.
If you love this fun DIY Cardboard Rainbow Hedgehog Costume make certain to check out these other fun cardboard costumes as well:
____________________________________________________________________________
Disclosure: Some of the links in the post above are "affiliate links." This means if you click on the link and purchase the item, we will receive a small affiliate commission. Regardless, we give our promise that we only recommend products or services we would use personally and believe will add values to our readers.