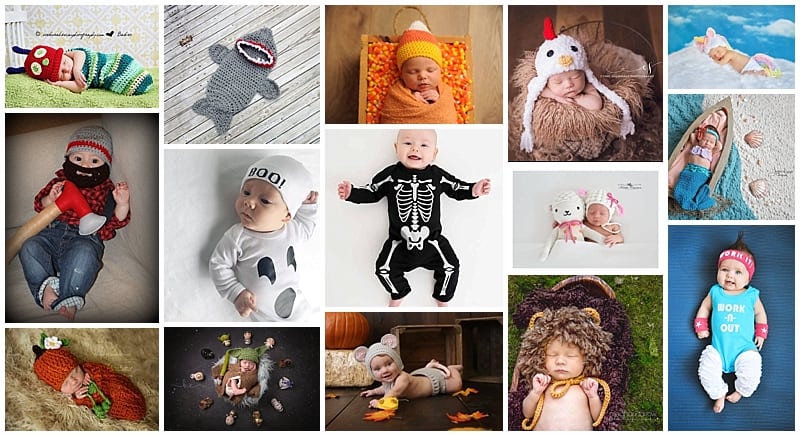 Follow us on Instagram for more fun ideas for kids!
Newborn babies are the single most cutest things in the world to play dress up with, especially for Halloween. Newborn Halloween costumes open up a whole new world of adorableness! The squeals and smiles can be heard from everyone when they see your your little all dolled up in the most perfect costume.
Yes. You can definitely go out and buy a newborn Halloween costume at a major retail store, but what's the fun in that?
It'll turn out to be one of those items that you might, or might not, put in the donation pile, or something that you might, or might not, use on your next newborn baby.
There's joy in trying to pick just the perfect newborn Halloween costume that isn't over-flooding the stores, and is just what I was looking for…or maybe something that I didn't know that I needed, but found out that I needed it once I saw it.
Some examples of what I "need" are these Adorable Handmade Baby Halloween Costumes.
If you're a craftier type of person, like I tend to be, then you need to go take a look at these 10 Awesome DIY Costumes for Baby's First Halloween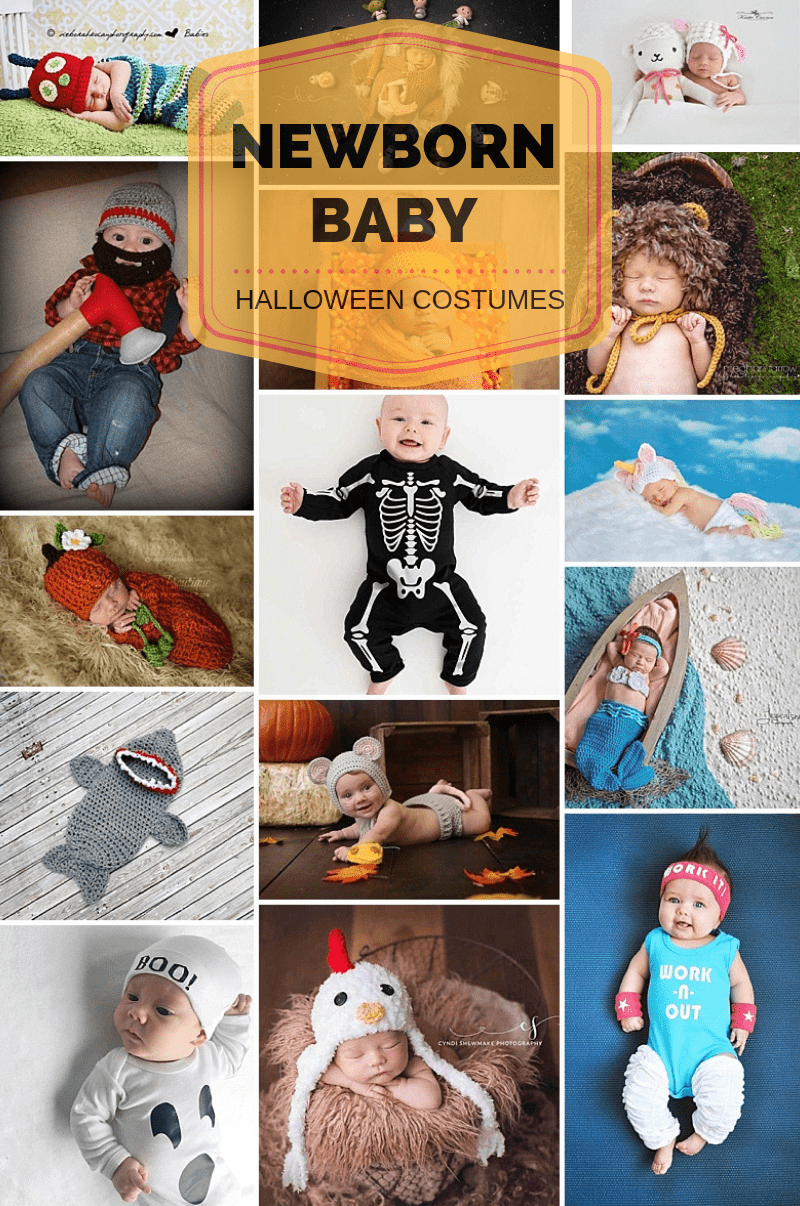 Here are 15 Cute Newborn Baby Halloween Costumes that I'm sure you will love, and pretty positive that you will keep to cherish the memory of your baby dressed in it.
P.S. Want to DIY it? check out this year's baby nursery rhyme costumes, DIY Itsy Bitsy Spider Costume and I'm a Little Teapot Costume with two more ideas coming this month!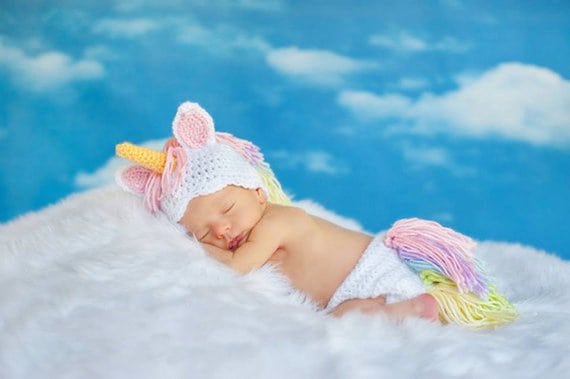 A magical costume for a sweet baby! If you want to send a unicorn with this one, we've got you covered.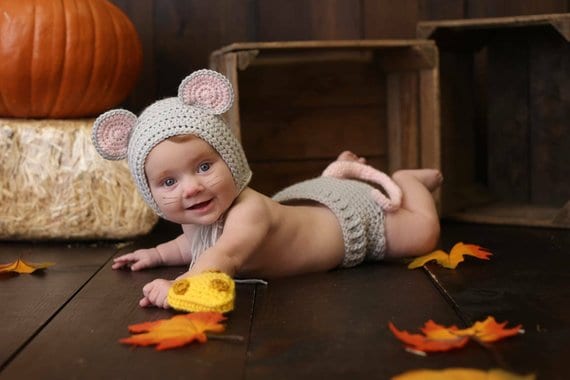 This crochet mouse newborn Halloween costume will receive tons of squeals, and not just because there's a Mouse in the House on the loose! One look at those ears and that tale, and everyone will be sure to fall in love. This is one mouse that you're gonna want to give a cookie to.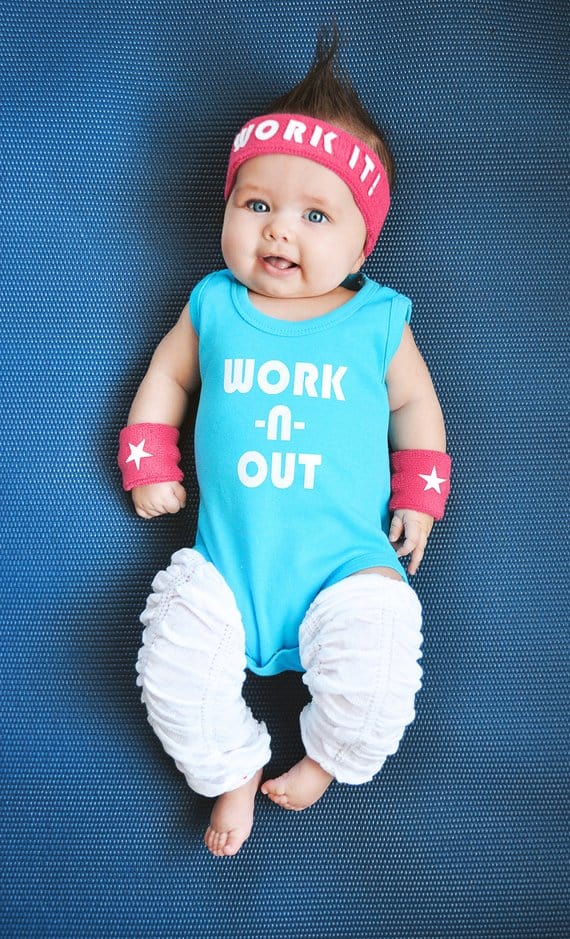 You'll have Hall and Oates running through your head all day long with this adorable costume. All that's missing is a chair and a bucket of water attached to a string to pull down. This such a simple, yet terrific newborn Halloween costume idea.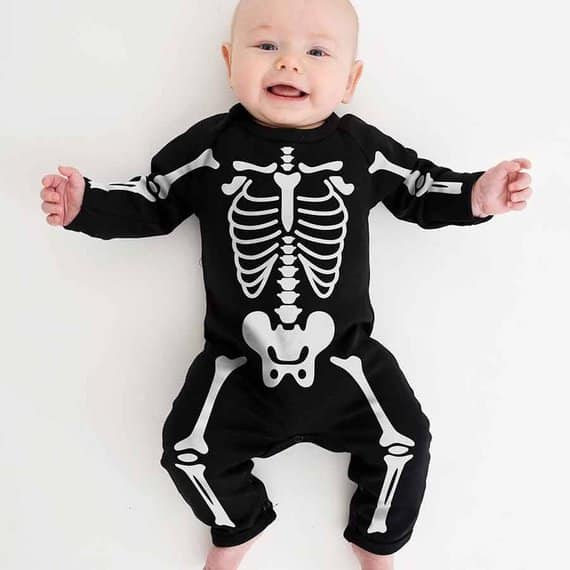 "From the twitching of my thumb, something wicked this way comes." Well, maybe not too wicked. This baby skeleton costume is leaving this little in all smiles. It's a perfect amount of spooky and charm in one little outfit.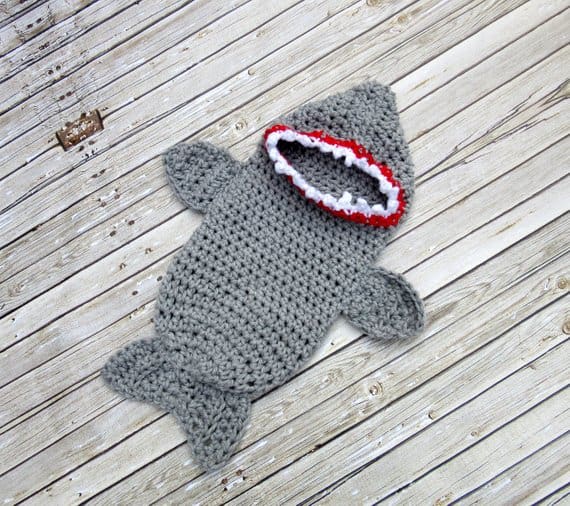 Okay, so I know you probably have that song stuck in your head now (you're welcome!), but how could I resist to not show you this little shark bait Halloween costume? Now when people sing the Baby Shark song, you show off your little one in all of his or her glory!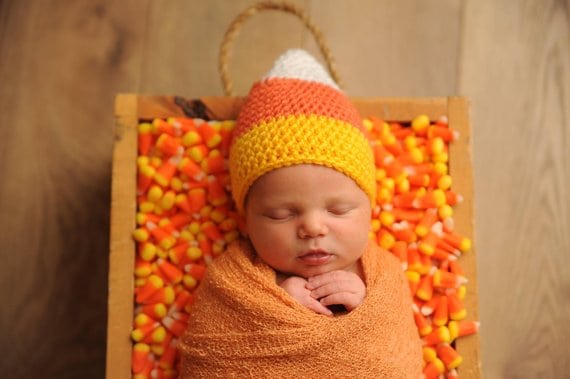 Sometimes, it's something simple that makes a magical moment happen. How adorable would your newborn baby look in this fabulous candy corn hat? It makes you want to eat their little cheeks! I love the simplicity and sweetness of it.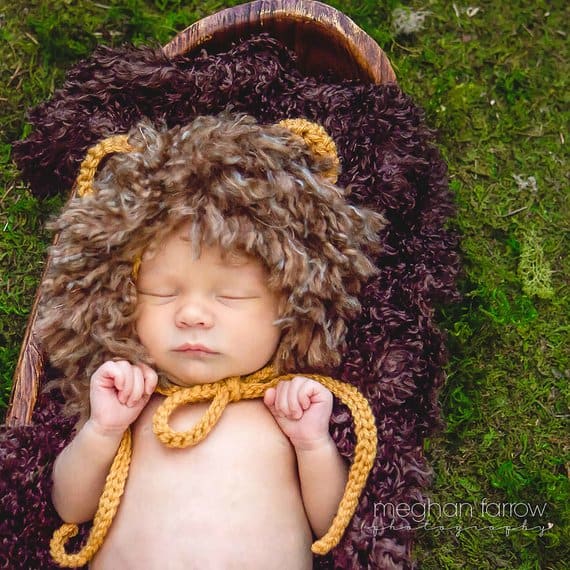 This newborn baby Halloween costume is completely adorable! There's nothing cowardly about this handsome little lion. With this newborn Halloween costume, your baby will be sure to be the "mane" attraction.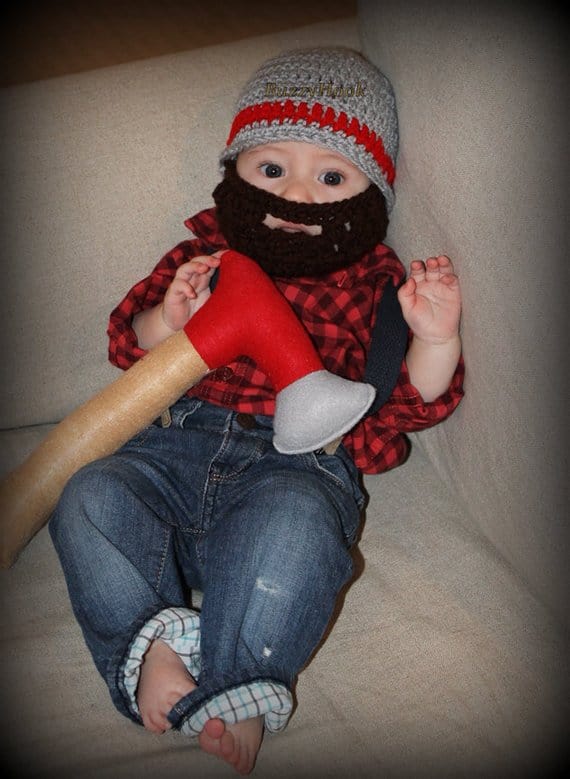 This crocheted baby hat beard costume is just what you need to create a lumberjack look. You can choose different colored yarns for the hat or beard! I love that you can customize this look to fit whatever clothing you want to put your baby in.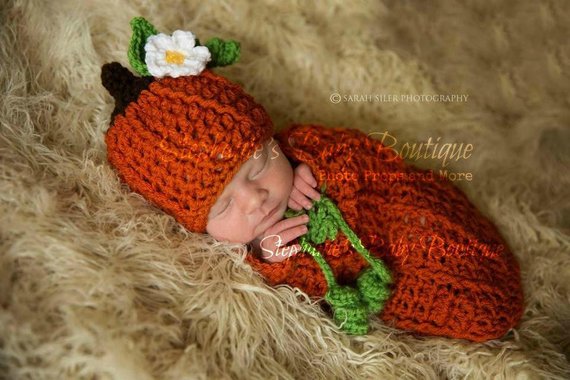 This pumpkin hat and swaddle sack set just makes me want to find a newborn baby to put one on! Did I squeal when I saw this? Well, maybe just a little bit. This is the perfect newborn baby costume that everyone mom "needs" to have.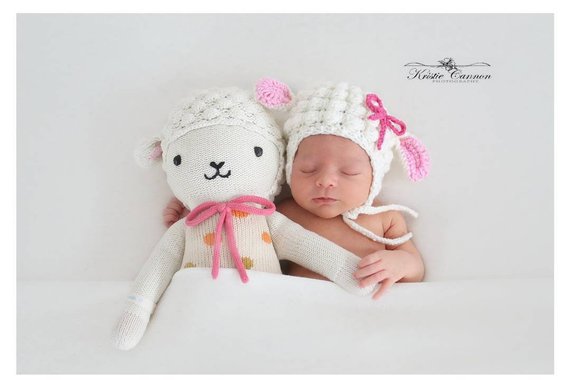 If Mary had a little lamb, then I'm sure that this is the costume that she used on her newborn. This lamb costume is incredibly sweet, and I know that you'll bring your lamb everywhere you go. Your little lamb will be all snuggled in this set, as it also comes with a crocheted matching diaper cover!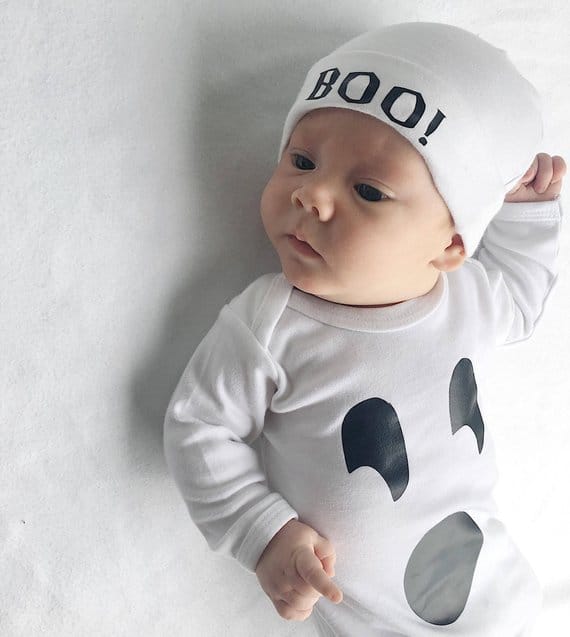 This is one ghost that you don't have to be afraid of when you see BOO! This one piece is a pure ghoulish scream…of delight, that is.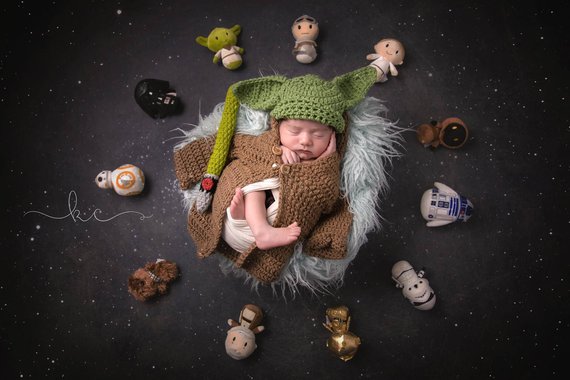 The Force is SUPER strong in this adorable Yoda halloween costume for your newborn. I'm in love with everything about this: the cloak, the hat, and the light saber. The inner geek in me gave out a small shrill when I saw this.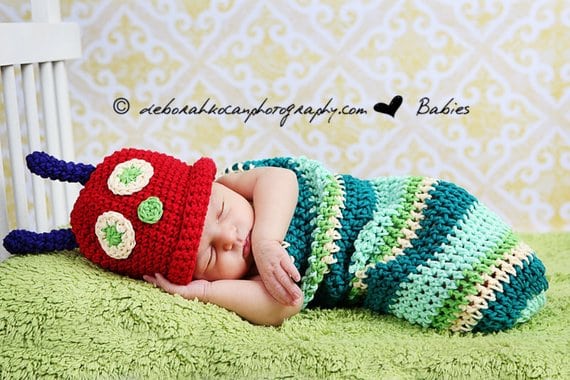 How beautiful this this caterpillar Halloween baby costume? Your little one will be as a snug as a bug in a rug! Everyone will be waiting to see your little caterpillar transforms into. This is such a sweet idea for newborn Halloween costume.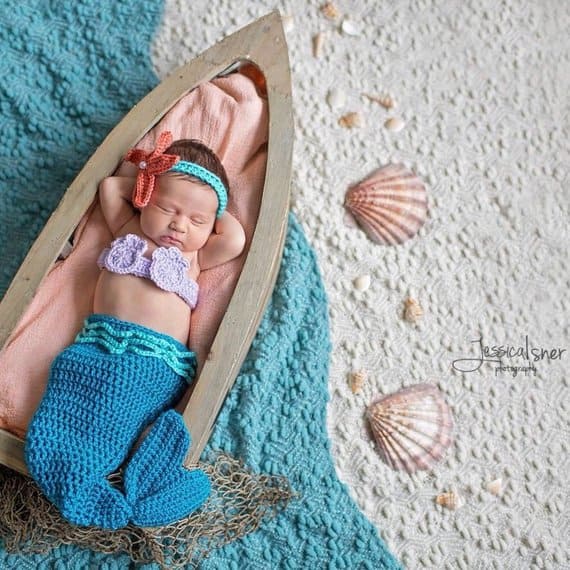 Look out Ariel, there's a new mermaid in town and she's just so beautiful! Your newborn is sure to make a big splash this Halloween with this mermaid costume.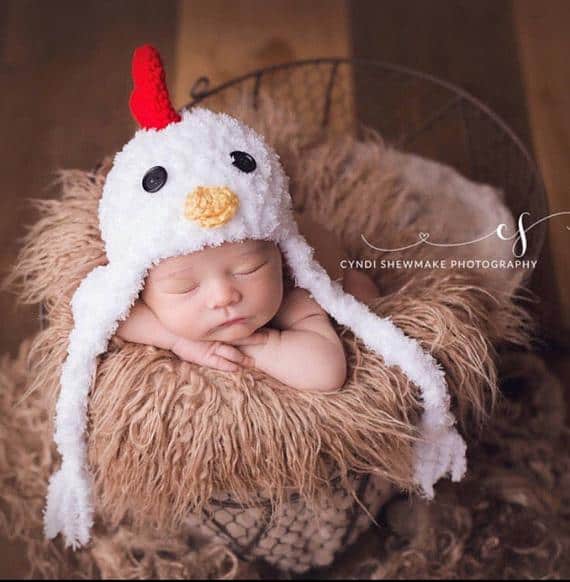 Why did the chicken cross the road? To take their baby to the next house to show off how adorable they look in baby chicken costume (maybe a piece of chocolate or two, too)!
There are so many amazing options out there for newborn Halloween costumes. These are just some that I fell in love with, I think that you will too.
What type of new halloween costume are you dressing your baby up in this year? Let me know, and maybe show me some photos to share in your delight!
---
Disclosure: Some of the links in the post above are "affiliate links." This means if you click on the link and purchase the item, we will receive a small affiliate commission. Regardless, we give our promise that we only recommend products or services we would use personally and believe will add values to our readers.