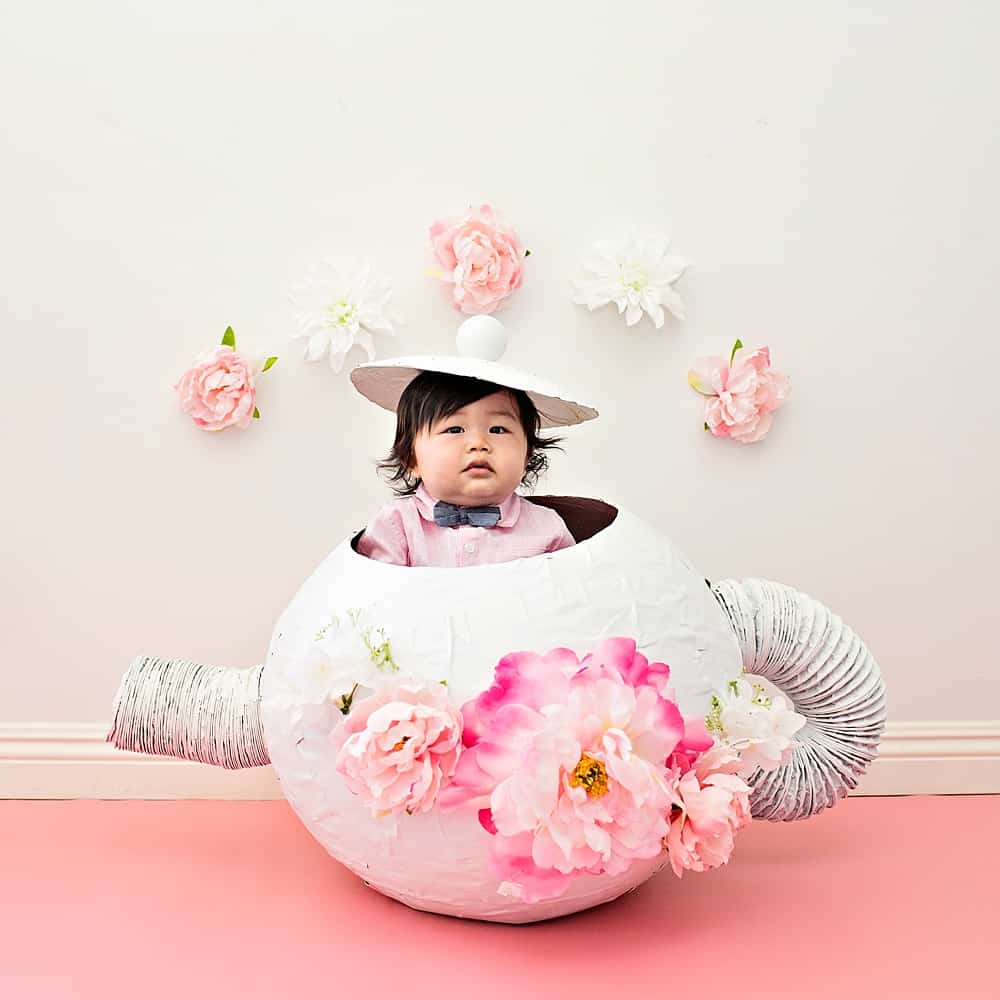 Follow us on Instagram for more fun ideas for kids!
October has arrived, and you know what that means….Halloween will be here before you know it!
We have always loved the tradition of making DIY costumes, and this year we've been working hard on adding some ideas for little babes, like this adorable DIY I'm a Little Teapot Costume.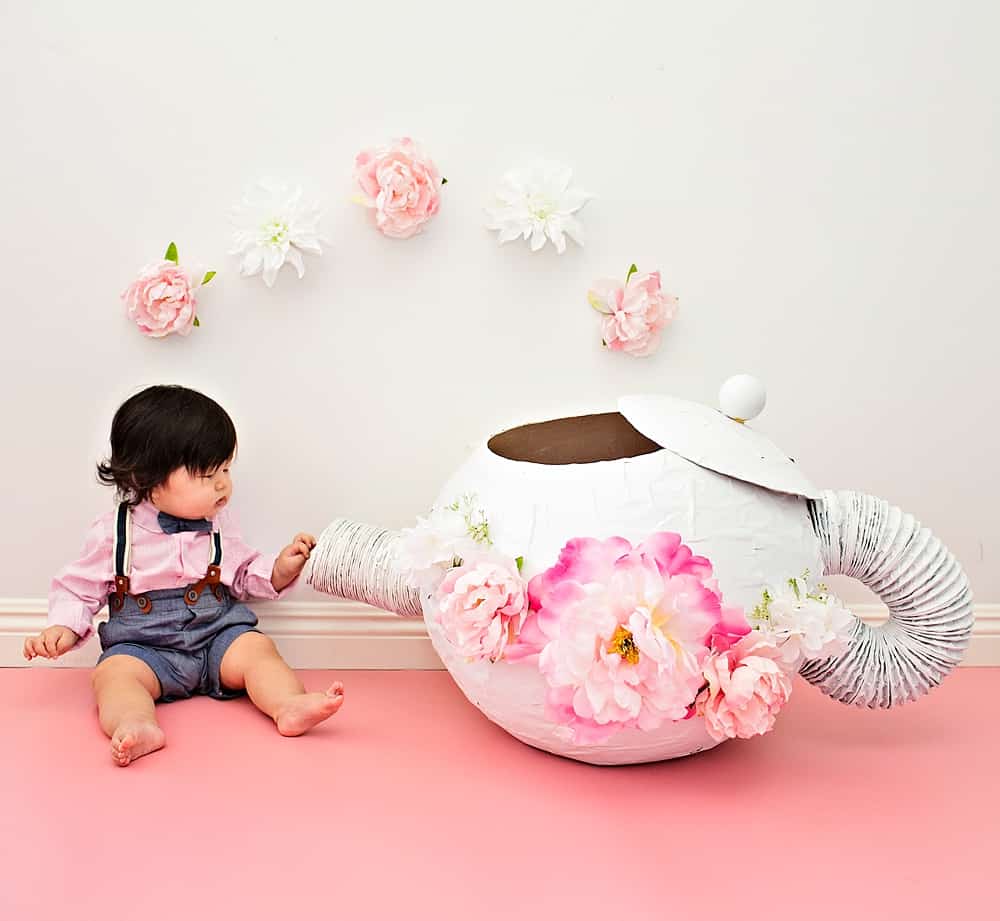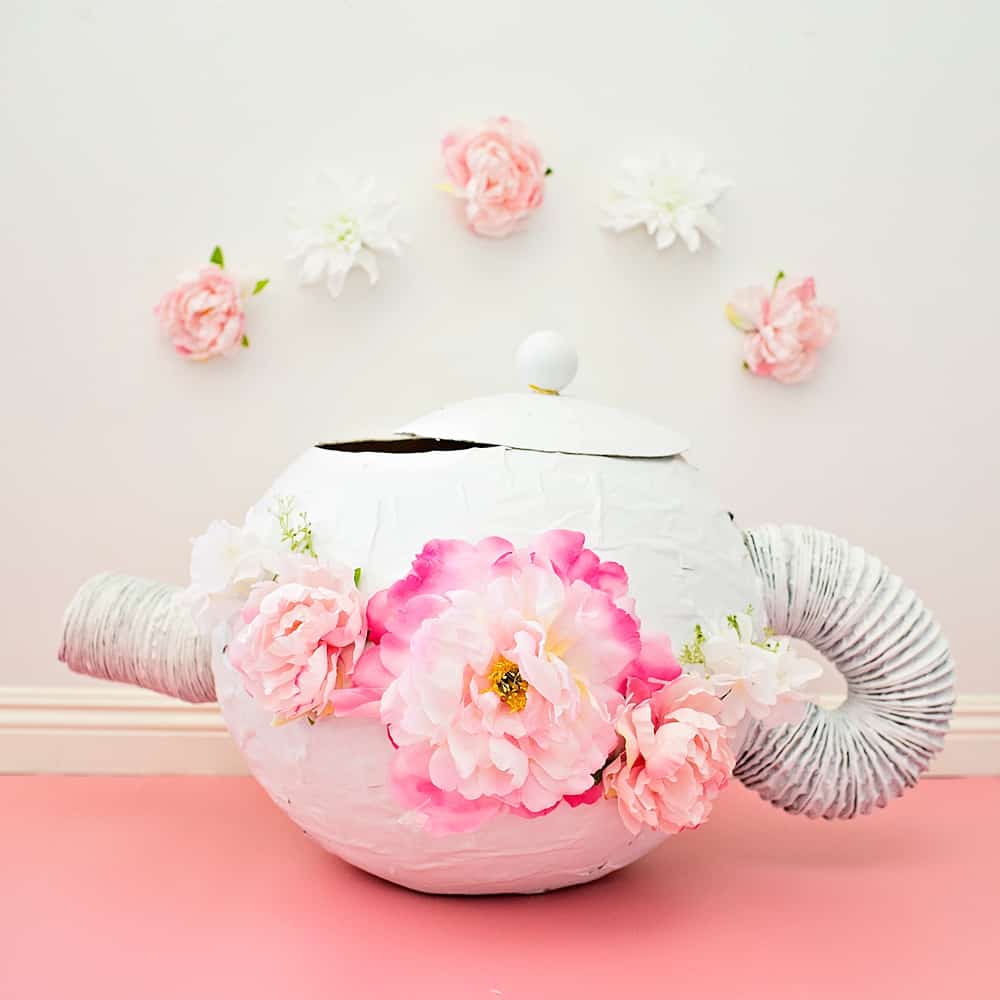 Last week we shared the first in our series of nursery rhyme-themed baby costumes – a DIY Itsy Bitsy Spider!
Today we're going all short and stout to re-create another favorite storybook rhyme with our DIY I'm a Little Teapot Baby Costume.
It's the sweetest little teapot you ever did see, and comes together faster then you can brew a hot cuppa!
Looking for family costumes theme? Pair this cute little teapot with our DIY easy toast bread costume and lemon slice costume for a traveling tea party!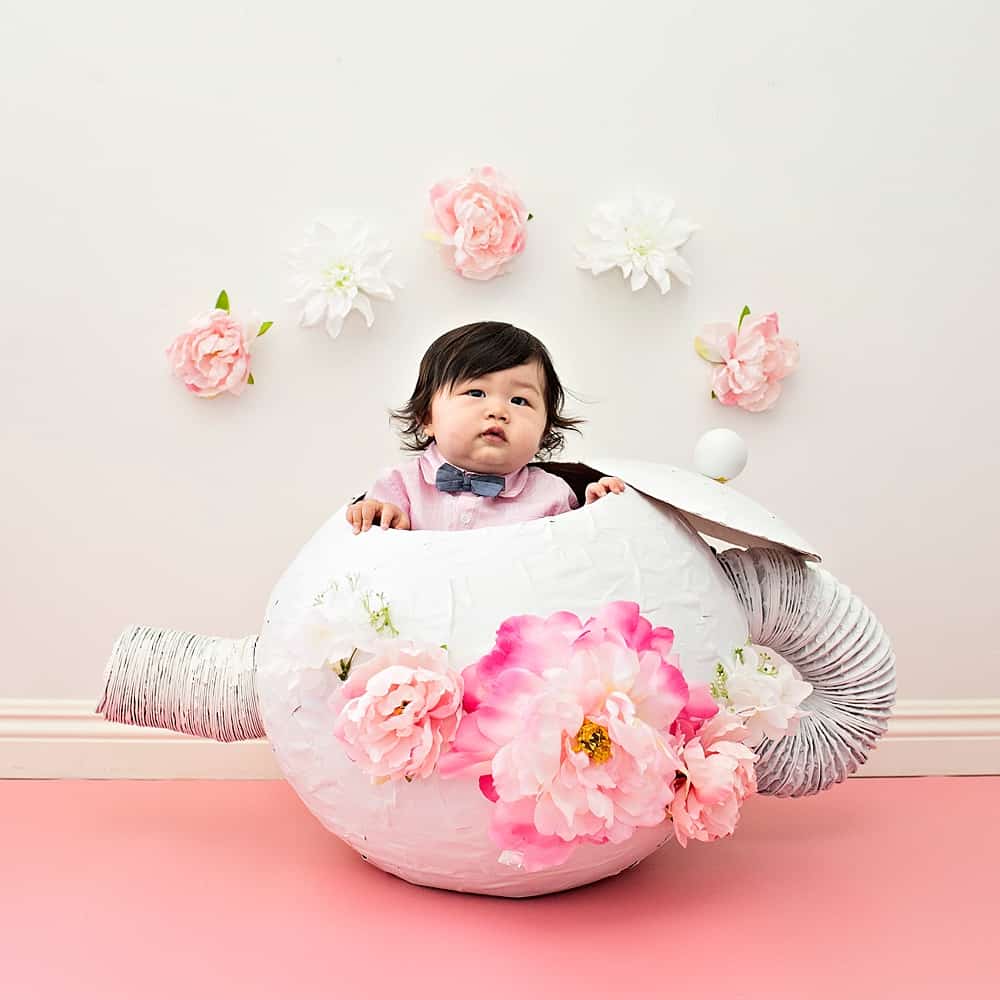 Looking for family costumes theme? Pair this cute little teapot with our DIY easy toast bread costume for a traveling tea party!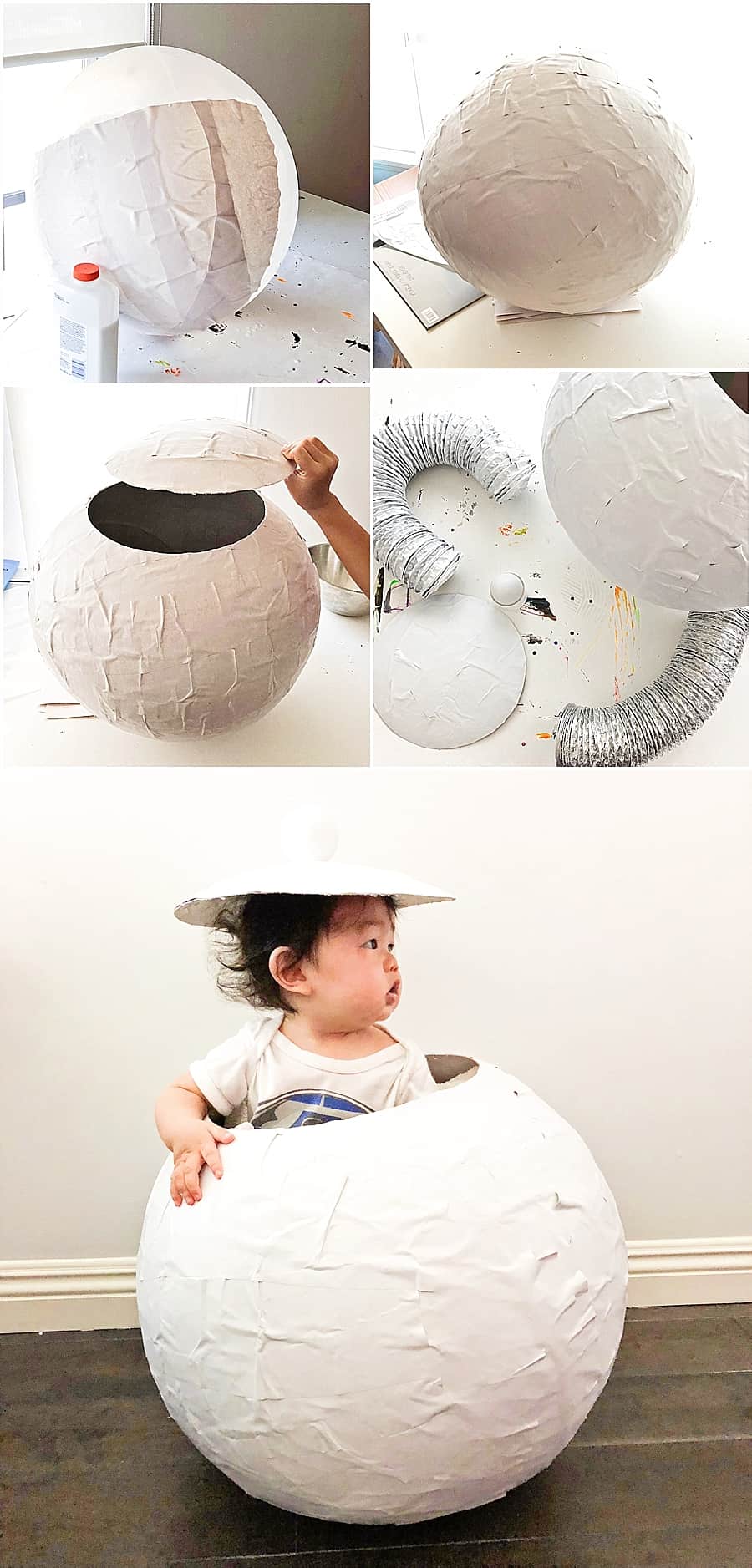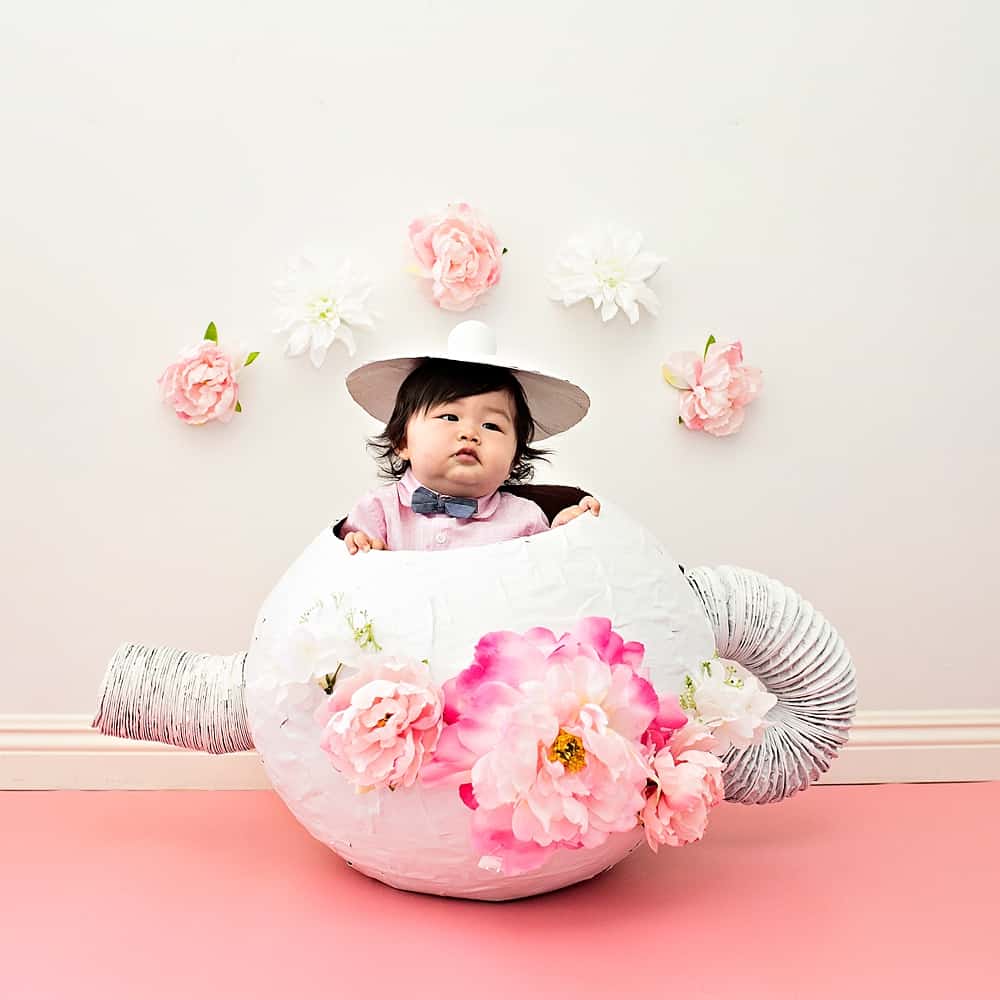 DIY I'M A LITTLE TEAPOT COSTUME – MATERIALS: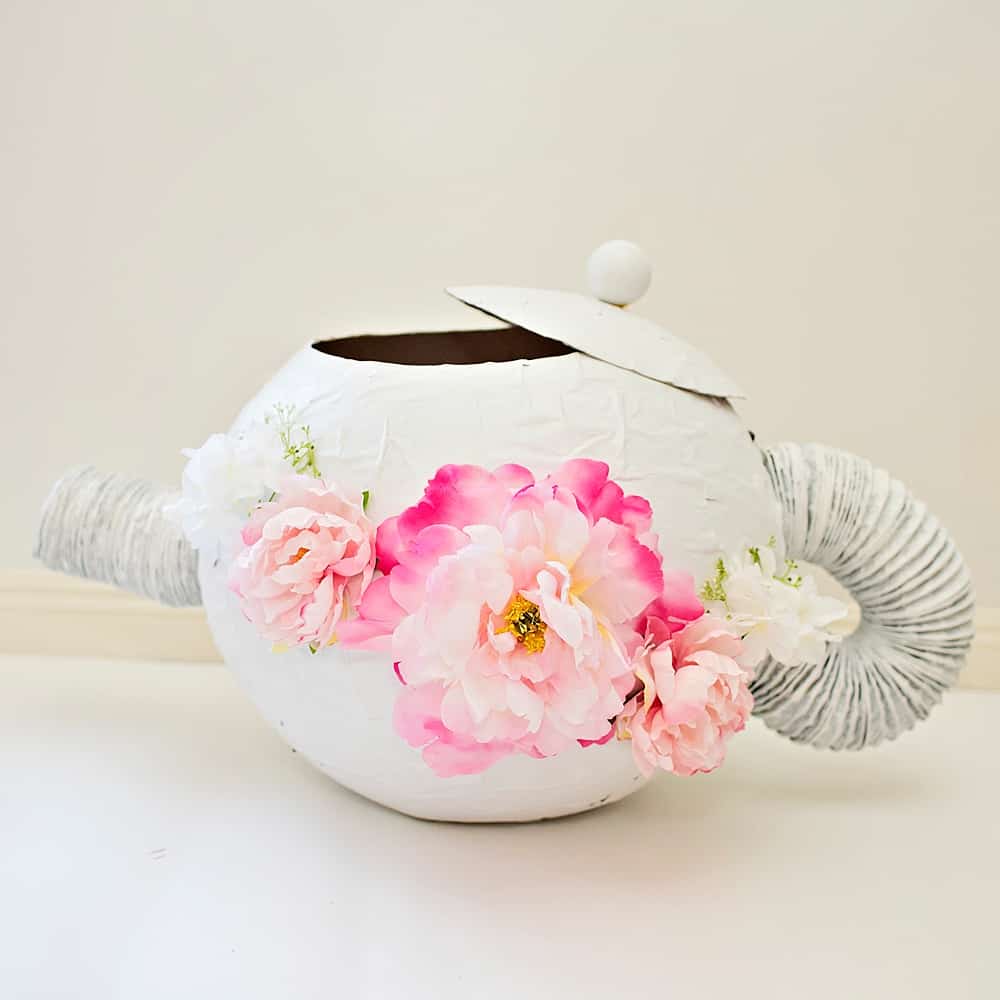 INSTRUCTIONS:
Step 1. Blow up your balloon.
Step 2. Line your work surface with a drop cloth, paper, or a liner so you don't get it messy. Cut strips of newspaper or newsprint paper.
Step 3. Dilute your white glue with water until it's a thin consistency, start with 1/2 and 1/2 ratio.
Step 4. Wearing disposable gloves (this helps, trust us!), glue on strips of paper all around your balloon. Allow to dry, and do a second layer of paper. Allow to dry completely.
Step 5. Cut out a hole on top of the ball that will fit your baby. Set aside the lid.
Inside the ball, tear off the pieces of balloon. Now you should have a hollow paper mache ball.
Step 6. Glue on a plastic ball to the top of your lid.
Step 7. Now ready to paint! In a well ventilated area or outdoors, spray paint white, your teapot base, lid, and silver tubing. Allow to dry completely.
Step 8. Hot glue your tubing to the teapot to make the spout and handle. You will need to hot glue between the folds and also it helps to prop up books or something underneath the spout to make it curve "up."
Step 9. Decorate your teapot! We glued on artificial flowers but you can draw, paint on it, make it your own!
You can glue elastic to the lid to make sure it doesn't fall off your baby's head!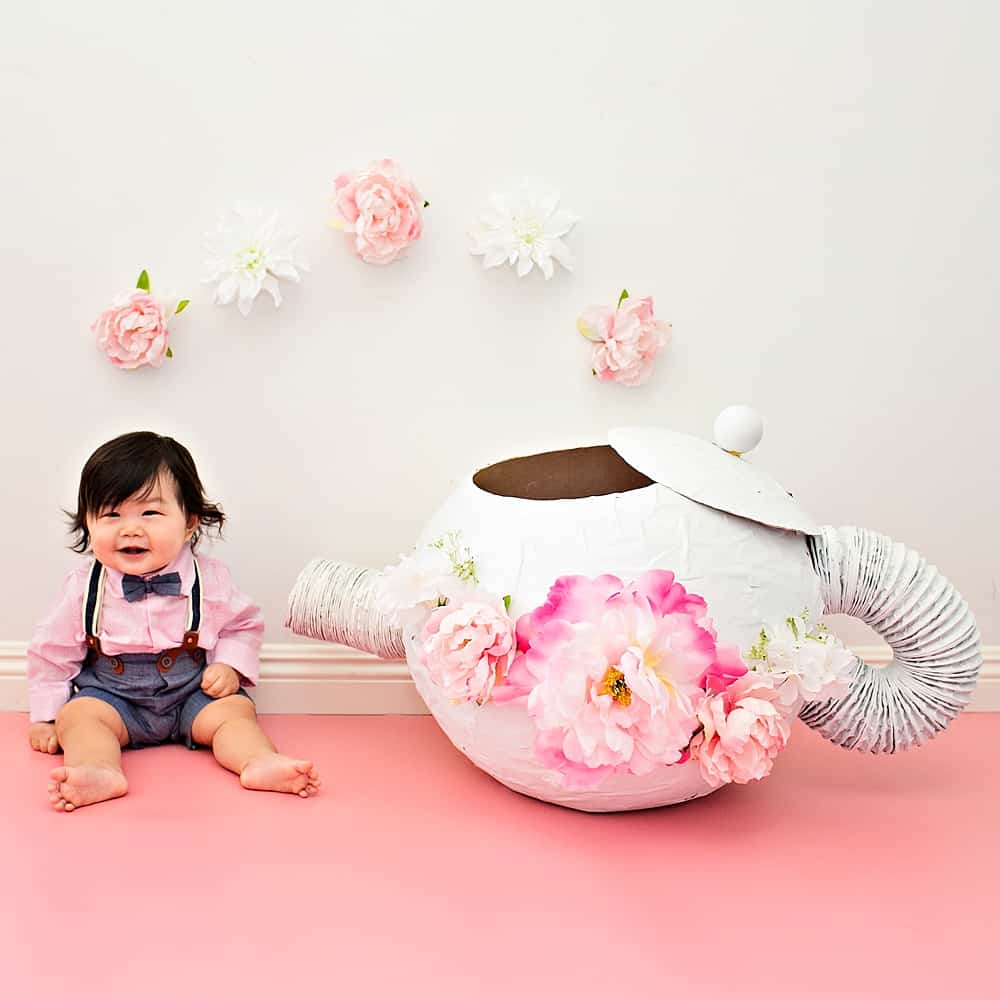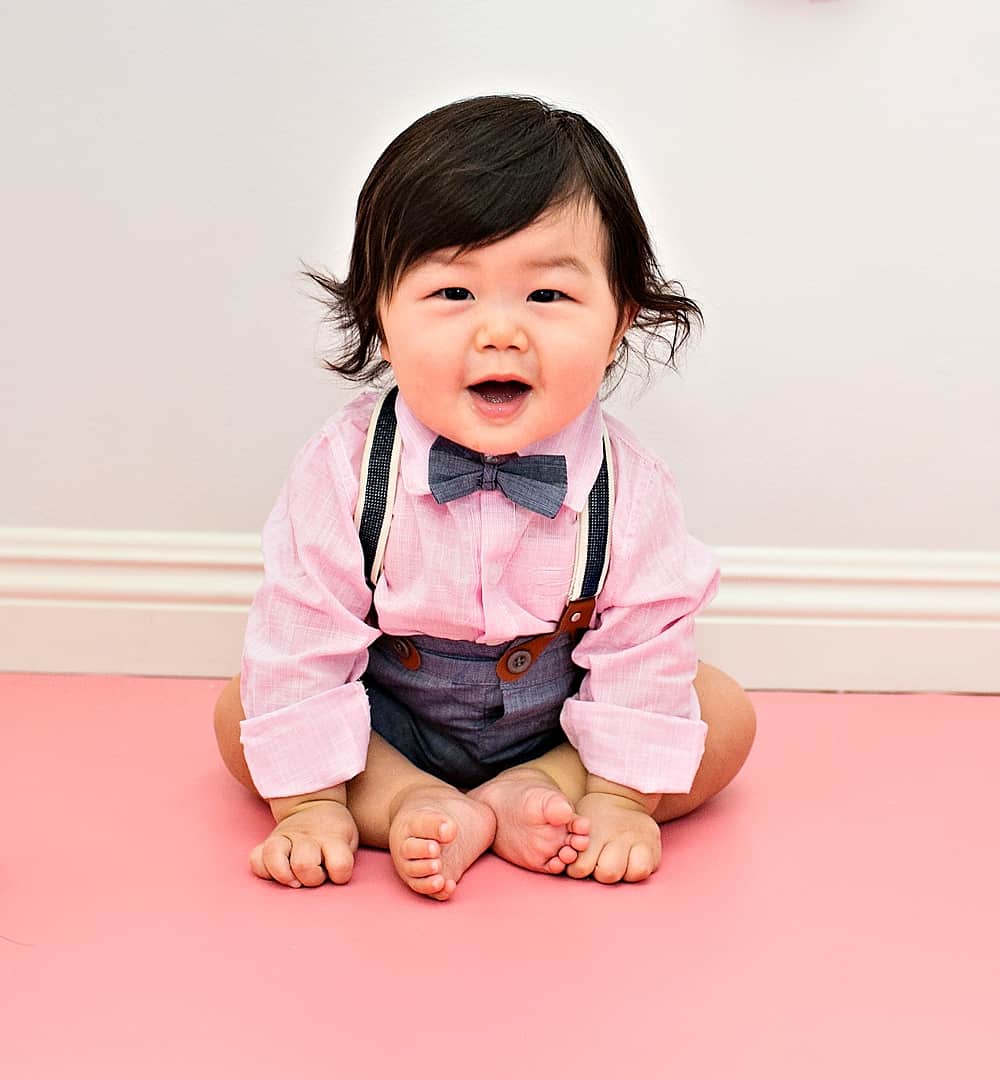 To make this a baby costume, add a couple of layers of small pillows and blankets inside the teapot to make it a cozy cocoon (which we did).
You can then add the teapot onto a wagon and carry it around, make sure to secure it though! Or simply do a cute baby Halloween photo shoot with your little Teapot!
If you want to make this for kids, you can add elastic shoulder straps and cut out holes for legs and arms!
As fun as Halloween is, the holiday prep can be so time-consuming!
These cardboard costumes are easy to pull together with a few basic items.
If you like our little teapot costume, make sure to check out more adorable DIY Halloween Costumes for Kids.
---
Disclosure: Some of the links in the post above are "affiliate links." This means if you click on the link and purchase the item, we will receive a small affiliate commission. Regardless, we give our promise that we only recommend products or services we would use personally and believe will add values to our readers.