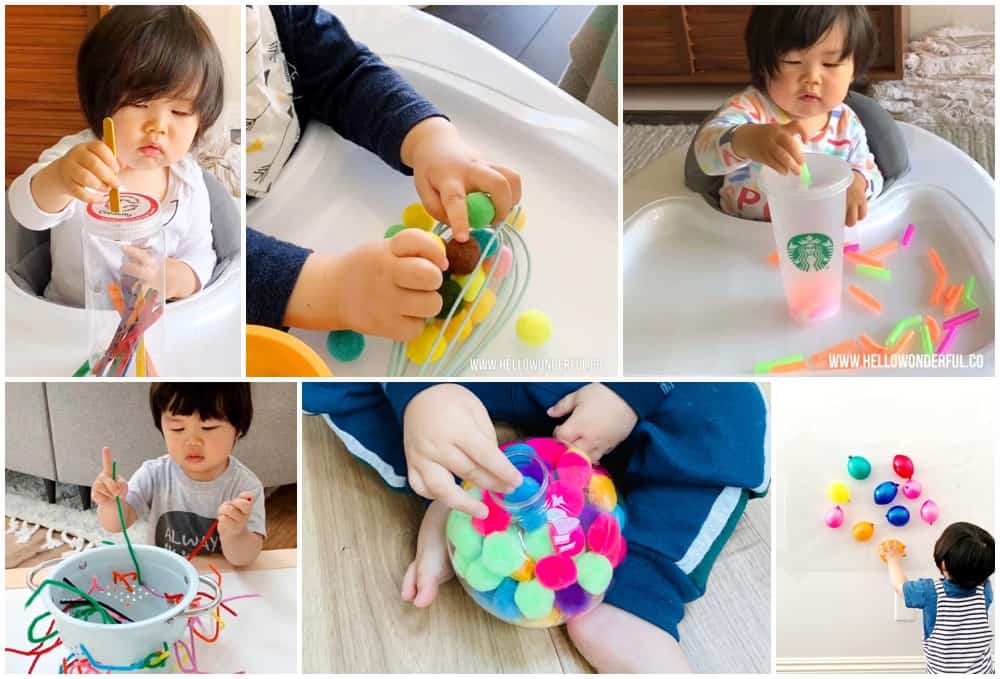 These easy baby toddler fine motor skills activities are simple and fun to set up and will get your kids practicing their sensory skills as well.
I'm a firm believer that sensory play activities should be started early, and these easy baby toddler fine motor skills activities are great ones that you can use with your baby and toddler. I'm really huge on the important of toddler fine motor skills development because it helps to increase the critical thinking process that my toddler is going through.
My toddler is exploring everything around on him and touching everything in sight, and I want to help encourage his thinking process of how things work. These activities will help your child develop hand-eye coordination, finger control, and help your child learn how to manipulate objects.
What are Fine Motor Skills?
Fine Motor skills are small muscle movements from your fingers and hands, simultaneously, to perform a certain type of movement.
Those movements can be things such as: tying a shoe, buttoning a shirt, and drawing shapes. These are just rudimentary types of fine motor skills.
As your child gets older, those movements become more and more complex.
Practicing fine motor skills movements helps to lay an amazing foundation for their future everyday tasks. In fact, it will greatly help them with future complex movements like playing the piano or typing on a keyboard.
These Easy Baby Toddler Fine Motor Skills Activities Are Loads of Fun While They Learn
You'll love how fun these fine motor skills activities are for your toddler, and even for you! I always get great joy in watching my son explore this world with these activities. You can't help but to smile.
Just remember: Even though you might want to jump in and help out…please don't!
They need to be able to perform tasks by themselves. They are naturally inclined to start playing with these toddler fine motor skills activities.
1. BALLOON STICKY WALL SENSORY ACTIVITY FOR BABIES AND TODDLERS
With nothing more than contact paper and different colored balloons, this toddler fine motor skills activity was a HUGE hit in my home! As soon as I put it up with in front of it, his eyes lit up and he was on the move with having fun. Not only will your baby and toddler be using their fingers and hands to pick up the balloons, but then they'll also be using their gentle touch to press the balloons to the sticky wall.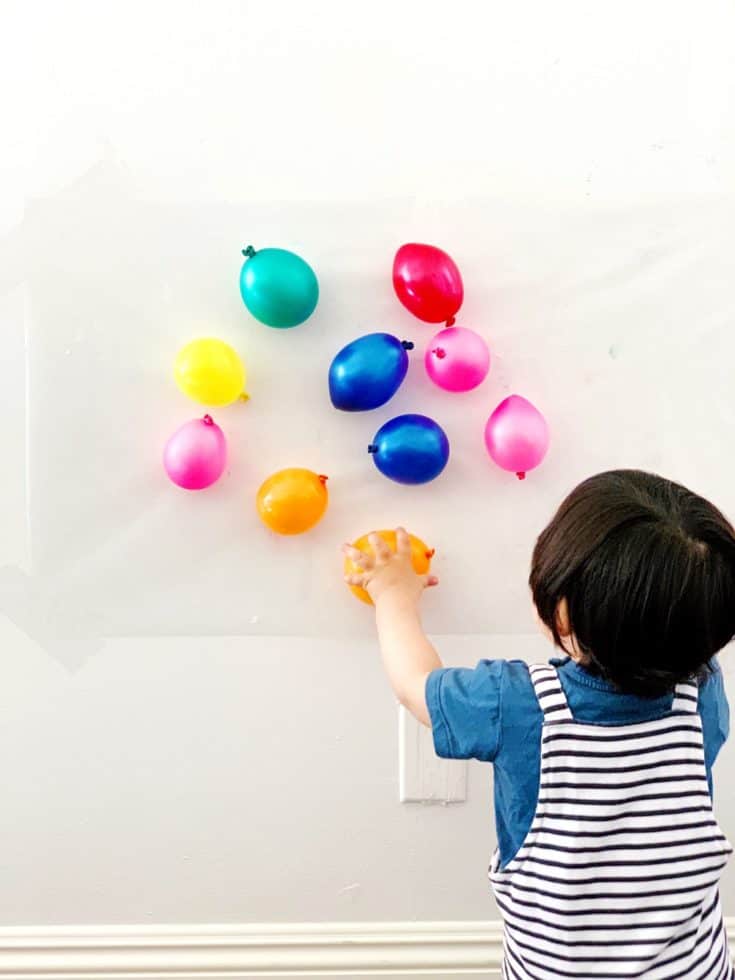 2. CRAFT STICK FINE MOTOR SKILLS ACTIVITY FOR BABIES AND TODDLERS
I love this craft stick activity. It's colorful, and helps with their hand-eye coordination! To help with the attention span, we put him in his highchair to keep him focused. If not, he'll be wandering around to something else colorful that caught his attention.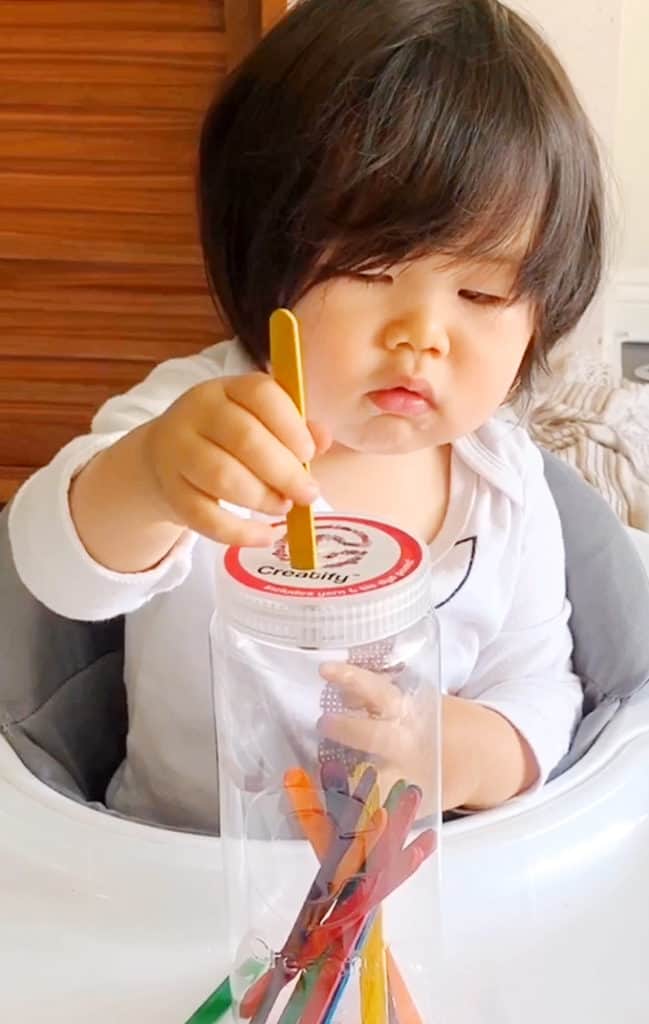 3. PEELING ORANGES FINE MOTOR SKILLS ACTIVITY FOR BABIES OR TODDLERS
After peeling orange for 4 years, it never dawned on me that I should be teaching my children how to do it! I tested it out on my young son, and he immediately took to it. This Peeling orange find motor skills activity was a huge hit with him!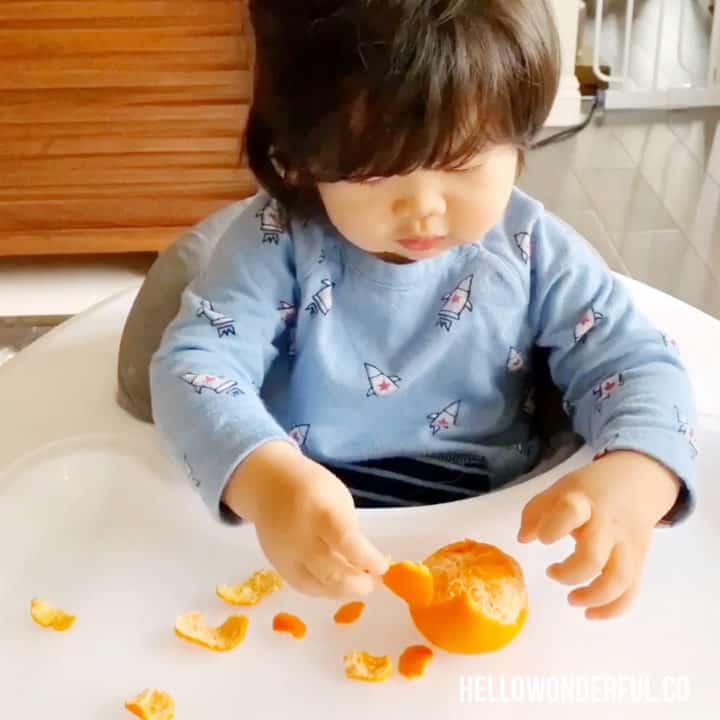 4. CUP AND STRAW FINE MOTOR SKILLS ACTIVITY FOR BABIES AND TODDLERS
This Cup and Straw Fine Motor Skills Activity is a fun way for Babies and Toddlers to practice fine motor hand eye coordination. This activity came about from one my famous daily Starbucks run. A light bulb went off in my head, and it turned out so fun!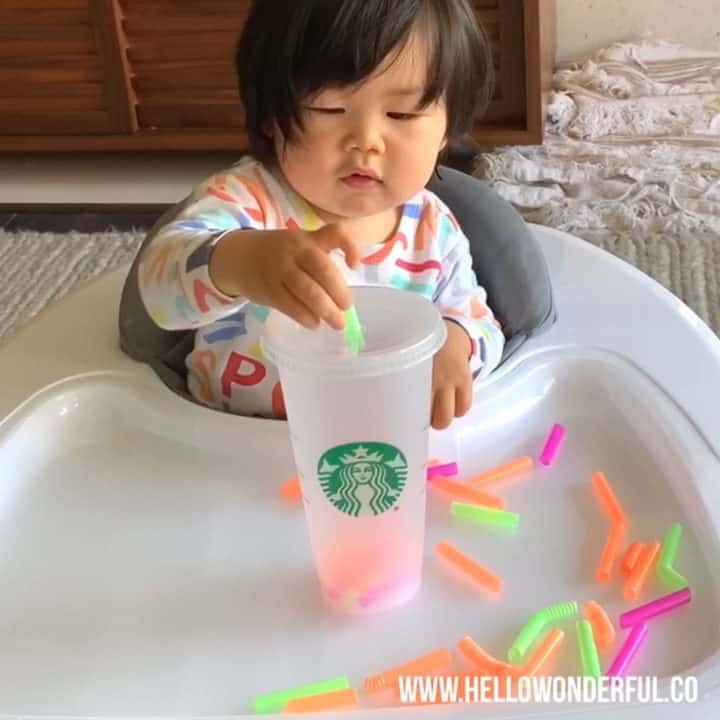 5. BABY WIPE CONTAINER YARN SENSORY FINE MOTOR SKILLS ACTIVITY
Here's an easy way to recycle those empty baby wipe containers that I'm sure (if you're a mom of little ones) you find yourself having too many to count. My son fell in love this activity! It's almost magical as if the yarn doesn't stop coming out it.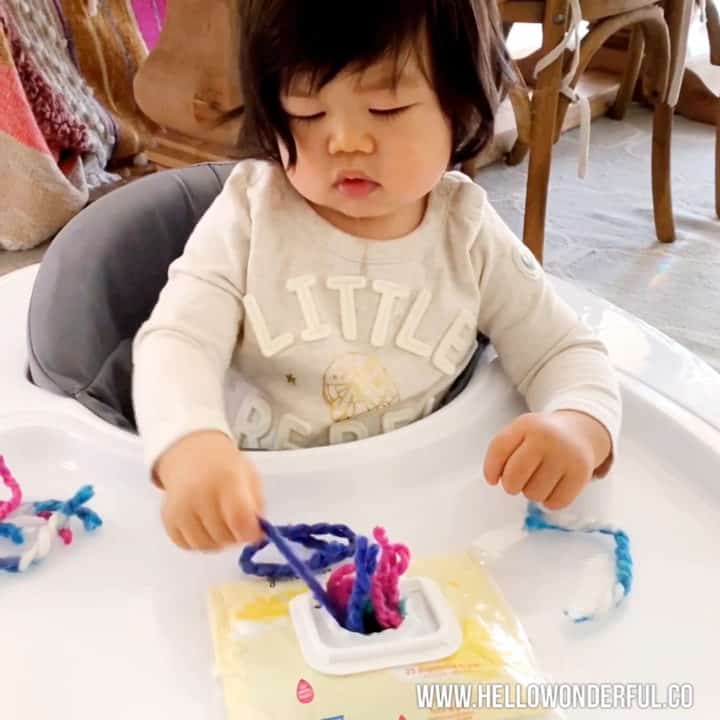 6. KITCHEN WHISK BABY FINE MOTOR SKILLS SENSORY ACTIVITY
I love being able to use a silicone coated kitchen whisk as a sensory activity for toddlers. This activity really gets those little hands and fingers working together, all the while challenging them to be able to problem solve in getting objects out.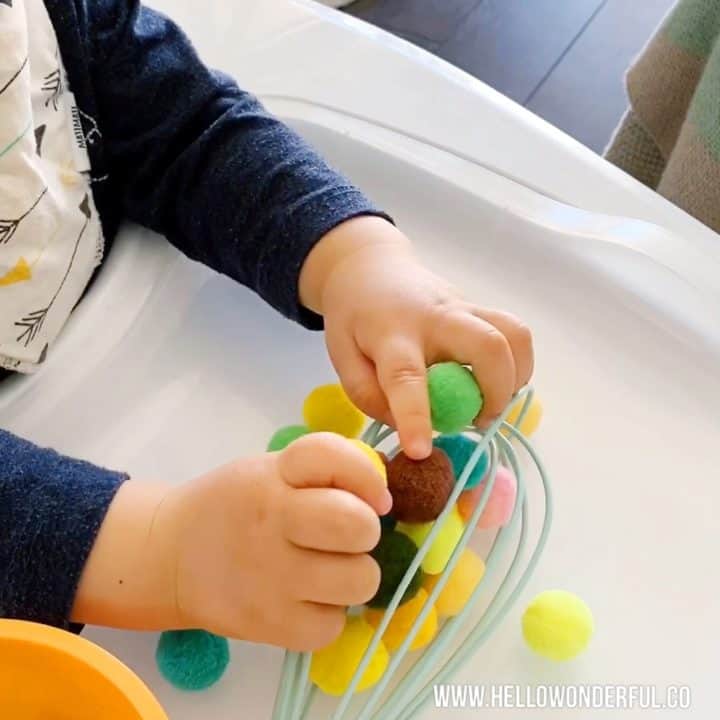 7. COLANDER PIPE CLEANER FINE MOTOR SKILLS ACTIVITY FOR TODDLERS
While on the topic of using kitchen utensils, this Colander pipe cleaner activity is another great one. This activity really gets them thinking about how to unthread all of the pipe cleaners, and it's great for their cognitive thinking skills.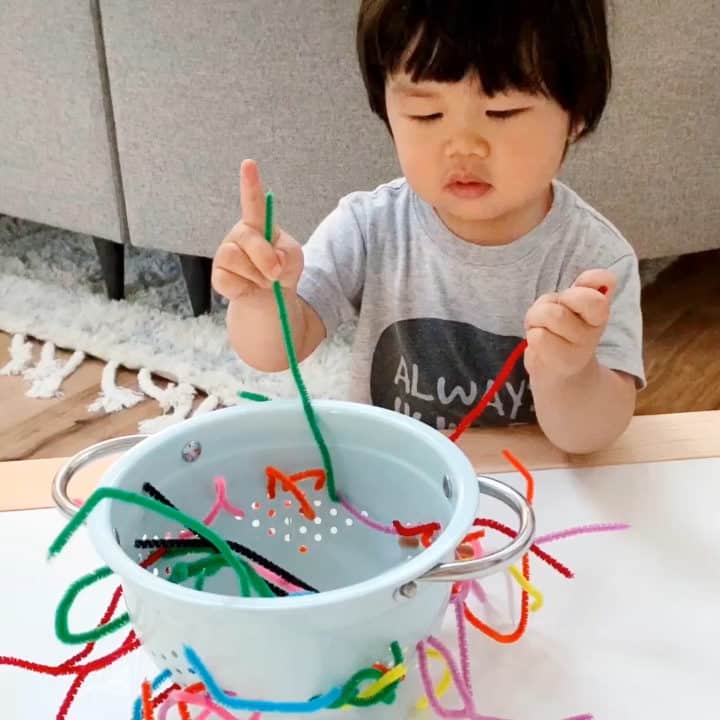 8. STICKY WALL YARN SENSORY ACTIVITY FOR BABIES AND TODDLERS
This wall yarn sensory activity is basically the same as the balloon one that I shared with you earlier. I love the usage of the chunky styled yarn and the different colors that it comes in. You can even change it up by using different textured yarns!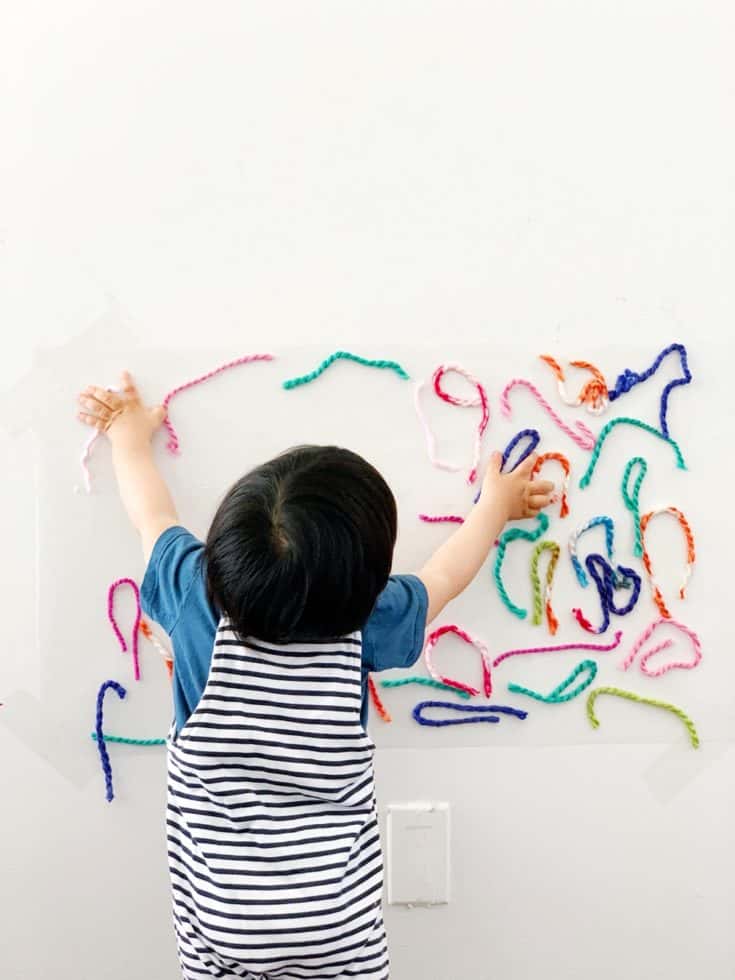 9. PRINTABLE TOUCH AND FEEL SENSORY DINOSAUR CARDS
I'm in love with adorable these Sensory dinosaur cards turned out! I was inspired to make these my son's favorite dinosaur book, Never Touch a Dinosaur. It really helps to bring the characters alive in his hands. This is such a great tactile sensory play project to create for a toddler's fine motor skills activity.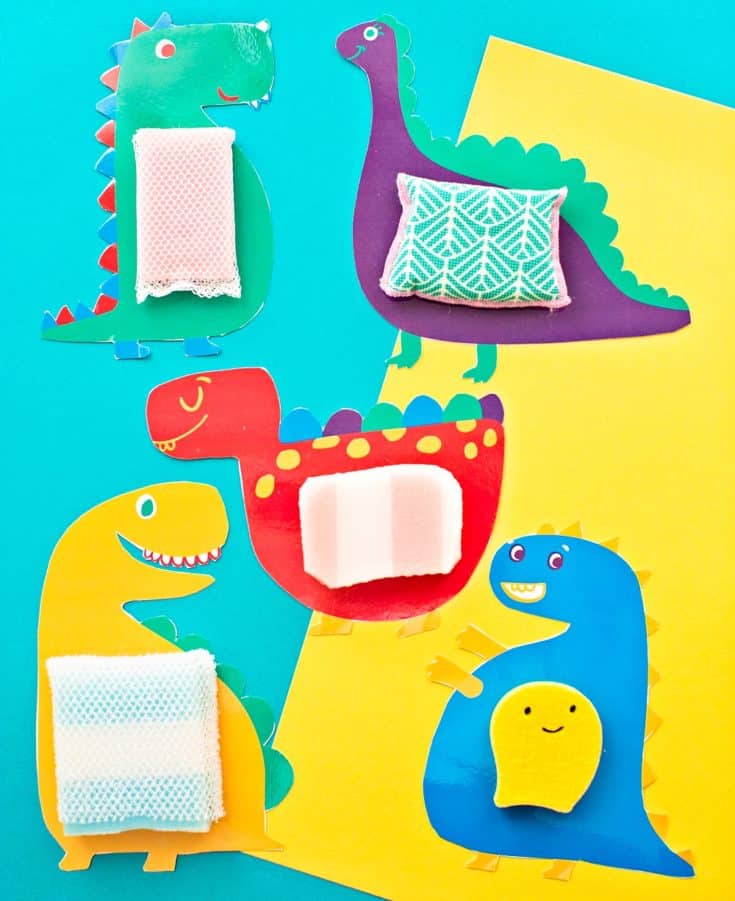 10. EASTER EGG COLOR LEARNING FERRIS WHEEL
As much as I love a great Easter egg hunt, I never knew what to really do with the plastic eggs once I was done with them. However, I had another one of those "light bulb" moments of where I can turn those plastic eggs into an Easter Egg color learning activity.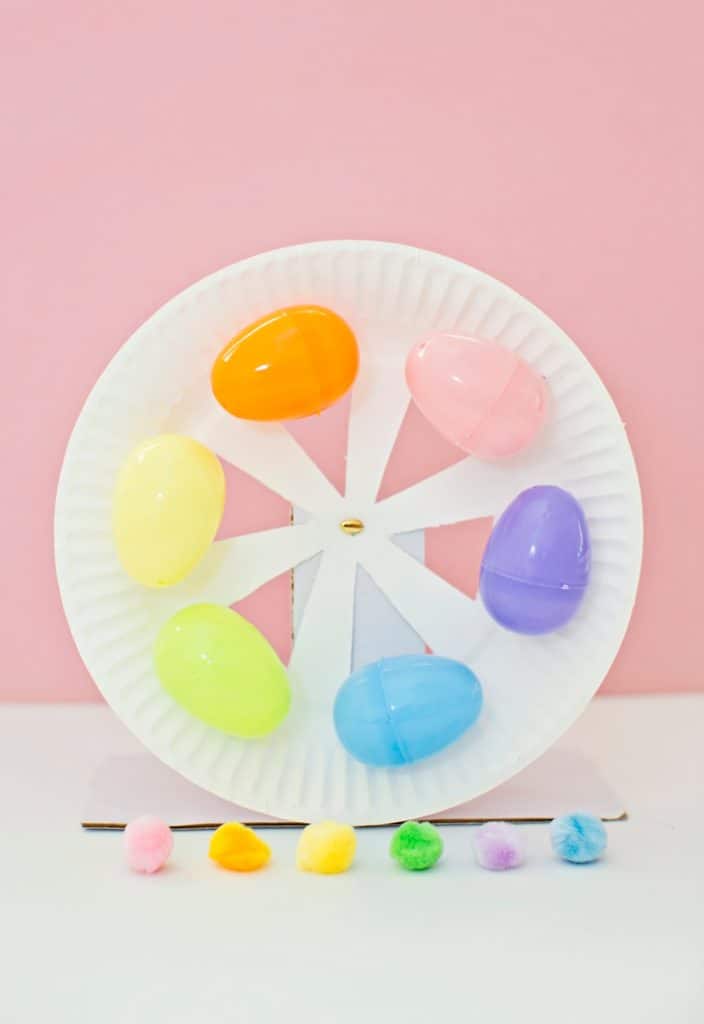 POM POM ORNAMENT FINE MOTOR SKILLS
And here's an extra seasonal one for you, this easy pom pom ornament fine motor skill activity, although this can really be brought out any time of the year! Stuff extra large plastic ornaments with pom pom's or other sizeable items for your toddler to add and take out!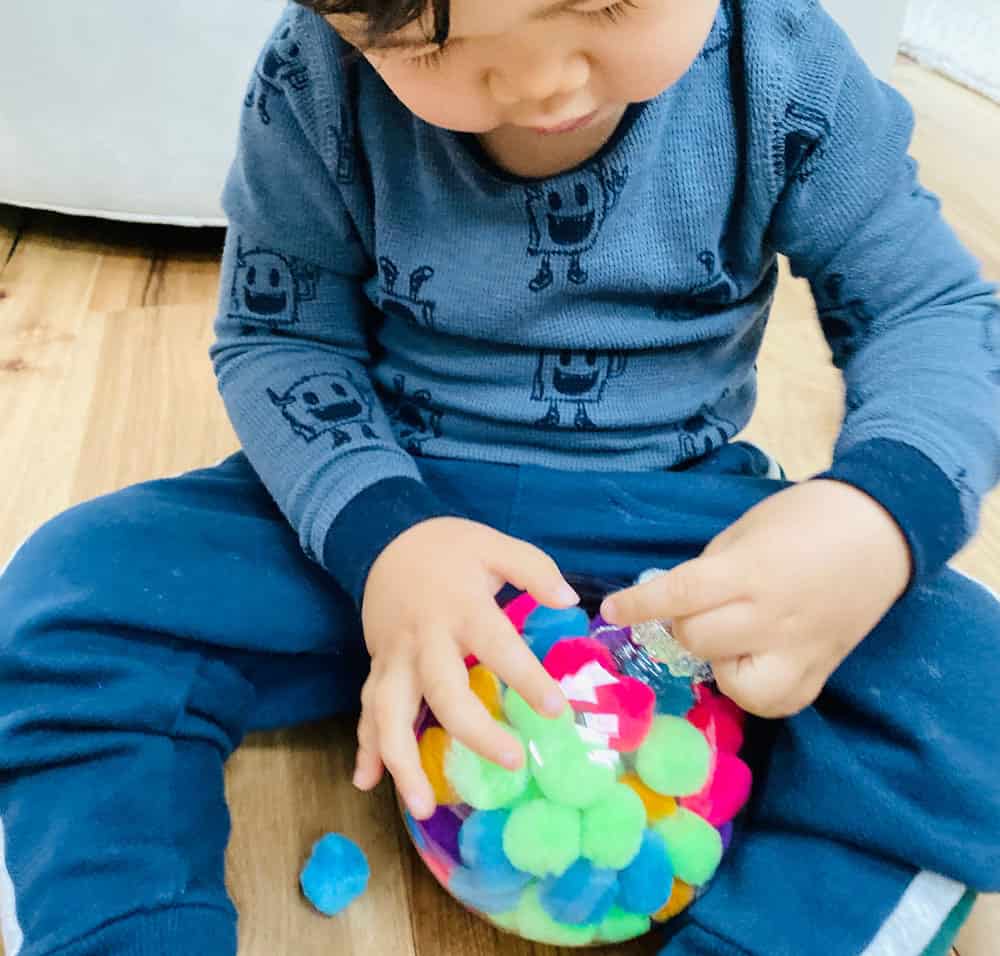 I hope you've enjoyed looking at some fun and easy baby toddler fine motor skills activities that I've shared with you! I hope that it encourages you to have fun with your child to create something amazing to help increase their fine motor skills.
What are some of your favorite easy baby toddler fine motor skills activities that you use?