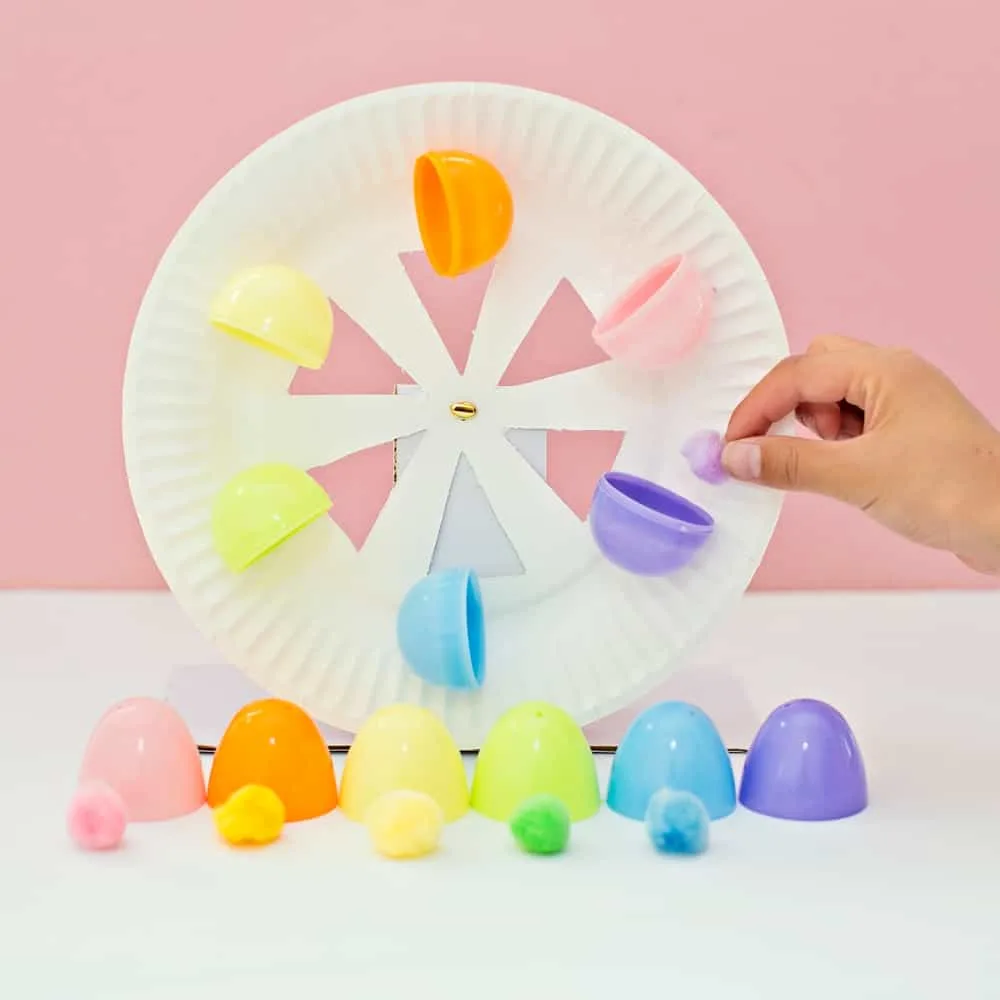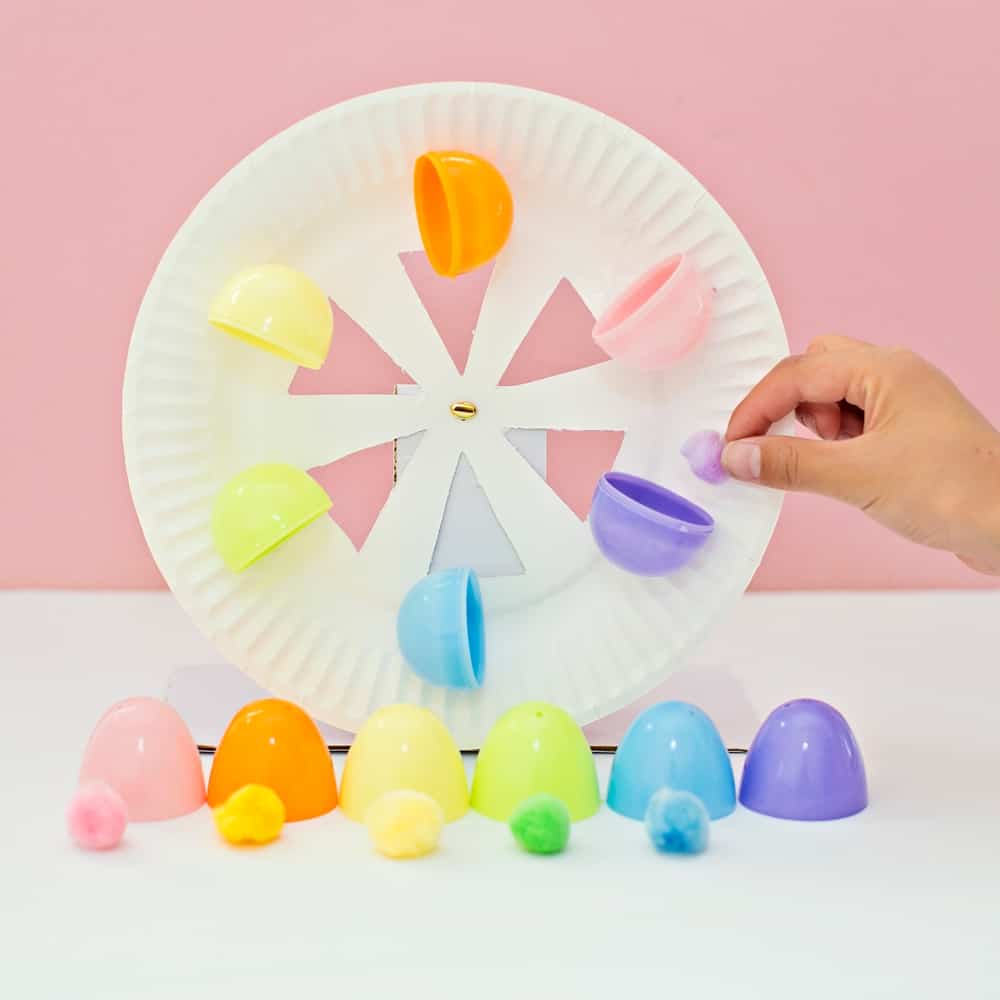 Easter Egg Color Learning Ferris Wheel
Follow us on Instagram for more fun ideas for kids!
Scroll all the way down to watch the video below to see in action, this colorful and fun Easter Color Learning Ferris Wheel. Make sure to subscribe to our YouTube channel for more fun videos!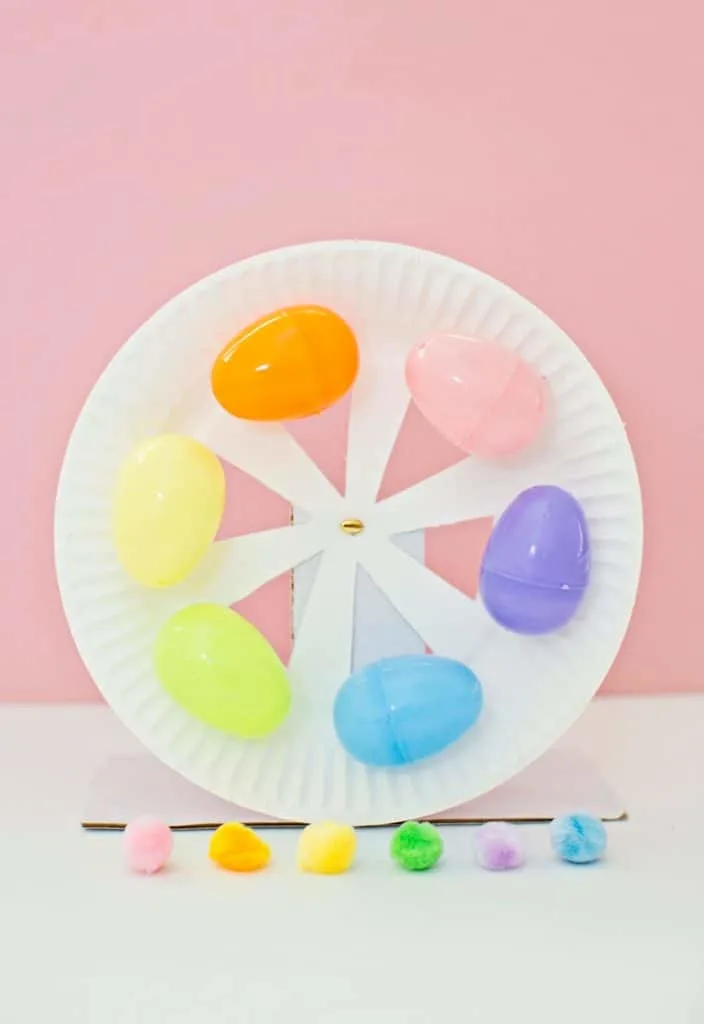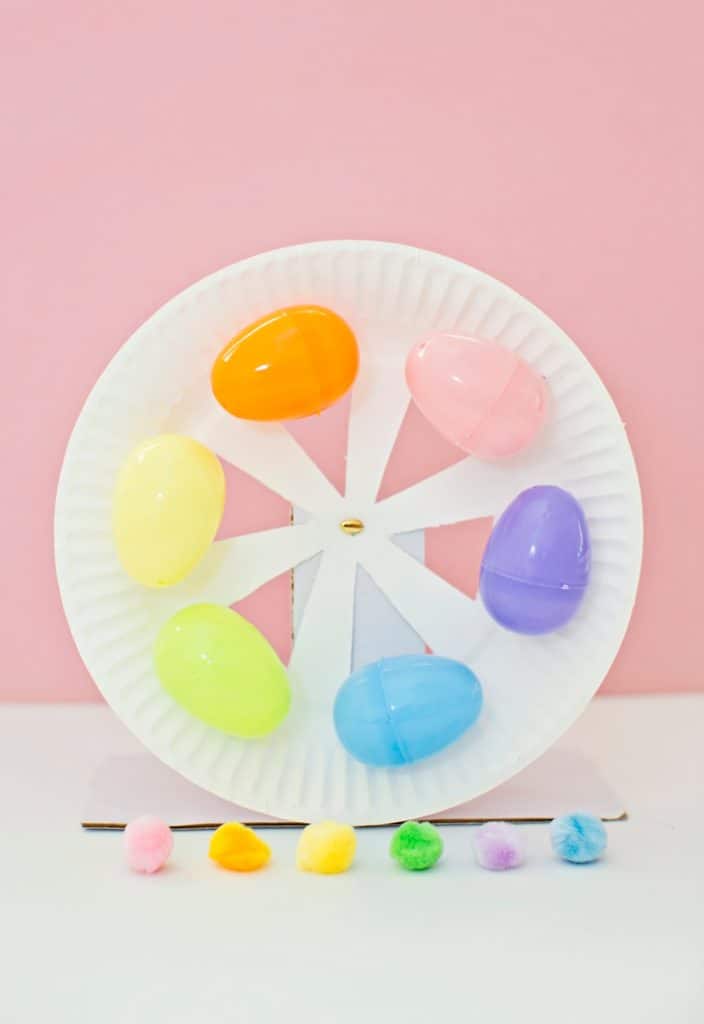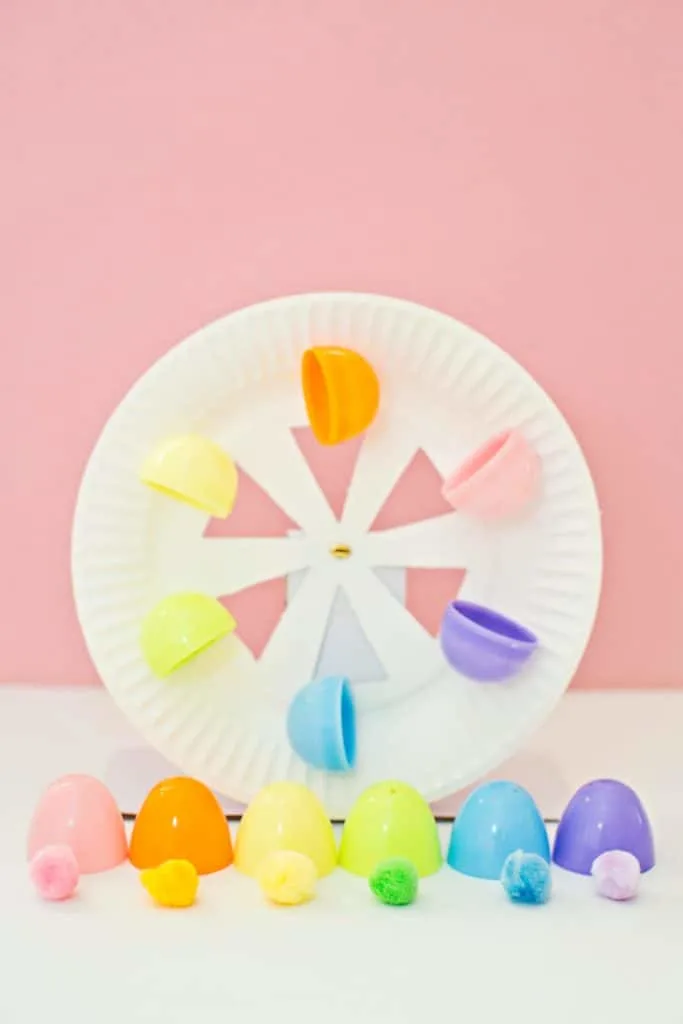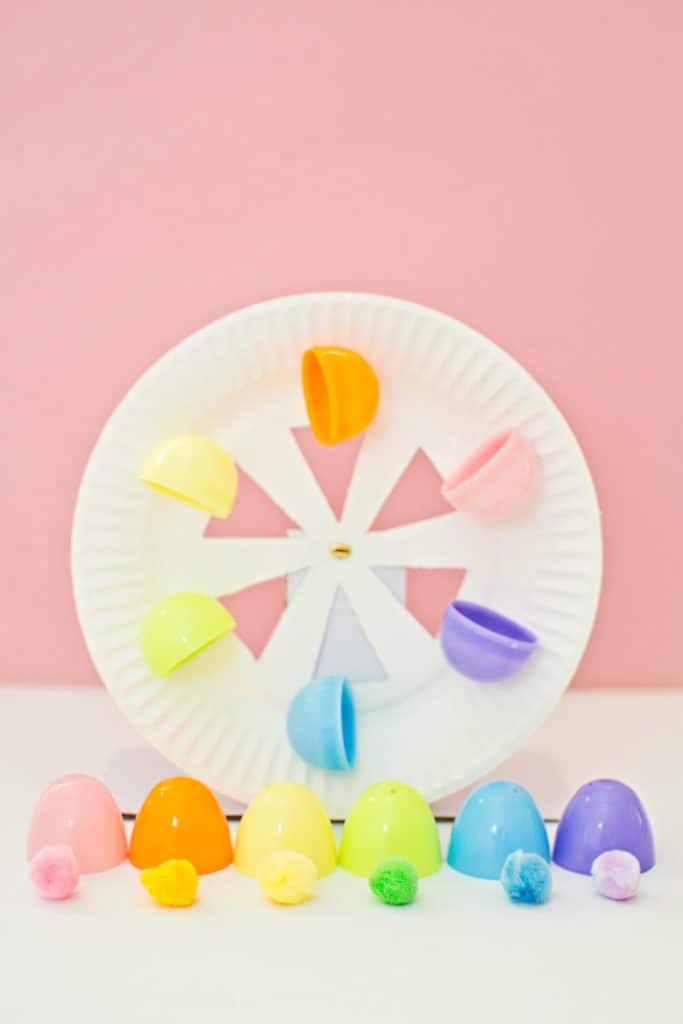 Are your kids getting excited for Easter? Mine always look forward to an Easter egg hunt. Of course along with that comes the many leftover plastic Easter eggs. We have bags full from Easter past!
I'm always looking for fun ways to recycle those plastic eggs. This Easter Egg color learning Ferris wheel is such a fun idea! You can play with it several different ways:
Add pom poms to the corresponding egg color
Practice opening and closing the eggs on the wheel. Work those fine motor skills!
Match the pom poms to the colored lids
Add a fun surprise or treat and practice opening the eggs to see where it is!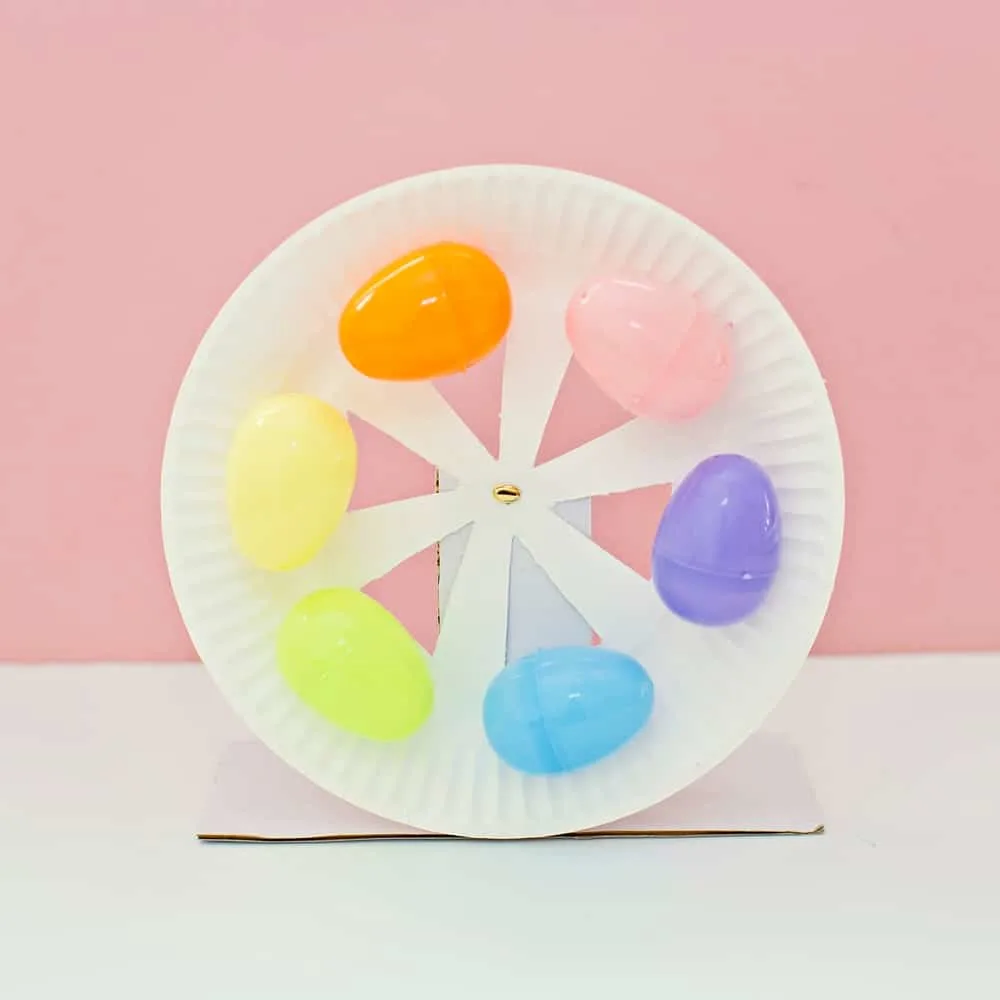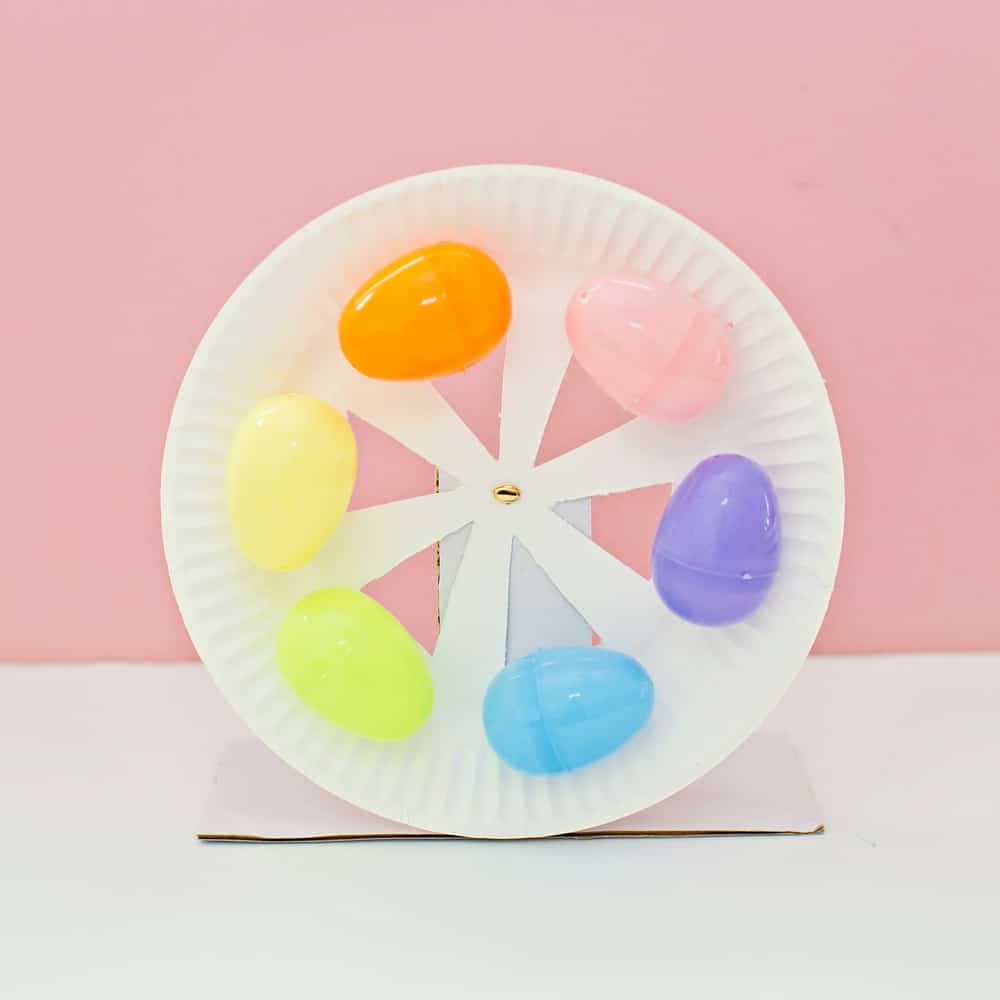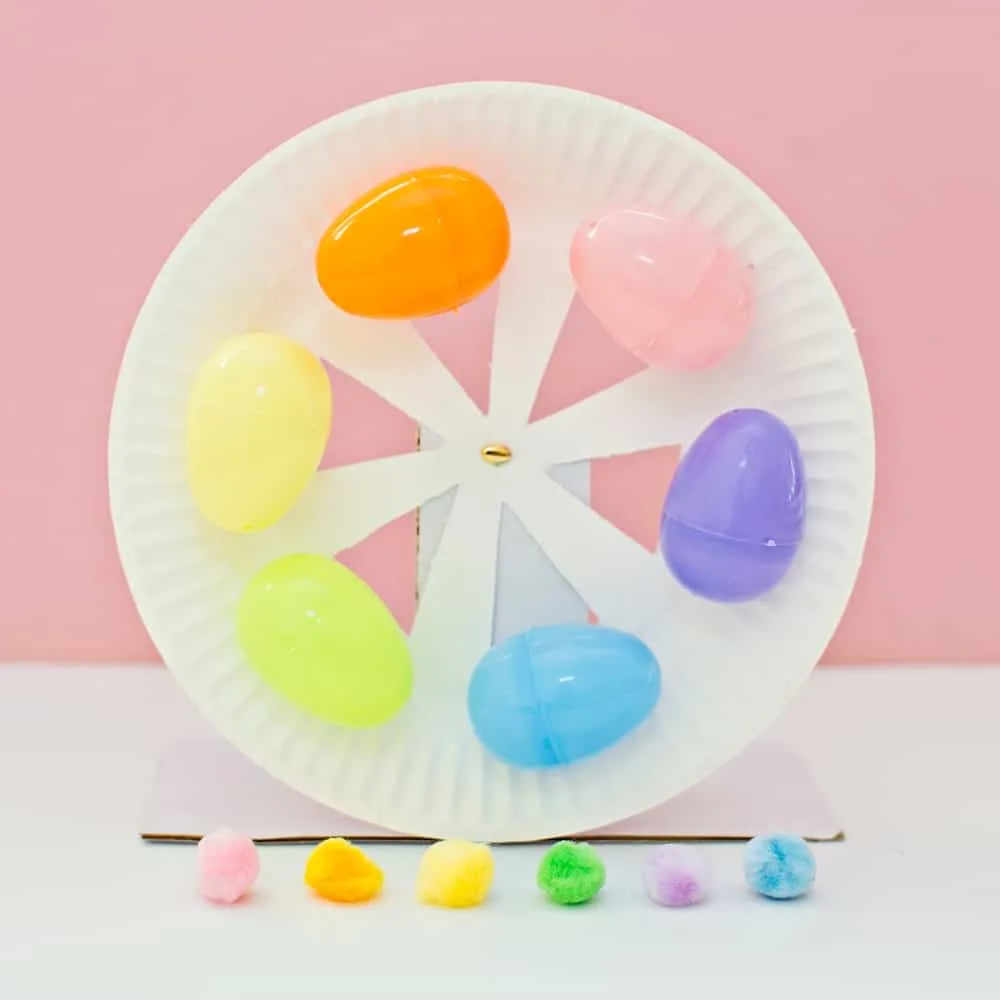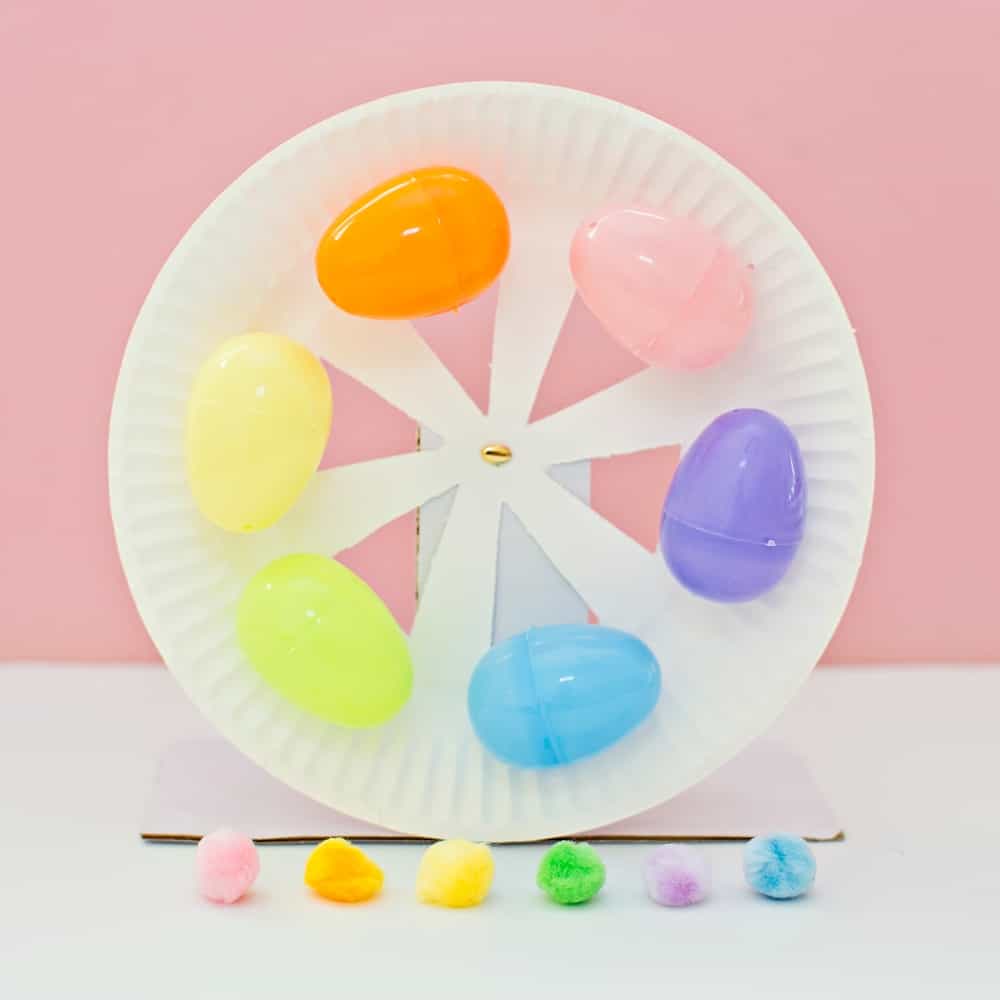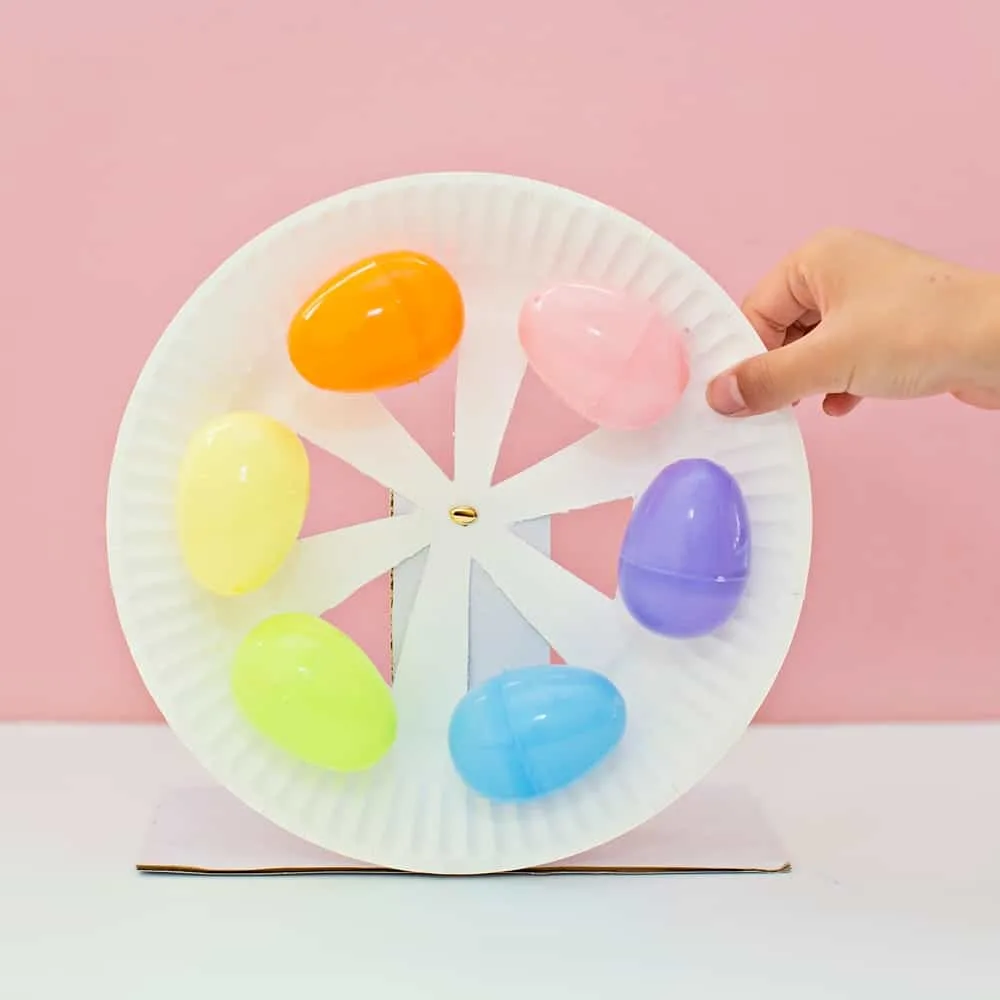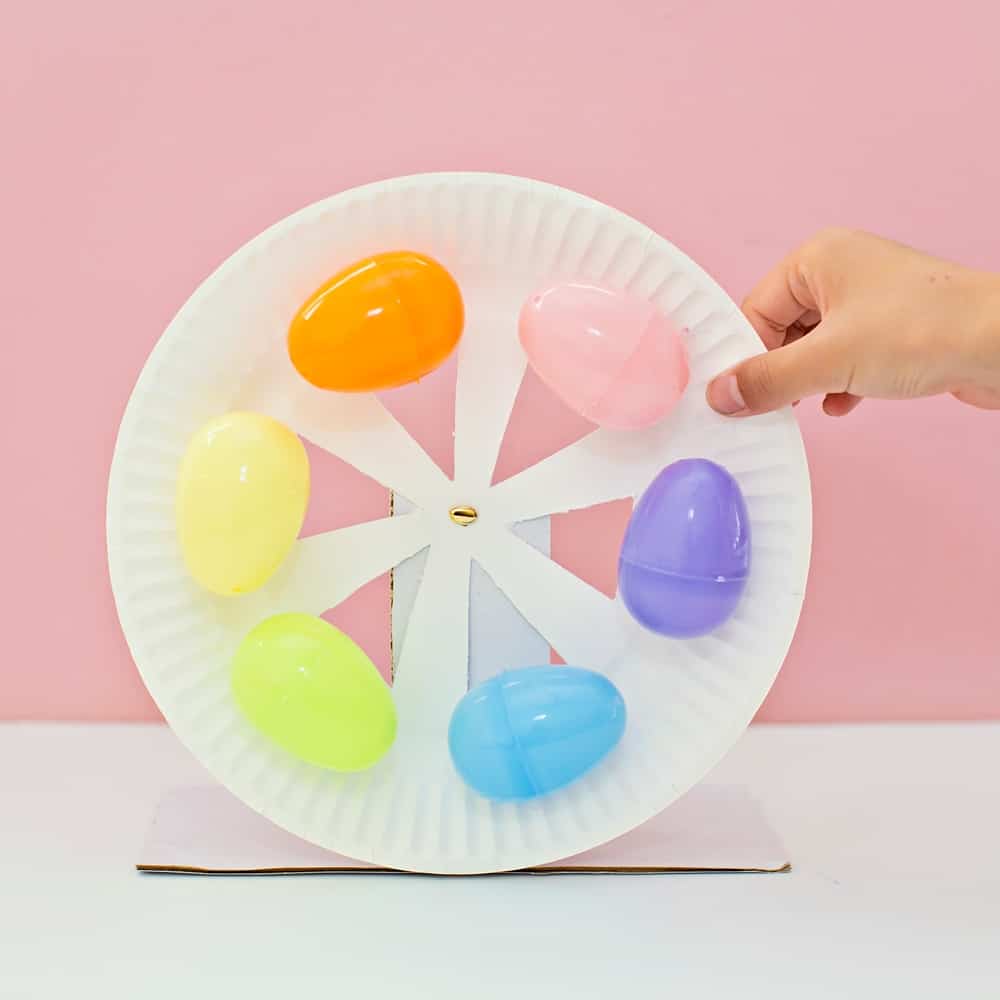 There are so many fun ways to play and learn. It's a great way to reuse those plastic Easter eggs!
And all you need is a paper plate and some scrap cardboard to make wheel.
Speaking of, the wheel – which is really fashioned after a ferris wheel – is a great engineering or STEM idea for little ones!
It doesn't require difficult materials, but does get them thinking about circular motion, how can you create a spinning movement?
We got the idea to make one from this cardboard Ferris wheel version but we made ours out of paper plate.
Much easier to cut AND it's already the perfectly round size!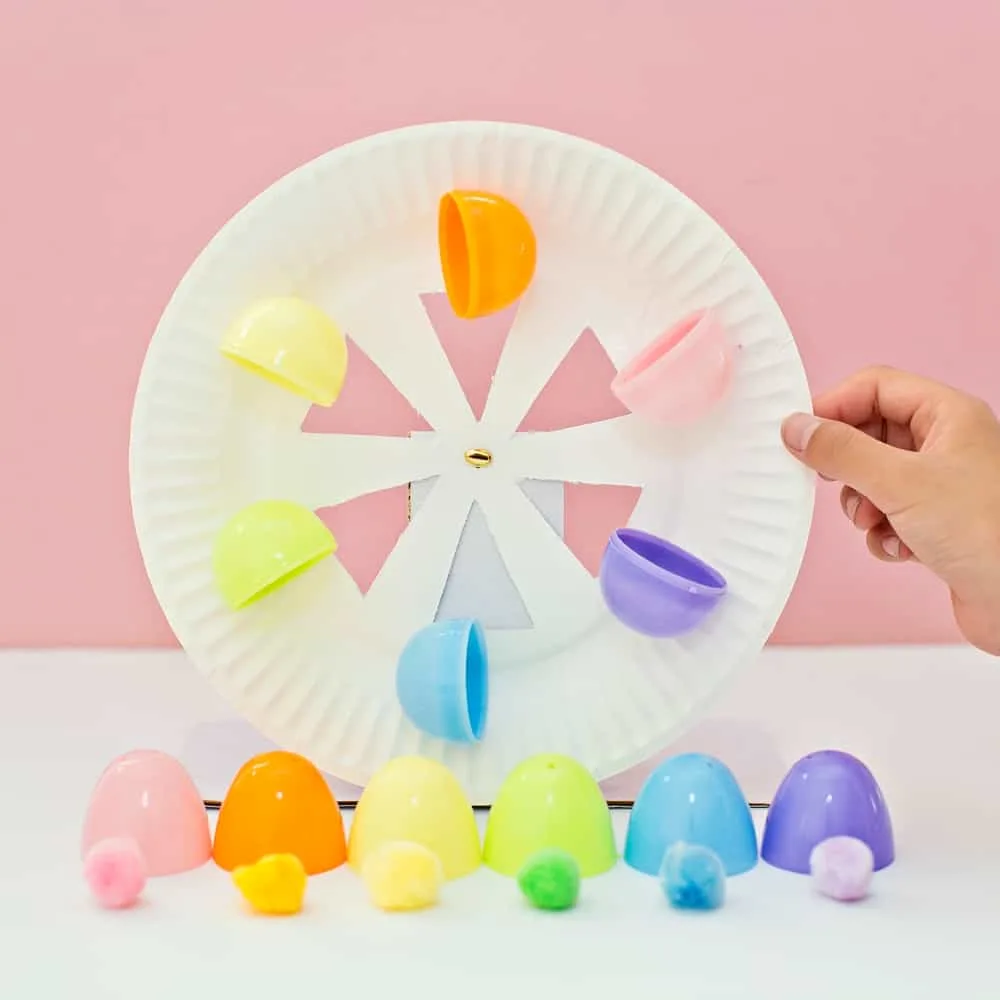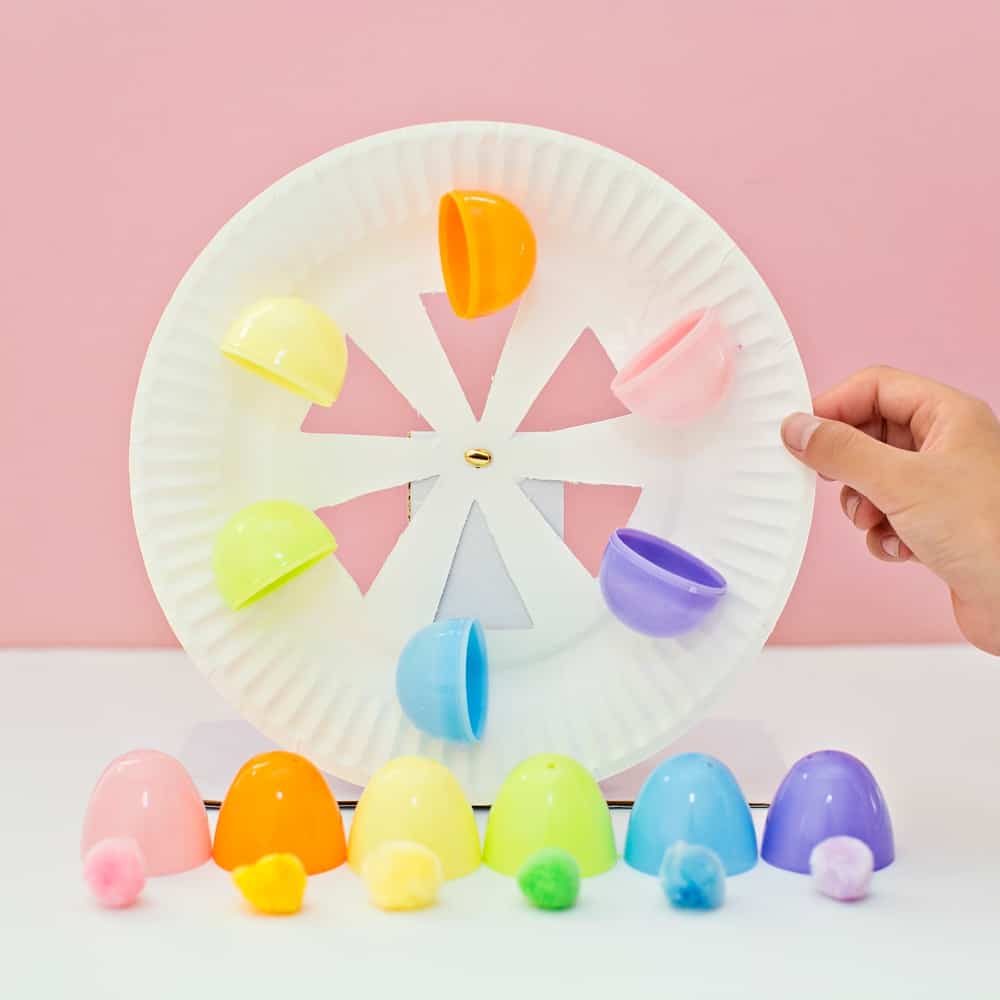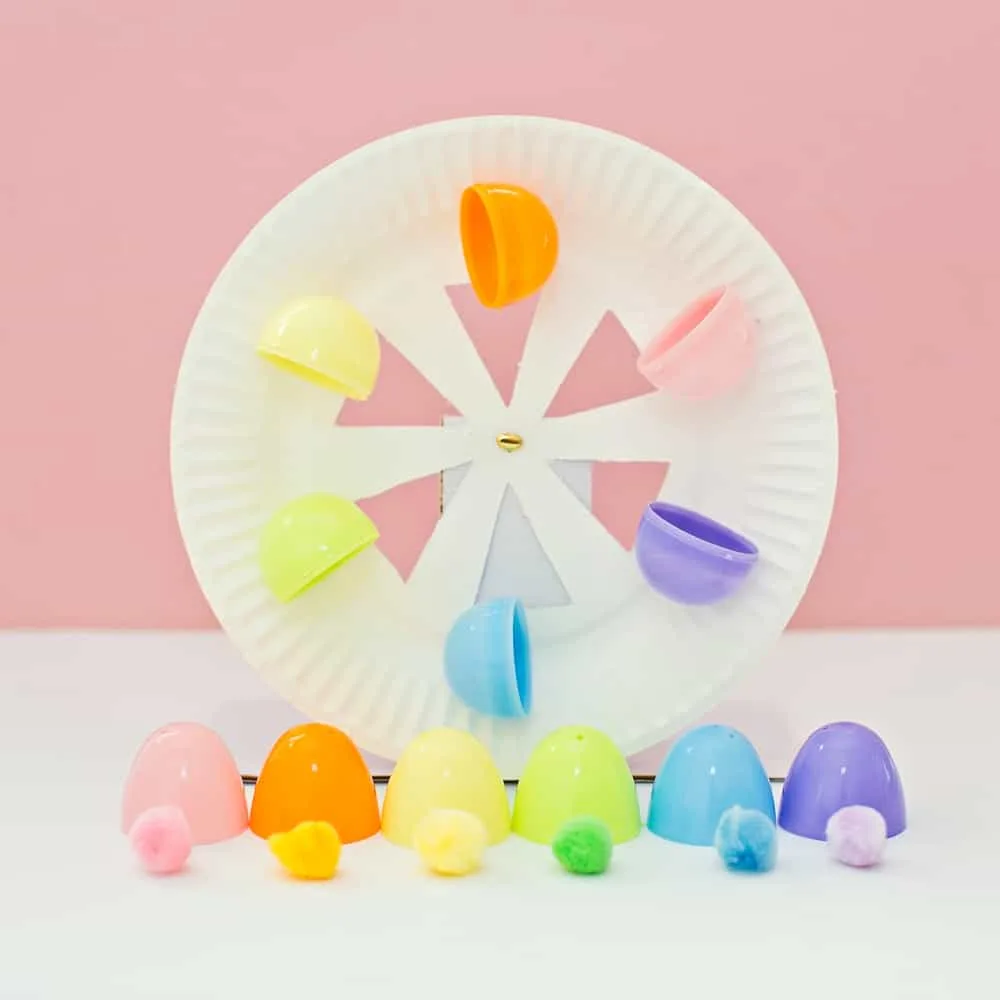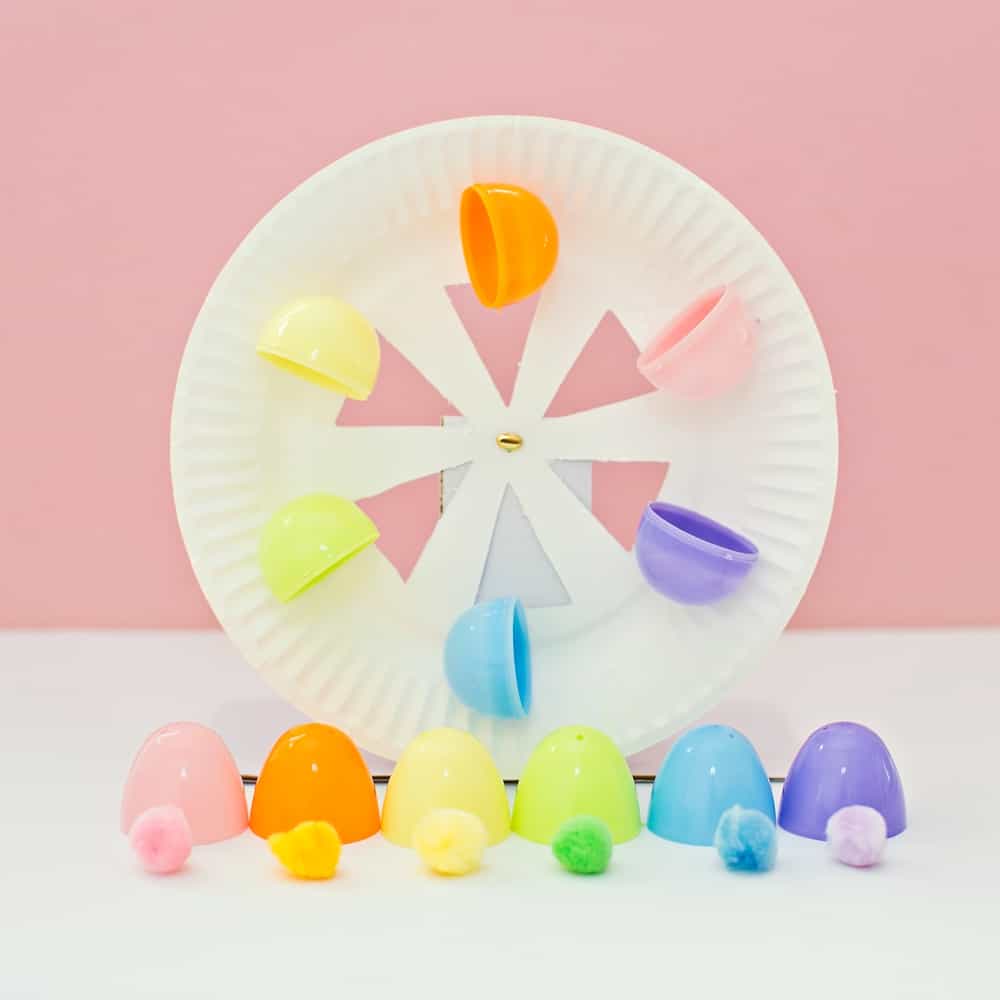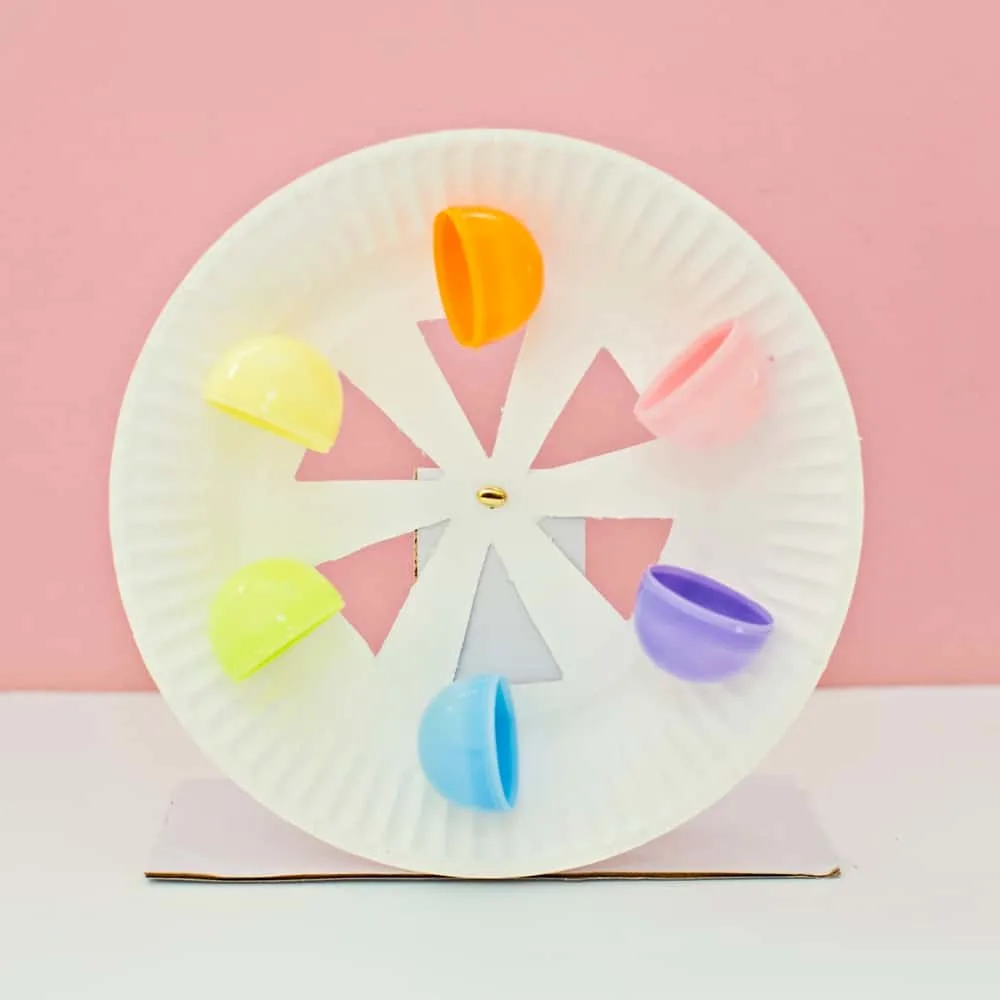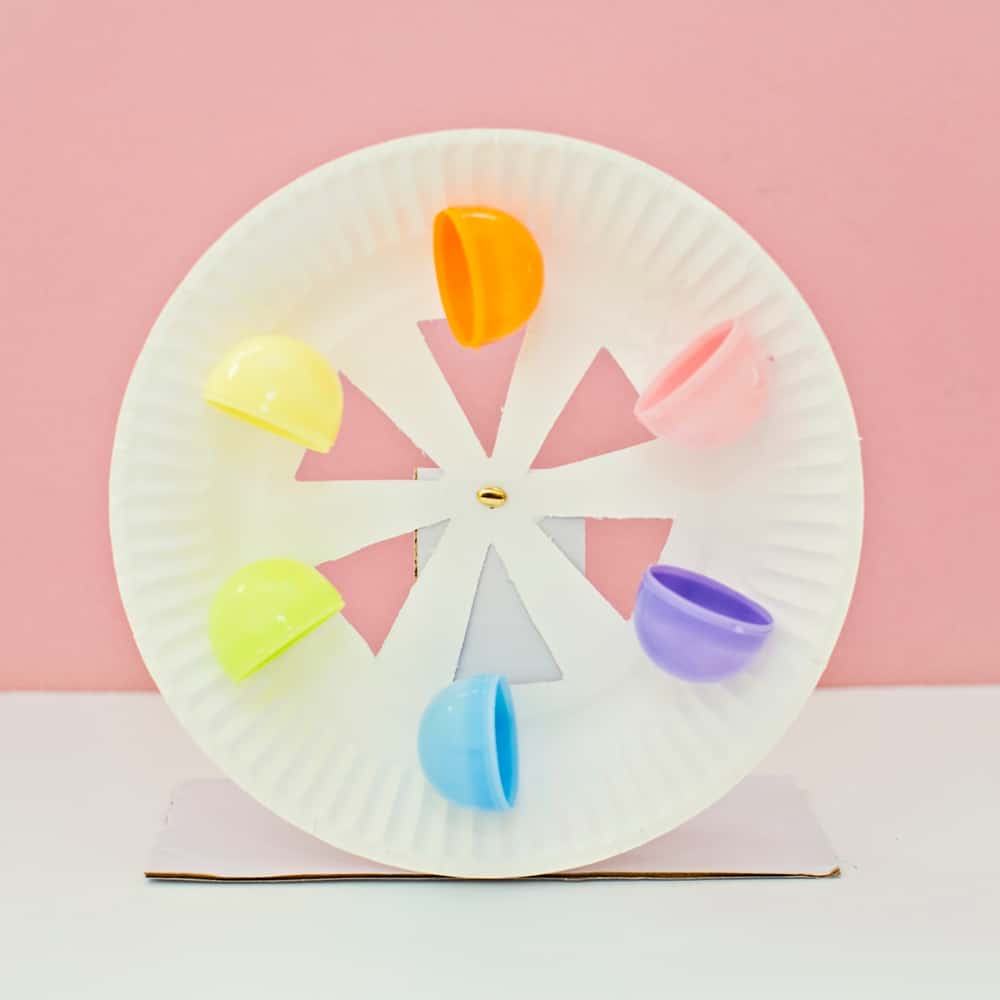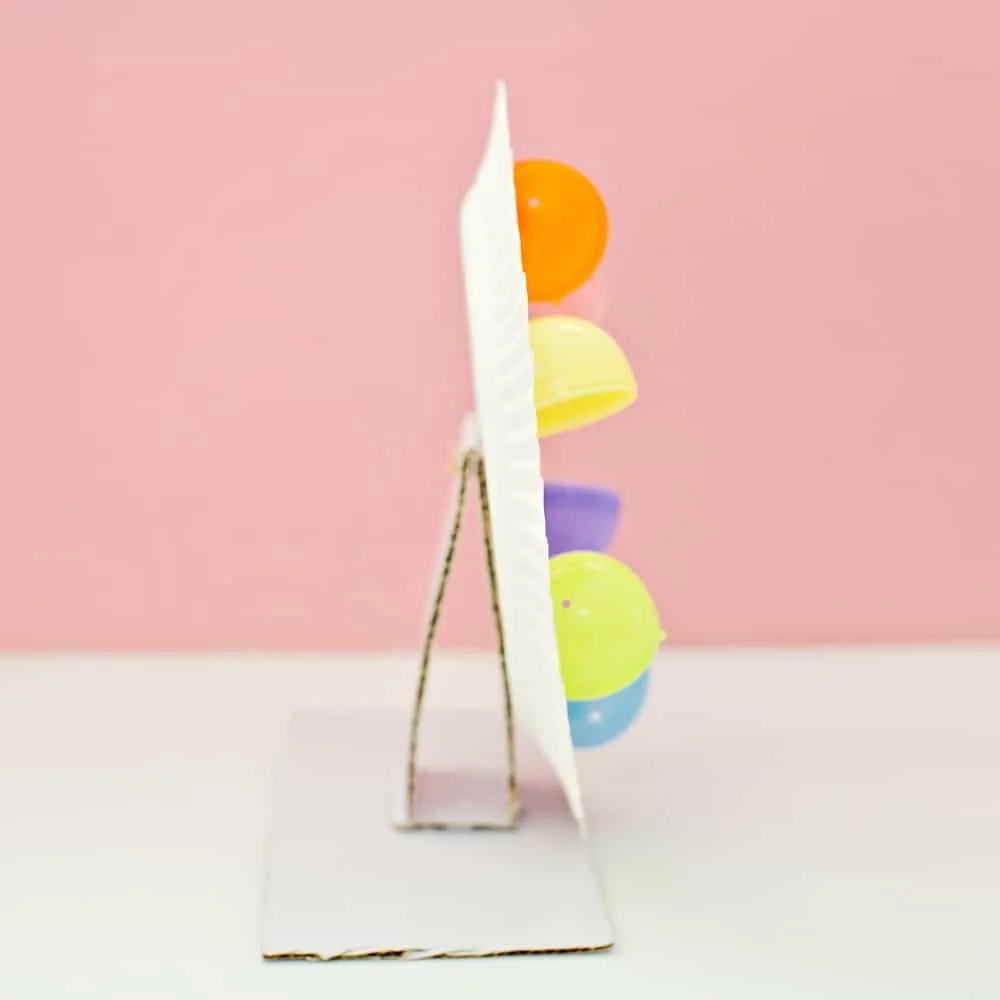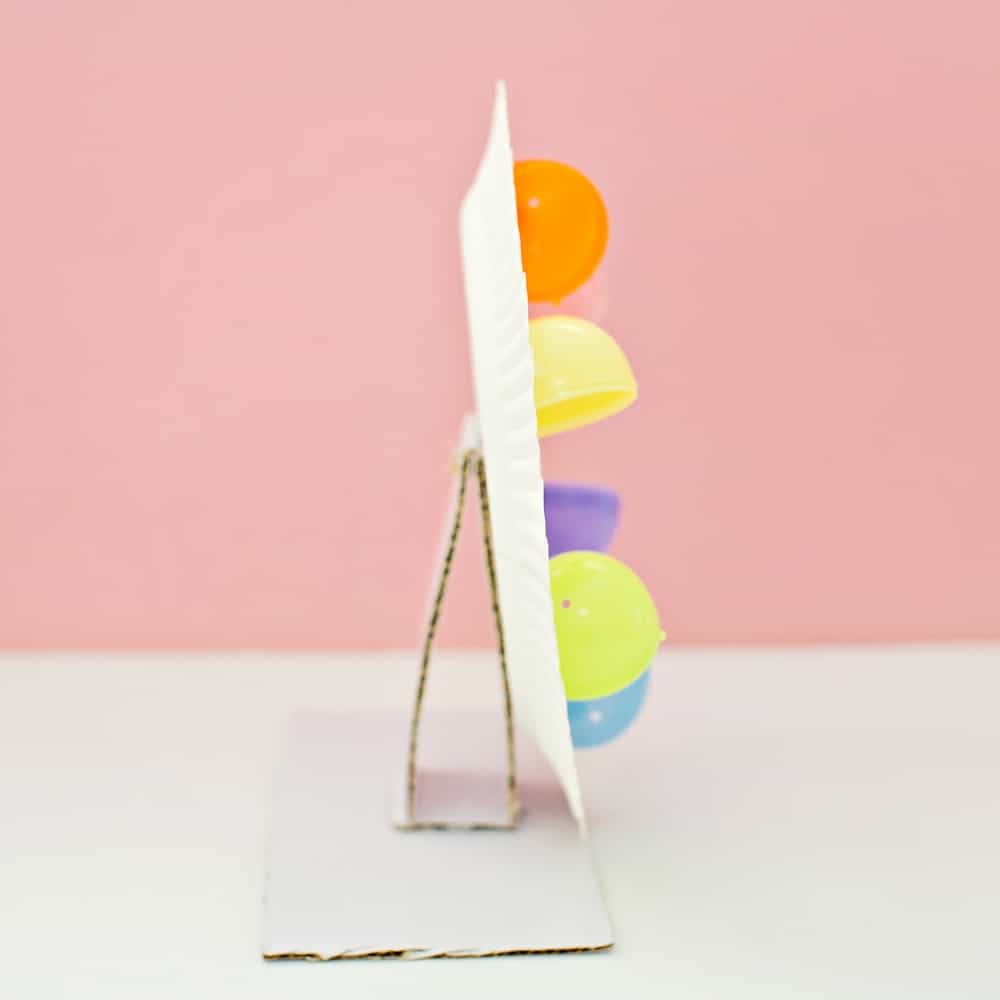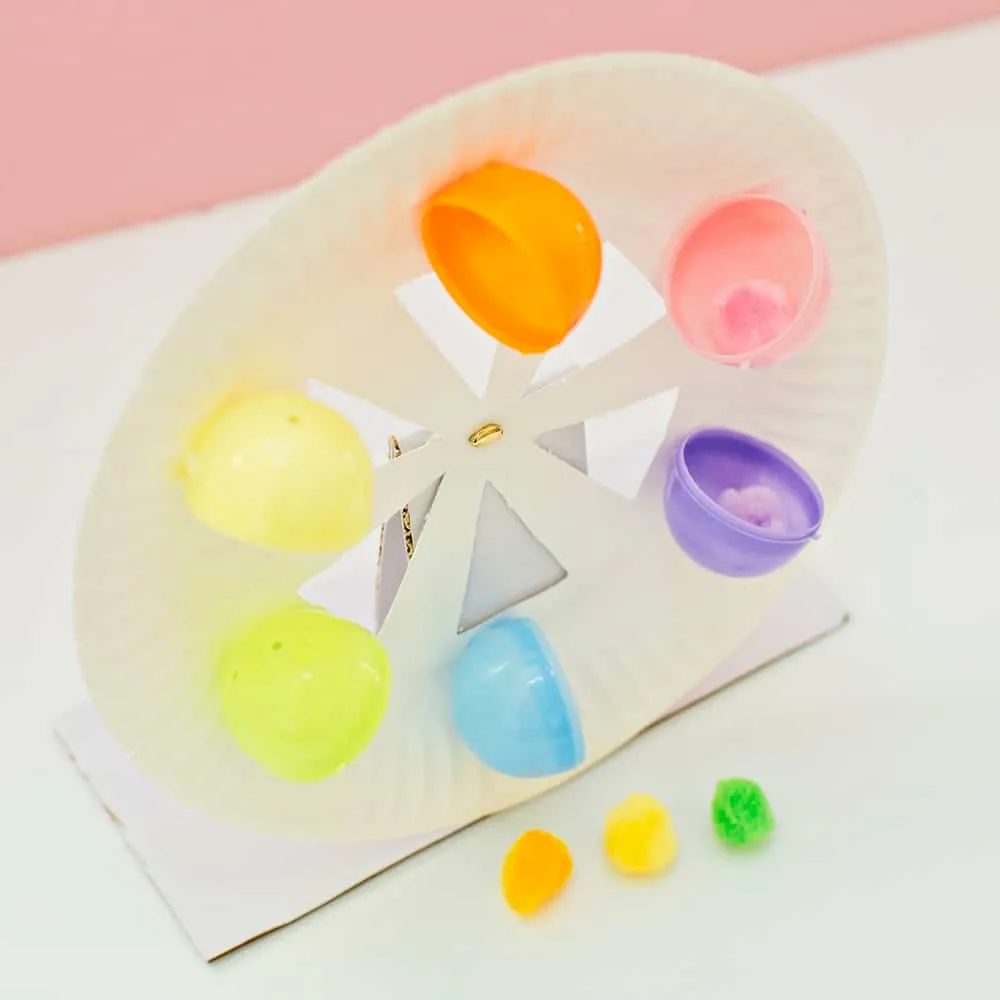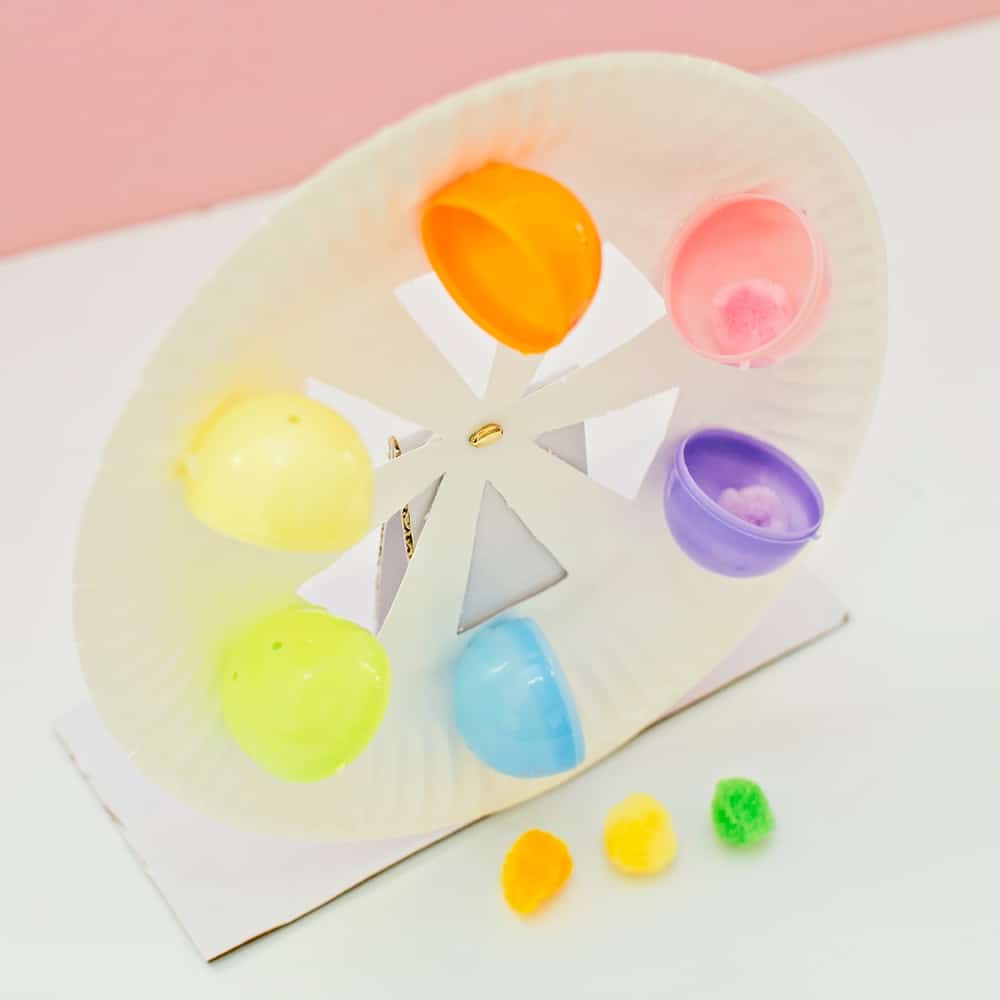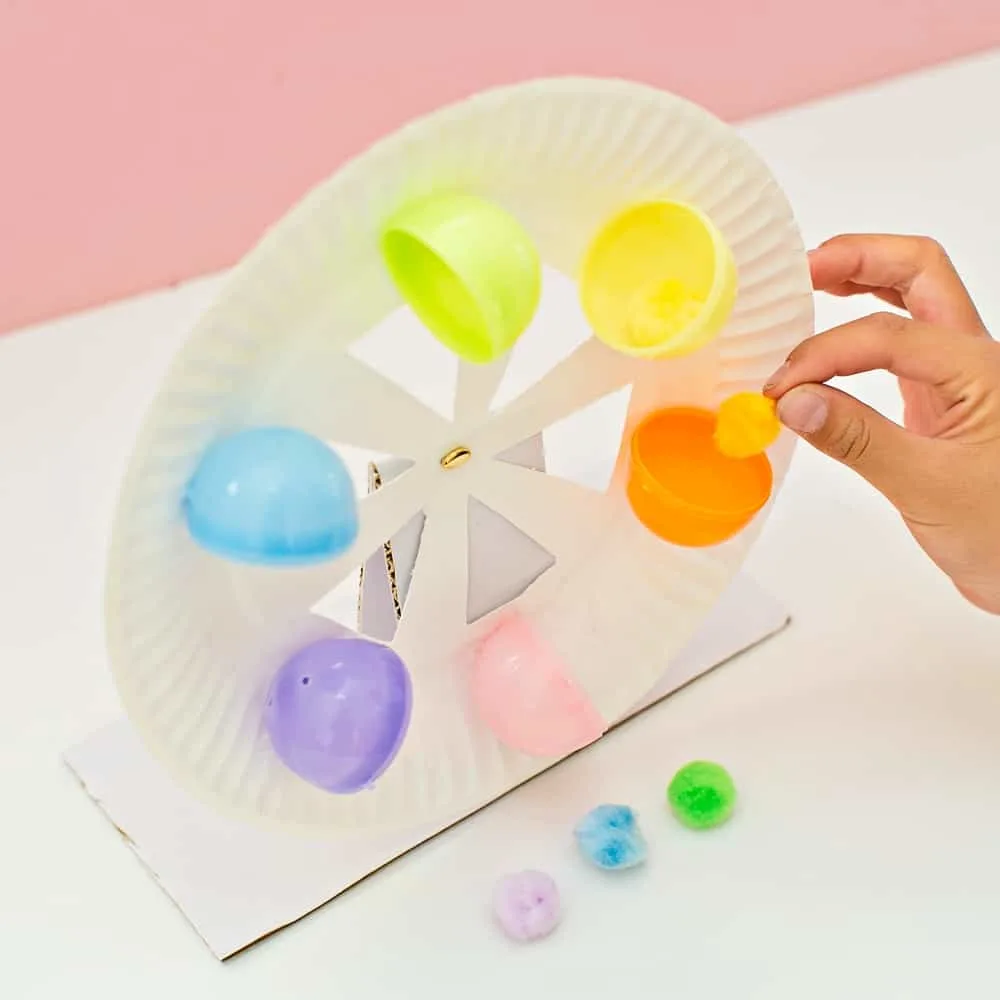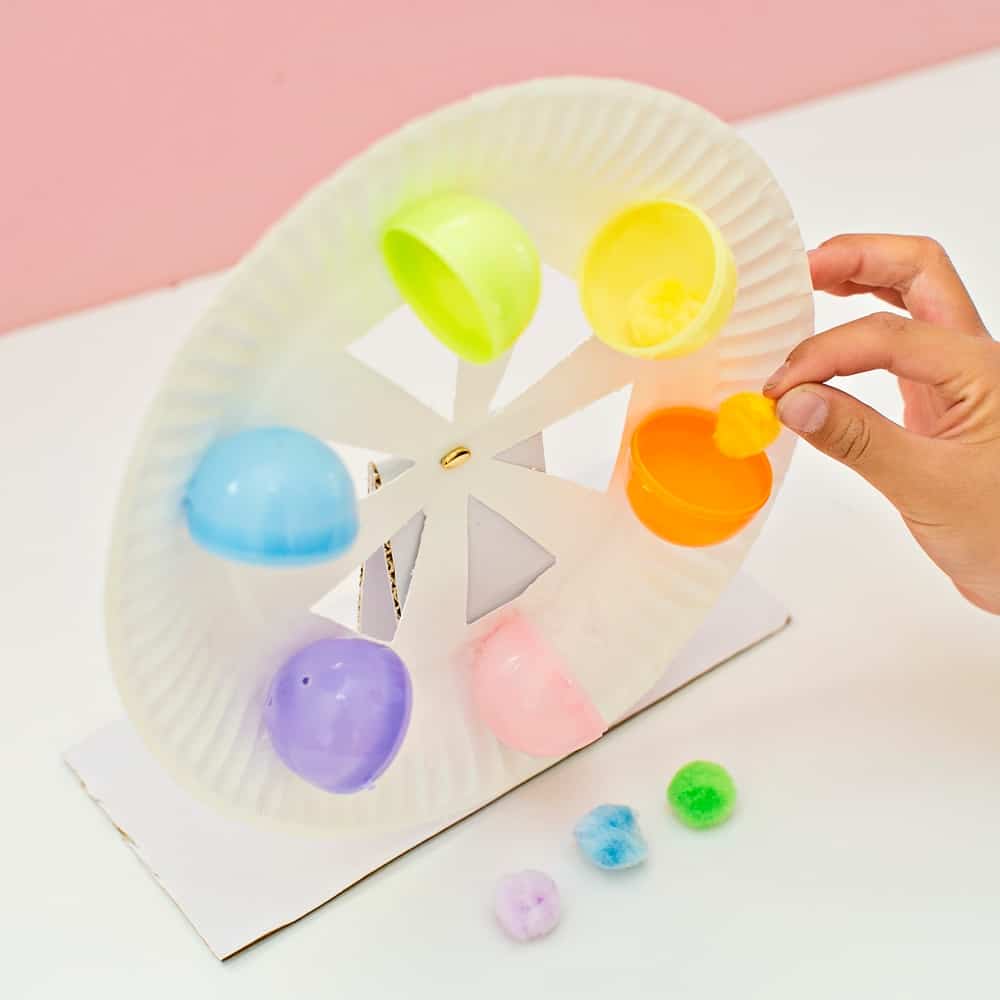 EASTER EGG COLOR LEARNING FERRIS WHEEL – MATERIALS:
paper plate
pom poms
exacto knife or scissors
scrap cardboard
pencil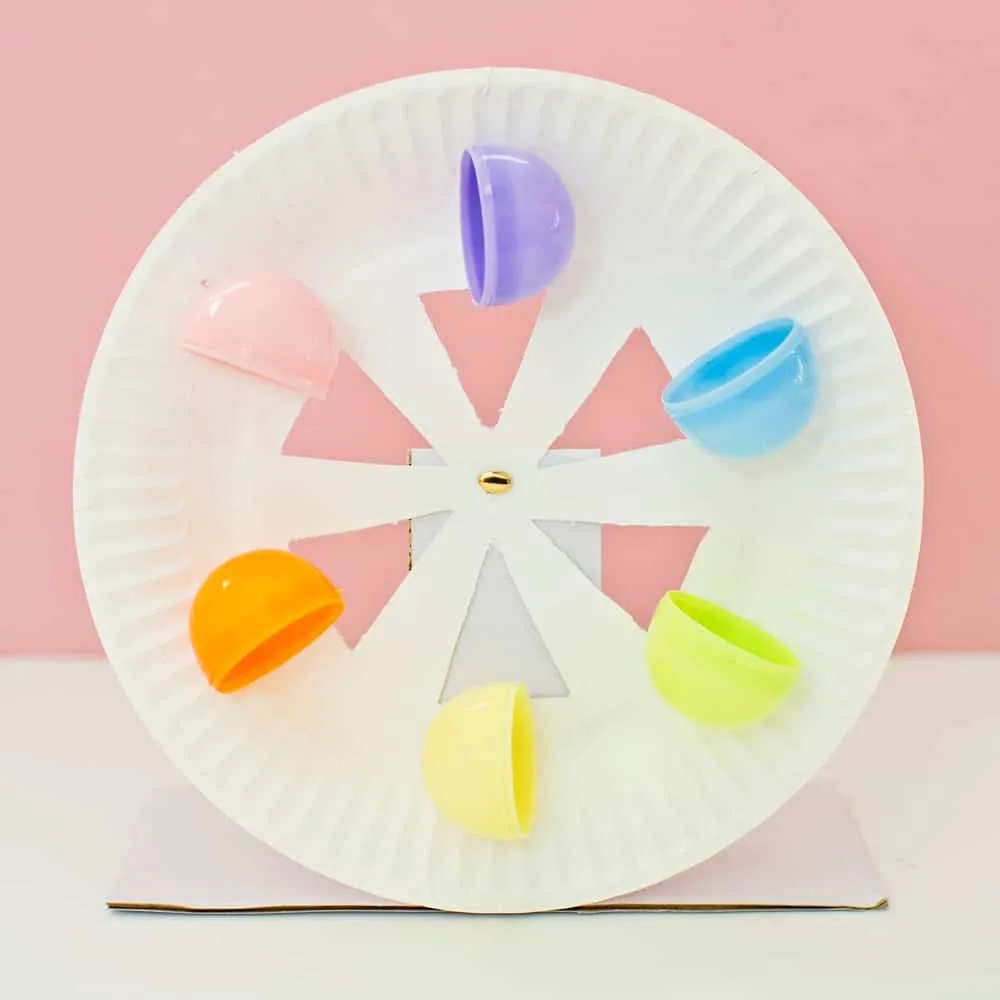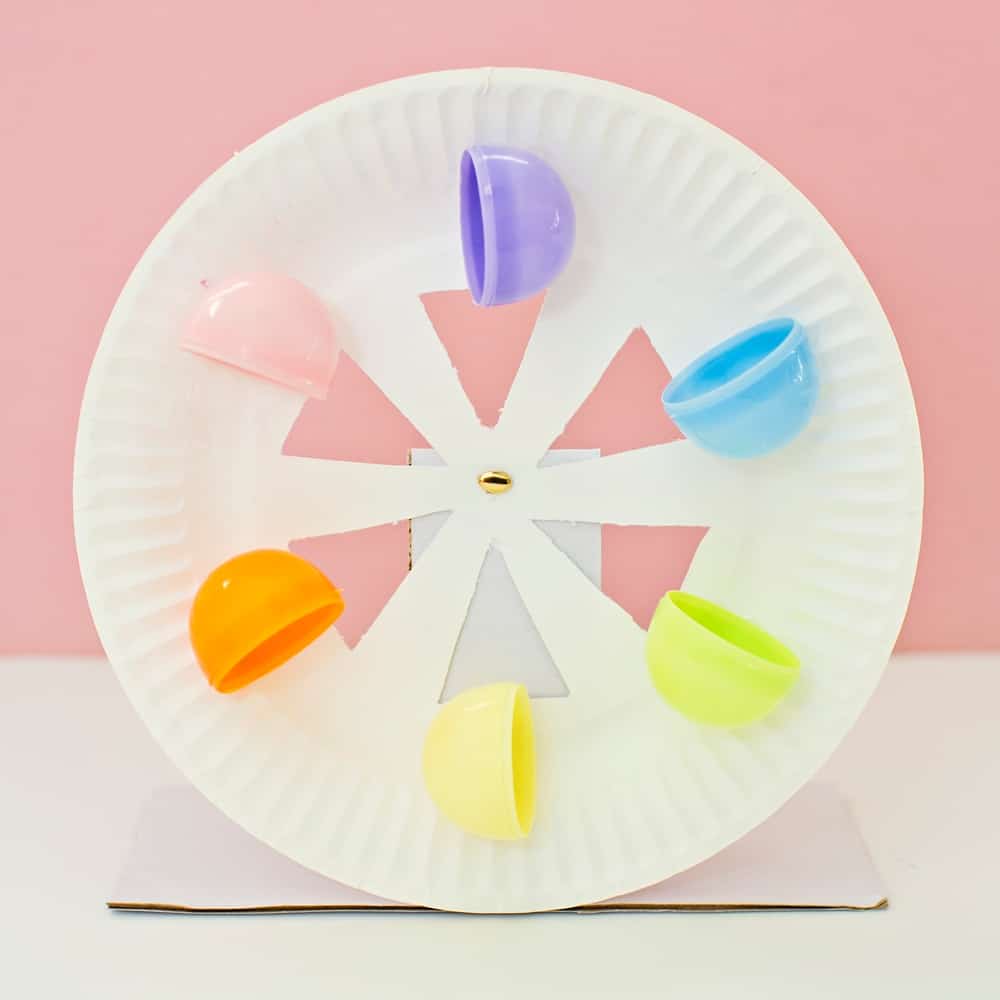 INSTRUCTIONS:
EASTER EGG COLOR LEARNING FERRIS WHEEL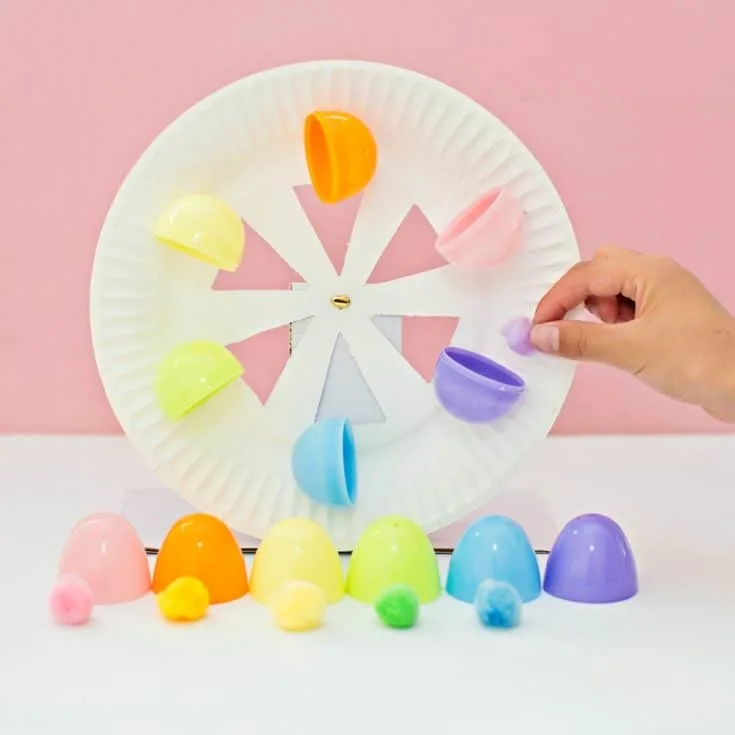 Easter Egg Color Learning Ferris Wheel
Materials
paper plate
scrap cardboard
pencil
Instructions
Trace 6 equal triangles in pencil around the paper plate. It helps to first make one triangle template cut-out and use that to trace the 5 other triangles.
Cut out the triangles on the plate with an exacto knife or scissors.
For the cardboard base, fold a piece of rectangular cardobard in half and glue bottoms to another piece of cardboard scrap. They key here is that you want the length of the base to be as high as the center of the paper plate or else it won't spin. The paper plate need to be a bit up from the base.
To stabilize the wheel even more, you can glue another large piece of cardboard attached to the piece that's holding the wheel (see photos).
Hot glue your eggs along the spokes of the wheel. You're done! Turn the wheel and watch it spin!
Notes
Yes we do realize the pom poms fall out as you spin, but you can always have the child close the egg as they drop each pom pom in. We wanted to show how to make a super easy ferris wheel that spins, getting the sitting compartment to spin along with the wheel and turning along with it so the contents don't spill out is a whole other STEM project! 🙂
Watch the video right below for the step by step!
---
Disclosure: Some of the links in the post above are "affiliate links." This means if you click on the link and purchase the item, we will receive a small affiliate commission. Regardless, we give our promise that we only recommend products or services we would use personally and believe will add values to our readers.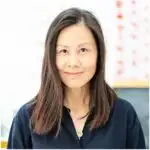 Agnes Hsu is a mom of three and has been inspiring parents and kids to get creative with easy activities and family friendly recipes for over 10 years. She shares her love for creative play and kids food to her 2MM+ followers online. Agnes' commitment to playful learning and kindness has not only raised funds for charity but also earned features in prestigious nationwide publications.