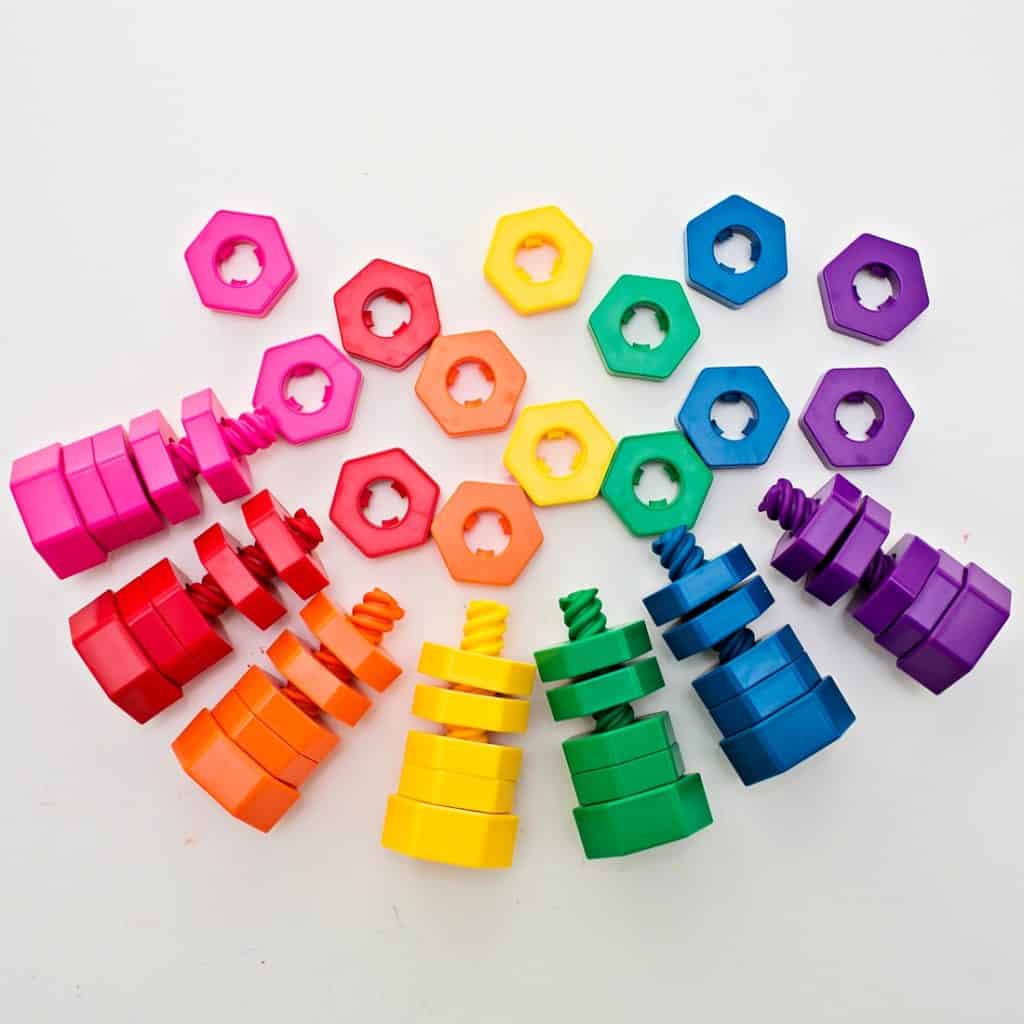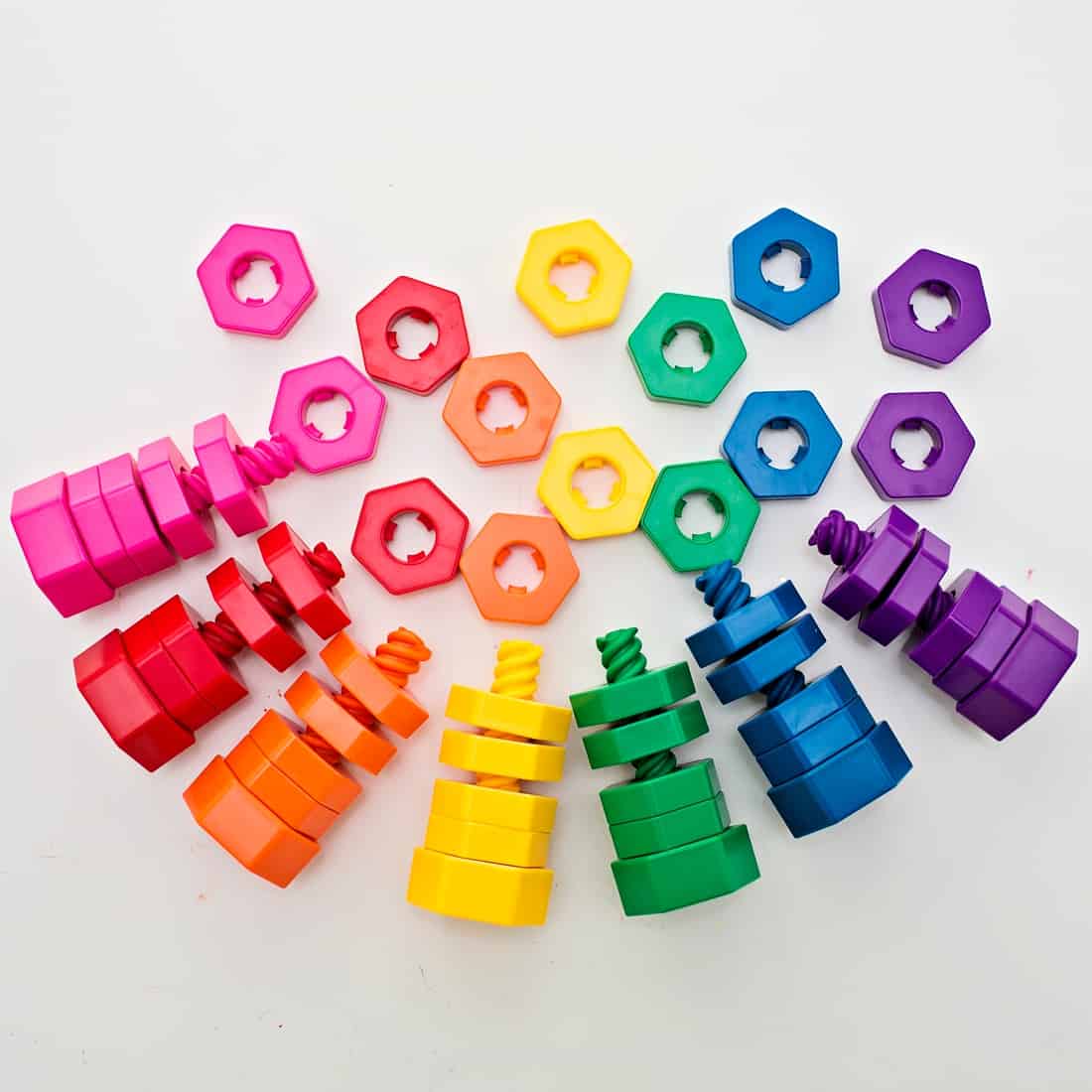 Nuts About Counting and Sorting Learning Toy
This post is sponsored by Lakeshore Learning. As always, all thoughts and opinions are my own. Thank you for helping me support the brands that I love.
Grab a coupon for 25% off a single non-sale Lakeshore Learning item good through 12/31/19! Or use code 3200 at checkout.
Make sure to scroll all the way down to watch the fun video of the Nuts About Sorting and Counting toys in action!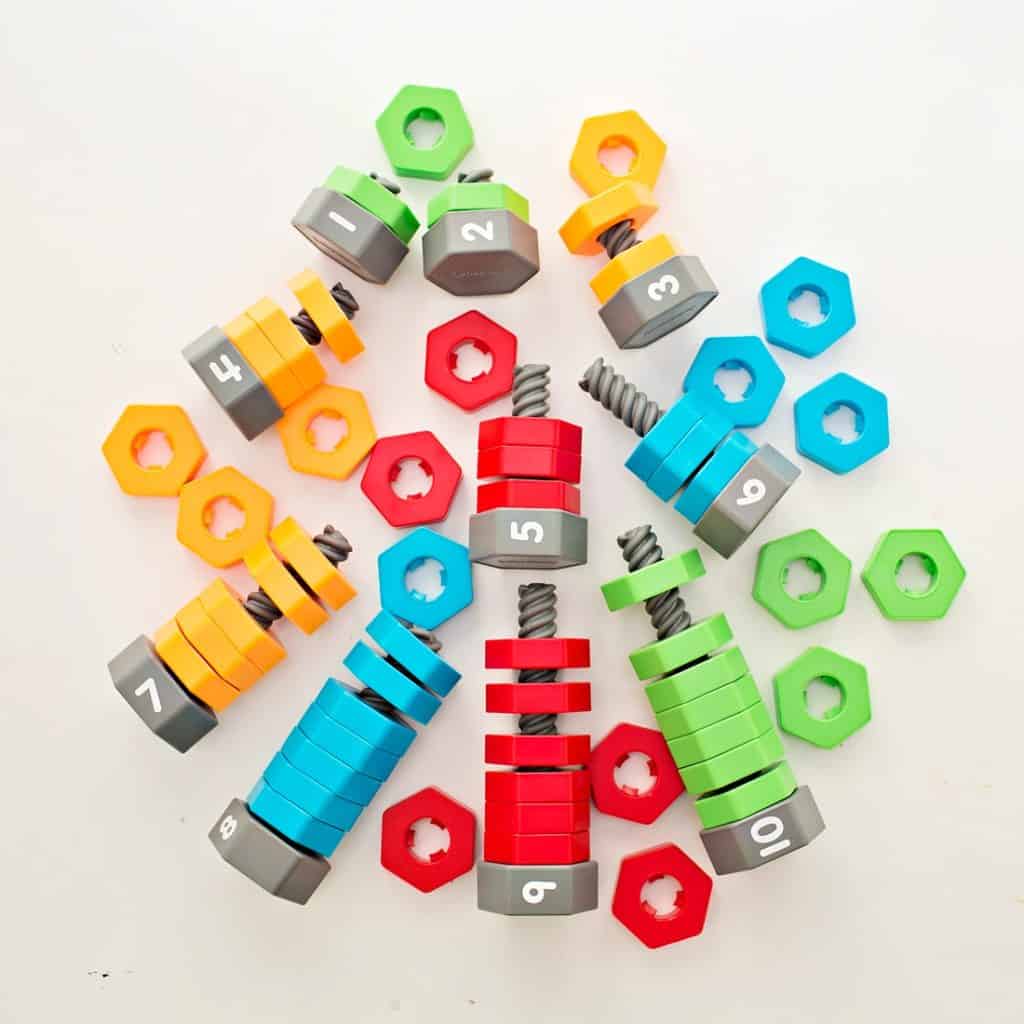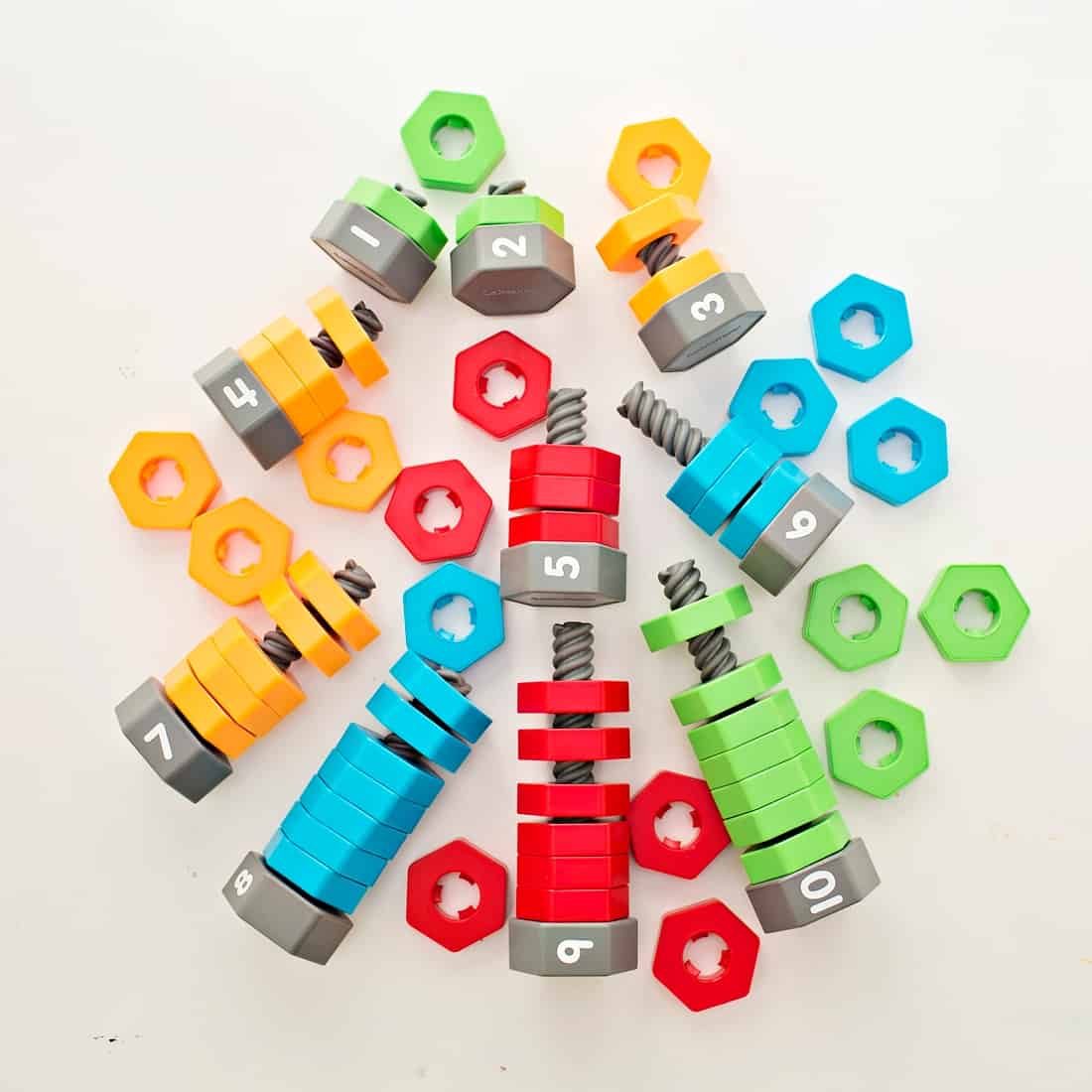 After having three children ranging in ages currently from baby to early tween, we've had our share of toys.
This is what I've realized over the past 10 years seeing my kids engage in play with multiple toys; the quality and types of toys you buy make a difference. I know this sounds like common sense, so I will break down exactly what we look for when buying toys for our children. Here are our guidelines:
Quality craftsmanship and materials
Multi-purpose use. Fun to play along multiple ways with educational twists a win
Ability to engage various age groups and genders, not confined to a narrow age or made for "boys" or "girls"
Void of loud electronics or branded content/characters (e.g. based on movies or pop culture)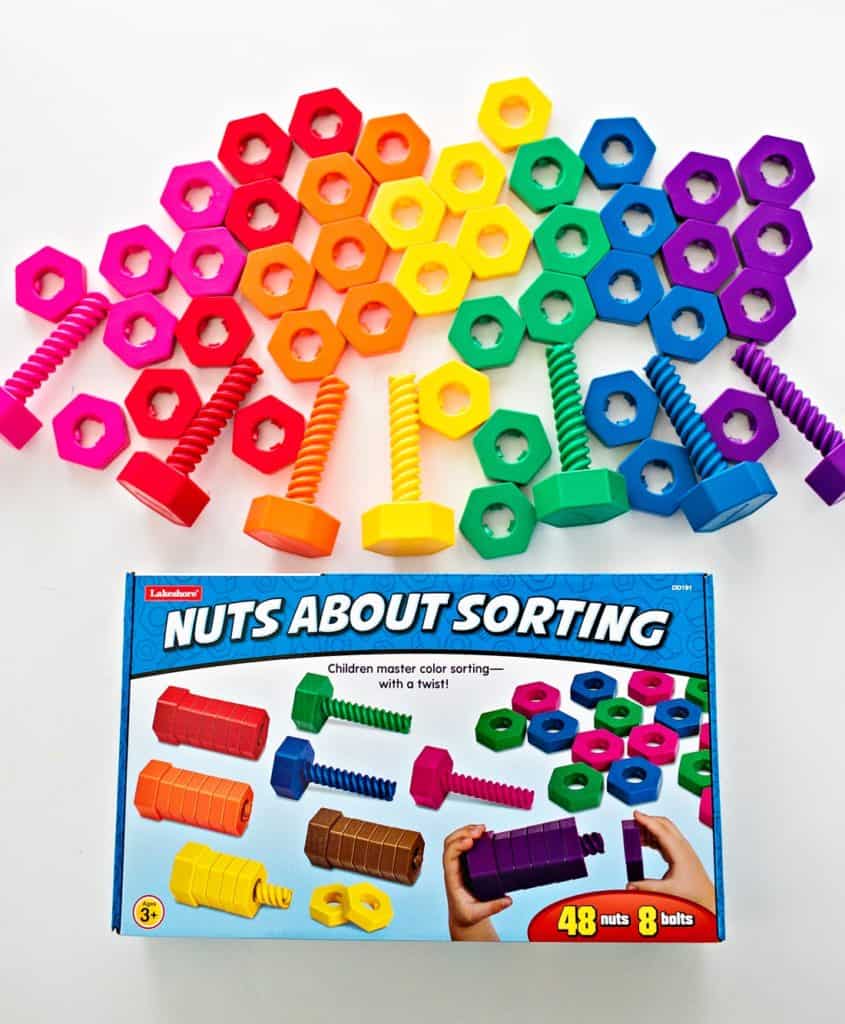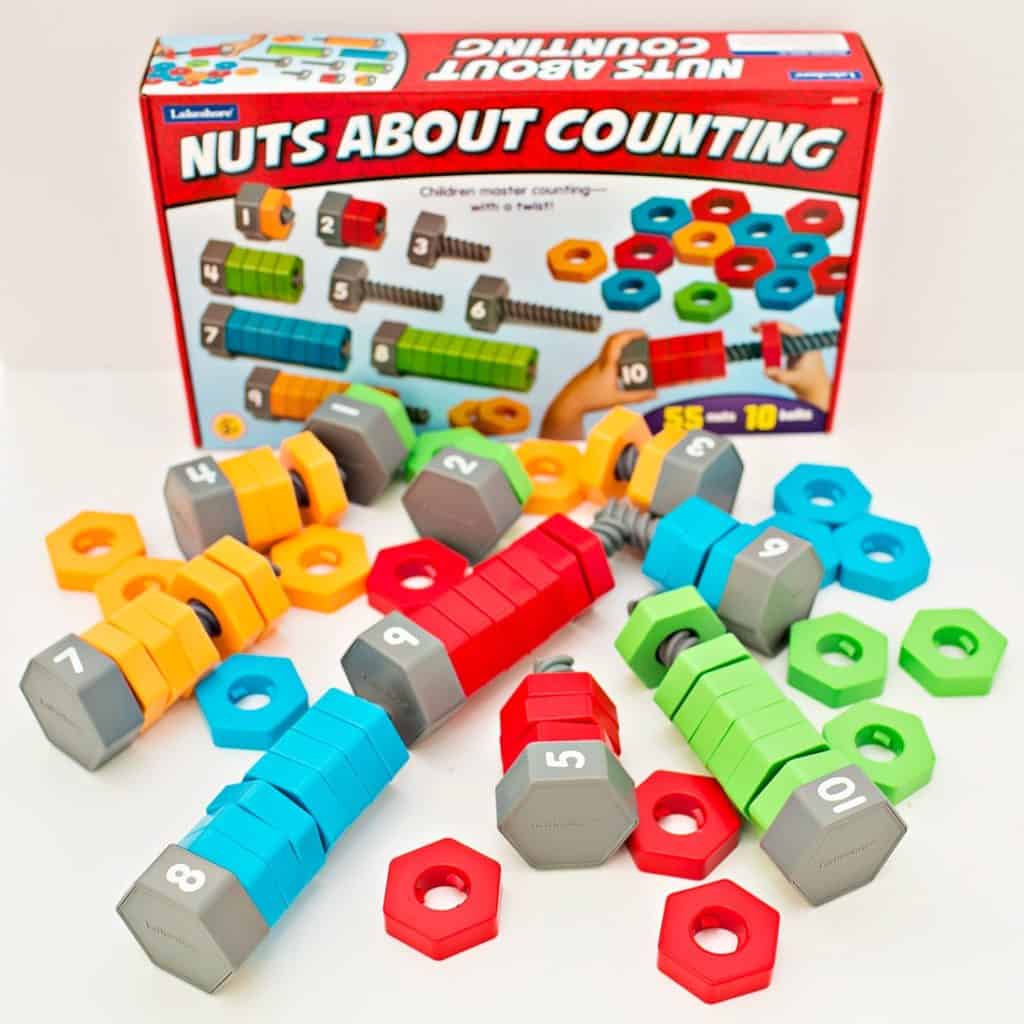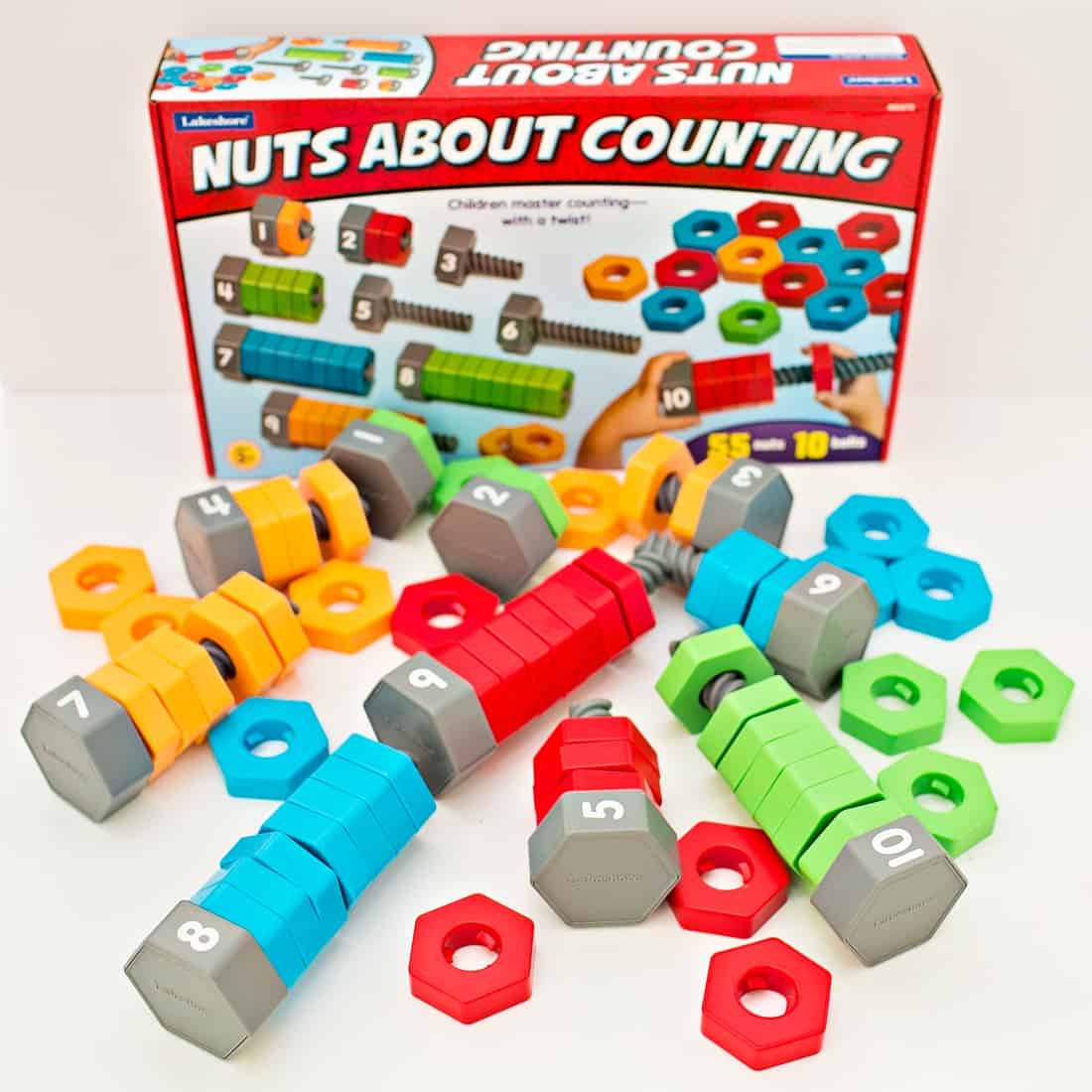 We've been huge fans for years of Lakeshore Learning toys because they hit on all the above guidelines we look for in quality, timeless toys.
We appreciate that Lakeshore Learning toys are created by former teachers with education in mind, but also encourage learning through play. The quality is always top-notch and you won't find broken parts, or loud blaring electronics in many of Lakeshore Learning's durable, and award-winning educational toys.
I'm so excited to announce I've been chosen as an ambassador for their team this year to highlight my favorite Lakeshore Learning products. As I'm extremely choosy over what products I feature, I have yet to become an ambassador for any brand, as my criteria for quality is high. My family and children truly are fans of Lakeshore Learning products so I'm excited to share with you our love for their high quality educational toys.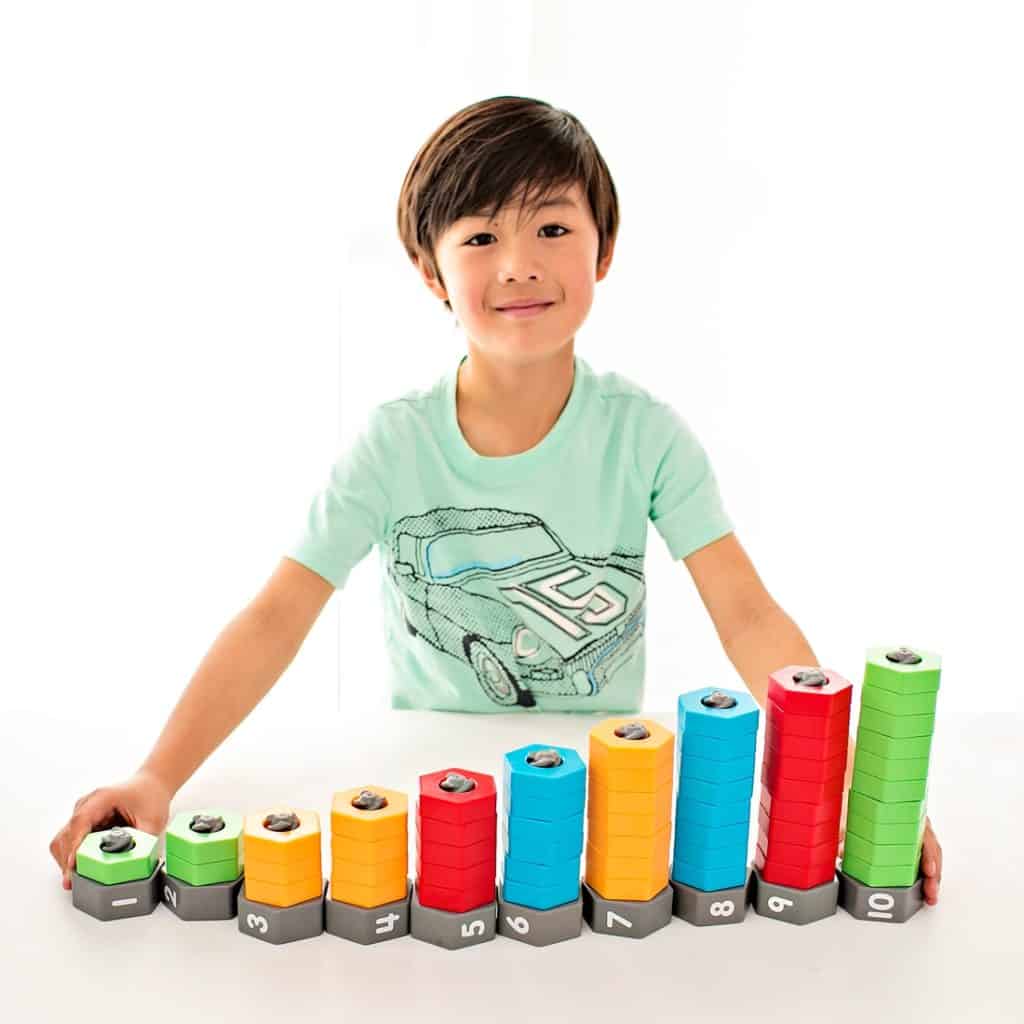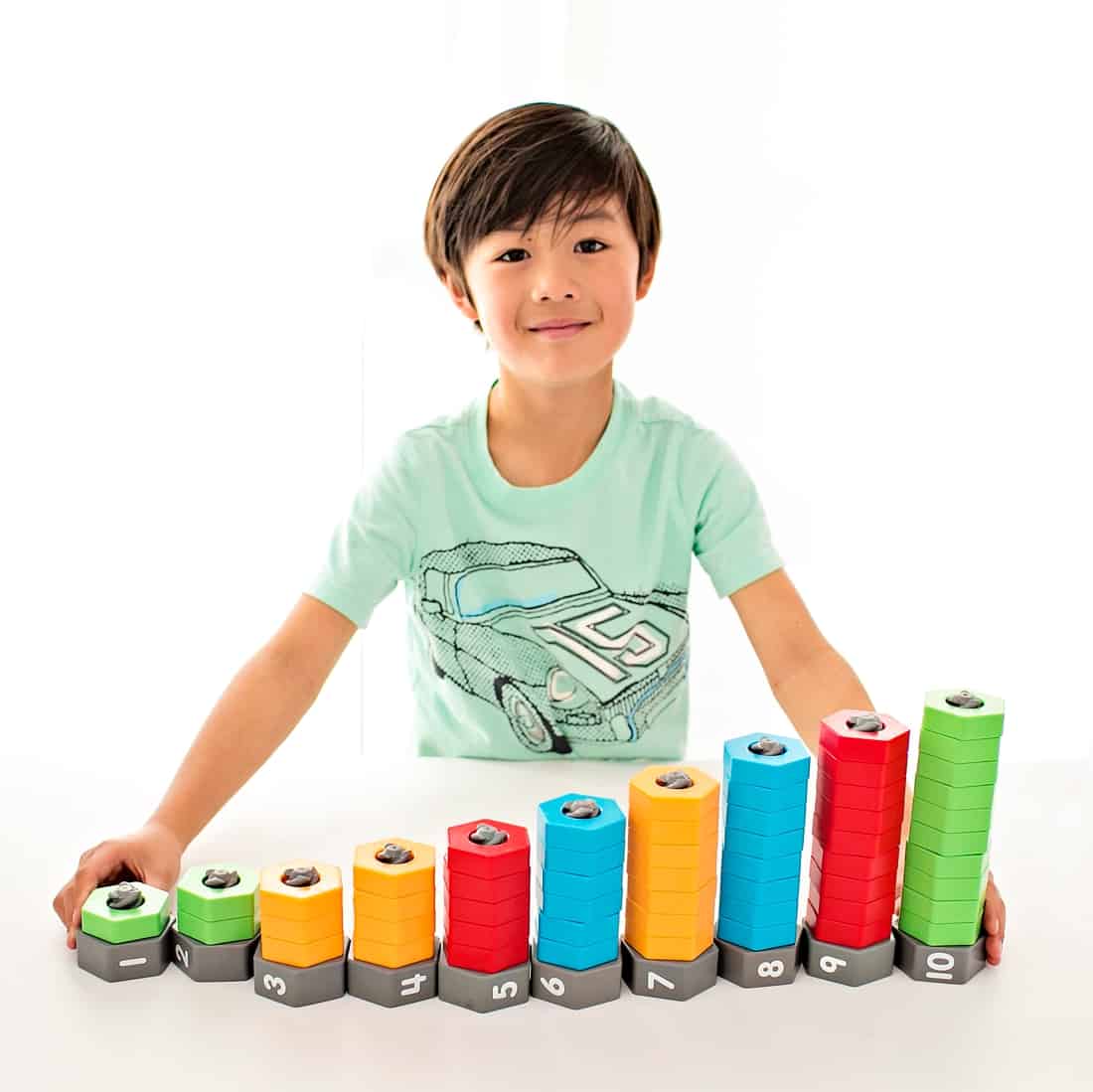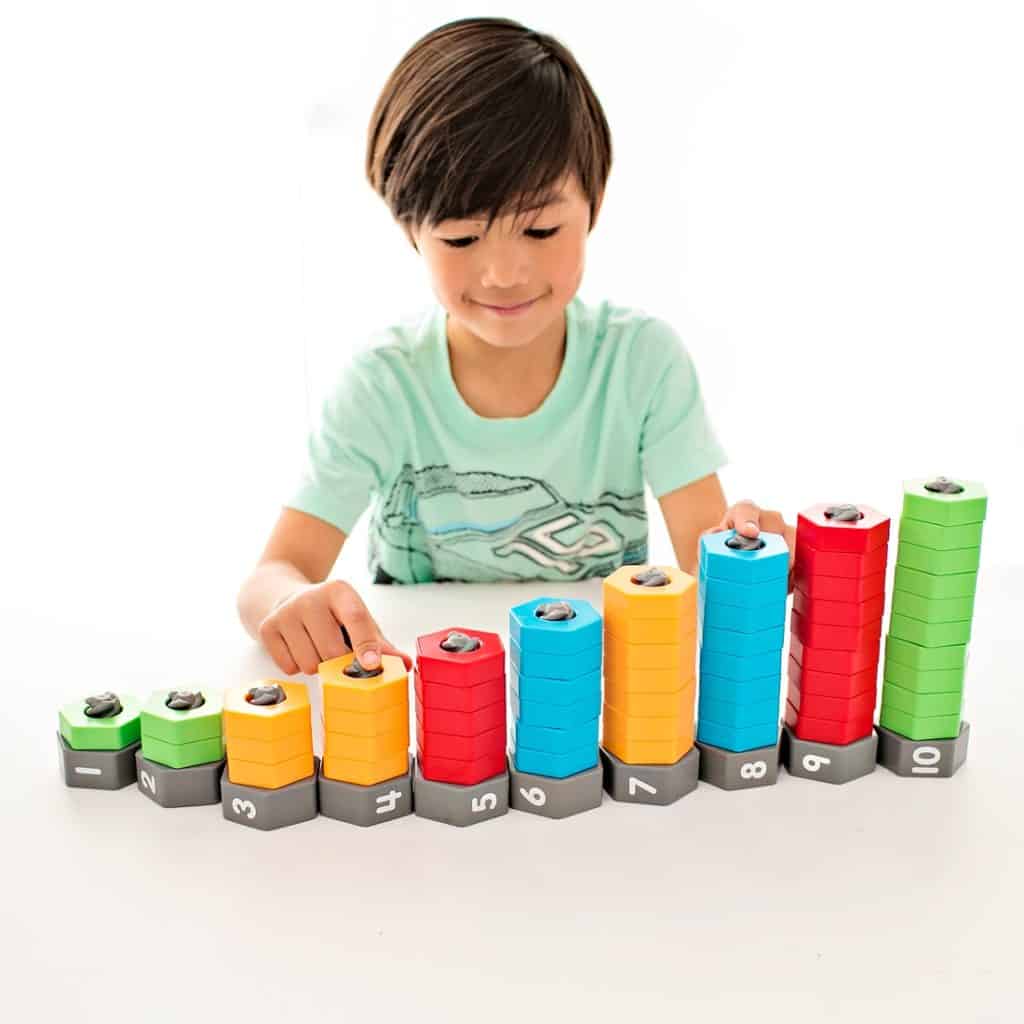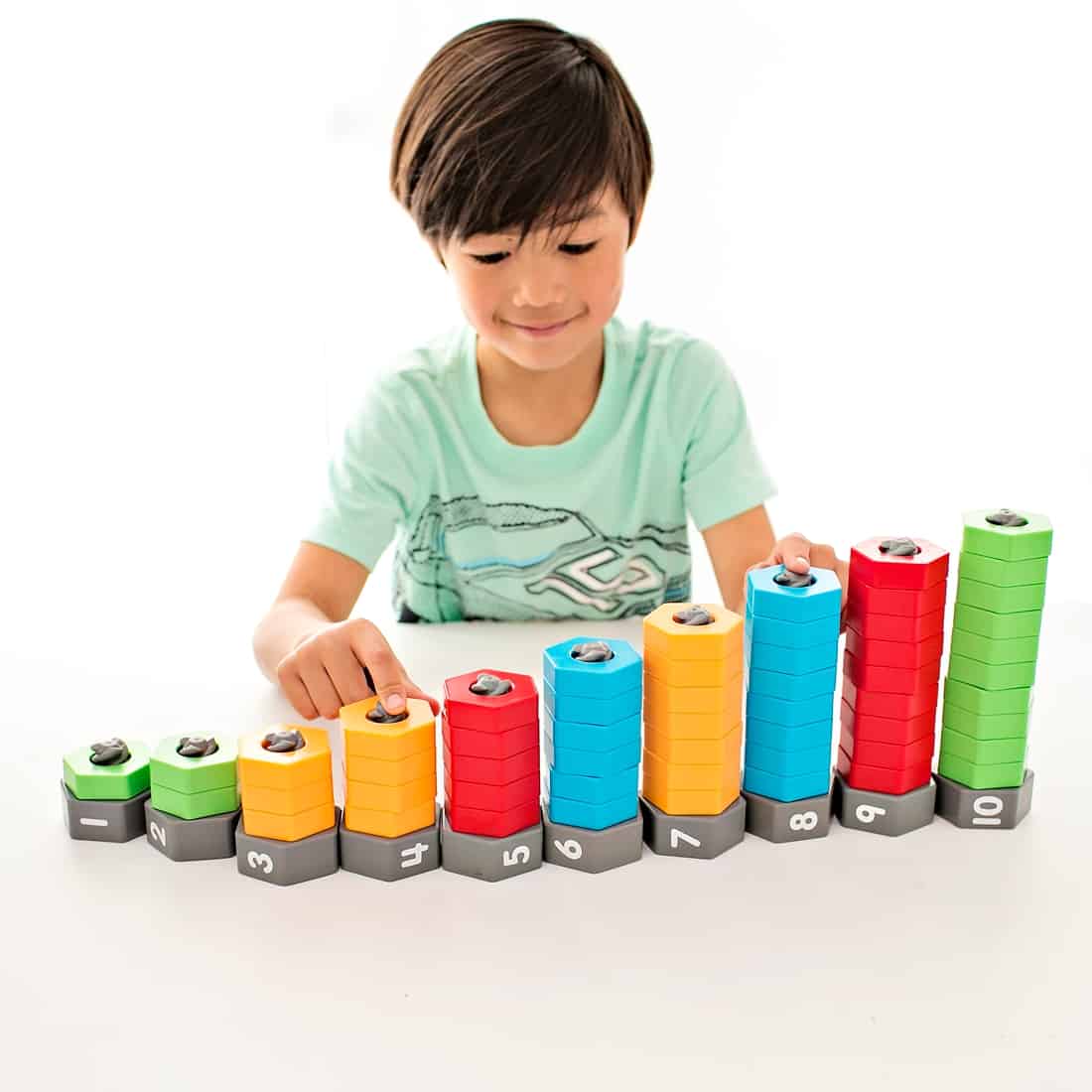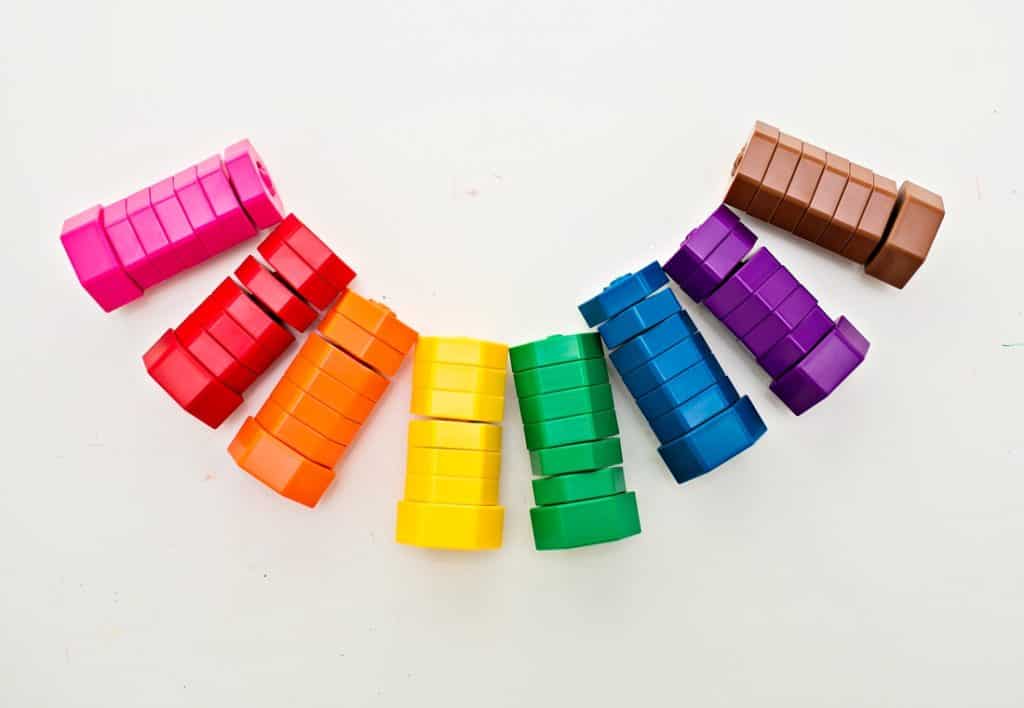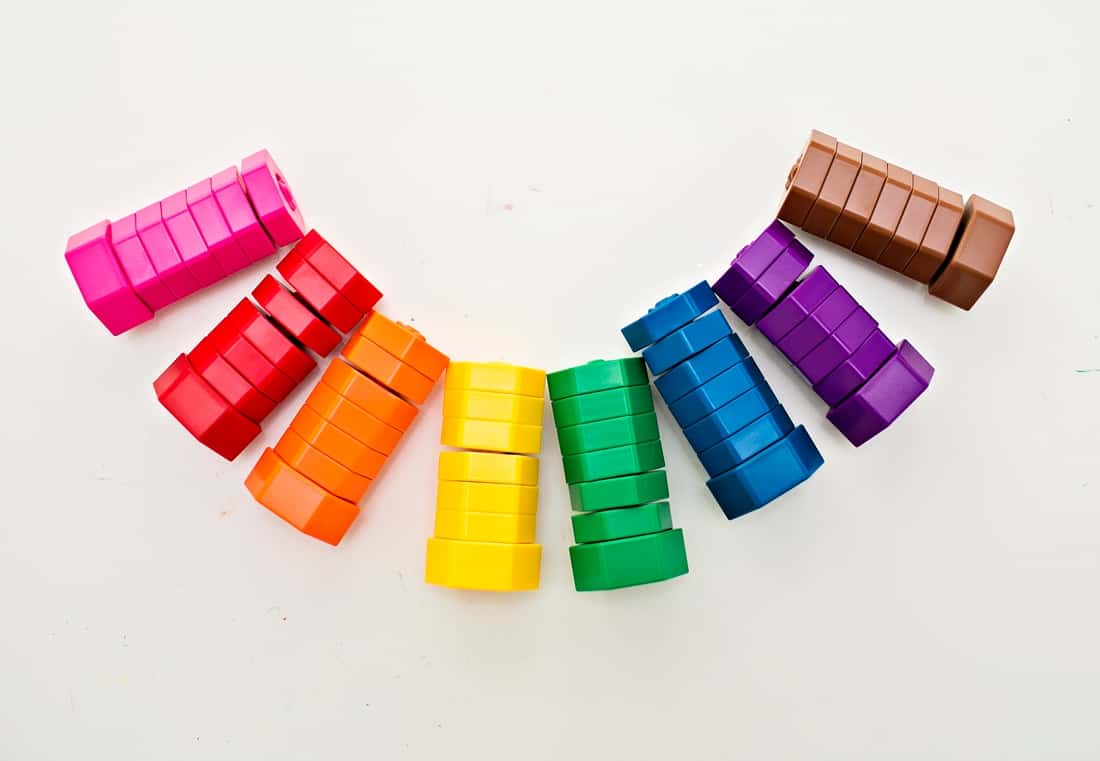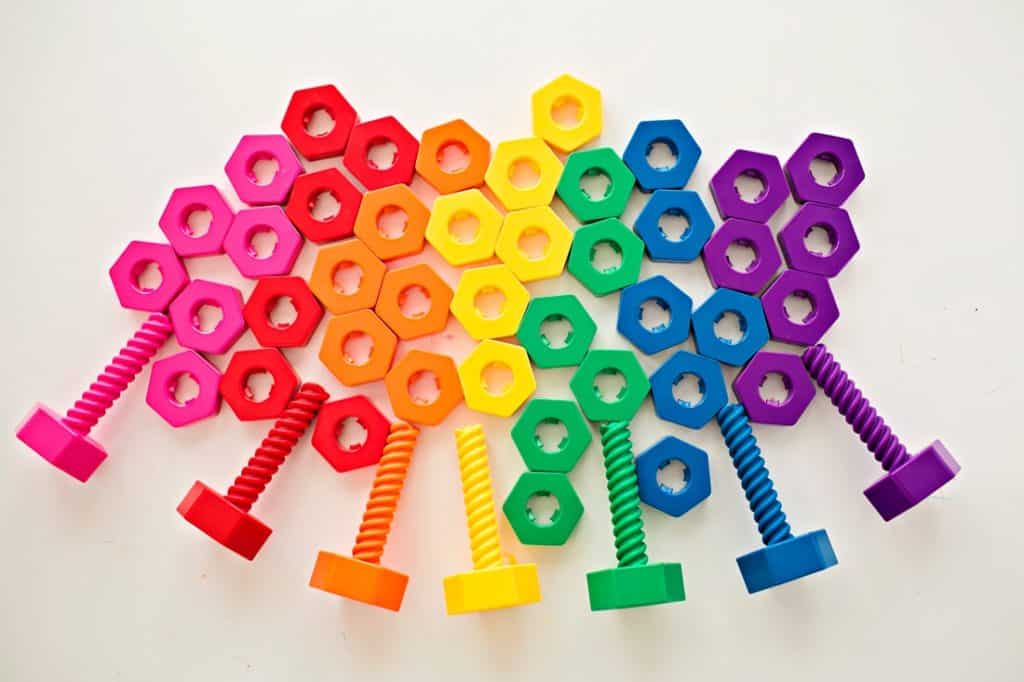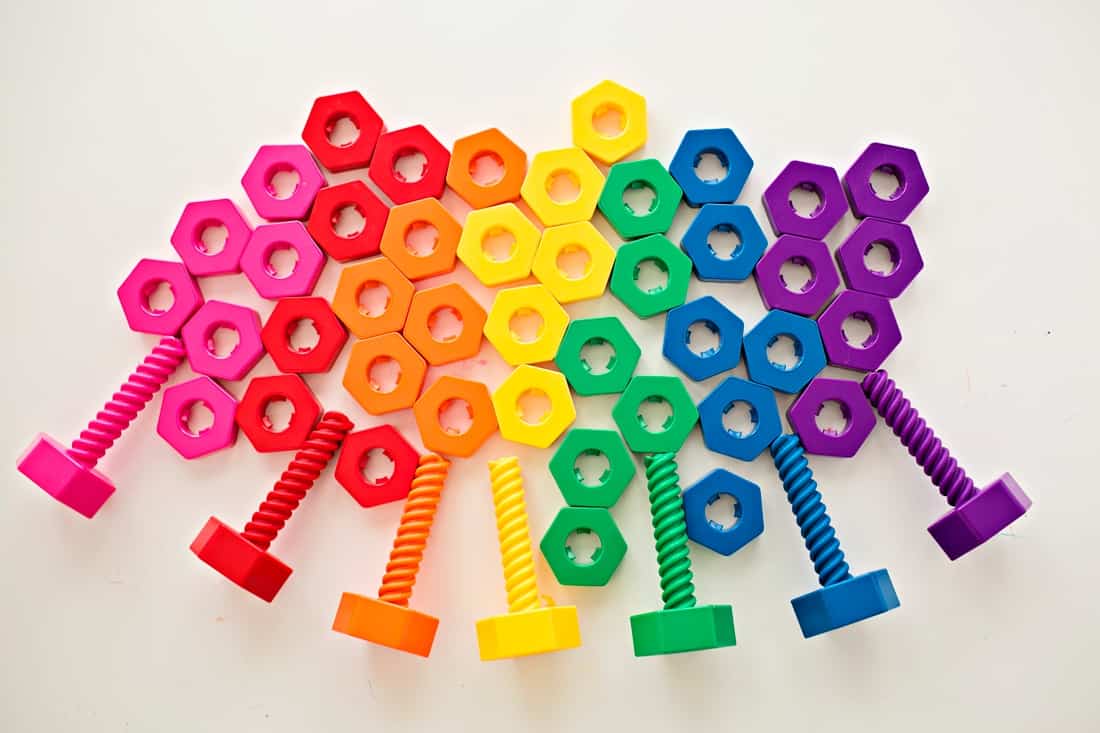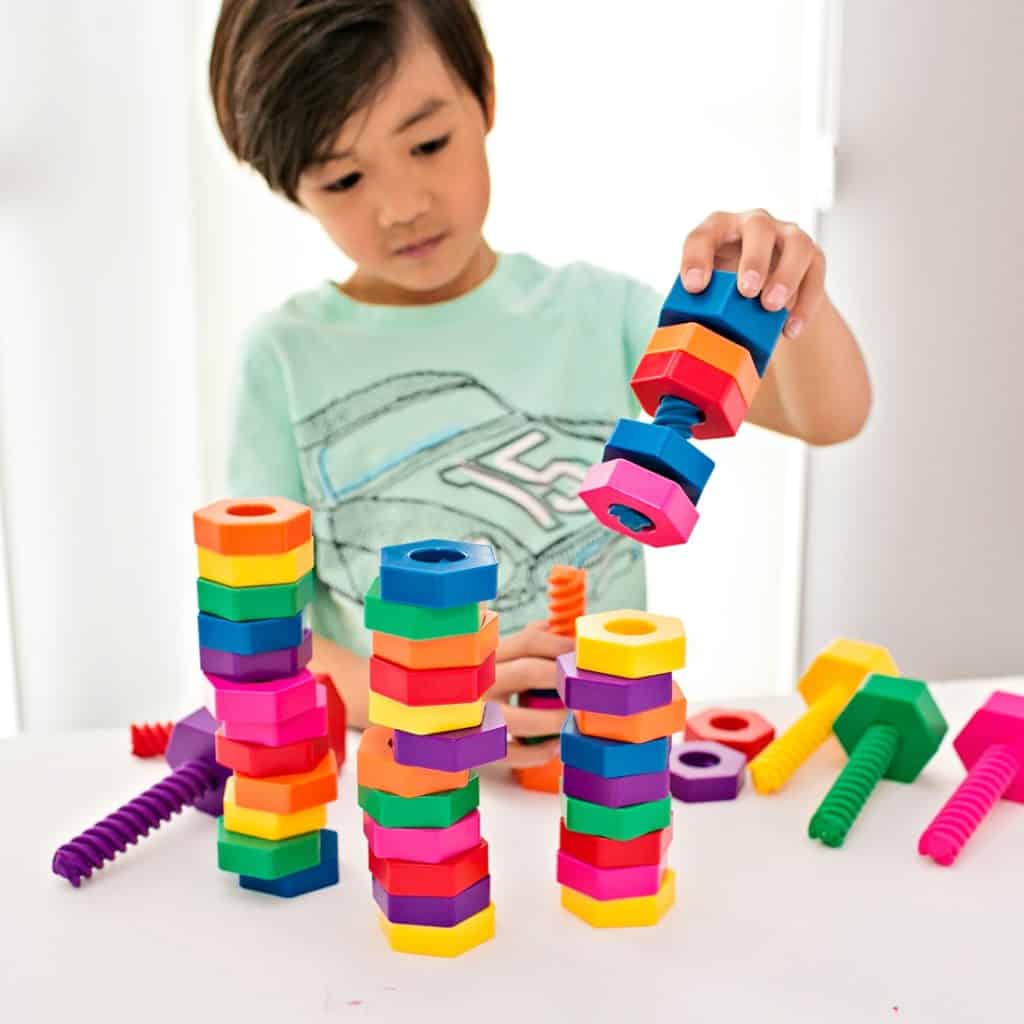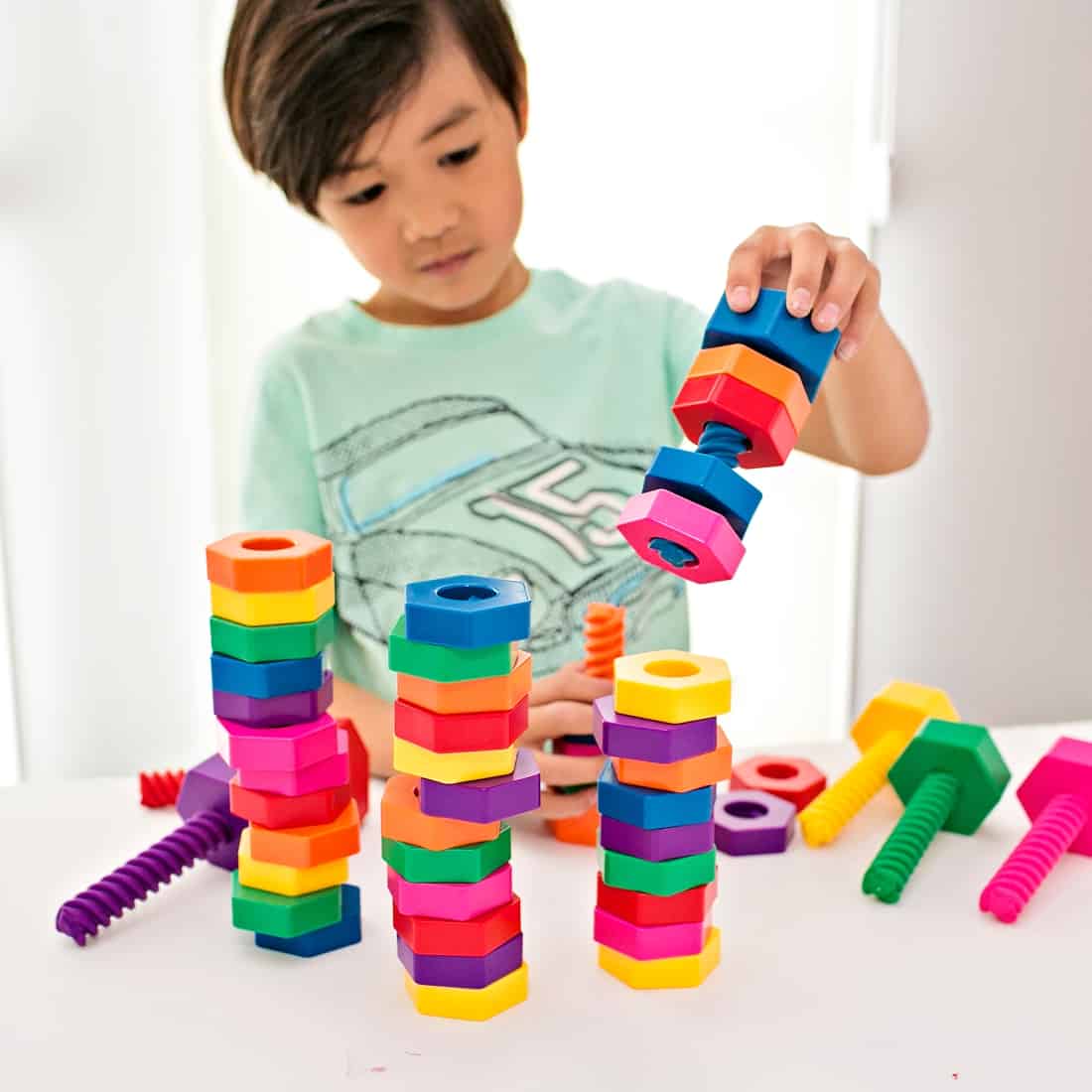 First up are these beautifully constructed Nuts About Counting and Nuts About Sorting learning toys.
You can scroll all the way down to watch the video of all the multiple and fun ways to play with these nuts and bolts.
Now, if you have kids who love to tinker and take things in and out like my son, yours will love the concept of screwing and unscrewing nuts and bolts. This is great for building those fine motor skills!
What appealed us as well are the bright colors. If your child is at the young age of learning colors these nuts and bolts are wonderful for teaching color recognition. As well, kids can build upon that learning by sorting and patterning. There is also a Nuts About Patterning toy as well but we found the color one was a great set to build upon patterns, alone.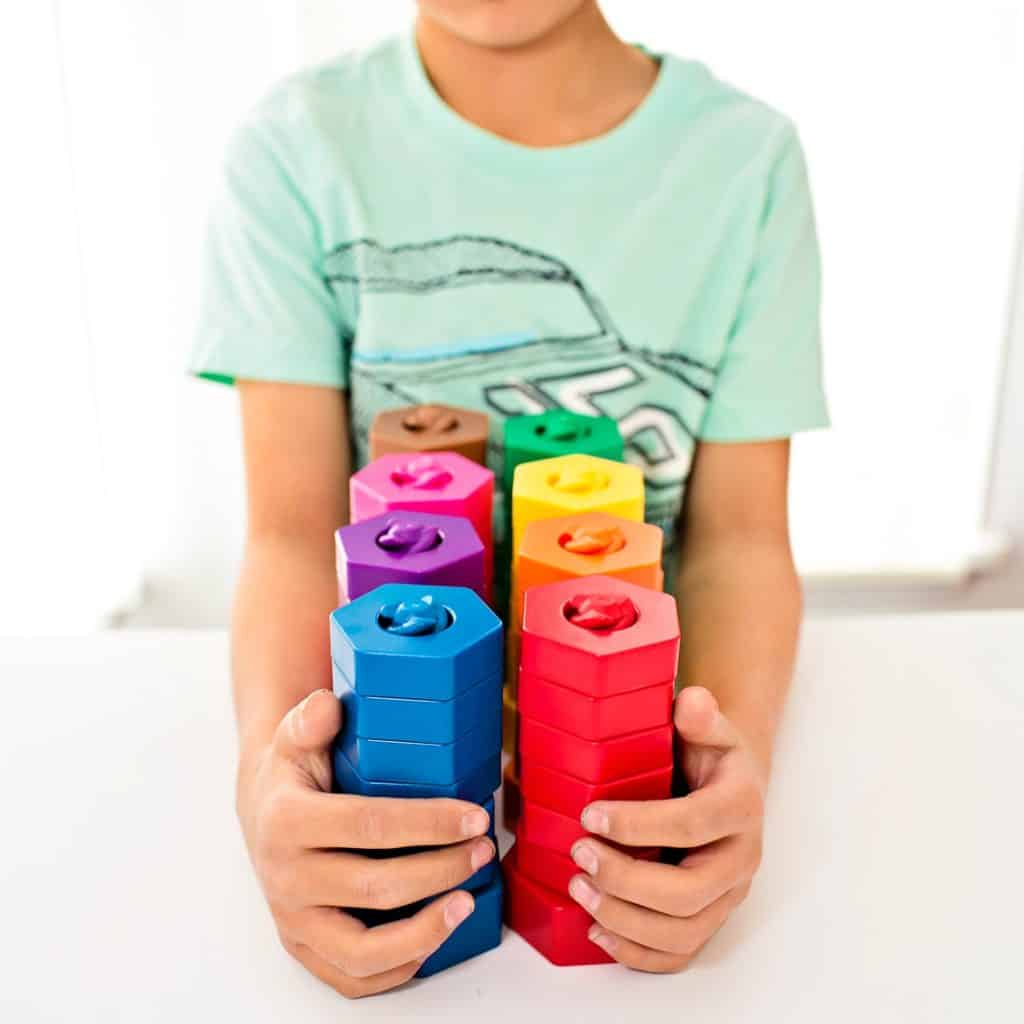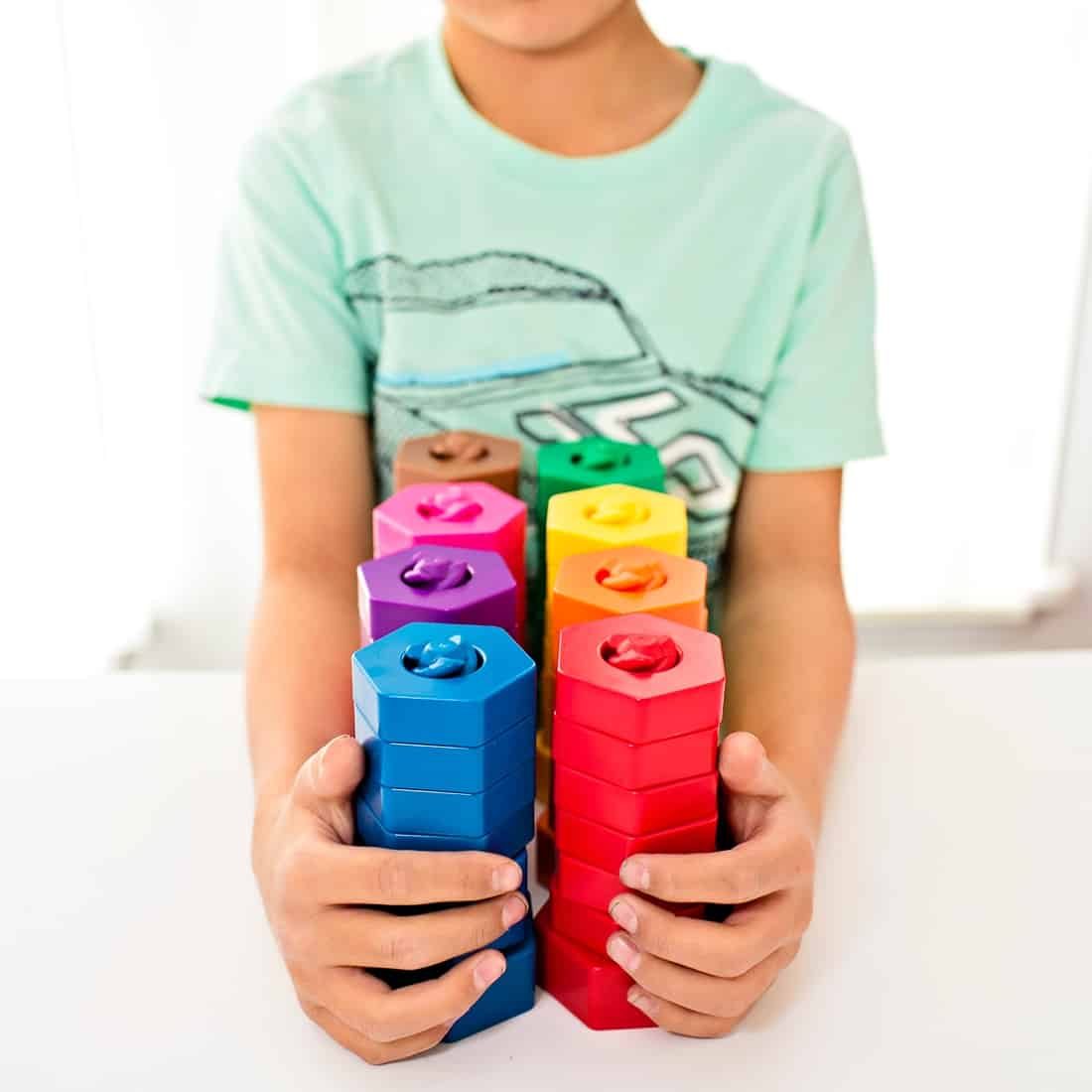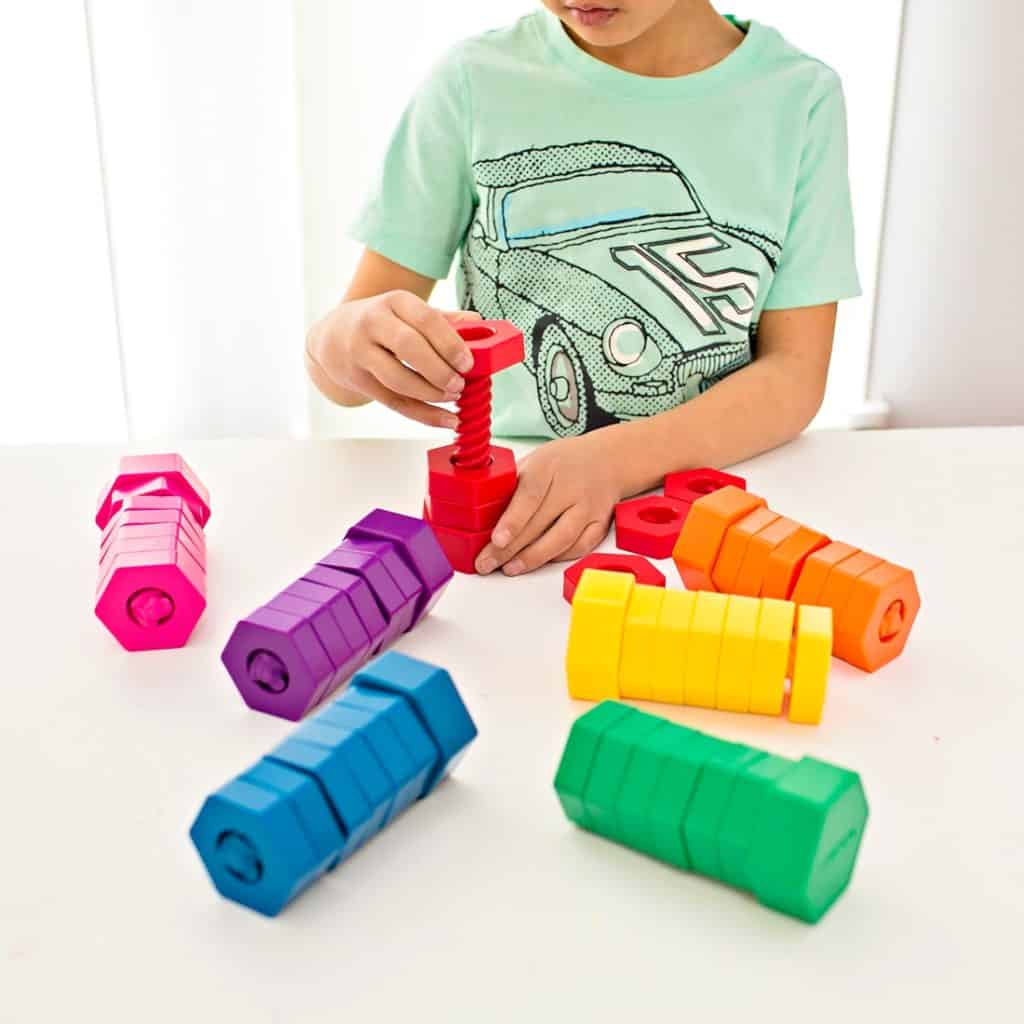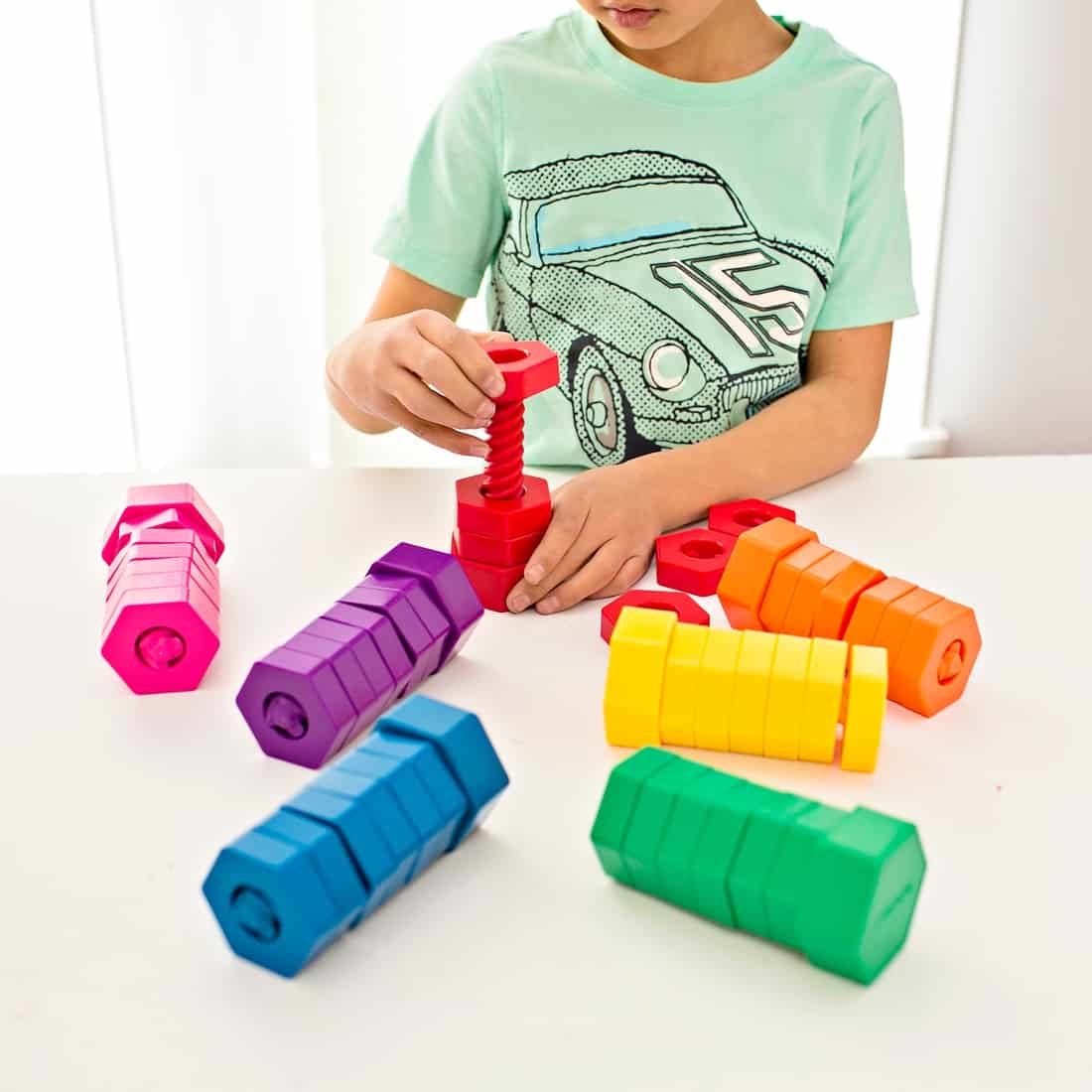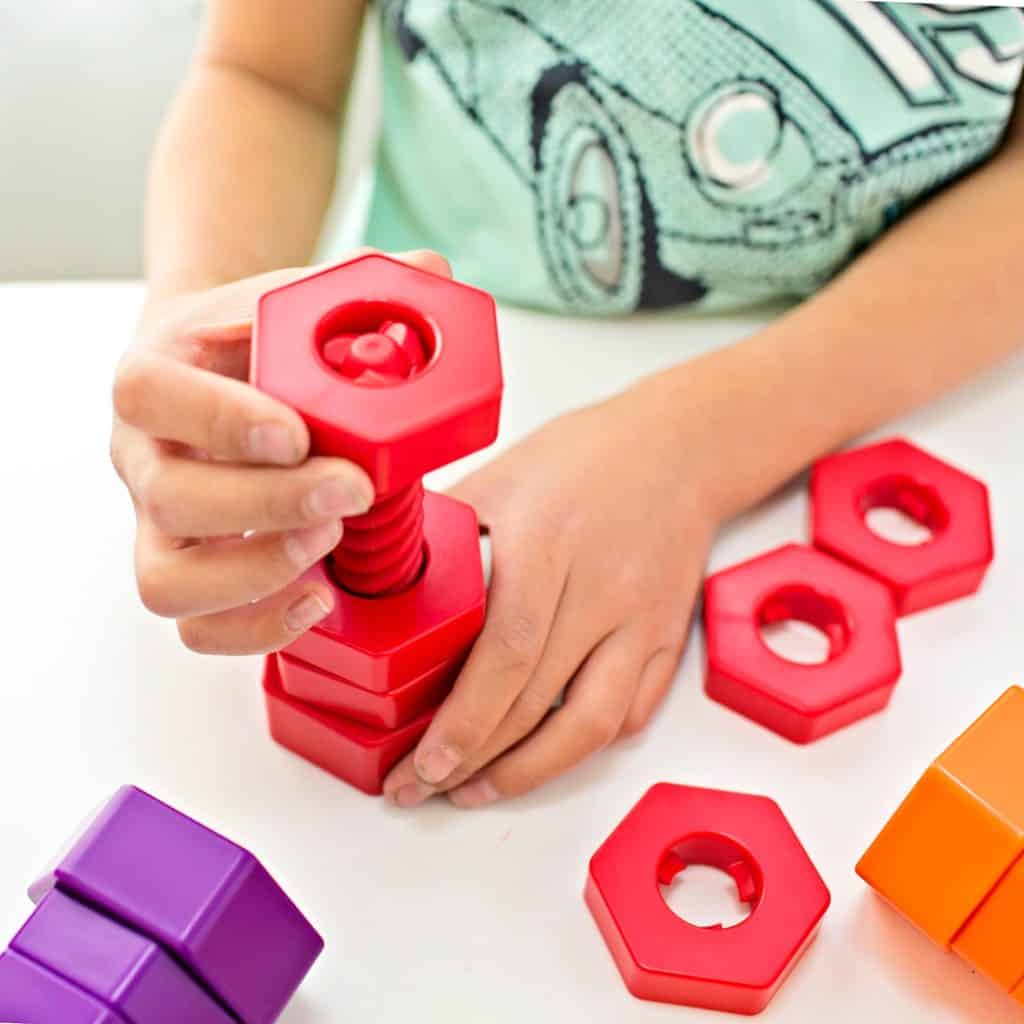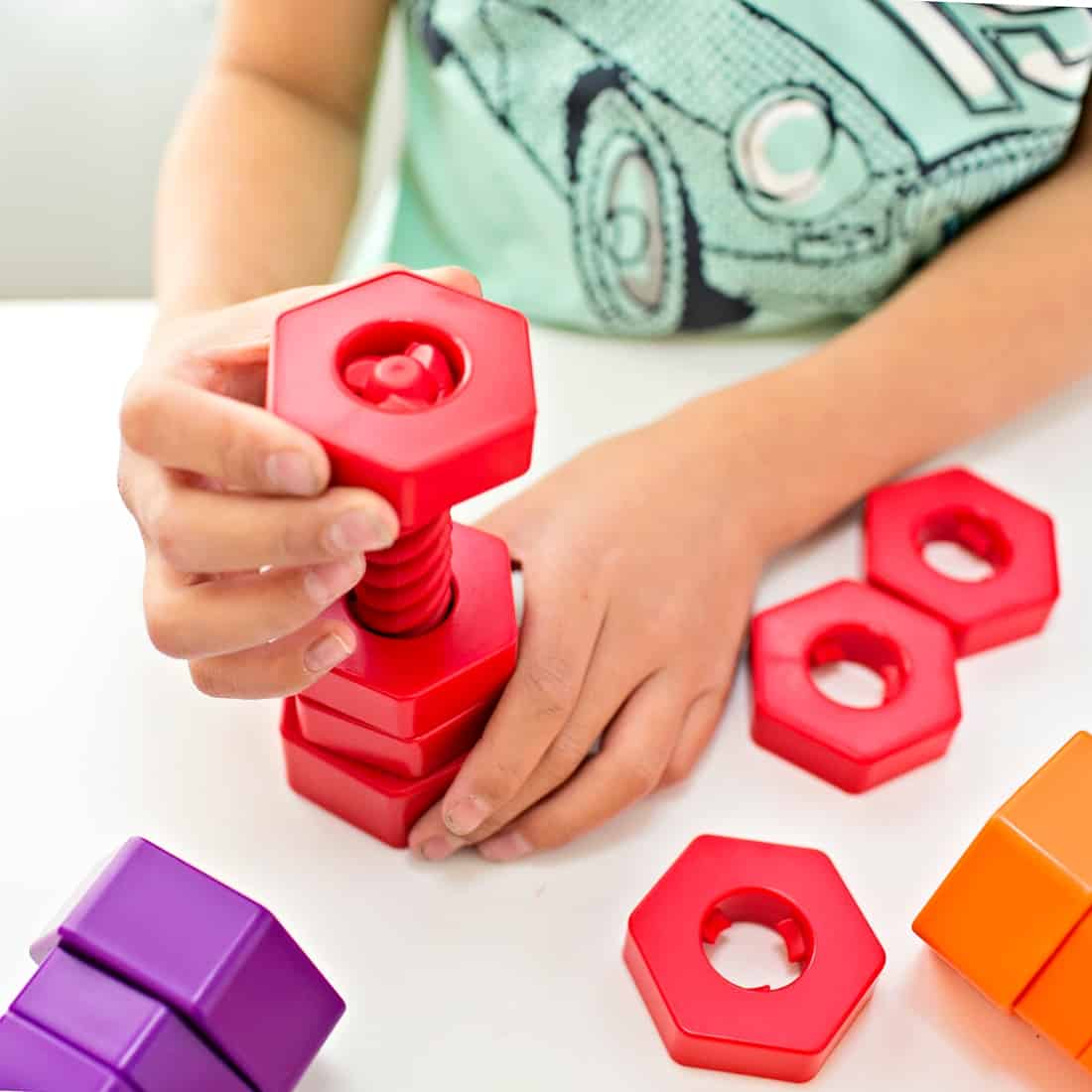 The Nuts About Counting boosts early counting skills. Just twist on the matching number of nuts to the matching number bolts. Each one holds the exact amounts so with practice, children will easily grasp the concept of counting.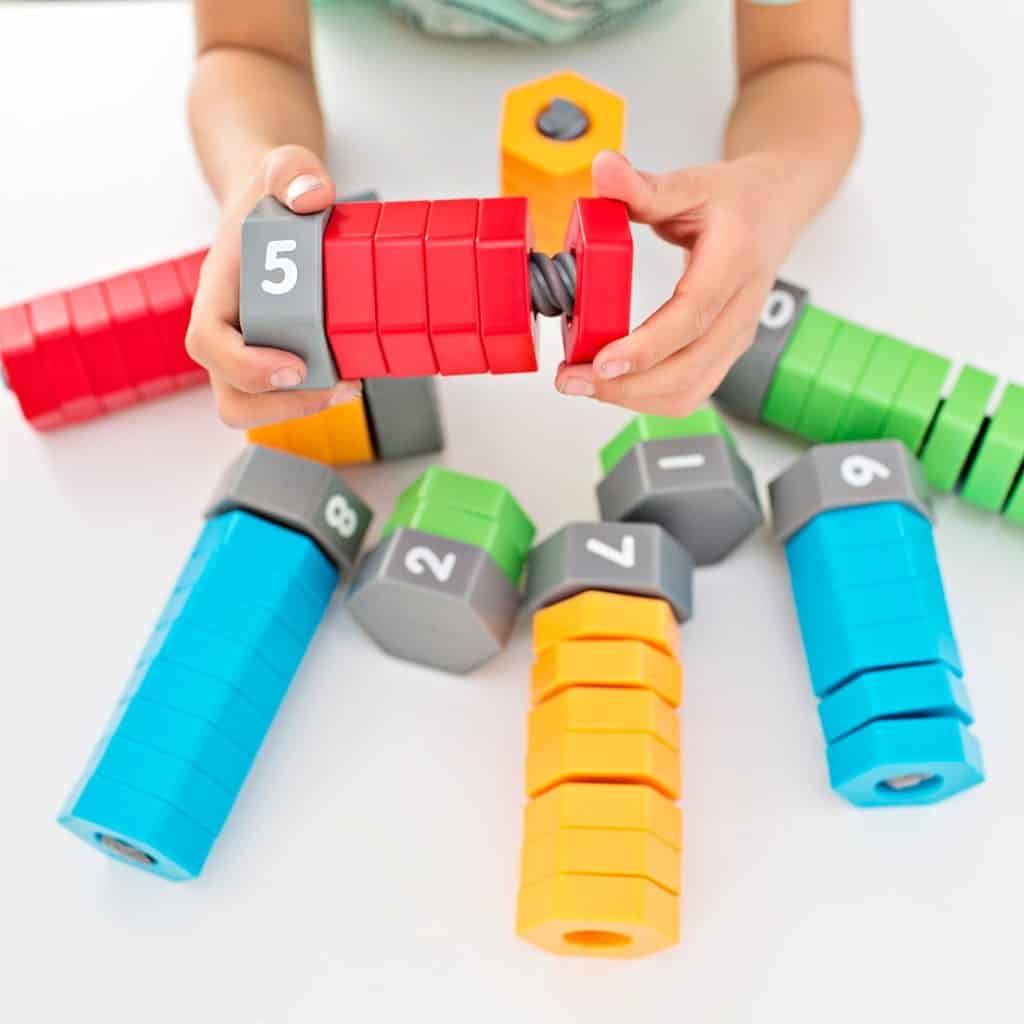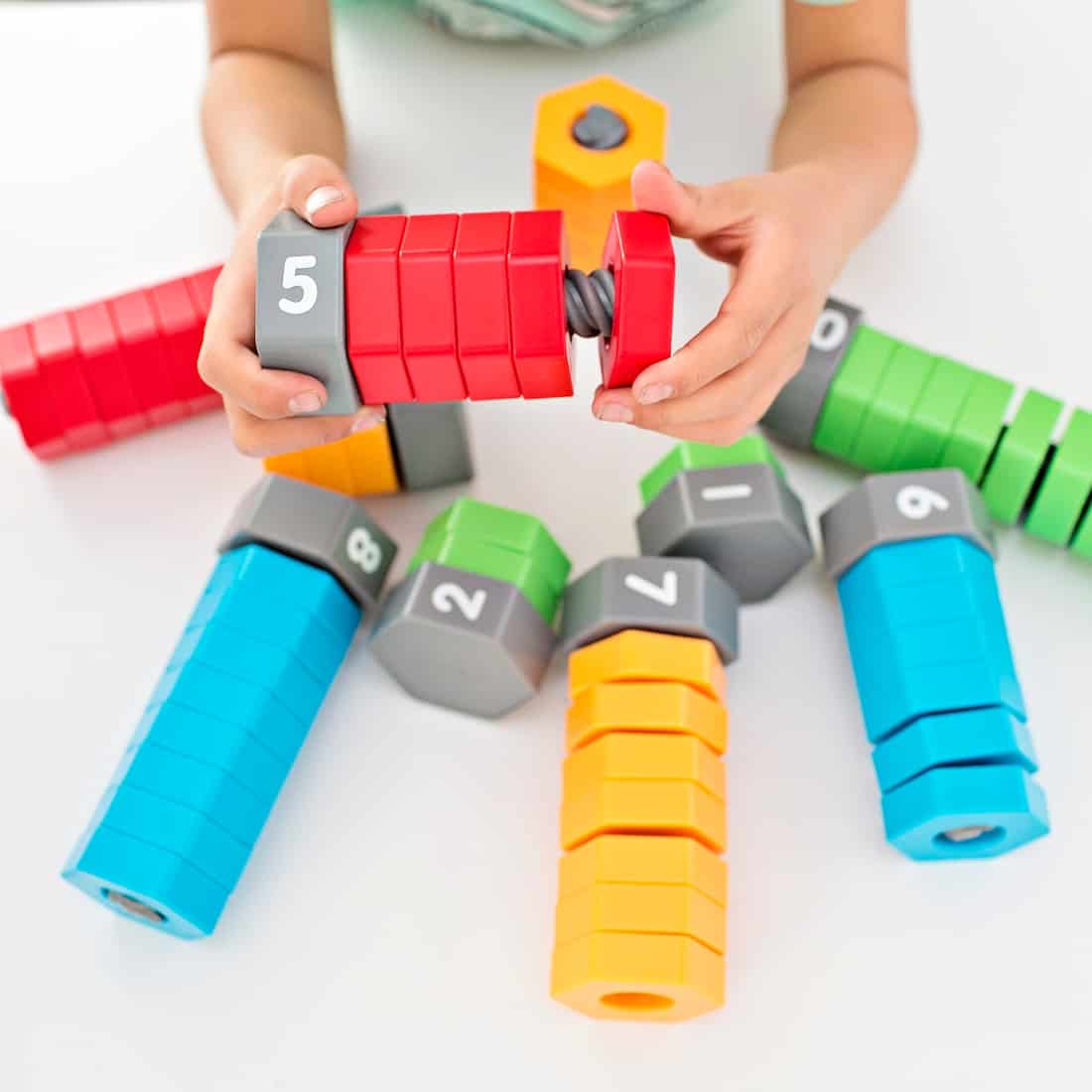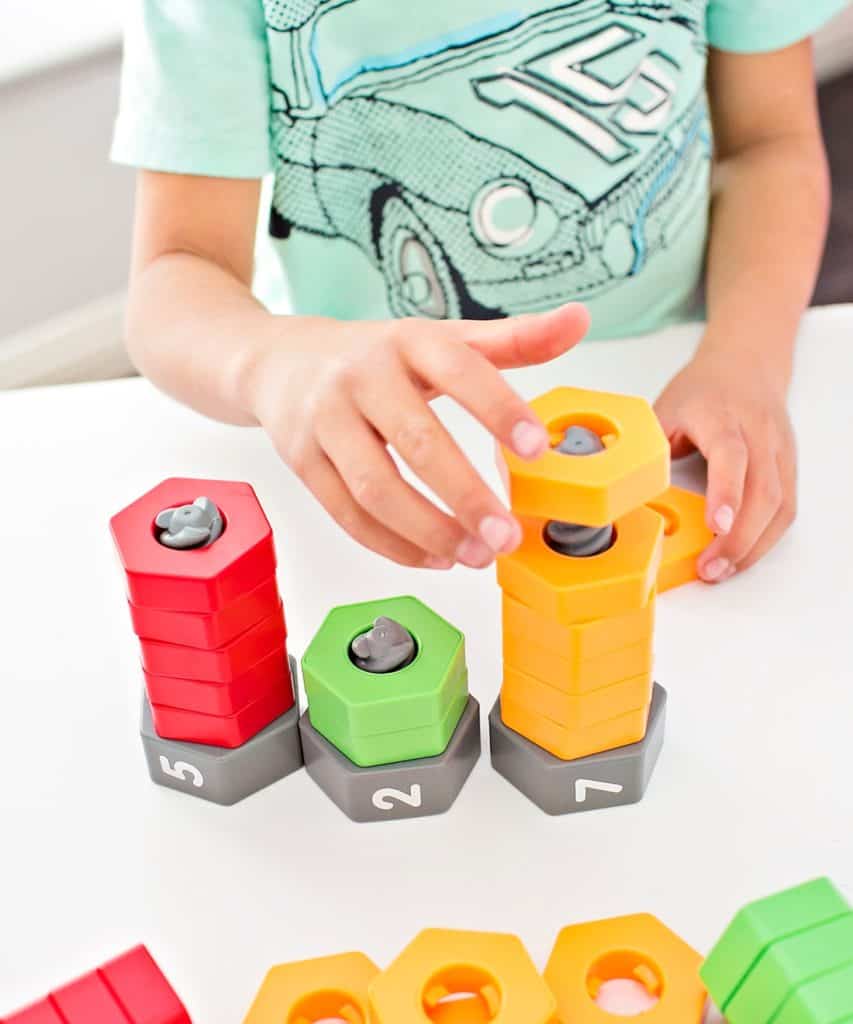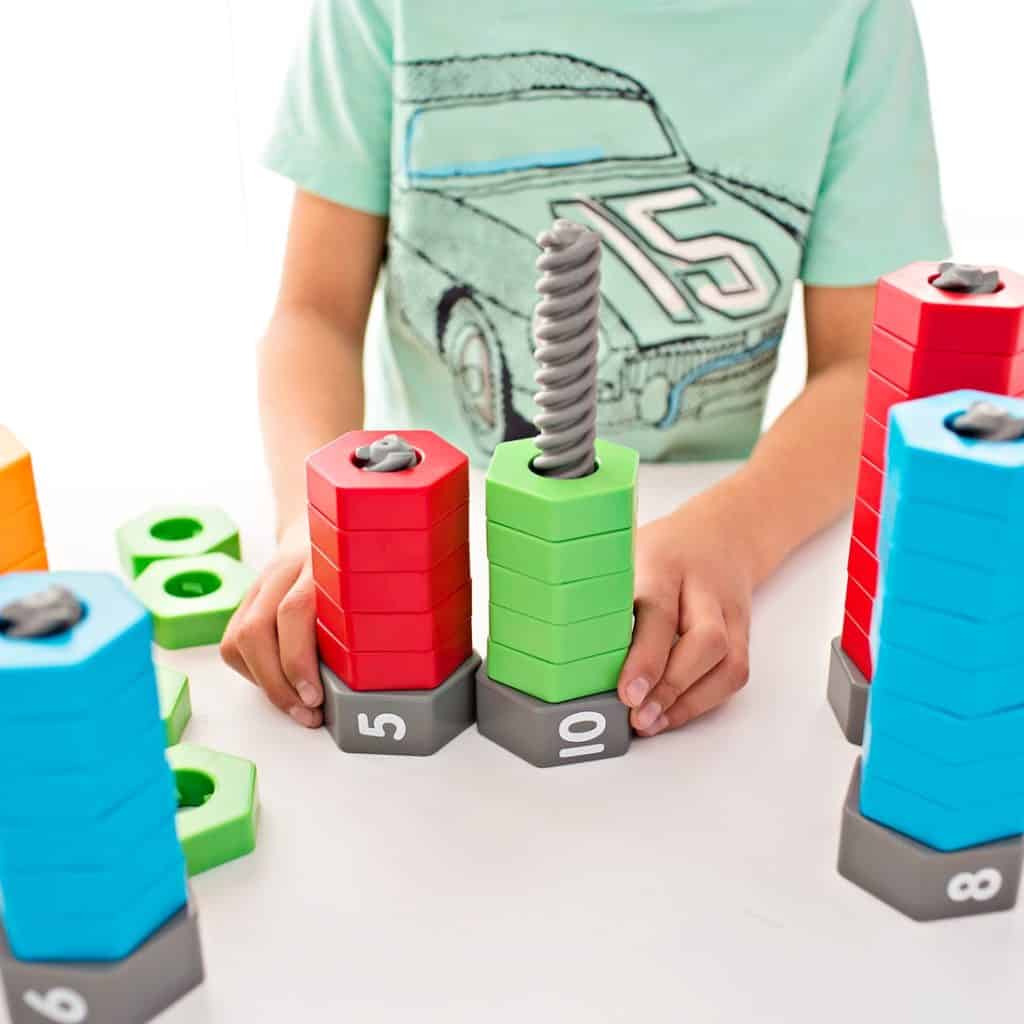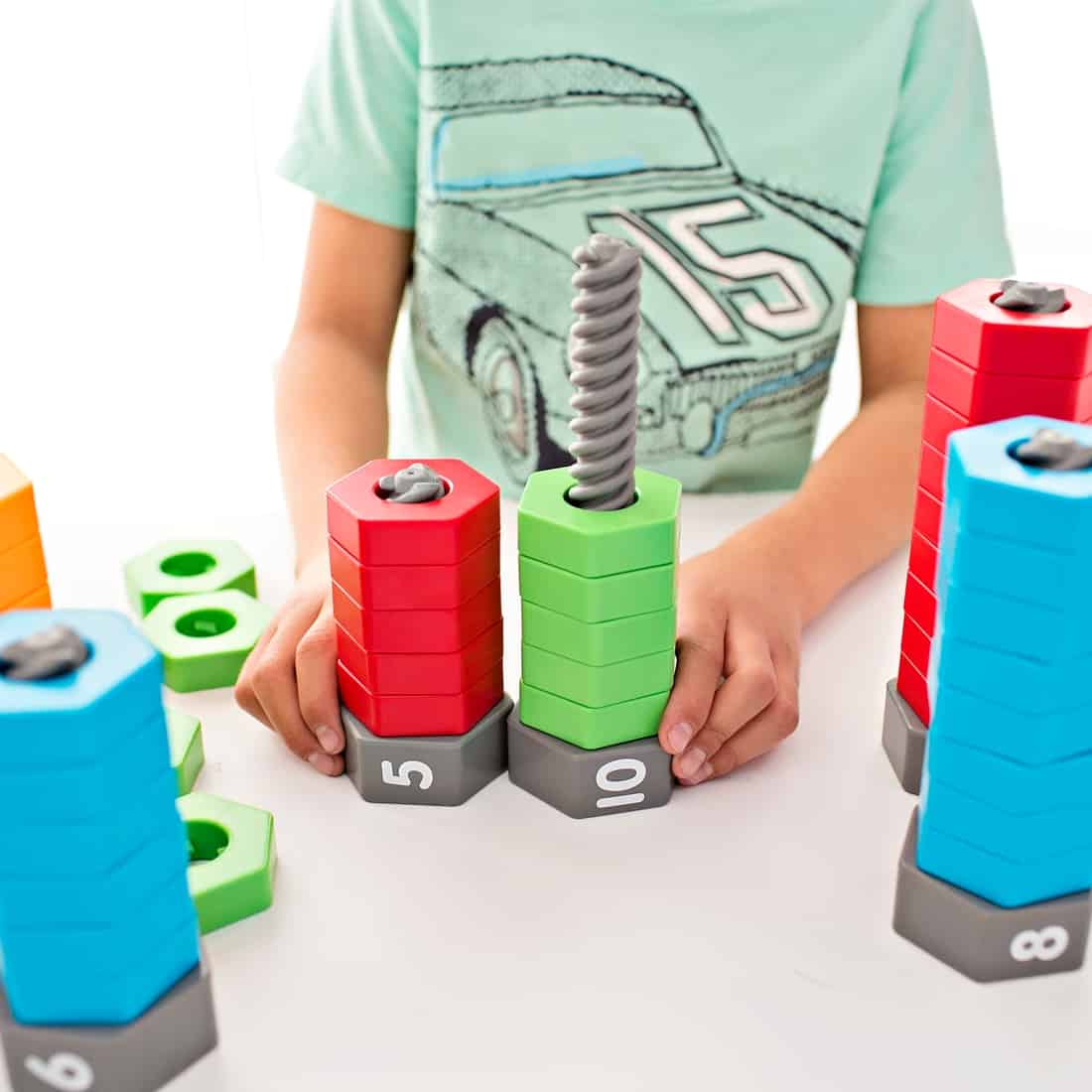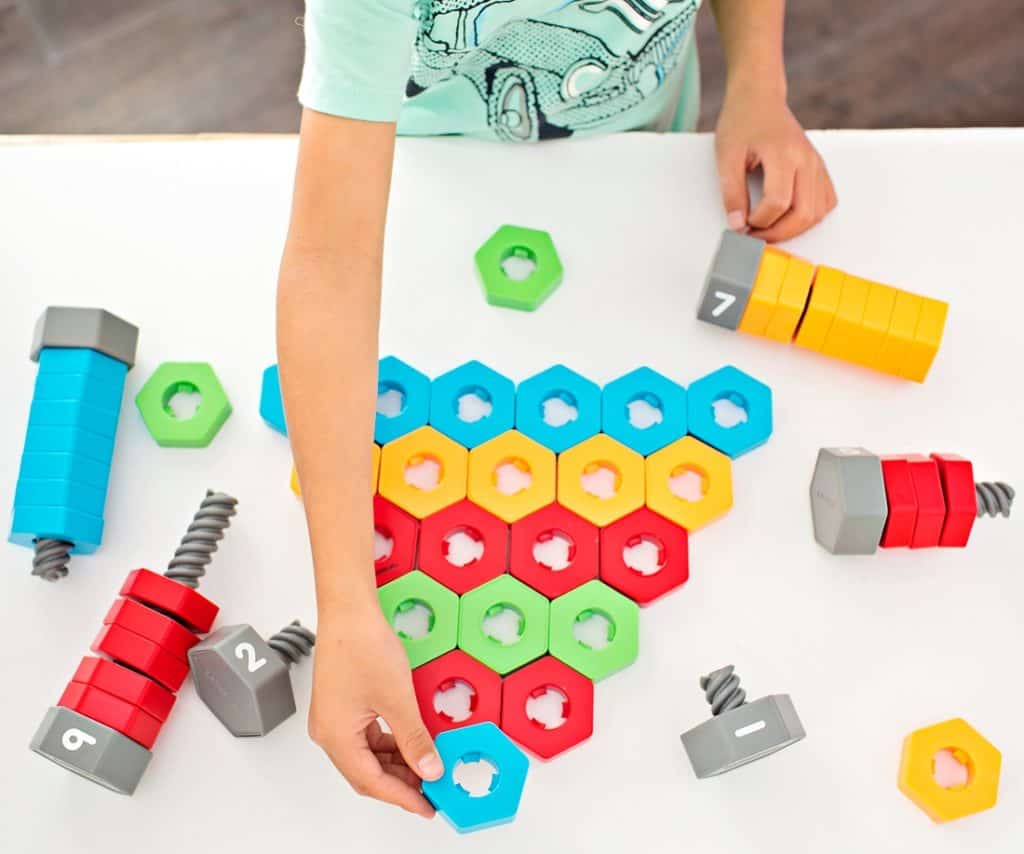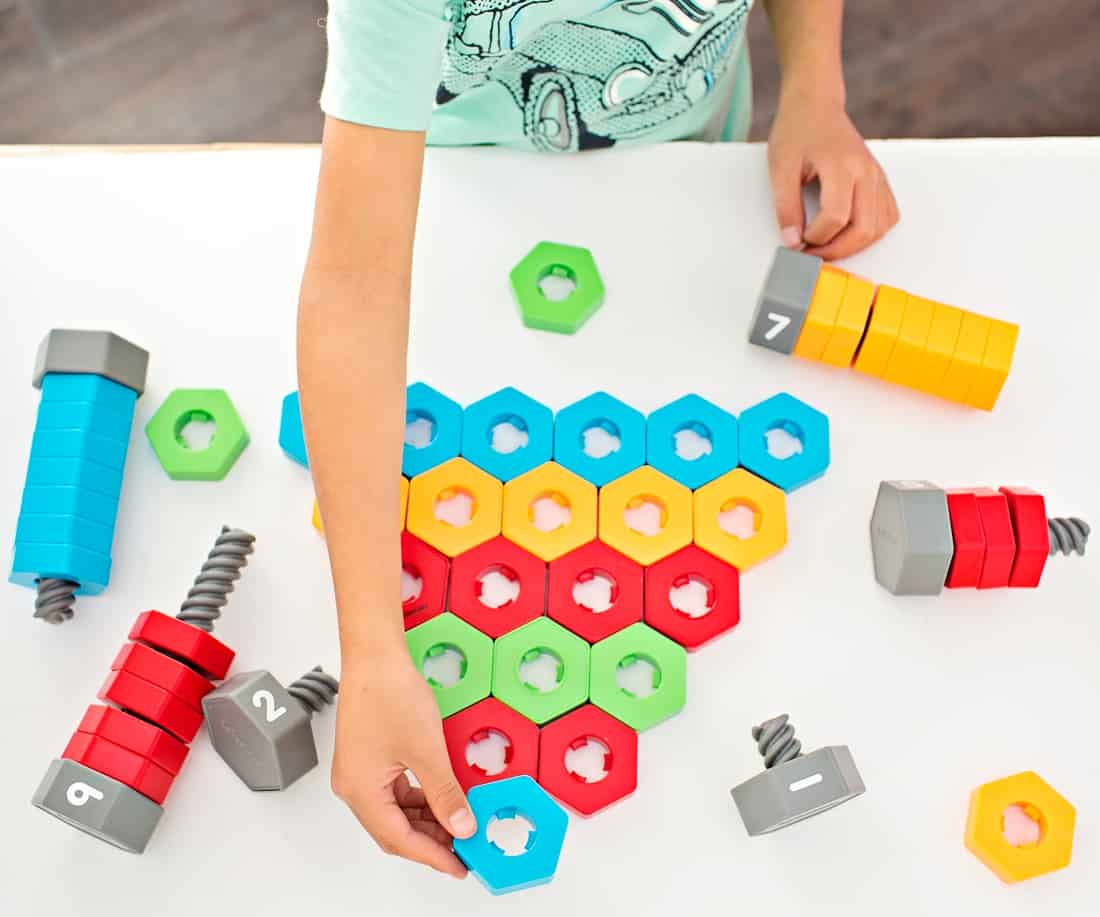 What's cool about these nuts and bolts are their fun and fast twisting ability. They twirl and spiral off easily like tornados! It's actually quite a fun motion to make. My son had a great time doing this and you can see the spiral action up close in the video below.
In addition to basic color recognition and counting, we came up with several games to play with these color and counting nuts and bolts which support why we love Lakeshore Learning toys for their multi-faceted play.
Nuts About Sorting:
Create a rainbow pattern of nuts onto a bolt
Make patterns with your nuts and bolts (e.g. two reds, followed by two greens, and two more colors etc)
Create a mandala and mirror image of matching colored nuts
Build towers, how far up can you stack the nuts?

Challenge your fine motor skills by spiraling a tower of nuts into another tower, connecting them. How any connected towers can you make before they all come crashing down

Build structures and "bulldoze" them down with bolts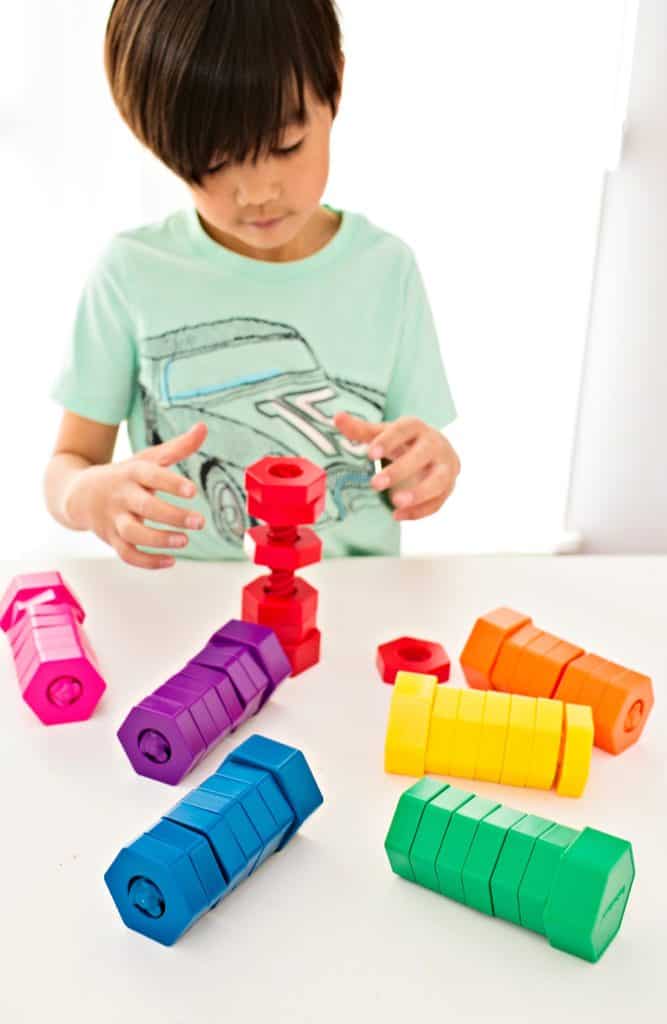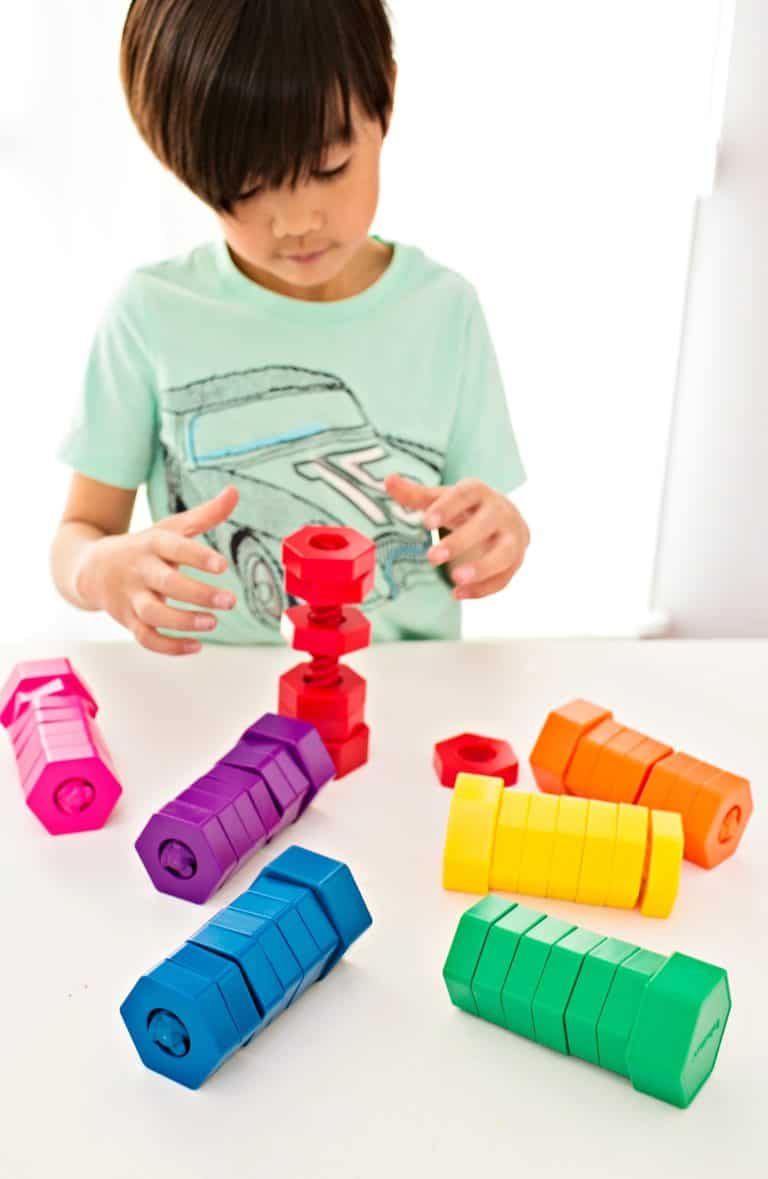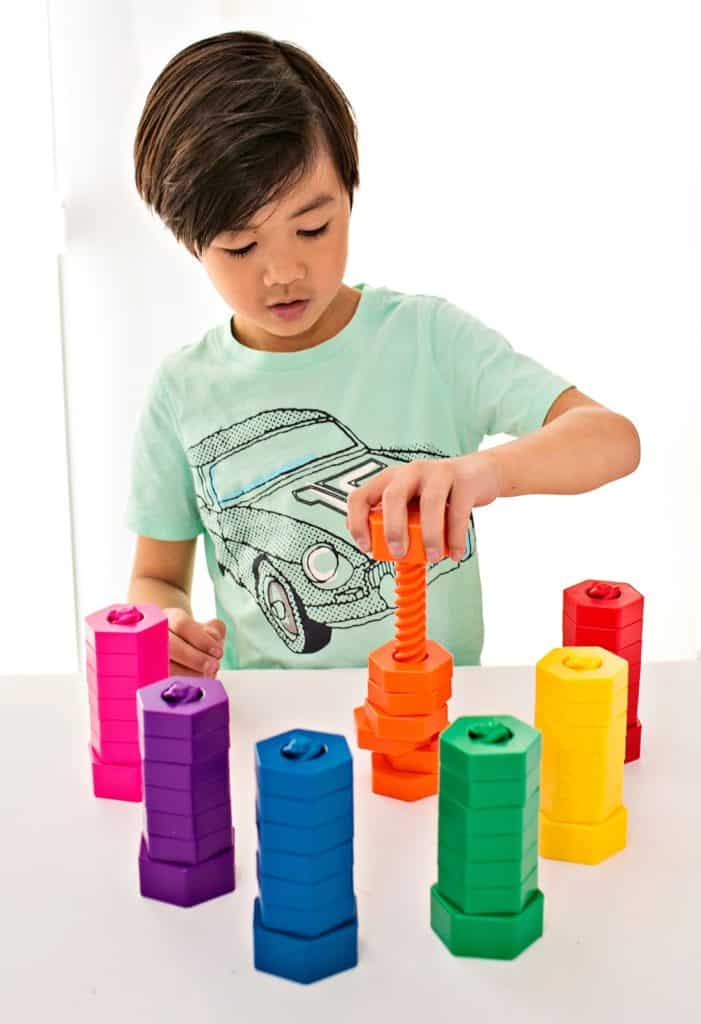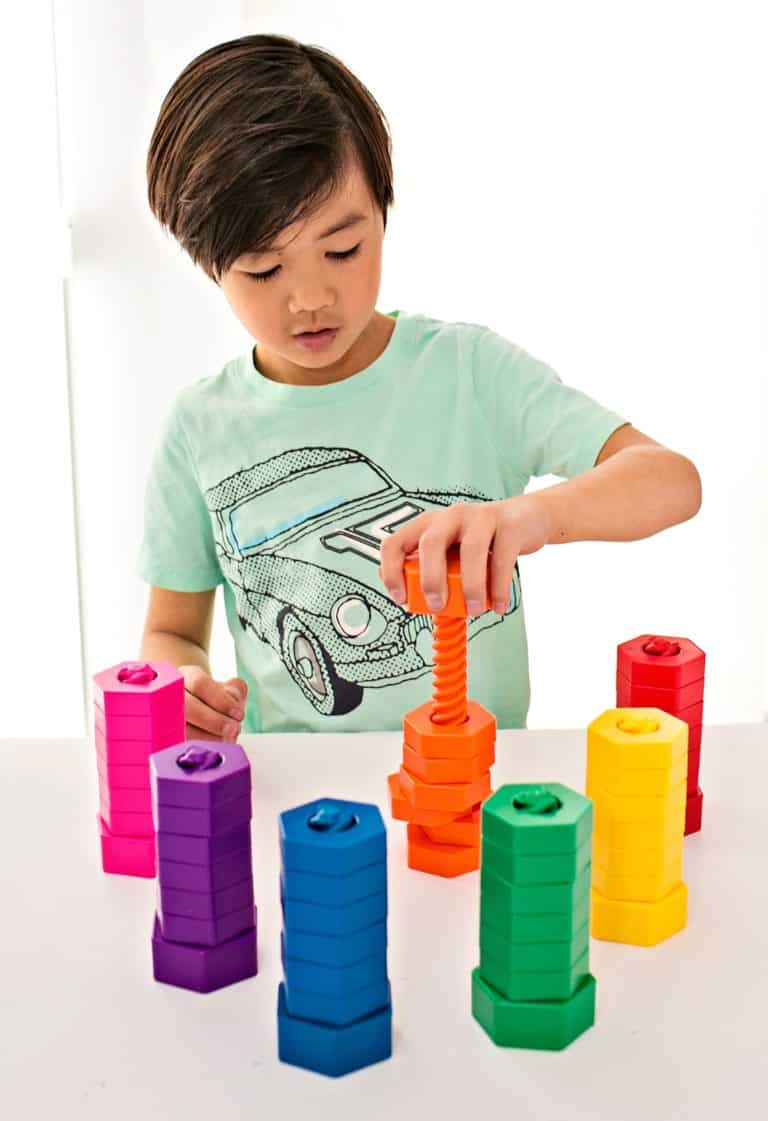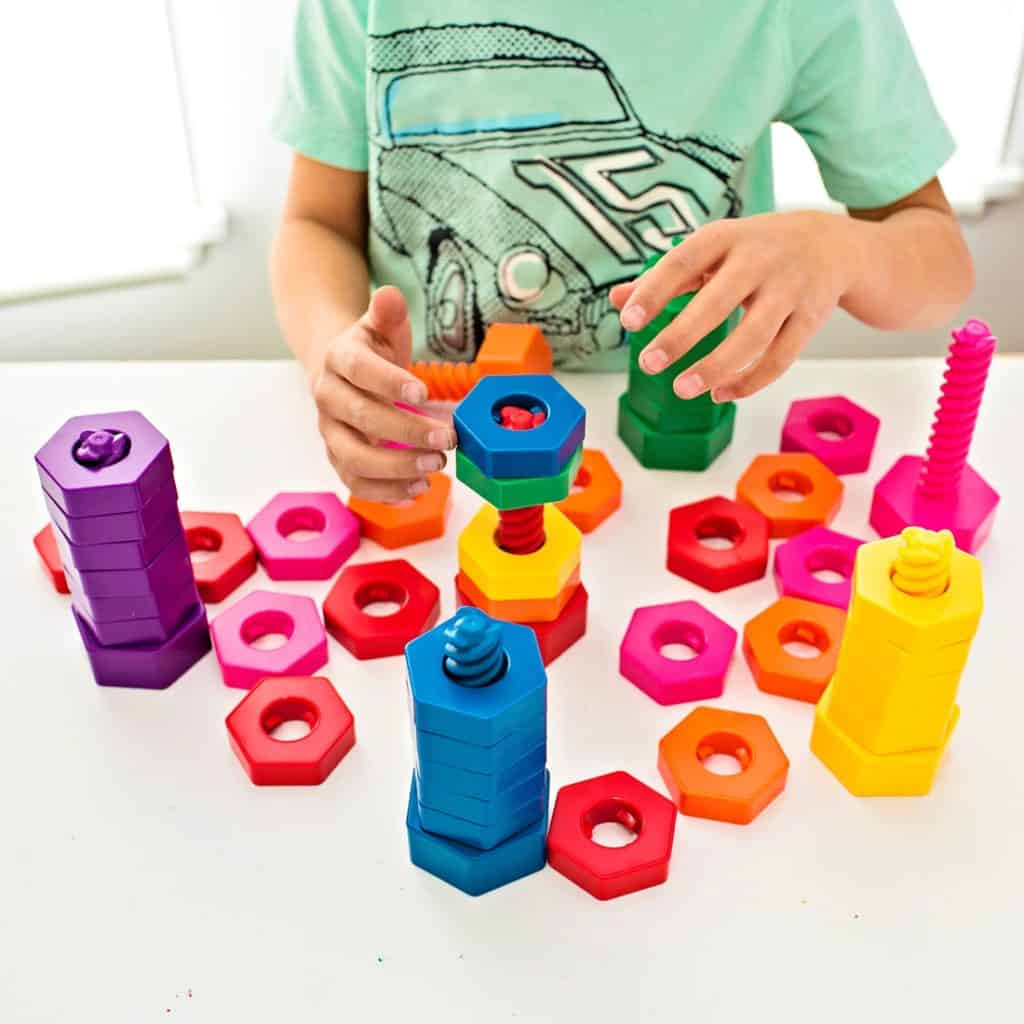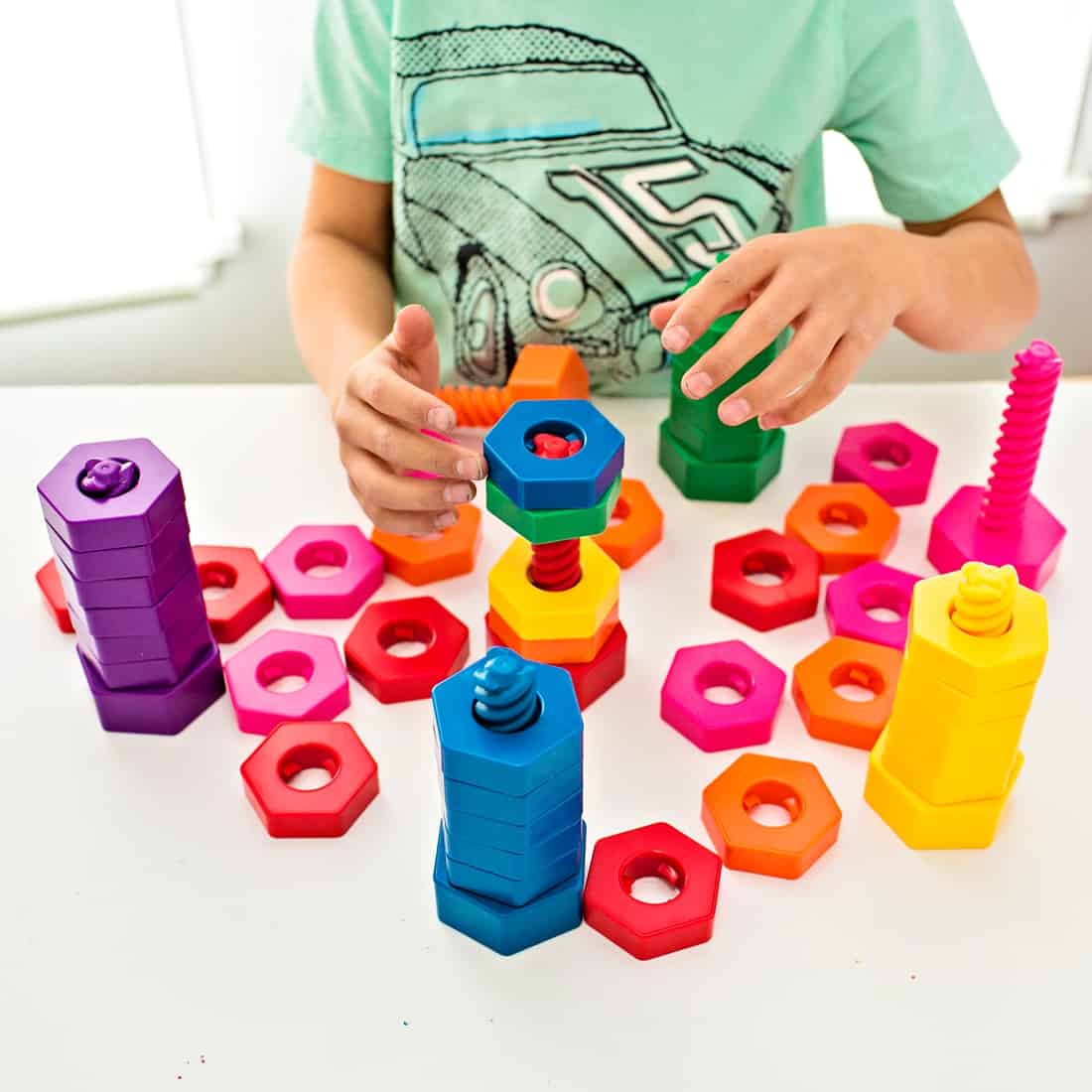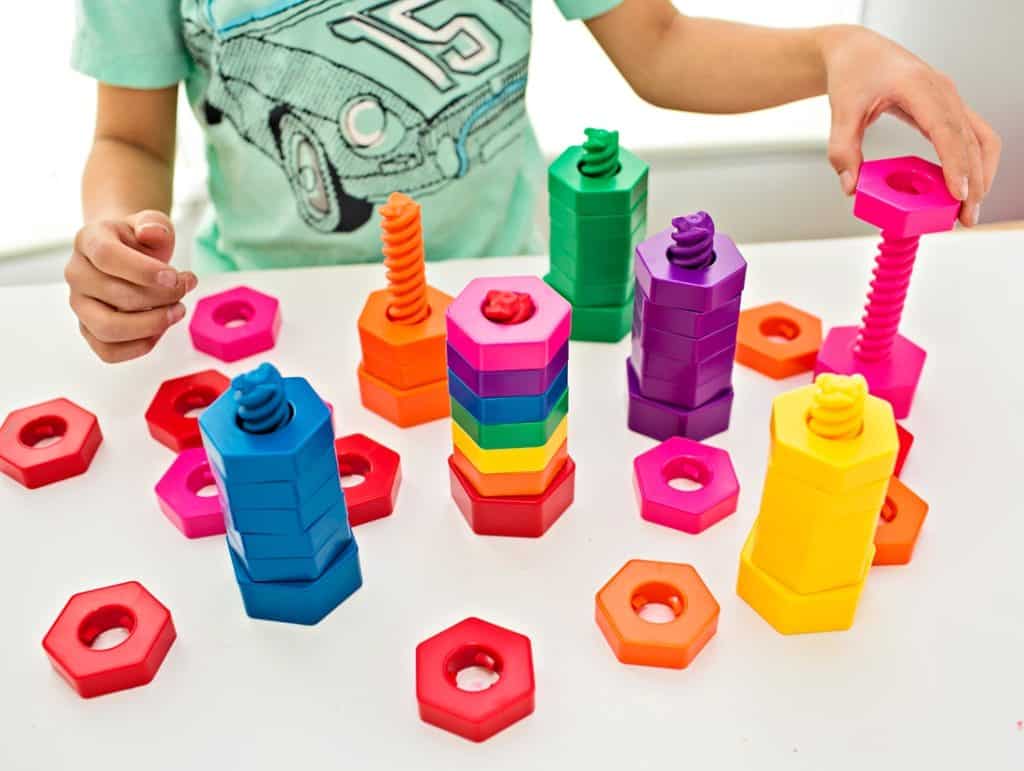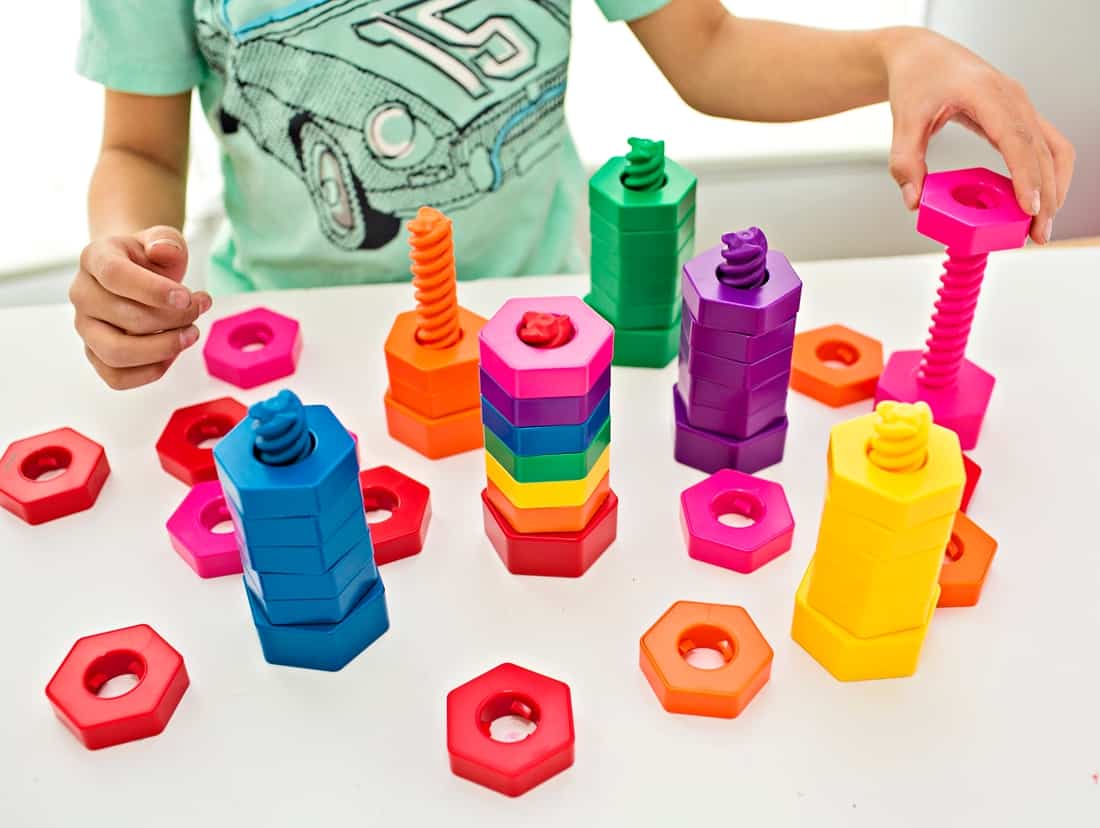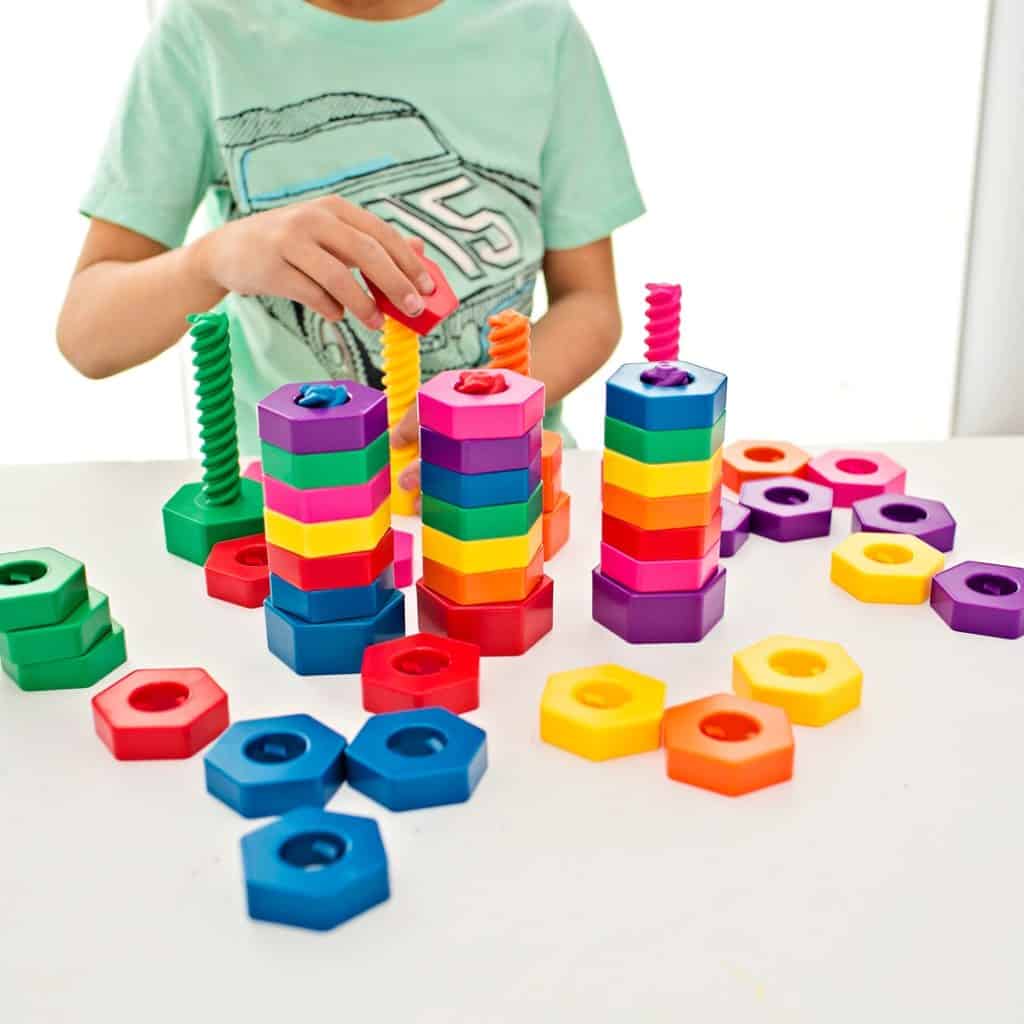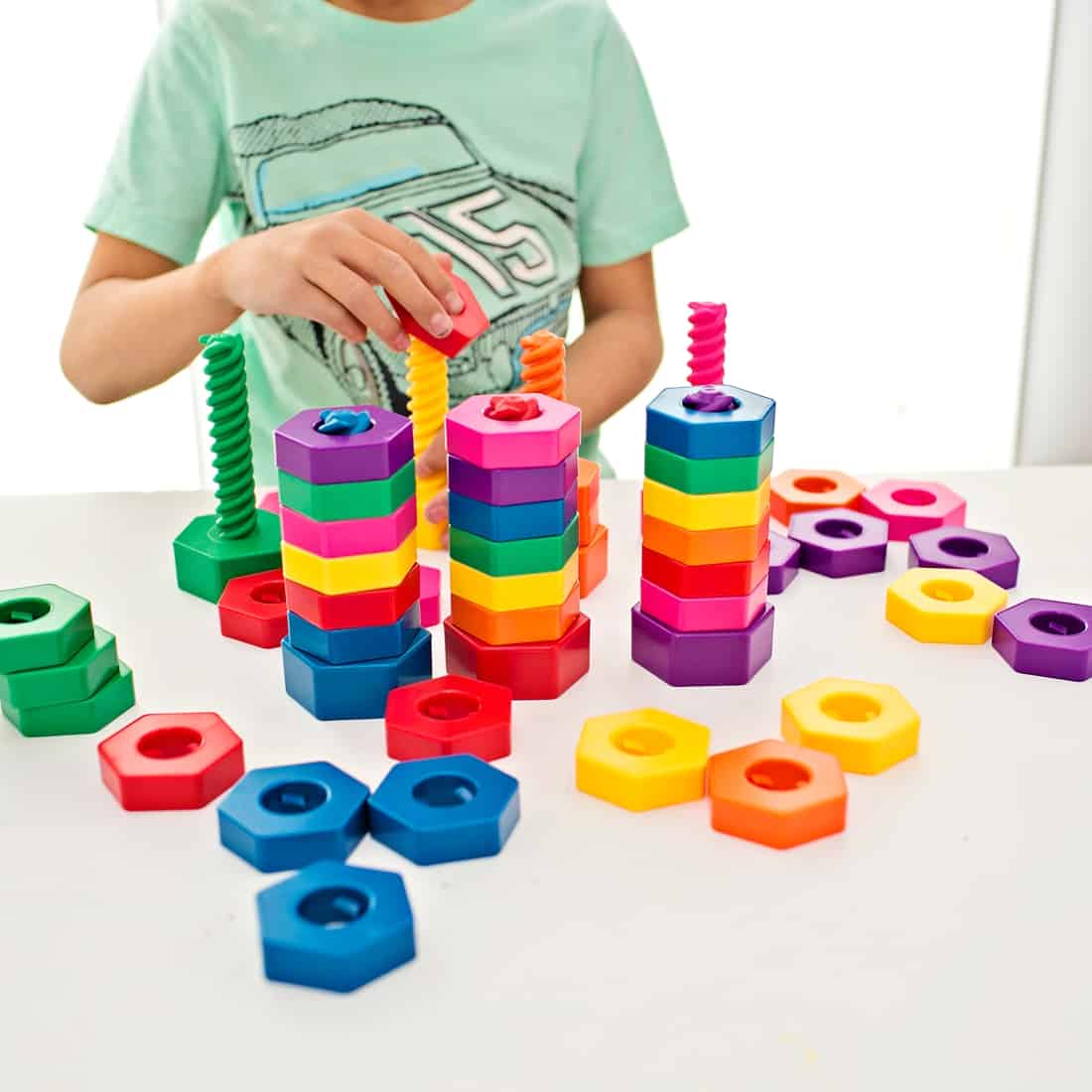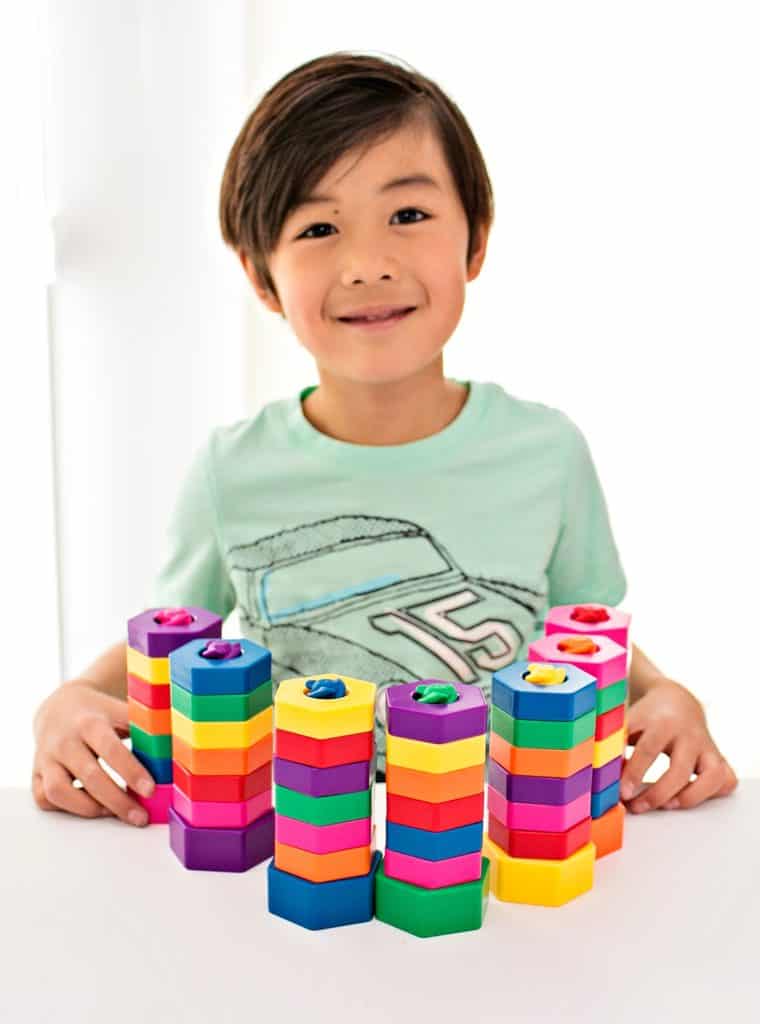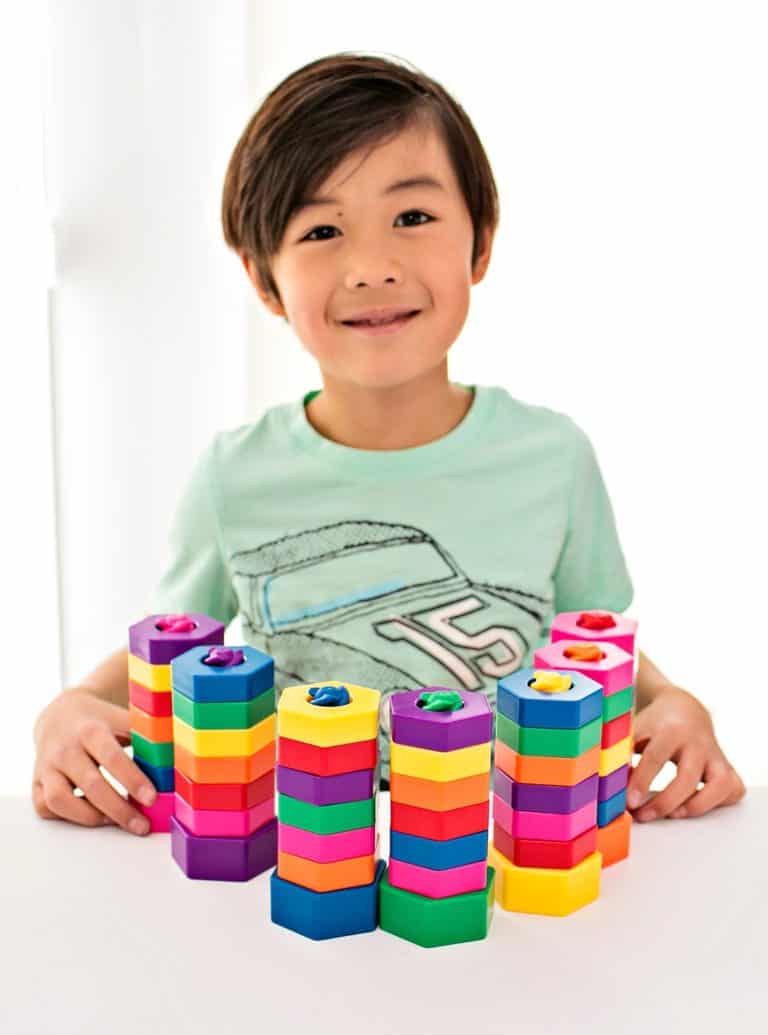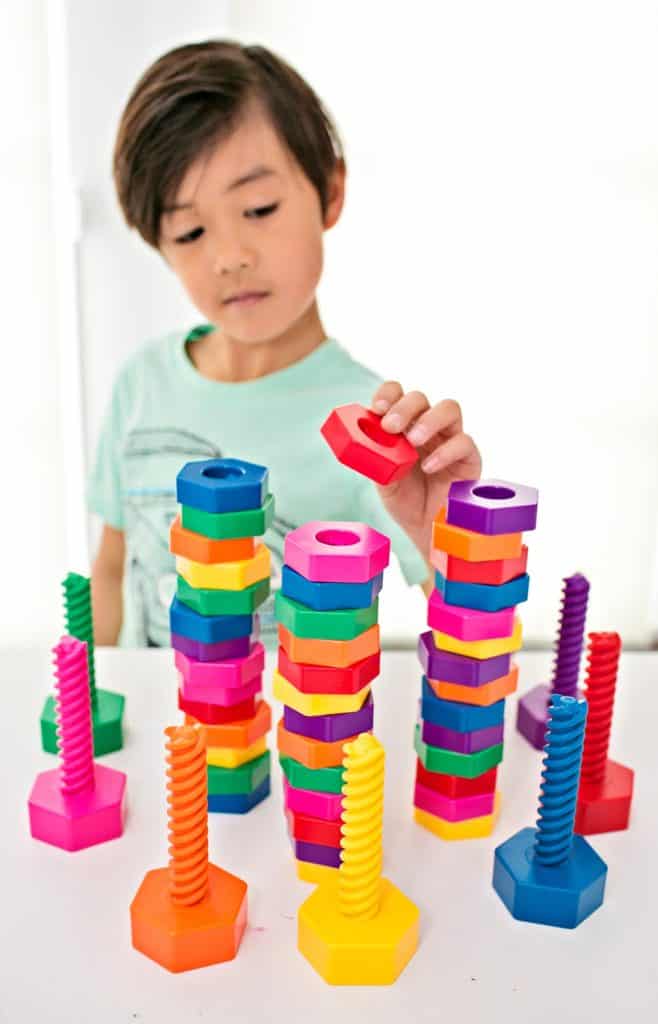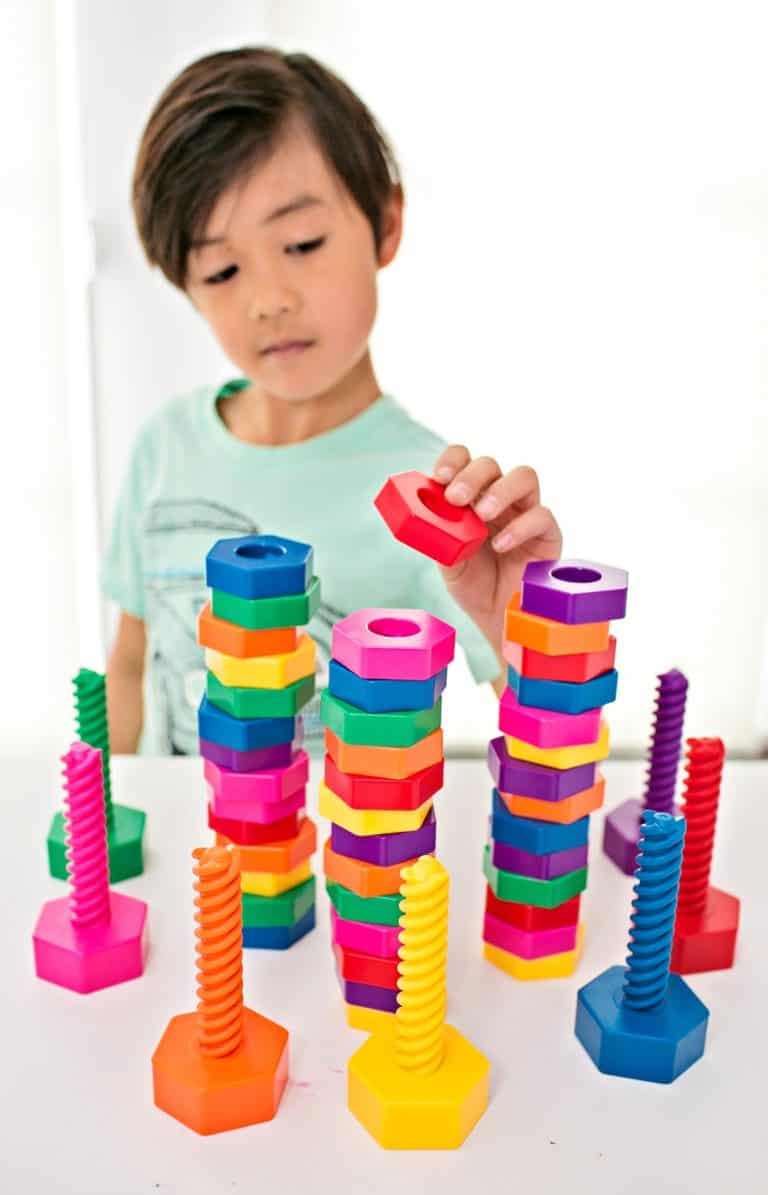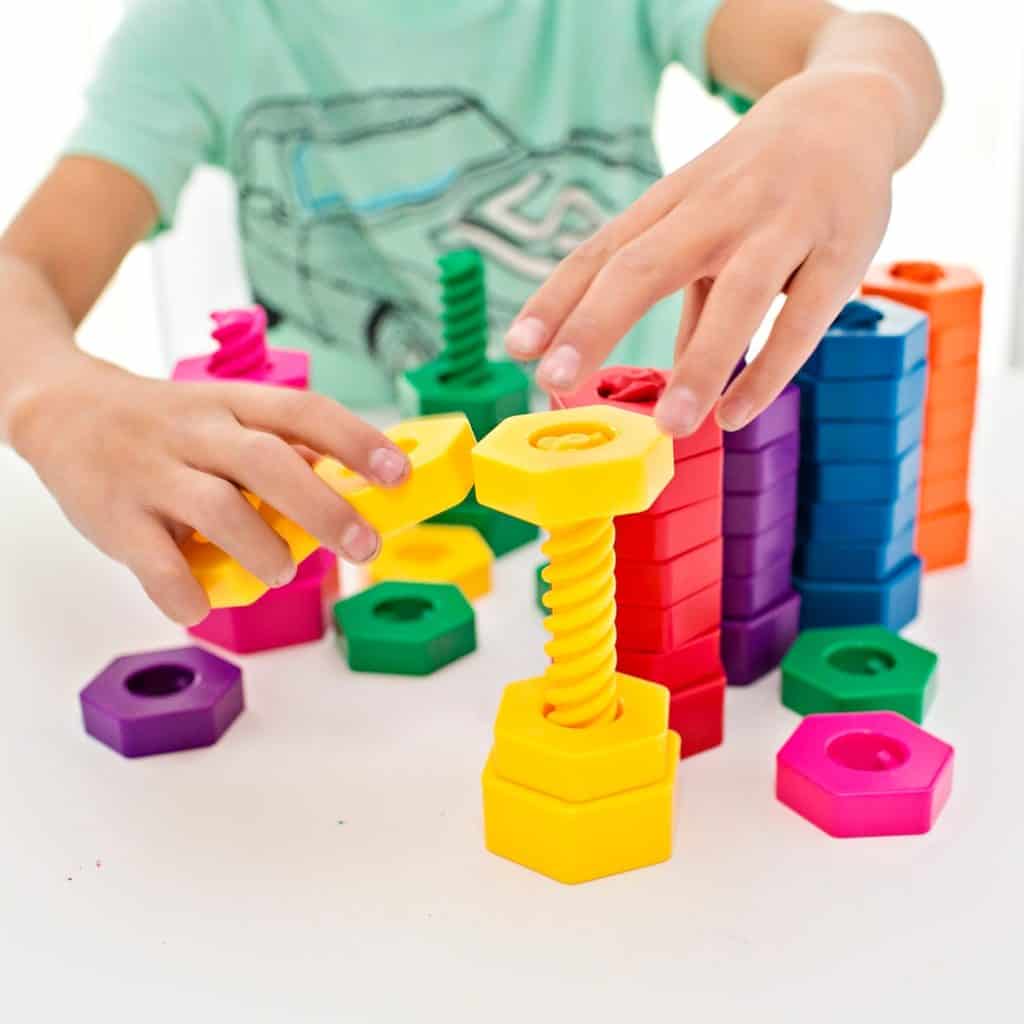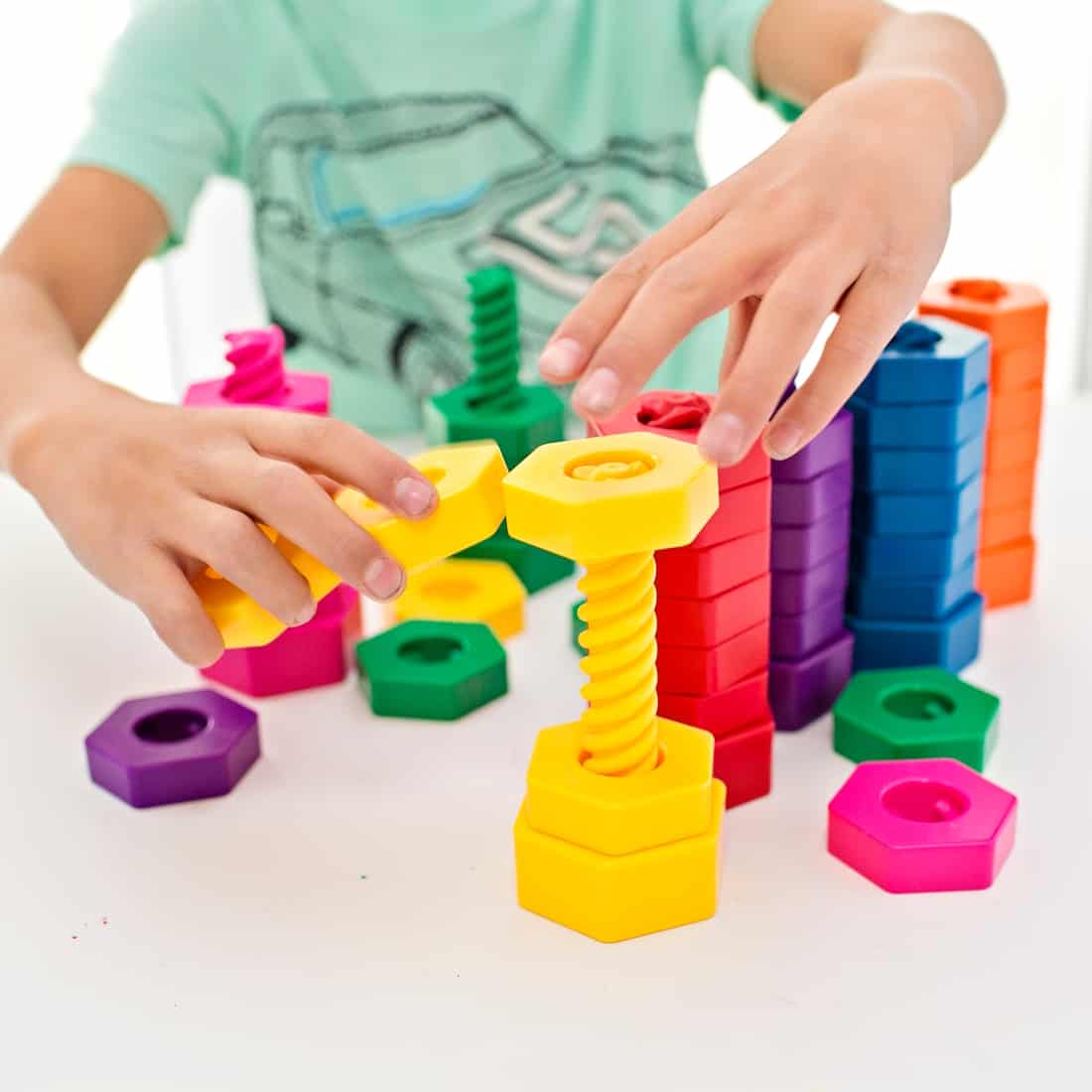 Nuts About Counting: (note the above can also be done with the counting nuts and bolts)
Make "equations" by adding numbered bolts plus or minus to equal the resulting number of bolts
Stack nuts in a pattern to equal the number on the bolt
"Add" by spiraling nuts into a numbered bolt. For example, if you have a 10 bolt, you could have 5 nuts on it and spiral another 5. Try to do it in one take so they don't all come crashing down.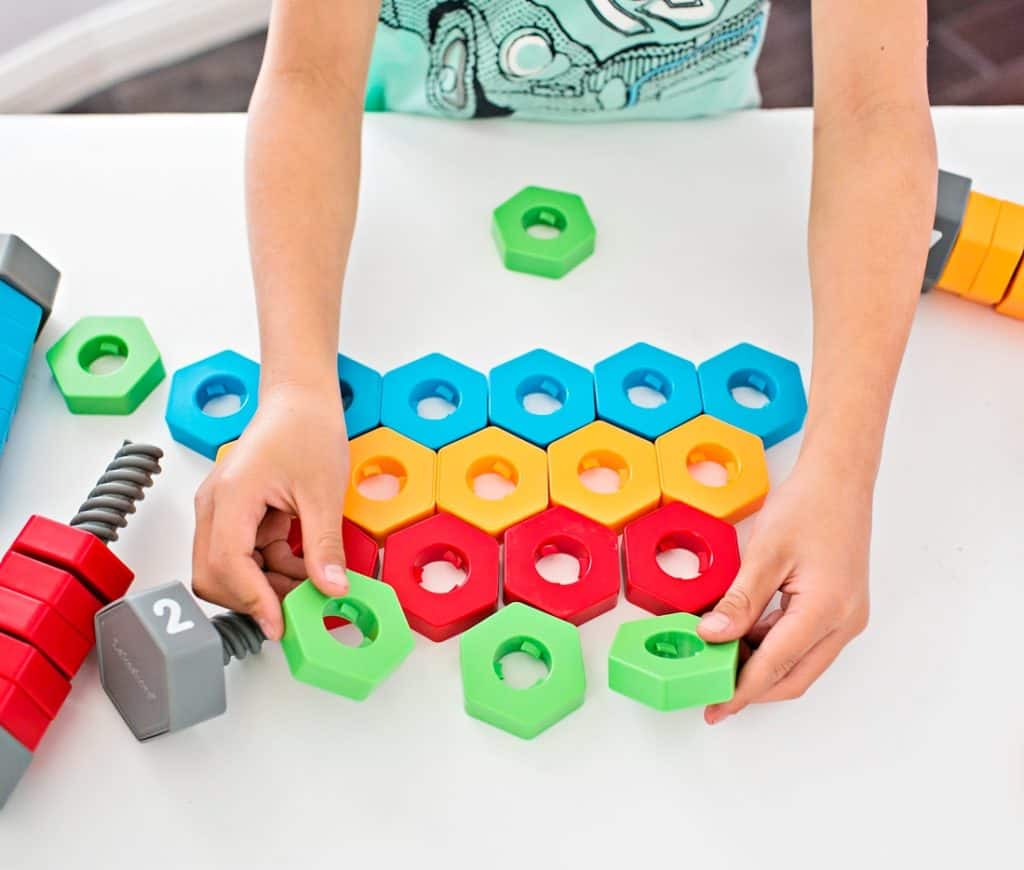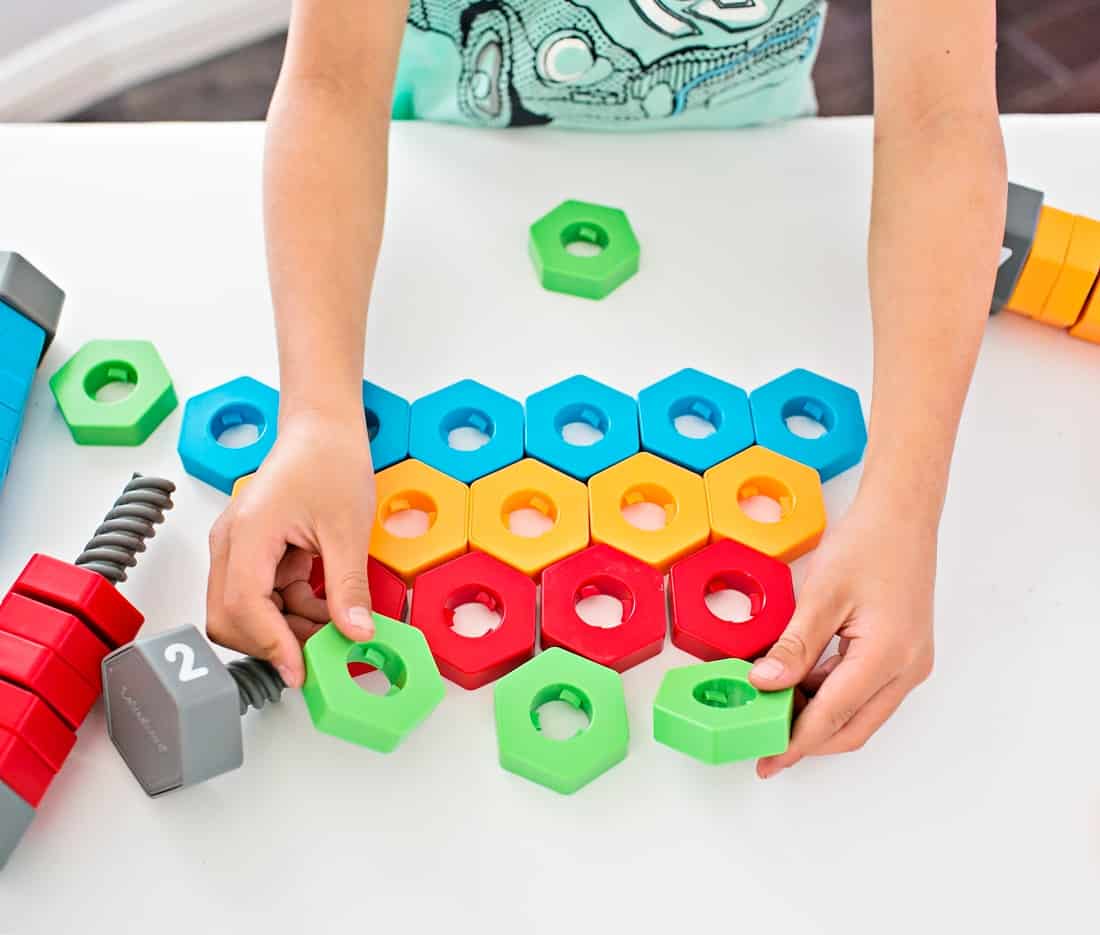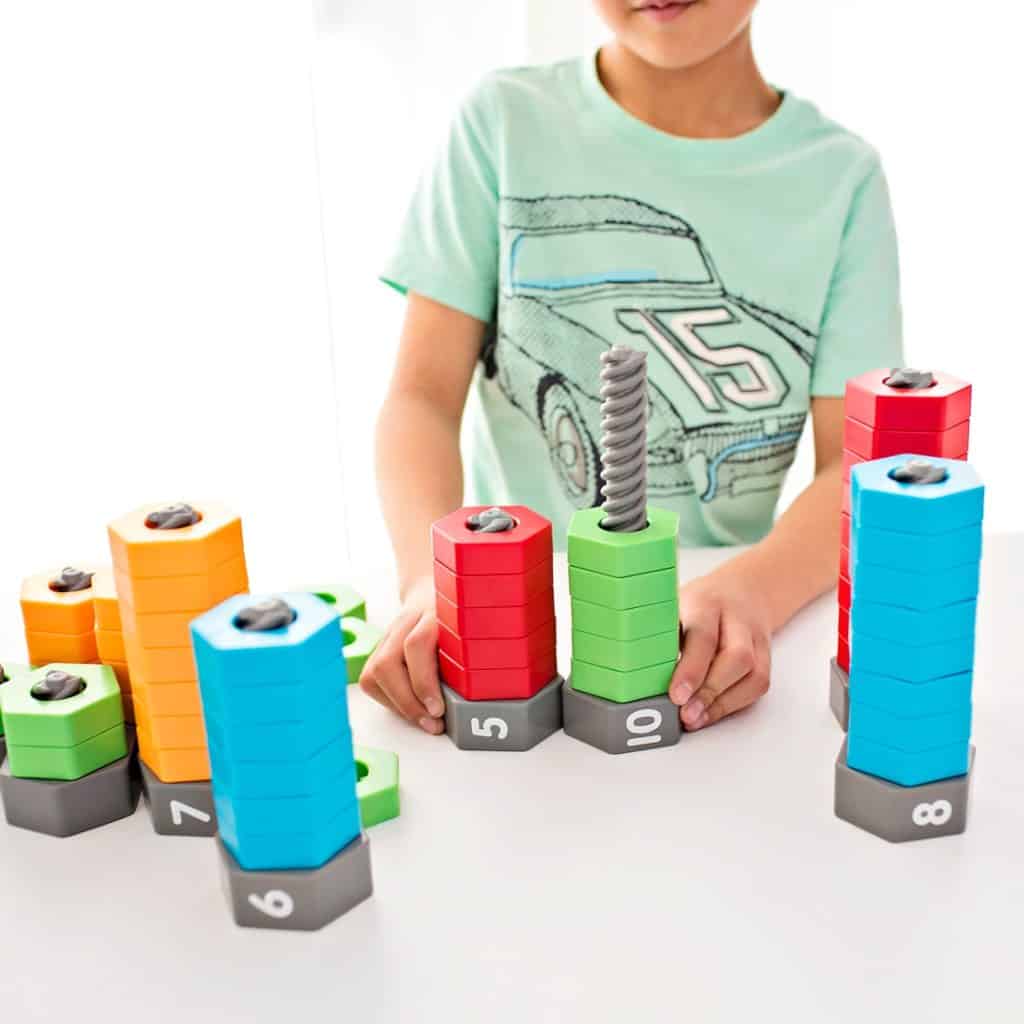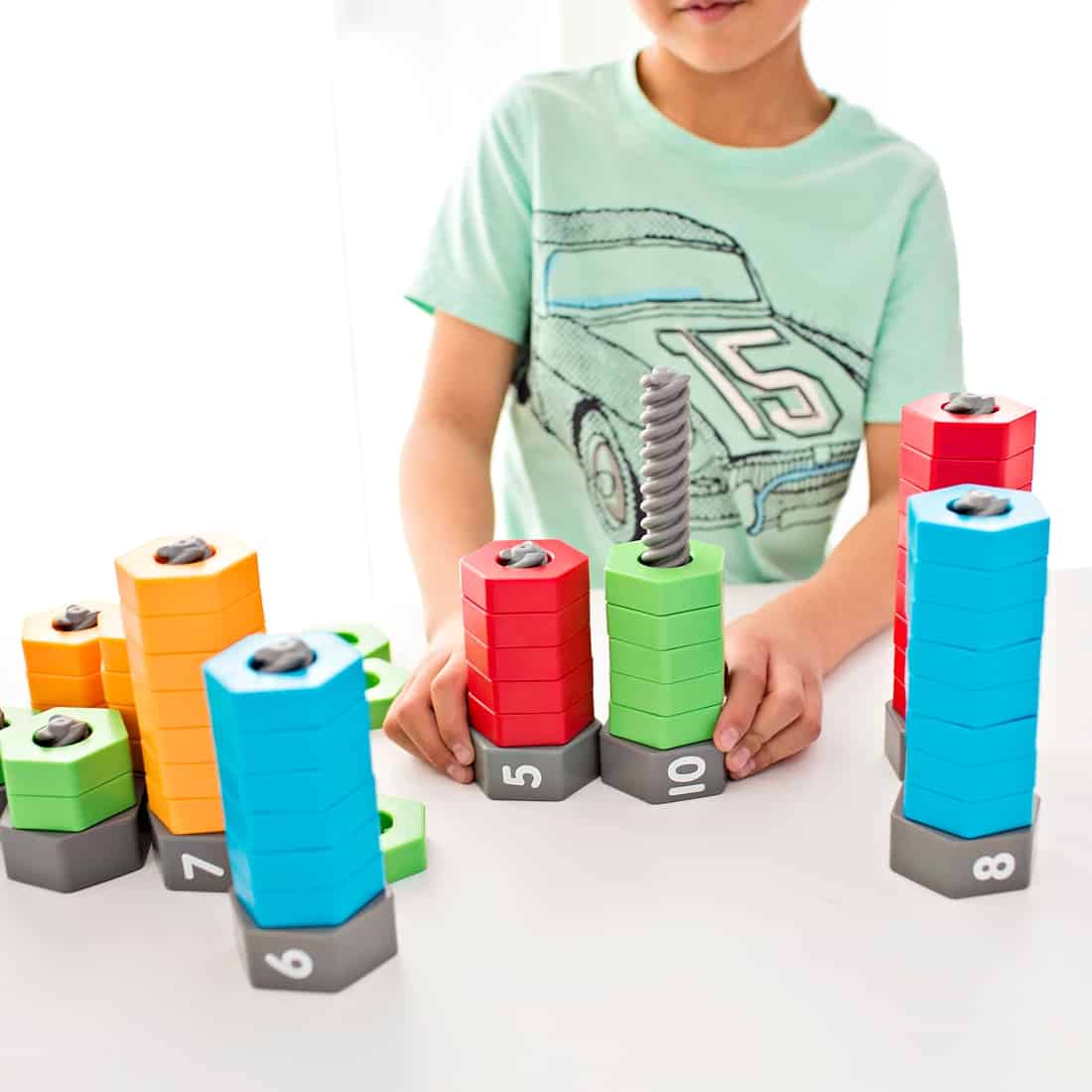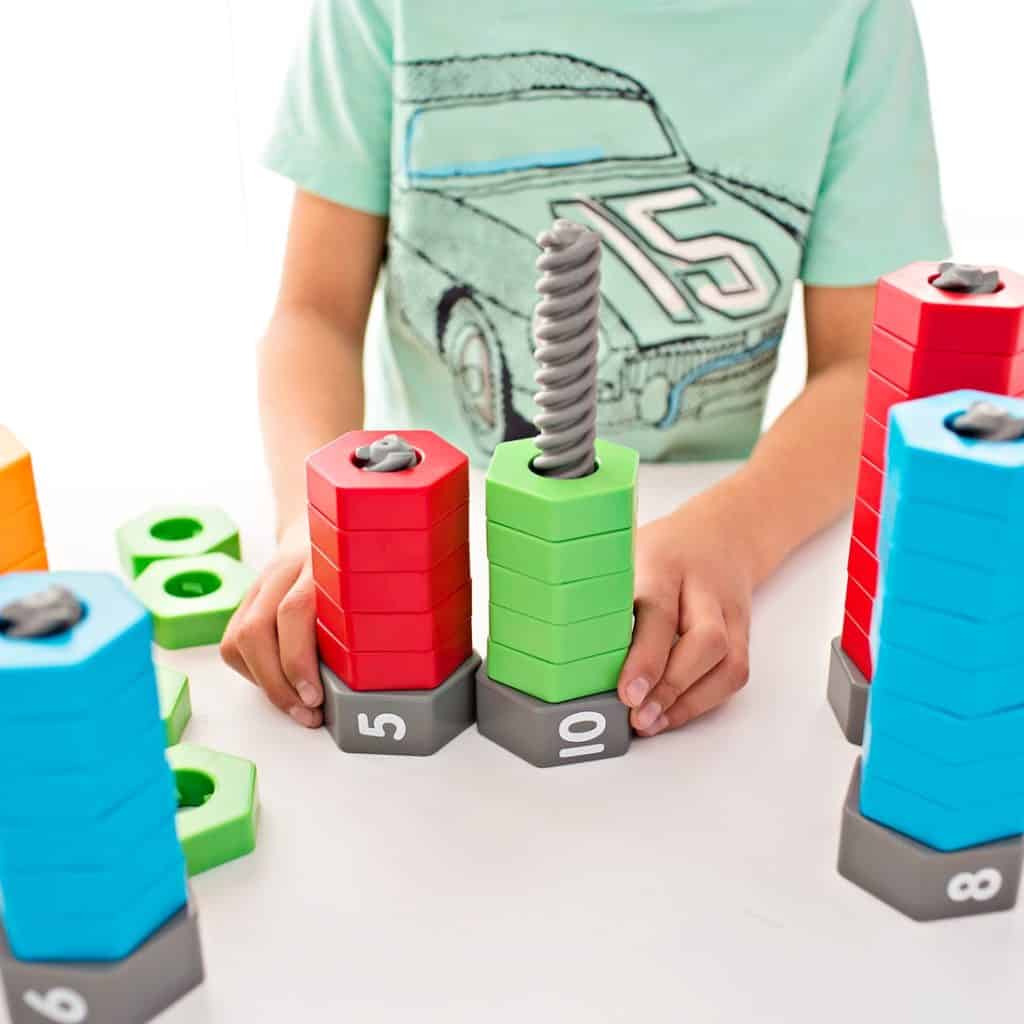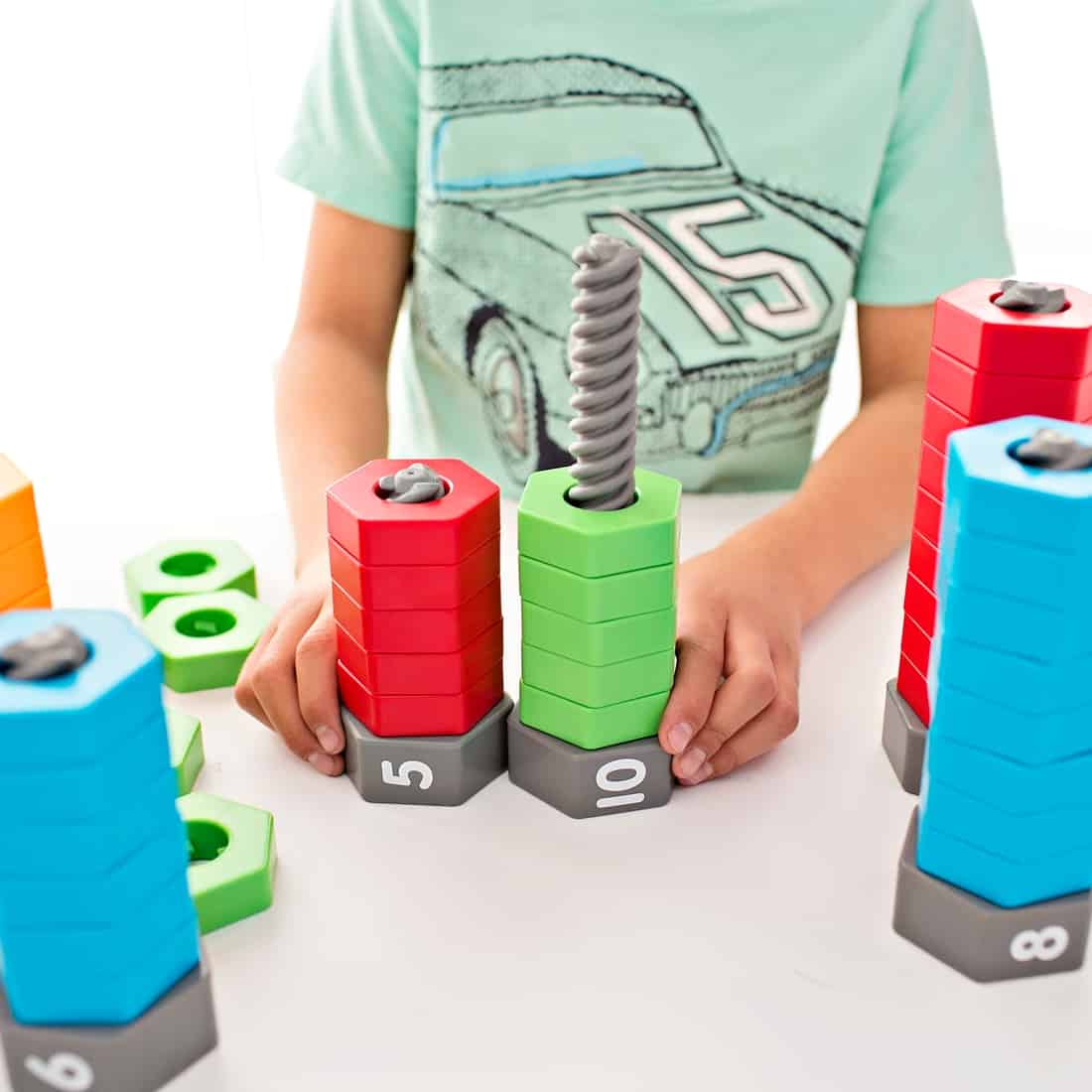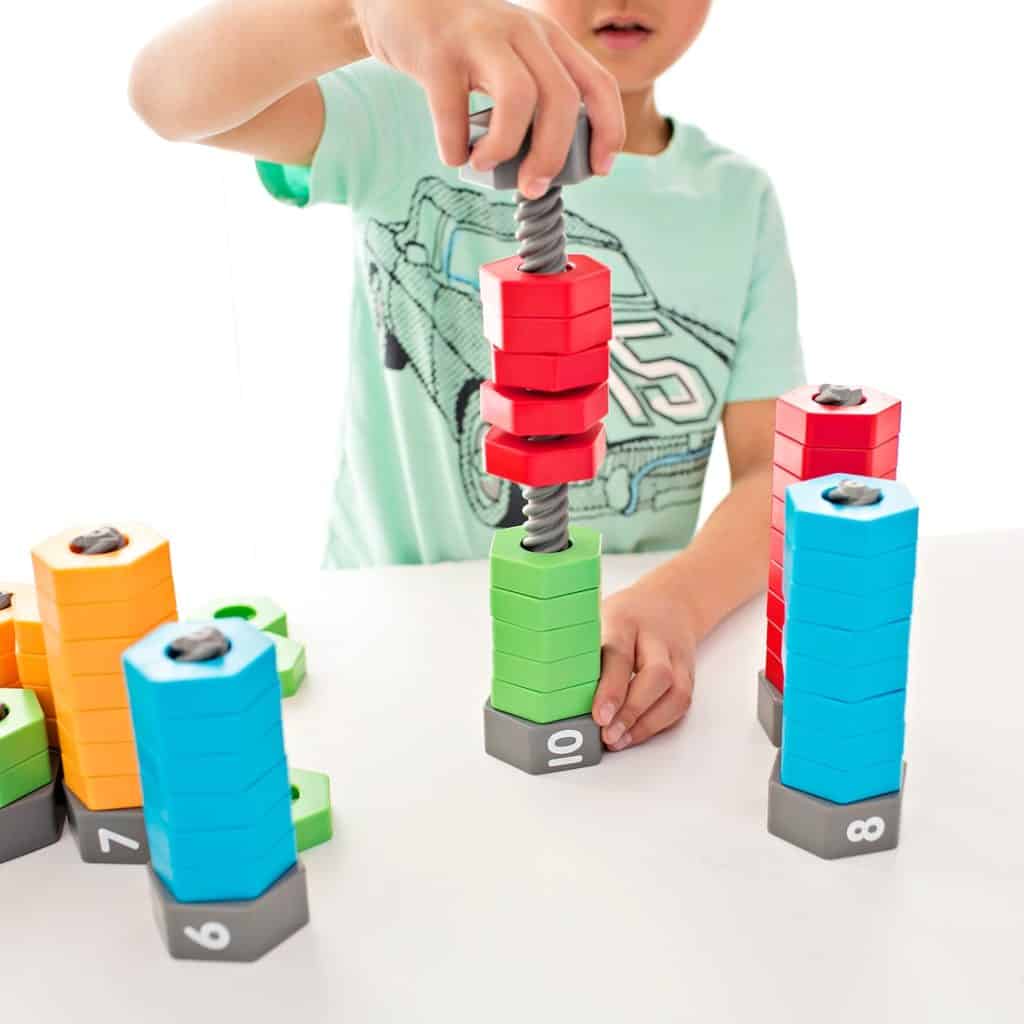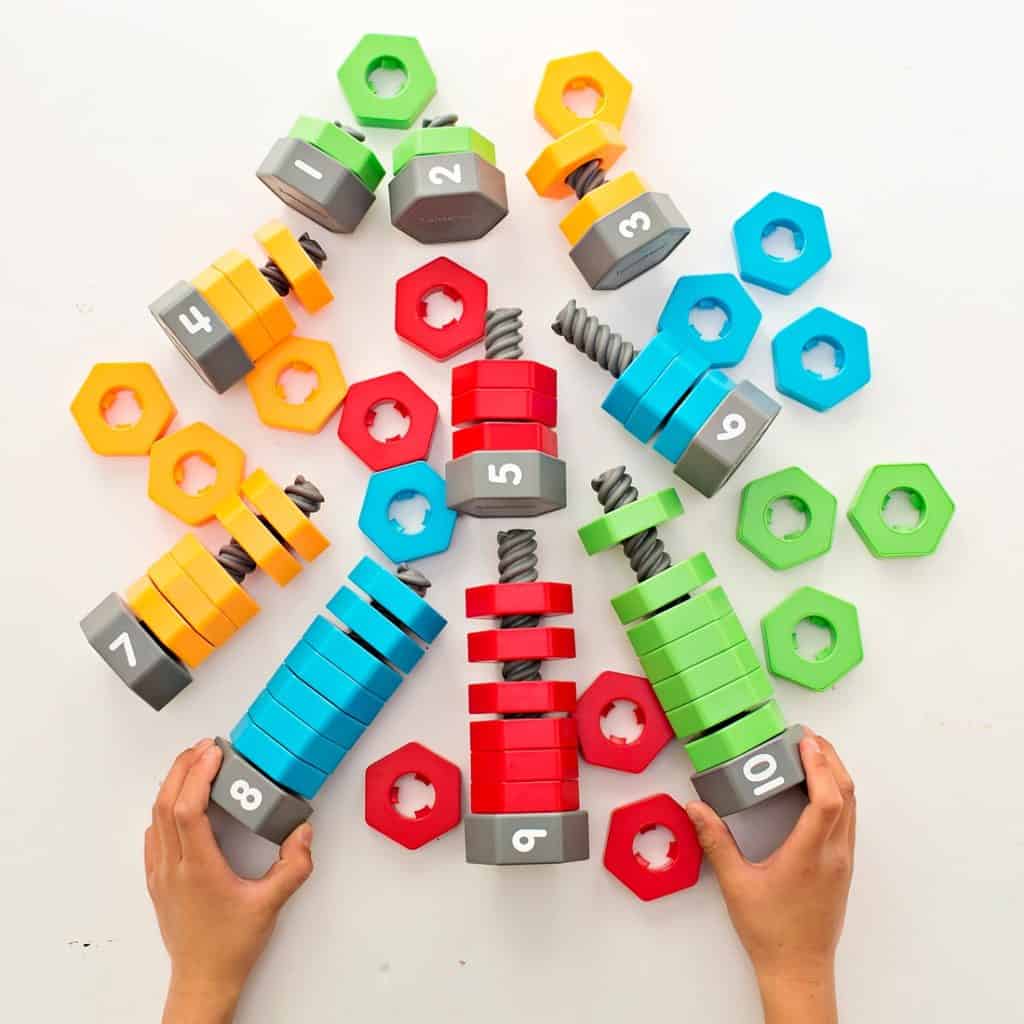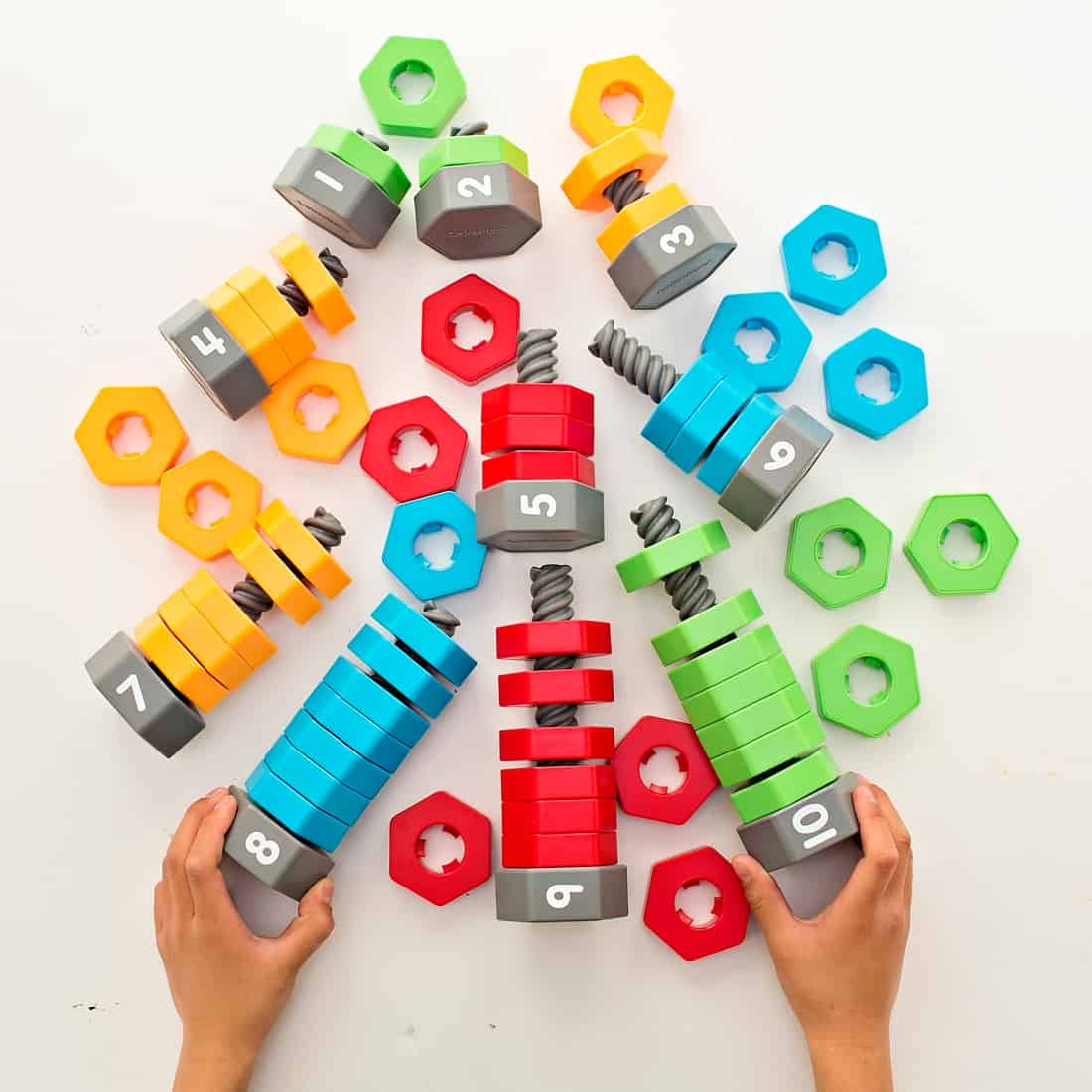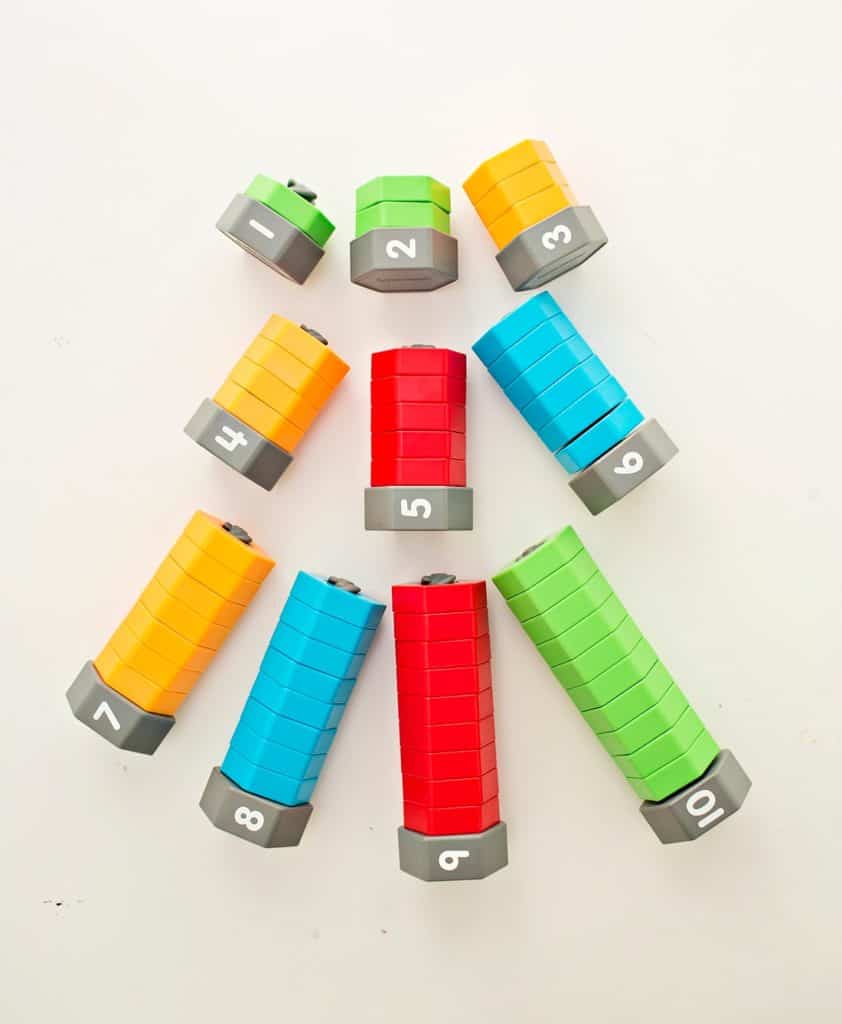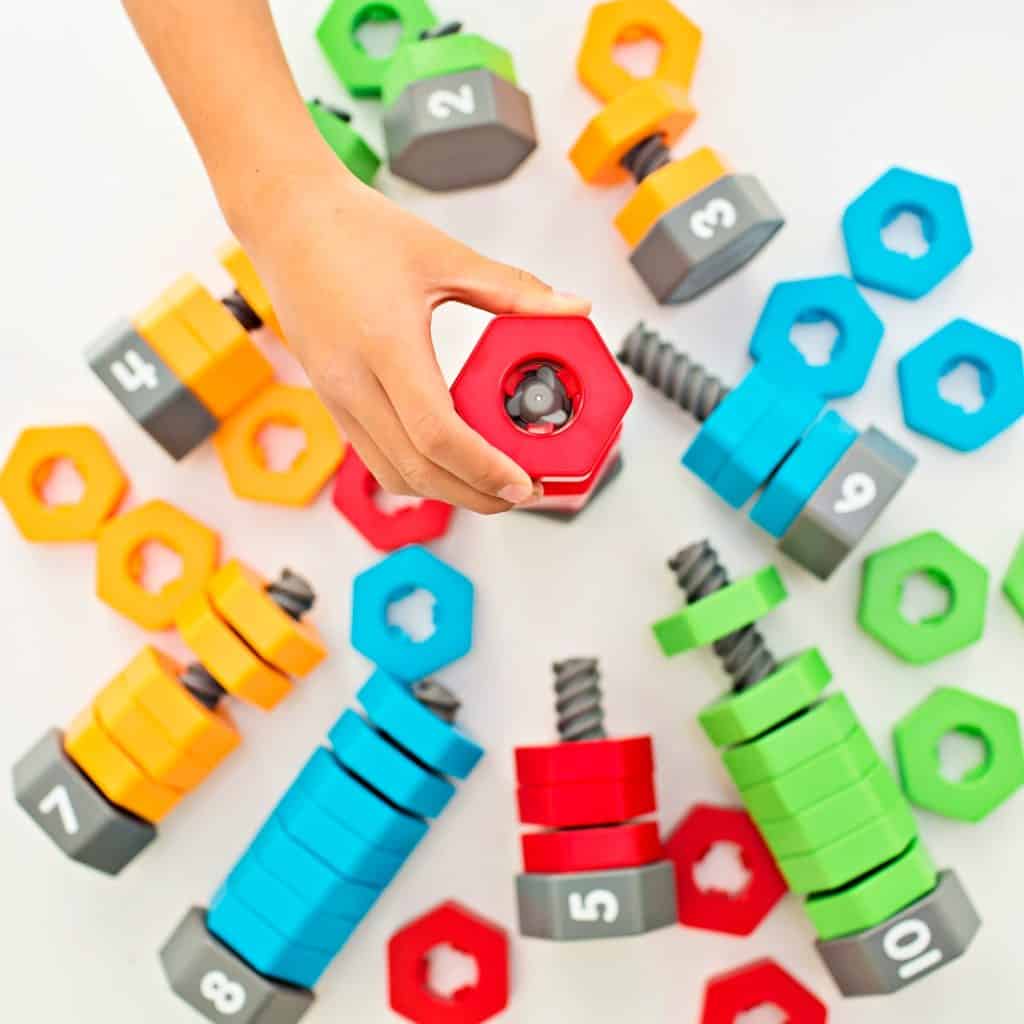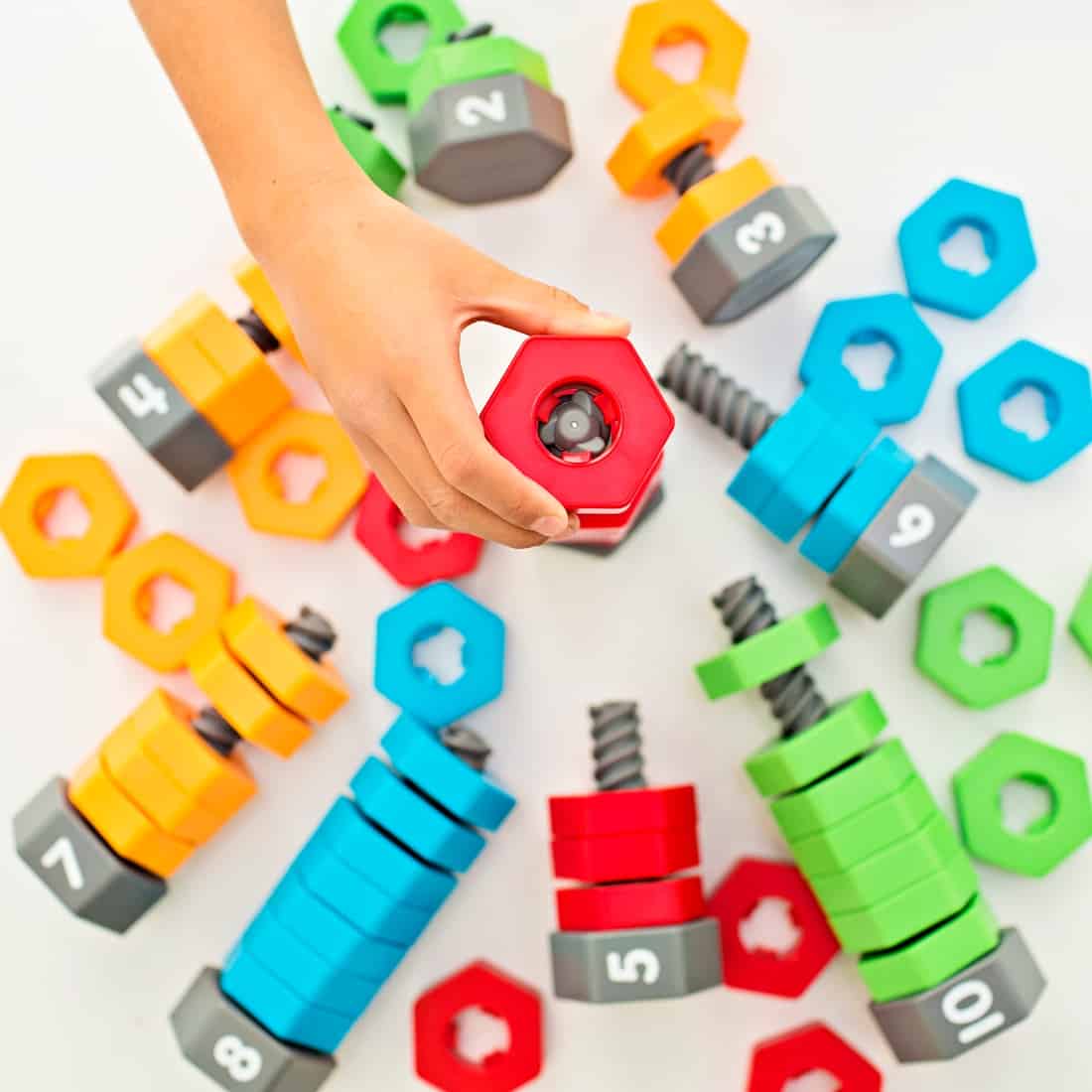 We had a ton of fun learning colors, numbers, pattern, counting, stacking and building games with these colorful nuts and bolts!
Other ways you can play with your kids:
Build shapes with the nuts (can you make a circle, square, triangle?)
Trace the nuts to practice drawing. Once you've traced a few, what can you embellish with detail-wise to turn it into something else? Can a nut turn into an animal? Which one? Draw arms, legs, etc.
Add colored nuts into sensory bags filled with gel or water, zip tight and draw the corresponding color shape on top of the bag. Have little hands squish the right color nuts to the color shape you drew on the bag.
You can find the Nuts About Sorting and Nuts About Counting toys on Lakeshore Learning's website.
Grab a coupon for 25% off a single non-sale Lakeshore Learning item good through 12/31/19! Or use code 3200 at checkout.
Watch the video below to see these cool Nuts About Toys in action!