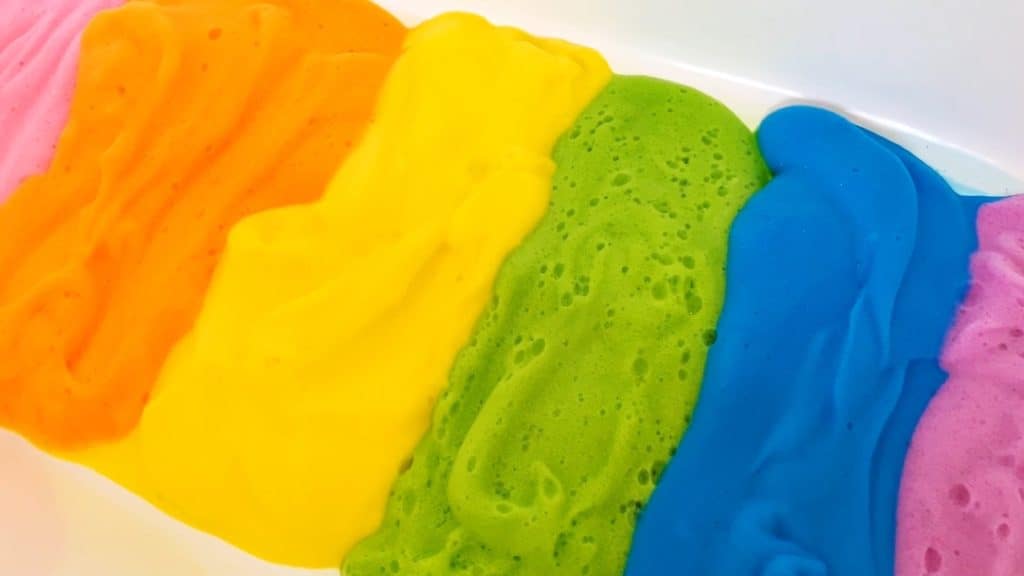 Rainbow Soap Foam Sensory Play
Follow us on Instagram for more fun ideas for kids!
Scroll all the way down to watch the video below for the step-by-step video in how to set up this amazing Rainbow Soap Foam Sensory Play. Make sure to subscribe to our YouTube channel for more fun videos!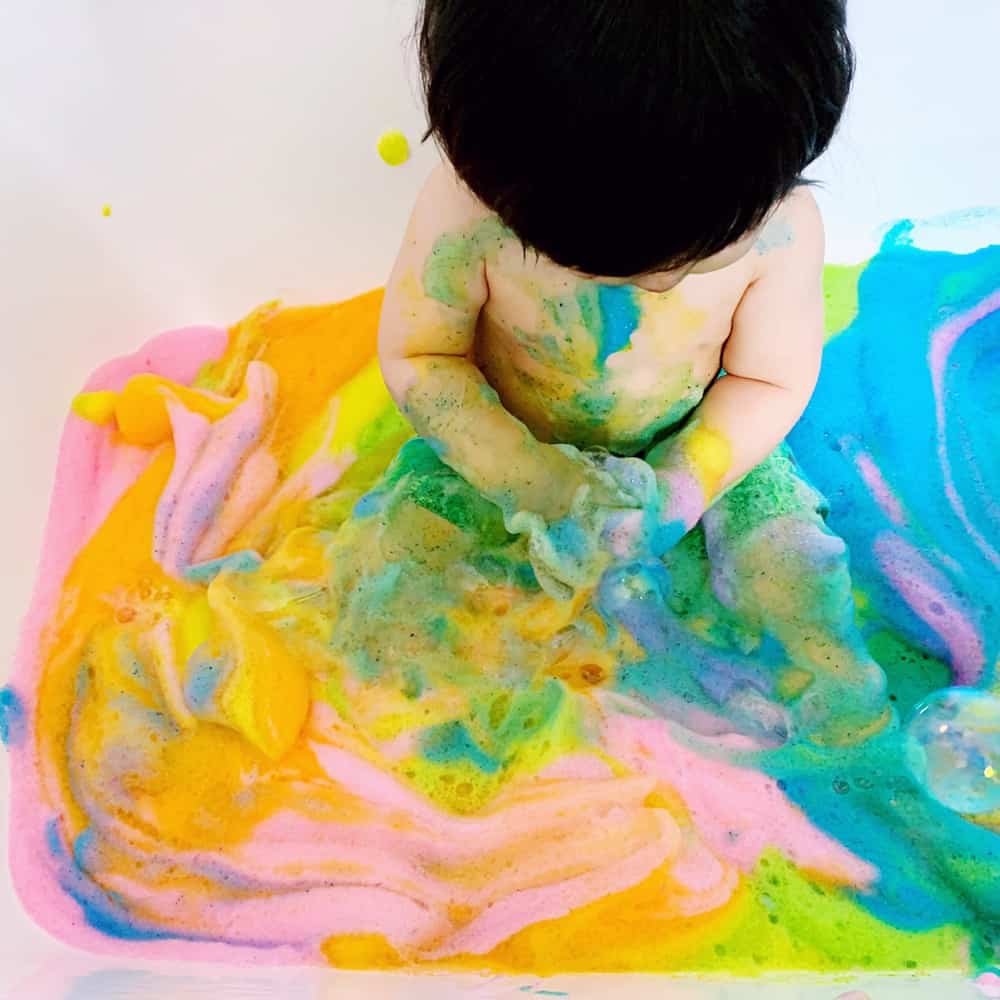 Have you ever tried making soap foam? It's incredibly easy to make and results in a foamy, sudsy and soft sensory experience! You only need two ingredients, dish soap and water, and a mixer. But you can make it extra thick like we did with a secret, common kitchen ingredient. Read on to get the full recipe down below.
But first, let's talk a bit about sensory play or "messy play." For babies and toddlers, especially (but all kids – my elementary school kids still love sensory play!) it's wonderful for exploring our senses and making "sense" of them and our actions.
According to this article, "sensory play includes any activity that stimulates a young child's senses of touch, smell, taste, sight and hearing, as well as anything which engages movement and balance."
Sensory play is great for building cognitive skills at an early age. This is why it's important to allow babies to touch and explore in a safe zone.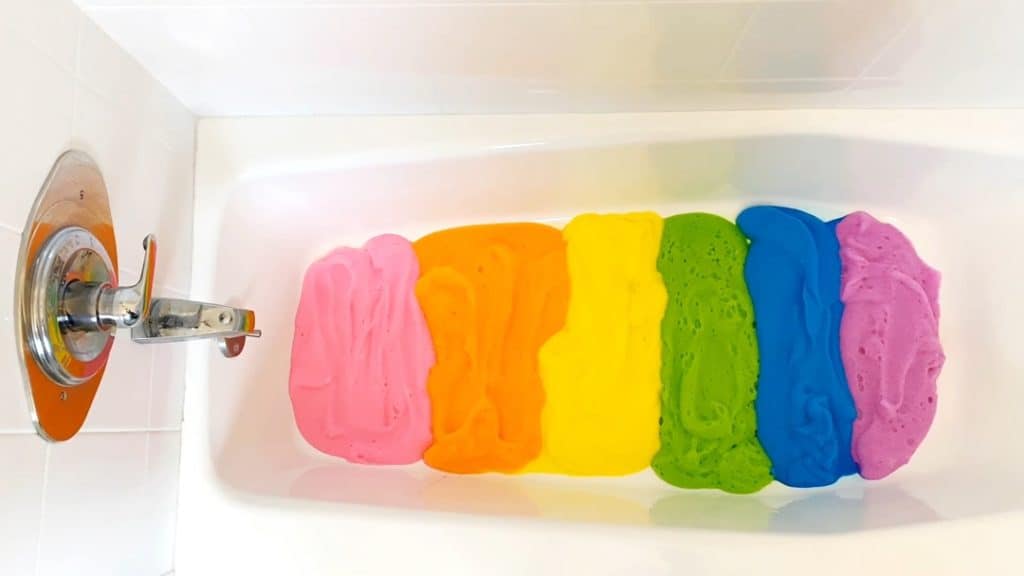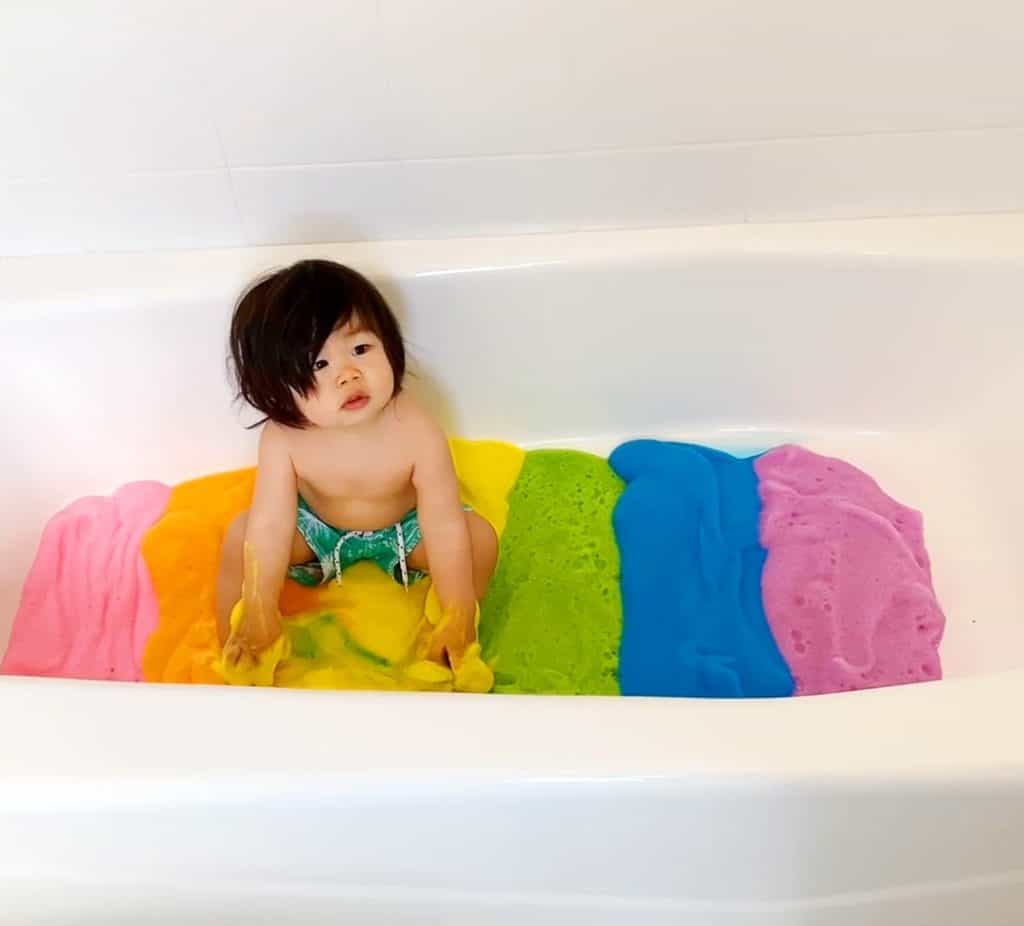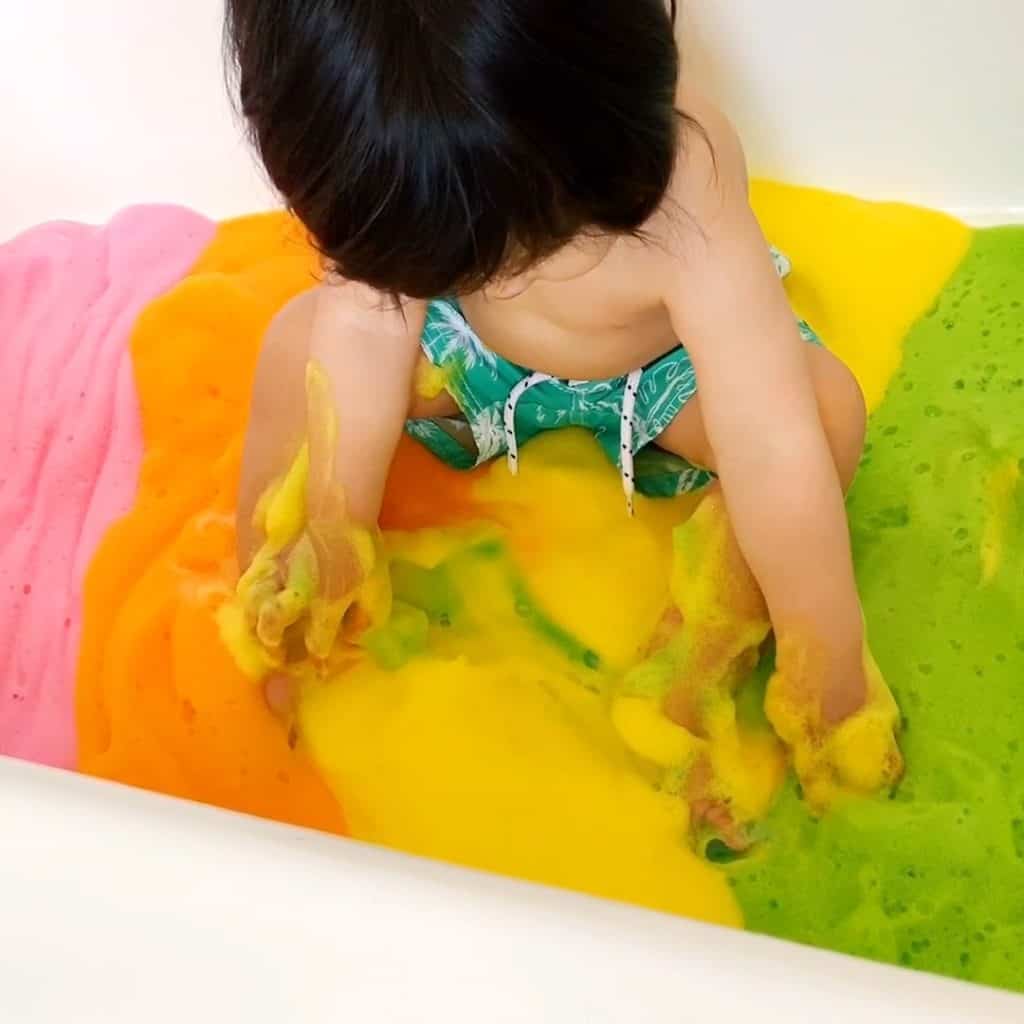 To create this fantastic rainbow soap foam sensory play, we used baby safe, tear free soap and food coloring (more on that below). It was like a gigantic Color Run for baby! We also did this activity in a big bathtub so the messy play was contained, safe and easy to clean up.
About the food coloring, yes, some of it did stain baby's hand and toes, for some reason any that got on torso and face wiped off easily with a wet cloth. The foot and hands, took about a day to come off through regular bathing. It's similar to if you get liquid watercolors or food coloring drops on your fingers during baking, it won't come off right away but will fade rather quickly.
You can also easily set this up in a large bin and not do a bath and just have kids play with hands to keep mess away from the full body. Add plastic figurines or water safe toys for small world play.
Now if you're not keen on getting any food coloring on your child's skin for a short time, please don't set up this activity! We want to be honest in what happens, but our baby was in it for all of 10 minutes so it's not like he was submerged in food coloring for hours. It was well worth the sensory play benefits in our opinion.
And look at that glorious rainbow foam! Who would turn down a rainbow bath? 🙂
Another option is to go light on the food coloring, try natural pigments, or don't use any colors at all and make white soap foam for the sensory aspect.
The food coloring we used by the way was easy to wipe off our bath and did not stain. We used the magic eraser and it wiped off like a charm.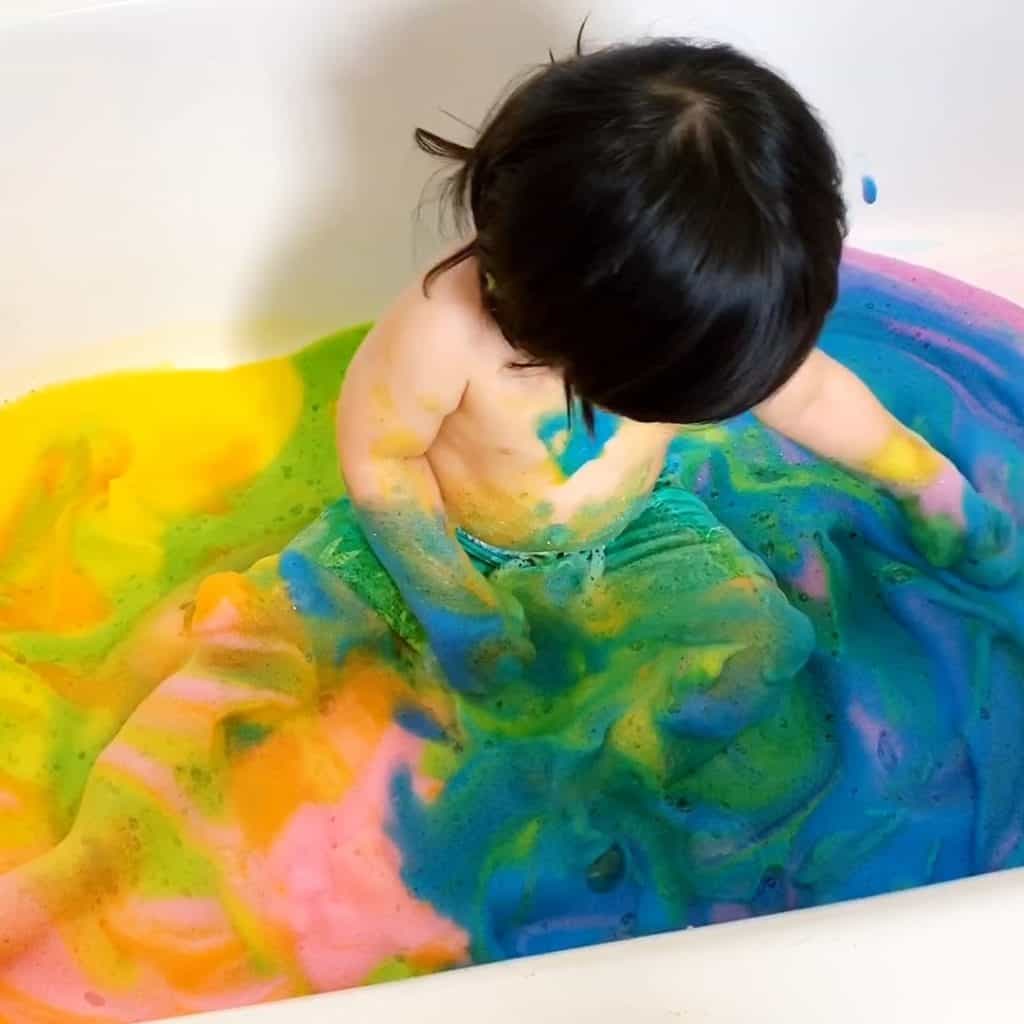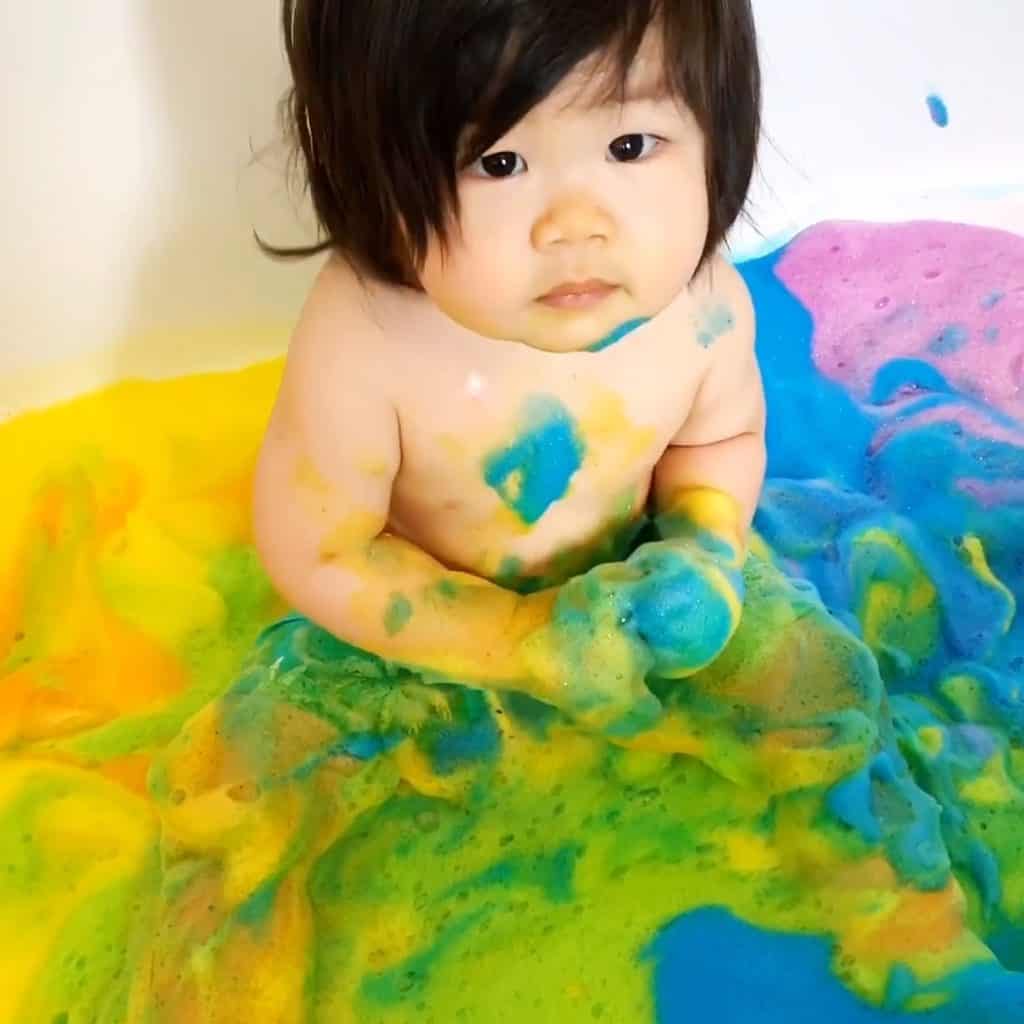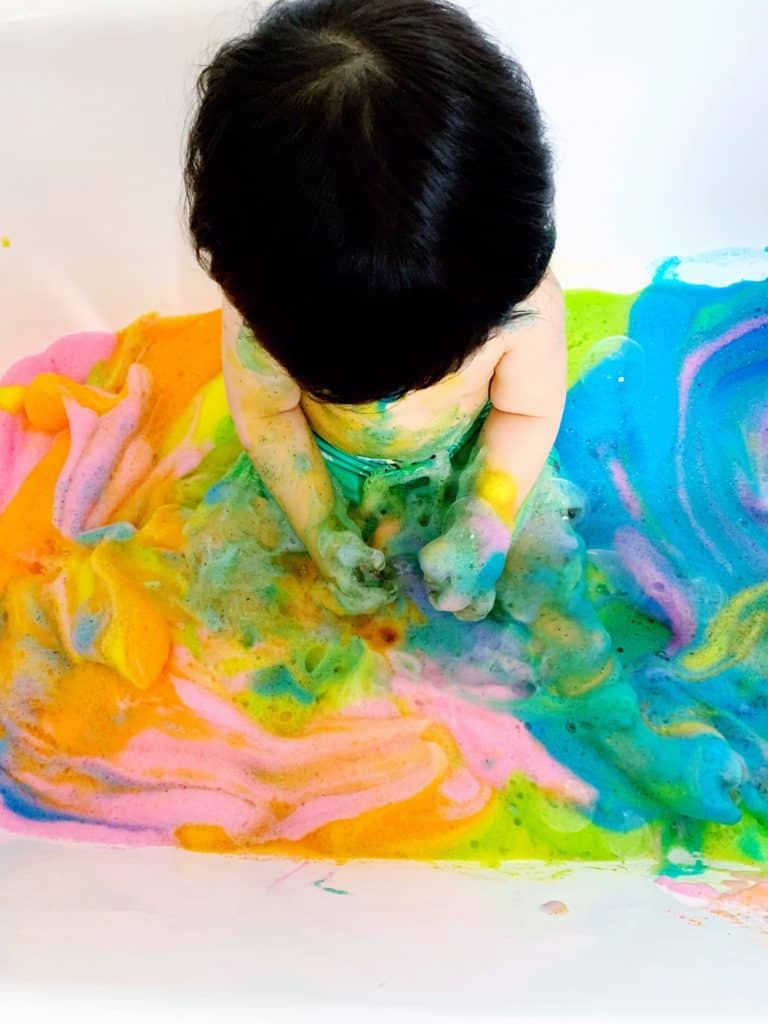 Another note, our baby is 15 months old, and yes he does put things in his mouth. But we used tear free baby shampoo and weren't worried about getting a tiny bit here and there. We have done several regular bubble baths before and he has not been especially keen about putting fistfuls of bubbles in his mouth.
You know your baby best. If you have an especially mouthy baby, this may not be the right activity for you.
We would suggest then setting this up with an older child, toddler over age 2 who is less prone to putting things in his or her mouth.
Follow the recipe below and scroll down to watch the video at the end to see how to make this extra thick luscious rainbow soap foam.
RAINBOW SOAP FOAM – MATERIALS:
(recipe below makes one large mixing bowl's worth)
Note the recipe above is per large mixing bowl. If you make 6 rainbow colors, you will need enough to make the above recipe x 6.
Another note on the flour; you can omit it but it will make your soap foam not as thick. Some people have asked concerns about it clogging their drains. Do what we did, cover your drain, and scoop your foam out to dispose safely in the trash if you are concerned.
As mentioned above you can also just set this up in a big plastic bin as well.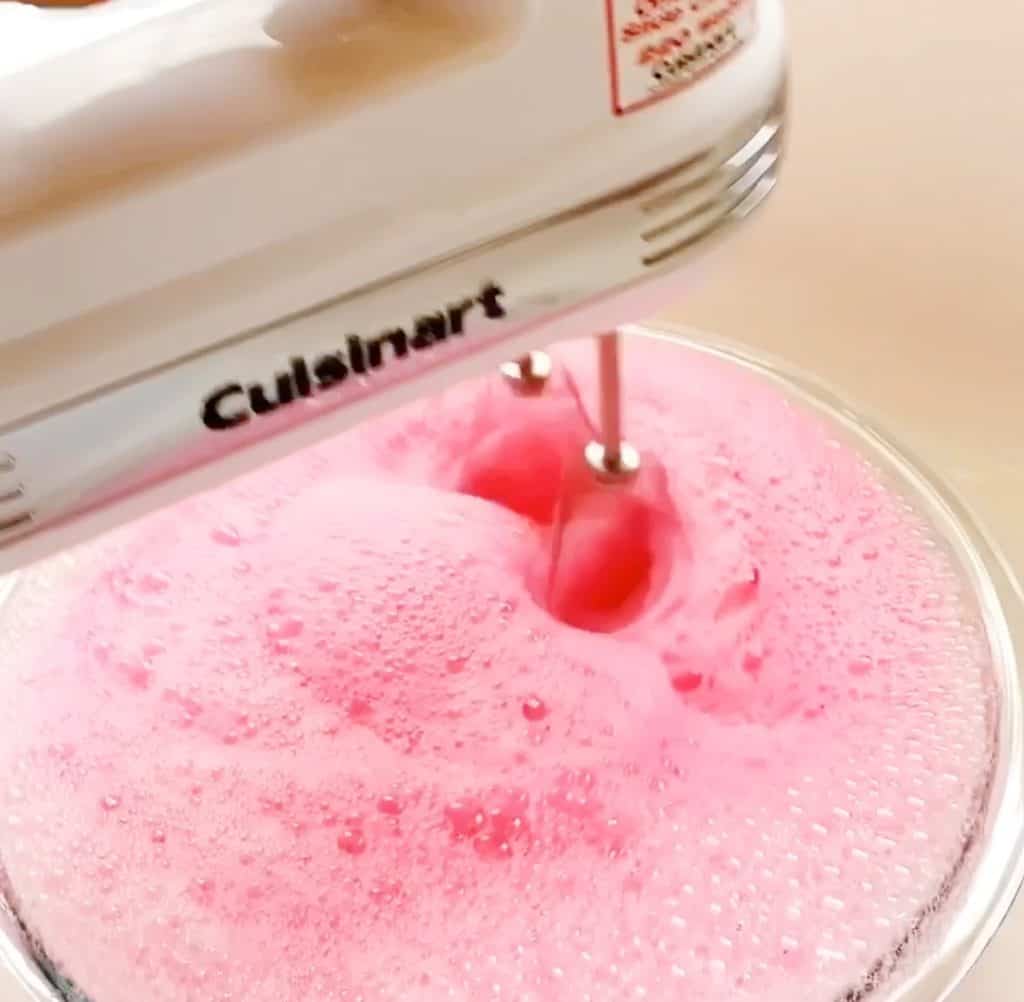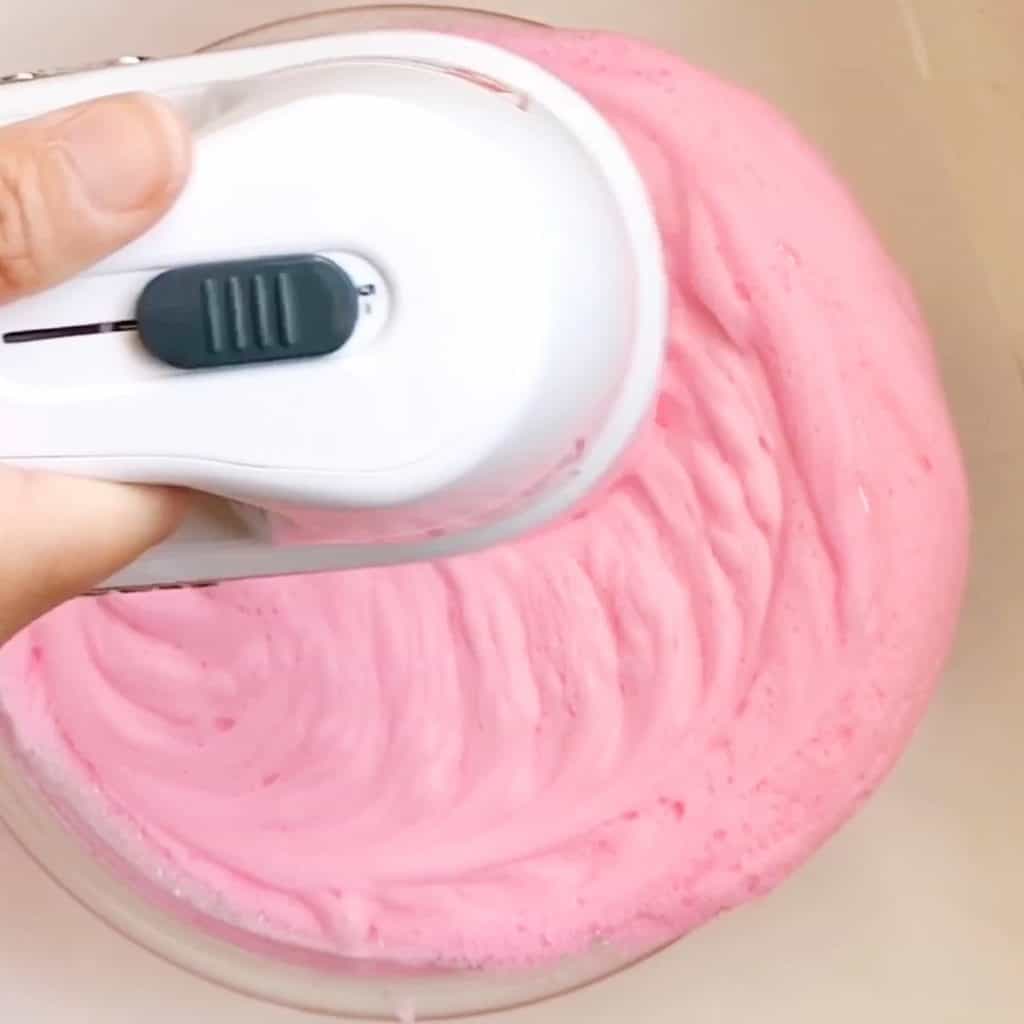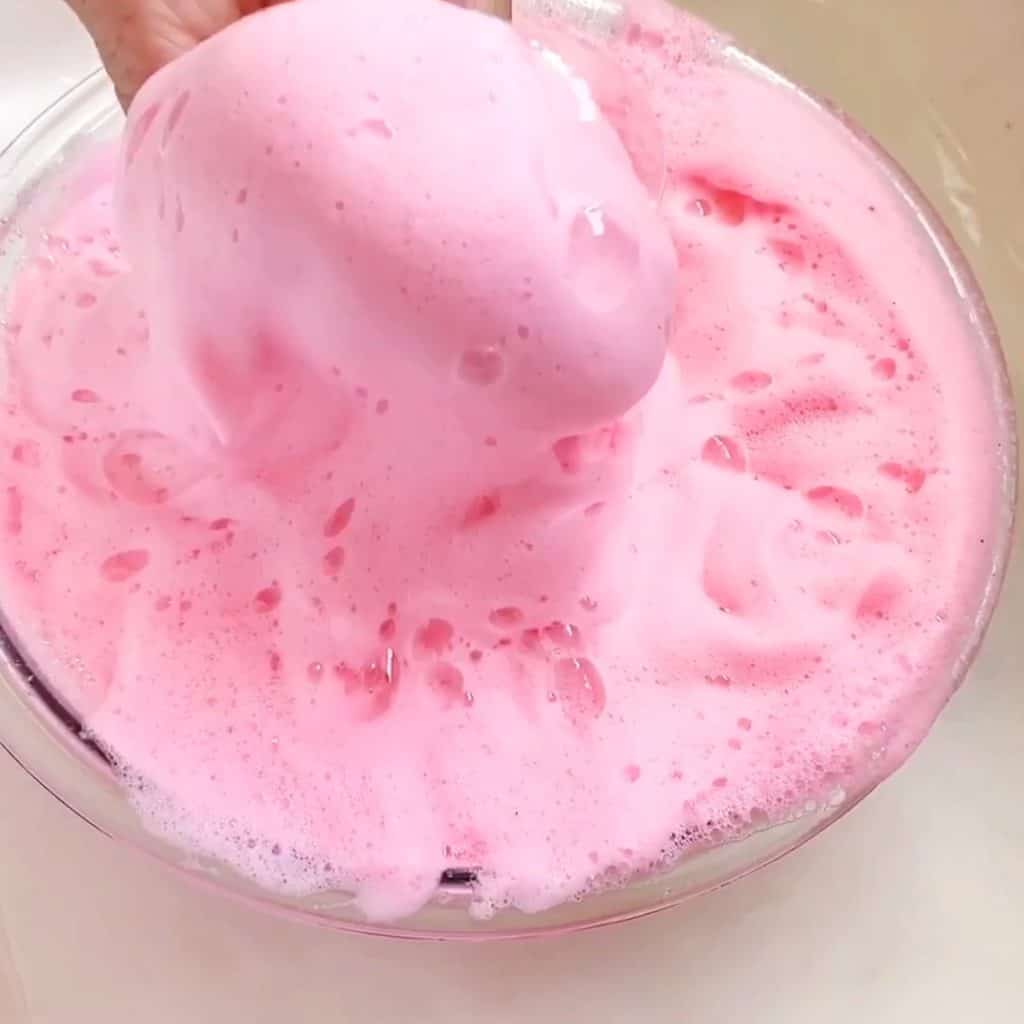 INSTRUCTIONS:
Step 1. Add your baby wash/soap, water, flour and as many drops of food coloring as you'd like (depending on intensity of color you want) to a large mixing bowl.
Step 2. Whip on medium then high speed until stiff peaks form.
Note: the foam dissipates the more it stands idle, but we were able to re-whip it several times. And it doesn't fizz out but lasts at least 10 minutes before coming down, and even then it's still foamy and fun to play with.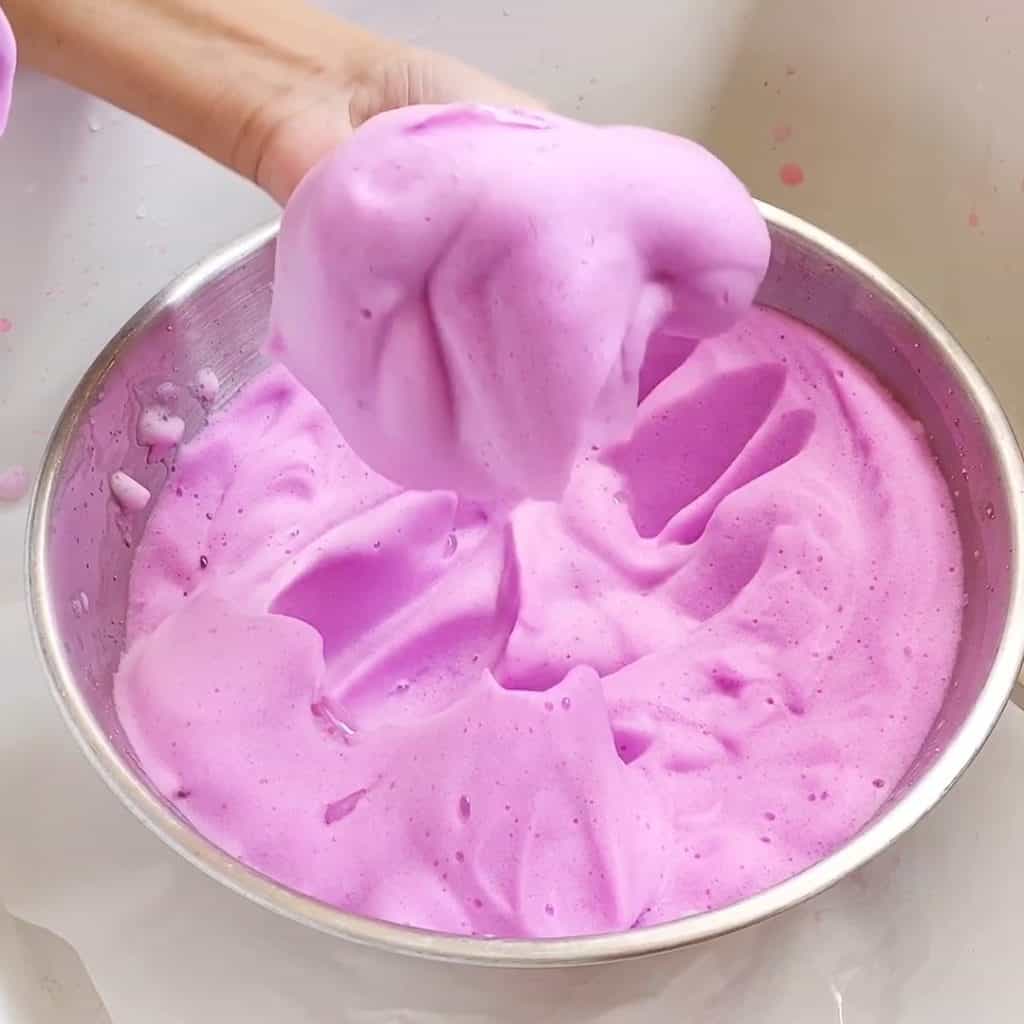 There was this super cute moment when baby started finger painting with the soap foam! Check it out live by watching the video down below.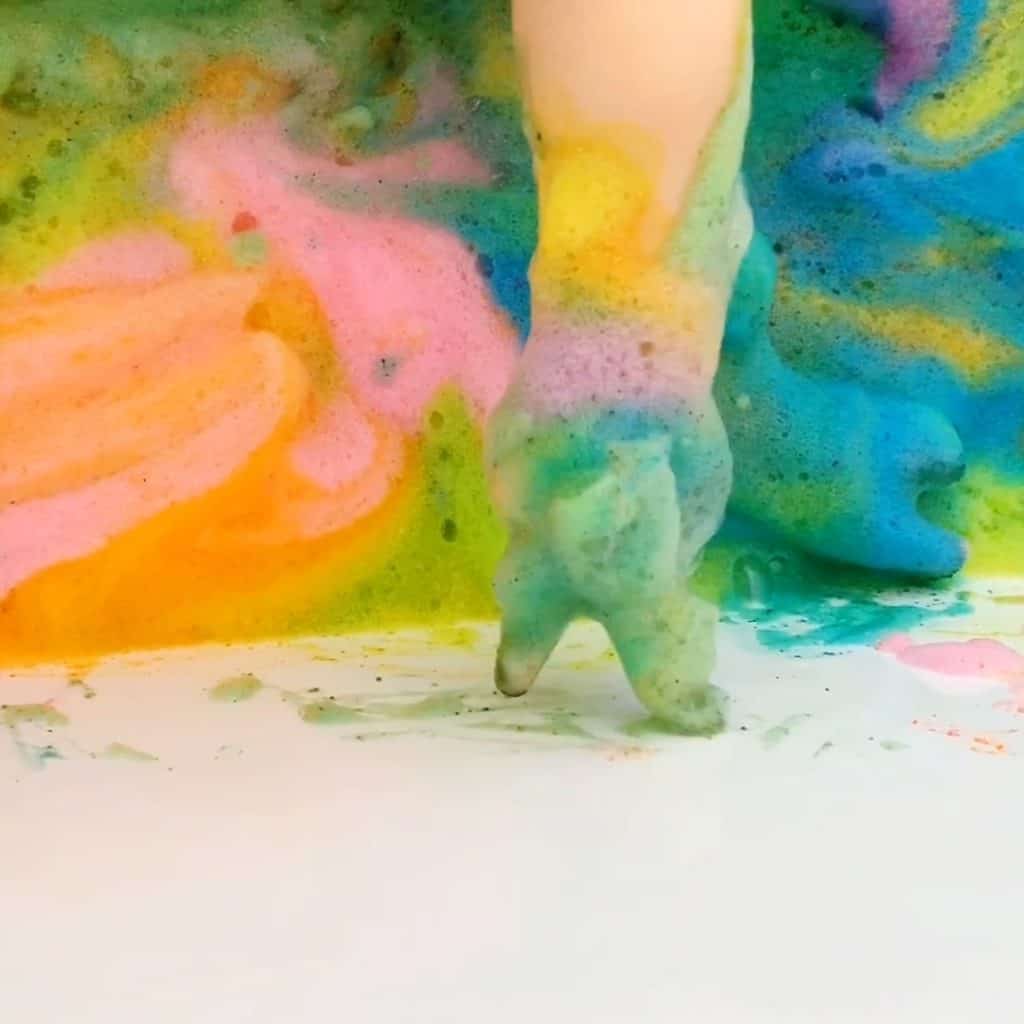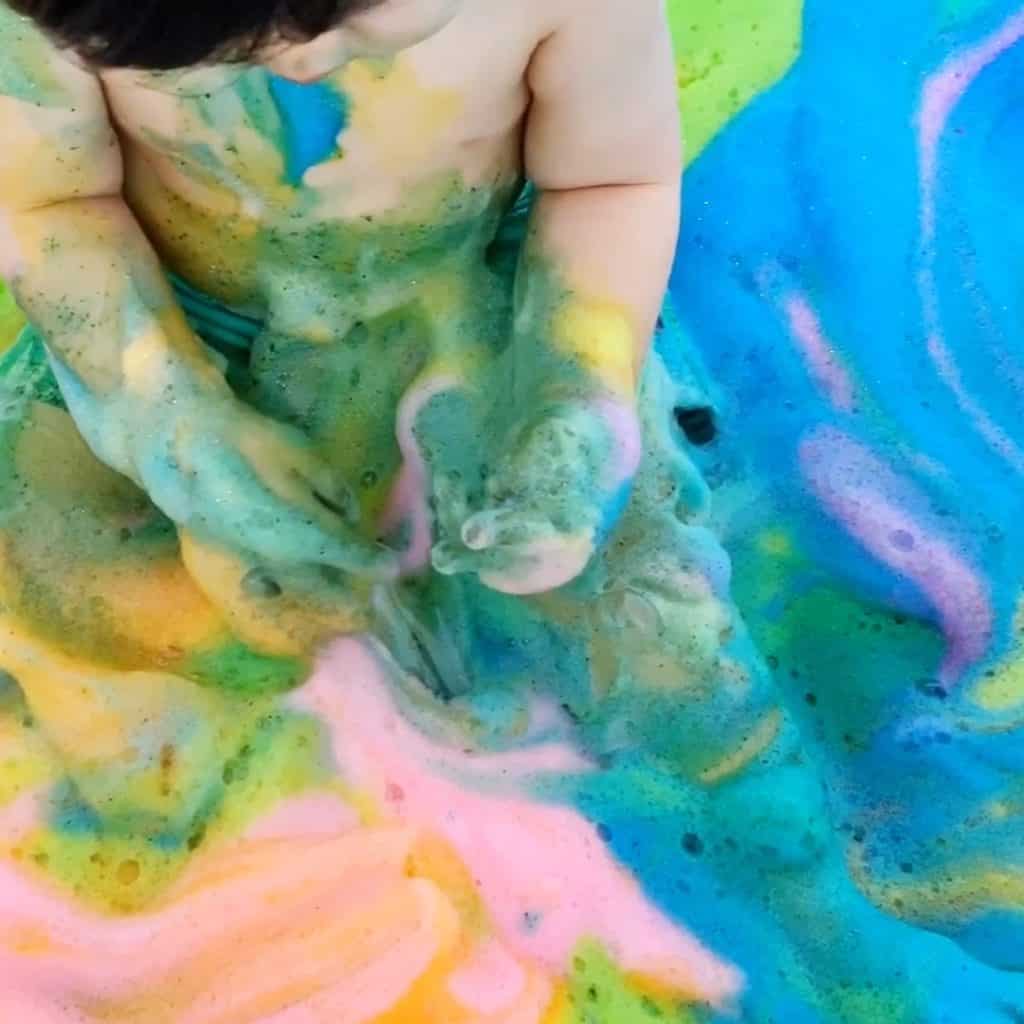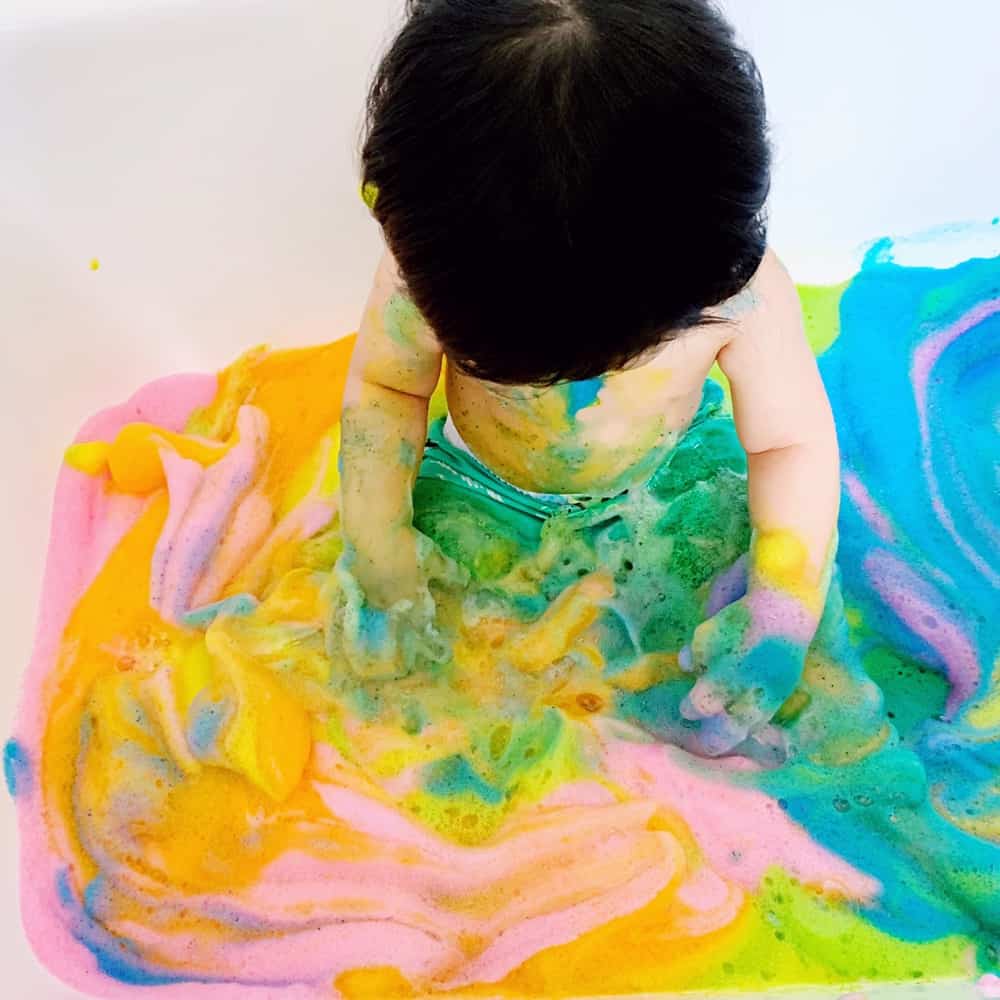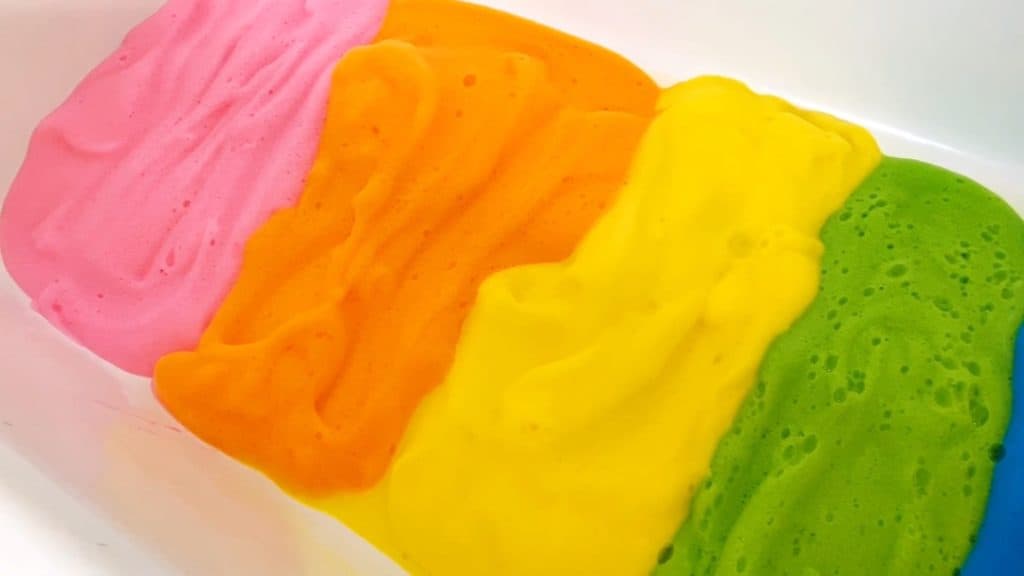 Watch the video below to see how to make rainbow soap foam: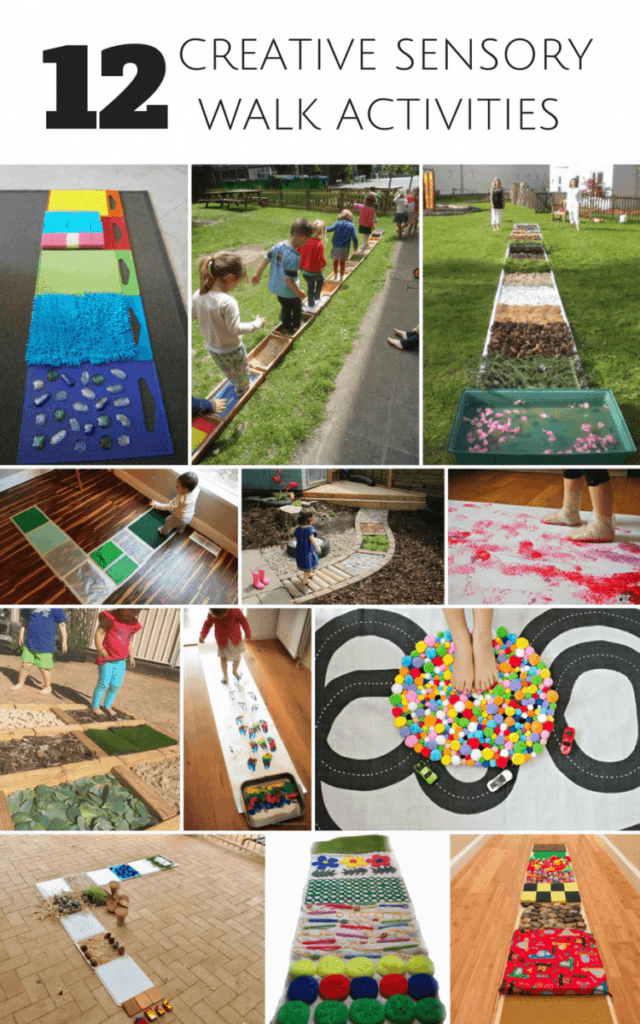 And more fun colorful activities!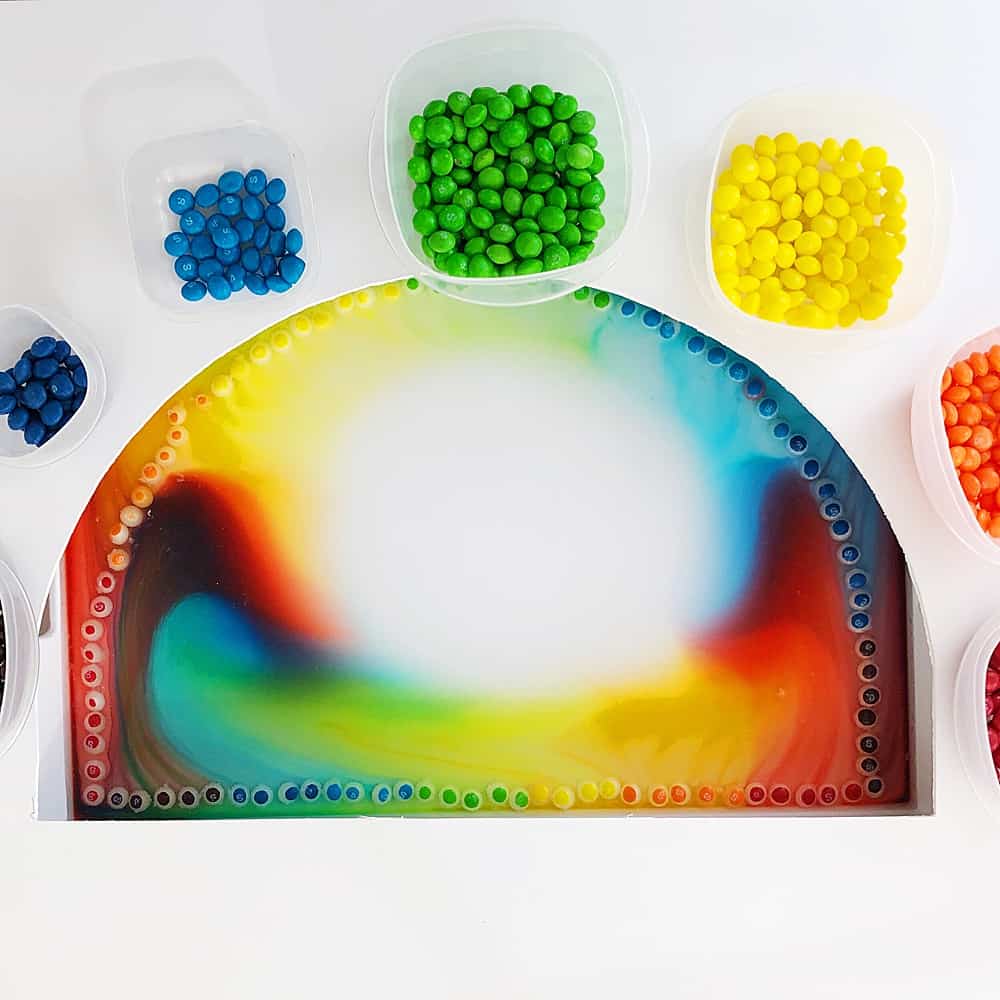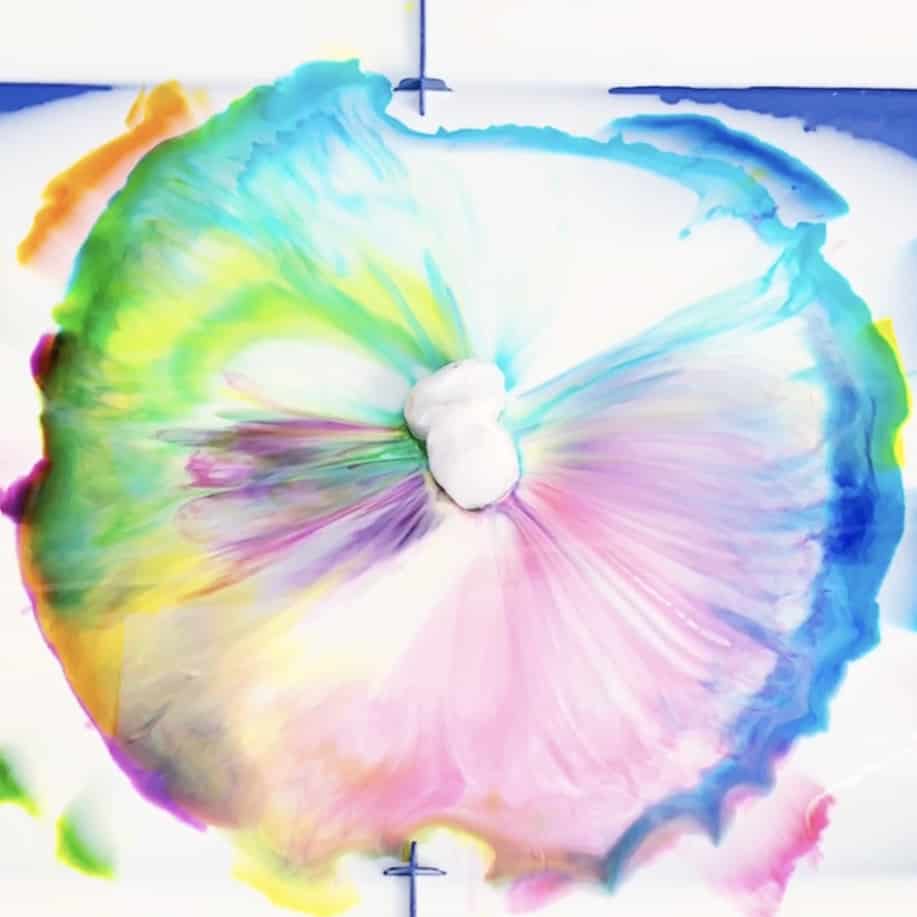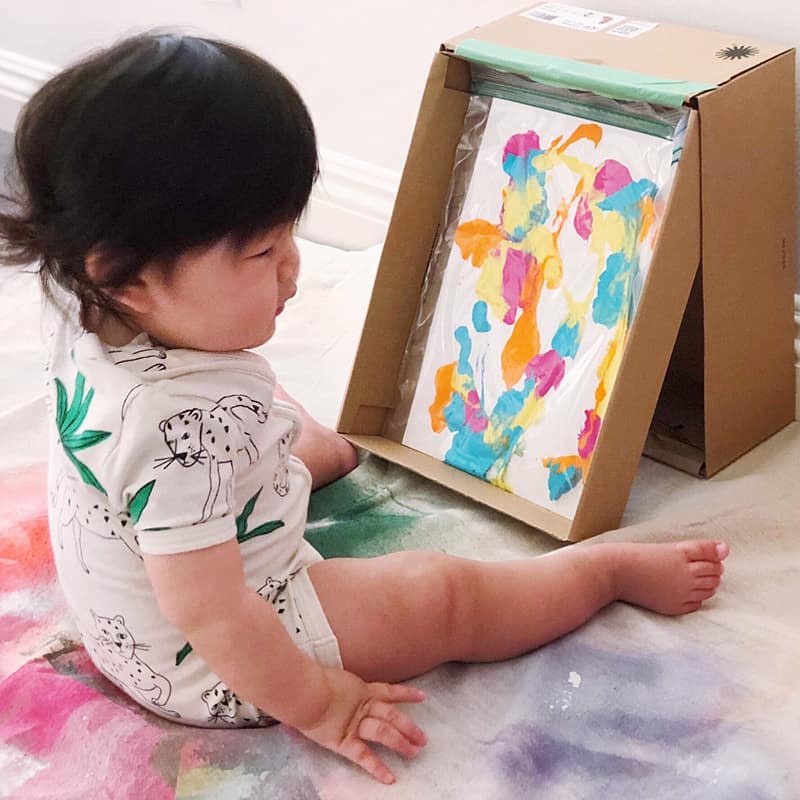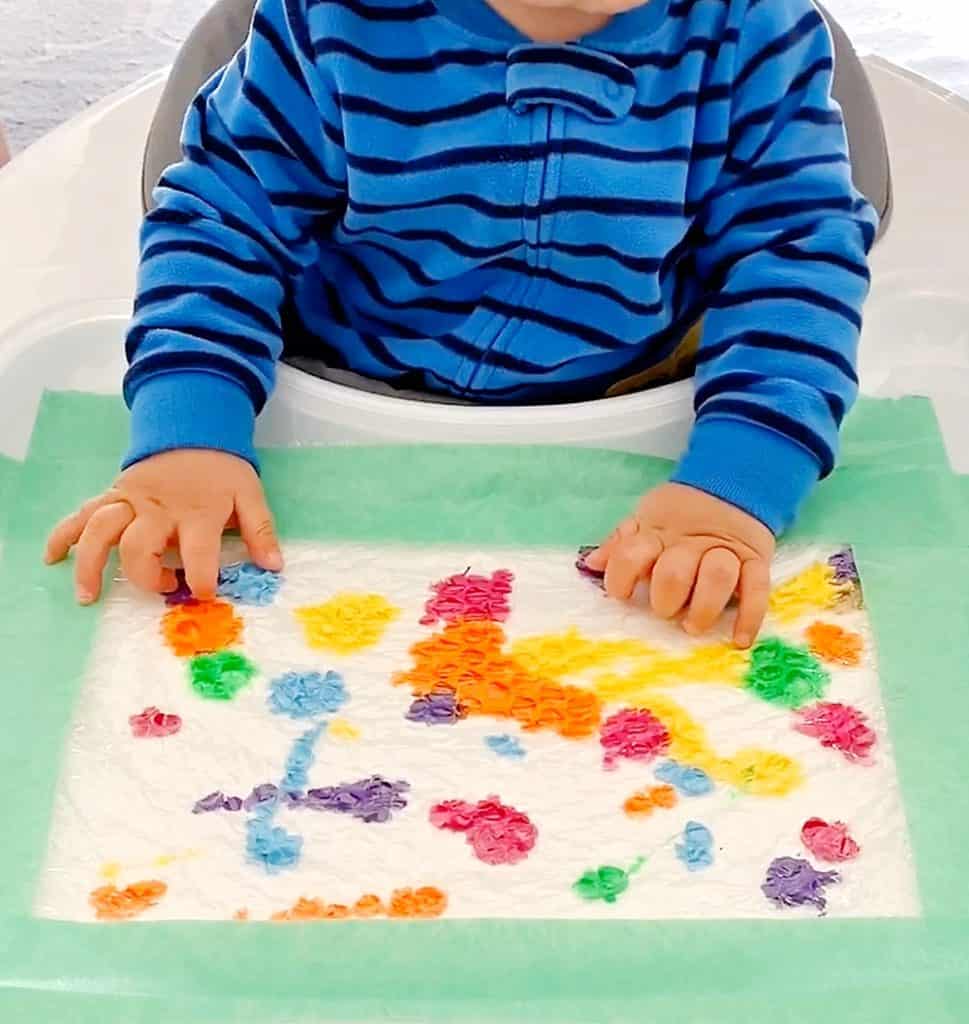 ---
Disclosure: Some of the links in the post above are "affiliate links." This means if you click on the link and purchase the item, we will receive a small affiliate commission. Regardless, we give our promise that we only recommend products or services we would use personally and believe will add values to our readers.