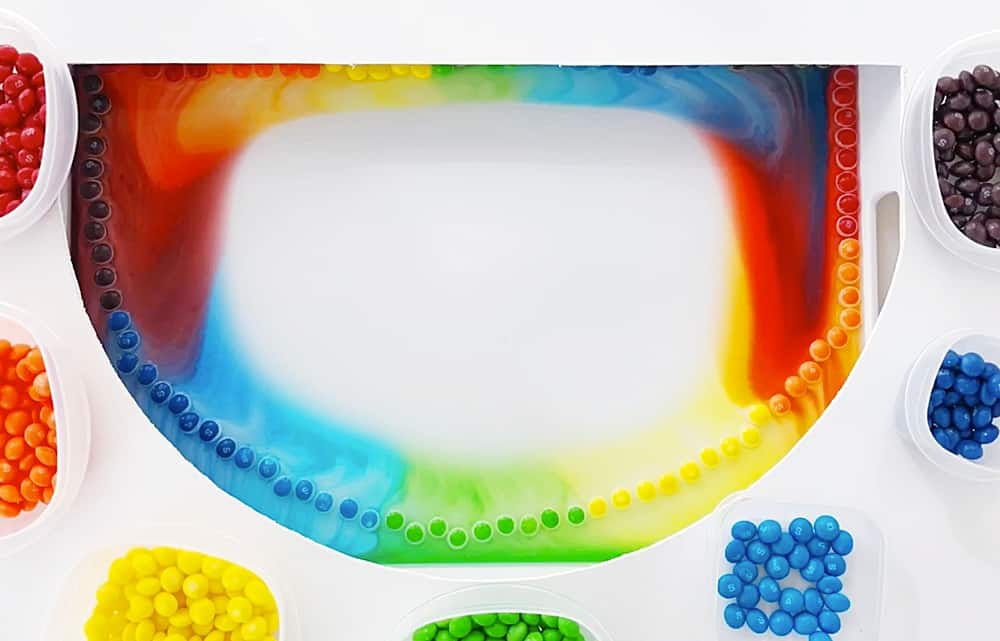 Follow us on Instagram for more fun ideas for kids!
Have you heard of the classic Skittles science experiment? You line up Skittles around a shallow plate, gently pour water inside and watch as colorful swirls appear as the colors from the candy Skittles separate.
What's cool is that he colors don't blend easily into one another. How does this magical rainbow happen?
We decided to create a twist around this classic science experiment by making a Giant Rainbow Skittles Science Experiment out of a large rainbow arch cut-out.
The idea to use a raised cut-out comes from the beautiful Skittles art created by stunning artist, Edgar Artis.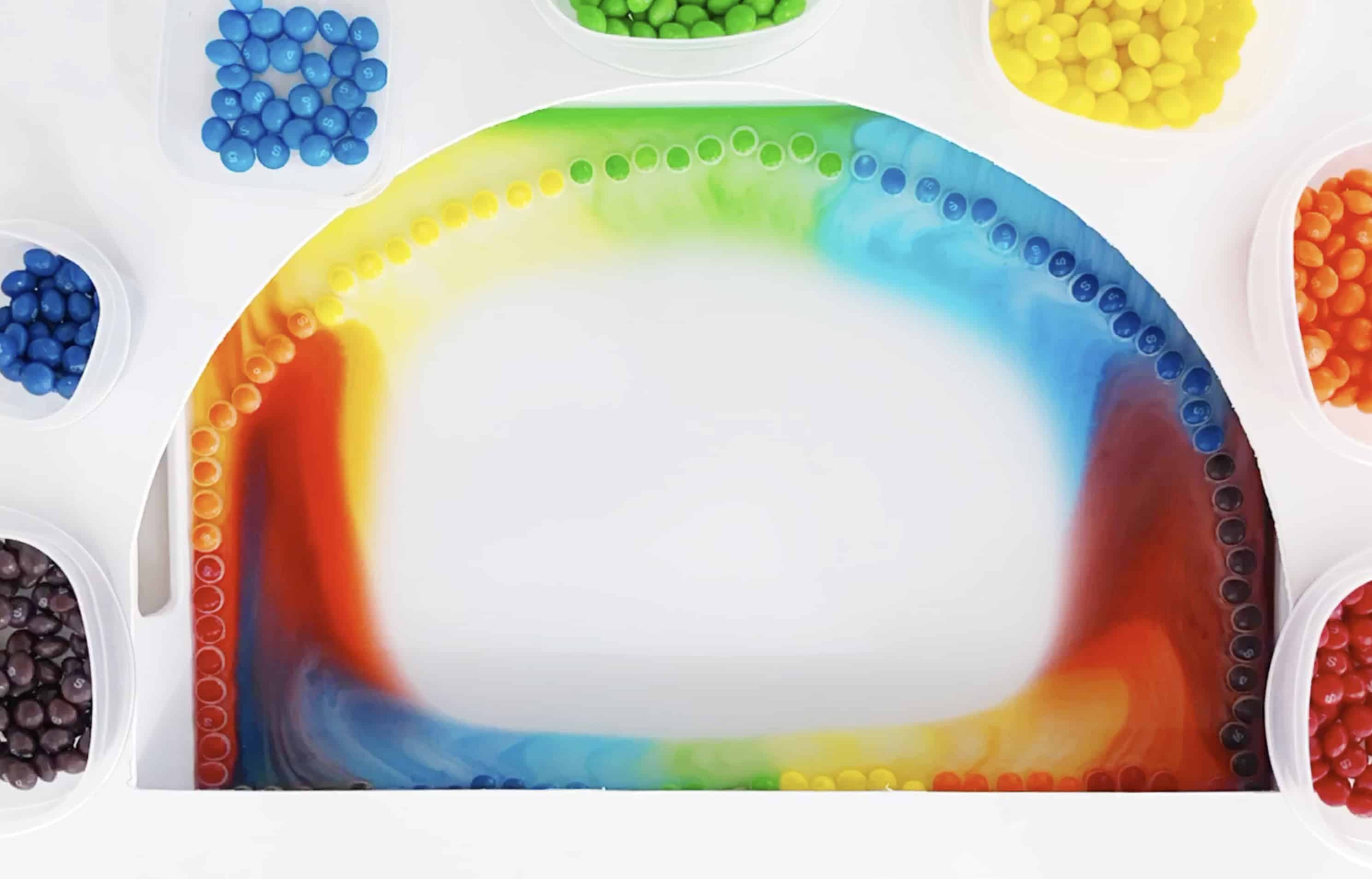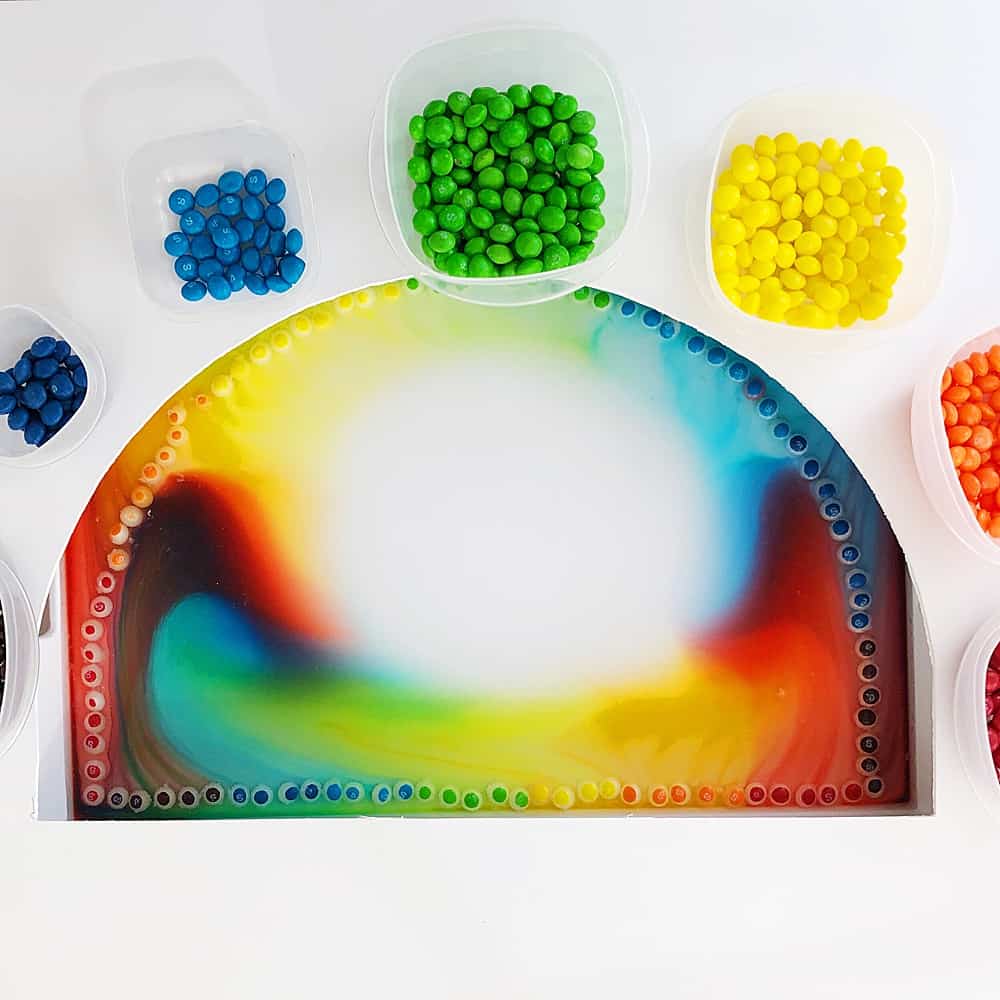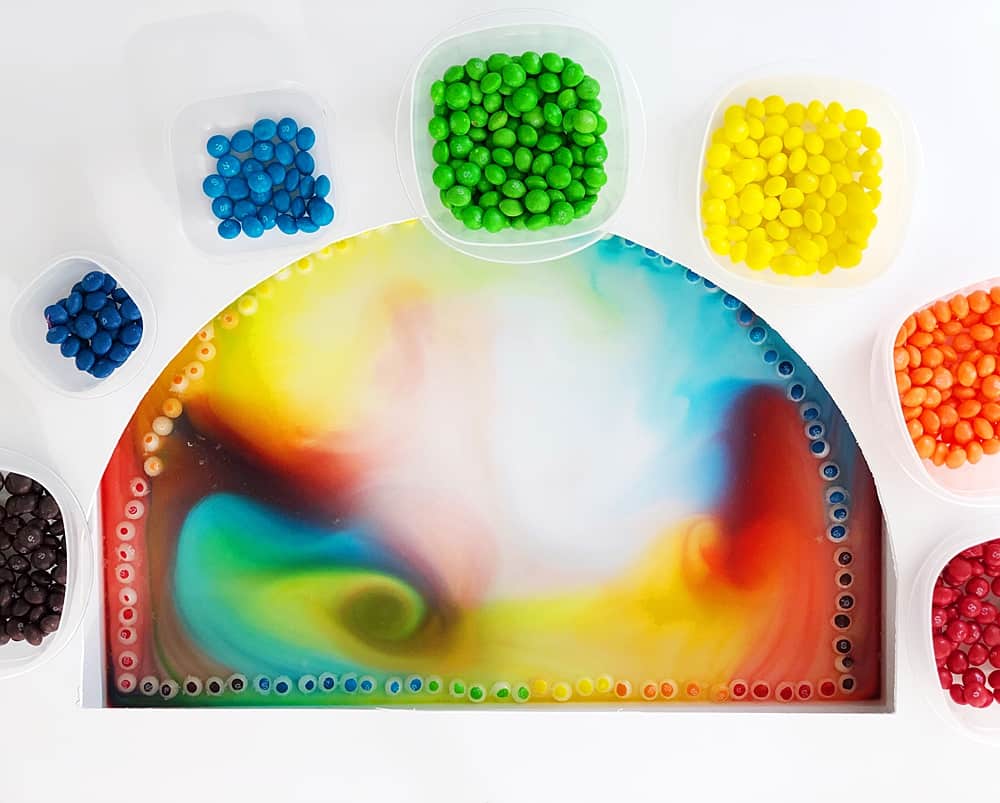 Scroll all the way down to watch how to make this mesmerizing Giant Rainbow Skittles Science Experiment and be sure to subscribe to our channel for more fun crafts and ideas!
Science experiments are a fun way to get kids involved in some STEM action! If you've been following us for a bit, you may have caught my son Kian's video science experiments.
His curiosity for science led him to start a science channel on our Instagram IGTV where you can see him create scientific experiments by himself (with adult supervision of course).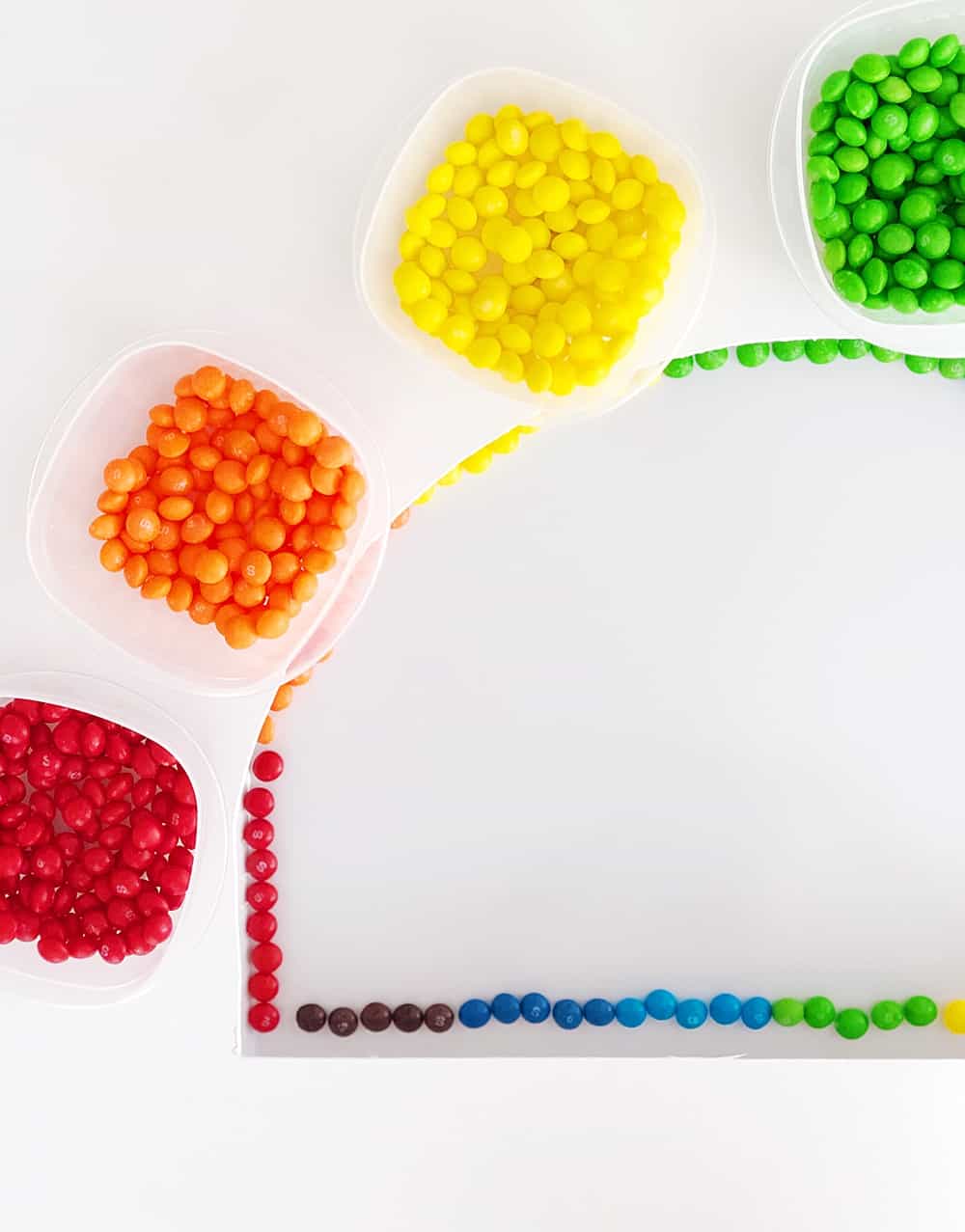 He's shown off how to make impressive, fizzy Elephant Toothpaste, and talked the science behind blowing bubbles – what makes them pop and what makes them stay bubbly?
Today, Kian is super excited to have a guest star, his friend Trystan, son of our creative bloggy friend Shelly from the cute and crafty Creating Creatives.
Tristan and Kian are both really proud of one thing. They love rainbows! Who doesn't love all the colors of a rainbow?
We love them so much we wrote a book called My Color is Rainbow.
Today, Kian and Trystan want to break stereotype and show that boys can like rainbows too by sharing with you this magical and color popping Giant Rainbow Skittles Science Experiment!
Why giant? Because science is more fun and impressive when it's bigger! We love creating giant versions of classic science experiments like our Giant Magic Milk Experiment.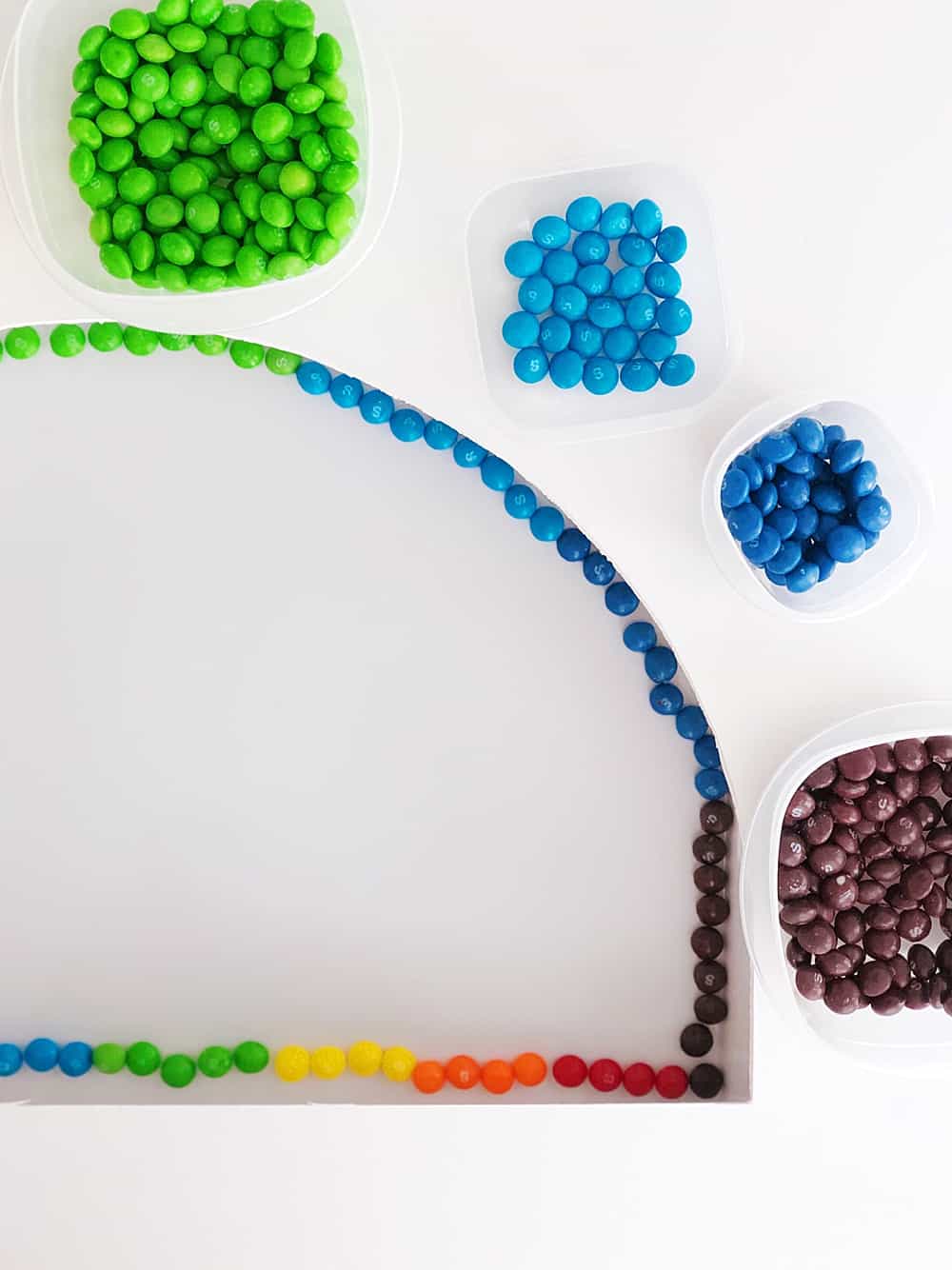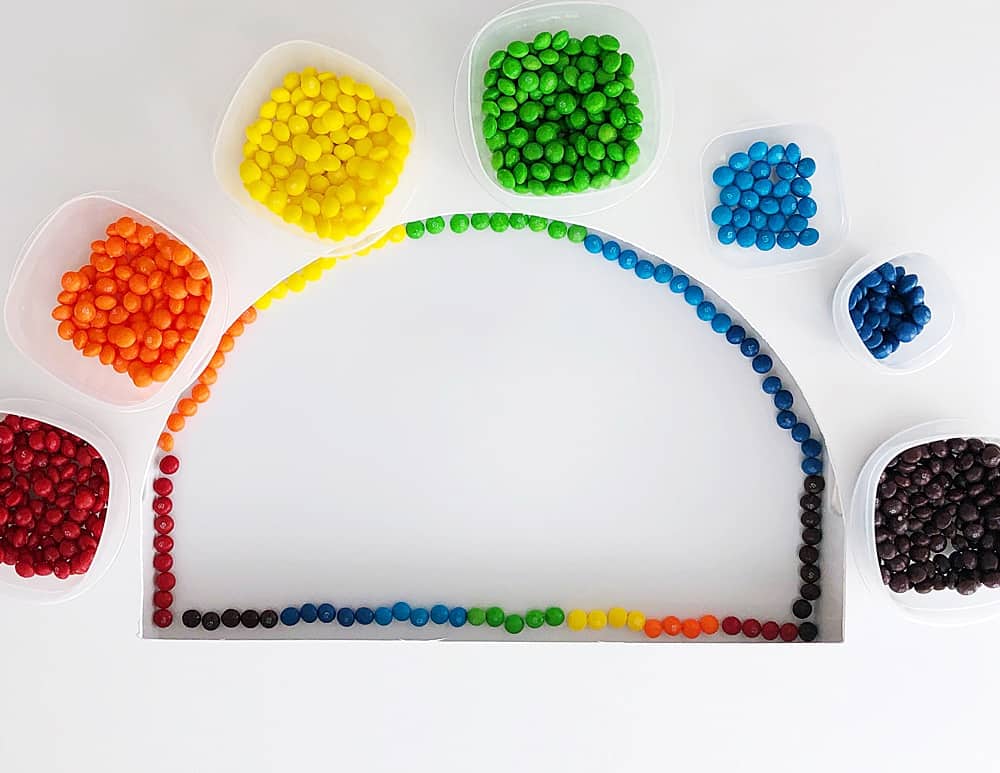 What's neat about this experiment is that you don't need a lot of supplies. And eating some of the candy is a huge reward and incentive 🙂
As mentioned earlier we wanted to do a big twist on the classic Skittles science experiment by creating a giant rainbow arch to create the rainbow Skittles swirl.
Will it work? Read on to find out.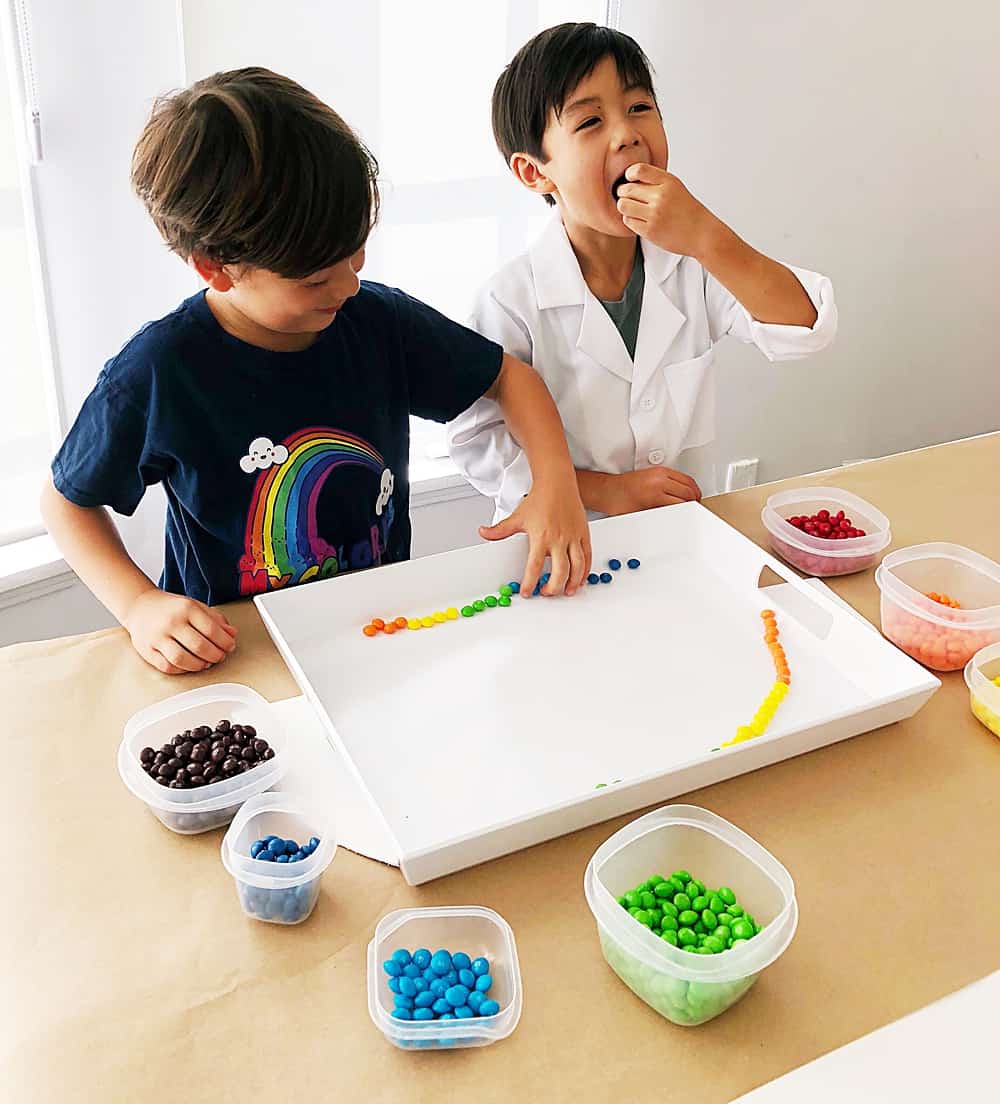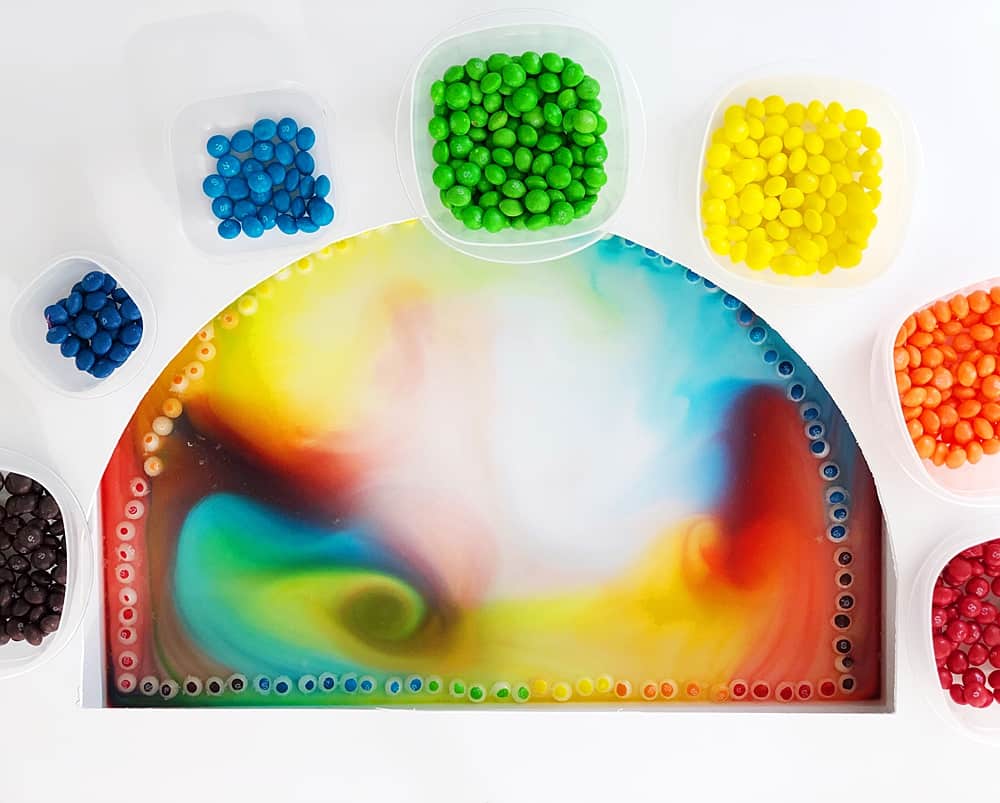 GIANT RAINBOW SKITTLES SCIENCE EXPERIMENT – MATERIALS:
A large piece of posterboard
Skittles candy
A tray that is large enough to support your rainbow posterboard arch over it (see photos)
Warm water and cups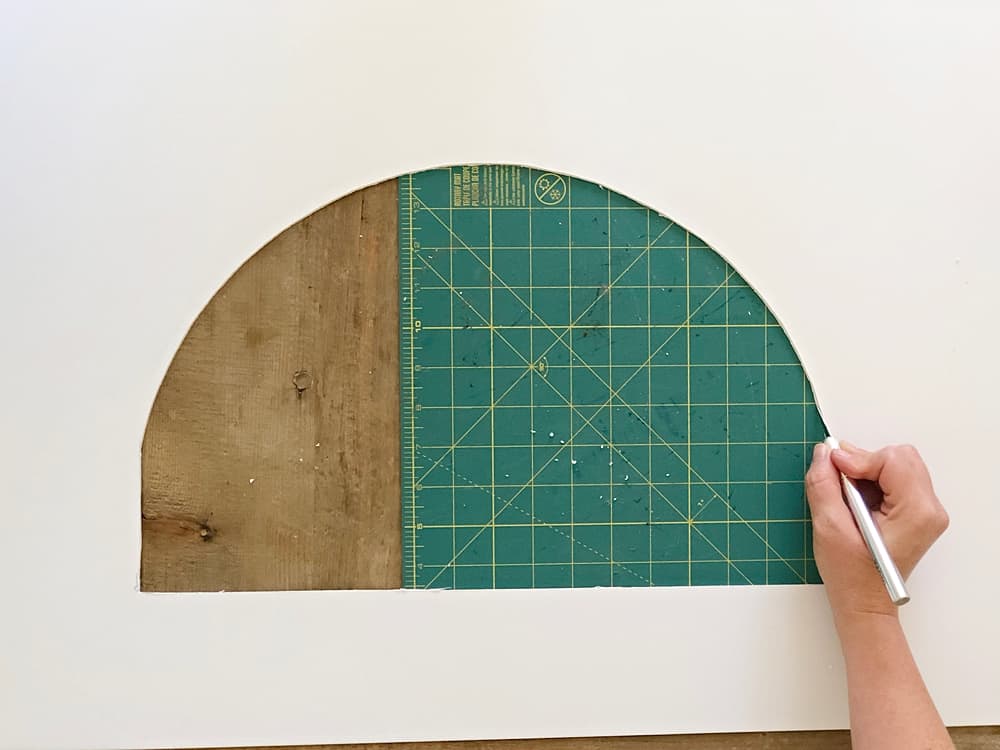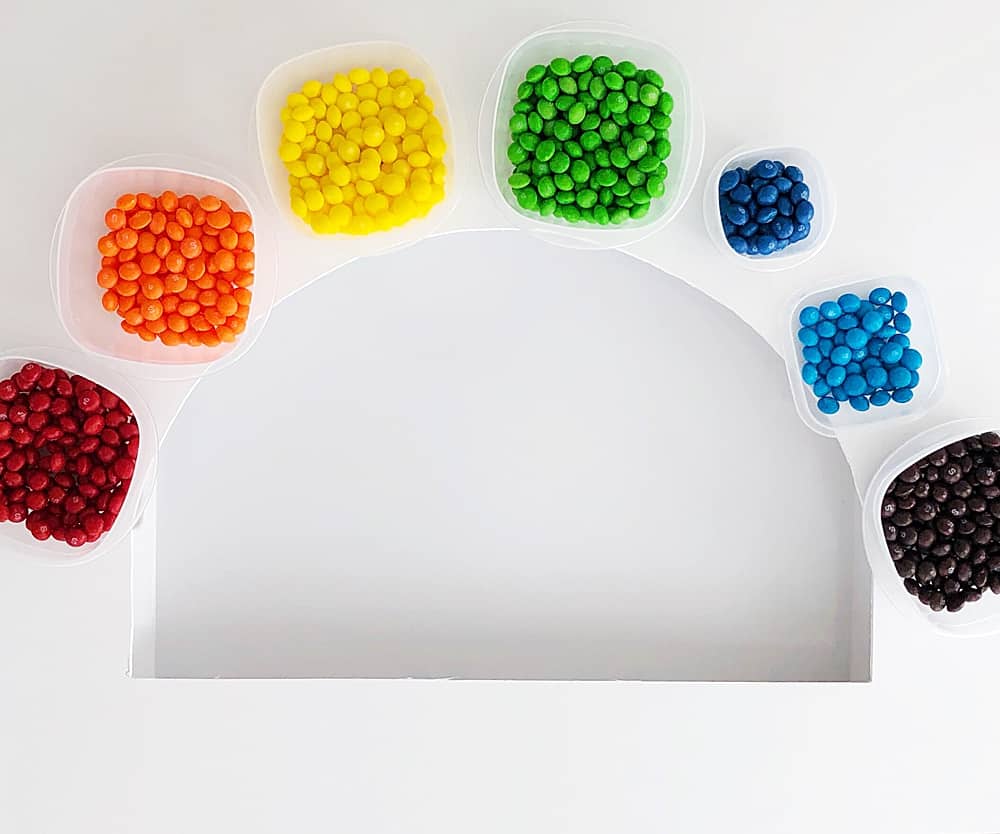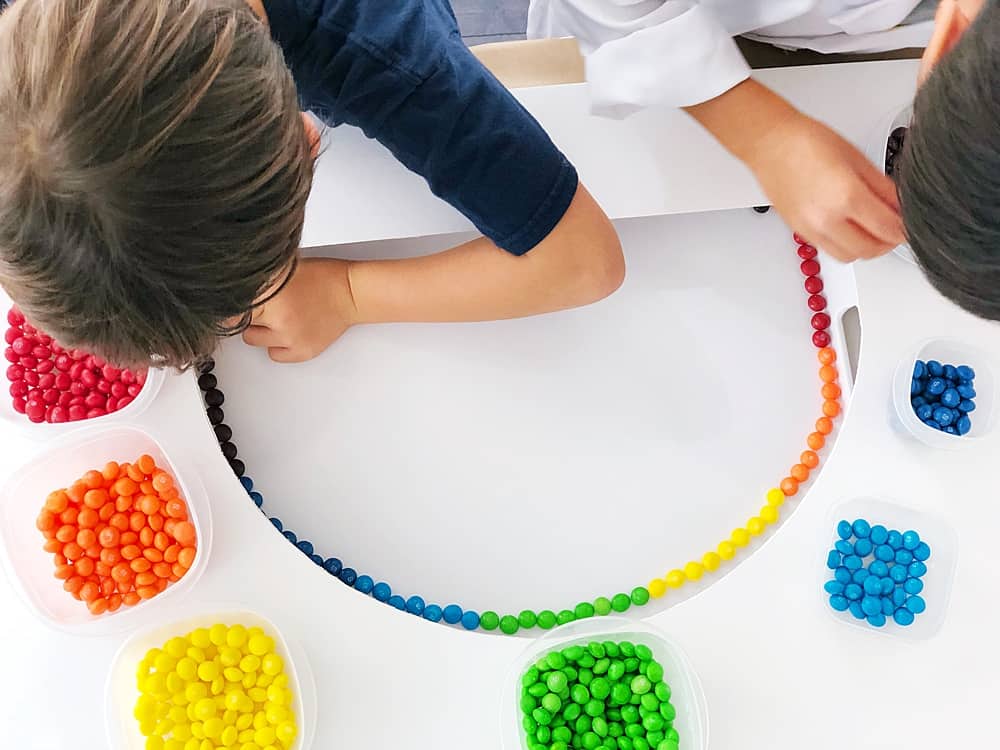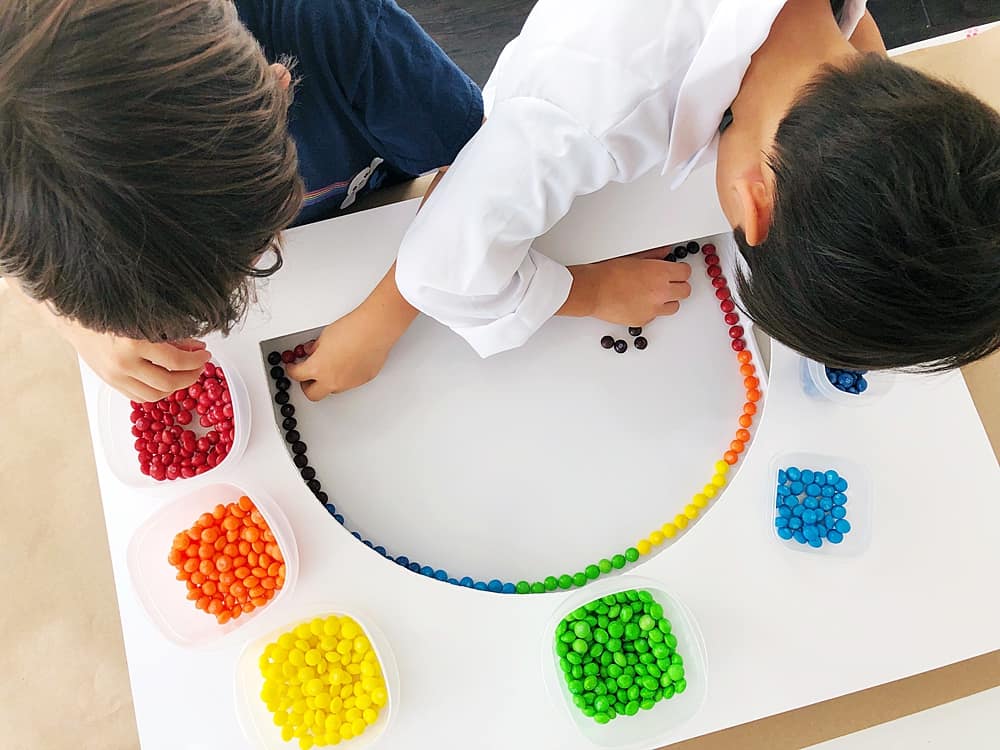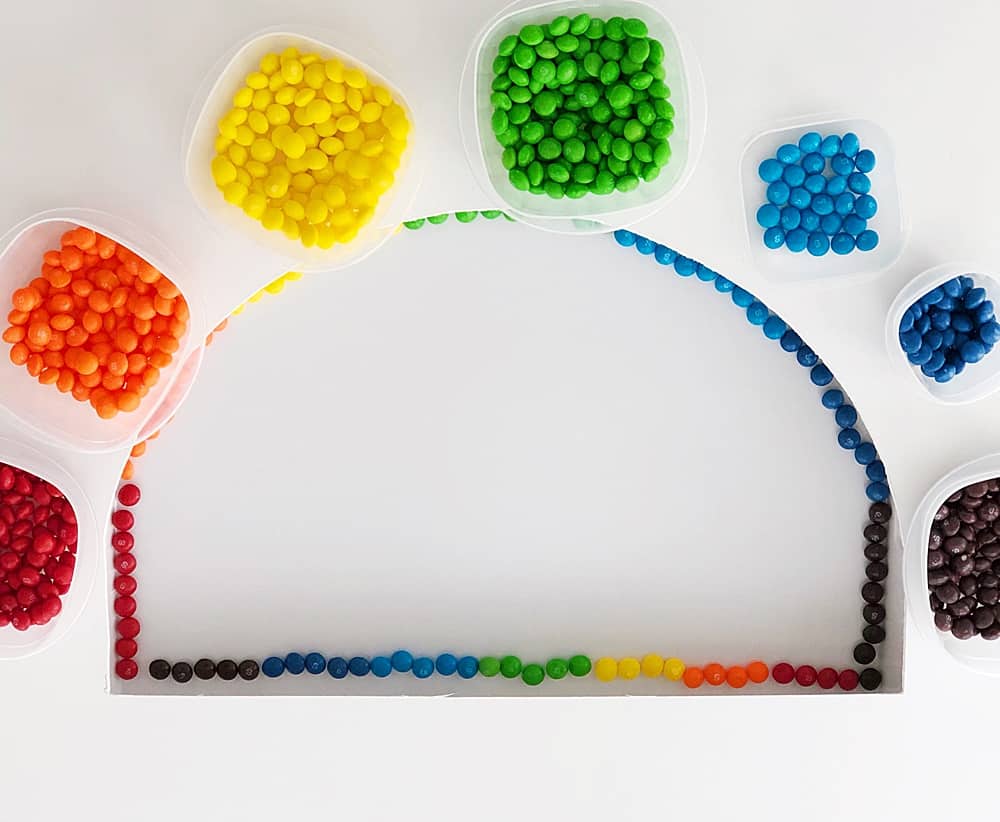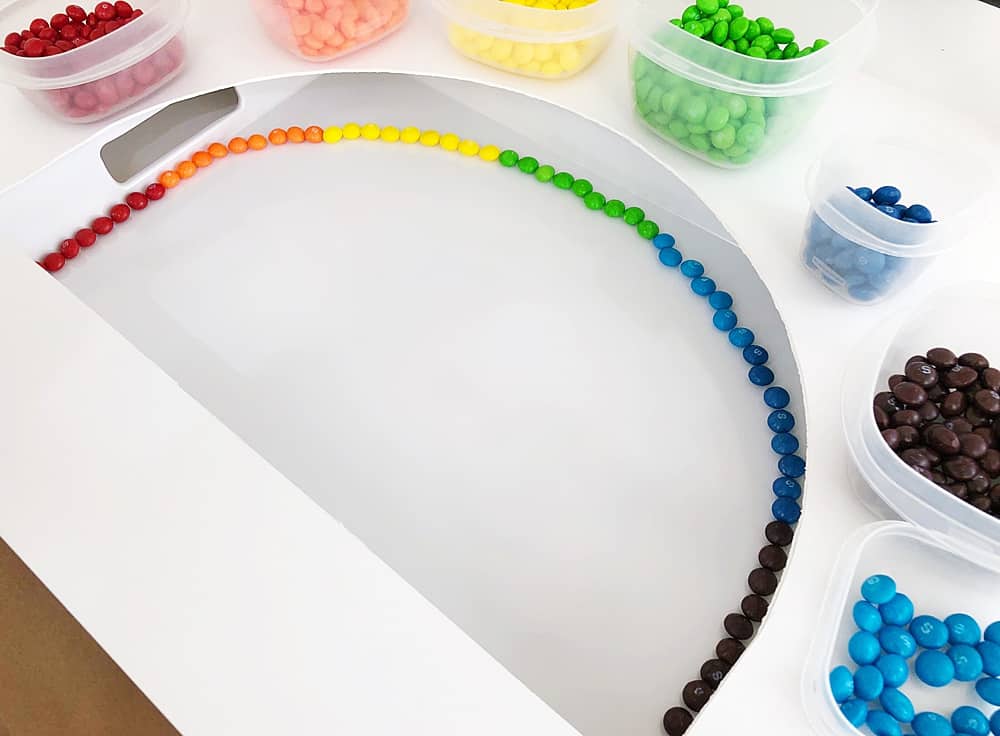 INSTRUCTIONS:
Step 1. Draw a rainbow arch lightly in pencil on your posterboard and cut out with your exacto knife over your cutting board. You should have a giant rainbow cut out arch.
Step 2. Layer the posterboard over your tray and line your skittles all around the arch in rainbow color (red, orange, yellow, green, blue and purple.)
Step 3. Slowly add warm water inside the tray starting at the center and start low.
As the water reaches the skittles, the color will separate from the skittles and push out inwards.
*Note as we did this experiment we found out our tray wasn't actually leveled! Although it *looked* flat. So our colors didn't reach all the way to the center. However if your tray is flat it should and look even more amazing!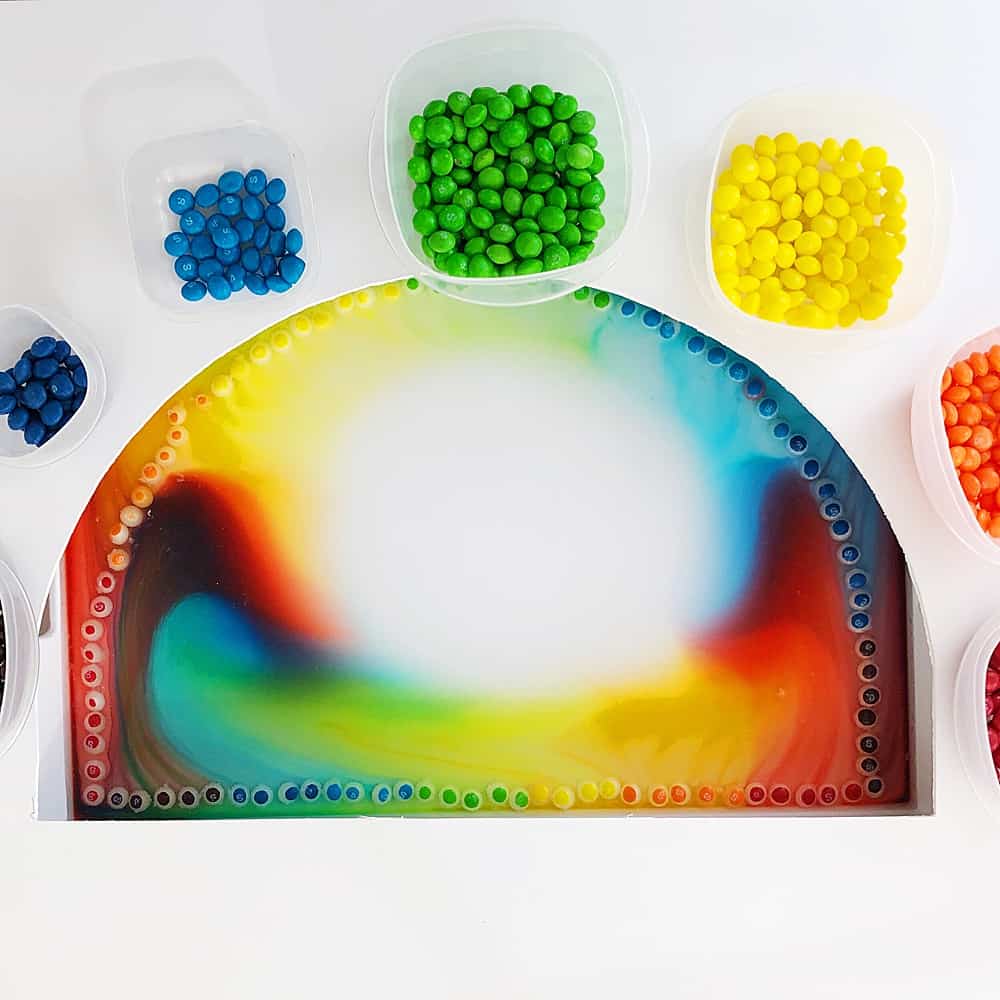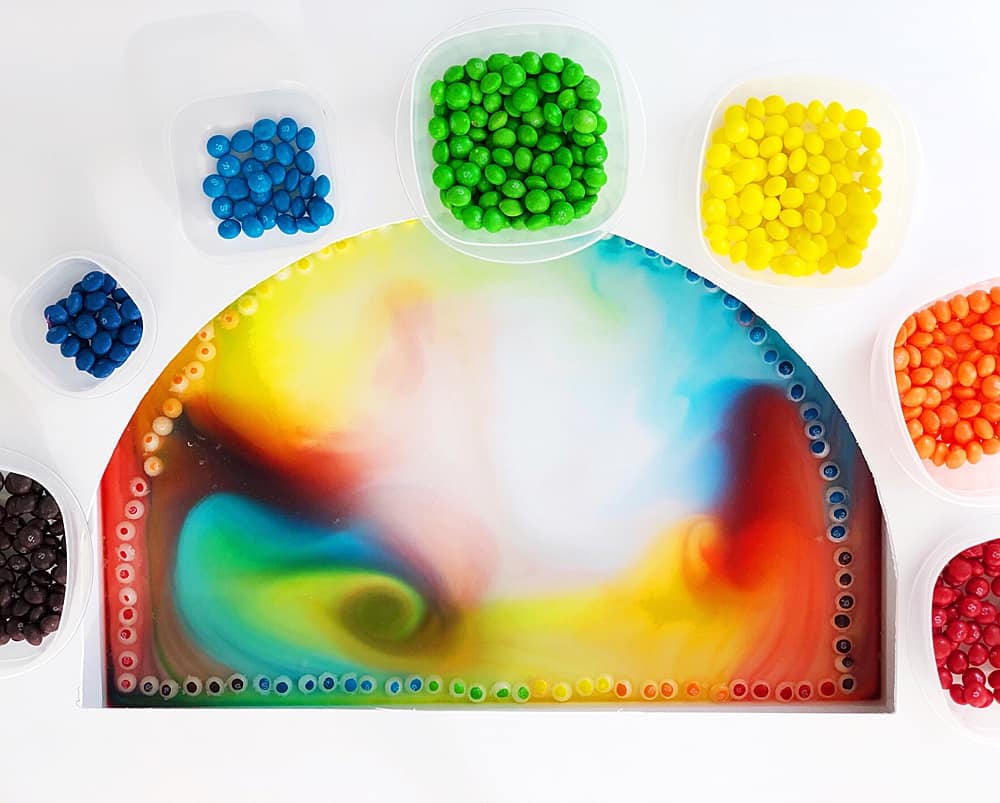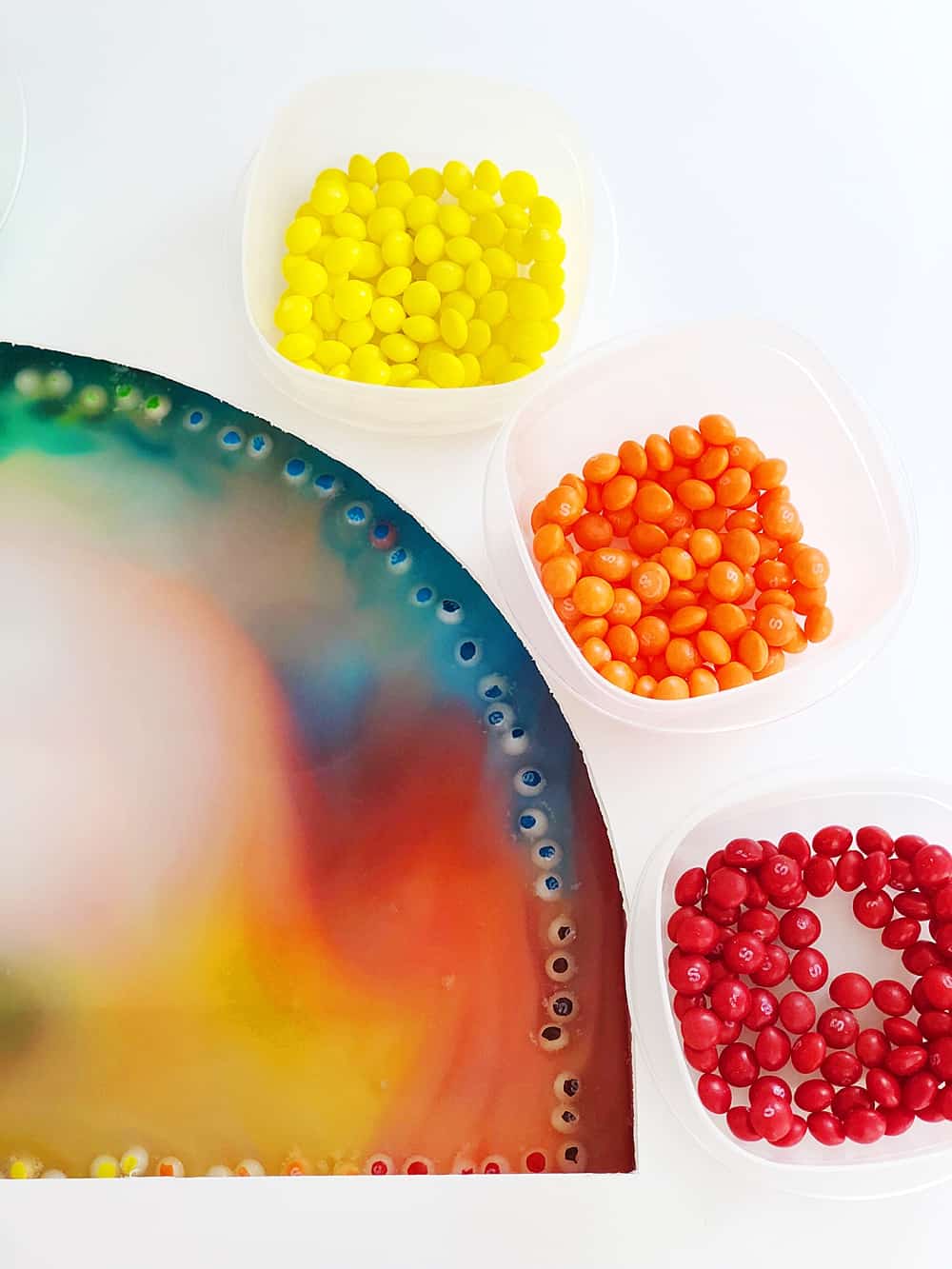 Look at these mesmerizing swirls and colors! Our rainbow loving boys were in serious awe.
It's really even cooler in video so make sure you scroll to the bottom to watch it!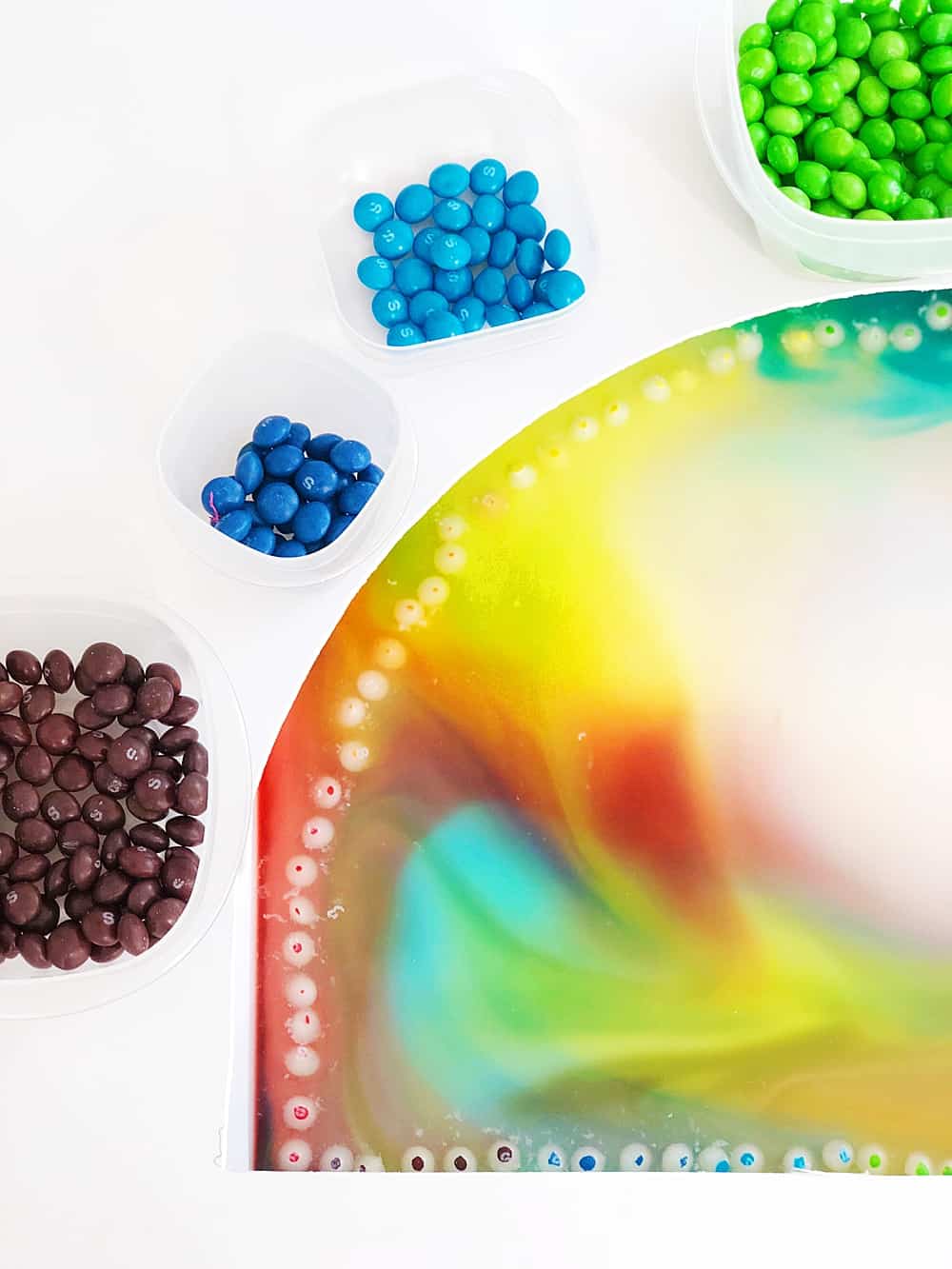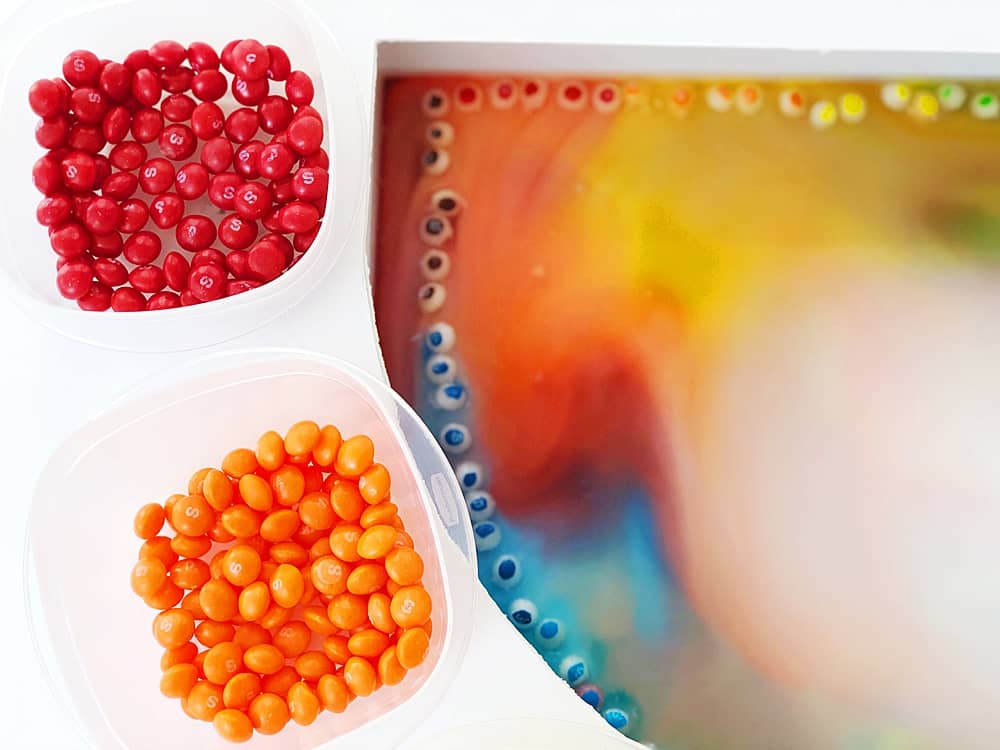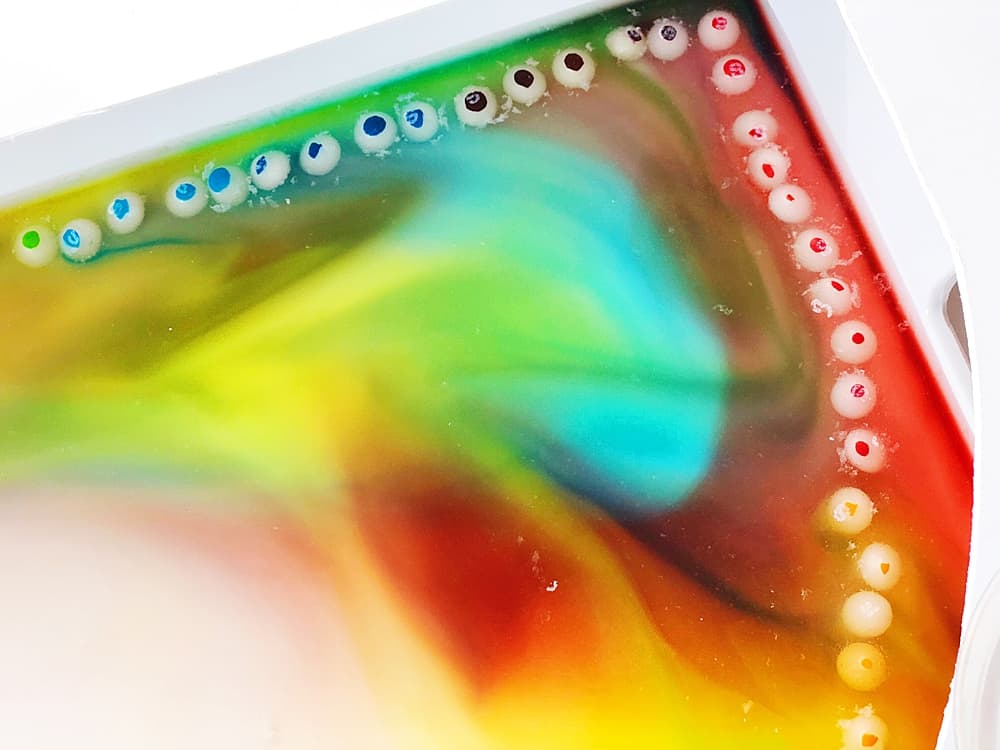 So what's the science behind this impressive Skittles Science experiment? Why do the colors not mix? It has to do with water stratification according to Skittle Science expert Little Bins for Little Hands.
What is water stratification? According to Wikipedia it's when water masses with different properties form layers that act as barriers to water mixing. The colors don't mix because the sugar level is equal on both sides and the dissolved sugar acts as a barrier preventing color blending according to this source.
Steve Spangler, kids science expert also talks about chromatography happening in this candy science experiment the act of dyes separating when water runs through and pulls color particles out with it.
We hope you've learned a lot about Skittles Candy Science. The boys sure did and enjoyed sharing their experiment and knowledge with you!
Watch the step-by-step video below to recreate your own Giant Rainbow Skittles Science Experiment at home.
You can definitely do this on a smaller scale by cutting out a smaller arch!
See more amazing kids science experiments:
Elephant Toothpaste Science Experiment
---
Disclosure: Some of the links in the post above are "affiliate links." This means if you click on the link and purchase the item, we will receive a small affiliate commission. Regardless, we give our promise that we only recommend products or services we would use personally and believe will add values to our readers.