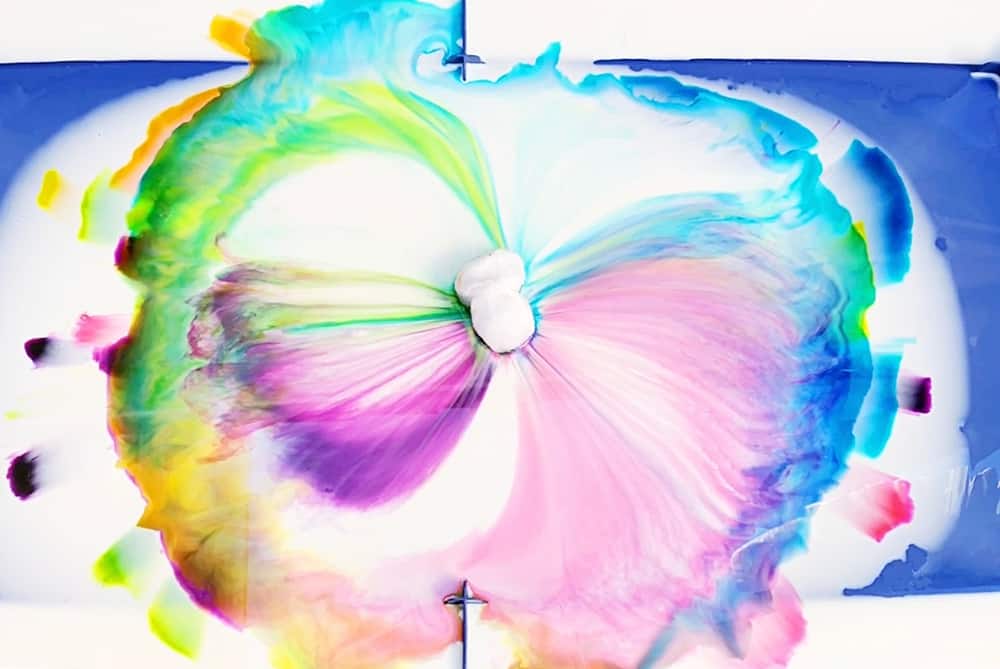 Follow us on Instagram for more fun ideas for kids!
Scroll all the way down to watch the video below for the step-by-step video in how to make this impressive Giant Magic Milk Science Experiment and make sure to subscribe to our YouTube channel for more fun videos!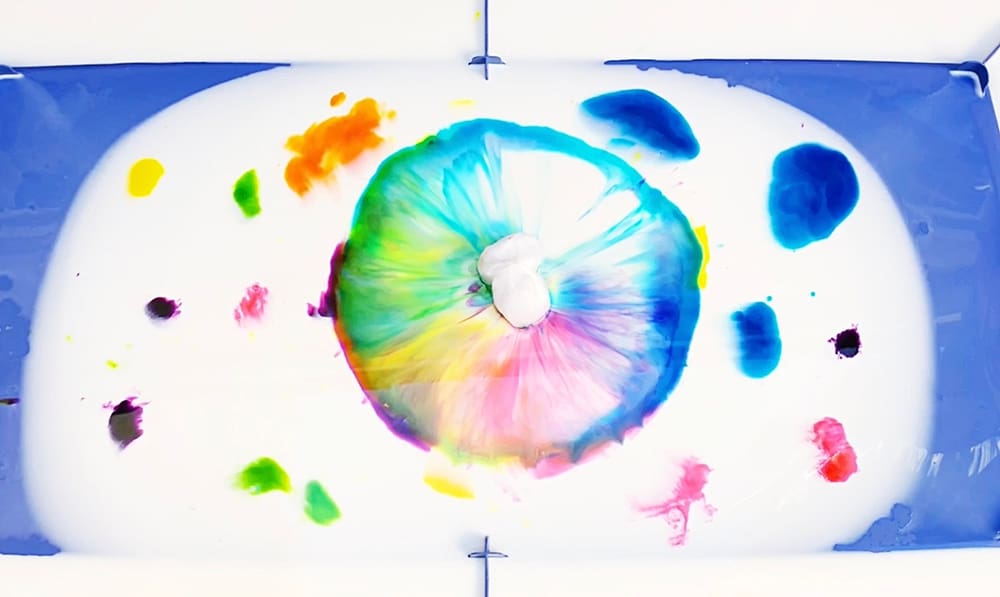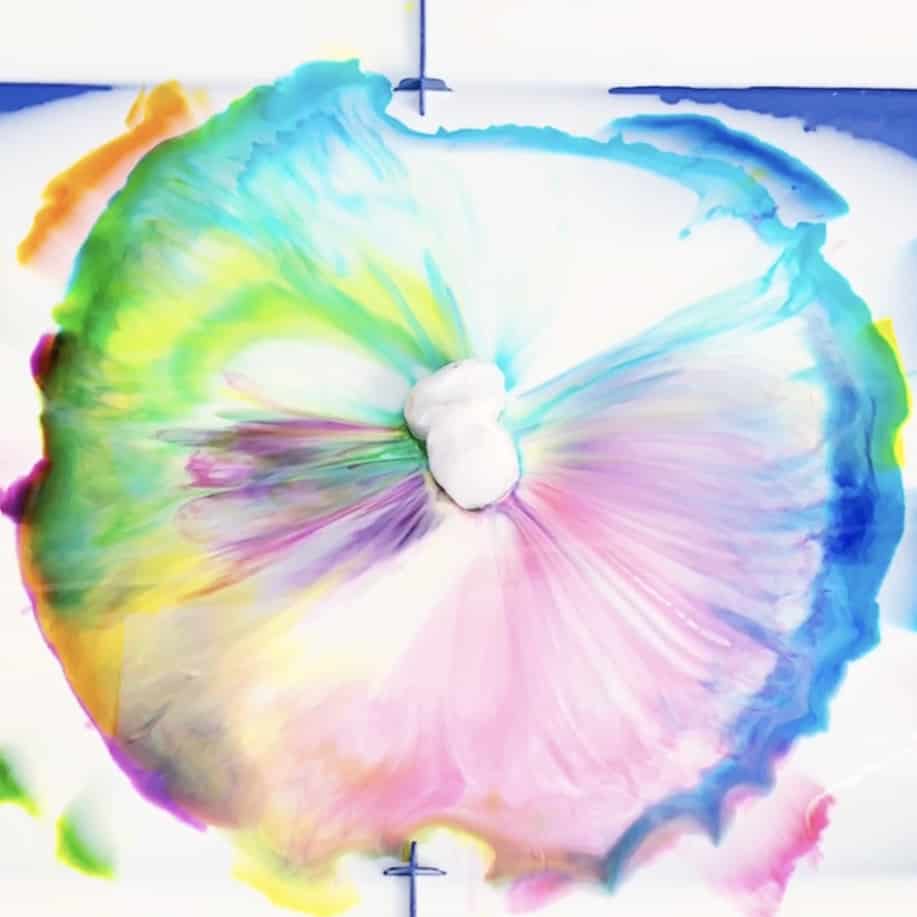 Looking for an unplugged, easy science activity that will keep your kids entertained while learning? Head to the kitchen for a giant magic milk experiment that feels way more like play than science!
Like our elephant toothpaste, rainbow science, and bubble science experiments, this good old fashioned discovery fun is guaranteed to amaze, and perfect for groups or classrooms! There's something about making things GIANT that is always ever-appealing to kids. Plus collaborative hands-on learning can't be beat.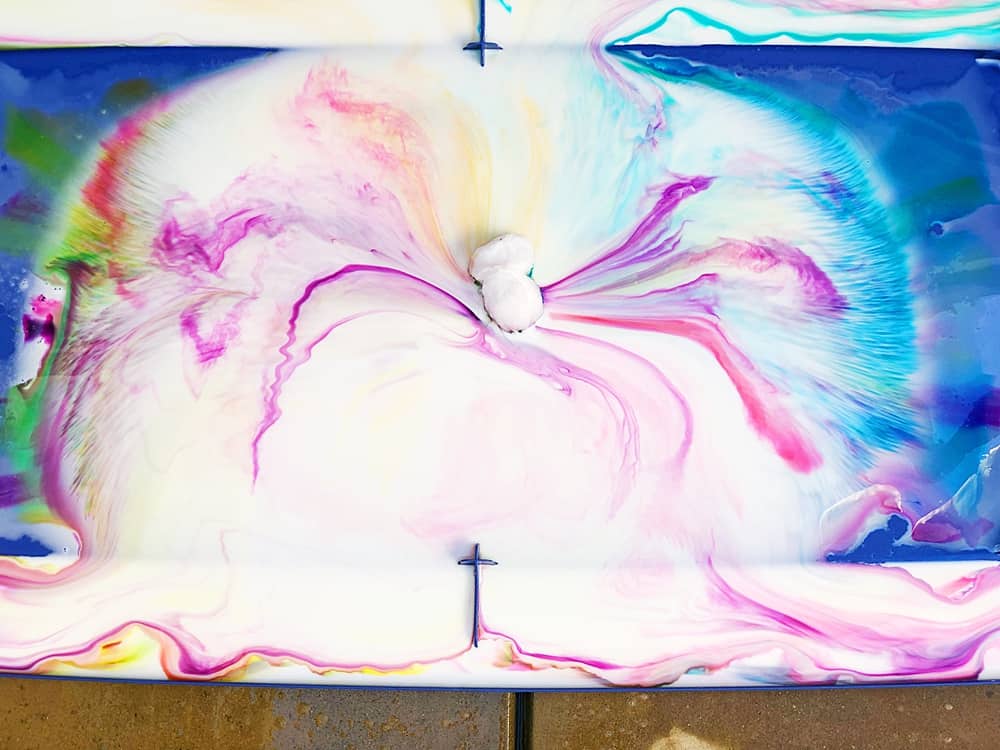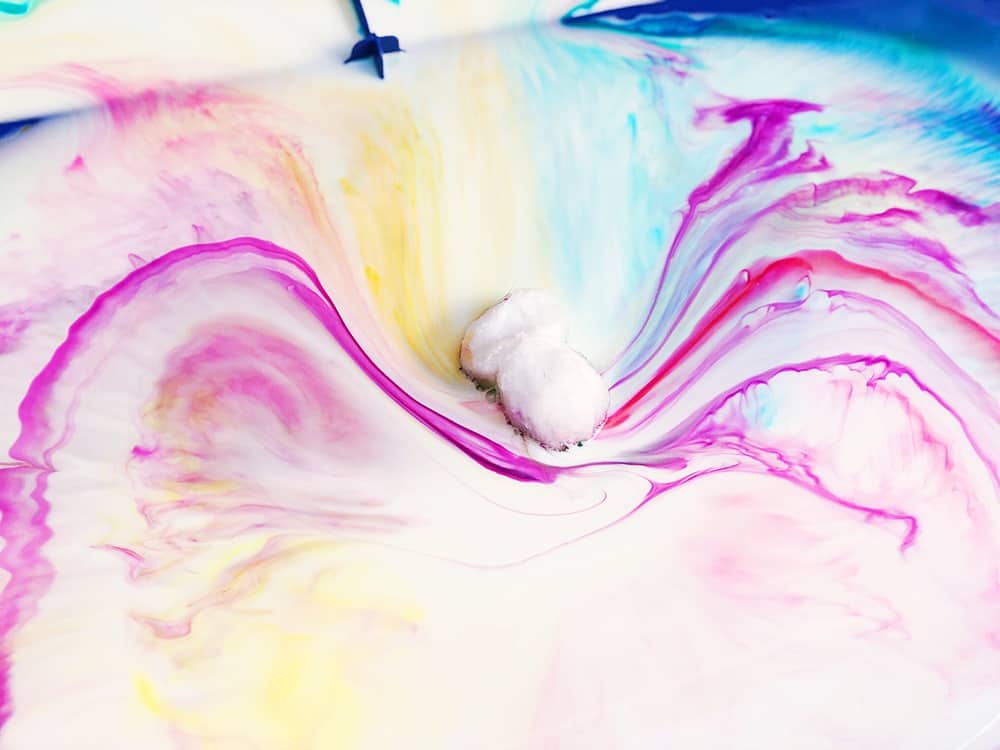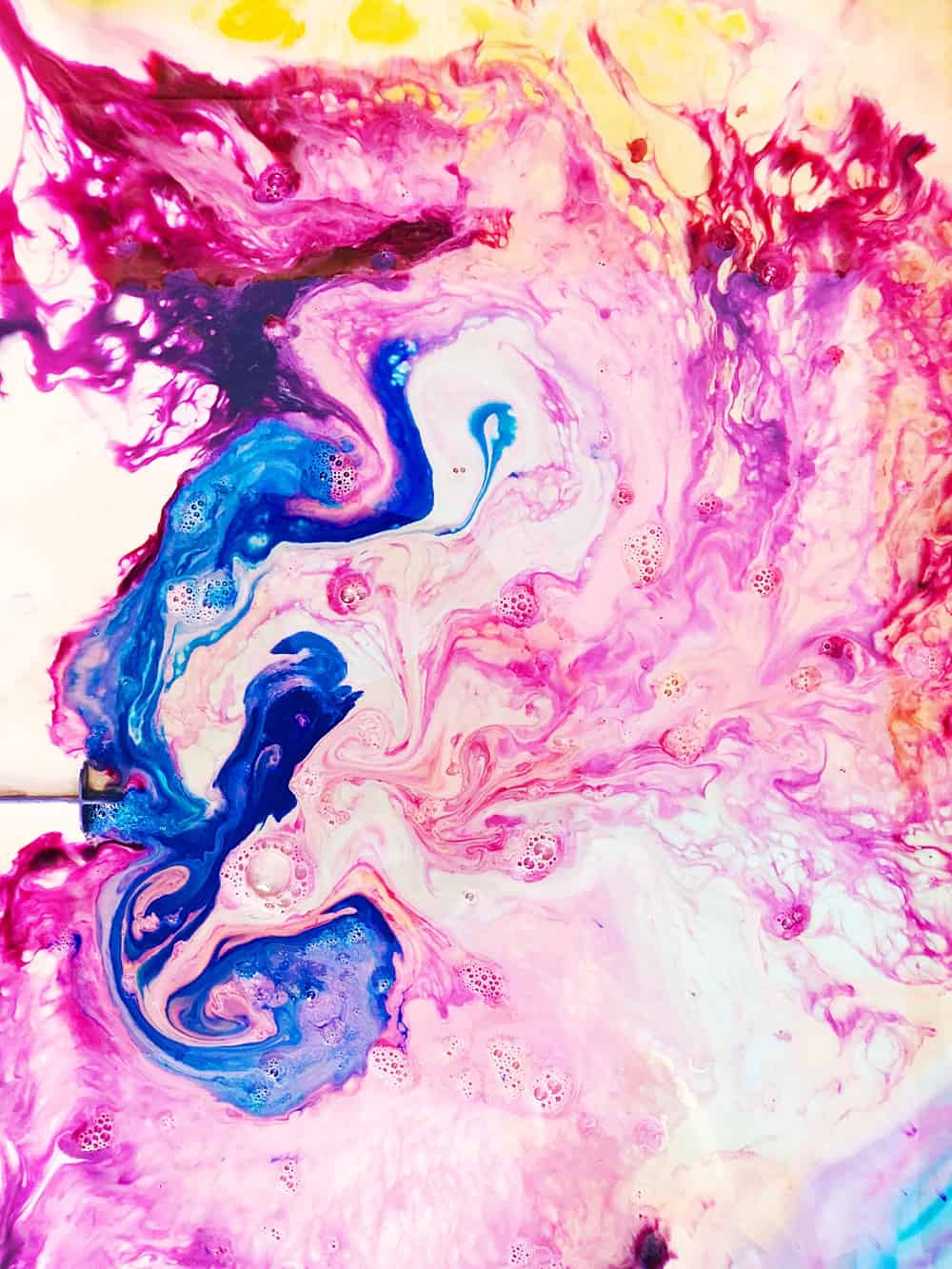 Walking through this together is a great way to familiarize children with scientific approaches and processes, as they learn about measurements, reactions and the magical properties that make each substance different. It's great pouring practice too as they can take turn pouring milk and dropping food coloring in the container.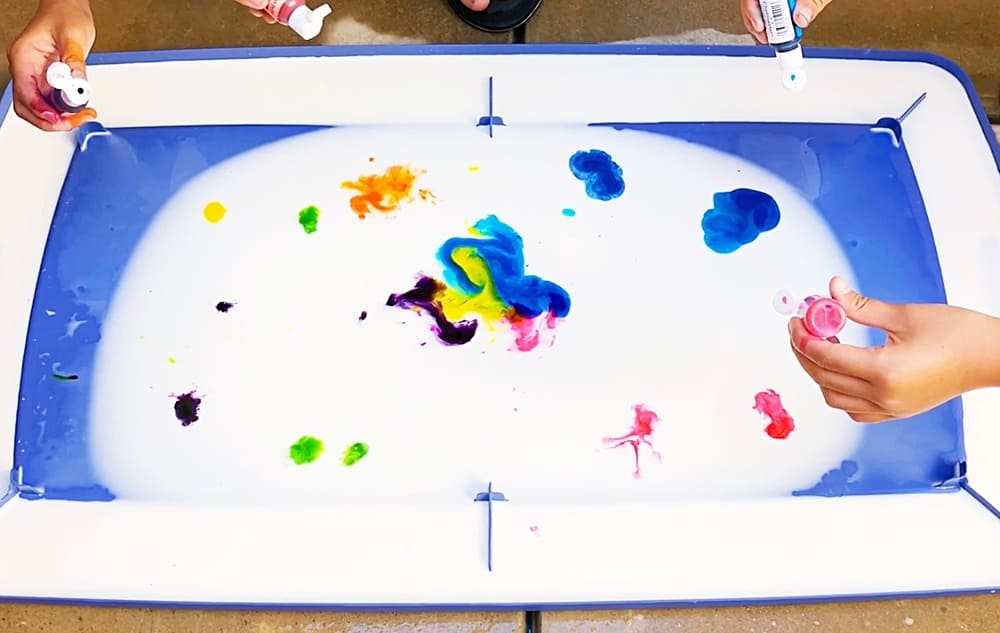 We've done magic milk on a small scale but not in giant proportions and have to say this larger scale version is totally impressive and worth trying at least once.
Scroll down to watch the magic happen in the how-to video or follow along the steps below.
Make sure to read down below to find out the science behind magic milk and the what creates the cool effect of dancing, swirling milk.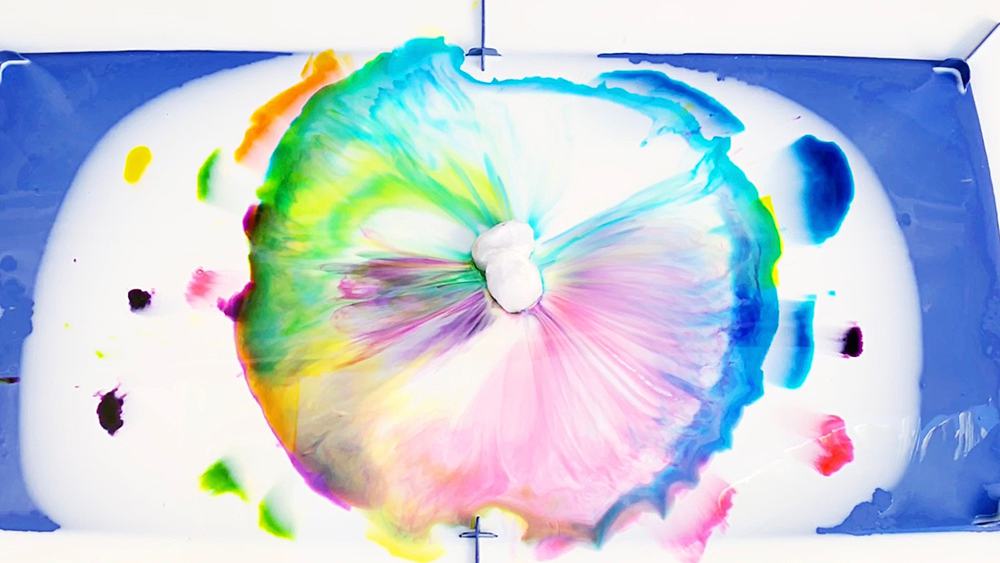 GIANT MAGIC MILK EXPERIMENT – MATERIALS:
A large flat container (we used a giant plastic container lid to minimize the amount of milk used/wasted. You only really need a thin even amount to create this experiment in large form, the key is a wide surface area).
Whole milk
Dishwashing detergent (dish soap)
Cotton swabs and cotton balls
Small spray bottle (optional)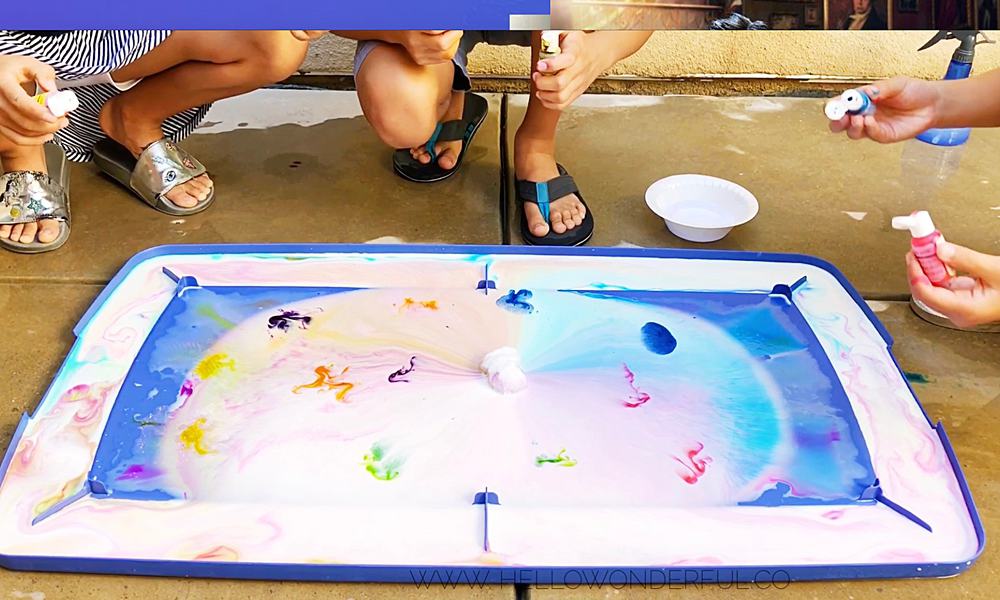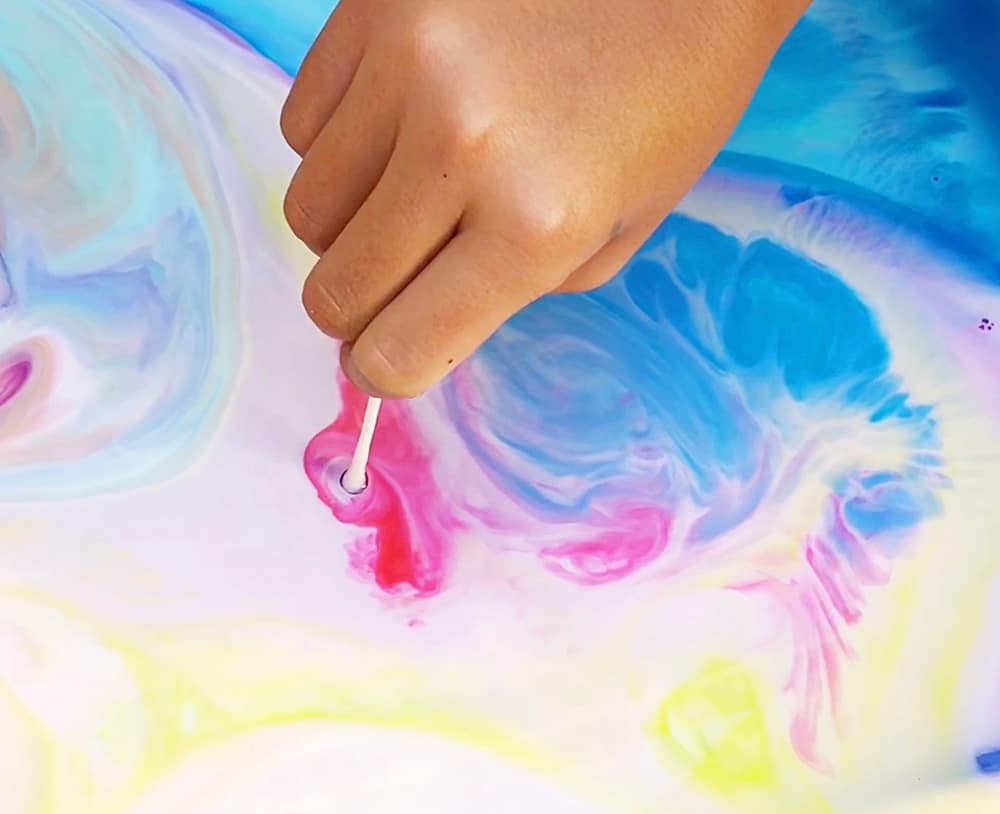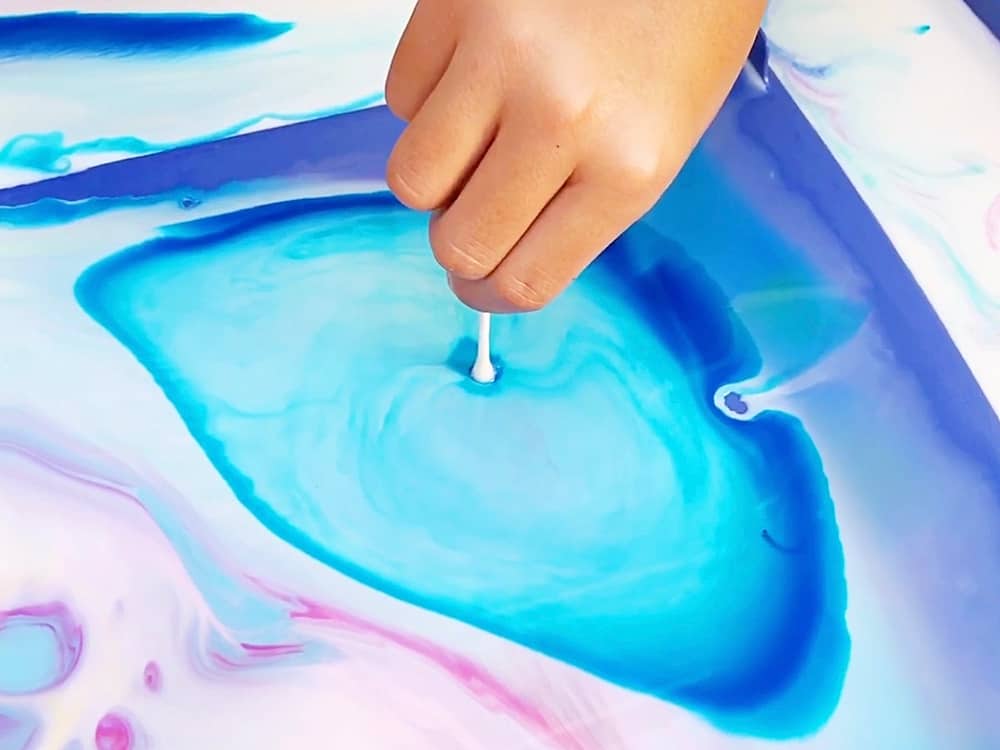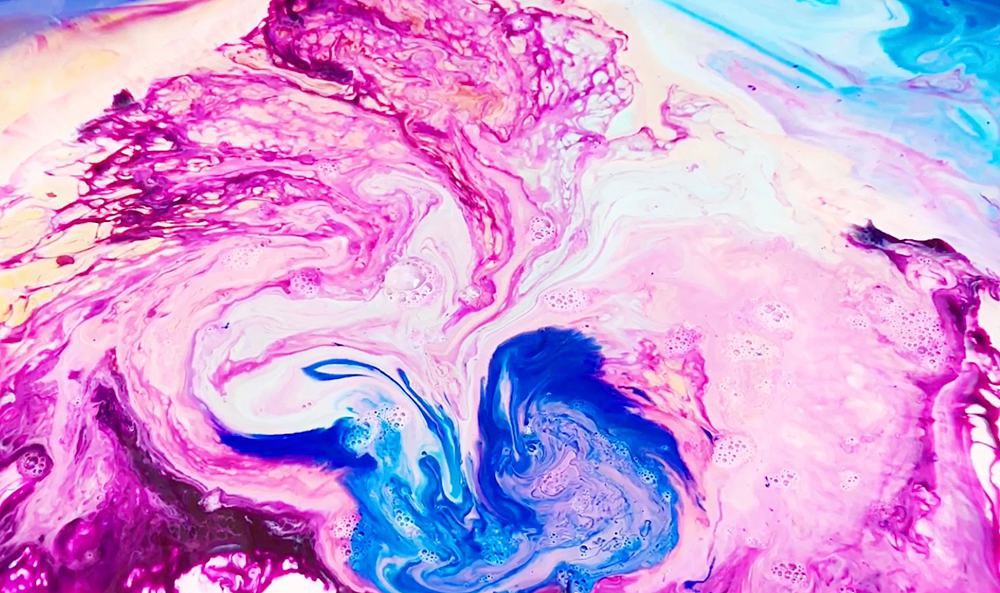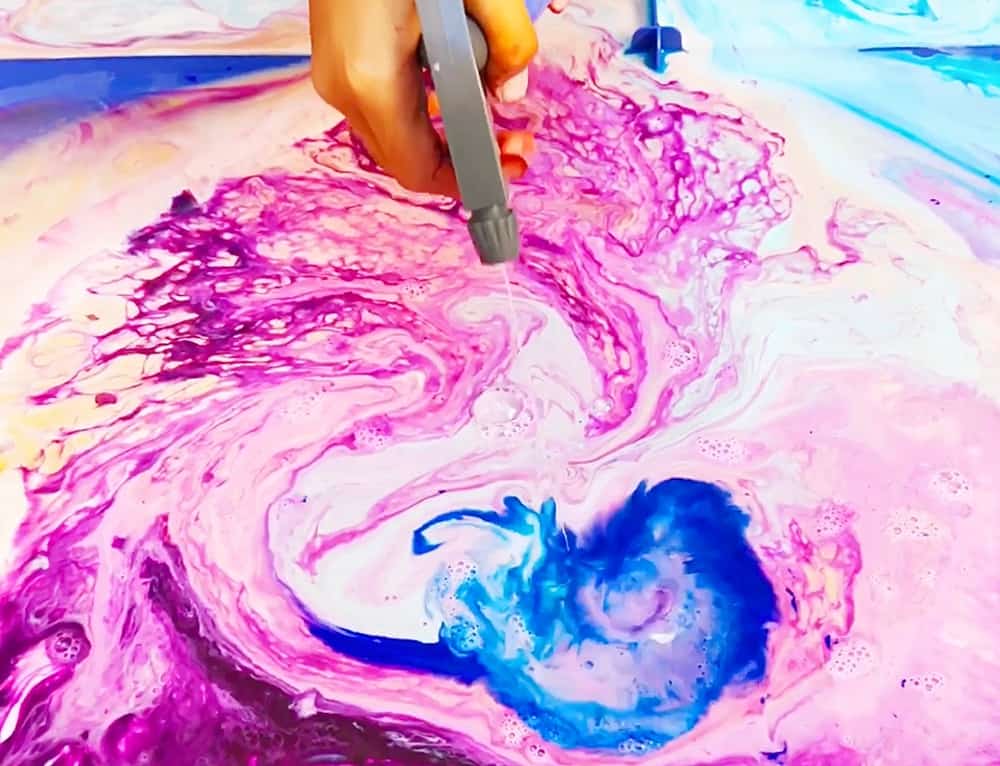 INSTRUCTIONS:
Step 1. We suggest doing this outside, preferably near a hose so you can easily wash everything down. Lay your large plastic lid top down on the ground.
Step 2. Gently pour milk to cover the surface area of the lid. We used a lid because we wanted to minimize wasting milk.
Step 3. Have kids drop food coloring in the center to start, then around the periphery (this is only if you want that cool effect of the magic milk appearing from the center, but you can really just drop food coloring in droplets anywhere).
Step 4. Dip a couple of cotton balls in dishwashing detergent. Make sure to swirl around and get them well-coated. Drop the cotton balls in the center of your food coloring and watch the magical swirls appear and span outwards.
Step 5. You can start over, add milk on top to re-activate, add more drops of food coloring. For a twist, dip individual cotton swabs into detergent and add on top of each color.
Step 6. Another twist is instead of cotton swabs or balls, fill a spray bottle with dish detergent and spray the food coloring to create galaxy-like swirls. Super cool effect!
What's the science behind this magic milk experiment? In a nutshell, milk is compose of mainly water and some fats. Dish detergent molecules when coming into contact with the milk fat breaks down the fat molecules creating "dancing milk" or or the swirls you see! The reason for using whole milk in this experiment is that it contains more fat = more fun swirly shapes.
Take a look here for more of a scientific explanation behind Magic Milk.
Watch the video below to see this amazing Giant Magic Milk Science Experiment in action!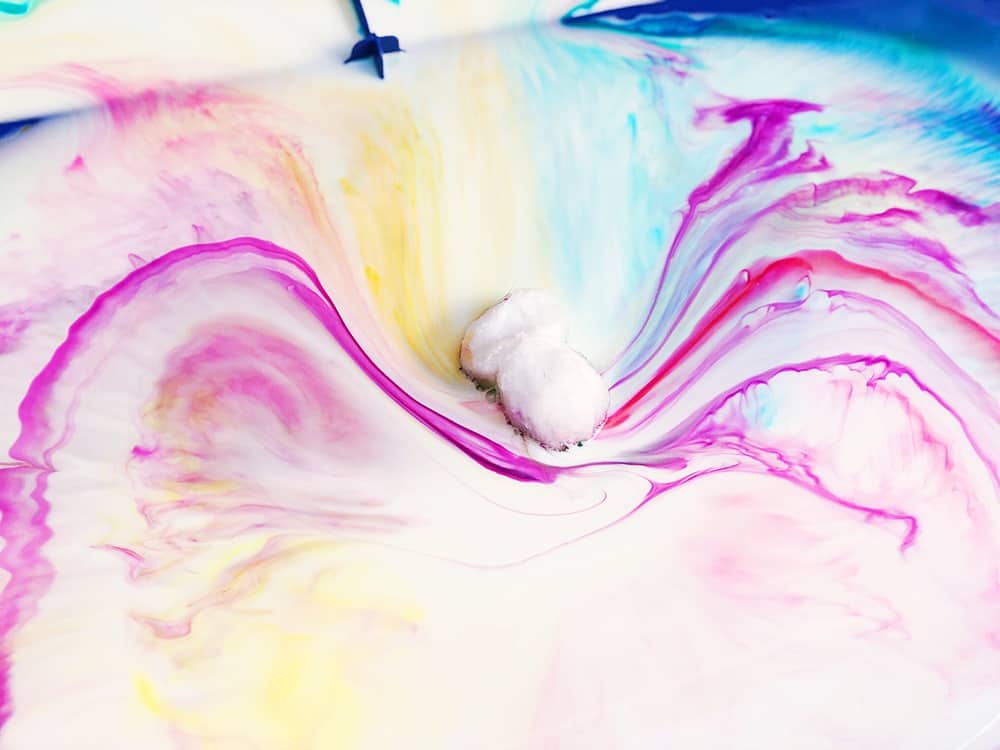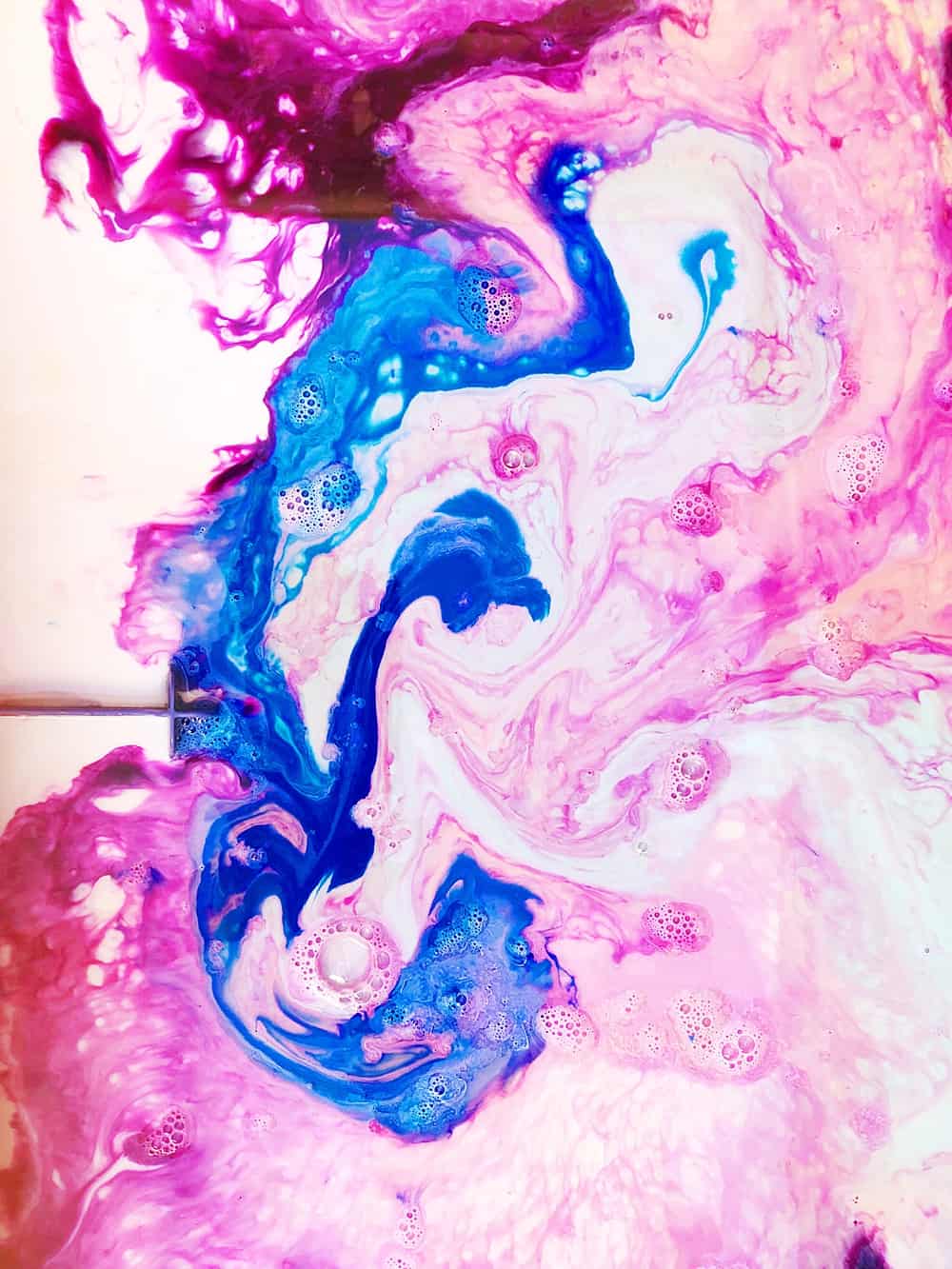 Watch the video below to see step by step how to create this Giant Magic Milk Science Experiment With Kids.
Have you tried Magic Milk before?
Do your kids love doing science experiments at home?
We've found some engaging spins on the classics – like these creative candy experiments (you can never go wrong with candy, right?). Making STEM projects that move is also a proven winner in our household!
Make sure to check out more of our favorite science experiments with kids below.
Elephant Toothpaste Science Experiment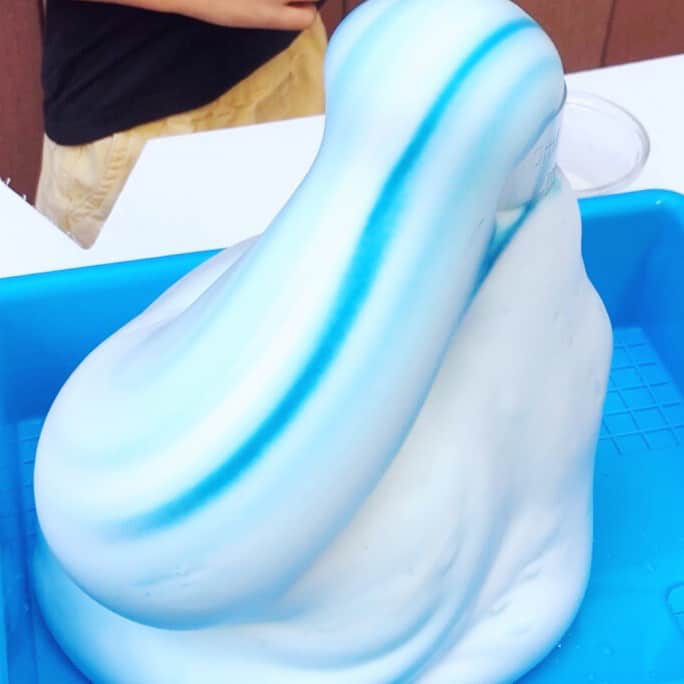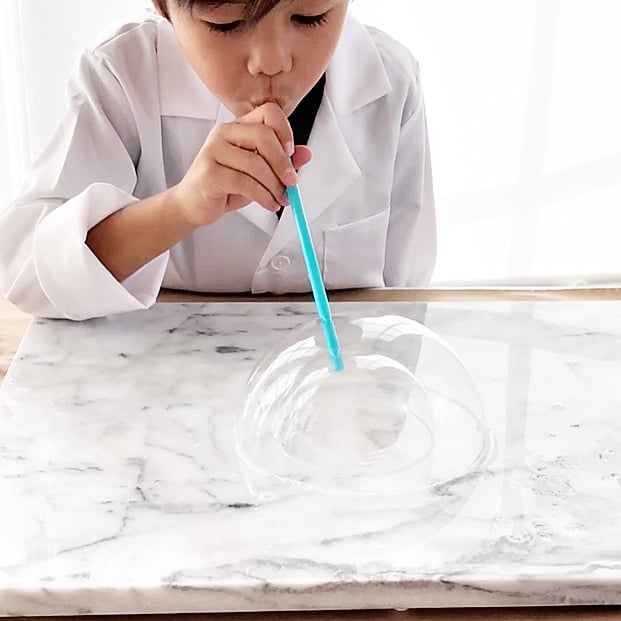 And our favorite collaborate art project – Recycled Bottle Bubble Art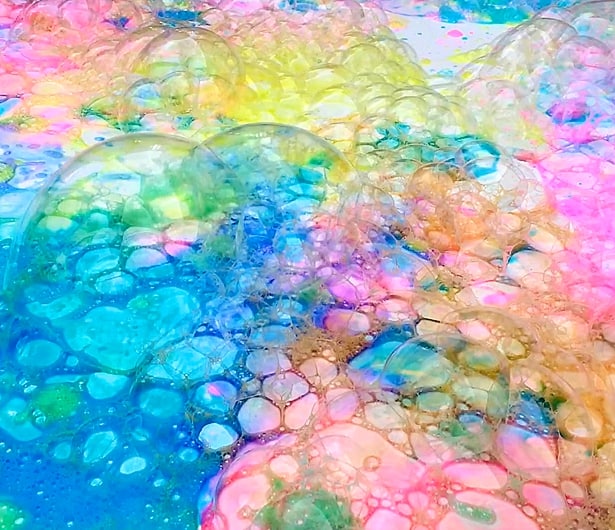 ---
Disclosure: Some of the links in the post above are "affiliate links." This means if you click on the link and purchase the item, we will receive a small affiliate commission. Regardless, we give our promise that we only recommend products or services we would use personally and believe will add values to our readers.