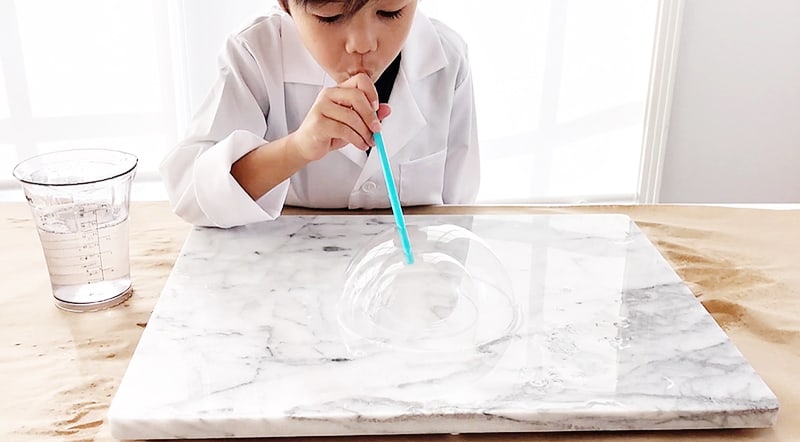 Scroll all the way down to watch the video below for the step-by-step video in how to create this Awesome Bubble Science Experiment With Kids and make sure to subscribe to our YouTube channel for more fun videos!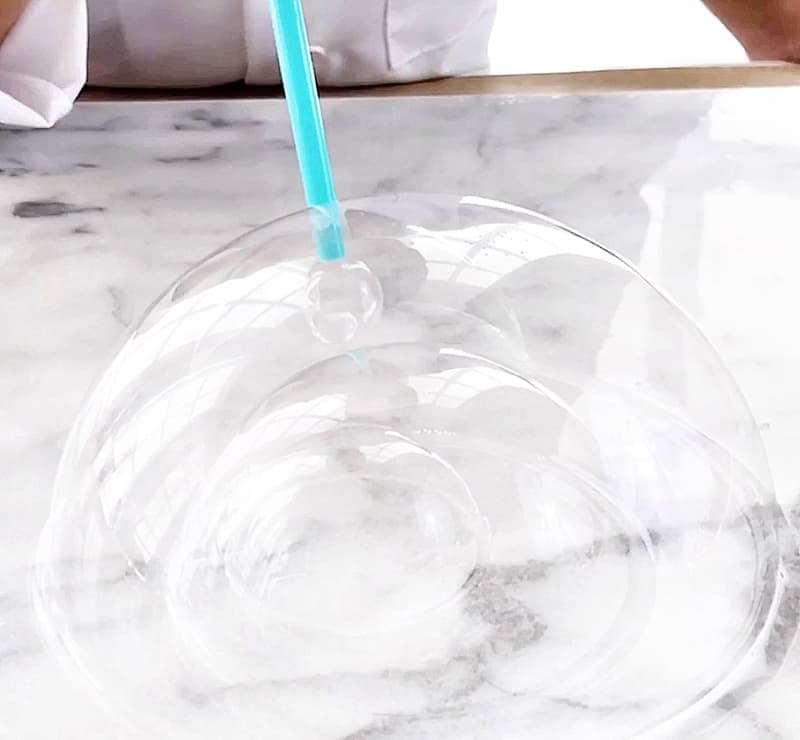 You may have seen our latest science experiment making Elephant Toothpaste with my 7 year old son who's obsessed with science lately. He's started a series of cool and classic science experiments kids can do right at home. We're focusing on easy set up, clean-up, and simple materials with steps kids can do themselves, although parent supervision is always recommended with any science experiment!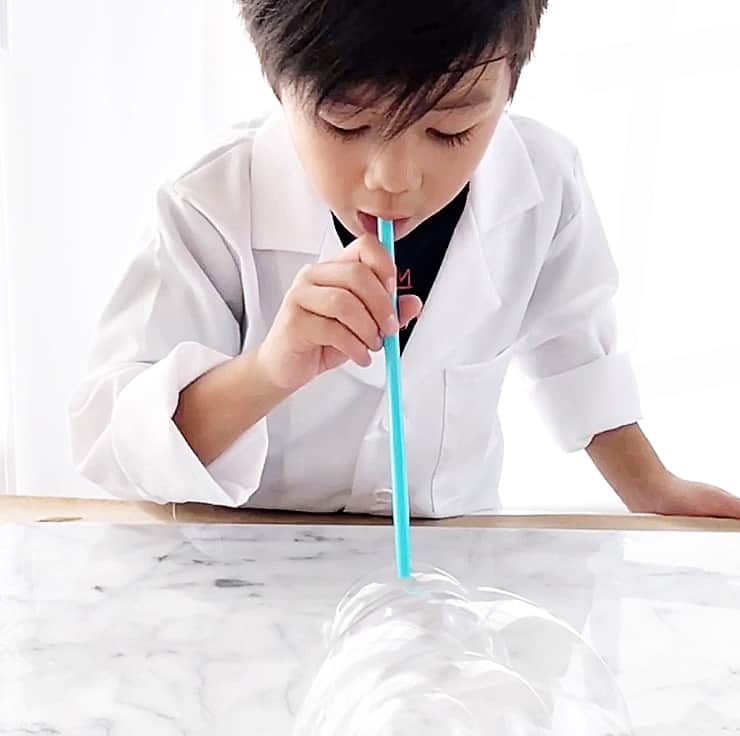 See how to make this impressive bubble experiment with minimal steps and materials but tons of cool factor. And it's not just about blowing giant bubbles. Scroll all the way down to watch the entire video from start to finish where my son explains that it's all about surface tension!
If the learning doesn't convince you to try this with the kids, remember this involves bubbles. Making bubbles! What kid doesn't like bubbles?
BUBBLE SCIENCE EXPERIMENT – MATERIALS:
Before we got started we watched this awesome version of this classic bubble experiment here.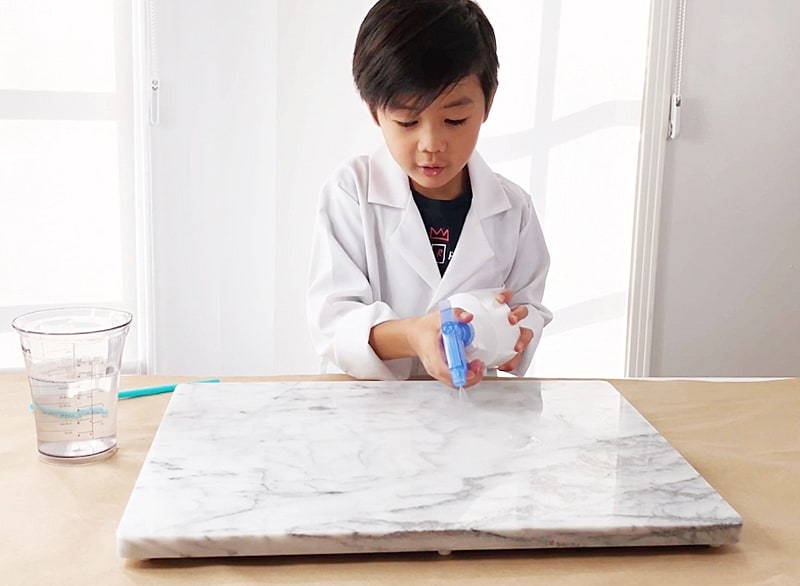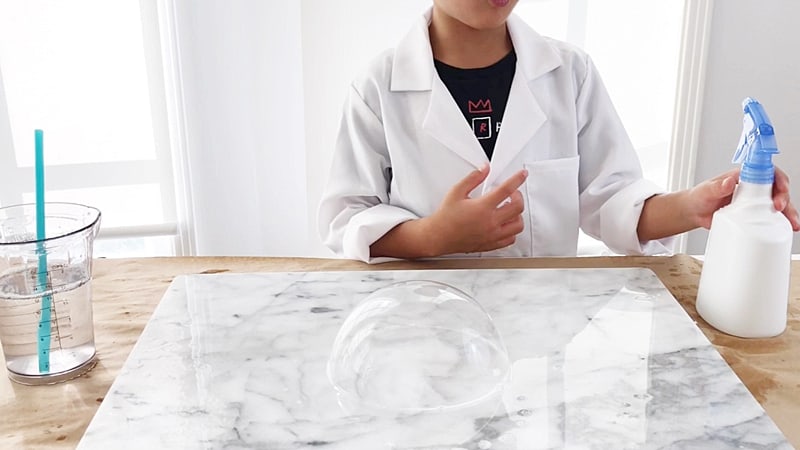 INSTRUCTIONS:
Step 1. Put your bubble solution in a container that will cover at least half the straw when added inside
Step 2. First, have your kid test out making a bubble on a dry surface. Dip your straw so it is covered at least a quarter with solution and angle it down the surface to try and blow a bubble. What happens? Well to no surprise the bubble pops quickly! But why? Read more below or watch the video to hear Kian explain it.
Step 3. Have your child liberally spray the surface with water (we used a marble board but you can use anything that can be sprayed and wiped with water like a counter top).
Step 4. Have your child repeat dipping the straw in bubble solution and then slowly blow a bubble. You want to almost touch the surface with your straw and slowly pull away while still blowing to make a nice large bubble. This time the bubble doesn't pop!
Step 5. Now what happens when you blow a bubble in a bubble? Will it work? This is why it's important to have your straw cover enough bubble solution to create a second bubble inside. Try it out and see by dipping your straw in more solution, slowly inserting into your first bubble and then blowing.
Now, can you make a bubble in a bubble in a bubble? How many can you make?! This is fun and challenging for kids as they start and stop and try again.
Step 6. You can also do a test with your fingers. What happens when you touch your bubble with a dry finger? It pops! Now if you wet your finger it doesn't pop.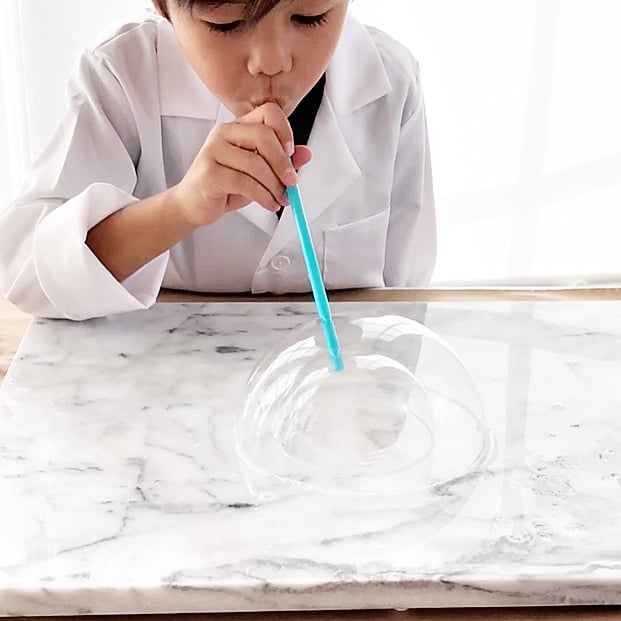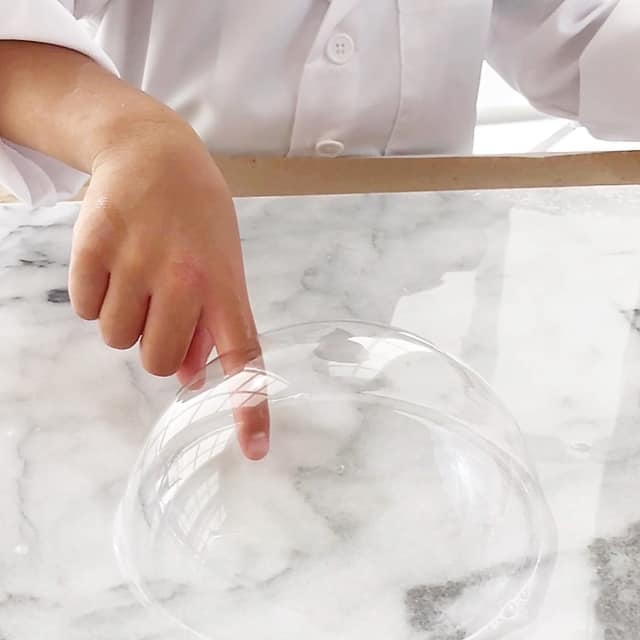 Why do bubbles not pop as easily when in contact with wet matter?
It's as simple as the following science explanation:
1. Bubbles are made of a layer of soap, water and soap. Water is sandwiched in between the soap layers.
2. A
Bubble
pops when the water evaporates making the outer soap skin too thin so it's unable to keep the surface tension.
3.
Bubbles
won't pop when the surface is wet or if you touch it with something wet because you're maintaining the surface tension.
4. If you have liquid you maintain the surface tension and prevent evaporation of the water trapped between the soap layers so the bubble doesn't pop.
Have you ever had a bubble bath or given your kids one and they like to see the bubbles floating in the water? Or try blowing bubbles in the bath with your kids when they are wet – they will stick to their bodies!
Have you tried this classic bubble science experiment with your kids?
Watch the video below to hear Kian set up this Awesome Bubble Science Experiment and explain how it works!
---
Disclosure: Some of the links in the post above are "affiliate links." This means if you click on the link and purchase the item, we will receive a small affiliate commission. Regardless, we give our promise that we only recommend products or services we would use personally and believe will add values to our readers.