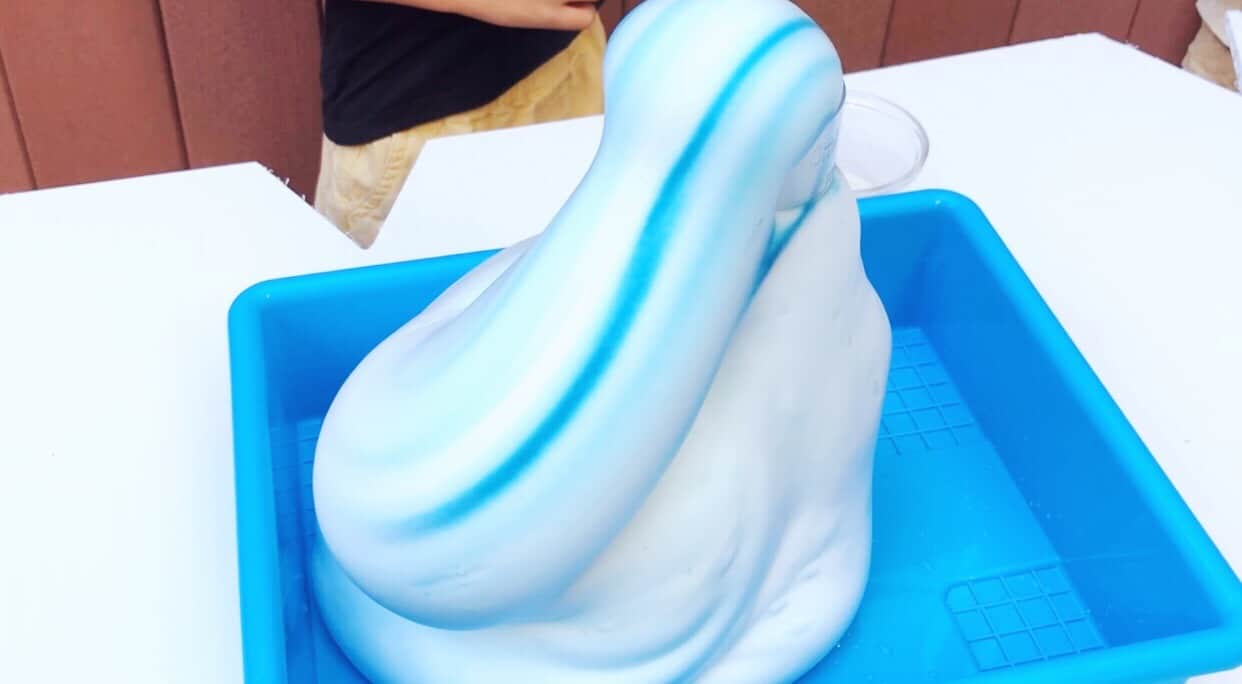 By using this site, you agree to our Terms of Use. This post may contain affiliate links. Read our disclosure policy.
Follow us on Instagram for more fun ideas for kids!
This post was first published June 2018 and updated Jan 2023.
Scroll all the way down to watch the video below for the step-by-step video in how to create this cool Elephant Toothpaste Science Experiment and make sure to subscribe to our YouTube channel for more fun videos!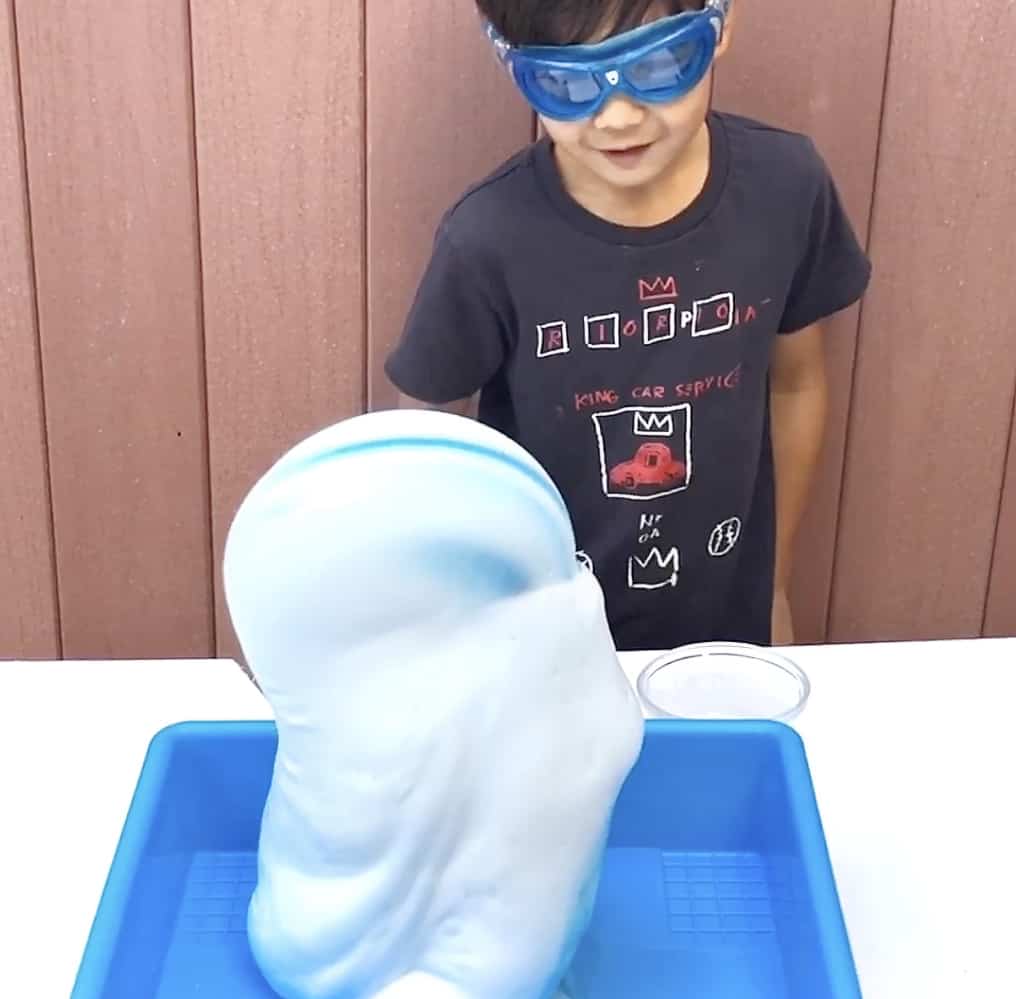 Have you ever heard of the classic science experiment called Elephant Toothpaste? It looks just as it sounds – foaming toothpaste so big an elephant could brush its teeth with it! And we can assure you that kids get as much of a kick making it as the name.
Why We're Investing Time into Science Experiments
My son Kian (age 7) is a huge fan of science and in fact, it's his favorite subject. Because he's naturally curious and also loves sharing his knowledge and being in front of the camera, he's starting a new video series all about how kids can re-create classic science experiments at home! Kian's World of Science is what we're calling it for now (let us know if you have any fun suggestions for names!).
Before STEM was the latest craze, there were classic science experiments parents remembered making as kids. Experiments like elephant toothpaste, baking soda volcanos and magic milk experiments to name a few.
That's why we're excited for our new video series making classic science cool again! Let's get to the science of what you need to make elephant toothpaste.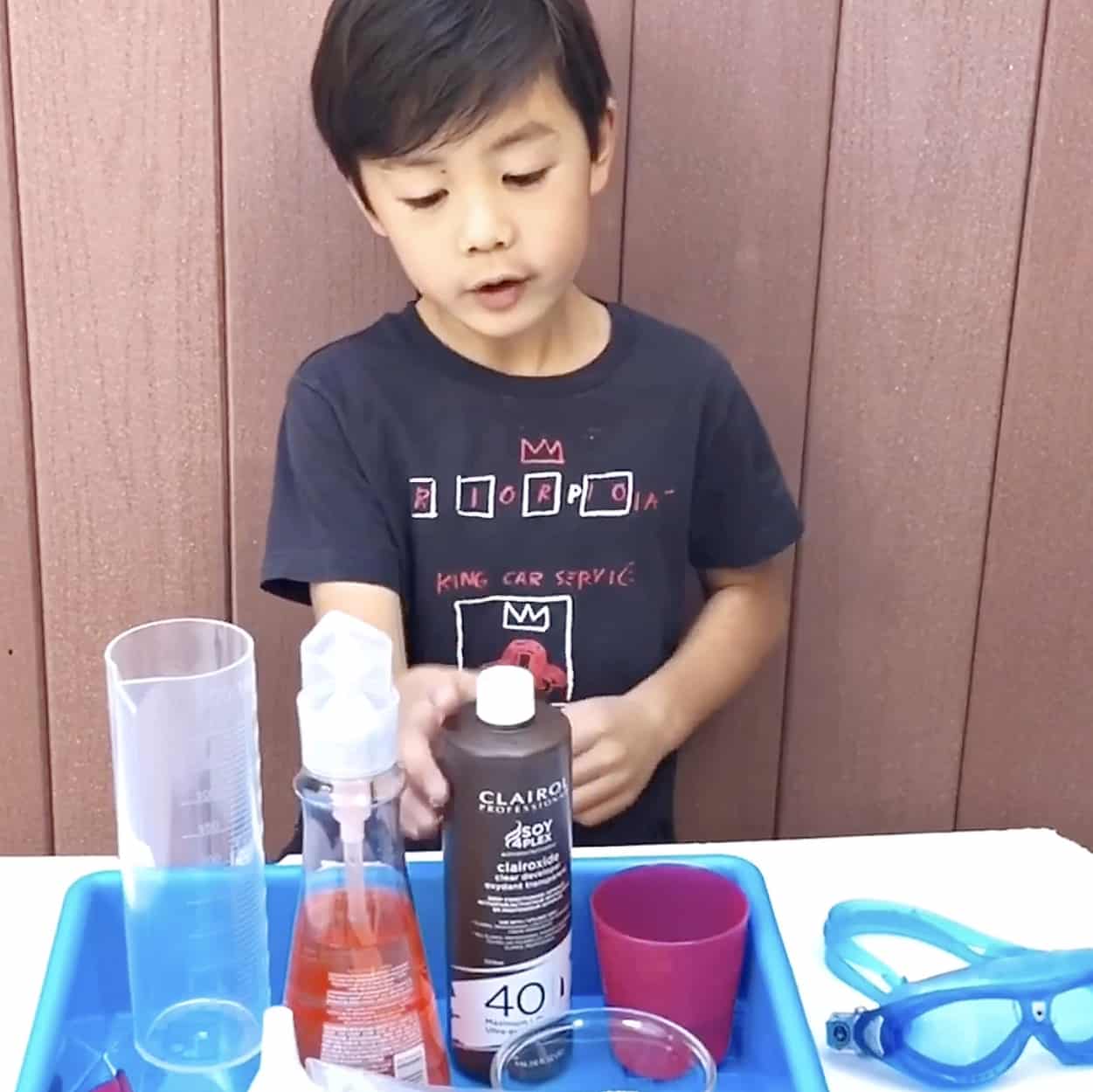 ELEPHANT TOOTHPASTE – MATERIALS:
1/2 a cup of Hydrogen peroxide*
A packet of dry yeast (one packet is approximately 1/4 oz)
3 Tablespoons warm water
A cylinder (at least 500 ml) or you can use a flask
A tablespoon of dish soap (any will do)
A tray
*We used 40 volume hydrogen peroxide with is 12% available in beauty supply stores as "hair developers." Most recipes call for at least 6% (20 volume) for a good foam reaction. The ones you get at the drug stores, won't be as foamy as they are 3% but you can still try it!
**Hydrogen peroxide can burn and irritate skin so please only have adults pour and handle this step.
There are tons of recipes for elephant toothpaste online but we adjusted and followed this one.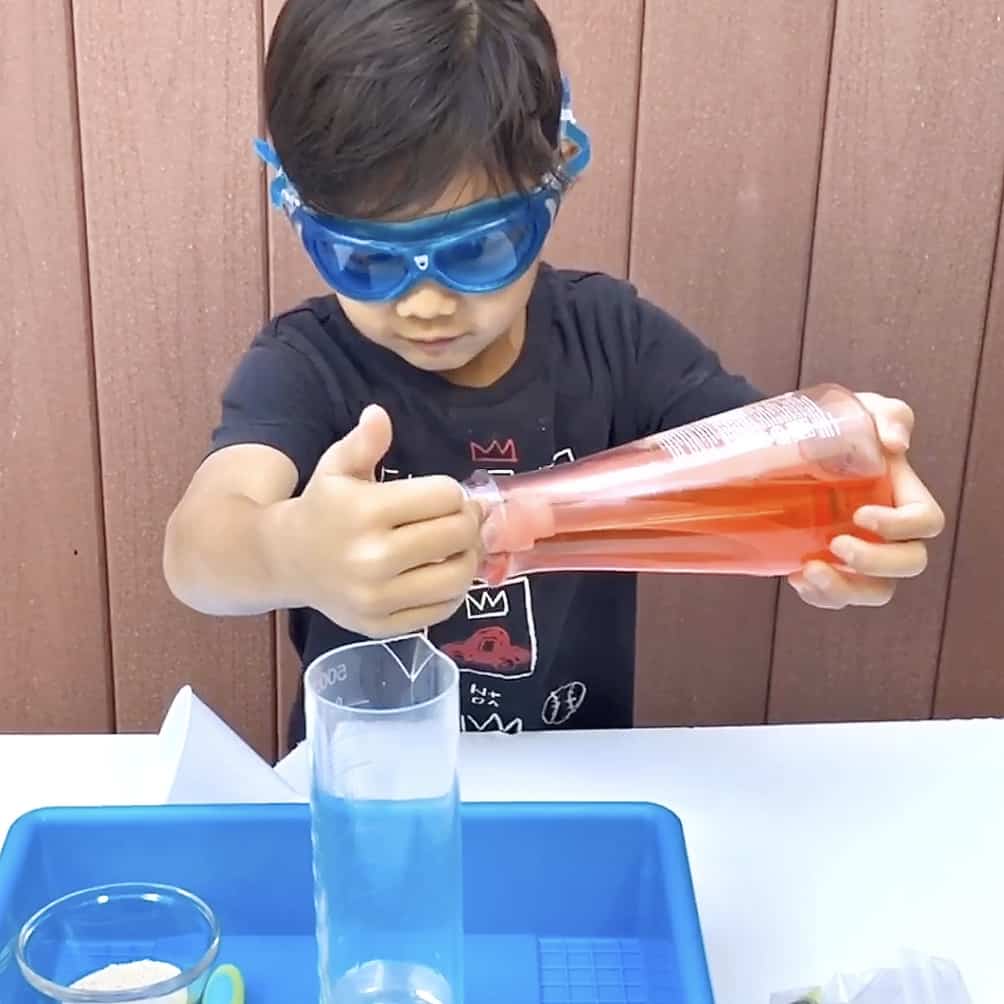 INSTRUCTIONS:
Step 1. Gather your materials. Wear safety goggles. Place your cylinder in your tray. Have an adult pour the hydrogen peroxide into the cylinder.
Step 2. Have your child add two pumps or about a tablespoon of dish soap into the cylinder.
Step 3. Add several drops of ONE color of food coloring (we tried more than one color and it just turns gray!). One color we found was best and if you want to create those classic toothpaste looking stripes, add the color to various sides of the cylinder.
Step 4. Mix your yeast with the warm water for at least 30 seconds.
Step 5. Pour the yeast into the cylinder, step back and watch the foamy magic happen! DON'T TOUCH THE FOAM AS IT'S AN EXOTHERMIC REACTION AND IS HOT! After several minutes, it does cool down.
The foam does dissipate from its lofty volume rather quickly in minutes and after several minutes, is not hot to the touch. However, to be extra cautious, please don't have children touch and play with the foam in case all the hydrogen peroxide has not broken down from the catalyst (yeast).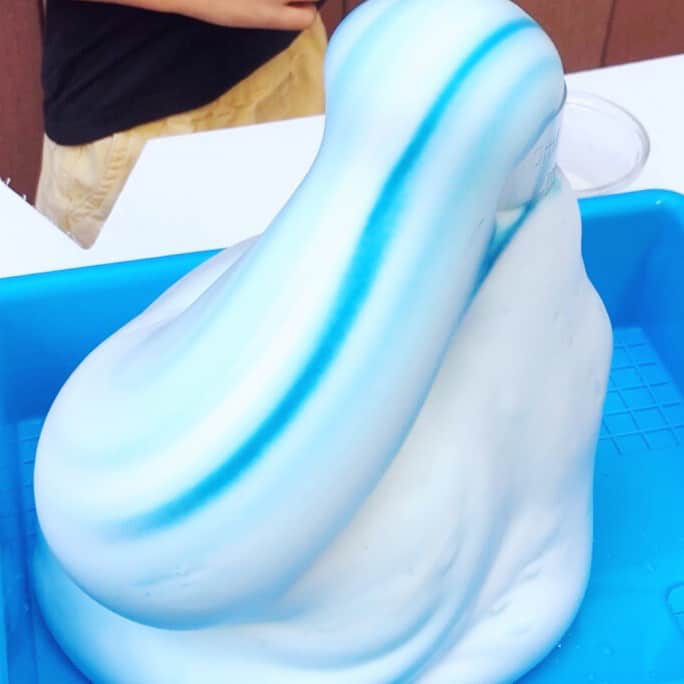 This is super cool to watch the foam slowly come out and erupt. The food coloring adds cool stripes to the foam making it look just like elephant toothpaste!
When you are done, you can simply rinse out all ingredients in the sink as they are safe to drain.
What's the science behind elephant toothpaste?
The science behind elephant toothpaste is interesting, to say the least. Hydrogen peroxide is composed of water and oxygen.
The yeast is a catalyst that takes the oxygen away from the hydrogen peroxide, which then gets trapped by dish soap, creating lots of bubbles!
Fun Variations of the Elephant Toothpaste Experiment
One of the great things about this experiment is that there are plenty of ways to make it even more fun! For example, you can try experimenting with different colors of food coloring.
The coloring adds bold stripes to the foam making it look just like elephant toothpaste! When you are done, you can simply rinse out all ingredients in the sink as they are safe to drain.
You can also try adding glitter, sequins, or waterproof confetti to the mixture to make it sparkle. Adding different scented essential oils to the mixture can also give it an even more unique scent.
For a twist, use different types of yeast (fast acting or regular and observe the differences in the foaming reaction. With simple variations, this experiment is sure to be a hit!
However, to be extra cautious, please do not have children touch and play with the foam in case all the hydrogen peroxide has not broken down from the catalyst (yeast) as well the foam is hot to the touch since it is an exothermic reaction.
Benefits of Doing Fun Science Experiments Like Elephant Toothpaste with Kids
Simple but fun experiments, such as the Elephant Toothpaste Experiment, are excellent for introducing children to the world of science.
Not only are they fun, but they're also educational and can be rewarding. They can develop and strengthen critical thinking, problem-solving, and communication skills.
They can also build confidence in their ability to understand and explain scientific concepts.
In addition, science experiments can help kids build persistence and problem-solving skills as they figure out how to make the experiment a success.
Science experiments are also a great way for kids to become engaged in the subject and to gain an interest in different kinds of fun science topics.
Takeaway
Elephant Toothpaste science is a fun experiment to make with kids with explosive learning!
Have you tried making elephant toothpaste with kids? Watch the process video in this post on how to make elephant toothpaste with kids.
---
Disclosure: Some of the links in the post above are "affiliate links." This means if you click on the link and purchase the item, we will receive a small affiliate commission. Regardless, we give our promise that we only recommend products or services we would use personally and believe will add values to our readers.