These little elephant play things were inspired by vintage pull toys. It is fun to make a few of them, and kids can decorate them however they wish. Parents or older kids should cut out the template, but then kids can get creative with how they look. They also make a cute recycled cardboard toy.
DIY Elephant Pull Toy – Materials:
– Cardboard or Card stock (preferably white)
– Paint and Paint Brushes
– Scissors and/or Exacto Knife
– Pencil
– Wood Skewers cut to 2 3/4 inches
– Small beads, Small wood wheels
– String or yarn
– Markers, Crayons, Colored Pencils
– Glue Gun
First, print out and trace elephant template out of cardboard.This is the best time to start decorating.
After the elephants are colored and dry, fold over the bottom flap. Seal the bottom using a glue gun. Now your ready to create the wheels.
Paint wood wheels and set to dry. Trim wood skewers to about 2 3/4″. Secure a small bead to the end with a touch of hot glue, then slip the wheels in place. Using the glue gun fasten the wood skewer portion to the bottom of the elephant. You can then hot glue a piece of string or yarn to the front of the toy.
This could be a fun craft activity for a circus themed birthday party or just a fun way to pass the time on a rainy day. Enjoy! P.S. check out one of my favorite re-purpose for cardboard here.
Check out tons more creative projects for kids!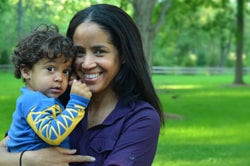 Lisa Fyfe is a graphic designer and mom to a lovely 4 year old boy, Rowan. After having him, life changed ten-fold. From life as an art director in publishing in New York, to a slower paced life in Connecticut, and now San Diego, creativity has always been the constant. Rowan changed everything and amazing inspiration came from this unexpected place. Little Monster is where she shares diy's and recipes inspired by motherhood. You can follow her on Facebook, Instagram, Twitter and Pinterest.