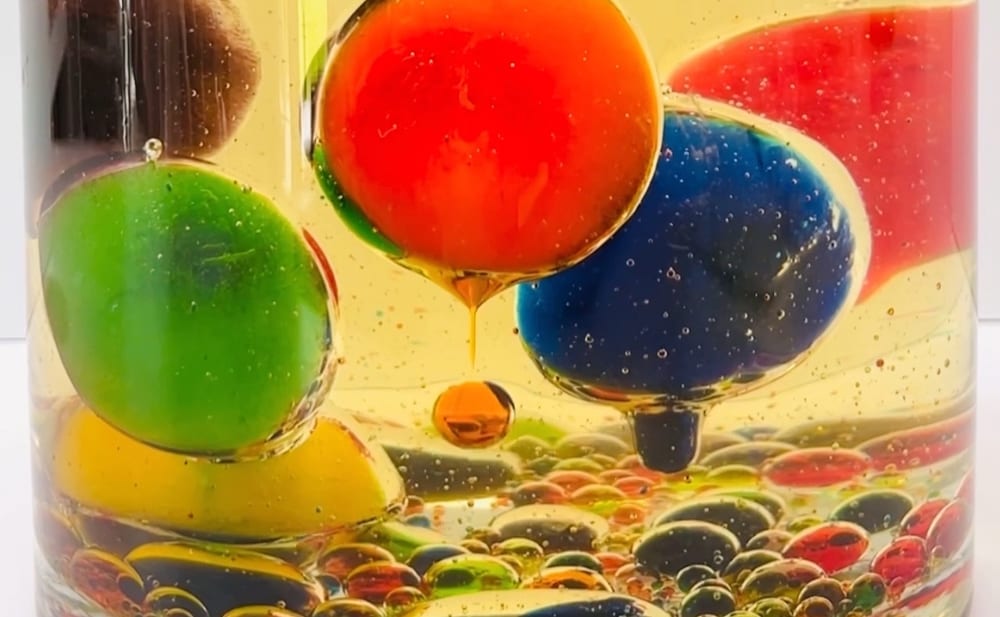 By using this site, you agree to our Terms of Use. This post may contain affiliate links. Read our disclosure policy.
This fascinating frozen lava lamp science experiment is a great way to show kids the science behind why oil and water don't mix. It's super simple to set up with just 3 common household ingredients!
We love making DIY lava lamps and have tried making them the more common way with oil, food coloring and Alka-Seltzers. Recently, we came across an even cooler way to make lava lamps (pun intended) with this frozen lava lamp experiment!
We first saw this on Capturing_Parenthood's Instagram and were so excited to see how simple it was to create amazing bubbles! Stacey from Capturing Parenthood first saw this cool experiment on @weneedmoreglitter's Instagram feed.
If your kids have ever tried the classic oil and water science experiment where you drop pipettes of food coloring into oil, then this is very similar; except the bubbles slowly appear as the frozen colored ice cubes melt! This creates a mesmerizing lava lamp like experiment. Kind of like those color sensory toys my kids are obsessed with that show globules of colored bubbles suspended in a clear liquid.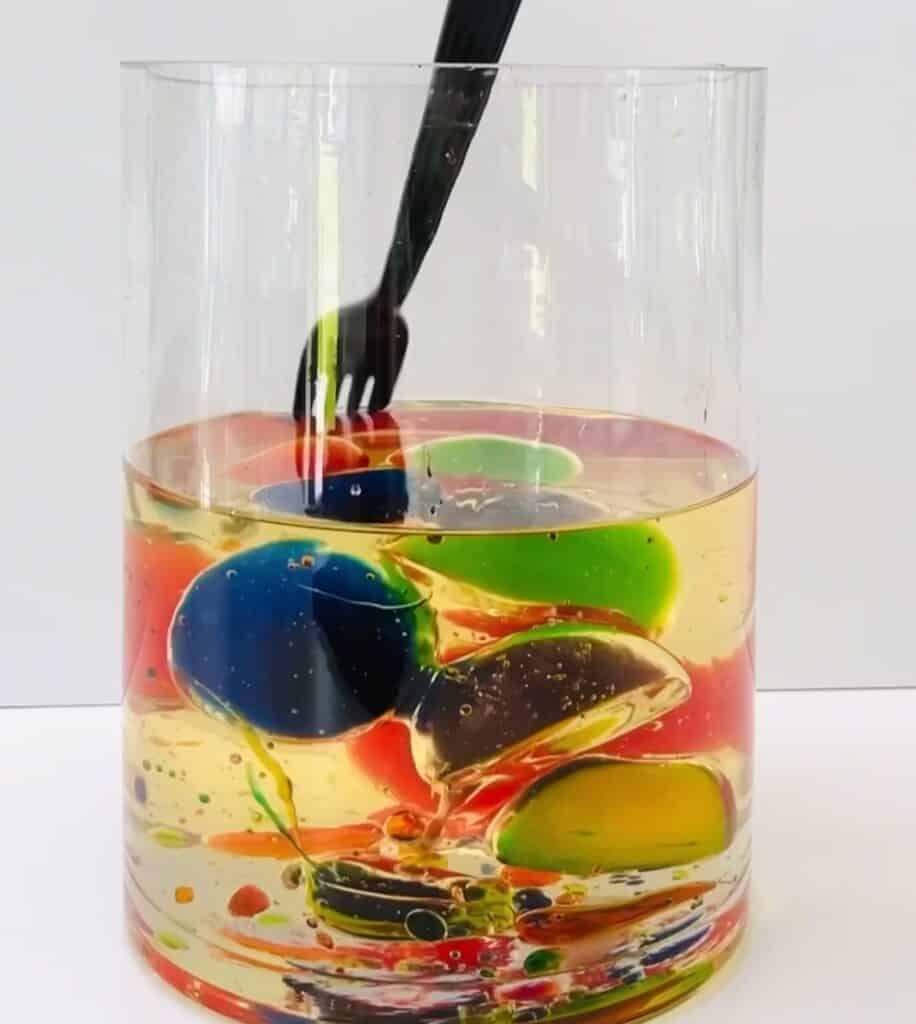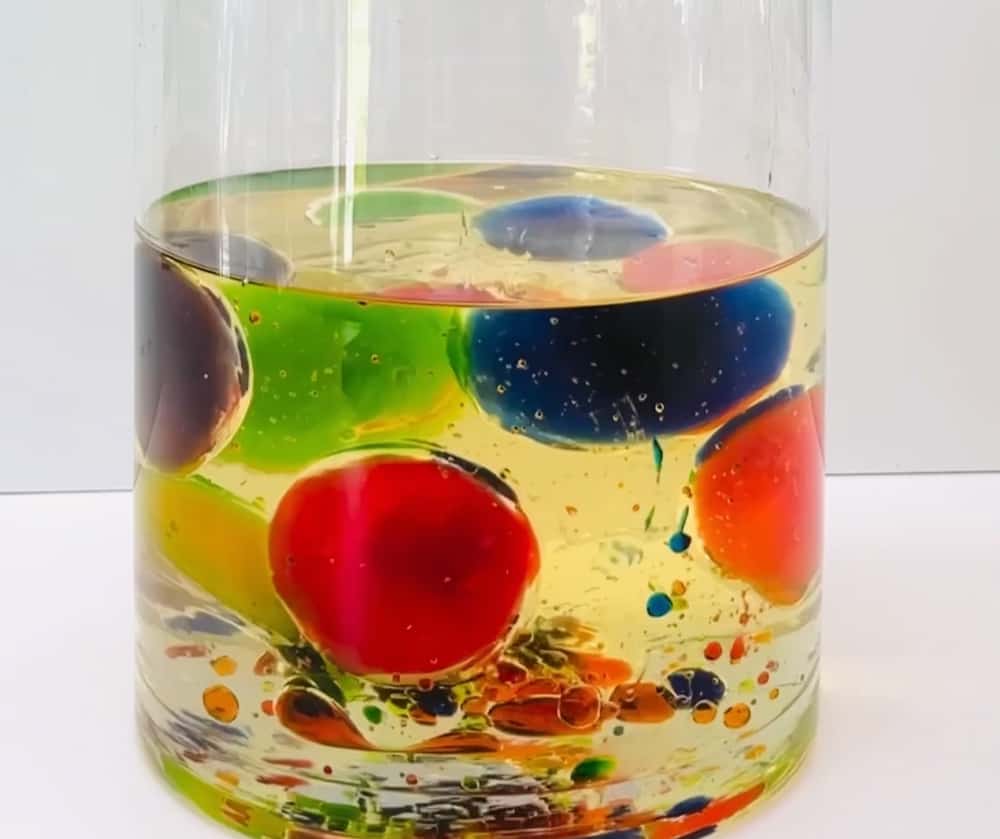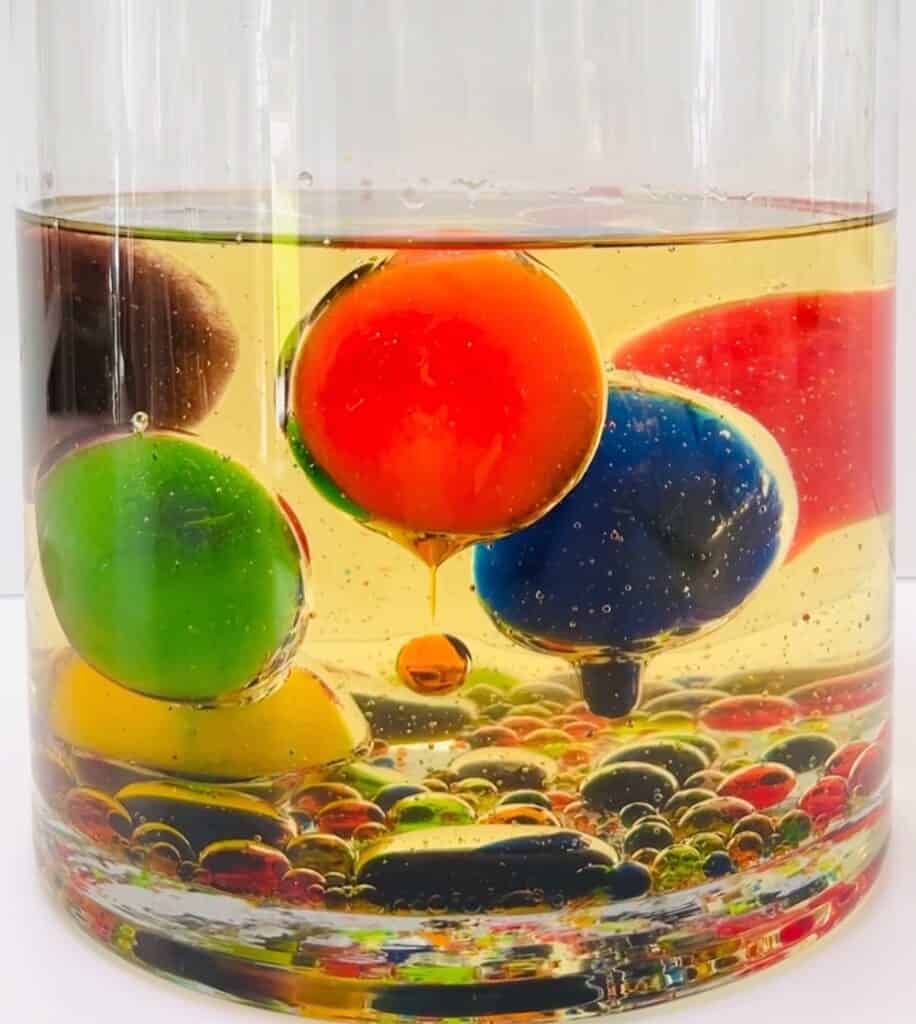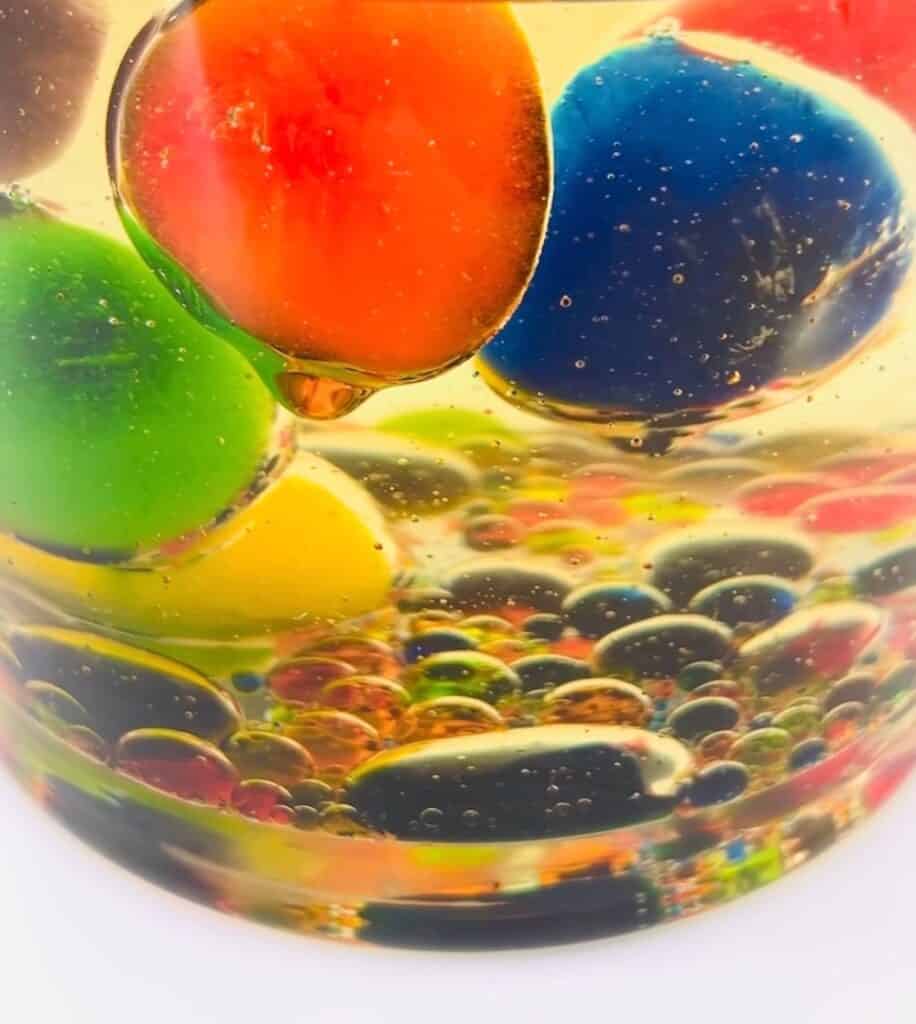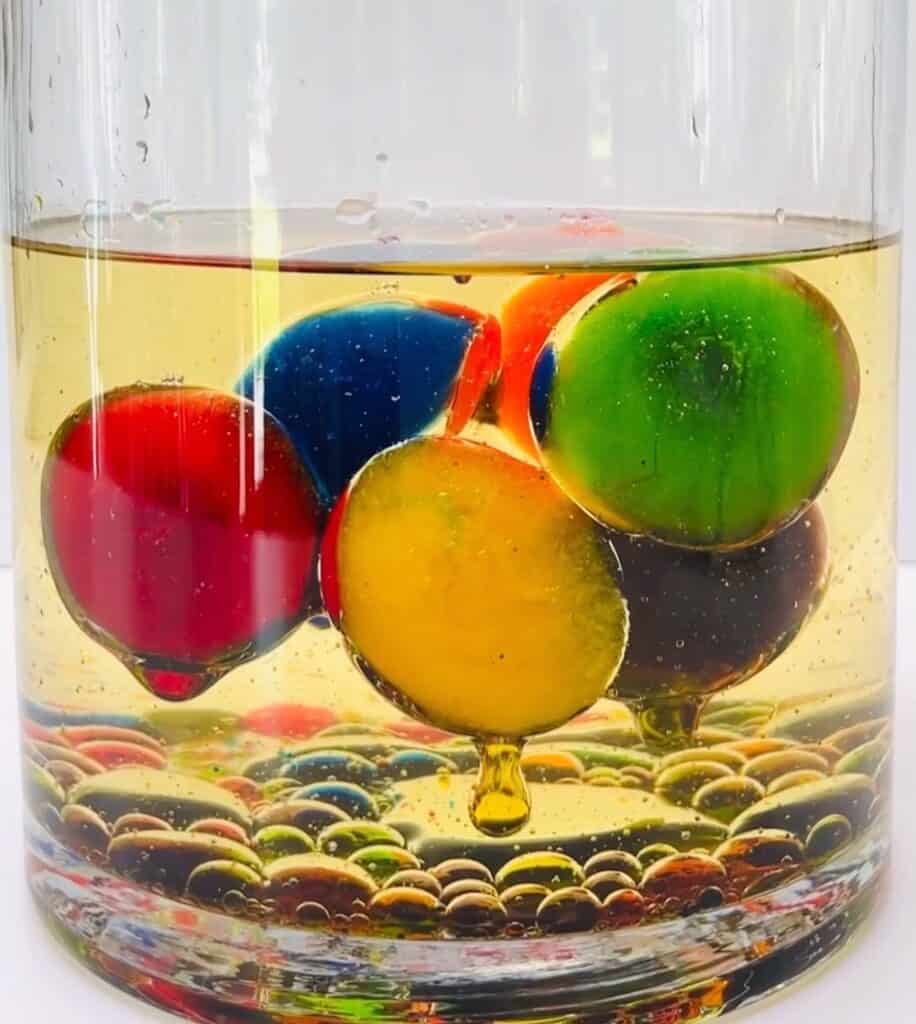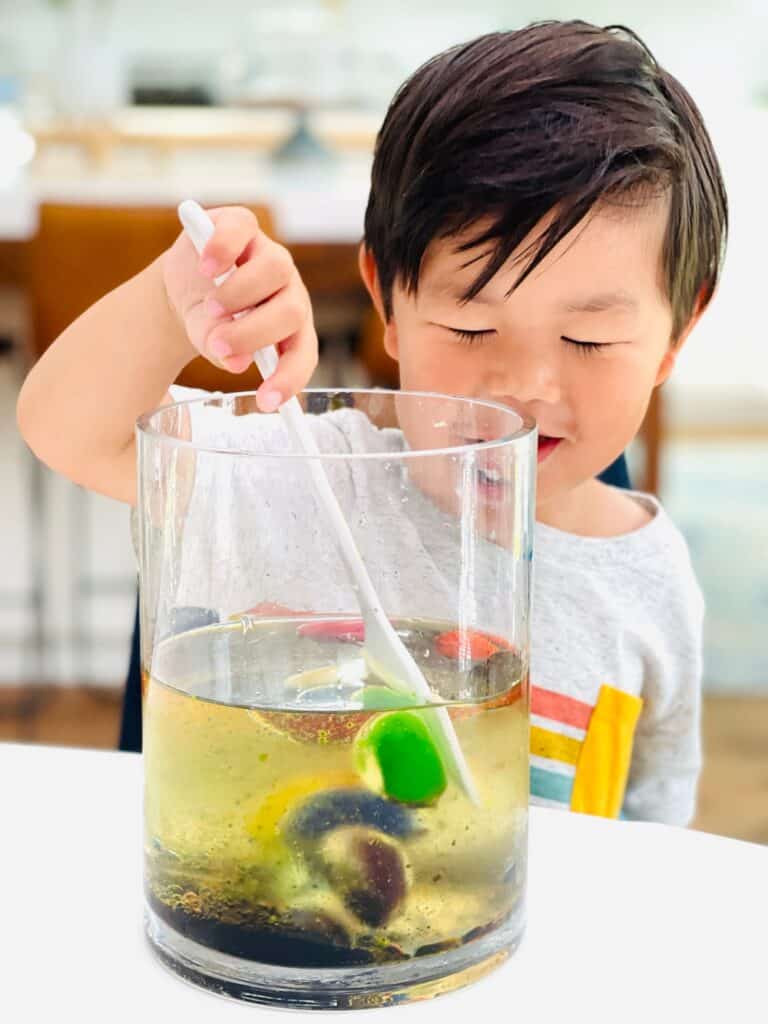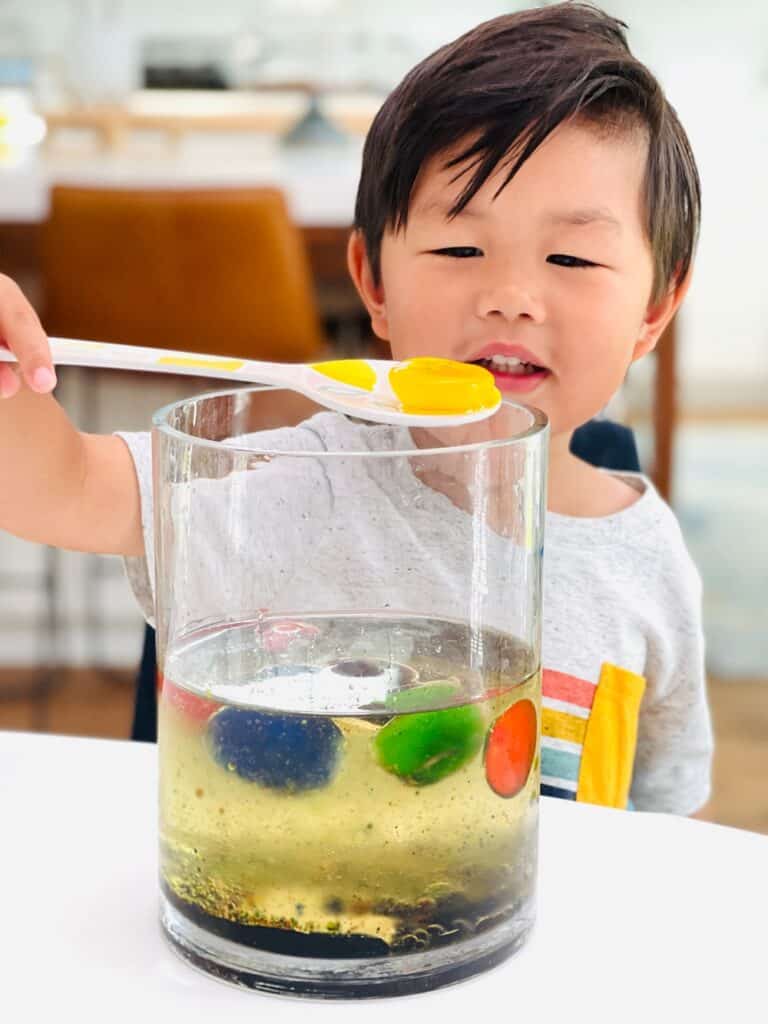 Why do water and oil not mix?
Like dissolves like; since oil is not water-based, it doesn't dissolve in water. Oil is also less dense than water and therefore the differences in densities means these two substances are not able to mix.
Since oil is not water-based, it doesn't dissolve in water. This means that when you put an oil-based substance into water and stir, you'll see two different substances floating in the same space – the oil slowly separates from the water. In the case of our frozen lava lamp experiment, as the frozen ice cubes melt, the water bead it creates is suspended in the oil. This creates a very cool effect, almost as if you have water beads suspended in liquid! As you can see in the photos and video on this post, the beads fall downwards because water is more dense than oil!
What do you need to set up with frozen lava lamp?
As we mentioned this experiment could not be more simple with just 3 common ingredients. You will need an water, food coloring and oil You will also need an ice cube tray, and a clear container. A few notes on the materials we used. We wanted a rainbow lava lamp so we colored ice cubes all the colors of the rainbow (red, orange, yellow, green, blue and purple). But you can choose to do one color only!
We also only had this silicone half-circle silicone tray (it's actually used to make baby food!) which made rather large ice cubes and that's why we used such a big container! But you can choose to make smaller ice cubes, and not add as many colors inside, and use a smaller container. This will also require less oil.
Does the type of oil you use make a difference in this water and oil experiment?
Yes, make sure you use vegetable oil as we saw on Capturing Parenthood's original post that baby oil has a different density than vegetable oil and therefore you won't see the same results.
What kind of food coloring should I use?
We recommend this super bright and vibrant water-based food coloring set as you won't need much to create vibrant shades. You can use other types of food coloring but make sure it is water-based.
Frozen Lava Lamp Science Experiment – Materials:
Filtered water

Vegetable oil

Clear container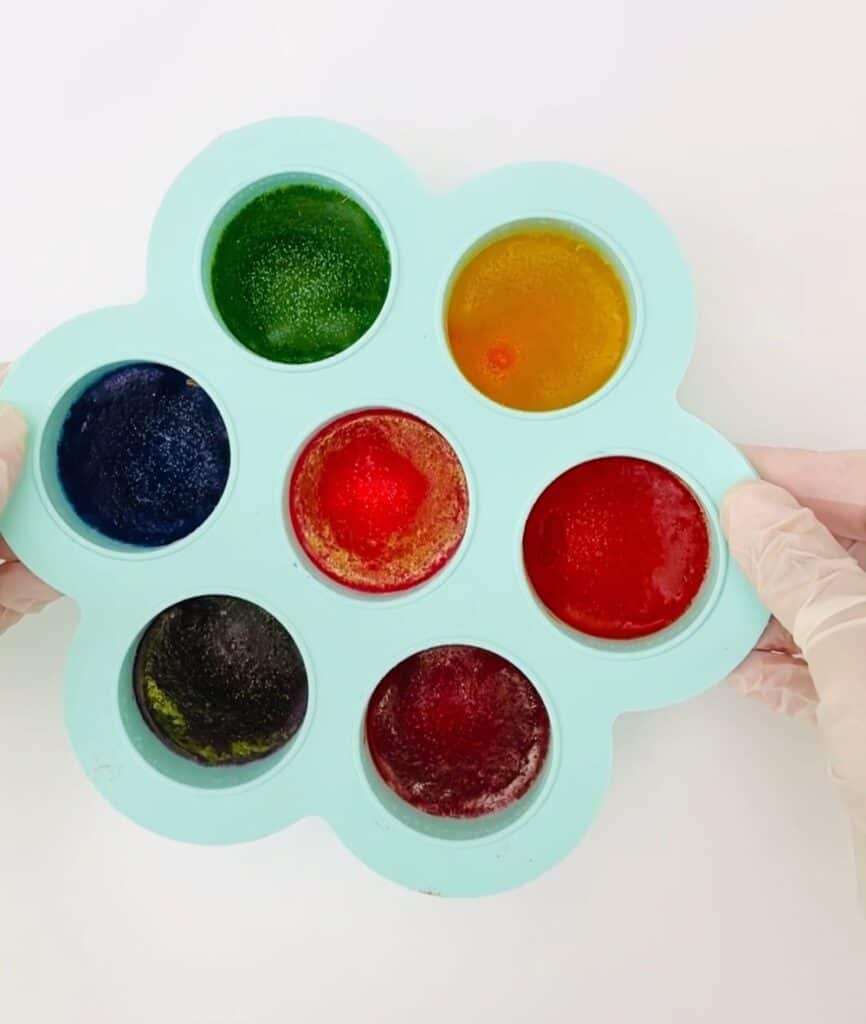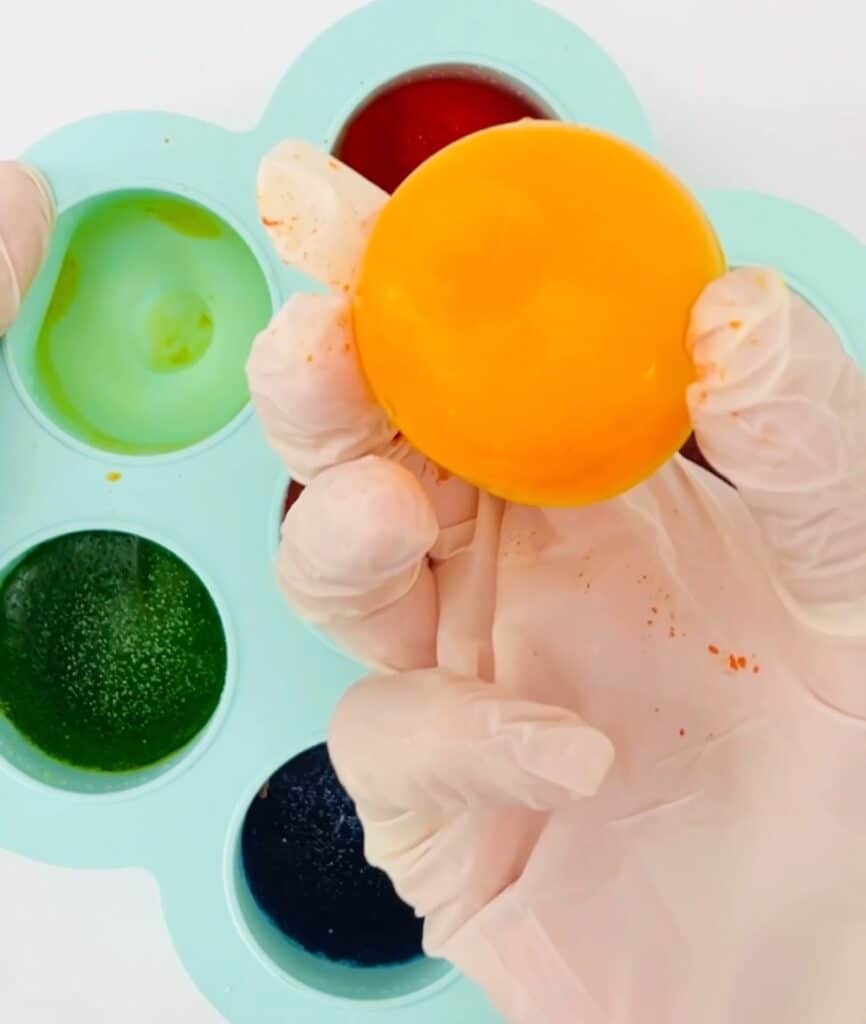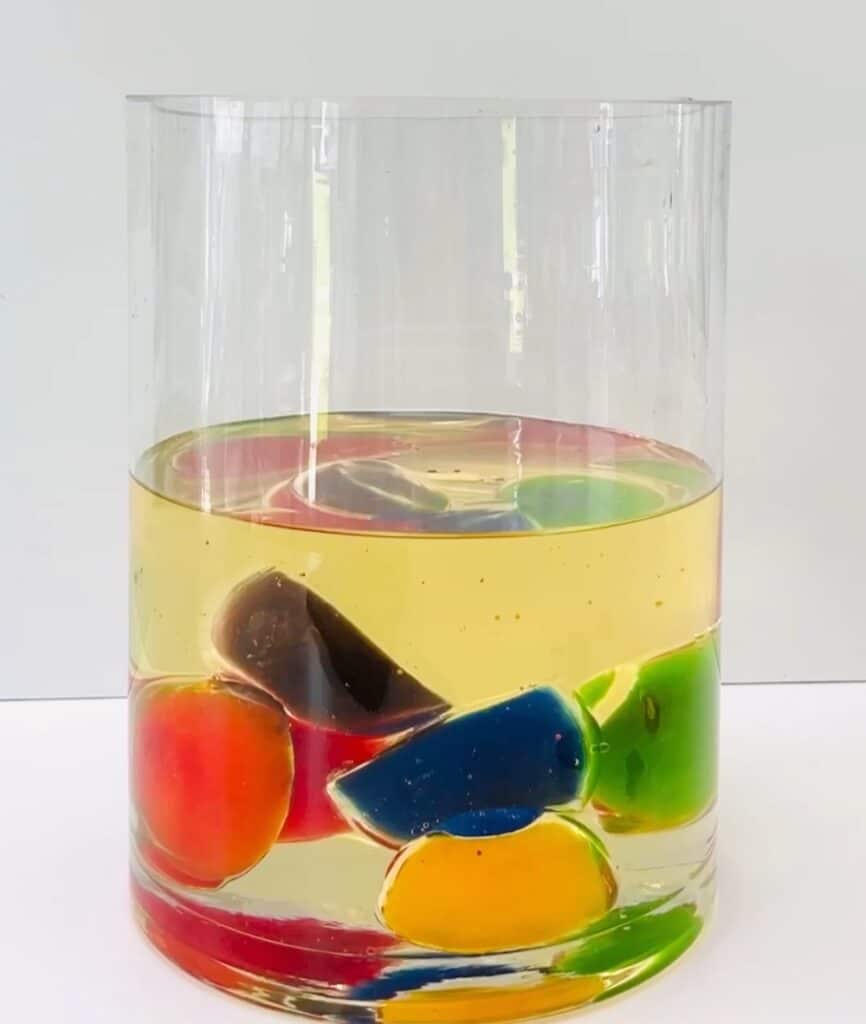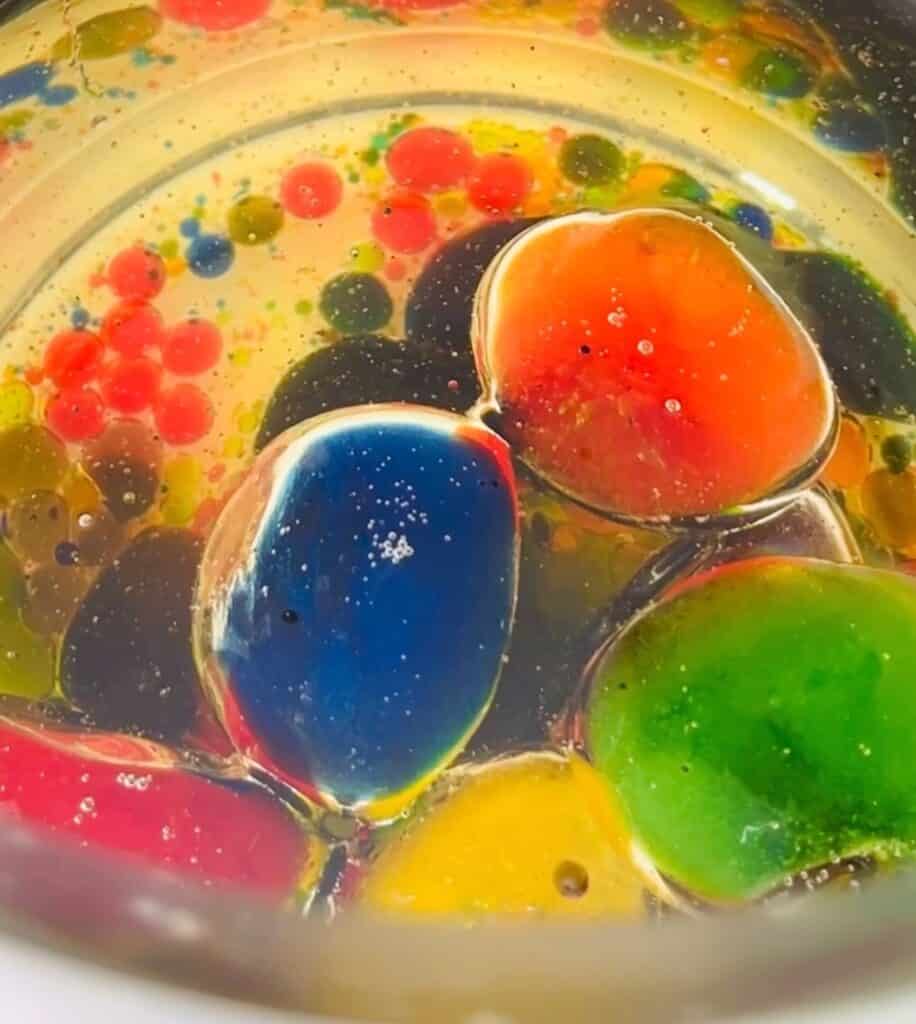 Yield: Frozen Lava Lamp
FROZEN LAVA LAMP SCIENCE EXPERIMENT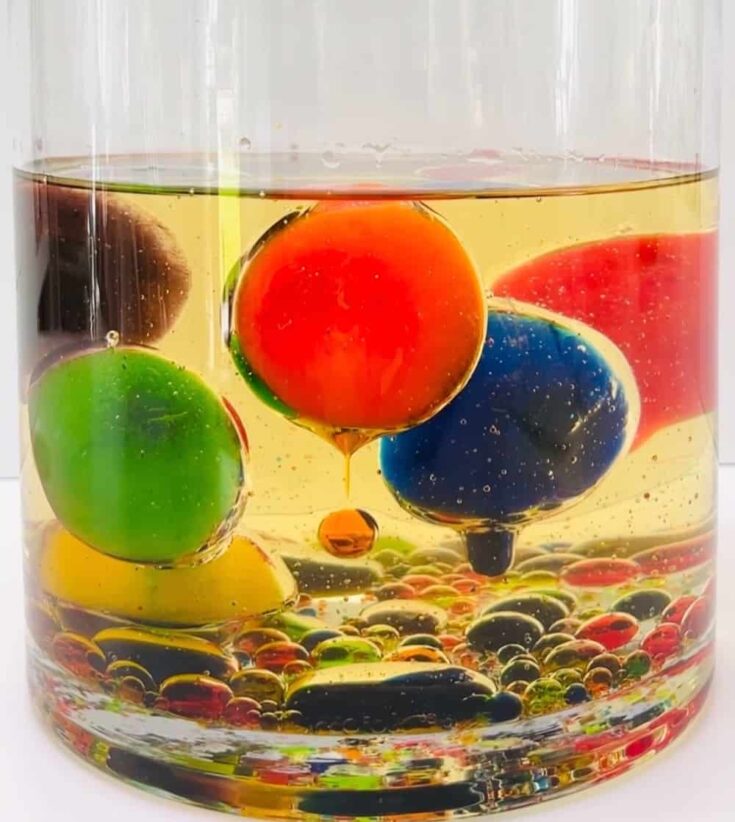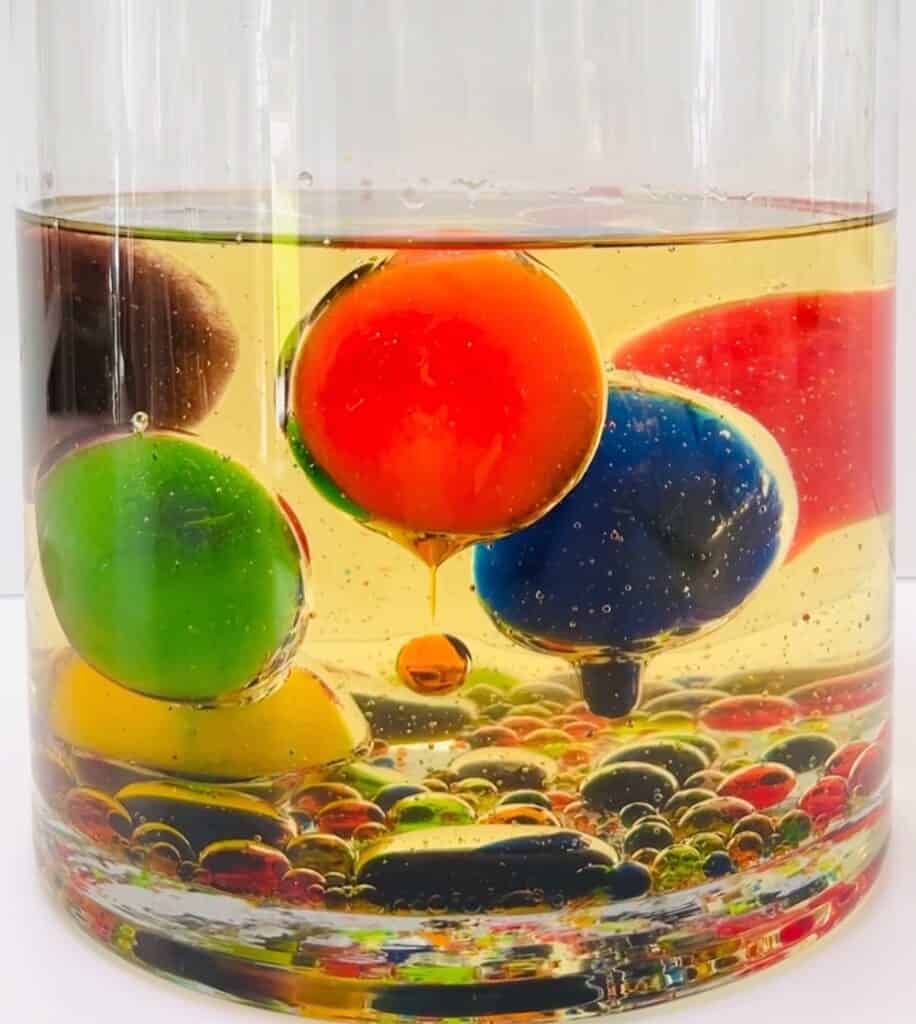 Materials
Vegetable oil
Clear container
Filtered water
Instructions
Add water to your ice cube tray and bit of food coloring (however much depends on how vibrant you want the colors). Mix to blend well right in the tray.
Freeze the cubes until frozen.
Fil a clear container with vegetable oil. Drop your ice cubes inside. It helps to swirl with a utensil first. The amount of oil depends on the size of your container. Ours was large in width because we wanted to fit 6 large ice cubes inside, but we didn't fill it up all the way since it would have been a waste of oil. We filled it enough to see the effects of the beads forming.
Slowly watch the ice cubes melt and form colored water globules that travel downward in a mesmerizing pattern!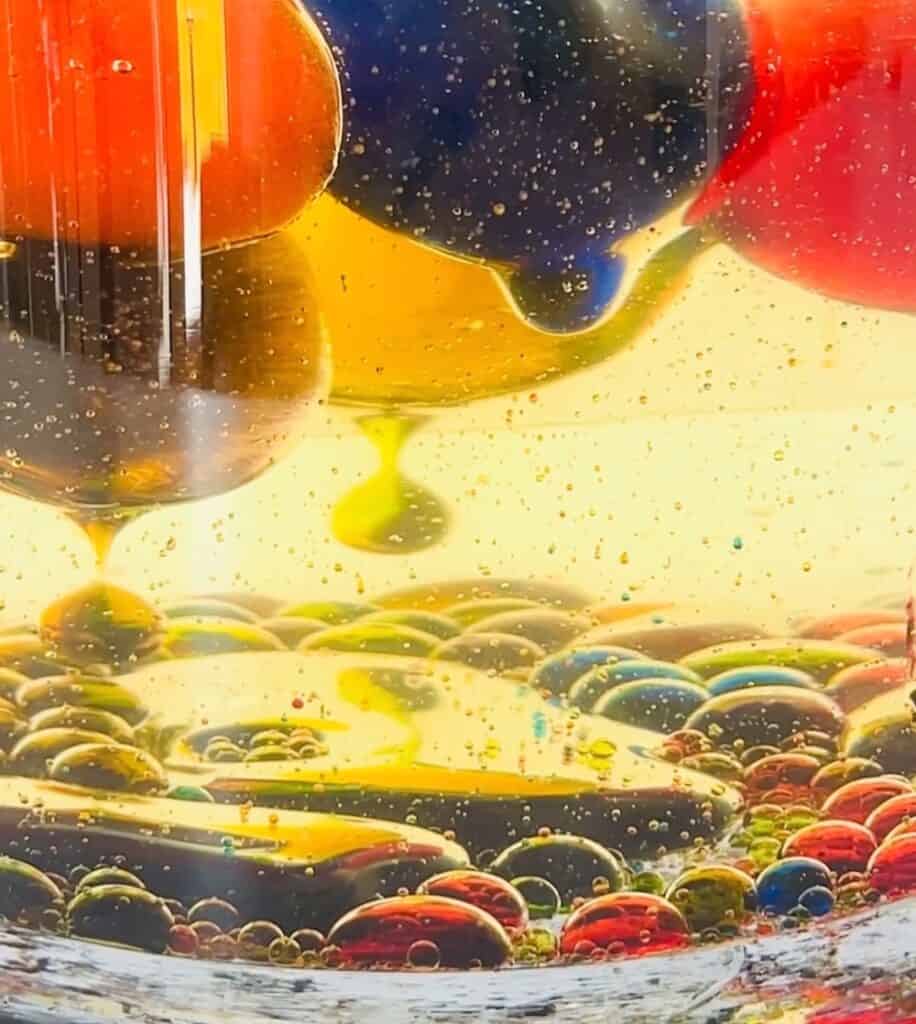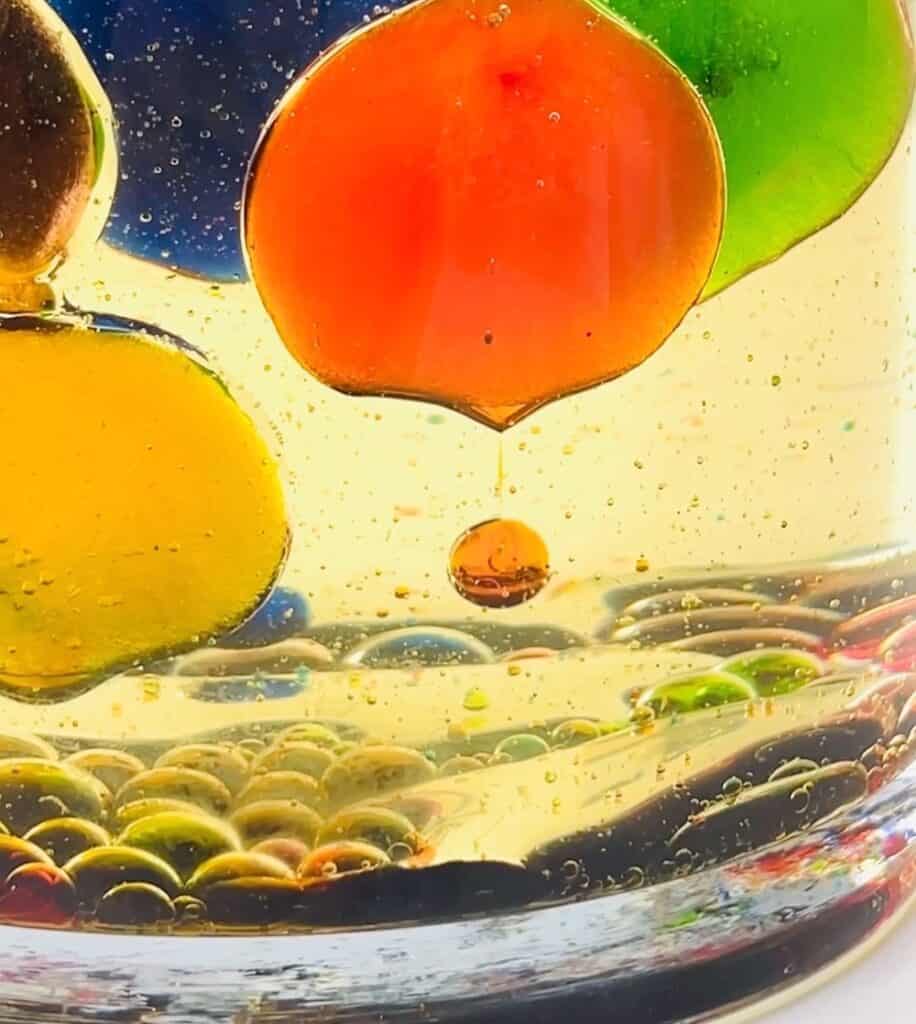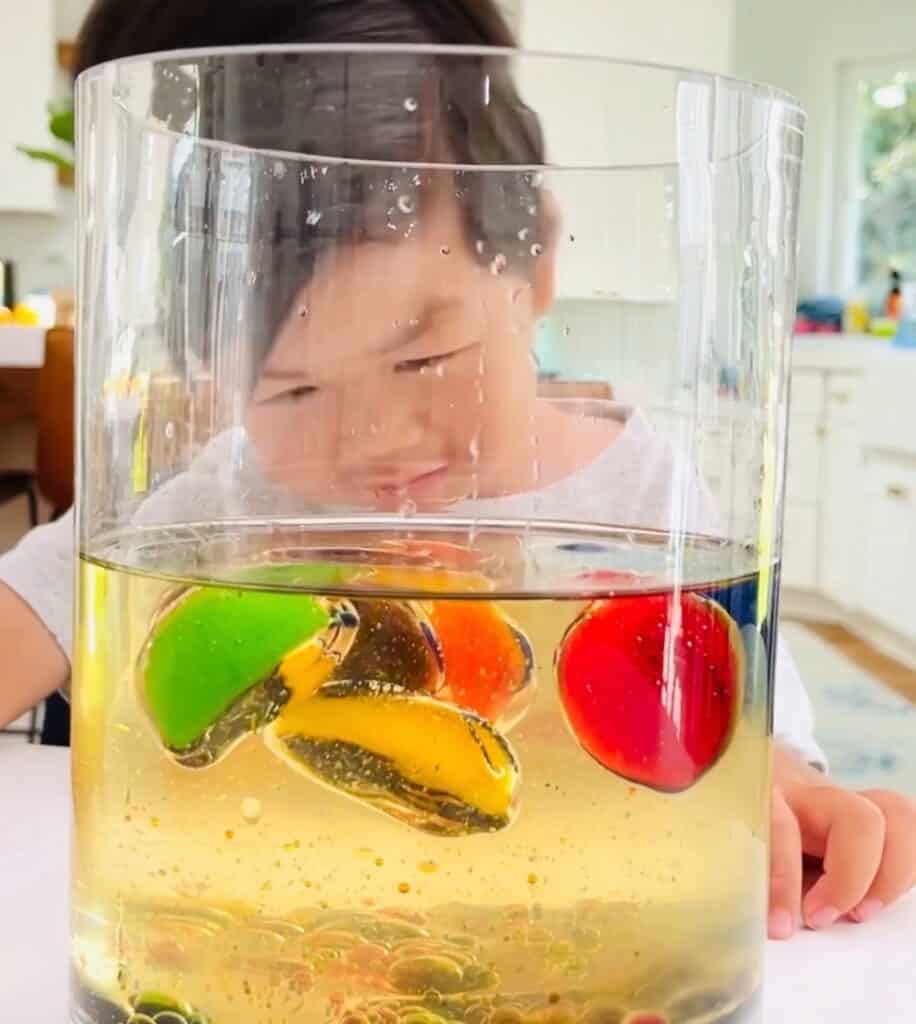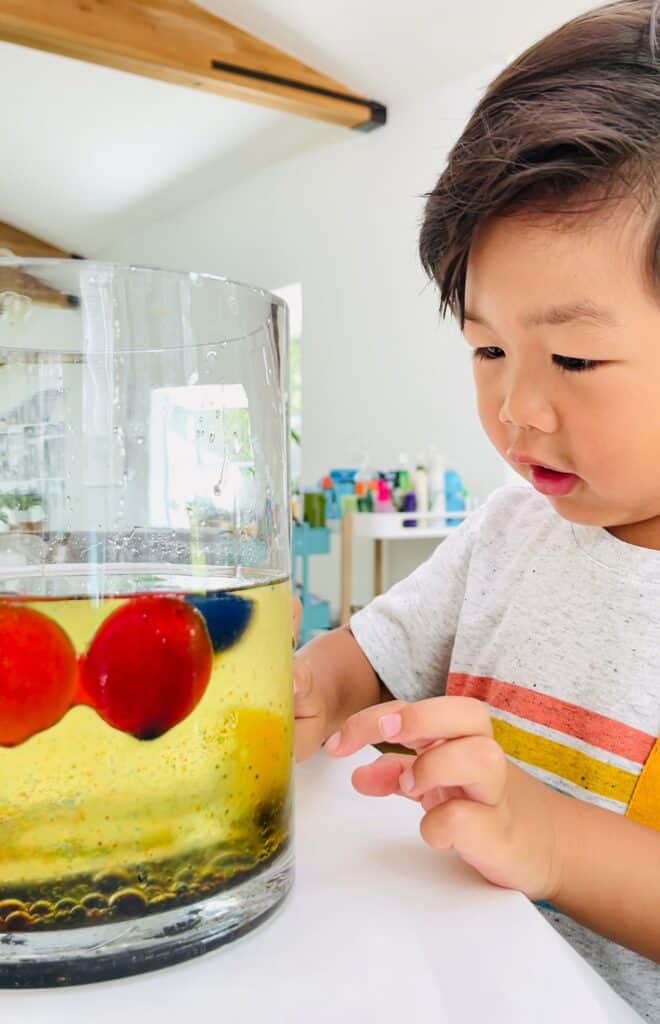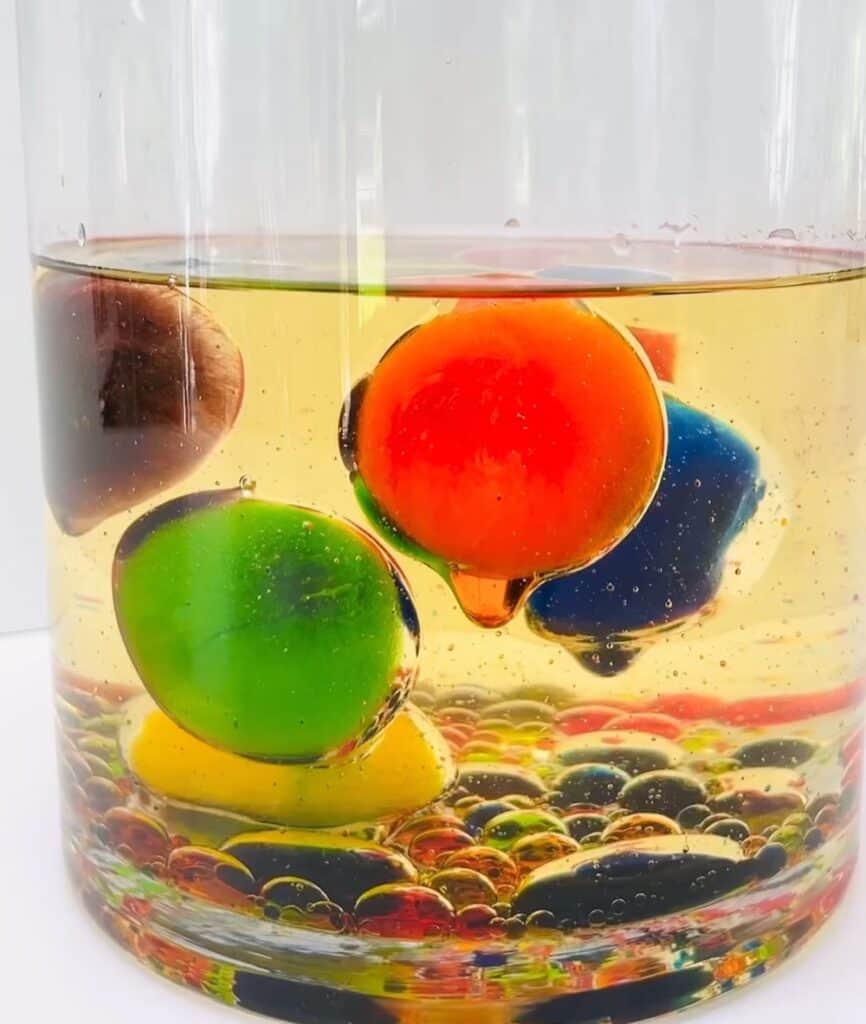 What happens after the water beads float down to the bottom?
Great question, the globules will remain there but as more of the ice cubes melt, the more the bottom will get muddied as there there will naturally be more water at the bottom and some mixing will occur. Since we used rainbow colors, all these colors coming into contact with each other will create a darker effect.
You can opt to do only two colors together that you know mix well e.g. yellow + blue to make green.
What we did as the bottom got muddied is take out a partially melted ice cube and placed it in a smaller container with some more oil, to create mini lava lamps! You can do this with a couple of ice cubes combined.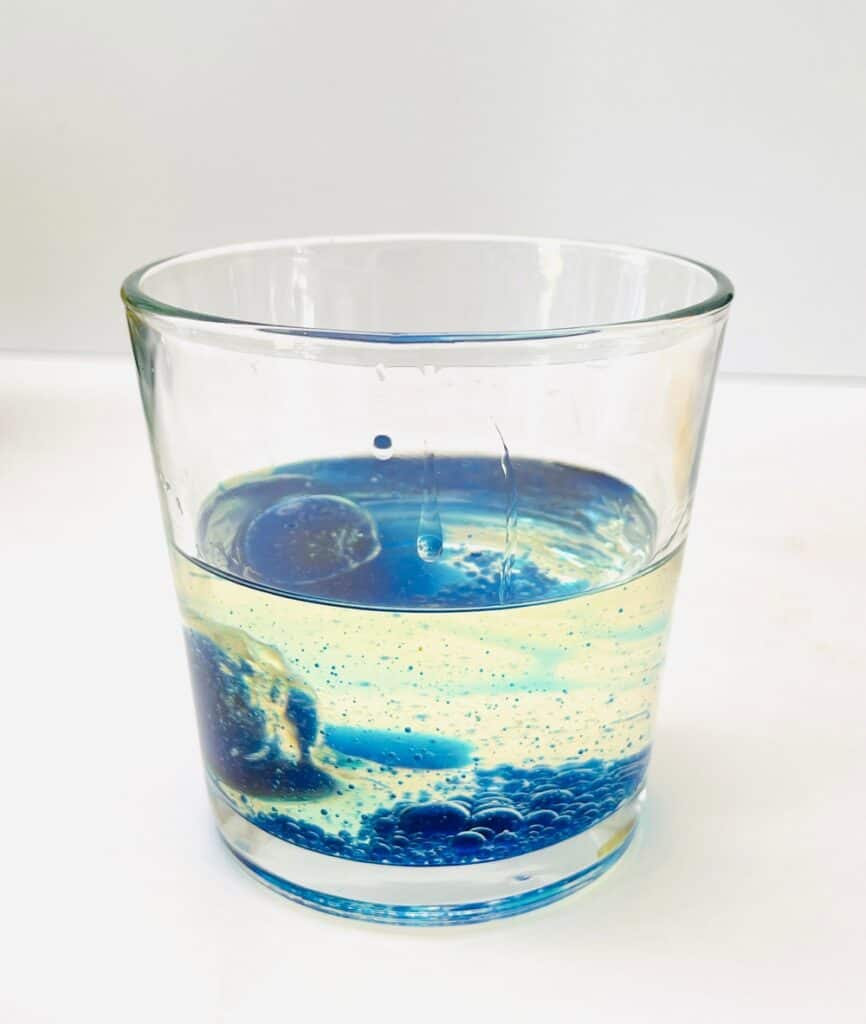 Check out more fun science experiments for kids
Giant Rainbow Skittles Experiment
Elephant Toothpaste Experiment