This Giant Water Bead Play activity is such a wonderful sensory activity. And the best part? It literally is so simple to set up as well! Your child is going to love feeling these giant water beads and watching them roll around and play.
You can also take this time to talk to them and show them all the different color options as well. It's a fun way to combine learning and fun together to intrigue them and hold their attention.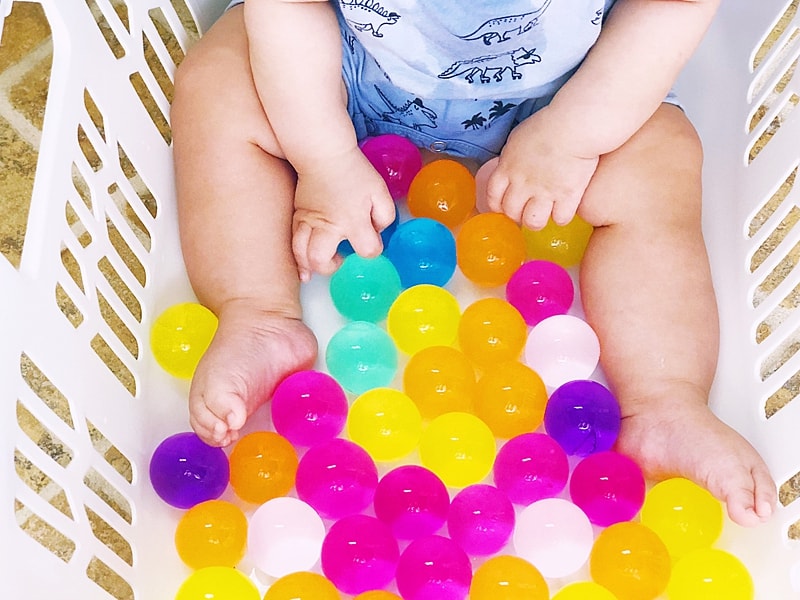 Have you ever played with water beads? They're great for sensory play and are environmentally friendly (you can crush them and add them to your soil after you're done with them).
Buy Giant Water Beads HERE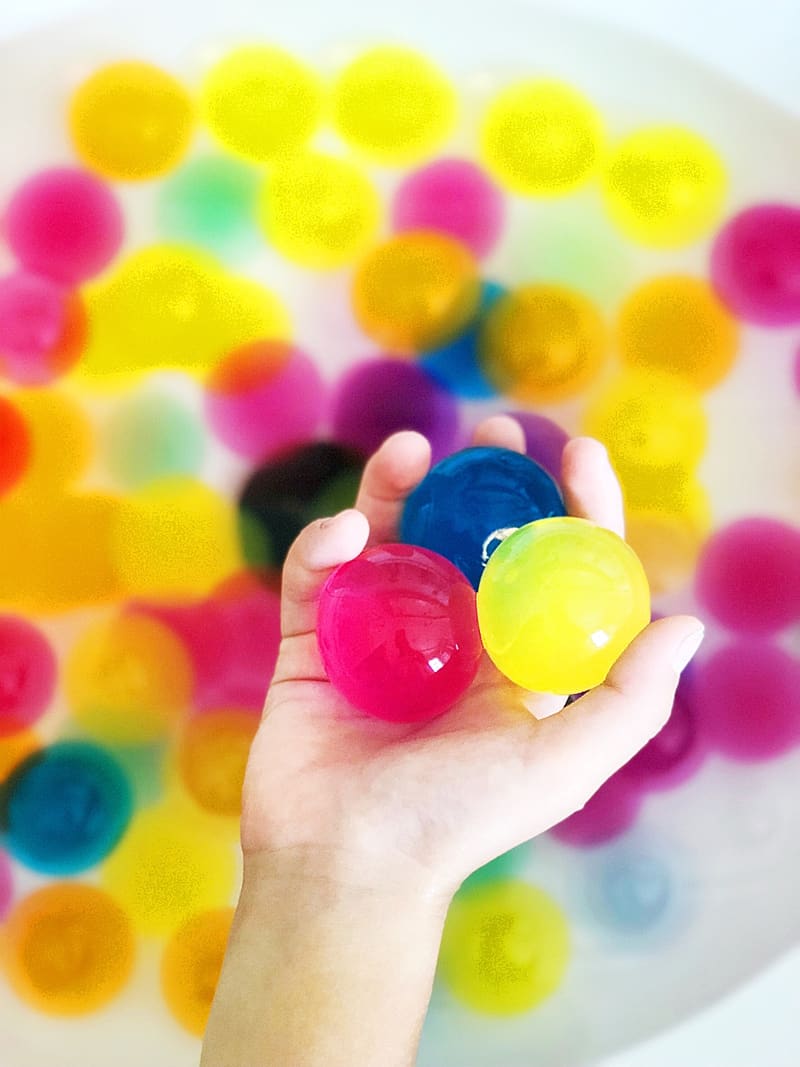 If playing with water beads is a new concept in your household, don't worry! It's not a hard one to larn. In fact, there are big water beads and small water beads as well which can really add to the overall sensory experience.
How long do water beads last for?
This can really vary but the smaller ones can actually last for a year or more! One simple purchase can easily bring hours upon hours of fun!
How do you clean water beads?
This is the other reason that water beads are really great. They're super simple and easy to clean. All you need is some warm soapy water and that's about it. Make certain that you dry them off completely so that they're perfectly cleaned and ready to use over and over again.
What are water beads made out of?
They're actually made of a polymer that is non-toxic that soaks up water to make them hundreds of times bigger than their original size.
Do water beads shrink back?
Yes, the do. While these water beads are bigger than normal, once you remove them from the water and let them dry out a bit, you'll notice that they do shrink down in size. This can help with storage purposes for sure.
Are water beads dangerous?
I talk about this a bit further down the post but just like anything, adult supervision is needed when water beads are presented around your child. There is always a risk of them putting them in their mouth so it's better to be safe in this situation and stay with your child while they're doing this fun sensory activity.
If you like this giant water bead play activity, here are some other sensory activities you might enjoy: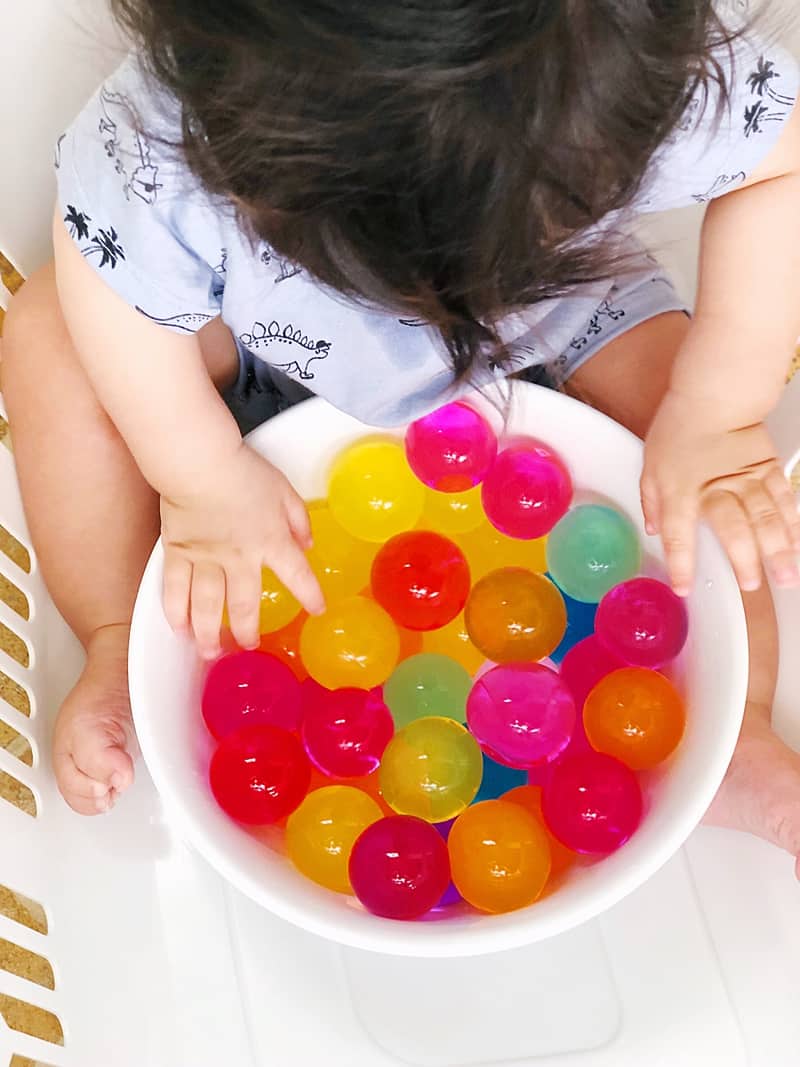 Here's a great article on what water beads are and how you can store and play with them again. Yes, they are reusable! Just add more water to hydrate again
Water beads, also known as "orbs," come in tiny hard balls and can grow a couple of hundreds time their size! We are familiar with small water beads but caution they can pose a choking hazard for little ones.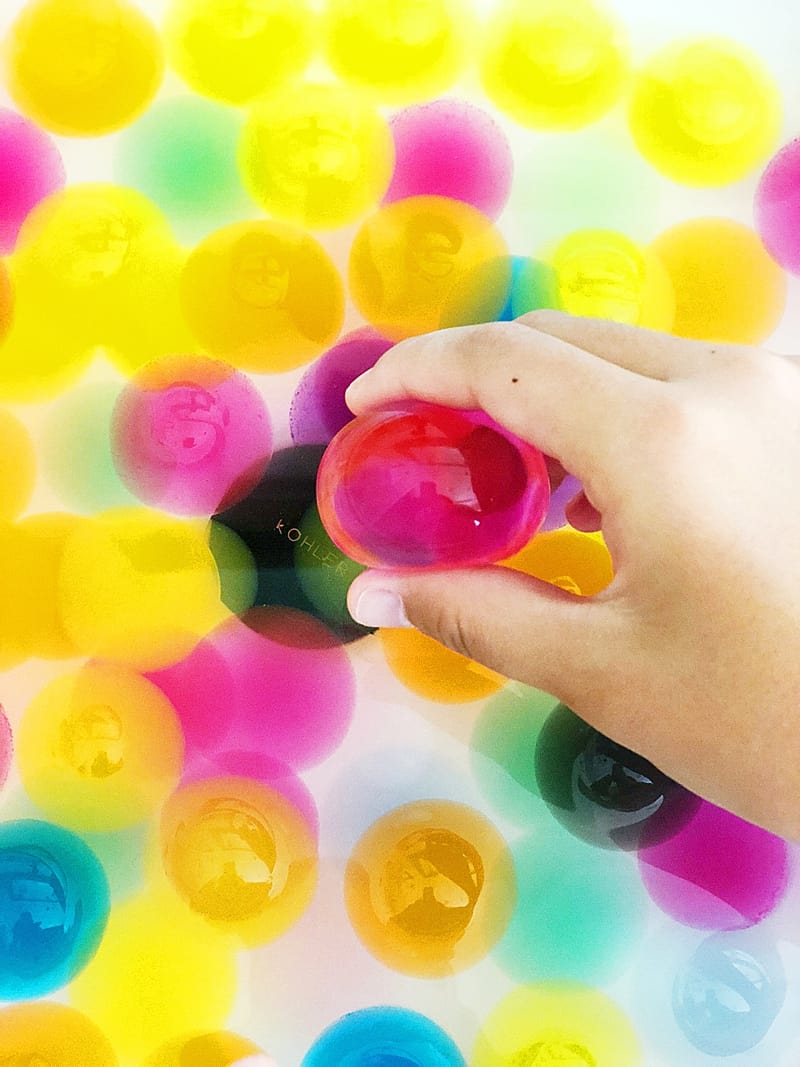 Giant Water Bead Play
So we recently tried and love these Giant Water Beads perfect for babies and toddlers and anyone who could use sensory play. In fact, adults can even use these fun toys as de-stressors. If your kids love "orbs", they'll love these special giant water beads.
For an easy sensory play set up, try putting baby in a laundry basket with the water beads inside or in a shallow tub (supervised, of course). See the video below to see how large these giant water beads can get!
Note that my baby does not yet have the grasping strength to pick up the balls (as you can see in the video below). So a choking hazard was not presented.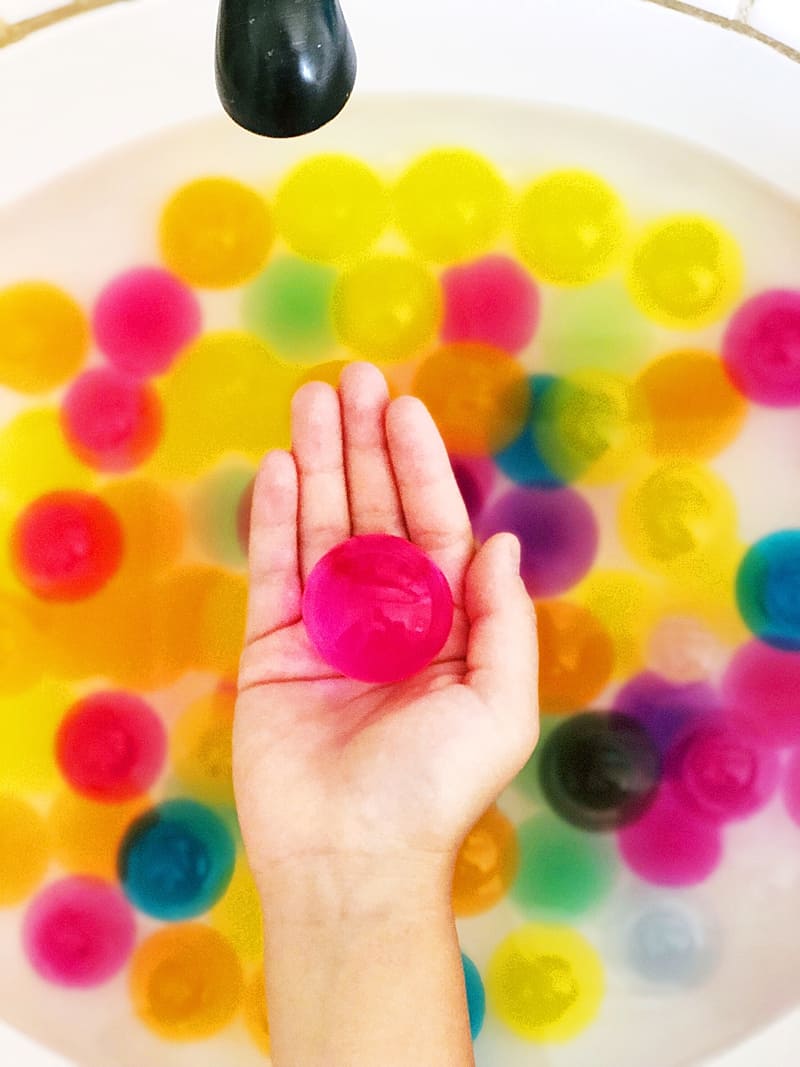 However, if you have very mouthy babies or toddlers, you can make sensory bags instead which is a safer alternative. Place the giant water beads in zipper bags and seal shut to secure them with duct tape.
And of course as with any play with young ones always supervise and never leave your child alone.
My baby loved playing with the multi-colored beads. The price is right as 150 of these magical toys are under $9 at the time of post.
About hydrating these beads, we did a time-lapse in our video below and you can see that it took around 36 hours to go from a tiny, less than a penny size ball to giant 1.5-2″ balls! Place them in a large tub or bathtub as they will absorb a LOT of water. Follow the manufacturer's instructions to properly hydrate. They will first look funky and sort of like they are growing "brains" as they take in water, but closer to the 36-hour mark, they will smooth out and turn shiny and translucent and so jiggly and fun to play with.
We certainly enjoyed experiencing them with our family and with my older kids. Stay tuned to see what fun you can create with giant water beads with older kids.
Uses for giant water beads
These also make great decor for centerpieces at parties and showers or awesome center activities for preschool or kindergarten classrooms. Try them for yourself and let us know what you think. (As I mentioned earlier, since they're so easy to clean, you can easily use them over and over again!)

Get Giant Water Beads HERE.
Check out how to set up Giant Water Bead Painting to create gorgeous prints!
Watch the video below to see these Giant Water Beads in action!

___________________________________________________________________________________________________________
Disclosure: Some of the links in the post above are "affiliate links." This means if you click on the link and purchase the item, we will receive a small affiliate commission. Regardless, we give our promise that we only recommend products or services we would use personally and believe will add values to our readers.