It's no surprise that playing with water beads is fun but this Giant Water Bead Painting Activity is really, really cool! Not only are the water beads fun to hold and feel but it's a super simple and exciting way to create some stellar artwork as well!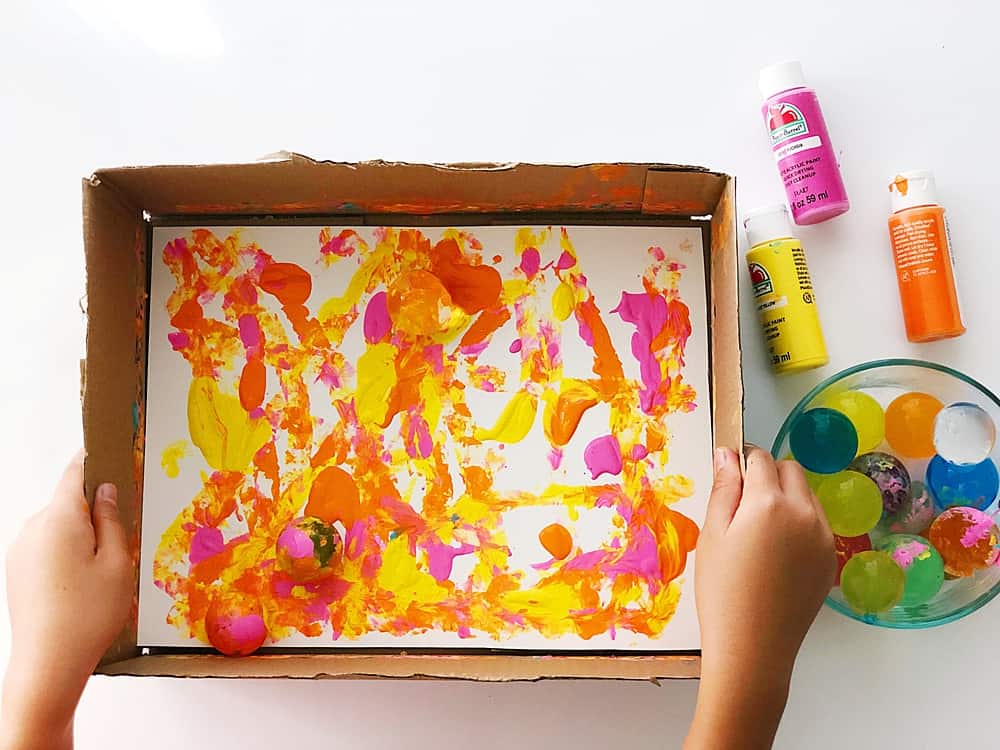 We're all about sensory play and activities in our house and this water bead activity really is a lot of fun. First off, your child will love to touch and hold the GIANT water beads. (These things are huge!) While they might be used to playing with the smaller water beads, these are going to show them that there are a lot of great options out there to choose from.
And for demonstration purposes, it might be fun to have some smaller water beads side-by-side to the giant ones so they can really see, and feel the difference!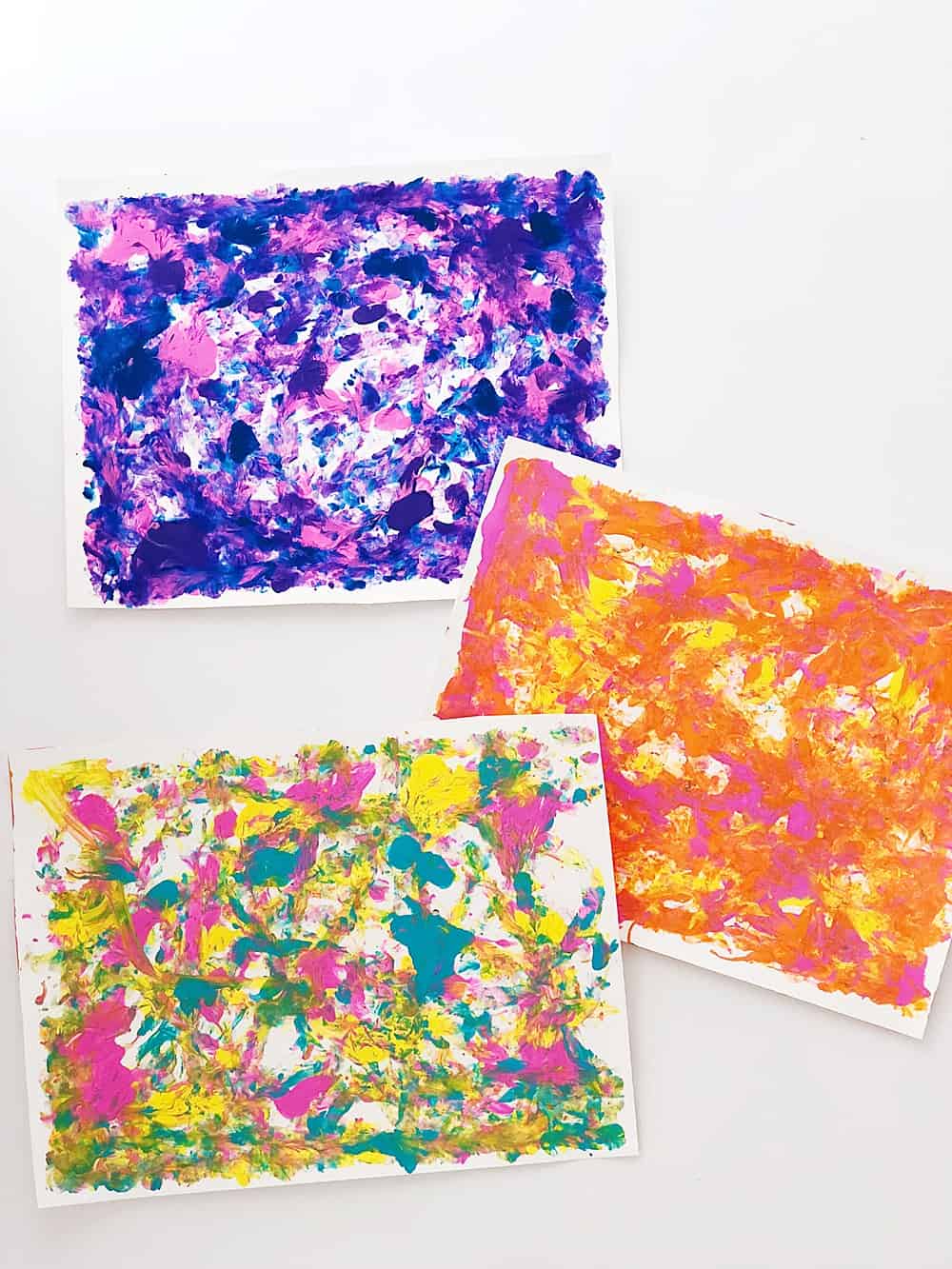 Follow us on Instagram for more fun ideas for kids!
We've loved playing with Giant Water Beads lately. They're so fun to squish and bounce around. This Giant Water Bead Painting activity is another entertaining way to play with them
I love finding ways to reimagine our go-to toys as tools for sensory play, or unconventional art supplies. We've used everything from balloons to toy trains – even flowers – to create beautiful, sensory-filled art projects.
Scroll all the way down to watch how to set up this messy and sensory Giant Water Bead Painting and be sure to subscribe to our channel for more fun crafts and ideas!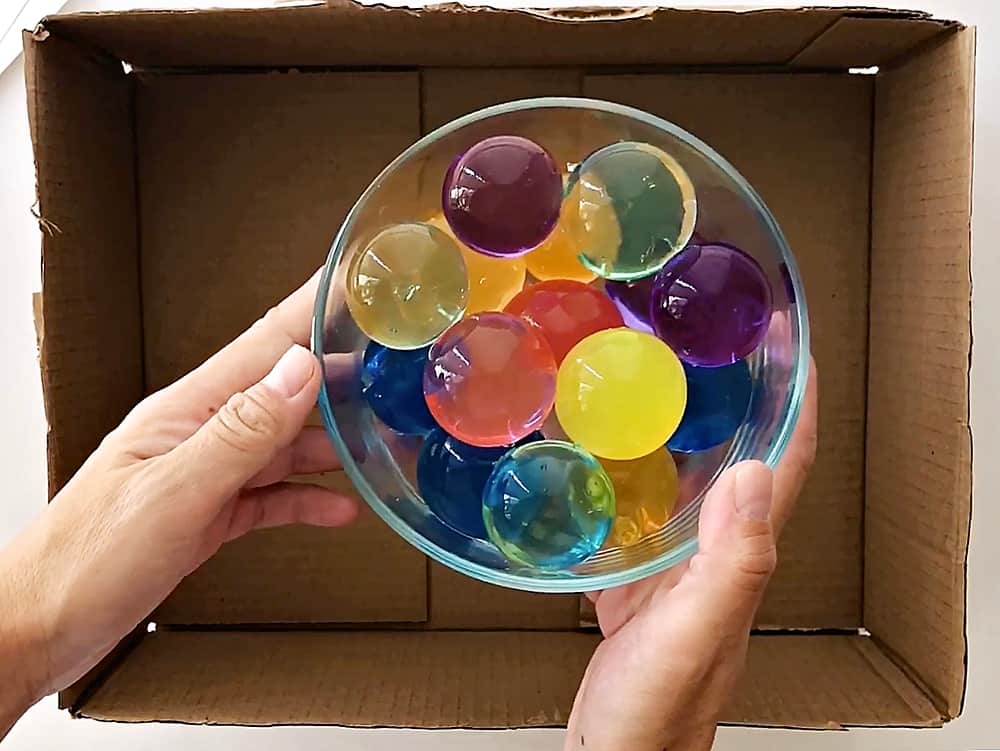 This can be a bit of a messy indoor activity so make certain that you're taking the proper precautions and doing the set up so that it's as mess-free as possible.
We loved putting the canvas or piece of paper inside a cardboard box with high sides because then there is no worry whatsoever about the water beads rolling off onto the floor of splashing paint on the tables.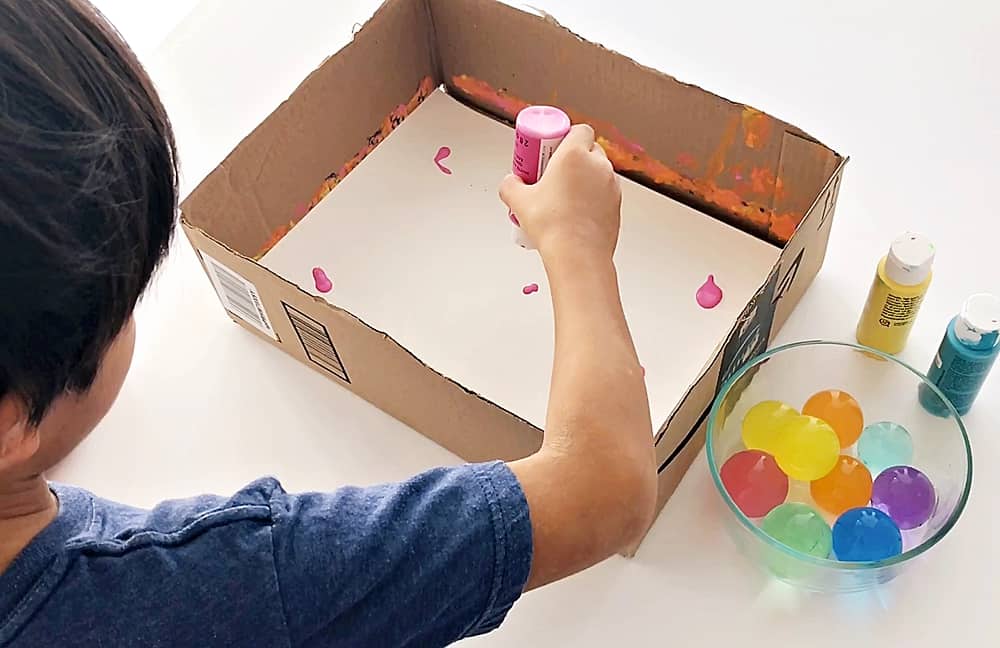 The fun part about this water bead sensory craft is that its one that your child can literally do on their own! Just make certain that the paint is non-toxic and let your child squirt out the paint into the areas that they want.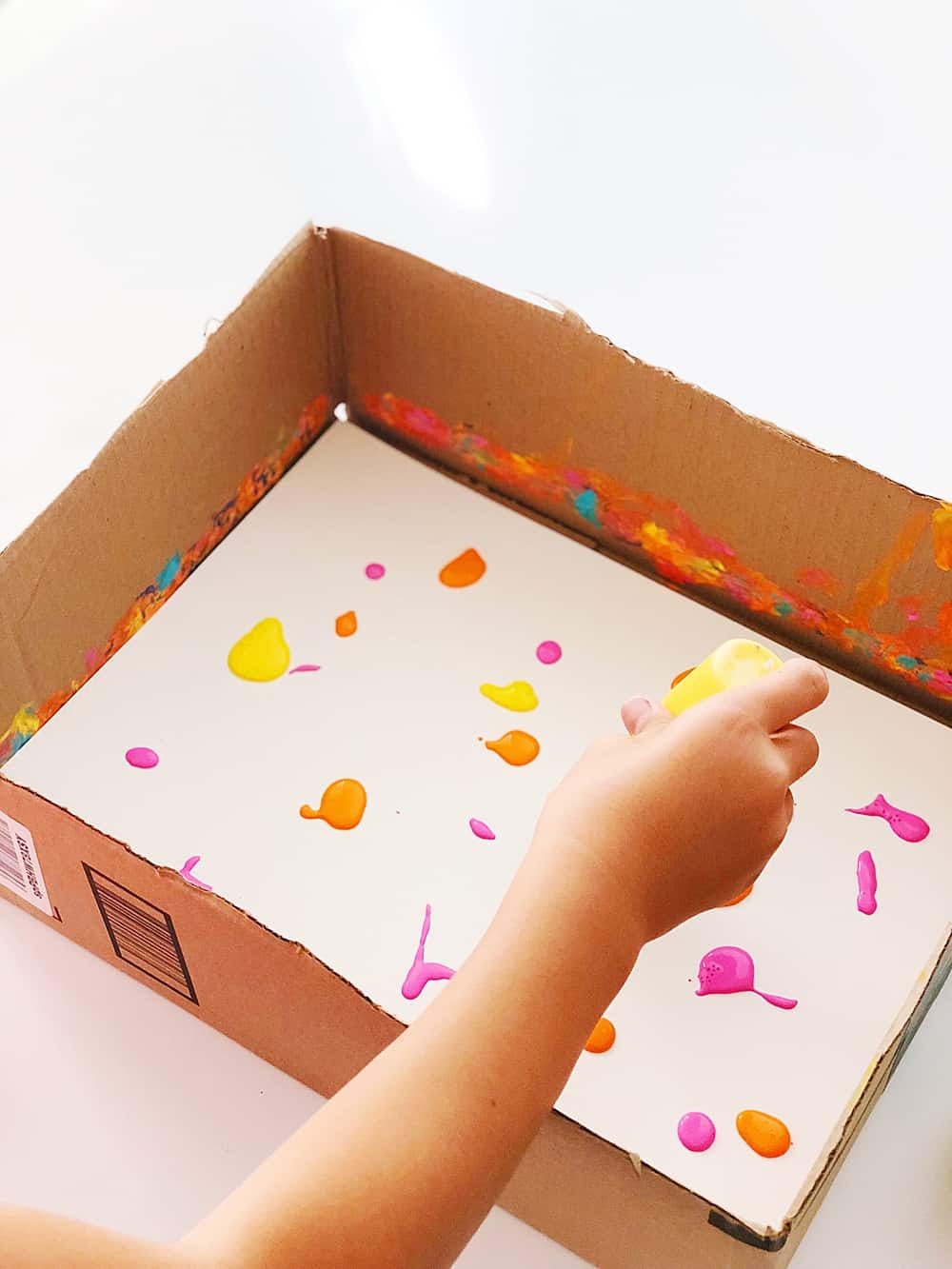 There are no rules about how little or how much or what colors at all. It's all about whatever they're feeling in their artistic minds.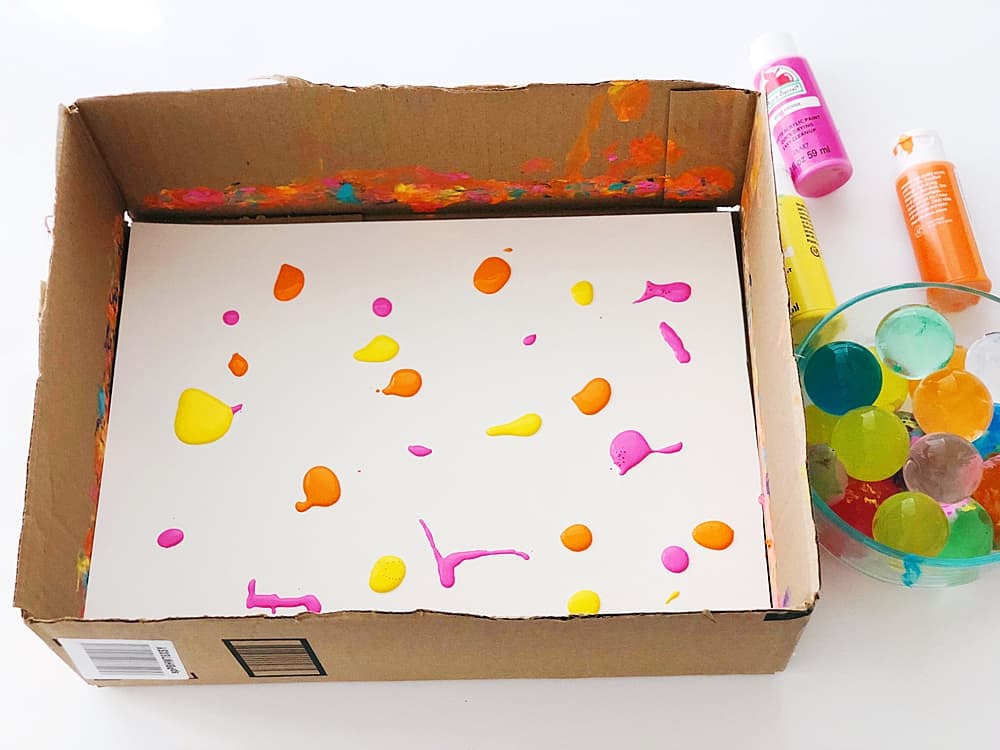 With all the fun discovering play with our giant water beads lately, we thought they seemed perfectly suited to use for a gigantic version of paint ball painting!
Somehow, the giant size of the water beads makes this painting experiment EXTRA fun – and they're incredibly easy to wash off once you're done (we used acrylic paints but you can use washable paints).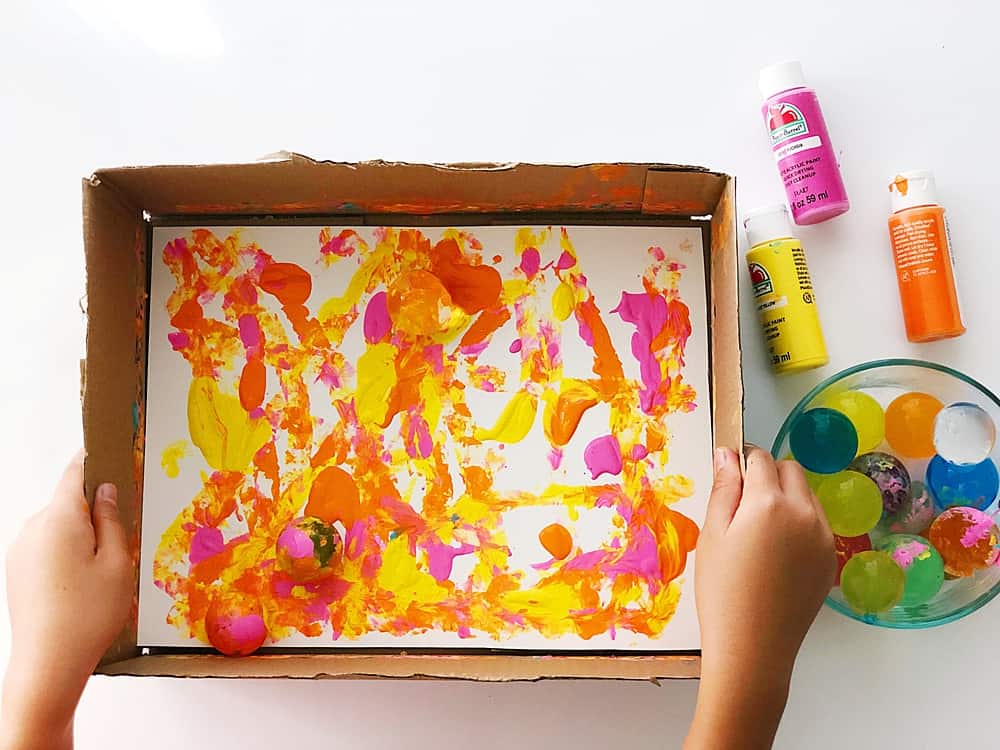 Teaching colors with the use of this water bead painting activity
We typically stuck with 3-4 colors for our painting activity but again, it's totally up to you and your child. You can, however, use this as a teachable moment as well.
Have them create a canvas painting using only the primary colors (red, yellow, and blue) and then talk to them about the different colors as well. They just might find that with enough rolling around of the water beads, new colors magically start to form, too.
Here are some other fun crafts and activities to consider as well: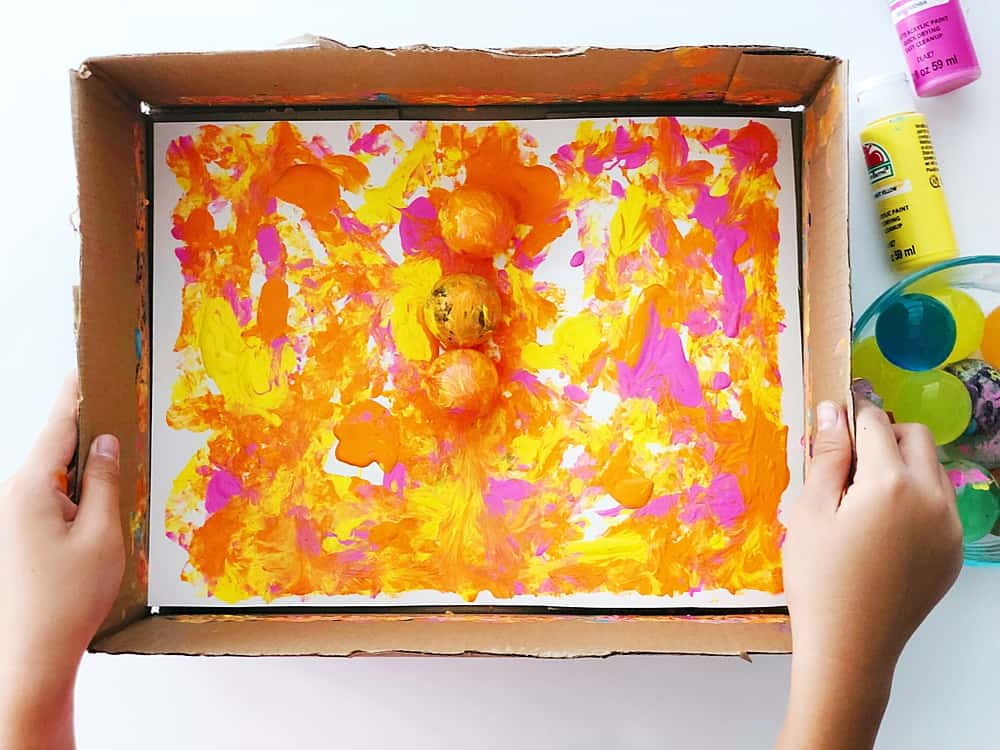 GIANT WATER BEAD PAINTING – MATERIALS: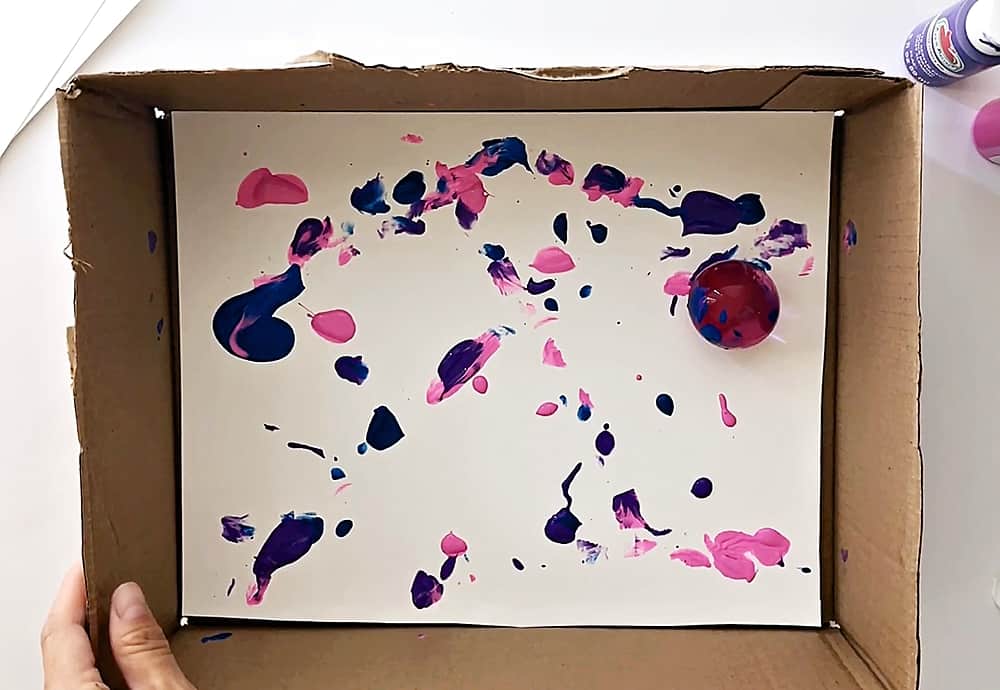 How do you clean off the water beads once done?
As long as you've bought paint that can be washed off, you can easily clean off the water beads with a little bit of soap and water. That way, they can be used again in the future for another fun activity or craft.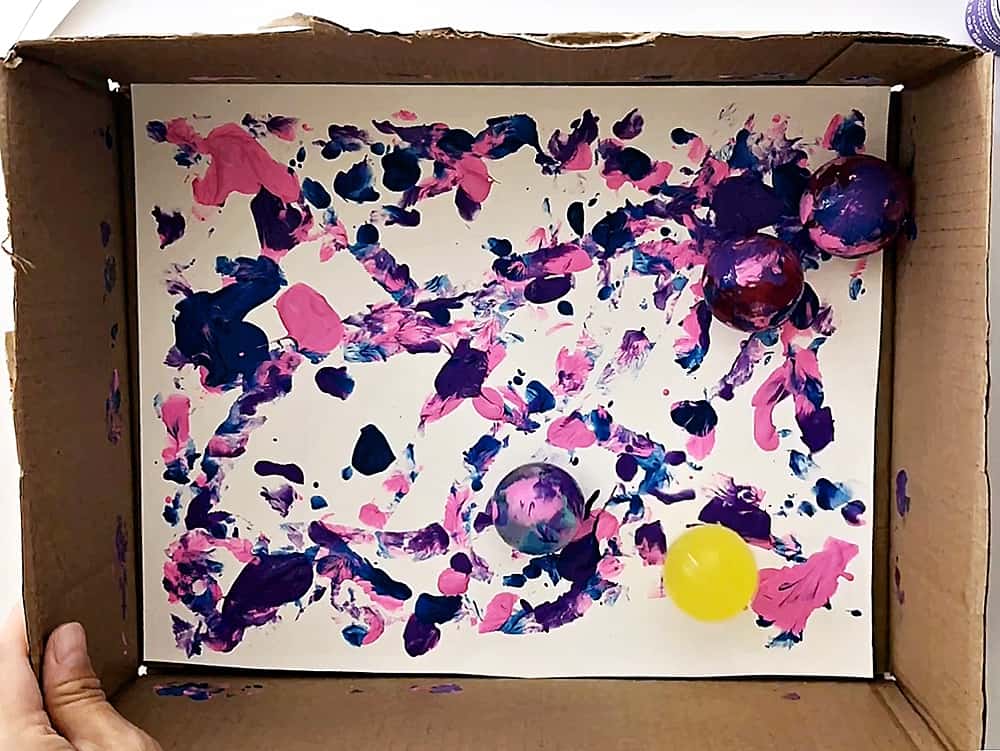 INSTRUCTIONS TO MAKE THIS GIANT WATER BEAD PAINTING
Grab a large cardboard box. You may want to lay out a paint drop cloth or a plastic tablecloth in case of stray paint drips!
Lay a large piece of paper or a blank canvas in the bottom of the box, dotting with a few dollops of paint in different colors.
We rolled our balls around in the box like marbles – letting the balls create lines and patterns in the paint.
Have a blast creating bright, colorful kinetic paintings!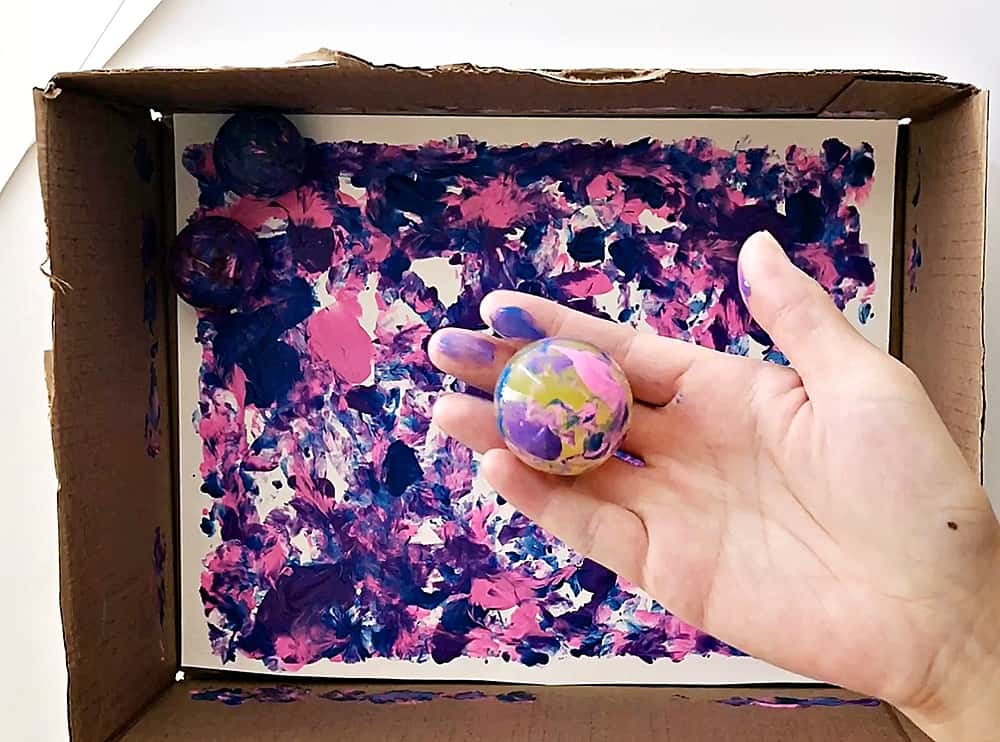 Look at how beautiful and unique this one turned out? It's amazing and fun to see all the differences with just a change of the paint colors and the rolls of the water beads.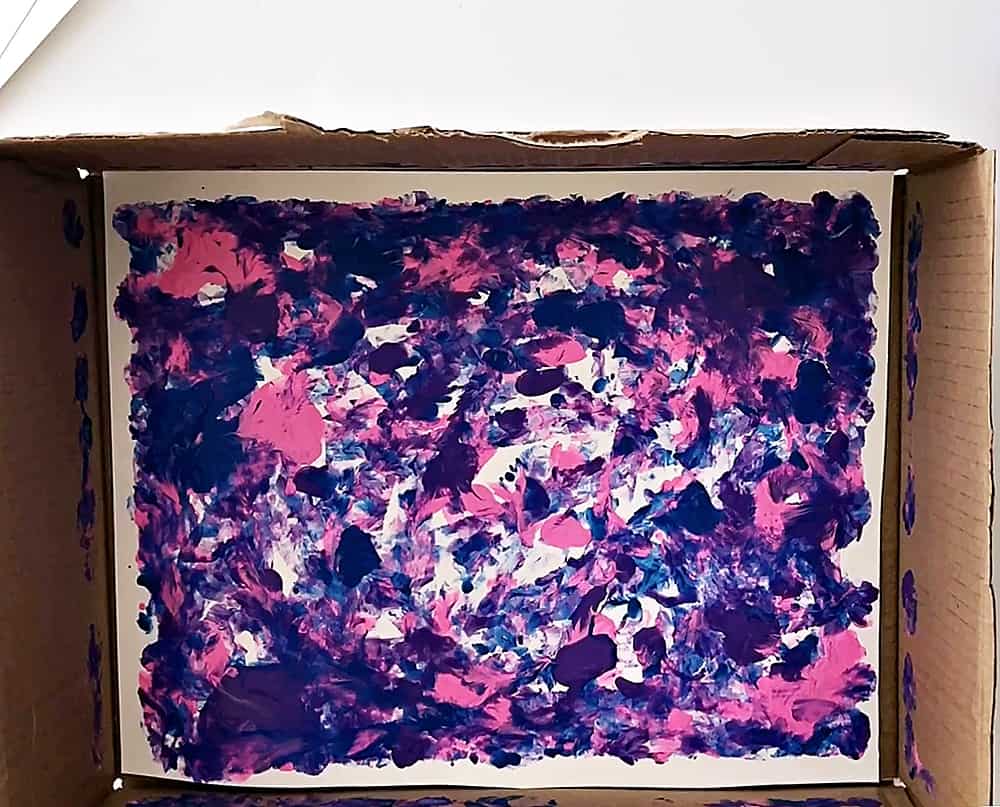 Once done, you can take out to let dry and hang up to showcase off the beautiful artwork!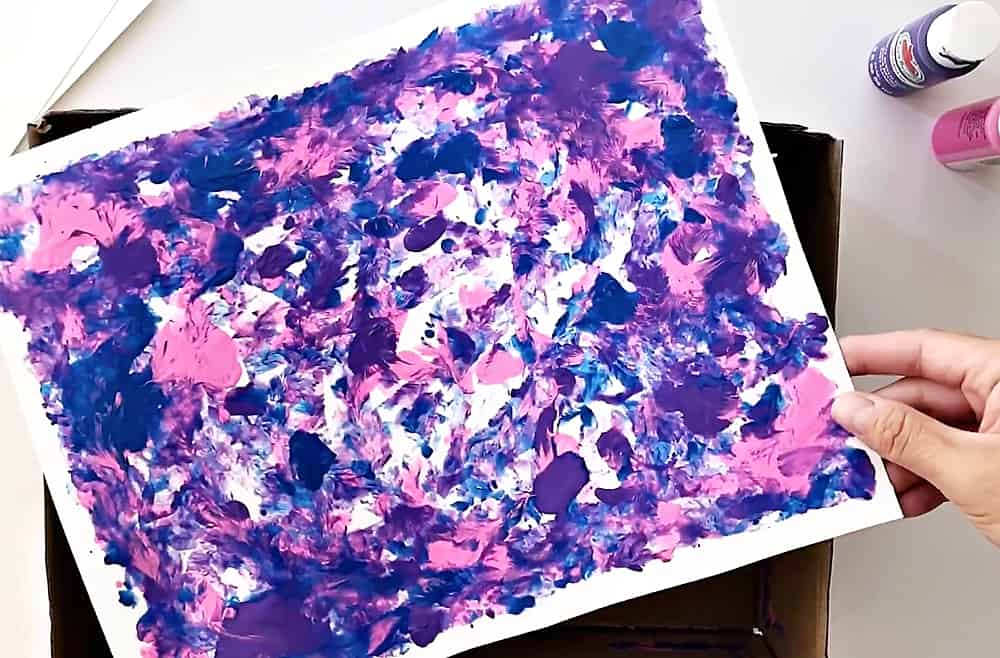 Do you have a favorite sensory art-making method? For those of you with tiny artists, this mess-free painting is another great way to utilize a cardboard box and paint for the baby's first art play. And this scratch-n-sniff painting is a great way to explore another one of the senses in art.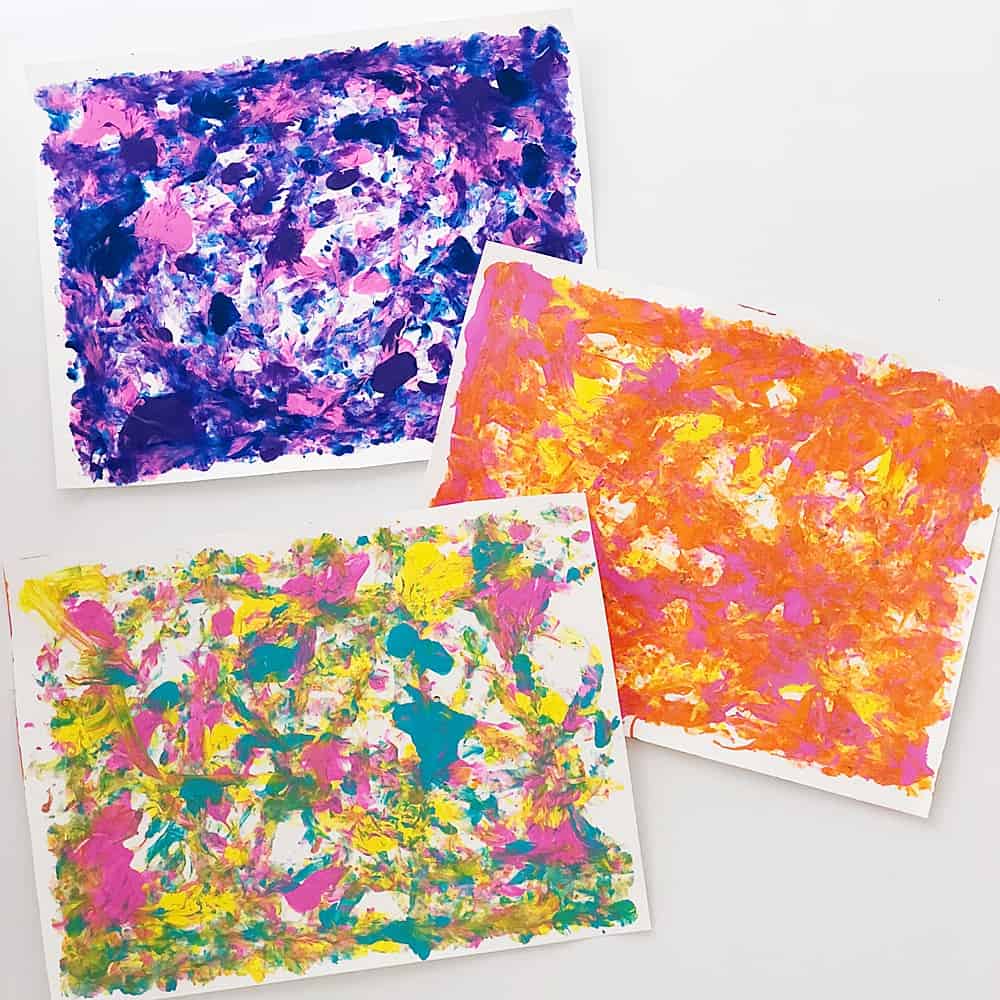 These would make gorgeous cut-out cards, wrapping paper for small gifts, or note tags from kids!
Check out more fun action art projects for kids.
Watch the video of our Giant Water Bead Painting in action.
---
Disclosure: Some of the links in the post above are "affiliate links." This means if you click on the link and purchase the item, we will receive a small affiliate commission. Regardless, we give our promise that we only recommend products or services we would use personally and believe will add values to our readers.