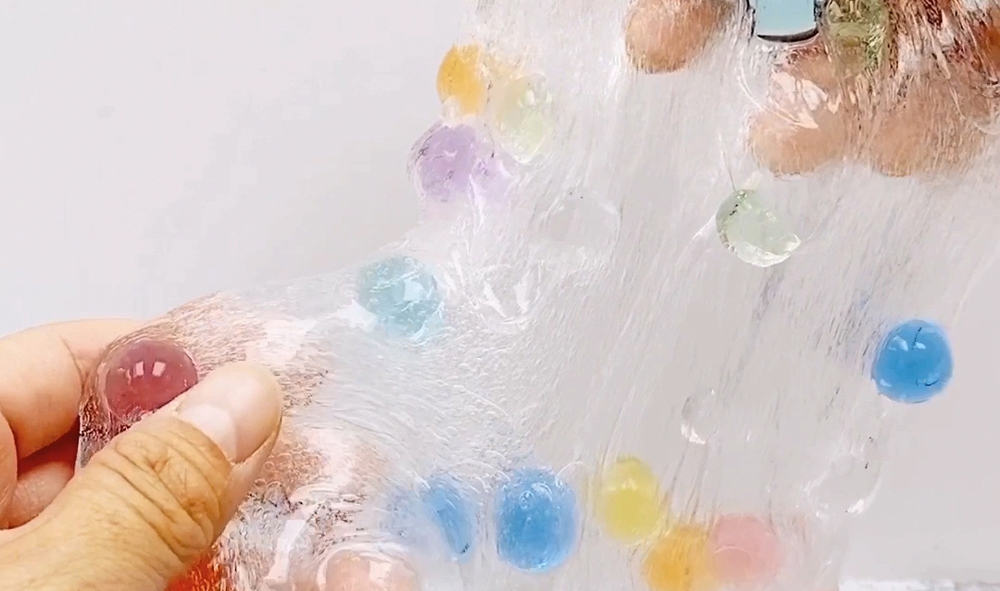 Follow us on Instagram for more fun ideas for kids!
Watch the video below to see this awesome Clear Water Bead Slime in action. Make sure to subscribe to our YouTube channel for more fun videos!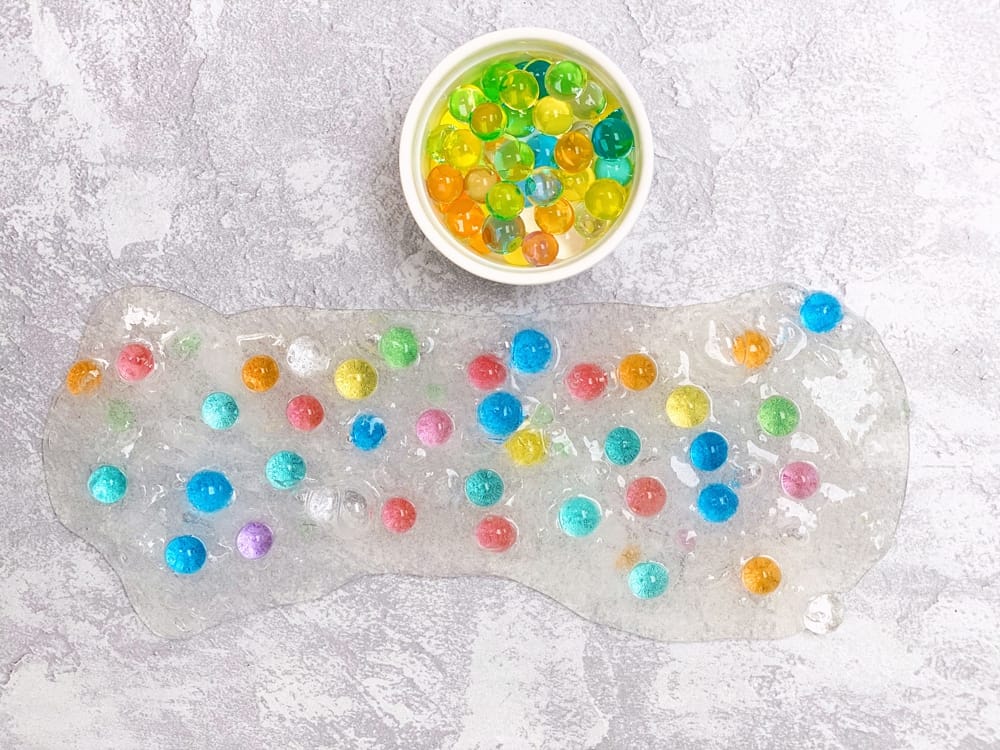 This clear Water Bead Slime is a fantastic sensory activity for kids and double the tactile fun!
Truth is, my daughter loves making slime, me not so much. Slime can get messy and out of hand fast!
There are a few exceptions when I turn on the slime factory lights and that's when slime doesn't get paint, glitter, beads, or food coloring everywhere. Clear slime to the rescue!
We love making clear slime because it's mesmerizing to look at, almost like stretchy ice!
And without adding any paint or food coloring, it's relatively mess free.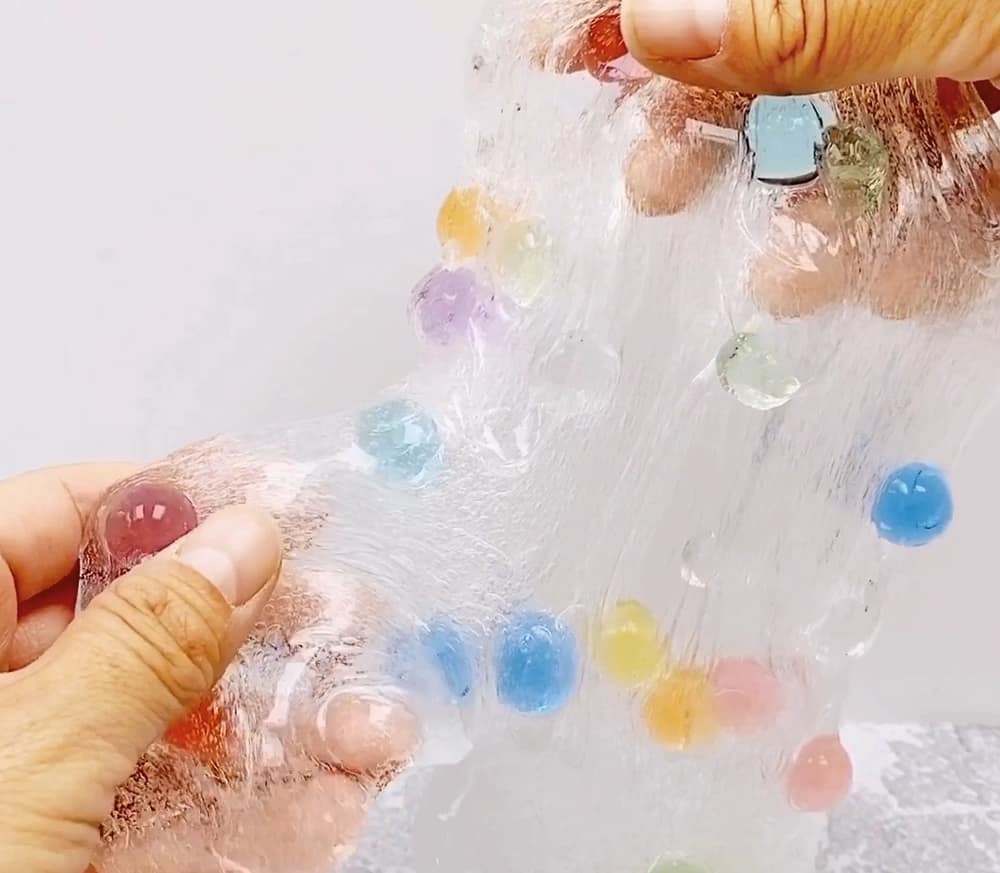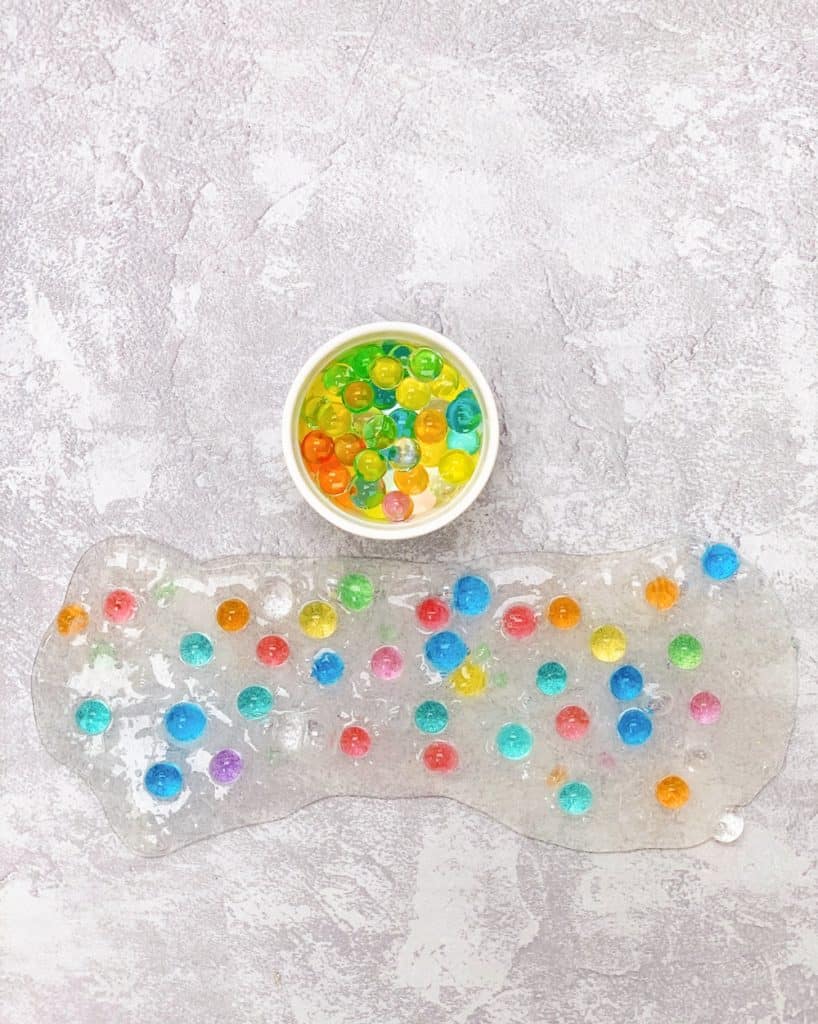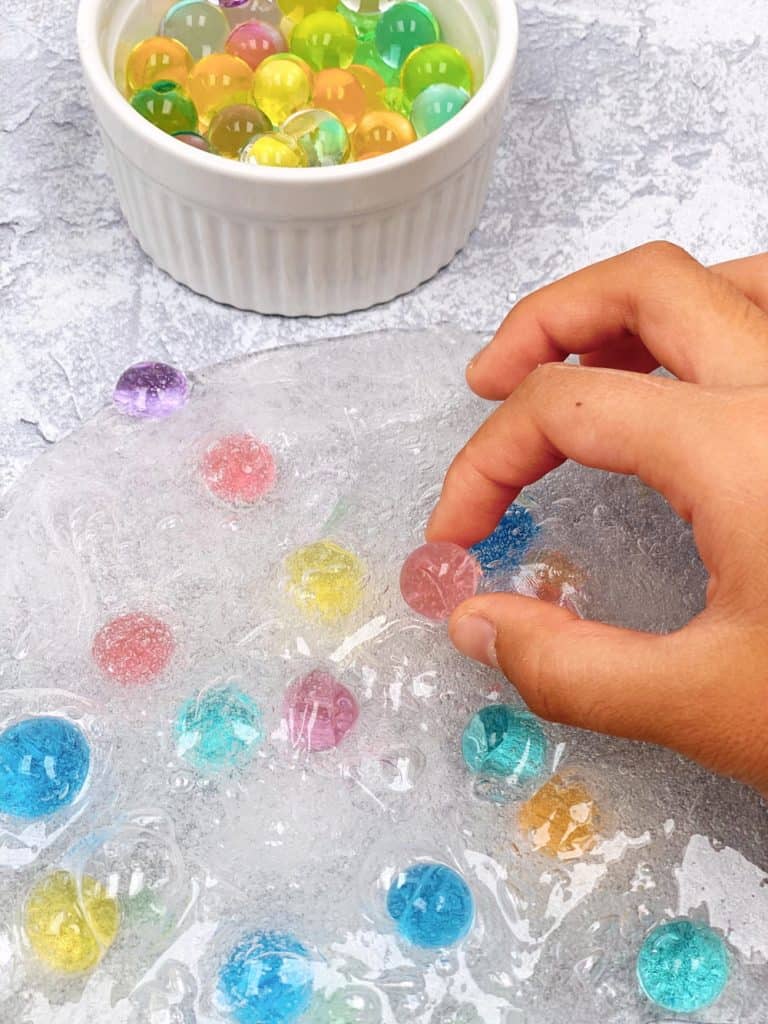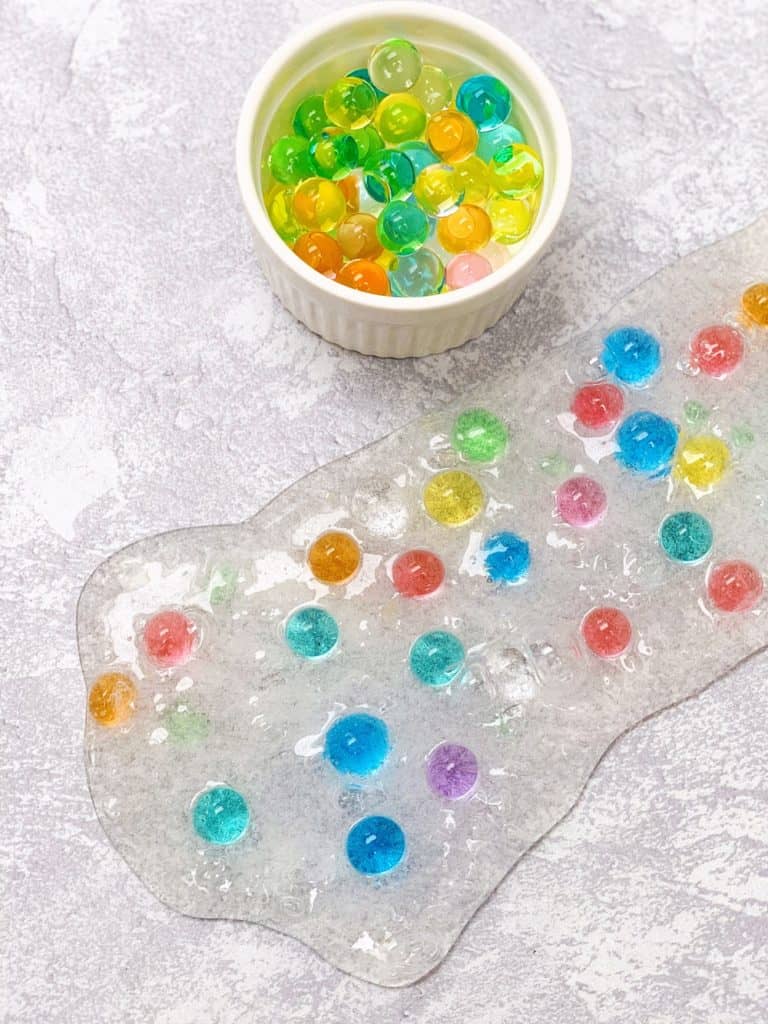 The squishy water beads are so fun to touch agains the the stretchy slime!
We had a batch of water beads from making our water bead sensory bottles and those keep quite a while as long as you keep them enclosed (just make sure to watch out for mold though!). We've never had any issues with that.
So we decided to make a batch of clear slime and add water beads to it!
If you've ever made water beads, you'll see they have this really pretty translucent color to them and we thought they would really shine and sparkle under clear slime.
We were right! This was one of the prettiest and tactile slime we've we've ever made with the added sensory play bonus of adding the water beads.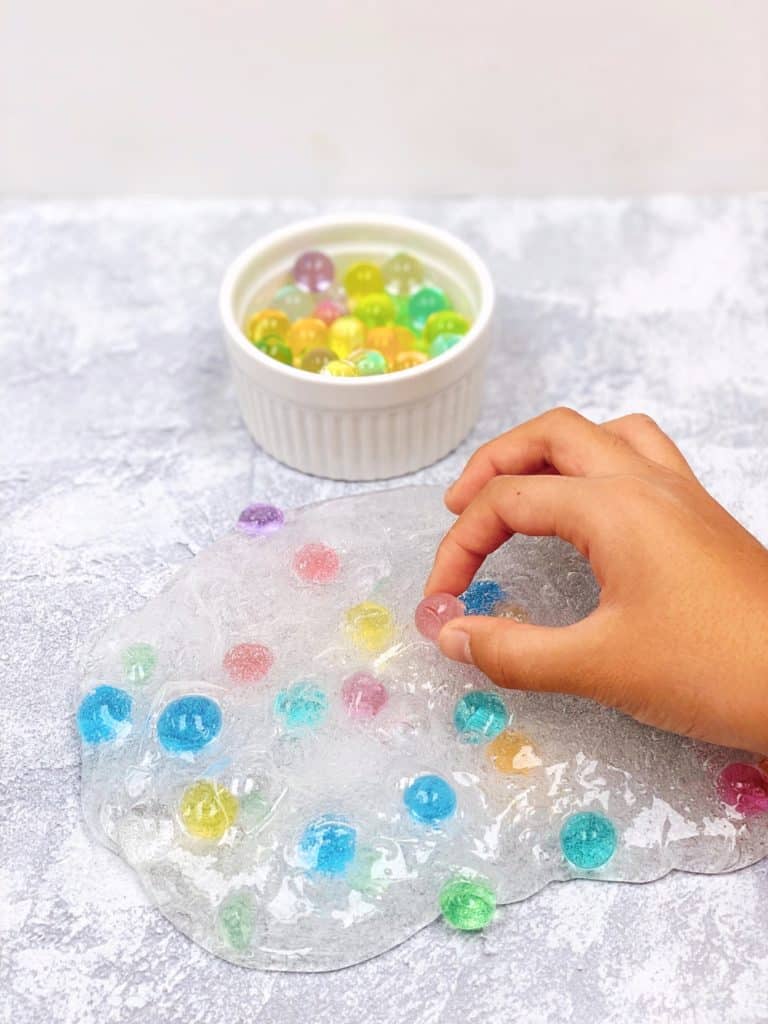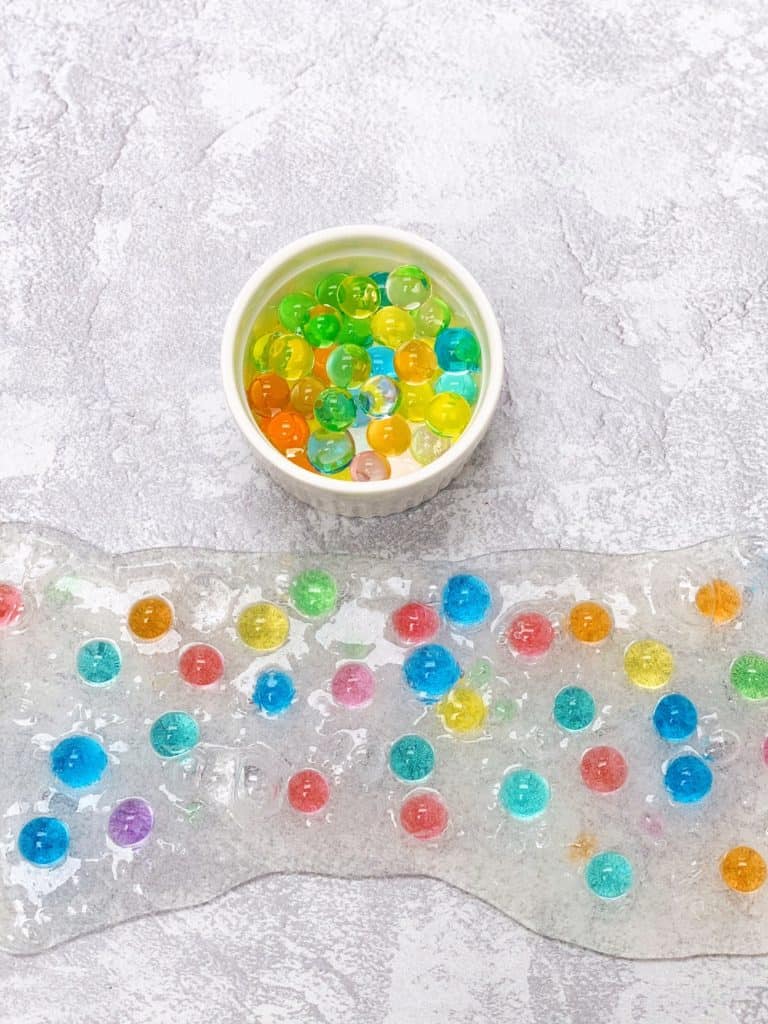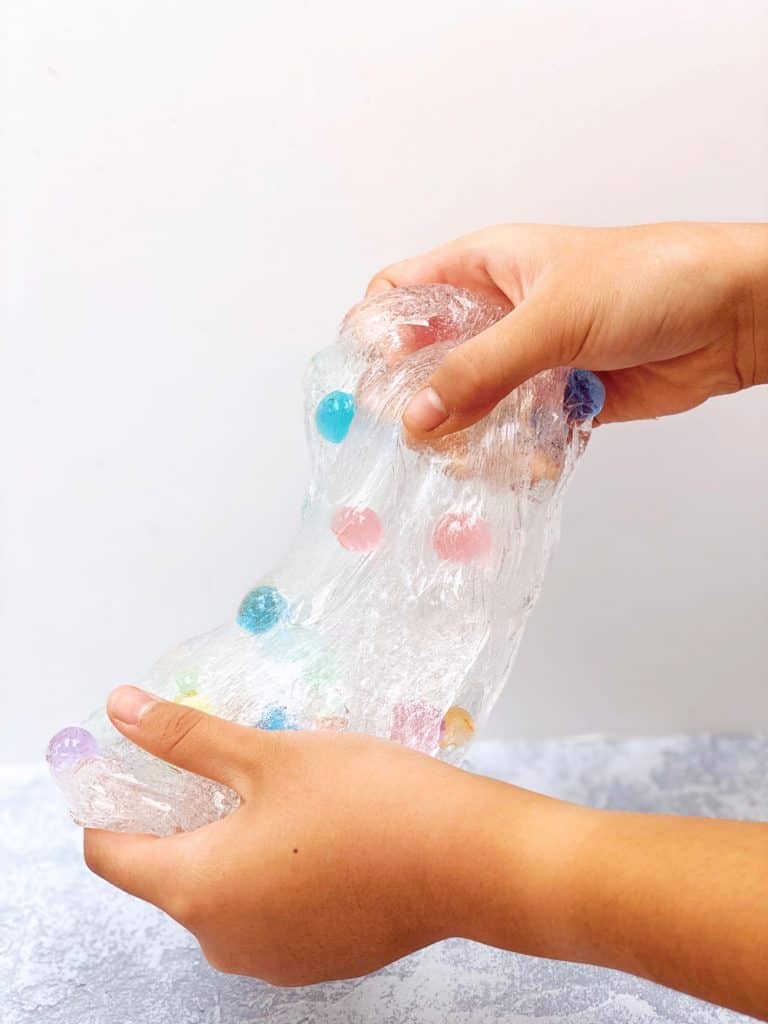 What is borax slime?
Borax slime is a way to make slime using borax as the slime activator. Borax is a compound used in detergents, common in laundry detergents.
We like making Borax slime because it's so easy. You only need water, Borax and glue! Plus you can get Borax in dry powder and a small bag last FOREVER.
We've had the best success making clear slime with Borax, so you can of course, try other types of slimes with contact saline solution or other non-Borax ingredients.
We do understand some people do not want to use Borax in slime with kids. But you can opt to make the slime yourself and have kids just play with the finished slime, which is what we did.
**Supervision is required when making slime, always be sure make the slime or supervise children very closely.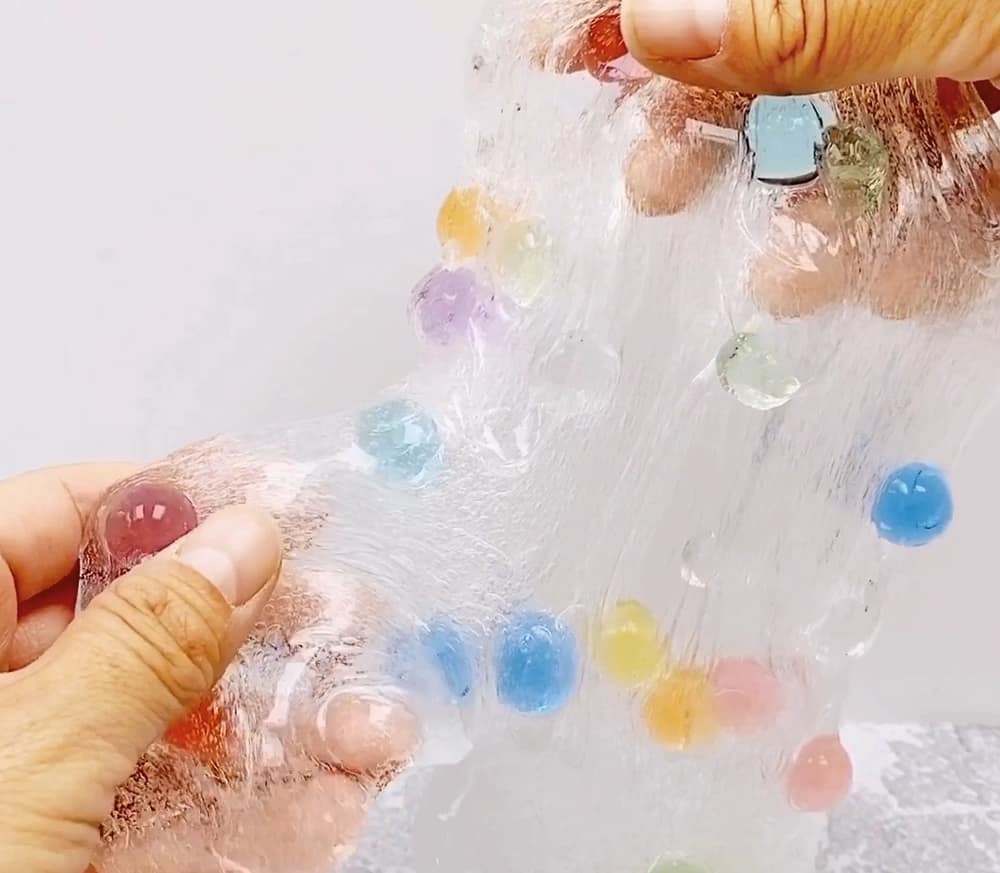 How does this clear water slime feel like?
Clear slime is somewhat always more rubbery than white glue slime which we've found to be stretchier. The water beads are bouncy and slippery. Together they make for a slightly rubbery, stretchy, slippery, bouncy type of slime!
Do the water beads break or pop out?
Yes they do, so be cautioned you will have water beads bouncing out from time to time. You can easily just pop them back into the slime and fold over the slime to cover the beads.
The good news is unless you are purposely squeezing or crushing the water beads, they hold their shape surprisingly well! They are fun to touch, have a slight bounce and are surprisingly hearty!
What's the right ratio of Borax to water?
For clear slime we had to try a variety of ratios of Borax to water as the slime activator. 1 tsp to 1 cup of water was too rubbery and resulted more in putty! There was also too much water to our 1/2 cup 1:1 ratio of glue and water.
We then tried 1/2 tsp Borax to 1/2 cup of water and that was closer to the stretchier slime we were were going for, but still breaking to quickly when stretching.
The right ratio was 1/4 tsp to 1/2 cup of water which is what we used here. The slime can still feel rubbery and remember, clear slime isn't as stretchy as white glue Borax slime so the key is using gentle hands to stretch and allow the slime to almost stretch out on its own vs. forcing it. Using these tips, we were able to stretch our slime far!
How do you get REALLY clear slime with no bubbles?
Note, we had some bubbles in our slime and had read that you can store your slime in a waterproof container to get less bubbles. But really, who can wait to play with slime a whole day?
However, if you're focused on a clear and bubble free slime as possible, do put it in zipper or air tight container. We actually saw less bubbles in our slime the next day!
How to Make Water Bead Slime – Ingredients:
Water

Stirrers, cups, medium glass bowl
Yield: Water Bead Slime
HOW TO MAKE WATER BEAD SLIME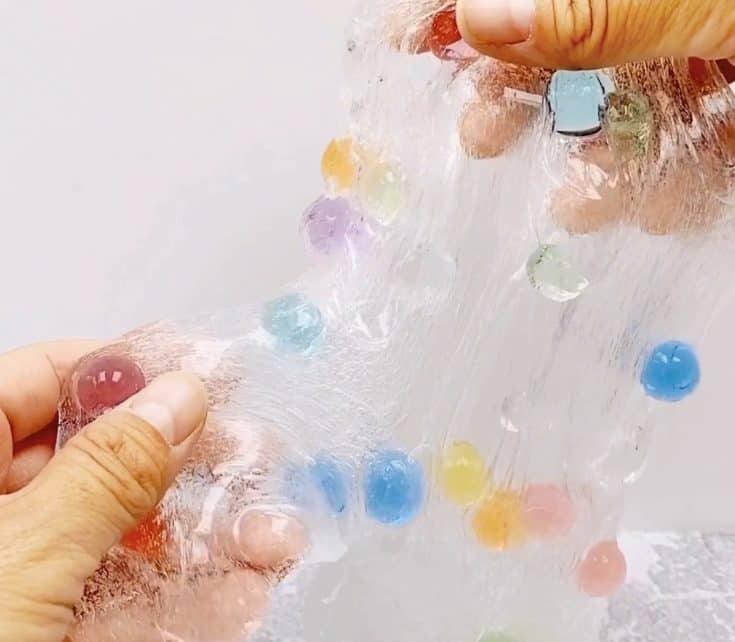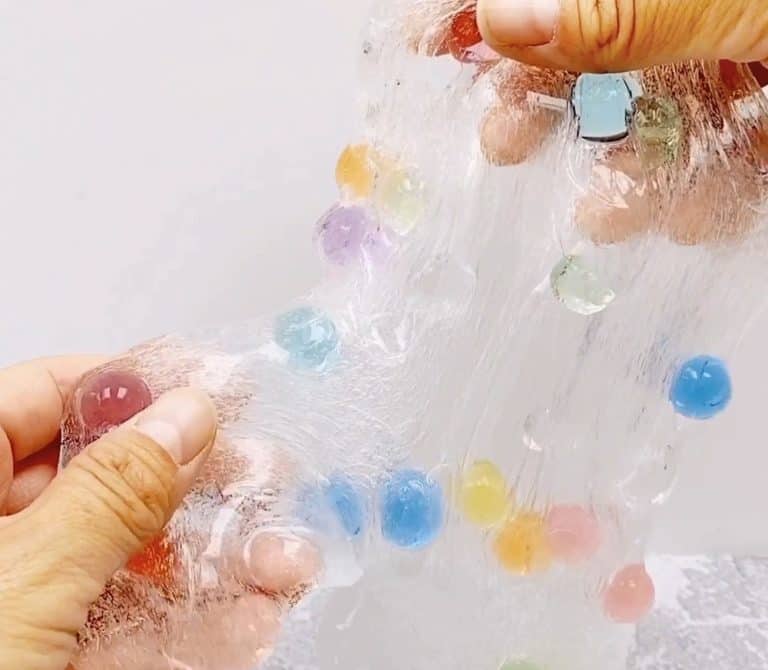 This clear Water Bead Slime is a fantastic sensory activity for kids and double the tactile fun!
Materials
1/2 Cup warm water
1/2 Cup water
1/2 Cup Clear Glue
Stirrers, cups, medium glass bowl
Instructions
1.Mix your 1/4 teaspoon Borax in 1/2 cup water and stir a couple of minutes until dissolved.
2. In a medium bowl, add your 1/2 cup water and 1/2 cup clear glue. Stir to mix.
3. Add your Borax solution slowly to your glue/water mixture. Mix and you will see the slime form immediately and start pulling away from the bowl.
4. Keep mixing, then knead into a mound in the bowl.
5. Take it out of bowl and continue mixing with your hands until it becomes stretchy and pliable.
6. Stretch out your clear slime and have a small bowl of water beads ready (make sure these are already hydrated - follow the instructions on the water bead package).
7. Play and add your water beads to the slime, fold over, and try to keep them intact while stretching your slime!

Disclosure: Some of the links in the post above are "affiliate links." This means if you click on the link and purchase the item, we will receive a small affiliate commission. Regardless, we give our promise that we only recommend products or services we would use personally and believe will add values to our readers. As an Amazon Associate I earn from qualifying purchases.