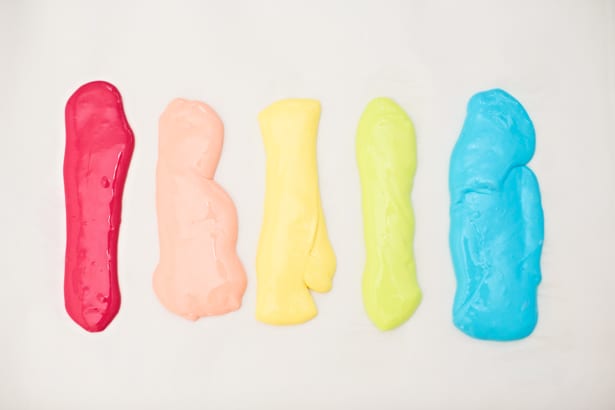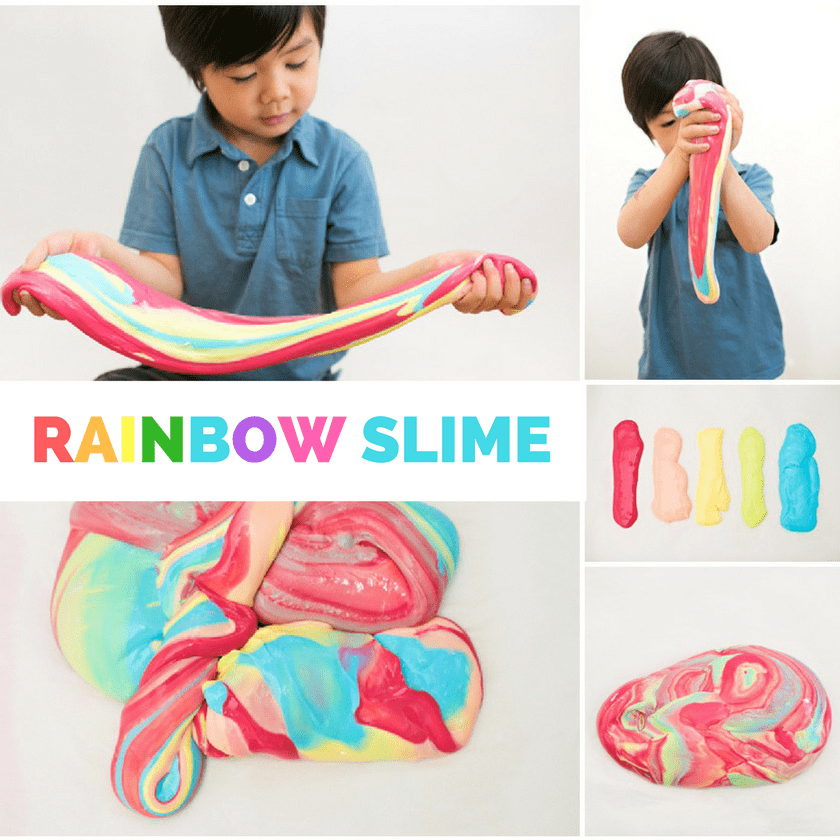 Have you made slime before? Also know as flubber or gak, this amazing sensory project is as fun to make as it is to play with, using a common craft ingredient (glue). We decided to give it a colorful twist by making rainbow neon slime.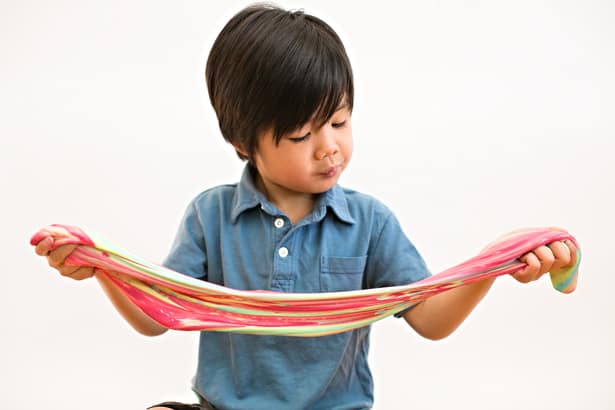 The slime oozes and stretches and isn't sticky at all as it would seem to be. You can roll it in to a ball and it will slowly ooze out.
You can combine colors and make handprints.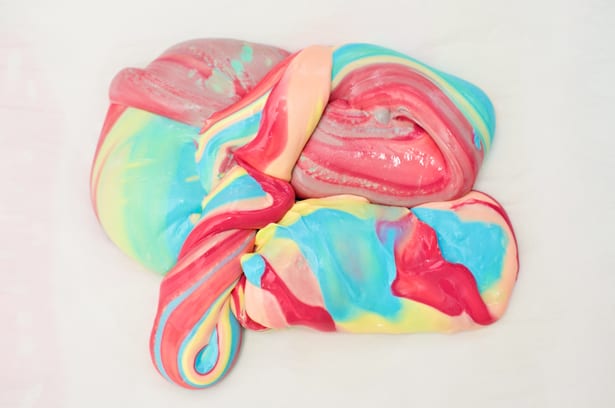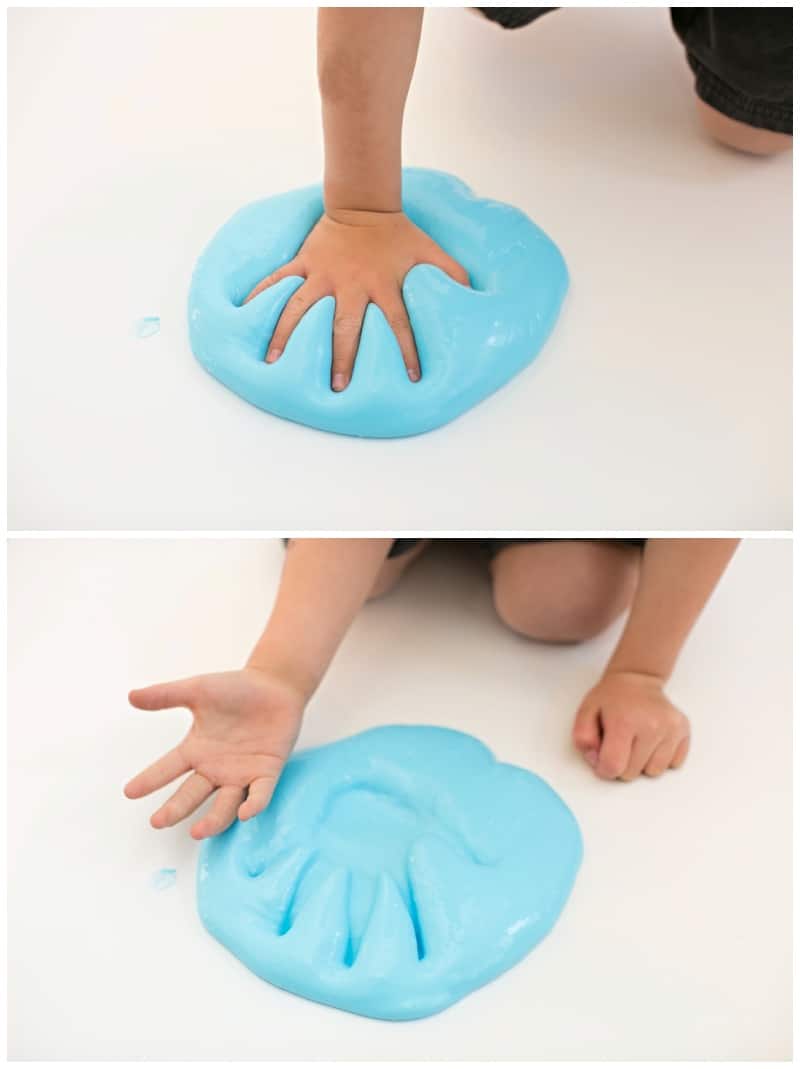 Or stretch and it to see how far it goes. That was by far my kids' favorite way to play with it.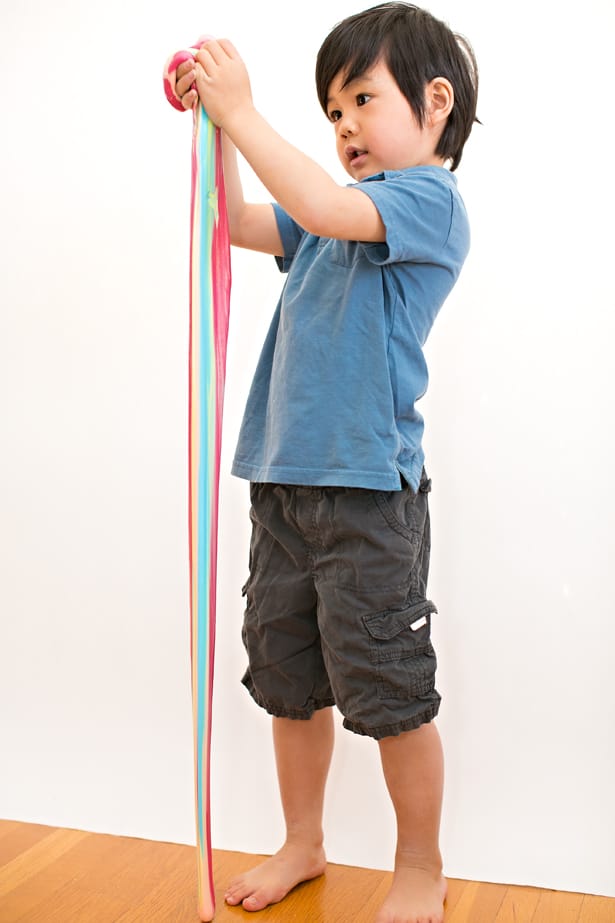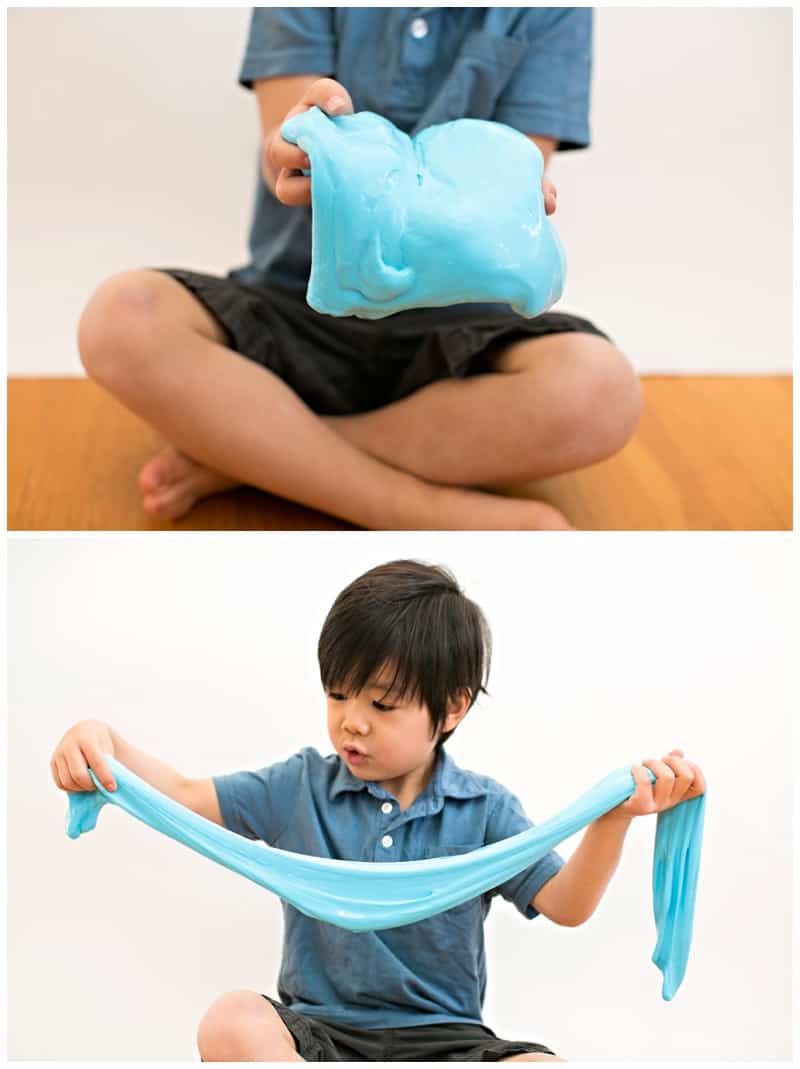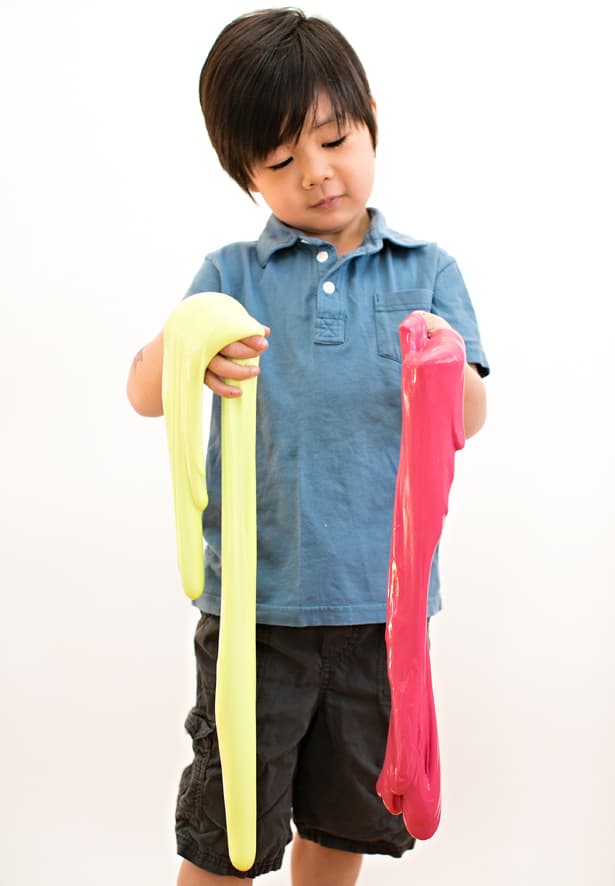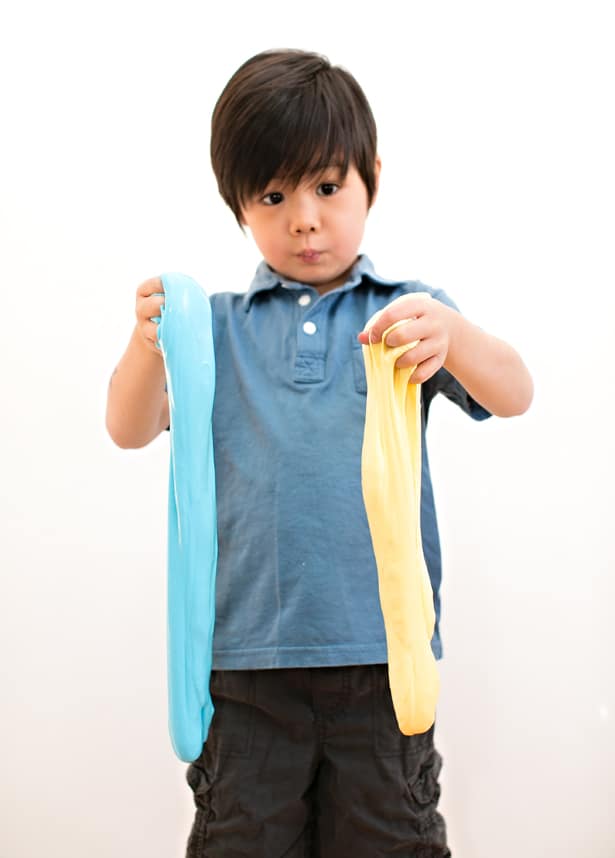 We used the slime recipe from Steve Spangler Science which requires:
– Glue (we used white glue)
– Water
– Borax (a household ingredient found in laundry detergents)
To make the neon rainbow colors, we tried two different methods, neon food coloring and liquid watercolors. We found that both left slight color residue with the watercolors leaving more of a stain.
We followed the slime recipe on Steve Spangler's page, but since we made a LOT of slime in different colors. we found these tips worked well.
– Use a kitchen scale and weigh your glue and water
– Use a large refillable bottle of glue so it's easy to pour into a bowl and weigh
– Have disposable bowls and cups ready so you can just toss them when done
– Use an old posterboard or large roll of butcher paper, or parchment on a table or hard surface for the kids to play with the slime since they will leave a slight color residue.
With the following adjustments to this classic slime recipe, we found making lots of slime easy to do in in just minutes. Follow our tips above and use the slime recipe measurements here.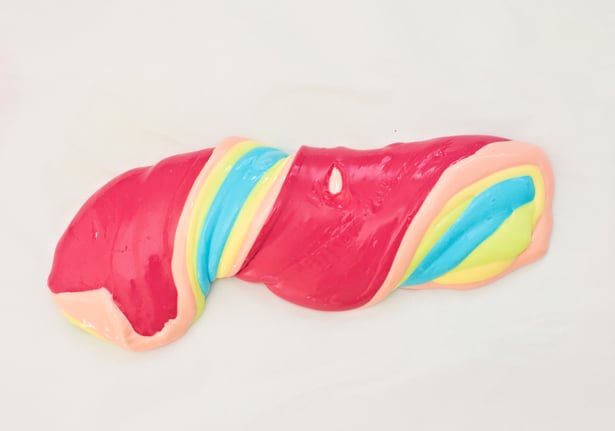 Once you have your colors of slime ready, layer them on top in rainbow colors and twist the slime like above and then stretch it!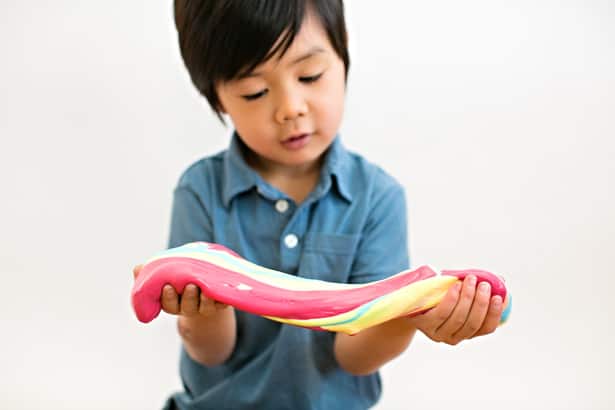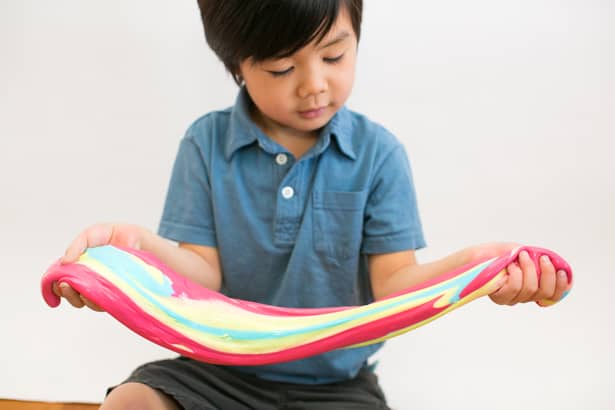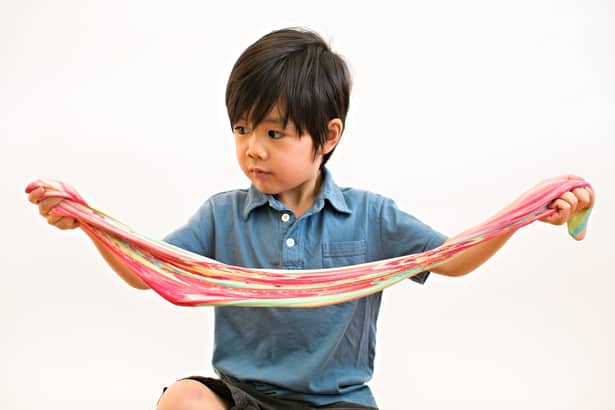 My kids loved seeing how far the slime would stretch before breaking.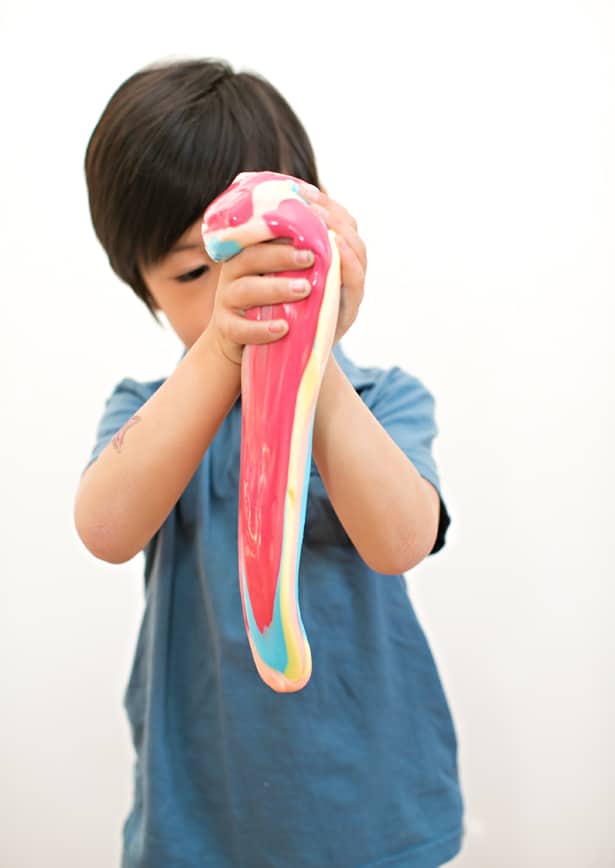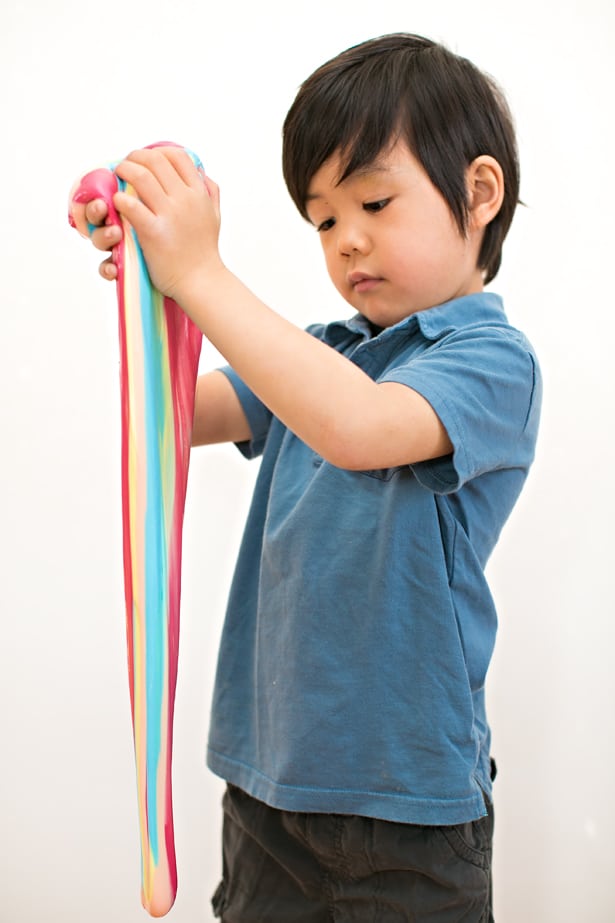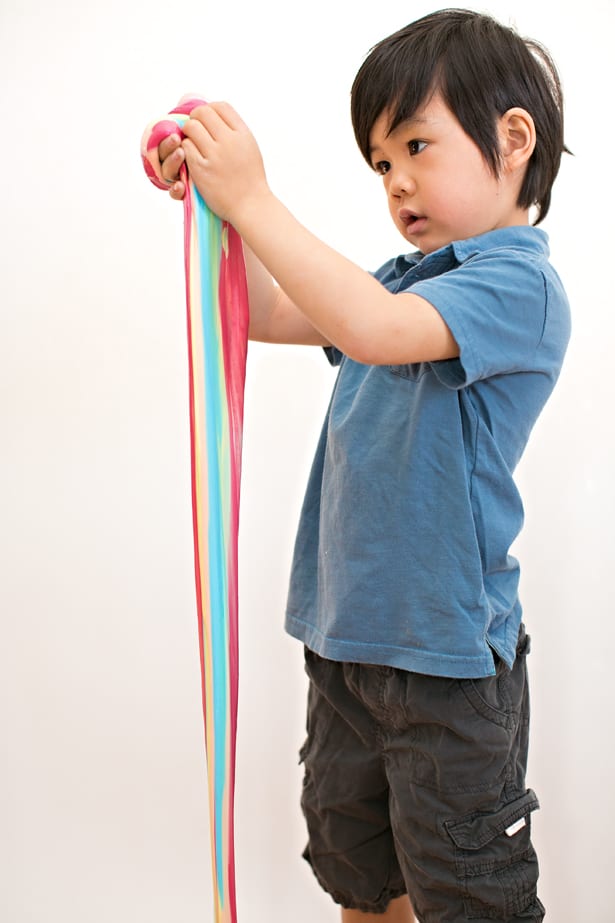 When you set it down the colors meld together and make a pretty ball of swirly rainbow.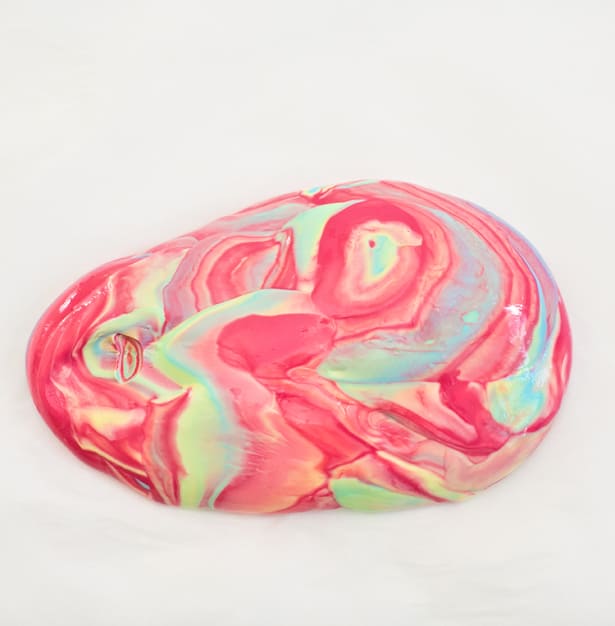 Of course prolong playing will combine the colors and turn it purple-like but still so much fun!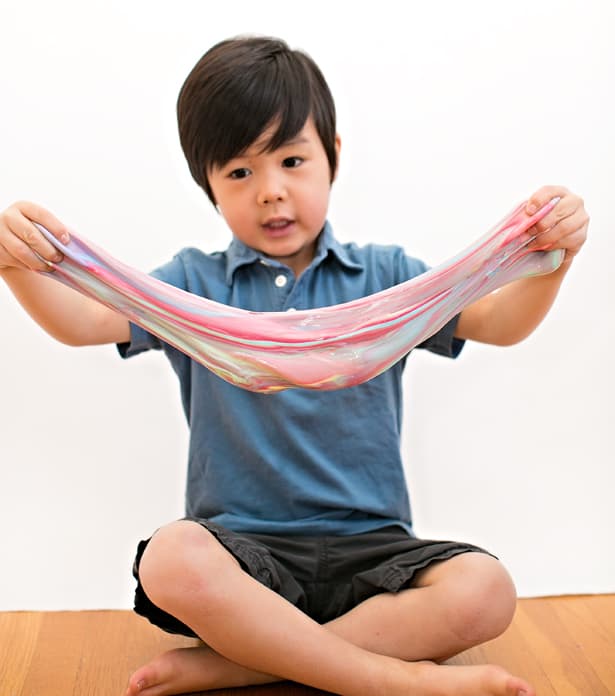 If you start by taking small, equal amounts of single color slime, you can make it rainbow colored several times.
When you're done just store the slime in a zipper plastic bag which will last quite a while for more play!
Note: Since the slime recipe uses Borax, please use caution and supervise play as the slime should not be ingested by kids.
Have you tried making slime before? Check out more creative projects for kids!
______________________________________________________________________________________________________

Disclosure: Some of the links in the post above are "affiliate links." This means if you click on the link and purchase the item, we will receive a small affiliate commission. Regardless, we give our promise that we only recommend products or services we would use personally and believe will add values to our readers.