Follow us on Instagram for more creative ideas for kids!
This is a collaboration with my good friend Jamie from Balloon and Paper.
This DIY Unicorn Balloon Costume makes a magical, playful and cute handmade costume for kids!
Can you believe that Halloween is literally right around the corner? It's a time of the year that I truly do think about and plan for, always.
To say that I'm a fan of fun kids' costumes that are handmade is an understatement…and this year, I'm excited to say that I've discovered my love for DIY balloon costumes too, like this DIY Unicorn Balloon Costume.
First off, they make fun, inexpensive costumes to make and secondly, they're totally unique and different.
You can save some serious time, money and stress by creating your very own DIY balloon Halloween costume.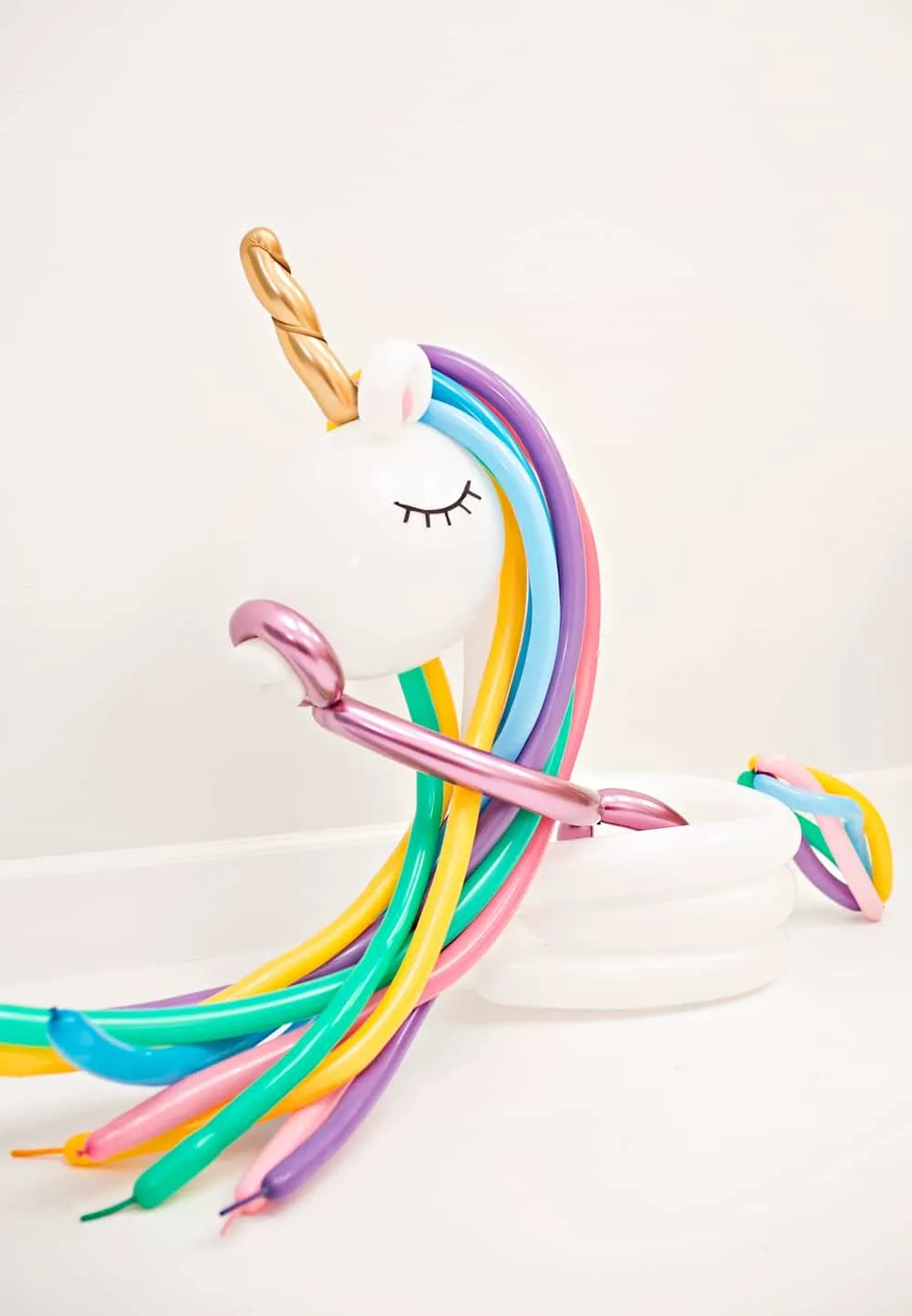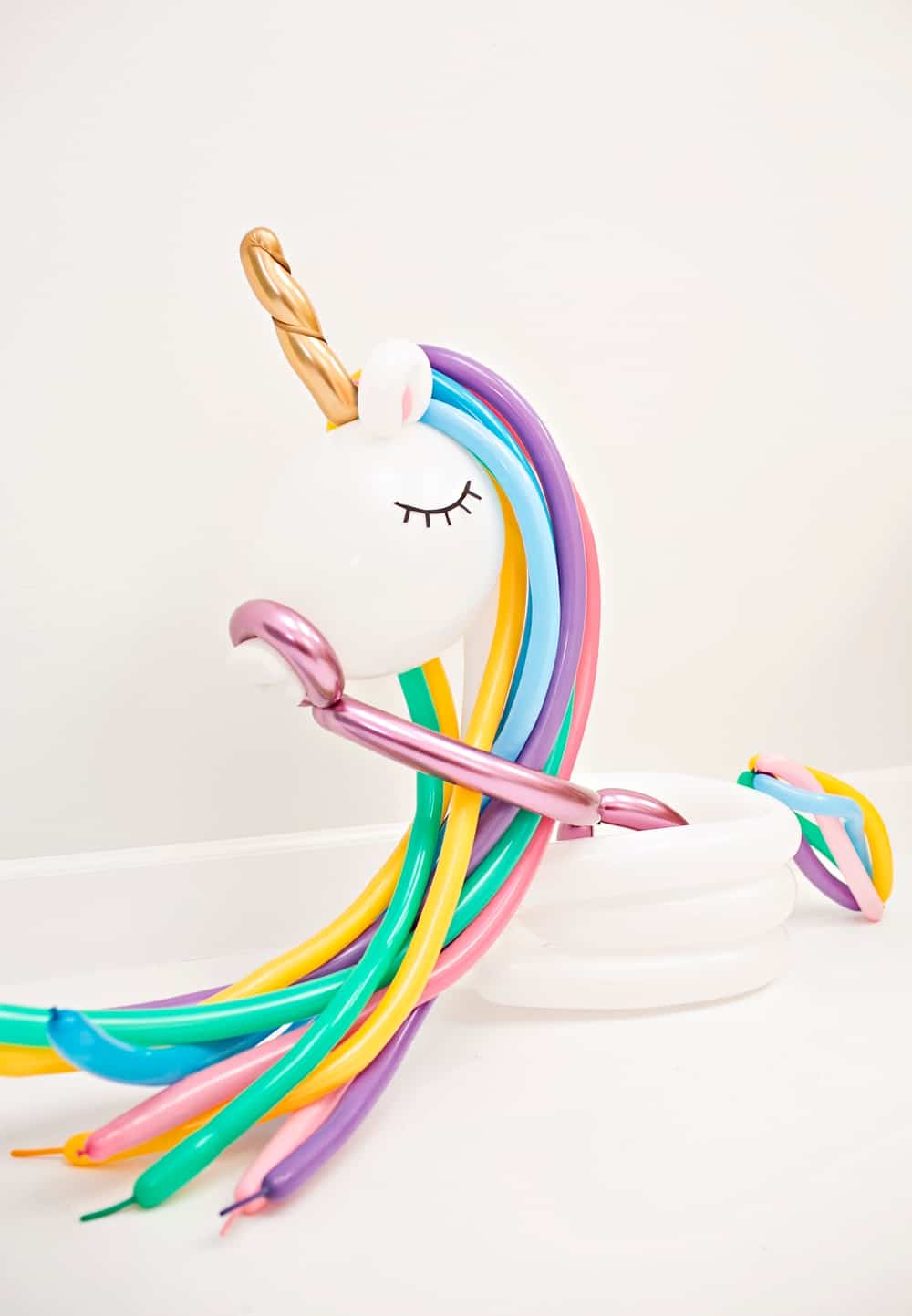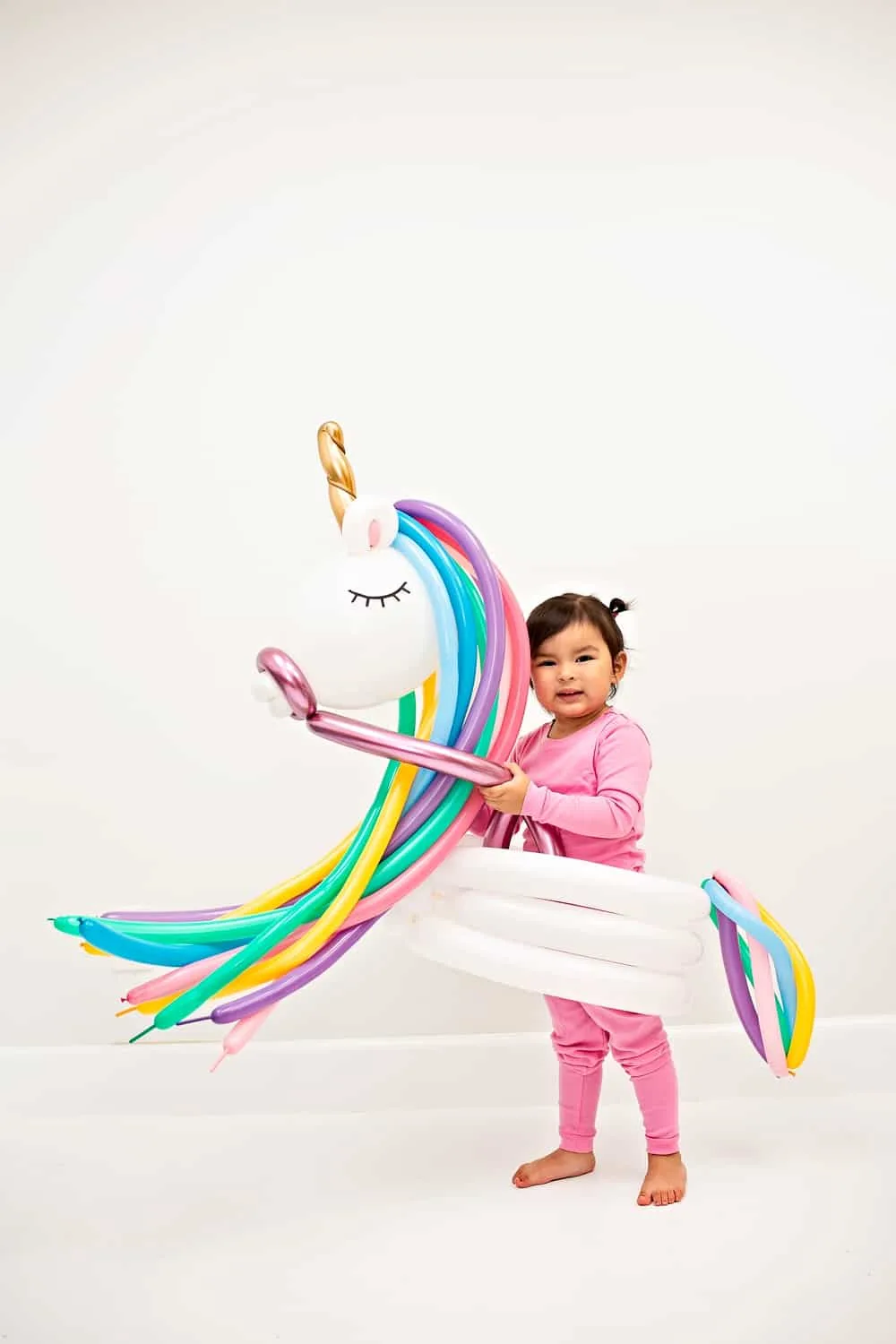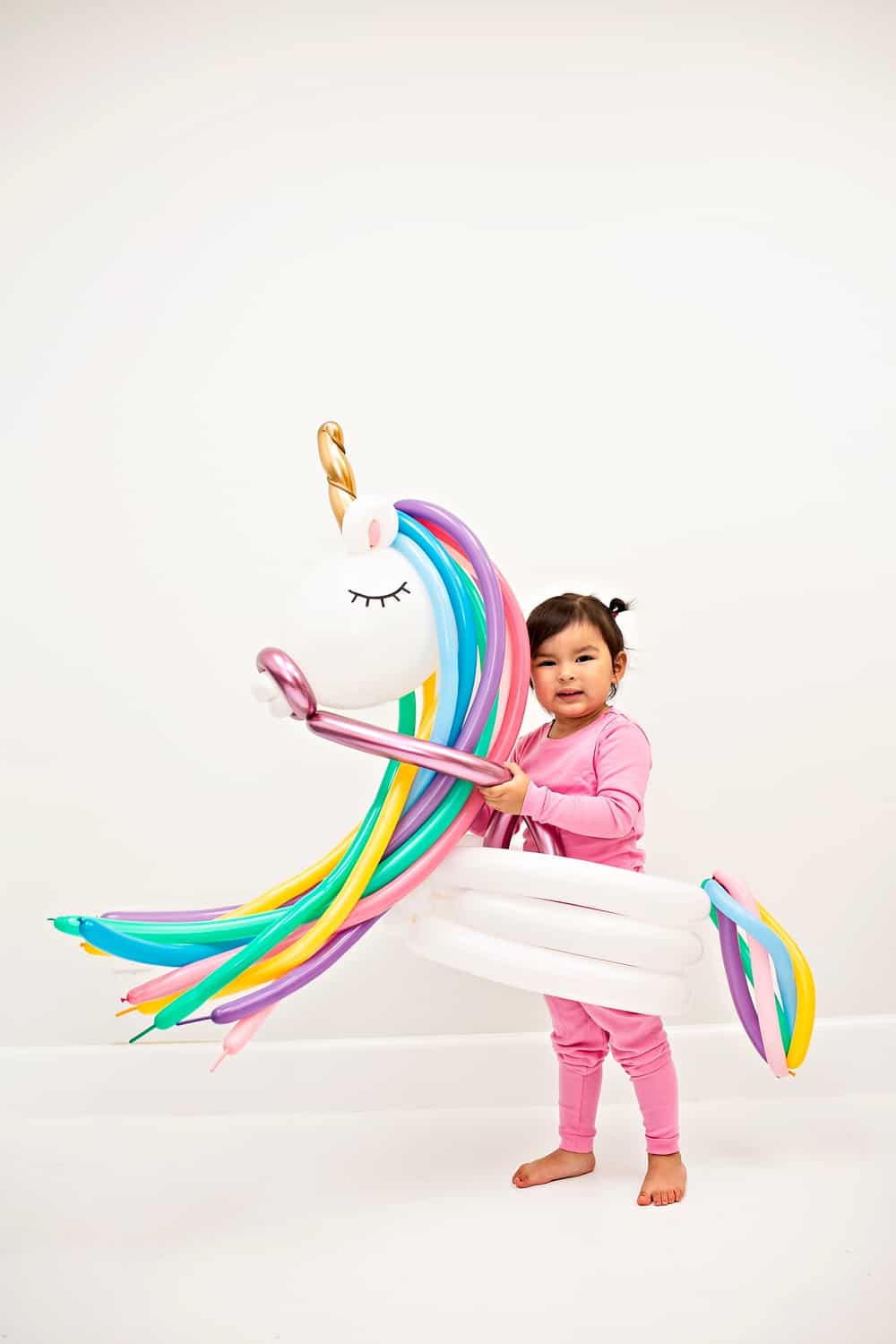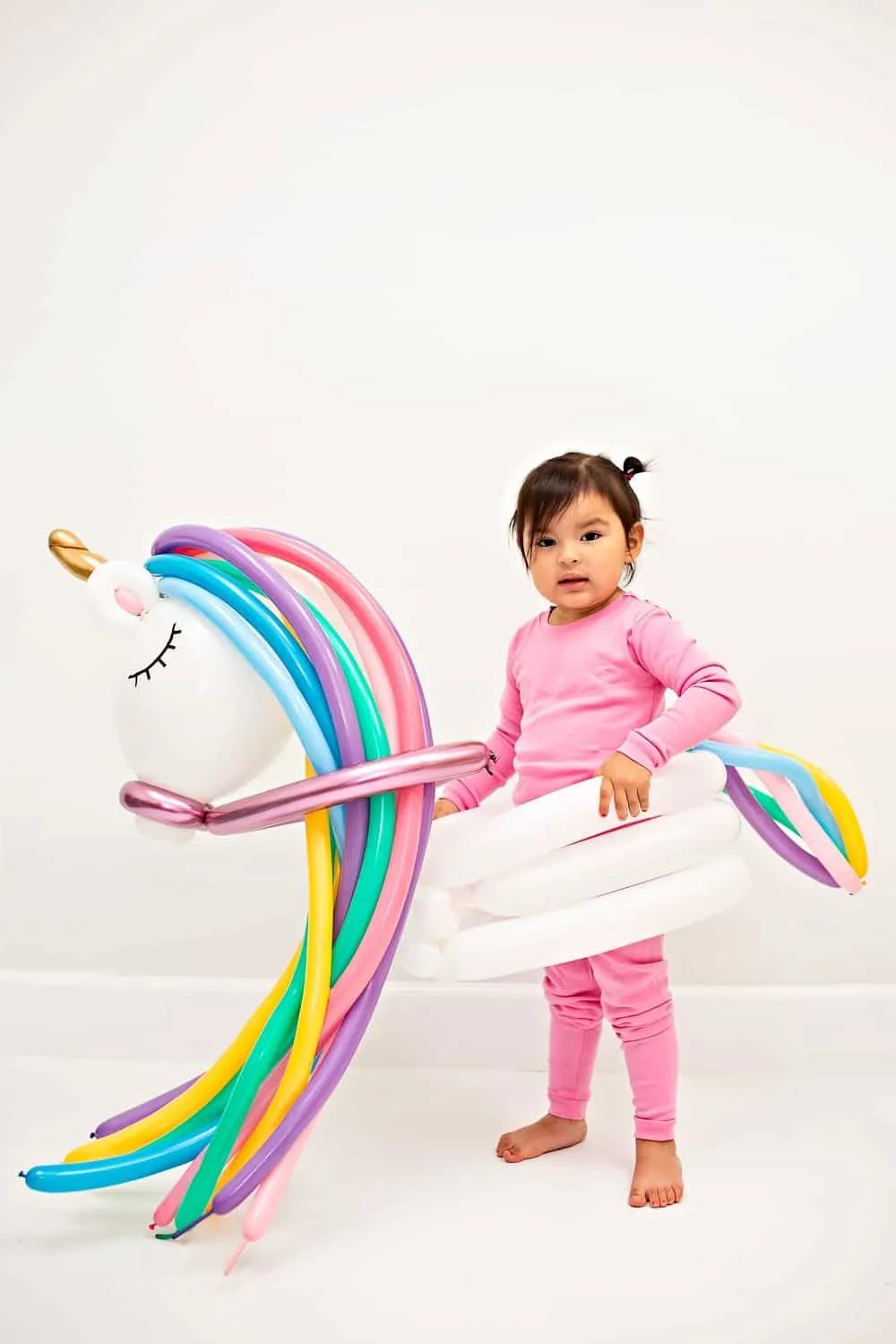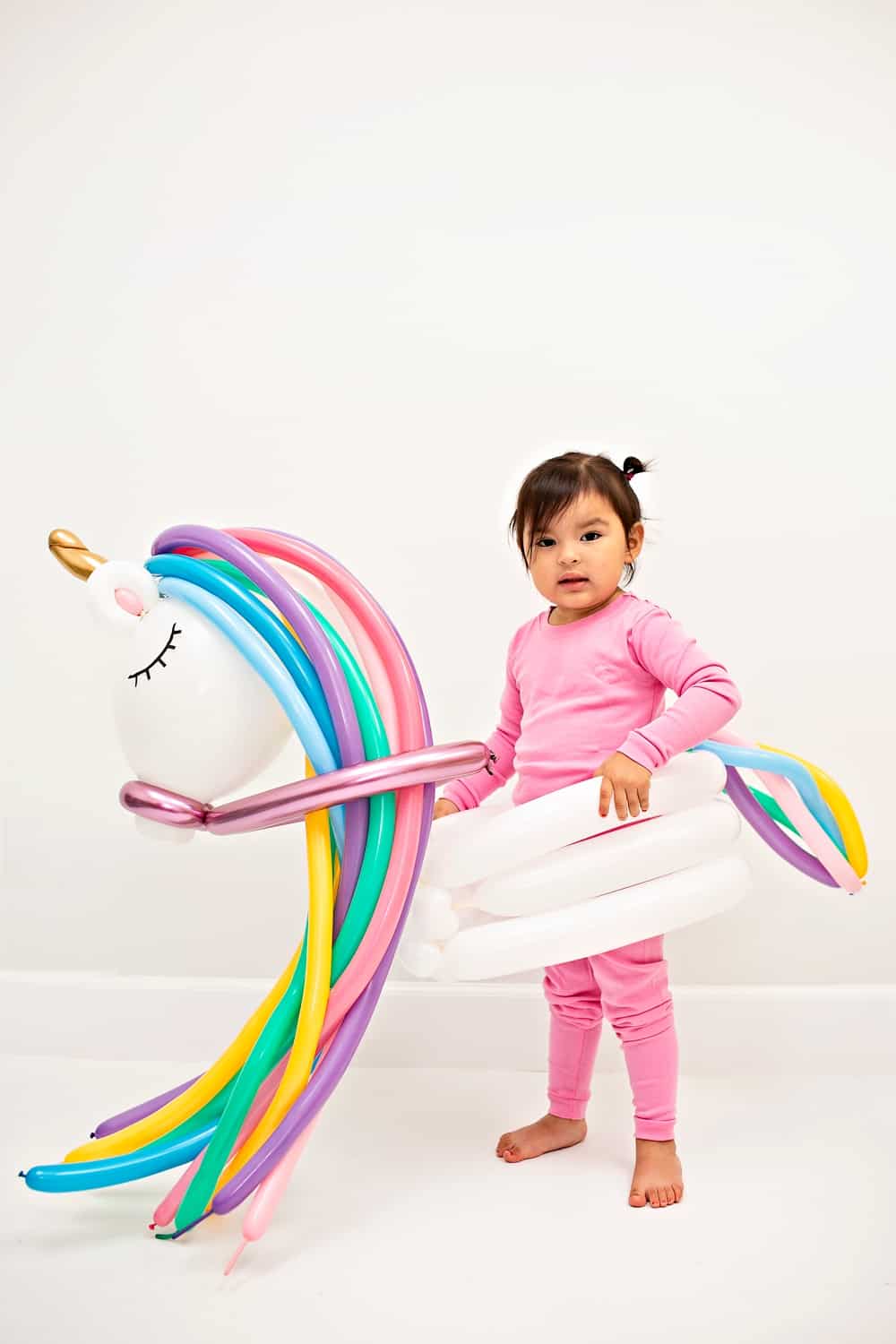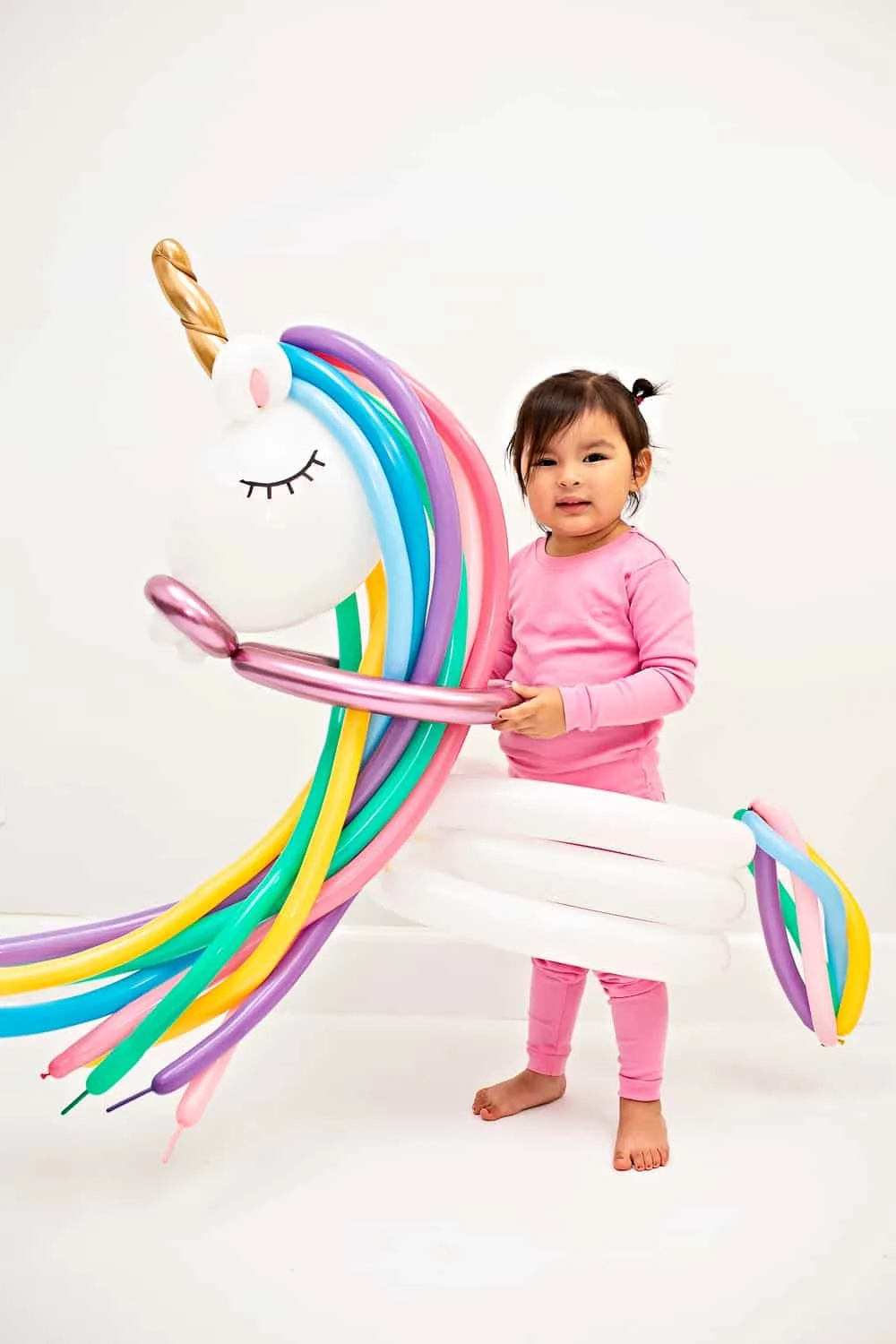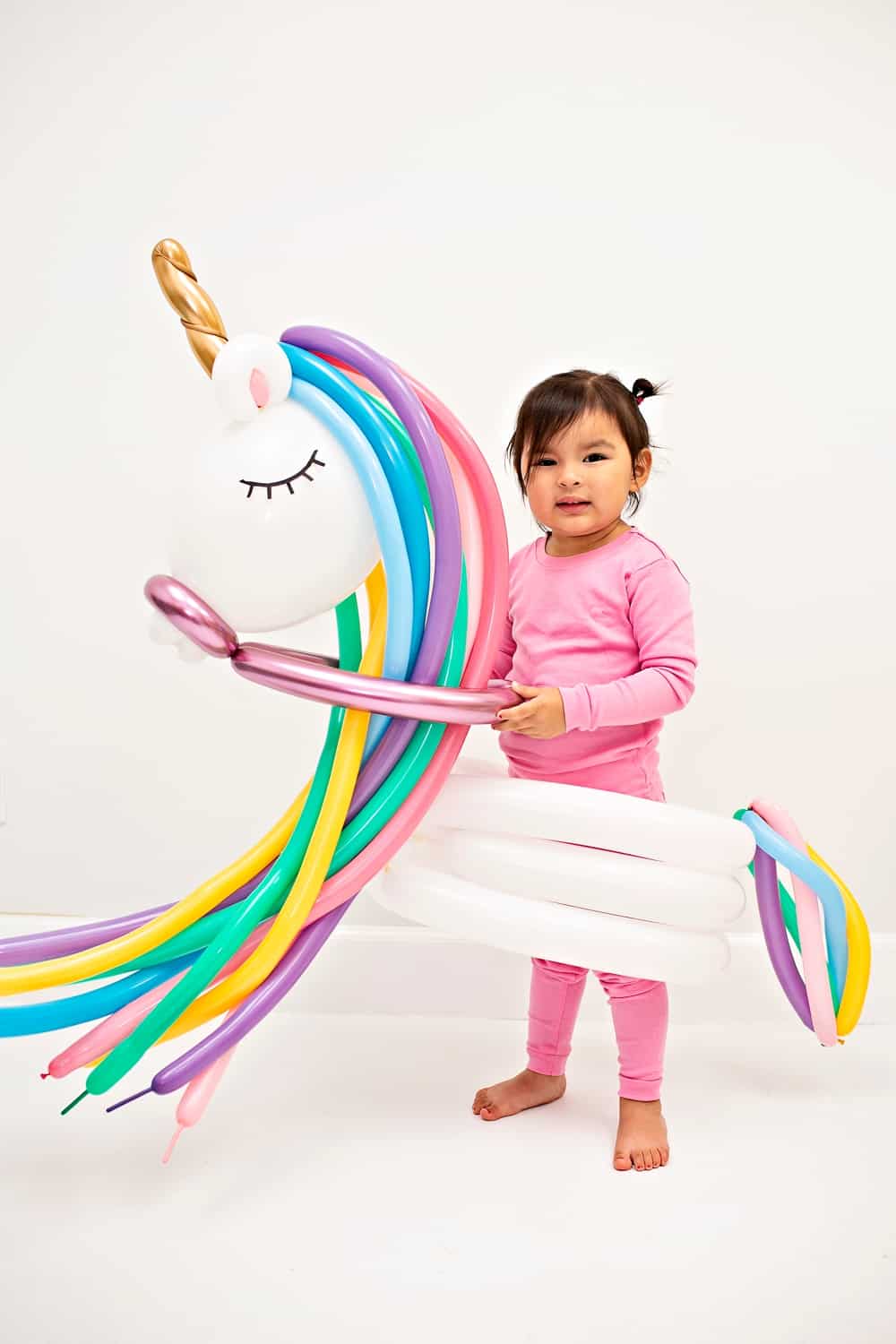 Do I have to be a balloon expert to make this DIY Halloween costume?
Not at all. In fact, I actually learned how to make this costume from Ballon and Paper. Jamie is a seasoned balloon expert and here to share all her tips with you. She broke it down for me in a way that made it not too hard to do.
You can actually make this costume following her simple tips and advice in a very short amount of time.
However if you need extra help and don't want to source all the materials yourself, Balloon and Paper has just come out with DIY Balloon Costume Kits!
How long will the balloons stay inflated?
That's probably the million-dollar question for this costume. BUT, there is a way to be prepared even if you don't have the answer. Balloons will inflate and deflate depending on the weather so there isn't anything that you can do about that.
But you can be prepared and ready for any balloons that might pop or fly away by carrying around a bag with some simple repair supplies in it.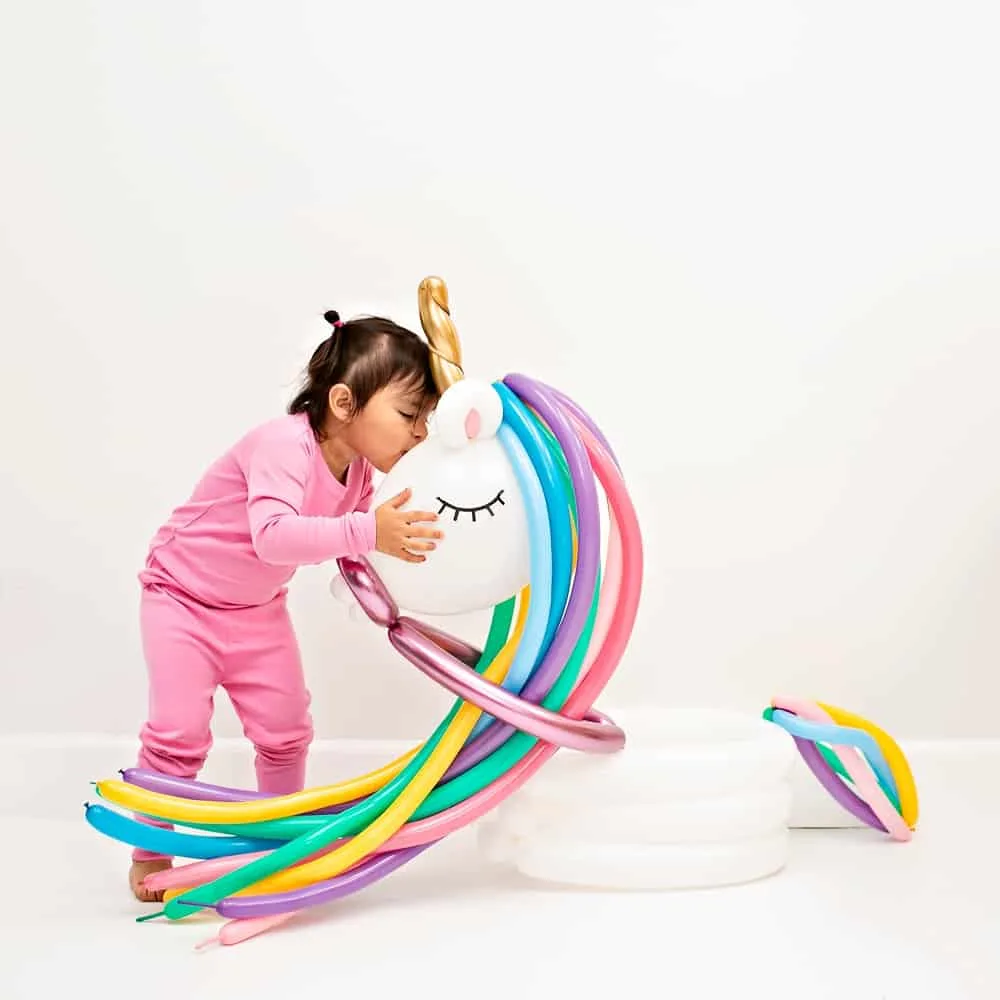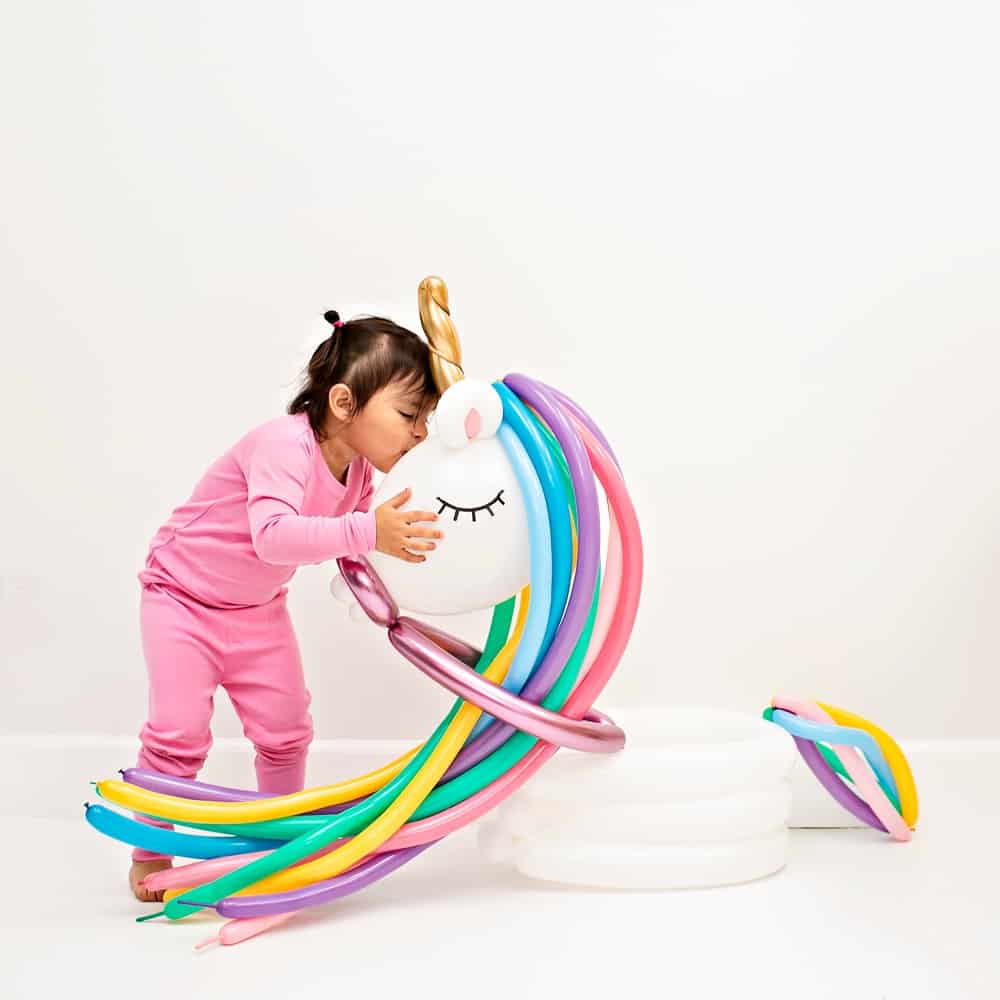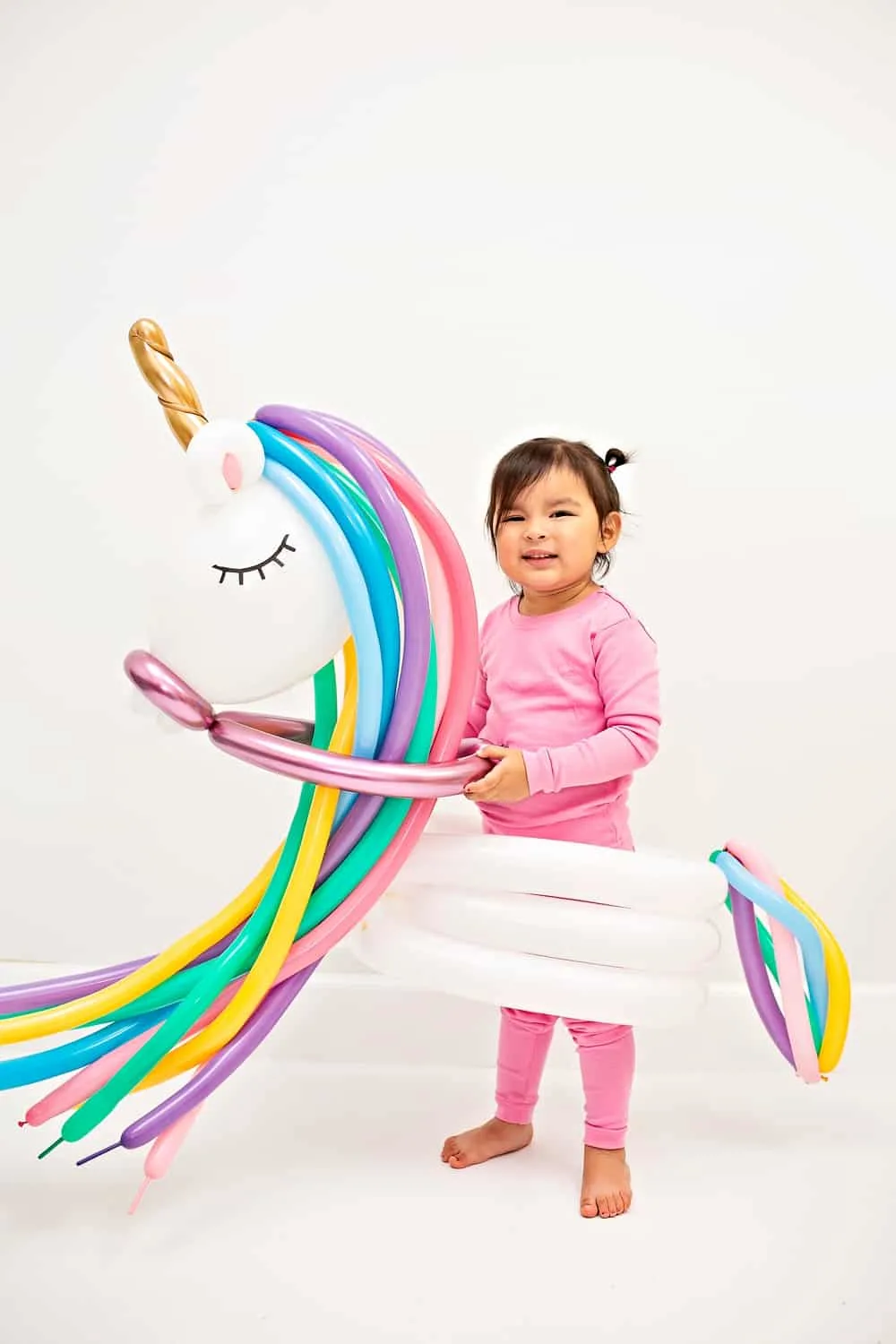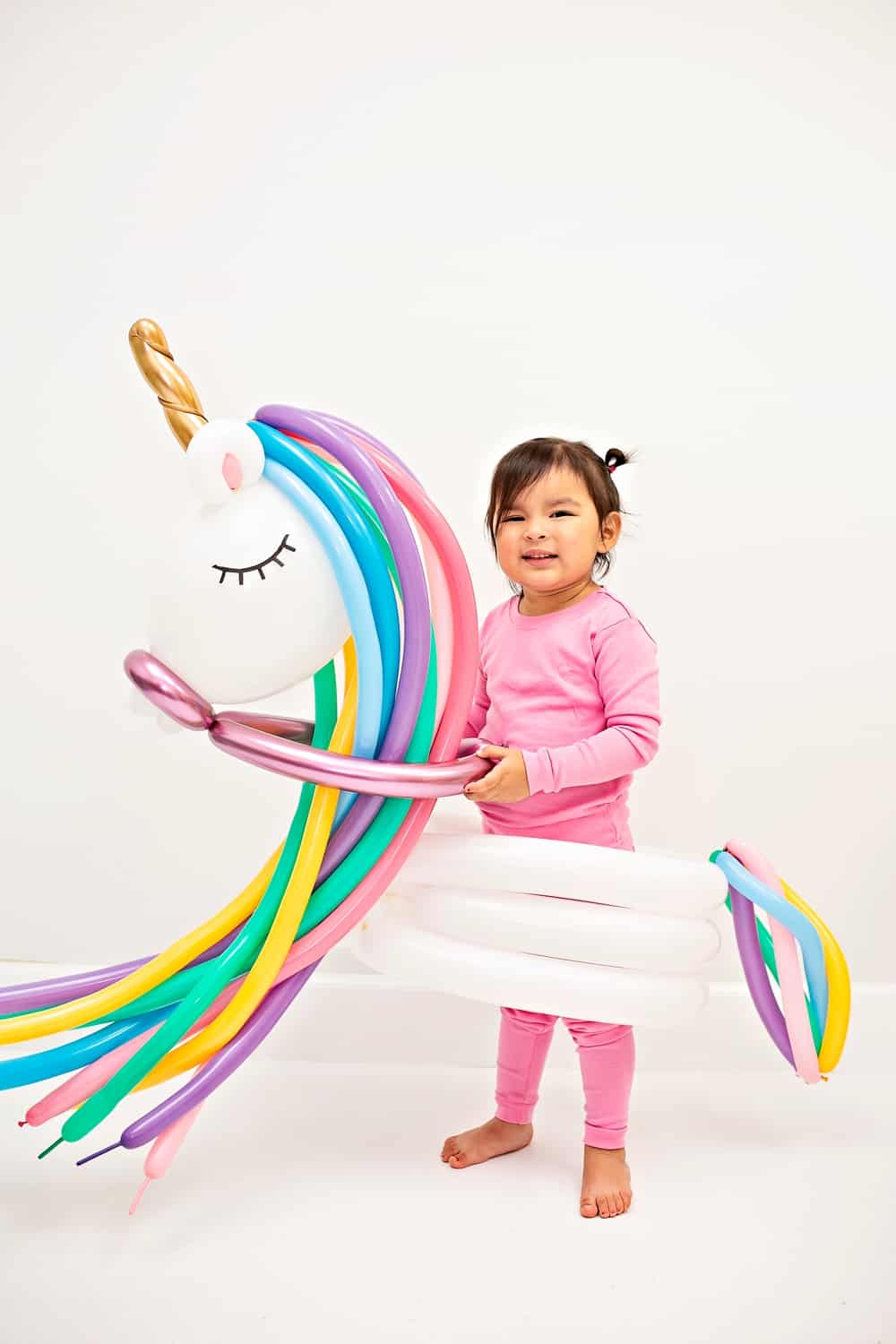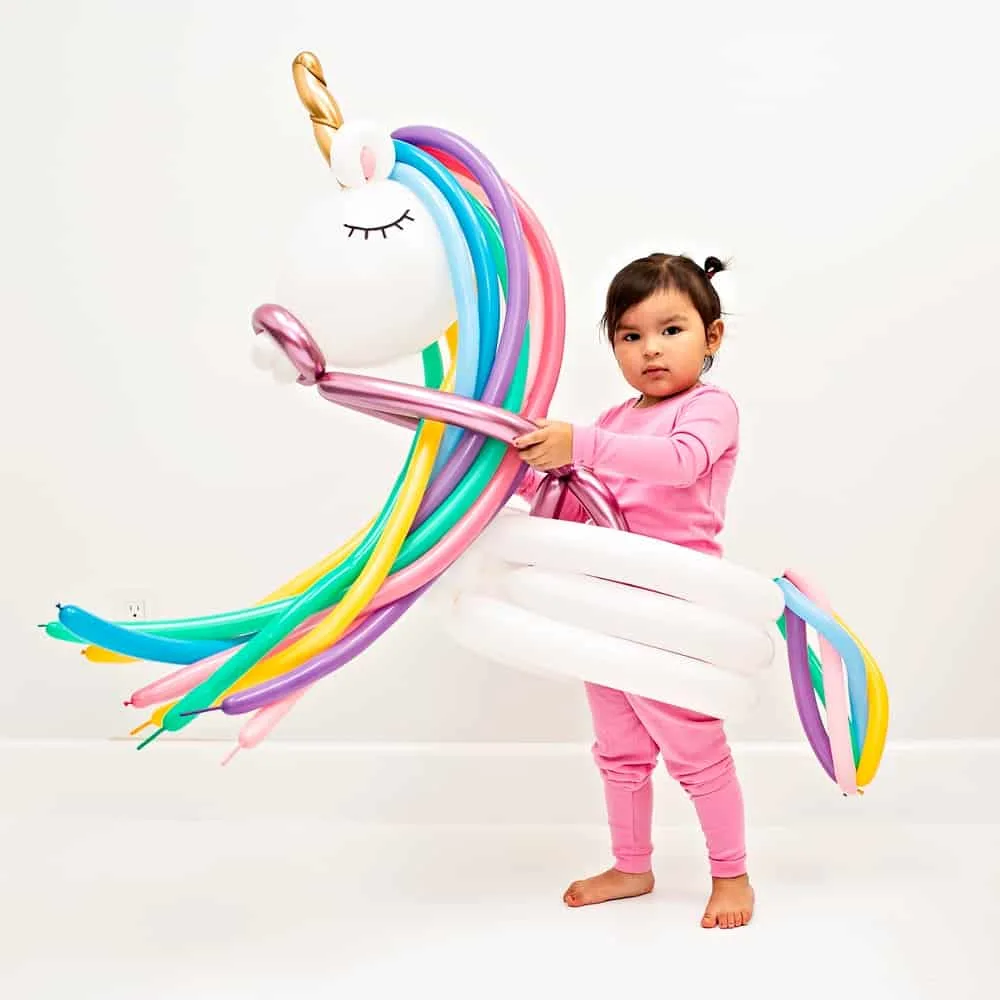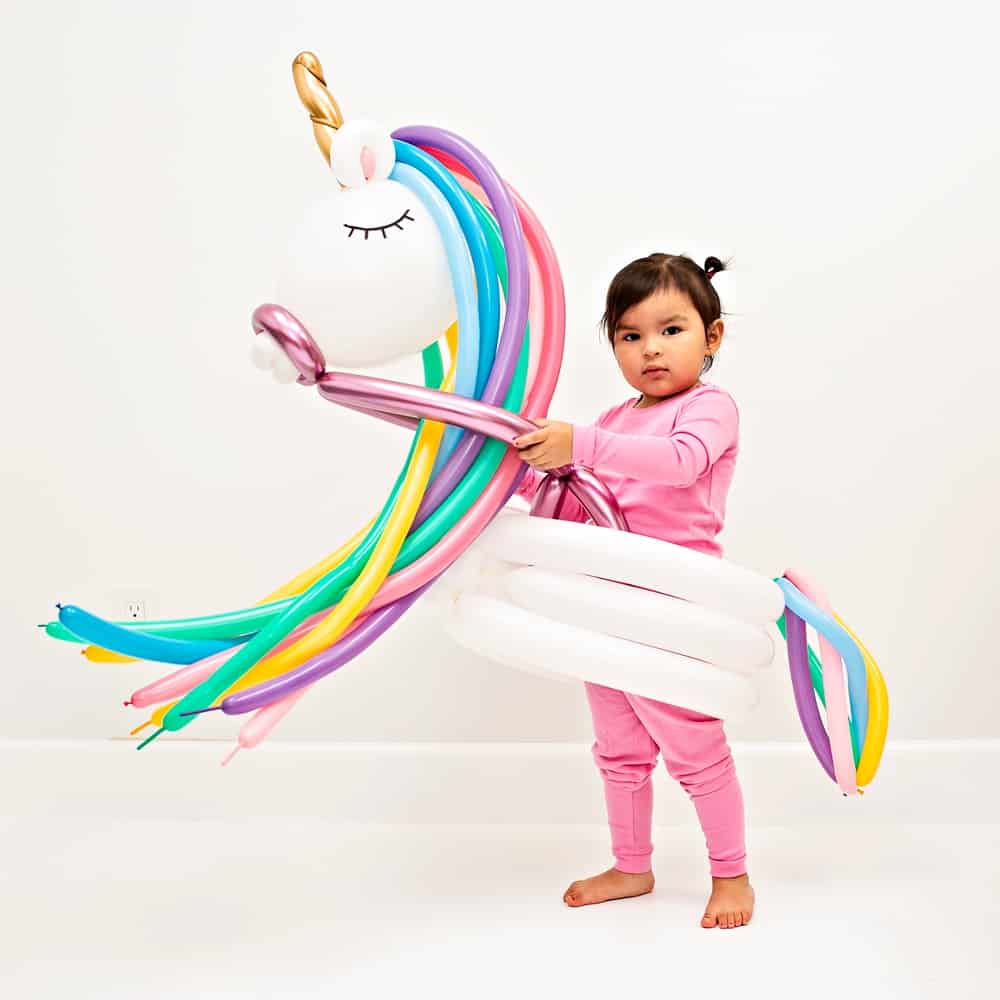 What if the balloons pop while trick or treating?
We can't promise that won't happen because we can't control the unknown! However, if you've ever made Halloween costumes, you'll know they can never be 100% fool proof.
The best thing is to be prepared! Pack up a hand pump, some extra balloons, and some glue dots or clear packing tape, and you're easily prepared without stressing out over anything. If a balloon pops then you know that within a few short minutes, you can repair the costume and resume the trick-or-treating.
(My other mom tip for you is to talk to your child beforehand about the possibility that a balloon may fall off or pop. That way they'll be prepared as well and you can easily spring into action and get it fixed without causing them to be overly stressed.)
Everyone loves cute unicorns, right? So this costume is certain to be a hit. Get ready for your child to be stopped every few seconds to pose for pictures or to even answer all the questions of all the other kids.
This Halloween, your child is going to make a statement! Luckily, with just a few supplies and elbow grease, you can complete this DIY Unicorn Balloon Halloween costume without putting in a ton of effort.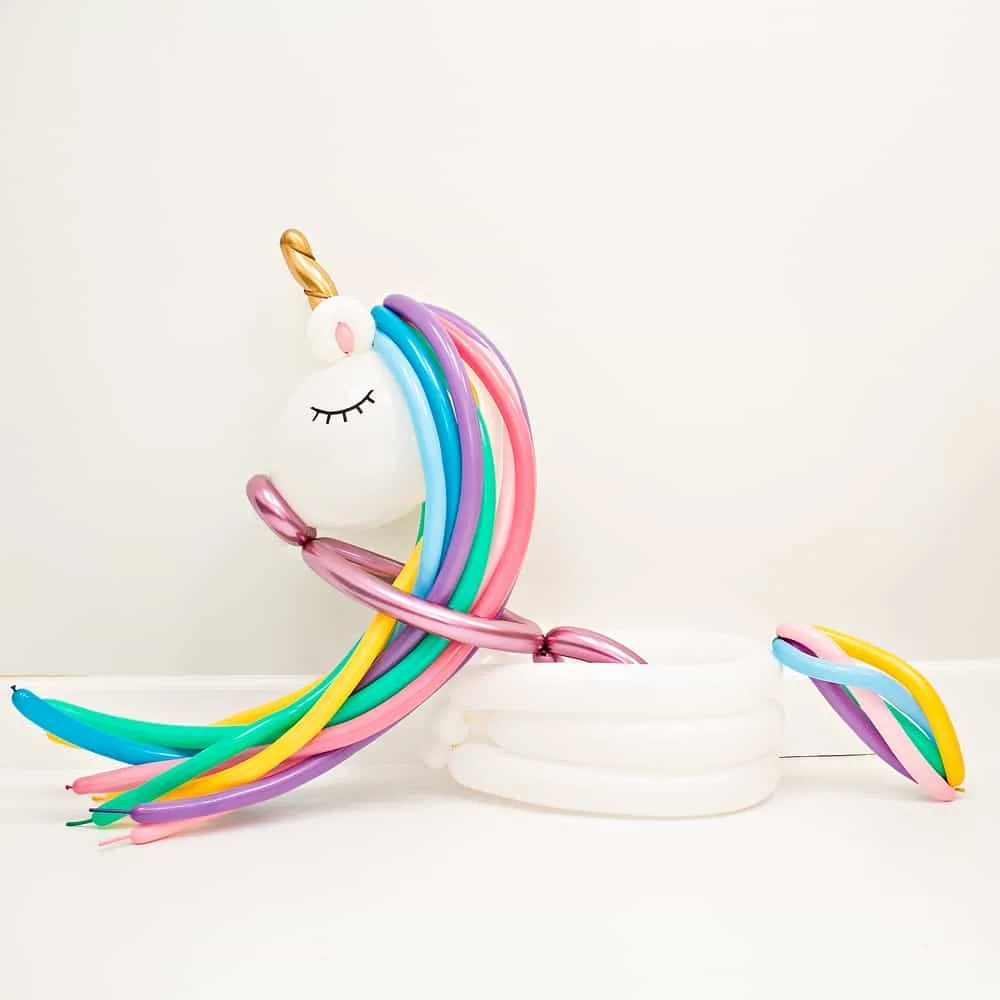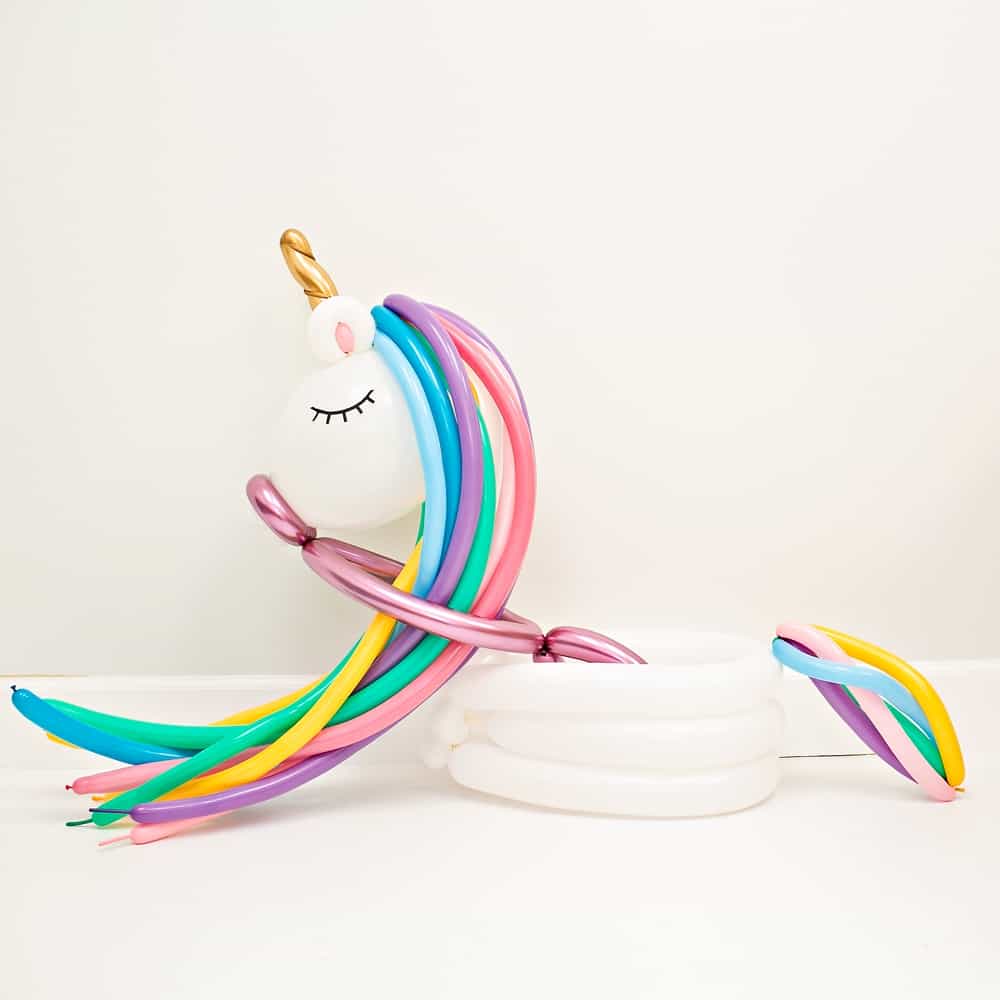 How to make a DIY Unicorn Balloon Costume – Materials:
(Note: All latex balloons which were used here, are biodegradable).
(You may also purchase a full DIY Balloon Costume Kit instead of sourcing individual balloons below).
(Most balloon supplies listed below can be found at balloon retailers online, or on Amazon).
1 11" white latex balloon
1 160Q white balloons
1 bag 160Q pastel assorted
1 160Q pink balloons
eyelash printable
1 260Q chrome gold balloons
1 260Q chrome pink balloons
4 360Q white balloons
Or you can use a low temp hot glue gun
Scissors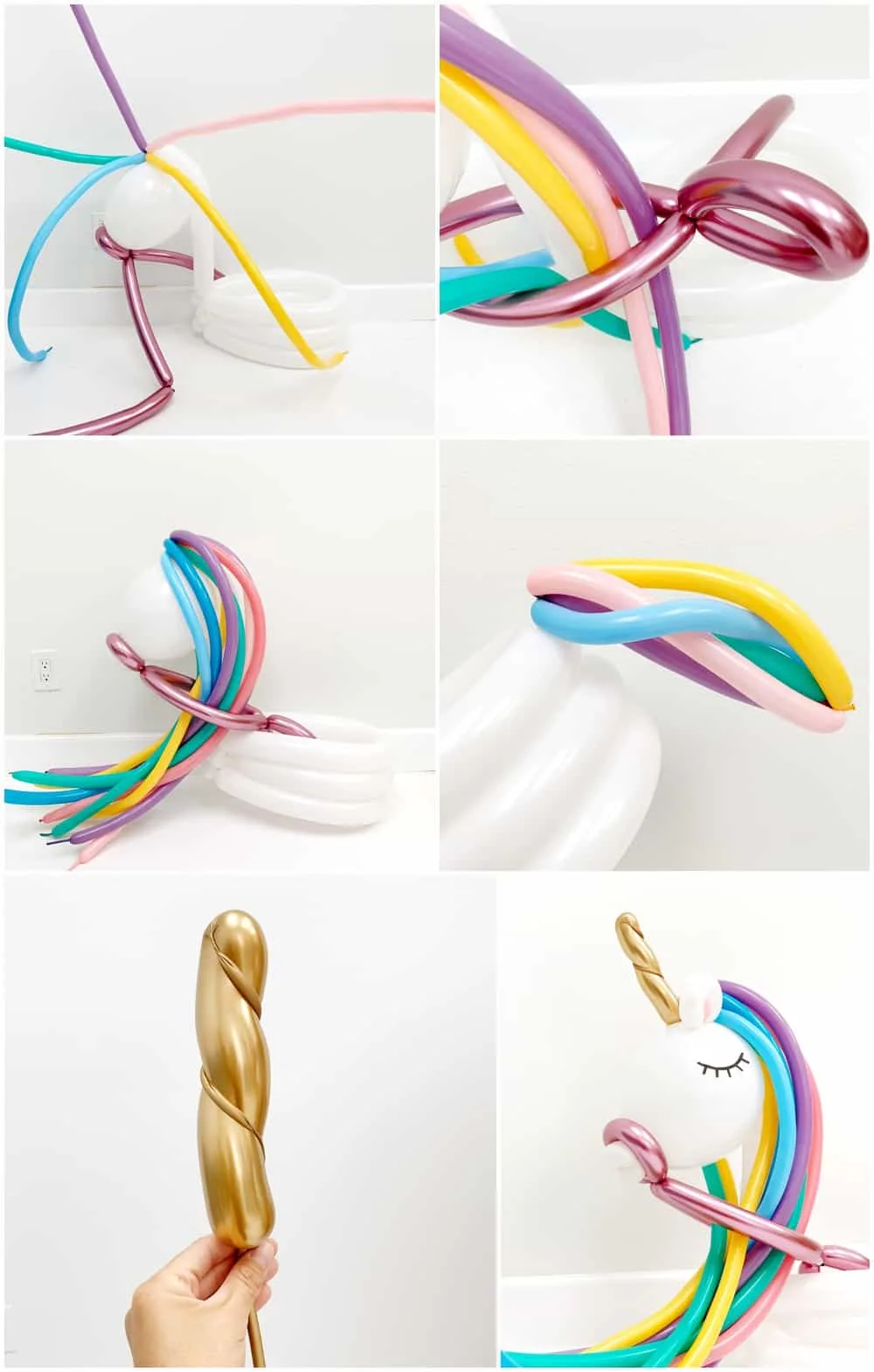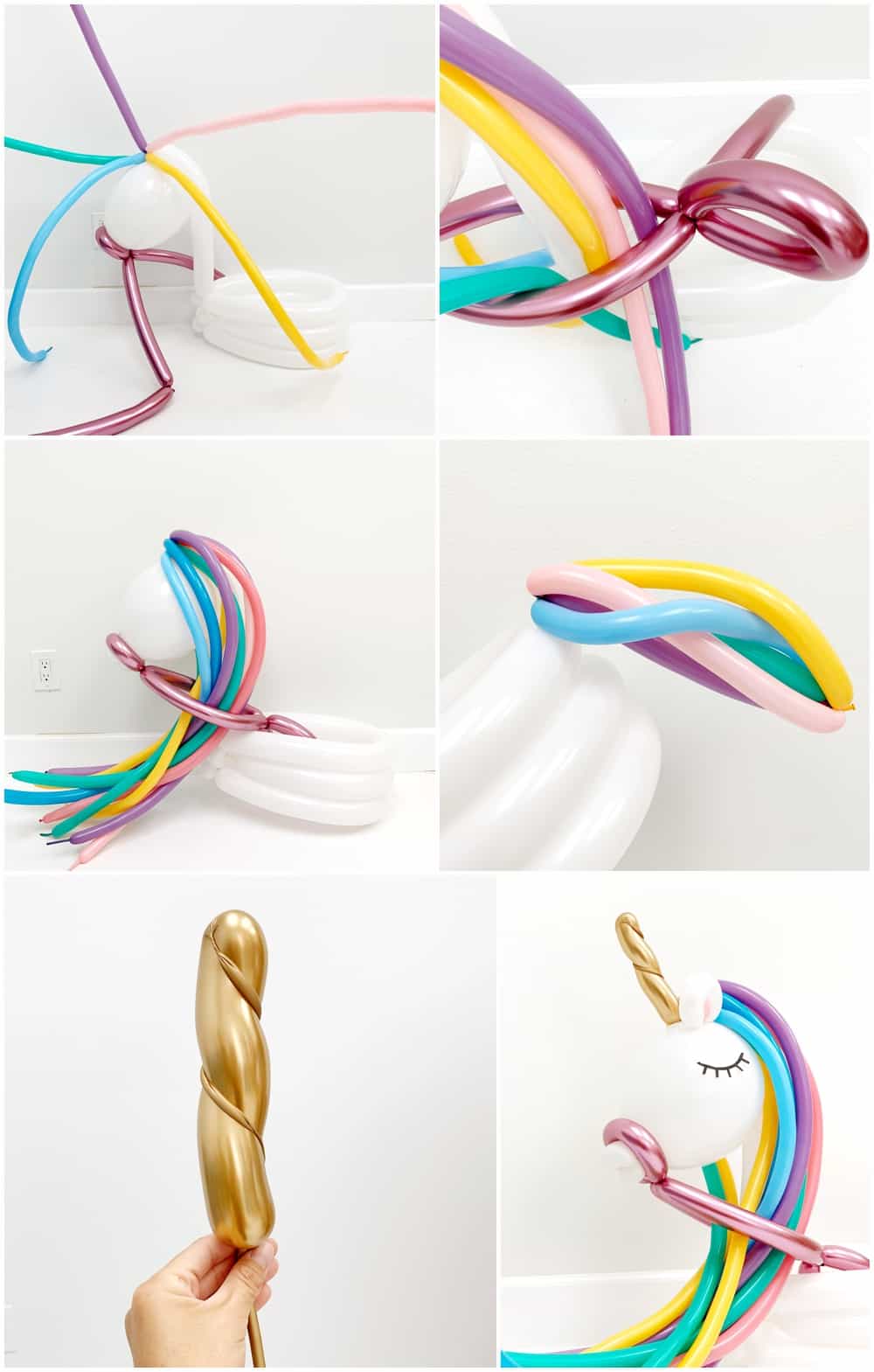 Instructions:
BODY
1. Blow up all 3 360Q white balloons all the way and release some air to make the balloons more pliable. Don't worry if they aren't even. We will fix that later on.
2. Make a pinch twist on the neck of all the inflated 360Q white balloons
3. Gather 3 360Q white balloons and add glue dots along each balloon and attach and line up each balloon on top of each other starting at the pinch twist.
4. Once all balloons are lined up and glued roll the balloons like a cinnamon roll once you release them they should look more like a circle.
5. Start with the smallest of the 360q and tie the end to the neck of the pinch twist.
6. Now to even up all the balloons. You will need to cut a very tiny hole with scissors at the tip of each balloon and release some air till its even and tie it to the pinch twist several times. Do this to all the balloons and you should start get a an oval body.
NECK & HEAD
7. Blow up the remaining 360Q half way and attach to the neck using glue dots.
8. Blow up the 11" white balloon and glue to the top of the balloon neck
9. Blow up a 160 balloon and make a tiny circle fold it in half and cut the left over and glue to the end of the 11" balloon.
10.Blow up the 160Q white and to about 5" and fold in half and secure and cut the left over balloon and inflate and do that exact thing to the balloon
11. Inflate the pink balloon and attach it between the gap of the balloon ear. Glue them to the sides of the balloon
12. Cut out the printable and attach the eyelash with glue dots
13. Blow up the 260 pink chrome and wrap around bout and wrap the and attach the ends together to make a lasso
HAIR & HORN
14. Blow up about 8+ of the 160 pastel assorted to almost the exact size and in the desired colors and tie each of the ends to each other.
15. Glue the hair to the top of the head and along the neck and tuck in the lasso.
16. For the tail blow up the 160 one of each color to about 12" and glue to the end of the body.
17. Blow up the gold 260Q to about 6" and wrap the remaining of the balloon around the balloon in a spiral to create the swirl of the horn tie the ends together and cut the left over balloon and glue to the top of the balloon head right were the hair starts.
Check out these other DIY Halloween costume ideas for kids, too!
Check out all the DIY Balloon costumes here!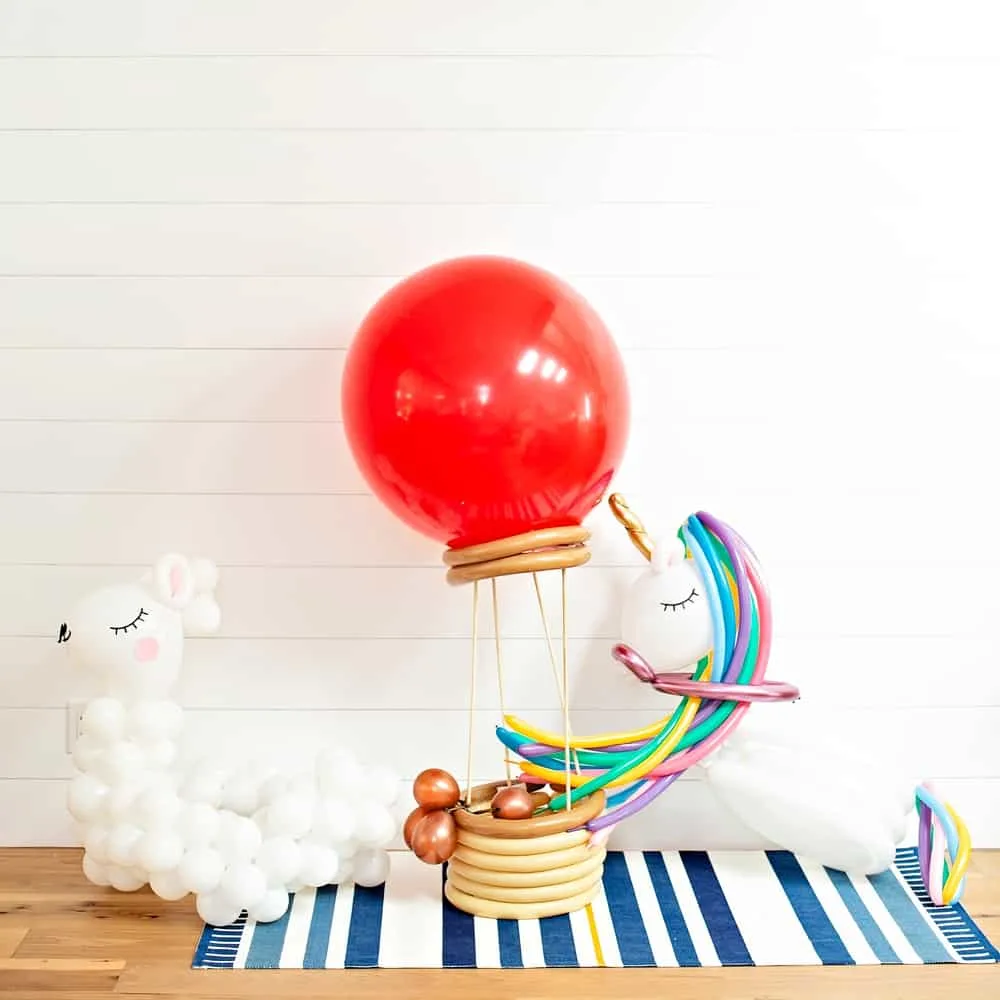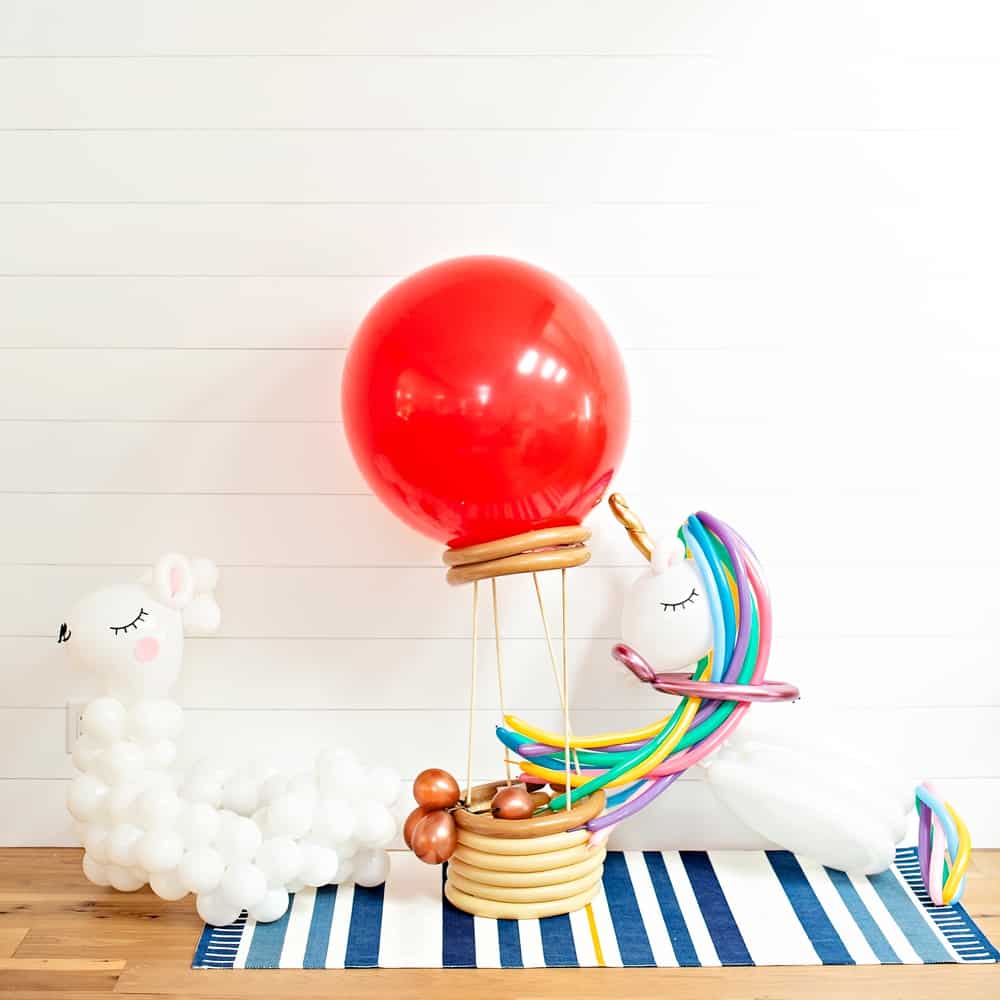 Disclosure: Some of the links in the post above are "affiliate links." This means if you click on the link and purchase the item, we will receive a small affiliate commission. Regardless, we give our promise that we only recommend products or services we would use personally and believe will add values to our readers. As an Amazon Associate I earn from qualifying purchases.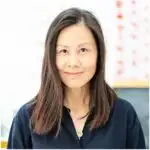 Agnes Hsu is a mom of three and has been inspiring parents and kids to get creative with easy activities and family friendly recipes for over 10 years. She shares her love for creative play and kids food to her 2MM+ followers online. Agnes' commitment to playful learning and kindness has not only raised funds for charity but also earned features in prestigious nationwide publications.