Follow us on Instagram for more creative ideas for kids!
This is a collaboration with my good friend Jamie from Balloon and Paper.
This DIY Llama Balloon Costume makes a playful and cute handmade costume for kids!
Let's just all go ahead and agree that DIY Halloween costumes are the best.
It's no secret that I love to create some great cardboard Halloween costumes but this year, I've gathered up some awesome secrets on how to create awesome DIY Balloon costumes from an expert! My good friend Jamie from Balloon and Paper is here showing you all the tips and tricks!
And if you want to meet the DIY halfway, just head over and get her DIY balloon costume kits which have all you need to make this awesome Llama balloon costume.
The whole reason that this thought even stuck in my mind is that I just suddenly thought about how balloons offer so much happiness and fun. And isn't that true for adults and children no matter what the age?
Once I realized that balloons literally bring hours of happiness, I thought that it just makes sense to make up our own DIY balloon costumes. Plus, there is no denying that the llama is too adorable of an animal to pass up.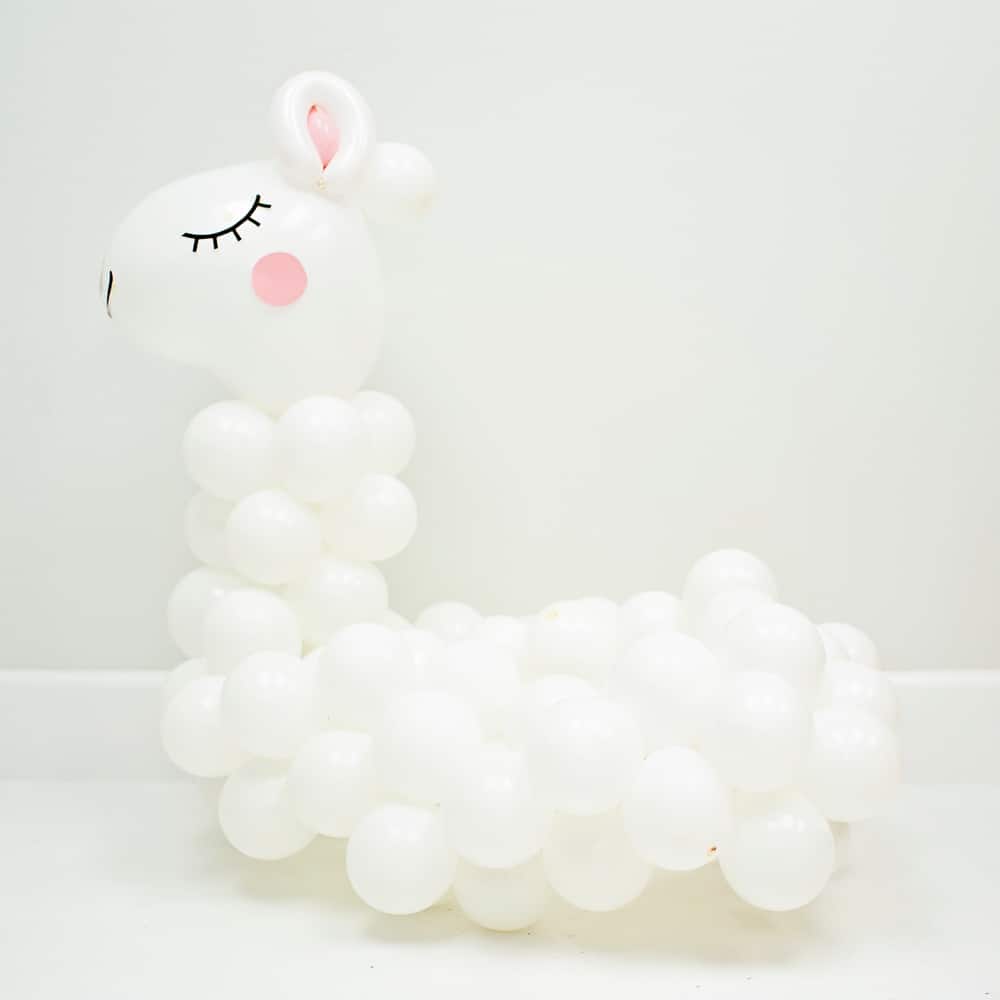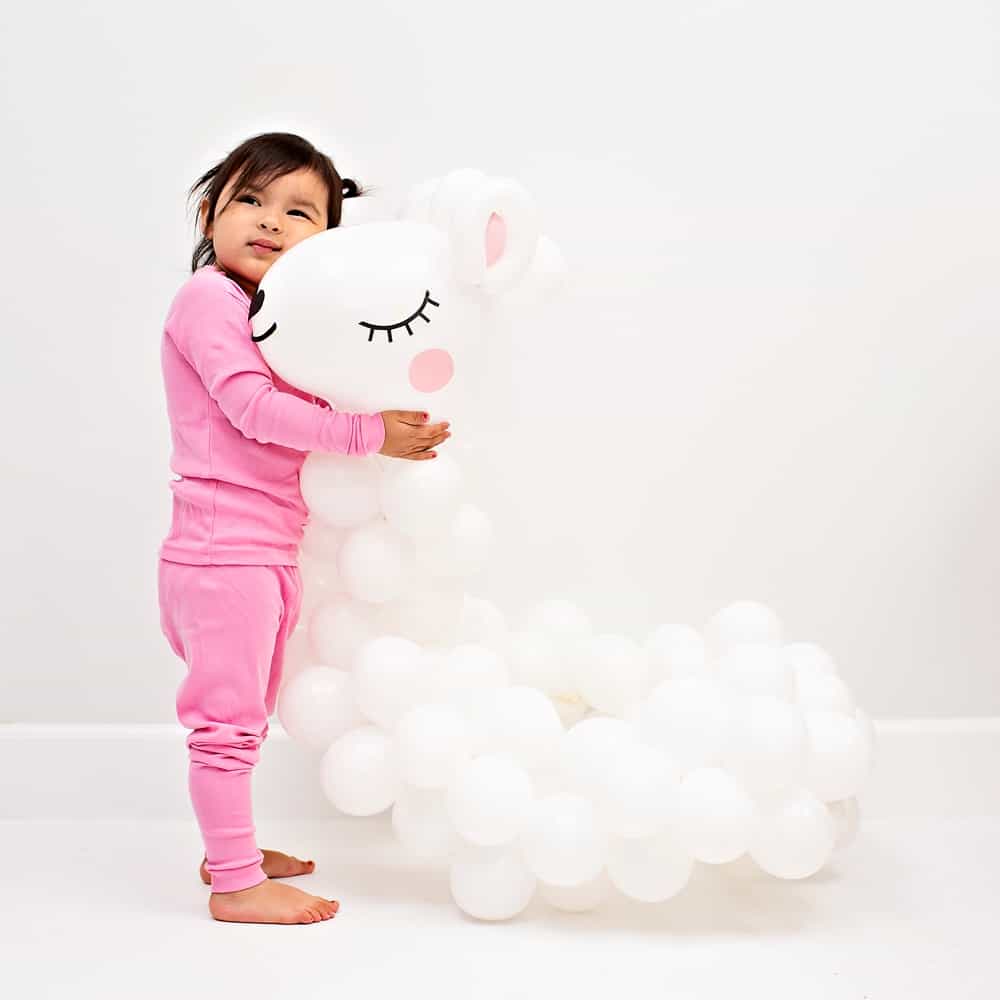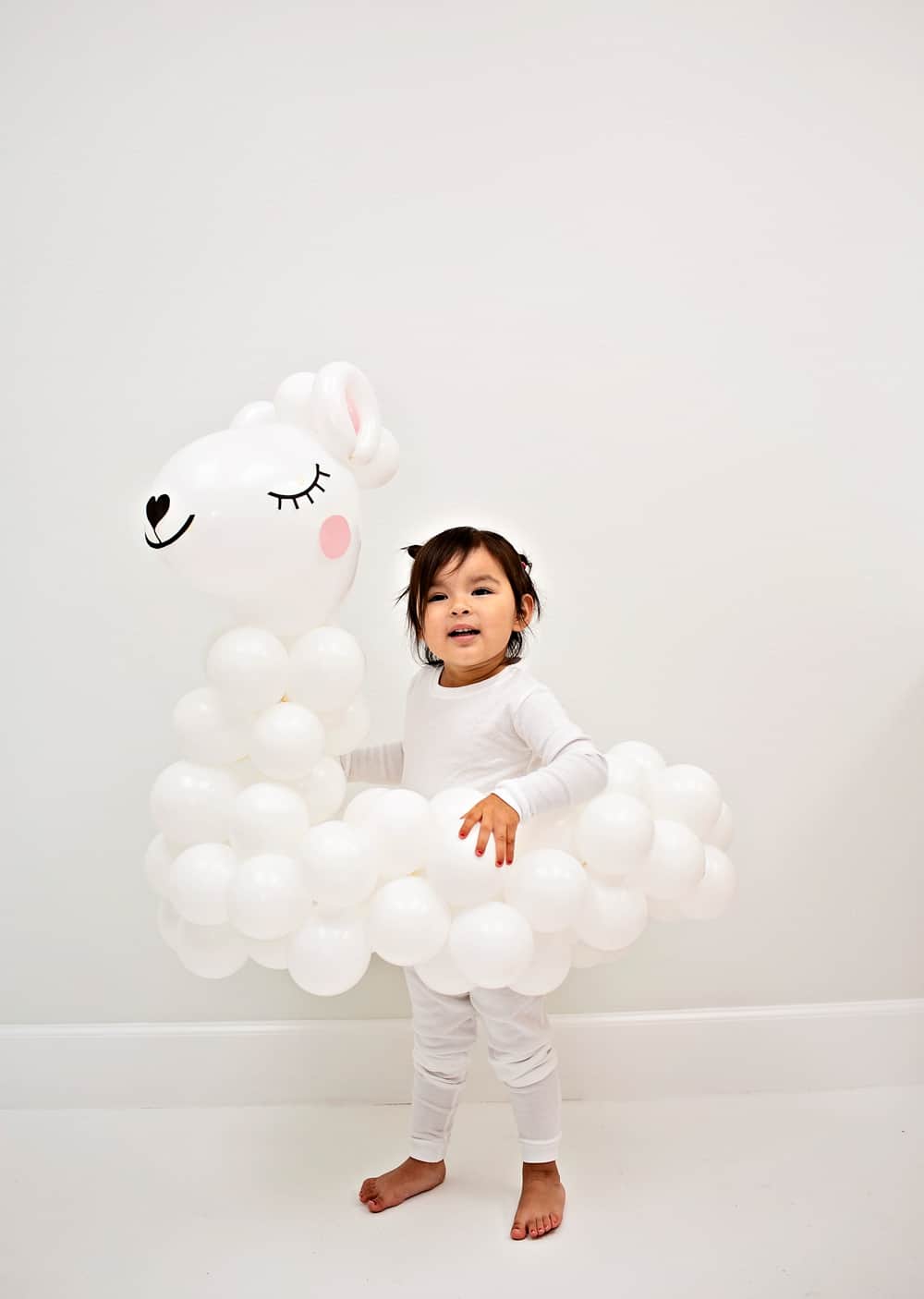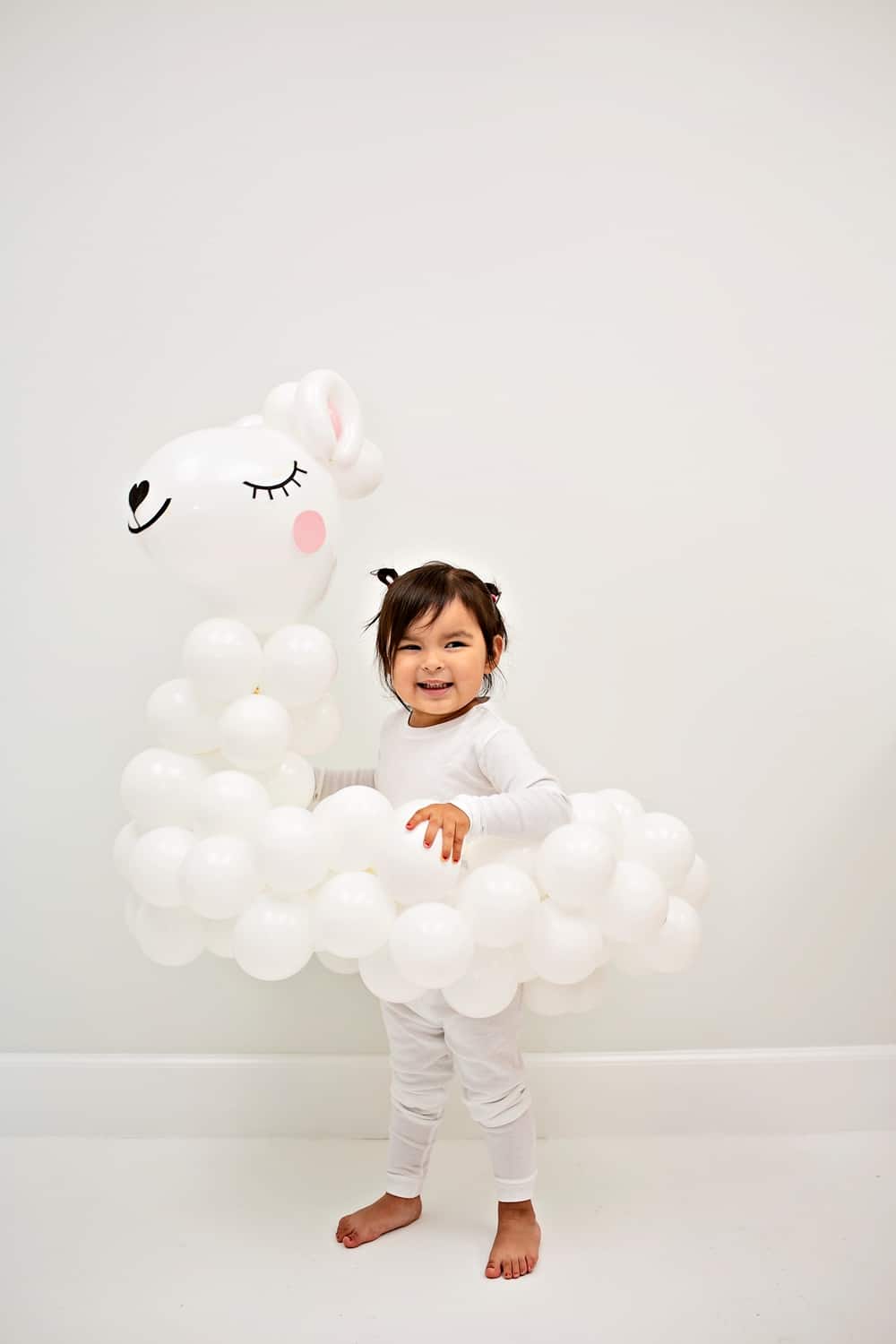 How hard is this DIY Balloon Llama costume for kids to make?
It's a simple costume in terms of cheap, inexpensive materials, but there are a several steps to follow so you'll have to read the instructions carefully. But it's worth it because I GUARANTEE this costume will stand out!
How many other costumes do you ever remember seeing made up of solely of balloons? My guess is none…so this Halloween, it's your kids' time to shine.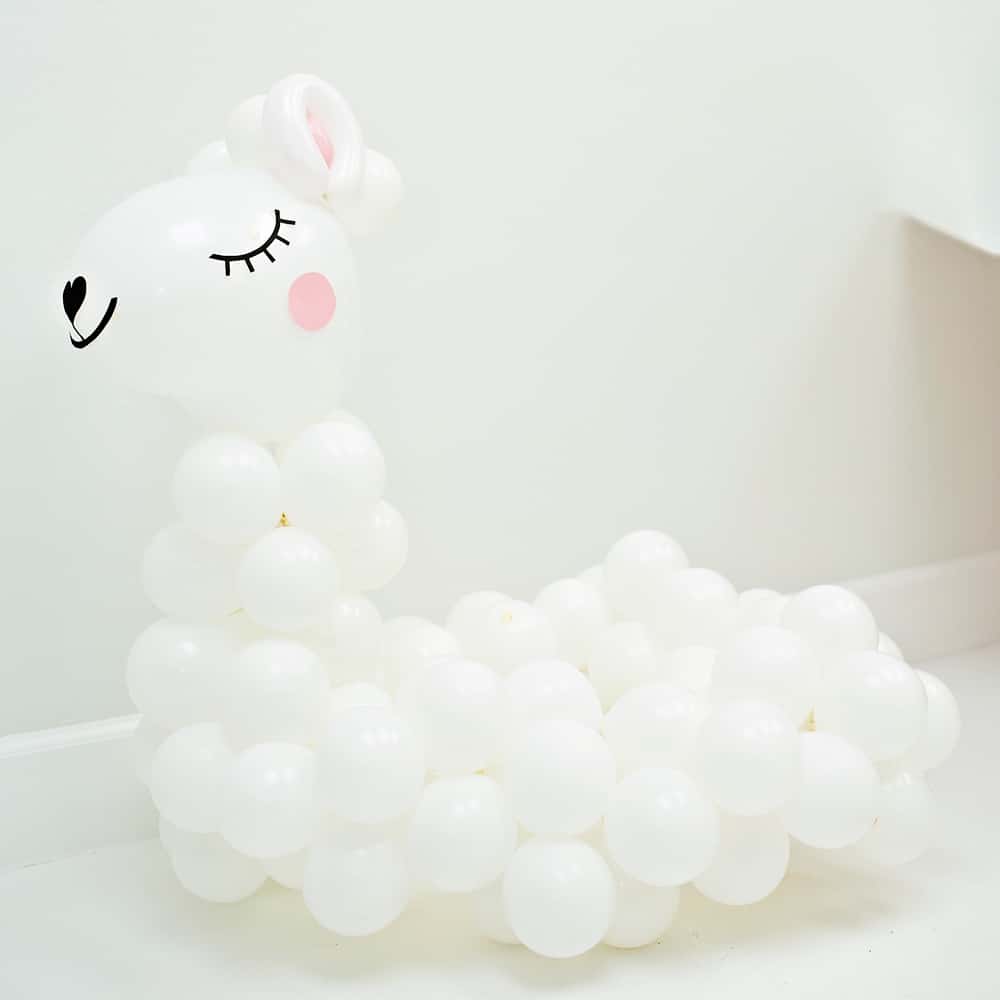 What happens if the balloons on the costume start to pop?
More than likely, this is going to happen. It's a risk, right? And with your child wearing balloons, it's something to be prepared for. I would recommend just packing up a small little bag that you carry around with a hand pump, extra balloons, strong tape and some glue dots. That way if you do have one pop, you're ready to spring into action with no worries at all.
(If you're making this for a toddler or younger child, I would also just give them a heads up before they put this outfit on that there is a chance that the balloons are going to pop. That way, they won't be scared by the noise when it happens and you're also letting them know that you're prepared to take care of it as well. They'll find that really comforting, too!)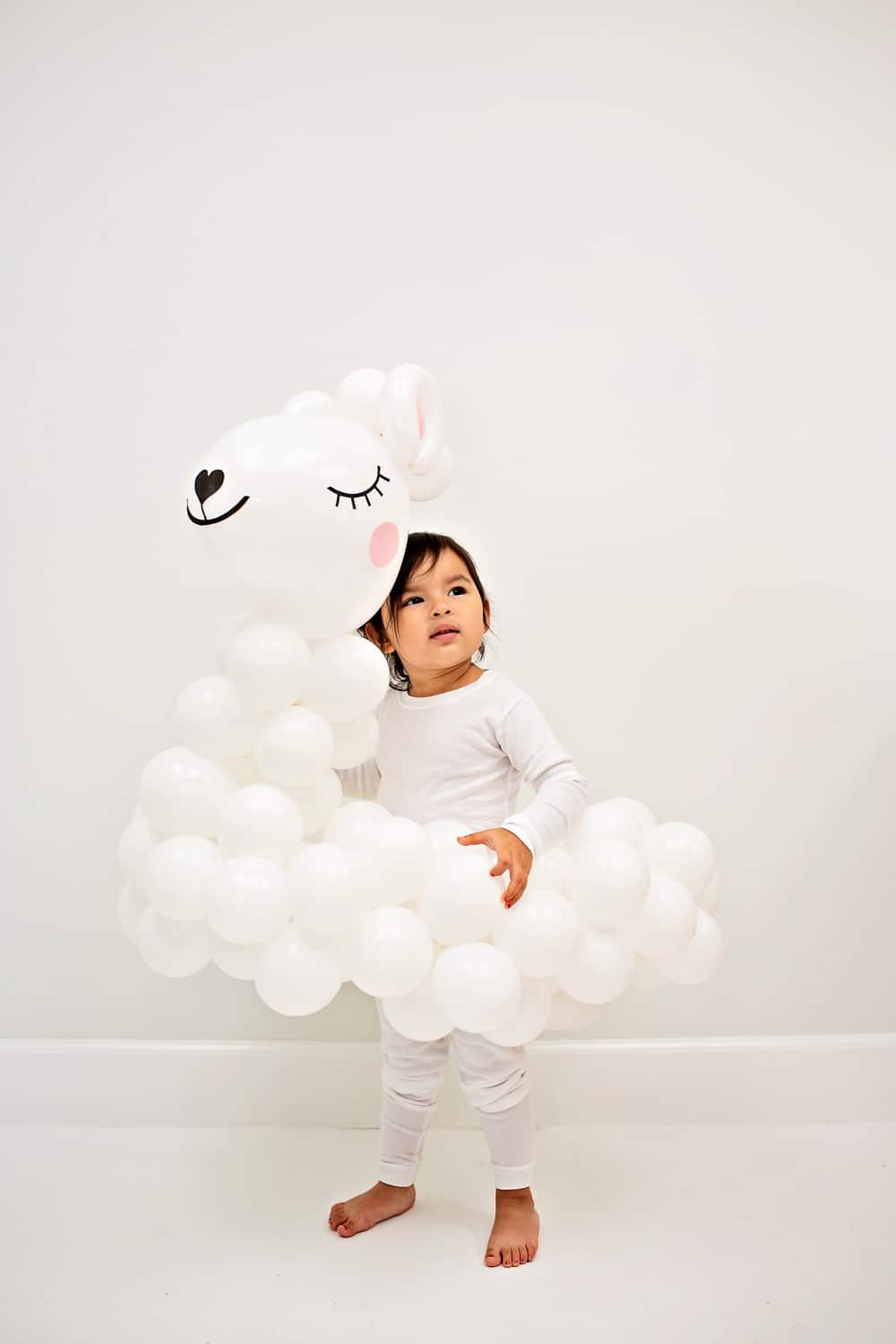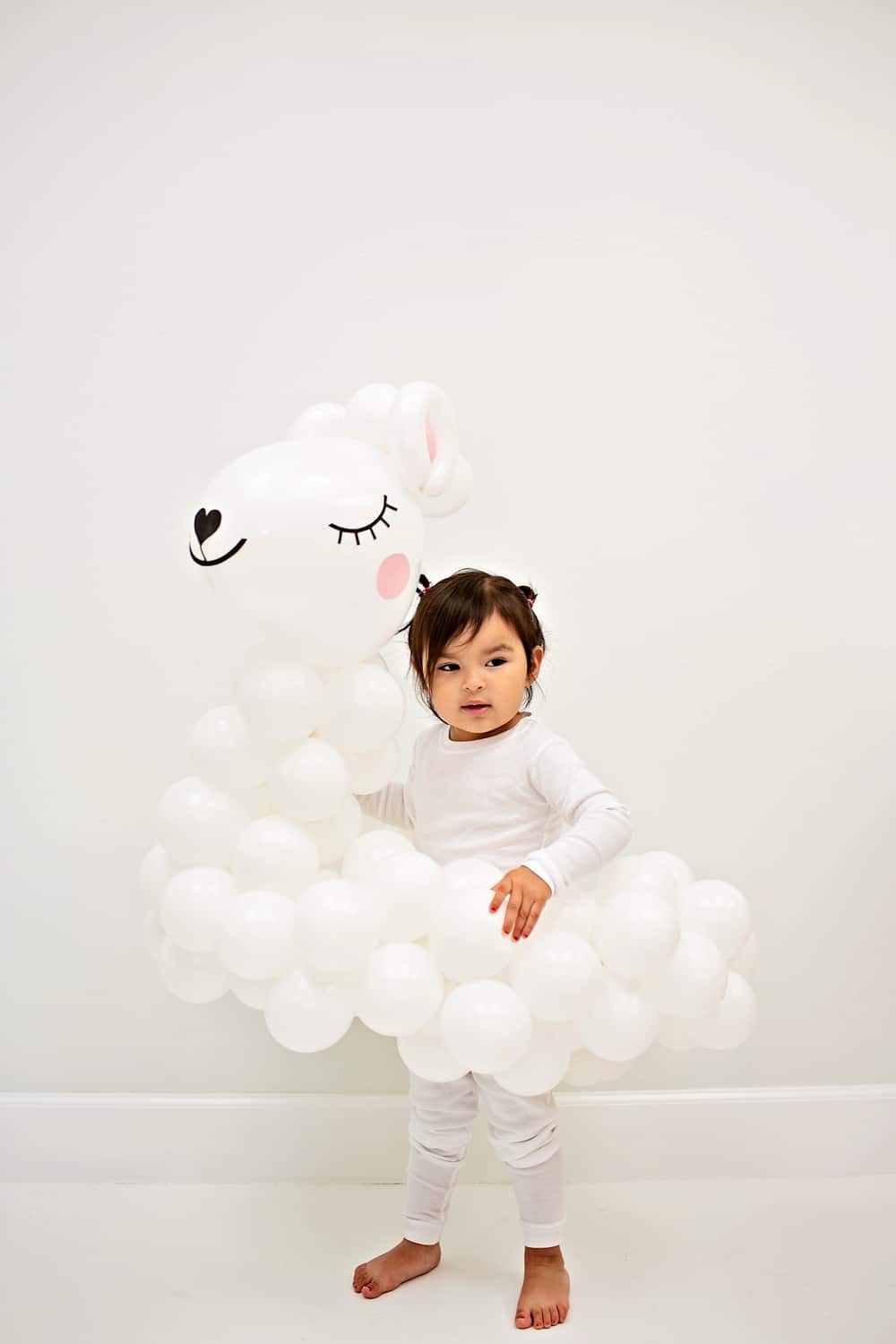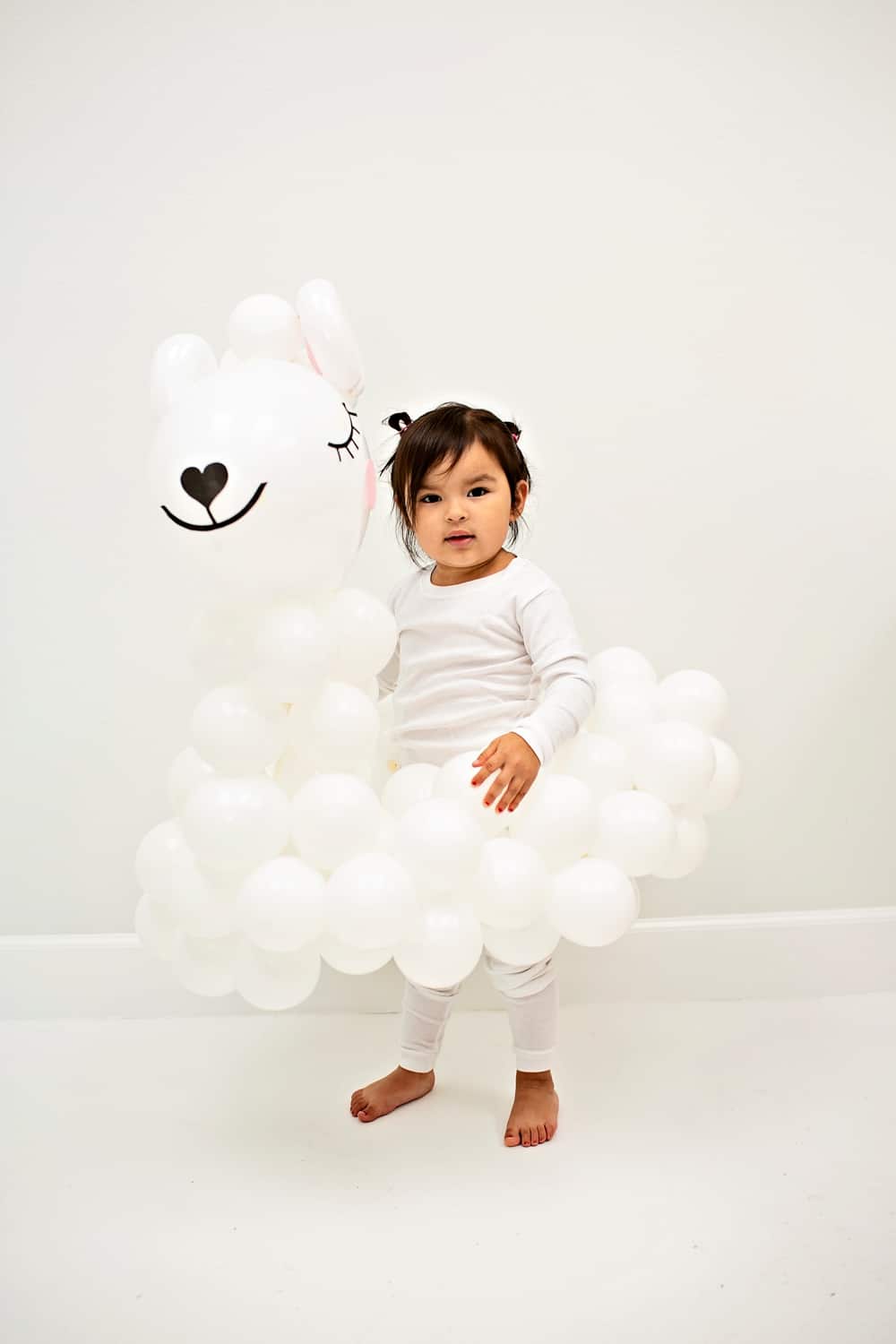 How to create a DIY Balloon Llama Costume For Kids
Now that you've decided this is a Halloween costume that you can really pull off and do, it's time to get down to how you can create it with ease.
All you need is a little bit of time, a few simple supplies and the ability to blow up some balloons and put them in certain places. That's literally it…you'll have a totally unique costume in just a few moments of time.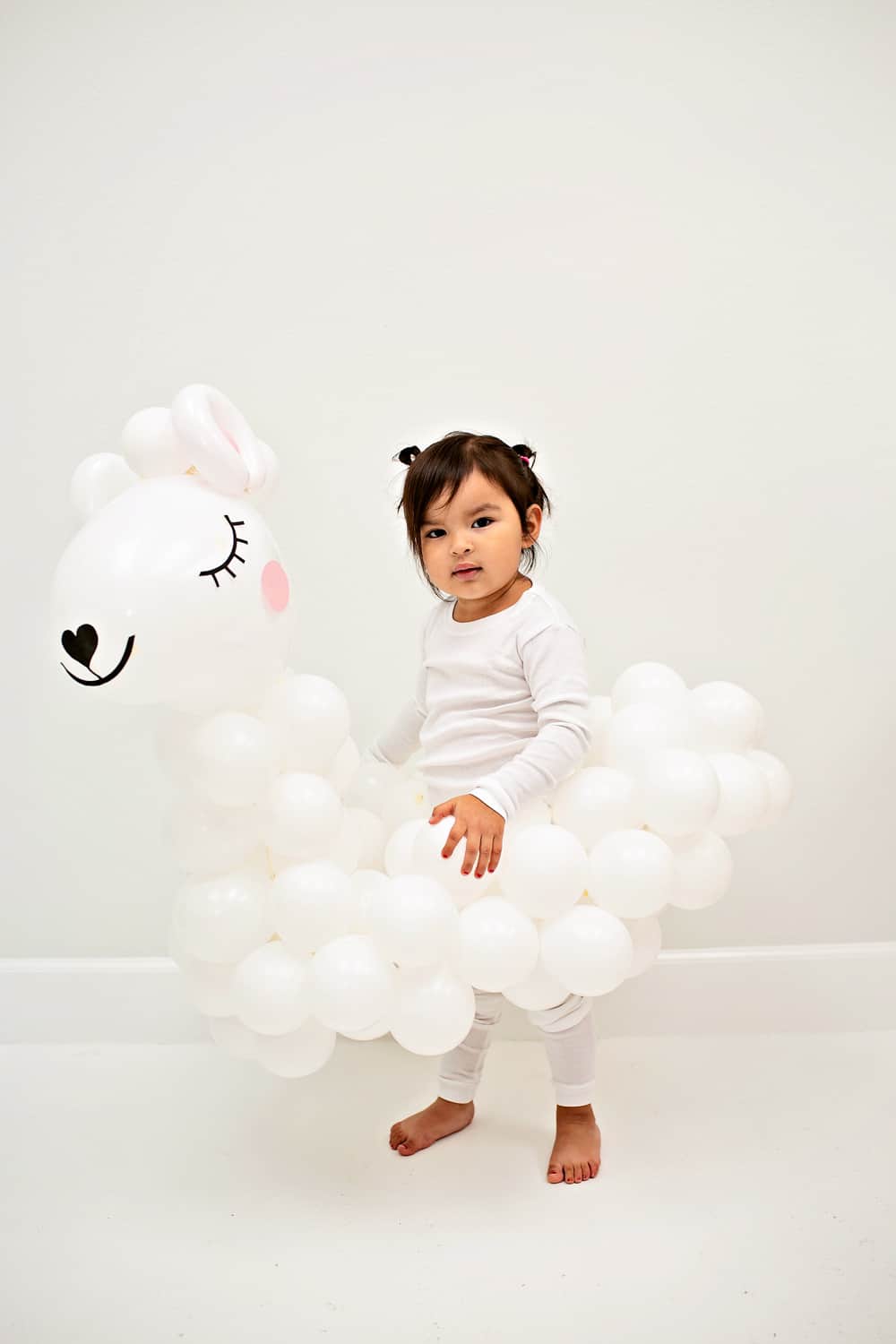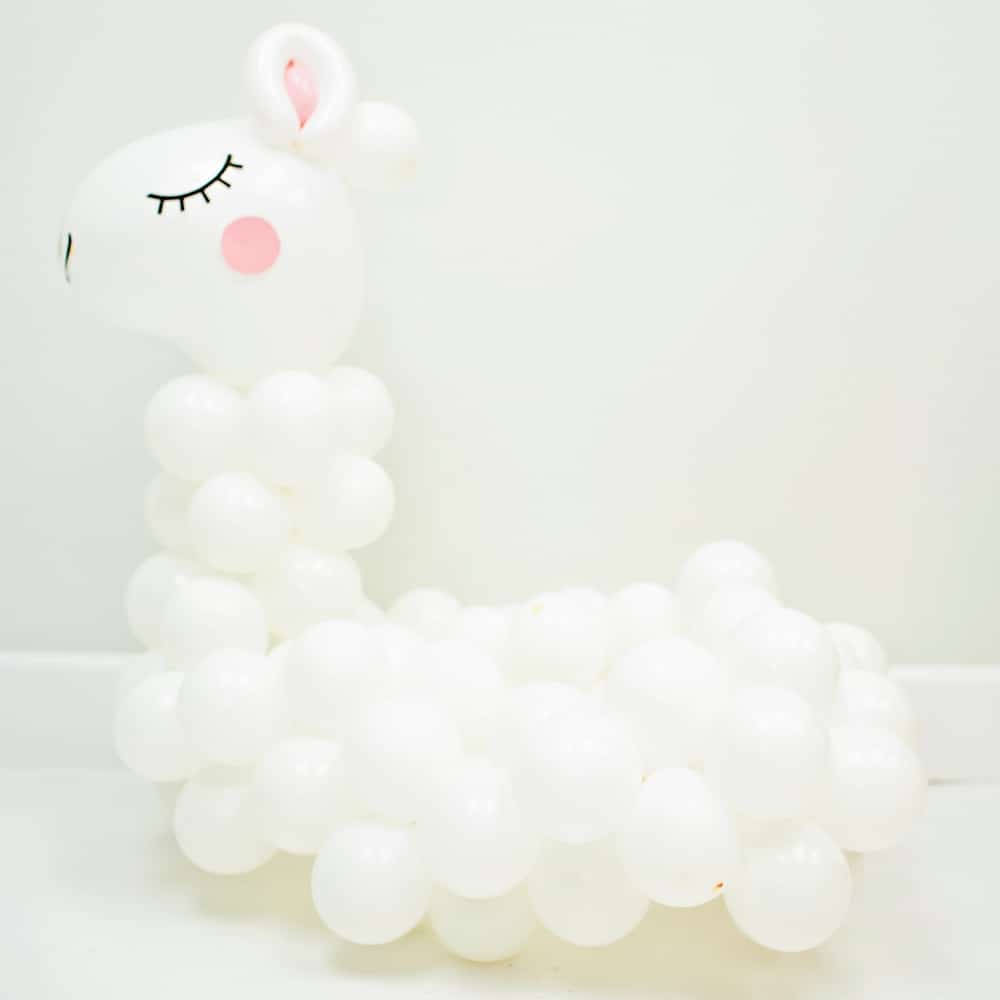 DIY Llama Balloon Costume For Kids – Materials:
(Note: All latex balloons which were used here, are biodegradable).
(You may also purchase a full DIY Balloon Costume Kit instead of sourcing individual balloons below).
(Most balloon supplies listed below can be found at balloon retailers online, or on Amazon).
1 11" white heart shape latex balloon
1 bag of 5" white balloons
1-5

160Q white balloons or string
1 160Q pink balloons
eyelash and mouth printable
Scissors
Instructions:
BODY
1. Blow up 5" white balloons to and tie them to each other using the white 160Q or ribbon. Blow up enough balloons to wrap around the child's waist.
2. Blow up more 5" white balloons and attach them the same way with the 160Q or string to create the neck and attach the neck to the body using the 160 or ribbon.
HEAD & FACE
3.Blow up the white heart balloon and glue to the neck.
4.Blow up the 160Q white and to about 7" and fold in half and secure and cut the left over balloon and inflate and do that exact thing to the balloon
5. Inflate the pink balloon and attach it between the gap of the balloon ear. Glue them to the sides of the balloon
6.Blow up about 5 to 6 of the 5" white balloons to about 2" – 3" to use as hair for the top of the llamas head and glue.
7. Cut out the printable and glue the eyelashes and mouth.
Check out these other DIY Halloween costume ideas for kids, too!
Check out more DIY Halloween Balloon Costumes!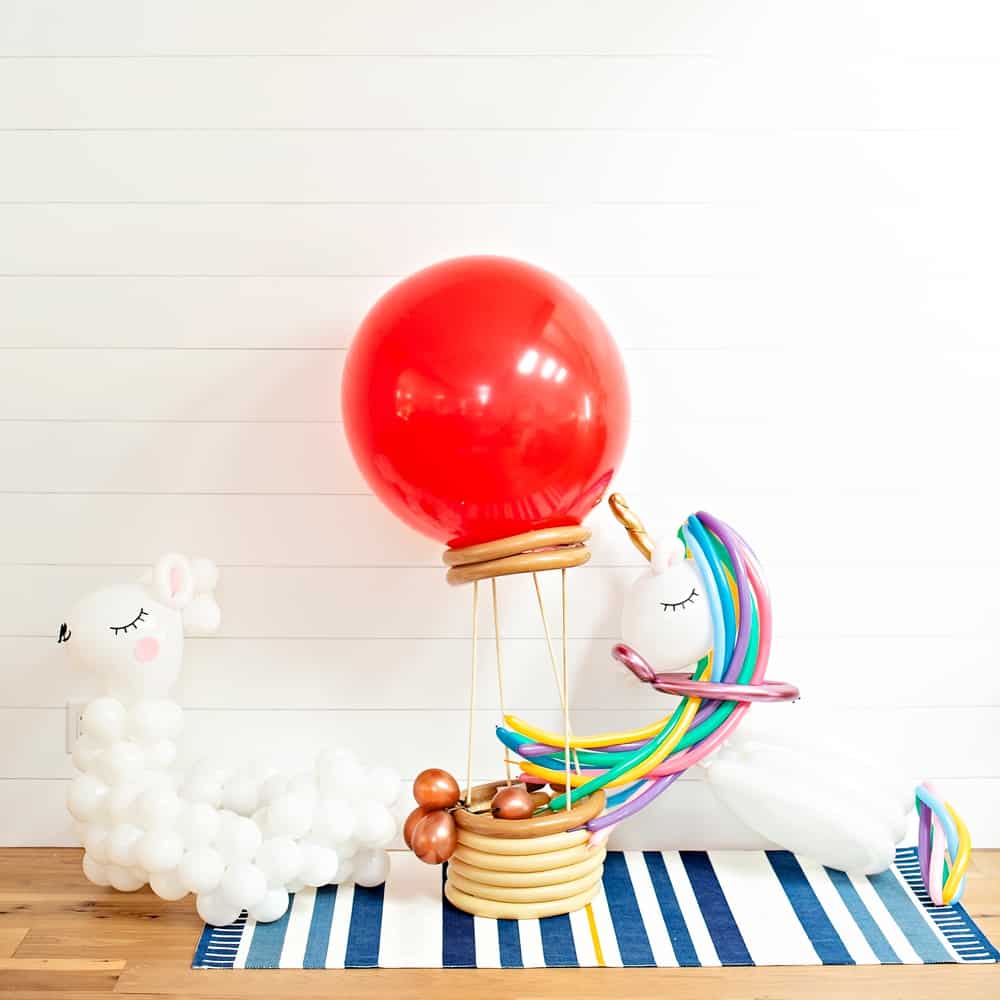 Disclosure: Some of the links in the post above are "affiliate links." This means if you click on the link and purchase the item, we will receive a small affiliate commission. Regardless, we give our promise that we only recommend products or services we would use personally and believe will add values to our readers. As an Amazon Associate I earn from qualifying purchases.