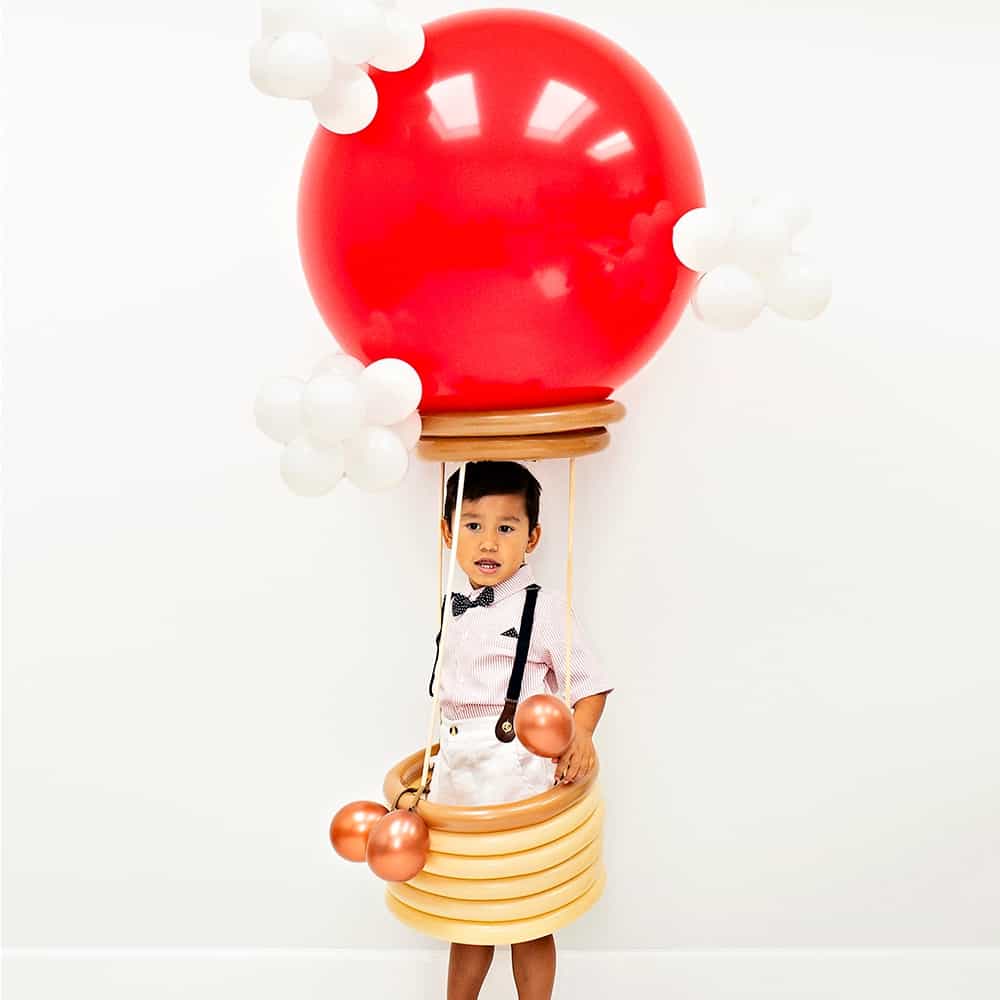 Follow us on Instagram for more creative ideas for kids!
This is a collaboration with my good friend Jamie from Balloon and Paper.
This DIY Hot Air Balloon Costume For Kids will have them feeling like they're flying in the sky!
EEK! Halloween season is upon us and it's one of my most favorite times of the year!
I love finding adorable Halloween costumes to create and this year, I've got an awesome idea that I really think you're going to love.
Instead of spending the big bucks and dressing your child up like every other kid out trick-or-treating, why not take your DIY Halloween costume-making skills to a whole other level?
You can rest easy knowing that there won't be anyone else in the neighborhood with a DIY Hot Air Balloon Costume For Kids. It's so simple and cute to make, it's perfect for any little boy or girl!
We've got my good friend Jamie here from Balloon and Paper to show you just how fun this DIY balloon costume can be!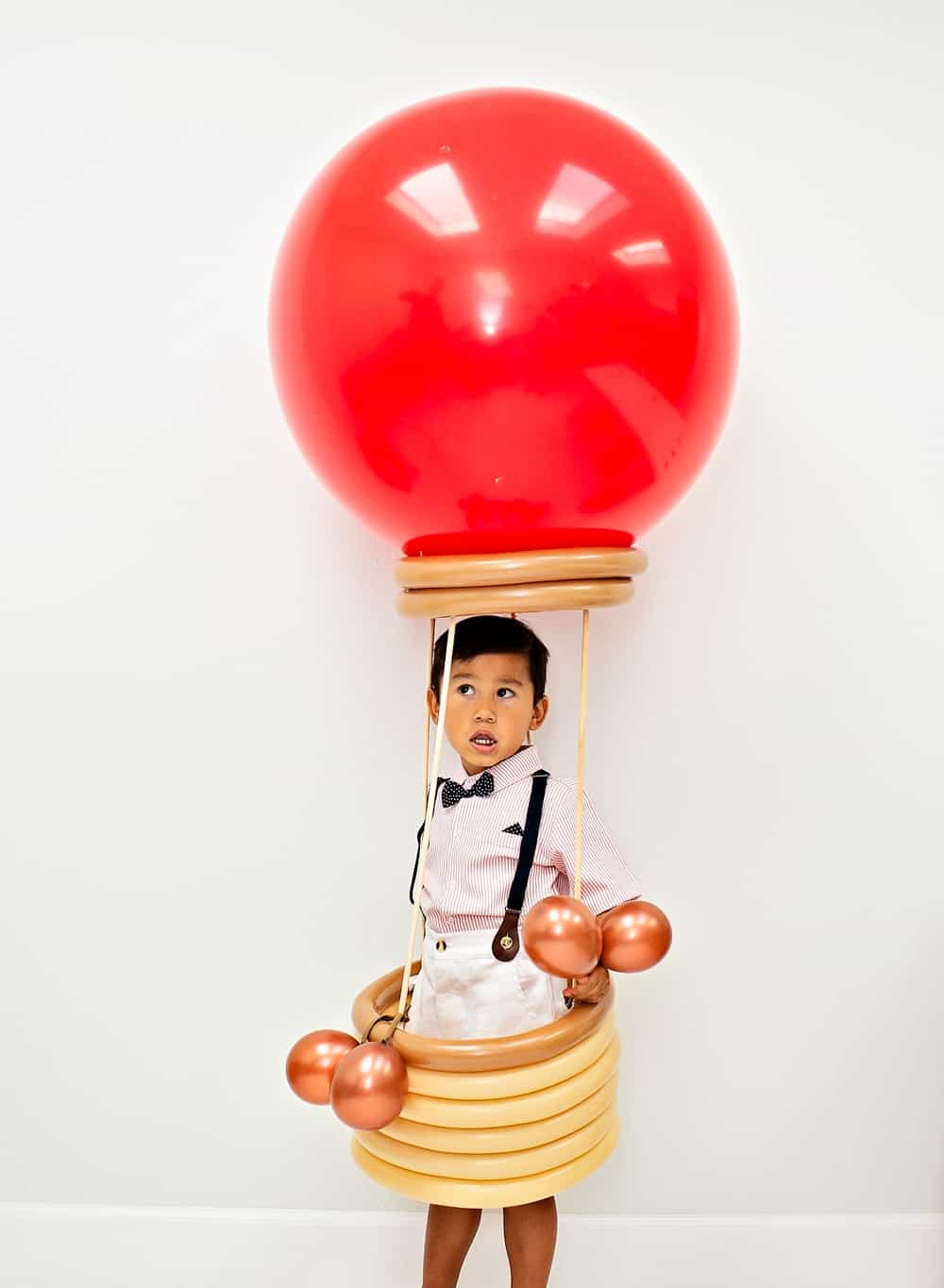 What can I do with this DIY Hot Air Balloon Costume For Kids after Halloween is over?
I totally get it. I hate putting up costumes and waiting for next Halloween to roll around. It's no secret that balloons won't last that long, so you'll want to be certain to find other ways that you can get some use out of them.
One of the quickest ways to reuse this balloon costume is to have an impromptu photoshoot shoot with your children. Talk about one of the cutest photo props ever, right?
And the good news is that THIS particular balloon costume is one that actually does stay up for quite a while with the extra large balloon and curved balloon basket.
If you have a birthday party coming up (or even know if someone who does), family gathering, playdate, or any excuse for a party, see if there is any way that this costume can be incorporated as well.
Believe me kids will be lining up to get in this hot air balloon and pose like crazy!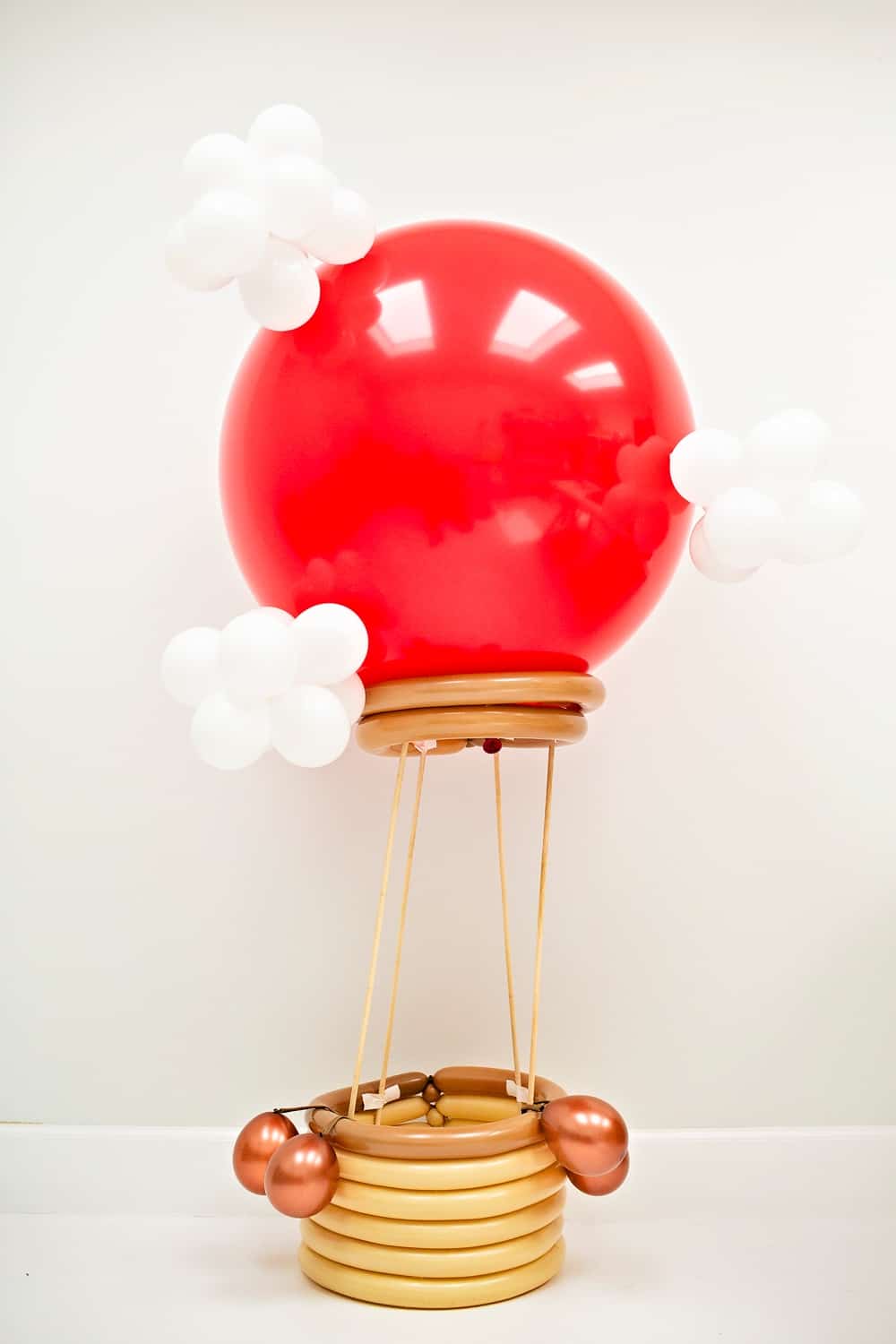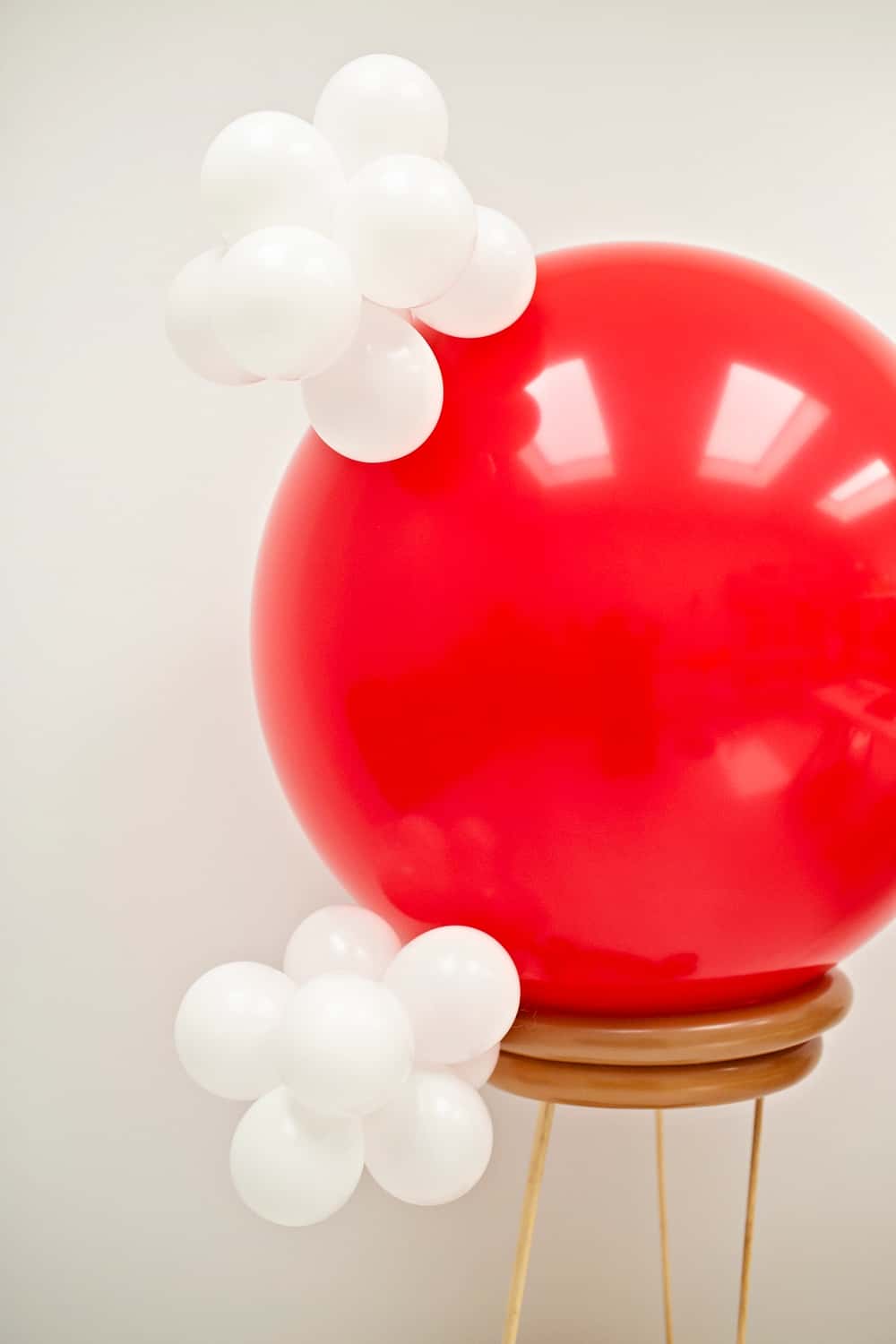 Do I need to have balloon skills to create this costume?
While balloon knowledge and skill can be helpful, it's not anything that is required.
I've secured a ton of tips and hacks from Jamie over at Balloon and Paper the balloon expert who created this costume and is here to share all her DIY tips with you.
However, if you feel unsure about making this 100% from scratch, you can buy the DIY balloon kits here!
I'd actually never worked with balloons in this capacity before so it was an eye-opening experience and a learning experience for me, too. But I can assure you that it's not that hard to get the hang of and it's actually a great stress-reliever as well.
Plus, it's fun to work together with your child so that you can create this costume together!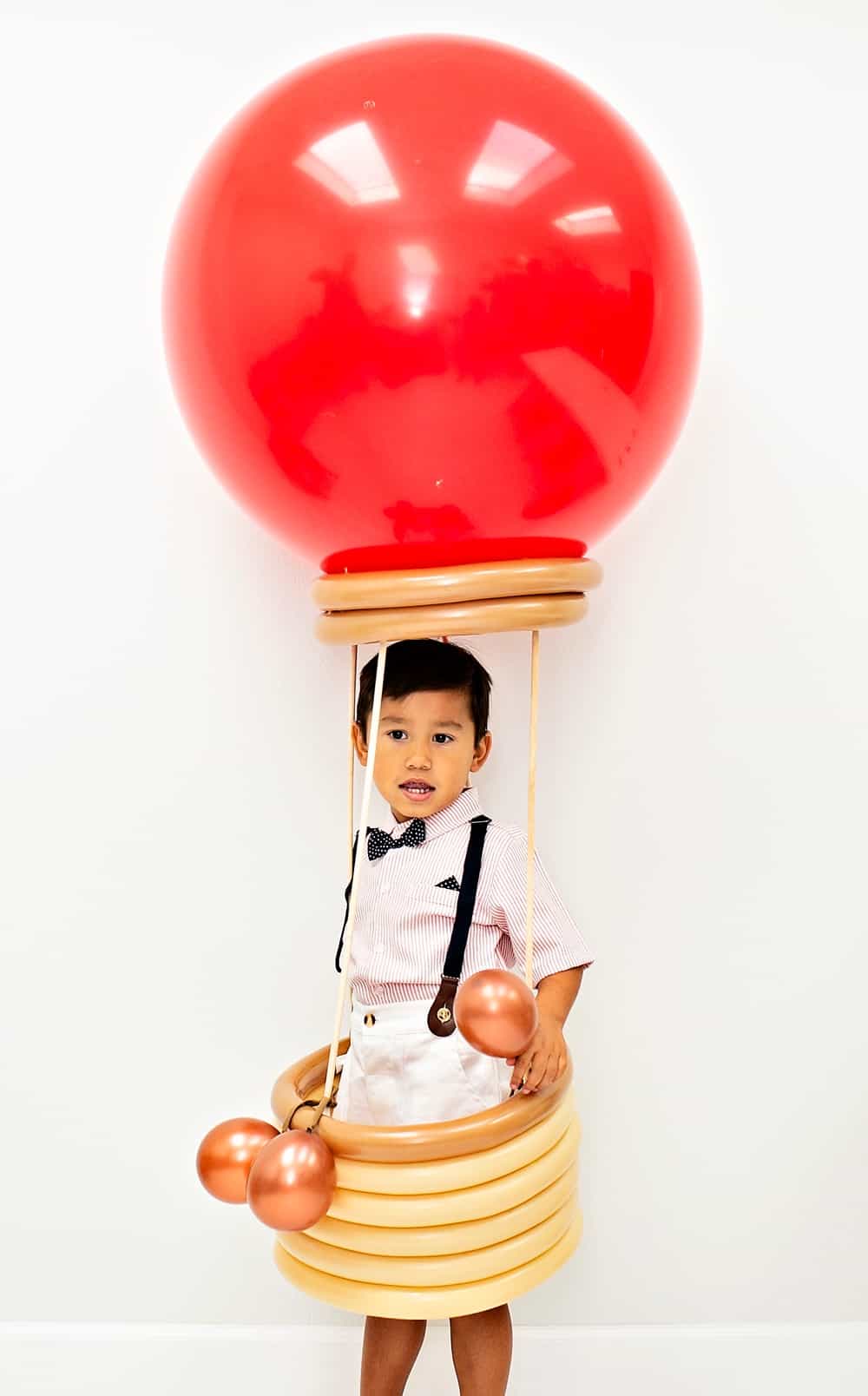 Will the balloons pop while wearing the costume?
To be honest, yes if you run into a branch while trick or treating or are dealing with unusual hot weather or the random running into something sharp. Like some intricate handmade costumes, handle this one with care, but remember it's all about having fun too!
Keep in mind that balloons are loud when they pop so let your child know that there is a chance that one or two might pop during trick-or-treating.
In the same breath, comfort them though that you'll be prepared with the repair supplies to get it fixed as quickly as possible, such as glue dots, strong tape, hand pump and extra balloons.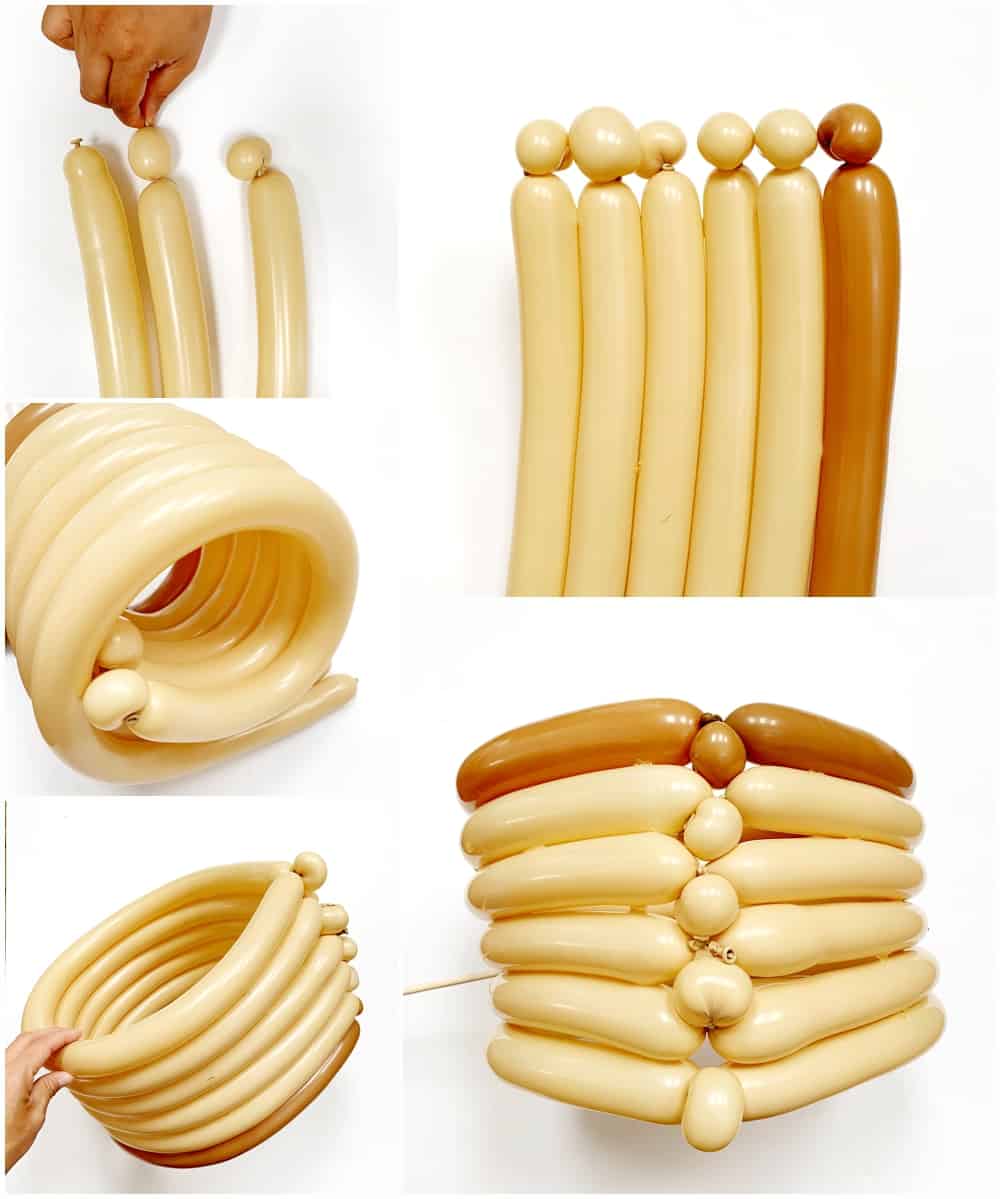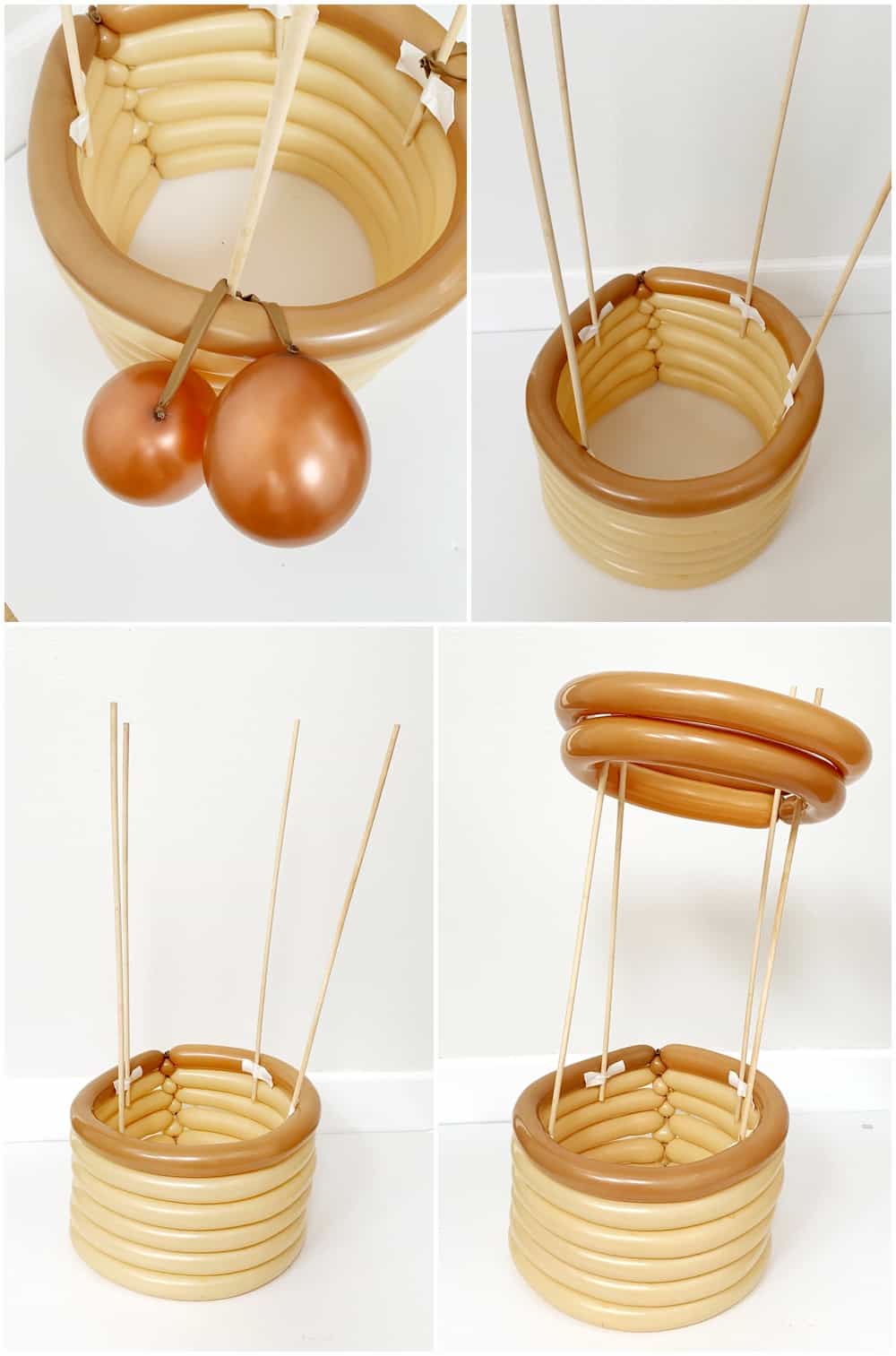 DIY Hot Air Balloon Costume – Materials:
I can't help but think of the movie "Up!" with this costume and it just brings a smile to my face. While you will need a few supplies to create this costume, you really won't need that many.
(Note: All latex balloons which were used here, are biodegradable).
(You may also purchase a full DIY Balloon Costume Kit instead of sourcing individual balloons below).
(Most balloon supplies listed below can be found at balloon retailers online, or on Amazon).
2

3/8 wood dowels
1 large 24" balloon
4

5"

copper balloons
5

260Q light brown balloons
Glue dots or low temp glue gun
9

260Q

Dark brown balloons
30 5" white balloons
Clear packaging tape
Scissors
4

5"

copper balloons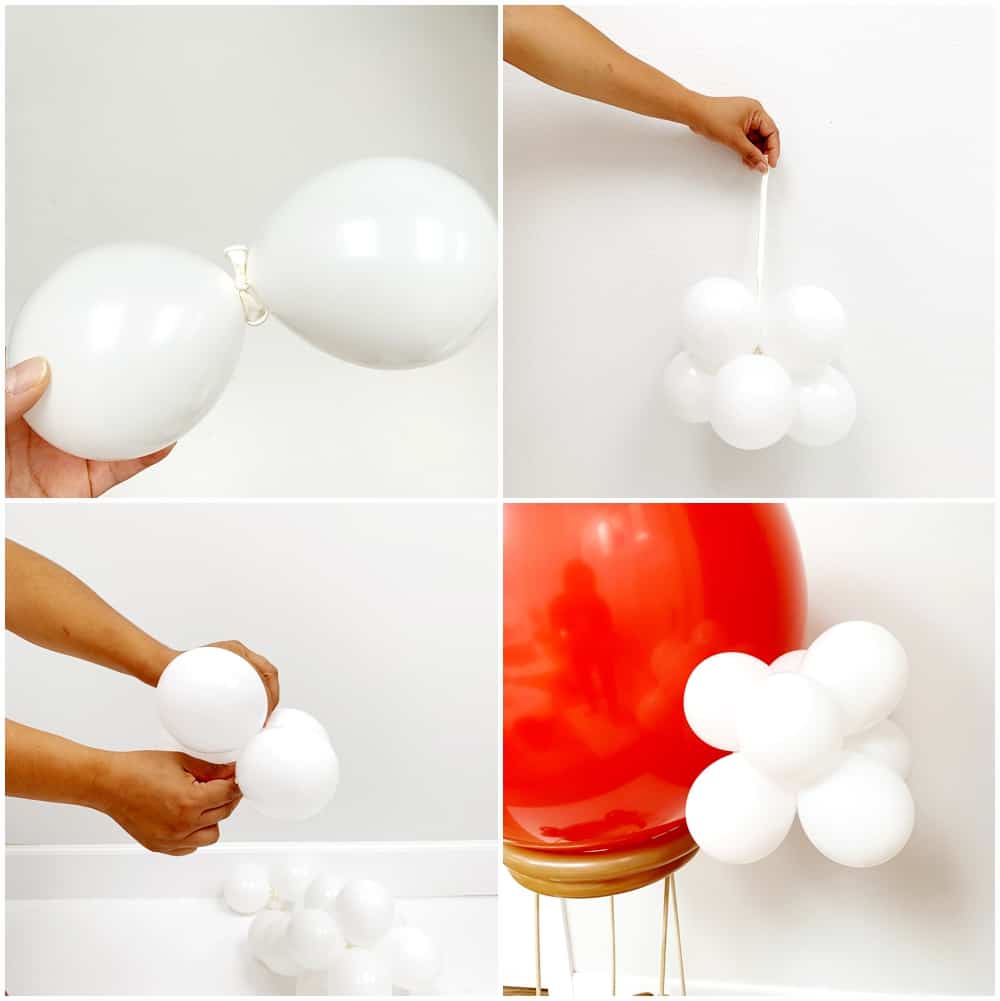 Instructions:
Basket
Blow up all 5 260Q light brown balloons and 3 dark brown 260Q. Blow up all the way and release some air to make the balloons more pliable. Don't worry if they aren't even. We will fix that later on.

Make a pinch twist on the neck of all the inflated 260Q balloons
3.Gather all 5 light brown 260Q balloons and 1 Dark 260q balloon and add glue dots along each balloon and attach and line up each balloon on top of each other starting at the pinch twist.
4. Once all balloons are lined up and glued roll the balloons like a cinnamon roll once you release them they should look more like a circle.
5. Start with the smallest of the 260q and tie the end to the neck of the pinch twist.
6. Now to even up all the balloons. You will need to cut a very tiny hole with scissors at the tip of each balloon and release some air till its even and tie it to the pinch twist several times. Do this to all the balloons and you should start seeing the basket start to form.
8. Cut the wood dowels in half and cut the tips of the 4 dark balloons and stuff each dowel in one of the balloons.
9. Evenly space out all 4 dowels and glue them secure them with clear packaging tape.
10. Blow up the 4 5" copper balloons and tie them with a deflated 260q dark brown and attach to he dowels
Hot air Balloon Base
11. Get 1 of the dark brown inflated balloons and make a circle that is about the same size as the basket inflate the other one and make it smaller and attach them to each other with glue dots.
12. Glue the tips of the dowels evenly spread and secure them with the clear packing tape.
13. Inflate the giant balloon to about 24"
14. Add glue dots to the top of the balloon base and add the giant balloon.
Balloon Clouds (optional)
15. inflate the 5" white balloons and tie two to each other once you have them in pairs tie those pairs to each other till you create a small cloud. You can make as many and as big as you want them.
Check out these other DIY Halloween costume ideas for kids, too!
Check out more DIY Halloween Balloon Costumes!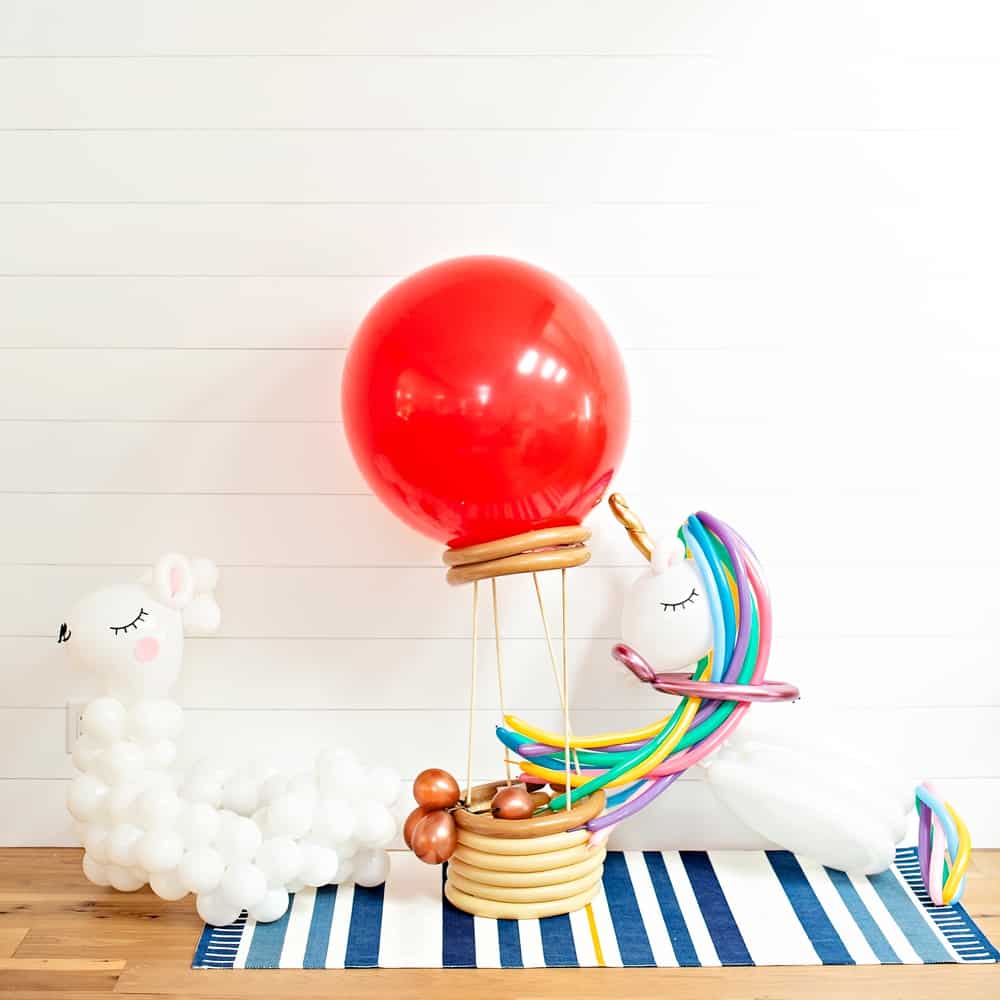 Disclosure: Some of the links in the post above are "affiliate links." This means if you click on the link and purchase the item, we will receive a small affiliate commission. Regardless, we give our promise that we only recommend products or services we would use personally and believe will add values to our readers. As an Amazon Associate I earn from qualifying purchases.