Follow us on Instagram for more fun ideas for kids!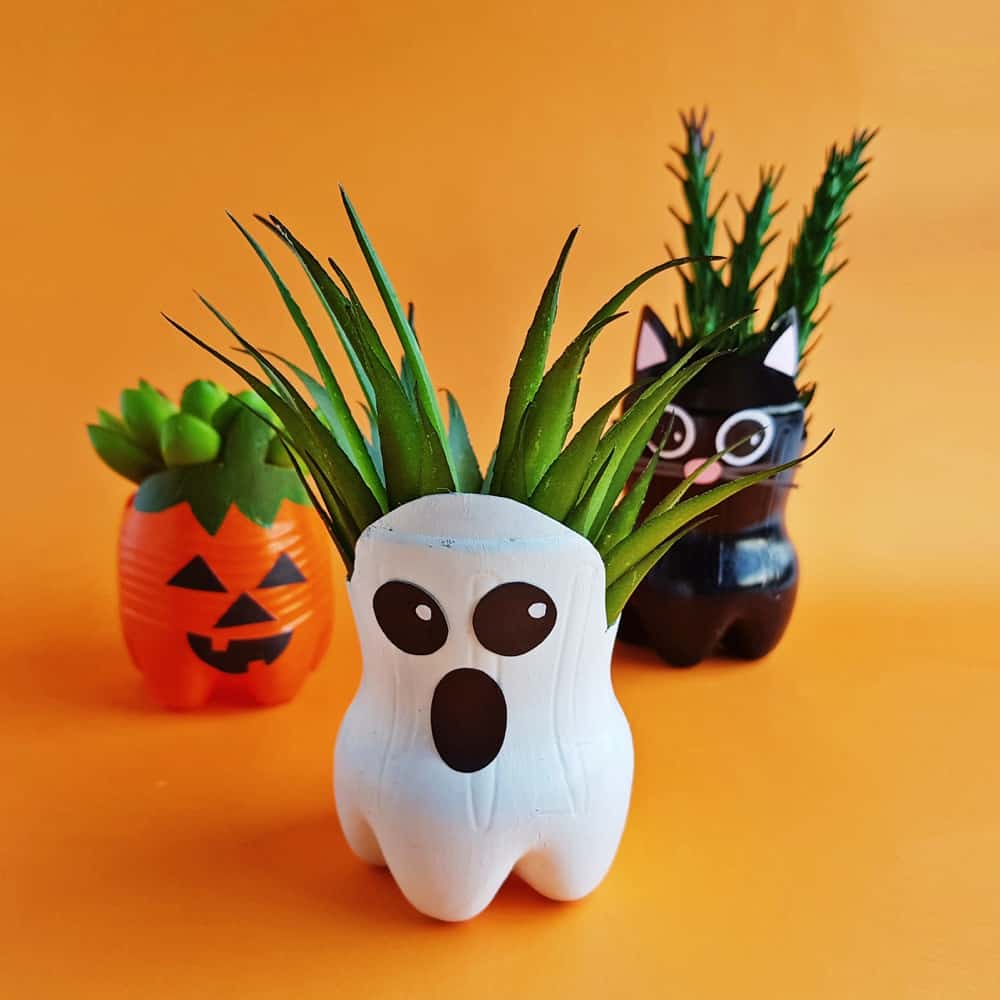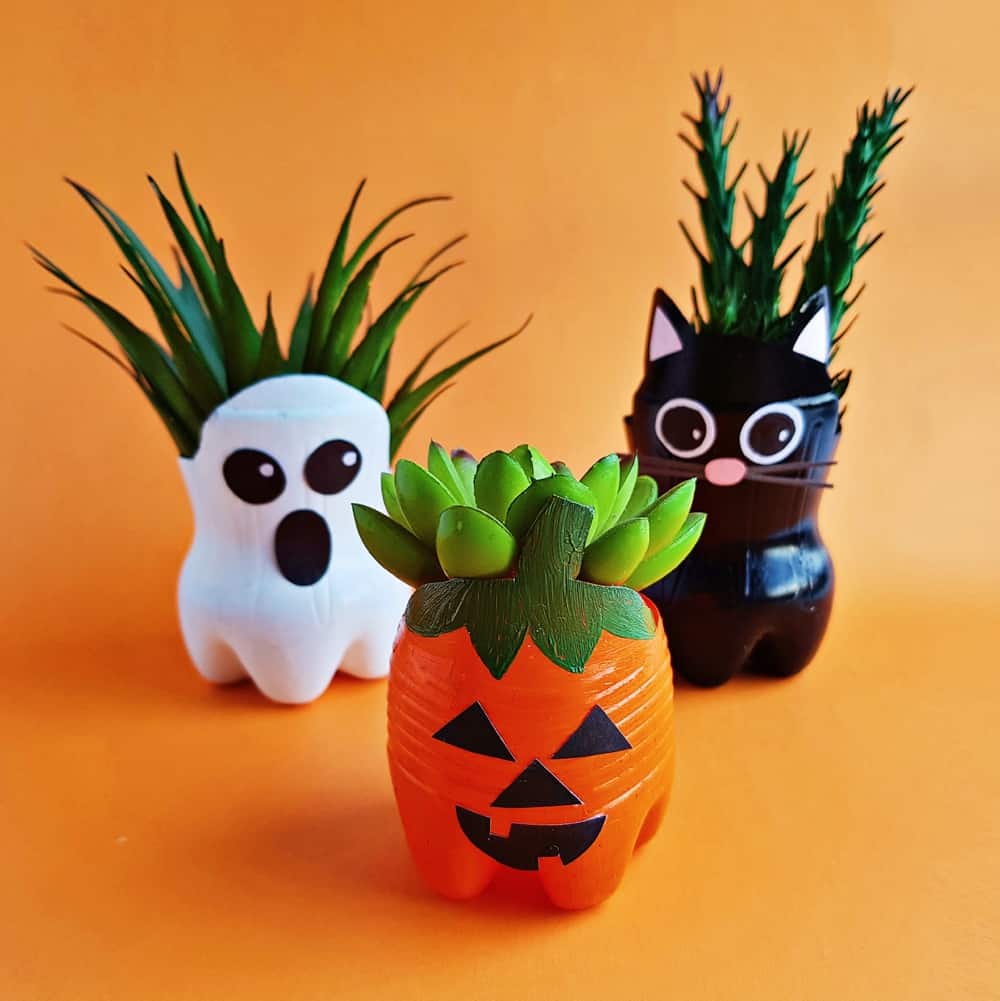 Recycle used water bottles into these cute and not too spooky Halloween recycled bottle planters!
Make it a "green" Halloween by creating these cute ghost, Jack O' Lantern, and black cat Halloween Recycled Bottle Planters.
Do you love Halloween crafts as much as I do? More than likely if you're here reading this, the answer is probably "yes".
With Halloween literally right around the corner, the time is now to start working on some of the best DIY Halloween crafts. After all, we've already made our Halloween Costumes for the kids this year!
And I can assure you that these Halloween Recycled Bottle Planters don't disappoint. Not only are they super simple to do but they're not spooky at all.
Who says that Halloween time has to revolve around doing things that are going to frighten the kids? Instead, why not spend time together creating this fun and simple Halloween activity instead?
The whole point of this fun craft is to create some great Halloween decor together while spending time with your little one as well.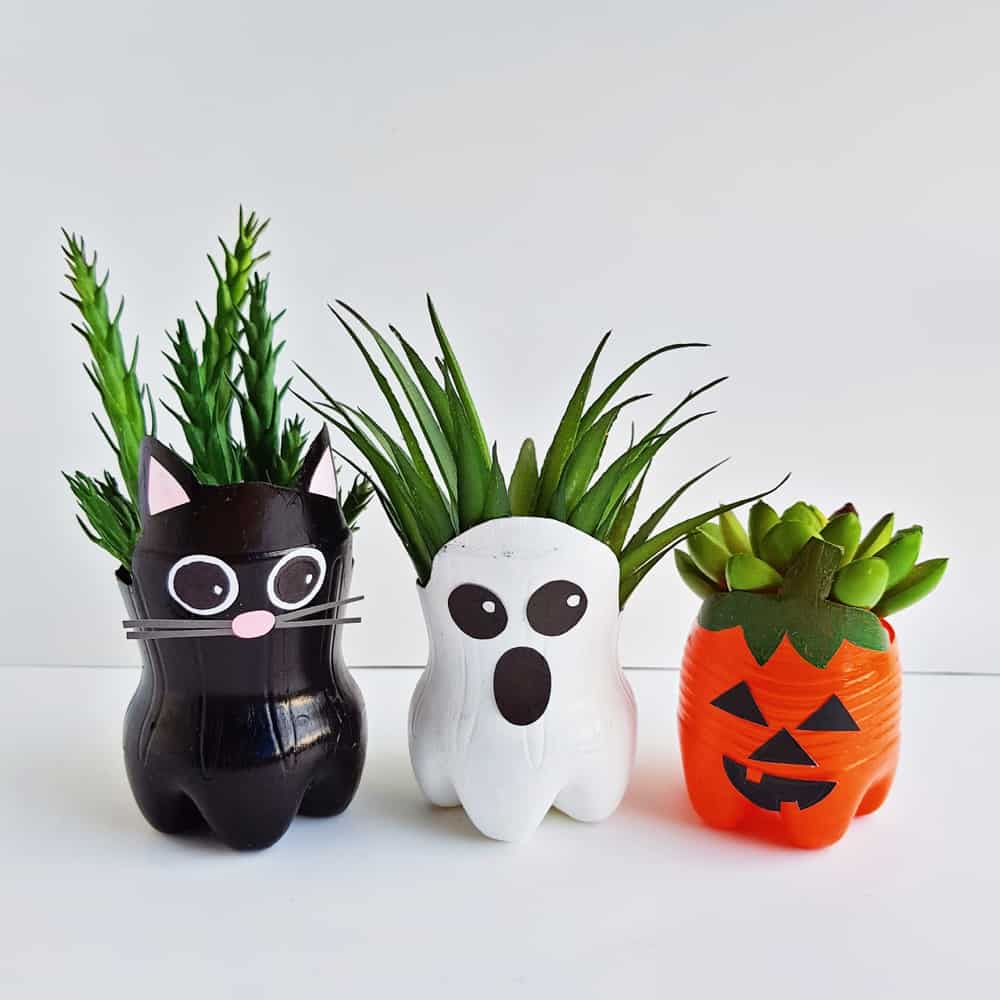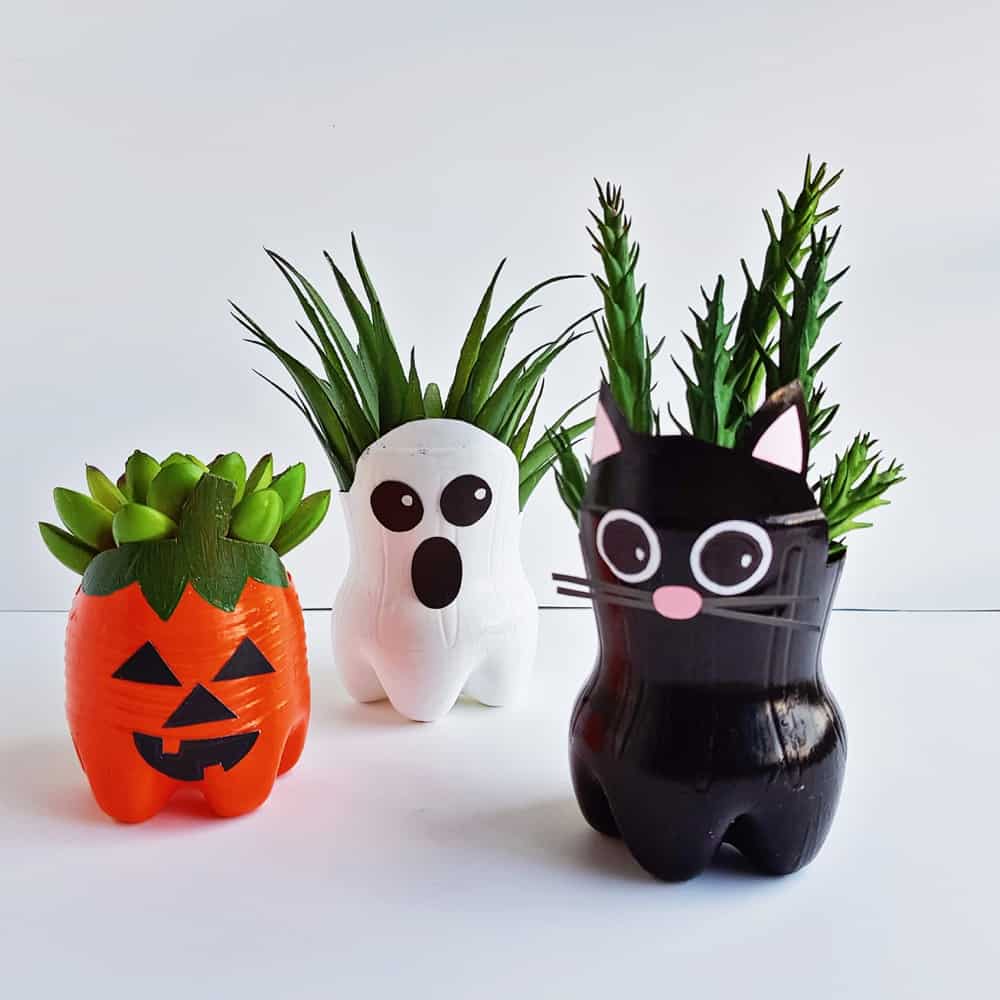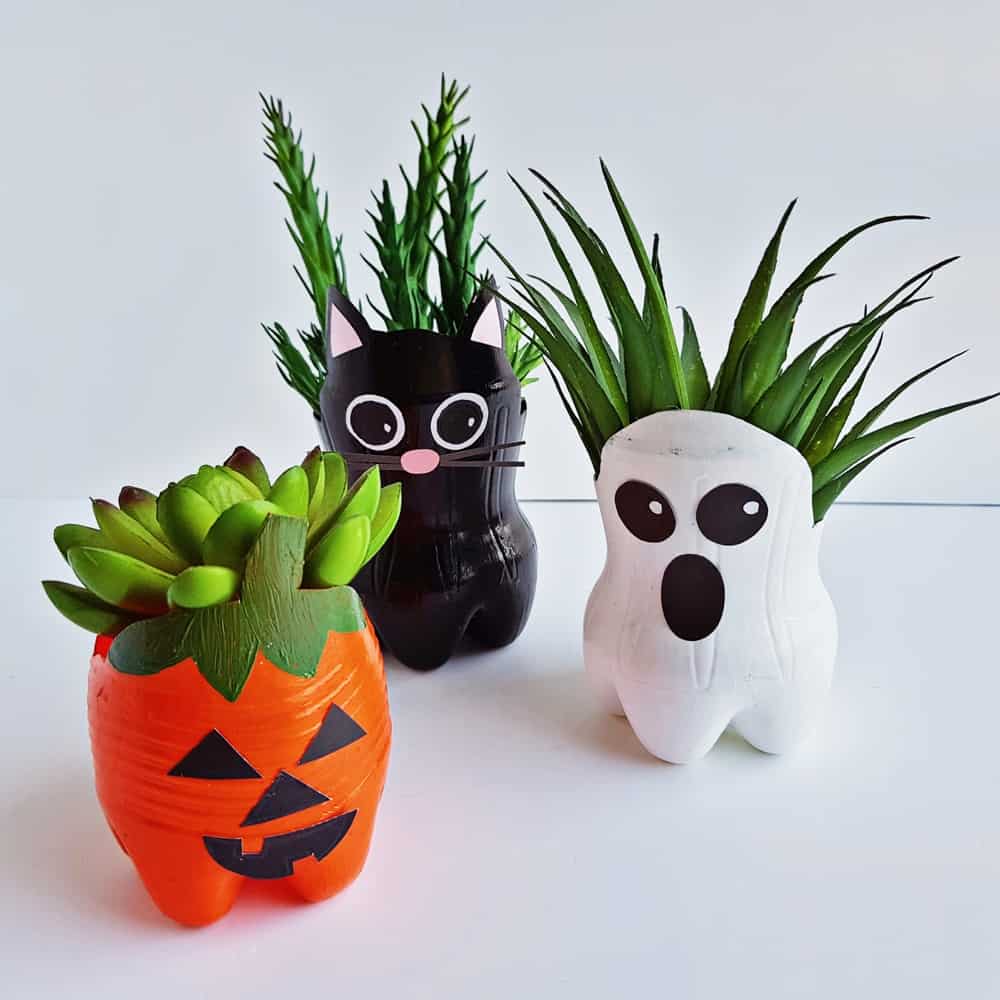 This cute recycled Halloween art project for kids is also a fun planting project!
I know, Halloween isn't really the season to think about planting and gardening. It is fall not spring after all! However, durable plants like succulents live year round and are super easy to plant. We love recycling items around the house to create planters, and what could be easier than reusing old bottles?
How difficult is this Halloween Recycled Bottle Planter to make?
That's the great part! They're not hard at all. All you need are a few simple supplies and just a little bit of creativity to make these happen. You'll actually be amazed at how quickly they come together once you get started.
The main materials are just the bottle and paint. And we also provide a FREE Printable template for the features like the Jack O' Lantern face and cat eyes, whiskers and nose.
Grab the printable in the how-to card below.
Even though this Halloween craft is super simple to make, you still need to make certain that you're there with your child while they're making them.
Anytime there is any sort of craft or activity that you can do with your child, sit down and do it with them! This helps to keep them safe and also creates a way to have wonderful memories of your crafting time as well.
What type of bottles works well for this Halloween craft?
For this craft to truly work, make sure that you use bottles that have a wide enough base that you can actually plant inside of them.
You also want to be certain that you're using plastic bottles as well so that they're super simple to cut in half. (Plus, there's the whole fact that you're reusing items and saving them from going into the landfill as well! That's awesome!)
If you play your cards right, you should be able to have healthy plants growing inside of this planter with ease. They make a fun gift to hand out to family and friends as well. We love using succulents they really are the easiest plants for simple DIY planters, especially if you don't have a green thumb.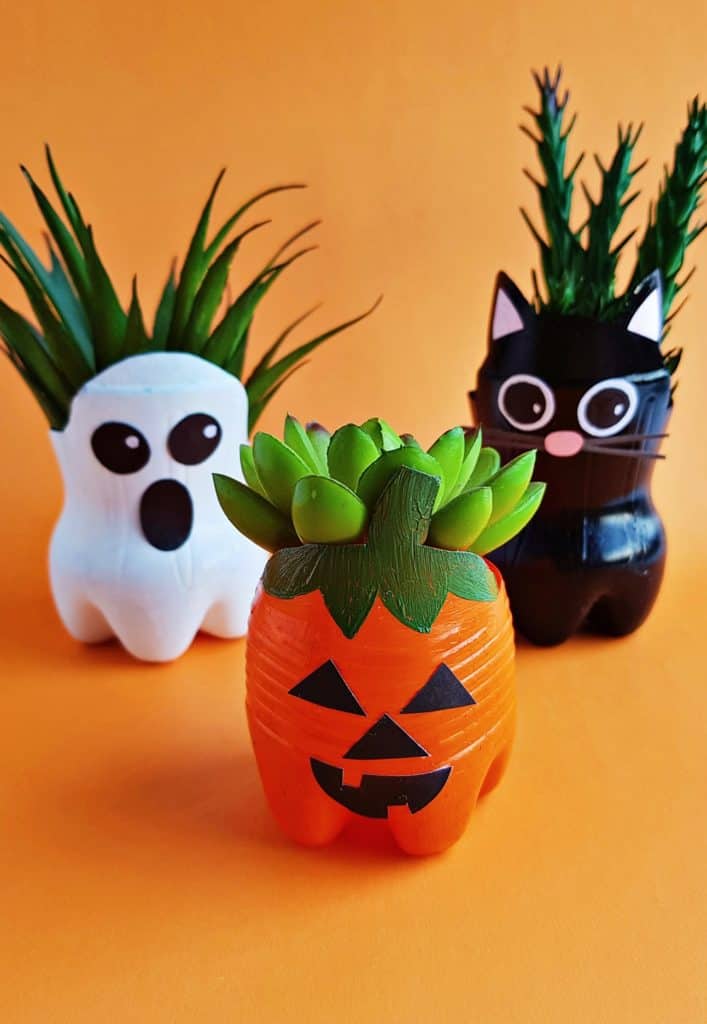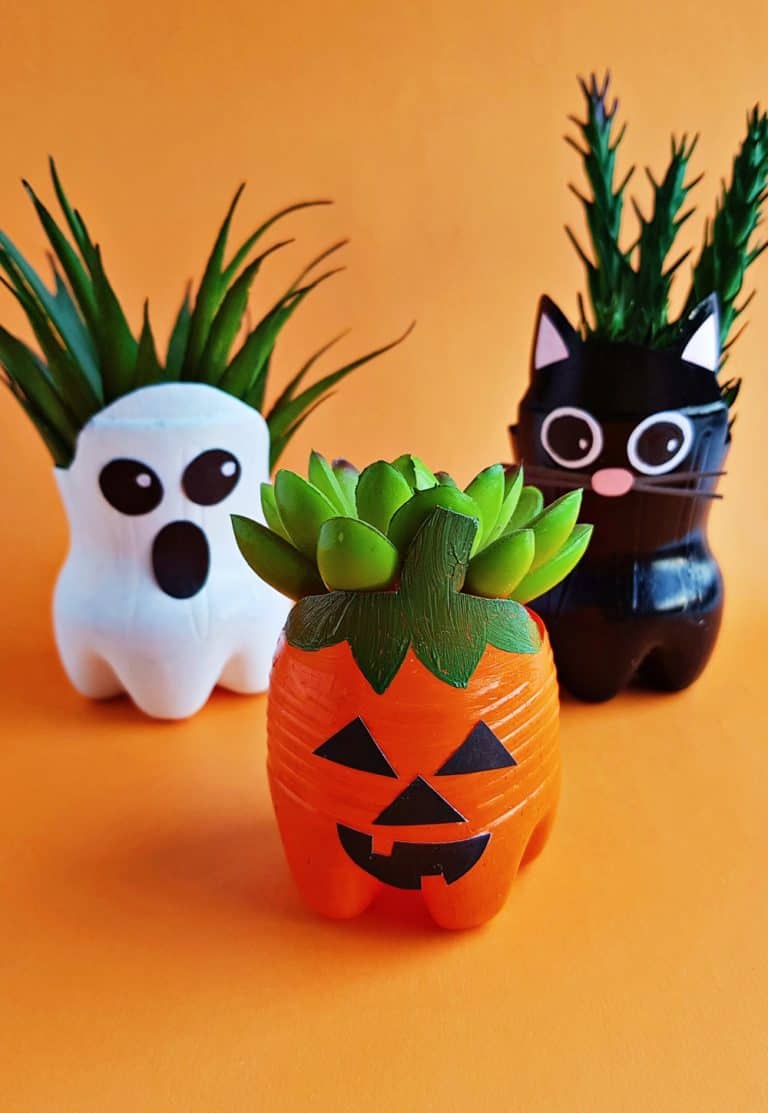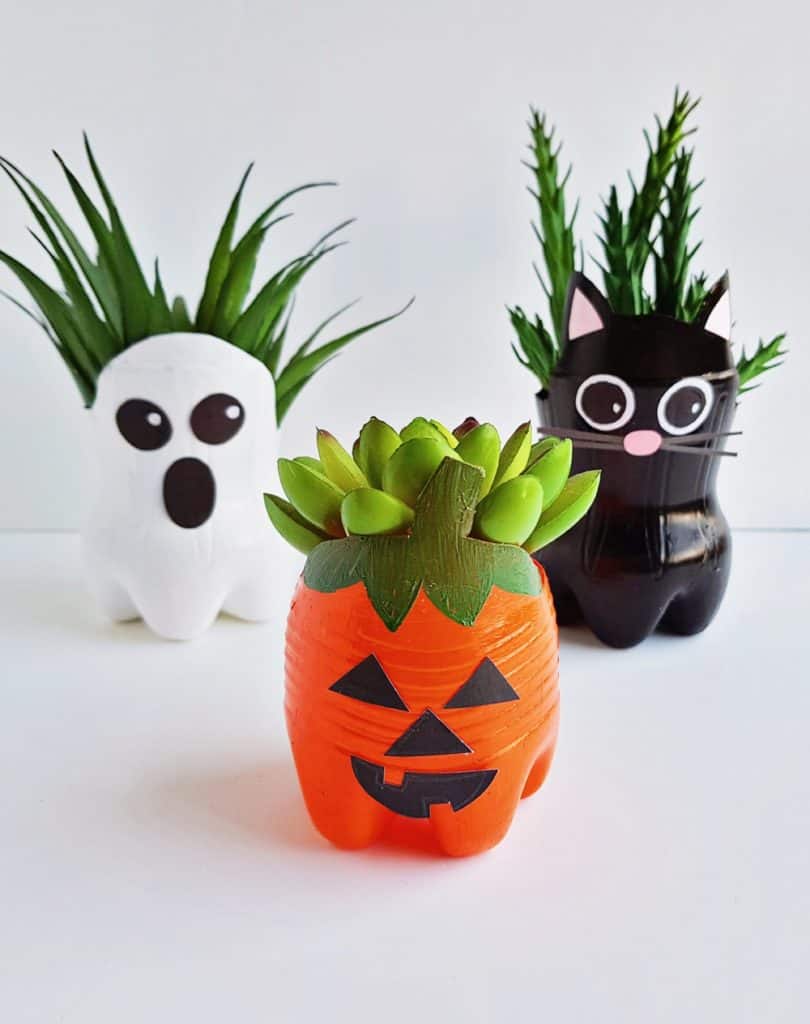 How to create these Halloween Recycled Bottle Planters
Remember earlier when I said that you didn't need a ton of supplies? I wasn't joking at all! If you're wanting a simple craft that you can complete with the hour, this just might be the perfect fit.
Halloween Recycled Bottle Planters – Materials:
Plastic bottle

Marker

X-acto knife or craft knife

Paint brush

Free Printable Template (grab it in the how-to card below)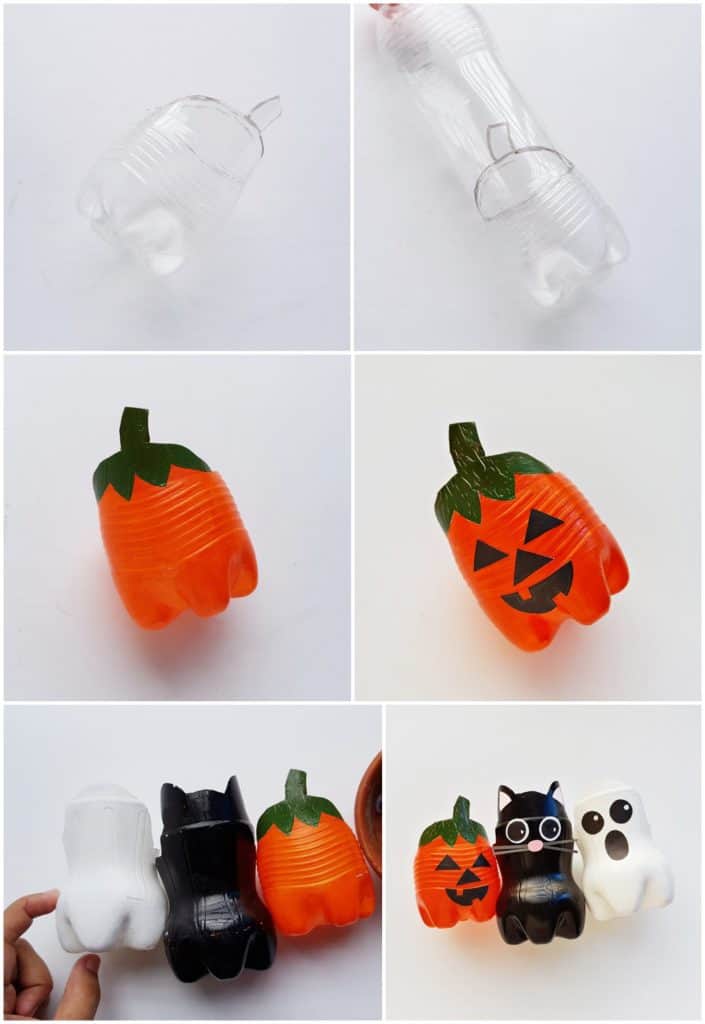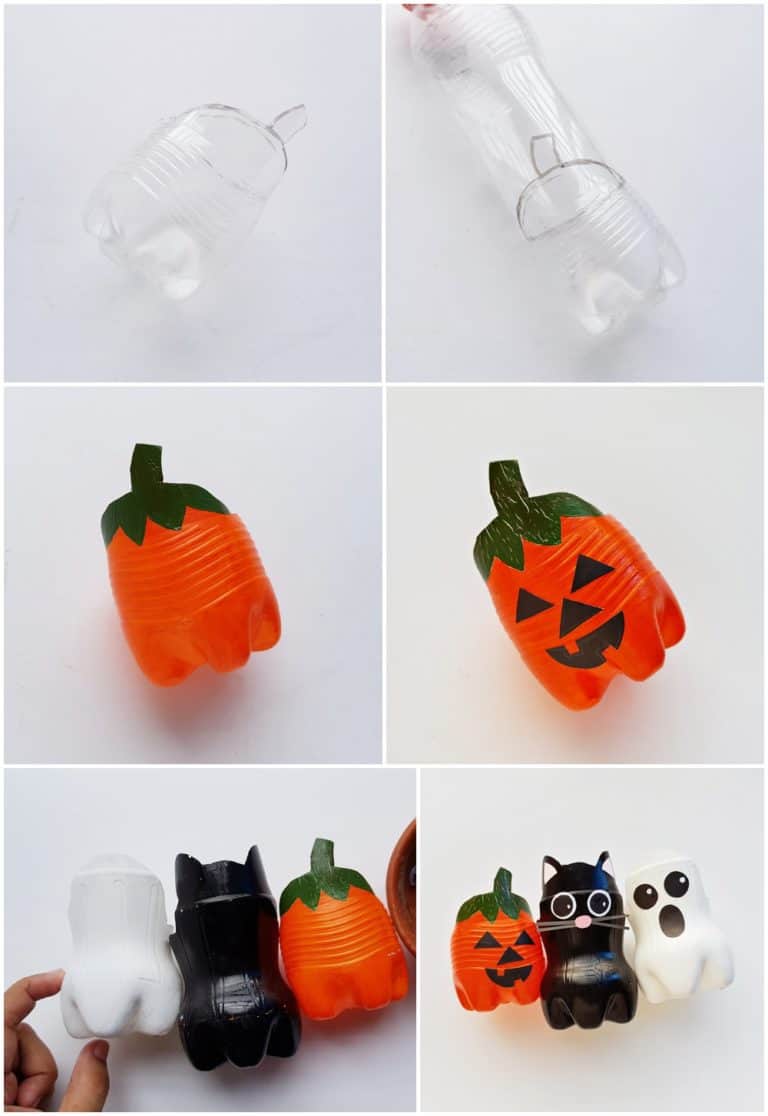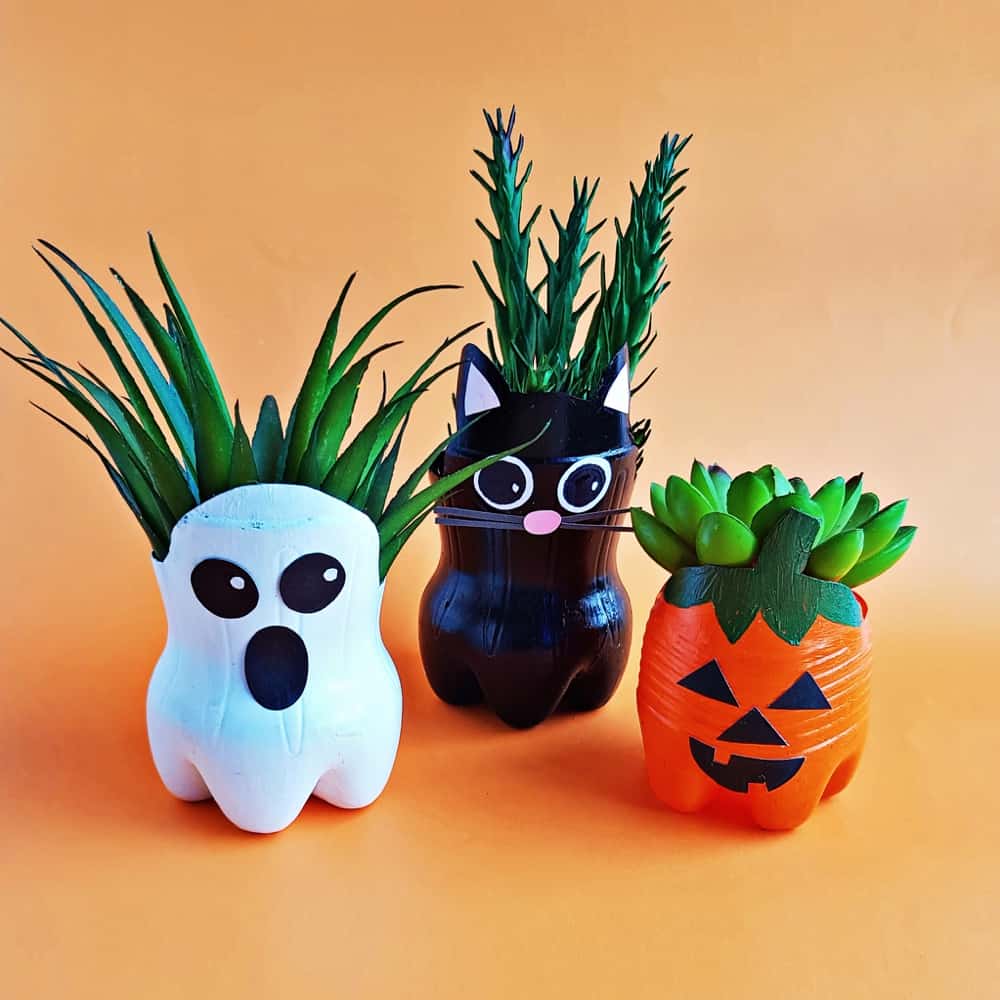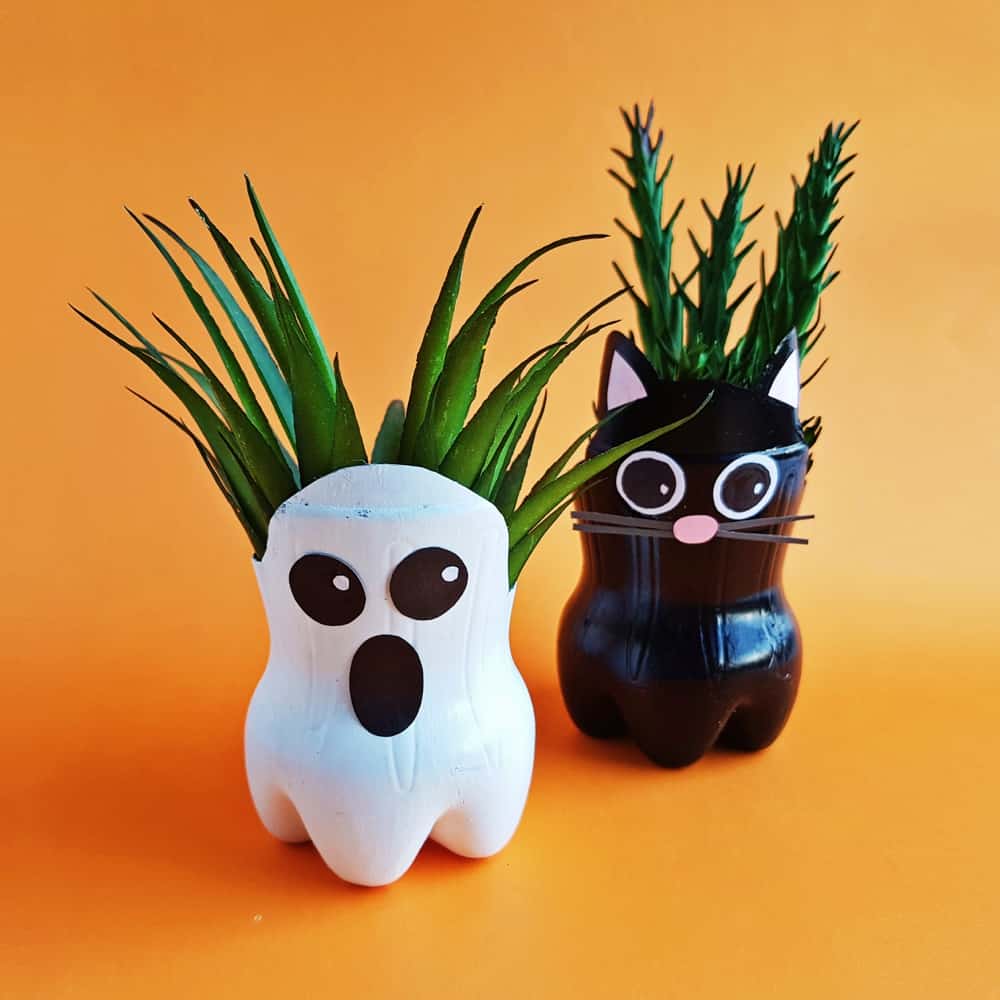 If you love these Halloween Recycled Bottle Planters take a peek at some of our fun Halloween crafts and activities as well.
DIY Mini Halloween Doodle Books
Yield: Halloween Recycled Bottle Planters
HALLOWEEN RECYCLED BOTTLE PLANTERS CRAFT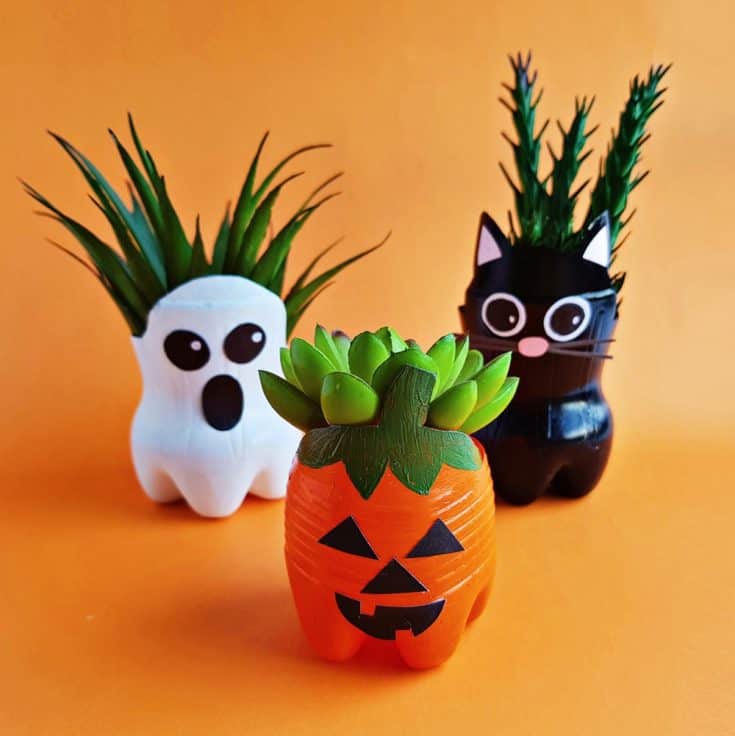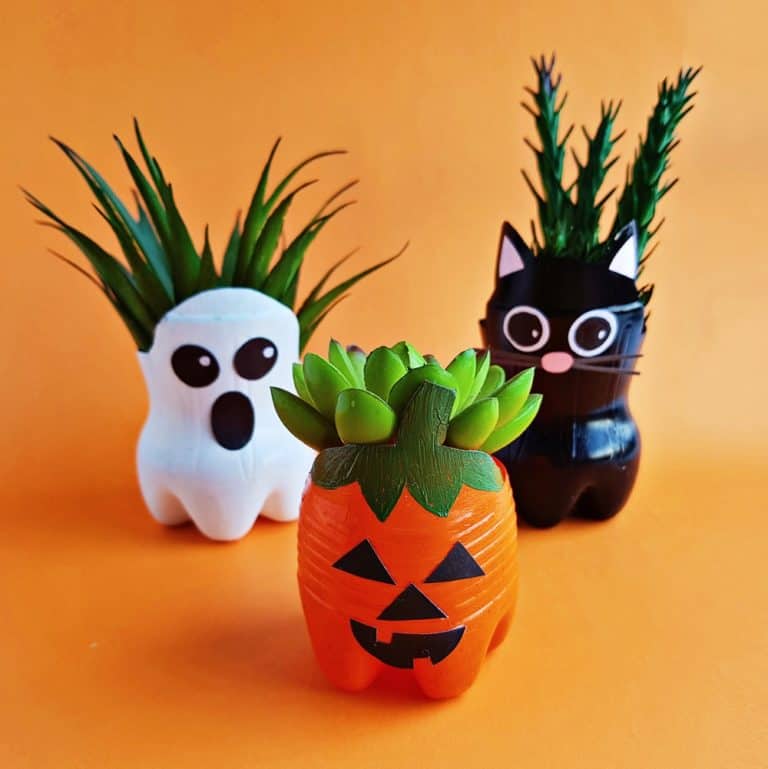 Recycle used water bottles into these cute not too spooky Halloween recycled bottle planters! Fun recycled Hallowen art project for kids!
Materials
Plastic bottle
Marker
X-acto knife
Paint brush
Instructions
Step -1:

Wash the plastic bottle both inside and outside. Make sure that the bottle is completely dry before starting the craft. Use a black temporary marker pen to trace a pumpkin layout on the bottom side of the bottle. The size of the pumpkin would depend on your choice as well as on the size of the bottle.

Step -2:

Use an x-acto knife to cut out the traced pumpkin layout from the plastic bottle.

Step - 3:

Apply a coat of white acrylic paint on the outer surface of the cutout plastic bottle pumpkin. Allow the paint to dry entirely.

Step - 4:

Once the white paint coat dries, apply a coat of orange acrylic paint on the outer surface of the plastic bottle pumpkin and then use green acrylic paint to for the top end. Apply a second of paints after the first coat dries completely.

Step - 5:

Similarly cut out a cat layout and a ghost layout from 2 more plastic bottles. Apply white paint coats on both bottle cutouts. For the cat layout, apply black paint for the second coat and for the ghost layout, apply another coat of white paint.

Step - 6:

Painting the eyes and other features on plastic bottle surface is quite difficult; cutting and pasting paper cutouts items is much easier. Simply print and cut out the Jack-o-lantern eyes, nose and mouth patterns (select the size of your choice) and attach them on the plastic bottle pumpkin.

Step – 7:

Similarly, print and cut out the eyes, nose, whiskers and mouth patterns from the given template for the cat and the ghost; and attach them on the bottle characters accordingly.

______________________________________________________________________________________________________
Disclosure: Some of the links in the post above are "affiliate links." This means if you click on the link and purchase the item, we will receive a small affiliate commission. Regardless, we give our promise that we only recommend products or services we would use personally and believe will add values to our readers.