Follow us on Instagram for more fun ideas for kids!
This cute Toilet Paper Tube Halloween Craft for Kids makes a fun recycled arts and crafts project!
All you need are empty toilet paper tubes, paint and our FREE printable t(download below) to make this cute not too spooky toilet paper tube Halloween cat, ghost and Jack O' Lantern craft.
This Halloween craft also does a great job working on fine motor skills as well; by cutting the printable, and tracing the cardboard cut-outs.
Anytime we can combine a craft that also works on important learning and developing skills, I'm all for it!
And with Halloween approaching, it's time now to start thinking and preparing for all the fun Halloween arts and crafts. There are so many good ones out there to choose from!
While we tend to stick to easier ones that are age-appropriate for the kids, don't be shy in venturing out and finding new things to create. Holidays are a great time to bond with your child and find new ways to create memories together.
I hope that this simple Halloween craft gives you and your child a chance to bond together while creating something unique and fun at the same time.
I know I always get in a happy groove when painting or doing simple art activities with my kids.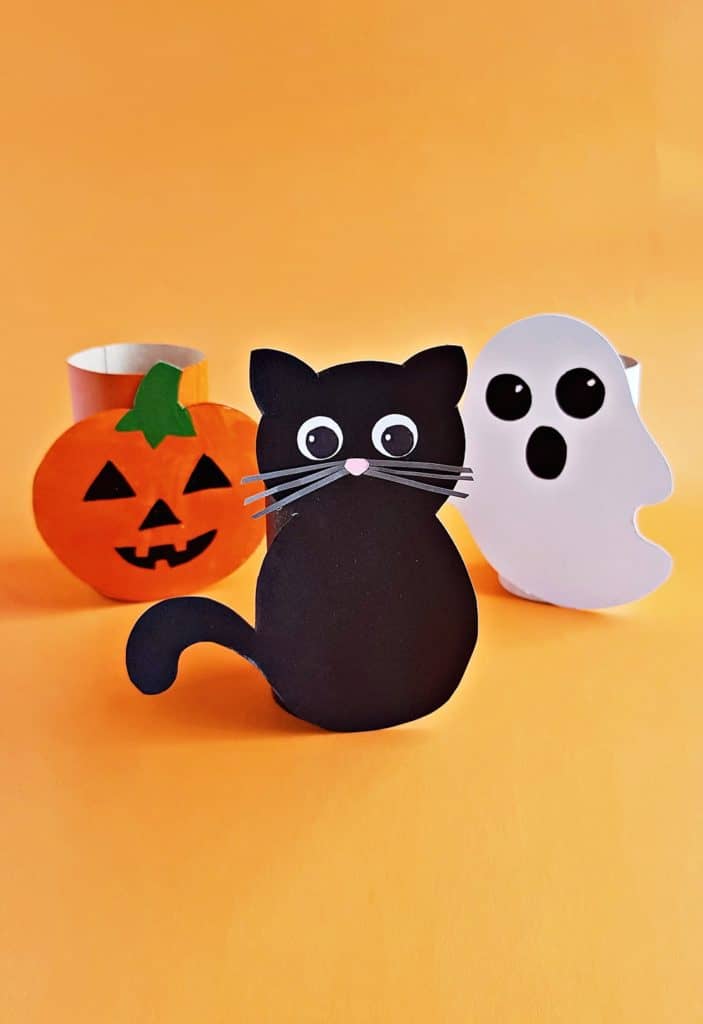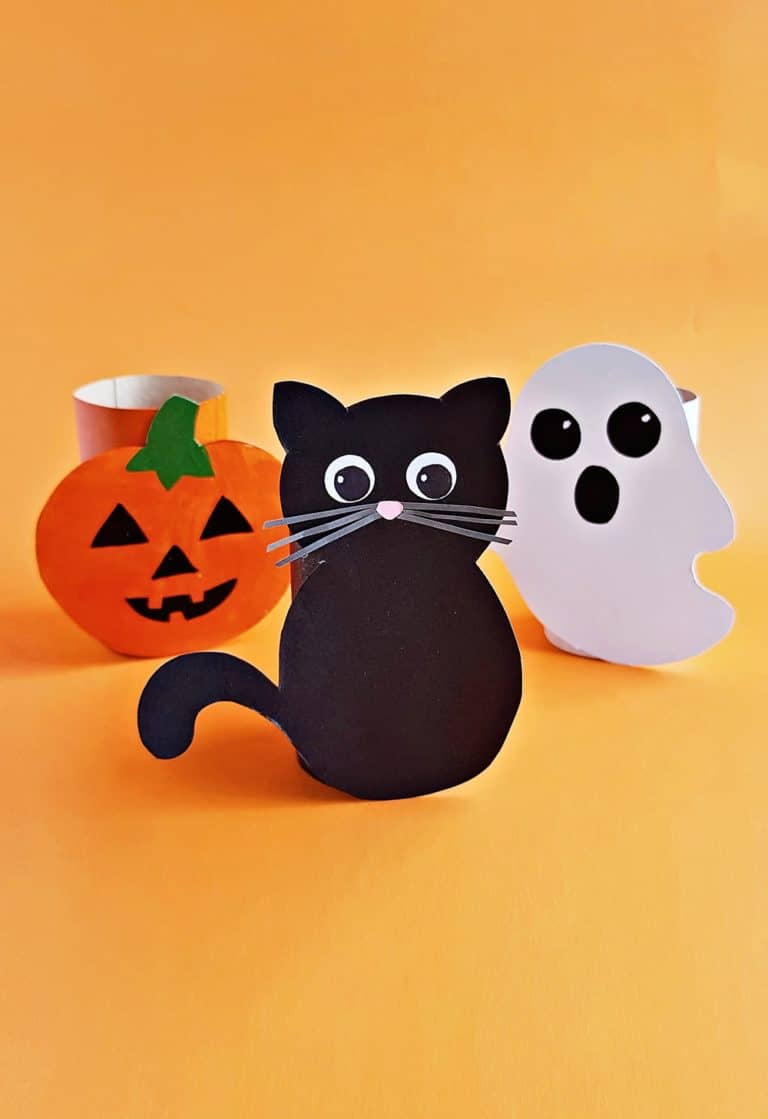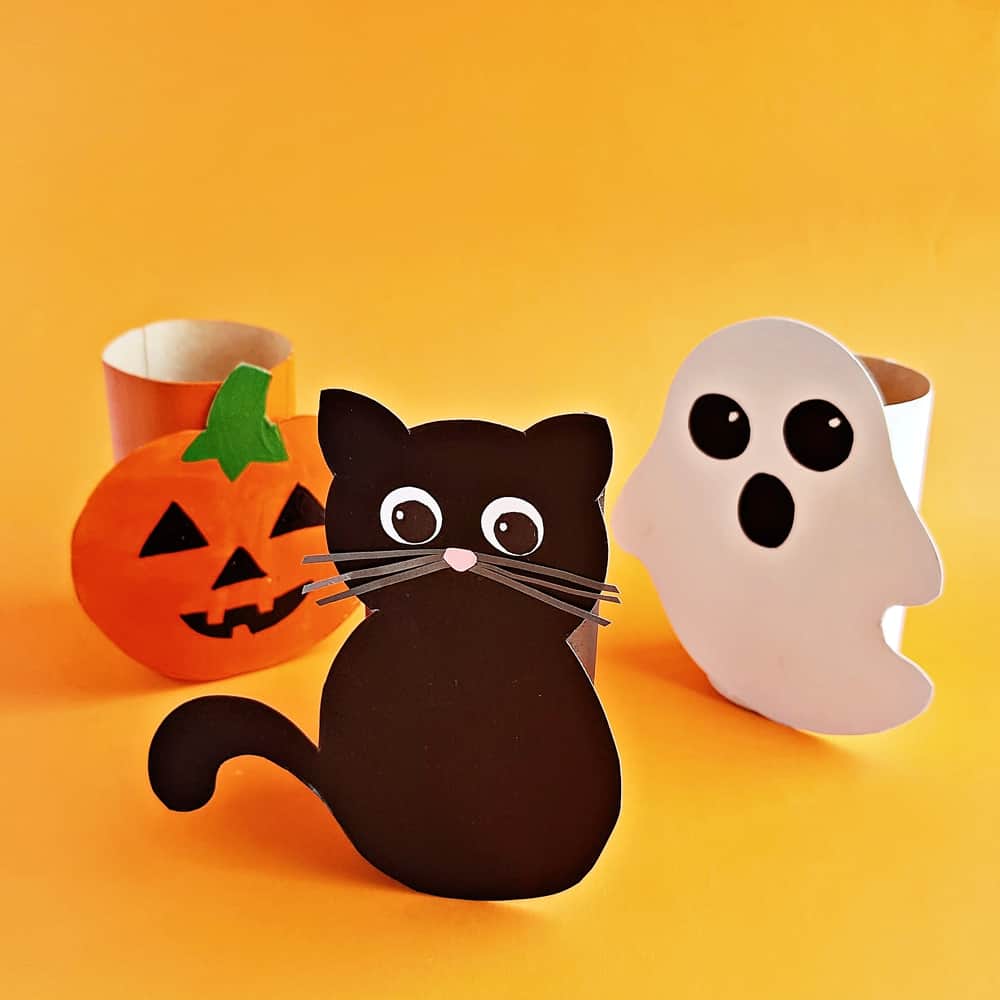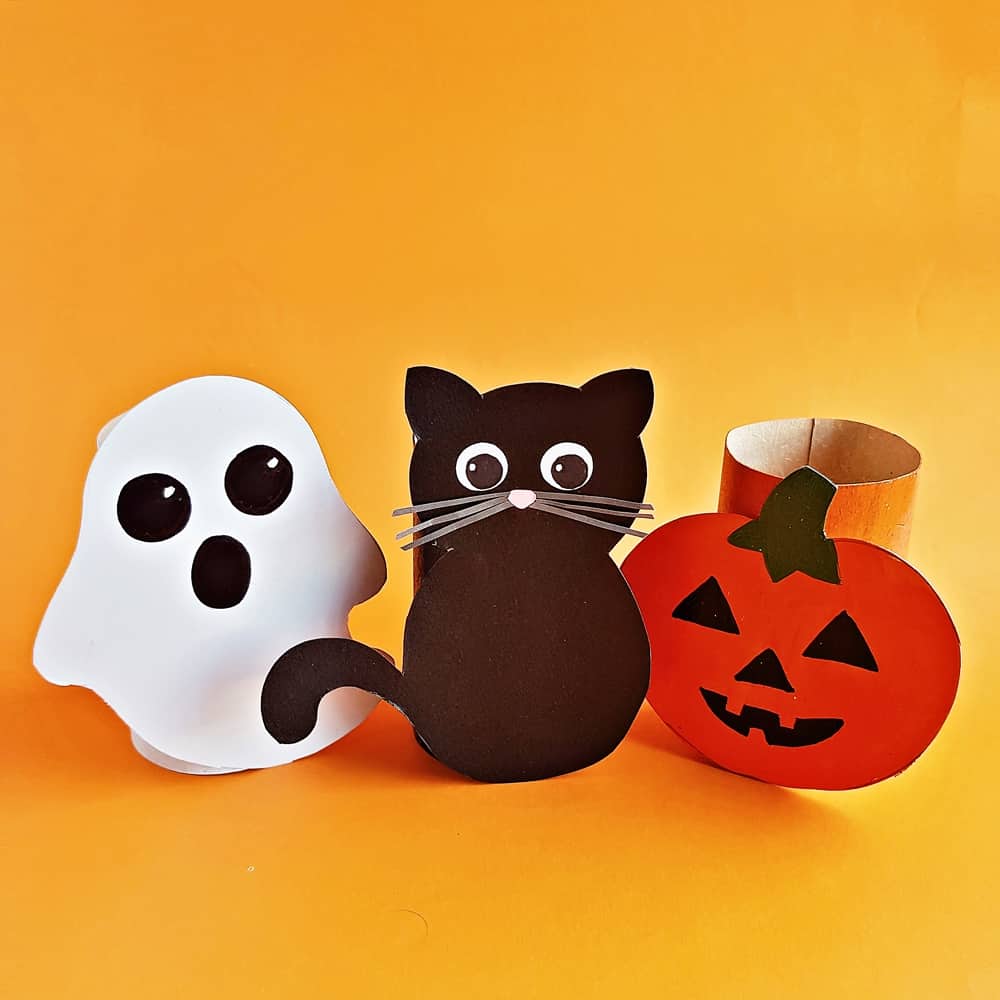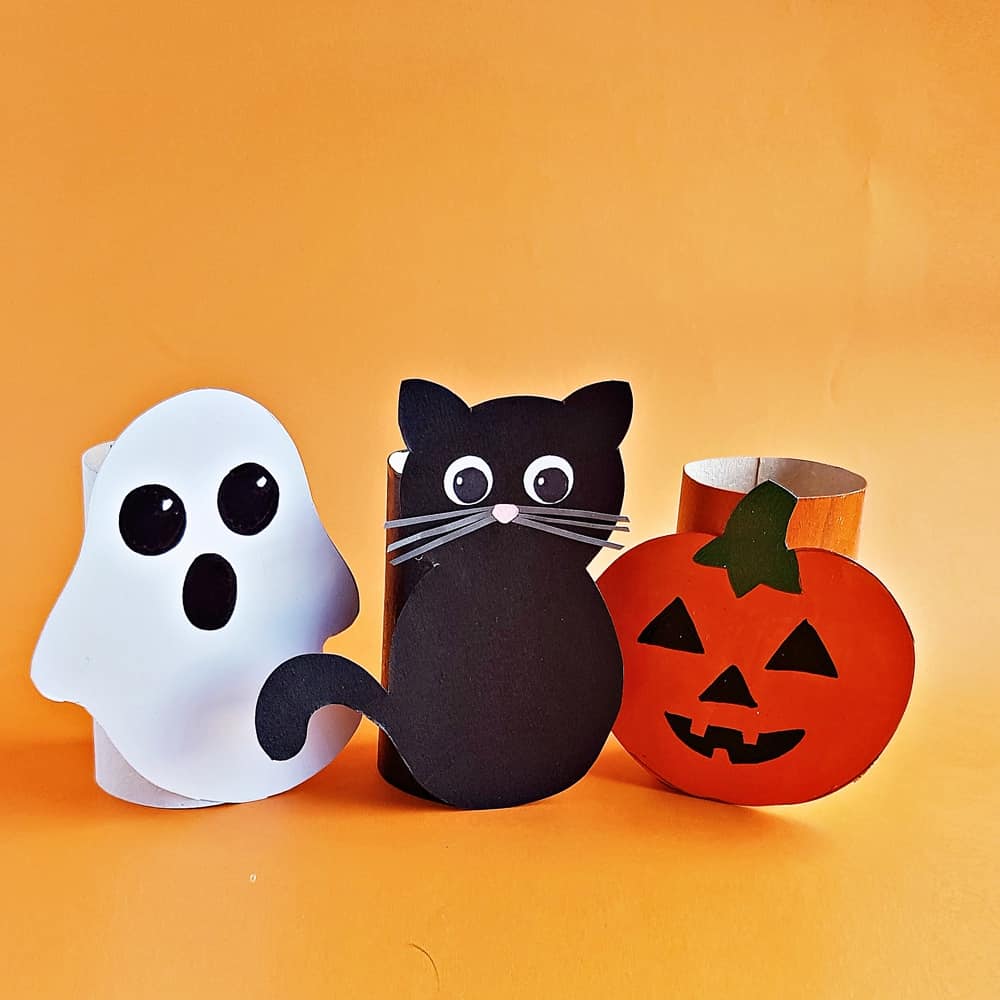 What age is this Halloween craft geared towards?
That's a great question. Honestly, I would say that this is for a preschool age and above. They may need help with cutting thin cardboard, but once that is the case, they can easily paint the Halloween paper tubes and simple Halloween shapes.
This is one of those simple Halloween crafts that actually look really cool so you might just find some of the older kids lining up to join in on all the crafting fun too!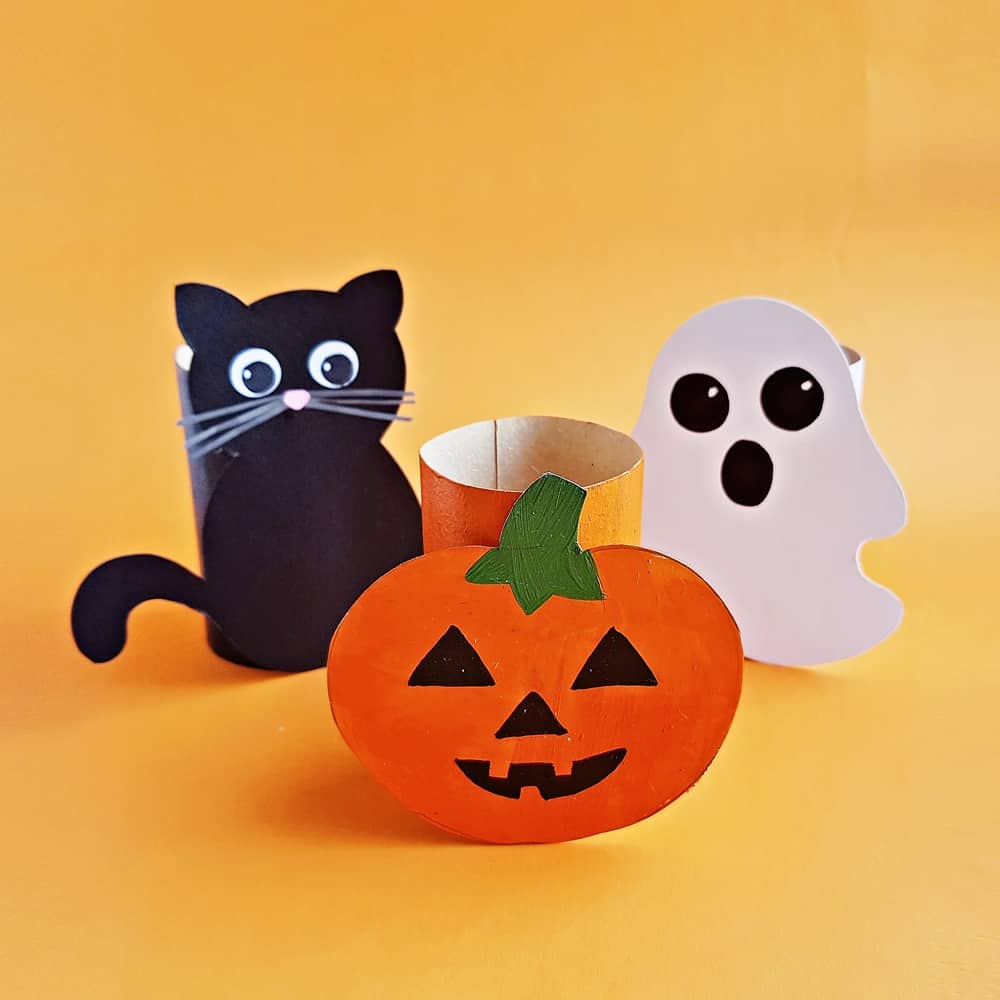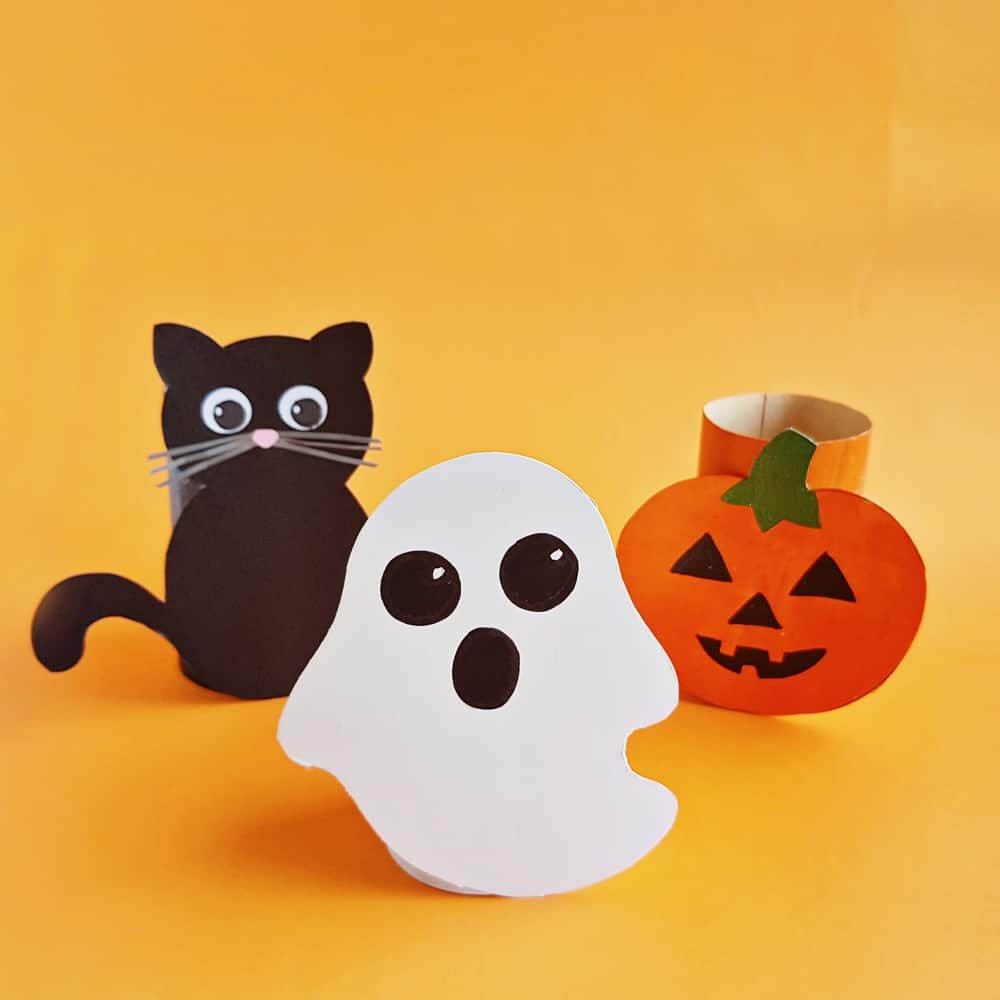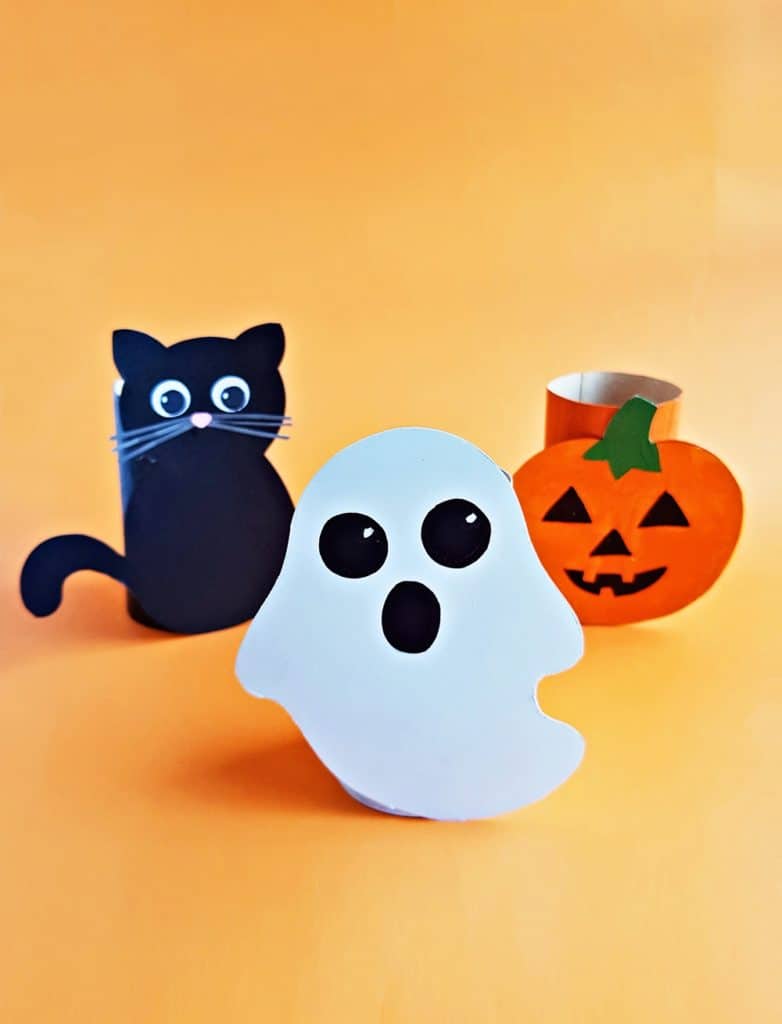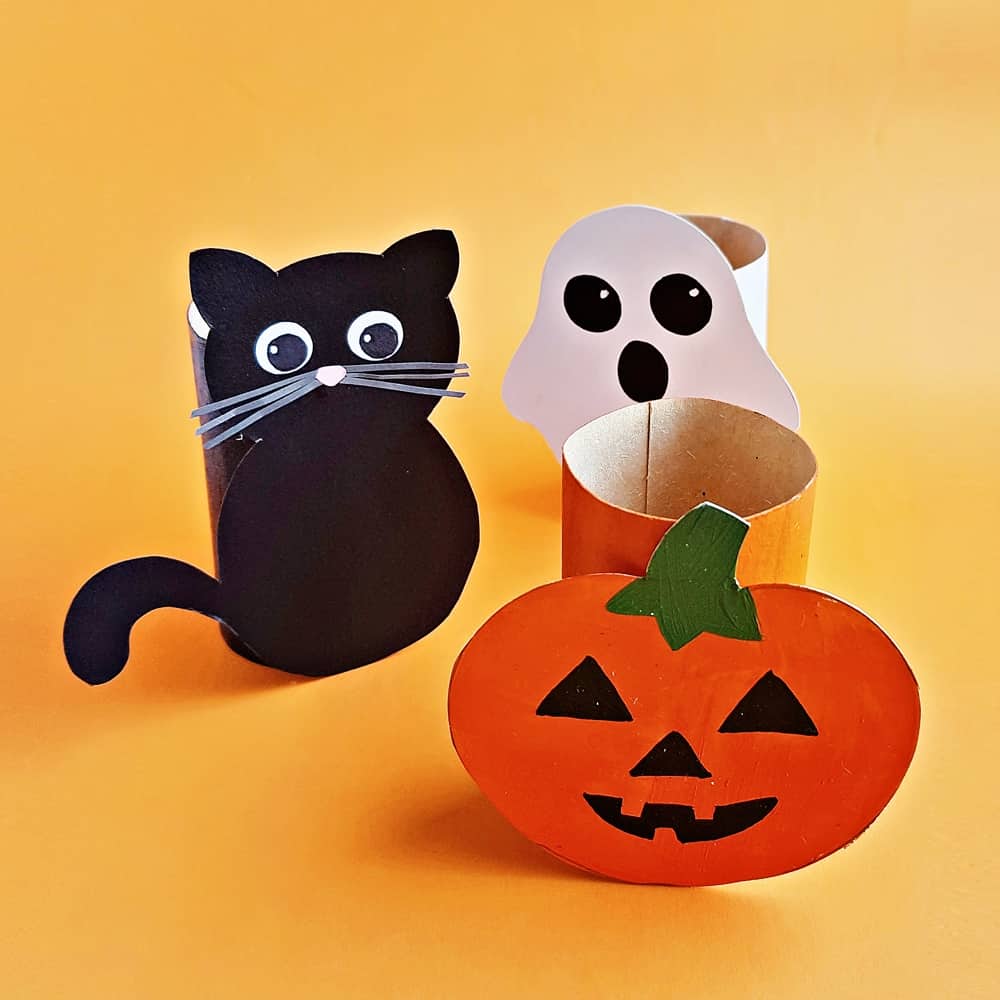 What are some fun ways that this Halloween toilet paper tube craft can be used?
Even though this craft is adorable to look at once it's made, there are actually some other really cool ideas that you can do with it as well.
Give it to a family member or friend so that they can have their own homemade Halloween decorations
Use it as a napkin holder on the table for your upcoming Halloween meal
Sit it on the windowsill of the house so that they look like they're watching people as they walk by
Put a base underneath so it can become a fun pencil/marker holder like with did with this Pigeon Paper Tube Craft!
And these are just a few fun ideas. If your child has something that they want to do with this simple Halloween craft, let them!
Creativity and imagination are just as important as actually making this craft come to fruition.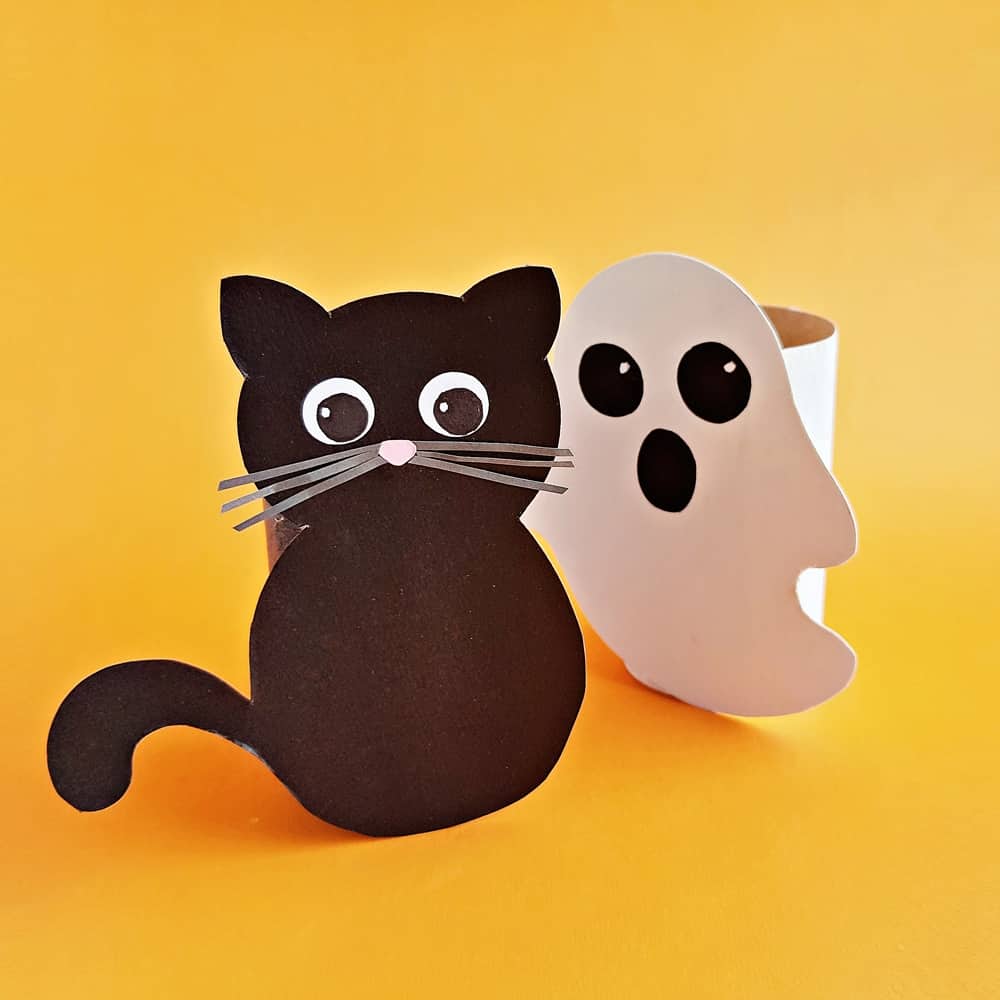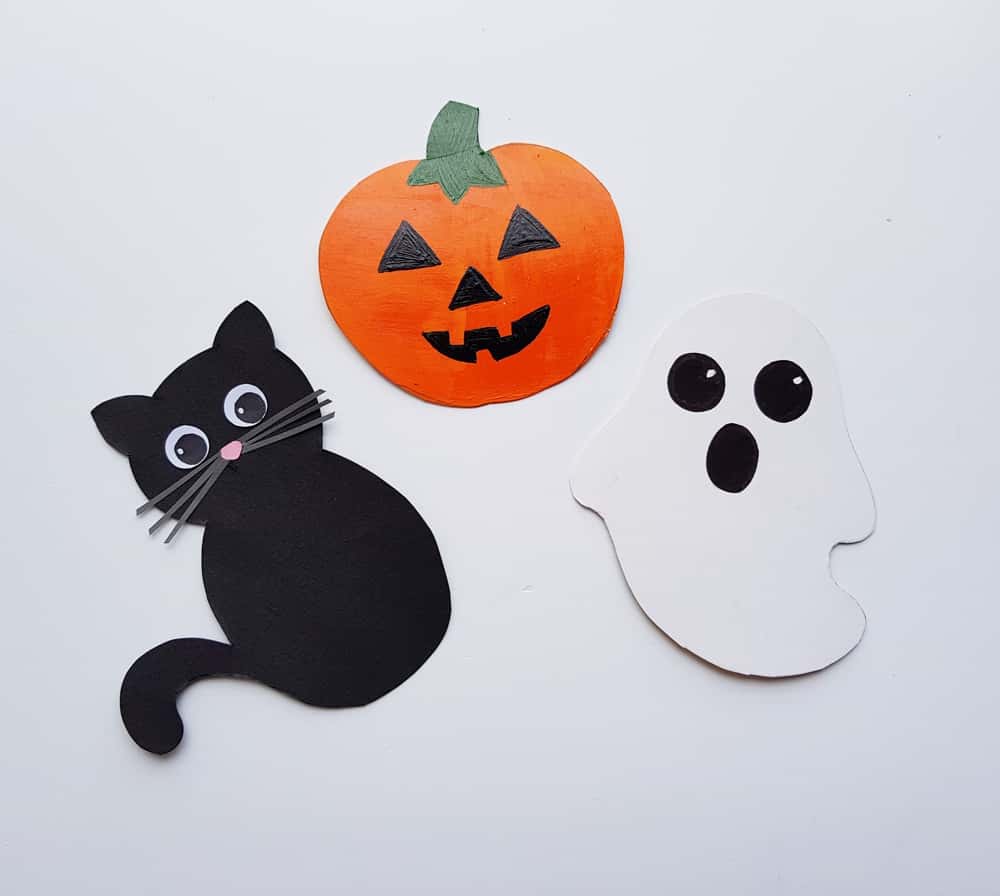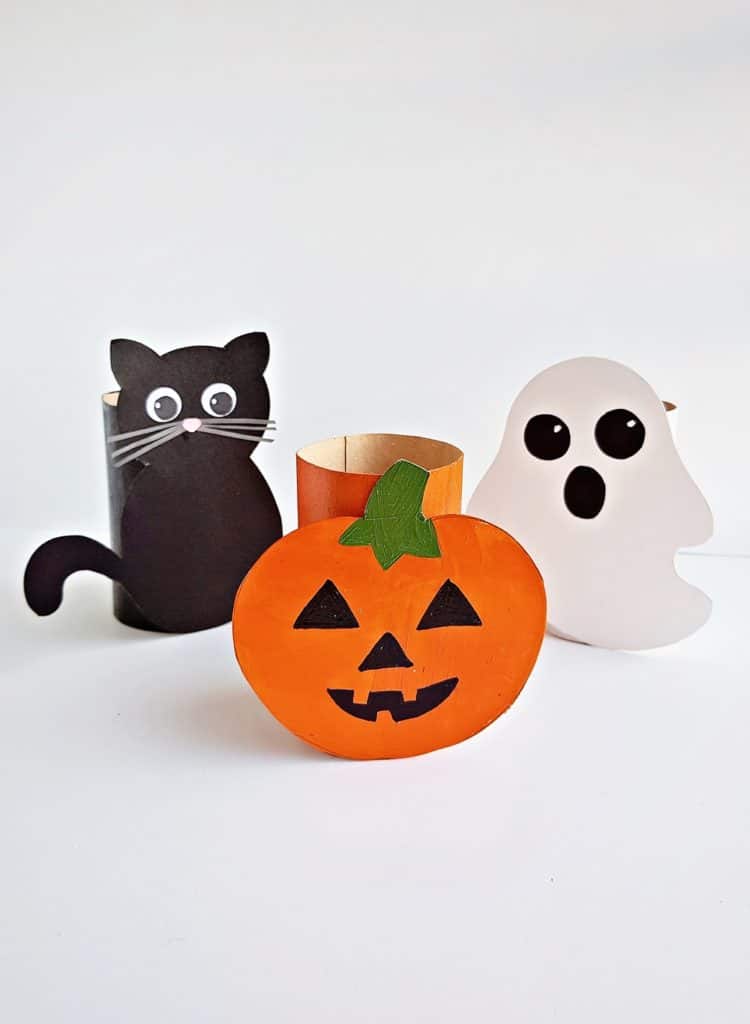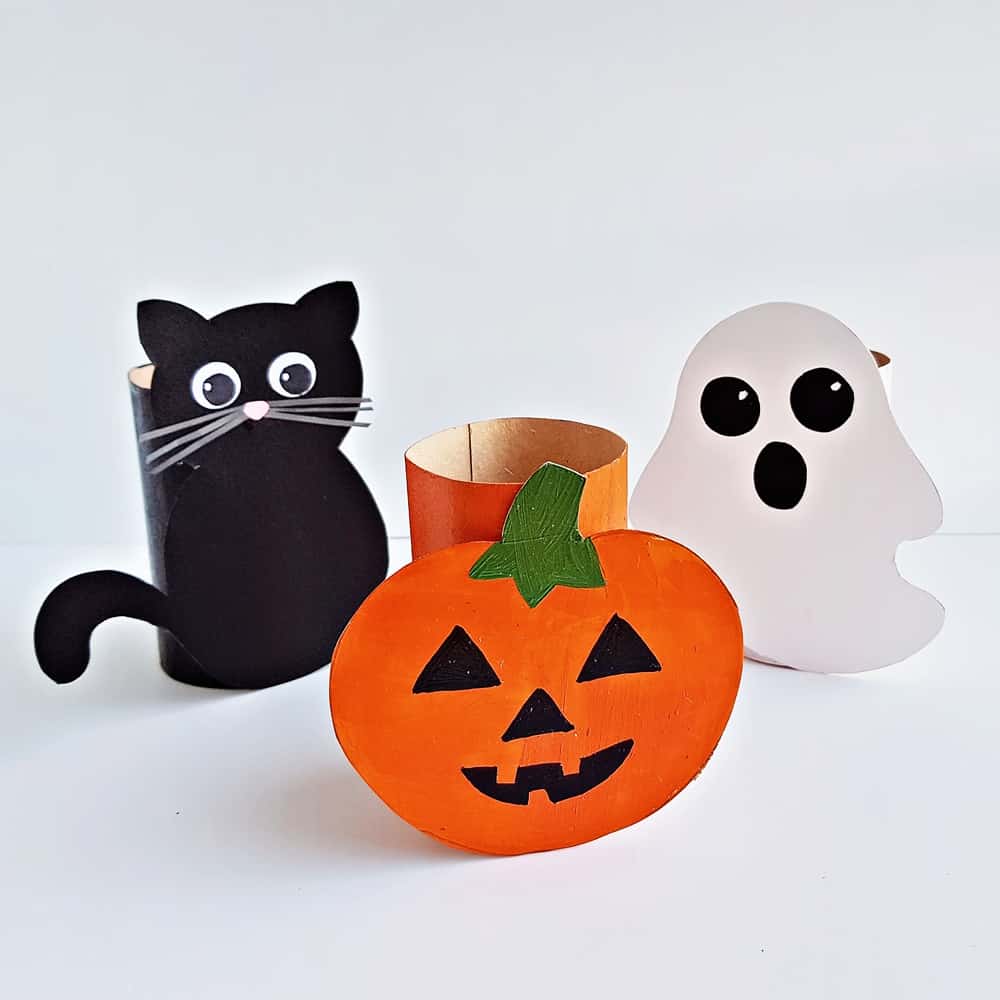 How to create this Toilet Paper Tube Halloween Craft
This is one of my favorite Halloween activities because it's so simple and easy to do. I actually know that once we start this, we'll be done in a short amount of time.
And what that means for me is that I know that we can squeeze this craft in, even when I feel like we have a super busy day.
Plus it gives me another reason to raid our stash of toilet paper tubes. Who else also hoards them for craft days? 🙂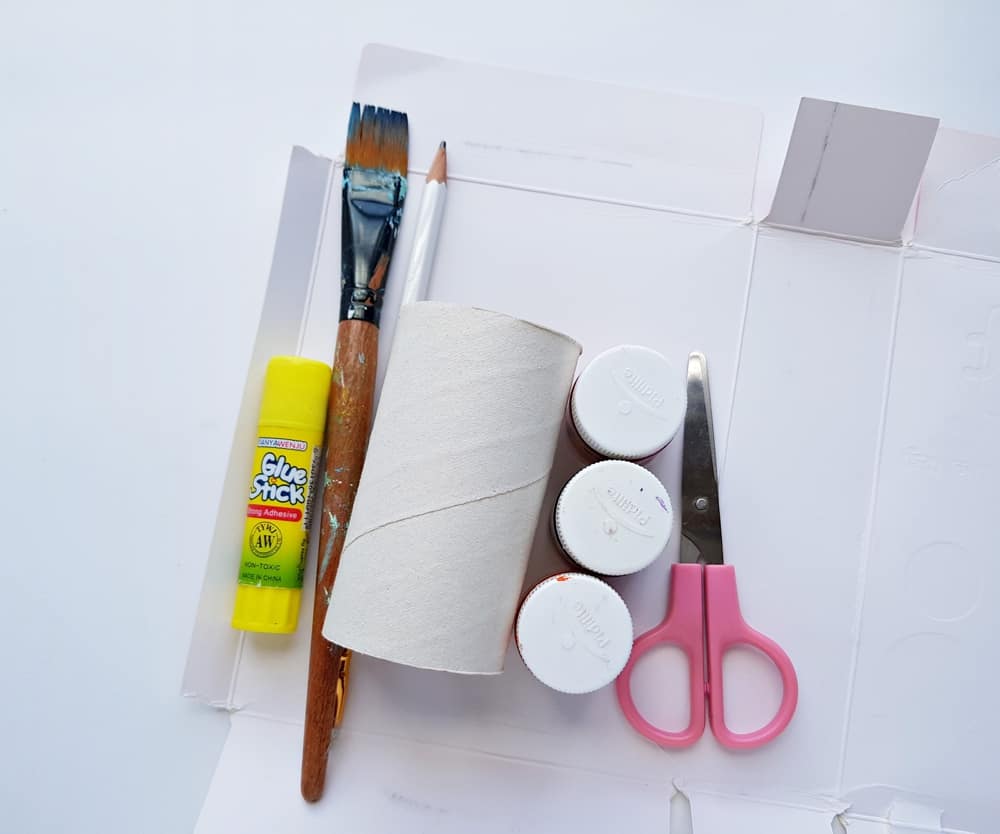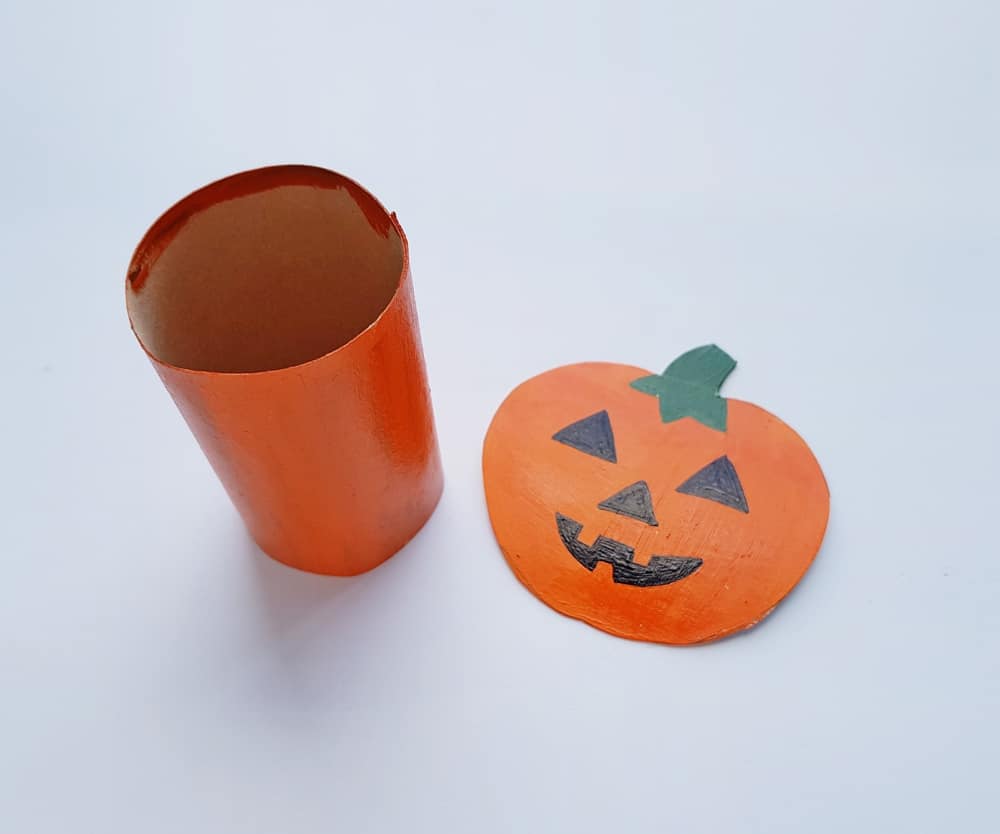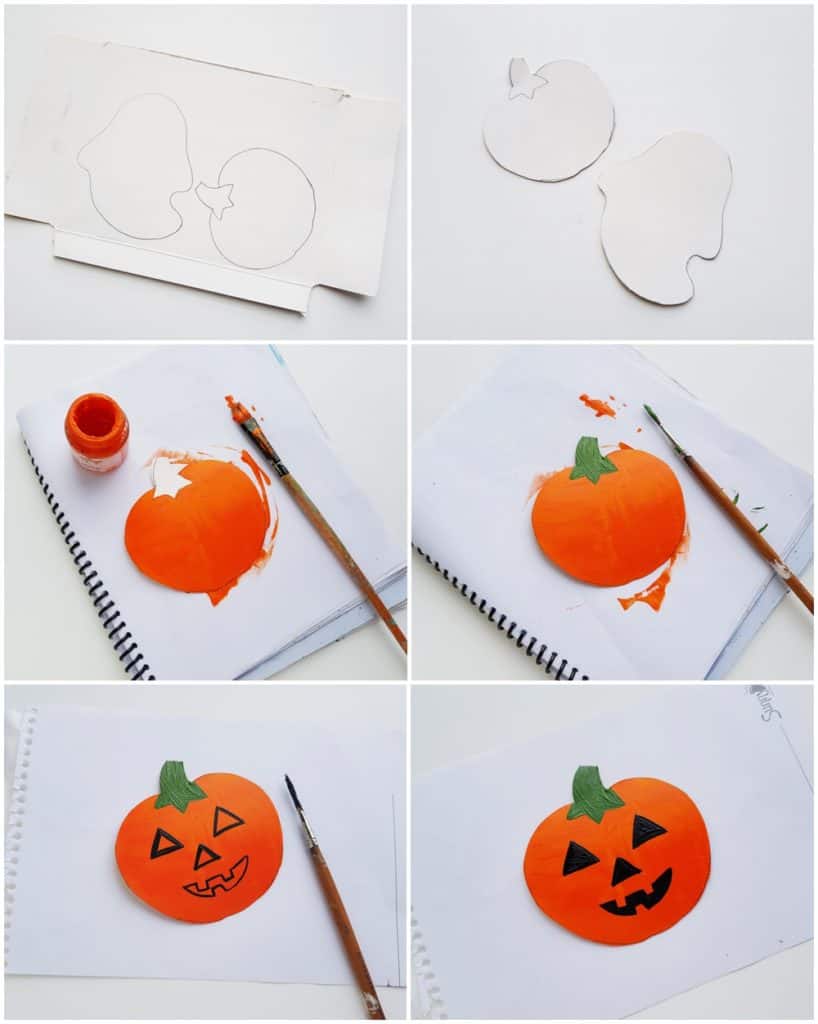 Toilet Paper Tube Halloween Craft – Materials:
Toilet paper roll

Empty cereal box (carton)

Pencil

Scissors

Craft glue

Paint brush
If you love this fun Toilet Paper Tube Halloween Craft make certain to take a peek at some of our fun crafts as well!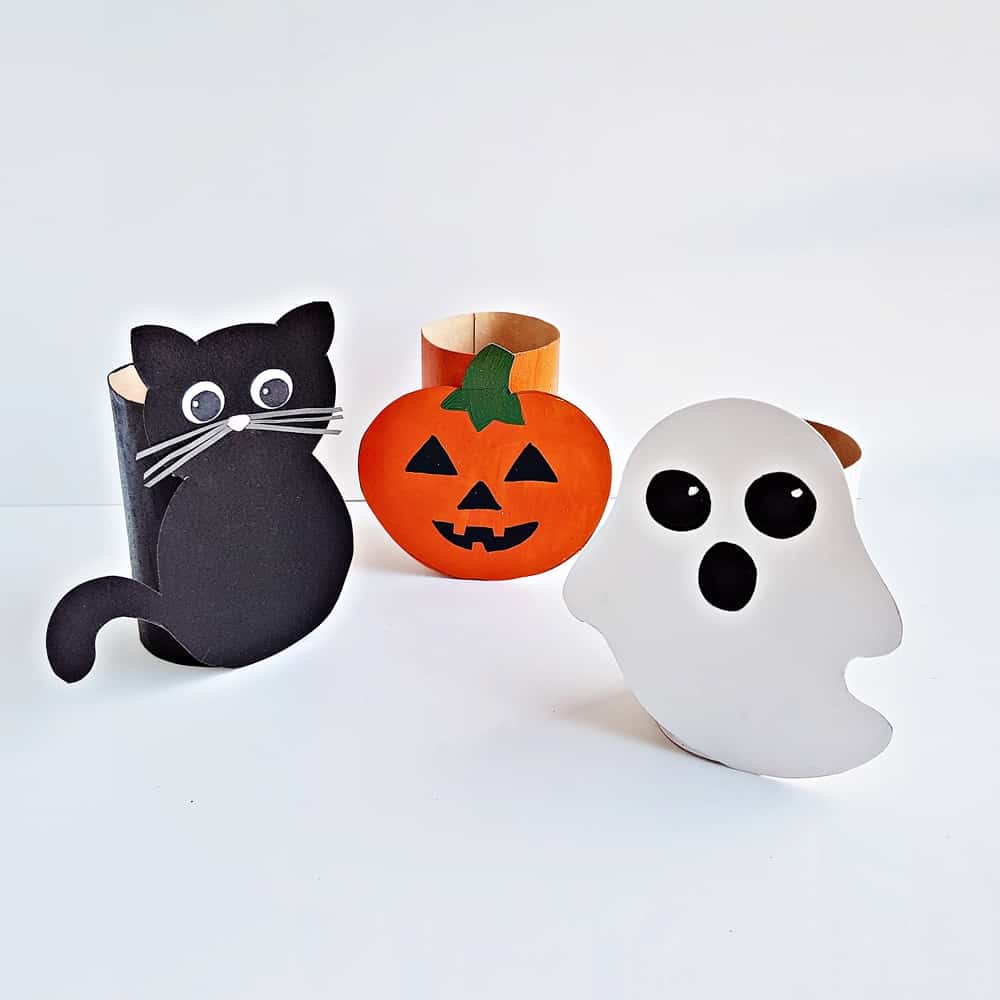 Yield: Toilet Paper Tube Halloween Craft
TOILET PAPER TUBE HALLOWEEN CRAFT FOR KIDS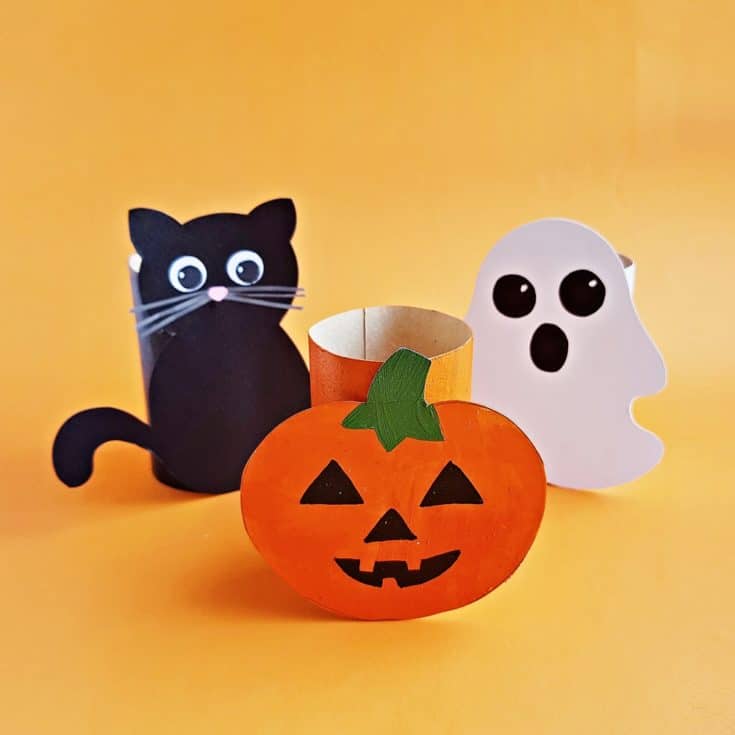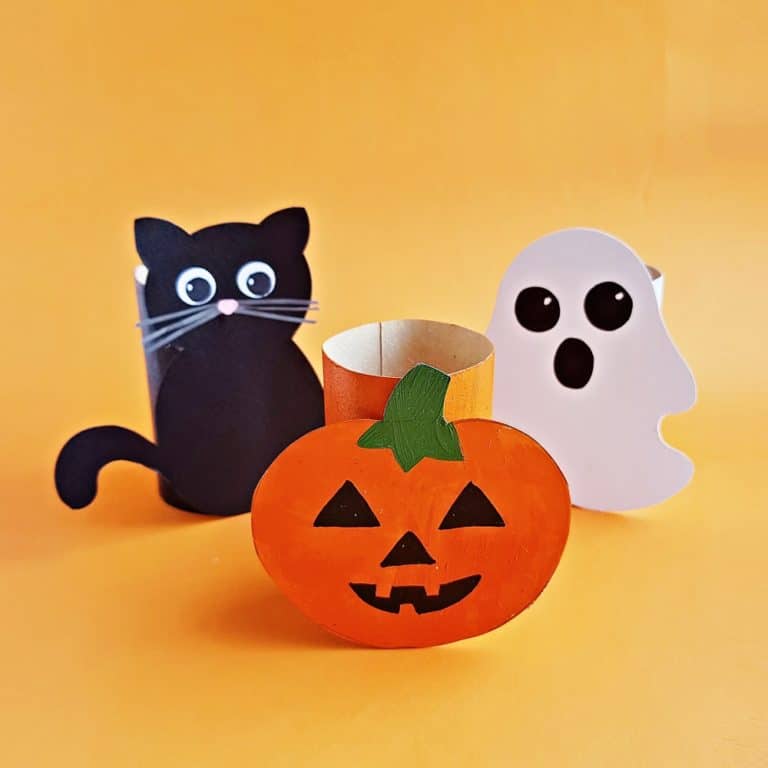 This cute Toilet Paper Tube Halloween Craft for Kids makes a fun recycled arts and crafts project!

Prep Time 20 minutes

Active Time 20 minutes

Total Time 40 minutes

Difficulty Easy
Materials
1. Tissue paper roll
2. Empty cereal box (carton)
3. Pencil
4. Scissors
5. Craft glue
7. Paint brush
Instructions
Step -1:

First of all, print and cut out the template patterns (the cat, the pumpkin and the ghost). Unfold the cereal box carton and use the plain (inner side) side of the carton for the craft. Trace the patterns on the carton with a pencil.

Step -2:

Use scissors to cut out the traced patterns.

Step - 3:

Let's make the pumpkin craft first. Grab orange and green acrylic paints and 2 paint brushes. Paint the pumpkin with the orange paint.

Step - 4:

Paint the stem of the pumpkin with the green paint. Allow the painting to dry completely before the next step.

Step - 5:

Grab black acrylic paint and trace the eyes, nose and mouth patterns of the painted pumpkin (Jack-o-lantern). Or, you can simply print and cut out the patterns; and use them directly for this craft.

Step - 6:

In case you're painting, fill the traced features of the Jack-o-lantern.

Step - 7:

Similarly prepare the 2 other characters (the cat and the ghost).

Step - 8:

Grab a tissue paper roll for the pumpkin and paint its outer surface with orange acrylic paint.

Similarly paint 2 more cardboard tubes (1 with black acrylic paint and another with white acrylic paint). Attach the carton cutout characters on the cardboard tubes which match with their respective colors.

Done!

______________________________________________________________________________________________________
Disclosure: Some of the links in the post above are "affiliate links." This means if you click on the link and purchase the item, we will receive a small affiliate commission. Regardless, we give our promise that we only recommend products or services we would use personally and believe will add values to our readers.