This post is sponsored by Disney Book Group. As always, all thoughts and opinions are my own. Thank you for helping me support the brands that I love.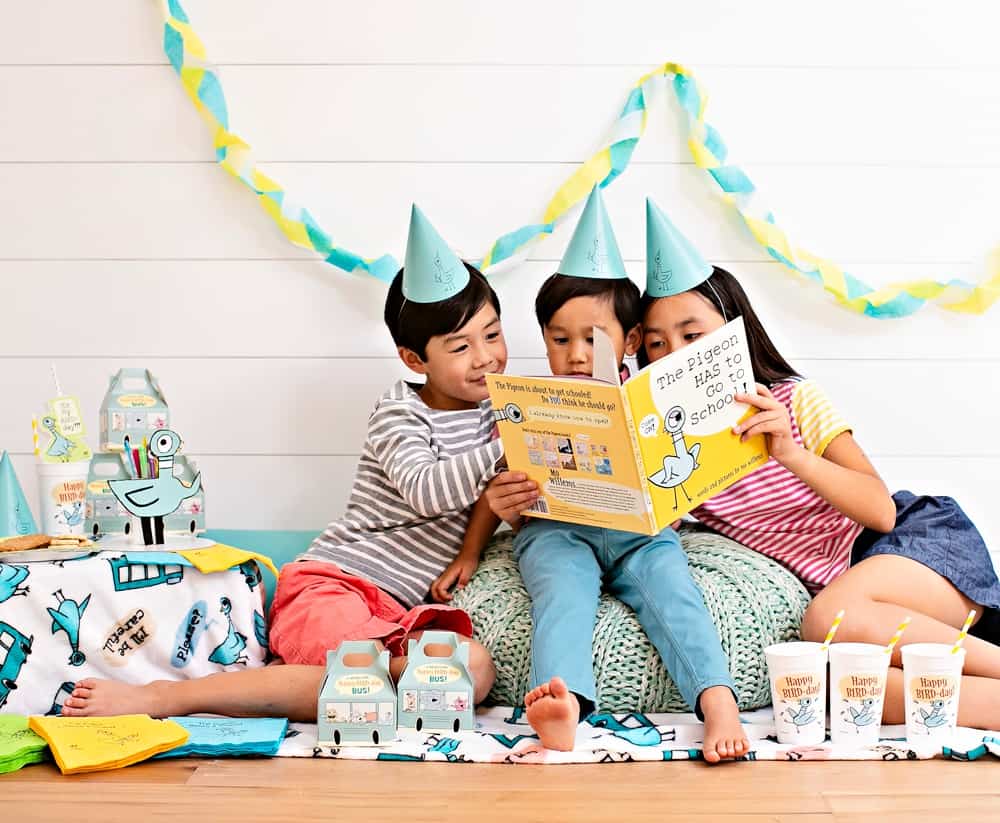 Back to school is right around the corner! Can you believe it? It seems like just yesterday our kids were having end of school year parties.
No matter what grade your kids are starting this year one thing is for sure: they will be nervous starting a new school year. It is normal for all kids to be a little anxious about heading back to school: new teachers, new friends, everything is new!
For our family, we've recently moved and so have to go through the added excitement and unknown of starting a brand new school.
Your kids aren't alone in feeling a bit nervous. Our friend Pigeon is back and he is headed to school…and oh boy, is he nervous!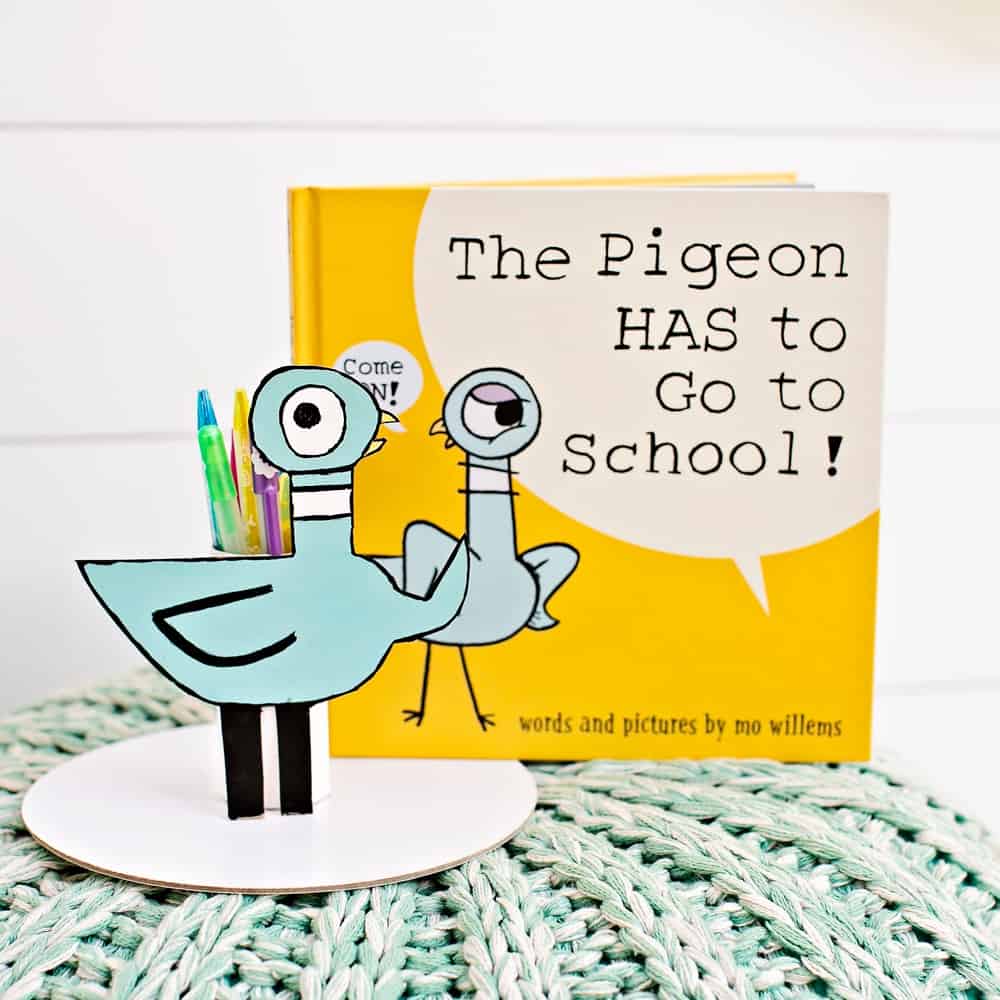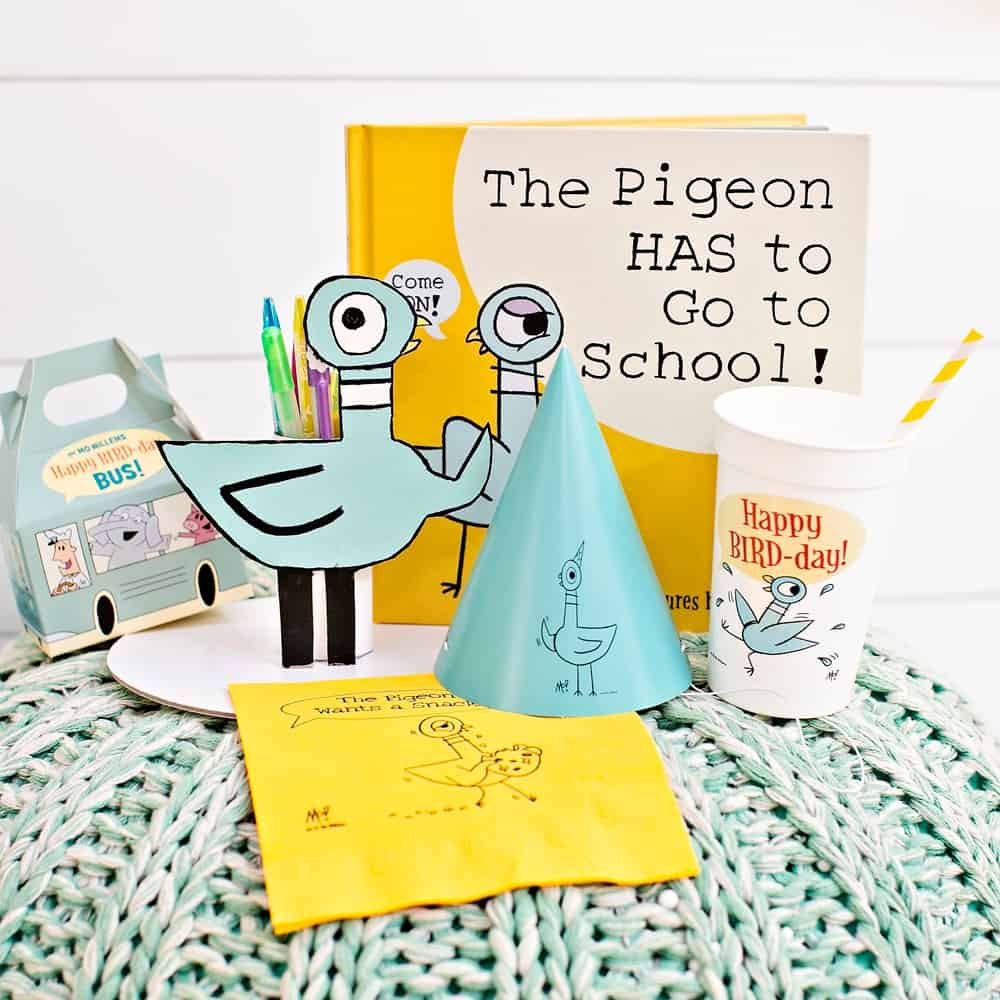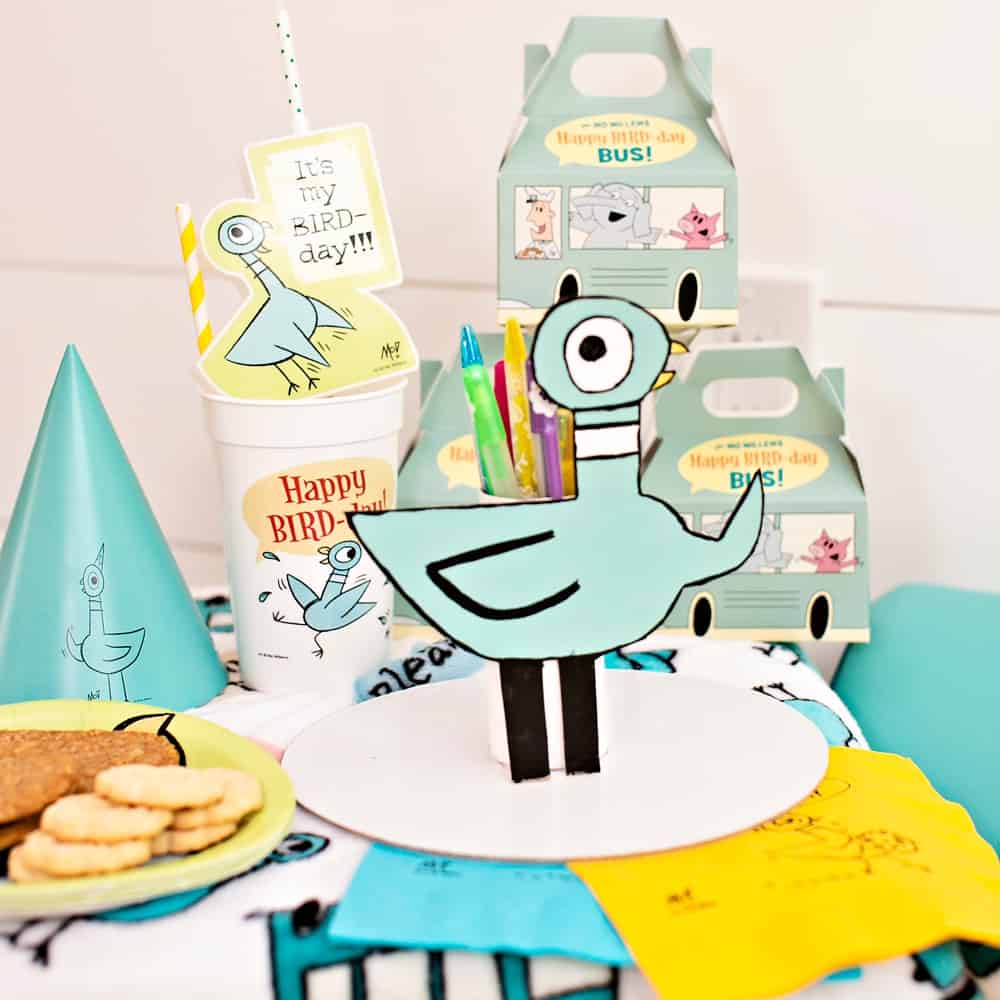 In Mo Willems' latest book, The Pigeon HAS to GO to School!; Pigeon is feeling all sorts of emotions about going to school. What if the teacher doesn't like him? What if HE doesn't like it?
Why does he even need to go to school? Why, why, why? In Mo Willems' newest book, Pigeon experiences emotions that most kids can relate to when it comes to back to school time: excitement, nervousness and many questions.
To ease the new school year nervousness, we recently threw a party celebrating Pigeon and back to school.
My oldest kids had their younger cousin come over who's starting preschool in the fall, and we all celebrated the upcoming school year together! Little cousin Rafi is nervous about starting school and enjoyed having the big kids read The Pigeon HAS to GO to School! to him.
They snacked on treats, had lemonade and received little party favors filled with cute back to school supplies like mini erasers!
It was so fun to have Pigeon present with us. We went all out decorating the party with adorable Pigeon themed partyware including:
A copy of

The Pigeon HAS to Go to School!

Pigeon plates, napkins, and party hats;

Pigeon cups with striped straws;

Pigeon blankets (thanks to Berkshire Blanket, the perfect storytime set up!);

Pigeon favor boxes (which we filled with school supplies);

A Pigeon candle;

Plus streamers!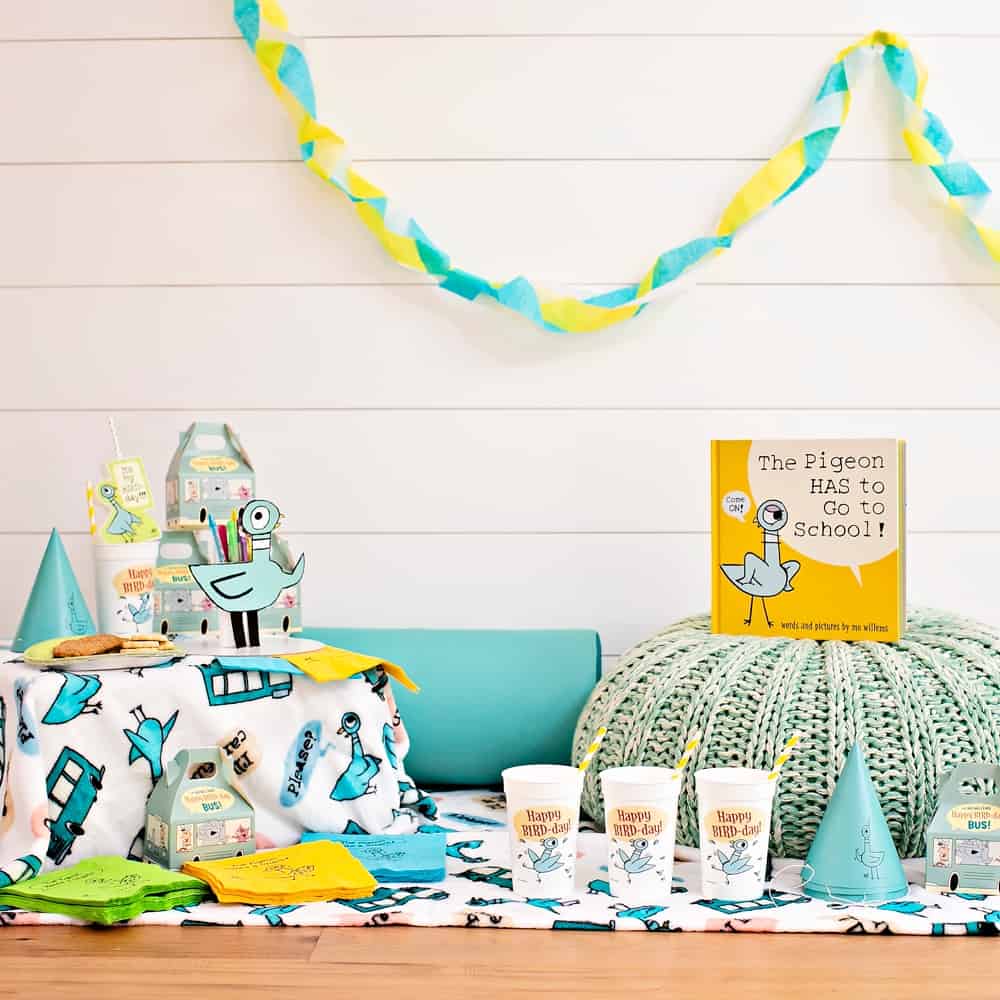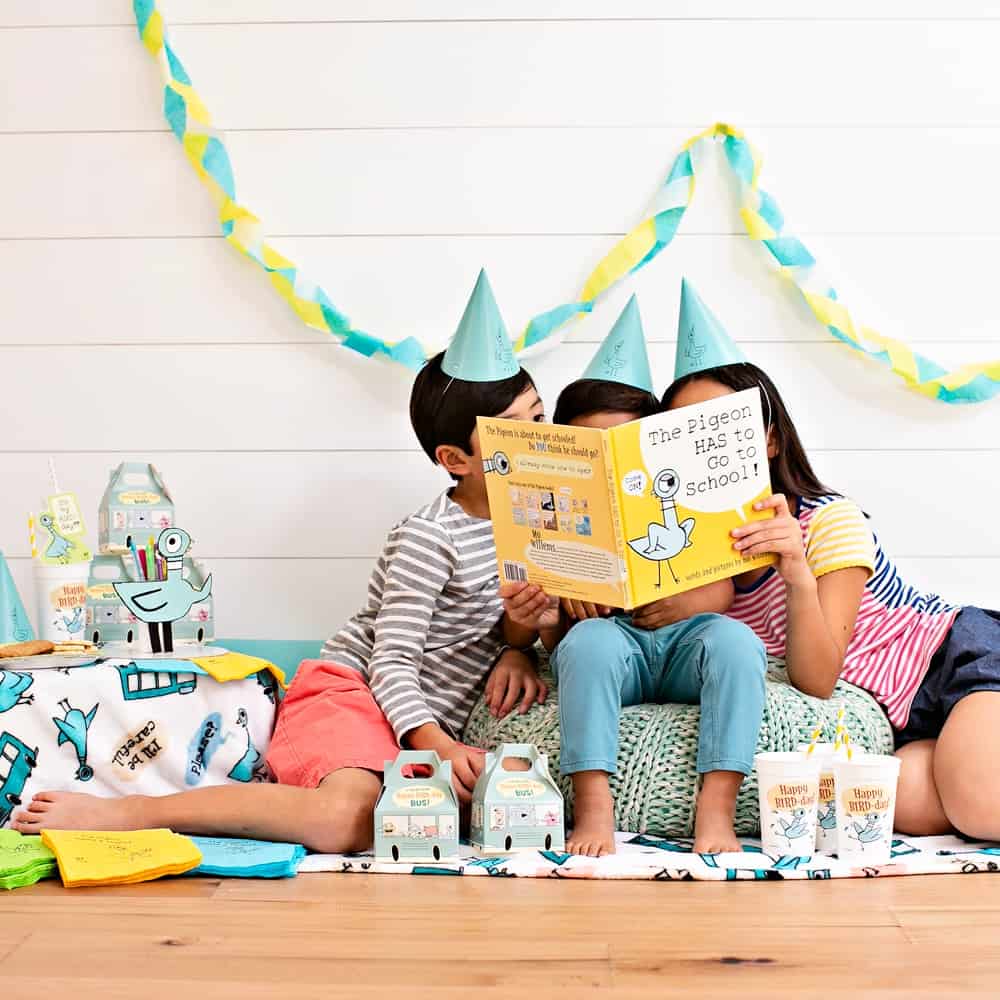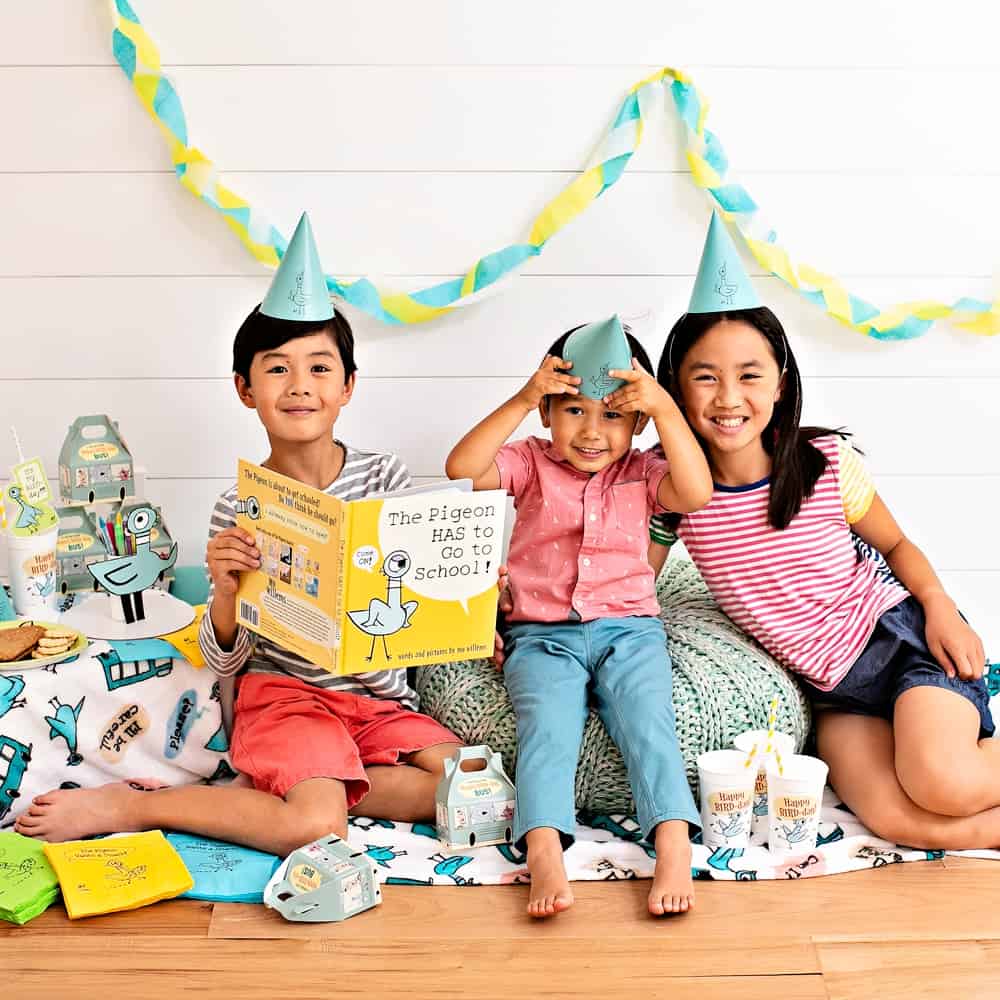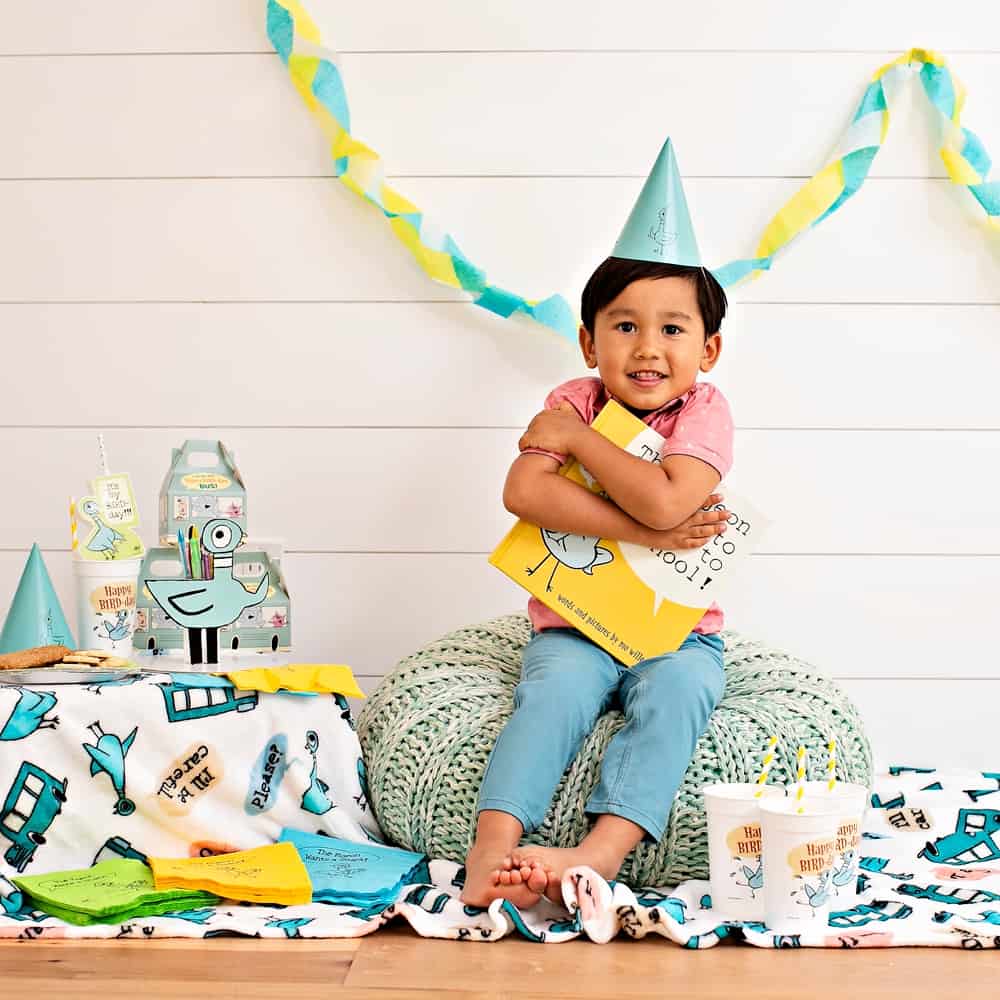 We even spent time together making a fun back to school craft for the kids to celebrate the first day of school: a Pigeon pencil holder!
This is an easy craft that kids of all ages can make, and each time they look at it they will be reminded that they aren't alone: Pigeon was also nervous about going to school!
What's also great about this nifty pencil holder is that it uses recycled materials like paper tube and cardboard. You don't need fancy materials to create this adorable Pigeon pencil holder. Plus, it's functional and holds a bunch of pens and pencils!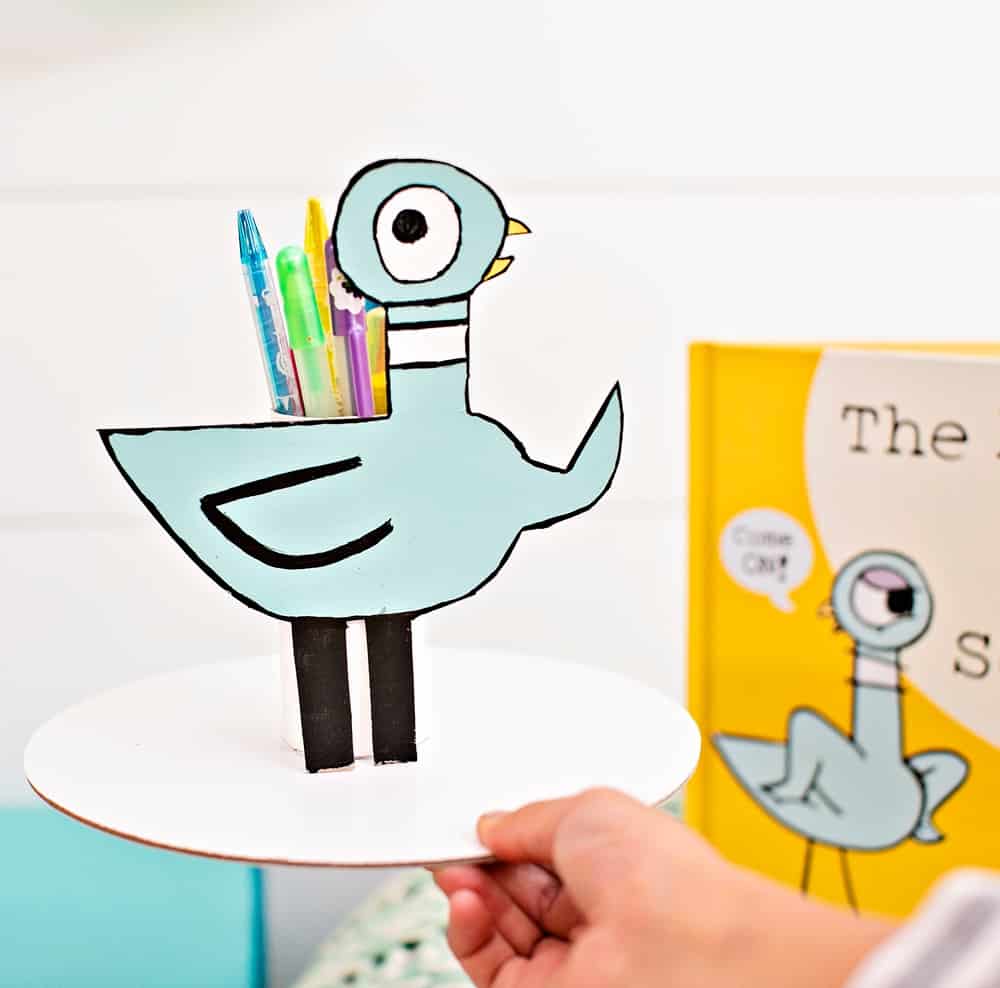 DIY Pigeon Pencil Holder – Materials:
Toilet paper tube
Cardboard (the inside of a cereal box works great!)
Black, blue, white paint
Pencil
Paint brushes
Hot glue gun
White canvas circle 8 inches (we happened to have this craft material on hand, but if you don't use a piece of round cardboard painted white)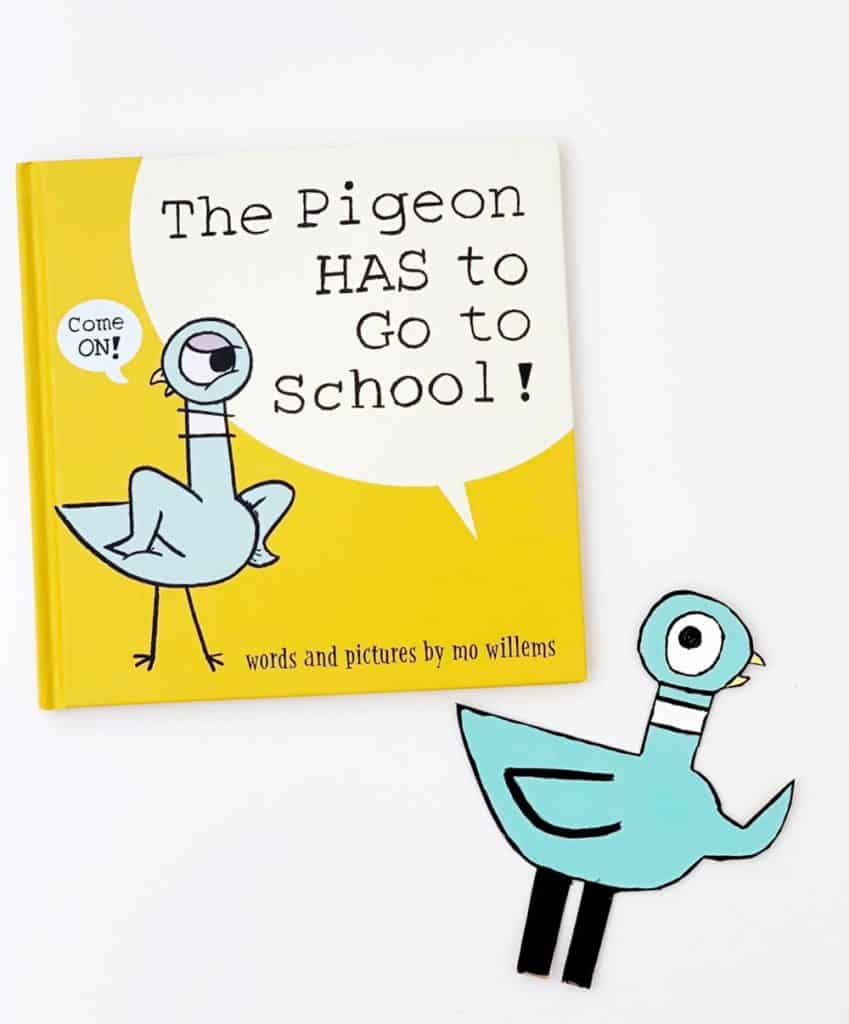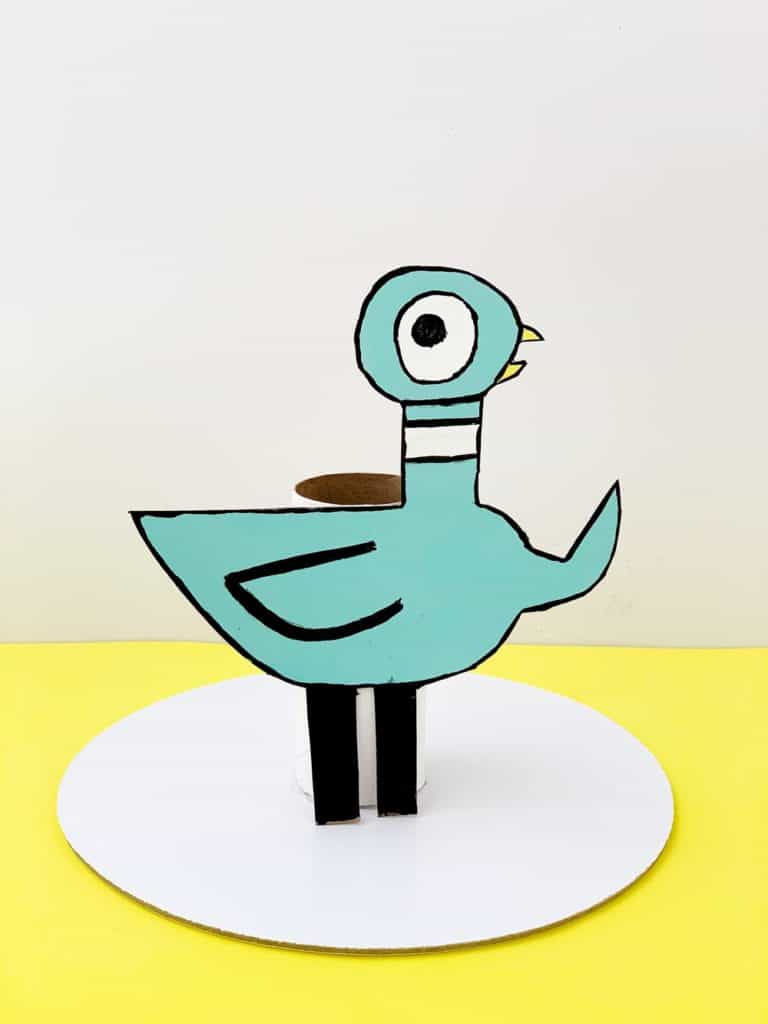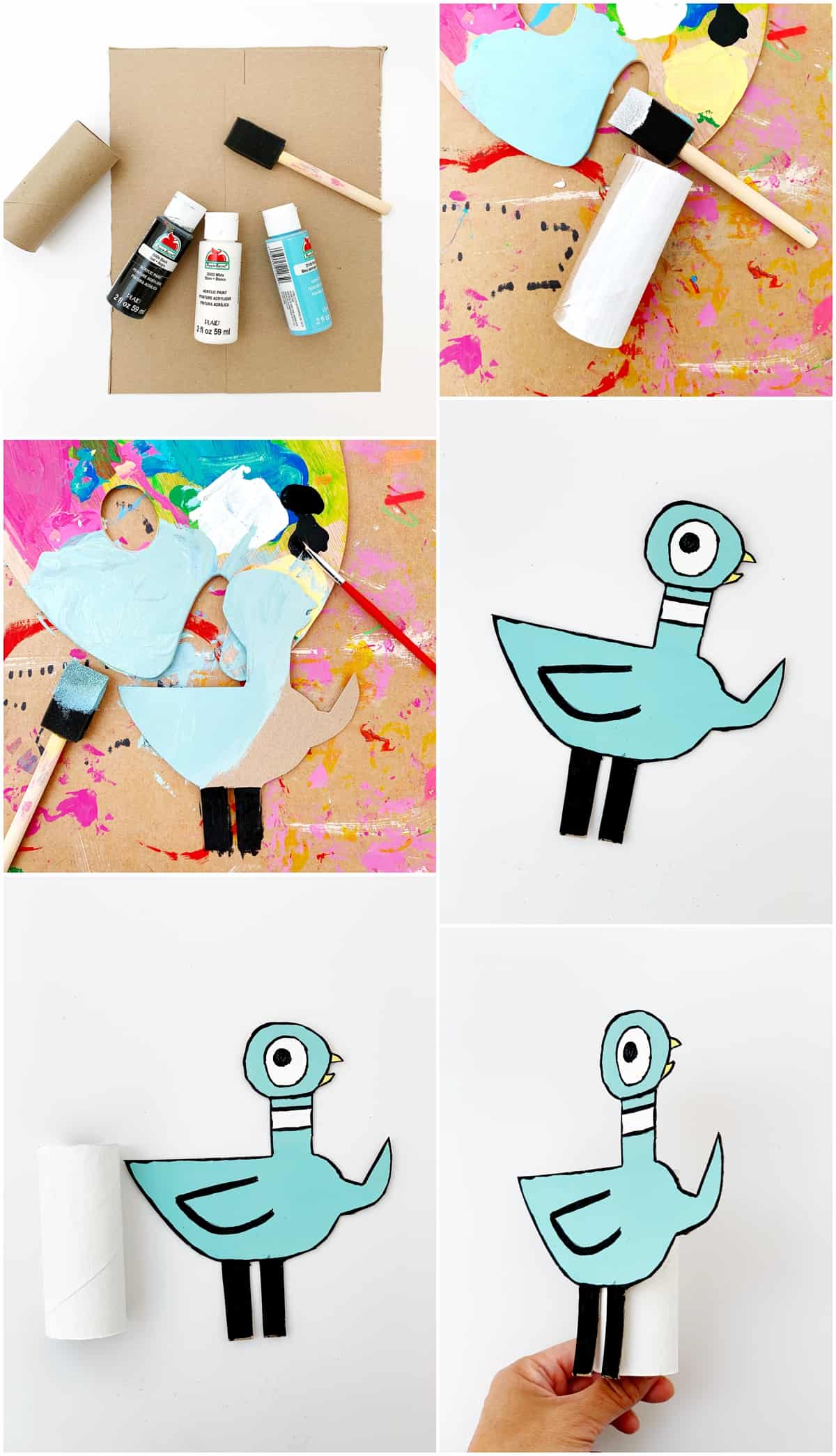 INSTRUCTIONS:
Step 1. Paint your paper tube white, set aside to dry.
Step 2. Draw Pigeon's shape with a pencil onto your cardboard, the body (minus head and feet) should be approximately the length of the paper tube.
Step 3. Draw in pencil details for Pigeon like his eye, neck and wing.
Step 4. Paint the body in blue and details in white. Then black for the wing, feet and inside of eyes. Follow along the photos above. To get a good color mix of Pigeon's unique blue, we mixed blue paint with a bit of black and white paint until the shade resembled Pigeon!
Step 5. Allow Pigeon to dry fully. Then hot glue his body onto the paper tube.
Step 6. Last, hot glue the base of the paper tube onto your white canvas circle (or painted white cardboard circle) if you don't have a canvas.
Step 7. Add pencils and pens inside the paper tube to use as a pencil holder.
Our back to school party was a fun success and I invite you to plan a party of your own celebrating the upcoming school year. P.S. Don't forget to invite Pigeon and read The Pigeon HAS to GO to School! together!
The Pigeon HAS to GO to School! book is in stores now and you can buy it HERE.
______________________________________________________________________________________________________
Disclosure: Some of the links in the post above are "affiliate links." This means if you click on the link and purchase the item, we will receive a small affiliate commission. Regardless, we give our promise that we only recommend products or services we would use personally and believe will add values to our readers.