I love when my kids and I find and make cute unicorn crafts for kids. In case you didn't know, we do have a slight unicorn craft obsession! Personally, I love unicorns because they embody everything about being kind, happy, and gentle.
Just thinking about making a craft project with a unicorn involved makes me grin from ear to ear – you would think I was 5 years old again in discovering what unicorns were for my very first time.
If you have child that has a (small) infatuation with making unicorns out of just about anything, then this post is the perfect spot for them.
Enjoy Making these Cute Unicorn Crafts for Kids
One of the things that I love about these best cute unicorn crafts for kids I've compiled for you from our favorites is that they are so cute and easy to make. And don't cost much to make (plus handmade is always more special.)
The other things that I love about these unicorn crafts? That there are SO many different textures and dimensions, so they are fabulous for sensory, art and STEAM projects. Add in the element of colorful visualizations for your kids' eyes, and you have some unicorn crafts for kids that are total winners!
We all know that sometimes, your little ones attention might side wander for bit, but between the colors and the textures, they're going to be totally entertained…and you're going to be up to your arms in unicorns, which is always a good thing in my book.
I love making memories with my kids with working on projects with them. Can you think of a better memory to cherish than that of making magical unicorn crafts with your little ones? So, go pull out your crafting kit of glue guns, glitter, felt, paper, and get ready for some serious mystical unicorn crafting magical memories!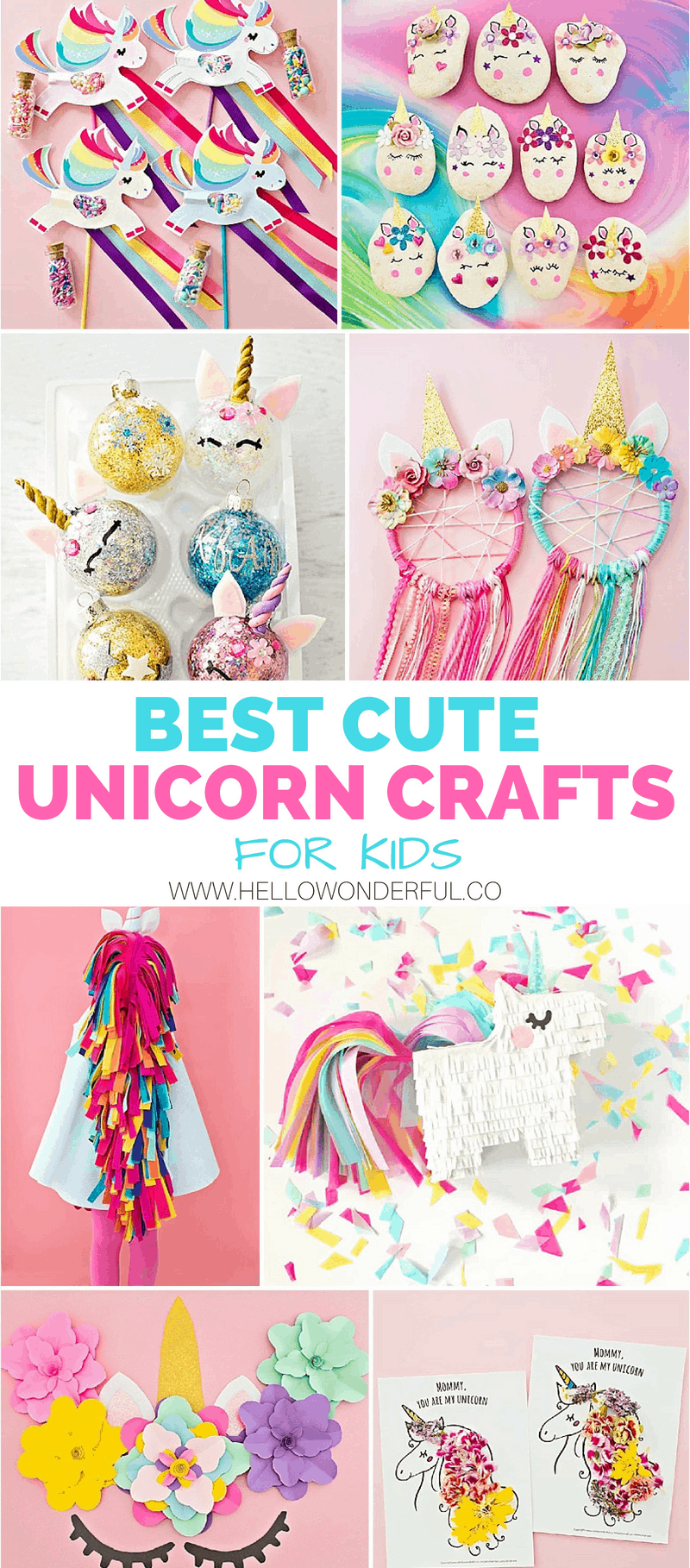 1. Magical Rainbow Unicorn Candy Bark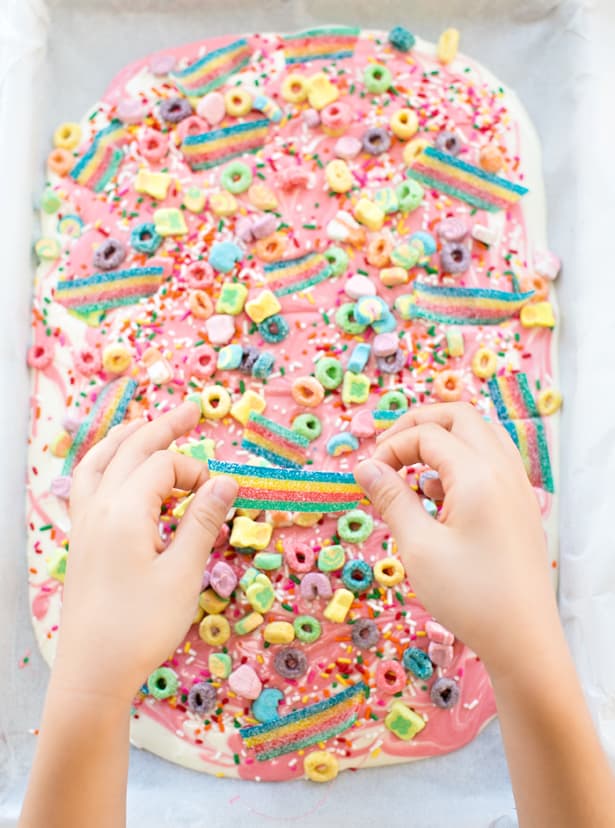 Life is so much sweeter when you get to enjoy this super colorful Magical Rainbow Unicorn Bark recipe! How can you not smile just looking at this? Your kids are going to totally love making this unicorn bark, and will want to make it for their friends at school and in their neighborhood.
The colors are so vibrant, and the textures for their little hands to play with are great! Kids love the different textures and colors that's in this bark. It's sure to bring an instant smile to anyone's day: child or adult!
2. DIY No-Sew Felt Rainbow Unicorn Costume for Kids
It doesn't have to be Halloween for kids to be dressed up in this magical DIY No-Sew Felt Rainbow Unicorn Costume for Kids. Why make a unicorn when you can you actually BE the unicorn!
Your kids are going to be the complete talk of the town, and every parent in the world is going to send a special "Thank You!" for making your kid this dazzling unicorn costume.
This costume would be an amazing thing to make for a unicorn themed birthday party! Can you just imagine all of the amazingness of giggling unicorns everywhere that they were able to make at this birthday party?
This is a complete low-budget costume that makes a mom like me happy, and happier to see my kid beaming from ear to ear while wearing it.
3. DIY Mini Unicorn Piñata (With Free Template)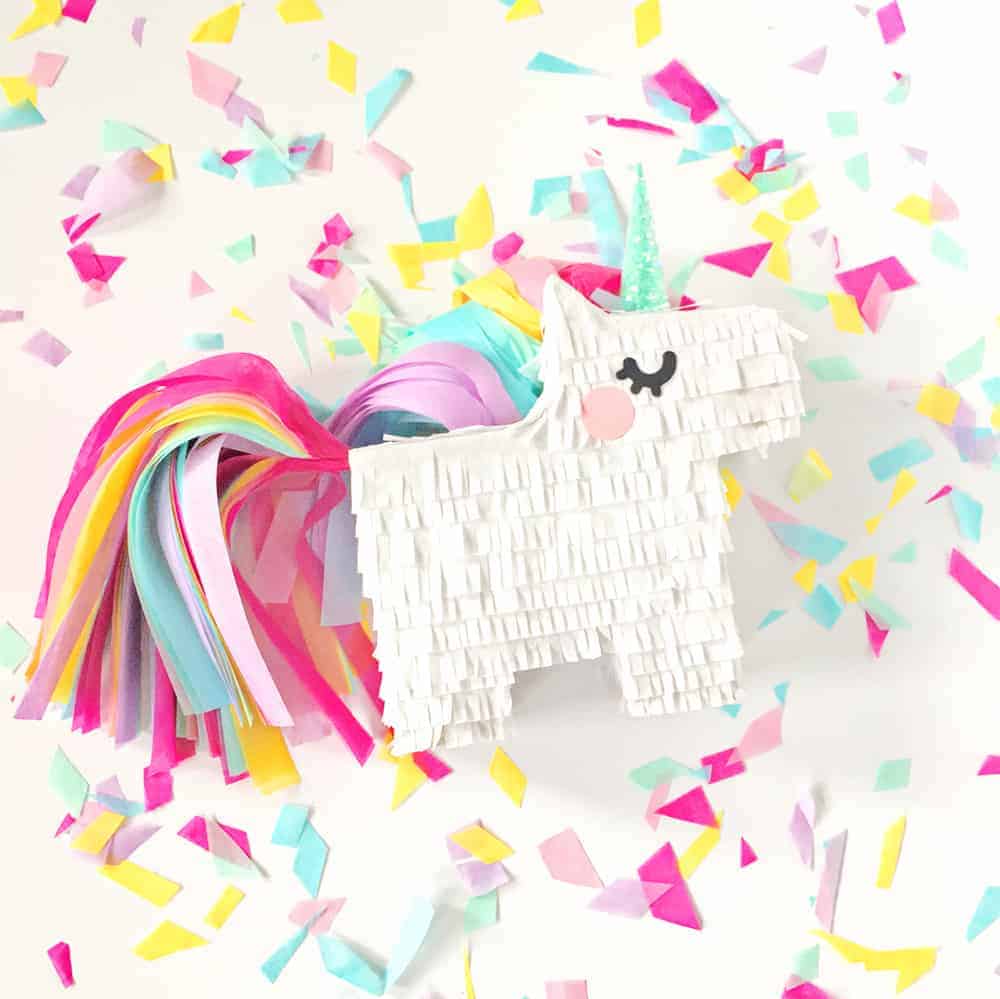 While we're on the subject of birthday parties, you NEED to make this adorable DIY Mini Unicorn Piñata with your kid! When it comes to the best unicorn crafts for kids, this will be a total favorite!
To help make life a little bit easier, there is a free printable template to download and print.
These little unicorn piñatas are fun to make, and everyone is gonna love them. You can use them as party favor gifts, center pieces, or a thank you gift to help spread a smile for the day.
4. Magical Unicorn Pooping Sprinkles Paper Craft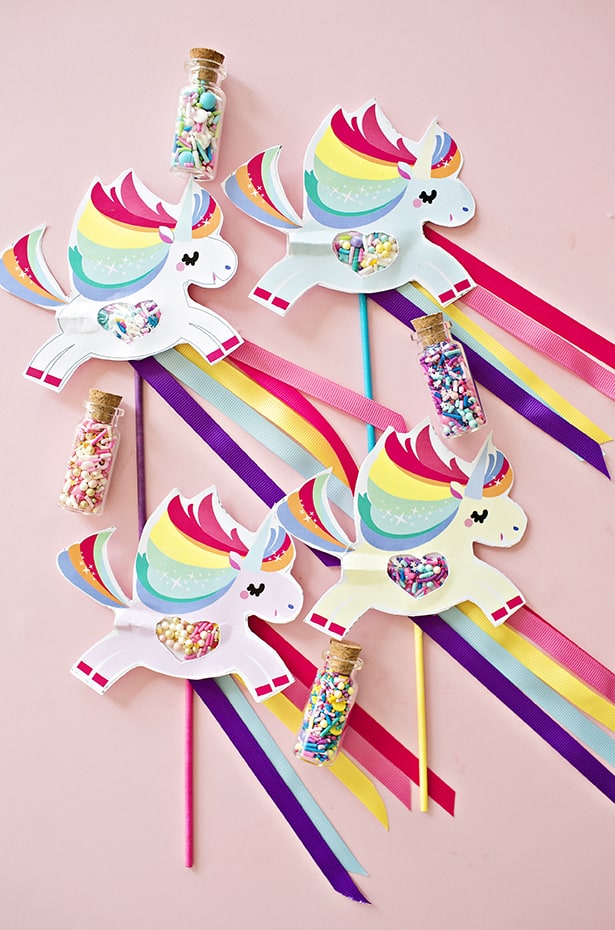 Everybody poops…and that includes unicorns. These magical creatures don't do a normal #2. They poop sparkles, sprinkles, rainbows, and sunshine. Don't we all wish we could do that?
This Magical Unicorn Pooping Sprinkles Paper Craft project is so much fun to do. The sky is the limit with the amount of fun that you can have with this craft. You can make these without or without the the rainbow sticks, but I highly recommend that you add them to the unicorns. They add more color and make life so much more fun.
You can shake them like little maracas, and they will wind up being magical MUSICAL poop sprinkles. Turn on the music, and watch your kids have a blast by shaking them about.
There are free templates for you to print up, cut out, and make this a stress-free unicorn craft project to make with your kids.Those are the kind of projects I adore making with my kids.
5. DIY Glitter Unicorn Ornaments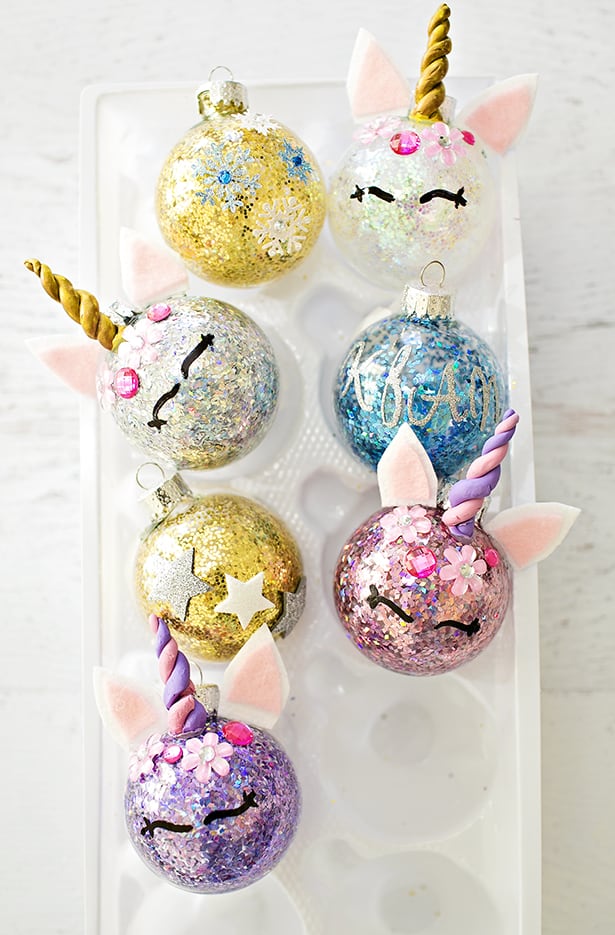 Don't you just love these glitter unicorn ornaments?? You and your kids can make these DIY Glitter Unicorn ornaments. You can make these for any holiday by simply changing up the color glitter and crafting clay in the project, or the fabulous colors we did and hang them for everyday decor.
These would look completely adorable on a string of lights over a head board or over a curtain rod in your kid's room – or yours. No judgement here!It'll be our little secret.
These are little magical balls of happiness that you can put where ever you want to in your home, or make them to give away to your friends in spreading a smile or two.
6. DIY Unicorn Dreamcatchers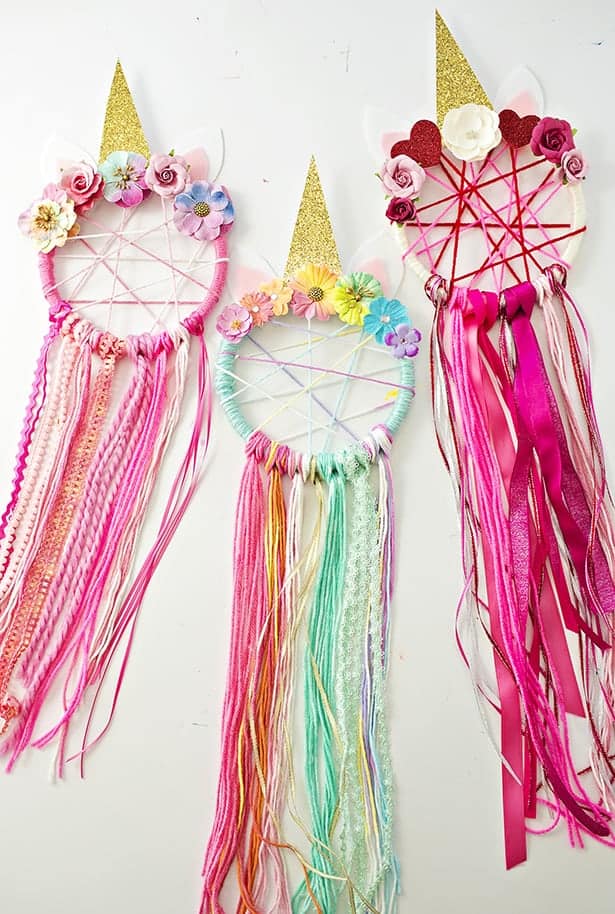 If you're going to make any type of dreamcatcher with your little ones, then please make these DIY Unicorn Dreamcatcher ones. They're kid friendly to make, and you can pass on a super special message to them while creating magical happy dreams.
Dreamcatchers let the good dreams through, and catch the bad dreams in the strings. Soon as the sun rises and touches the strings – POOF! Bad dreams simply disappear.
Your kids are sure to nothing but magical and fabulous dreams with beautiful unicorn dreamcatchers. They'll go to bed every night with a smile on their face in knowing that they won't have any bad dreams that night.
7. Magical DIY Unicorn Rocks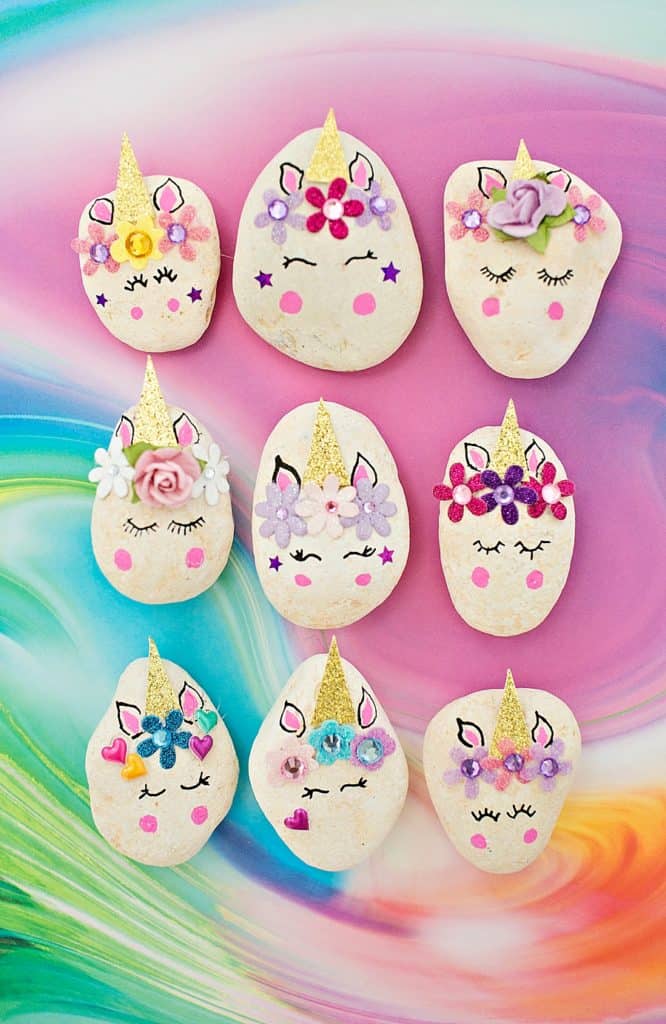 Just look at how sweet and adorable these DIY Unicorn Rocks are. I love all of these unicorn crafts, but I love how this project incorporates a little bit of artistic thinking. Plus I love how this is such a great sensory play project, too.
Your child is going to LOVE finding just the perfect rocks outside to paint unicorns on them. Whether you go on a hiking trip in the woods, the beach, or just around your neighborhood.
You're going to see your kid's eyes open super wide and explore the world to find that one special rock (or rocks) to use for this project. Not only do you get to enjoy making a craft with them inside the house, but you'll love spending time with them outside of the house, too.
8. DIY Unicorn Flower Backdrop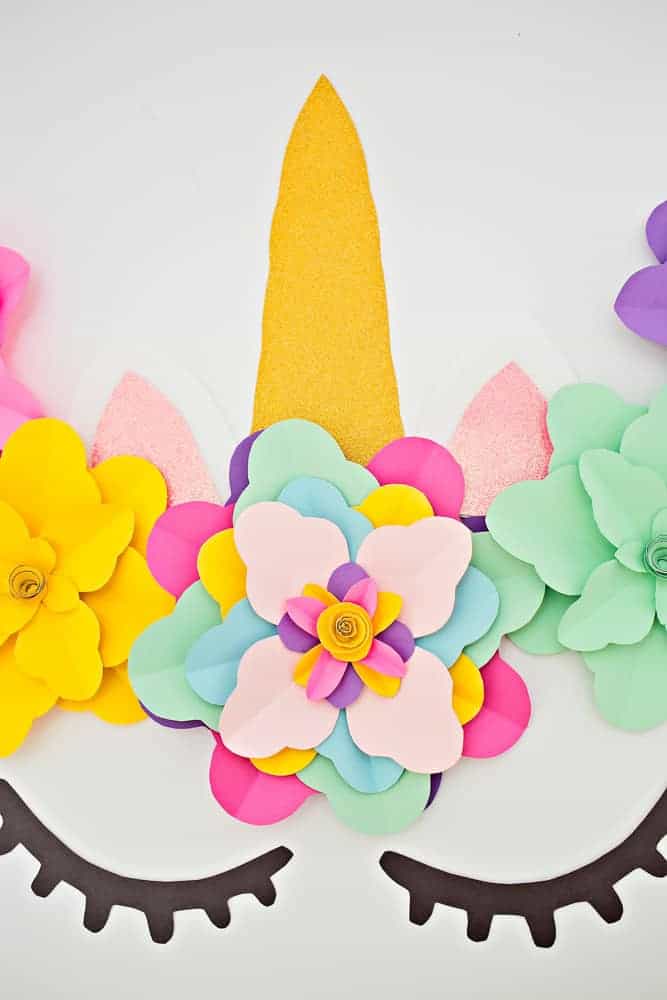 Ever get tired of trying to find that perfect framed art for your child's room? Let that be a hassle NO MORE! No you can be come together and sit down to make this fabulous DIY Unicorn Flower Backdrop for their wall.
You can make more than one to decorate your child's room and fill it with laughter and delight as they get to see pops of color of and a unicorn on their wall to help spread laughter and joy throughout their day.
Your child is going to want to show off their room to everybody to spread a smile around.
9. Unicorn Flower Art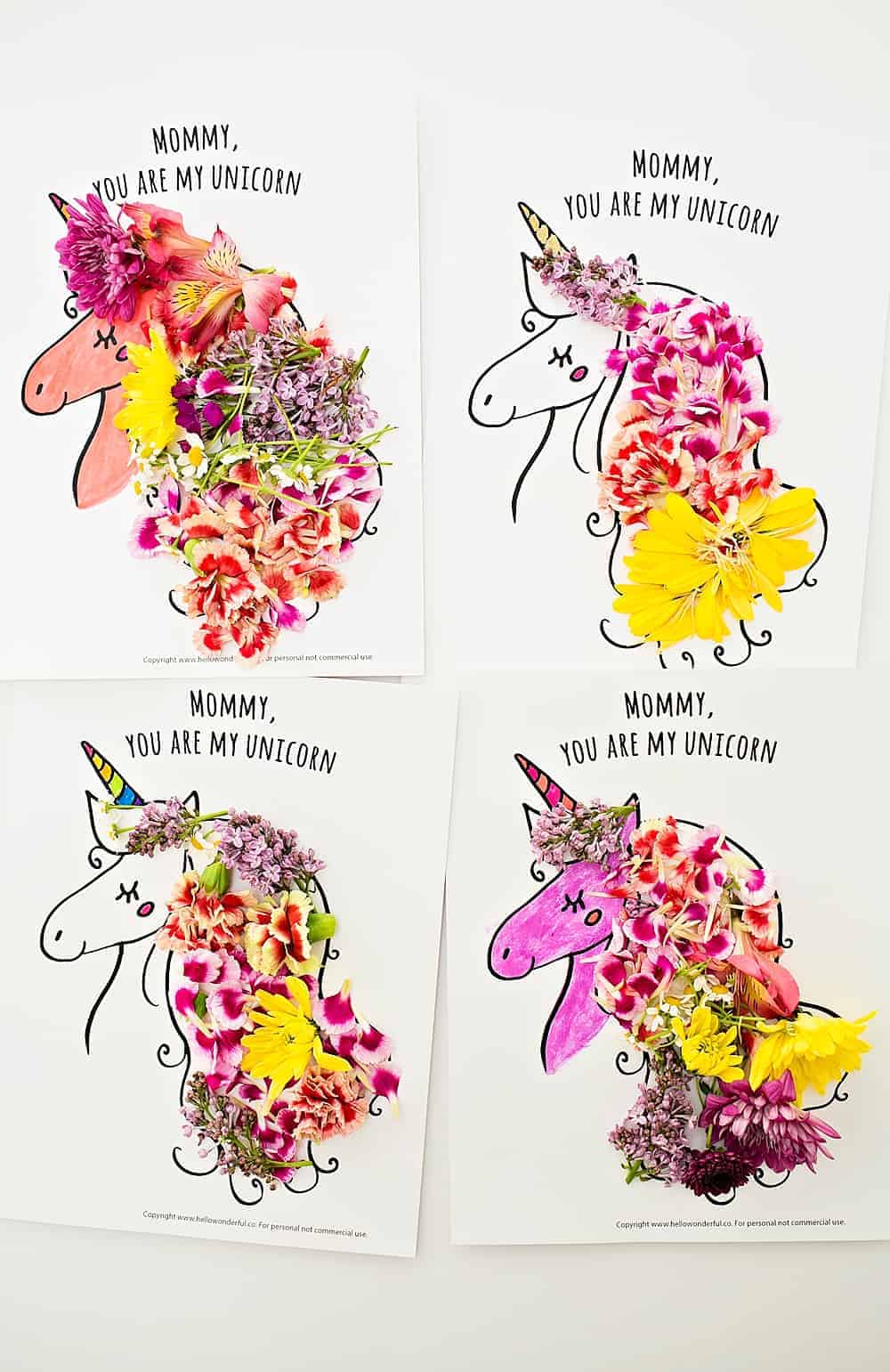 This DIY Unicorn Flower Art is such a great project to do with your kids. Yes, we give you the template to print up, but it's up to your kid's imagination of what type of flowers to fill it in with, and what color to fill it in with.
You can use real flowers, artificial flowers, leaves, or foliage from around the yard, from a park, or even along side the road that you both have found.
The sky is the limit, as so is their imagination of color schemes that they want to use. Children love not having boundaries, so it's so perfect.
I also love that it's a wonderful sensory play project. Your child literally gets to play with flowers with their senses. How amazing is that?
Send a Unicorn!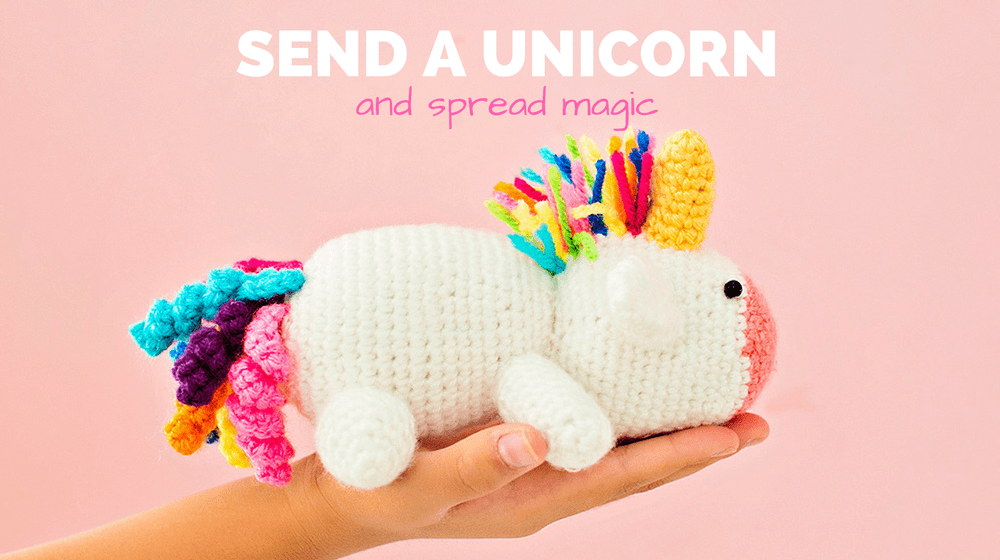 Let's face a fact: not everyone is craft, and not everyone may have the time to make one of these best unicorn crafts for kids; however, we found someone that DOES have the time to send a unicorn. Literally!
Nothing is more magical in making someone's day then sending a homemade crocheted unicorn in the mail. They're going to have the biggest grin on their face when they open that box and see this adorable unicorn. In fact, they're going to be smiling all day! Go and visit Send a Unicorn today to send a smile.
More Unicorn Love
Just because this post is all about finding the best unicorn crafts for kids, doesn't mean I can't share a few other unicorn filled articles that you totally need to read and share.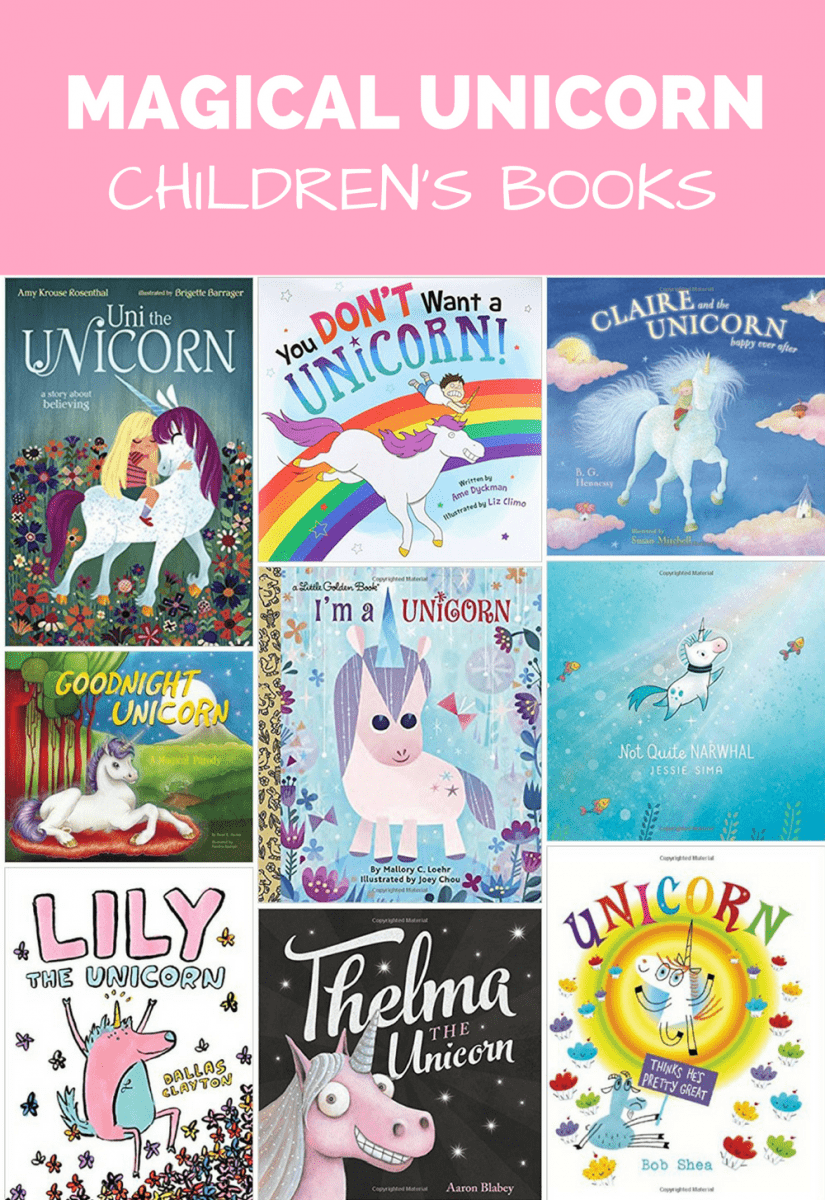 These are some of the most amazing Unicorn Children's books that you're going to love to read and add to your child's book collection. From cute to hilarious, these are magical pages to read.
Unicorn and Rainbow Costumes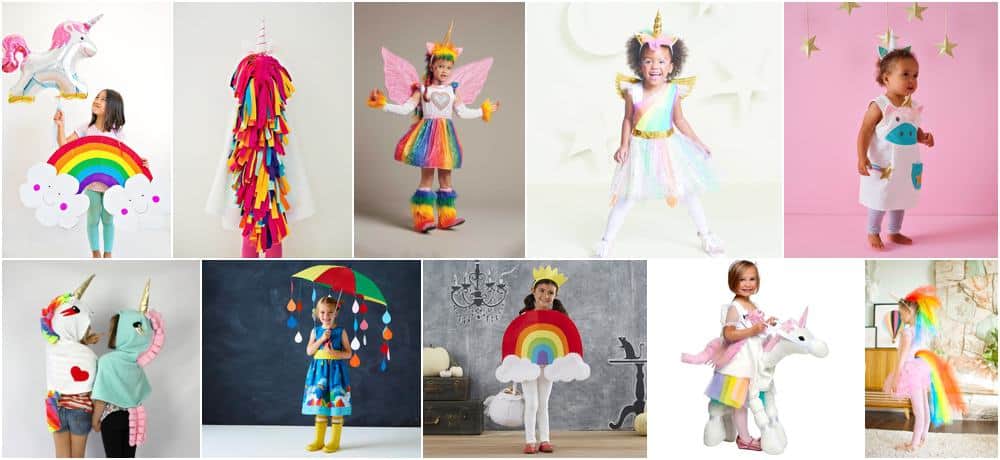 Winter, Spring, Summer, or Fall..these Magical Unicorn and Rainbow costumes will keep your kids happy all year long. Your kids are going to be the happiest kids on the planet in wearing these costumes.
Unicorn Foods Kids will Love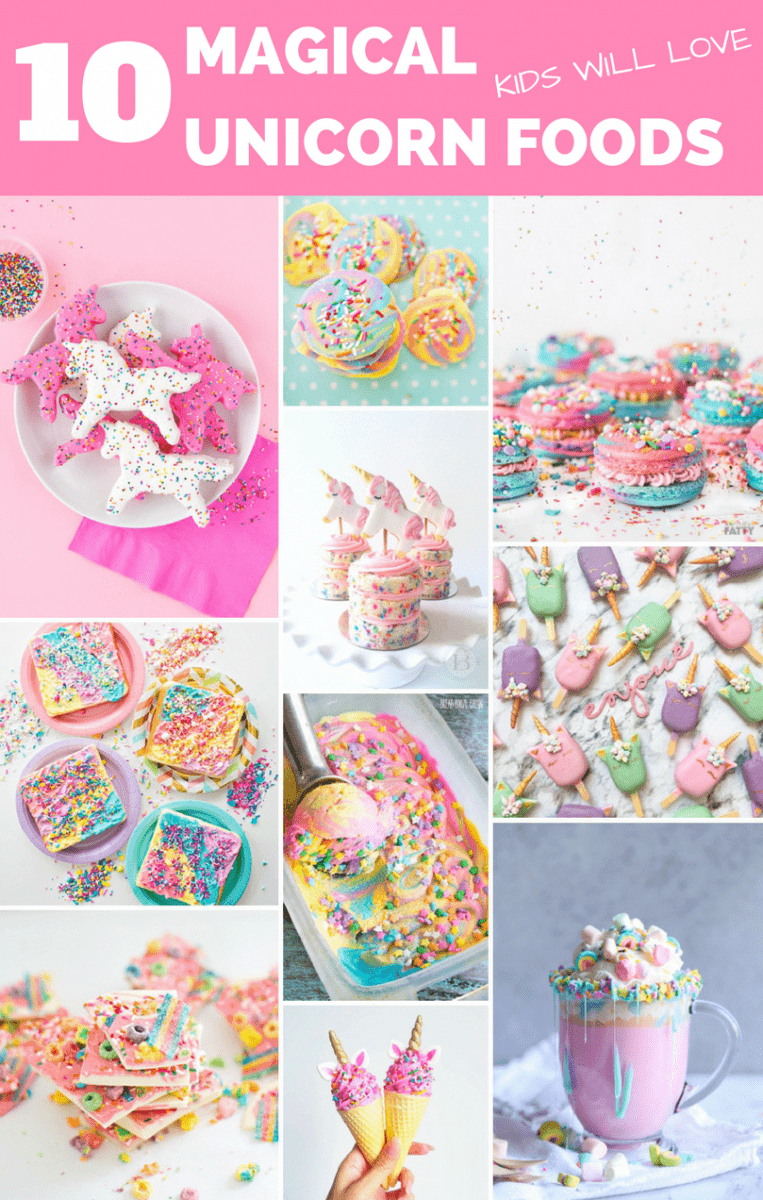 Did somebody say they were looking for Magical Unicorn Foods that kids will love? I thought so! These sweet treats will be sure to spread smiles and giggles all day long. Magical unicorn foods tend to do that!
Which one of these best unicorn crafts for kids is your favorite and that you can't wait to make with your kids? Did you have have that you love making with your kids already? Let me know in the comments or share a photo with me, I would totally love to see them and their smiles!