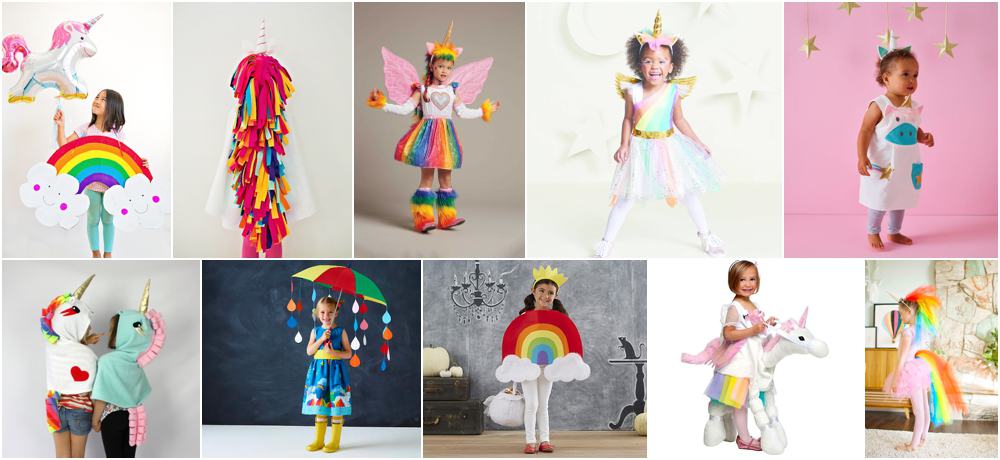 Halloween is getting closer, and ghosts and goblins are so last year. These magical unicorn or rainbow costumes are cute enough to wear all year-round. Whether you're crafty enough to want to try some of the DIY creations or just ready to save some time and work with these readymade adorable creations, there's something for every little magical child this Halloween!


What are kids dressing up as this year? Check out more fun Halloween costumes such as these playful no-sew costumes, cardboard costumes, family costumes, and baby's first costumes.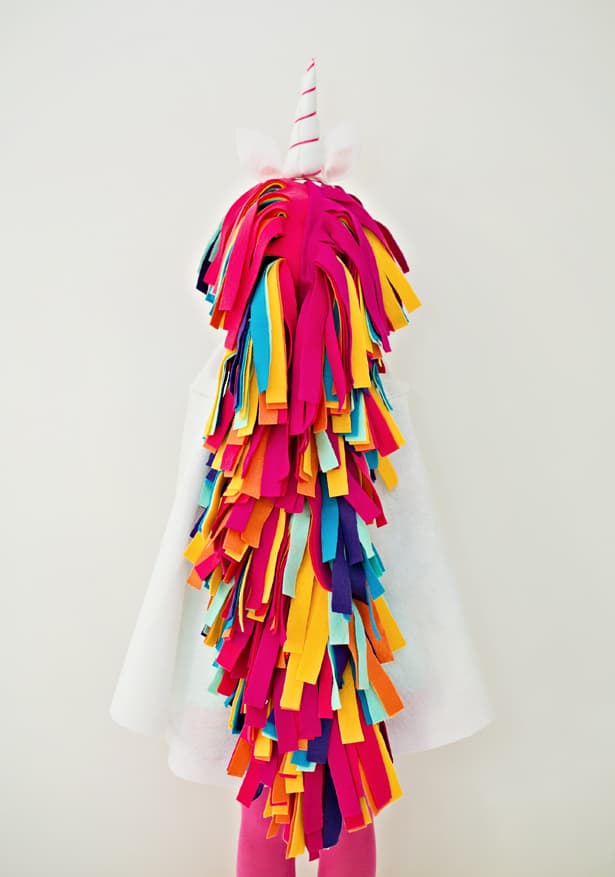 DIY No Sew Felt Rainbow Unicorn Costume With a rainbow felt mane and a white cape body, this costume is absolutely delightful and easy for any skill level. No needle and thread are required for this one-of-a-kind costume!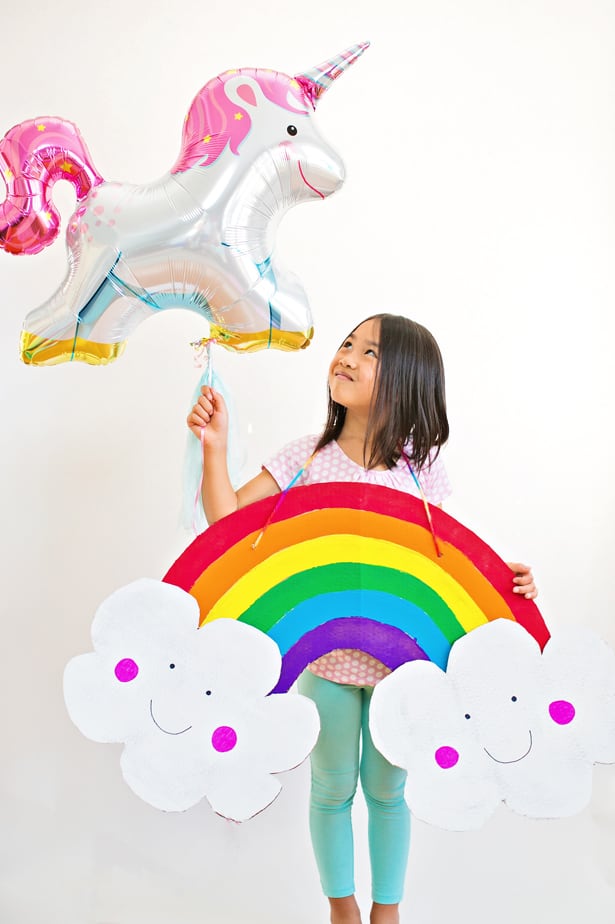 DIY Rainbow Costume Your child will look fetching in this ROY G. BIV inspired cardboard rainbow. Sweet little happy clouds enclosed with the colorful arch is an easy, sweet costume for your little one!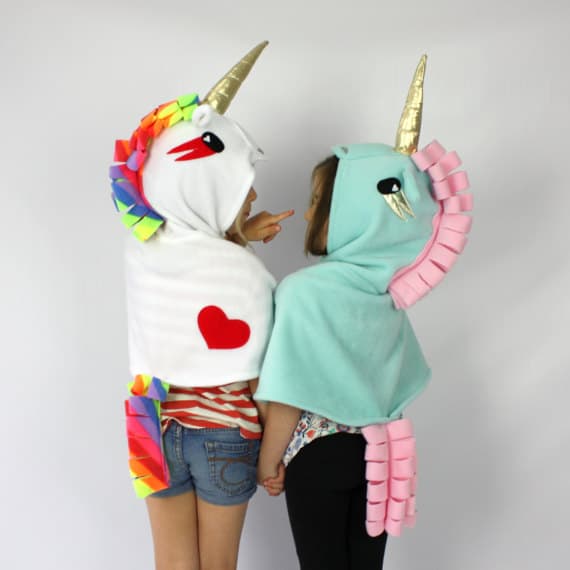 Handmade Unicorn Costume Not in the mood for DIY? This fleece and felt costume (with satin ribbon and a metallic horn) is ready for your child to put on and pretend!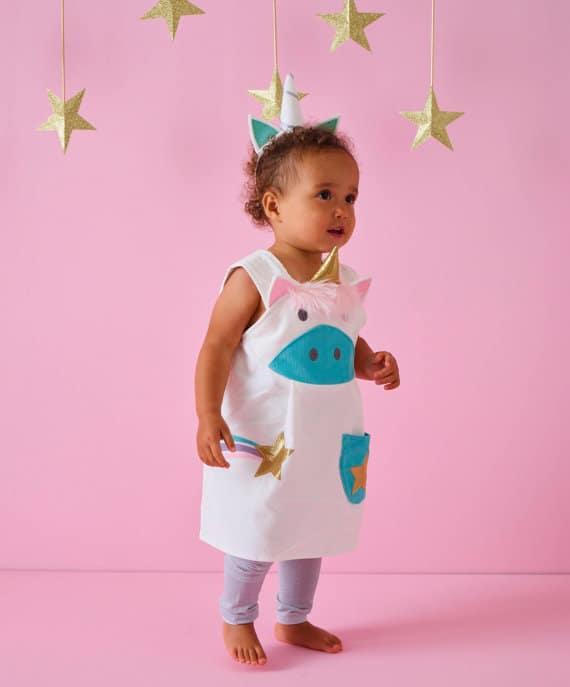 Little Girl Unicorn Dress You'll squeal when you see this readymade unicorn dress in person. A sweet unicorn with a furry mane faces forward on this adorable dress, complete with a horn headband.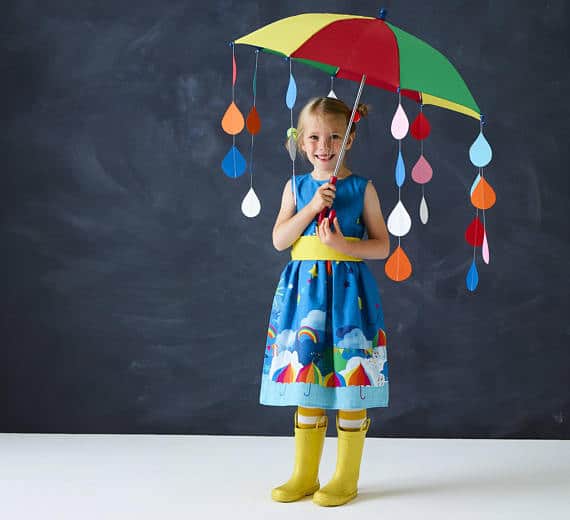 Rainbow Party Dress in Unicorn & Umbrella Print Do not save this dress for a rainy day! Your little girl will be ready to play in the rain (or just look like it) with this enchanting printed dress. Pair it with an umbrella to make the look really pop!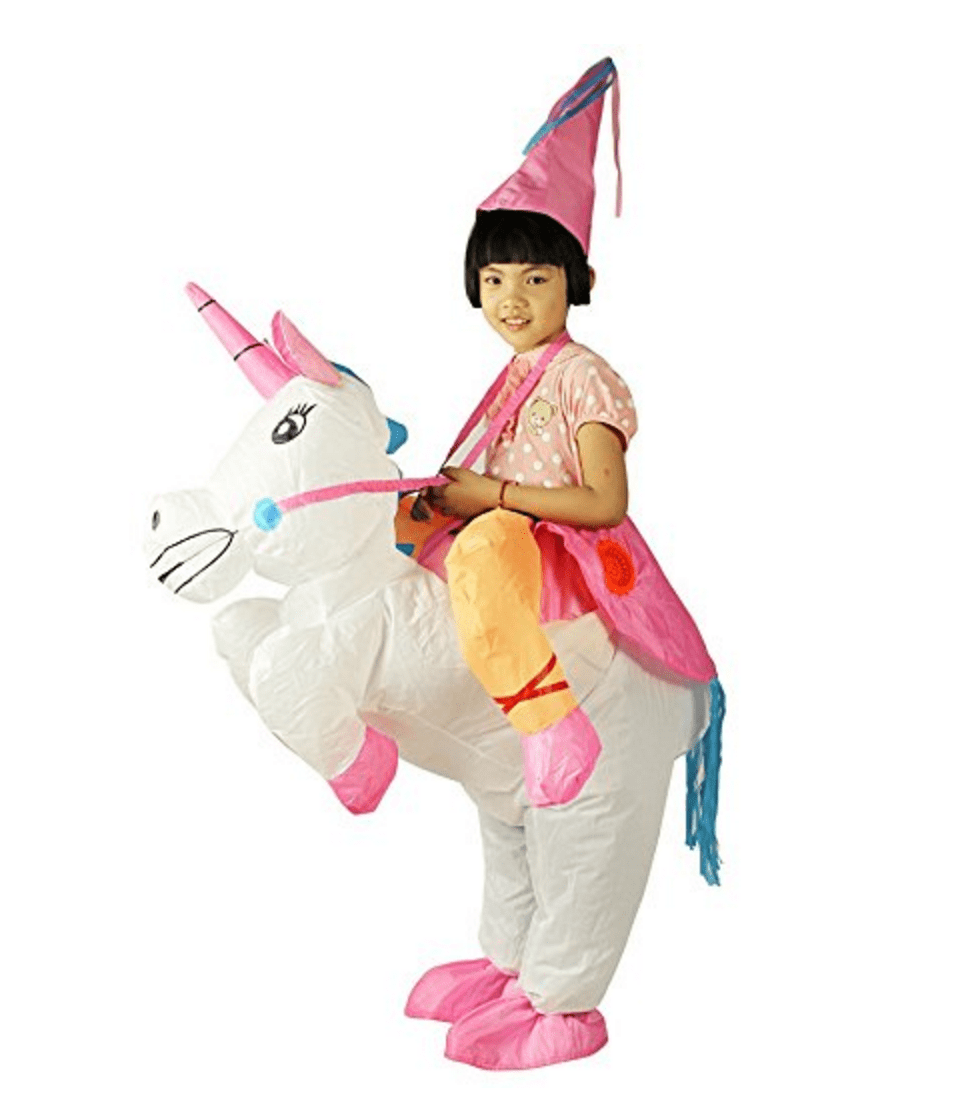 Inflatable Unicorn Costume
We've all seen those fun unicorn pool floaties. So why not make it a costume too? This one comes with a battery powered inflator so it puffs up in seconds. Magical!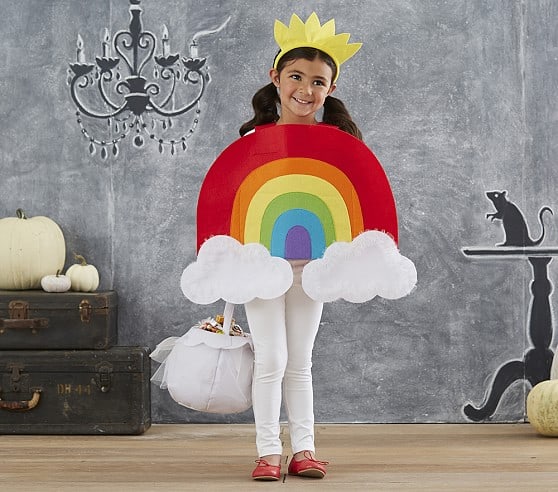 Simple Rainbow Costume What's better than the sun and a rainbow after a storm? This complete polyester rainbow costume comes with a sun bonnet. Try it with yellow or white leggings. Your child will be tickled pink. . .or rainbow!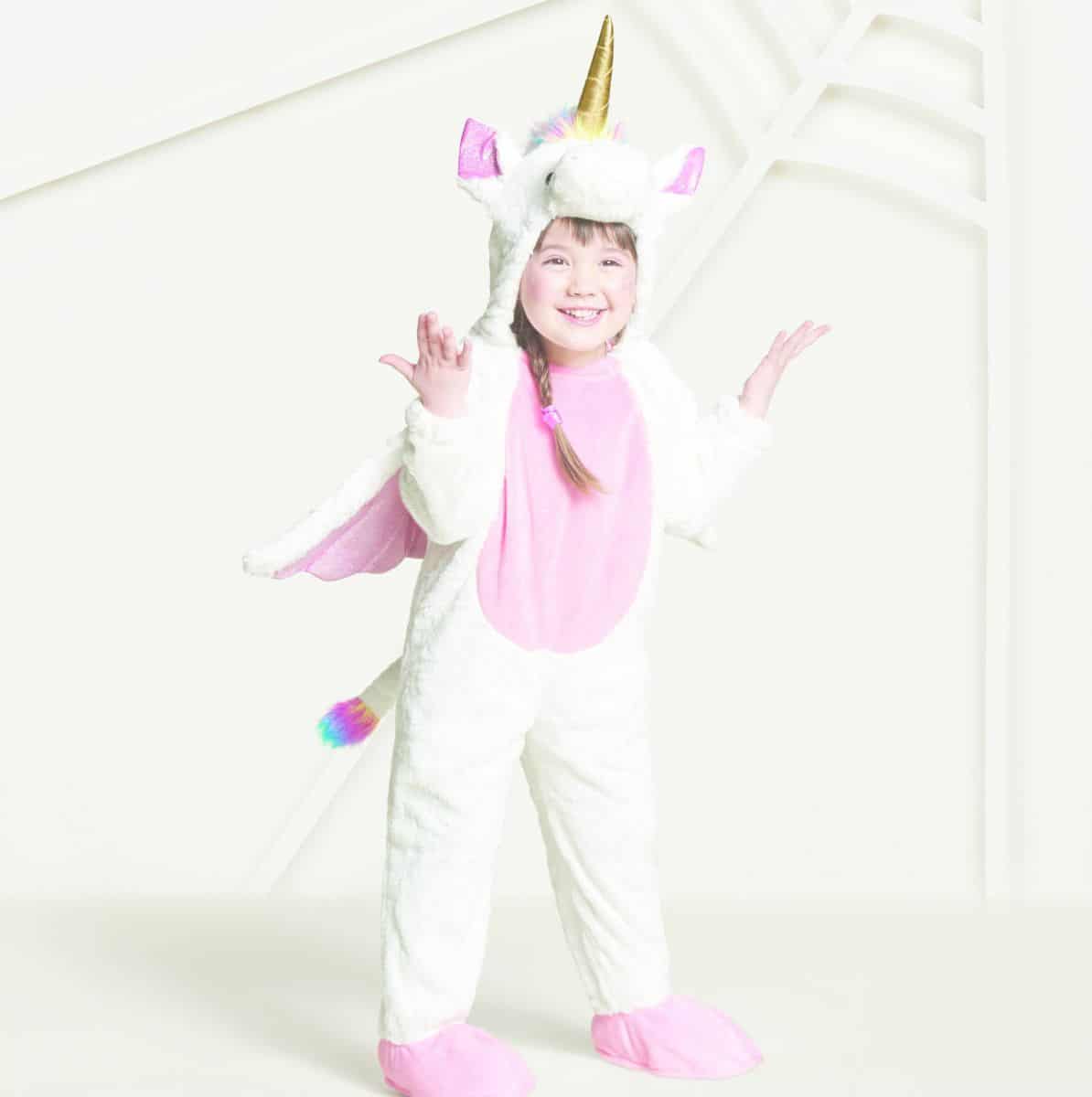 Plush Unicorn Costume Perfect for toddlers, this magical jumpsuit costume will keep your kiddo warm for trick-or-treating or outdoor Halloween parties! The feet even fit easily over shoes. Functionality and price make this a winning costume!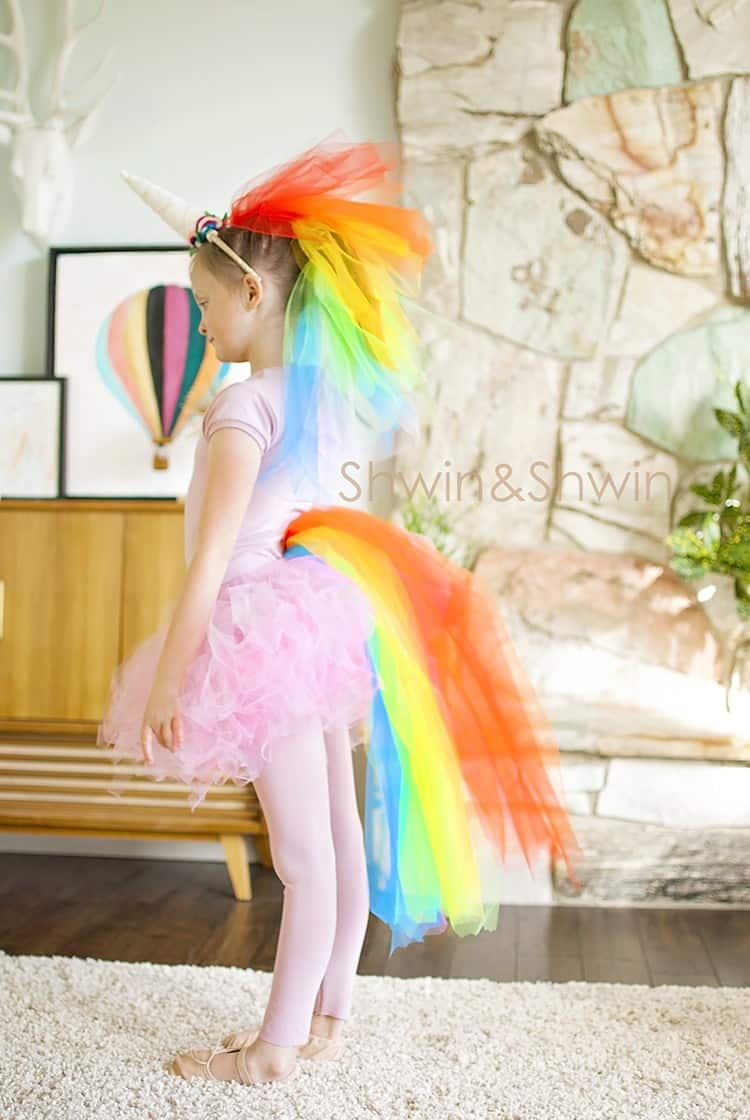 DIY Rainbow Unicorn Costume Tulle and tutus make this costume original and perfect for your little princess. With a few simple steps, your child will be spinning in their magical unicorn ballerina inspired costume!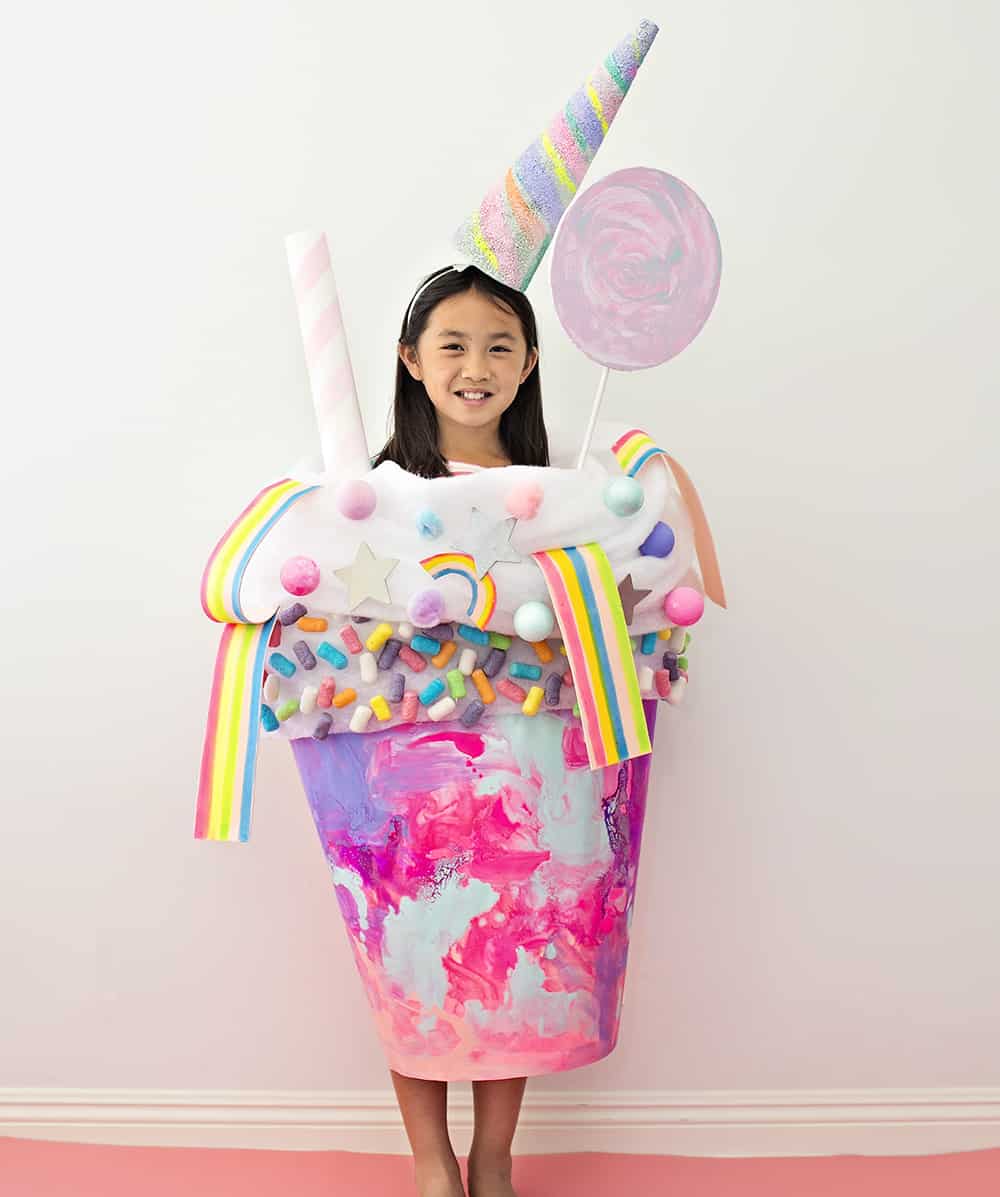 Unicorn Candy Milkshake Costume
This year was the trend of the unicorn milkshake. Make an epically sweet unicorn inspired milkshake costume with dripping candy rainbow and giant colored sprinkle balls.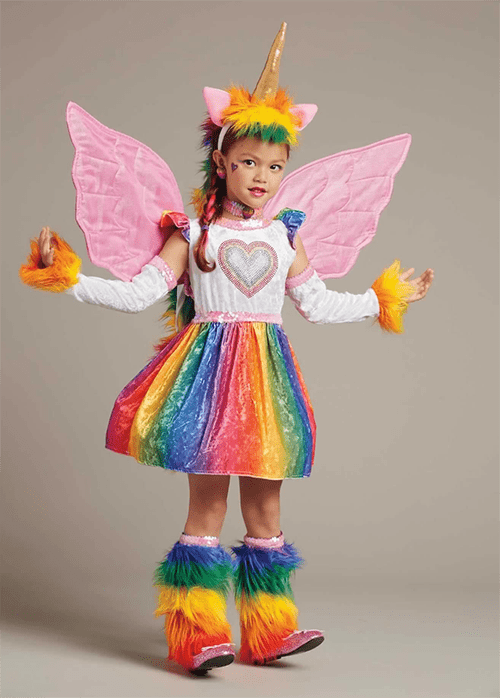 Rainbow Pegasus Costume Mythology experts will say that there are differences between pegasuses and unicorns, but we know they're both stunning when it comes to these costumes! Pegasuses do have wings, and the pink iridescent wings on this style will have your child flying high. Pieces in this costume are sold separately, so you can certainly customize your own look!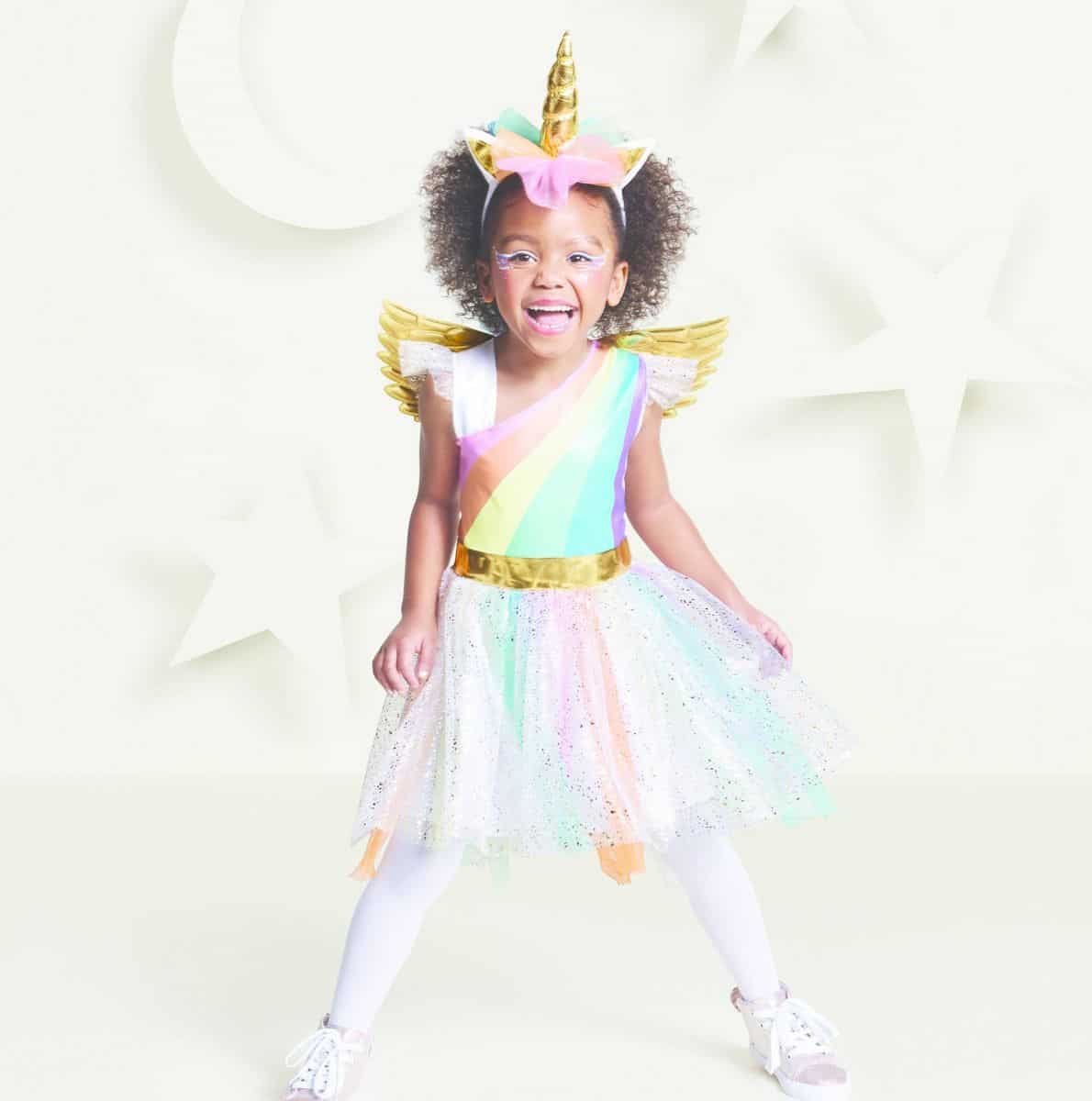 Toddler Girls Rainbow Unicorn Costume This dreamy costume for the younger set combines both our love of rainbows and unicorns. The costume is a rainbow striped dress with a glittery, tulle skirt. We love it, and your child will too! Whether your kid is dressing up for Halloween or just playing pretend, these costumes will have you wanting to experience the magic as well.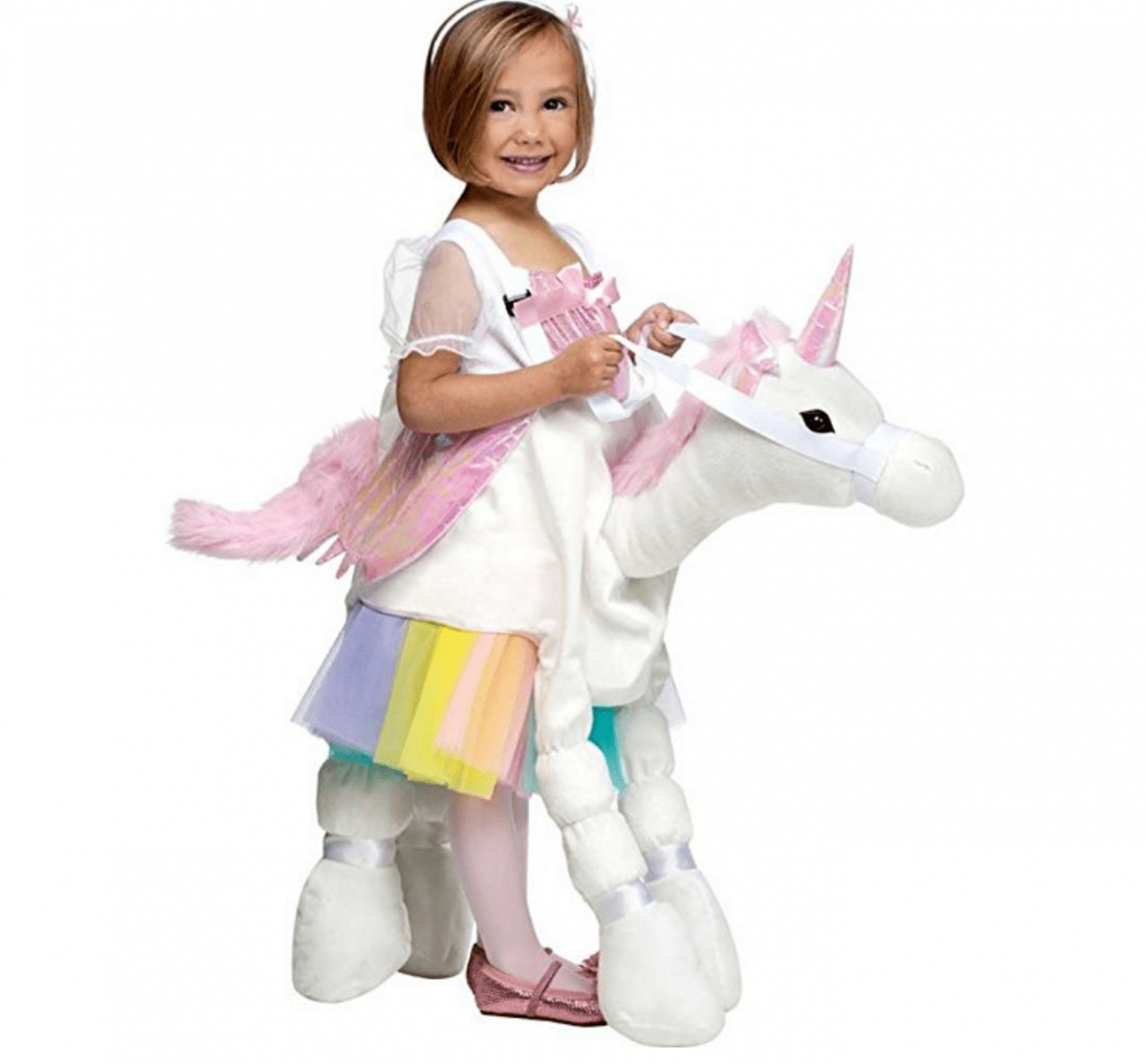 Plush Ride-On Unicorn Costume
Kids love getting a ride and this is one magical animal they'll happily hop on to. Bonus is that after all that trick or treating, they'll have a plush and cozy friend to take home and cuddle with.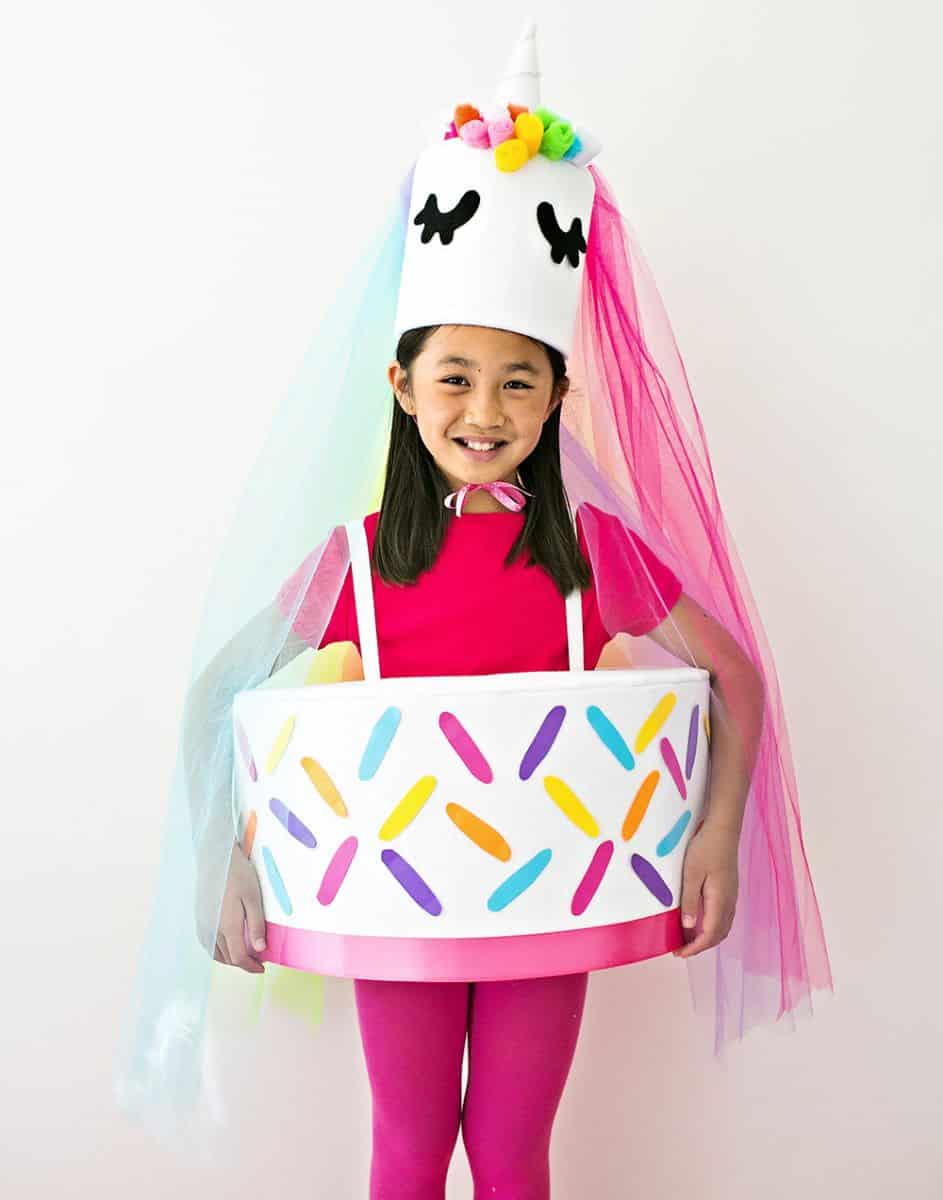 Unicorn Cake Costume
Be the most popular trending cake of the year with this sweet DIY sprinkled Unicorn Cake costume.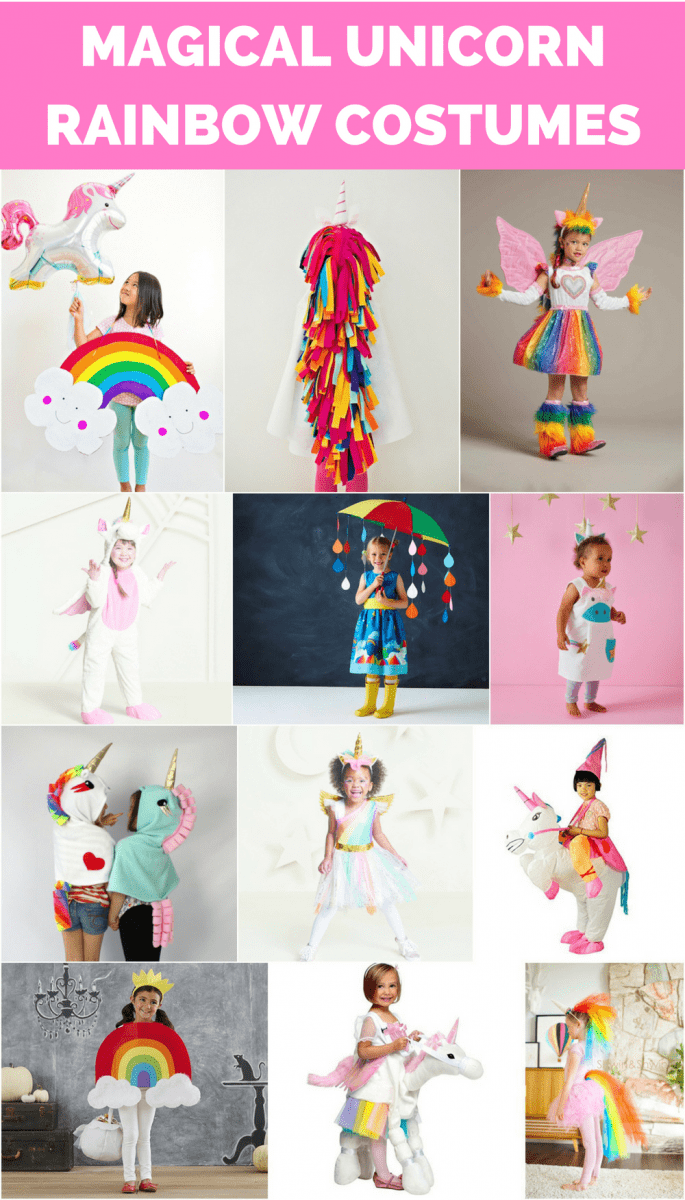 ______________________________________________________________________________________________________

Disclosure: Some of the links in the post above are "affiliate links." This means if you click on the link and purchase the item, we will receive a small affiliate commission. Regardless, we give our promise that we only recommend products or services we would use personally and believe will add values to our readers.