Originally published April 10, 2017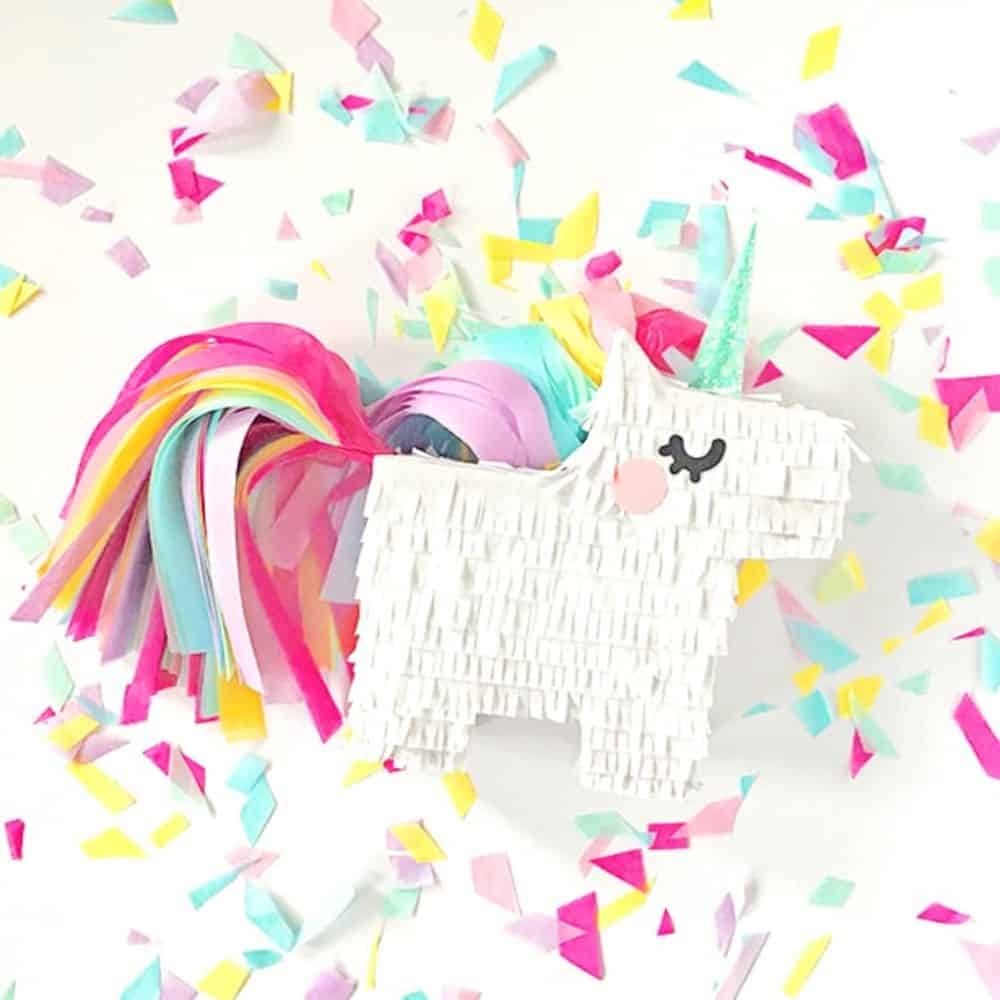 I love making piñatas, and this mini unicorn piñata is simply fabulous. It's perfect for table decor and kids' parties. You can hang these mini unicorn piñatas all over the yard and have everyone take a swing at them.
Do you remember taking a swing at a party piñata as a child? I think it's every kid's right of passage to experience the joy of these candy-filled paper creations. I always loved when there were little toys inside!
Did you know that piñatas are actually hundreds of years old? The first piñatas are credited to the Chinese back in the 14th century! It's amazing how this party tradition has stuck around for so many centuries.
Have the kids make one of these little unicorn crafts for a fun afternoon activity. They can choose to fill them or keep them as decoration. Your kids are going to love making these just as much as they'll love busting them open to find the treats hidden inside.
This is just one of the many cute unicorn crafts for kids that your family can make together. These crafts are perfect for any day of the week. They'll be sure to add happiness while spreading smiles around the room.
Making a DIY Unicorn Piñata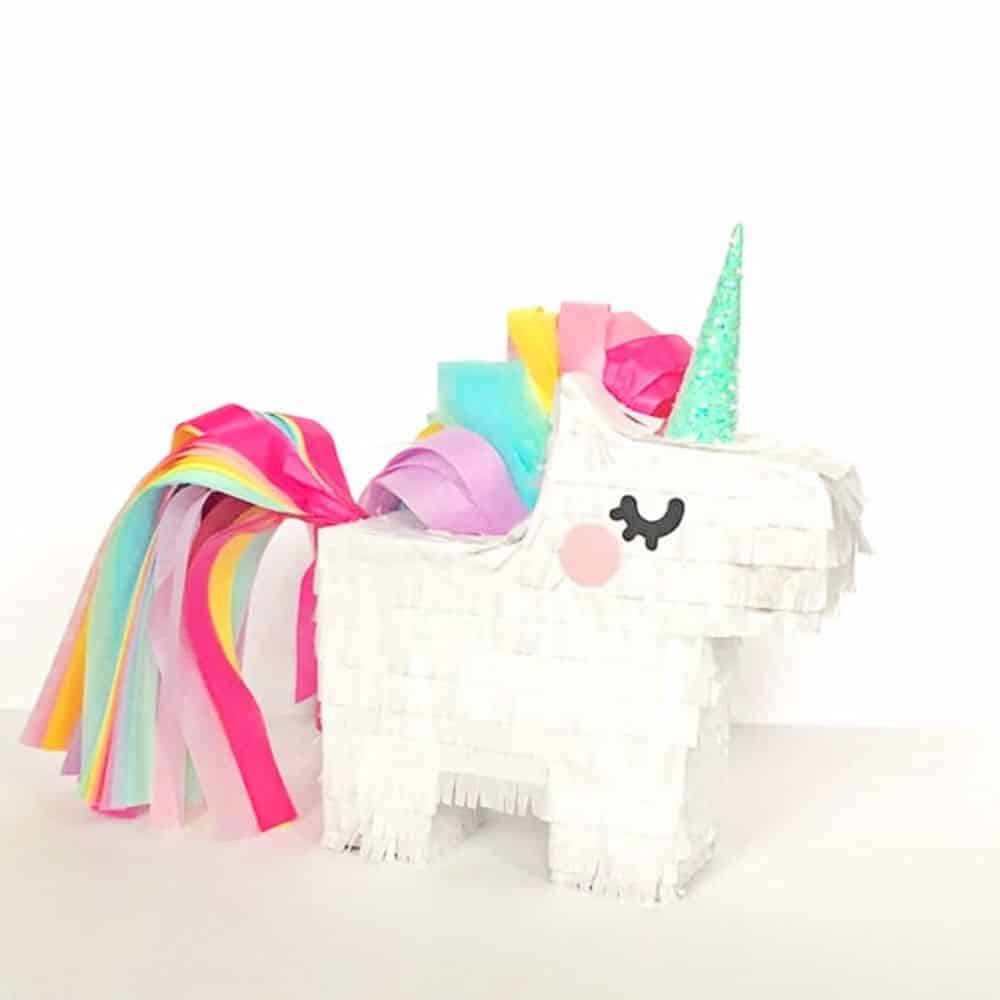 If you've never made a unicorn piñata before, there's no need to worry about your first try. We've got a free printable template that you can use to make the task as simple as possible. Once you've printed out the template, it's just a matter of cutting along the lines and following the instructions below.
Unicorn Piñata DIY Materials
Most of the materials you need are easy enough to find if you rummage around in your pantry at home. If you can't find a spare cardboard box, you can ask around at your local grocery store for some old ones they might be willing to give away.
Now, let's jump into all the materials you need to get started.
Cardboard box

Tissue paper

Scissors, craft knife, or box cutter

Tacky glue

Hot glue

Cardstock paper or construction paper
DIY Unicorn Piñata Template (see right below for link)
To make this process as easy as possible, we've got a free mini piñata template for you to use below. Just CLICK HERE TO GET THE TEMPLATE.
Click Here to Get Your Free Printable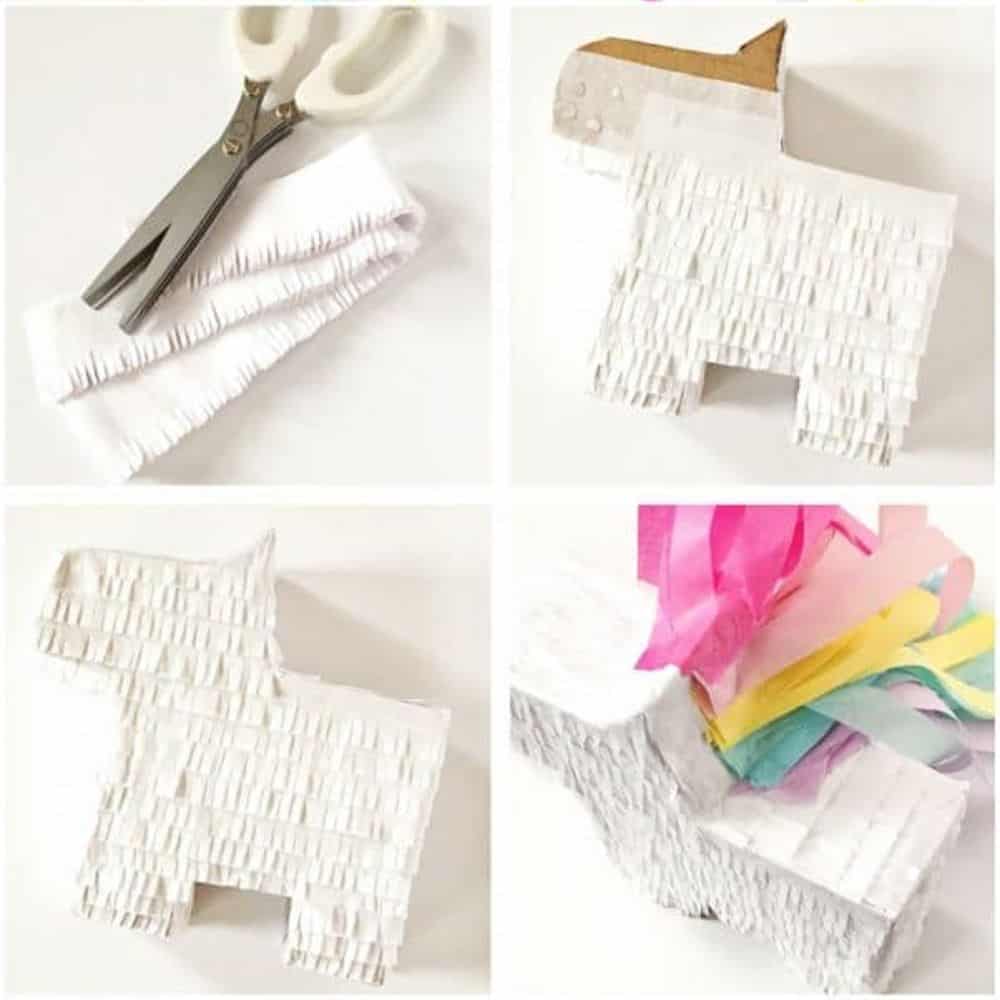 Unicorn Piñatas – Directions: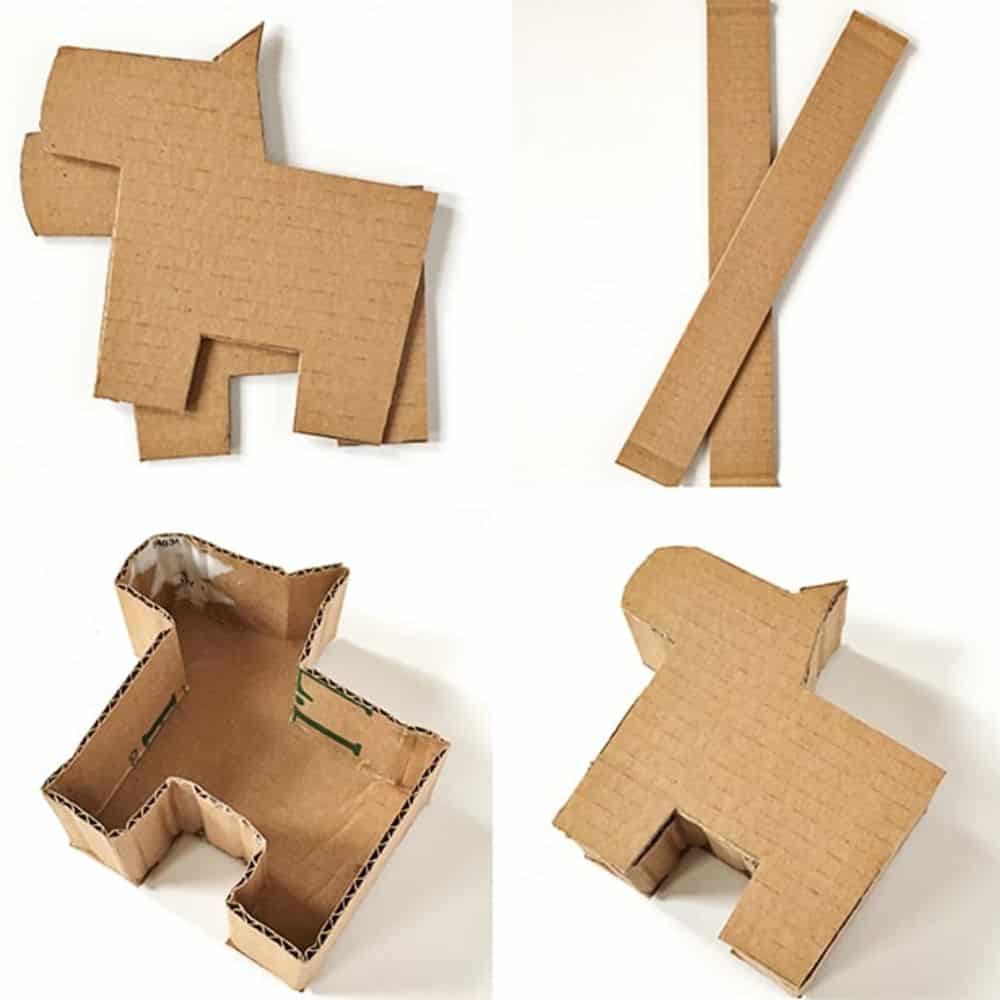 Step 1. First, you'll want to download and print my piñata pattern. Then, cut out the unicorn shape.
Step 2. Trace the pattern onto the cardboard. You'll need two pieces of cardboard per piñata.
Step 3. Cut long strips of cardboard about 1.5 inches wide. You might need several of these.
Step 4. Hot glue the strip along the edges of the unicorn vertically. Remember to leave a portion unglued if you want to fill it up with candy. Continue all around the edges.
Step 5. At this point, you may want to thread some string in your piñata. You'll use the string later on to hang the piñata from a tree, so your kids can try to bash out the candy inside.
Step 6. Glue the second shape on top.
Step 7. Cut strips of tissue paper at 1.5 inches, then cut fringe in that size as well. You can do this with a regular pair of scissors or use a hand-shredding scissor.
Step 8. Glue fringe along the side of the piñata, then start at the bottom of the piñata and glue on the fringe horizontally. Keep doing this until you've covered the entire piñata.
Step 9. Use my pattern for the horn to trace on cardstock paper. Once you've cut it out, curve the shape into a cone.
Step 10. Cut out eyes and cheeks from cardstock paper. Then, glue them onto your unicorn.
Step 11. Use tissue paper, yarn, or ribbon to make the mane and tail for your unicorn piñata.
Enjoy your Unicorn Piñata DIY Project!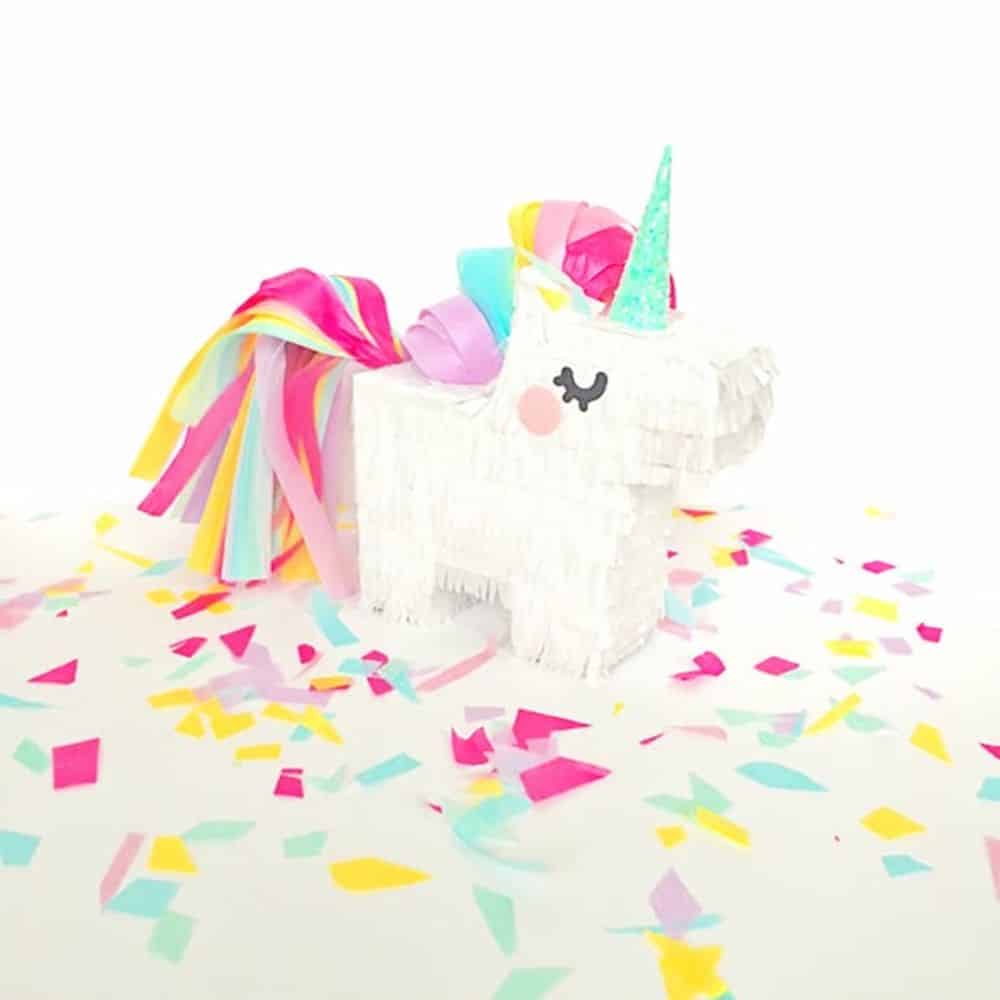 Now that you've put your piñata together, you can string it up on a tree branch or let your kids have a go! The best part is that you can re-print the template every time you have a party you need to decorate for. Your kids are bound to love the sweet surprises inside, and you can even leave the piñata empty if you want to use it as a decoration.
Have you ever made a piñata before? Check out magical unicorn costumes and unicorn toys for more crafty inspiration to enjoy with your little ones!
You can see more of our creative arts and crafts projects for kids here.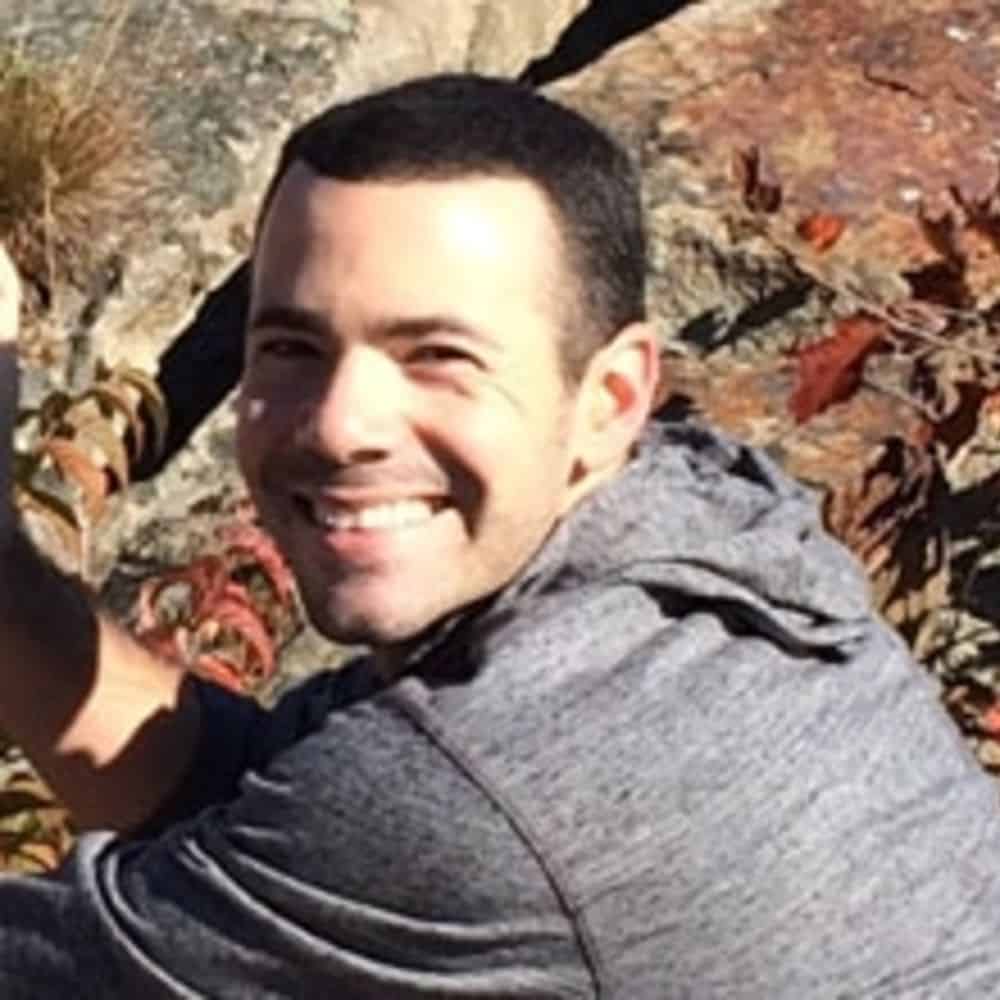 John Lavelle is an artist and art teacher who loves working with all things paper – cardstock, cardboard, foam board, tissue paper, and of course, toilet paper tubes. John graduated from the School of Visual Arts with a Bachelor's Degree in Cartooning and earned his Masters degree in Art Education.
Over the past few years, John has been working with young individuals who have ASD, which constantly keeps him on his toes. His students are the inspiration behind the creative projects he prepares for their daily art classes. You can follow his latest projects on his site, the Art Dream.