This DIY Unicorn Flower Backdrop will be sure to brighten up any room in your home, whether it's for your kid's bedroom or playroom.  You can make the flowers any color that you and your kid wants, and with my free printable template, no one will have a headache in trying to figure out the pieces.
The unicorn flower backdrop is beautiful to look at, but it's also great to feel – this makes a great paper cutting and folding project for your child!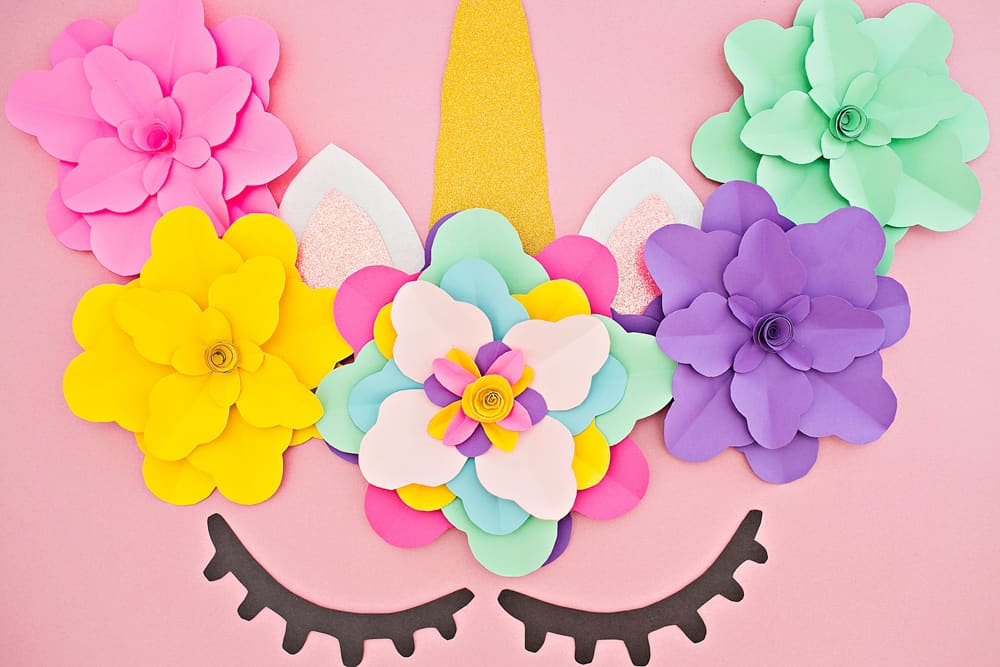 Scroll down to watch and follow along with our DIY Unicorn Flower Backdrop video tutorial, and be sure to subscribe to our channel for more fun crafts and ideas!
It's no secret we're big fans of unicorns, and the recent release of our Send a Unicorn Birthday Box has us feeling like a party! We thought it would be fun to make our own DIY unicorn flower backdrop – a lovely spring or summer craft and the absolute perfect addition to magical party decor! In fact, add our DIY Unicorn Balloons, free printable DIY Unicorn Favor Boxes, and  a fun  unicorn party craft to easily pull together a full DIY unicorn party in just a couple of hours!
If you love this unicorn flower backdrop, then you'll these Cute Unicorn Crafts for kids. So much inspiration of happiness ready to be made!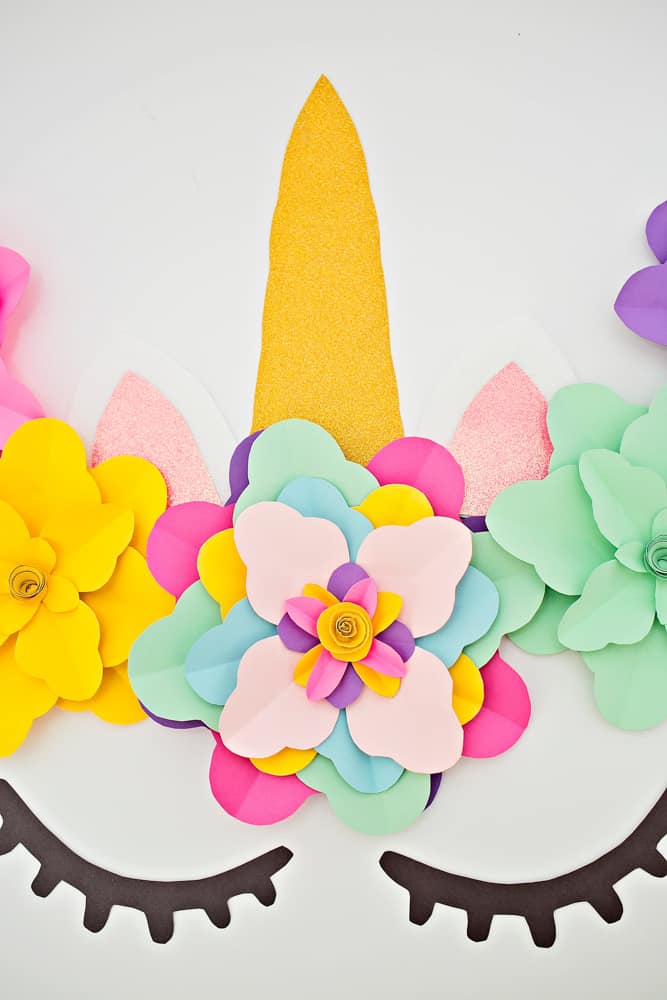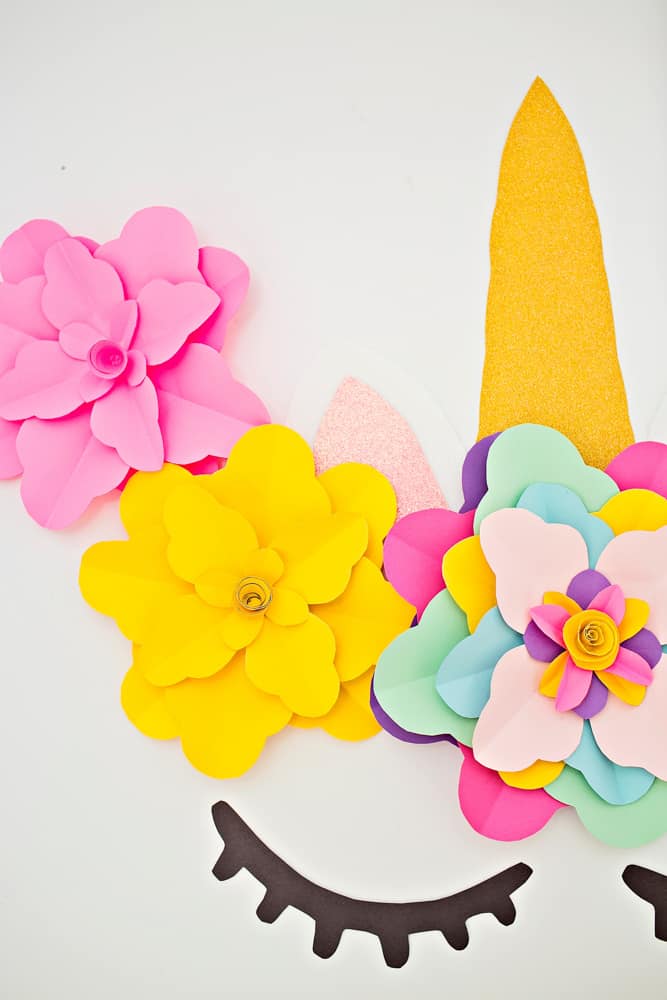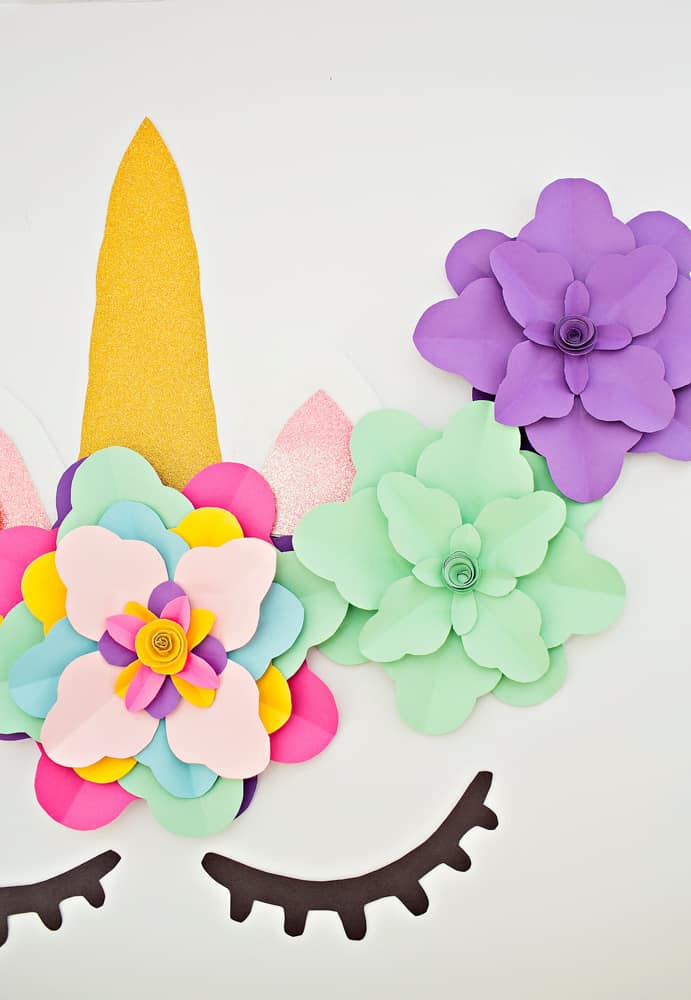 DIY UNICORN FLOWER BACKDROP – MATERIALS: 
Glue
Scissors
Gold and pink glitter paper
Black and white cardstock
A popsicle stick or pencil for curling the center of the flower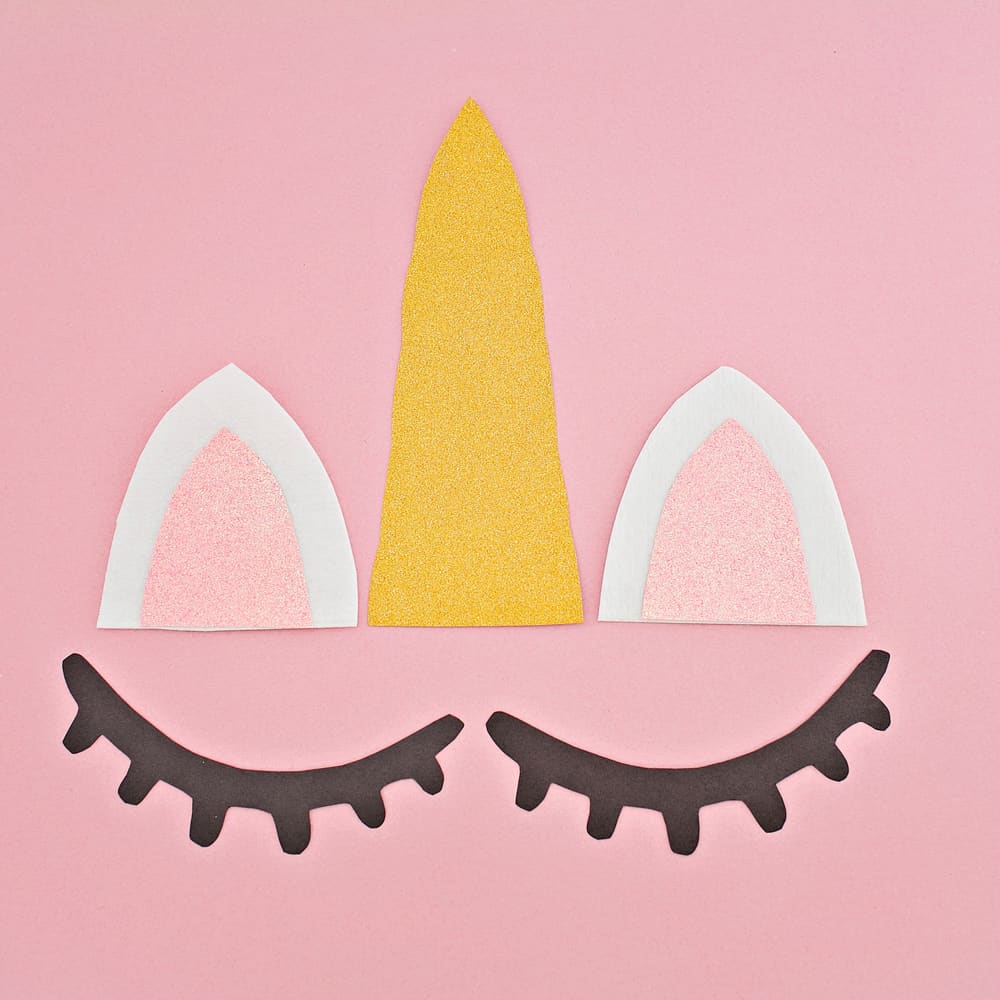 DIY UNICORN FLOWER BACKDROP – INSTRUCTIONS: 
(Make sure to scroll down to watch the full DIY video!)
Step 1: Print out all the templates and cut around the shapes. The first two pages are the "large" flowers and the 3rd and 4th pages are the "medium flowers."
Step 2. For the large center flower, we used 3 large flower shapes (to create one large one) stacked on top, and for the side flowers we used two medium flowers shapes. You can of course stack as many flower petals on top as you want, the more you stack the more dimensional the flowers look!
Step 3. Fold the petals once cut to give depth. Glue on top of another. For the center, curl with a popsicle stick and glue in the center. Watch the video below for these steps.
Step 4. Cut out your horn, eyes, and ear templates. Then use them to trace on white/black and glitter cardstock.
Step 5. Put your unicorn flower backdrop together! If  you will be sticking this on a wall, you can add removable sticky tabs to keep in place.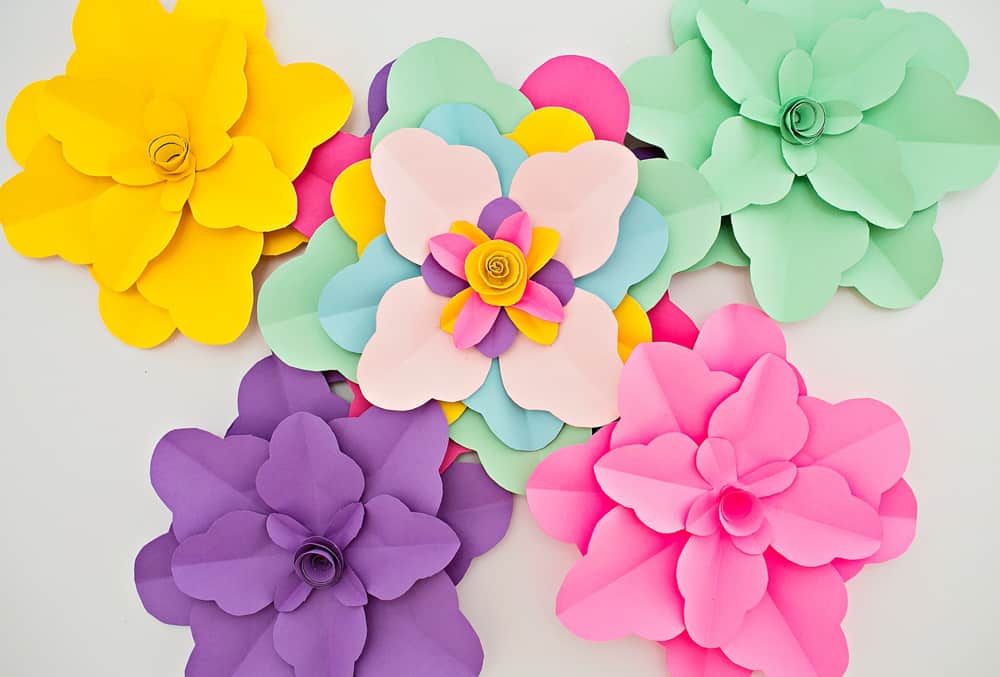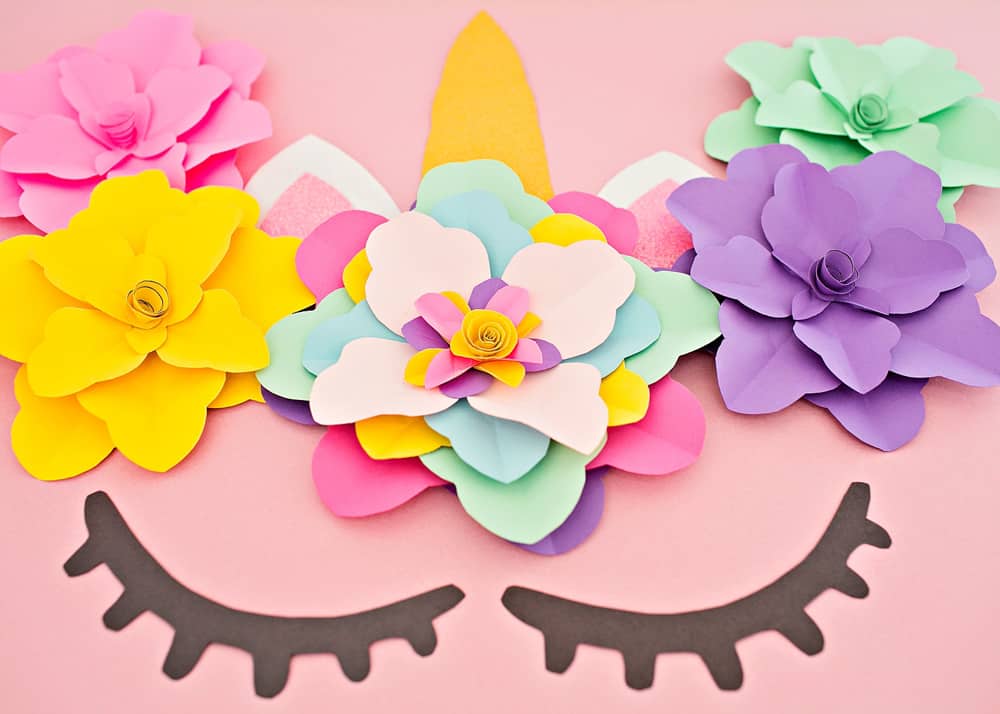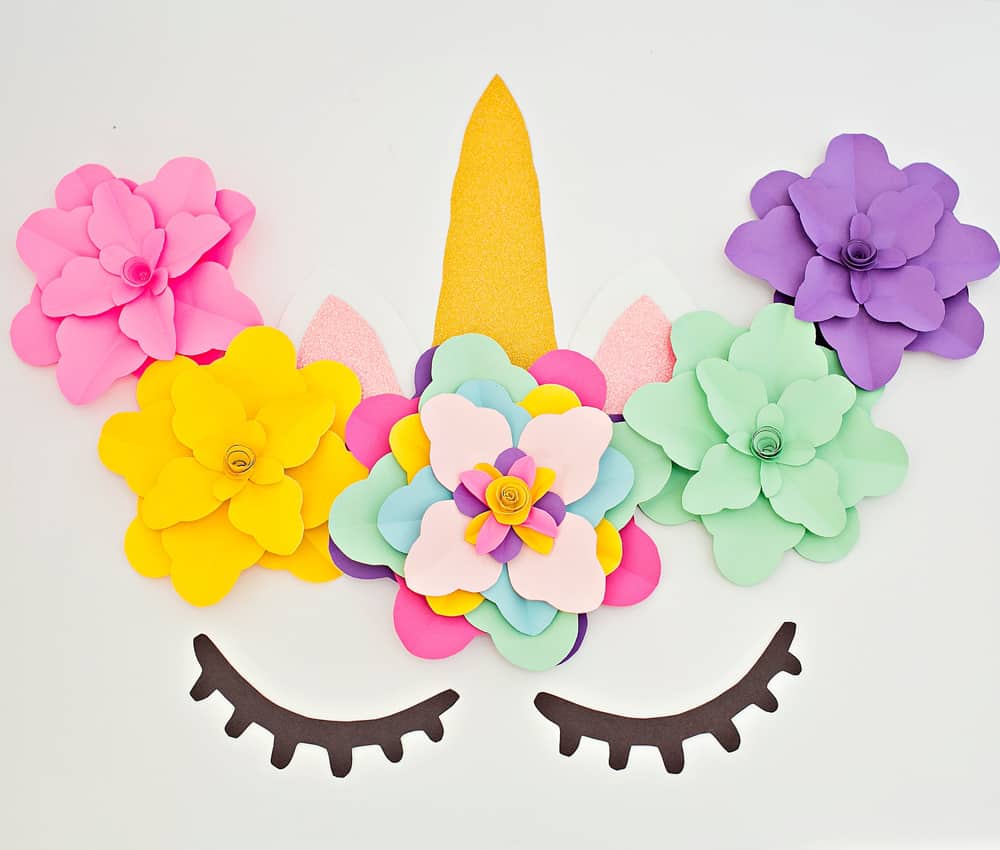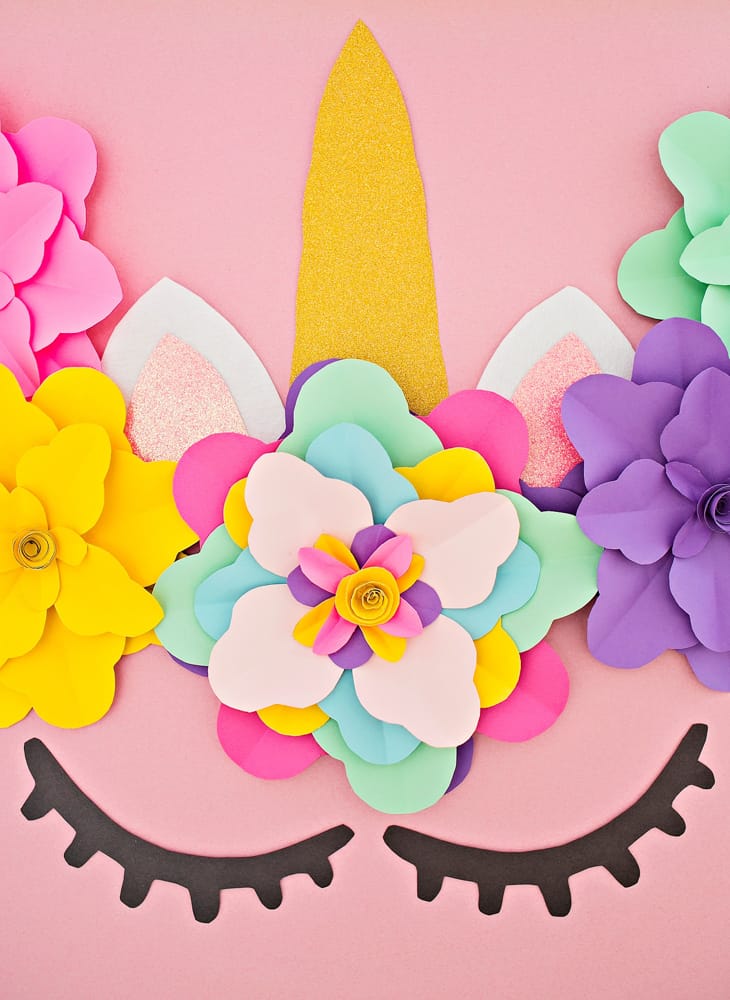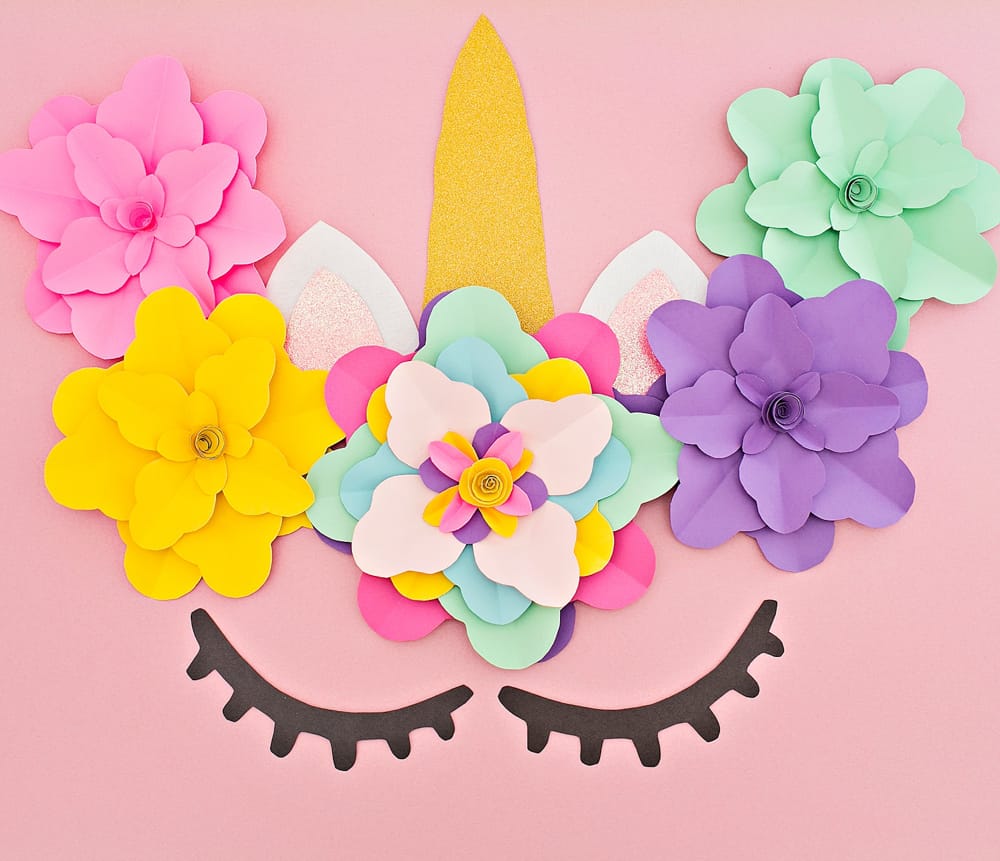 Isn't it just too cute?? Do you have some favorite go-to crafts for easy and quick party decor? To add some next level magic to a DIY unicorn party, we highly recommend sending some super delicious Unicorn Candy Bark and a Magical DIY Unicorn Rock home with guests . Need a little extra sparkle? Try our  DIY Unicorn Flower Box Planter for a touch of special hand made decor and an even better party craft activity!
Watch the DIY video below to make your own Unicorn Flower Backdrop:
SaveSave
SaveSaveSaveSave
SaveSave
SaveSave
SaveSave