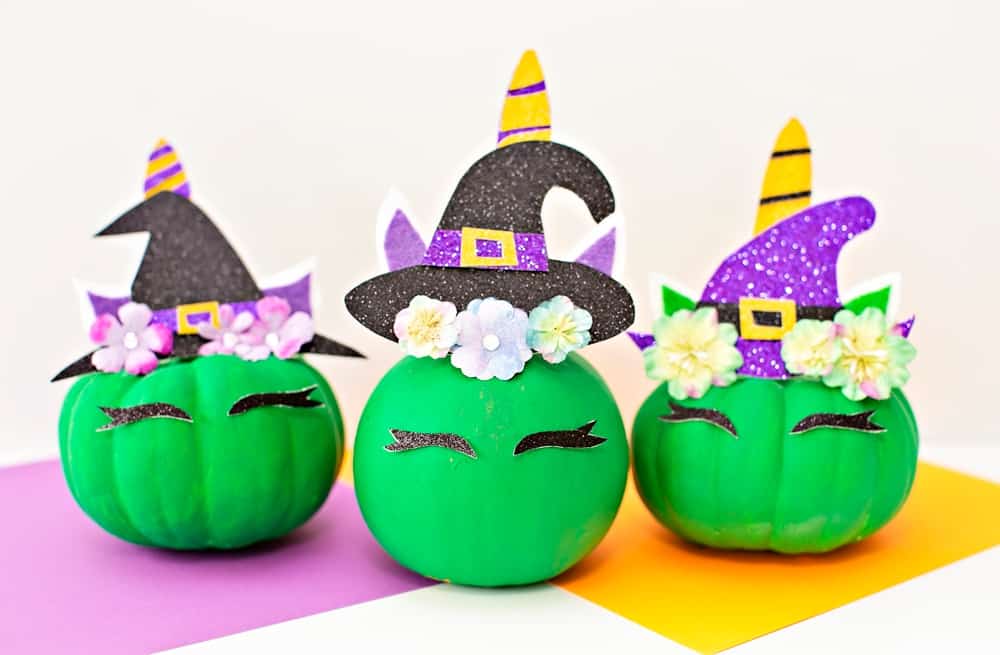 Follow us on Instagram for more fun ideas for kids!
Watch the video below to see this fun Pumpkin Unicorn Witch in action. Make sure to subscribe to our YouTube channel for more fun videos!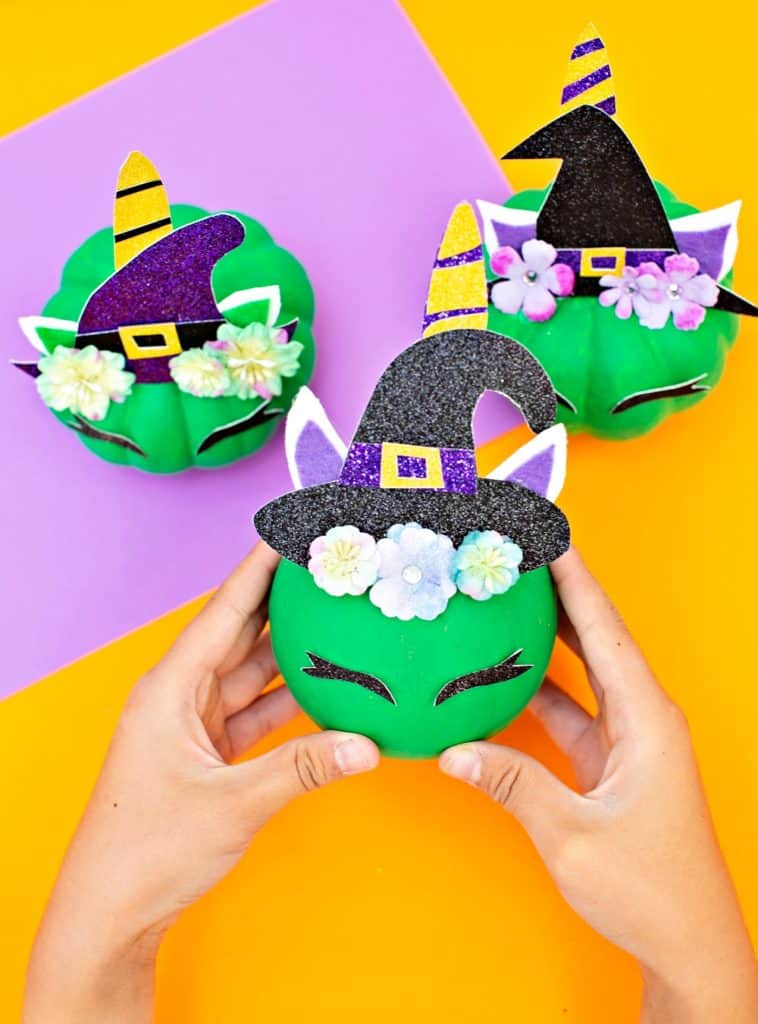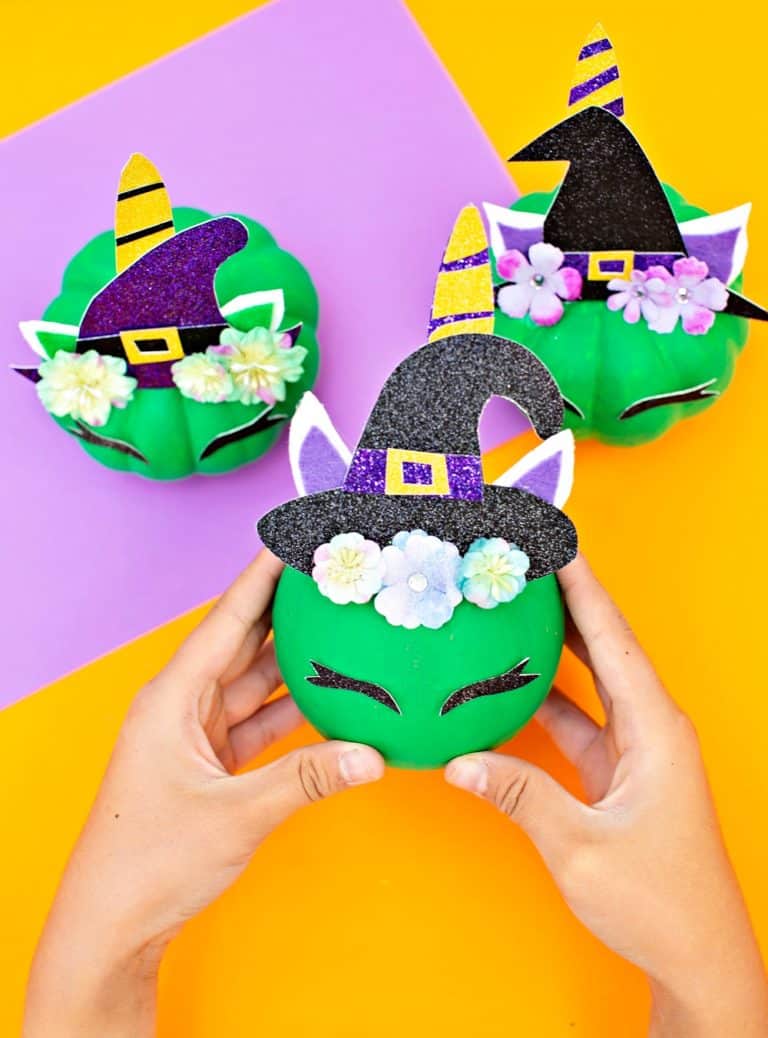 This DIY Pumpkin Unicorn Witch brings big magic to Halloween and is a fun no-carve pumpkin decorating idea!
I'm a little bit obsessed with all things Halloween and pumpkins. For so long I spent years cutting and carving pumpkins, but now that we have kids, I've realized how much fun painting and gluing on them can be instead!
Plus I can't resist a cute unicorn craft and had to do a magical twist, like we did last year with these unicorn pumpkins! Those in fact, inspired these cute not creepy witch unicorns!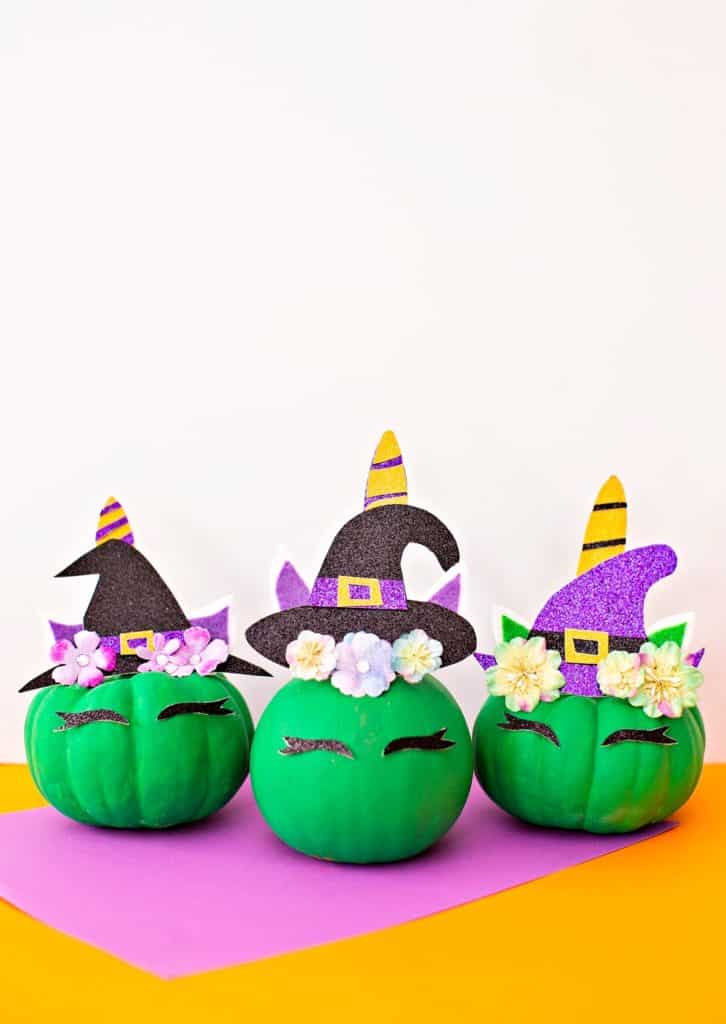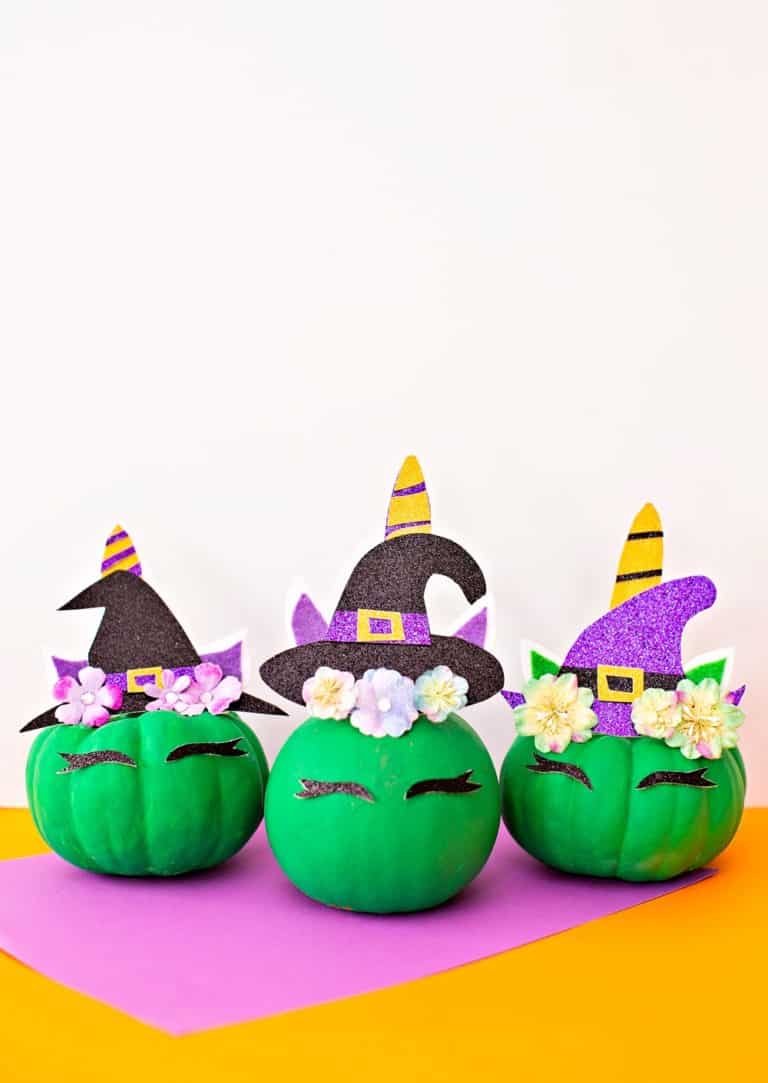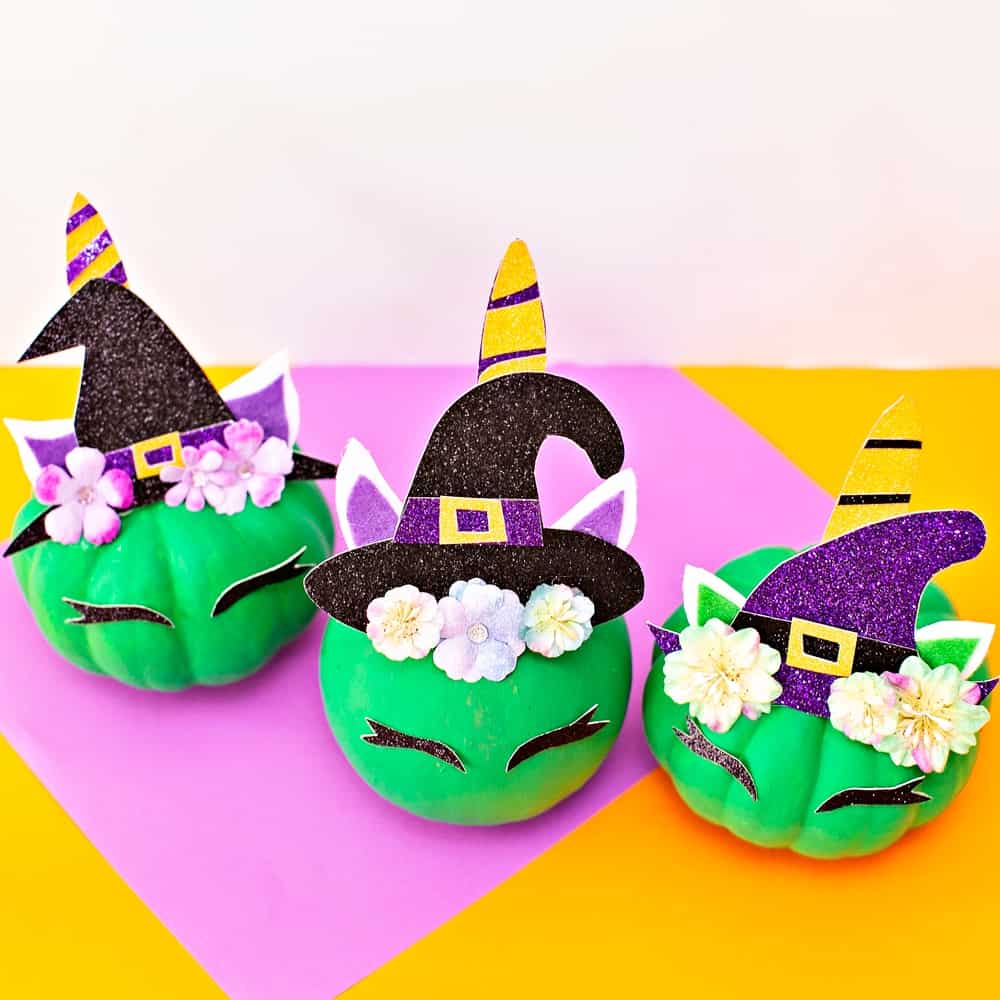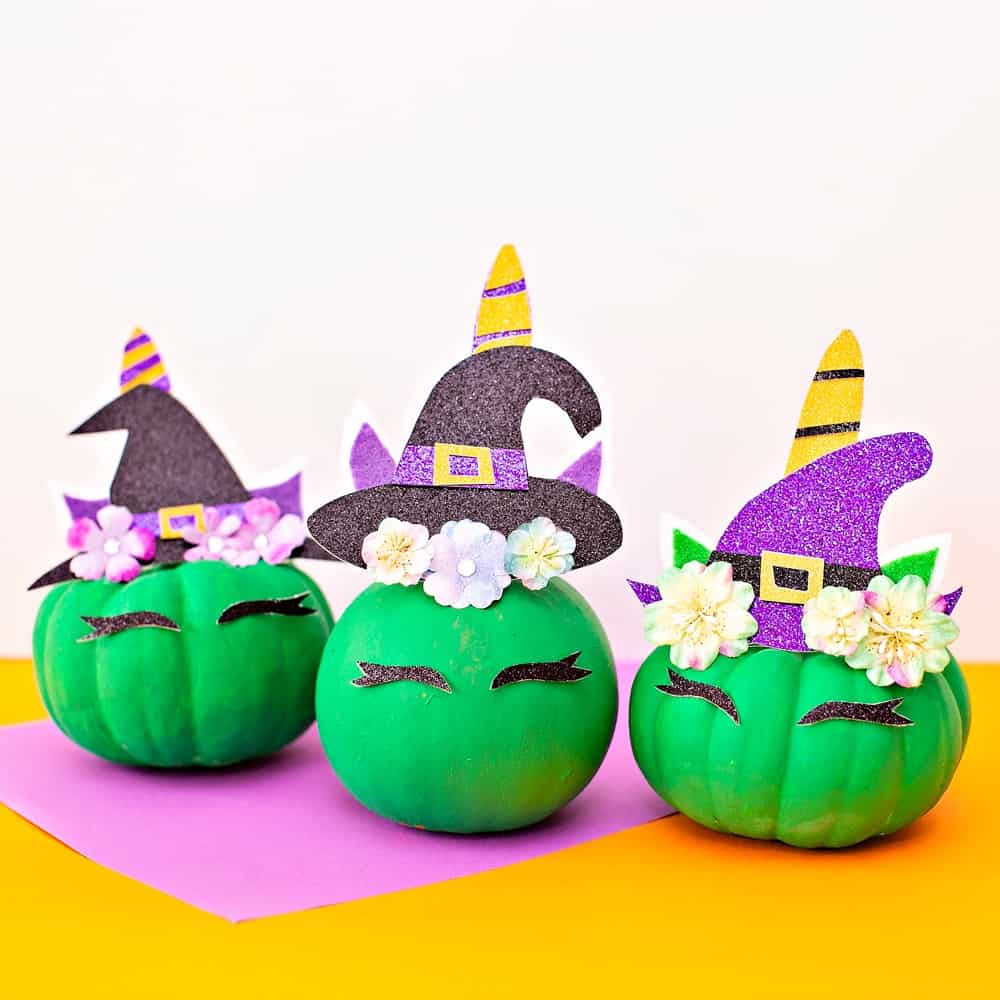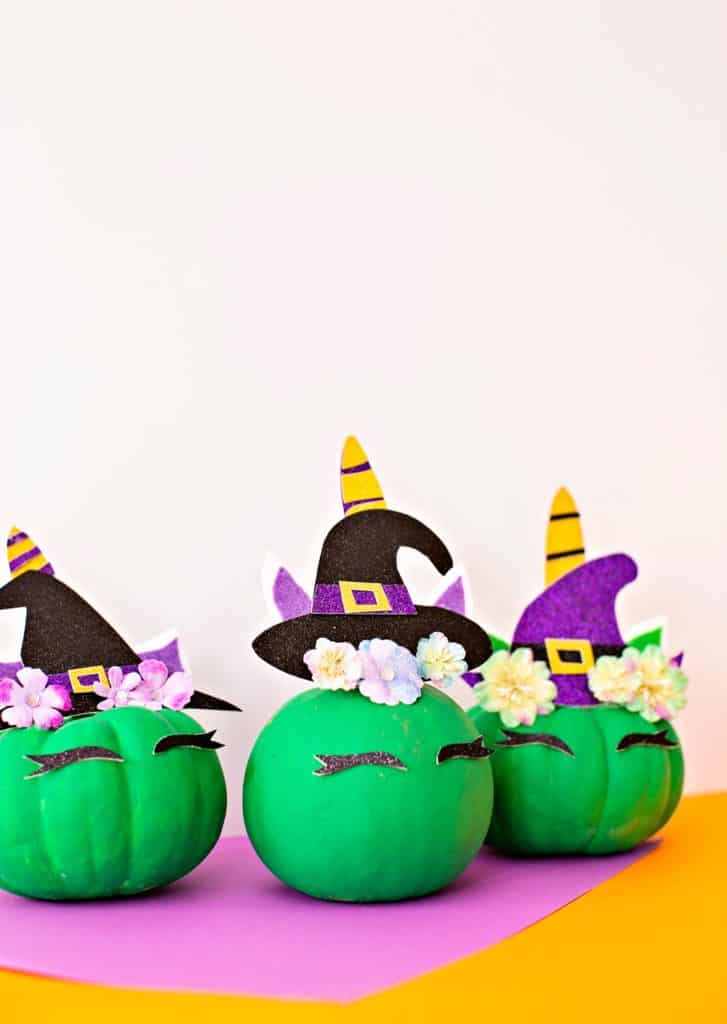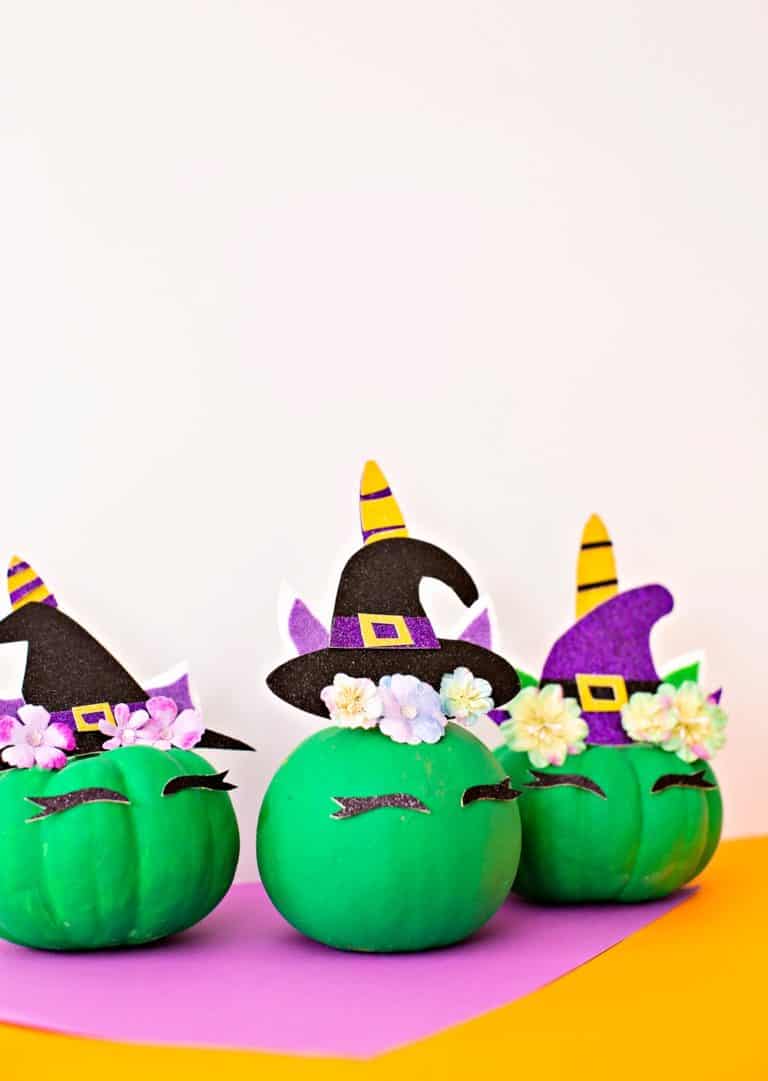 This Pumpkin Unicorn Witch craft is a great way to work on the creative skills of your children and their fine motor skills as well by painting, cutting and gluing paper parts. It's also a creative no-carve pumpkin decorating activity!
You can actually even turn this simple Halloween activity into an all-day event if you want. Just load up the kids in the car and spend the day at the local pumpkin patch. Let them pick out their own little pumpkins to bring home and then the decorating fun can begin.
This creative craft allows you and your child to bond together on so many different levels. From talking about what's' inside a pumpkin to think-tanking about all the ways that pumpkins can be decorated for Halloween.
I have a feeling that these adorable painted pumpkins are going to be a hit.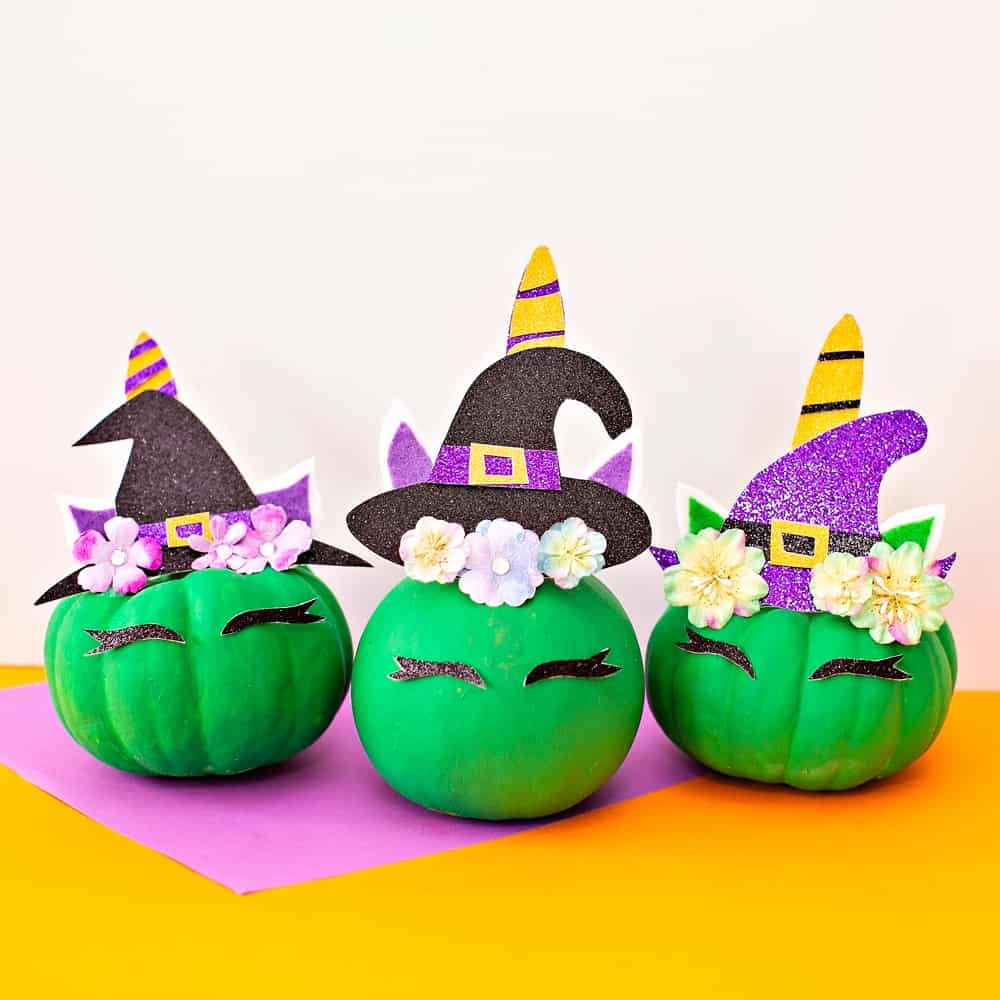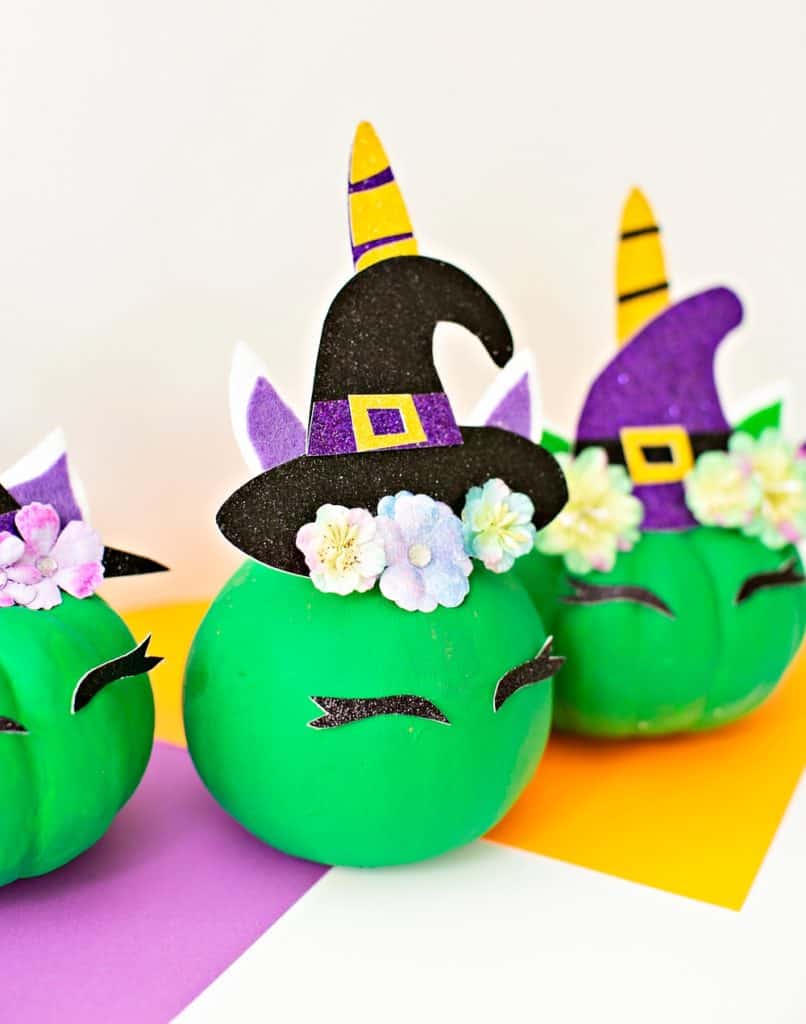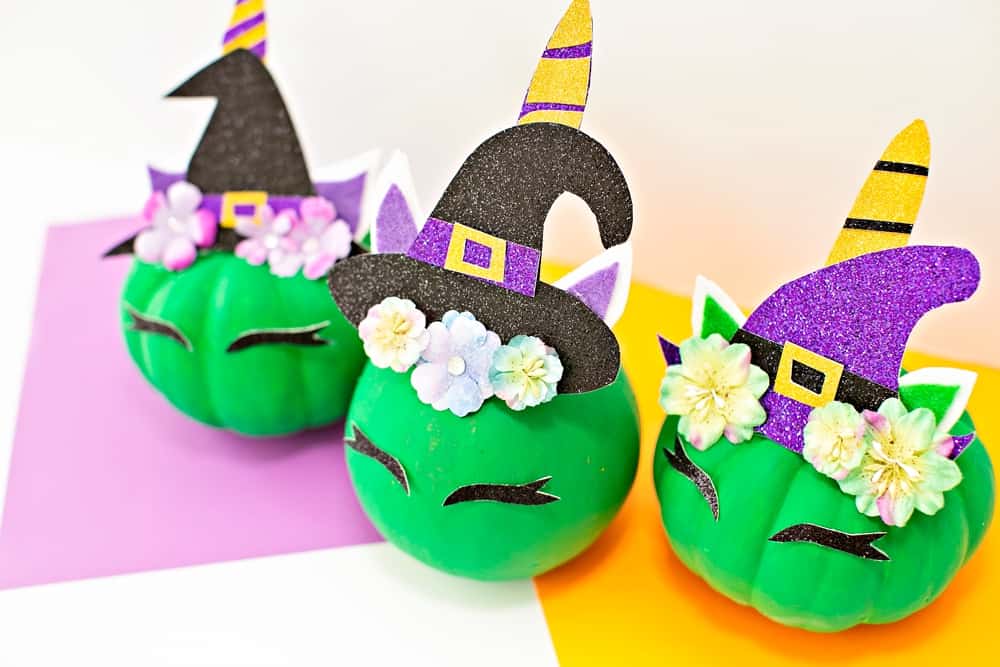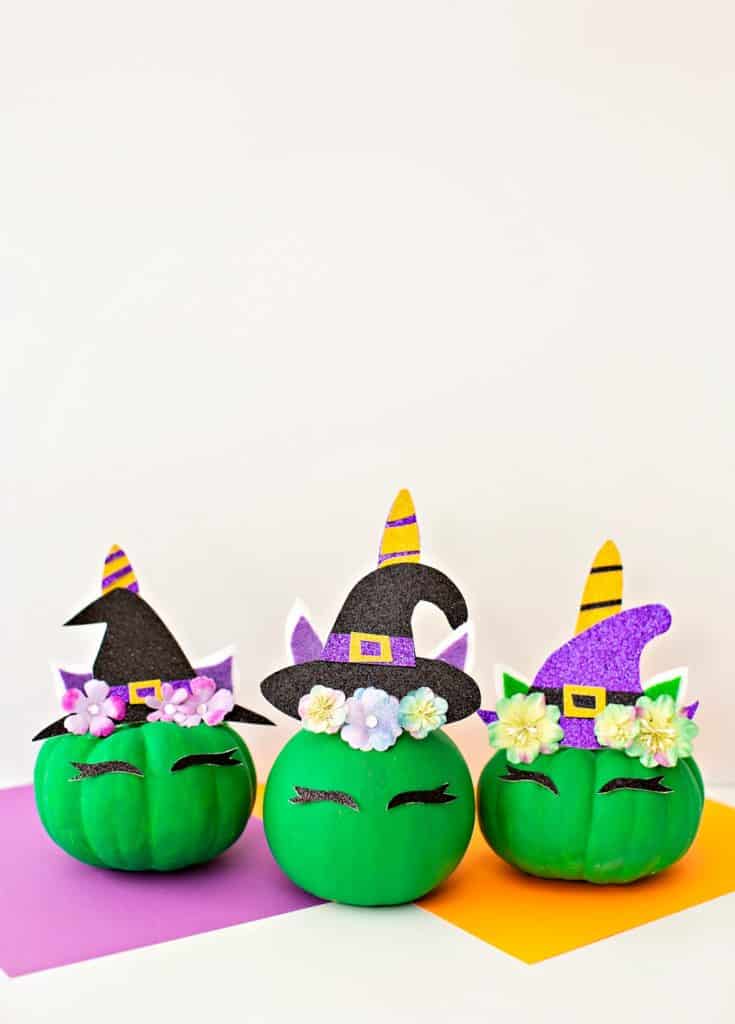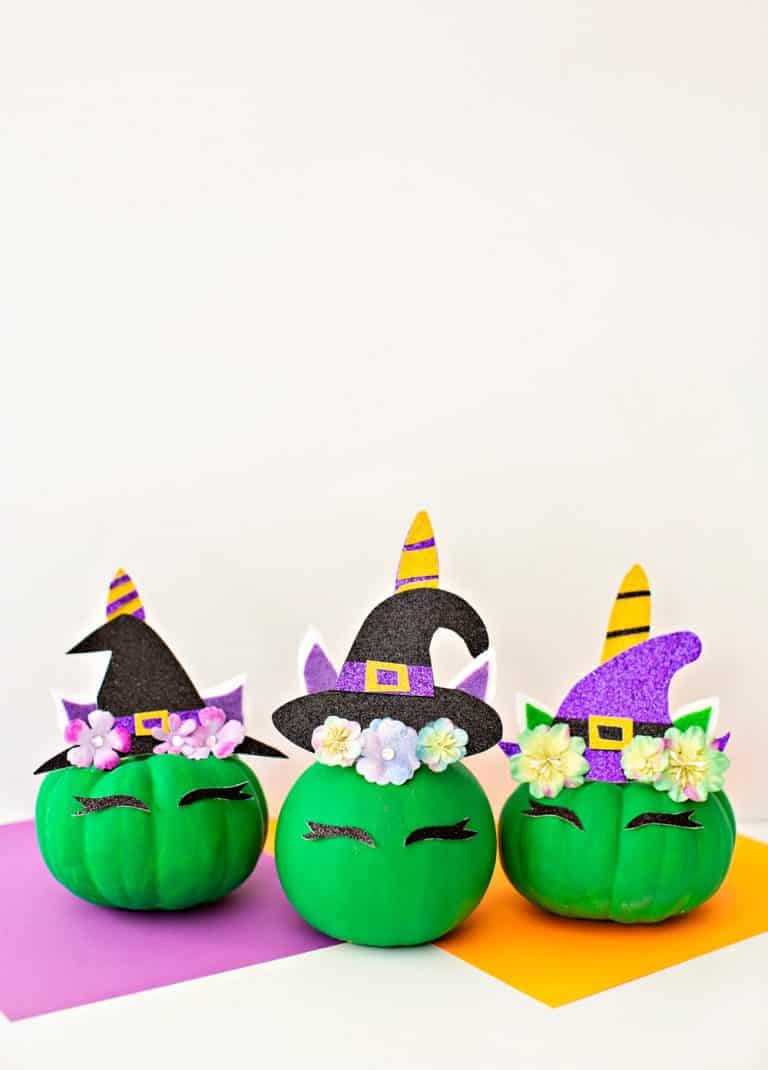 What type of paint will work well to paint pumpkins?
This is a great question. To be honest, we wanted to spray paint these like we did for our squeeze paint pumpkins because the finish is so smooth. But then we lose the learning of kids painting pumpkins on their own!
Either way ends up being fine, but keep in mind, using acrylic paint like we did, does take 2-3 coats for the paint to adhere. Pumpkins are slippery so the paint doesn't adhere well in one coat.
Regardless of which method you choose, isn't the green color of the pumpkins perfect for turning them into a witch? That green face with the pointy hat is beyond adorable!
If you want a quick set up, I would have these pre-sprayed. But if you want to get in on some process art, and have the kids paint, just know it will be a couple of days process to allow paint to dry in between coats.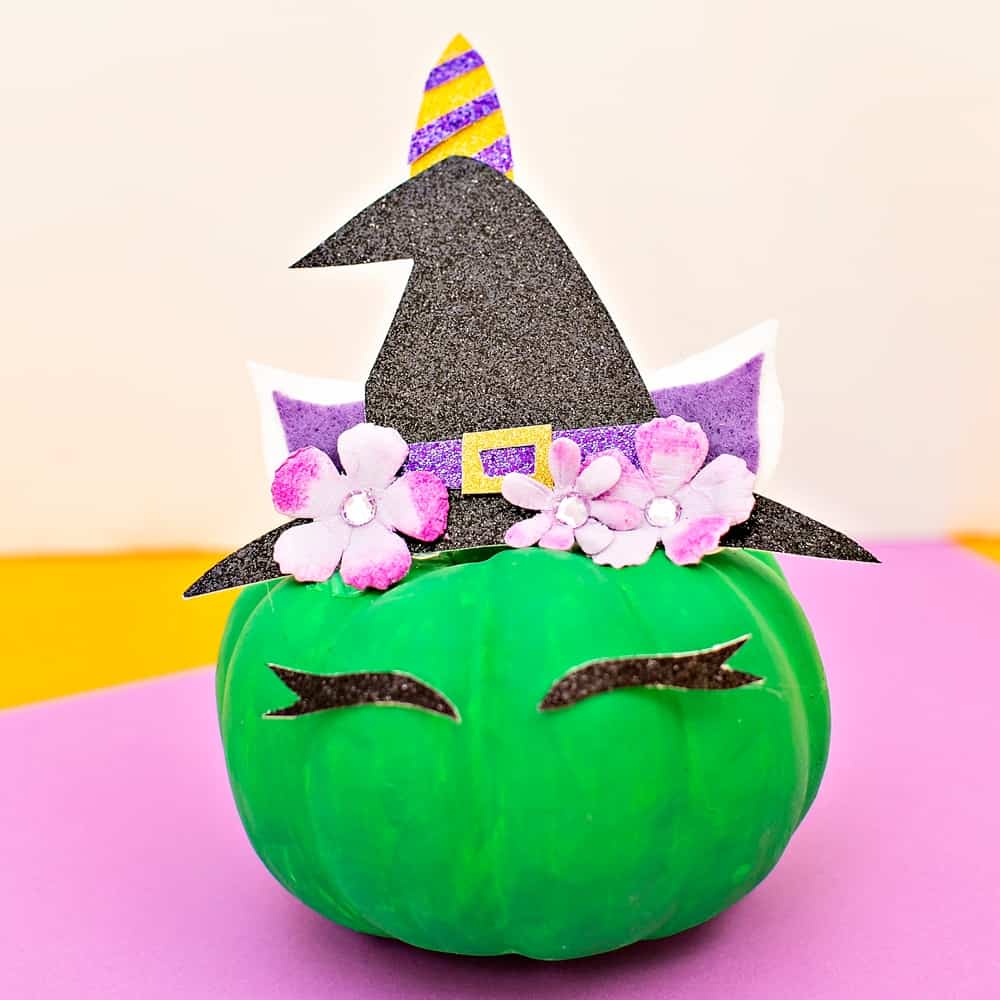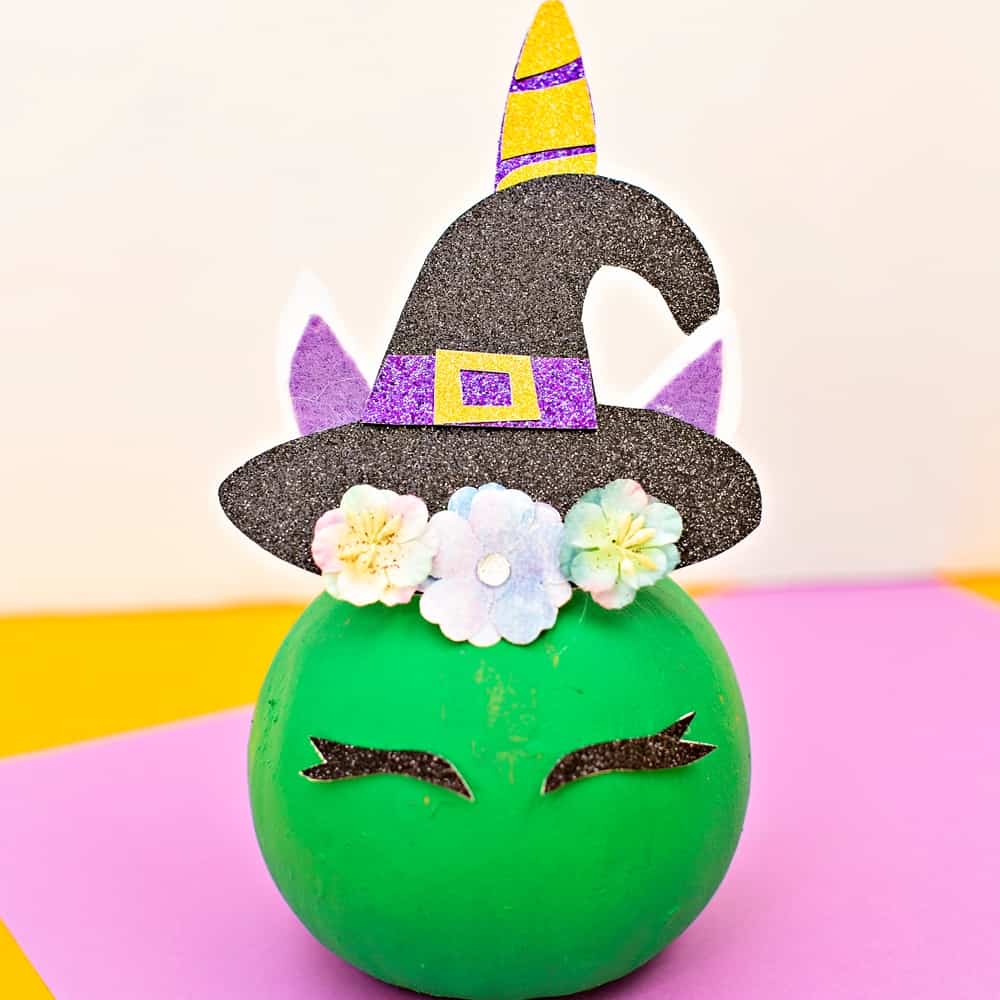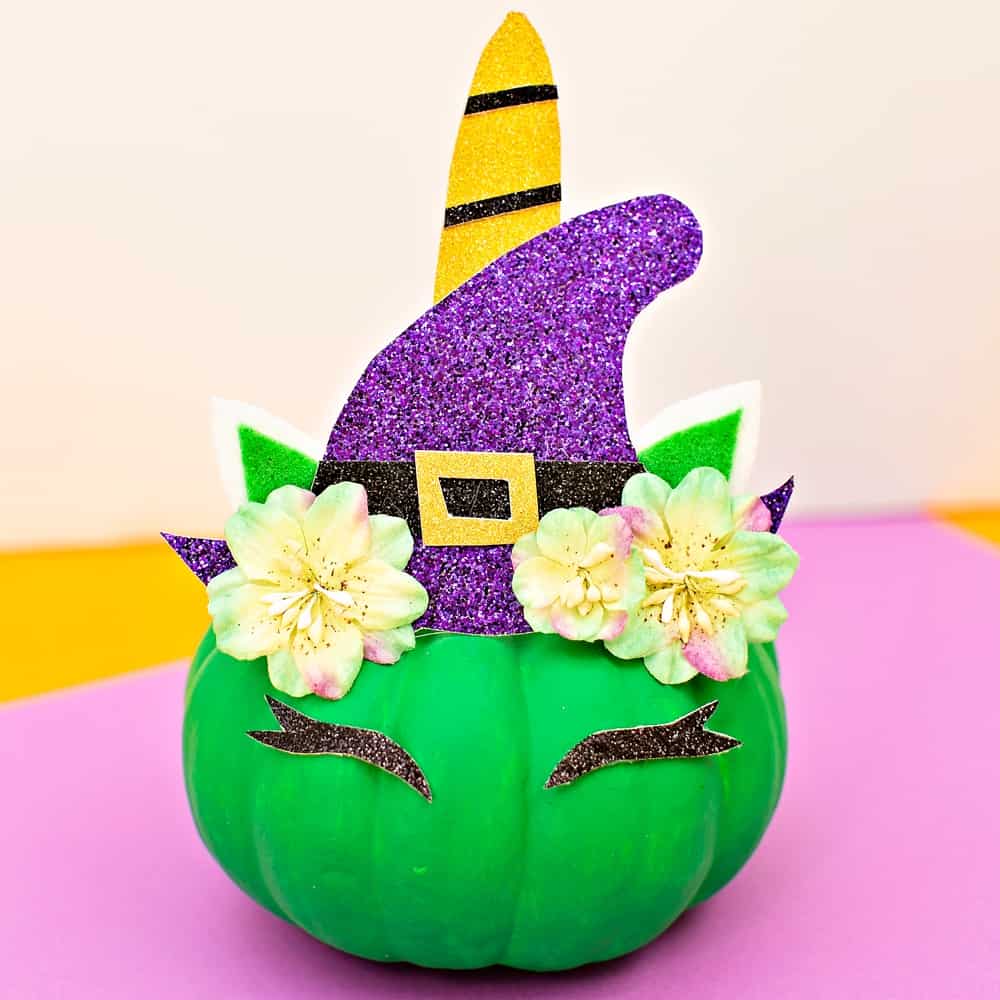 Does the paint chip on the pumpkins easily?
Yes, it can if you are not careful so if you want to preserve your painted pumpkins, I would try spraying a spray adhesive varnish to help protect and seal.
And isn't the green color of the pumpkins perfect for turning them into a witch? That green face with the pointy hat is beyond adorable!
Are there templates provided to cut out the shapes of the witch hats and horns?
There aren't for this craft because pumpkin shapes vary so much! But don't worry, they're super simple to do! Just grab some glitter paper and cut out the shape of the hat and horn. And when it comes to the ears, you just need to cut a couple of triangles out on a couple of pieces of felt. We clearly show 3 designs in the photos here to inspire you but encourage you to come up with your own unicorn pumpkin witch!
If you're helping your child with this craft, it might be a good idea to assist with any type of cutting that needs to be done. This way you can cut out the first shapes for the hat, horn, and ears and then they can use those as a template to cut out more for the rest of the pumpkins.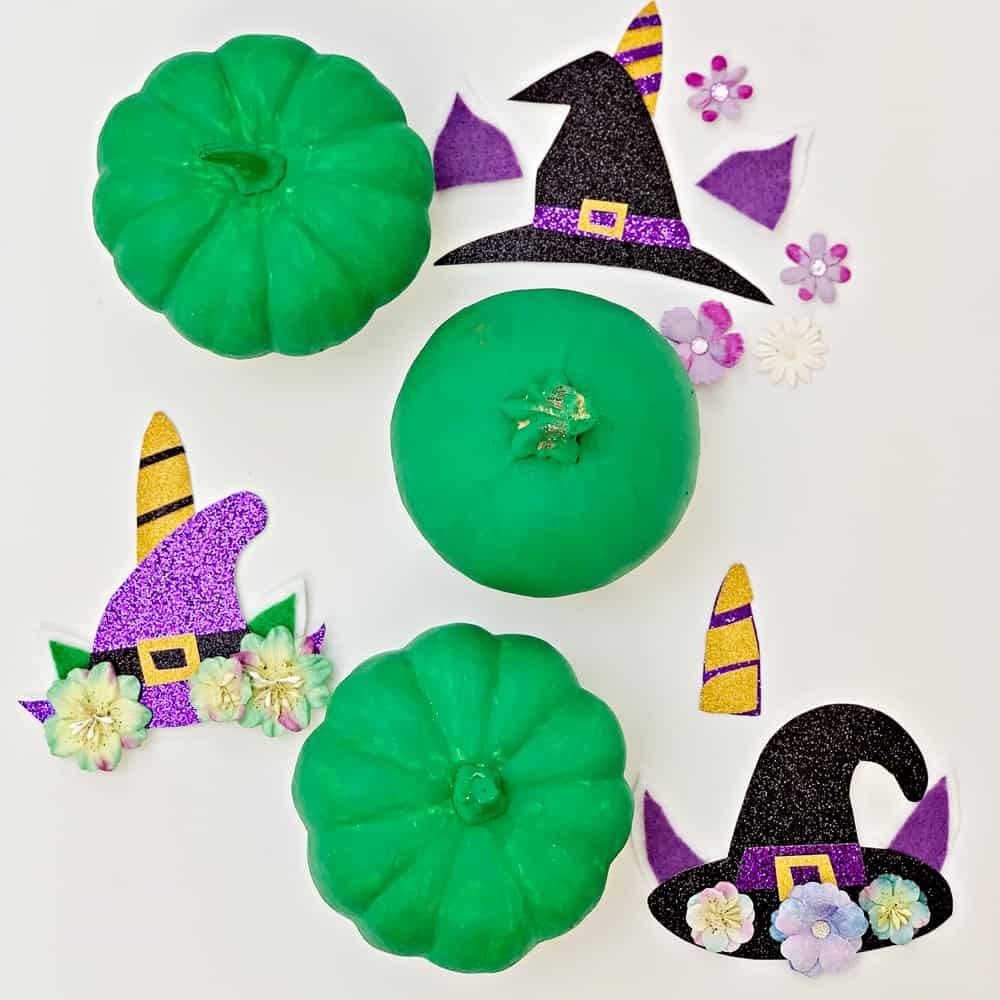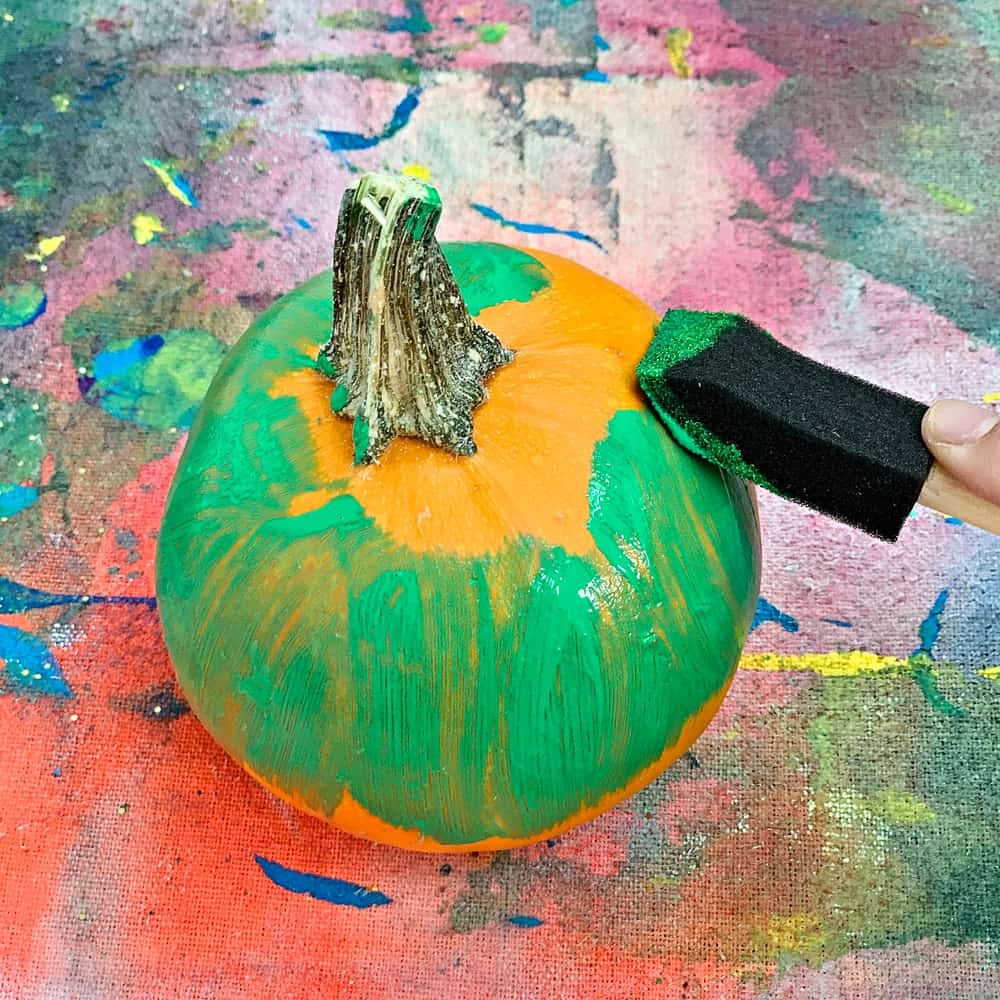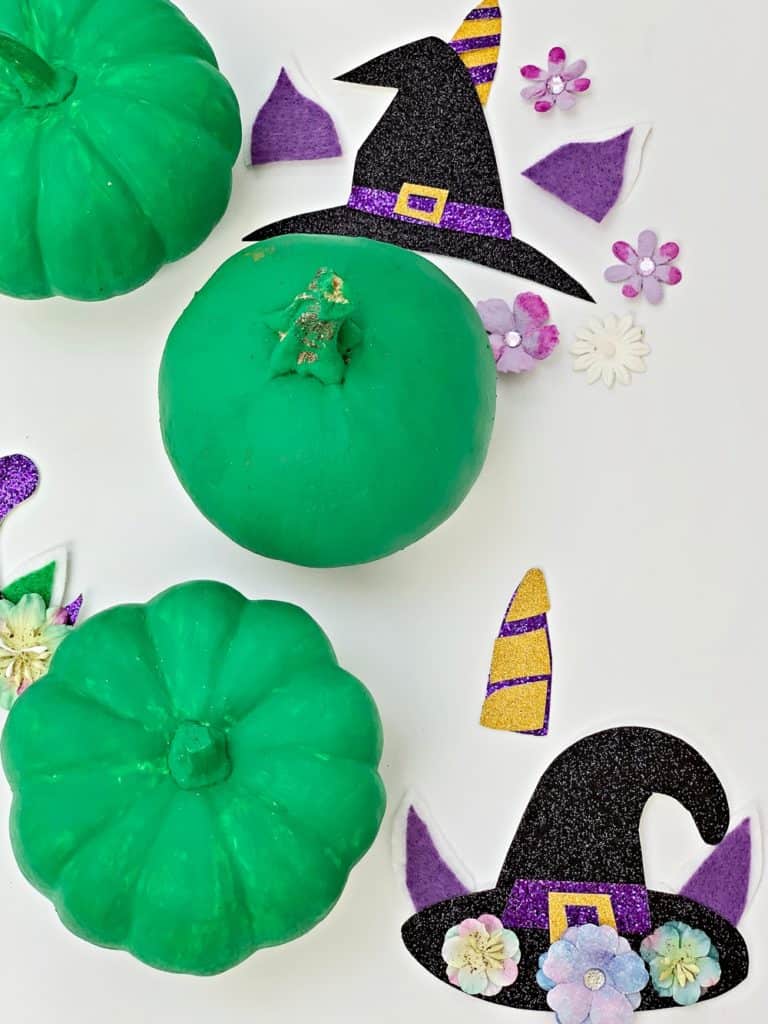 How to create this Pumpkin Unicorn Witch
You aren't going to believe how simple this craft is. The hardest part is actually being patient enough for the paint to dry!
Pumpkin Unicorn Witch – Materials:
Glitter Paper (we used black, purple and gold)
Paint
Paintbrushes
Hot Glue
Felt (we used white, green, purple)
Small Pumpkins
If you love this Pumpkin Unicorn Witch craft, make certain to take a peek at some of our fun Halloween activities as well.
Toilet Paper Tube Halloween Craft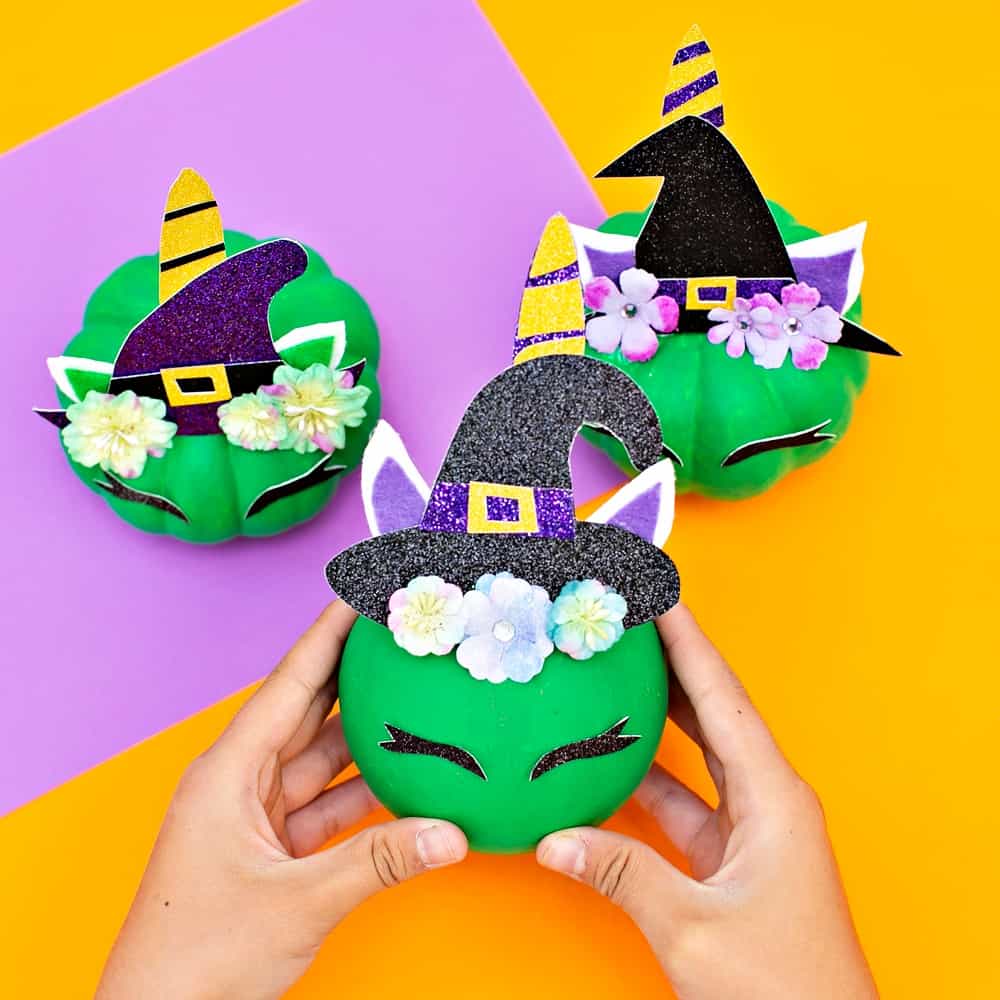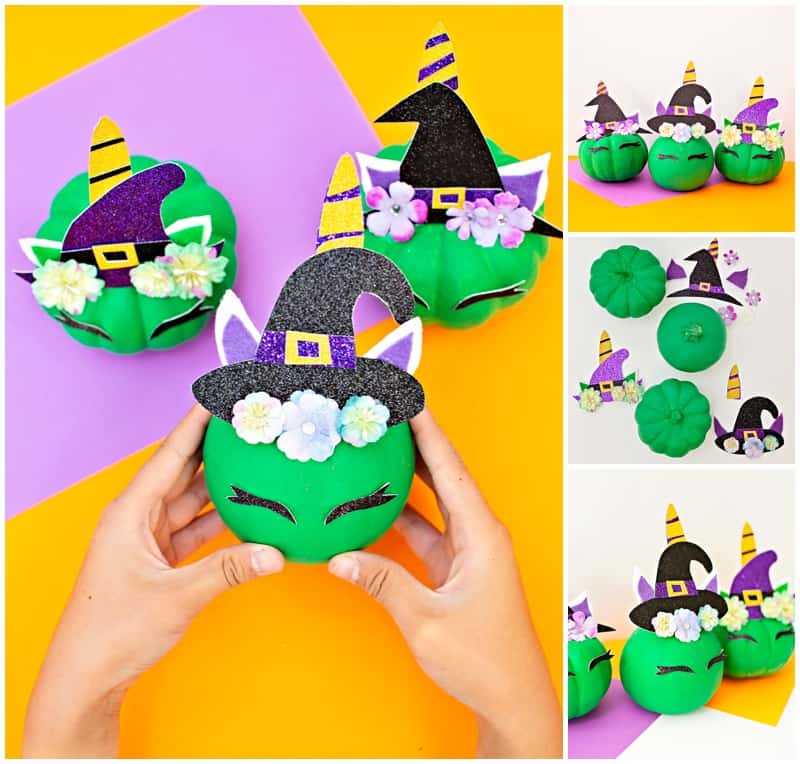 If you like this idea you might also like:
Yield: DIY PUMPKIN UNICORN WITCH
DIY PUMPKIN UNICORN WITCH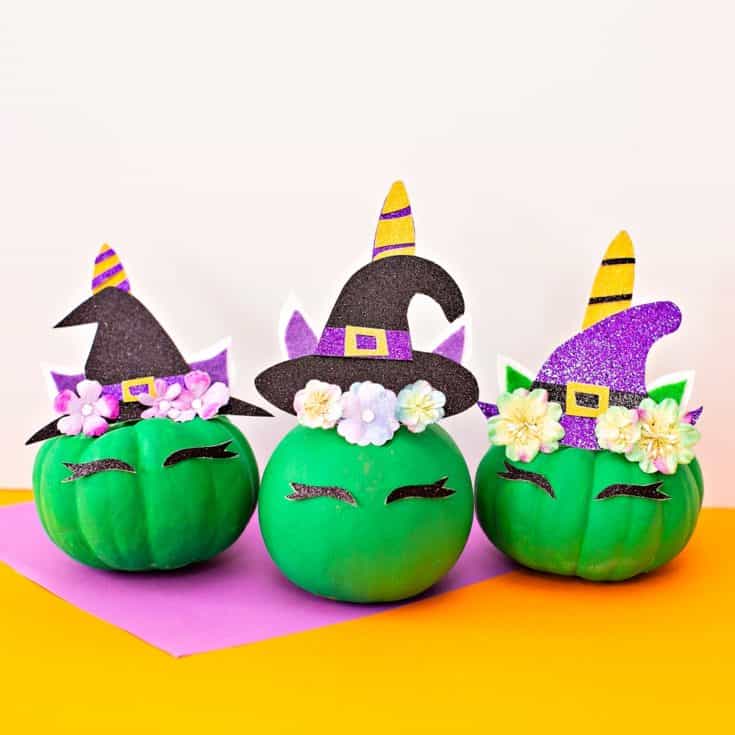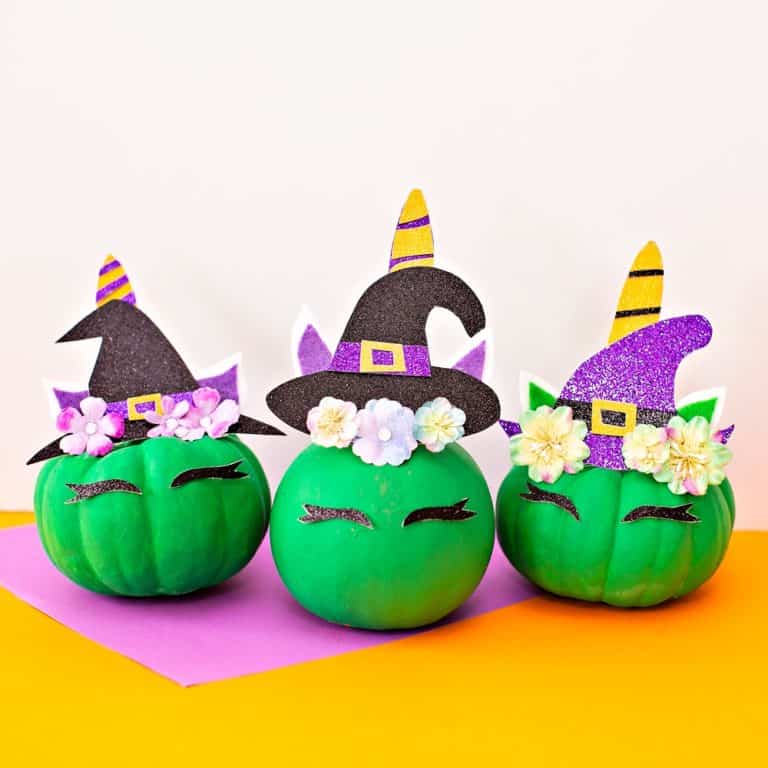 Materials
Instructions
Paint your pumpkins green. If using acrylic paint and paintbrushes instead of spray painting, note it will take 2-3 coats. Allow pumpkin to dry in between coats.

Cut out a witch hat and horn using your glitter paper. We provide 3 designs in the images.

Cut out felt ears from white felt and green or purple for inner ears.

Cut out eyes from your black glitter paper.

Decide how you will arrange your craft flowers.

Finally hot glue all your parts to the unicorn pumpkin witch. Note hot glue can fall off easily off real pumpkins. Try a strong adhesive craft glue if you want a stronger hold.
______________________________________________________________________________________________________
Disclosure: Some of the links in the post above are "affiliate links." This means if you click on the link and purchase the item, we will receive a small affiliate commission. Regardless, we give our promise that we only recommend products or services we would use personally and believe will add values to our readers.