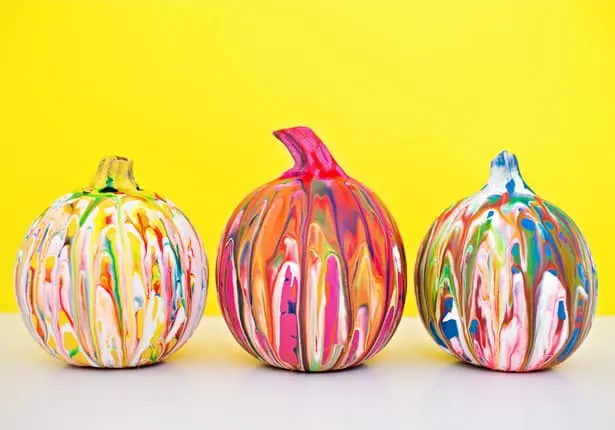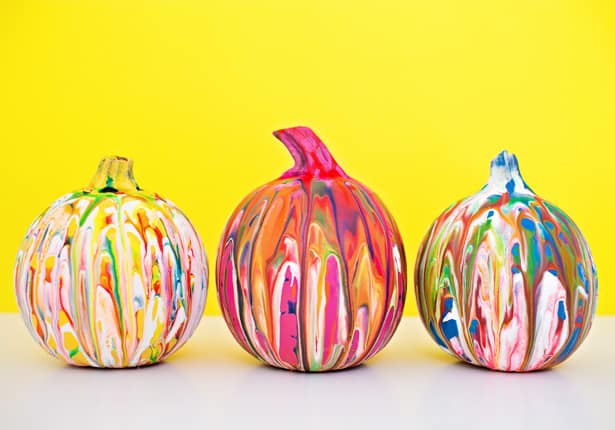 Follow us on Instagram for more fun ideas for kids!
Squeeze Paint Pumpkin Art
(Scroll all the way down to see it in action and make sure to subscribe to our channel for more fun crafts and ideas!)
With little ones, carving pumpkins may not be in the cards until they are older. This no-carve squeeze paint pumpkin art is an easy set-up that results in beautiful and colorful pumpkins. Kids will love the process of creating them as much as the final result!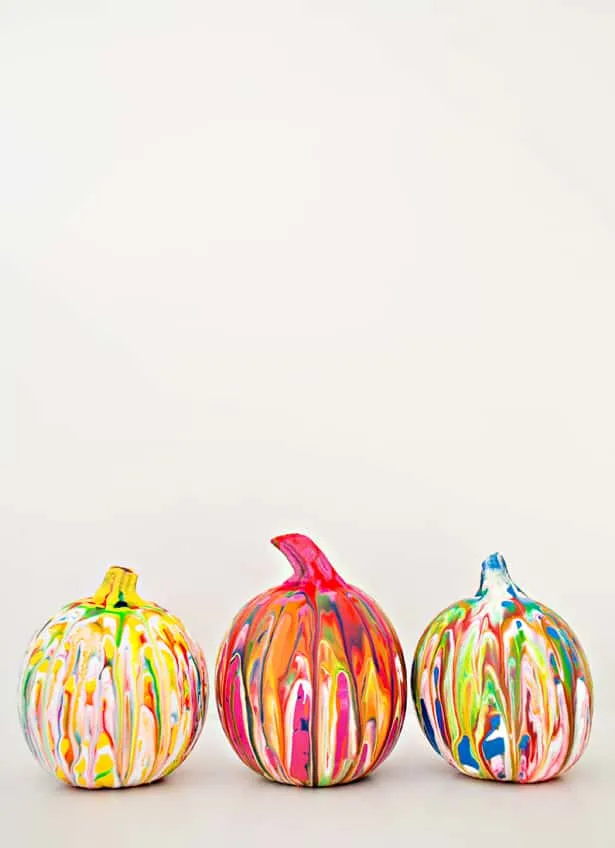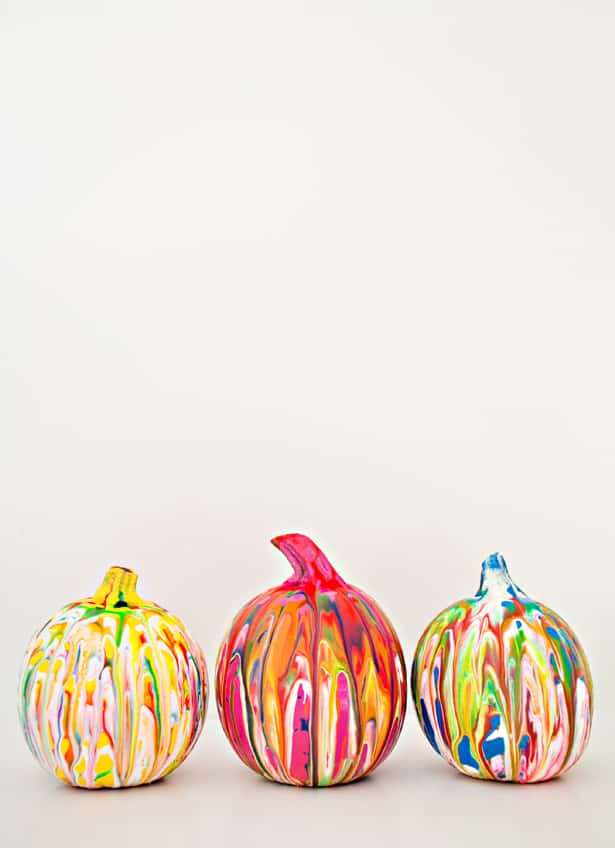 No-Carve Squeeze Paint Pumpkins – Materials:
– Pumpkins
– Spray paint (these mini cans are great)
– Paint in various colors (we love these bright neon watercolors or you can use tempera paints which we did as well)
– Squeeze bottles
– Drop cloth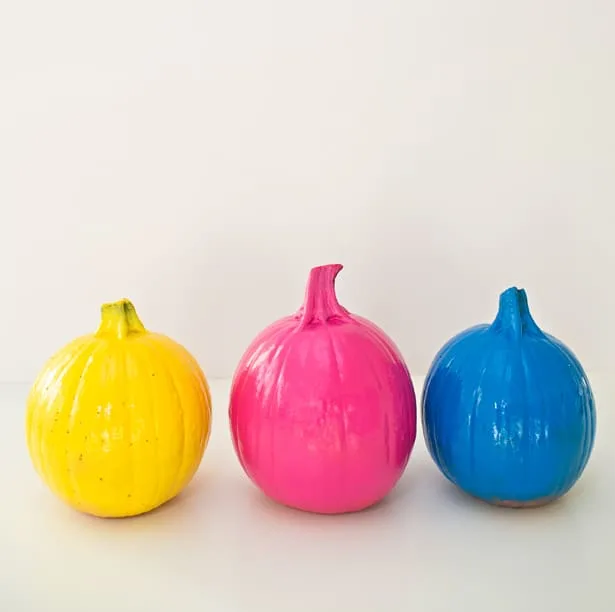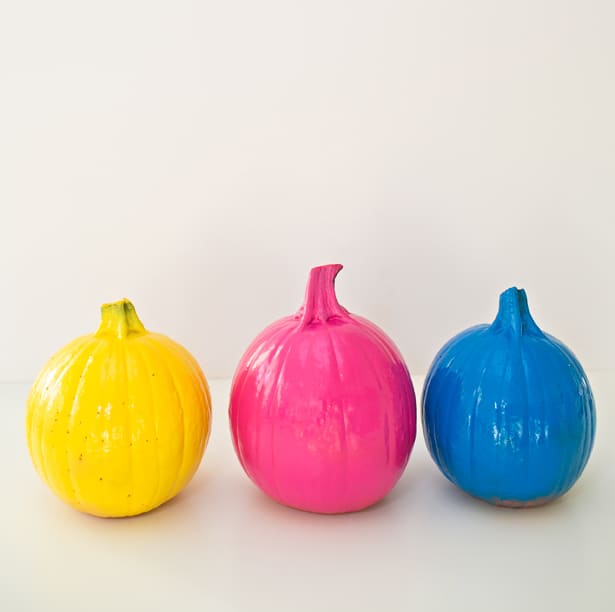 Instructions:
Step 1. We first spray painted our pumpkins to turn them into colorful canvases, but that is optional.
Step 2. Add paint to your squeeze bottles.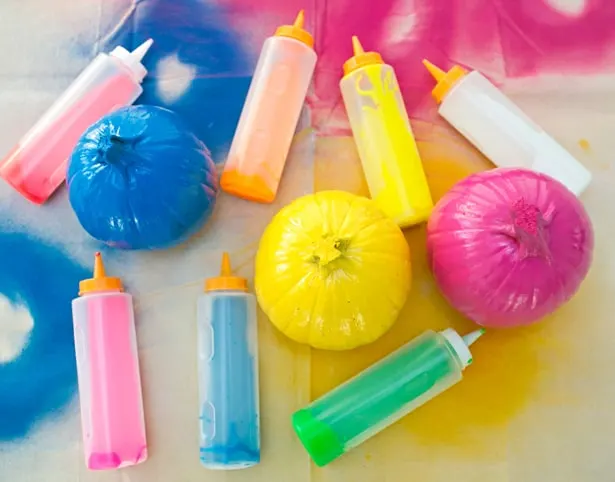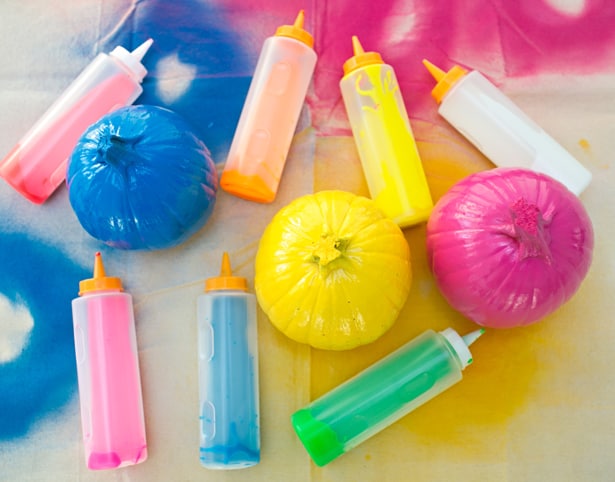 Step 3. Place your pumpkins over your drop cloth. Then just squeeze paint in various colors over your pumpkins. Go from the top, tip the pumpkins, add to the sides. Watch the paint drip to a gooey mess. Then let the paint settle.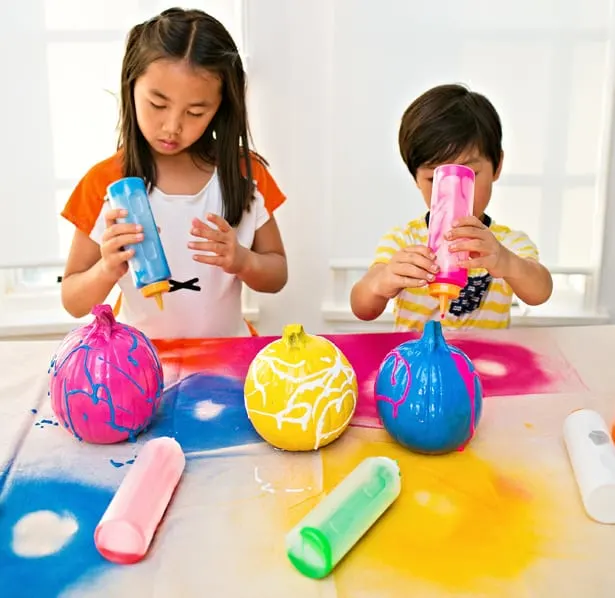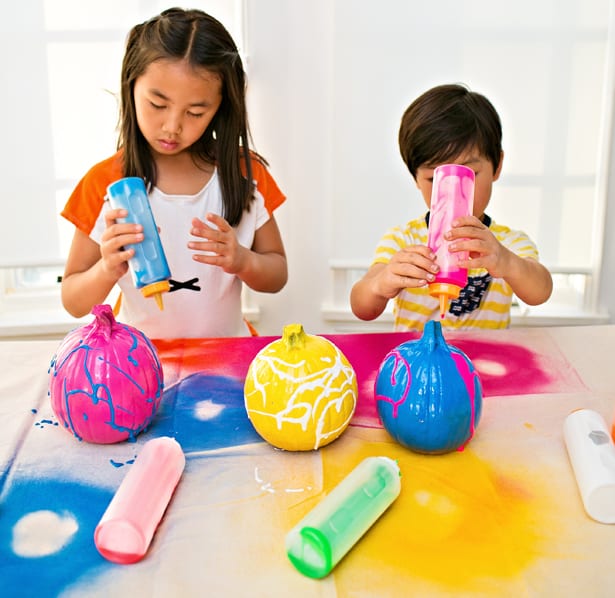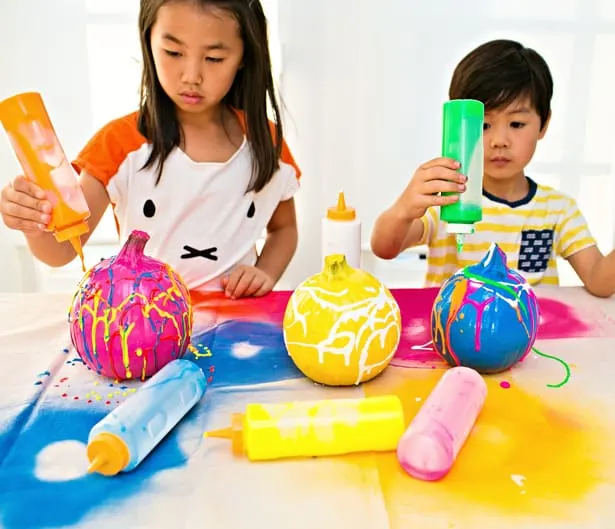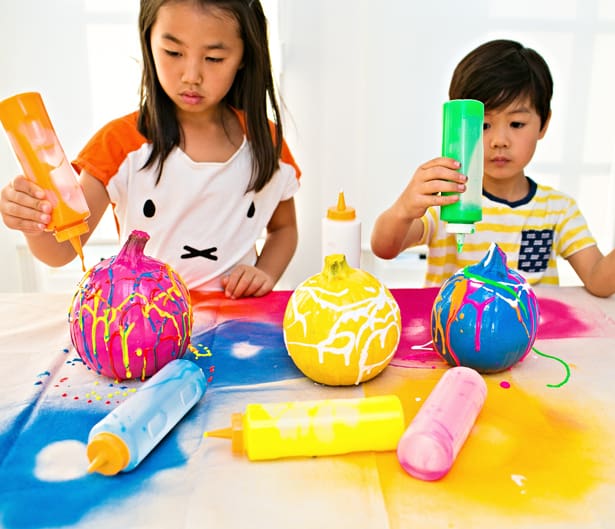 Once the paint settles to the bottom, move the pumpkins to a spot on the drop cloth to continue drying (overnight is best if your kids use lots of paint).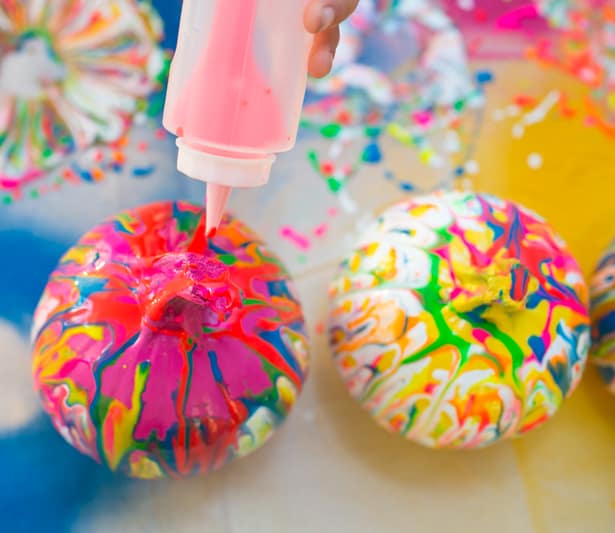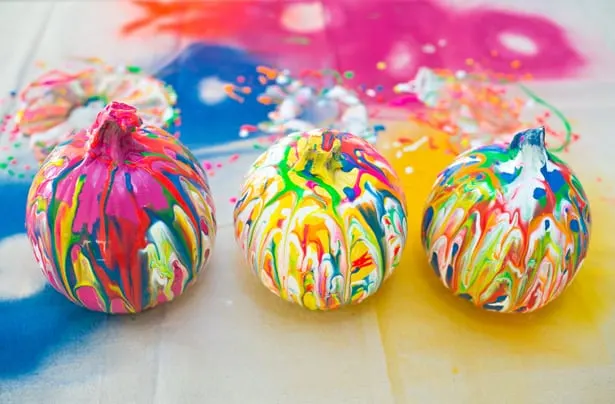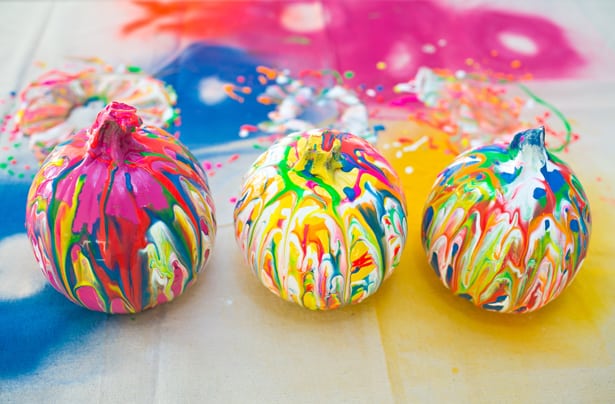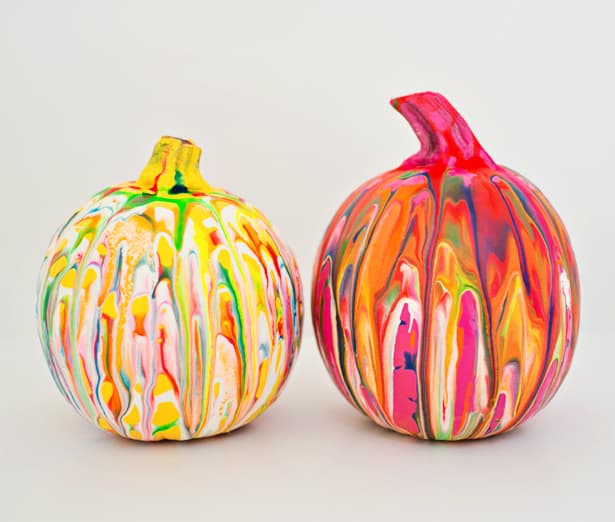 Although spray painting the pumpkins first is optional, I love seeing the colors peek out among the drops of squeeze paint.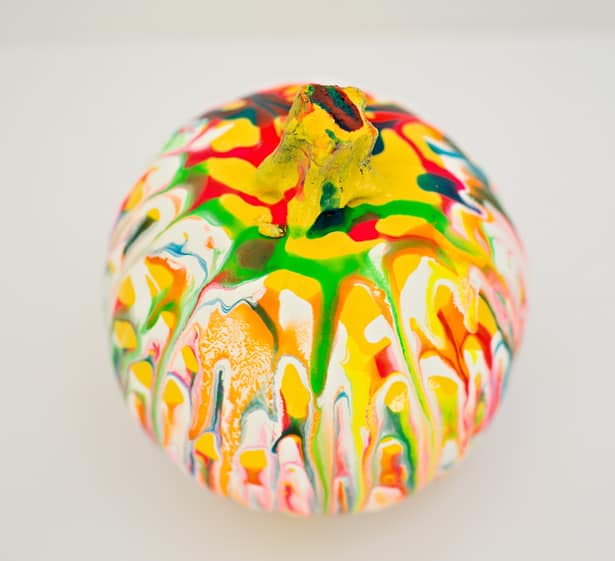 The pumpkins turned out so colorful! This is a fun process art project for kids that results in beautiful abstract pumpkin art.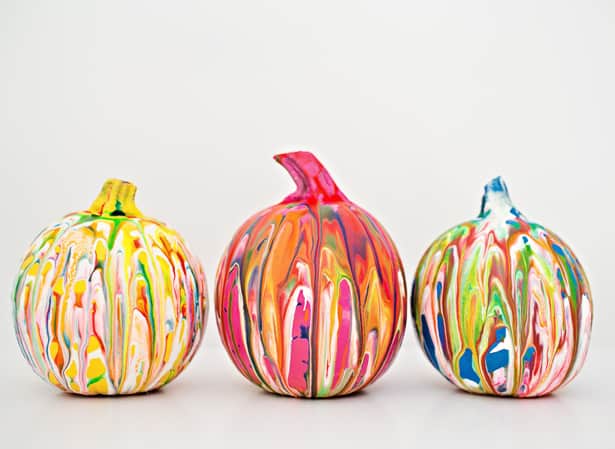 What are your favorite no-carve pumpkin ideas? Check out more creative Halloween ideas for kids!
Check out the video below of our Squeeze Paint Pumpkins:

______________________________________________________________________________________________________
Disclosure: Some of the links in the post above are "affiliate links." This means if you click on the link and purchase the item, we will receive a small affiliate commission. Regardless, we give our promise that we only recommend products or services we would use personally and believe will add values to our readers.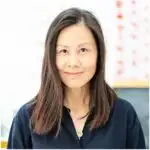 Agnes Hsu is a mom of three and has been inspiring parents and kids to get creative with easy activities and family friendly recipes for over 10 years. She shares her love for creative play and kids food to her 2MM+ followers online. Agnes' commitment to playful learning and kindness has not only raised funds for charity but also earned features in prestigious nationwide publications.