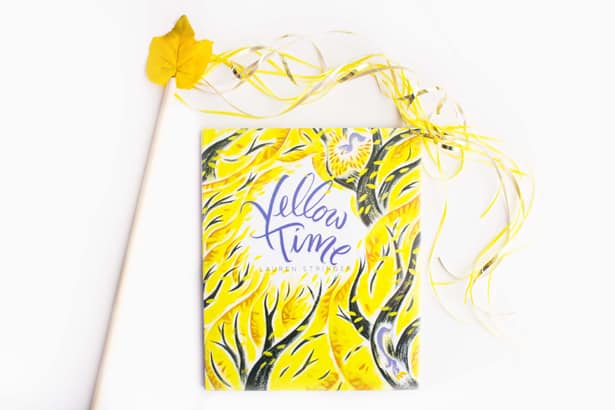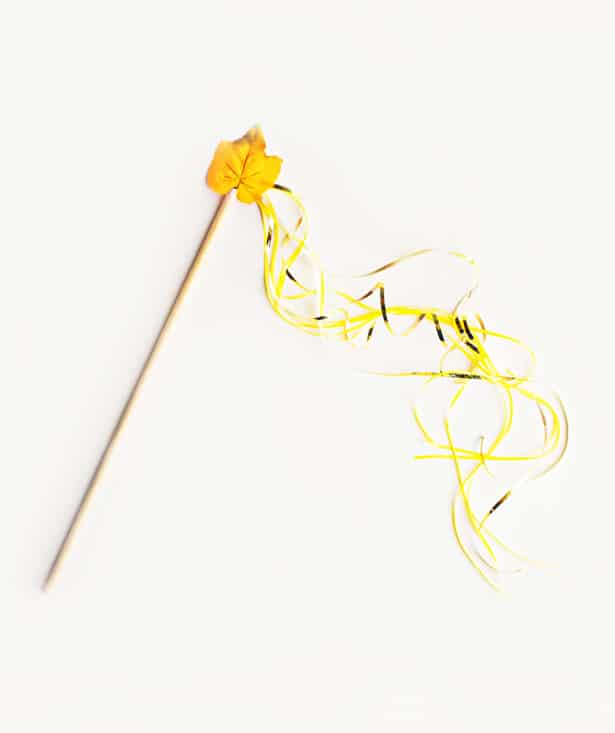 Yellow Time is a book that celebrates Autumn with beautiful illustrations and lovely text. It starts at the peak of leaf season where all the trees are covered in yellow leaves ripe and ready to fall. The whole neighborhood can feel the magic and waits in anticipation until the wind billows and "whoosh" all the leaves fly off the trees in a spectacular dance through the air. The illustrations show the yellow leaves swirling and pirouetting in the air around delighted children and that is what inspired me to create ribbon wands as a companion craft for this book.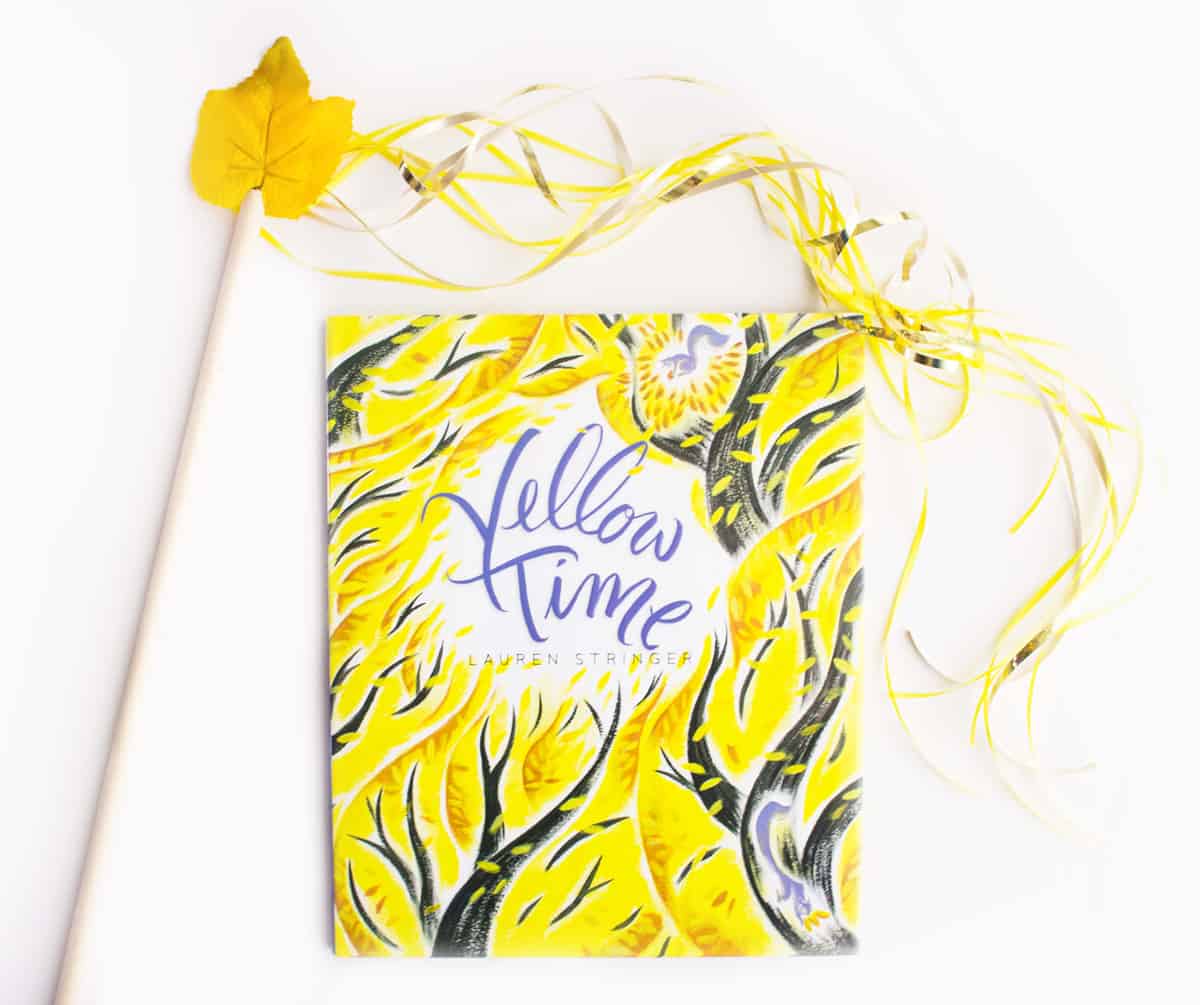 These streamer wands are simple to make and perfect for children to mimic the swirling and "leaf frenzy" in the book by dancing around and twirling their own streaks of gold and yellow. Below are the instructions to make them.
Supplies:
Wooden Dowel (about 1/4-1/2 inch)
Metallic Gold Curling Ribbon (2 strands 5 ft long)
Thin Yellow Ribbon (3 strands 5 ft long)
Push Pin
Screw Eye Ring
Scissors
1 Yellow Silk Leaf
Hot Glue Gun
Steps: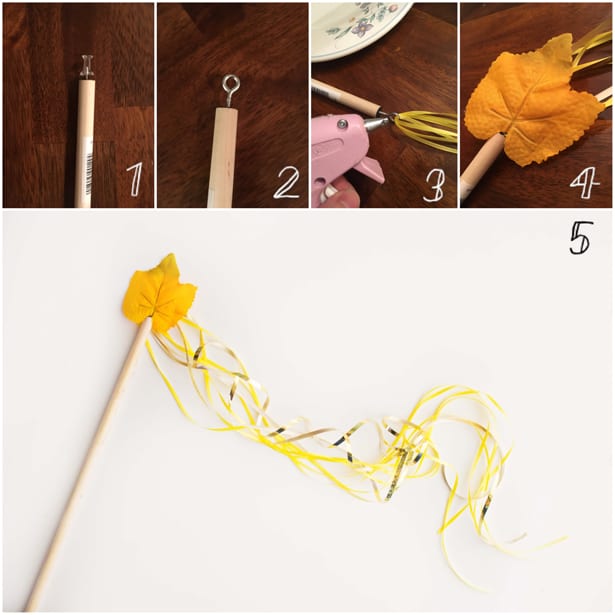 Press a basic push pin or thumb tack into the center of the end of the dowel you want to use. This makes it easier to twist in the screw in step two.
Twist your screw into the hole you just created with the push pin. If it starts to get to difficult to turn, you can use pliers.
Loop your strands of gold curling ribbon and yellow ribbon through your screw eye ring and place a dab of hot glue at the top of your ring. Then quickly tie your ribbons together like you are tying a basic knot and place another dab of glue on top. This will keep them on your wand and together.
Place hot glue alone one flat side of your eye ring and press your leaf on top covering the eye ring.
Spin around in an autumn dance and twirl your beautiful new wand!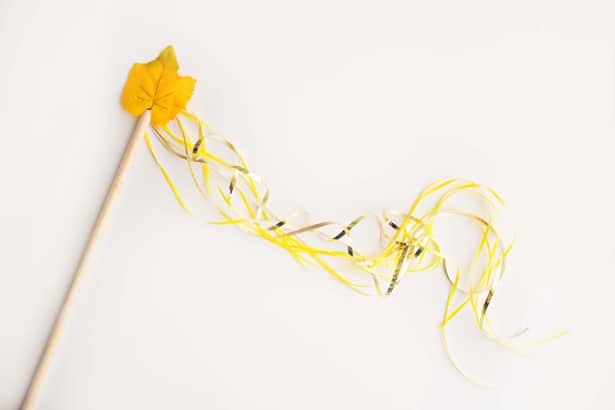 You can always add more ribbons to increase the volume of your wands if you wish and you can always flatten or curl your curling ribbons to your liking. I thought they added just the right of bounce when they had a bit of curl and resembled the lines in the book well. (Plus I loved how they added a little bit of sparkle. Who doesn't love sparkle?!)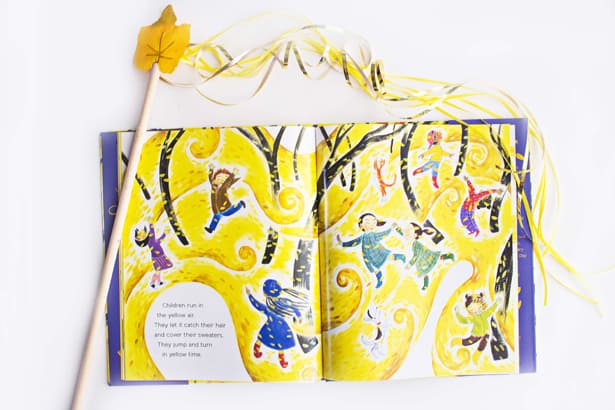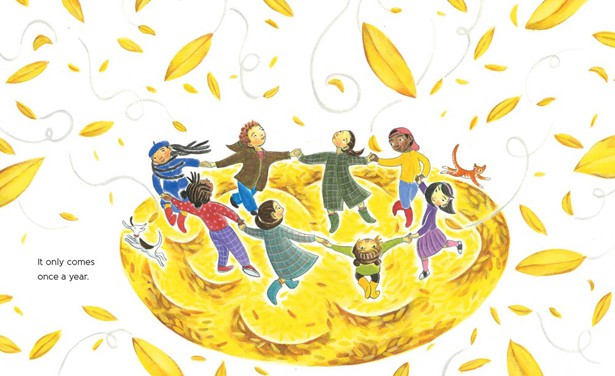 (To read a more complete review of "Yellow Time" and to see more interior pictures, click here to head over to Book Nerd Mommy's Blog)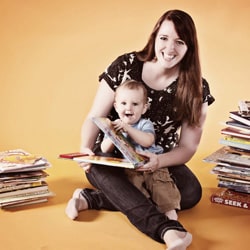 Hi! I'm Clarissa, a former elementary school teacher before moving on to my dream job of being a full-time mommy. My lap happily accommodates two at story time and I love sharing my passion for reading while occasionally stuffing my little boy and neighbors full of cupcakes. At "Book Nerd Mommy" we celebrate books through "Beyond the Book" crafts, recipes, activities and more. Celebrate with us! I can be found on Instagram, Twitter, Pintrest, and Facebook.
______________________________________________________________________________________________________

Disclosure: Some of the links in the post above are "affiliate links." This means if you click on the link and purchase the item, we will receive a small affiliate commission. Regardless, we give our promise that we only recommend products or services we would use personally and believe will add values to our readers.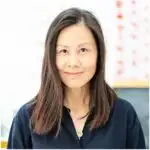 Agnes Hsu is a mom of three and has been inspiring parents and kids to get creative with easy activities and family friendly recipes for over 10 years. She shares her love for creative play and kids food to her 2MM+ followers online. Agnes' commitment to playful learning and kindness has not only raised funds for charity but also earned features in prestigious nationwide publications.