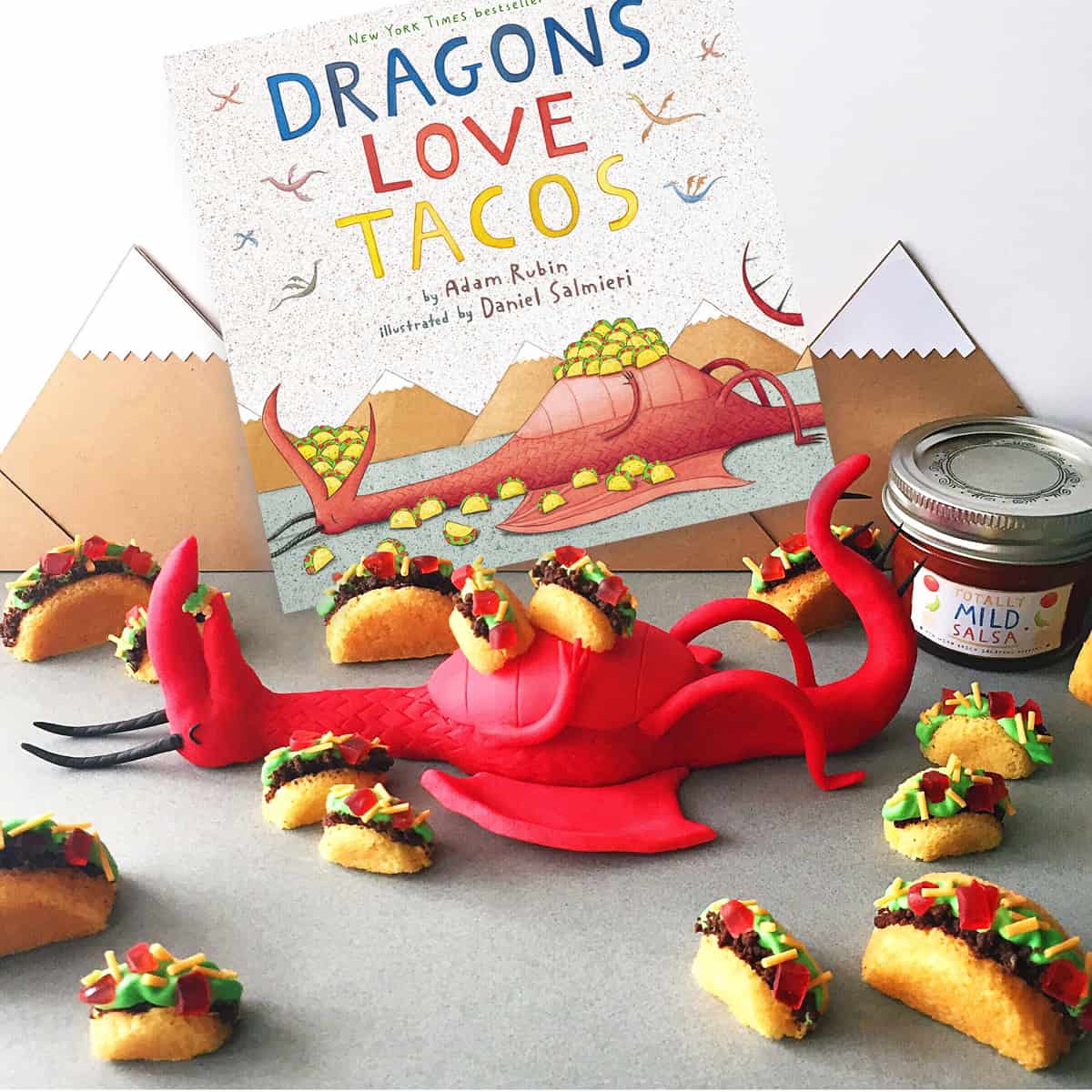 I love these cute Halloween costumes made based off of the book Dragons Love Tacos, and was so excited to come up with a fun food based DIY to go with them! In my opinion, no party is complete without a cake, so I made tiny taco cakes perfect for the next time you decide to have some taco loving dragons over. Just be sure you leave out the spicy salsa
The dragon was made with the assistance of my super talented little brother. We used red Wilton Shape N' Amaze edible dough for the body, and black for the spikes, eyes, and horns. This is one of my favorite mediums for creating 3D shapes as it molds easily and holds up great.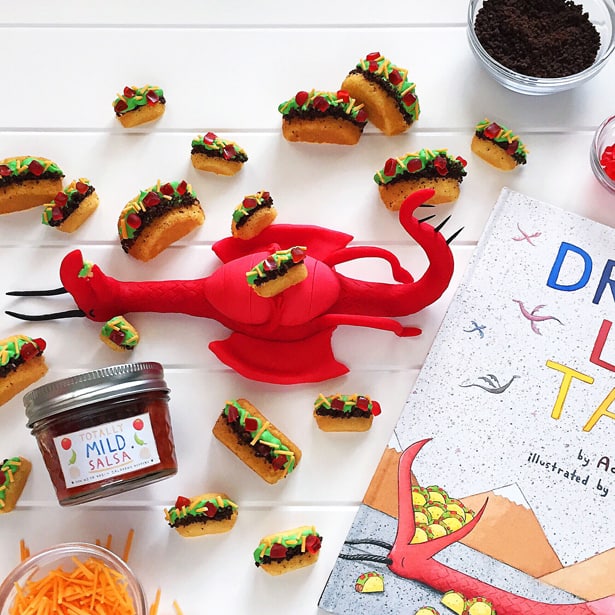 Materials:
1 box of yellow cake mix
1 12 oz. container buttercream frosting
Orange and yellow candy melts
Wax paper
Piping bags or zip top bags
Leaf piping tip (Wilton 352)
Standard decorating coupler
Green and yellow gel icing coloring (I used Wilton Golden Yellow and Leaf Green)
Chewy red candy (such as Swedish Fish)
Muffin baking pan
Nonstick cooking spray
Brownie bites
Butter knife or icing spatula
Sharp kitchen knife
Instructions:
Step 1. Heat oven to 325 F. Spray bottom and sides of muffin cups with nonstick spray. Make cake mix as directed on package.
Step 2. Fill each muffin cup with 1 ½ tablespoons cake mix. Bake for 10 to 12 minutes (or until an inserted toothpick comes out clean). Wait 5 minutes, and then transfer to a cooling rack to cool completely, about 20 minutes.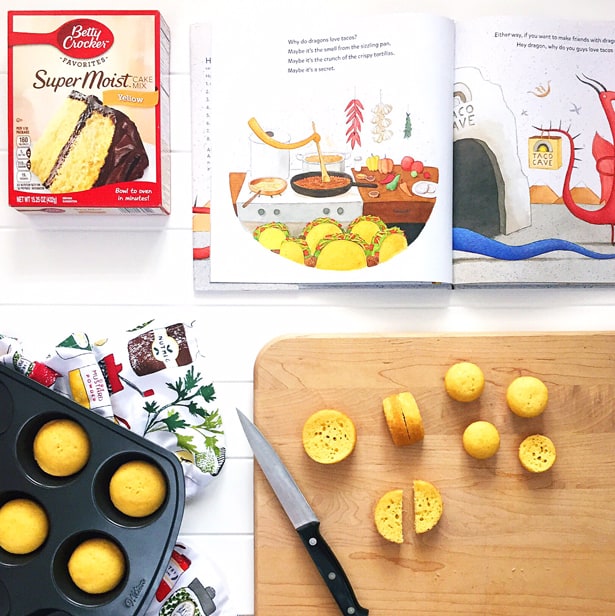 Step 3. Use a knife to cut the rounded top off of each cupcake until you are left with a flat, level surface. Discard (or eat) the tops. Cut the leveled cakes in half.
Step 4. Divide the buttercream frosting into two bowls. Mix the yellow coloring into one, and green into the other (start with a little at a time until you reach your desired hue). Fit a piping bag with a coupler, fill with the green frosting, and put in the refrigerator to chill.
Step 5. Use a butter knife or icing spatula to frost one half of each cake (on the inner surface) with a thin layer of the yellow frosting. Sandwich with the other half. Once all cakes are frosted and sandwiched, place them in the freezer to set for 25 minutes.
Step 6. Remove the cakes from the freezer. Cut a wedge out of the top middle of each cake using a sharp knife. Discard the scraps.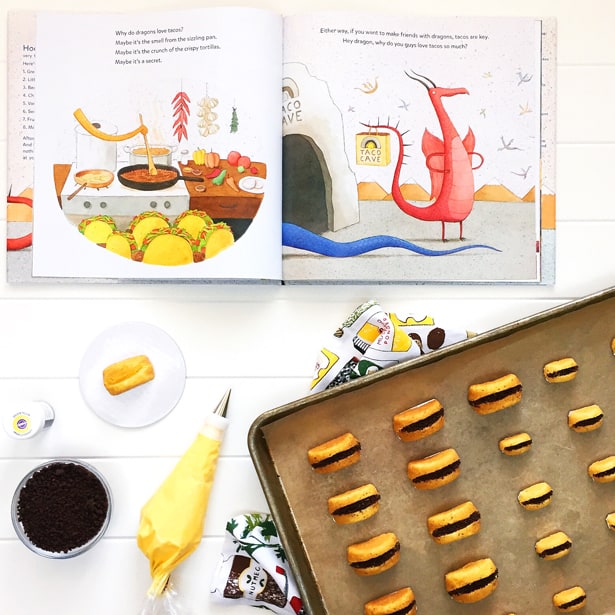 Step 7. Time to prepare your taco toppings! Place a handful of orange and yellow candy melts into a bowl, and heat in the microwave for 1 minute at 50% power, stir. Continue to heat at 30-second intervals (50% power) stirring in between, until fully melted. *You can add 1 tsp of vegetable oil if needed to thin them out. Transfer to a heat proof piping bottle or bag. Pipe the melts into straight lines on top of wax paper, set aside to harden.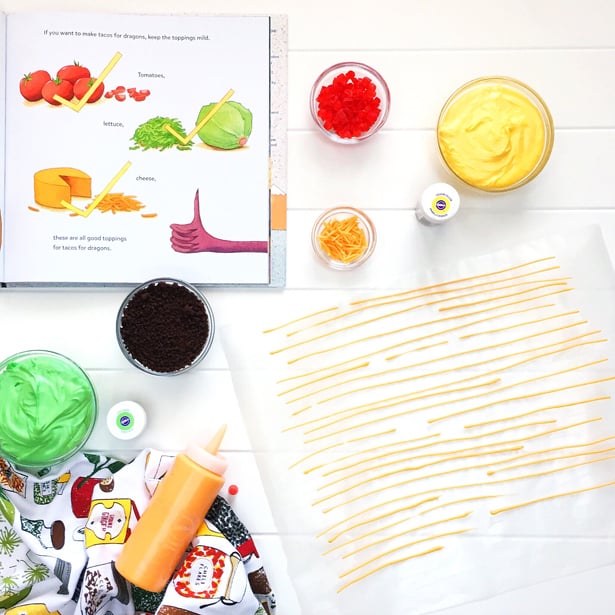 Step 8. Crumble the brownies bites into small pieces using a food processor or your hands.
Step 9. Use a sharp knife to cut the Swedish Fish (or other red, chewy candy) into tiny pieces.
Step 10. Now we put it all together! Fill a zip top bag with the leftover yellow frosting. Cut the corner off, and pipe a line of frosting into the bottom of the open cupcakes.
Step 11. Place the crumbled brownie bites on top of the yellow frosting. Add the leaf-piping tip to your chilled green frosting, and pipe over the brownie in a wave pattern. Add diced red candy. Break up the candy melt "cheese" and sprinkle over everything. Time to enjoy!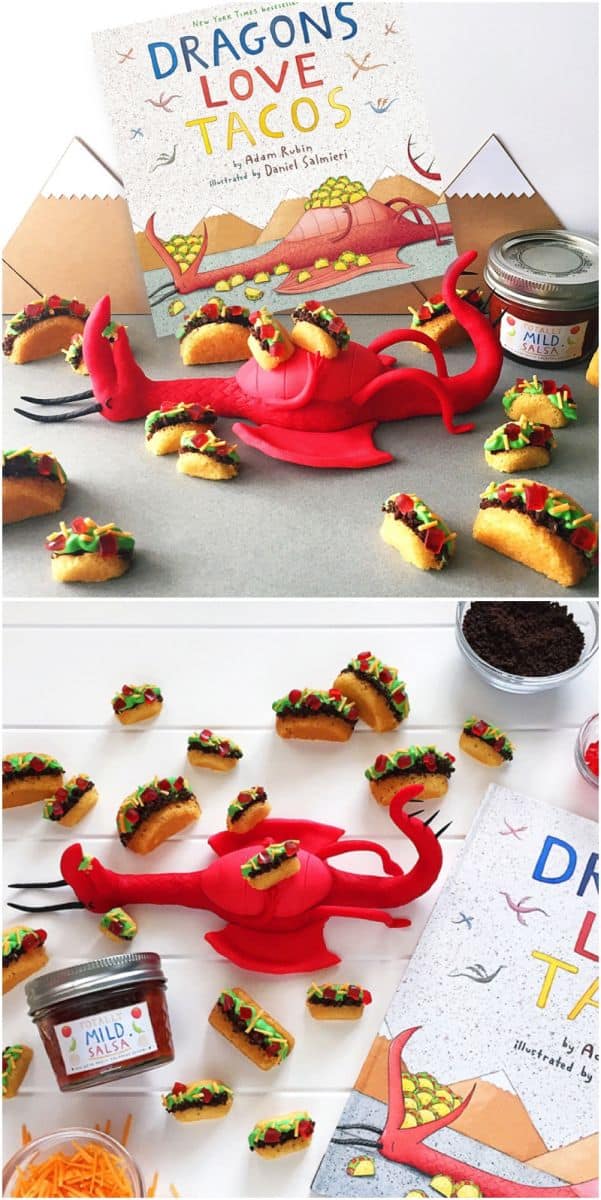 Check out the Dragons Love Tacos costumes based on this book. Wouldn't these make a cute party theme for kids?
More creative eats for kids here!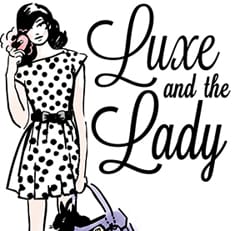 Jessica is a food and prop stylist with a love of baking, creating, and all things cute. She loves to turn sweets and healthy treats into animals, anything Kawaii (Japanese for cute), and her favorite childhood characters. She considers her work successful when she knows it's made someone smile. Jessica lives in Powell, Ohio with her fiancé David, and their pet rabbit named Mouse. You can follow her culinary adventures among other cute finds on Instagram (@luxeandthelady).