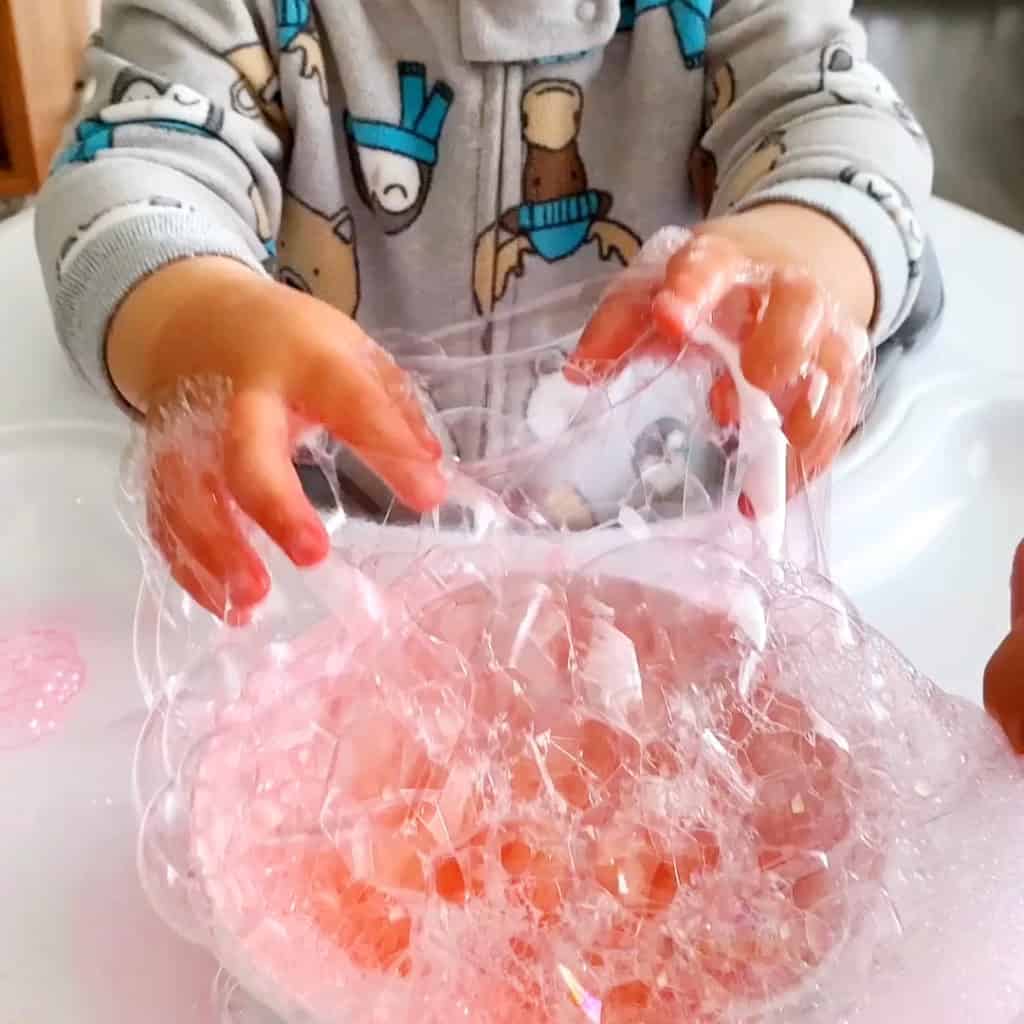 Follow us on Instagram for more fun ideas for kids!
Watch the video below to see this Blowing Bubbles Sensory Play for Babies and Toddlers in action. Make sure to subscribe to our YouTube channel for more fun videos!
This blowing bubbles sensory play for babies and toddlers is a fun sensory exploration of touch and delight.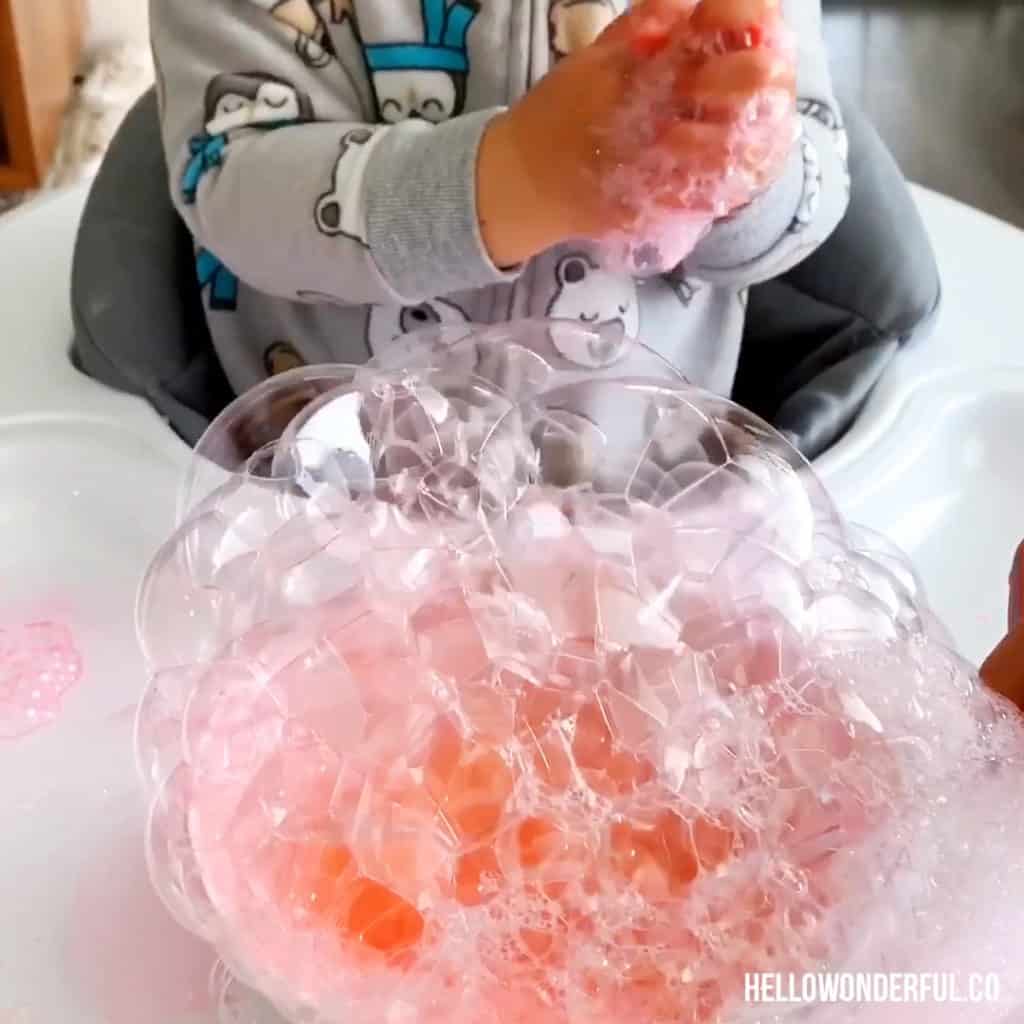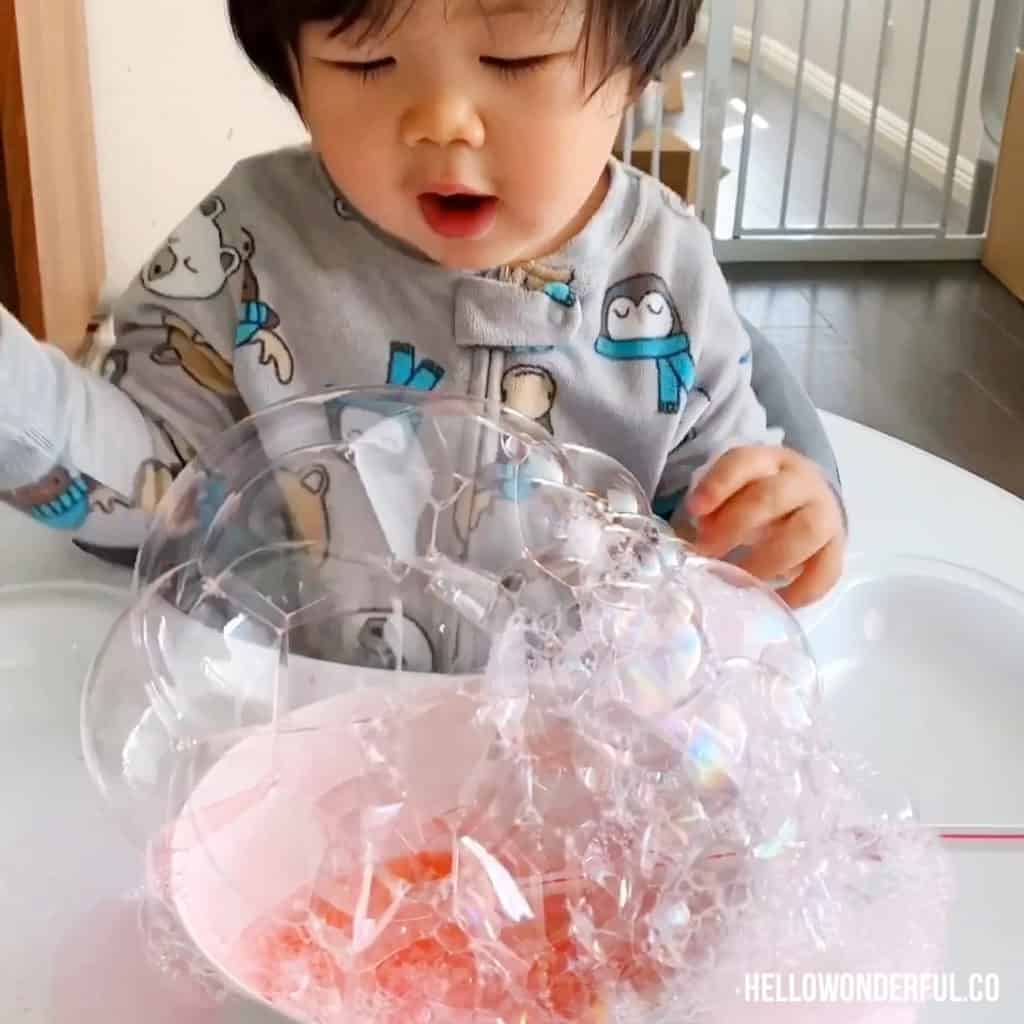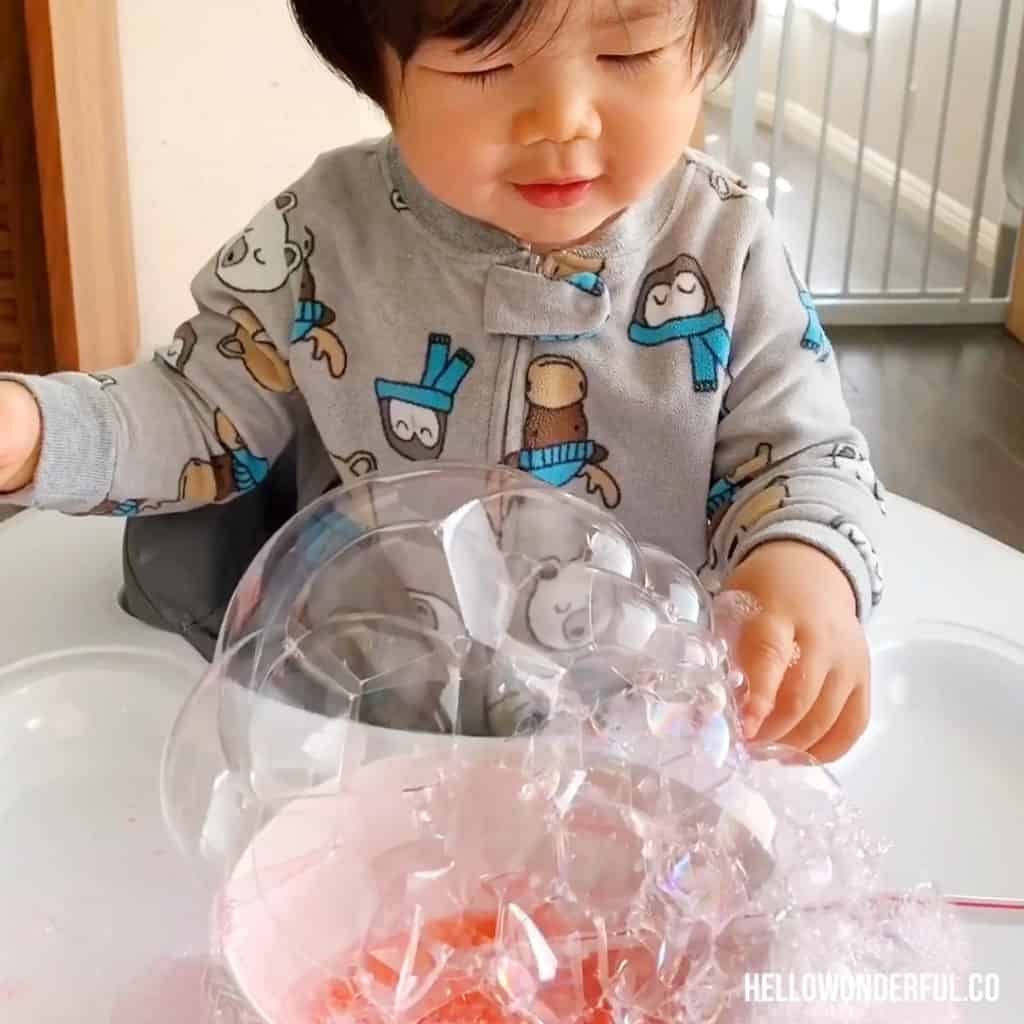 Sensory activities are so important for children to engage with and learn from when they are younger.
And honestly, with how curious their minds are, it just makes sense to let them explore and interact with objects and crafts using their senses, right?
Sometimes as parents, it can feel overwhelming to introduce concepts or crafts because of the lack of time or resources.
This is why I'm so excited to share this Blowing Bubbles Sensory Play with you. You don't have to have a ton of time or supplies to make this activity happen.
Once you see how much fun your baby or toddler will have, you'll realize that this simple activity may just be your new favorite go-to fun!
The proof is in the pudding; you can clearly see the delight on my 18 month old son's face when he sees the bubbles grow big right before his very eyes!
The fun part is digging into them and popping the bubbles left to right.
How does this bubble sensory play teach toddlers?
Can you imagine what a toddler is thinking when they see a huge pile of bubbles appear? They are probably wondering why the bubbles feel light as air, what causes bubbles to pop, and learning a bit about cause and effect at the same time!
Keep in mind that anytime you're creating and presenting anything interesting to your child, they are learning! Either from using their senses or their imagination, or even a combination of both!
I hope that this baby and toddler activity shows you how simple and fun sensory activities can be!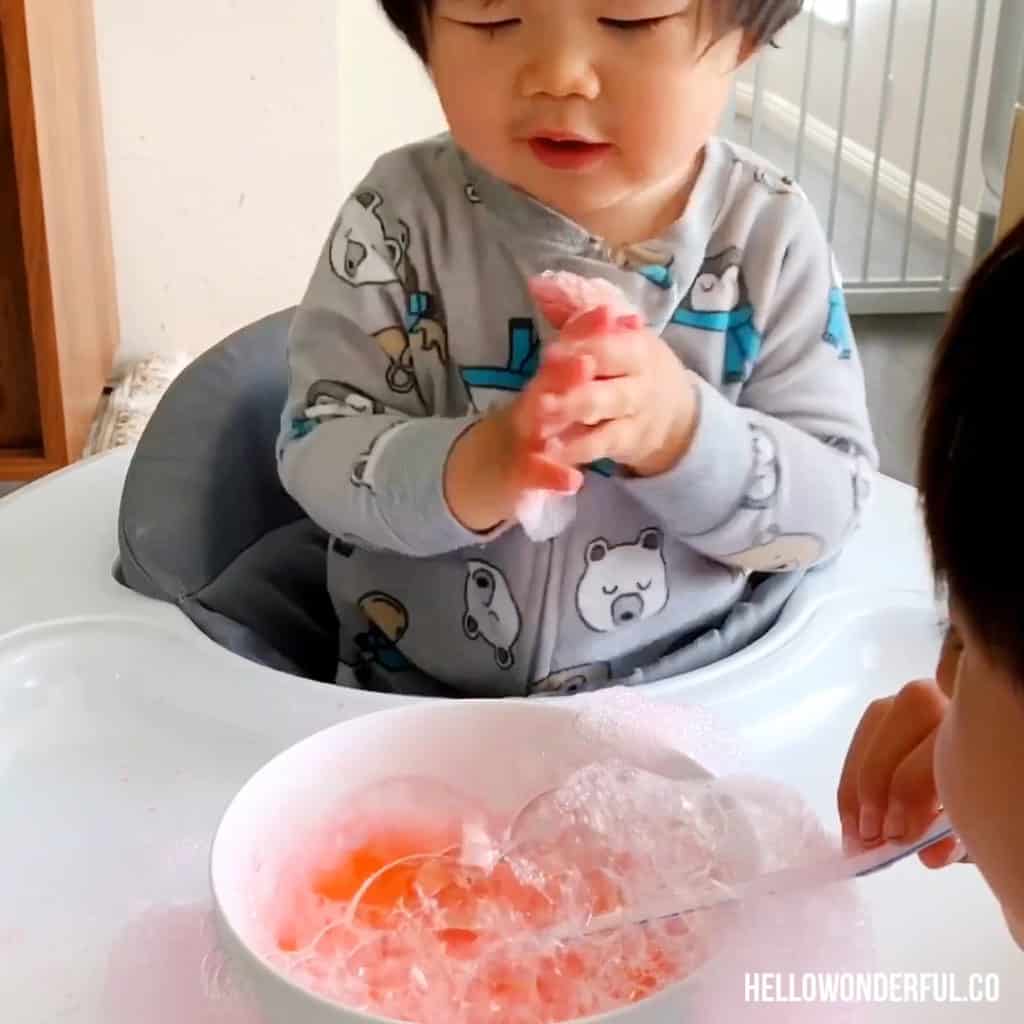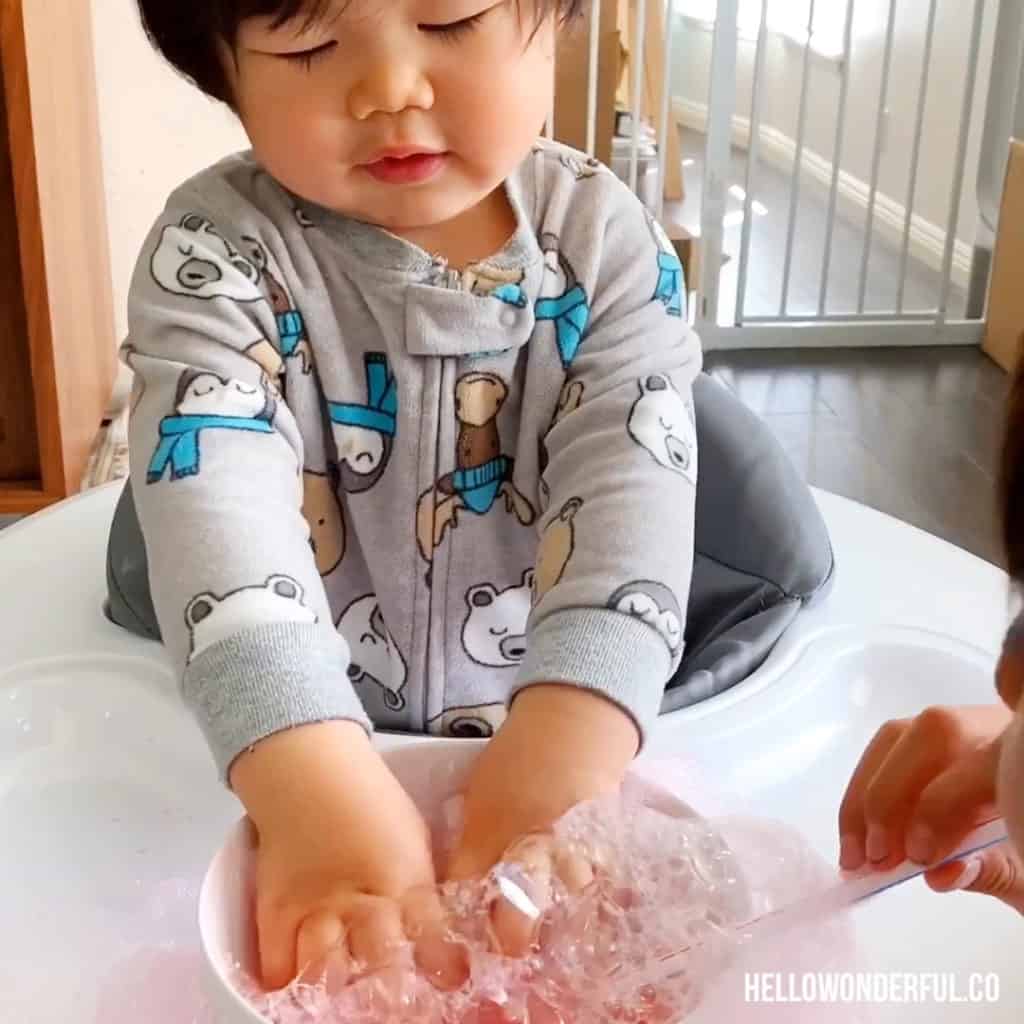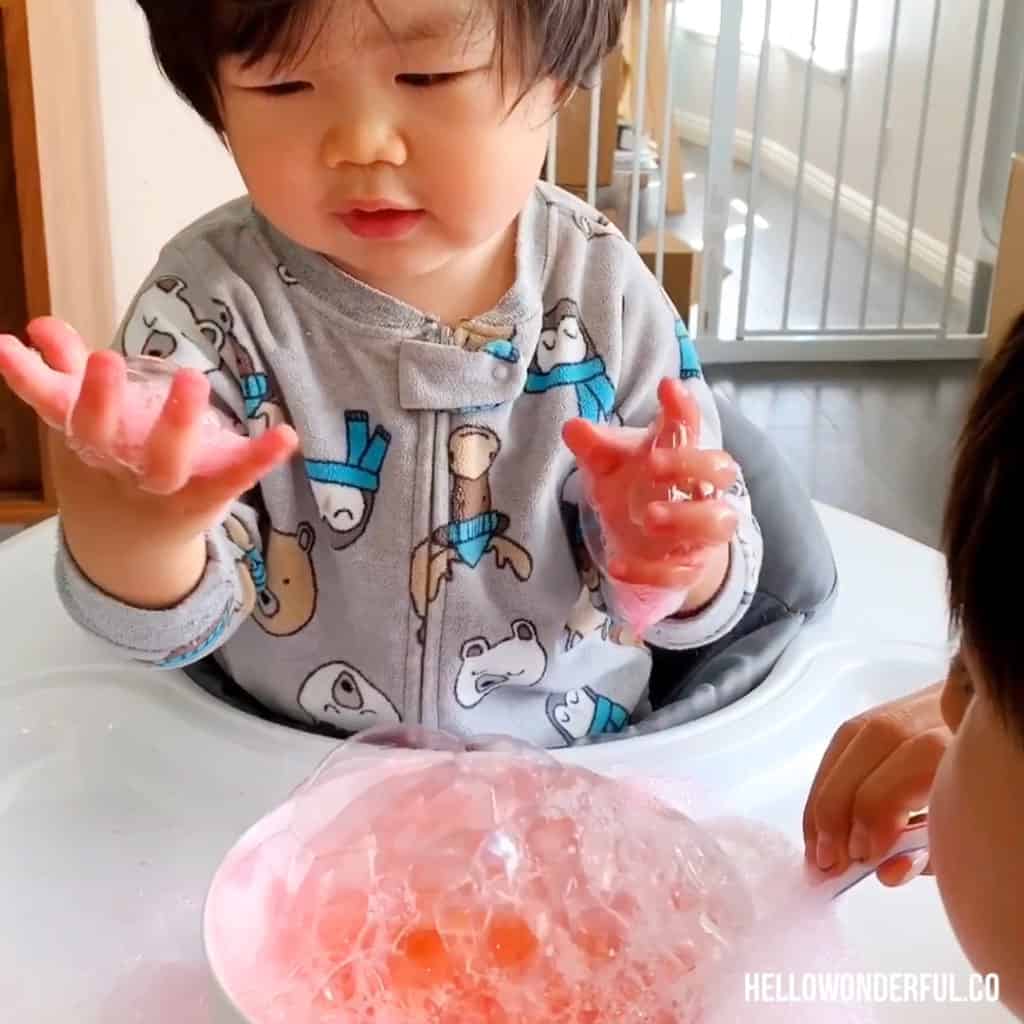 How hard is this blowing bubbles art sensory activity to make?
Trust me, this is one of the easiest sensory activities out there! And it's one of our go-to's as well.
What I love about it is that you can pack up the supplies and literally create the fun and excitement wherever you may be. Portable sensory activities? Yes, please!
We used store-bought bubble solution (sure you can make your own bubble solution but who's got the time with a toddler running around?). And all you need is a straw and container!
The food coloring is optional for some visual color and early art exploration.
Is this sensory activity messy?
From a technical standpoint, it is. BUT once you realize it's just bubble mix and nothing more, it's totally worth the mess. The worst thing that can happen is that it's a little sticky but that's nothing that a warm washcloth can't clean up in a jiffy.
We have also done this straight in the bath too! The bubbles spill over and the bathtub creates a larger surface area for contained and safe bubble play.
What else can you do with this bubble play?
What I really enjoy about this sensory activity is that it can grow as your child grows. When your little one is a baby, you'll be blowing into the straw and creating the bubbles for them to play with.
But as they transition into an older stage, they then get to take over and do it themselves! (which is something that they'll absolutely look forward to because who doesn't remember making bubbles into their milk glass when they were younger?).
You can also color the bubble solution with food coloring for process art! We set our container on a large highchair tray so when the bubble solution spills over, it creates a foamy, sensory paint!
If you watch the video, you can see my son moving his fingers back and forth across the colored foam "fingerpainting" and creating patterns! '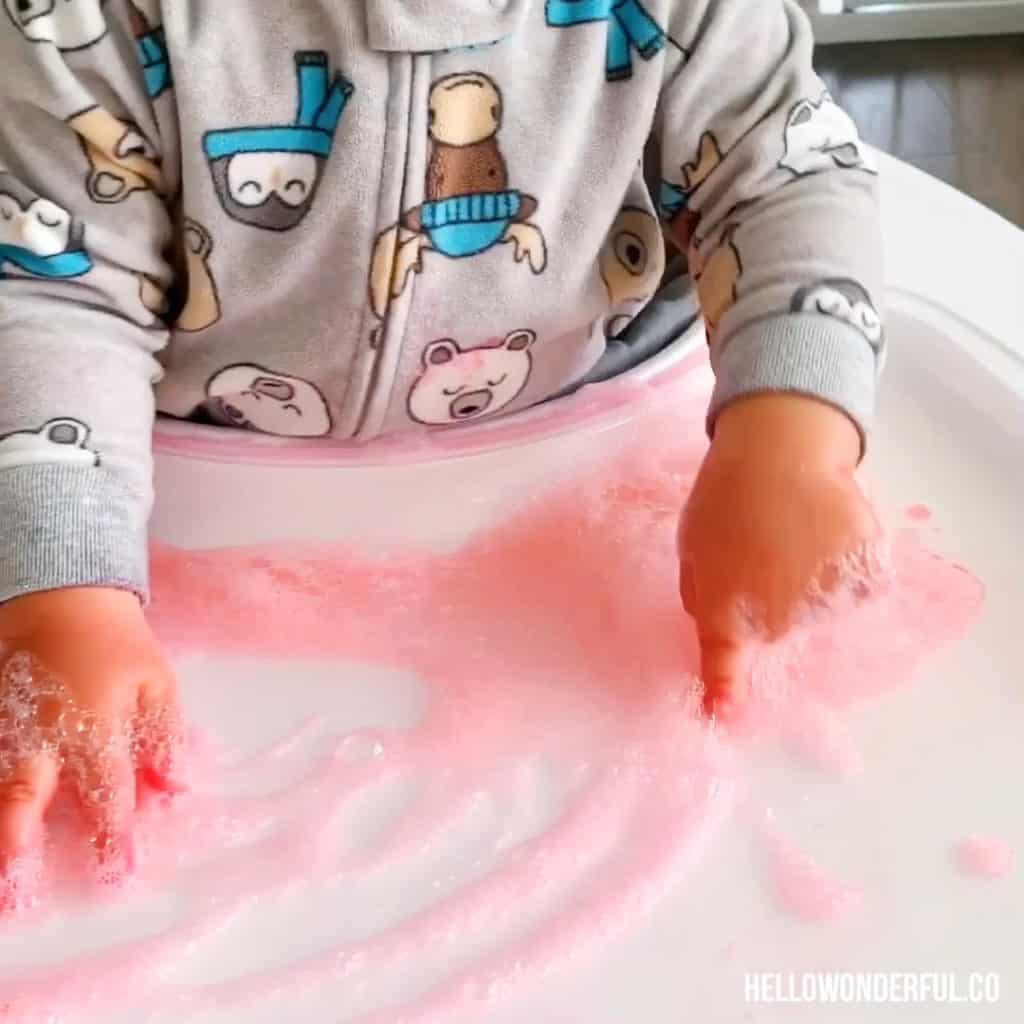 How to set up this Blowing Bubbles Activity
I know I mentioned how simple it was earlier, but I can't stress this enough! In under two minutes of time, this sensory activity is literally ready to go.
It doesn't get much more simple than that. All you need is your bubble solution, a bowl, a straw and food coloring dye, which can be optional.
Once you add the bubble mixture into the bowl, you just start making bubbles and let your child feel and play.
Does the type of bubble solution matter?
You can use any store bought bubble solution or make your own. But to be honest, we think it's worth it to invest in a good bubble solution as we HAVE found different brands to differ in how strong the bubbles are.
This is the bubble solution we swear by in producing good quality, strong bubbles every time.
Blowing Bubbles – Materials:
Bowl or container
Straw
Food coloring, optional
**Always supervise baby and toddler activities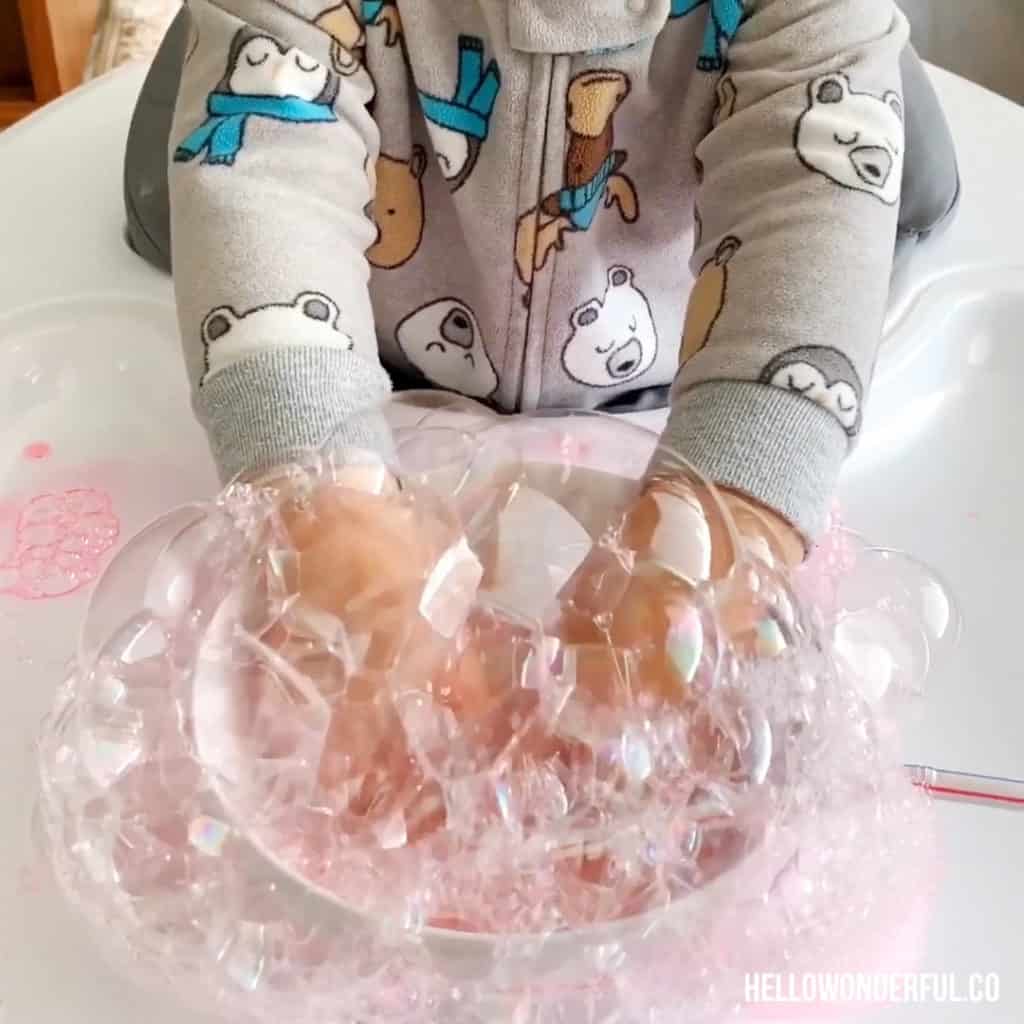 BLOWING BUBBLES SENSORY PLAY FOR BABIES AND TODDLERS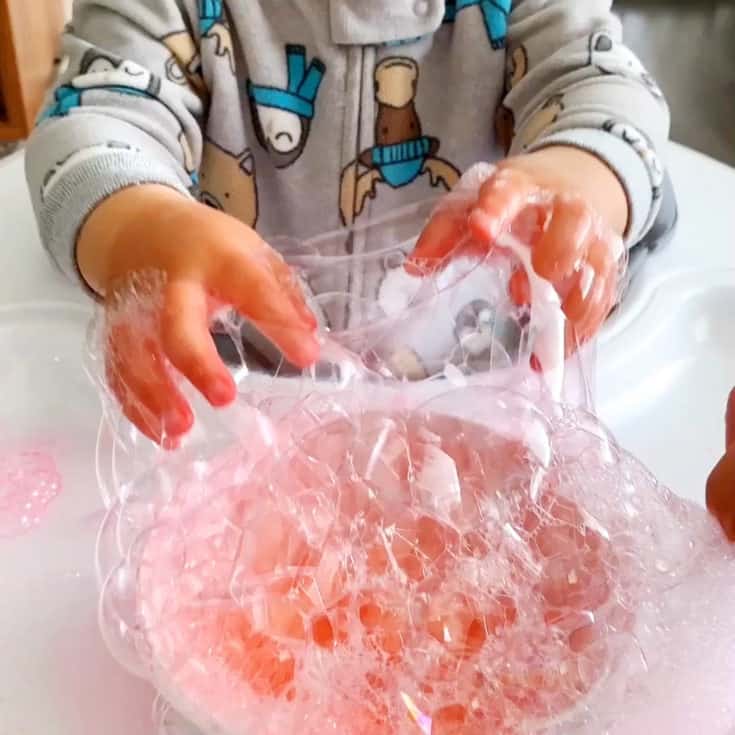 This blowing bubble sensory play for babies and toddlers is a fun sensory exploration of touch and delight.
Materials
Bowl or container
Straw
Food coloring, optional
Instructions
Add bubble solution to a bowl.
Add food coloring (optional)
Blow bubbles into the bowl (blow out only!)
Encourage your child to touch and pop the bubbles.

If you love this fun sensory activity, make certain to check out these other fun crafts as well:
______________________________________________________________________________________________________
Disclosure: Some of the links in the post above are "affiliate links." This means if you click on the link and purchase the item, we will receive a small affiliate commission. Regardless, we give our promise that we only recommend products or services we would use personally and believe will add values to our readers.