Follow us on Instagram for more fun ideas for kids!
Watch the video below to see this fun Sticky Wall Yarn Sensory Activity For Babies and Toddlers in action. Make sure to subscribe to our YouTube channel for more fun videos!
As you can tell, we love any and all types of fine motor activities in our house. With my son being right smack dab in that toddler age, it's amazing to watch him grow and see his skills progress with each and every sensory activity that we do.
Truth be told, I've actually been working with him on various sensory play activities since he was pretty small so he's been around these type of activities for quite some time.
We did a similar yarn pulling sensory activity a while back and thought this was a fun extension. I hope that this toddler sensory activity brings about many hours of fun and learning to your home as well!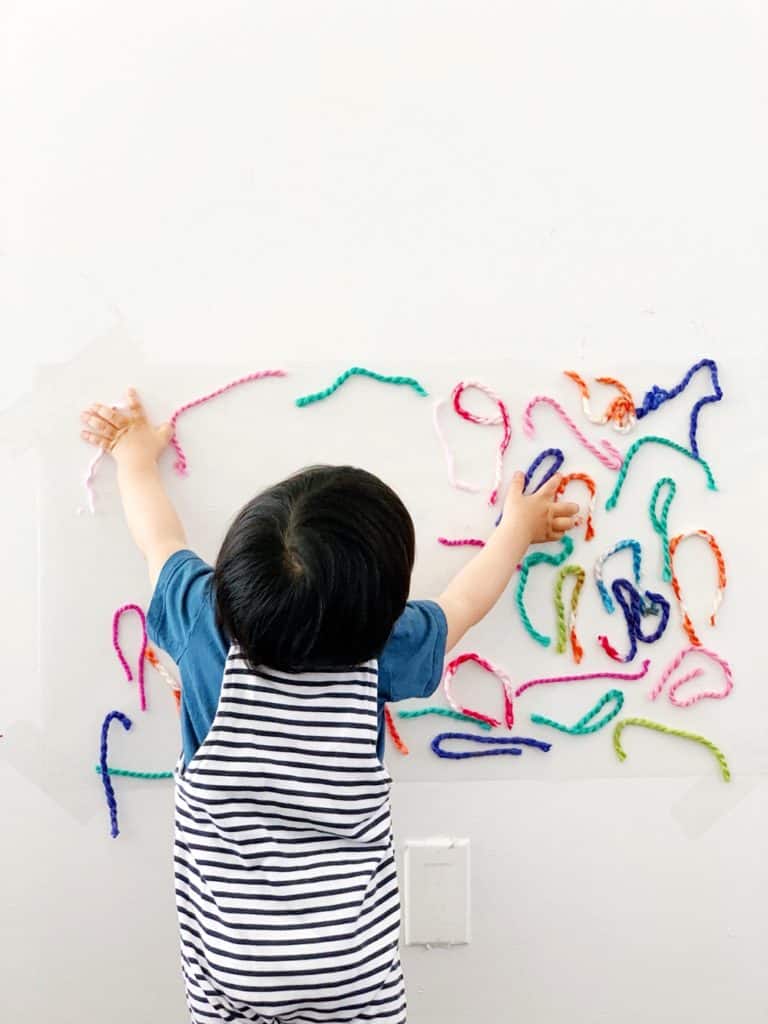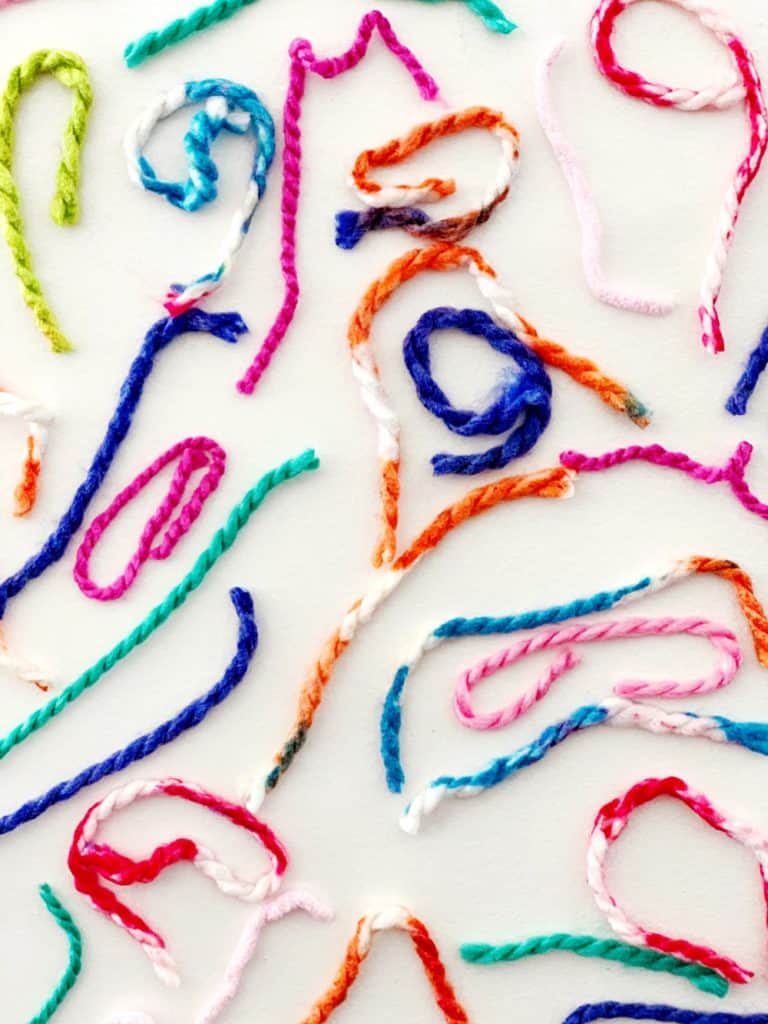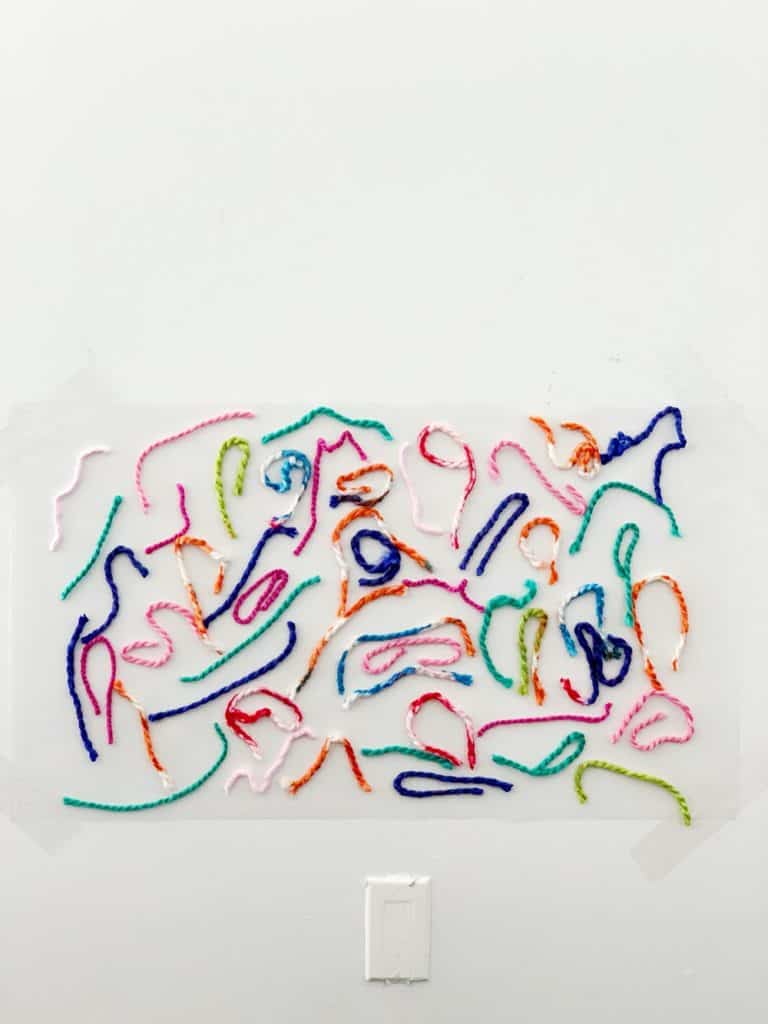 How does this Sticky Wall Yarn Sensory Activity For Babies and Toddlers help with fine motor skills?
As you can see from the video in the post, your toddler will really be working on using their fingers in picking up and picking off the yarn. This will not only require patience and concentration but it will also work on their hand-eye coordination as well.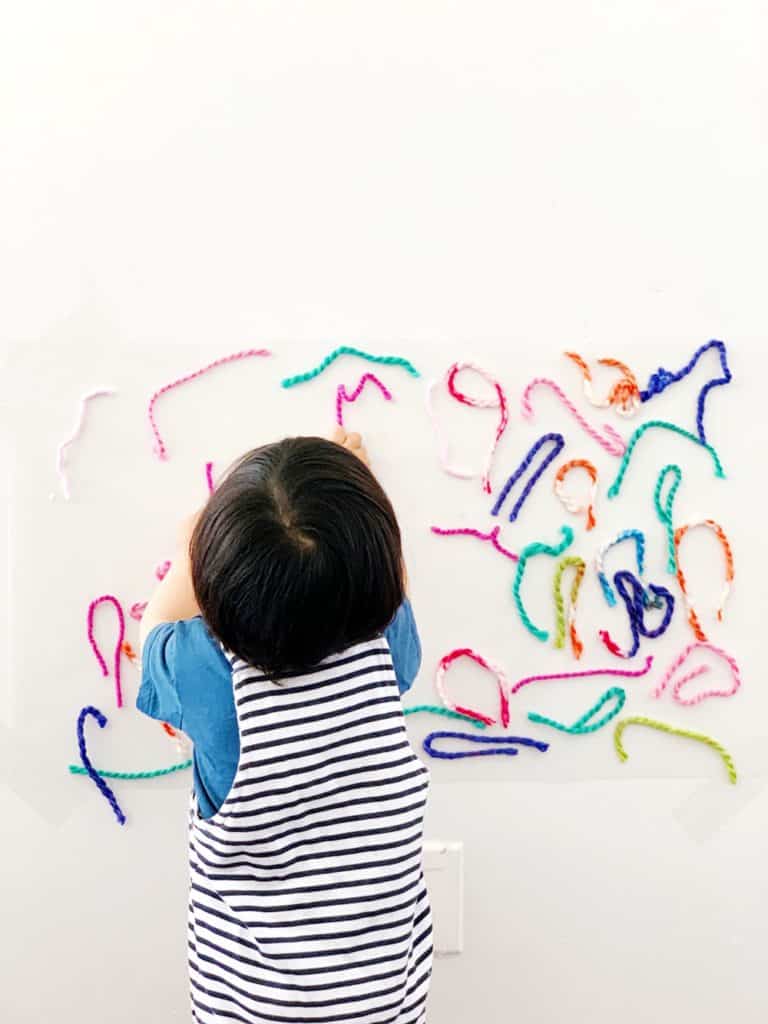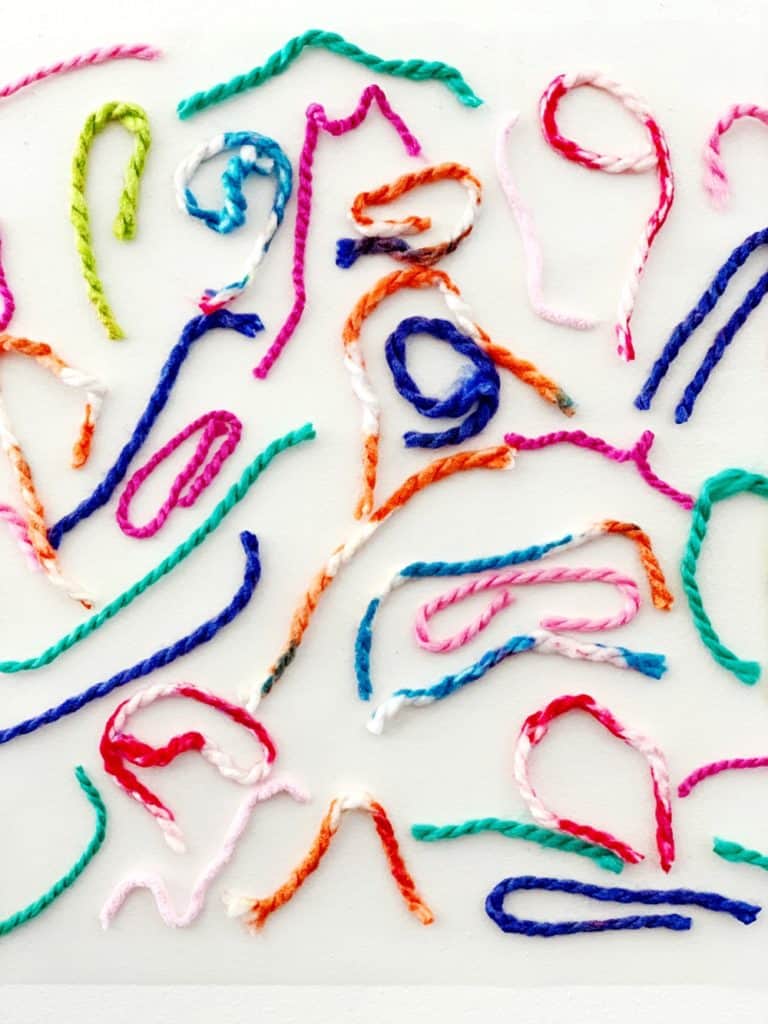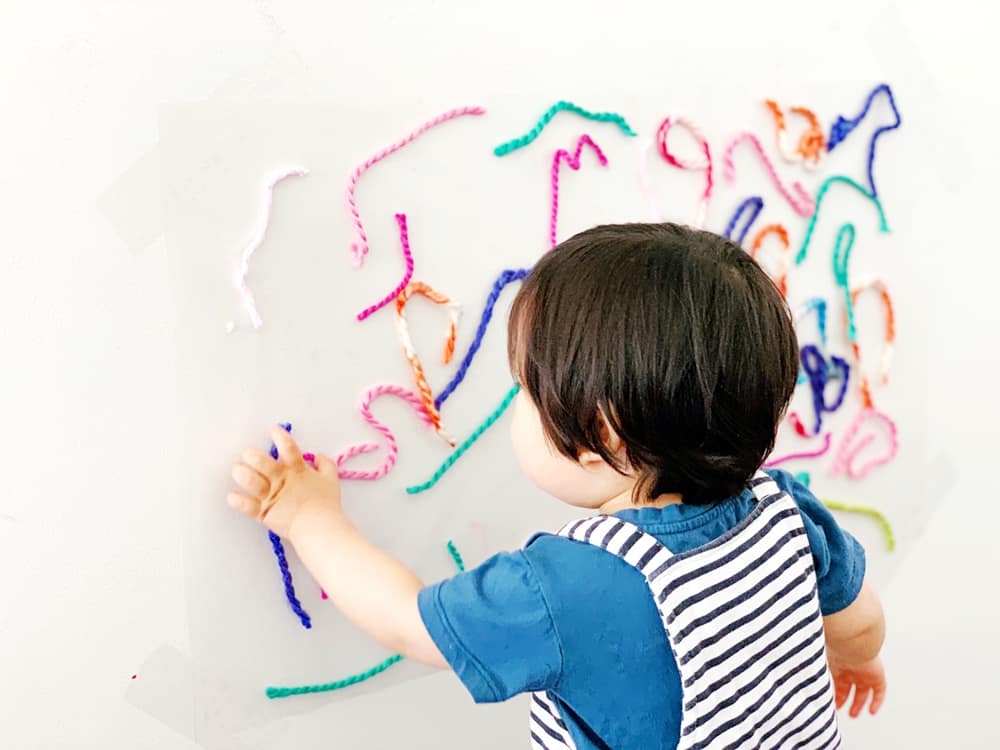 Could this sensory activity also be used as a fun form of string art?
Of course! You can absolutely use this to let your child create masterpieces and works of art as well. This is truly what makes this learning activity so great…it offers the change to cover and teach a wide variety of topics.
How to set up this Sticky Wall Yarn Sensory Activity For Babies and Toddlers
It's actually quite simple! You really only need a few supplies and your toddler will be working hard and having fun in no time at all.
All you need is a large square of contact paper and some clear packing tape to hold up the corners. Make certain that you place it low enough on the wall so that your toddler can access and reach it easily.
For this sensory activity, I used a wide variety of colored yarn, cut into all different lengths. That way, it allows your toddler to work on picking up and grasping all different lengths and sizes. I used thick yarns because it felt easier for my toddler to grasp and handle. You could definitely move on to thinner yarns as your little one grows to make this activity more challenging.
As your toddler requires more depth to this activity you could introduce learning elements like colors. E.g. where is the red yarn? The blue yarn?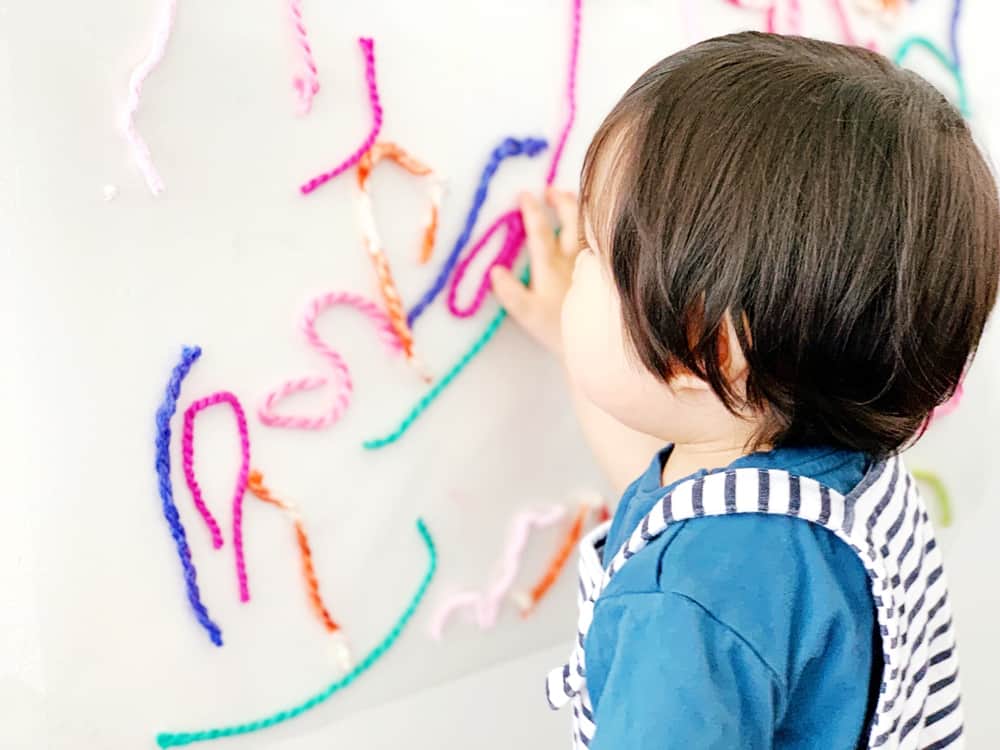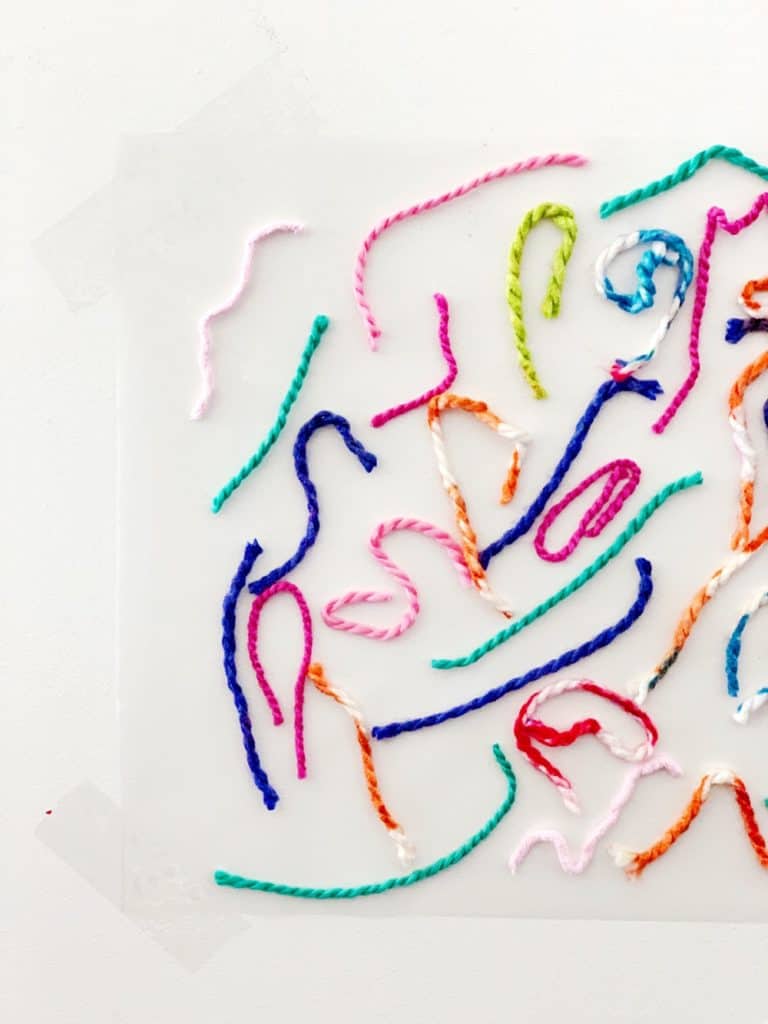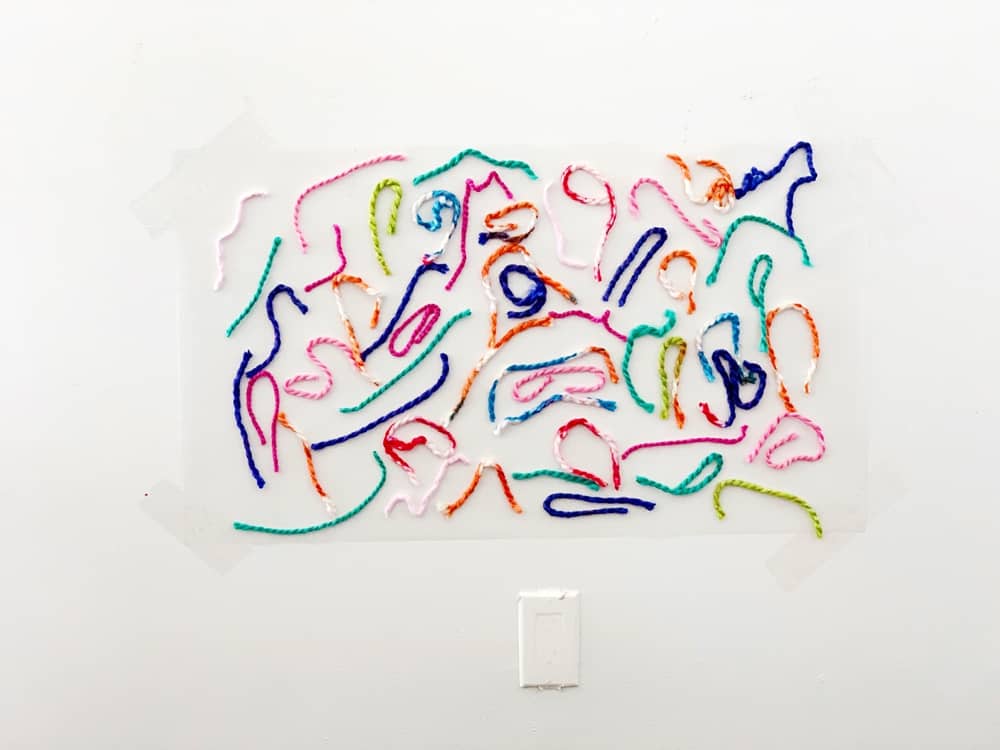 Sticky Wall Yarn Sensory Activty – Materials:
**Always supervise baby and toddler activities
STICKY WALL YARN SENSORY ACTIVITY FOR BABIES AND TODDLERS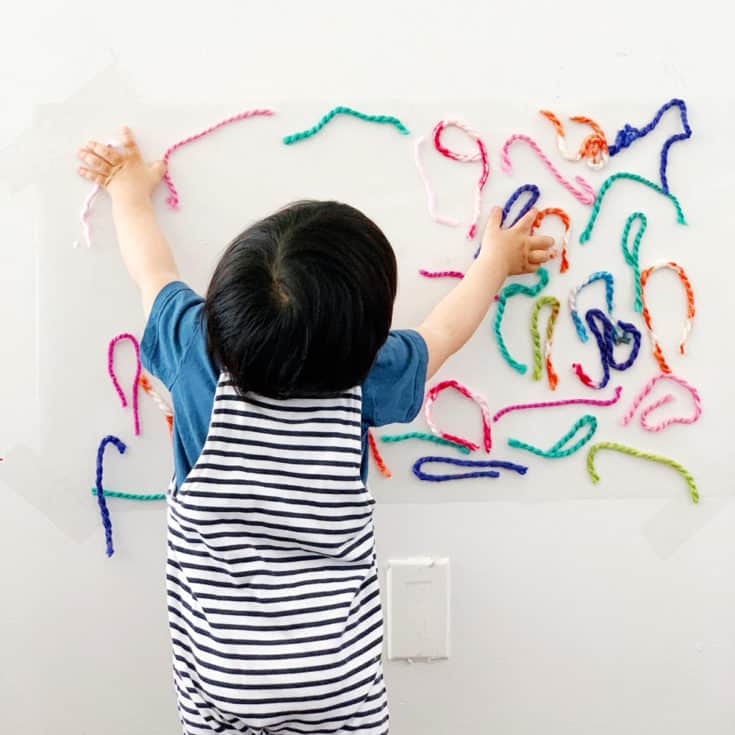 This Sticky Wall Yarn Sensory Activity For Babies and Toddlers is great for practicing fine motor skills.
Materials
Contact Paper
Scissors
Strong tape (we used packing tape)
Different colors of thick yarn
Instructions
Unroll your contact paper to a good size that covers the surface area of the wall you have for this sticky wall activity.
Use clear packing tape to hold down the four ends of the contact paper. You want the sticky side on the outside.
Cut yarn in various strips. Don't make them too short, we don't want to encourage toddlers putting the pieces in their mouths.
Stick to the contact paper.
Encourage your child to peel off strips of yarn and practice their fine motor skills. If they are able to, they can also place yarn strips back on the contact paper and start over!
Always supervise baby and toddler play.
Check out more baby and toddler fine motor skills activities: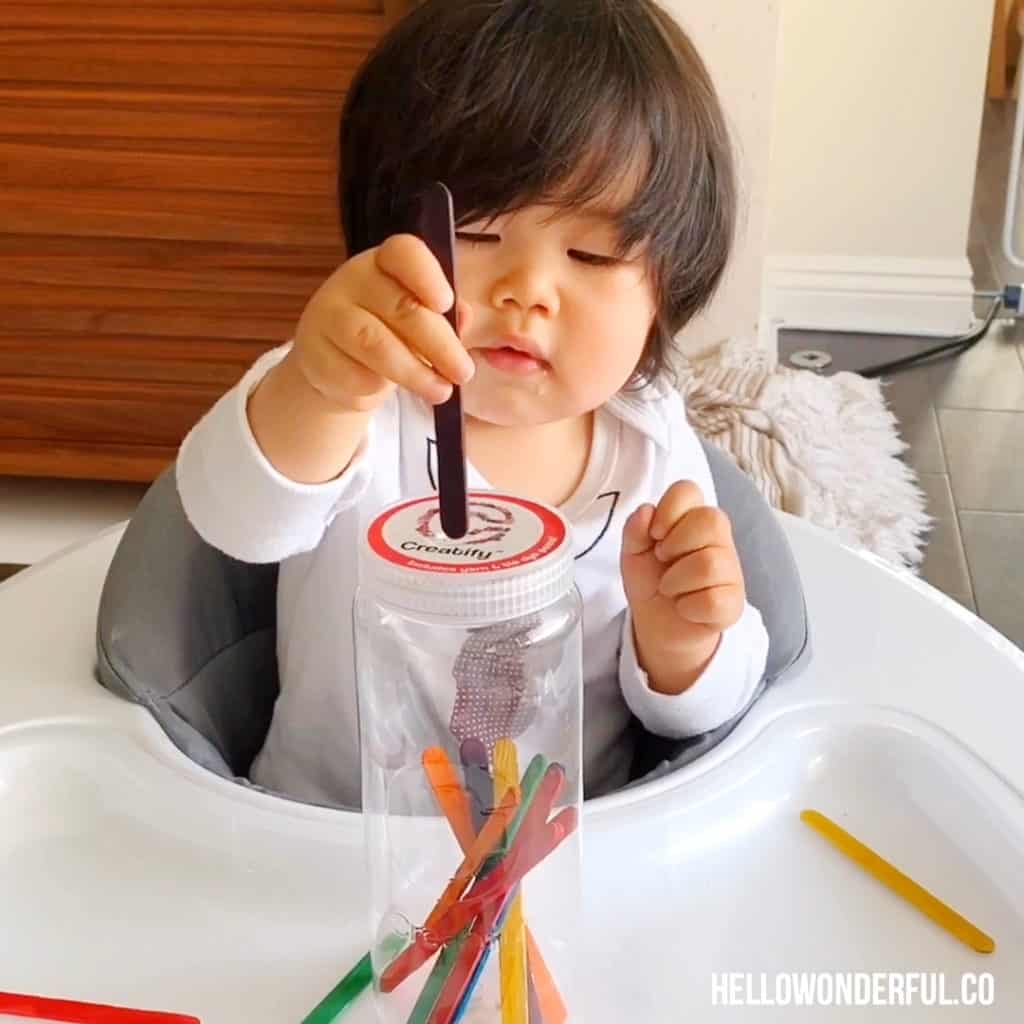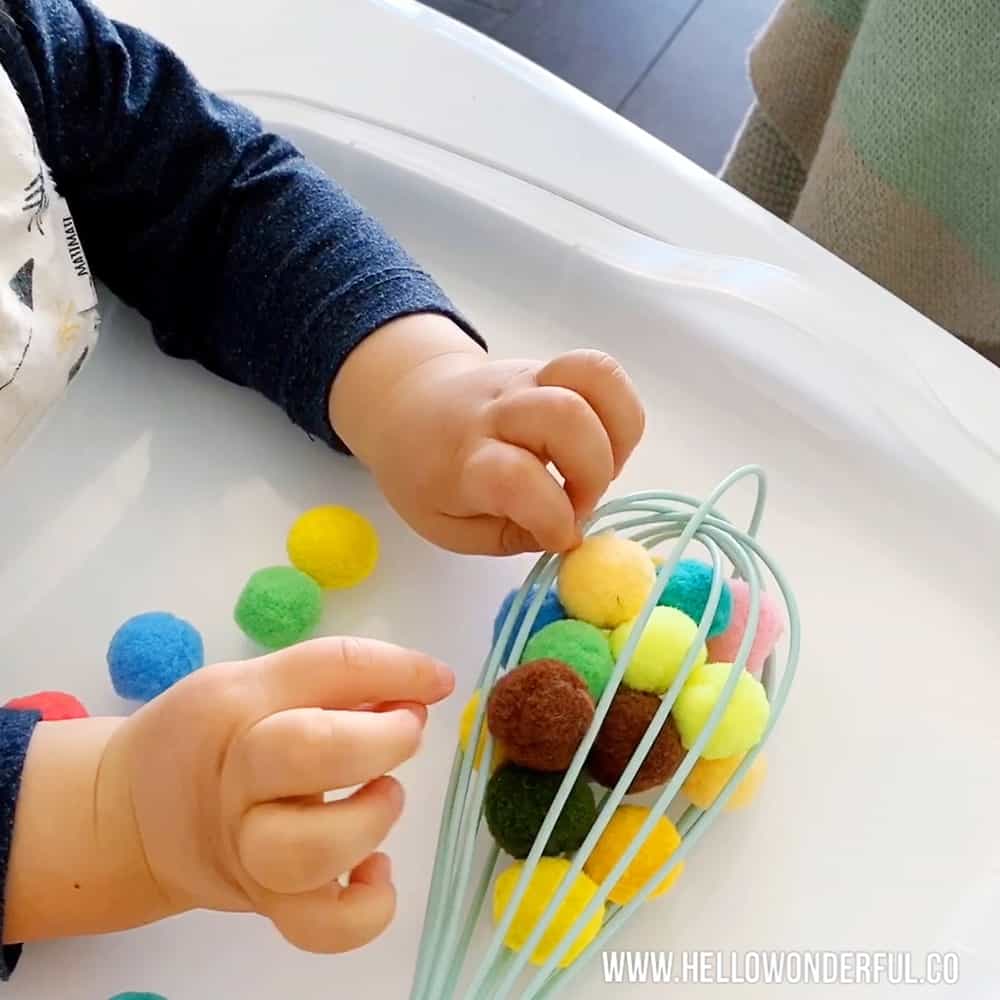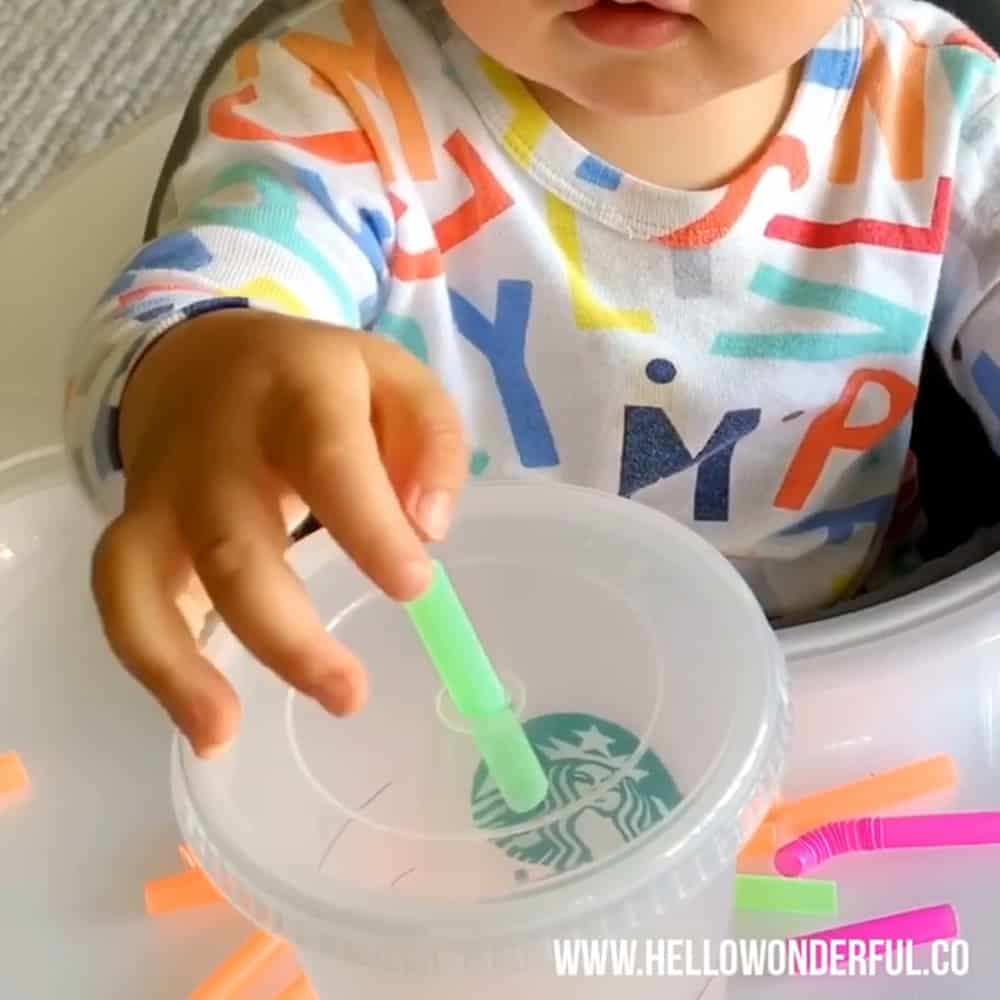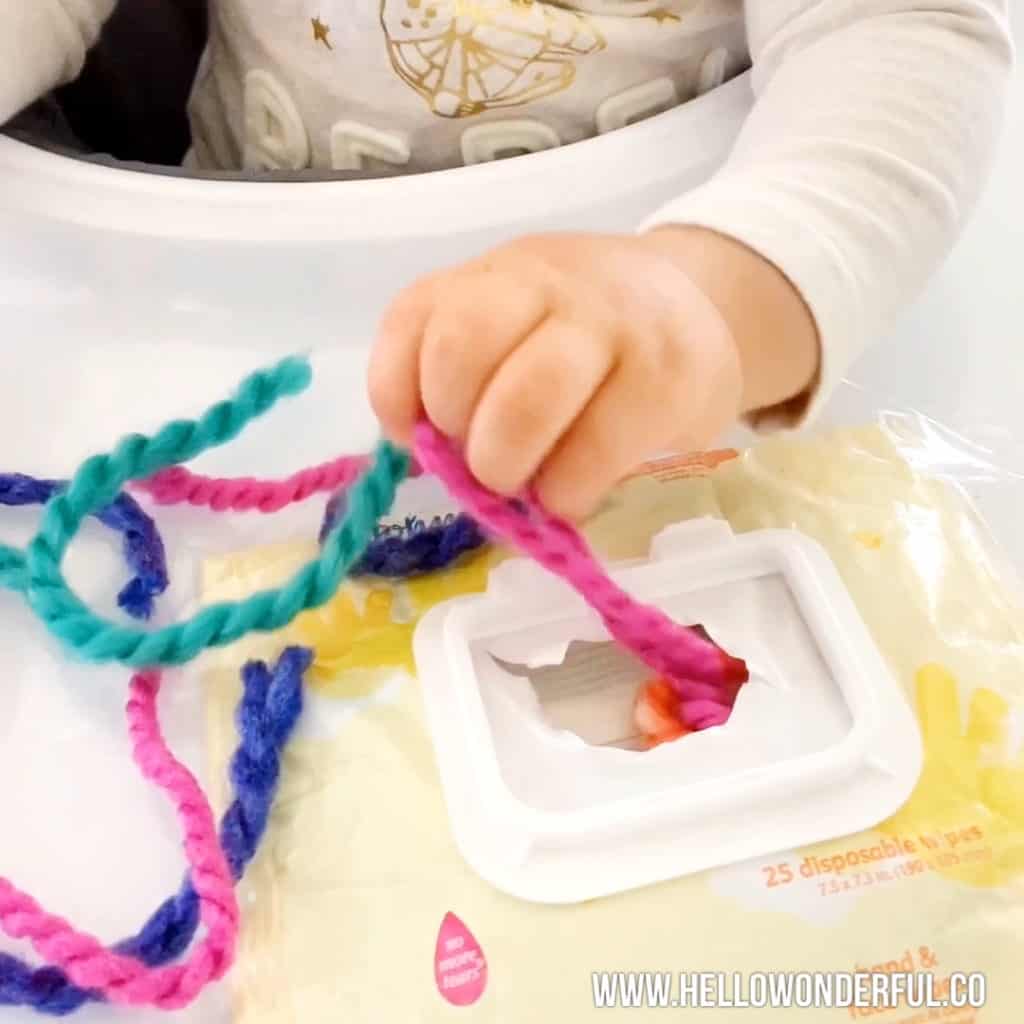 Disclosure: Some of the links in the post above are "affiliate links." This means if you click on the link and purchase the item, we will receive a small affiliate commission. Regardless, we give our promise that we only recommend products or services we would use personally and believe will add values to our readers.