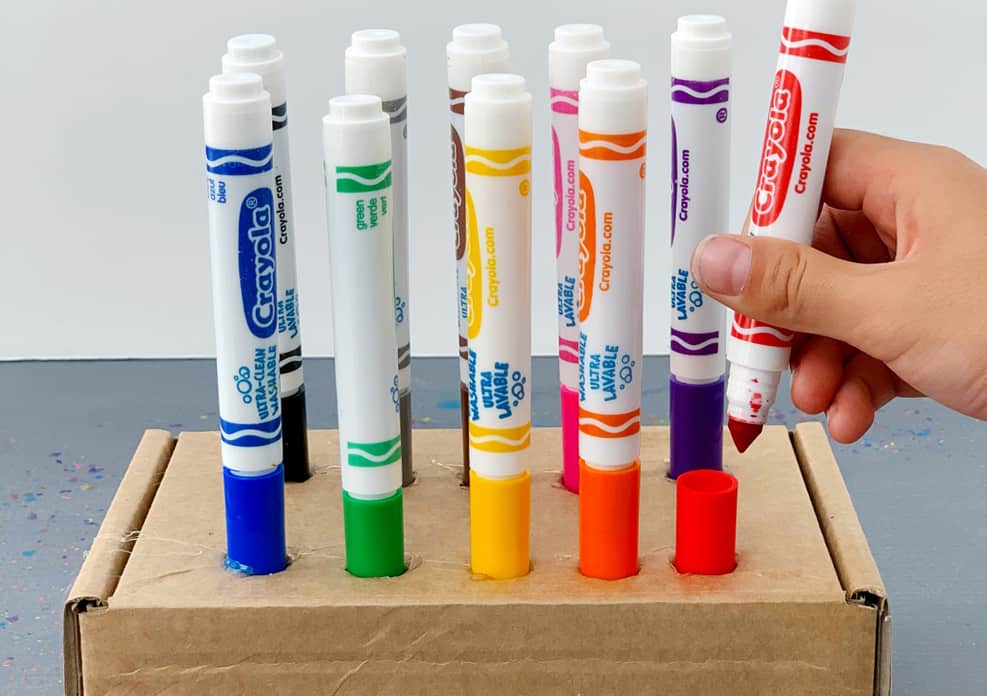 Follow us on Instagram for more fun ideas for kids!
Watch the video below to see how to make this marker lid teacher classroom hack in action. Make sure to subscribe to our YouTube channel for more fun videos!
Never lose a marker lid with this clever marker lid teacher classroom hack to keep all those lids in one place!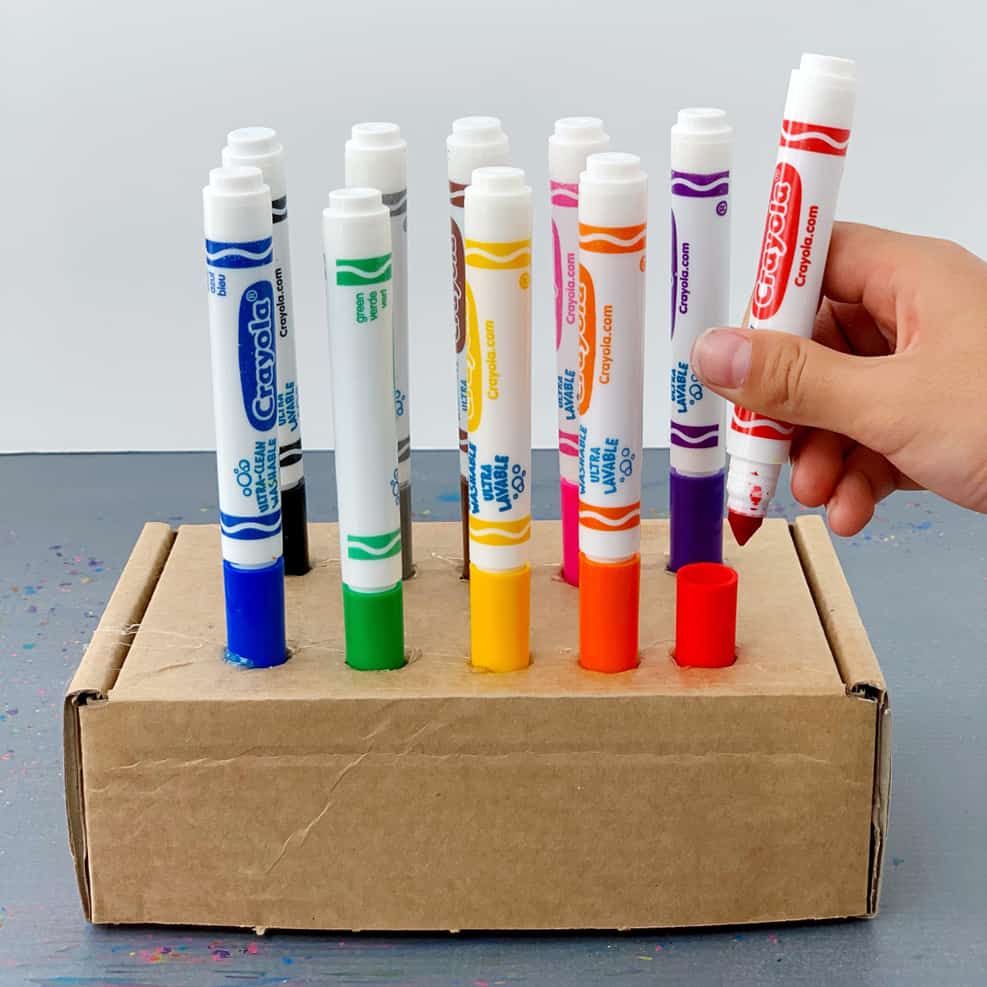 When I saw this teacher hack for duct taping marker lids so they don't get lost shared on our
Facebook page, I though it was a genius solution to prevent losing all those lids!
I"m not a teacher, but I do have two very artsy children who love to draw and doodle with markers. We also love a good marker hack, like recycling markers into watercolors, so this was right up our alley.
It drives me crazy to have lids all over the table, rolling under furniture, getting lost, and worse, not being capped while one is being used so the markers dry out.
I like the duct tape idea of holding marker lids in one place, but I wanted a free standing option so we could place it easily anywhere. A cardboard box struck me as a good idea.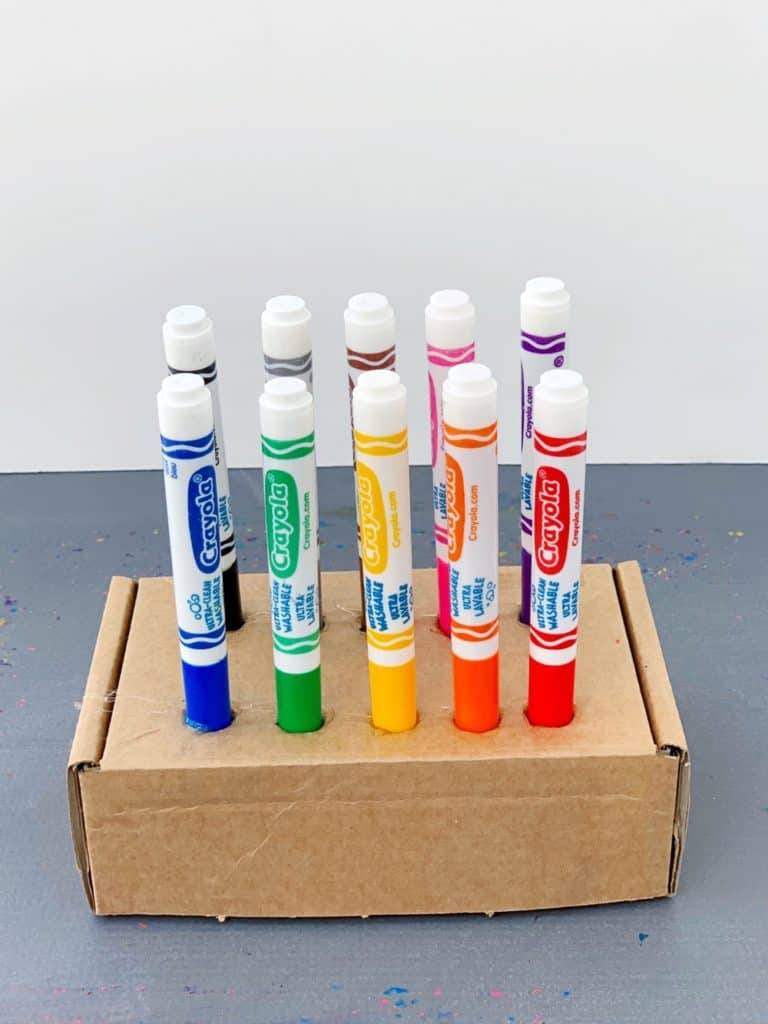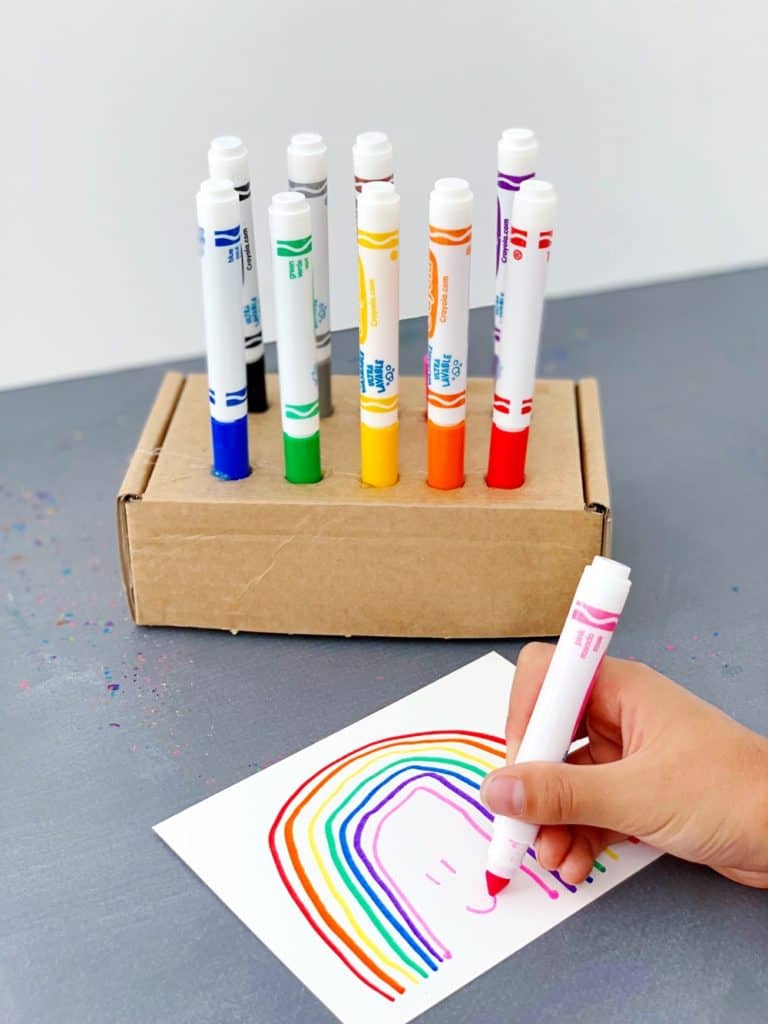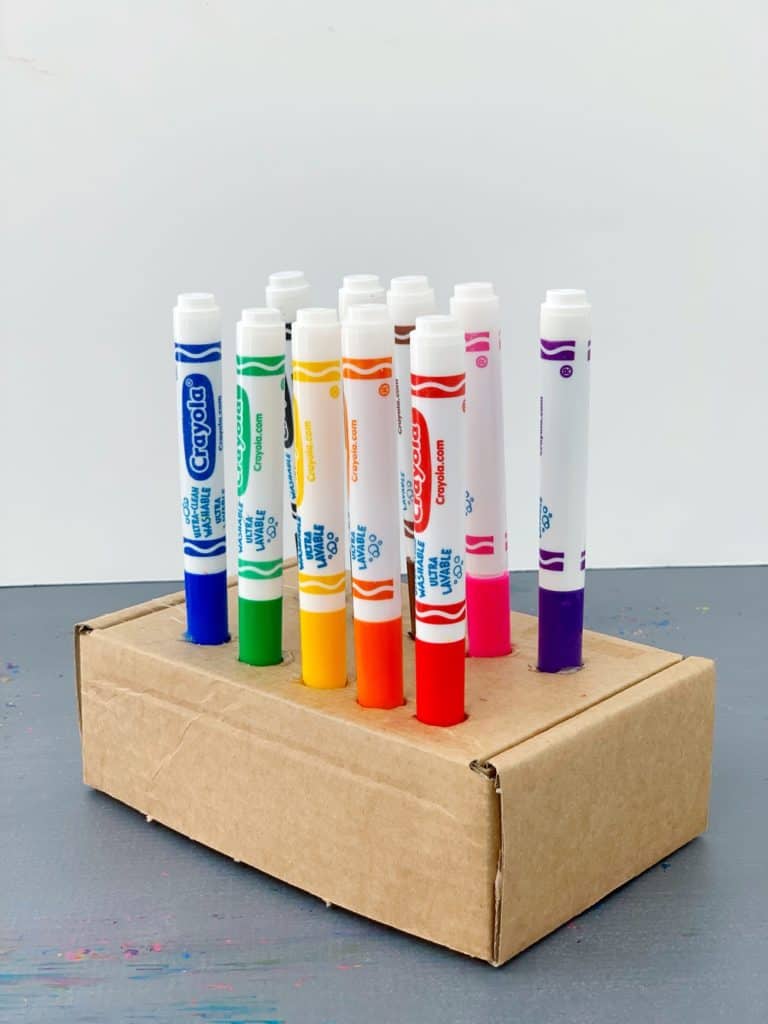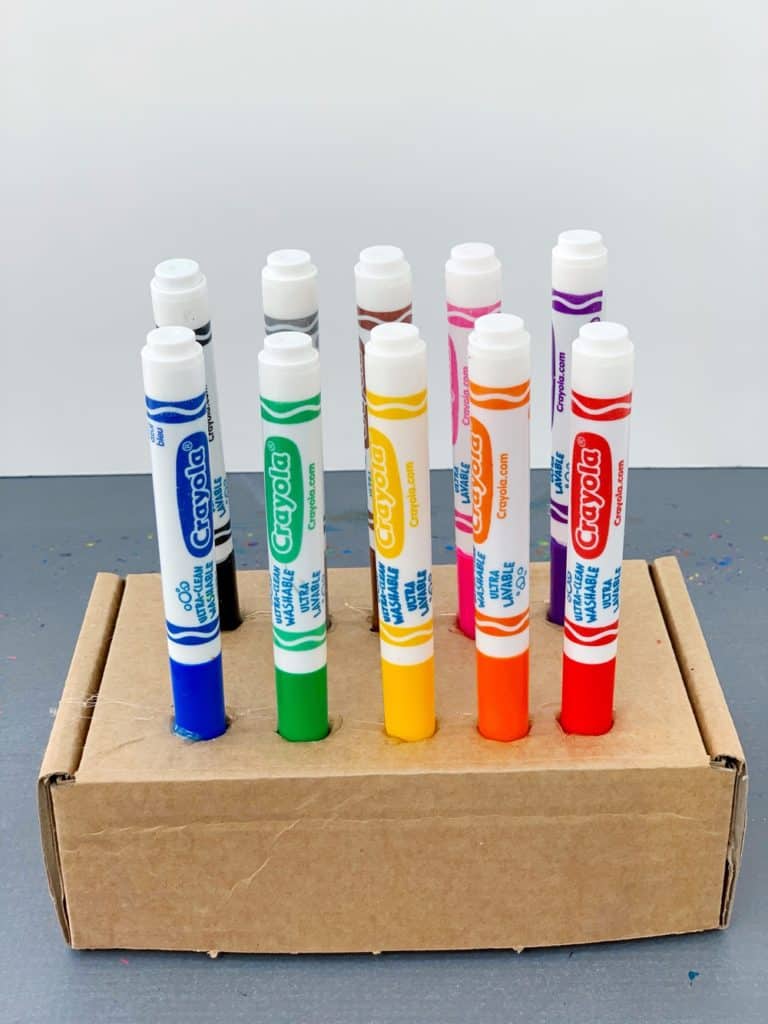 Does a cardboard box actually keep the marker lids in place?
A cardboard box will do in pinch but it needs to be the right size and height. Now, we just happen to have the perfect size box for a pack of 10 markers, and it wasn't tall enough so the markers would cave in. Also as you can tell from the photos it's a pretty strong piece of cardboard.
If you don't have the perfect size box, some readers suggested laying more cardboard pieces inside the box so the markers won't cave.
Or if you want a sturdy long lasting option, you can get a piece of wood and drill holes.
We're all about easy recycled crafts and activities we can do easily with what we have on hand, so this cardboard box suited our needs just fine.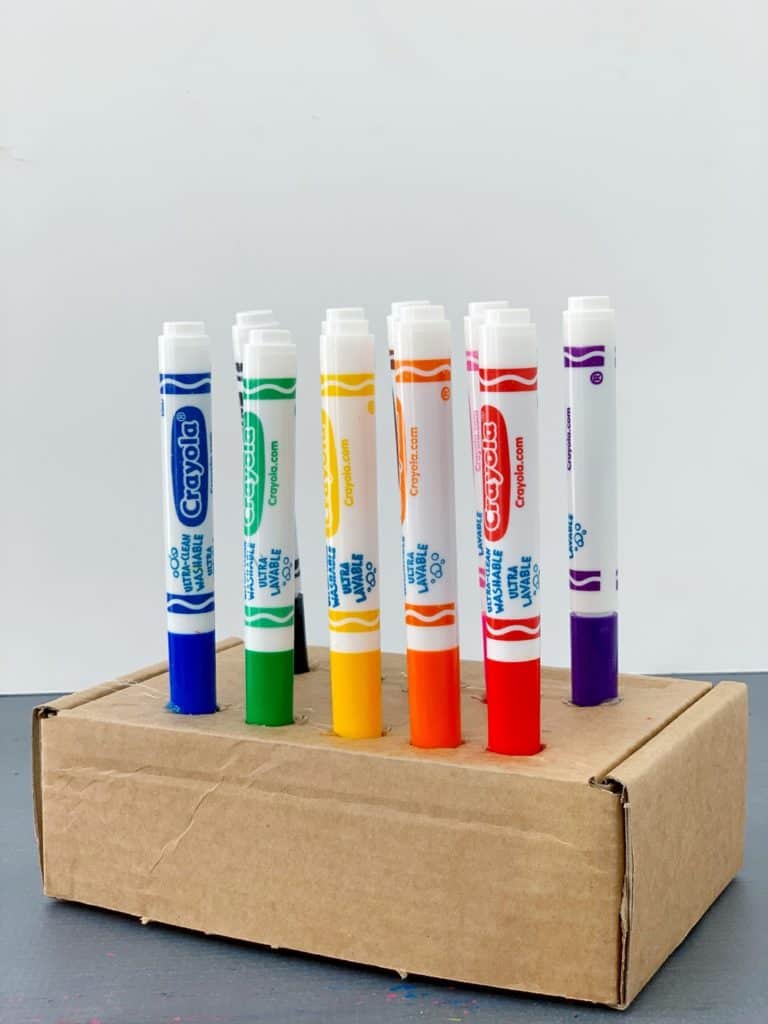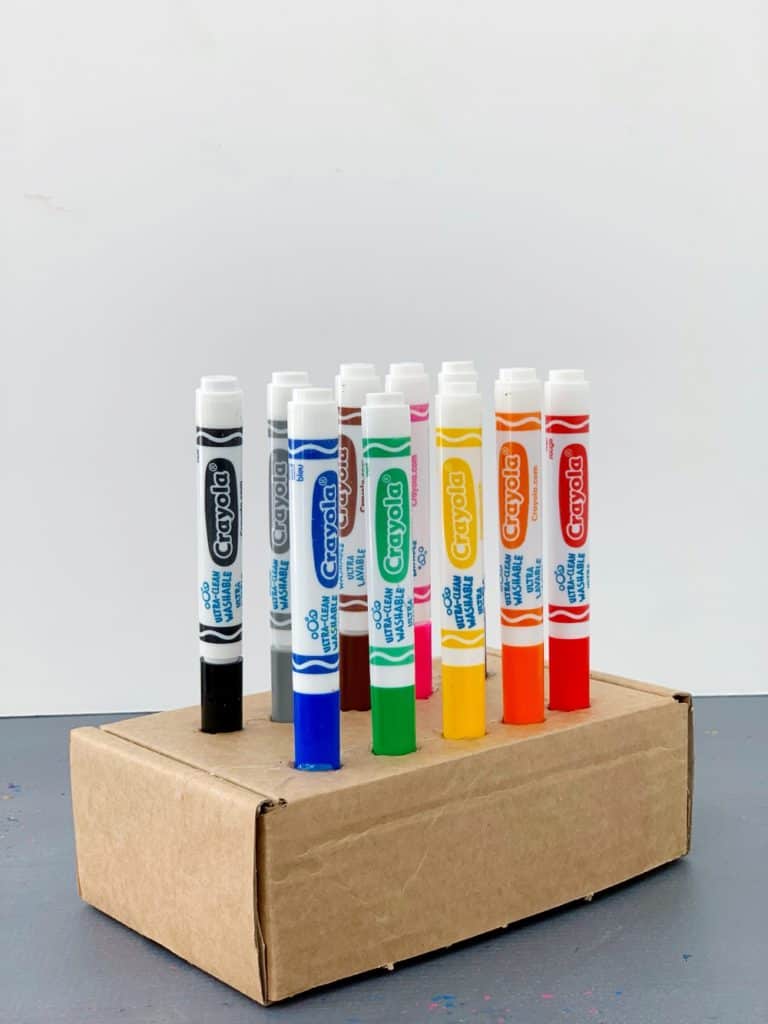 Can the lids actually click shut?
Yes they can! I know the video doesn't show that to be the case, but that's because I wanted to show a quick concept of the idea of using a box and hot gluing lids. If you look at our Facebook Page video comments, I do show a short clip in the comments of the markers clicking shut tightly.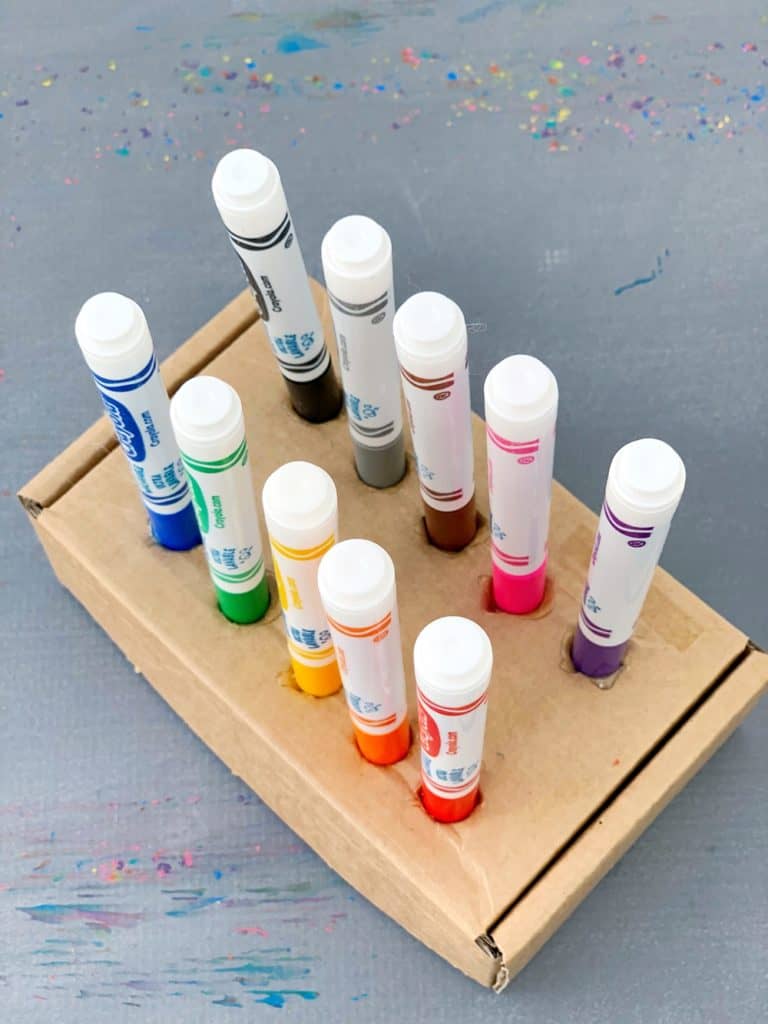 All you need to make this recycled box marker lid holder are:
A strong box, not too tall and large in depth
A pack of markers (we use these Crayola 10 packs)
Center punch or tool that can make a rounded hole strong enough to punch through the box
Pencil (to mark where to make the holes)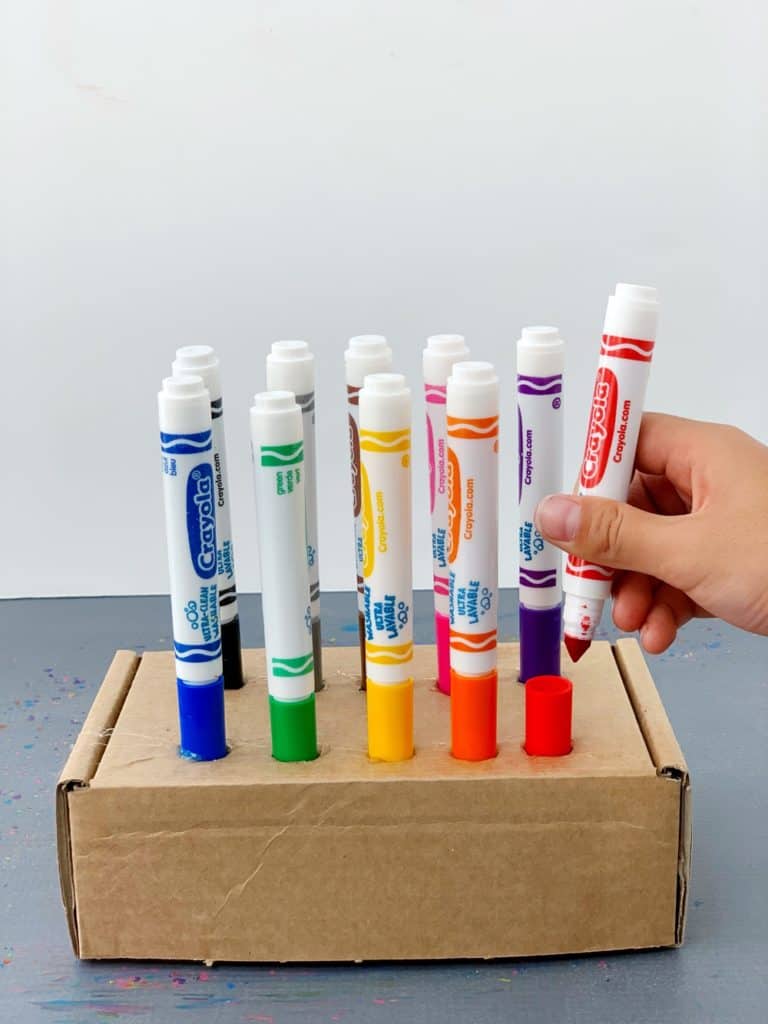 Yield: Marker Lid Teacher Hack
MARKER LID TEACHER CLASSROOM HACK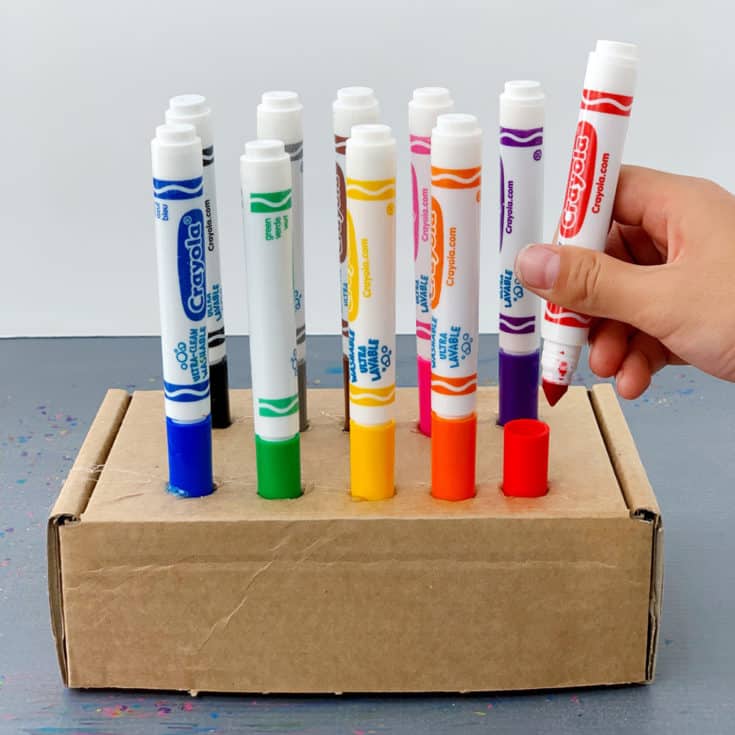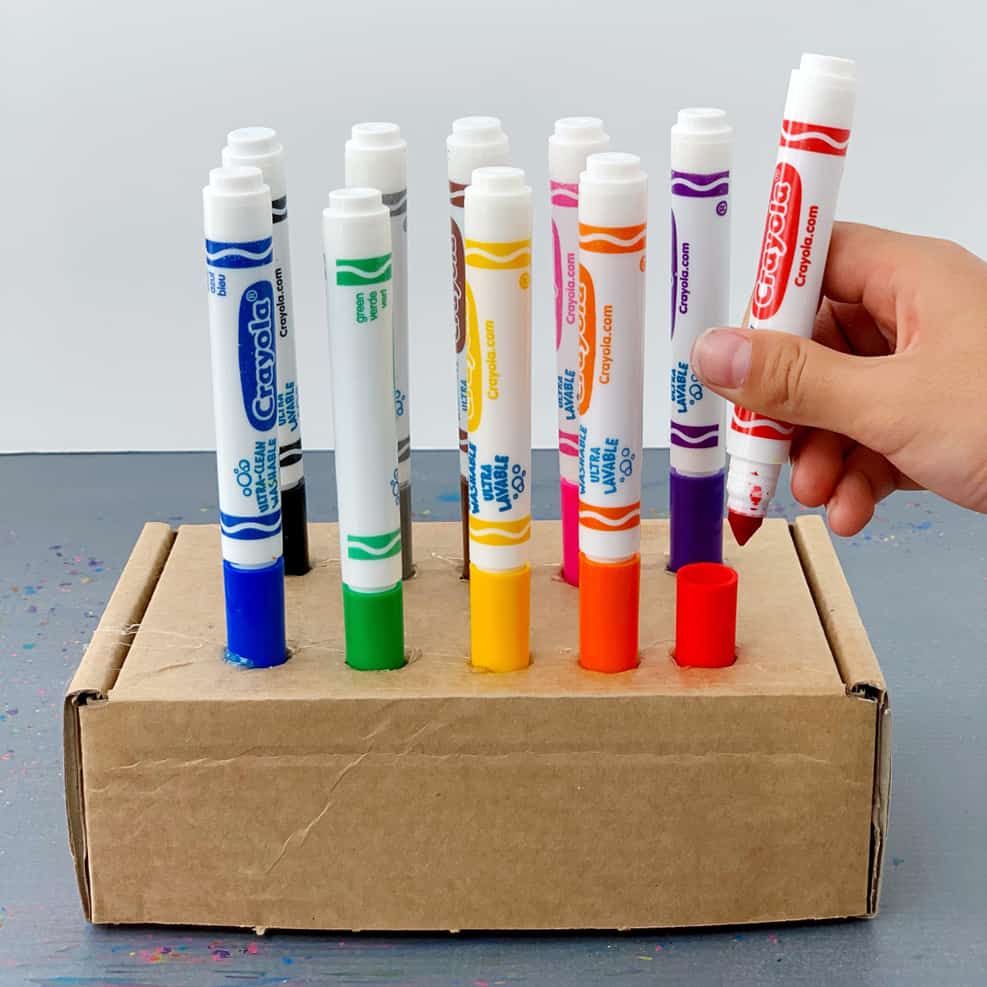 Never lose a marker lid with this teacher classroom hack!
Materials
A strong box, not too tall and large in depth
Pencil (to mark where to make the holes)
Instructions
Use a pencil to measure and mark where holes will be placed on top of your box, equidistant from each other.
Use your exacto or craft knife to make a small dent on each mark. Then use your center punch to widen the hold the size of your marker lid. You will have to grab the lid and use that to widen the hole.
Add a generous amount of hot glue around the hole and also around the marker lid and immediately secure to the hole one marker at a time. Add more hot glue around the lid once it's in the box. Let dry fully before attempting to click a marker shut in place.
Repeat for all the other markers.
If you love this creative recycled marker hack, make certain to check out these other fun crafts as well:
______________________________________________________________________________________________________
Disclosure: Some of the links in the post above are "affiliate links." This means if you click on the link and purchase the item, we will receive a small affiliate commission. Regardless, we give our promise that we only recommend products or services we would use personally and believe will add values to our readers.