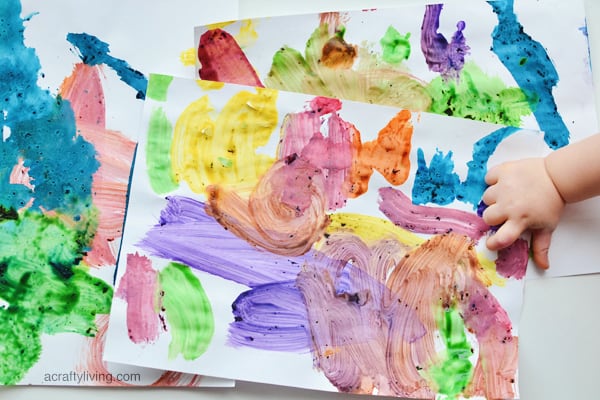 Did you ever get scratch 'n' sniff stickers in Primary School? I remember looking forward to receiving my homework back to see which scent I got and comparing with my friends.
This activity is great for toddlers right up to school age kids! I tried it out this week with Miss16m & Miss2 whilst the eldest two were at school.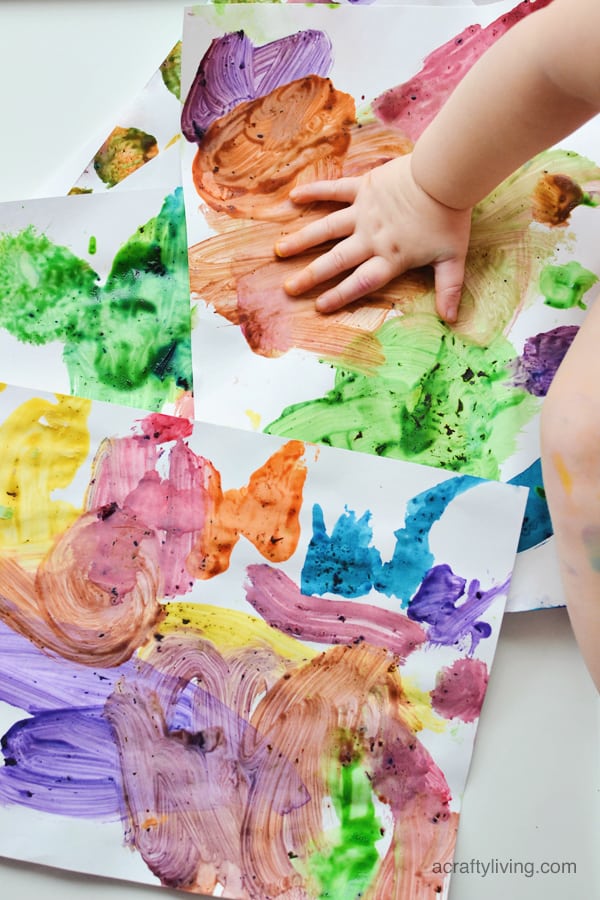 Take a walk in the backyard & have a peek in the kitchen – you are certain to find many scents perfect for creating your own scratch 'n' sniff paper! A fun & easy way to explore scent!
To make your own Scratch 'n' Sniff Paper, you need (we used)
– Coconut Essence
– Lemon Essence
– Mint
– 'Wild Fruits' Tea
– Coffee
– Rosemary
– Lavender
– Mortar & Pestle
– Paintbrushes
– Washable Kids Paint (Preferably one with little-to-no scent)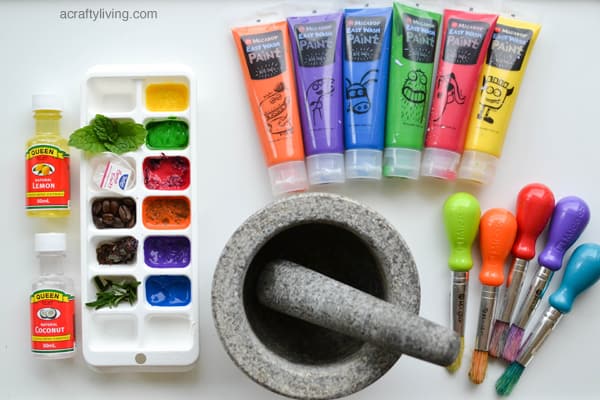 2 super simple instructions before you set off to paint!
Crush each ingredient (this will release a stronger scent!). If you don't have a mortar & pestle, you could put the ingredient between sheets of baking paper and use a rolling pin or rubber mallet to crush.
Mix with paint!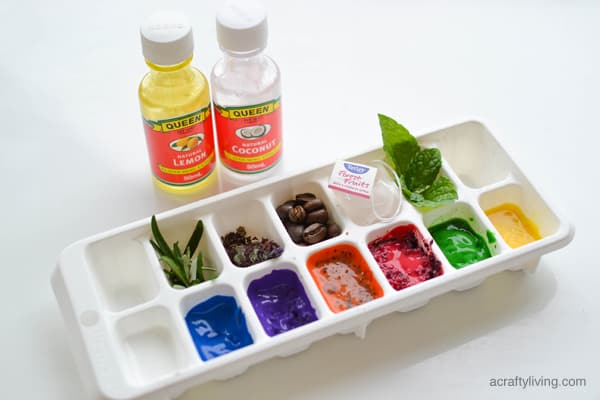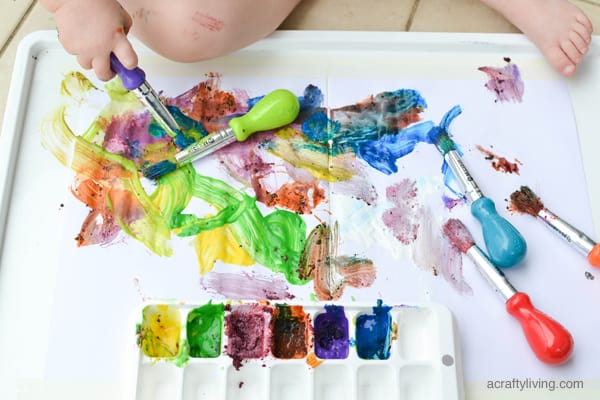 Both Miss2 & Miss16m loved crushing each ingredient with the mortar & pestle. It was a great exercise for all those little hand muscles! We discussed each scent, how easy/hard they were to crush, identified colors, and decided which color we should mix them with.
Once our paintings were dry, we scratched, sniffed and tried to identify what each color smelt like! This became tricky, especially with mixed colors/scents – next time, we would do this one color/one scent per paper to make it easier to identify.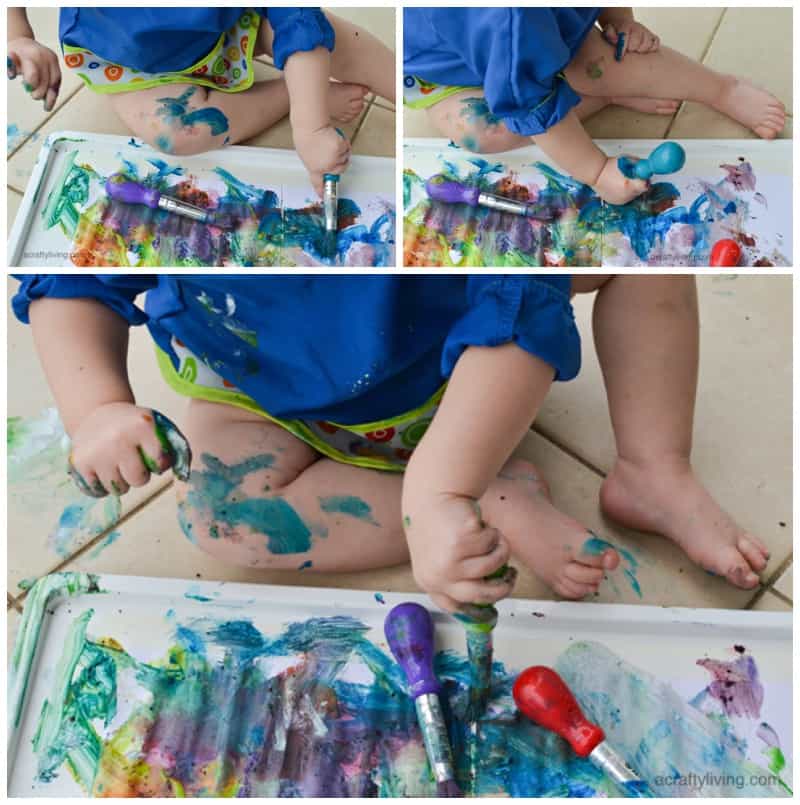 Whilst Miss16m is still learning to grasp the art of sniffing, Miss2 was very vocal on how "disgusting" the paper smelt after scratching it! Their siblings, Miss5 & Mr3 were a lot more enthusiastic and impressed with our efforts!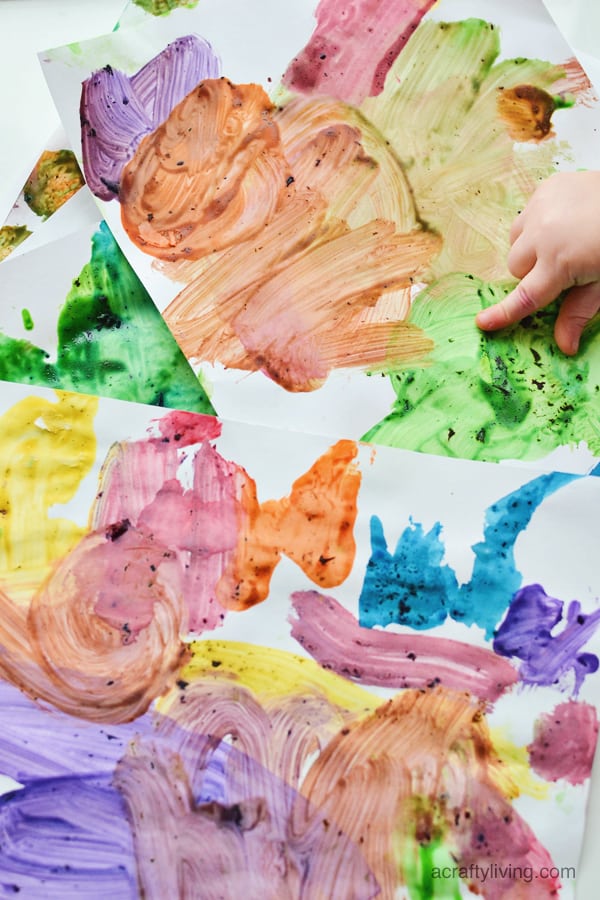 Have you ever made Scratch 'n' Sniff Paper? What scents did you use?
Check out more fun creative projects for kids here!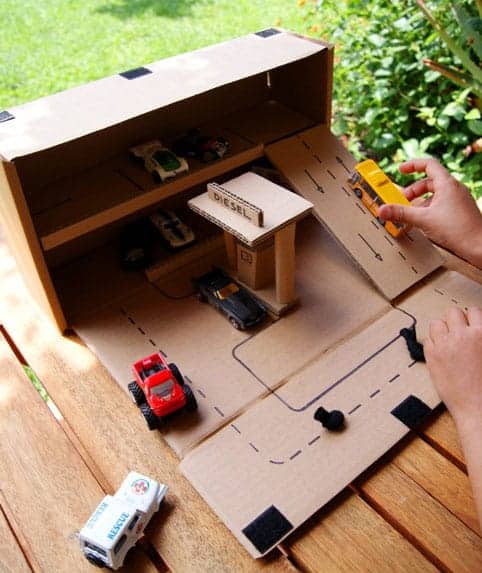 Olivia is a career Nanny & craft extraordinaire from Sydney, Australia. She shares her passion for children & creativity by providing simple arts, crafts & activities full of learning opportunities. Her aim is to encourage & inspire you to be creative with your babies, toddlers and preschoolers! You can find more from Olivia at www.acraftylivingcom or follow her on Facebook & Instagram at @acraftyliving!
______________________________________________________________________________________________________

Disclosure: Some of the links in the post above are "affiliate links." This means if you click on the link and purchase the item, we will receive a small affiliate commission. Regardless, we give our promise that we only recommend products or services we would use personally and believe will add values to our readers.