Follow us on Instagram for more fun ideas for kids!
(Scroll all the way down to watch the video on how to make this sweet Apple Math Tree Learning Activity and make sure to subscribe to our channel for more fun crafts and ideas!)
Get the kids excited for back to school and fall with this cute Apple Math Tree Learning Activity!
They will love matching the right numbered apples to the correct equation on the tree.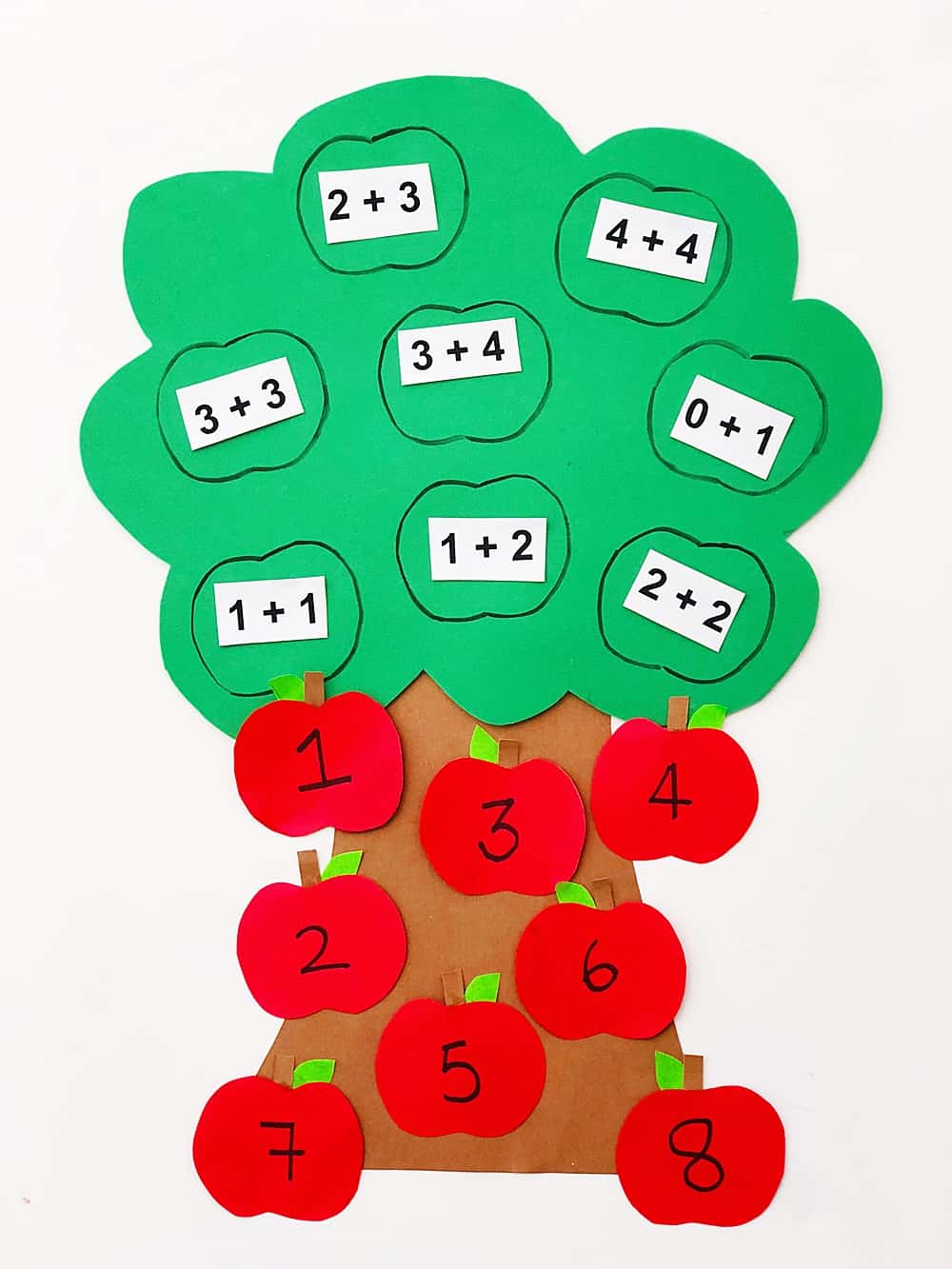 What's great is that you can have a bushel of numbered apples and print out any variety of equations for your child depending on their math level.
We're showing simple addition here, but you can easily print out multiplication, or division problems for older kids.
All you need are paper and our FREE APPLE PRINTABLE to make this adorable Apple Math Tree.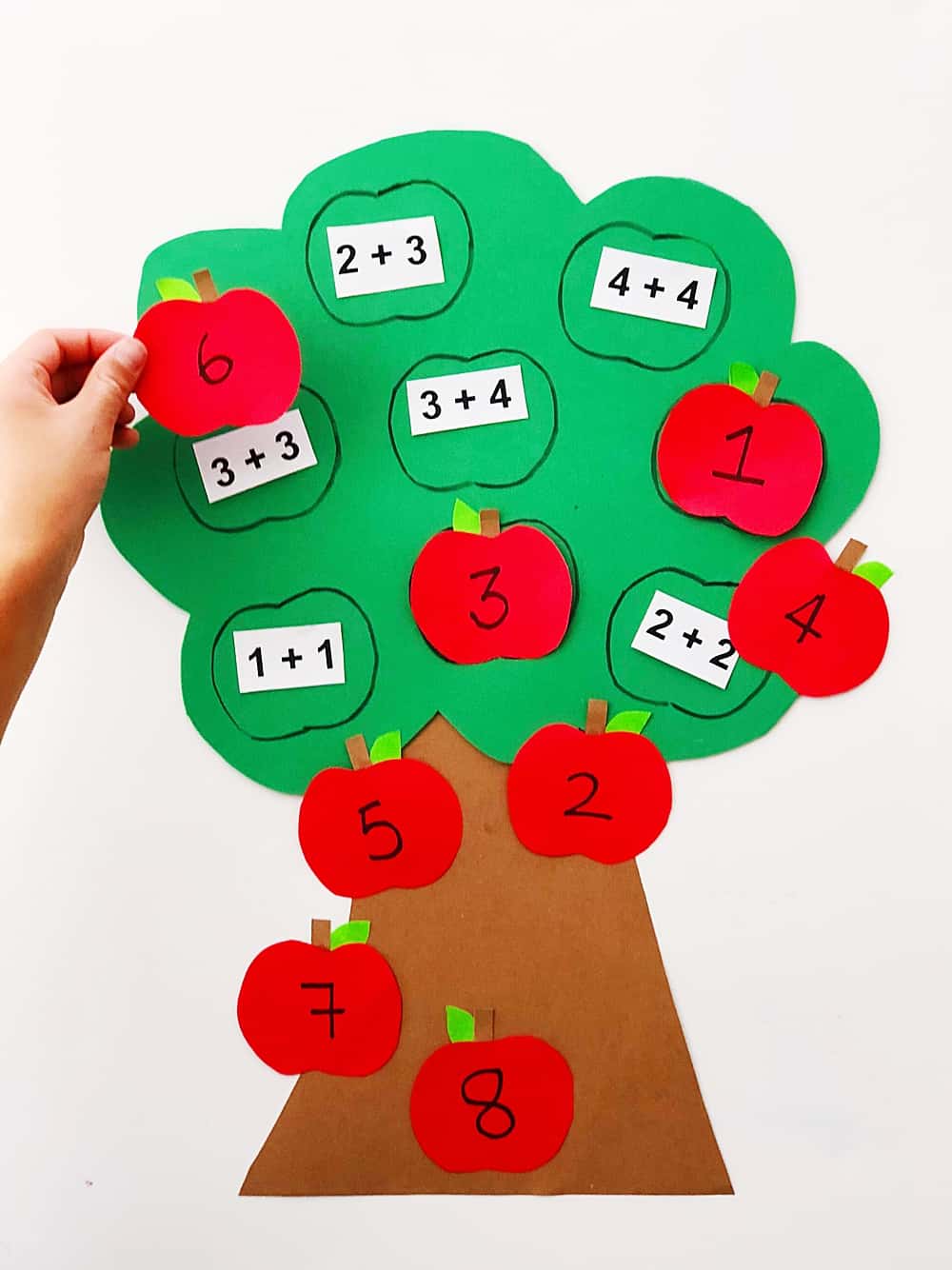 This is part of the Apple Activity Week Theme happening over on Instagram where we are sharing our activity (@hellowonderful_co) along with 4 other awesome early learning Instagram accounts, @busytoddler, @happytotshelf, @dayswithgrey, and @littleoneslearn.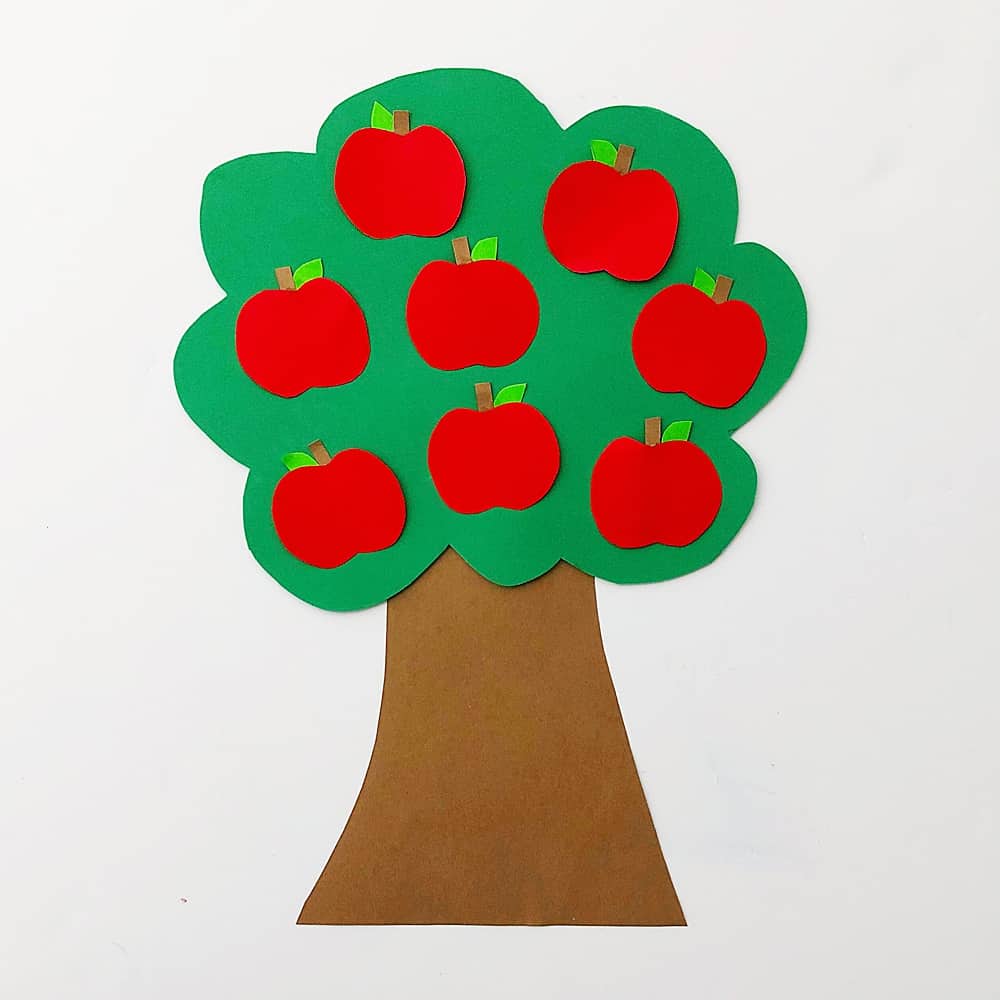 We'll be sharing our favorite Apple activities with you all week long (week of 9/4/18) so make sure to follow along the #appleactivityweek hashtag or check out our friend's activities on their blog directly:
Balance the Apple Steam Activity – Days With Grey
Apple Theme Learning Shelf – Happy Tot Shelf
Now, on to our Apple Math Tree!
APPLE MATH TREE – MATERIALS:
Green paper (we actually used a piece of large green foam paper since that's what we had but paper works and is more common)
Glue
Printer and white copy paper
Free Printable Apple Template (includes stems and leaves download right below)
Download the Apple Printable right below:
Click Here to Get Your Free Printable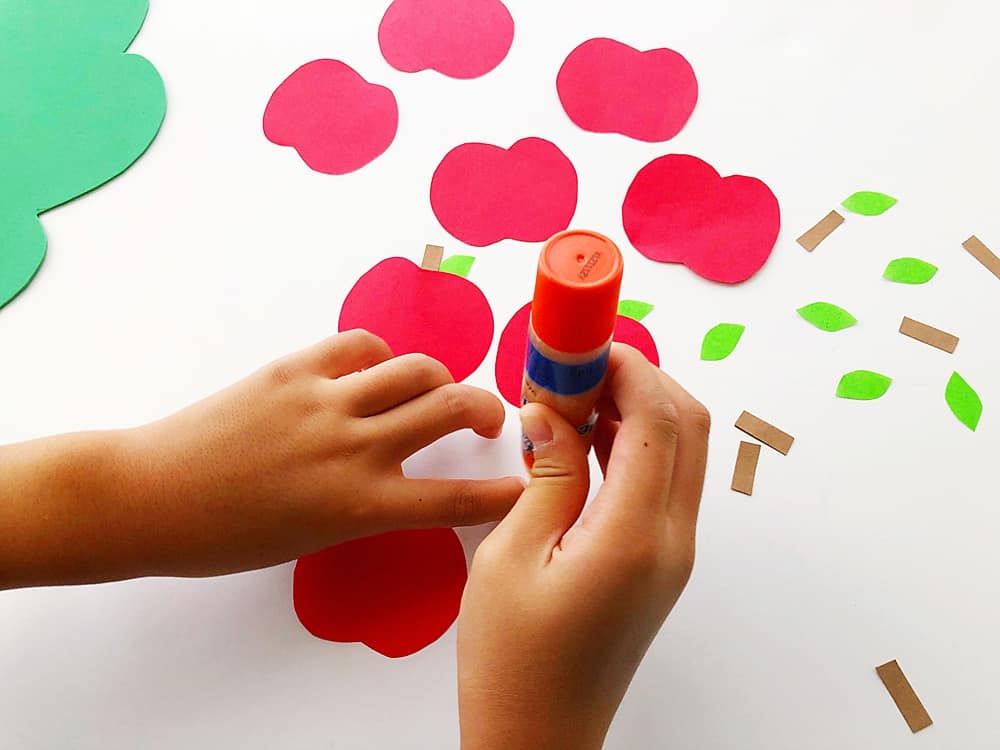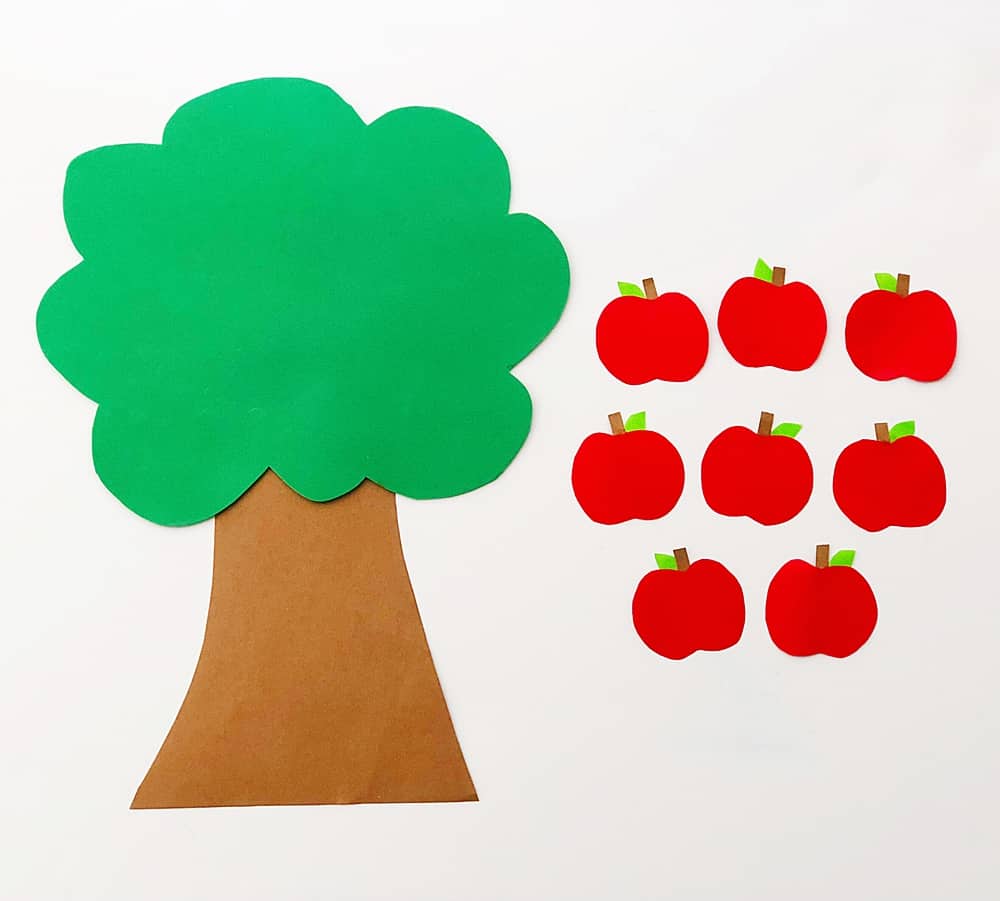 Scroll all the way down to watch the video on how to make this sweet Apple Math Tree Learning Activity
INSTRUCTIONS:
Step 1. Cut out a rounded green tree shape, and the brown stand. Glue together.
Step 2. Print out your apples on red paper, cut out as many as you'd like.
Step 3. Print out your stems on brown paper, and leaves on green paper. Cut out as many number as your apples.
Step 4. Glue one leaf and stem to each apple.
Step 5. Print out equations on white copy paper (any that you'd like your child to learn). Cut into strips.
Step 6. Use an apple cut-out shape as a template to trace over your green tree top, various apples.
Step 7. Write answers on your apples in black marker.
Step 8. Have your child add the equation strips of paper to each blank apple on the tree and match the numbered apple to the right answer!
Isn't this a sweet way to learn and a fun apple learning craft?
Take a look at more fun apple activities!
Check out the video below to see how to make an Apple Math Tree: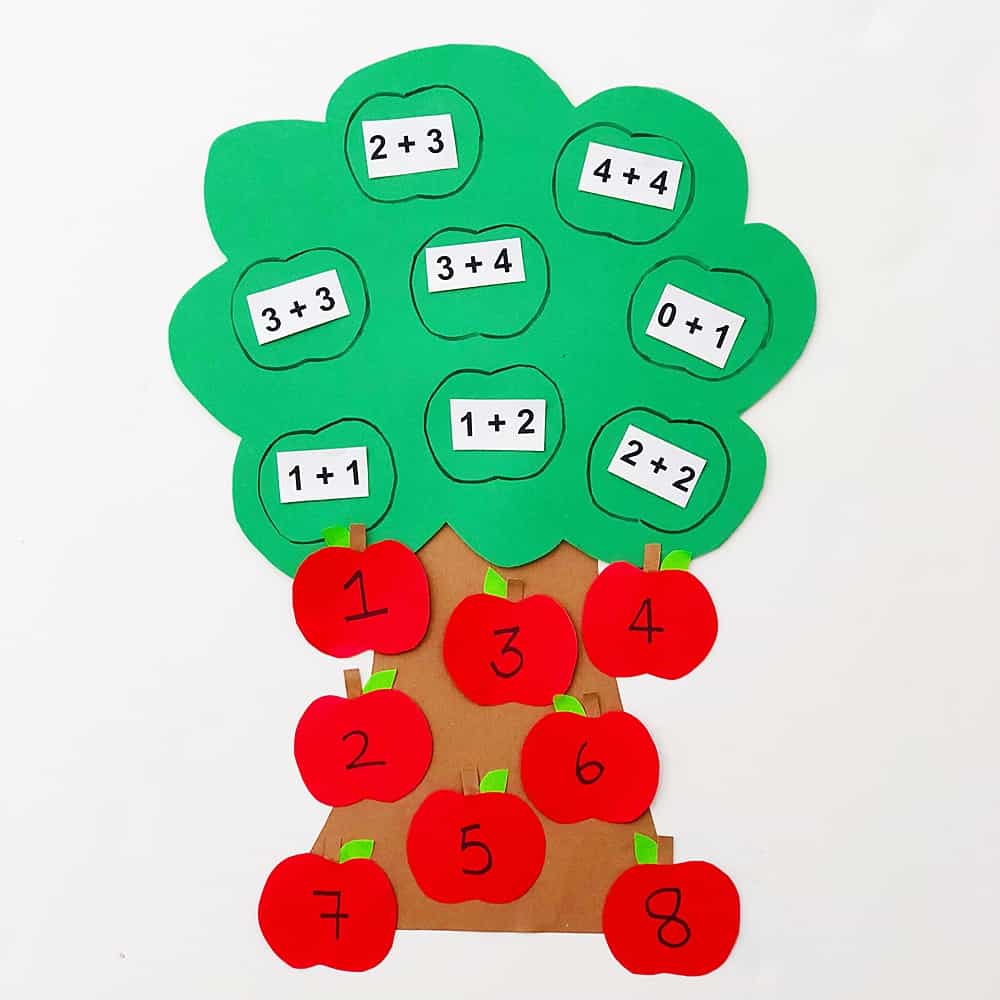 _________________________________________________________________________________________
Disclosure: Some of the links in the post above are "affiliate links." This means if you click on the link and purchase the item, we will receive a small affiliate commission. Regardless, we give our promise that we only recommend products or services we would use personally and believe will add values to our readers.