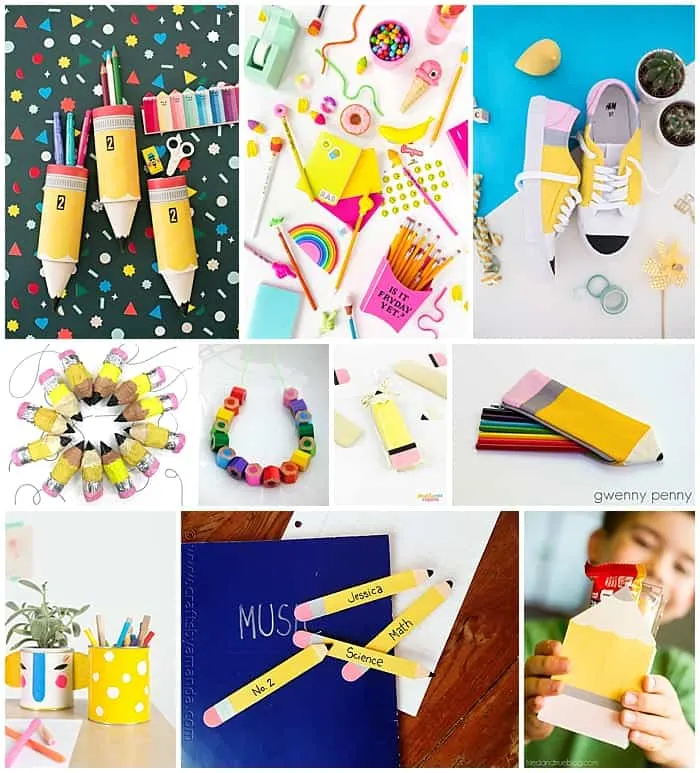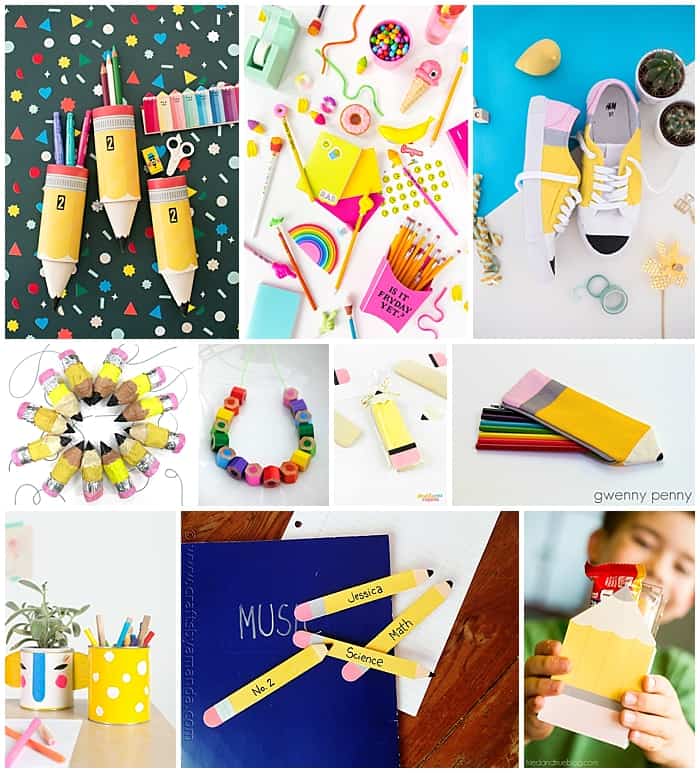 It's back to school time, and nothing brings to mind school day memories like freshly sharpened pencils. Rather than just use pencils for writing, try out some of these 10 Neat Pencil Crafts to Celebrate Back To School inspired by everyone's favorite writing utensil! Create them for fun with your children or for their favorite teacher gift!
Make sure to click on each link provided below to see the tutorial!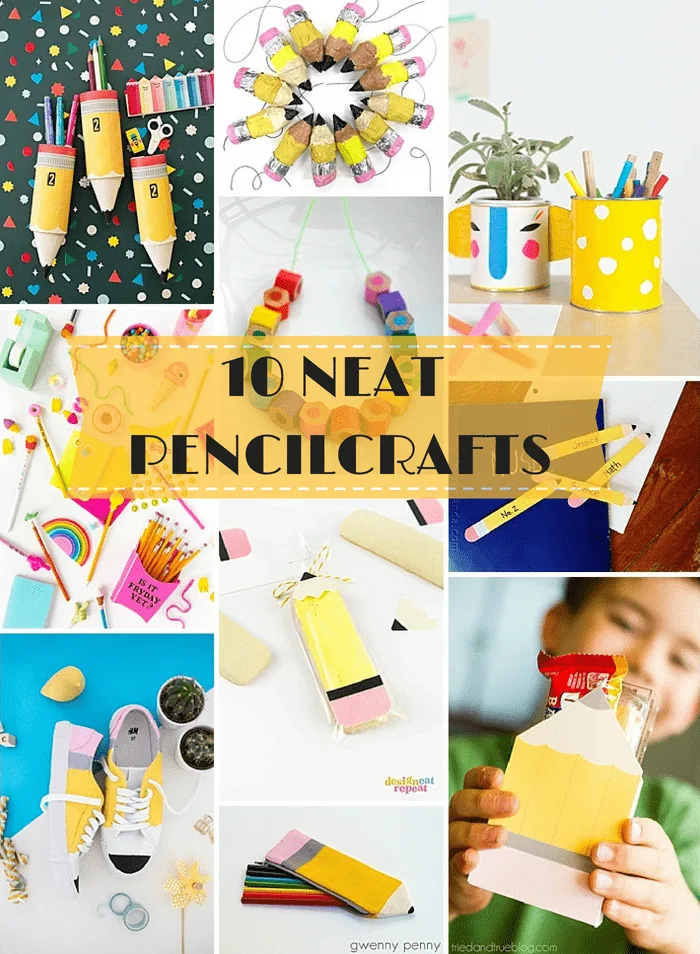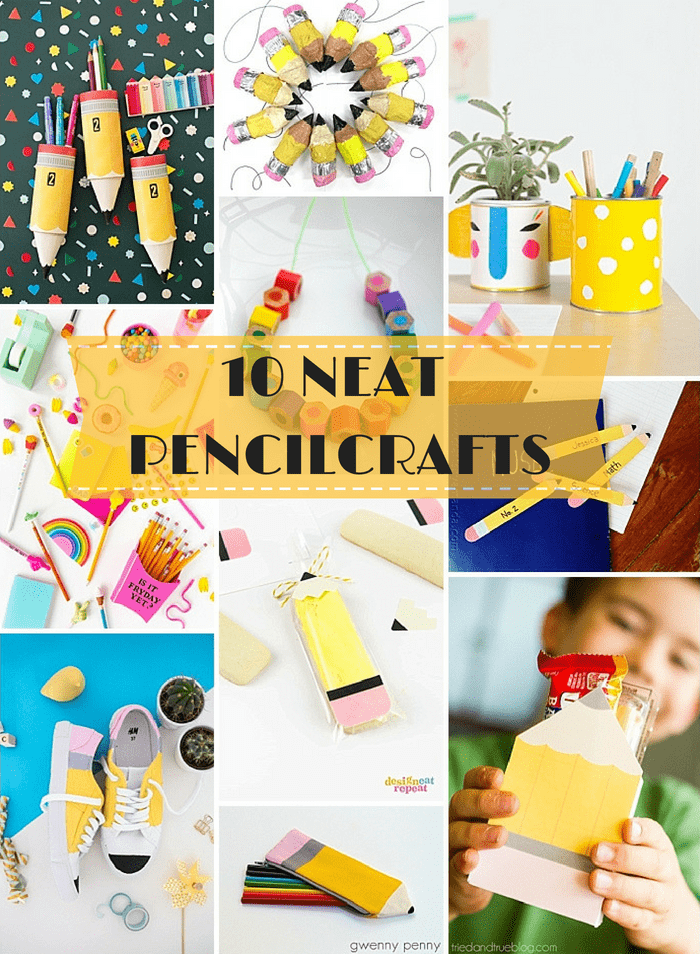 Pencil Paper Craft via hello, Wonderful
Give teachers and kids this cute paper pencil stuffed with small teacher-ly things like paper clips, small post-its, small candies etc.
DIY Pencil Sneakers via Brit Co
A plain white pair of shoes and some fabric paint make these adorable shoes the envy of any school child (and classroom teacher)!
Easy Pencil and Eraser Teacher Treats via Design Eat Repeat
These pencil-inspired sugar cookie trinkets are the sweetest way to say thank you to teachers during back to school time!
DIY Pencil Toppers and Fry Pencil Case via Aww Sam
These cute and colorful pencil toppers make a perfect addition to this french fry-inspired pencil case!
Duct Tape Pencil Holder from Merilee Lillard (Mermag) via Minted
Something as simple as an empty cardboard can will be the basis for an adorable pencil holder. Find the perfect duct tape design in order to match your office or classroom decor.
Pencil Gift Box via Tried and True
This pencil gift box template (free printable!) will be ready to fill with sweet treats.
Easy Pencil Sculptures via Cassie Stephens
Believe or not, these cute pencil sculptures start with an empty toilet paper roll! You'll love creating these simple designs that inspire a can-do back to school attitude!
Craft Stick Pencil Bookmarks via Crafts by Amanda
Reading and writing are the perfect pair with these special pencil bookmarks. Personalize them with your child's name or make one especially for their teacher!
DIY Colored Pencil Jewelry via Design Mom
You may want to help your kids with this project as it requires some specialty tools. Upcycling school supplies has never been this fun!
DIY Pencil Pouch via Gwenny Penny
This simple sewing project will create a cool pencil pouch in a writing utensil-inspired design.
These 10 neat pencil crafts to celebrate back to school are perfect projects for your home school, child going back to traditional school, or for a favorite teacher! Enjoy these cool DIY ideas inspired by pencils!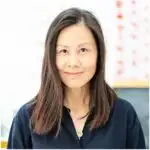 Agnes Hsu is a mom of three and has been inspiring parents and kids to get creative with easy activities and family friendly recipes for over 10 years. She shares her love for creative play and kids food to her 2MM+ followers online. Agnes' commitment to playful learning and kindness has not only raised funds for charity but also earned features in prestigious nationwide publications.