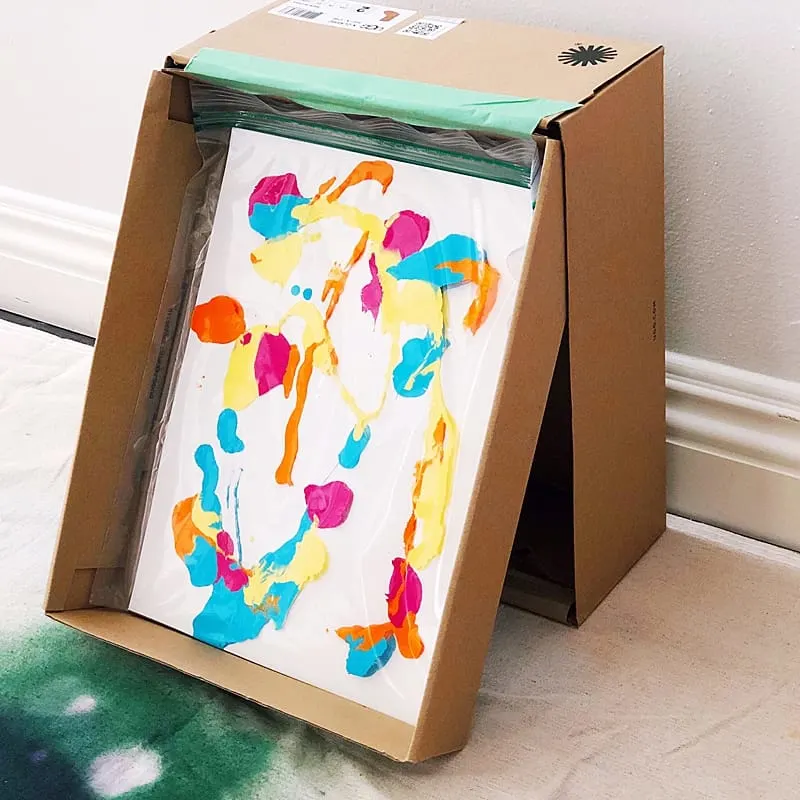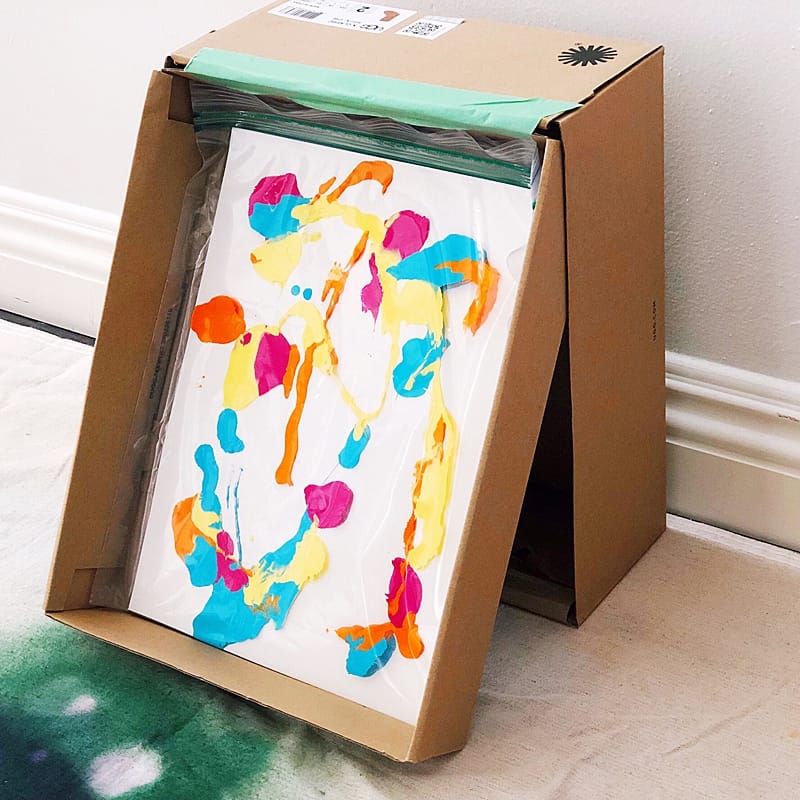 Follow us on Instagram for more fun ideas for kids!
(Scroll all the way down to see Baby's First Mess Free Painting in action and make sure to subscribe to our channel for more fun crafts and ideas!)
You're bathing in baby bliss and can't wait for all the creative fun that lies ahead. Believe me I've been there with my first, second and now third baby. The sentimental excitement over baby's first artwork is something any parent can relate to.
Of course we all know babies love to put things in their mouth and don't quite yet have those fine motor skills to hold a paintbrush. but you don't have to wait until your baby is older to create his or her first masterpiece.
Set up this easy shoebox cardboard easel to make Baby's First Mess Free Painting. Yep, we'll repeat that. This art is completely mess-free and SAFE for those chubby hands that tend to end up in their mouths.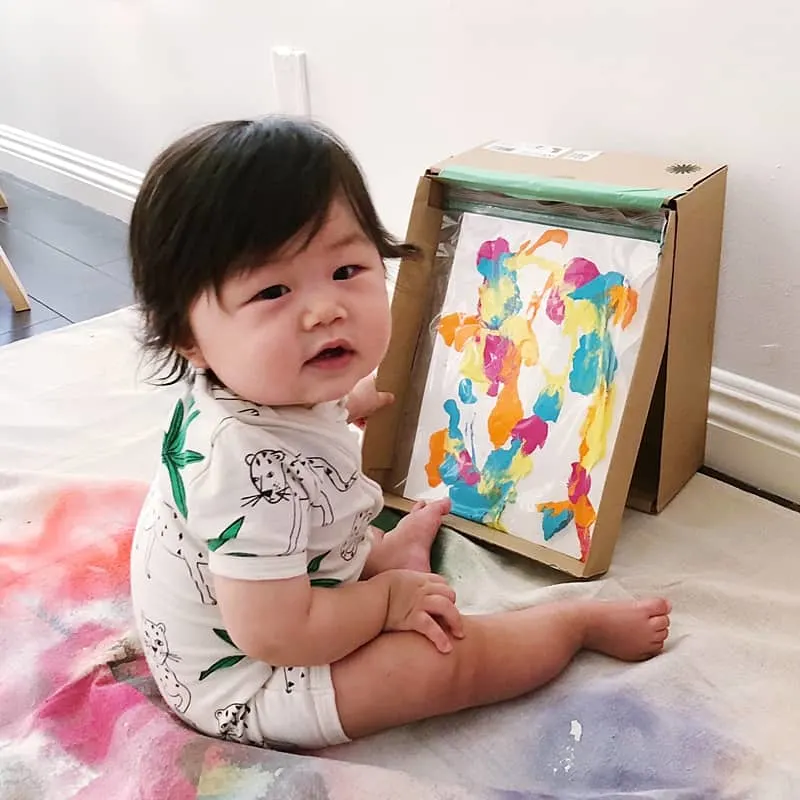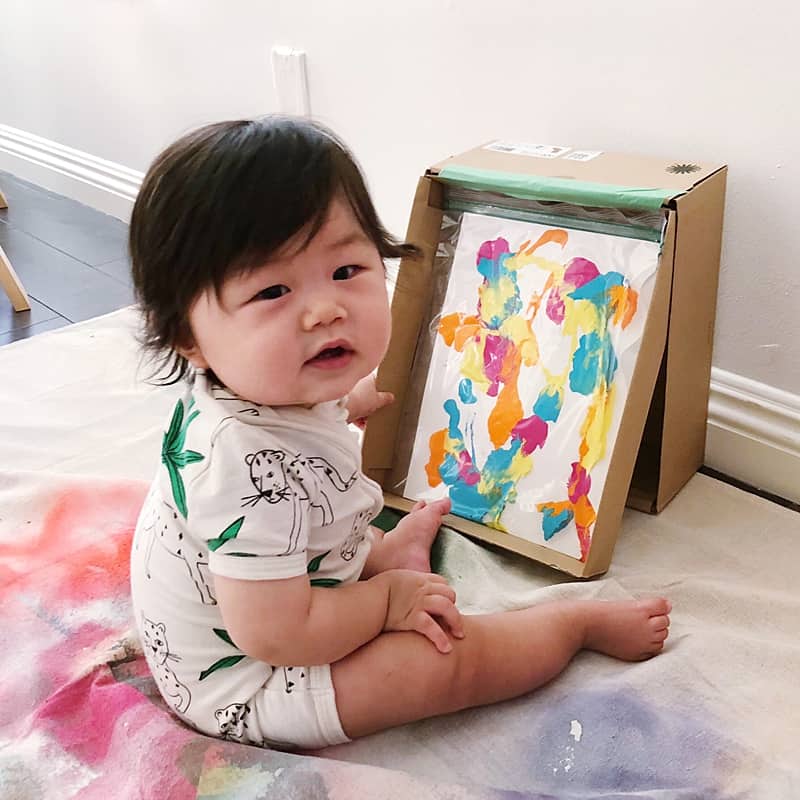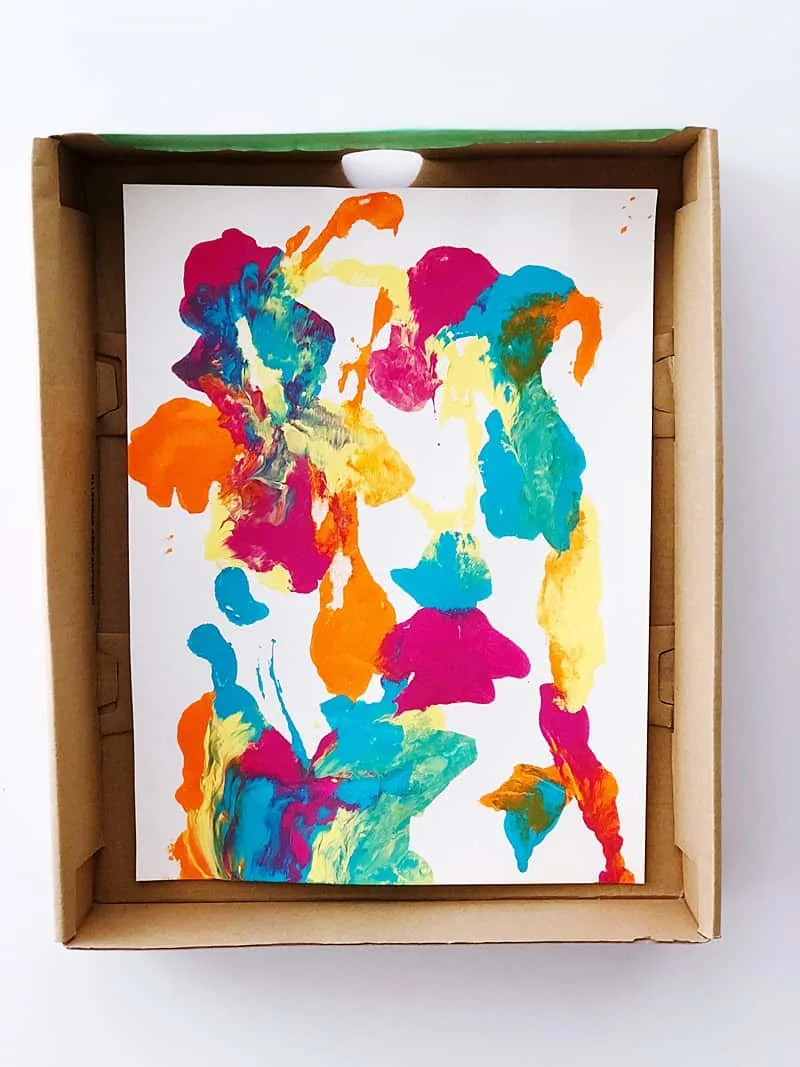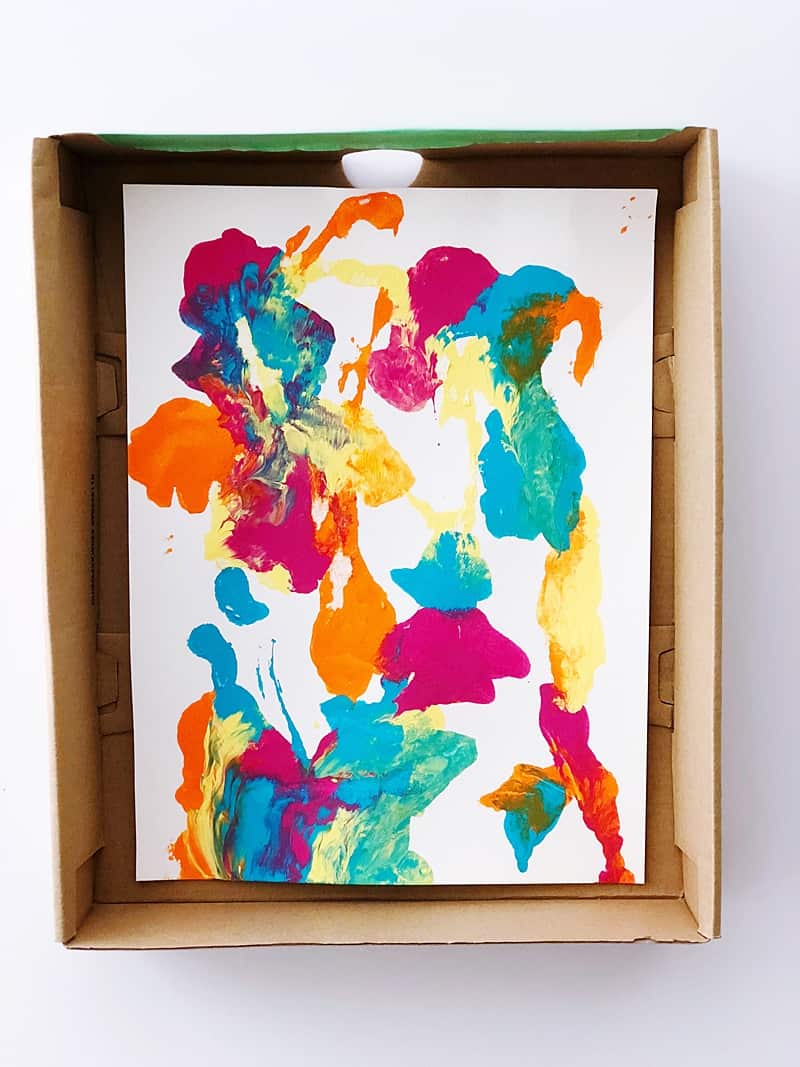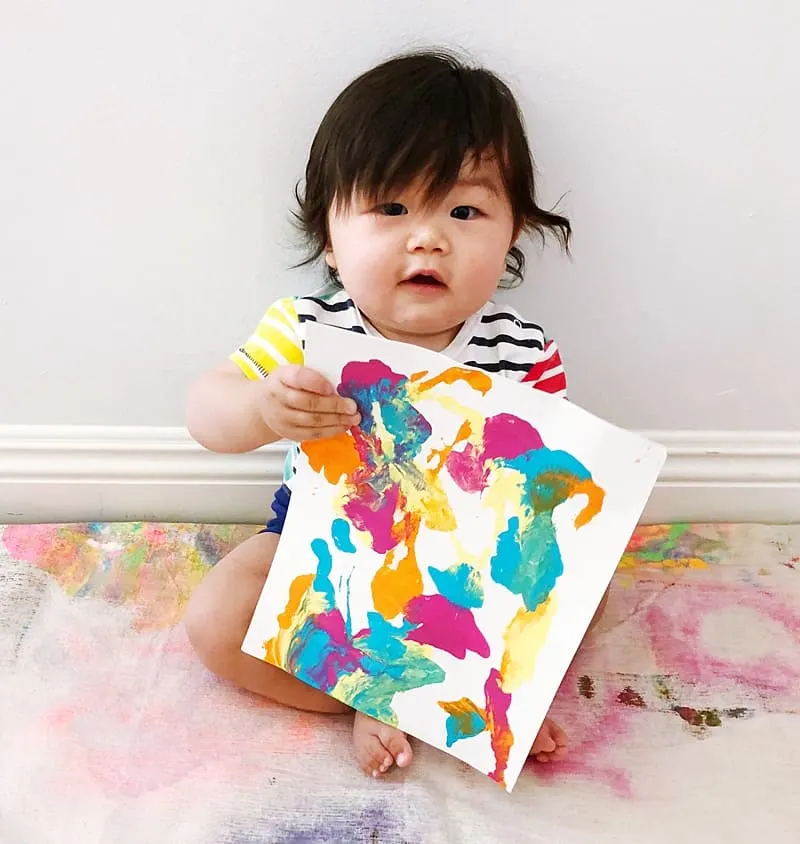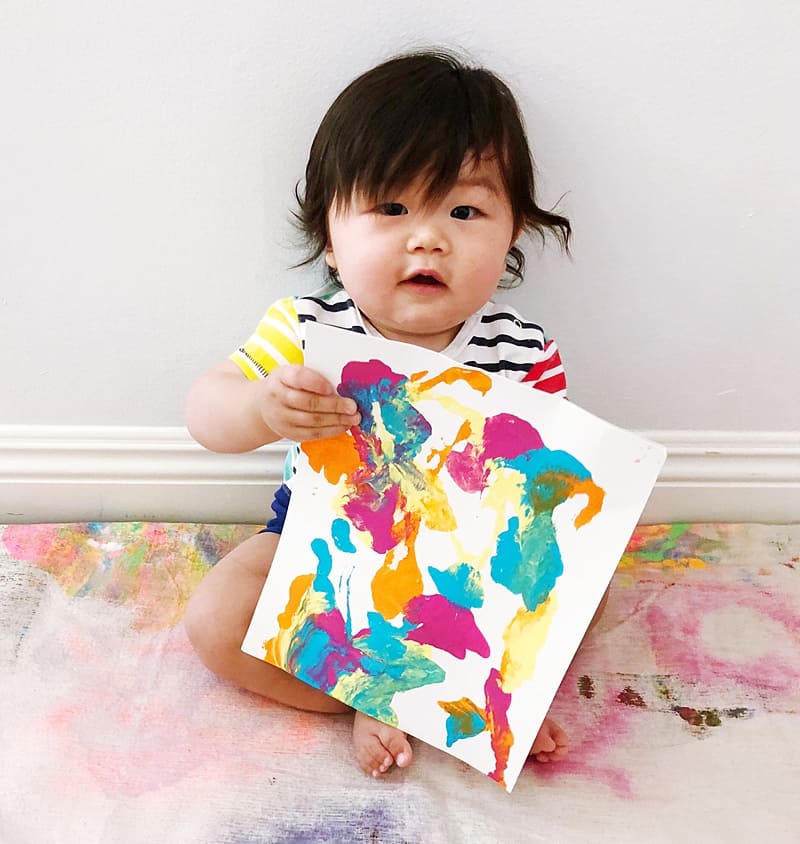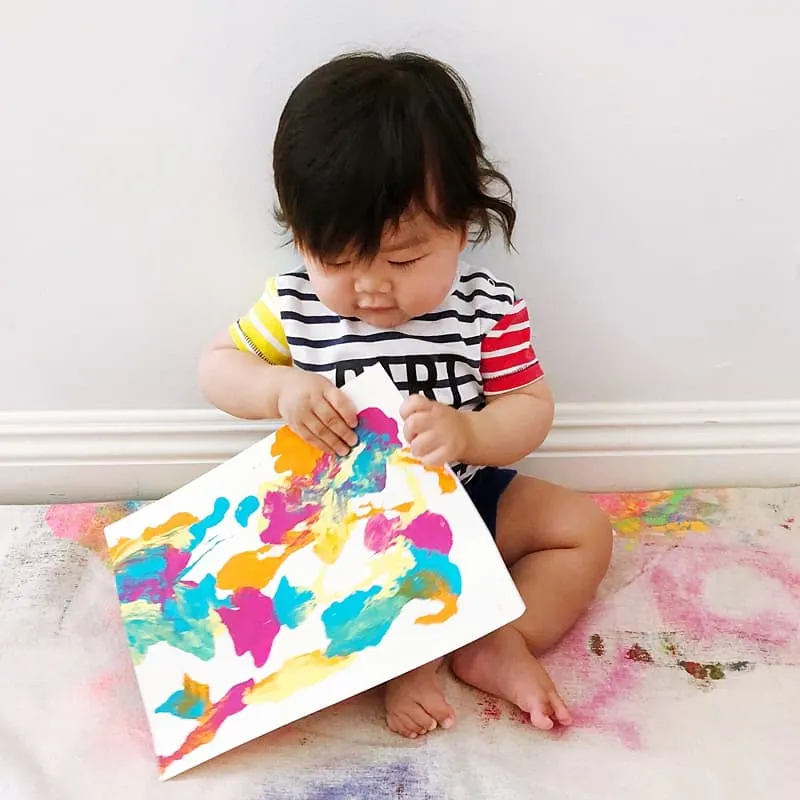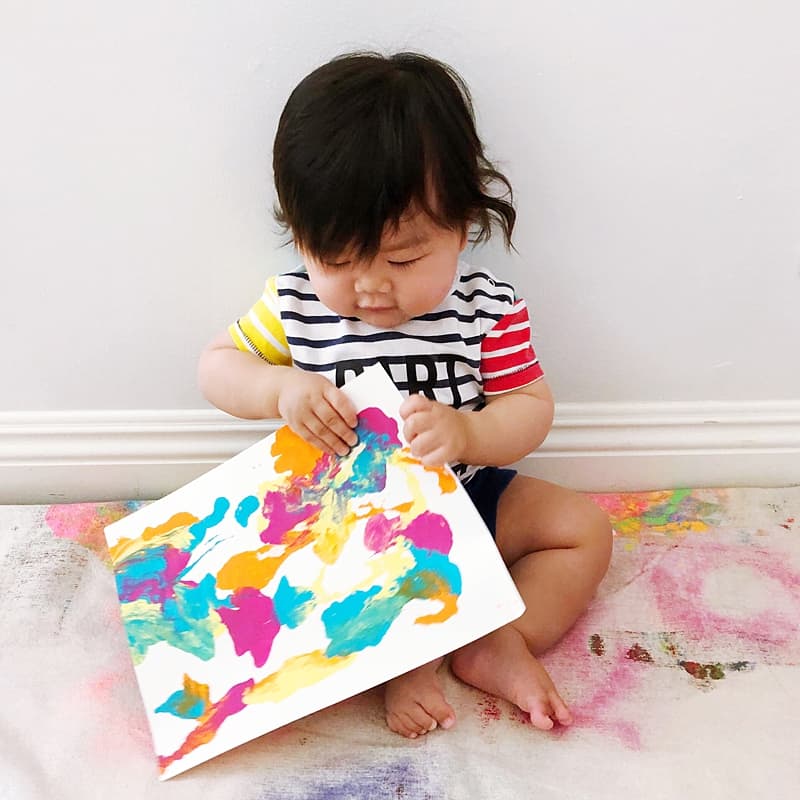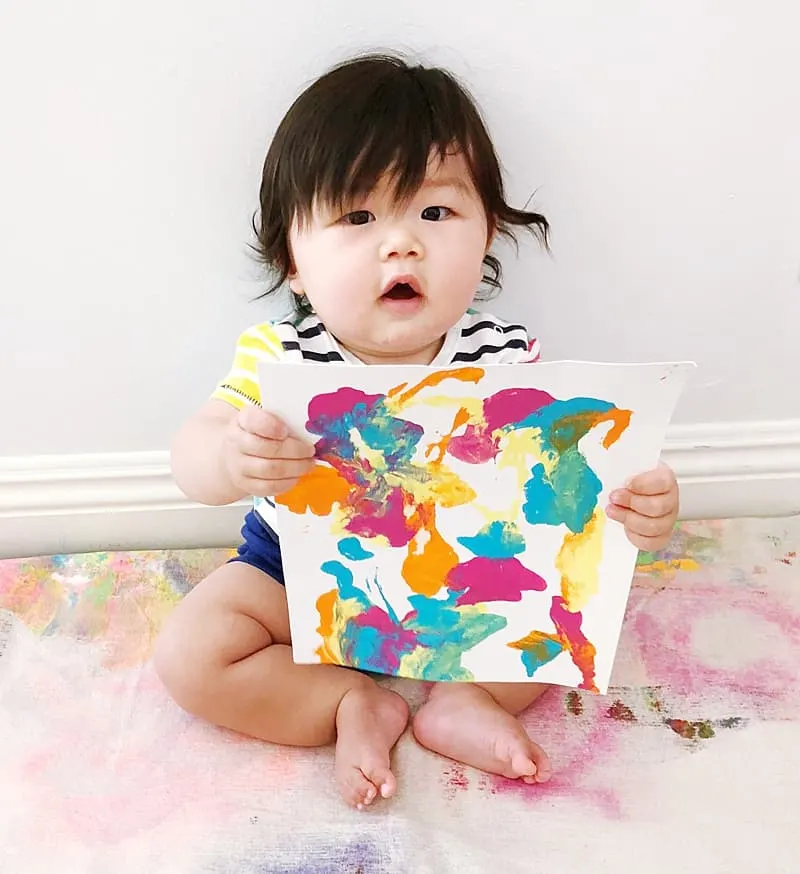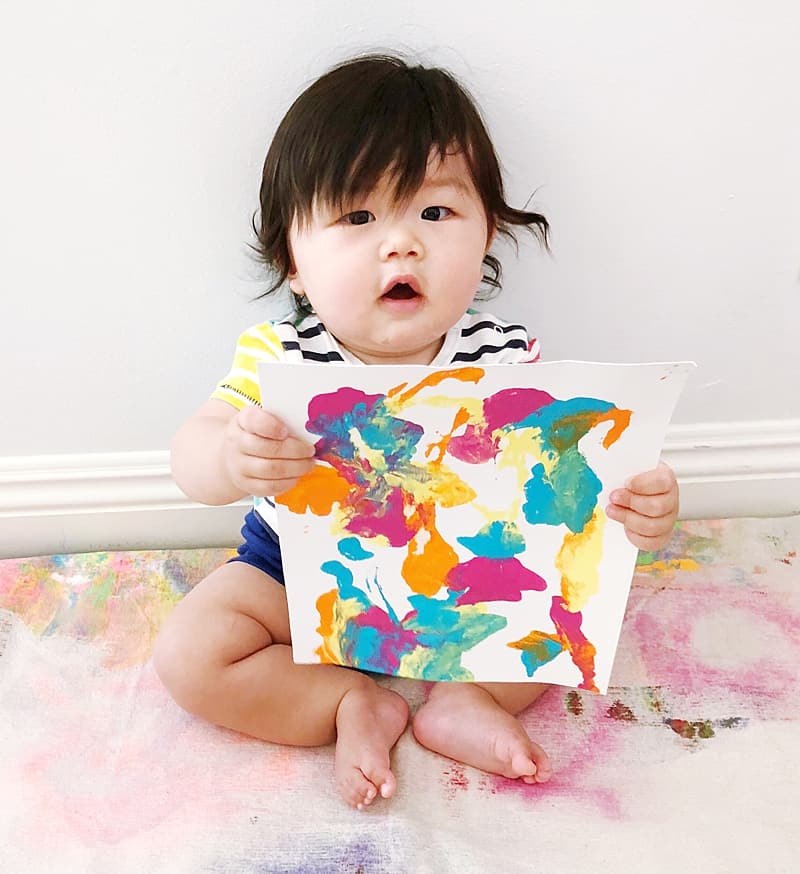 First, find an old shoebox and create this easy DIY Shoebox Easel in 5 minutes. Then take a zipper bag and paper. Squirt some paint on the paper, insert in the bag and on top of your clever new easel, and let your baby get art happy.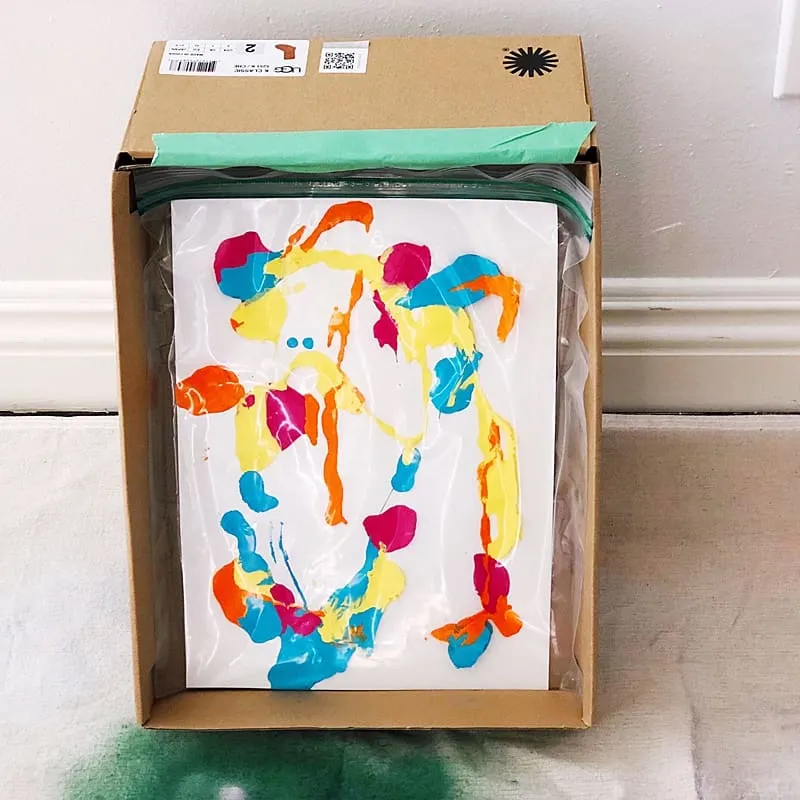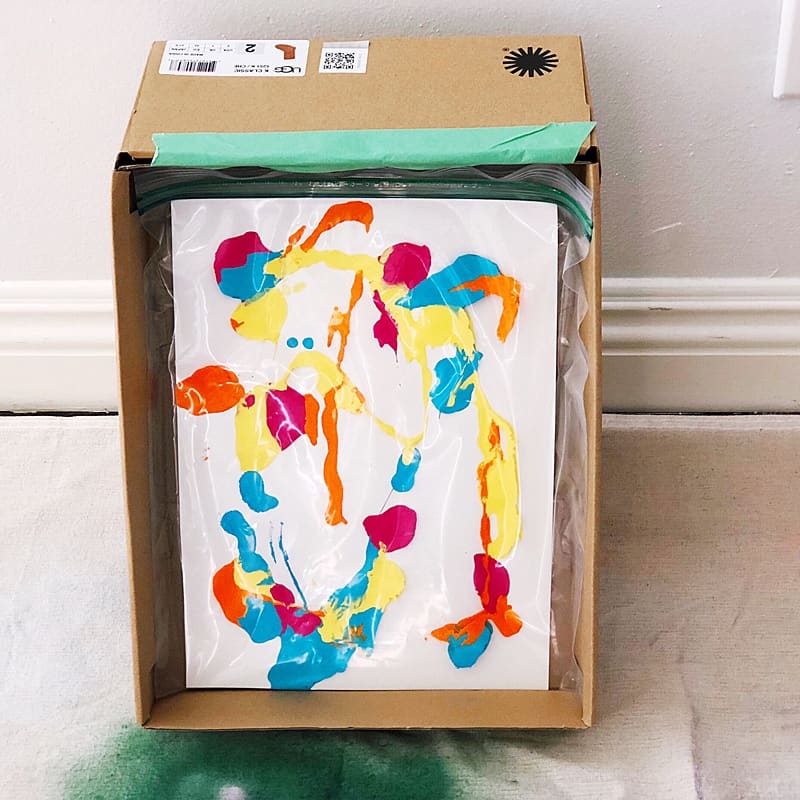 Babies love to bang around and find any new sensory touch and colors fascinating.
This art is also a creative sensory experience for babies as they will love feeling the squish of the paint in the bag, bright colors meld blend, and see the effect what their physical actions are causing.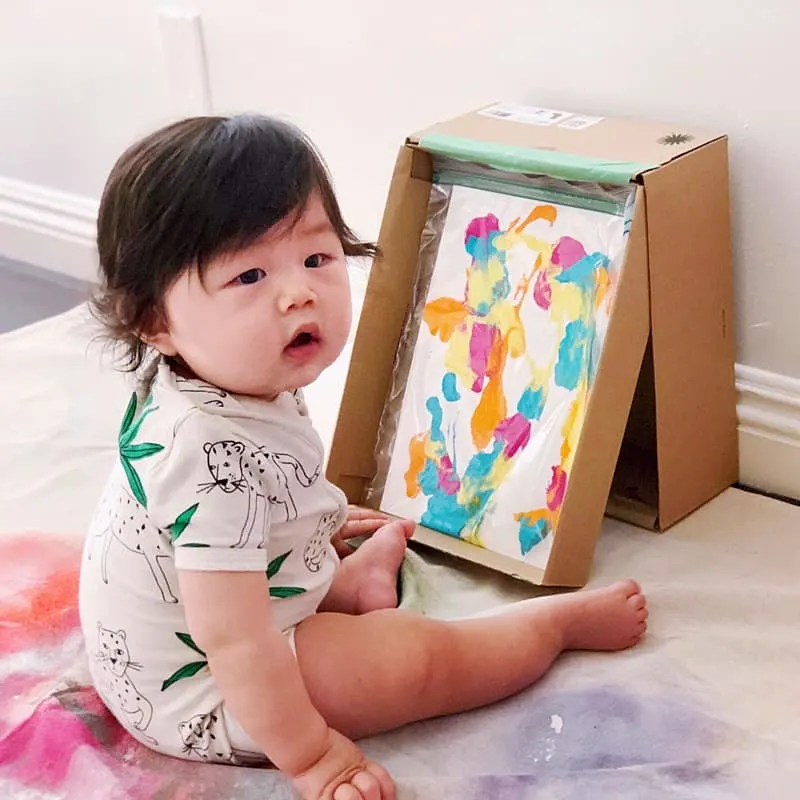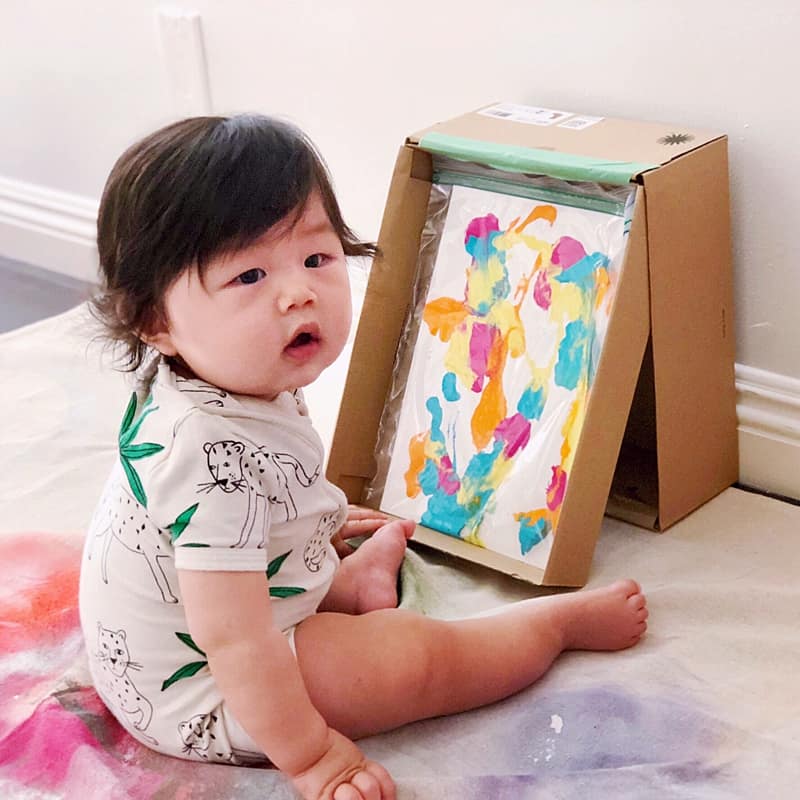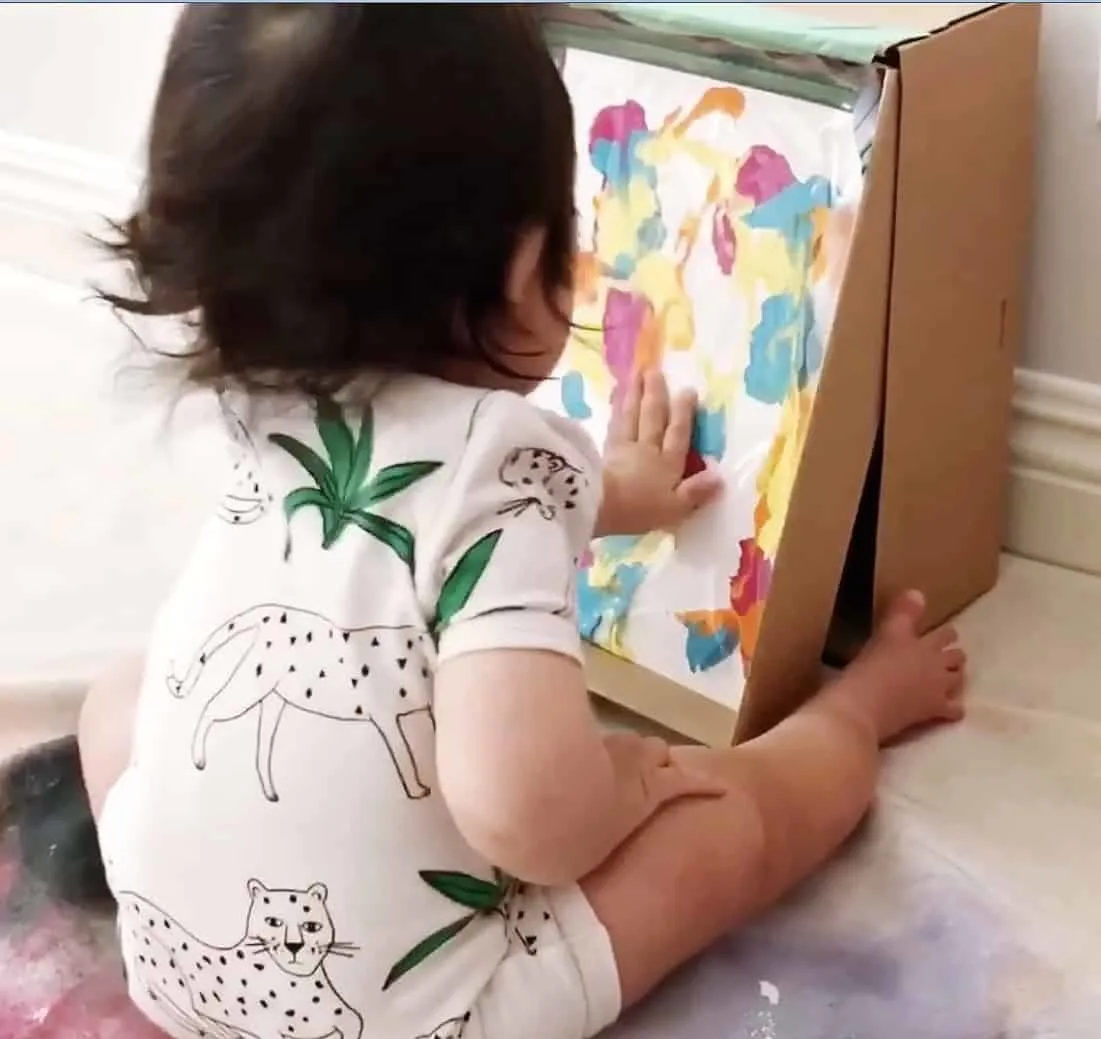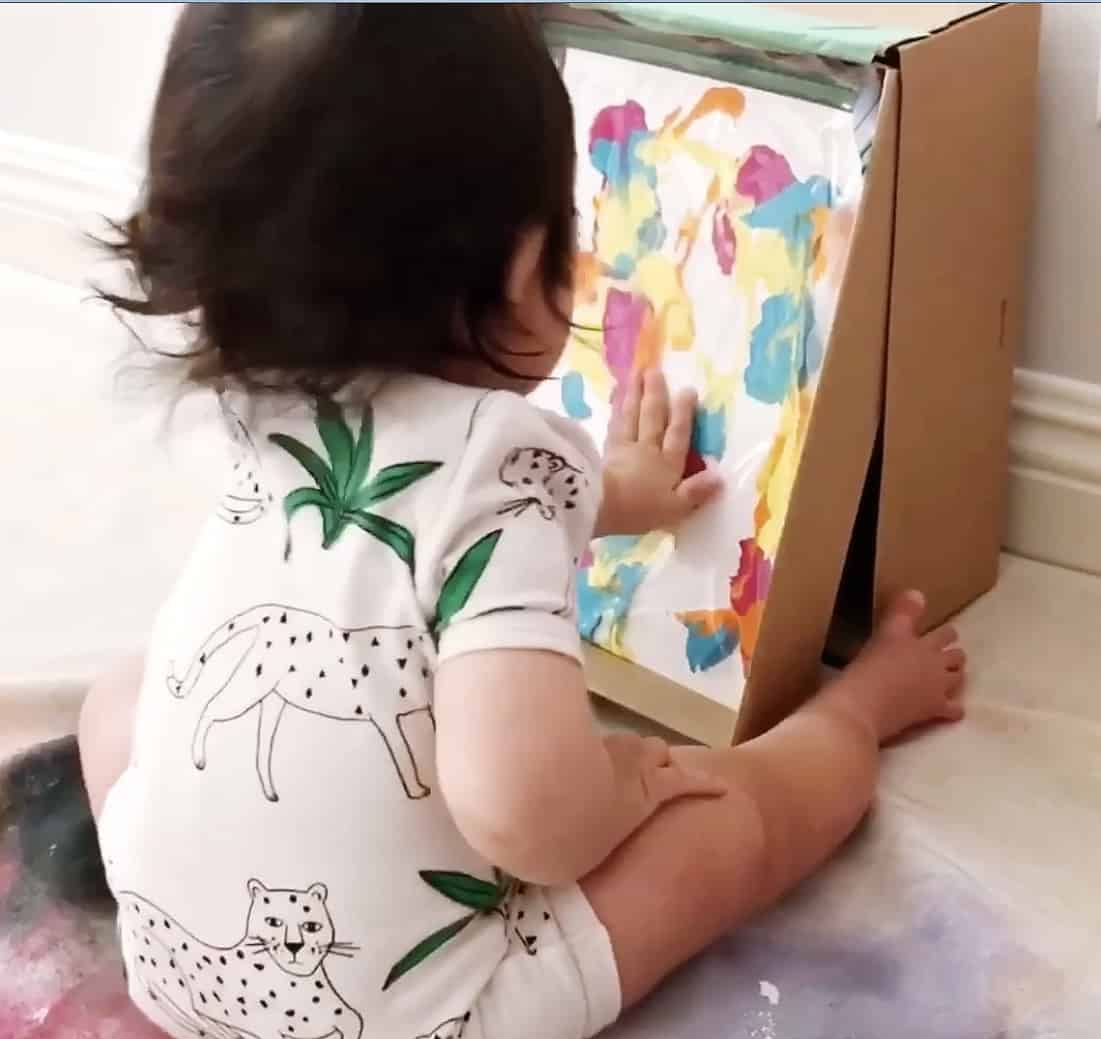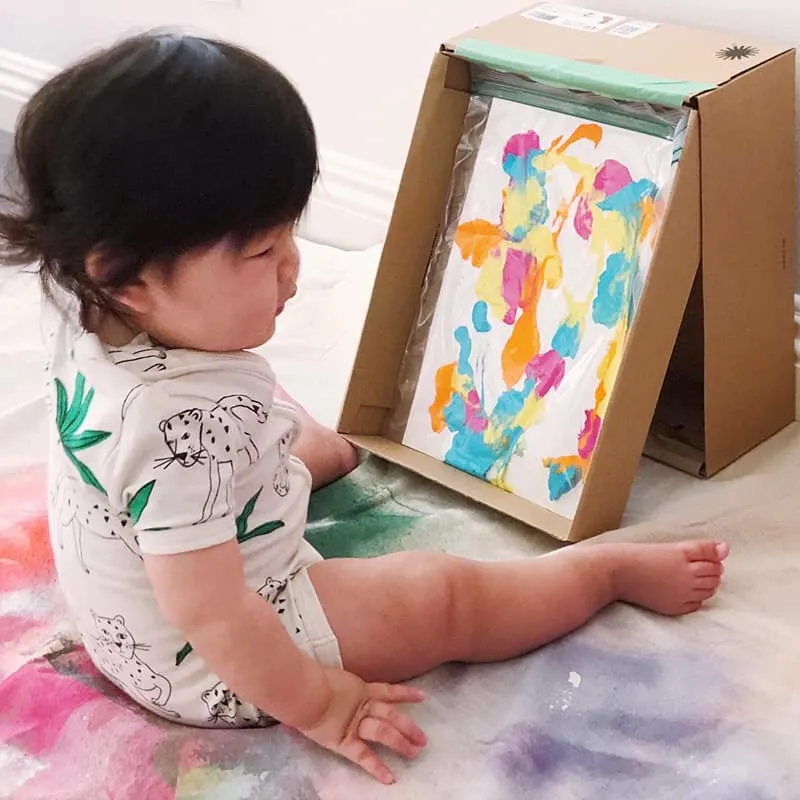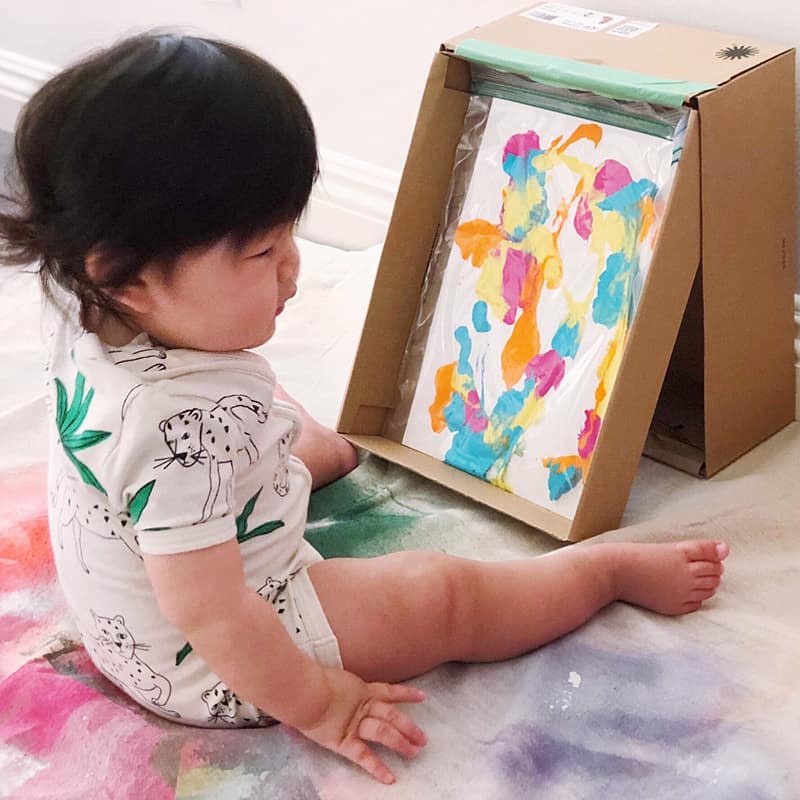 Scroll all the way down to watch the vide of our baby art in action and how to make a shoebox cardboard easel in minutes.
Make sure to subscribe to our channel for more fun crafts and ideas!
BABY'S FIRST MESS FREE PAINTING – MATERIALS:
Shoebox (lid and bottom) a large one is best like a boot shoebox
Paper (we like watercolor paper cut to size)
Paint (we used acrylic paints, any type is fine)
Gallon size zipper bag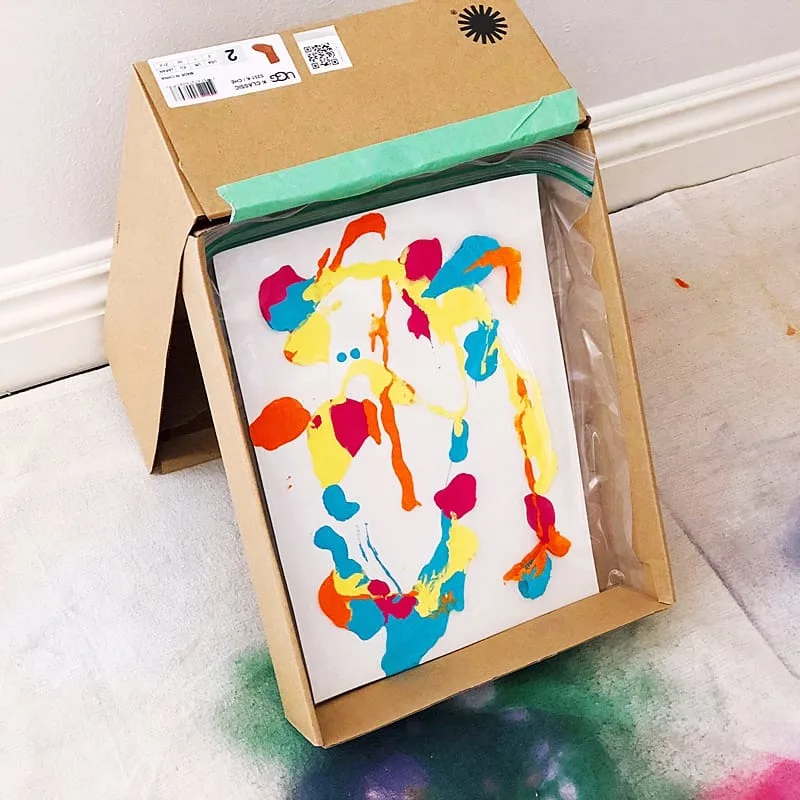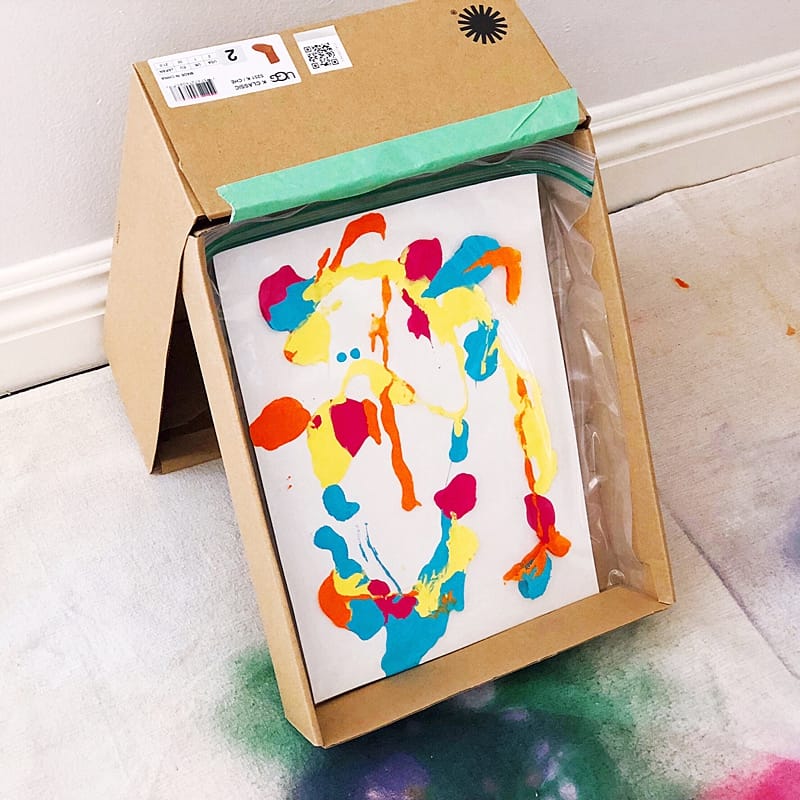 INSTRUCTIONS:
**Watch the full tutorial video down below or follow the written instructions below.
Step 1. Cut your paper to fit inside your zipper bag.
Step 2. Add squirts of colorful paint on top of your paper. Tip: don't use more than 3-4 colors (to prevent muddy colors when mixing). Choose complementary colors or bright ones that contrast or look good together. Of course you can choose any colors you want based on what you like, these are just our tips for brightly colored art. If you're into black and white then by all means use those colors!
Step 3. Gently insert the paper with paint on top inside your zipper bag. Close the zipper. You can secure with duct tape or masking tape if you want extra security.
Step 4. Add your closed zipper bag inside your shoebox lid.
Step 5. Lay your shoebox lid at an angle to the bottom of the shoe box (making a V shape). Add a strip of masking tape to the top to secure the lid and bottom together. See the green masking tape we used in our easel photo above.
Step 6. Have your baby sit in front of the easel and "paint" with their fingers and hands, smushing the paint around.
Step 7. Gently remove the paper from the zipper bag. And voila, you have baby's first painting!
Oh my heart and proudness upon seeing my baby boy holding up his first piece of art.
Have you tried mess free painting with babies before?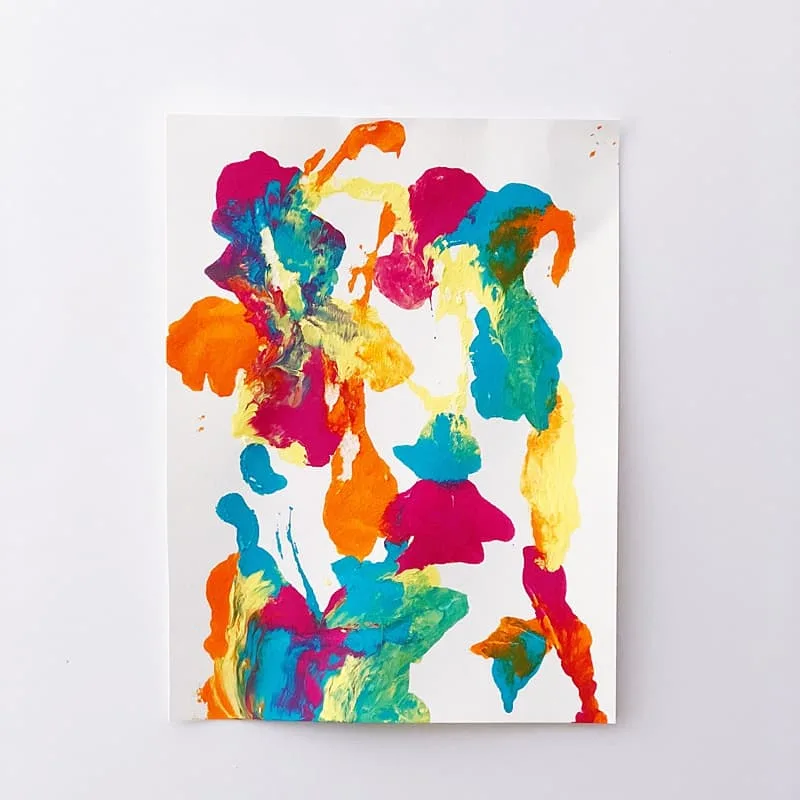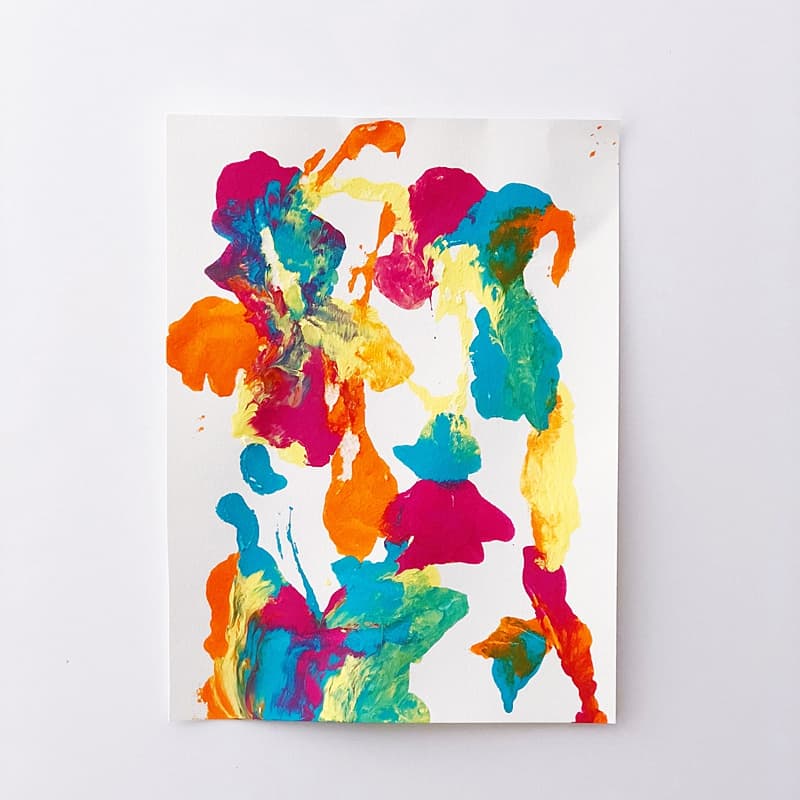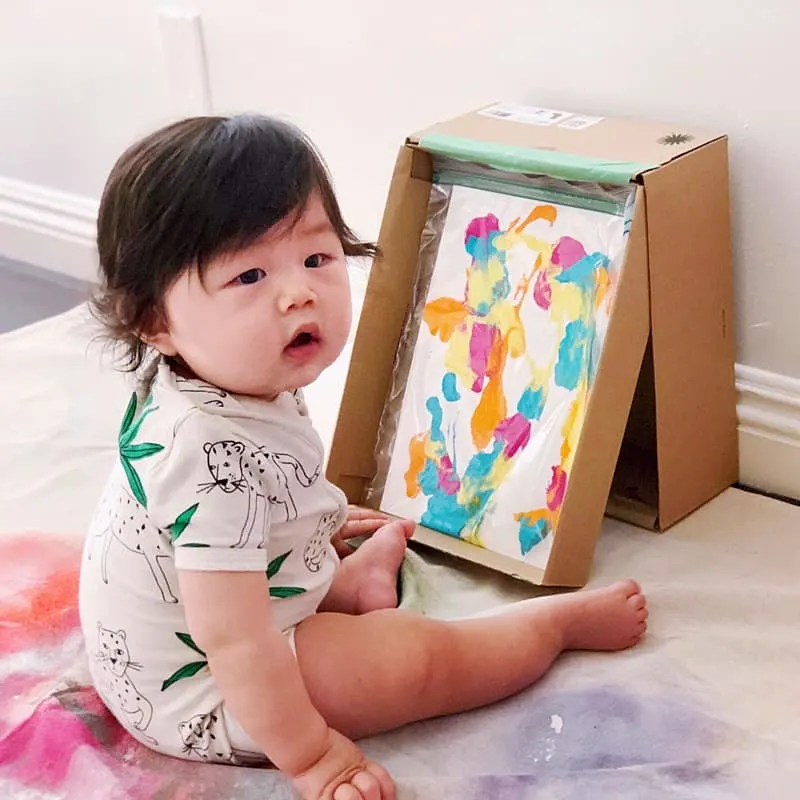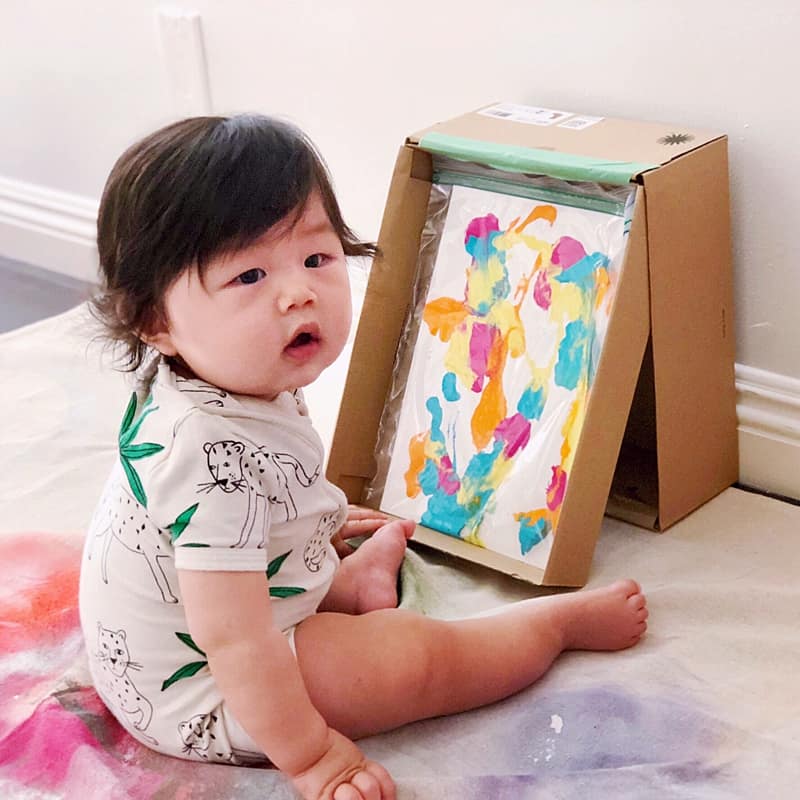 Additional tips:
Babies who can sit up (usually 6 months or older) are a great age to try this activity. If they are not sitting up well yet, you can sit behind them and help guide their hands over the paint inside the bag.
No need for the easel for babies who are old enough to grab the shoebox with their hands and want to bang it around instead! Simply do the same activity with the paint inside the lid laying flat on the floor.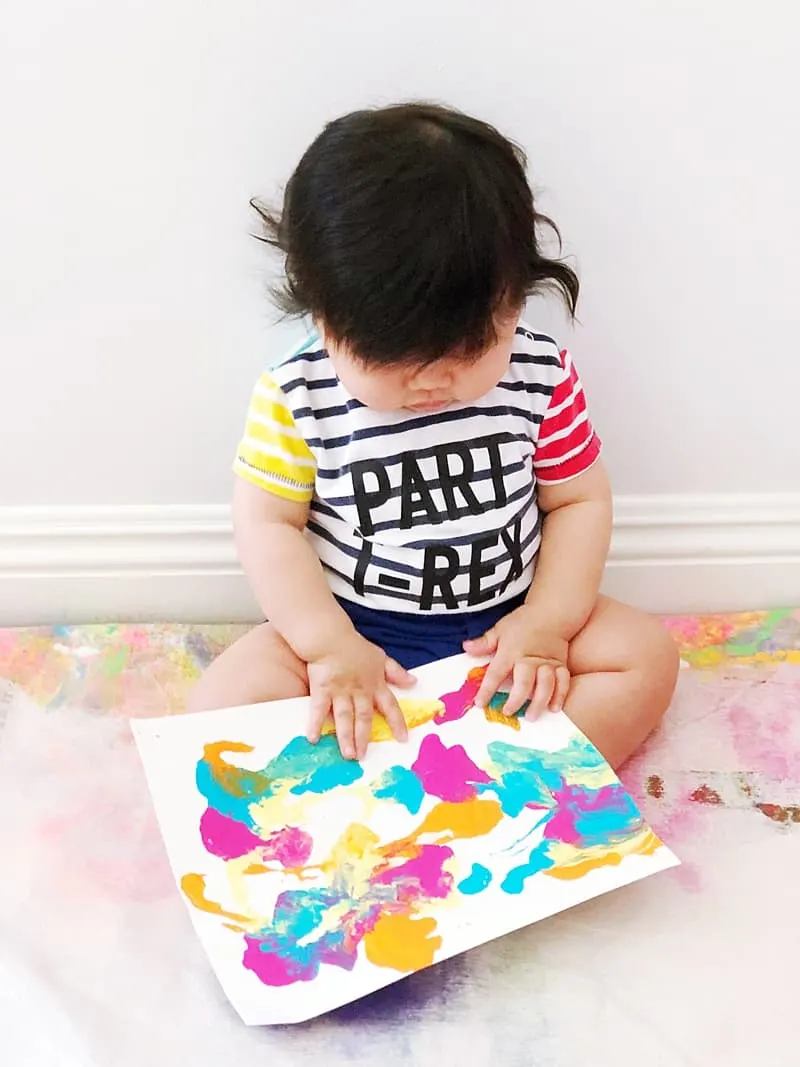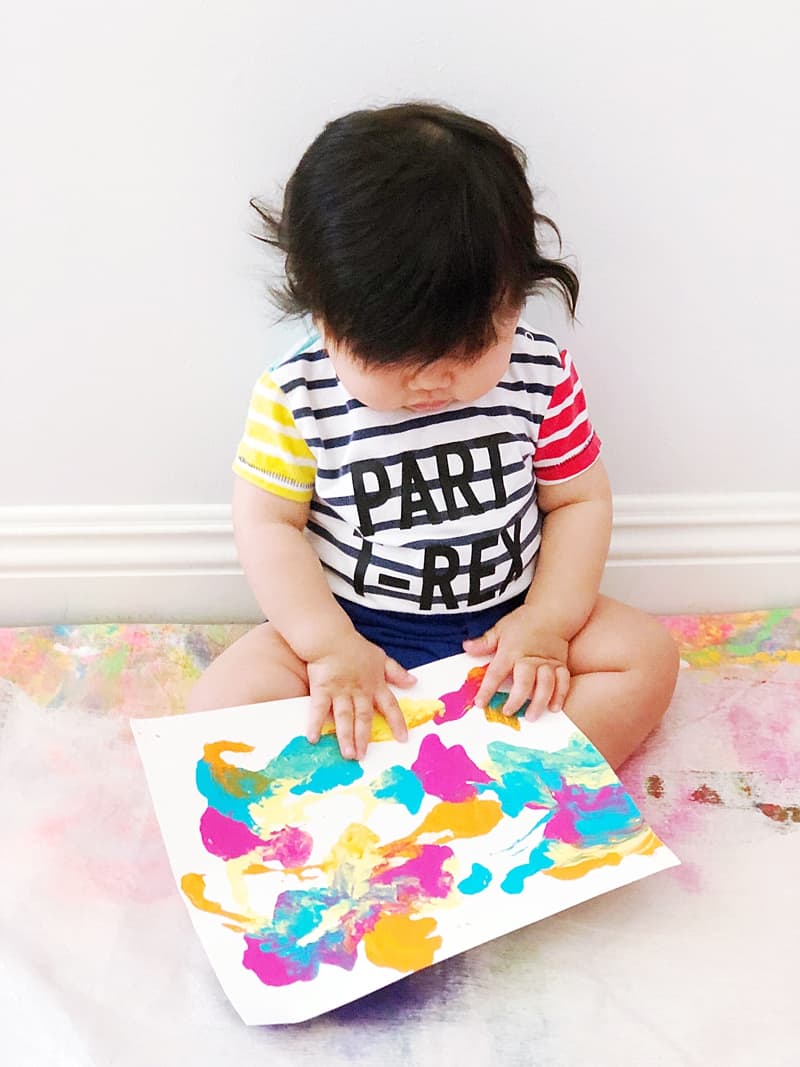 Watch the video below to see how to set up Baby's First Mess Free Painting and shoebox easel DIY.
_________________________________________________________________________________________
Disclosure: Some of the links in the post above are "affiliate links." This means if you click on the link and purchase the item, we will receive a small affiliate commission. Regardless, we give our promise that we only recommend products or services we would use personally and believe will add values to our readers.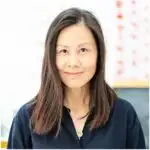 Agnes Hsu is a mom of three and has been inspiring parents and kids to get creative with easy activities and family friendly recipes for over 10 years. She shares her love for creative play and kids food to her 2MM+ followers online. Agnes' commitment to playful learning and kindness has not only raised funds for charity but also earned features in prestigious nationwide publications.