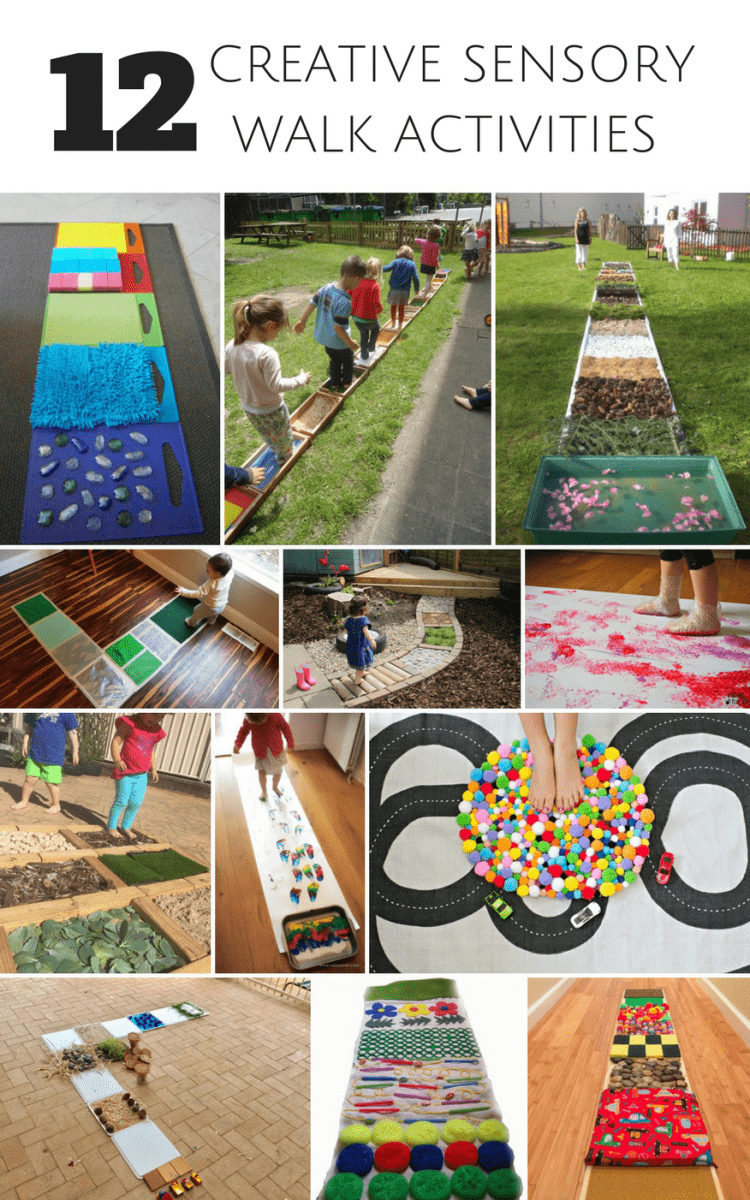 We all know sensory exploration is important to a developing child. Kids learn so much through touch and sense in relation to how their bodies work in the environment they are in. There are lots of ideas for touch and play with your hands, but lately we've been seeing an emphasis in sensory walks. Walking barefoot and exploring your feet's reaction to different textures is not only fun, but instrumental in promoting an acute awareness of your senses and surroundings.
Check out these creative sensory walk ideas below and let us know in the comments how you encourage sensory development in your children!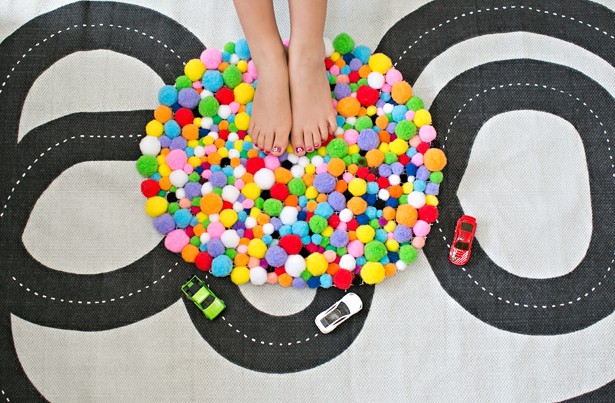 DIY Pom Pom Rug (via hello, Wonderful)
Make a fluffy and soft room decor that's fun to sink your feet into as well. We got our pom poms here.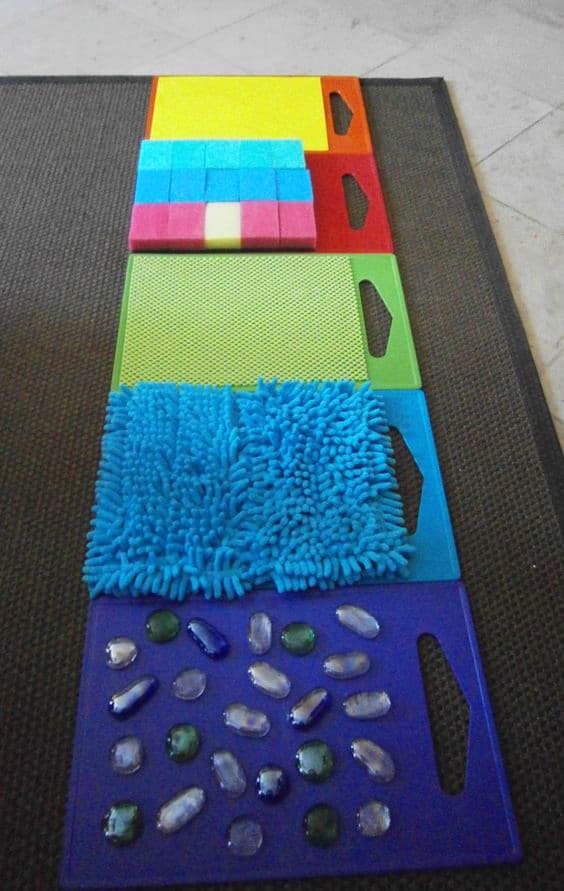 Cutting Mat Sensory Walk (via Pinterest)
So clever to use colored cutting boards for this sensory walk. A great upcycle for your used and scratched ones in the kitchen.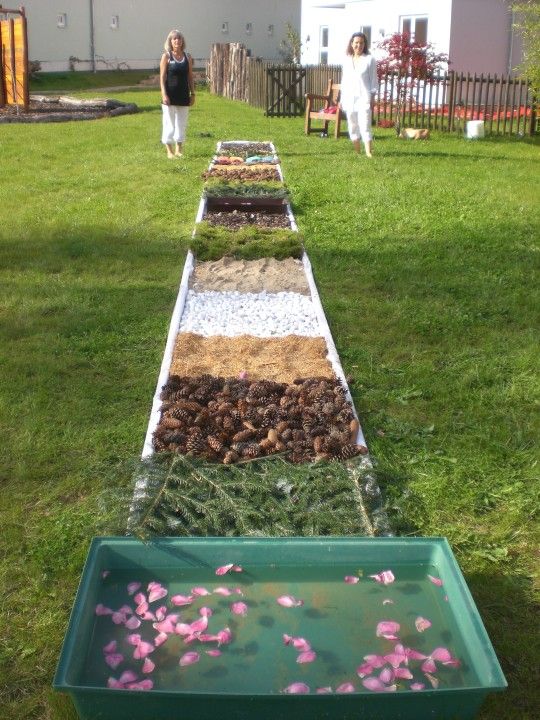 Garden Sensory Walk (via Children and Nature
Go on a nature walk and gather materials for this oudoor sensory walk.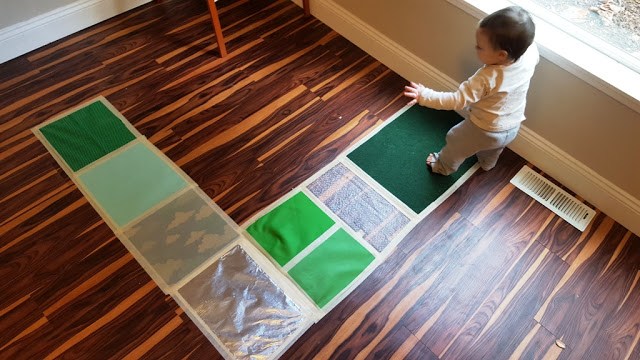 Texture Walk for Gross Sensory Play (via A Cotton Kandi Life)
It's easy to set up a simple sensory walk at home with this idea for texture walk.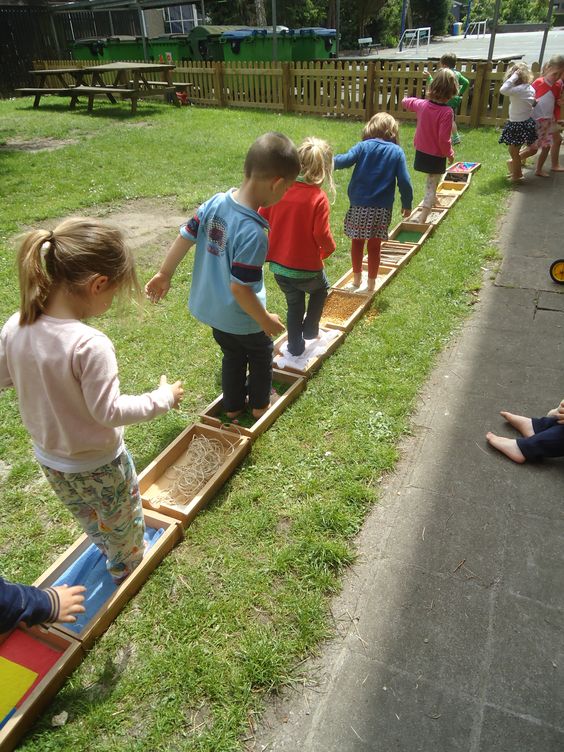 Outdoor Sensory Pathway (via Pinterest)
Follow the sensory pathway! This is a great outdoor activity when you have multiple kids over for a playdate or party. You can also save up flat cardboard boxes that would work just as well as these nice trays.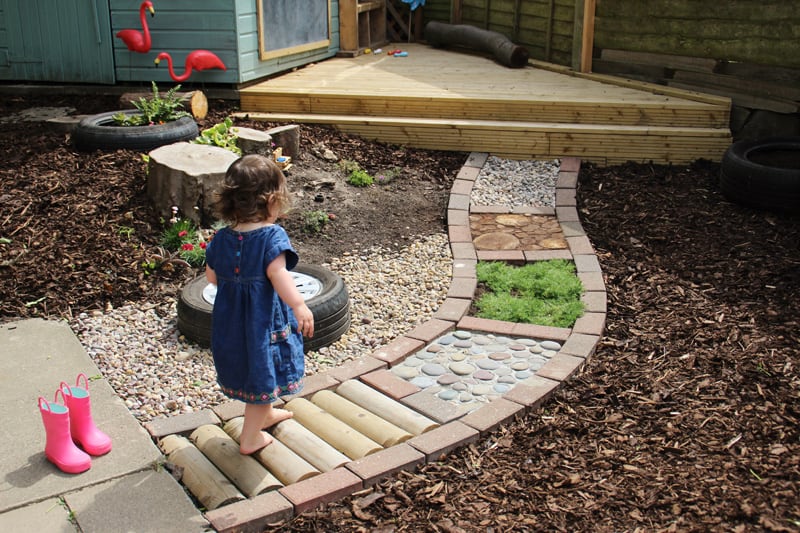 DIY Sensory Barefoot Path (via Play At Home Teacher)
Love how this mom created a DIY sensory path that integrates with her garden.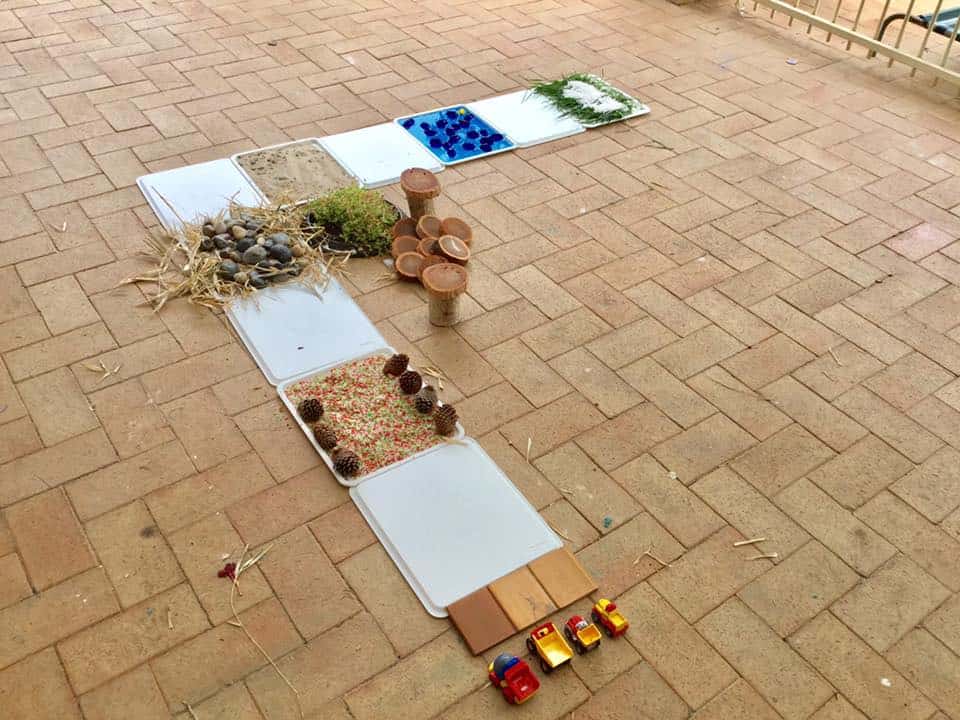 Sensory Car Racetrack (via The Empowered Educator Online)
For the car or vehicles enthusiast. First race the cars, then chase after them while barefoot.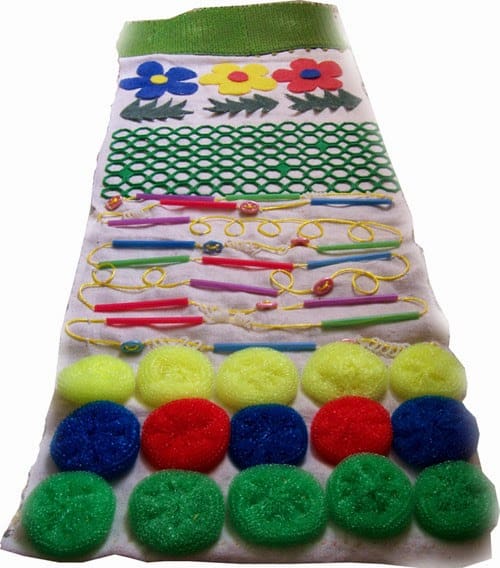 DIY Sensory Rugs for Kids (via Montessori Nature)
Not only is this beautiful rug a colorful addition to any kids' room, it must feel awesom to walk on and feel the different textures.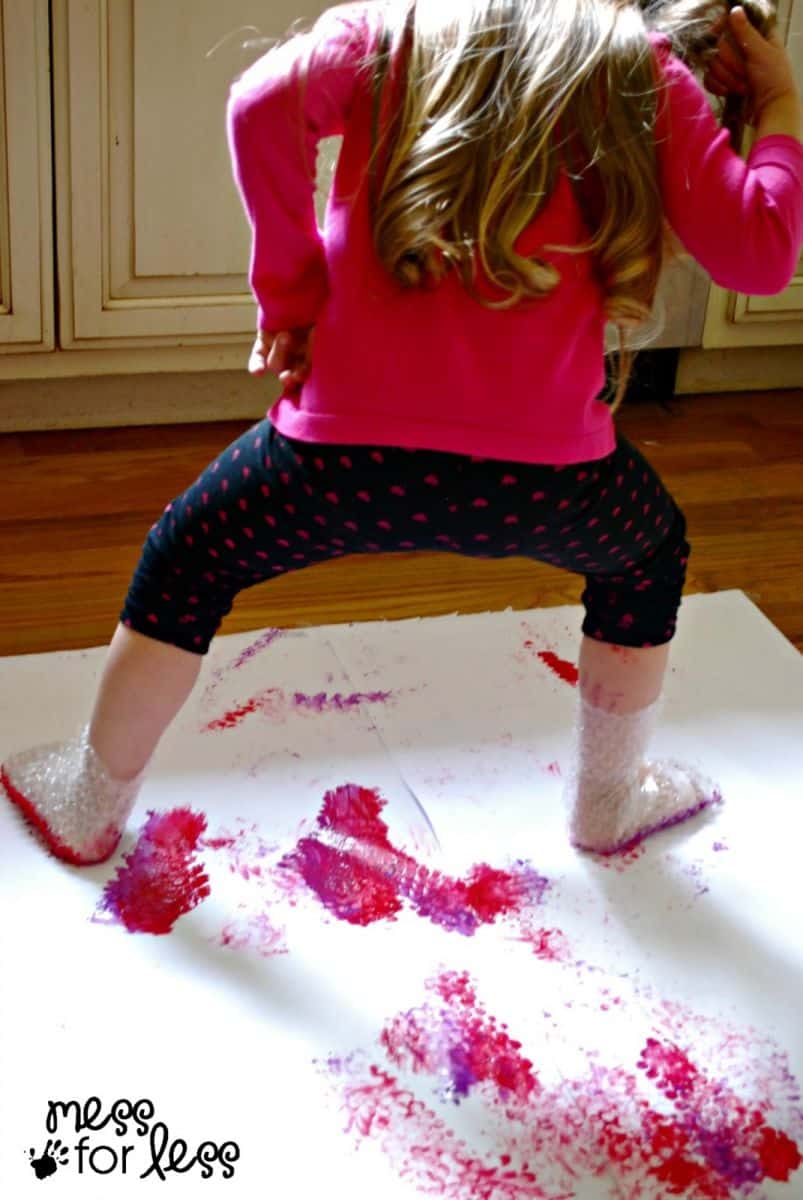 Bubble Wrap Stomp Feet Painting (via Mess for Less)
Combine an art project with a fun upcyle use for all that bubble wrap.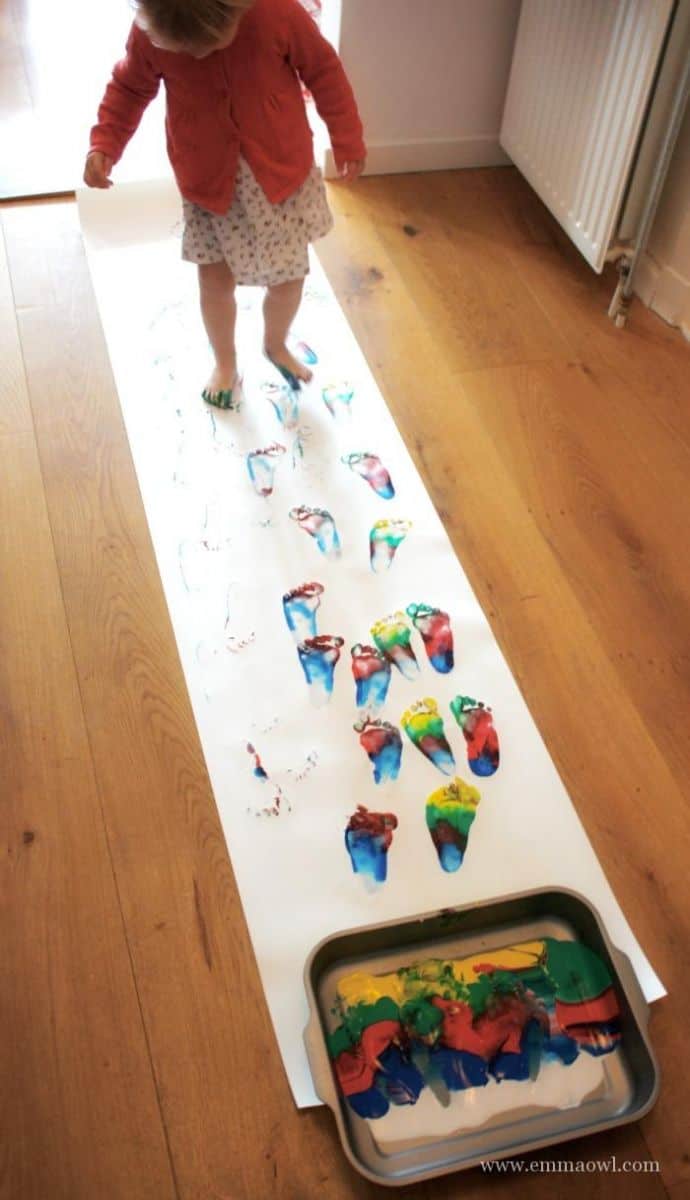 Rainbow Barefoot Painting (via Emma Owl)
How does paint feel on your feet when you walk? Explore this question in the the most brilliant and colorful way.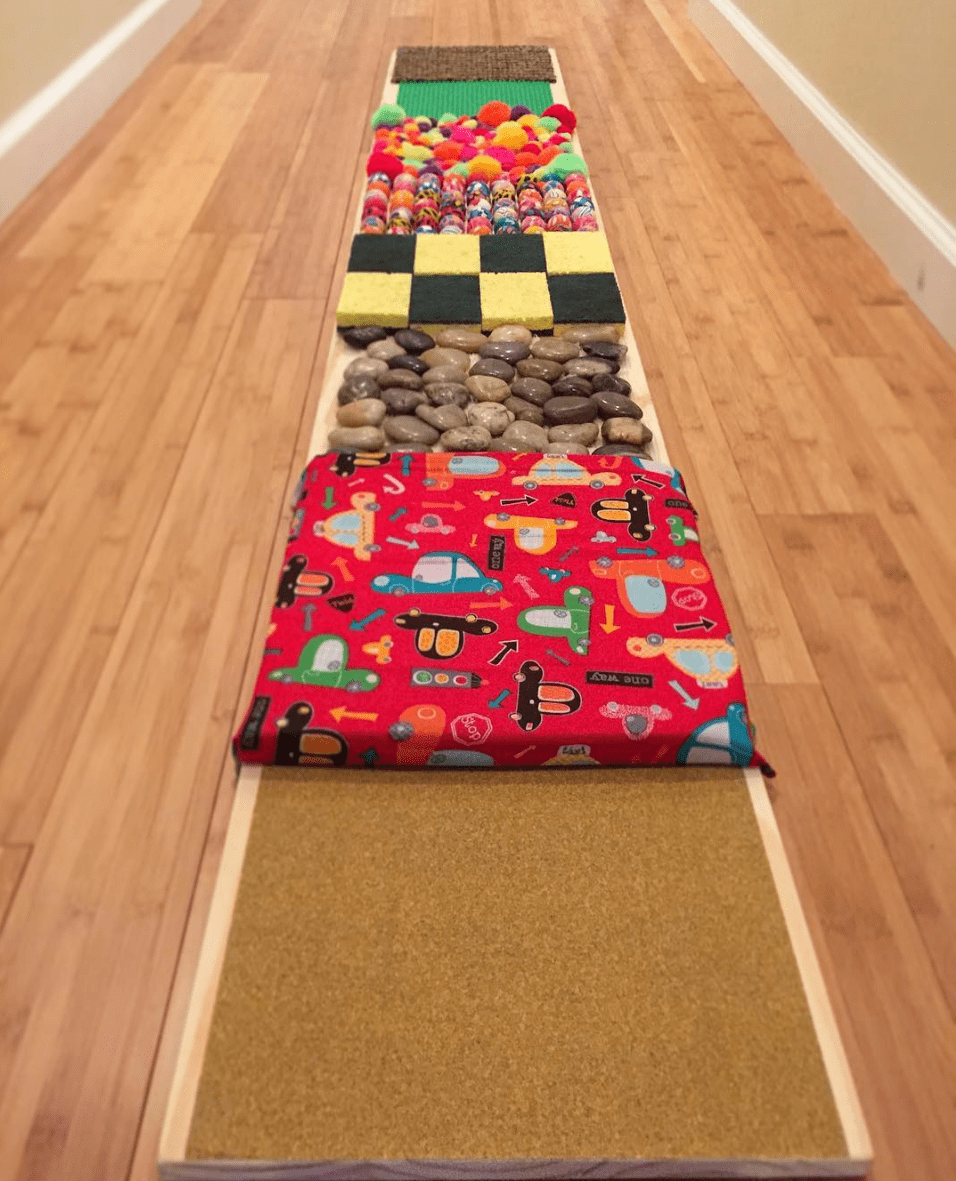 Sensory Stone and Fabric Walking Path (via Instagram @apstone77)
Conbine just a few different materials lie fabric and stones to make this easy sensory pathway indoors.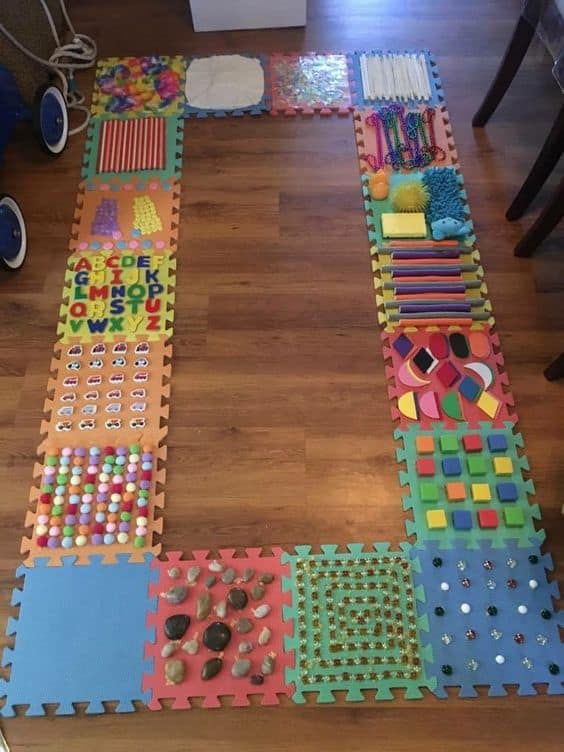 Sensory Walk Using Foam Puzzle Tiles (via Pinterest)
We've all had those foam puzzle tiles at one point right? Transform and resue them into colorful sensory blocks of play for your feet.
Check out more creative projects for kids!
_____________________________________________________________________________________________________
Disclosure: Some of the links in the post above are "affiliate links." This means if you click on the link and purchase the item, we will receive a small affiliate commission. Regardless, we give our promise that we only recommend products or services we would use personally and believe will add values to our readers