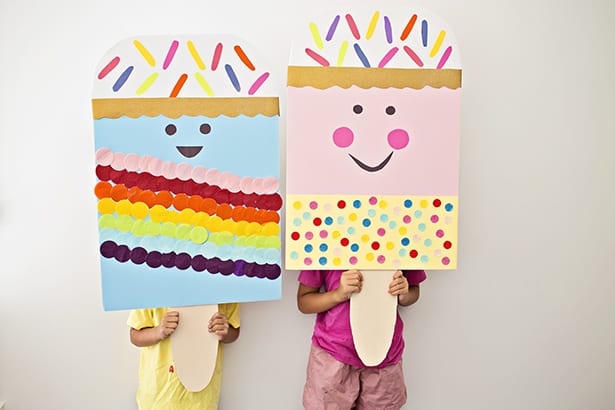 Celebrate summer with these GIANT Ice Cream Popsicles! They're so fun for kids to make and double as an adorable room decor, summer party prop, or Halloween costume – yep, it's never too early to start thinking of fun costume ideas!
What I love about this project is that the kids can help decorate and make these impressive popsicles from start to finish. They can help cut out paper sprinkles, lay out huge rainbow confetti dots, and paint the cardboard popsicle sticks!
Check out the how-to below and make sure to watch the video above to see how fun these are GIANT Ice Cream Popsicles are to make.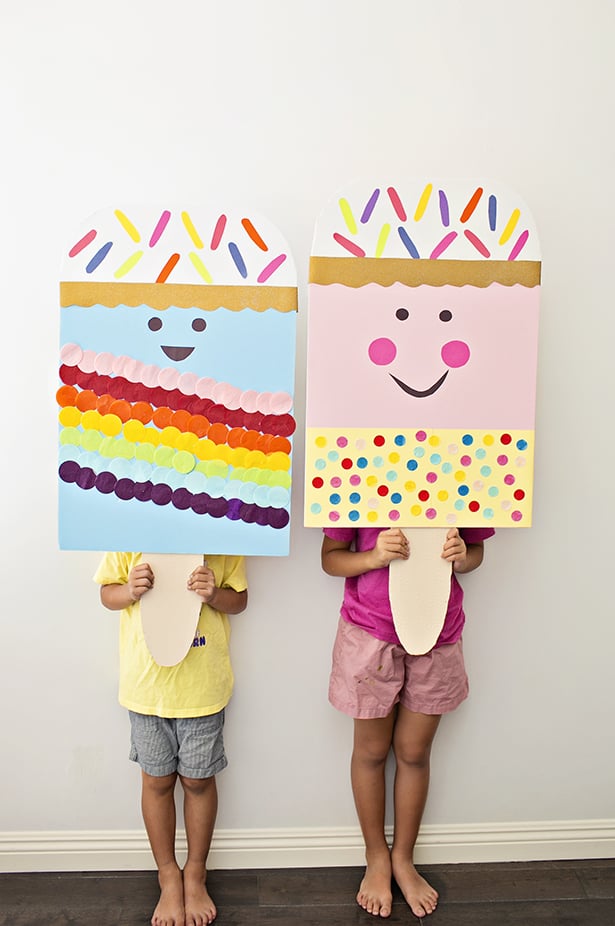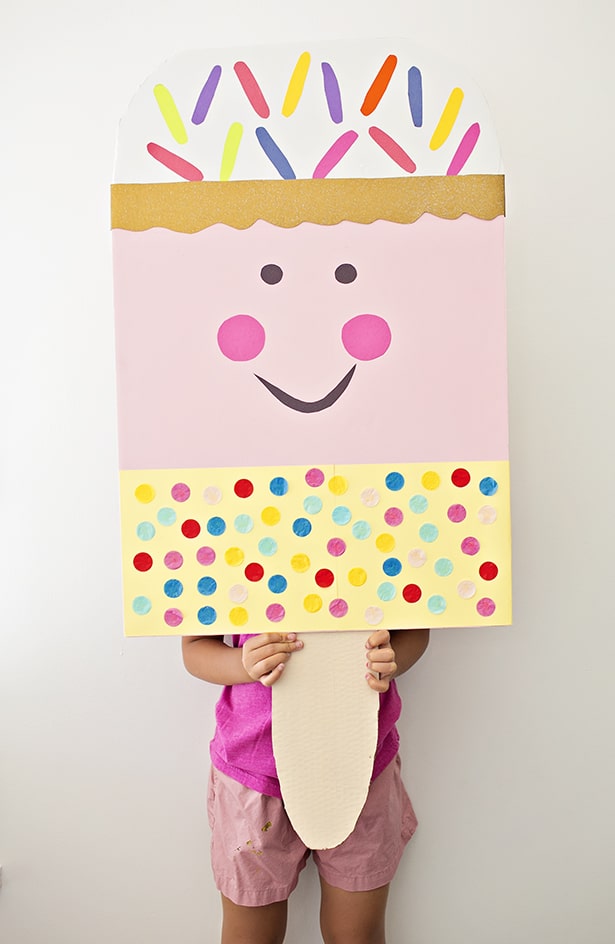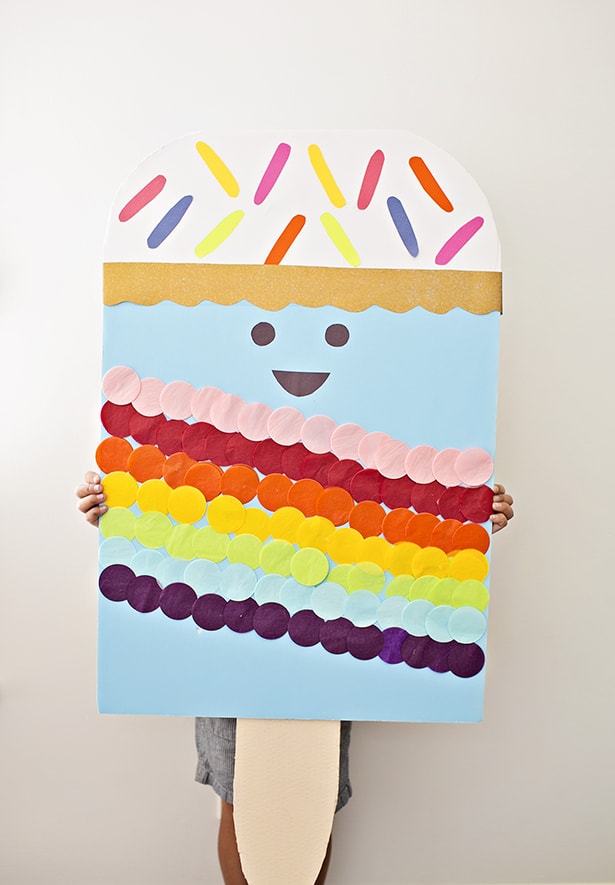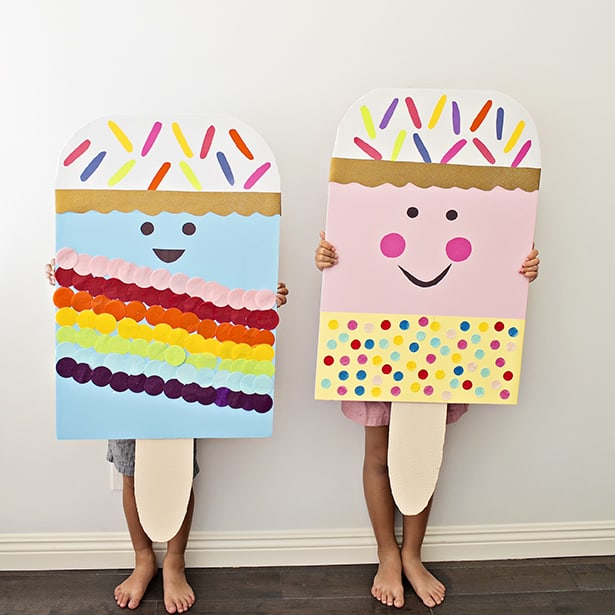 Giant Ice Cream Popsicle Craft – Materials:
– Two large posterboards (we used light blue and pink which we had leftover from these Pantone Costumes)
– Colored Cardstock or Construction Paper
– Clear Packing Tape, Glue
– Large and small Confetti Tissue Dots
– Cardboard (for the popsicle sticks)
– Tan/beige paint, paintbrush (to paint the cardboard sticks)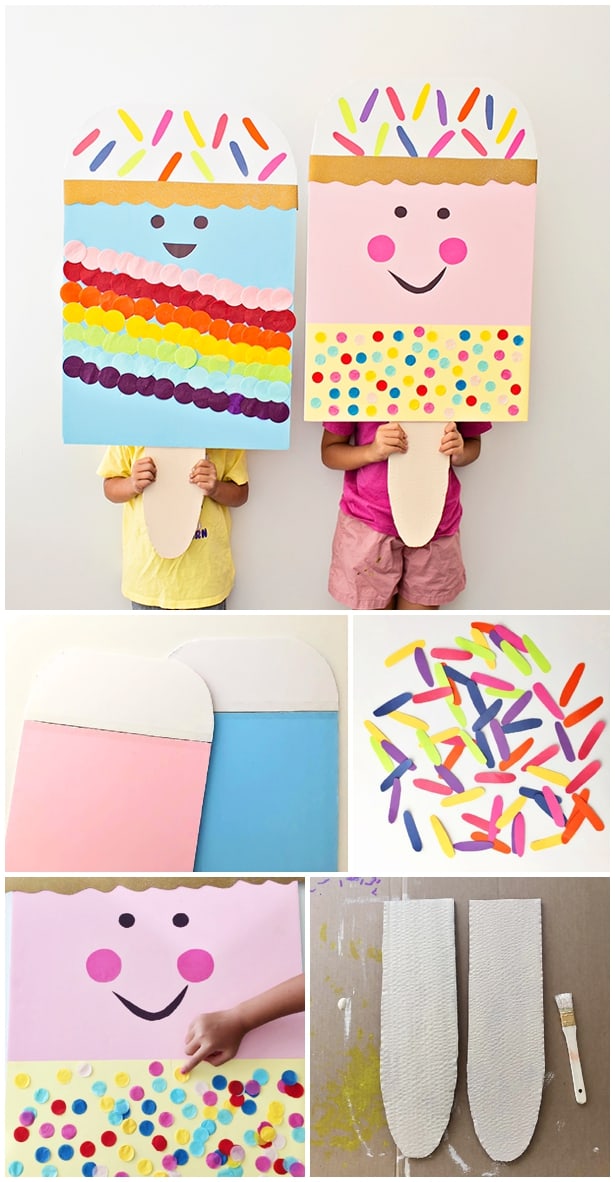 Instructions:
For Both Popsicles:
1. To create the shape of the popsicle, use clear packing tape to add a piece of white posterboard to the top of your colored posterboard (add the tape on the back so it's not shown). Then cut the corners so they are curved. Trim your colored posterboard so it's not so long on the bottom.
2. Cut a curvy edge border (we used a gold paper) and glue between the white and colored part of your popsicle.
3. Cut out paper sprinkles. It helps to make one out of thick cardstock or cardboard and use that as a "template" to make more colored sprinkles.
4. Glue the colored paper sprinkles on the top white posterboard part of your popsicles.
For the Pink Popsicle:
1. Cut two black circles for eyes, two pink rounds for cheeks and a sliver of black for the smile. Glue yellow paper to the bottom third of the popsicle.
2. Glue small confetti dots on the yellow part.
For the Blue Popsicle:
1. Cut out two small black eyes and a black semi-circle for the mouth
2. Layer large confetti dots to make a rainbow, diagonally. Glue in place.
For the Popsicle Sticks:
1. Handraw a curved stick on cardboard, cut out and use that as a template to make a second one.
2. Paint with a beige/tan paint, dry.
3. Hot glue the sticks to the back of your popsicles.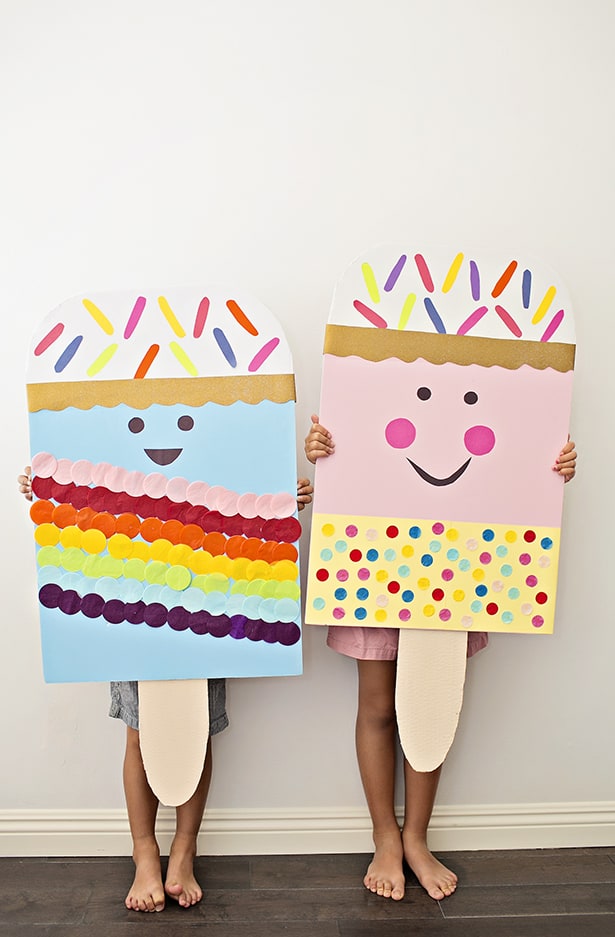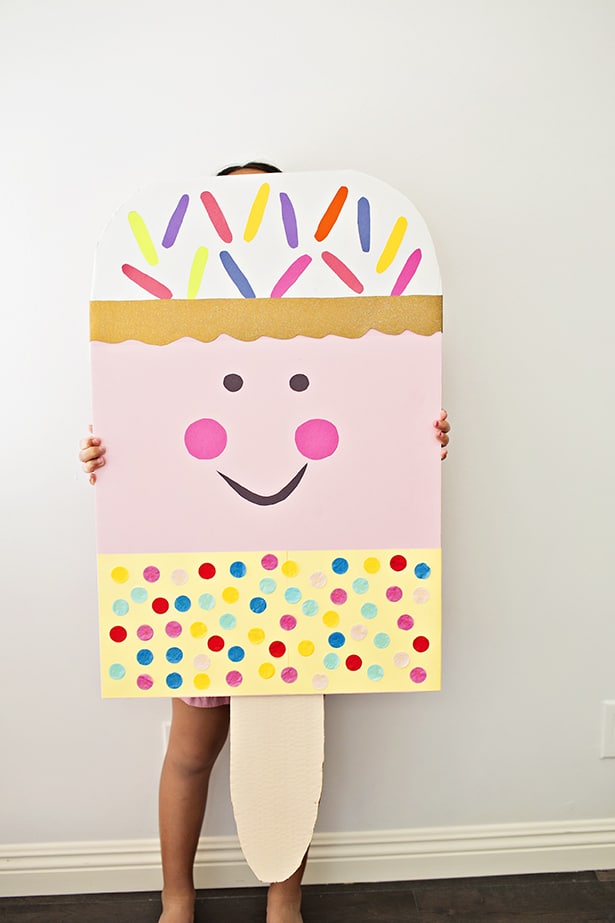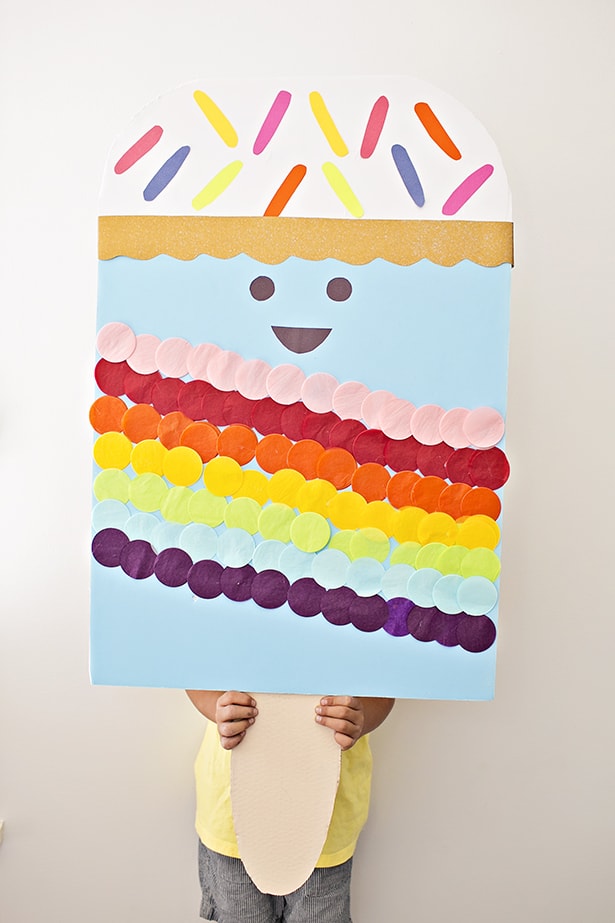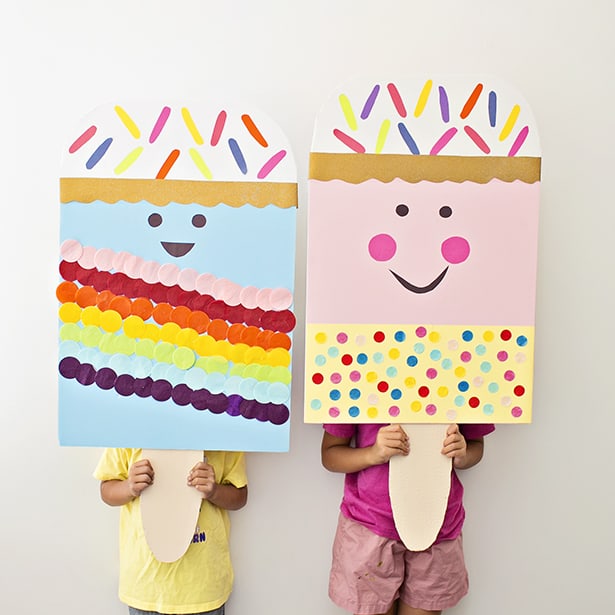 Aren't these giant popsicles the cutest? The kids and I had so much fun making (and dancing) to them! Make sure to watch the fun video top of post to see them in action!
Check out more fun popsicle and ice cream crafts.
Lots more creative projects for kids HERE!
_____________________________________________________________________________________________________

Disclosure: Some of the links in the post above are "affiliate links." This means if you click on the link and purchase the item, we will receive a small affiliate commission. Regardless, we give our promise that we only recommend products or services we would use personally and believe will add values to our readers