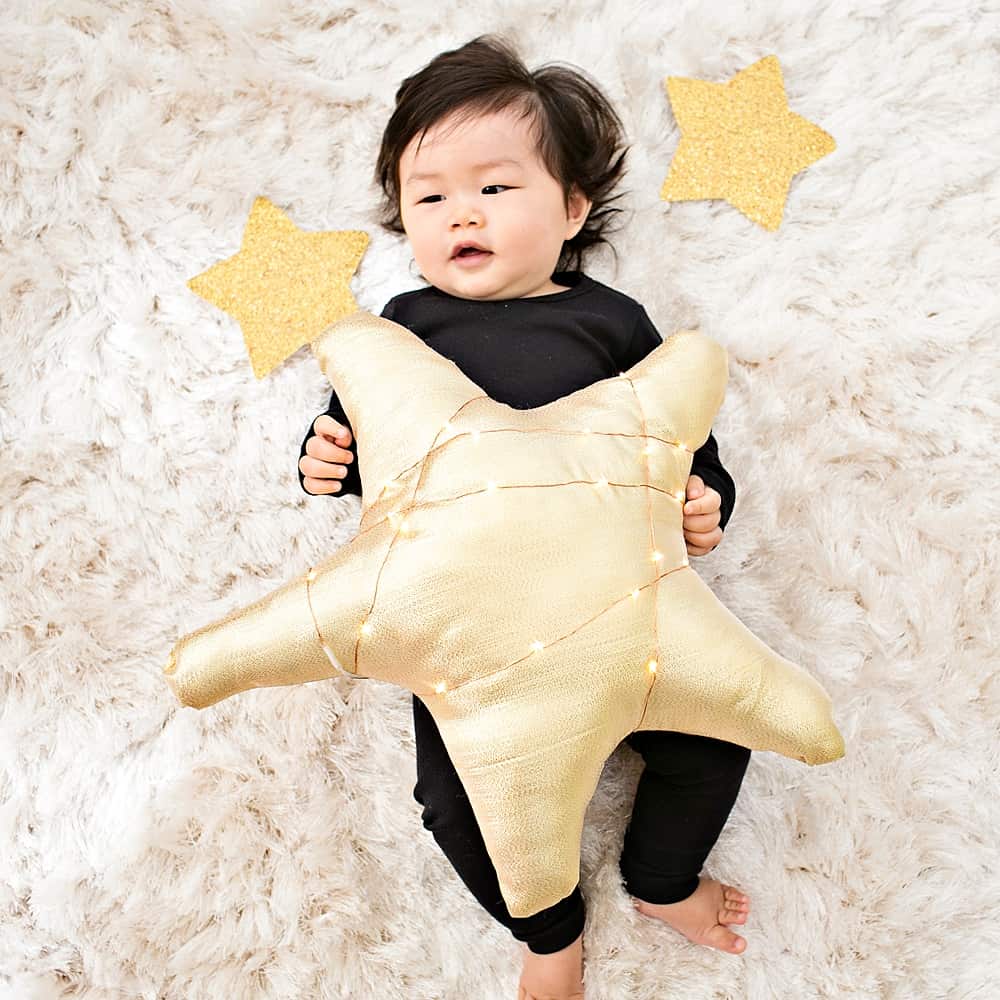 Follow us on Instagram for more fun ideas for kids!
We're back with our last Nursery Rhyme theme costume and this one is an all-STAR favorite (sorry we had to) and super easy! Give your shining star center stage in this DIY Twinkle Twinkle Little Star Costume.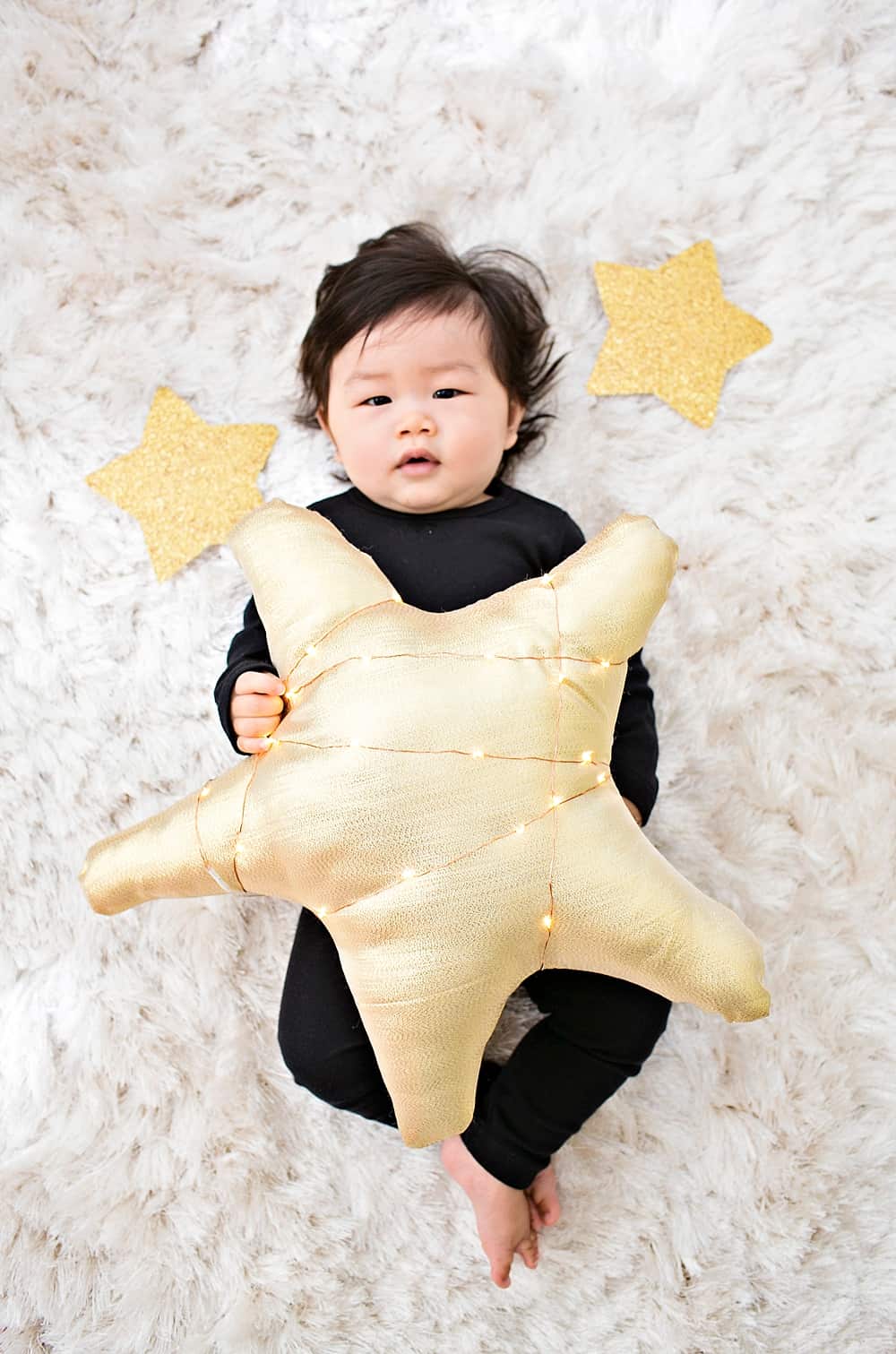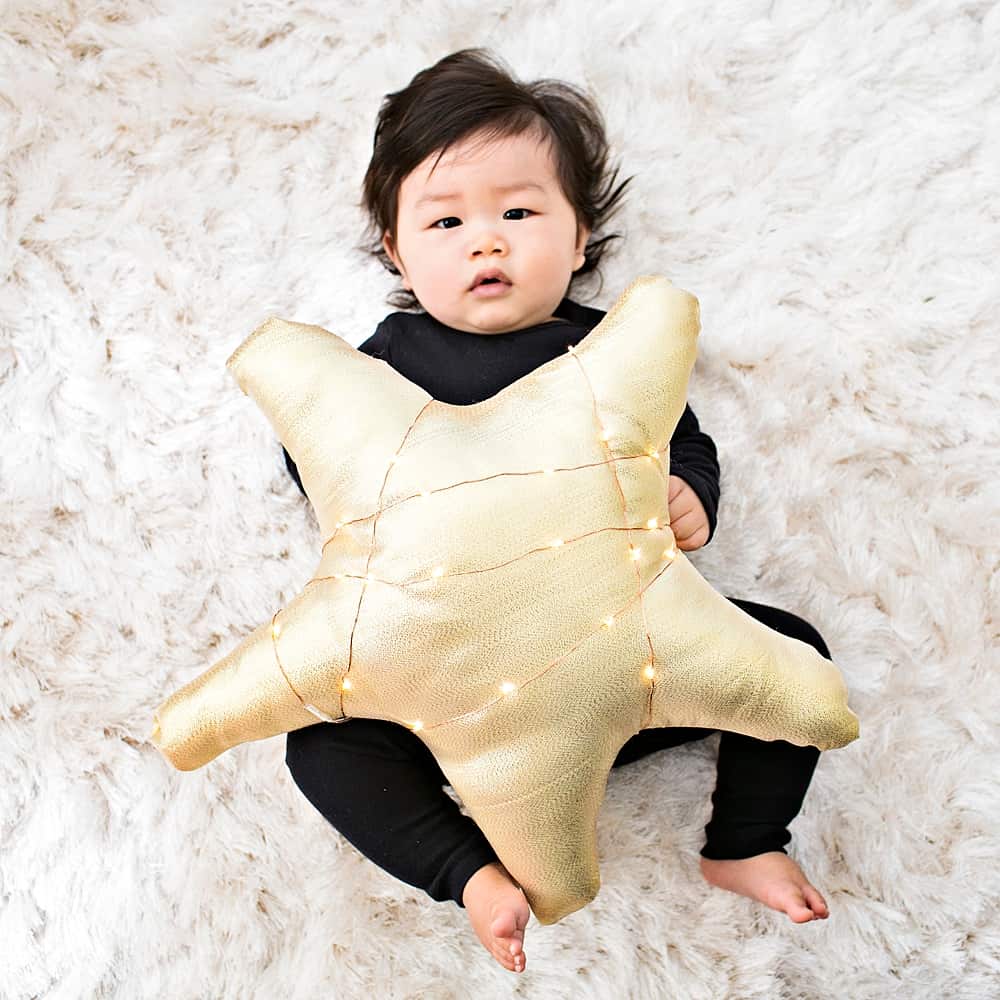 Check out the first three costumes in our Nursery series, Itsy Bitsy Spider, I'm a Little Teapot and Row Row Row Your Boat.
I'm sure we all have those lines memorized in our heads from our baby's first slumber to sleep, no matter if they are weeks old or teenagers now.
"Twinkle twinkle little star, how I wonder what you are. Up above the world so high, like a diamond in the sky…"
This is a very easy tutorial and don't worry you don't need to sew if you don't know how, simply just hot glue as an option. We've done it many times before on pillows.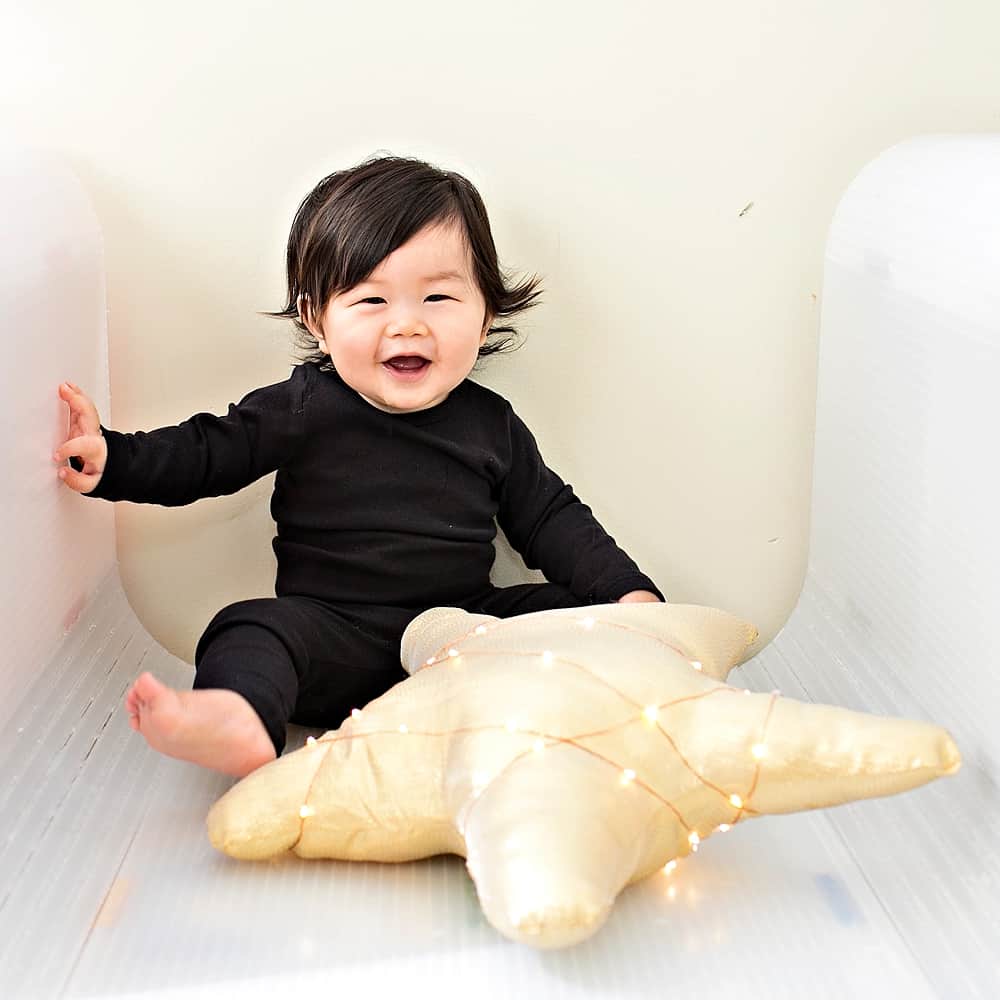 DIY TWINKLE TWINKLE LITTLE STAR COSTUME – MATERIALS:
At least one yard of gold fabric
Thread, needle or sewing machine (you can also just hot glue)
String LED lights (optional)
Parchment paper, pencil
Fabric pins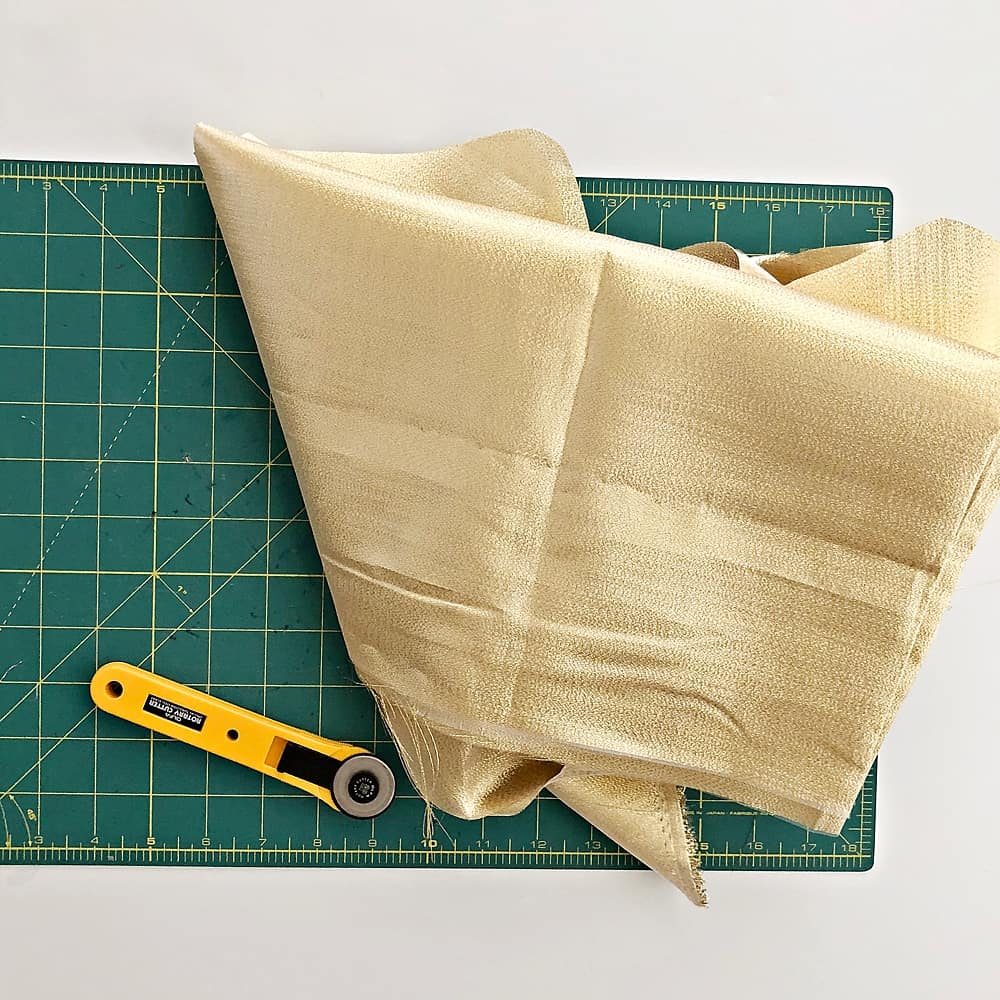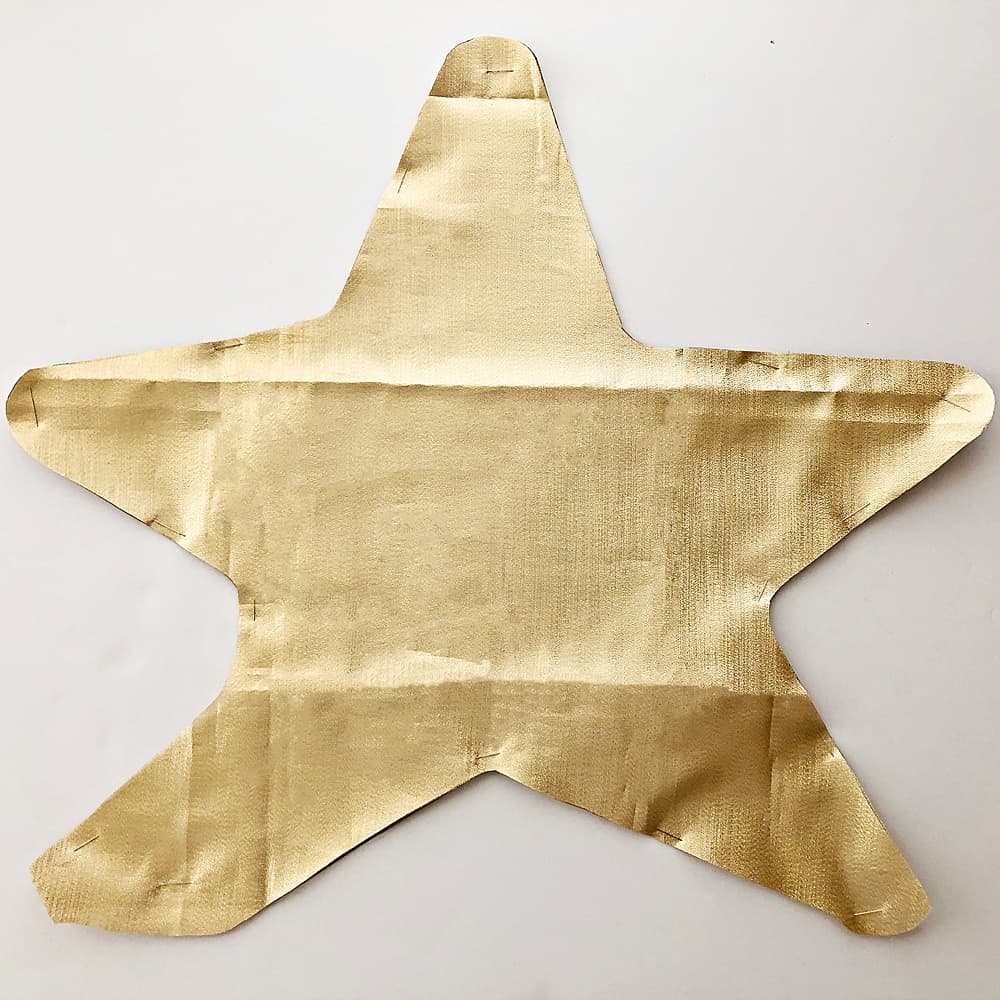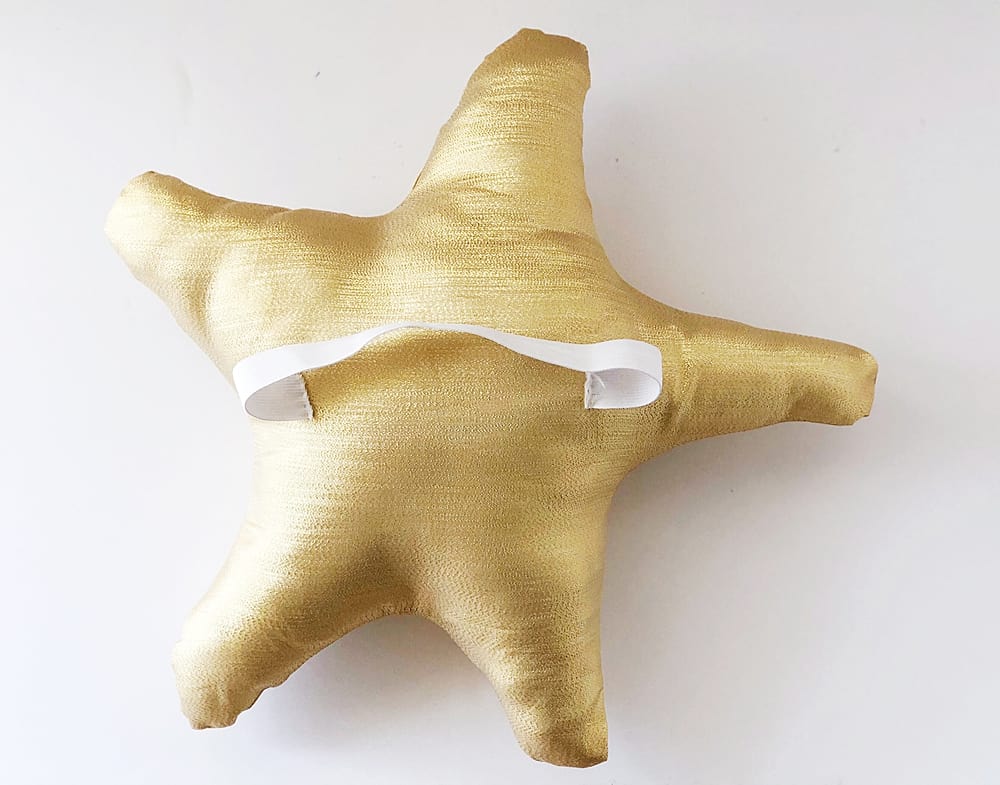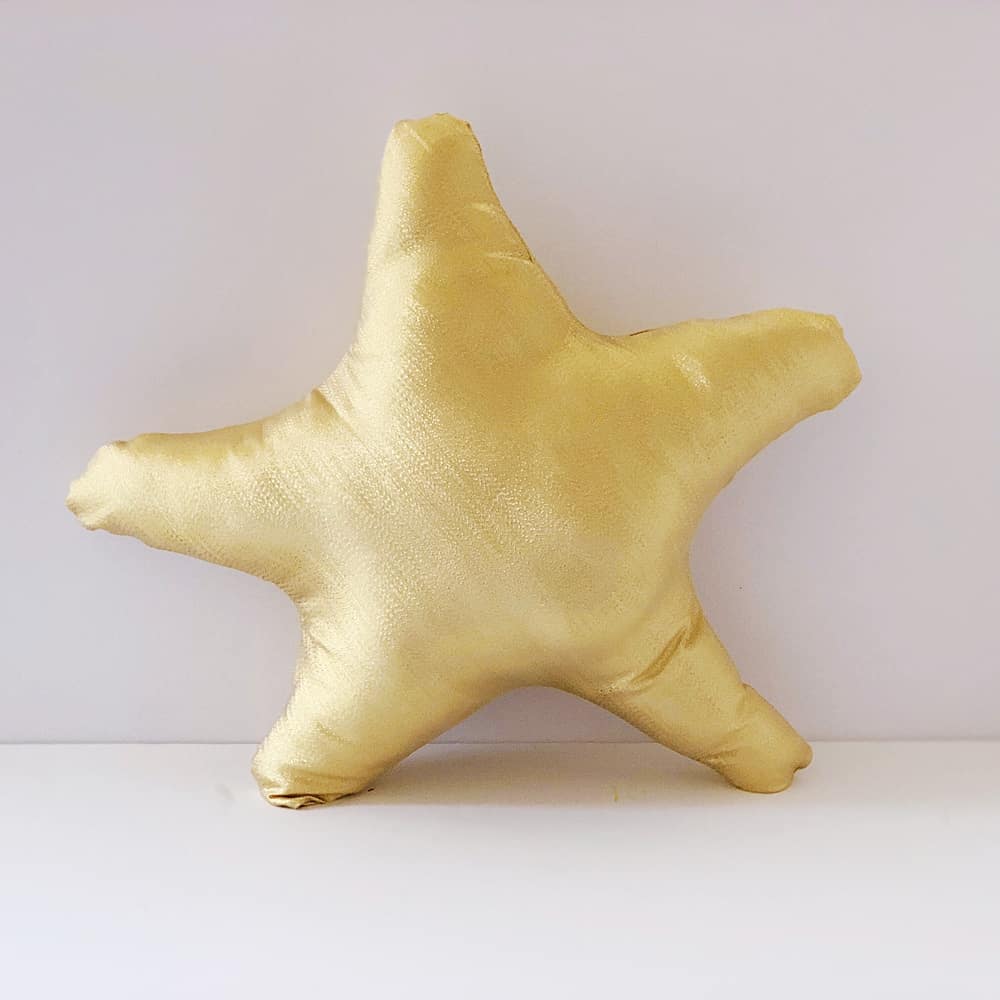 INSTRUCTIONS: 
Step 1. Measure your baby and figure out how wide you want your star to be.
Step 2. Draw a star that would be large enough to cover the torso of your baby on parchment paper, cut that out.
Step 3. Use the parchment paper as a template, lay it on top of your gold fabric (which should be folded in half or doubled up), pin parchment to it. Cut out the star fabric shape. You should now have two equal star shapes.
Step 4. Hand sew or machine sew along the edges leaving a hole at one end.
Step 5. Turn your star inside out, stuff with polyfull stuffing, hand sew the hole shut.
**Note you can do the exact same step as above with hot glue. 
Step 6. Add an elastic strap across your star and hand sew or hot glue to the sides.
Step 7. Optional: string some LED lights across the star, you'll need packing tape to safely secure the battery pack behind the star and to make sure it's out of the way.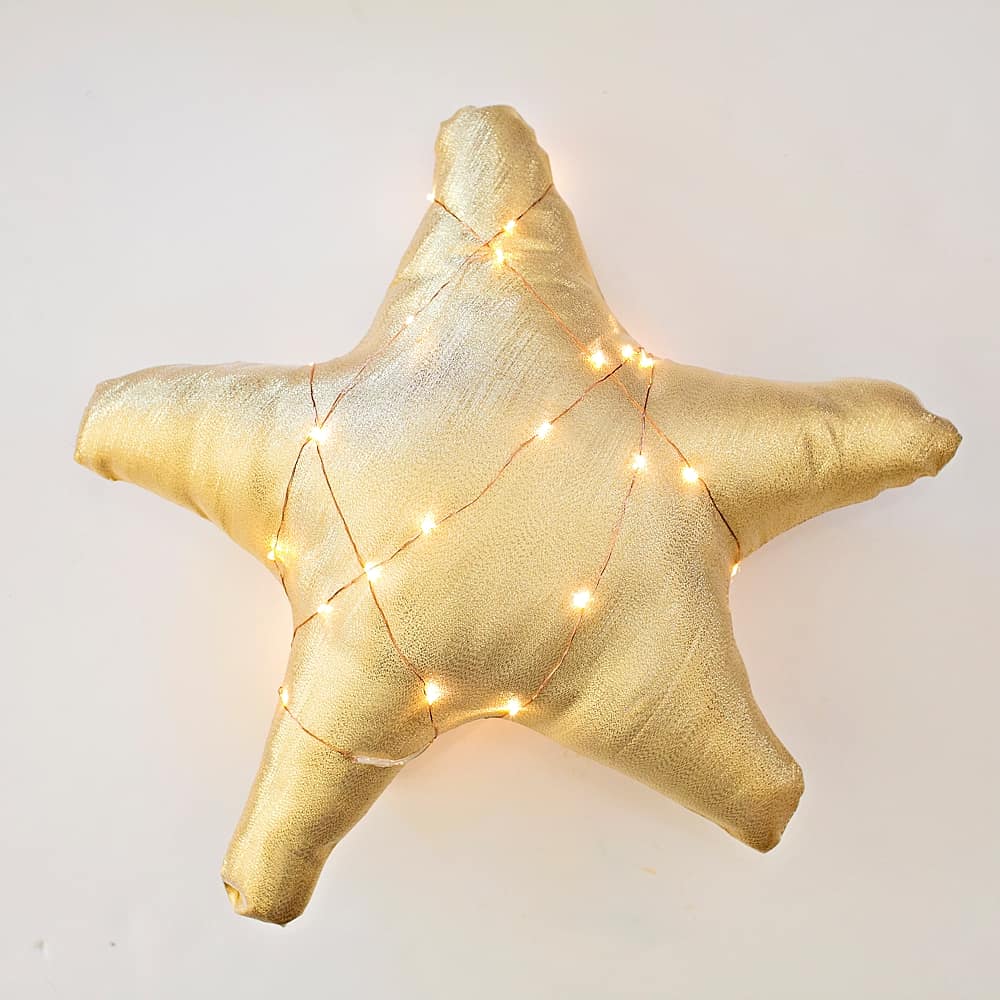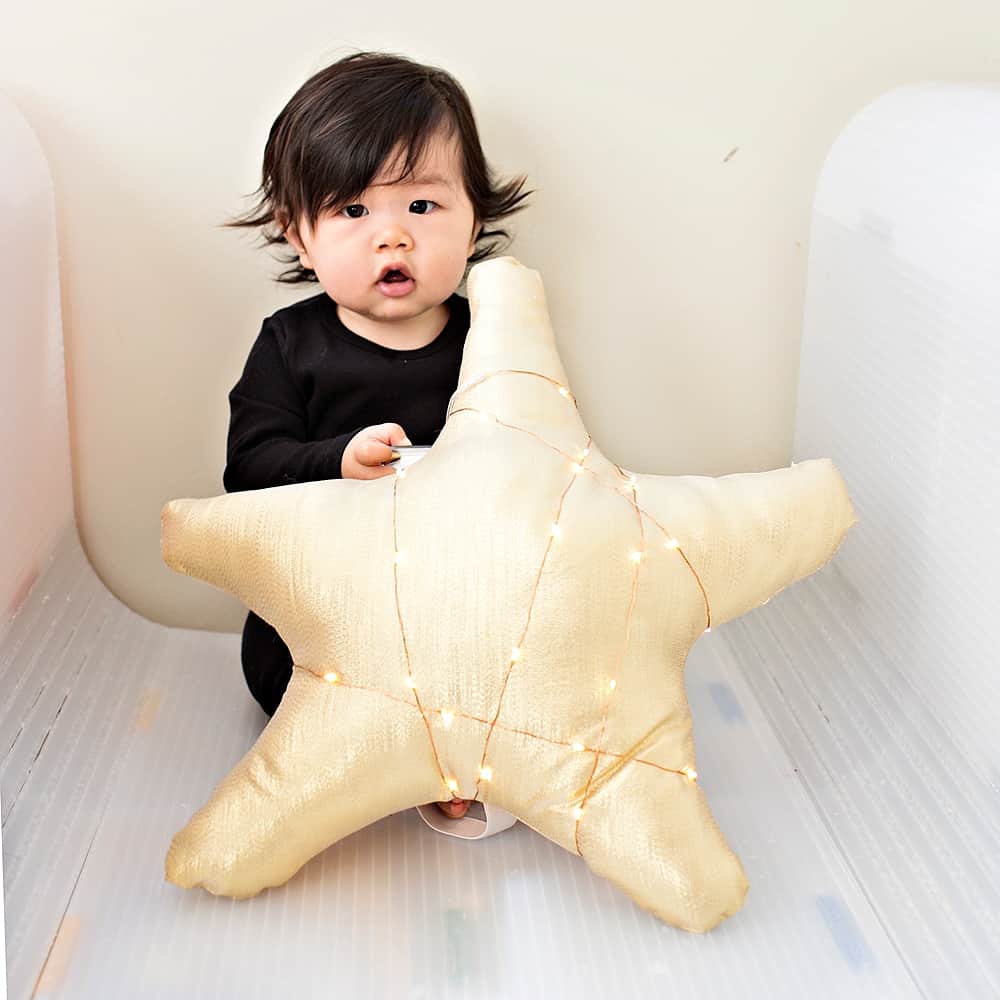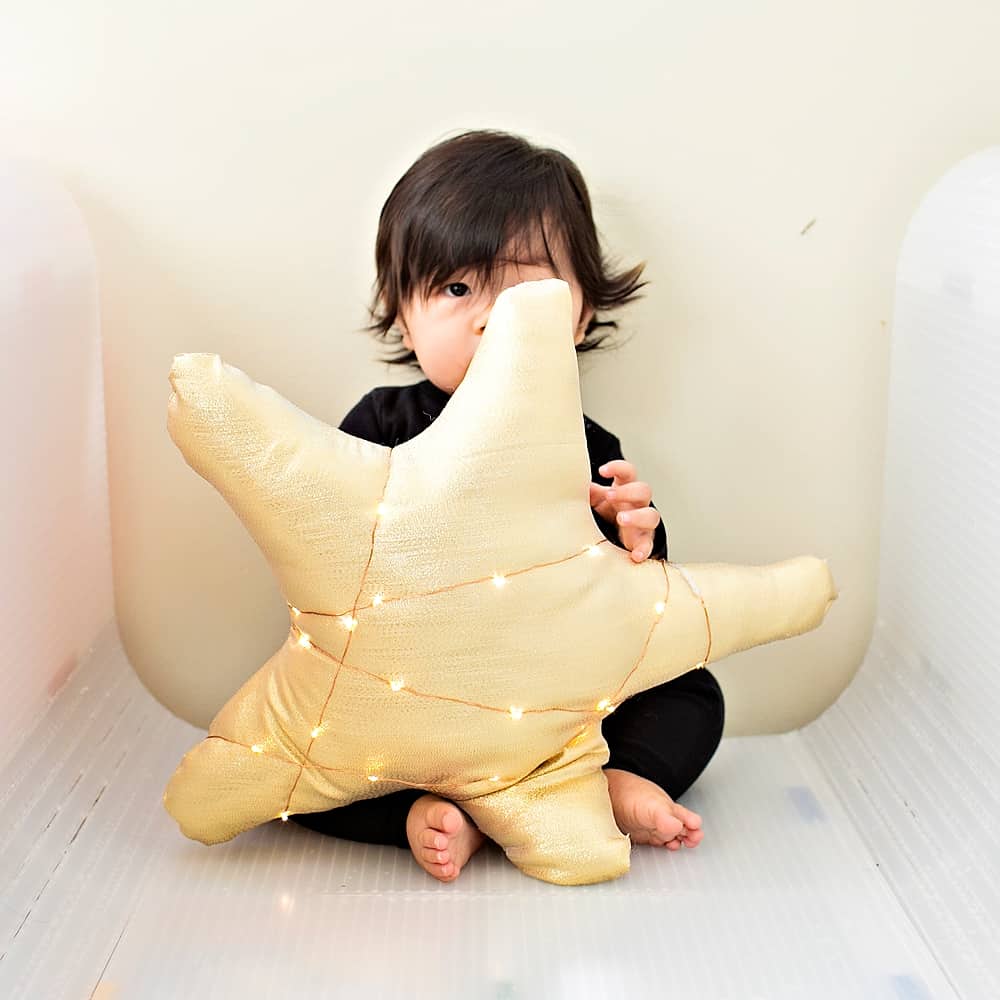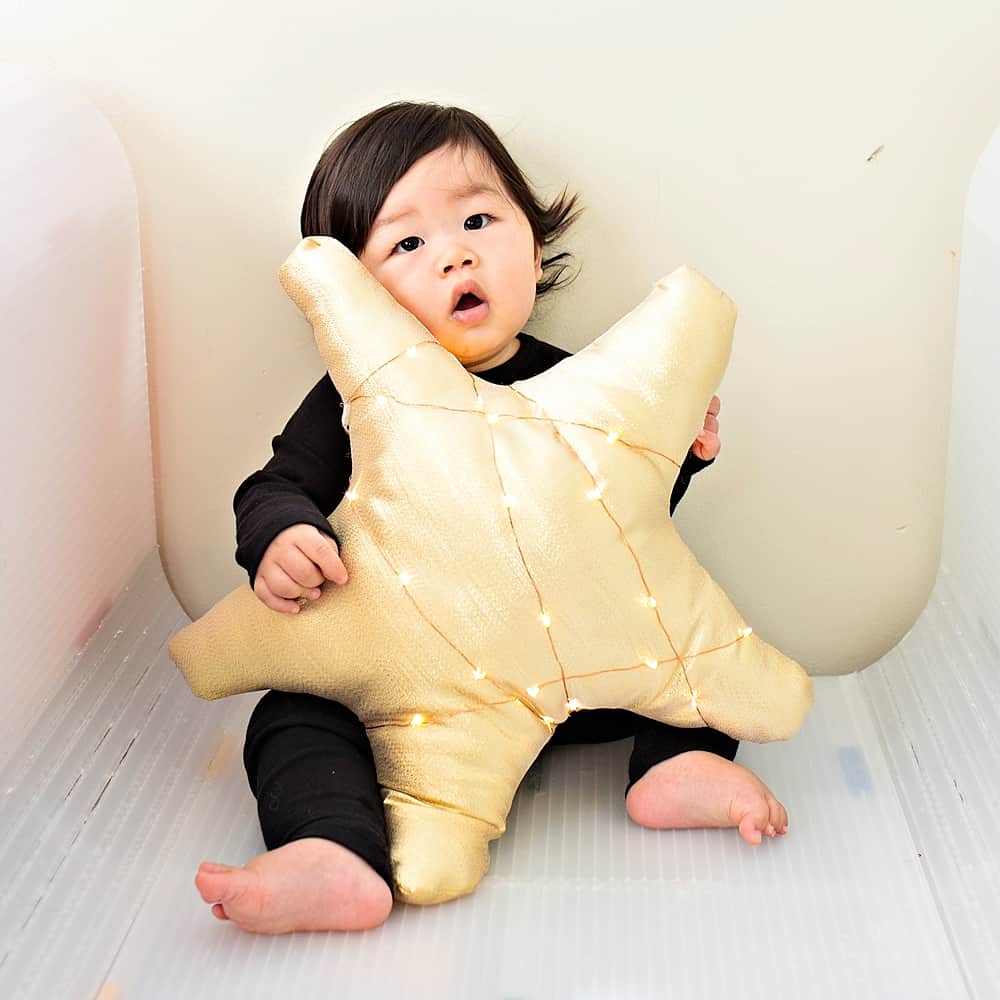 How cute is my little Twinkle Star? He had so much fun playing with the sparkly lights too!
Check out more baby costume ideas:
Baby's First Halloween Costumes 
More costumes in our nursery series, Itsy Bitsy Spider, I'm a Little Teapot and Row Row Row Your Boat.
And ALL our DIY Kids Halloween Costumes
---
Disclosure: Some of the links in the post above are "affiliate links." This means if you click on the link and purchase the item, we will receive a small affiliate commission. Regardless, we give our promise that we only recommend products or services we would use personally and believe will add values to our readers.