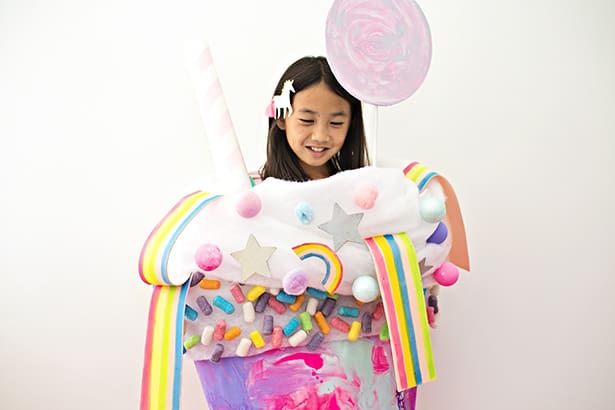 You've probably noticed the trend of Unicorns and Milkshakes, given Starbucks' infamous Unicorn Frappucino. As well as on Instagram, where Unicorn food seems to have taken over our feed with explosions of sparkly rainbow, purple and pink treats. Candy milkshakes are also the rage so we've taken two of our favorite trends and blended them into one sweet costume idea.
Get all the DIY details below to make your own Unicorn Milkshake costume, complete with dripping rainbow candy, glitter stars, and oodles of colorful sprinkles.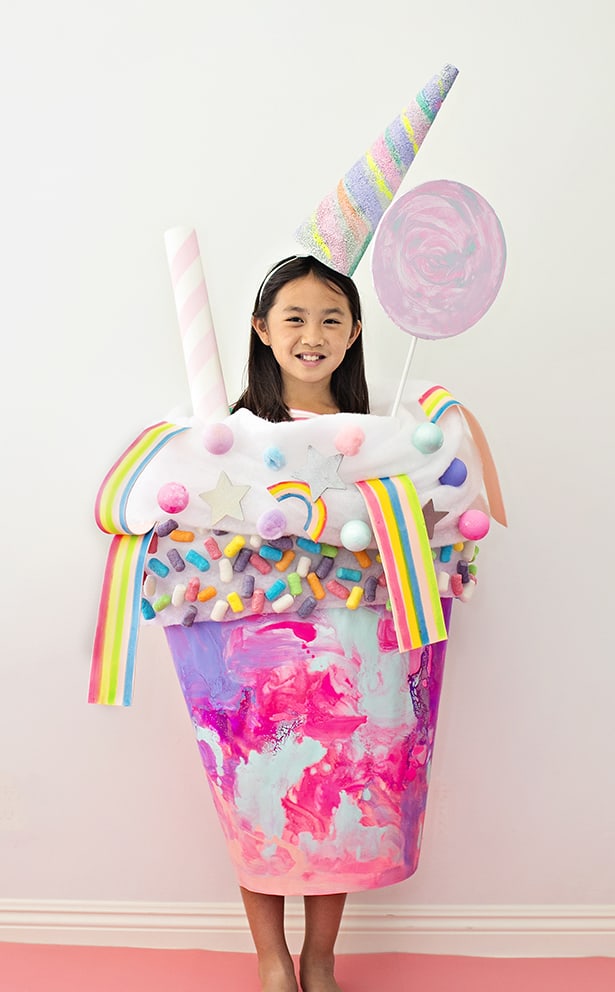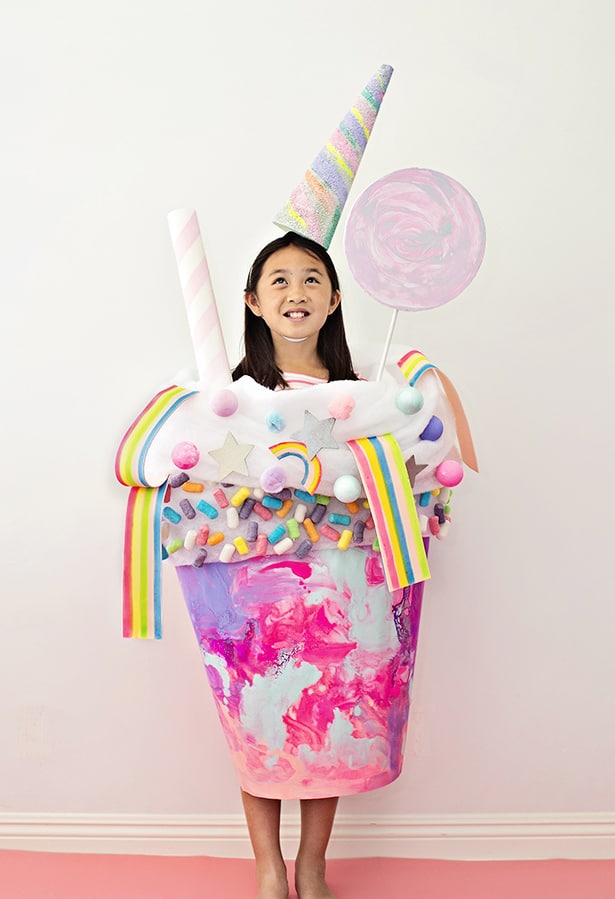 DIY Unicorn Candy Milkshake Costume – Materials:
– plastic laundry hamper for shake
– white batting for whip cream topping
– 2-22" x 28" paper poster boards for your "painted shake"
– 14" x 22" paper poster board for straw
– 1 sheet of white foam core for lollipop
– acrylic paint – unicorn colors + silver for stars
– paint brush
– scissors
– glue gun
– rainbow packing peanuts for sprinkles
– large pastel pom poms for marshmallows
– two strips of cotton cord for shoulder straps
– Kwik Stix – neon
– 2-light pink foam sheets for rainbow sour strips
– 1 green floral cone for unicorn cone
– piece of medium elastic to attach unicorn horn
– wooden dowel for lolli pop stick
– 6 craft stars for star candy
– 1 pack of foam balls for pastel candy balls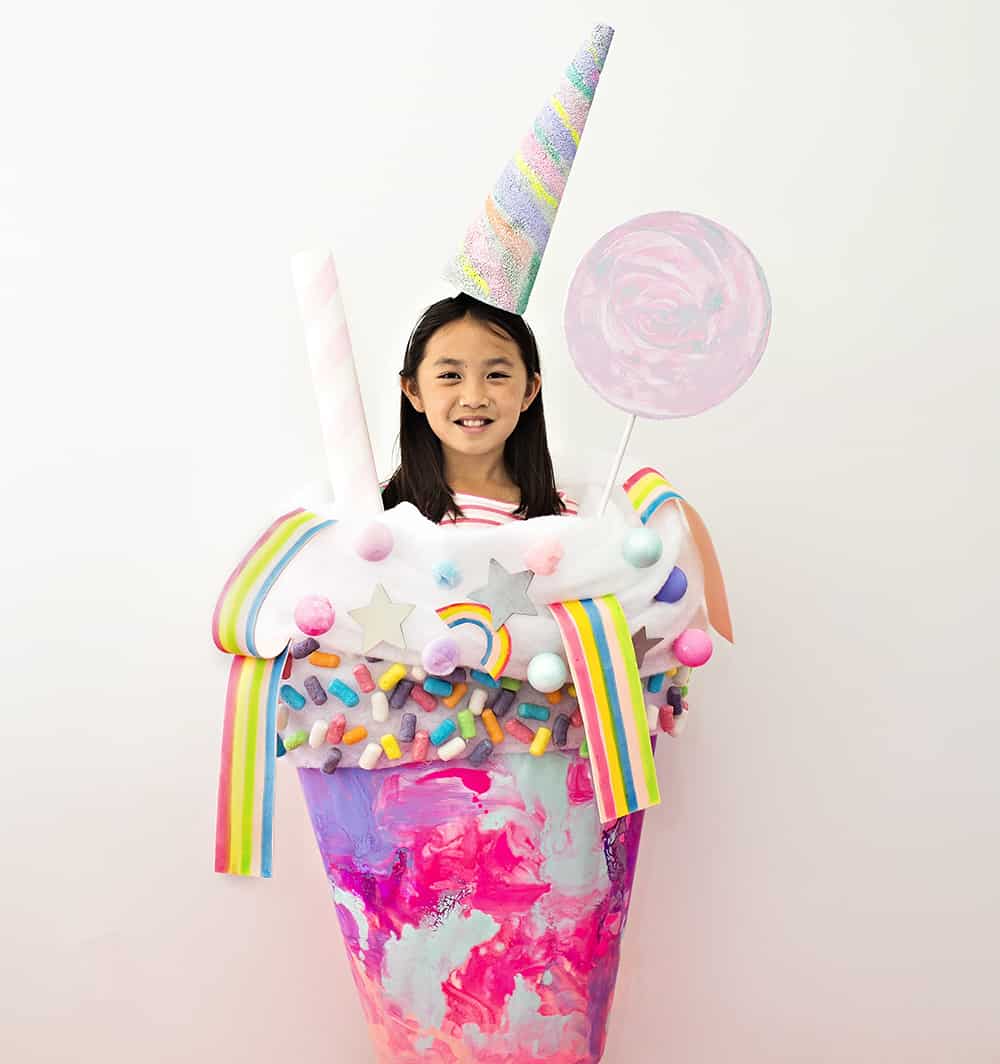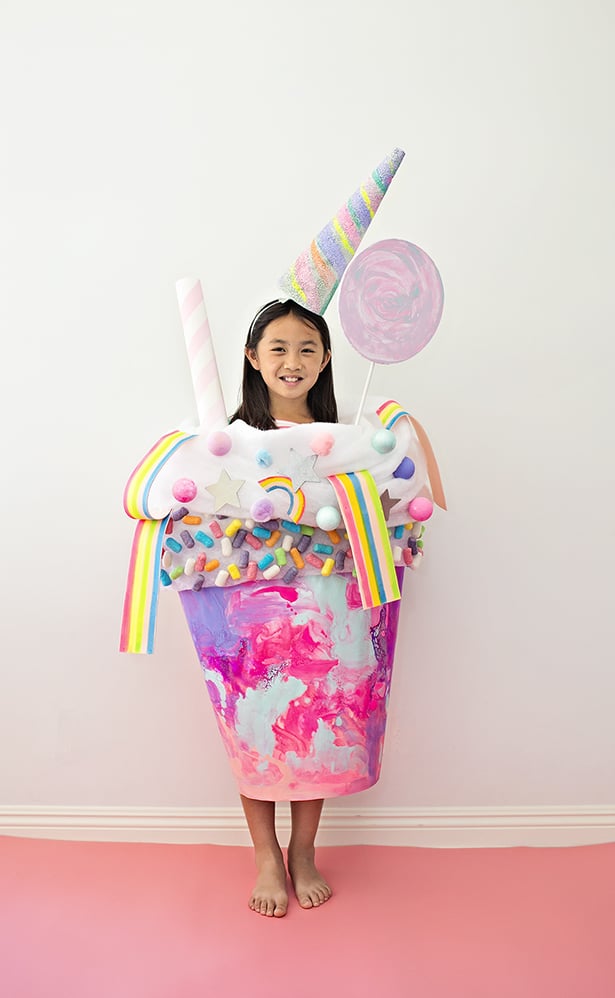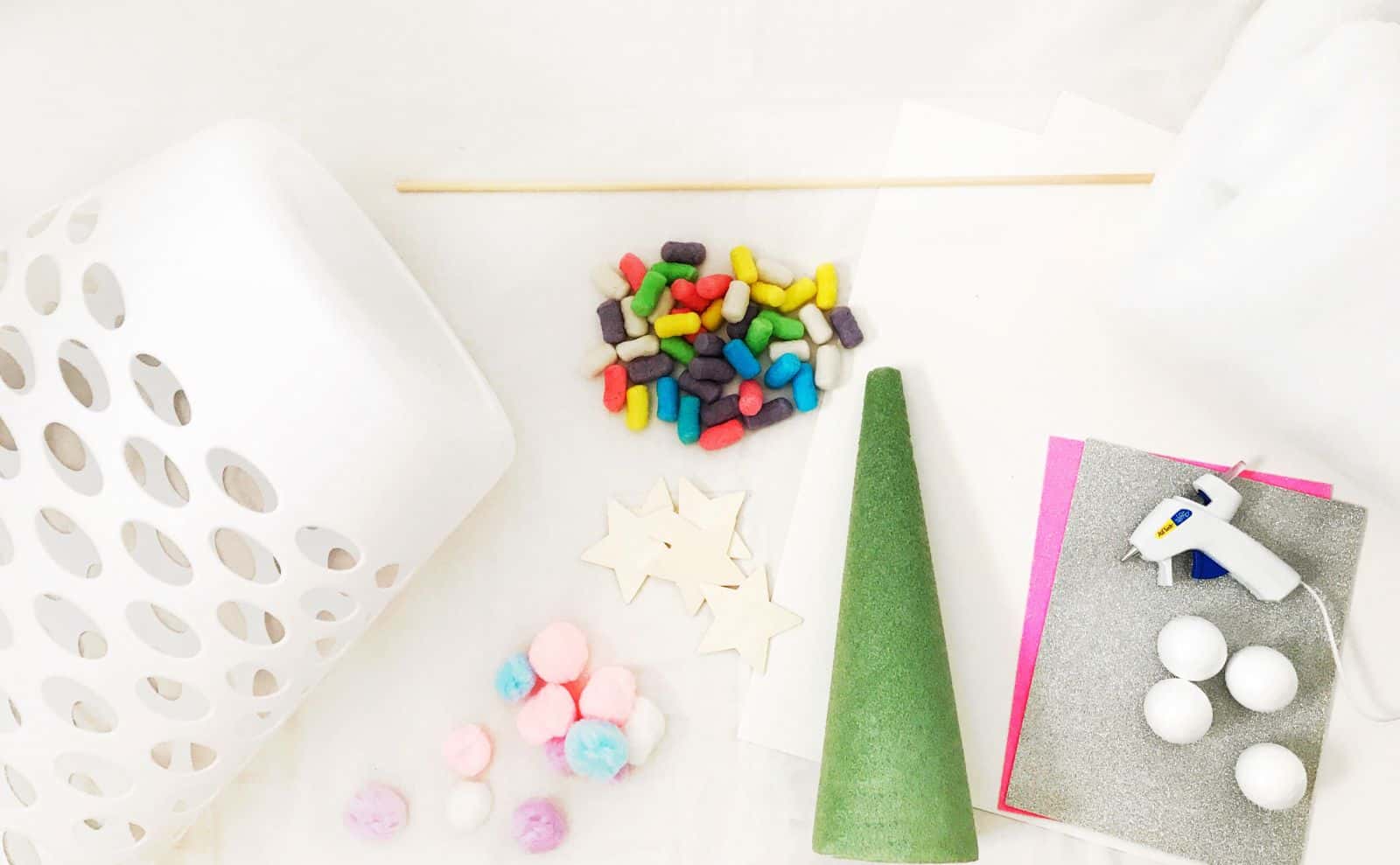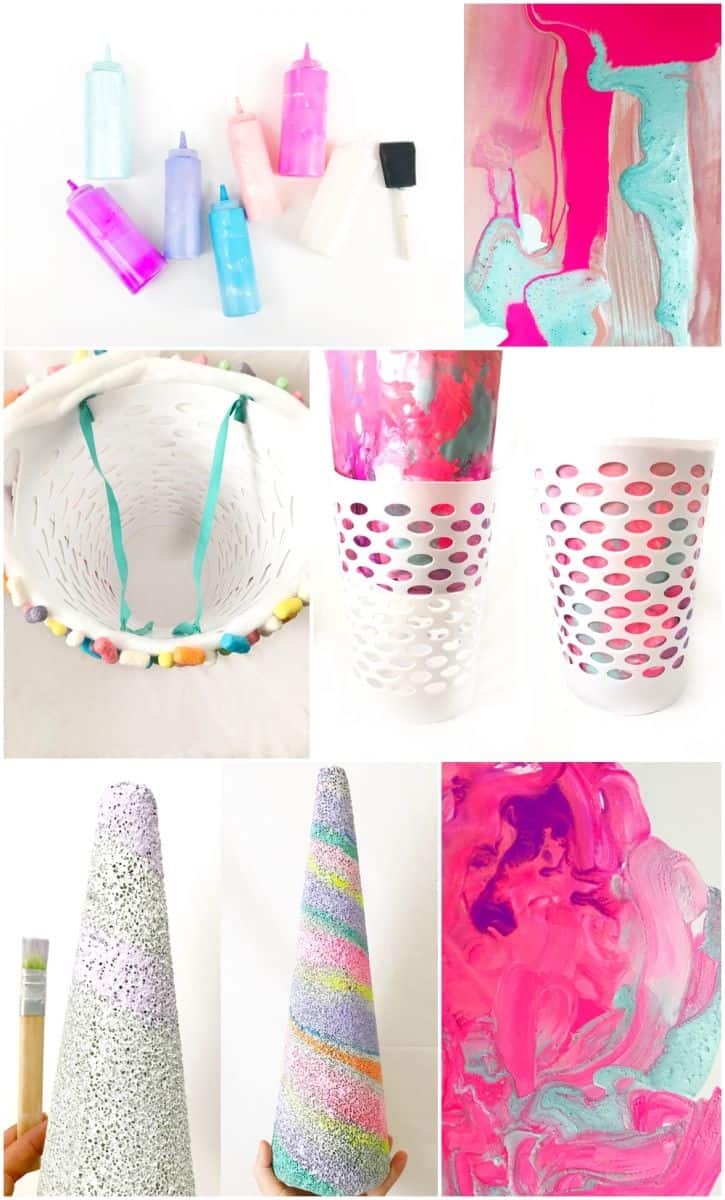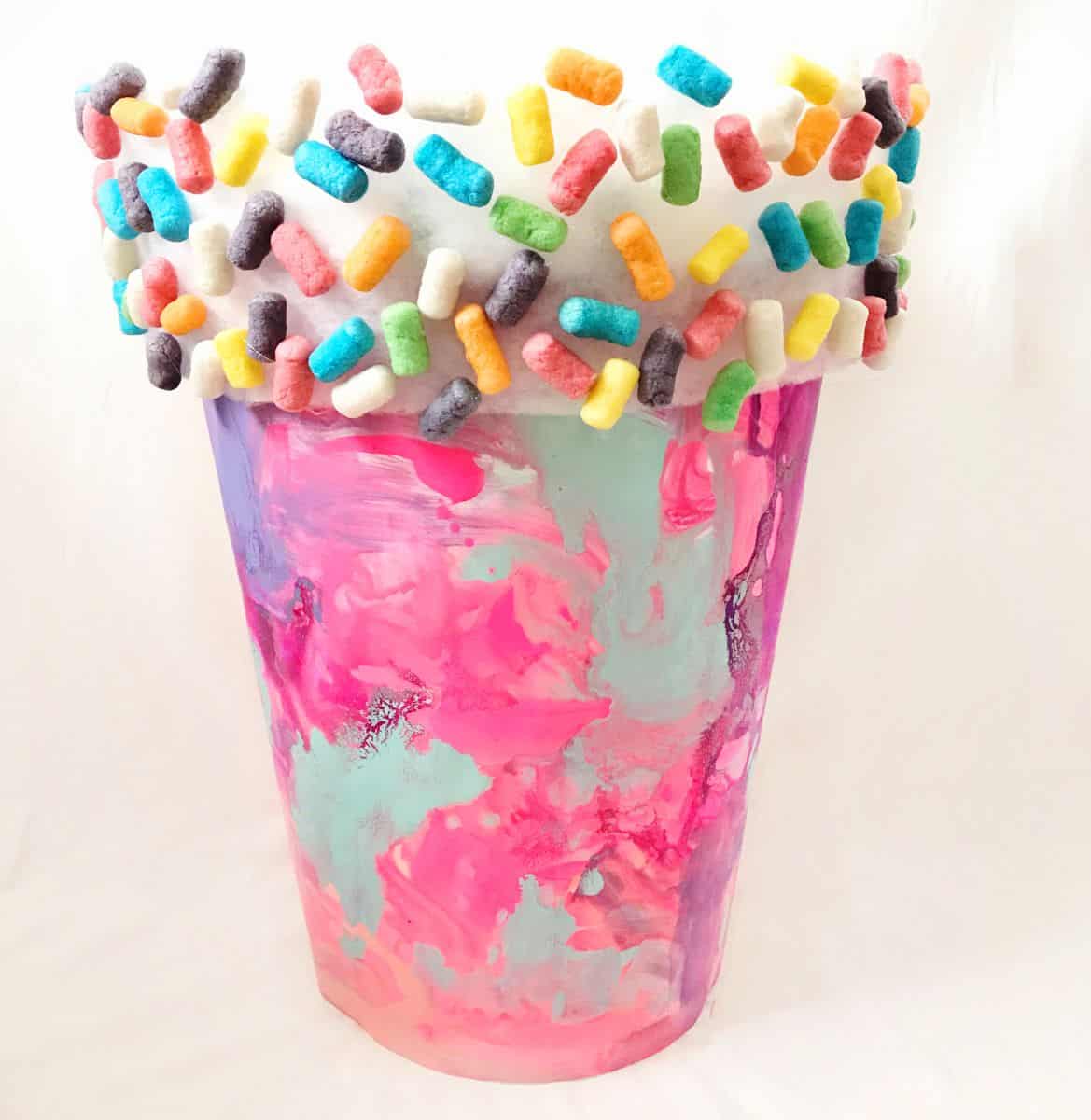 Instructions:
1. Take your two large poster board sheets and start to paint. We achieved a fluid look by squeezing watered down acrylic onto our poster boards. Then we layered and swirled our paint to make it look like a shake.
2. Paint your candy balls.
3. Paint your candy stars.
4. Create a straw by painting pale pink stripes on a diagonal.
5. Create sour rainbow strips by drawing stripes on your pink foam with neon Kwik Stix. We were able to make two strips per foam sheet.
6. Time to paint your unicorn cone! Just layer one color at a time in a spiral pattern.
7. Cut the bottom out of your laundry hamper. This will become the sturdy form for your "shake cup".
8. Create shoulder straps with your cotton ribbon by running it through the holes in front and back and double knotting.
9. Wrap your shake painted poster board around your hamper and attach with hot glue. Do this in sections… a few beads of glue, apply pressure. Move on to another section and repeat the steps until you have fully fastened your shake color to the outside of the hamper.
10. Cut an 18" wide strip of batting and glue it to the top rim of the shake using the same method as you used to fasten the poster board. Work your way around in small sections.
11. Time to add the sprinkles! Glue your packing peanuts to the batting. It should look like the rim has been dipped in whip cream or frosting and covered in sprinkles.
12. Roll your striped poster board in a tube shape and glue the seam to create your straw.
13. You can create a lollipop by tracing a circle onto foam core and cutting it out with a utility knife. Give it a pretty paint job and attach it to your wooden dowel.
14. It is easier to style the finishing touches as it is being worn. You can wrap, drape, and glue the whip cream in all the right places and add the candy toppings exactly where you want them with hot glue.
15. Don't forget to add the unicorn horn! If you add an elastic band you can wear it like a party hat or you can choose to place it sticking out of your shake ice cream cone style.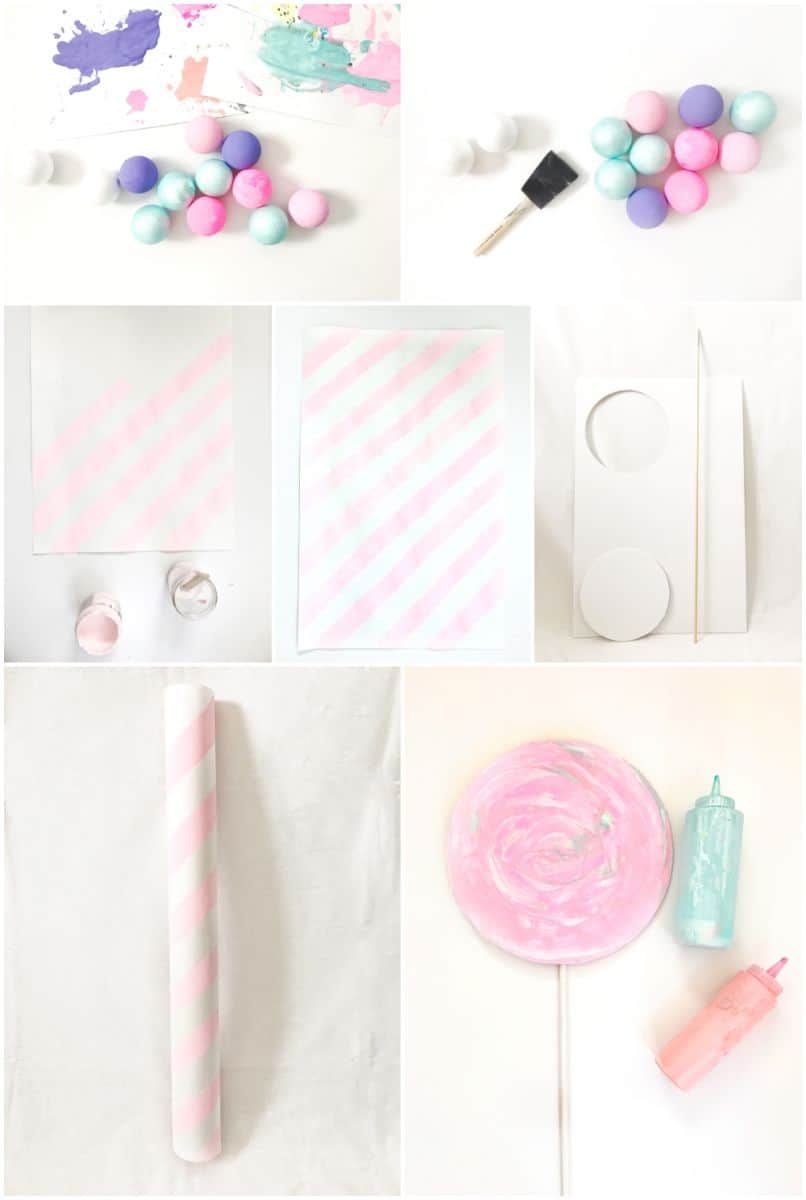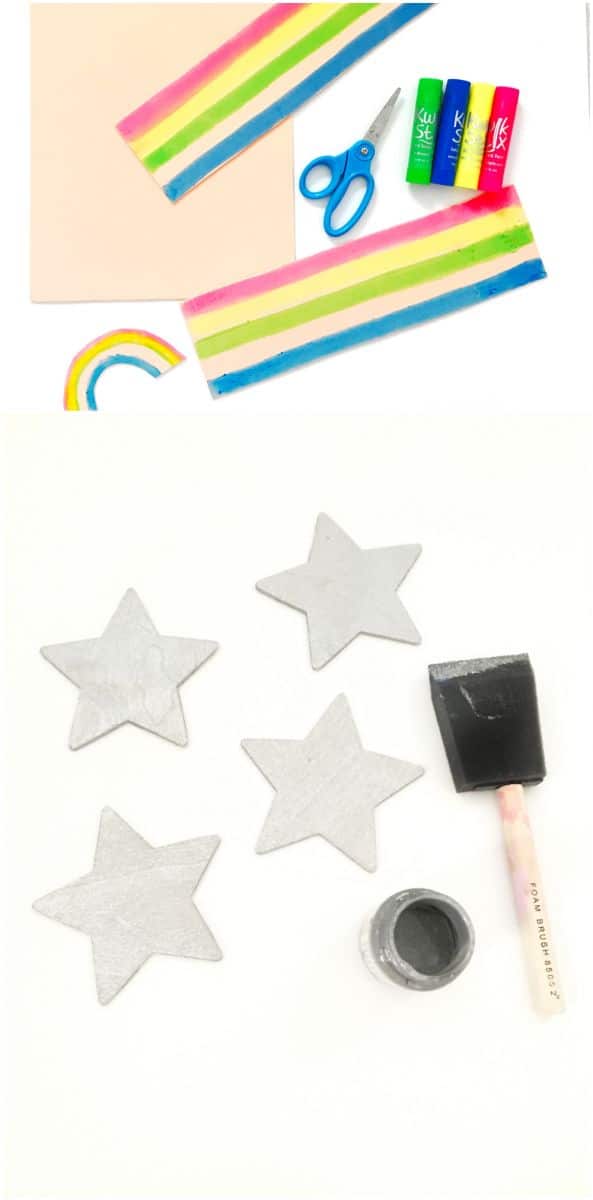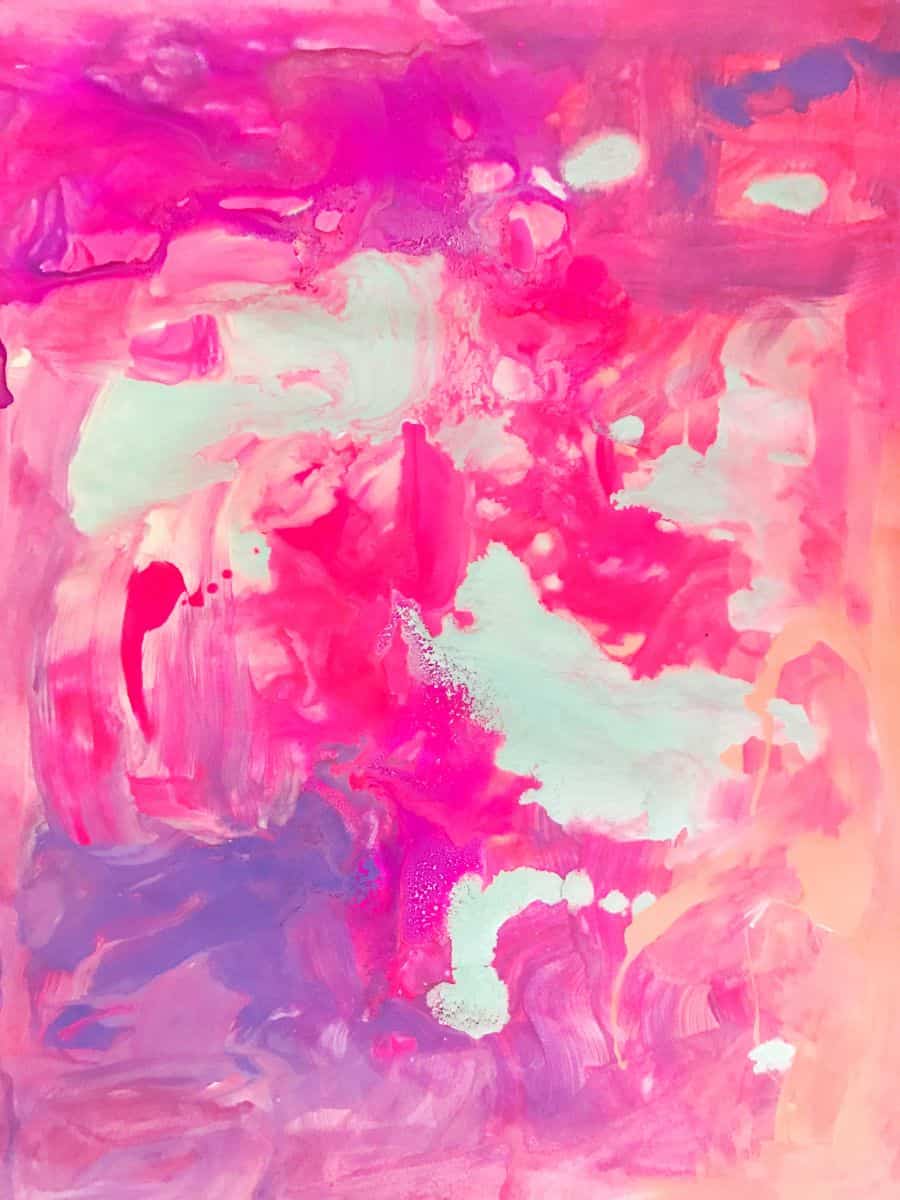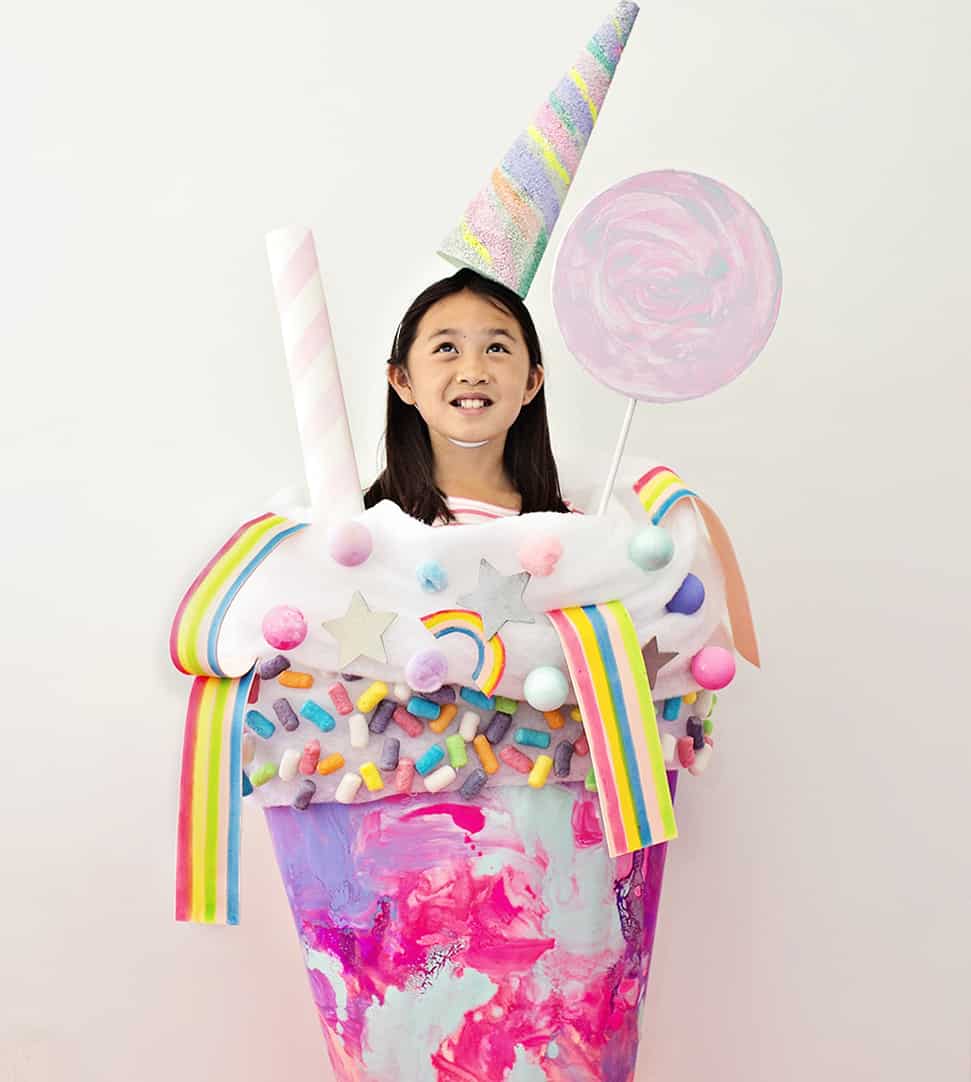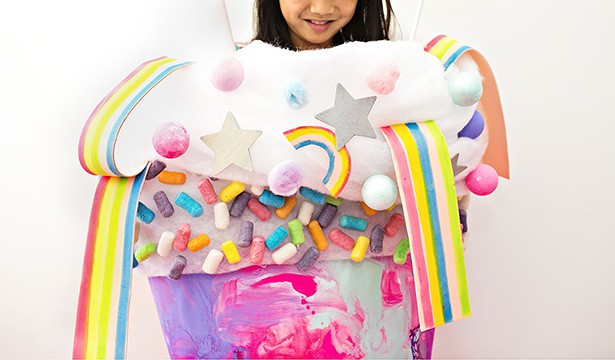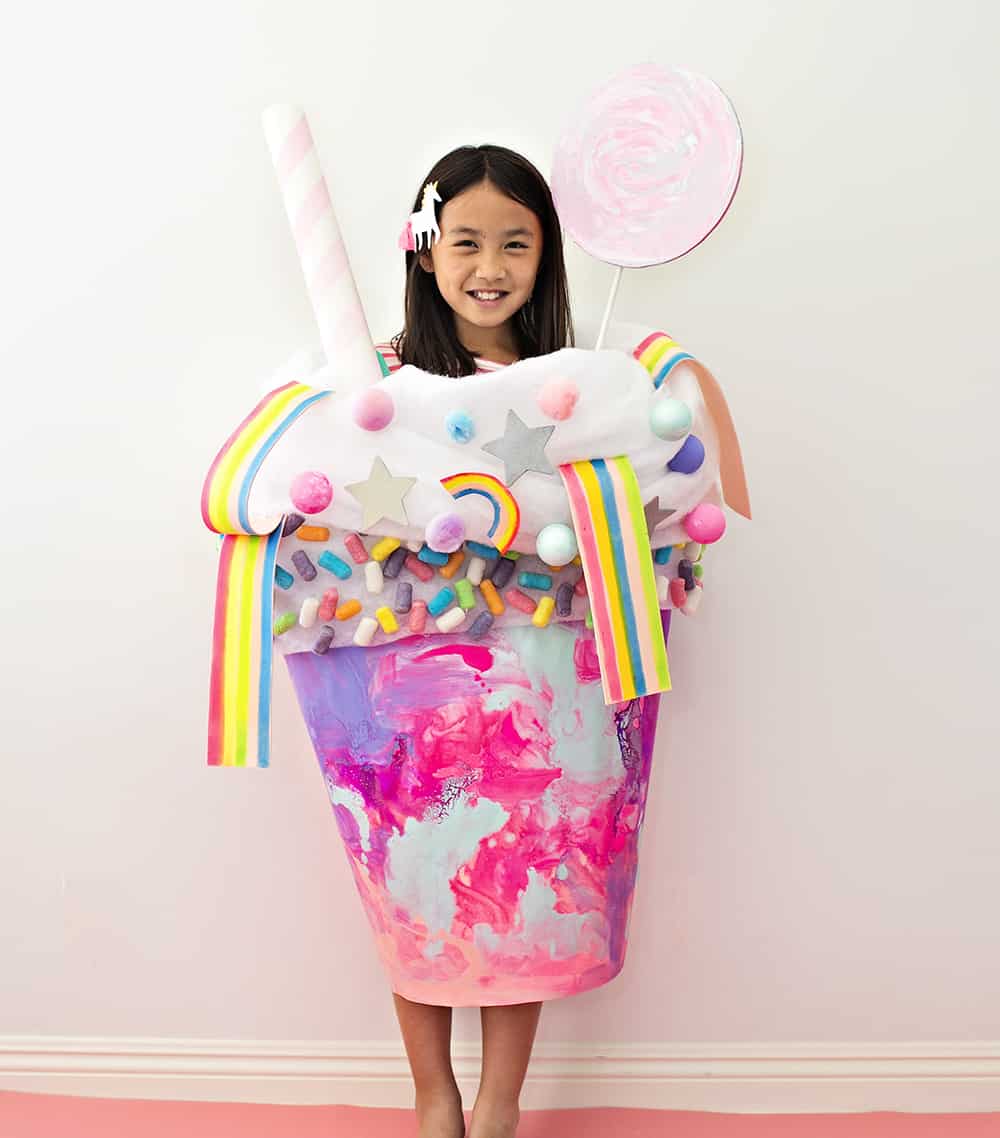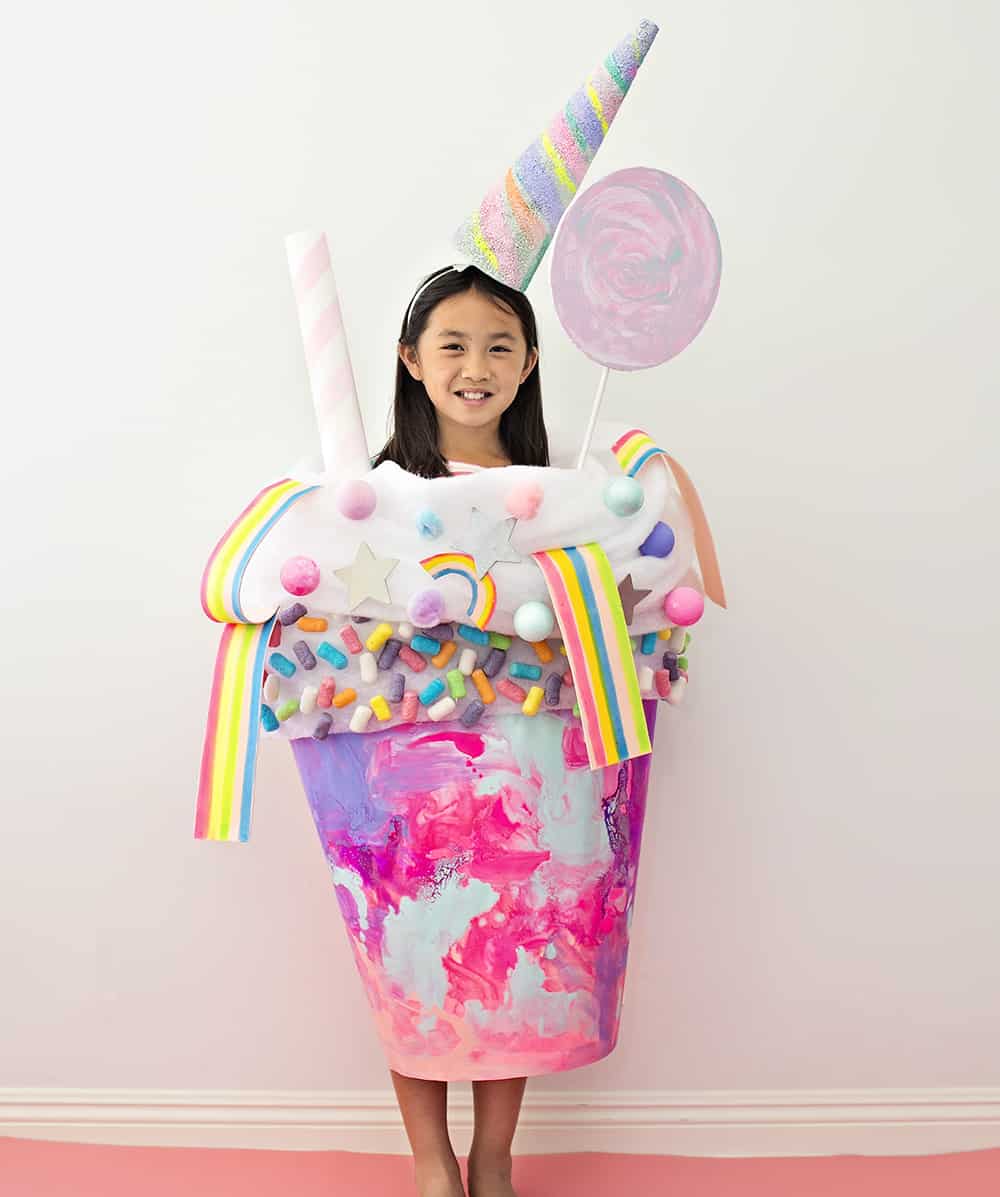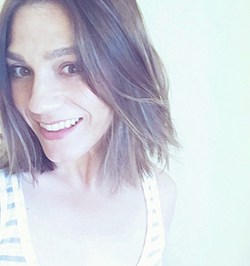 Meet Arielle Goddard – Los Angles based artist, designer, arts educator, mother of two girls, and founder of ART CAMP. Arielle has been teaching and developing art programs for close to 20 years. If you are looking for fresh, elevated, arts, crafts, and DIY inspiration follow her blog, Instagram and Pinterest.
______________________________________________________________________________________________________

Disclosure: Some of the links in the post above are "affiliate links." This means if you click on the link and purchase the item, we will receive a small affiliate commission. Regardless, we give our promise that we only recommend products or services we would use personally and believe will add values to our readers