There's nothing more my daughter loves than rainbows so for Halloween this year, we decided to make rainbow bird wings. This is an easy no-sew costume made out of cardboard and felt. It's so colorful and really makes you feel like soaring! I just love that it can be used as a costume and at home for pretend play.
Find out how to make your own rainbow bird wings in the tutorial below.
Take a look here for lots more Halloween ideas for kids!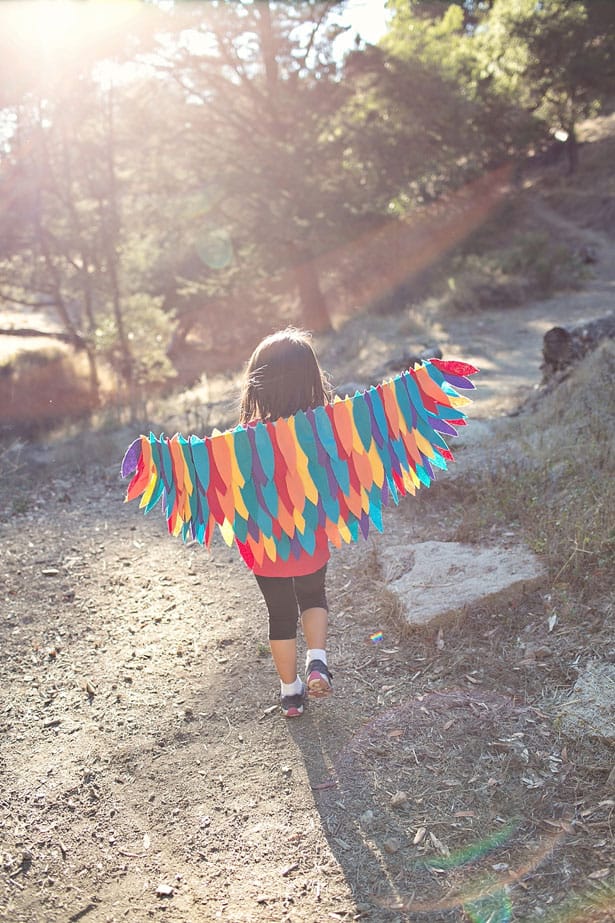 Easy DIY Rainbow Bird Wing Costume – Materials:
– large piece of cardboard rectangle cut to 48″ wide x 14″ high plus additional strips to make 4 handles
– Paint or spray paint if you want to paint the cardboard (optional)
– Colorful felt cut into a feather shape that is about 6.5″ high.
– strong craft glue or hot glue gun
– duct tape
Steps: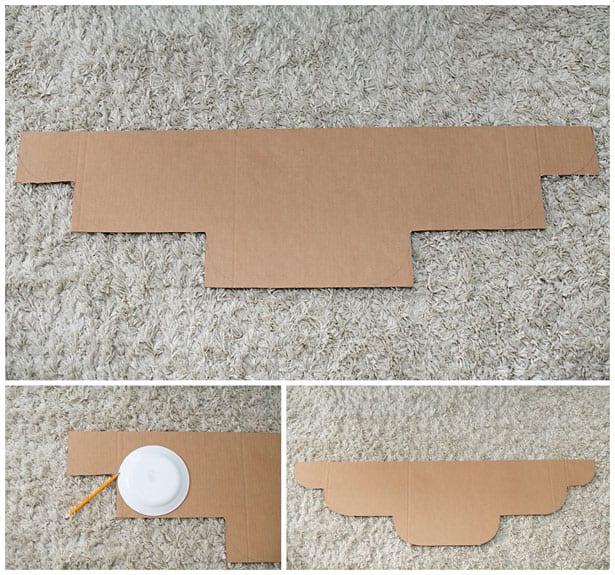 1. I used this great tutorial by Makedo as a guide for making these wings, except ours is made of one piece without clips and uses felt instead of paper feathers. Once you have your piece of 48″ wide x 14″ tall cardboard, you want to trim the edges. Trim 5″ from each end for the middle part of the cardboard and 16″ off each end for the bottom part.
You can then use a plate to cut off rounded edges.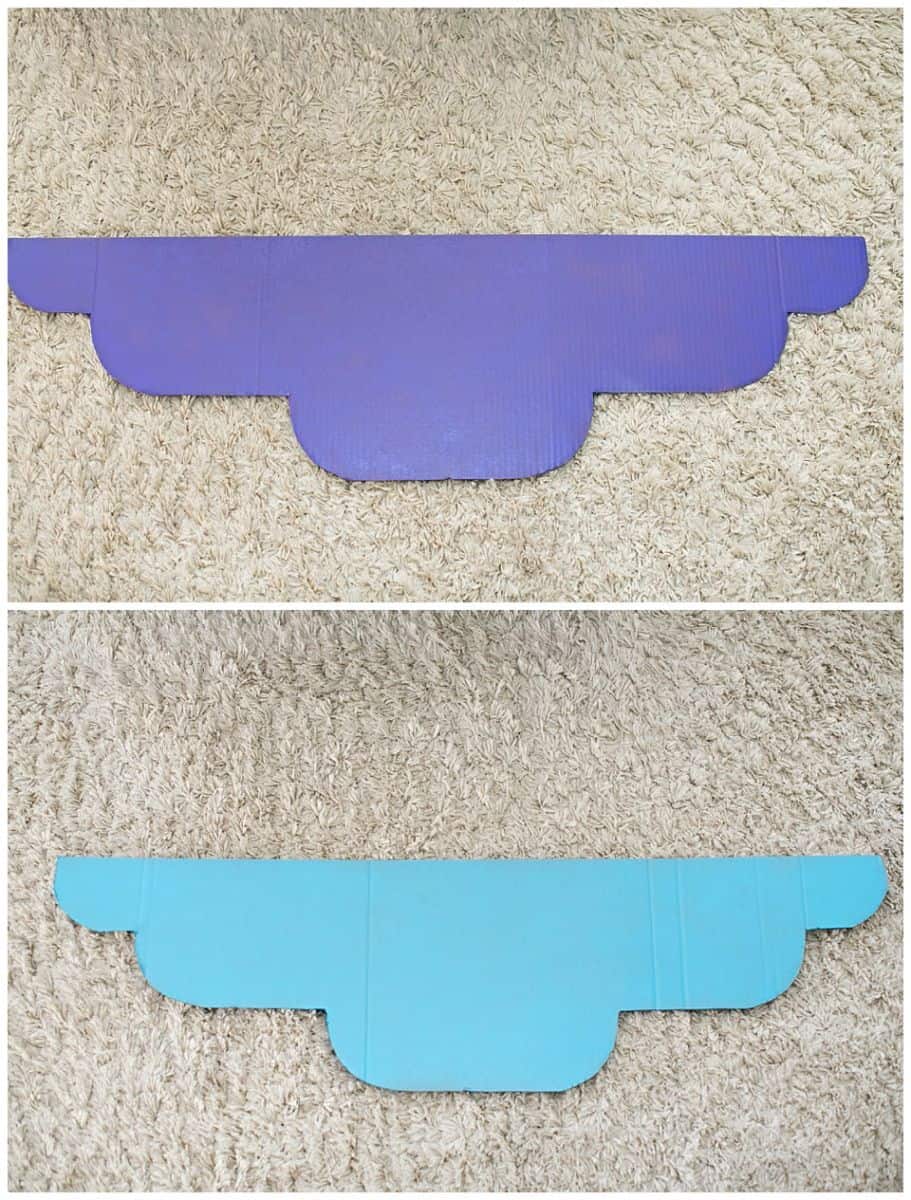 2. This step is optional but you can paint your cardboard. I painted one side blue and the other side purple.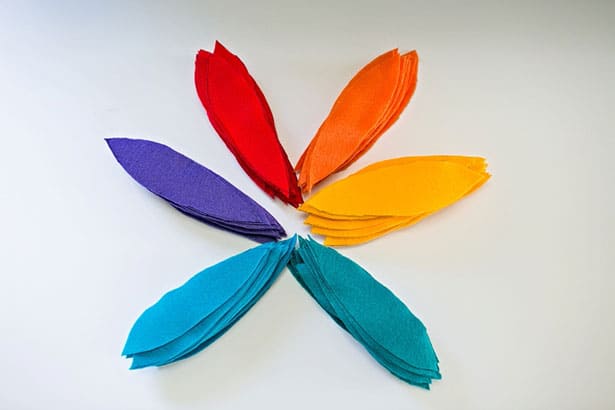 3. You want to cut out lots of felt feathers. This is was the most tedious part. I found a feather template online and used it as a stencil to outline and cut out the feathers. You will need at least 25 feathers for each color if you have 6 colors total – a total of 150 feathers to cover the cardboard.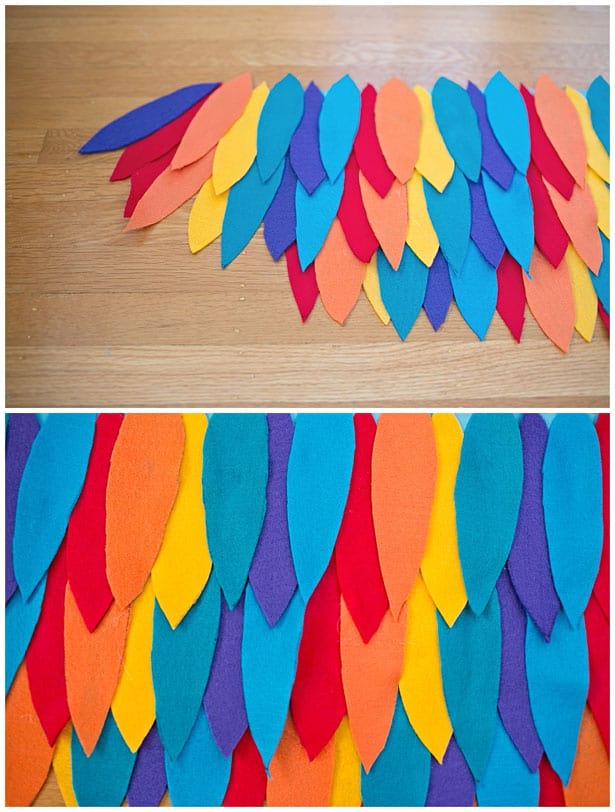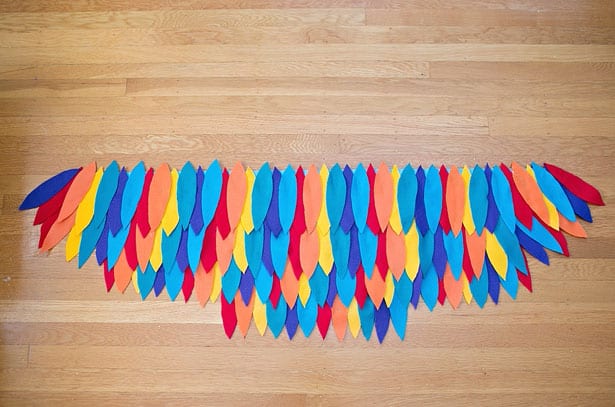 4. Apply the feathers with a hot glue gun or strong craft glue. Overlap them by a bit so it looks natural and keep them mainly straight, hanging down except for the few off to the sides for a flared out look.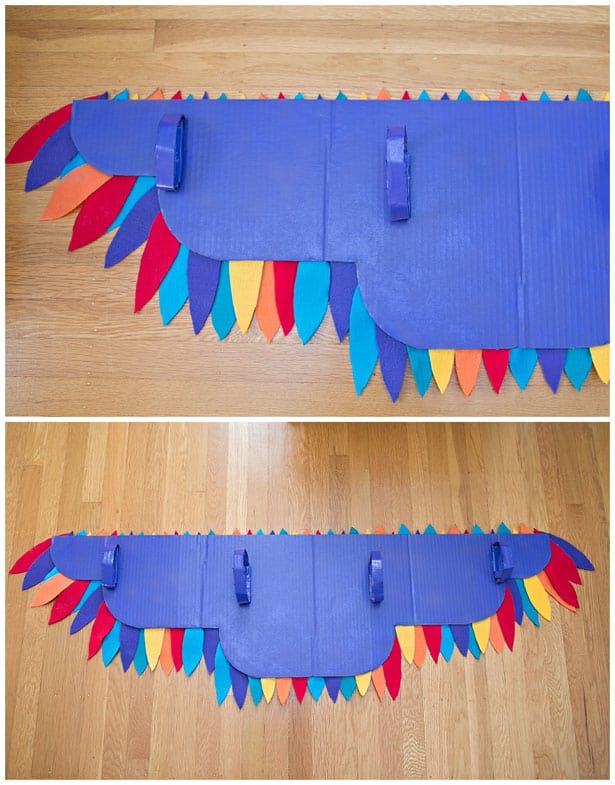 5. Measure your child's hands and shoulders to where they would fit the wings. Cut out 4 strips of cardboard and glue them on to the board. You can paint the strips but again that is optional. I later found it was stronger if you glued and reinforced with duct tape to make sure the handles are secured.
You're done! Now take your feathered bird out for a spin in the woods.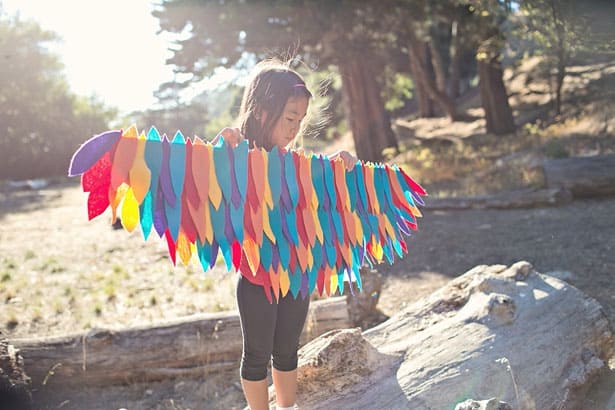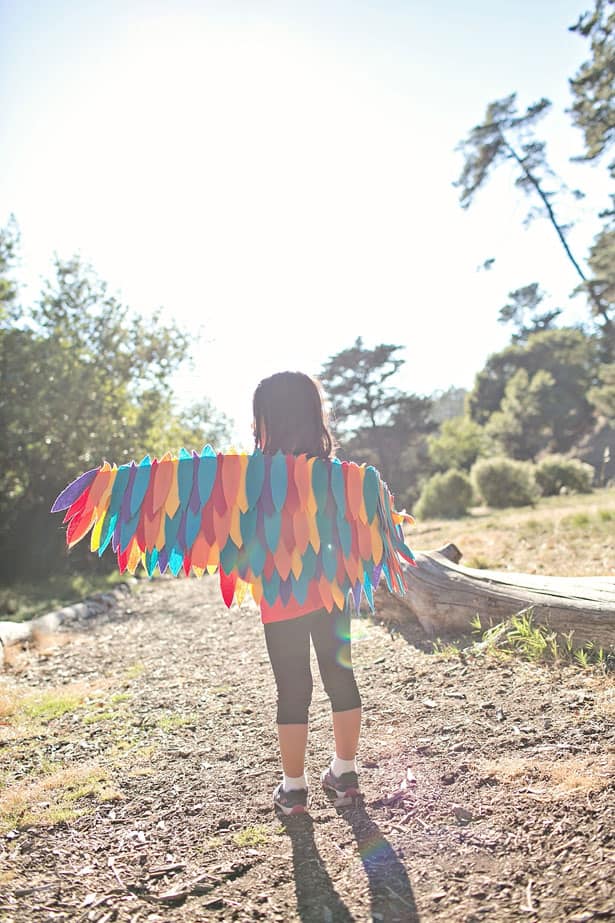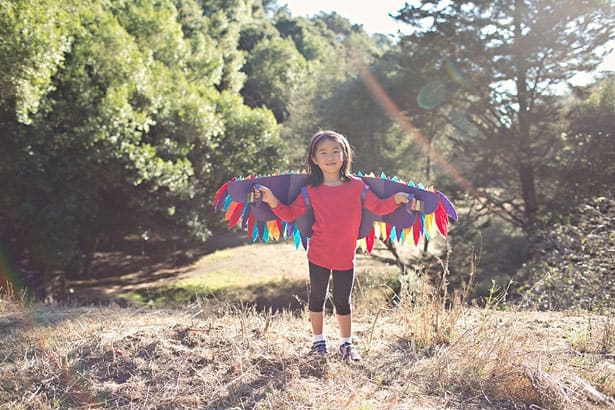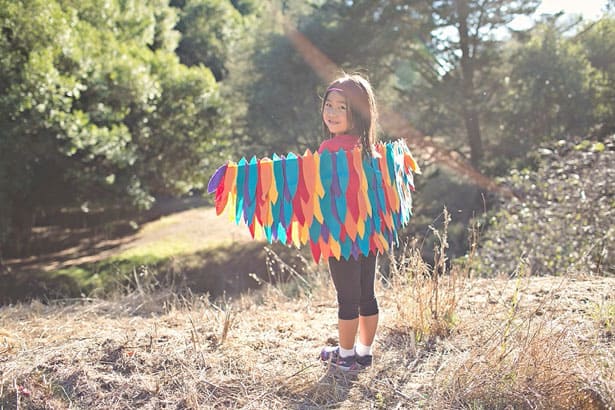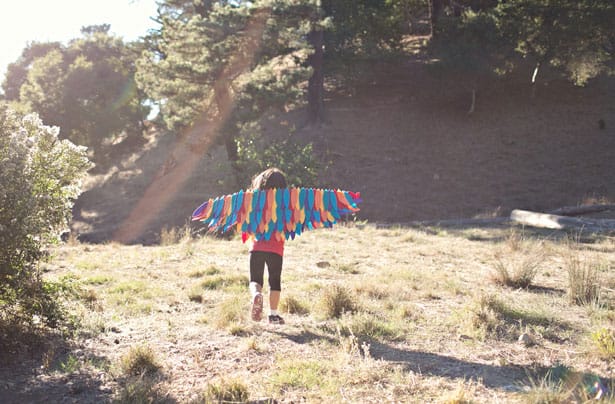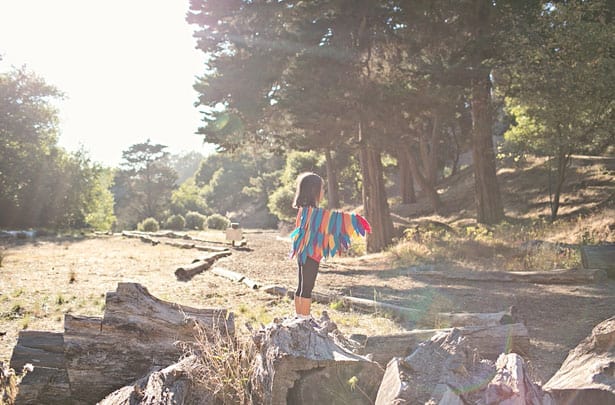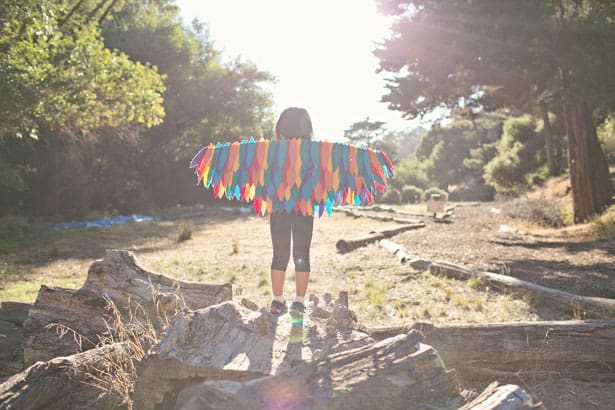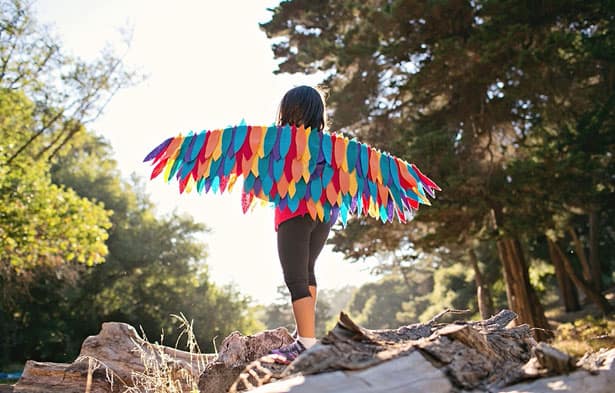 My daughter loves her wings and they are truly magical, playful and colorful! What are you dressing up the kids as this year for Halloween? Are handmade costumes in or out? If you're inspired to make your own, we've got lots of great ideas here!