Back to school
is in full session and what better way to bring learning full circle than back into the home? Or perhaps you're homeschooling and looking to bring a more structured feel to your indoor classroom. These school house designs are functional and revamped updates of classic school house styles. With kids in the home, versatility, storage and function are key. Take a look at these cool furnishings that will remind you of old school classrooms, yet serve a purpose beyond looking hip.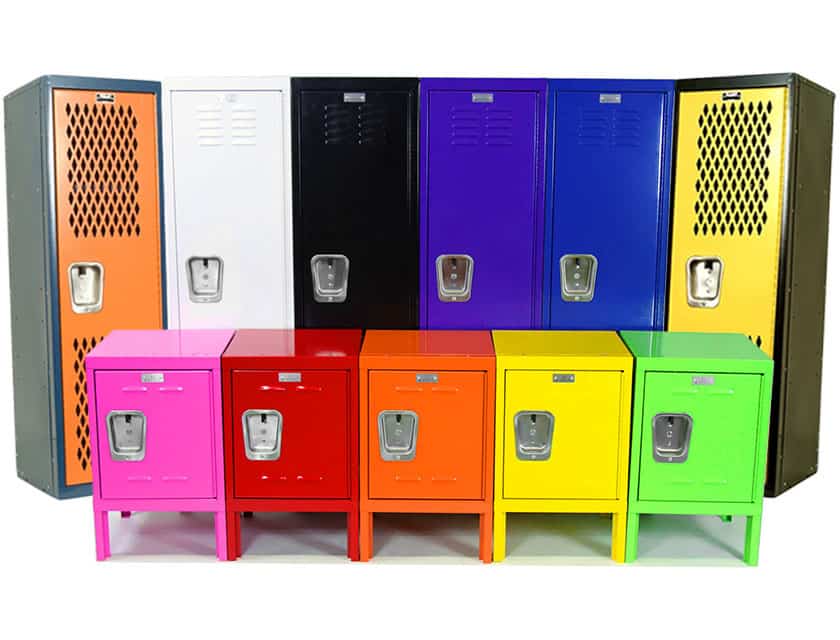 School Locker Storage
(via
Shelving
)
These brightly updated lockers are great for storing away your kids' school supplies, art work and more with lots of colors to choose from.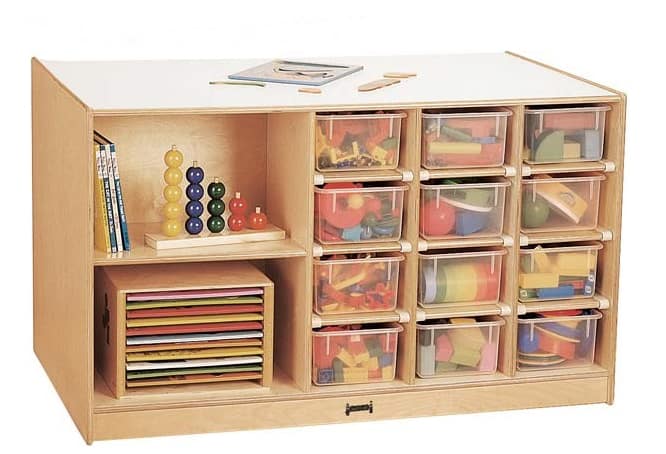 Mobile Storage (via Kay-Twelve)
Low shelving is key for little ones to get their own supplies and this mobile unit offers small cubbies for tucking away all those little pieces kids seem to accumulate.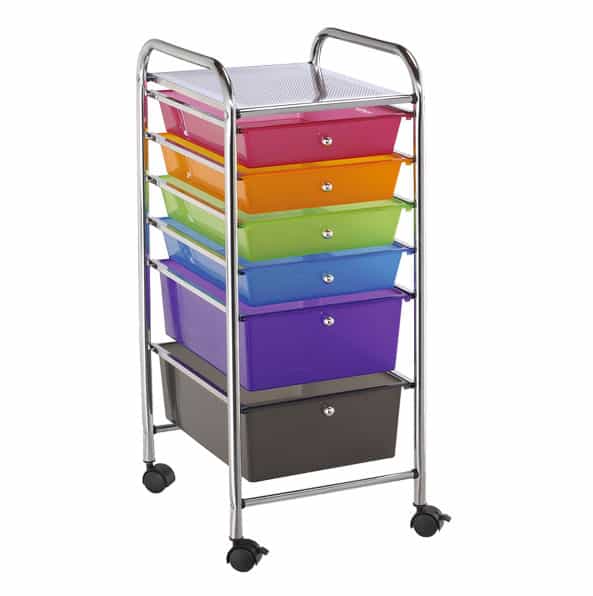 Multi-Colored Bins (via School Outfitters)
Kids will like the bright colors on these functional all-purpose bins while you'll appreciate their flexible mobility.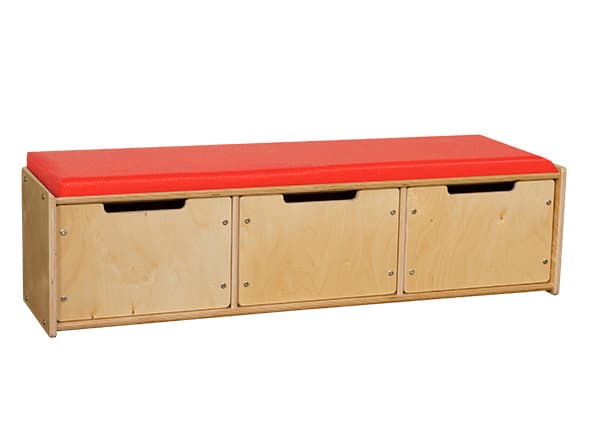 Reading Bench (via School Outfitters)
A functional seat with padded cushion that invites reading with lots of storage underneath to store all those books.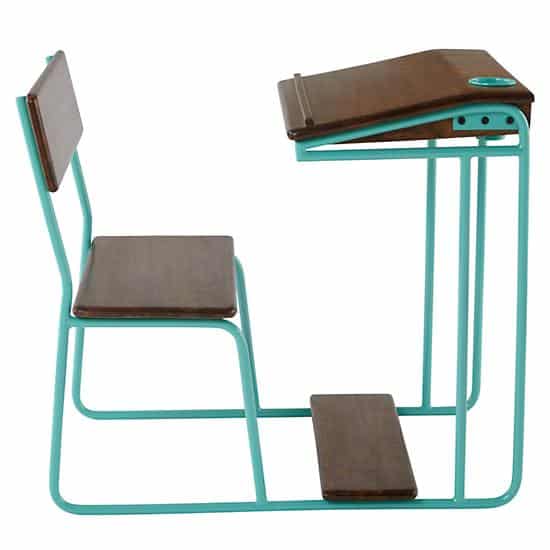 ]
Modern Schoolhouse Desk (via Land of Nod)
Perfect for the individual pupil, this modern classic schoolhouse desk is re-invented with bright turquoise powder-coated steel frames.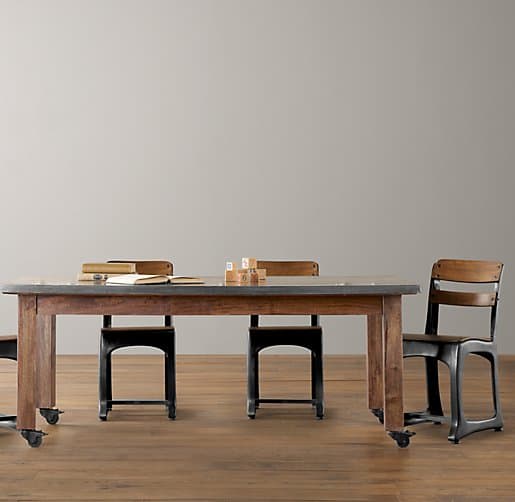 Vintage Schoolhouse Tables and Chairs (via RH Baby & Child)
This table is reminiscent of classic school house designs but made with strong hardwood and sheet metal with rolling casters for mobility. Chairs come separately from the table.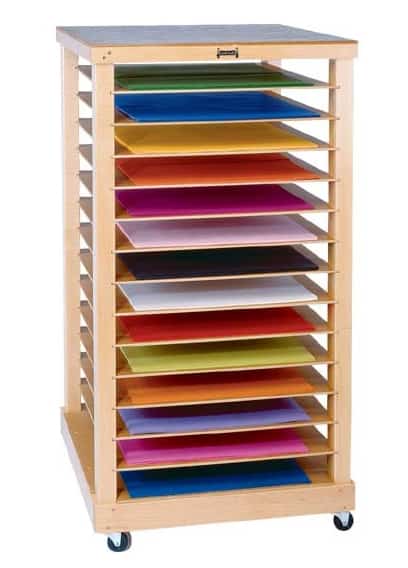 Craft Paper Rack (via Kay-Twelve)
A neat idea for storing art and school papers so they're visible, yet neatly tucked away without taking up lots of space in the home.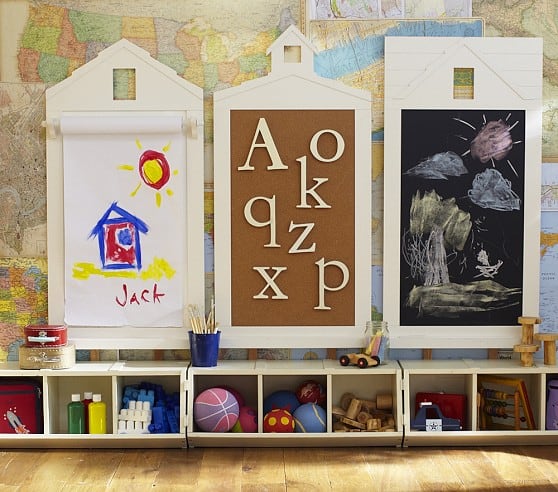 Schoolhouse Utility System (via Pottery Barn Kids)
We have a similar version to this multi-functional system in the kids' room and it's served us well with drawing paper for art, chalkboard for doodles and a bulletin board to hang up those masterpieces or important notes.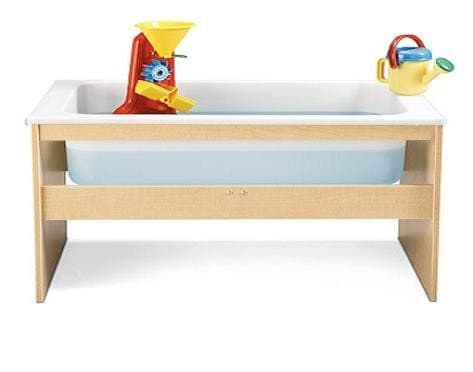 Sensory Table (via Amazon)
Perfect table for the preschool set, this fun sensory table invites endless play and learning activities.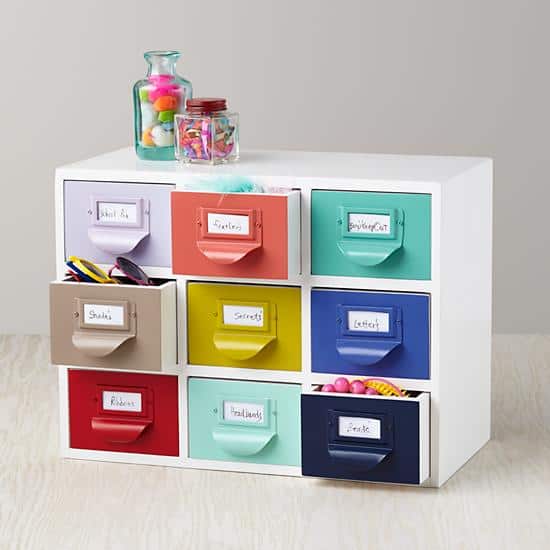 Color Reference Drawers (via Land of Nod)
A colorful spin on the old library card catalog, while leaving lots of room for storing all your kids' important items.
Take a look here for tons more kids' home furnishing ideas!