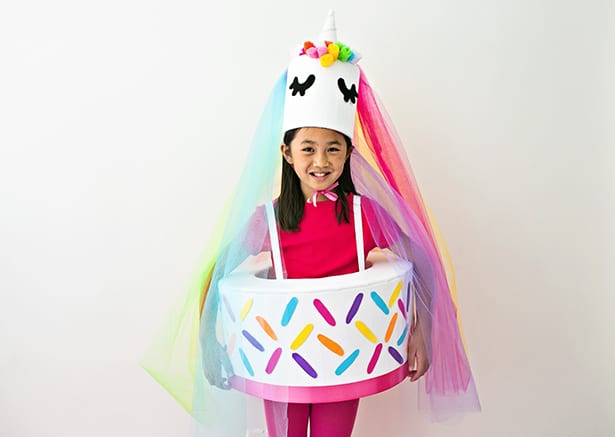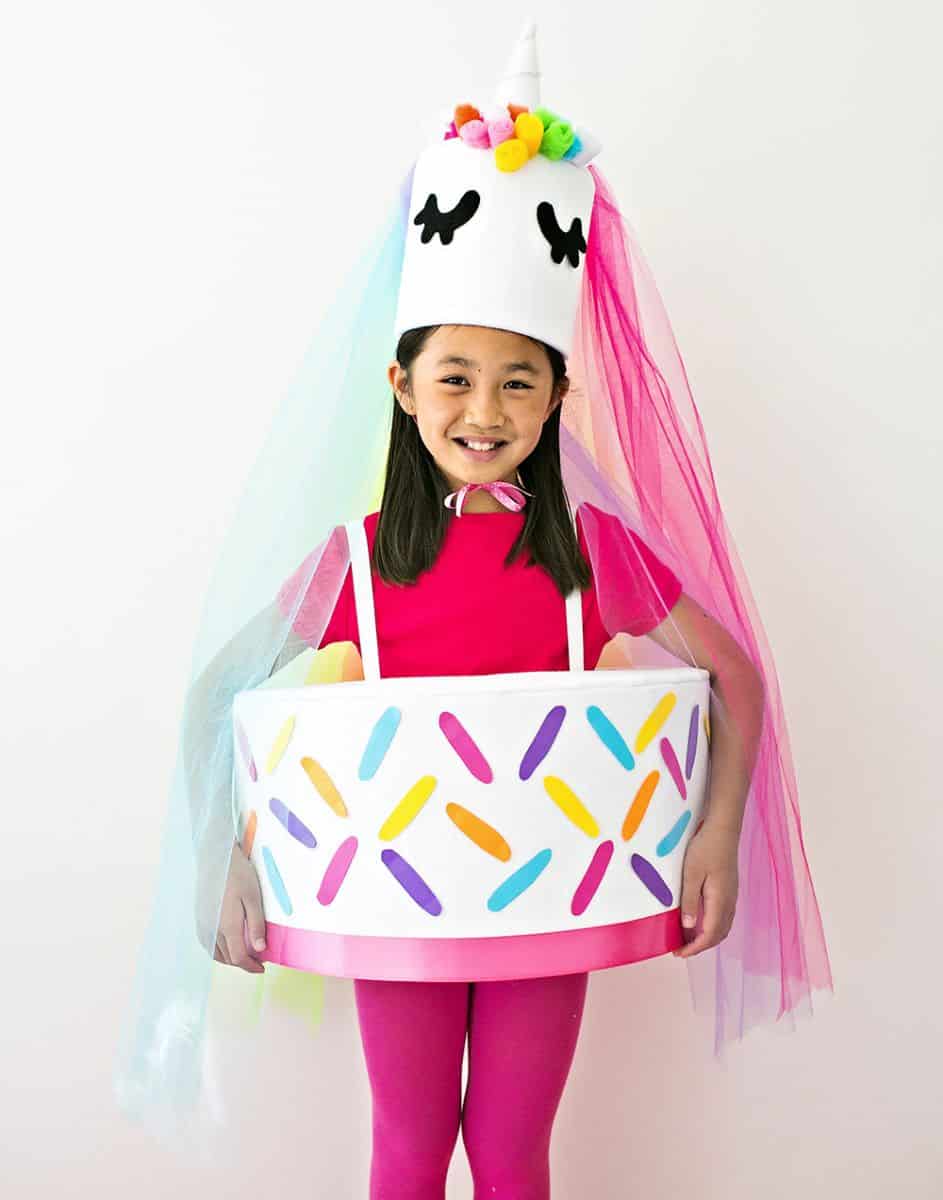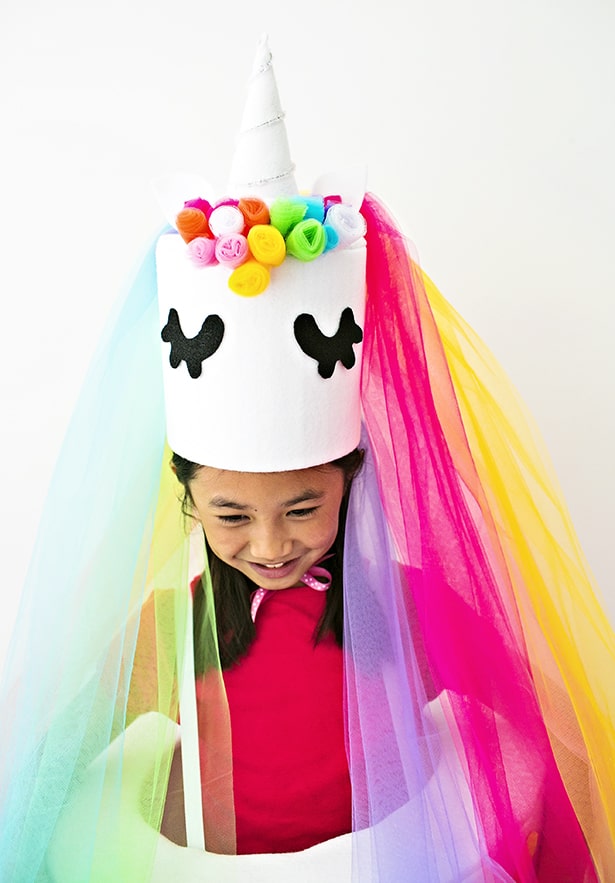 Can't decide if you want to be a unicorn or a cake for Halloween, well then why not both? You can look just like one of those unicorn cakes that are so trendy right now! You'll surely win that one of a kind award if not the first place prize for your creativity and magical goodness!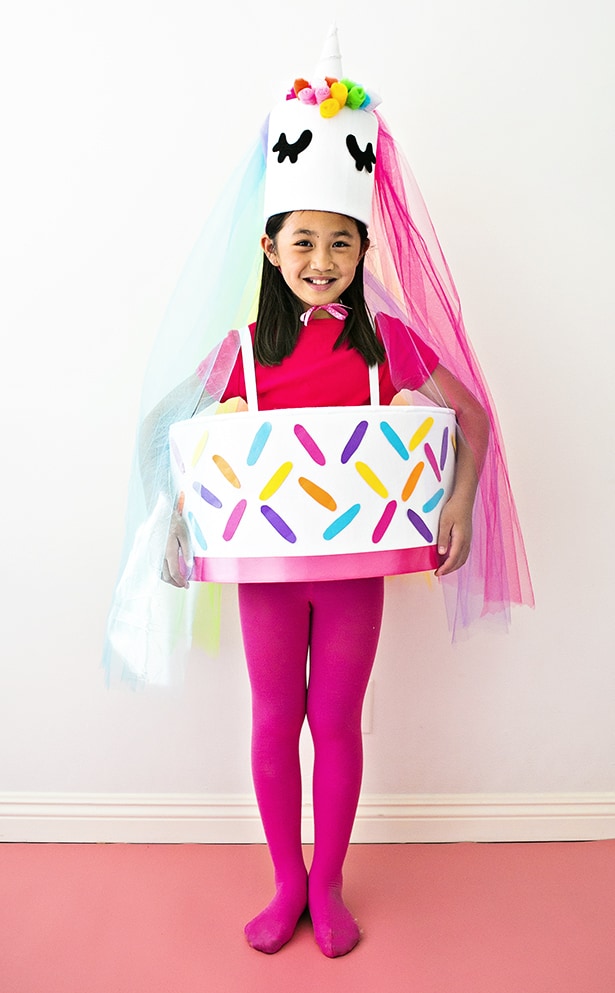 Unicorn Cake Costume – Materials:
At least 4 20X30" foam core boards
Craft knife or box cutter
Ruler or measuring tape
About 2 yards of white felt
Colored or black felt
Tulle
Elastic
Hot glue
Fabric scissors
To make sprinkles (optional)
Colored Cardstock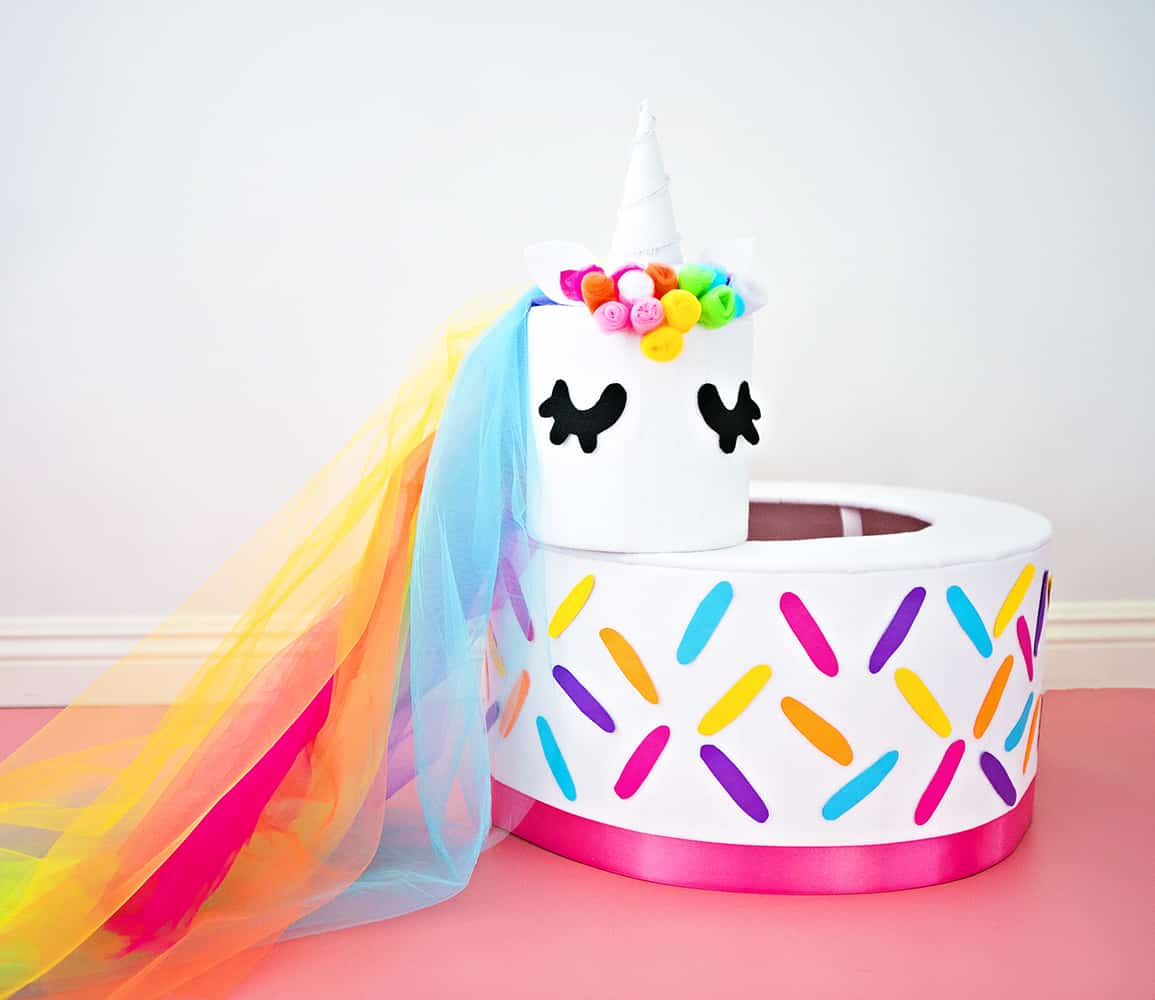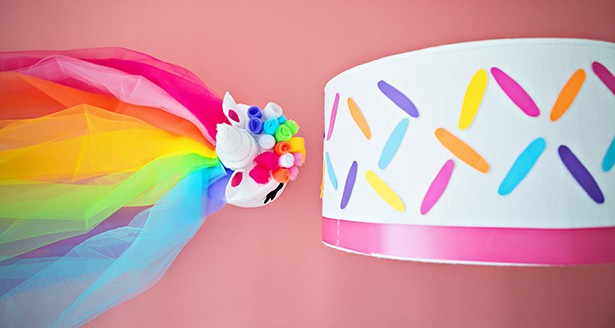 Instructions:
Step 1. Decide who the costume will be for. You'll need approximate waist and head dimensions.
Step 2. Cut a circle from a piece of foam core board. Mine is the entire width of the foam board which is 20″ in diameter.
Step 3. Cut a smaller circle in the center of the larger circle, mine is about 12″ in diameter. This will be where the child steps into the costume to put it on.
Step 4. Cut strips of foam core board at about 10″ in height and 30″ in length. These will be hot glued to the perimeter of the circle. You may need extra depending on how big your circle is.
Step 5. Mark the long strips of foam board at every half an inch along the top and draw a light line with a ruler or t-square. Score the foam board lightly on the lines with a craft knife or box cutter.
Step 6. Bend the long strips of foam board so that they curve.
Step 7. Cover every piece of foam core board with white felt using hot glue.
Step 8. Glue the strips of foam board to the perimeter of the circle.
Step 9. Add your details and elastic straps for the shoulders.
Step 10. Repeat this process for a smaller tier of cake for the head piece.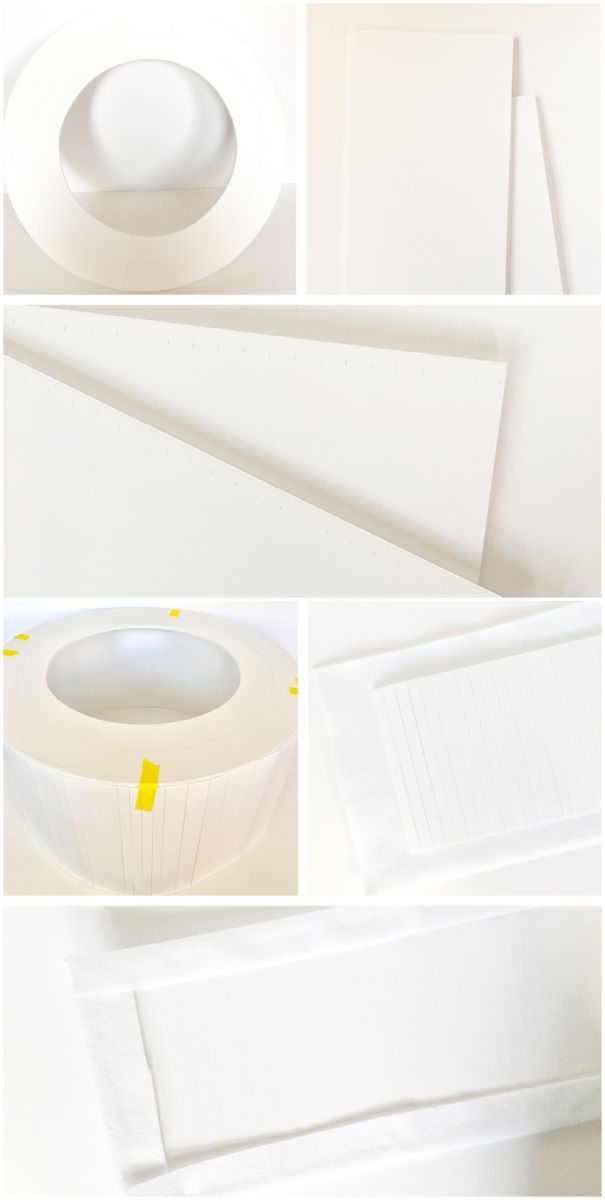 For the unicorn horn and details:
Step 1. Cut a circle of felt, then cut out a quarter of that circle. Bend into a cone shape and secure with hot glue.
Step 2. Fill the unicorn horn with fiber fill and add any extra embellishments you'd like.
Step 3. Cut out ears and eyes from felt.
Step 4. Hot glue all of the details on the top tier of the cake.
Step 5. For the roses I just cut long strips of tulle and rolled it up, then hot glued them in place.
Optional: Cut out paper sprinkles from colored cardstock and glue to your finished cake.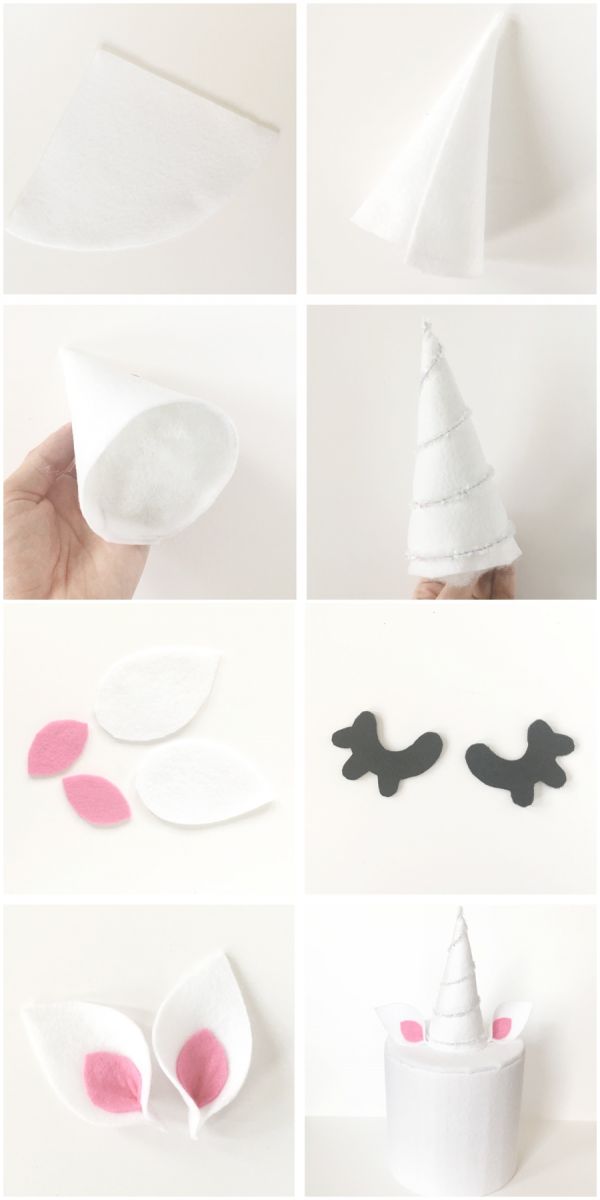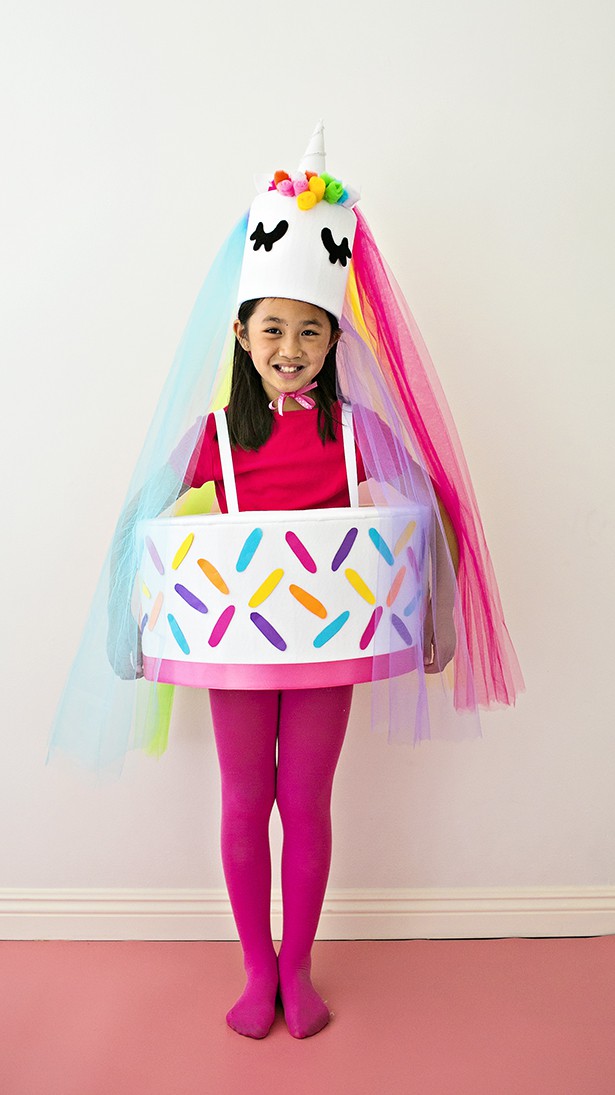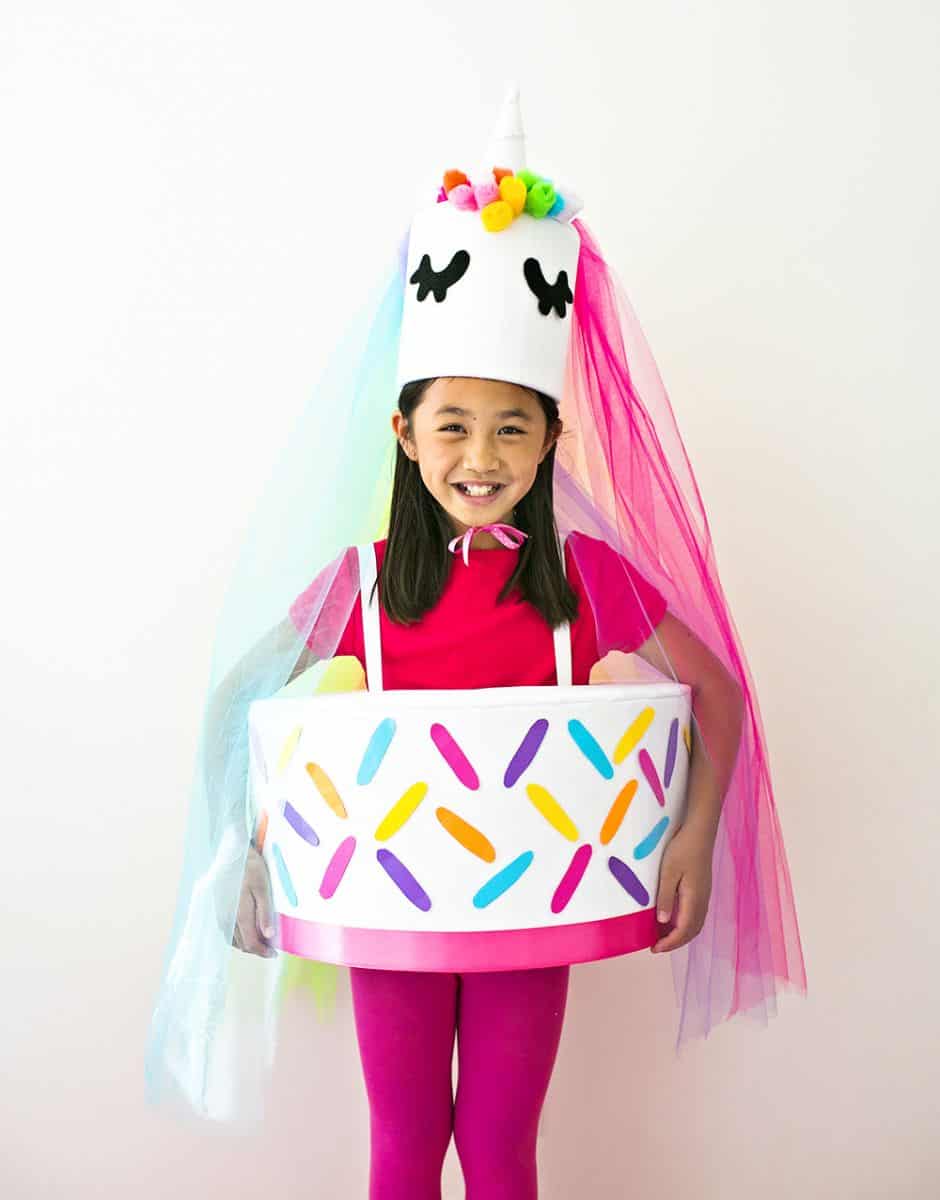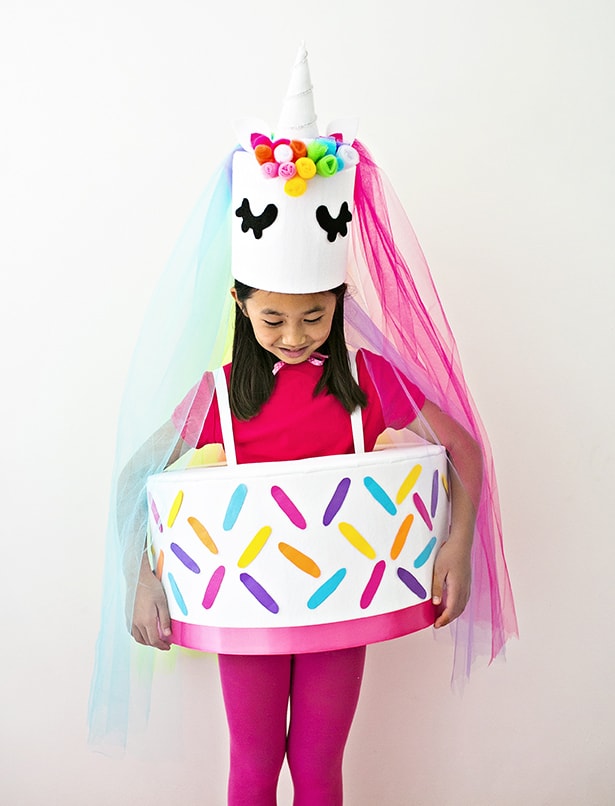 Tutorial by: John Lavelle
Photography (process photos): John Lavelle
Final Photography/Styling: Agnes Hsu
Take a look at more magical Unicorn costumes!


And check out TONS more creative Halloween ideas for kids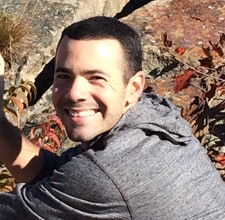 John Lavelle is an artist and art teacher who loves working with all things paper – cardstock, cardboard, foam board, tissue paper, and of course toilet paper tubes. John graduated from the School of Visual Arts with a Bachelors degree in cartooning and earned his Masters degree in Art Education.
Over the past few years, John has been working with young individuals who have ASD, which constantly keeps him on his toes and who are the inspiration behind the creative projects he prepares for their daily art classes. You can follow his latest projects on Instagram and on his site, the Art Dream.
______________________________________________________________________________________________________

Disclosure: Some of the links in the post above are "affiliate links." This means if you click on the link and purchase the item, we will receive a small affiliate commission. Regardless, we give our promise that we only recommend products or services we would use personally and believe will add values to our readers.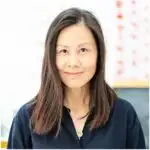 Agnes Hsu is a mom of three and has been inspiring parents and kids to get creative with easy activities and family friendly recipes for over 10 years. She shares her love for creative play and kids food to her 2MM+ followers online. Agnes' commitment to playful learning and kindness has not only raised funds for charity but also earned features in prestigious nationwide publications.