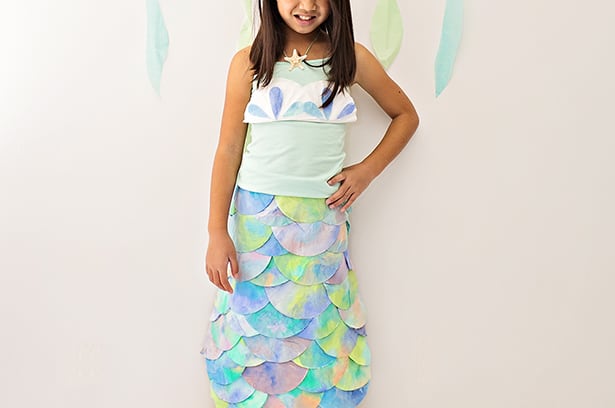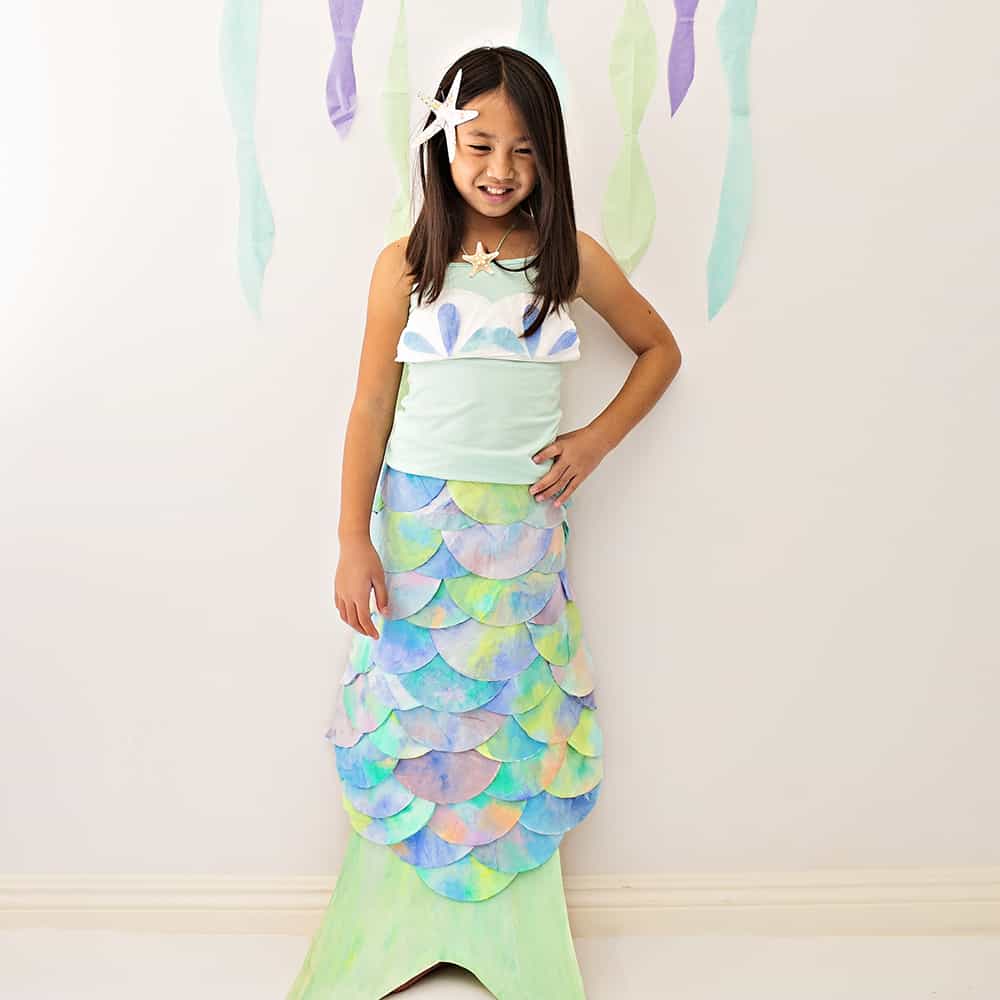 Are your kids big mermaid fans? Let your under the sea princess shine with this beautiful DIY Mermaid Costume made out of…coffee filters. Yes, you read that right. This gorgeous painted mermaid tail is made out of this ordinary kitchen item. The translucent painted on effect resembles pretty watercolor art. Bonus: the kids can get in on the painting action to make this DIY costume both a win for Halloween and a fun artsy afternoon.
Read below to get all the details on how to make this pretty Coffee Filter Mermaid Costume.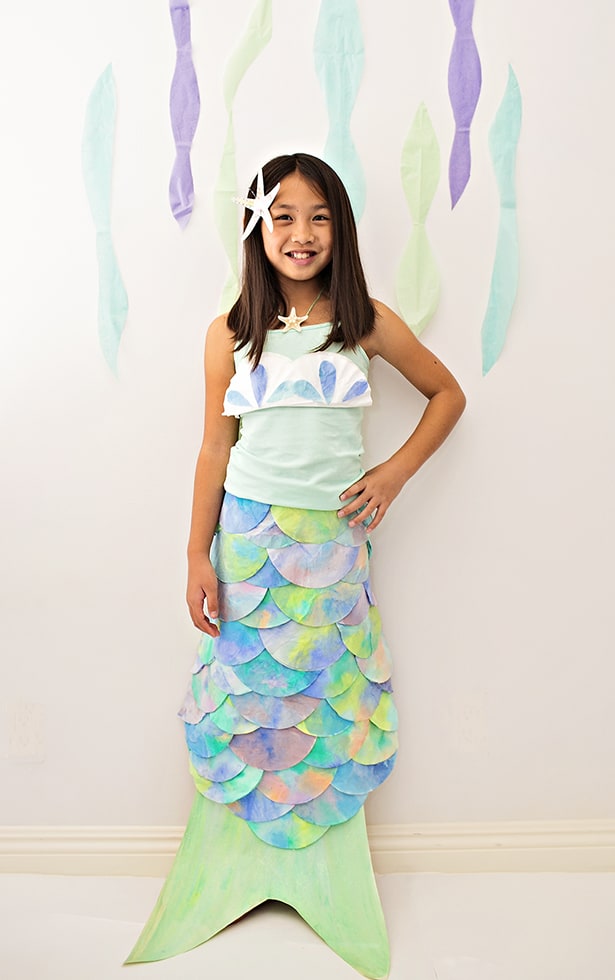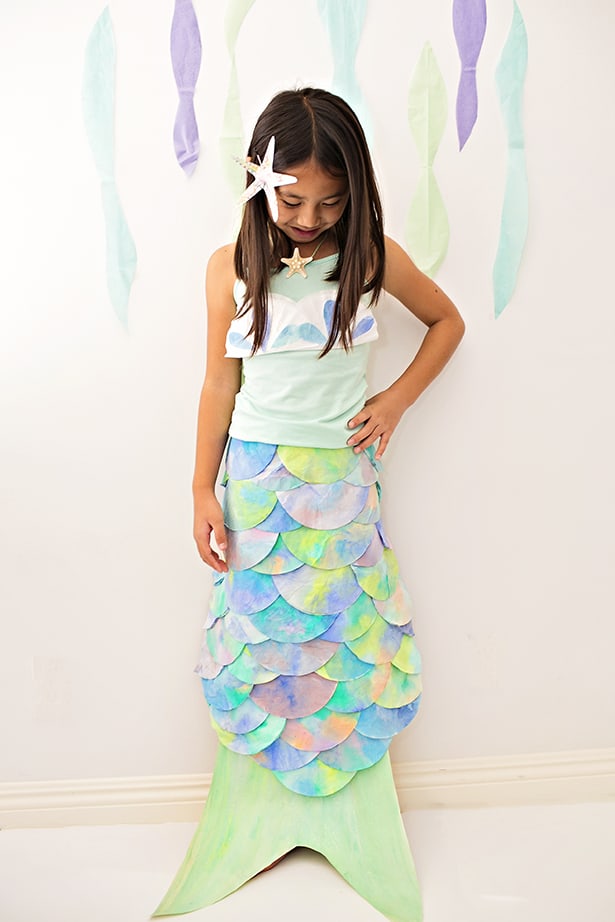 Materials:
– plain white art apron
– tank top
– coffee filters
– acrylic paint – ocean colors
– paint brush
– glue gun
– roll of easel paper
Optional: seashell or starfish for accessories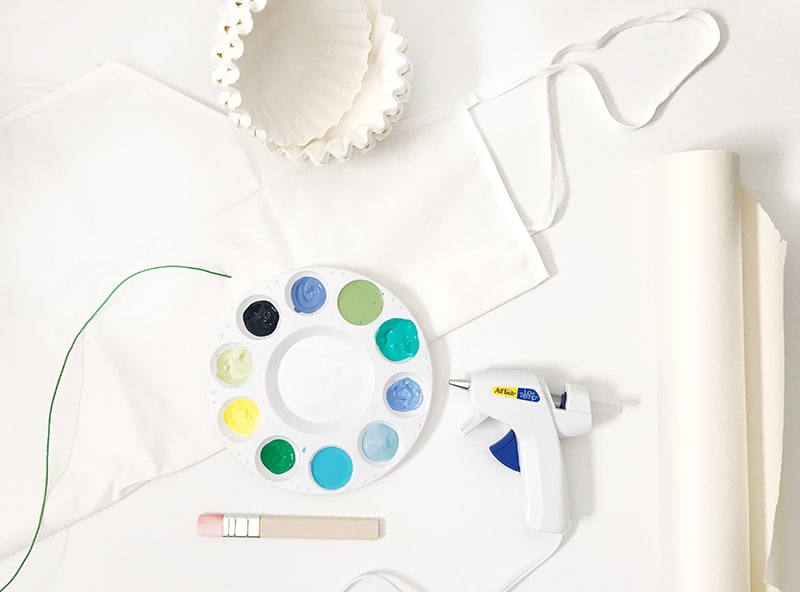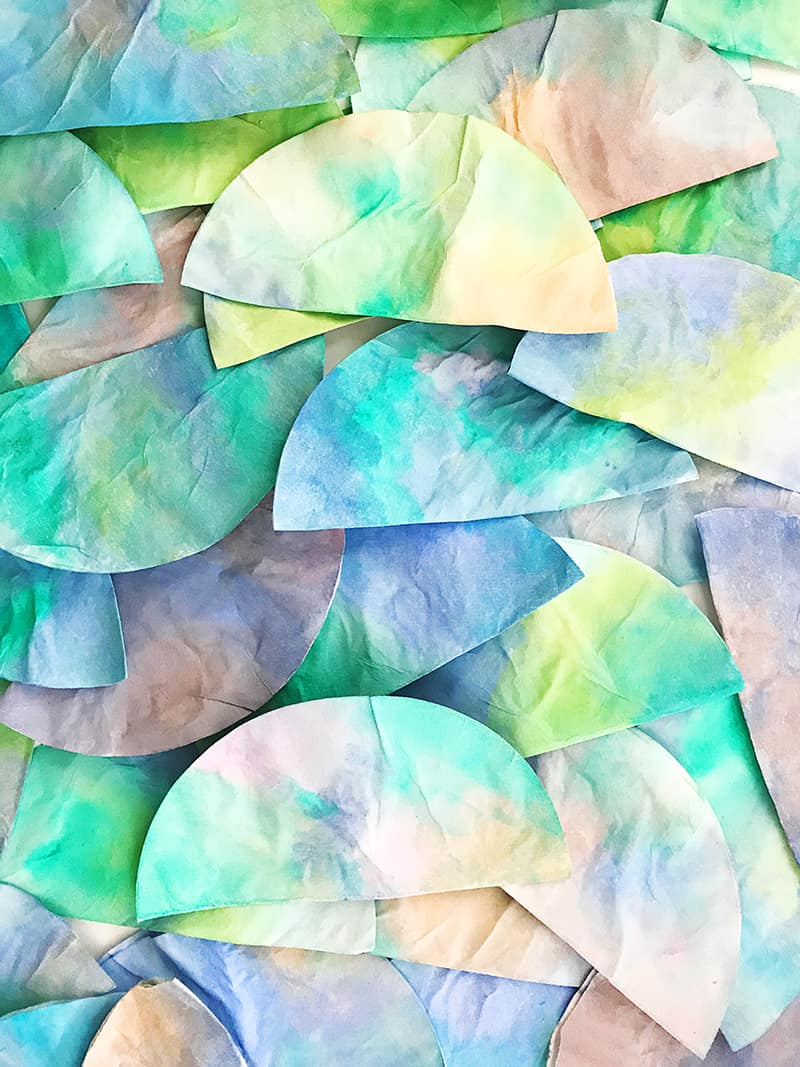 Step 1. Separate your coffee filters two at a time so that your scales are a little bit more sturdy than a single filter. Fold your doubled filters in half so that they resemble a fish scale (flat on top and curved on the bottom).
Step 2. Wet your brush and dip it in your paint. You want to create a wash, which is a light, fluid painting technique—think 'watercolor'. While your filter is still damp from the first color, dip your wet brush into the next color and swirl. Layer your colors until you have achieved the look you are after. This is a great step to do with the kids… painting coffee filters is a lot of fun!
Step 3. Once you have finished painting your coffee filters you will set them out to dry.
Step 4. While you are waiting for your coffee filters to dry you can glue your "sand dollar top" to your tank. We chose to keep our sand dollars white because our tank is a pale aqua. If you are going with a white tank, you might want to make your top match your scales. We added some blue details to our clam shells by cutting tear drop shapes out of one of our painted coffee filters. Use a glue gun to attach your sand dollars to your tank.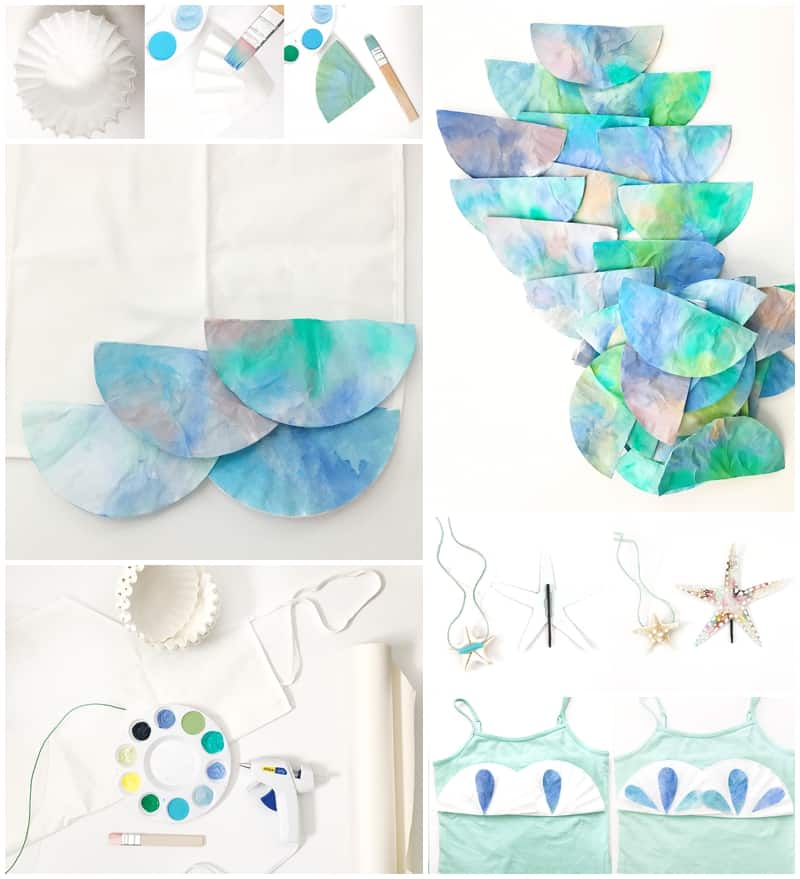 Step 5. Trim the top off of your craft apron leaving just the lower half of the apron and the center tie intact.
Step 6. Start layering and gluing your scales.
Step 7. When you are done laying down all of your scales, turn your apron over and trim any overhang.
Step 8. Last but not least, it's time to add the tail! Take your roll of white easel paper and lay it beneath the final row of scales. Sketch out a basic mermaid tail shape and paint. We chose to continue our underwater color scheme and then added a layer of iridescent sparkle.
Step 9. When your tail is fully dry, cut it out and glue it to the inside of the apron.
Step 10. Every mermaid needs a few pretty accessories. You could paint a watercolor starfish and glue it to a bobby pin to wear in you hair. Or glue a drinking straw to the back of a starfish or seashell to make a pretty charm. Simply thread a piece of string through the straw and you have a quick and perfect mermaid necklace! You can also just buy some seashell accessories.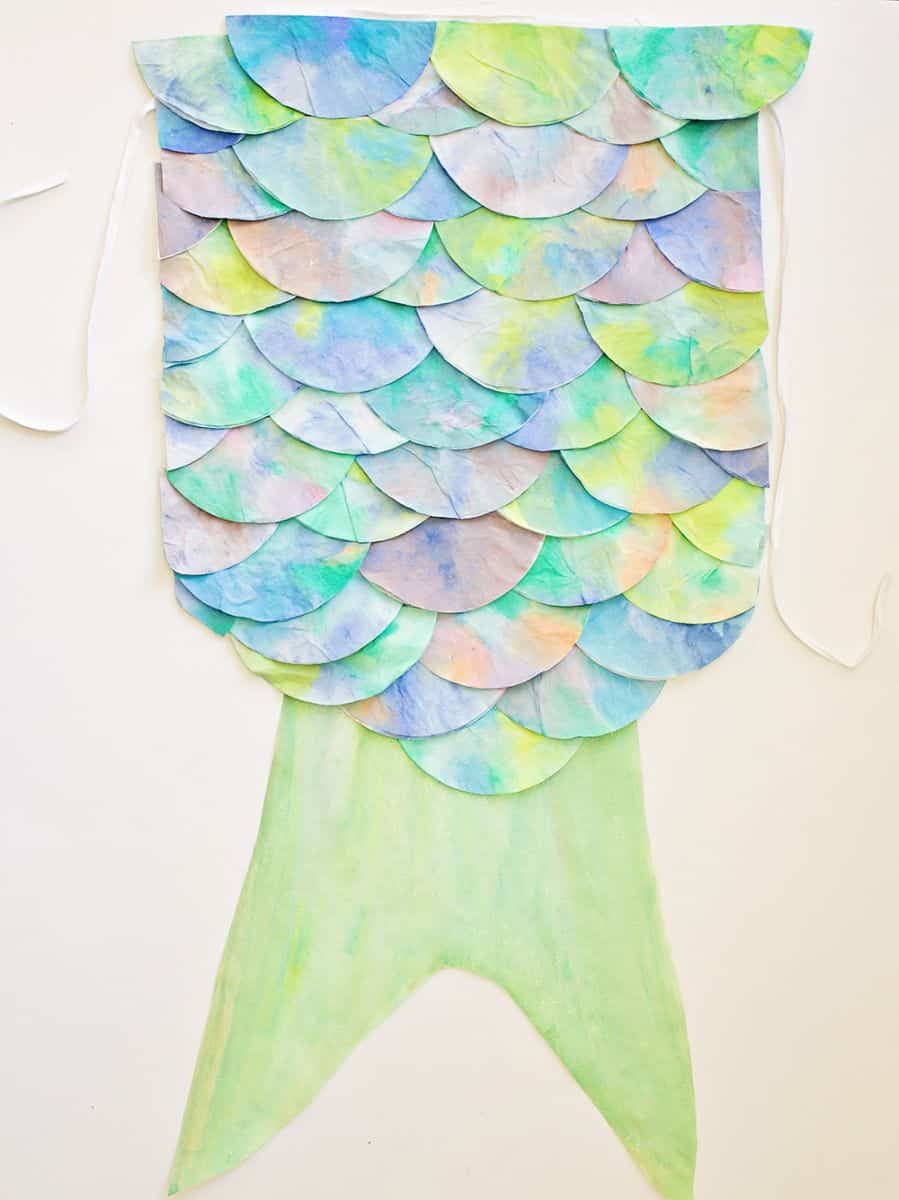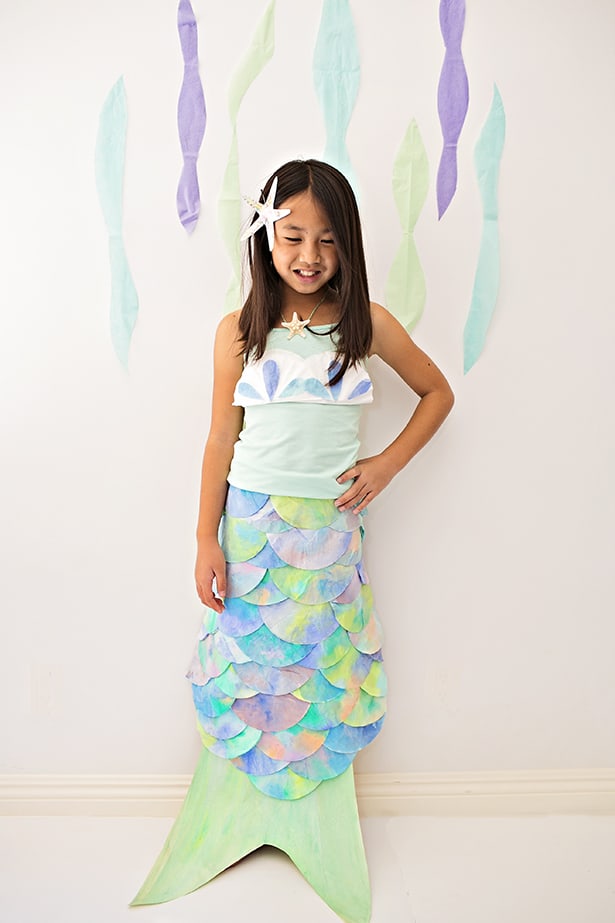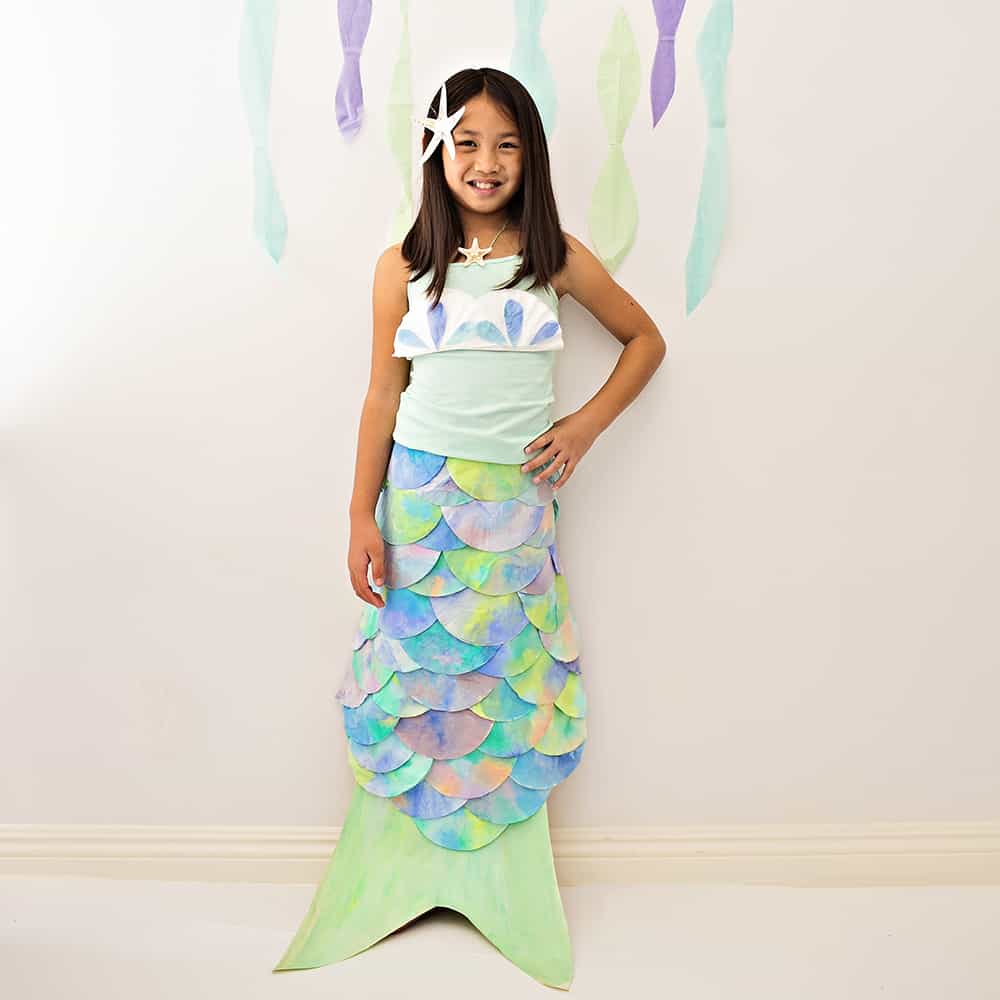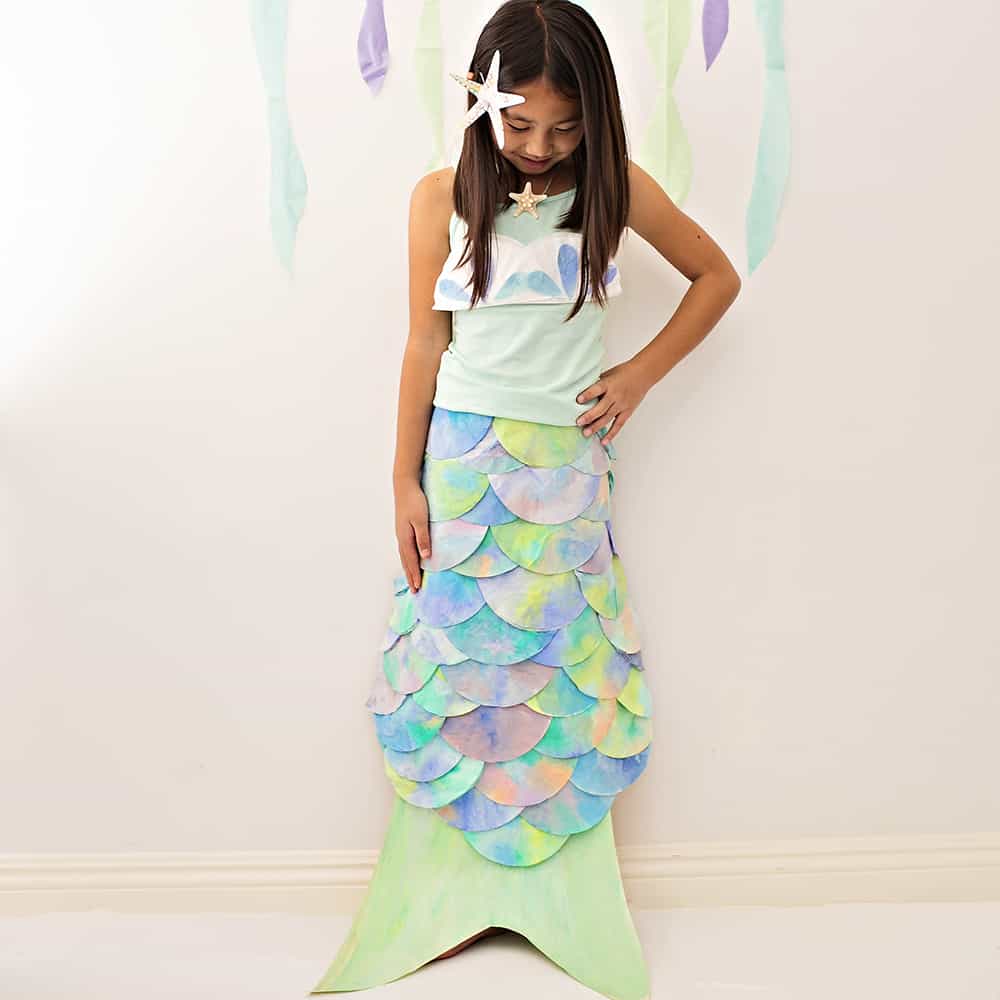 What are your kids dressing up as for Halloween? Check out more creative Halloween Ideas, mermaid craft and under the sea projects for kids!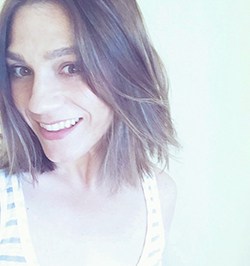 Meet Arielle Goddard – Los Angles based artist, designer, arts educator, mother of two girls, and founder of ART CAMP. Arielle has been teaching and developing art programs for close to 20 years. If you are looking for fresh, elevated, arts, crafts, and DIY inspiration follow her blog, Instagram and Pinterest.
______________________________________________________________________________________________________

Disclosure: Some of the links in the post above are "affiliate links." This means if you click on the link and purchase the item, we will receive a small affiliate commission. Regardless, we give our promise that we only recommend products or services we would use personally and believe will add values to our readers