Originally posted on 16/10/2014
When I asked my 3-year-old boy what he wanted to be for Halloween this year, he turned to me and said "a blue dinosaur!" Of course, this wasn't surprising as he's been roaring around like the crazy wild animal he loves so much.
Here's an easy dinosaur costume you can make using 3 cardboard boxes and some paint. I promise it IS totally achievable to make. And just think how adorable your kid will be in it once you have completed it. The costume can also be used for other dress-up occasions or dinosaur-themed parties.
If this is for Halloween or another dress-up occasion be sure to also check out how to make a DIY Llama Balloon Costume and a DIY Unicorn Balloon Costume for some other inspiring ideas.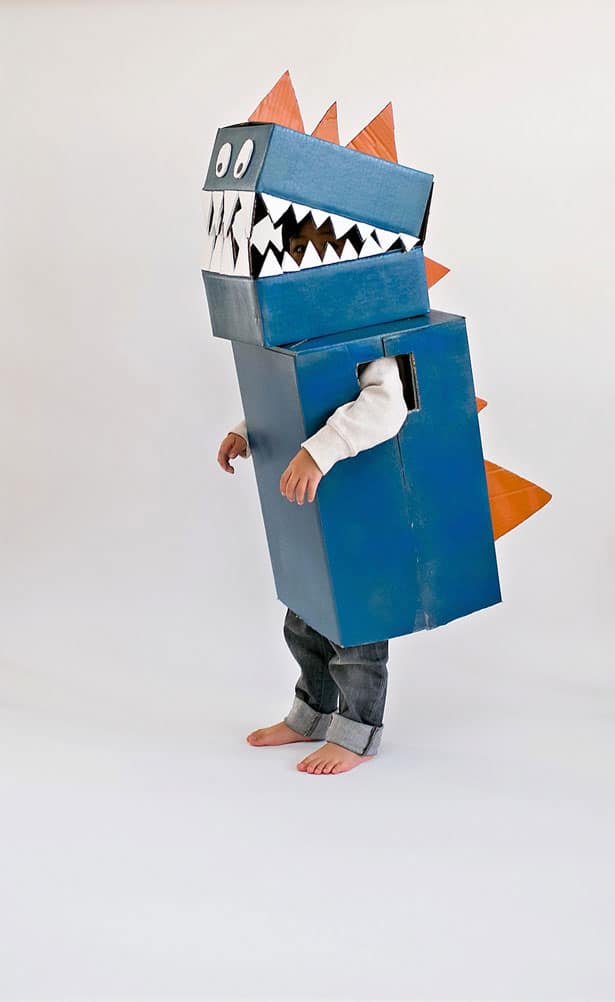 Cardboard Dinosaur Costume Template
So if you are wondering how to make a cardboard dinosaur, don't worry it's not as hard as it sounds. Below is an easy guide on how to make a dinosaur costume. Stock up on the materials you need and then follow the easy steps to create your dinosaur masterpiece.
Diy Dinosaur Costume Cardboard Materials
The materials needed to make your own cardboard box dinosaur costume are rather straightforward. Check out the list below and make sure you have all of the items before you start.
1. You will need 3 cardboard boxes, two small ones (12″ x 9″ x 4″ each) for the head and one rectangular box (24″ x 12″ x 12″) for the body. You will also need scrap cardboard for the scales
2. Spray paint in the color of your choice for the scales and body. We chose blue for the body and orange for the scales
3. White foam craft board for the teeth (or use white cardstock, paint cardboard pieces white, whatever is easiest for you)
4. Scissors, knife to cut through cardboard, and a hot glue gun or strong craft glue
Steps on How to Make a Dinosaur out of Cardboard Boxes
Follow these easy 7 steps to create your own cardboard dinosaur costume. You'll be amazed at how easy it actually is and your kid will definitely feel like the best dressed at Halloween. Plus, the cute photos of your kid in the costume are totally worth it.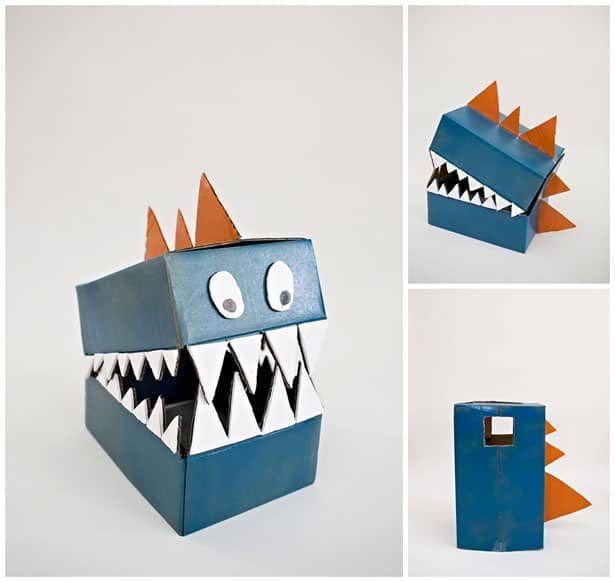 1. Lay down your 3 pieces of cardboard flat and spray paint each side, allowing each to dry. Make sure that you are in a well-ventilated area
2. Cut out scales for the head and body from scrap cardboard. I just freehand a small and medium scale and one extra-large scale for the tail. Once you have cut out one scale, you can use it as a template to trace the other ones. We ended up with 5 scales on the head and 3 on the body
3. Spray paint on both sides of the scales, allow to dry
4. Cut out your teeth on the white foam board. I liked using a foam board so I didn't have to go through the additional step of painting the teeth. Like the scales, I drew out two sizes of teeth and used them as a template to trace the other teeth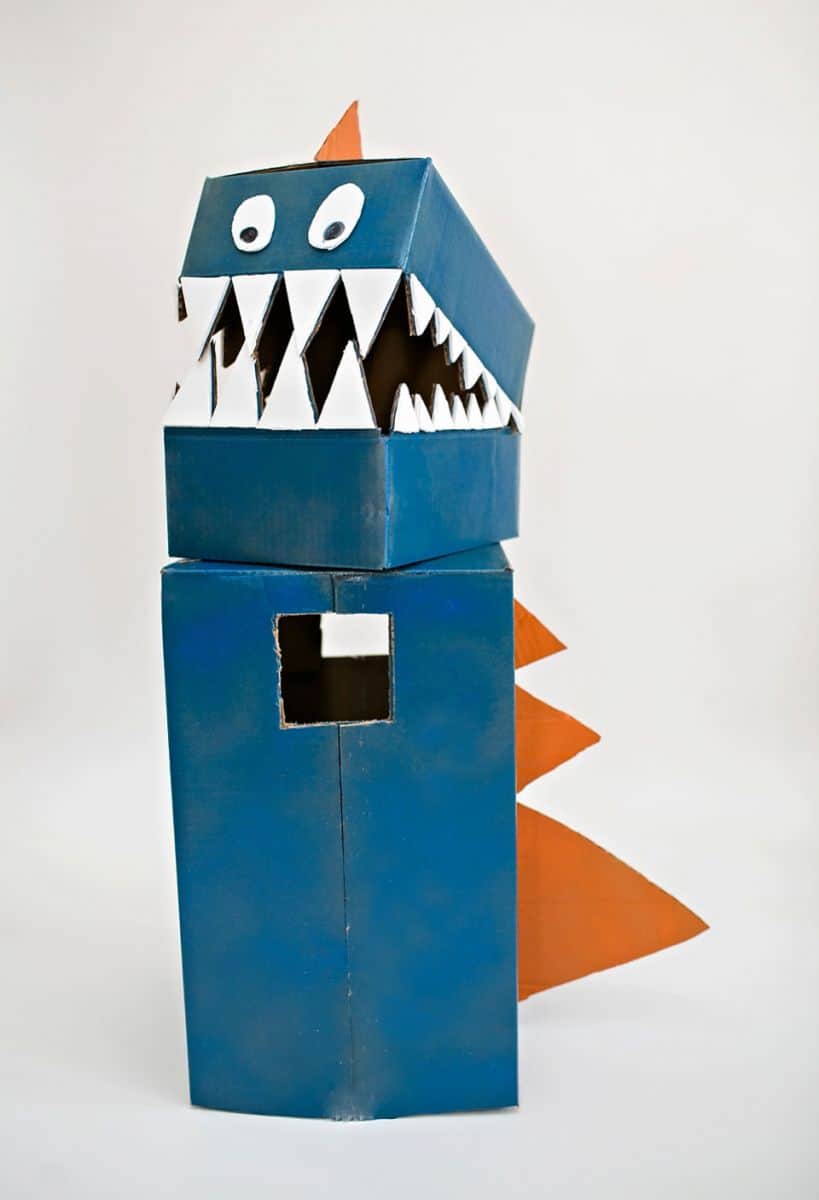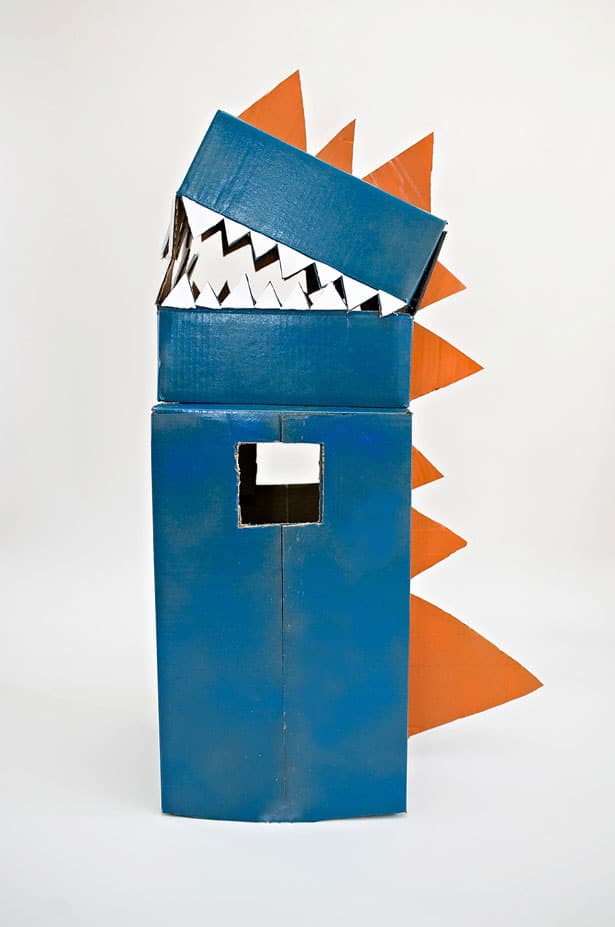 5. Once you have all the parts cut-out and painted, the assembly begins. For the body, cut out a neck hole and two armholes. The length of our cardboard was a bit too long for my son so I also cut off about 8″ off the bottom, but that will depend on how tall your child is.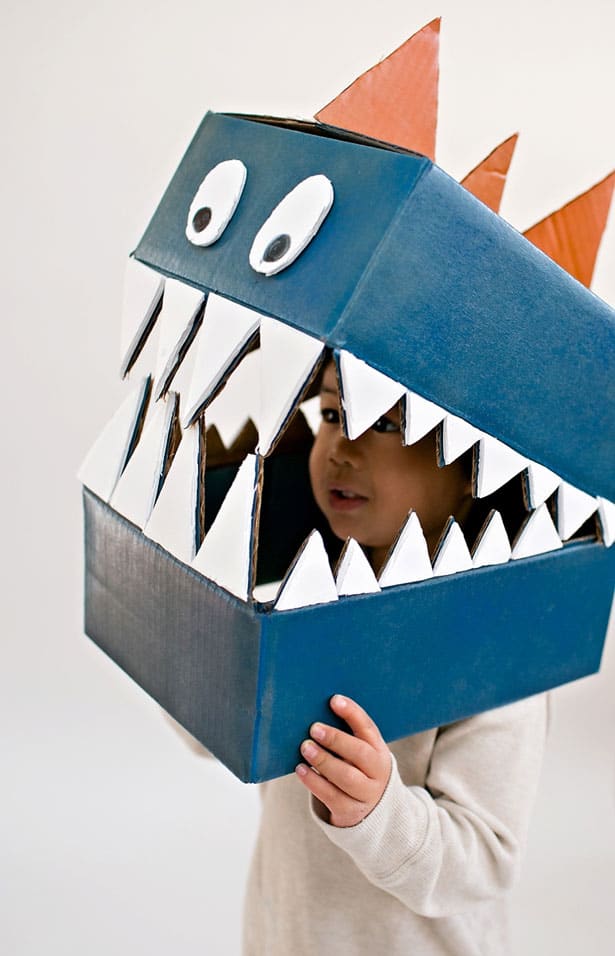 6. For the head, glue one flap down so it hinges with the other box. For the teeth, it helps to keep the box flaps down, glue the teeth on, and cut around the teeth so they are more stable
7. Don't forget to cut out some eyes! I just cut out two circular pieces of the white craft board and used a black marker
You're done! Now take your dinosaur out for some fun.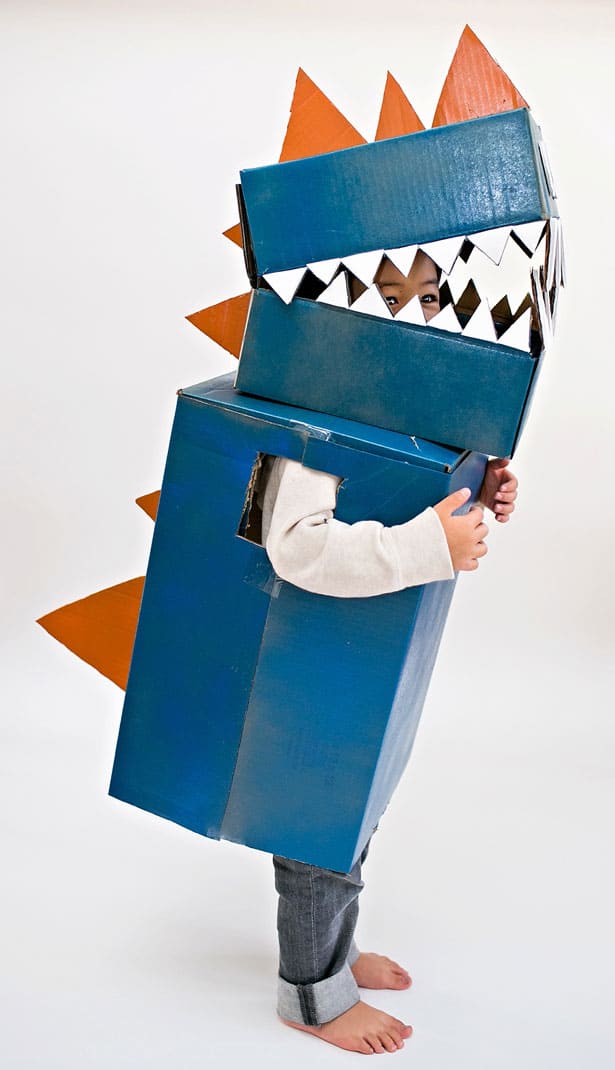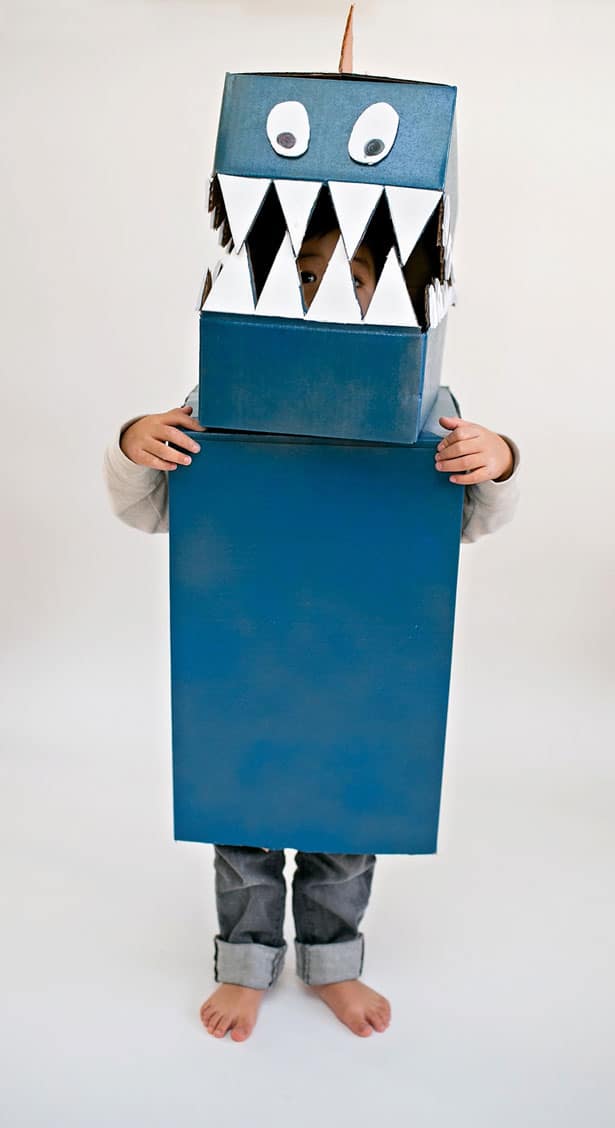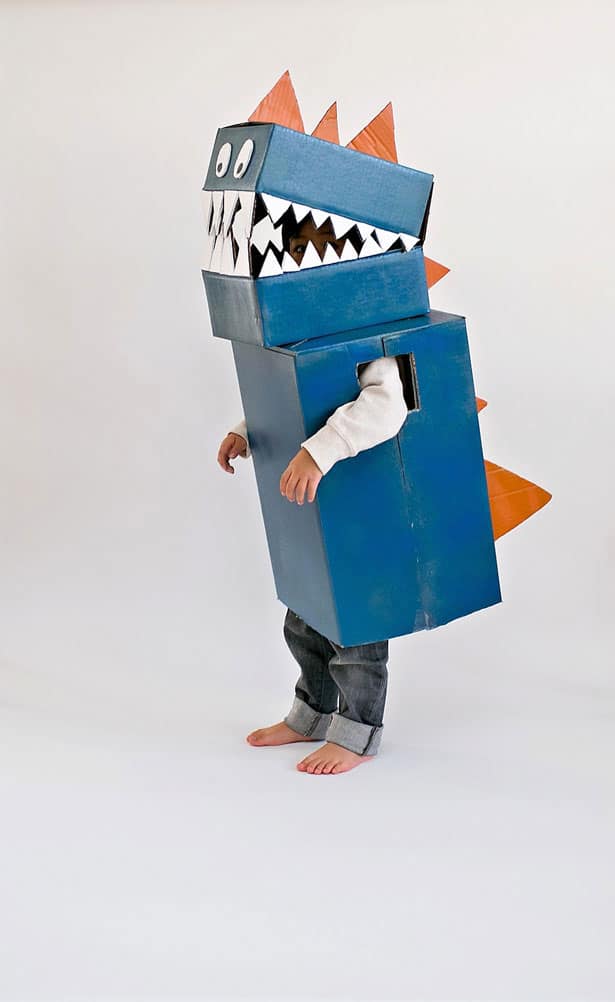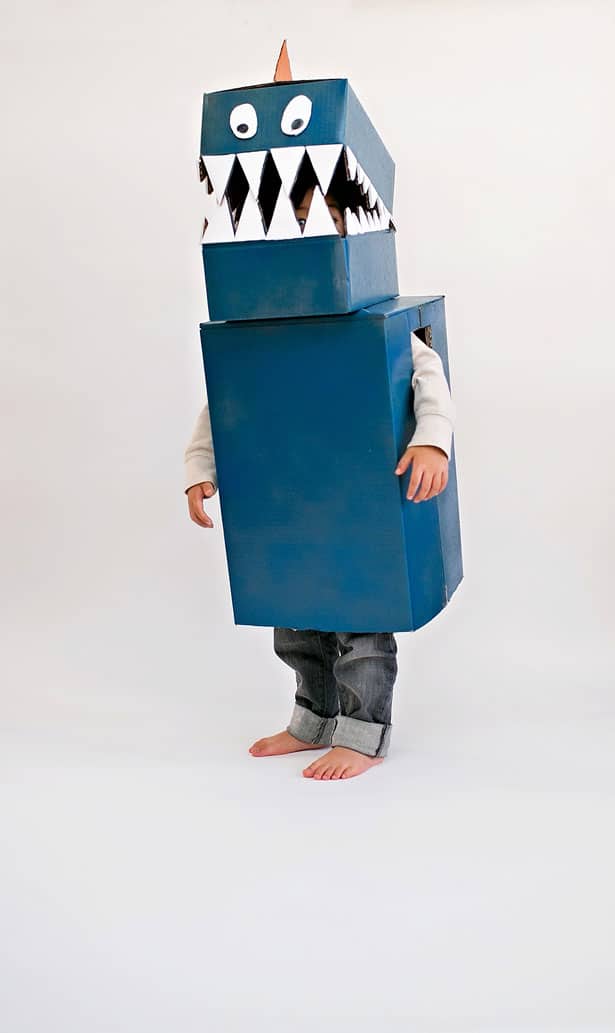 Final Thoughts on the Dinosaur Cardboard Costume
I like how the head is not attached so if it gets too heavy, it can be taken off for a bit. In case you're wondering, you can totally see through the mouth as you're walking. This was a huge hit with my son and he loves his dinosaur cardboard box costume! It would be awesome fun for pretend play or a dinosaur themed party too.
What are you dressing up the kids as for Halloween this year? For more Halloween ideas for kids, take a look here!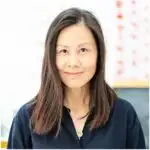 Agnes Hsu is a mom of three and has been inspiring parents and kids to get creative with easy activities and family friendly recipes for over 10 years. She shares her love for creative play and kids food to her 2MM+ followers online. Agnes' commitment to playful learning and kindness has not only raised funds for charity but also earned features in prestigious nationwide publications.